Red box braids, the majestic poetic justice braids of the African American women are on the peak of excellence of all hairstyles worn by them. These braided hairstyles are immensely popular as a protective style for Afro American hair. And as you are here, we assume that you are in search of some gorgeous braided hairstyles like dark-red braids, black and red braids or jumbo box braids. We present you 25 distinguished red box braids with a general how to. Let's start with the technical part.
What Do You Need to Do a Red Box Braids Hairstyle?
Shampoo and Conditioners
Comb
Hair dryer
Scissors
Hydrating Gel
And synthetic hair (As per your need)
How to Do Box Braids?
Installing box braids is not too laborious but a little bit of technical. Here are some tips for you with which you can install box braids on your hair (not like a pro but like the beginners).
Groom your hair with the shampoo and conditioners, dry them, comb them and use the hydrant gel.
Trim your synthetic hair according to your necessity, Tether the hair and brush them out to stop unsharpened edges.
For the first individual braid, pick a small portion of synthetic hair and divide them into two parts. Now cross them over and hold the other ends.
Get some of your natural hair and divide them into 3 parts.
Attach two of the four pieces of artificial hair together and hold the other threads together
Lay the three threads of synthetical hair against your natural hair partitioned in those three portions
Grab the artificial hair along with your natural hair and begin to weave it in and bring the braiding down.
In this regard, you can read this article of WikiHow to get the idea with images or you have YouTube to learn what you want. Now let's jump into our 25-brilliant collection of red box braids with a countdown.
25.   Red Box Braids: A Glamorous Updo
One of the popular forms of braided hairstyles is the updo hairstyles with the box braids. This updo is tremendously popular and effective than the conventional box braids updo. The red dazzling braids will attract everyone around you. Without any accessories or style, this updo can rock.
24. Long Pixie Braids
Pixie Braids are thinner versions of the poetic justice braids. And it can be both short and long. Now, look at the model with reddish thin pixie braids.  These braids are arresting and enchanting at the same time. And of course, it's a perfect combination of classic and modern hairstyling.
23. Braids, Beads, and Updo
Updo hairstyles are great for any occasions, party, tour. On the other hand, during the summer, the updos give you great serenity reducing the huge and bulky load of hair on your head. Updo made with box braids and some beads can give you more charm and comfort just like the image below.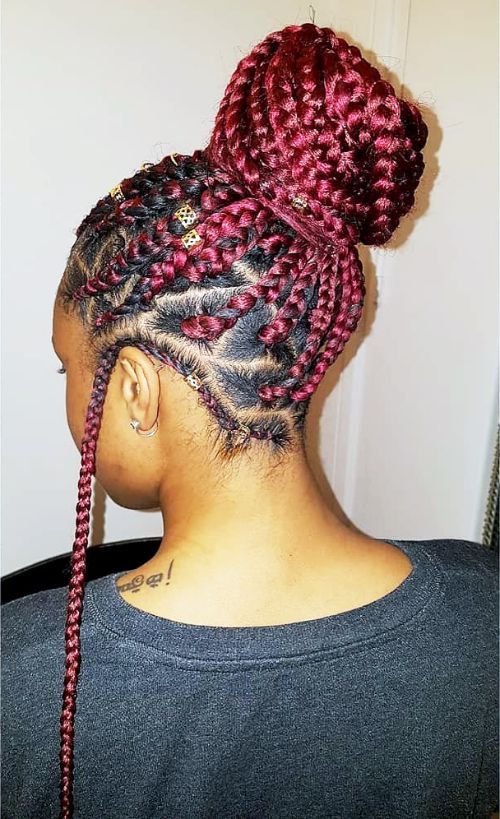 22.  Braided Bob with Charming Color.
Presenting the bob hairdo idea with red box braids for the African American black women. Bobs are always smart and confident hairstyles to women all over the world. And a bob with braids and color is really more adorable and noticeable than the regular bob hairstyles.
21.Box Braids with Central Partition.
Partitioned hairstyles are classic and cute. Though with natural and straight hairstyles partitions are common, with braided hairstyles partitions are rare. And you can take that advantage to make a unique partitioned hairstyle with colored box braids like this one.
20. Goddess Braids: For Getting Goddess Look
Goddess braids style is a great combination of curls and braids. Curls are applied by side or on the edges of the braids to get a heavenly effect on the braiding hairstyles. And red goddess braids are finer than all of them. With red curls and braids, you can really look like a goddess.
19.Thick Reddish Jumbo Box Braids
Hey, you like jumbo braids? This one is for you. Using thicker braids is one of the best tricks to enchant others. If you are planning for a date in the recent future, you can manipulate this wonderful option.
18. Thick and Long Box Braids
Box braids are familiar for its thickness and excellence. Moreover, it Is flexible enough to let you play around with it. A huge number of designs and styles are possible with the box braids. And these braids are also beautiful with no style or design like the image below.
17. Cornrows Red Box Braids
Maybe cornrows can lead you to excellence with the lovely braiding. We present you a cornrows pattern with braids in an arrow look. The faded sides and the cornrows-box braids combo have the power to make anyone look twice towards you.
16. Bob Inspired Box Braids
Watch the long bob braids hairstyle with box braids. This one is not a pure bob hairstyle but we call it bob inspired braided bob. For doing this hairstyle, you do not need anything except some red box braids hair. And yes, the sunglasses are beautiful, aren't they?
15. Updo with thin Box Braids
Get another updo hairstyle idea here. Thin and box braids are twisted into an updo on the top of the head. The upper portion of the head is designed with floral decoration with the box braids hair. This is simply gorgeous and glamorous.
14. Side Shaved Box Braids
Shaved sides, updo, beads and box braids. Think it with red color and get the visualization in the image below. This one is actually a mohawk inspired braided hairstyle with fantastic effect and color. If you haven't touch it till now, it's time to try.
13. Stunning Updo with Braids
As updo hairstyles are most popular in any type of hair and style, we have also collected a number of updo hairstyles with the red box braids. Here we have got another updo hairstyles for you. It's made with only dark red braids. And that's all to make some eternal effect on your hairstyle.
12. Red and Black Box Braids
Have you ever searched for re and black box raids? At least google says so. A lot of people search for resplendent red and black braids on google. And for you people, we have got the following image, a colorful box braiding hairstyle idea.
11. Braided Knots on Front
Knots make you more attractive and noticeable. But which knots are eye-catching and impressive?  Of course, the braided topknots. Now scroll down to the image and get the immensely popular topknot idea with the box braids.
To increase the beauty and effect of braided hairstyles, you have no substitute than beads. From kids to women, from family tours to vacations, and from cornrows to any braiding hairstyles, beads can be an impressive element to enhance your beauty.
09. Dark Red Braided Bob
Look at another bob hairstyle with box braids.  It is cute and smart enough to be useful for every woman. And do not ignore the beads, they have an important role to play in this hairstyle.
08. Braids for Gorgeousness
Is there any definition of gorgeousness? Well, this hairstyle may be taken as one of the finest definitions of gorgeousness. It's much more than the regular long box braids ideas. And only the reddish color has made his happen.
07. Short Box Braids
Shortness is cuteness and smartness. The demand and use of shot hairstyles are increasing day after day and becoming the trend. There are many reasons why the shortness in hairstyles is being welcomed by the African American community. So why don't you try a short box braids hairstyle with lovely reddish color?
06. Braided Snowflakes
Like unique designs and decorations with hairstyles? Take a look at this one. Beside The lovely box braids, beautiful snowflakes are drawn on the scalp of the head. So, you can now enjoy the greatness of box braids and lovely designs on your head at the same time.
5. Triangular Box Braids
Create beautiful triangles with your box braids. This braided hairstyle can make anyone look like a real queen. Among the most used box braids, the triangular box braids styles are the most gorgeous and popular ones.
4. Diamond Box Braids
Like triangular box braids, you can make diamond shapes with lovely box braids. The snowflakes, the triangles, and the diamond shapes are examples of different varieties of box braids. And all of them are tremendously popular among African American black women.
3. Highlighted Braids
 Red box braids do not mean pure red colored box braids only. It can be a highlighted color too. The image below contains a hairstyle with highlighted box braids. And it is amazing as always.
2. Half Updo with Box Braids
Do a half updo with your box braids to create a heavenly effect on your hairstyle and appearance of you. All you have to do is to divide our braids into two parts, use one section to make an updo, and let the other section hang free. That's it.
1. Long Braids
It's about length. The longer your hairstyle is, the more cute and glorious you are., Here is just another example of a braided hairstyle with lovely long braids with red color. And you judge its significance and effect as a braided hairstyle.
Now Hurry up, you have to pick the right one according to your personality, face shape, and desired designs. And let us know about the discussed examples of red box braids in the comments section.