Red box braids, the majestic poetic justice braids of African American women are at the peak of excellence of all hairstyles worn by them. These braided hairstyles are immensely popular as a protective style for Afro-American hair. And as you are here, we assume that you are in search of some gorgeous braided hairstyles like dark-red braids, black and red braids, or jumbo box braids. We present you with 50+ distinguished red box braids with a general how-to. Let's start with the technical part.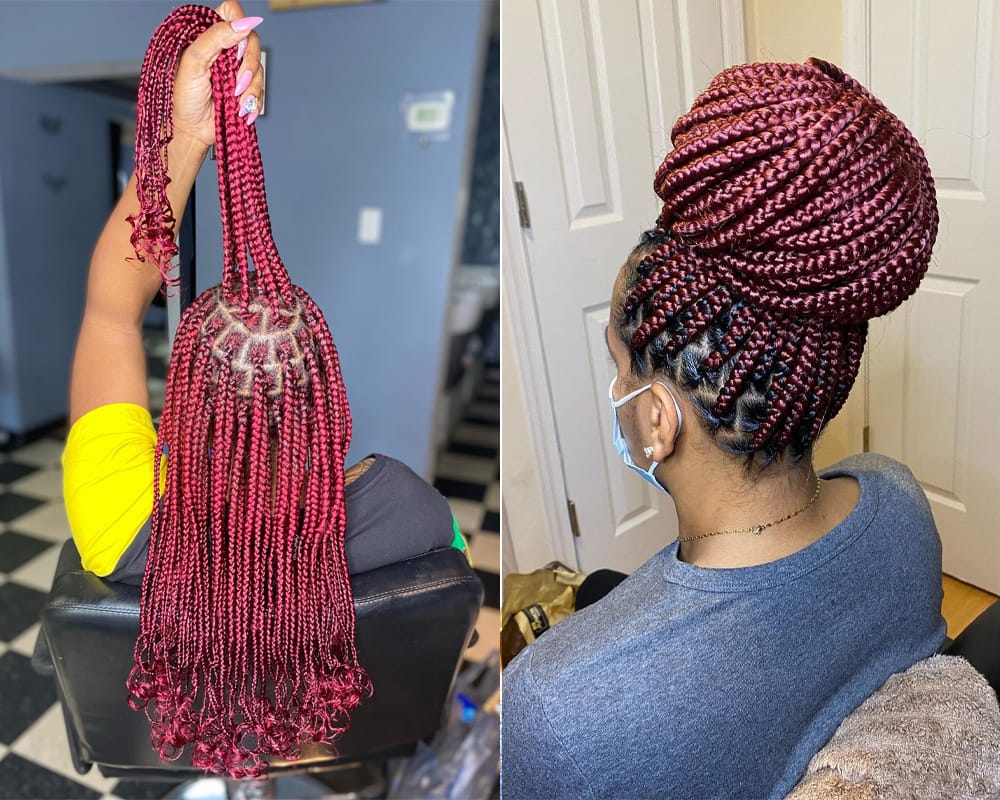 What Do You Need to Do a Red Box Braids Hairstyle?
Shampoo and Conditioners.
Comb.
Hair dryer.
Scissors.
Hydrating Gel.
And synthetic hair (As per your need).
Installing box braids is not too laborious but a little bit technical. If you have no prior idea about installing the box braids we recommend consulting a stylist first. And if you want to know the DIY process, here are some tips for you with which you can install box braids on your hair (not like a pro but like a beginner).
Groom your hair with the shampoo and conditioners, dry them, comb them, and use the hydrant gel.
Trim your synthetic hair according to your necessity, Tether the hair and brush them out to stop unsharpened edges.
For the first individual braid, pick a small portion of synthetic hair and divide them into two parts. Now cross them over and hold the other ends.
Get some of your natural hair and divide them into 3 parts.
Attach two of the four pieces of artificial hair together and hold the other threads together
Lay the three threads of synthetical hair against your natural hair partitioned in those three portions
Grab the artificial hair along with your natural hair and begin to weave it in and bring the braiding down.
In this regard, you can read this article on WikiHow or watch this Youtube video tutorial to have a visual idea about making box braids hairstyles.
How to Style Your Red Box Braids?
With red box braids, you can style your hair just like box braids, cornrows-inspired box braids, or poetic justice braids. For that, we have gathered the most unique styles and designs of these braided hairstyles. These examples include updos, buns, long braids, braids with beads,  boho braids, curly edges, bobs, etc. Now let's jump into our brilliant collection of red box braids with a countdown.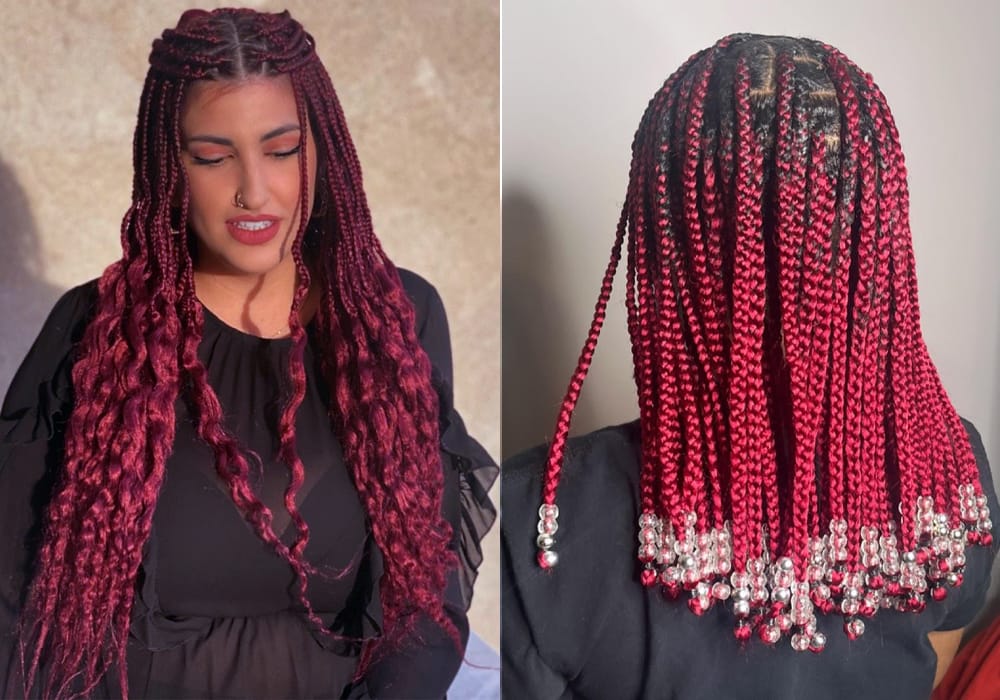 Red Box Braids: A Glamorous Updo
One of the popular forms of braided hairstyles is the updo hairstyle with box braids. This updo is tremendously popular and more effective than the conventional box braids updo. The red dazzling braids will attract everyone around you. Without any accessories or style, this updo can rock.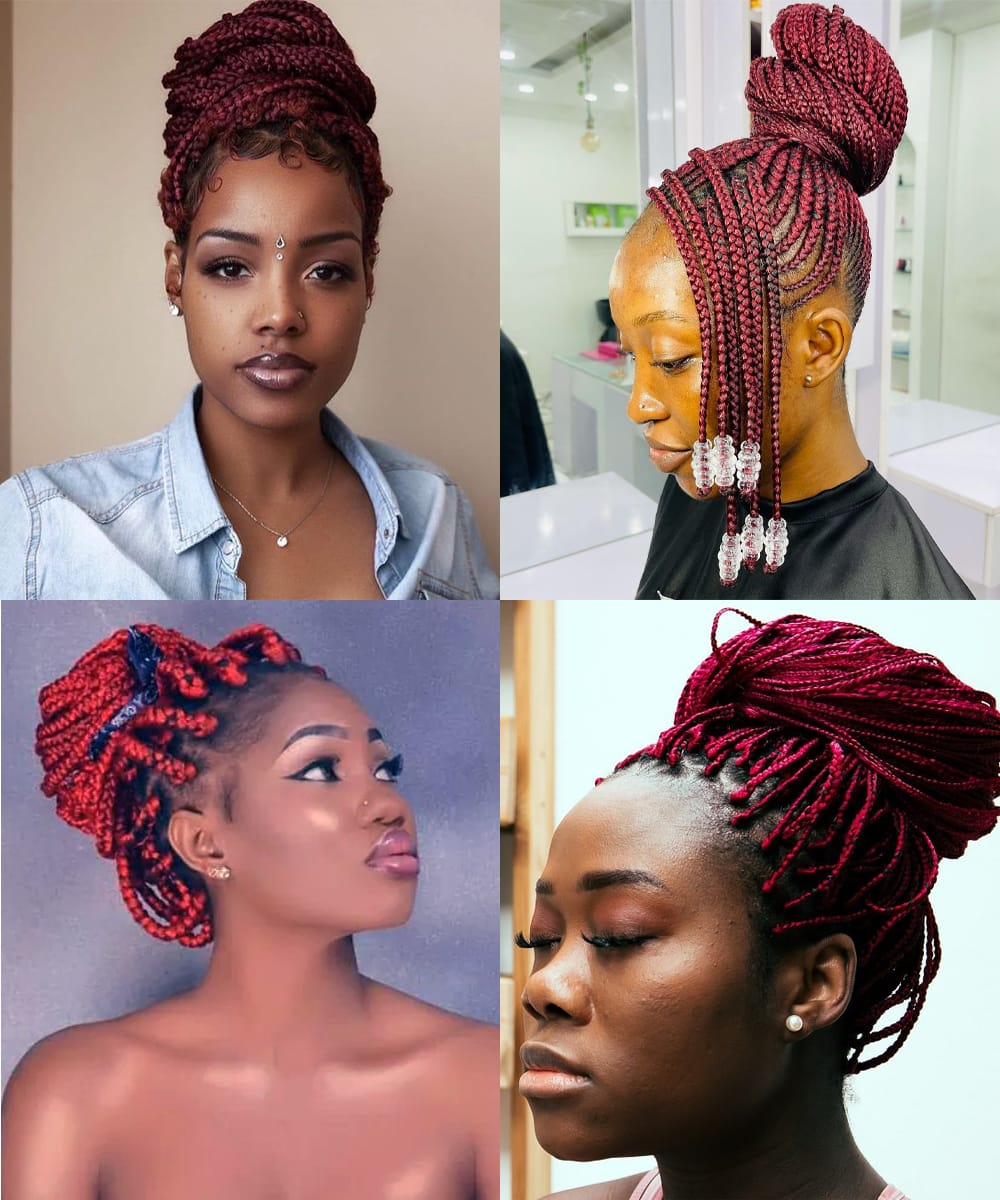 Micro Braids
Pixie Braids are thinner versions of the poetic justice braids. And it can be both short and long. Now, look at the model with reddish-thin pixie braids.  These braids are arresting and enchanting at the same time. And of course, it's a perfect combination of classic and modern hairstyling.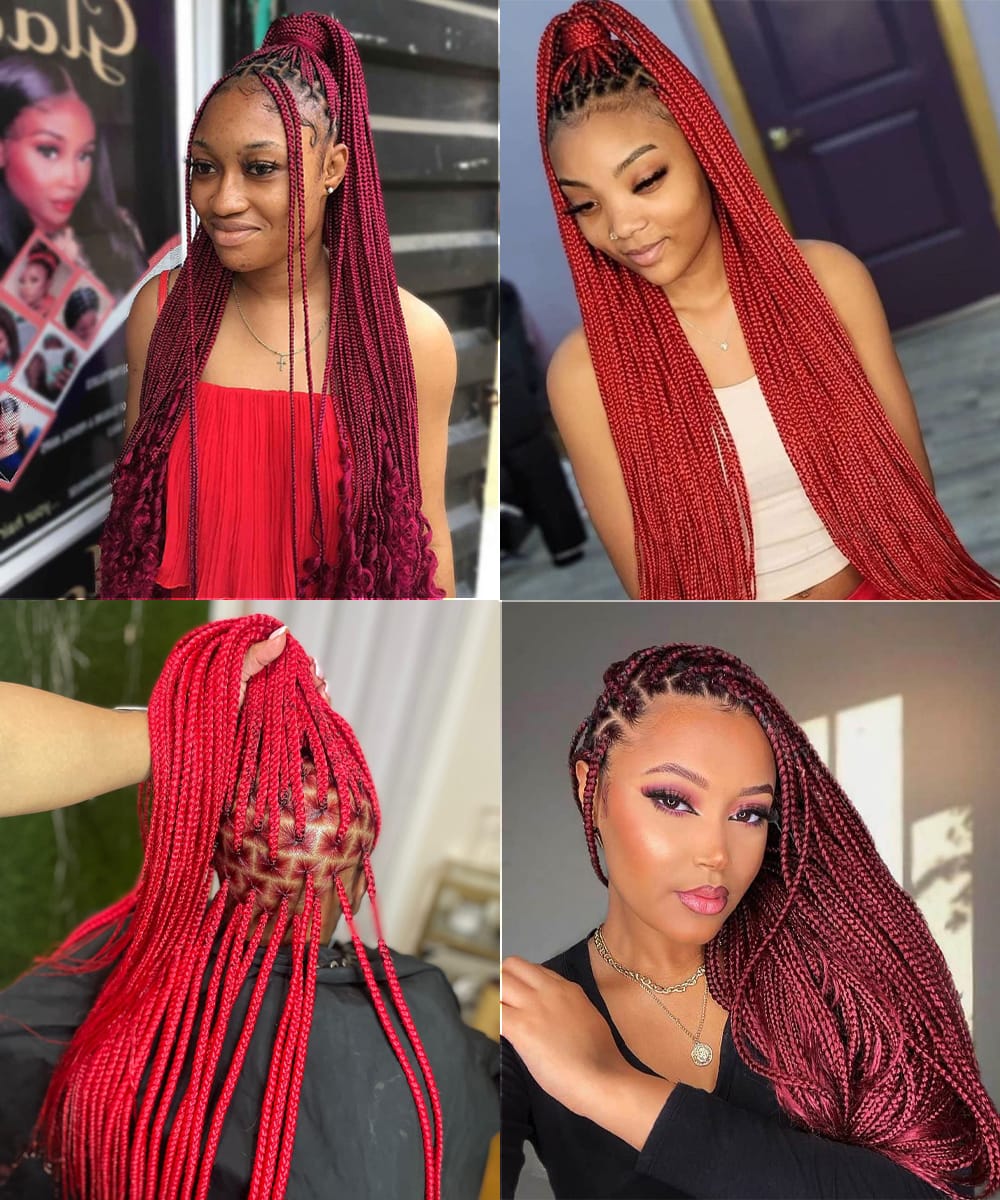 Braided Bob with Charming Color.
Presenting the bob hairdo idea with red box braids for African American black women. Bobs are always smart and confident hairstyles for women all over the world. And a bob with braids and color is really more adorable and noticeable than the regular bob hairstyles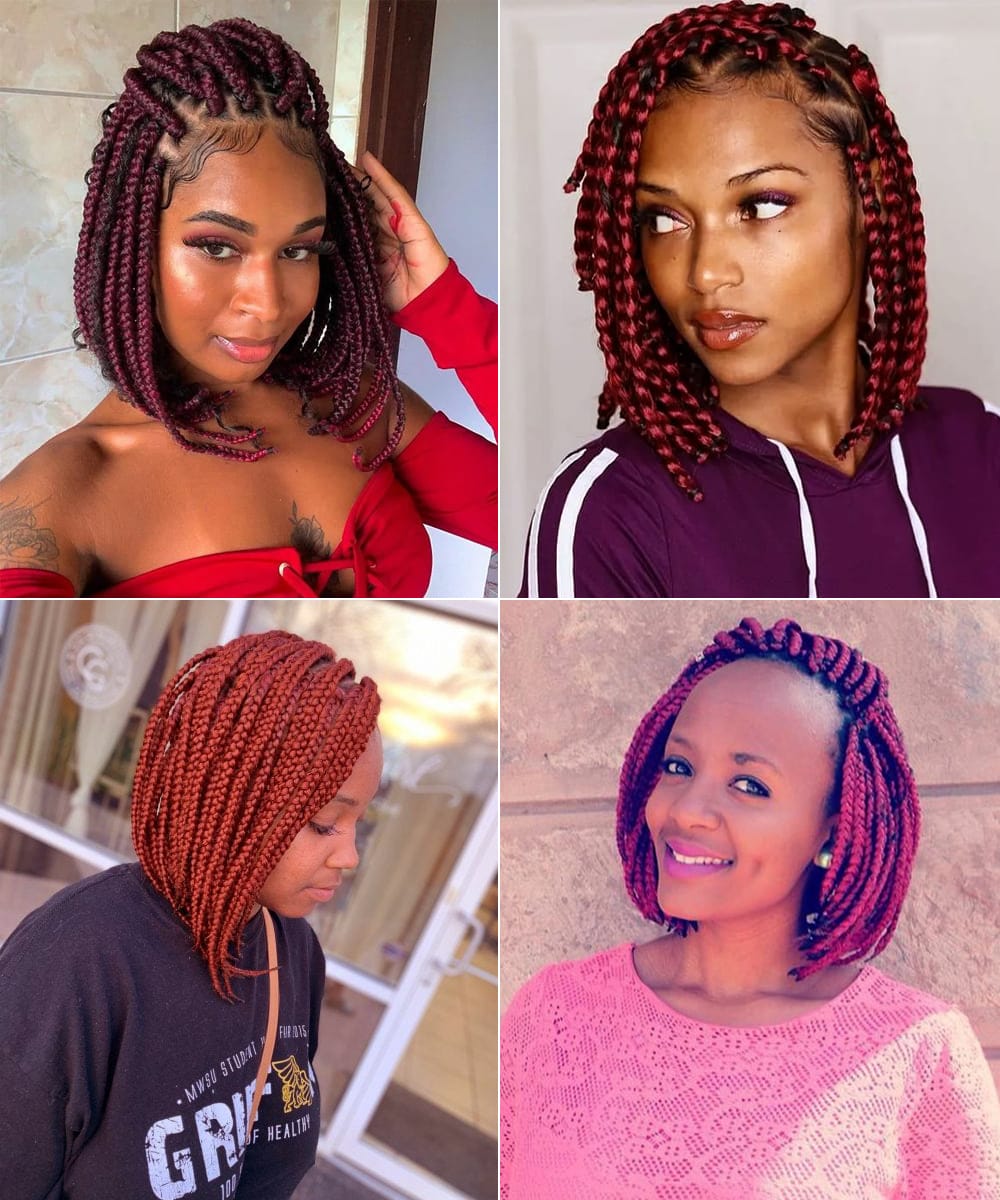 Box Braids with Central Partition.
Partitioned hairstyles are classic and cute. Though with natural and straight hairstyles partitions are common, with braided hairstyles partitions are rare. And you can take that advantage to make a unique partitioned hairstyle with colored box braids like this one.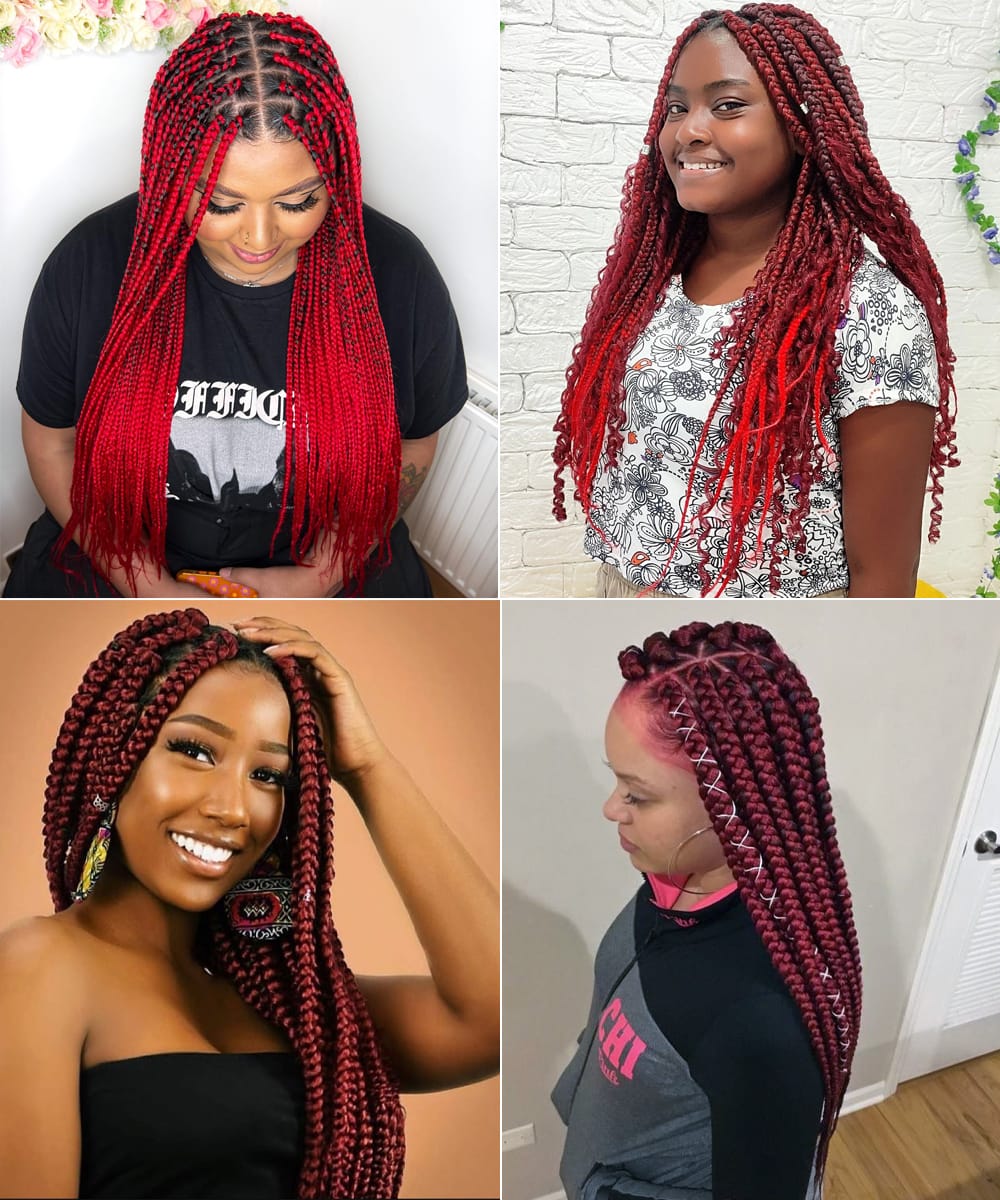 Goddess Braids: For Getting Goddess Look
Goddess braids style is a great combination of curls and braids. Curls are applied by side or on the edges of the braids to get a heavenly effect on the braiding hairstyles. And red goddess braids are finer than all of them. With red curls and braids, you can really look like a goddess.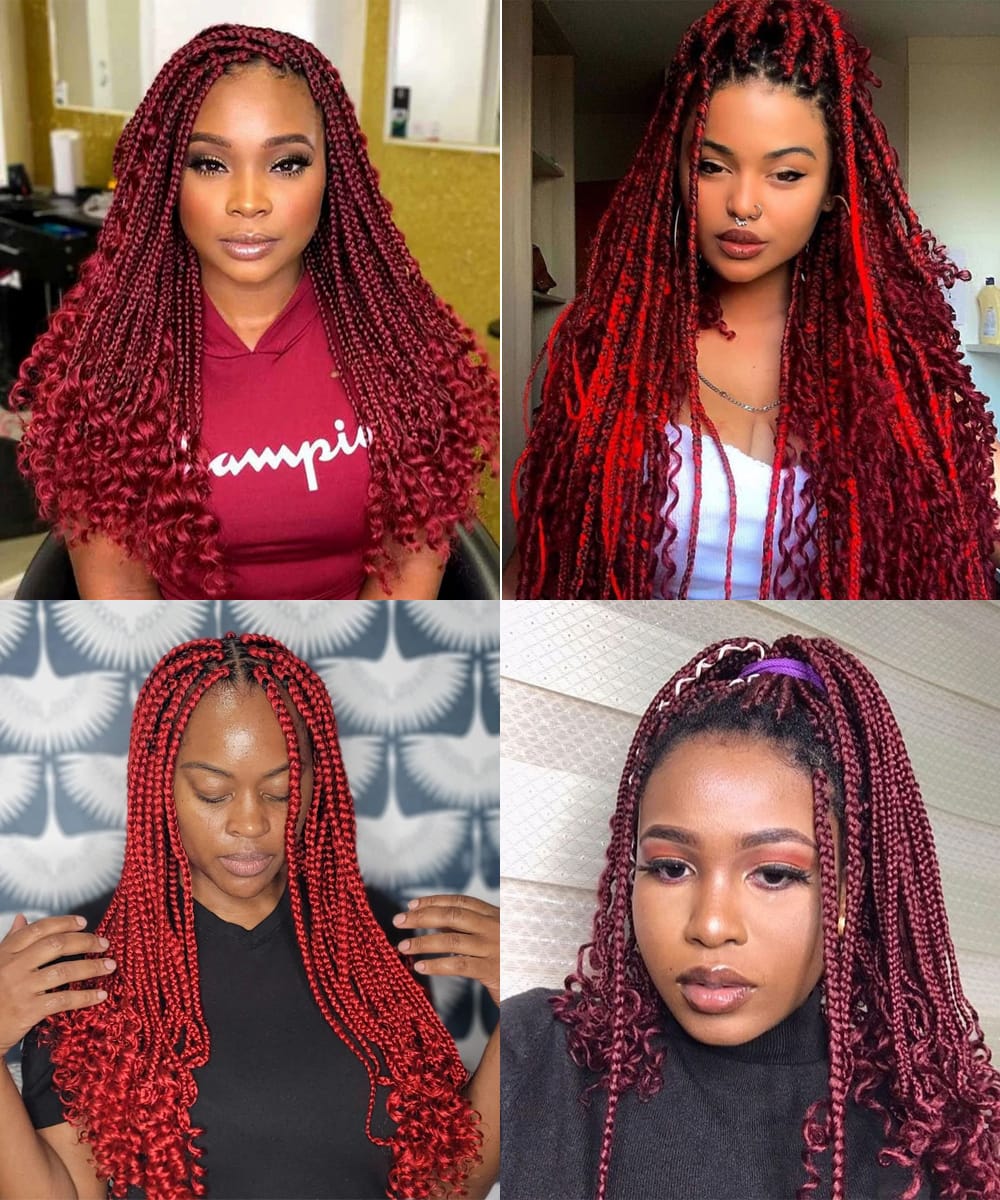 Thick Red Jumbo Box Braids
Jumbo box braids have a great appeal to all stylish and beauty-seeker women. Even famous movie star Keke Palmer has been spotted with these braids so many times. These thicker braids create a heavenly enchantment to your appearance and hairstyles. Moreover, due to the availability of a wide number of variants, these braids are tremendously popular among youngsters. But what happens when you wear these braids with red color? The answer is concealed in the images below. Moreover, the jumbo braids are considered to be a romantic braids style. So, if you are planning for a date in the recent future, you can manipulate this wonderful option.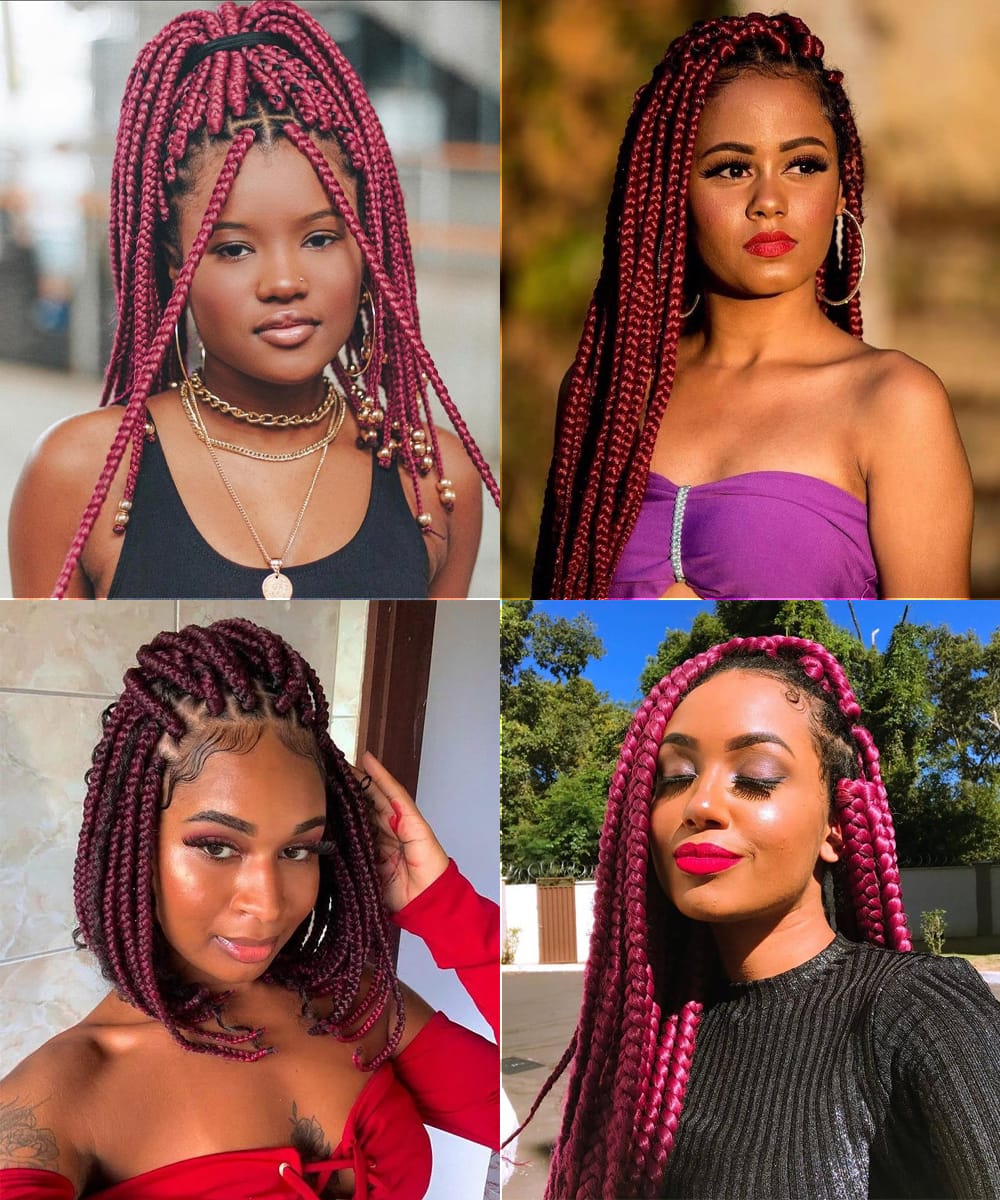 Knotless Braids
Conventional box braids are installed with a knot at the root of the hair. On the other hand, the knotless braids are installed in such a way that the braids do not start with any kind of knots. As a result, the scalp remains tension-free, and the baby hair gets rid of breakage. In spite of being a protective hairstyle the knotless braids are comfortable for our scalps and accelerate our healthy hair growth. And wearing these lovely braids with bright red, deep red, fiery red, and fire engine red color will make you look hotter and sexier.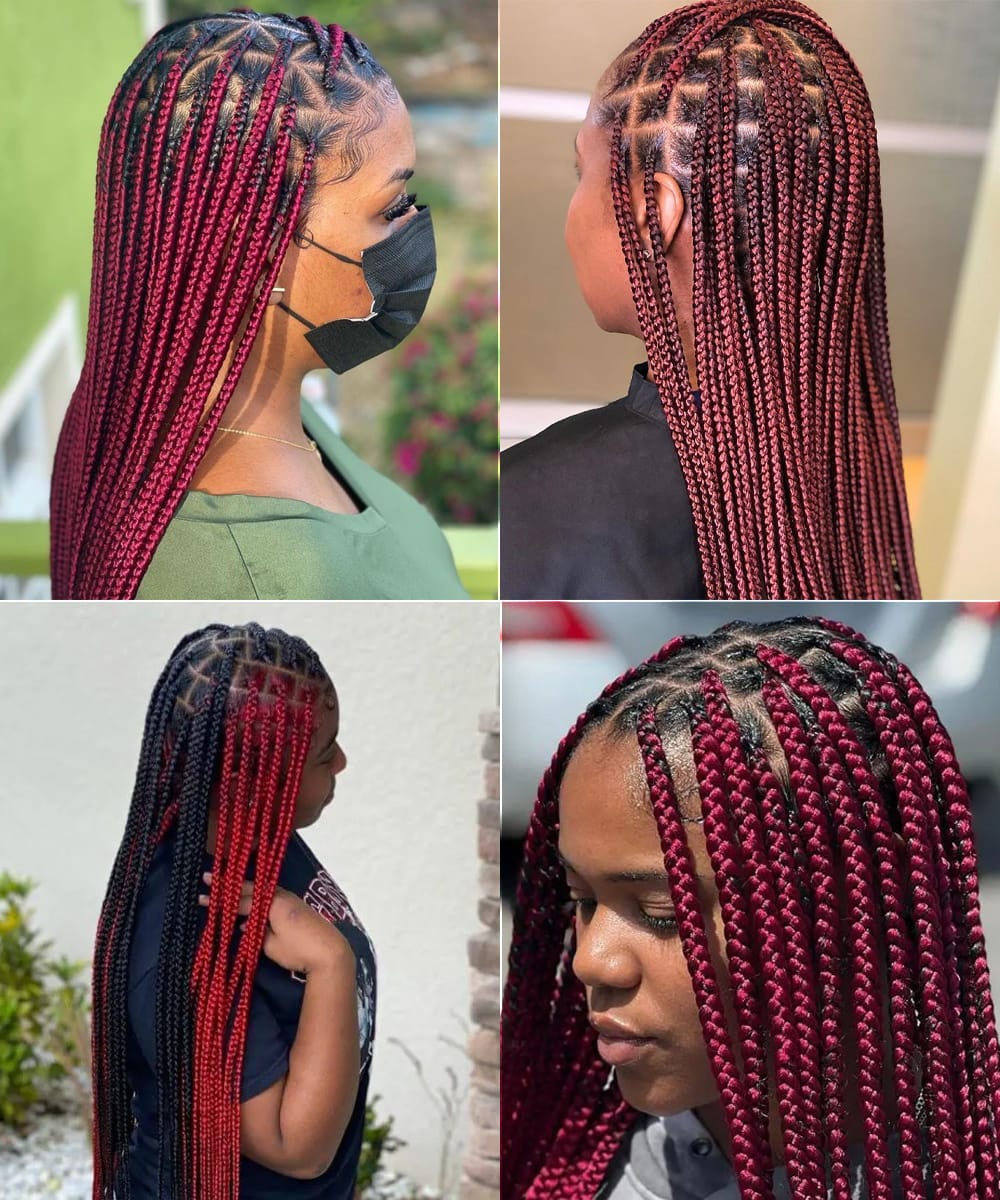 Fulani Brads: The Combo of Cornrows and Box Braids
Maybe cornrows can lead you to excellence with lovely braiding. We present you with a cornrows pattern with braids in an arrow look. The faded sides and the cornrows-box braids combo have the power to make anyone look twice towards you.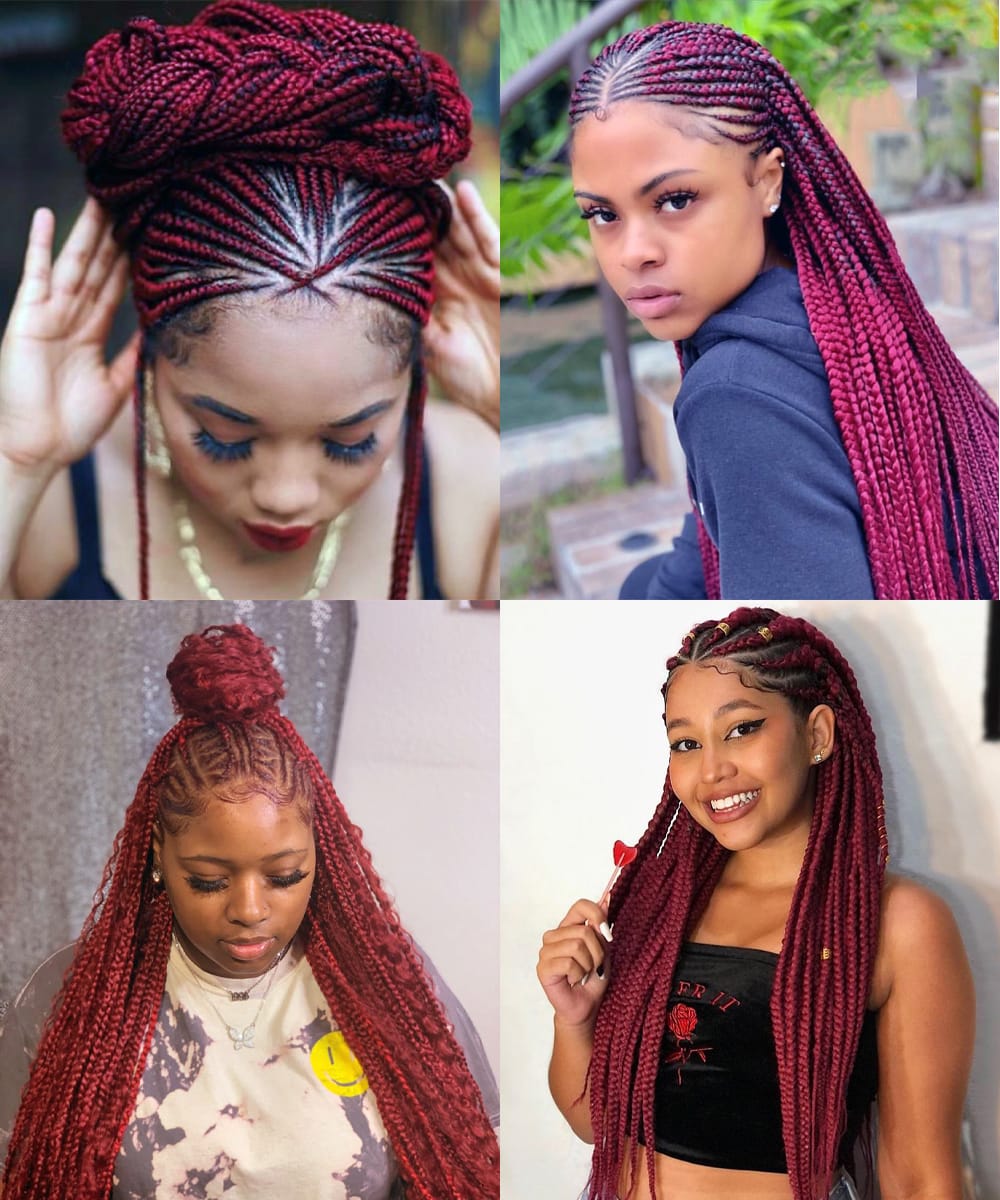 Ponytails with Red Box Braids
Yeah, the ponytail hairstyle is one of the most hassle-free, stylish, low-maintenance, and comfortable hairstyles. But have you ever tried it with red box braids? If not you should do it. Ponytails are of many kinds like high ponytails, low ponytails, half ponytails, pigtails, double ponytails, genie ponytails, etc. But whatever style you wear, just try it with red box braids and experience the magical charm of that. In addition, it is highly recommended that you should adorn your braids with some lovely beads of hair cuffs. And with all these, you will look no less than a celebrity.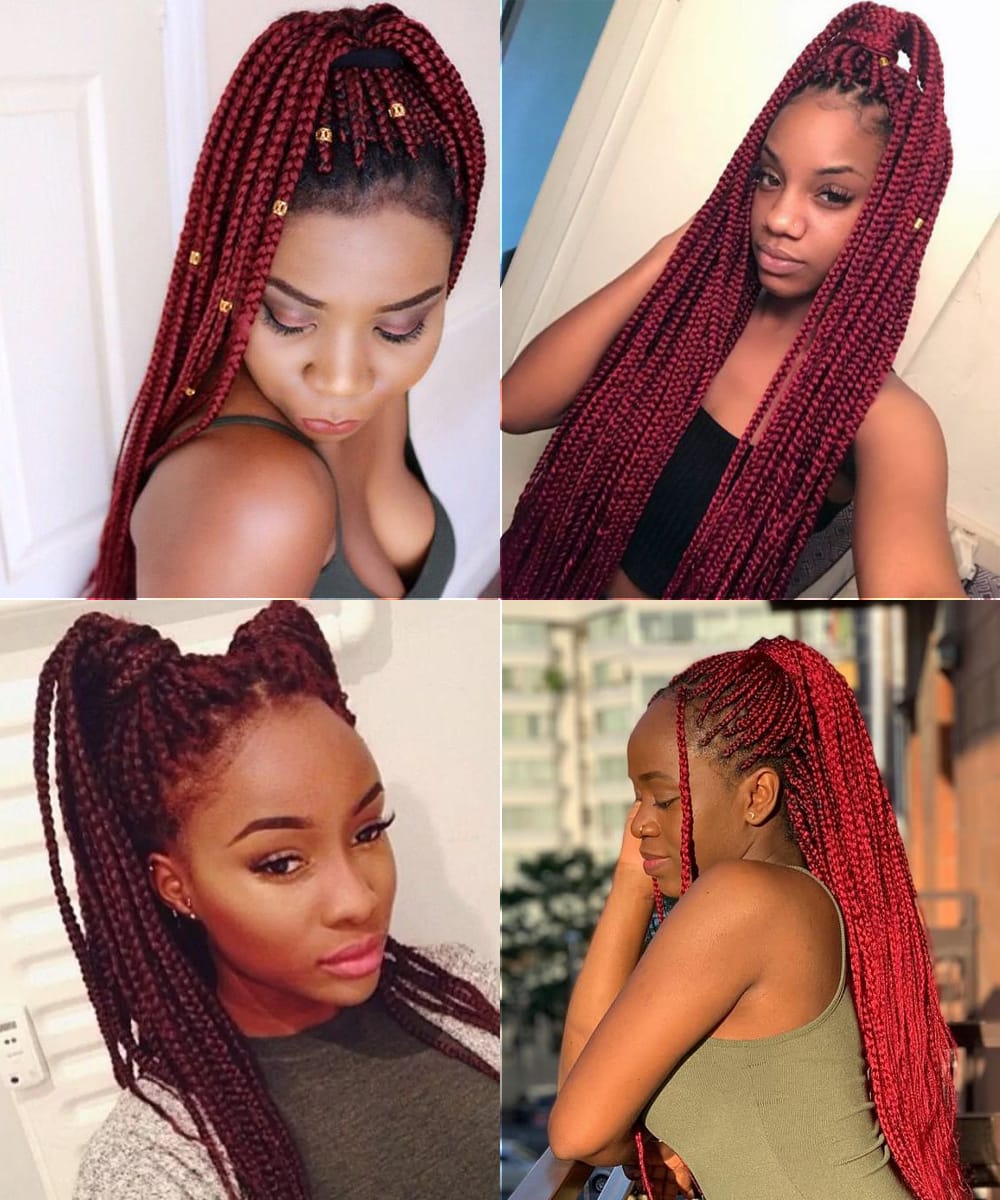 Crochet Box Braids
Like traditional box braids styles, crochet braids can also give you flawless box braids look. For many reasons, many of us like crochet braiding over conventional square-shaped braiding styles. The main benefit of this hairstyle is its time-saving installation method. In this process, your natural hair is braided (generally cornrows braiding) into a preferred pattern first. And later on, pre-braided or pre-twisted braids are attached to the natural braids. The attachment process is also simple: just take a crochet needle and use it to pull the extension hair through the natural braids. And the fun fact is, that crochet braids styles with red-colored pre-braided or pe-twisted braids extensions are the most popular crochet braids style of all.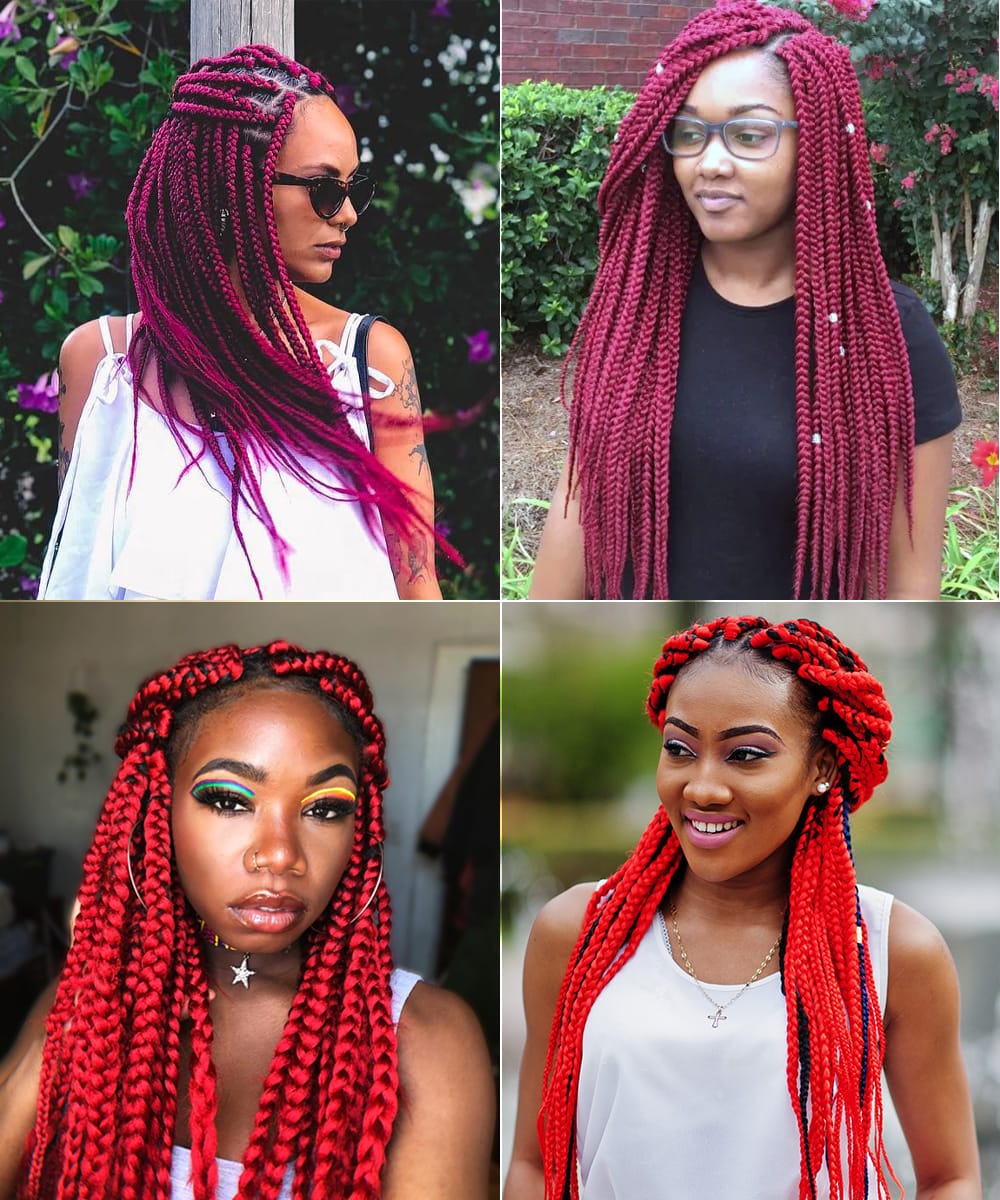 Twist Box Braids
Twisted red box braids are a red-colored hybrid hairstyle that is made with a combination of twists and box braids. These two legendary braids styles are protective in nature and equally appealing visually. The basic rule is sectioning the natural hair in square shapes and attaching the twisted braids with them. You can simply attach hair extensions to your natural hair and make twisted braids, or you can adopt a crochet method to do that. As we have discussed earlier, you can attach the pre-braided/pre-twisted braids with the help of a crochet needle. But whatever method you use you can adorn your braids with lovely beads, make the edges curly (goddess braids), or make shorter braids to have a bob look.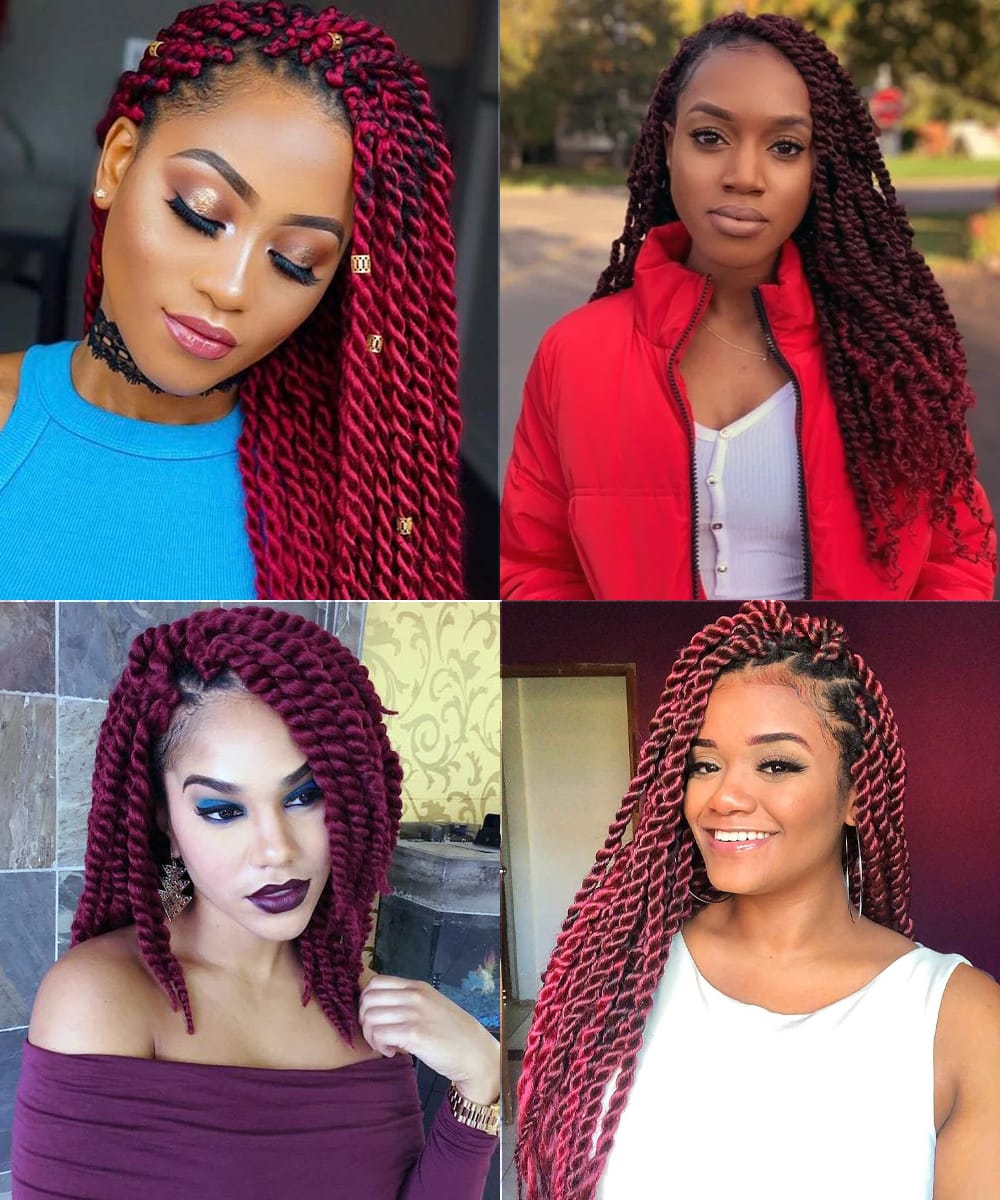 Side-Shaved Undercut Box Braids
Side-shaved or undercuts have gained huge popularity among young women of black ethnicity. The fun fact is that the undercuts are great with both braids and natural hair. You can have this mohawk-inspired hairstyle with red hair too. But if you are willing to add some extra charm and romantic flavor to your hairstyles the red box braids are perfect for that. You have already noticed that these braids are worn with updo or half updo styles. And that is the beauty of it. So, if your skin tone allows you to have this hair color, you can definitely go for it.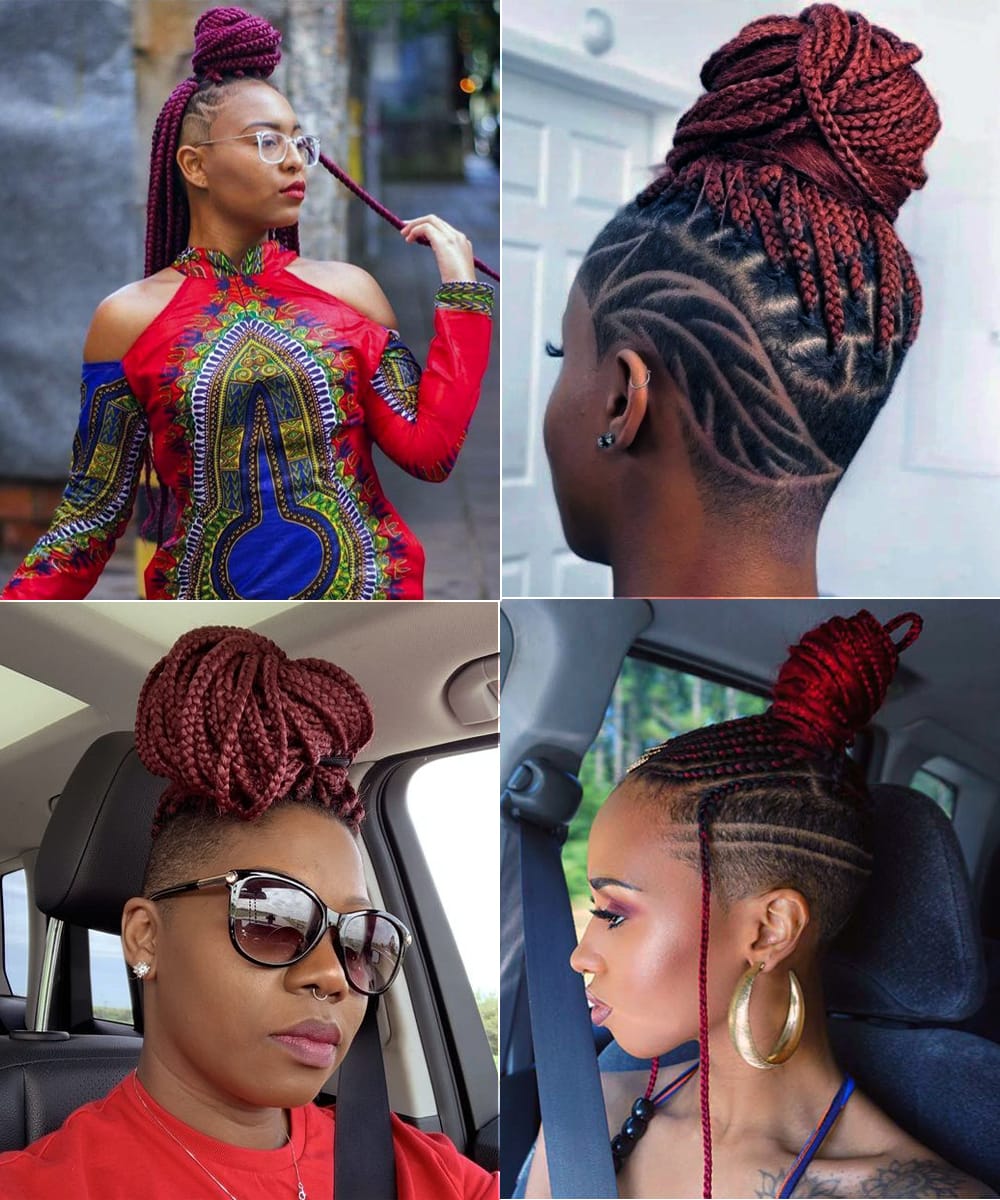 Red Braided Bantu Knots
It's time to give the traditional Bantu knots some rest. Because you can do it with some love red box braids. Instead of using coils you can use braids and make some super-cute bantu knots like these. Additionally, you can adorn your braids with accessories like beads to make them more sexy. On the other hand, these knots can be worn with some free braids or braided bangs. And you can already see that with red box braids, the Africa-originated coiled knots have got a modern look. These funky styles can be a great choice when you are on a date or attending a party.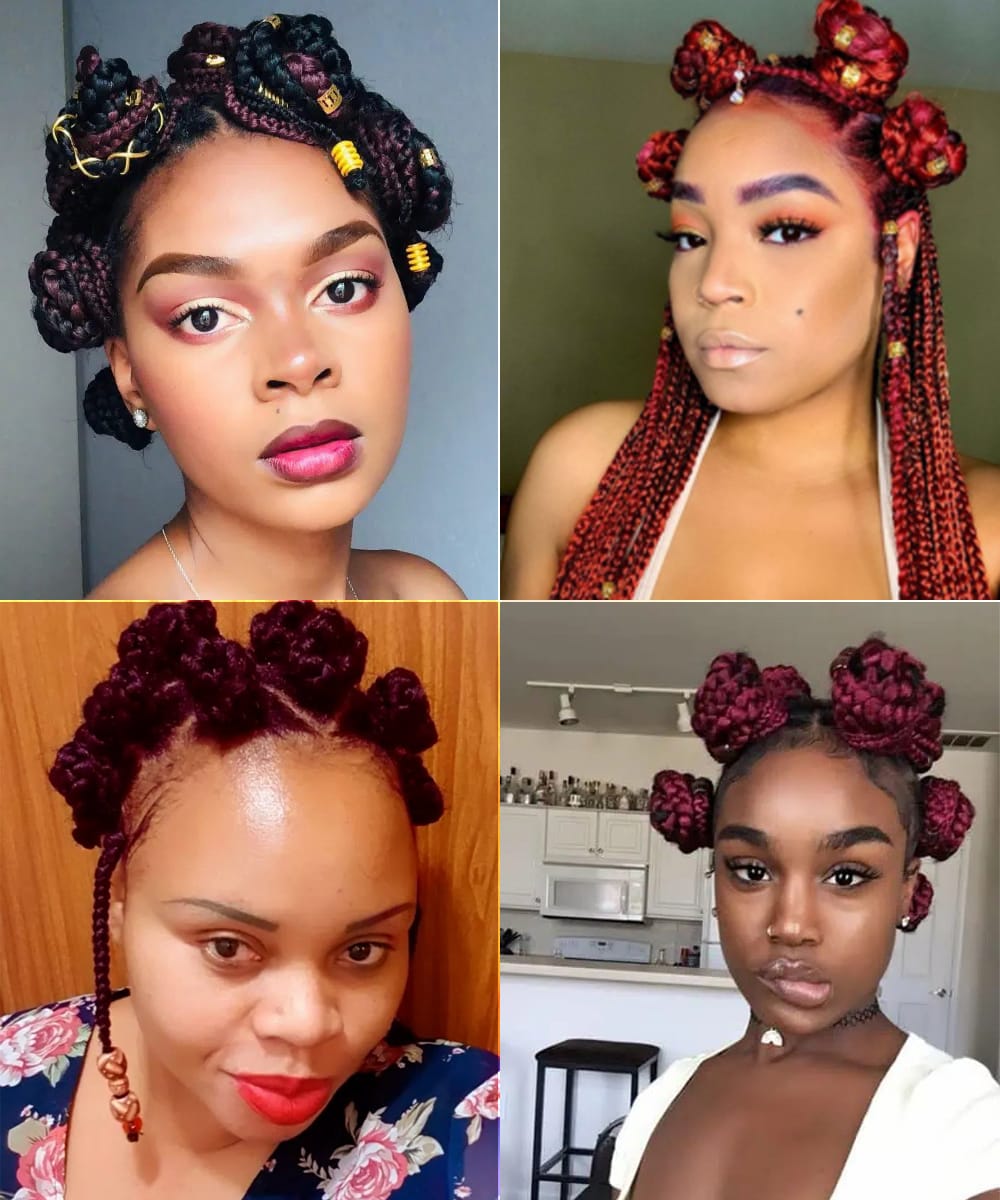 Red and Black Box Braids
Have you ever searched for re and black box raids? At least Google says so. A lot of people search for resplendent red and black braids on Google. And for you people, we have got the following image, a colorful box braiding hairstyle idea.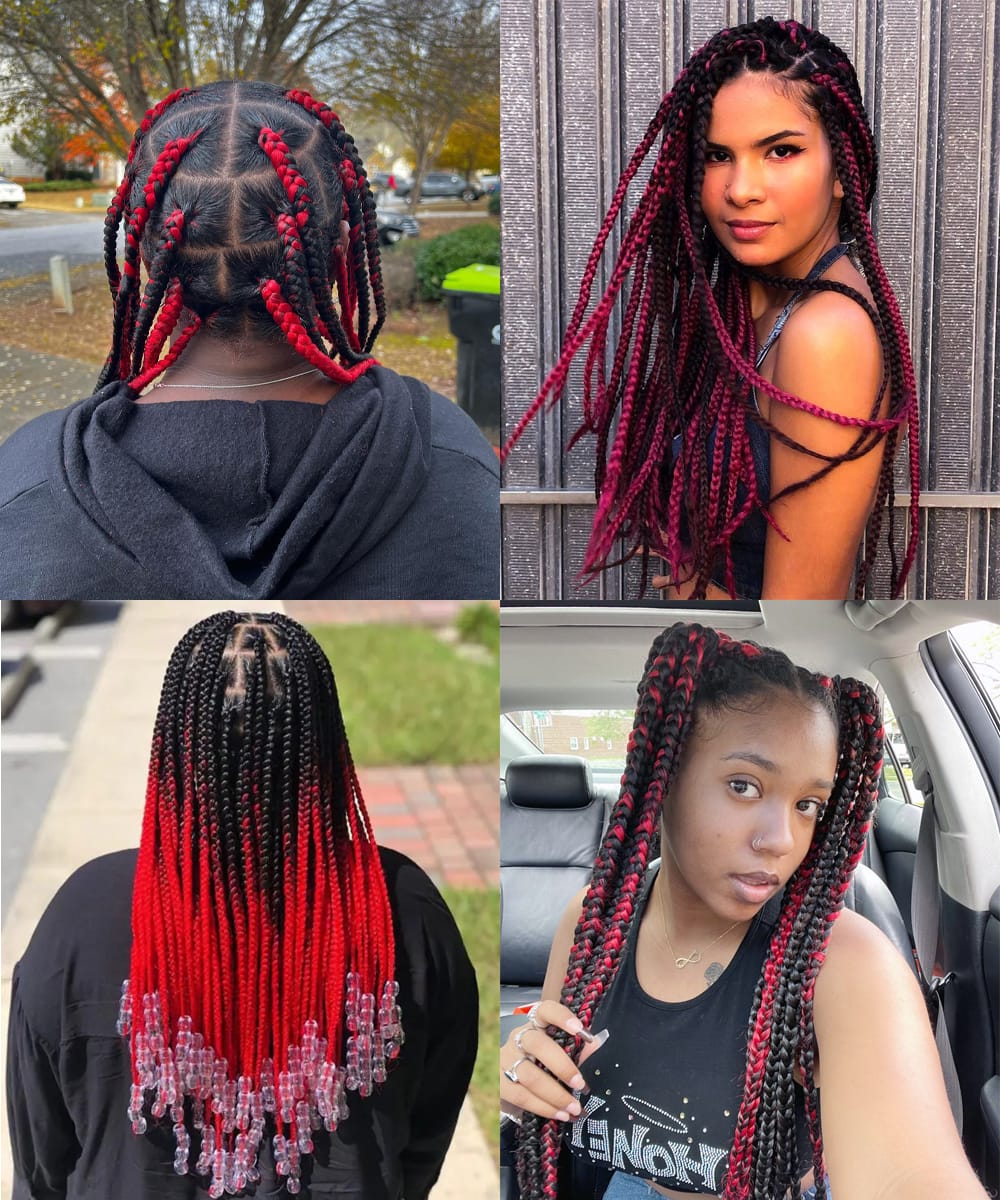 Braided Knots on Front
Knots make you more attractive and noticeable. But which knots are eye-catching and impressive?  Of course, the braided top knots. Now scroll down to the image and get the immensely popular topknot idea with the box braids.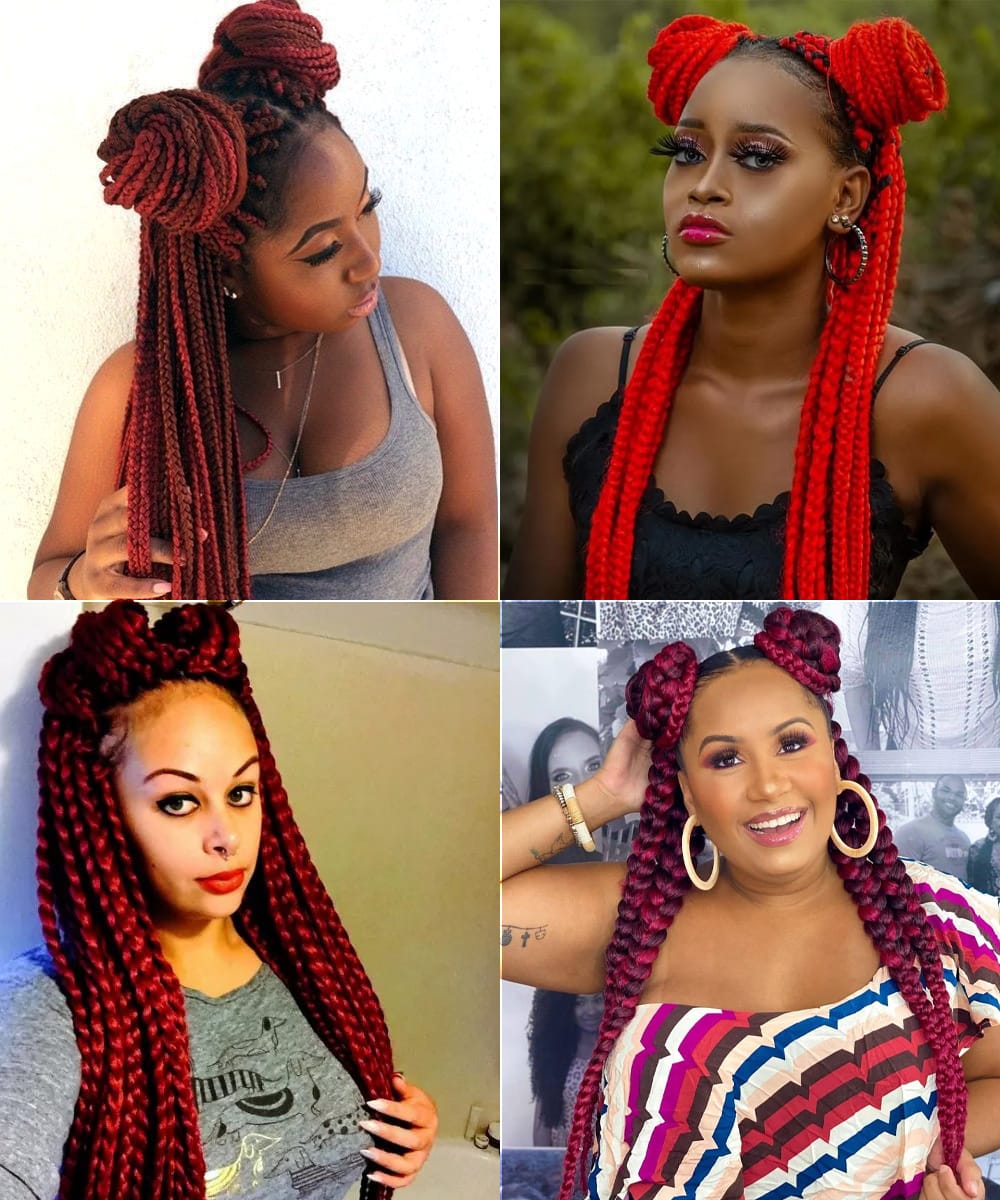 To increase the beauty and effect of braided hairstyles, you have no substitute than beads. From kids to women, from family tours to vacations, and from cornrows to any braiding hairstyles, beads can be an impressive element to enhance your beauty.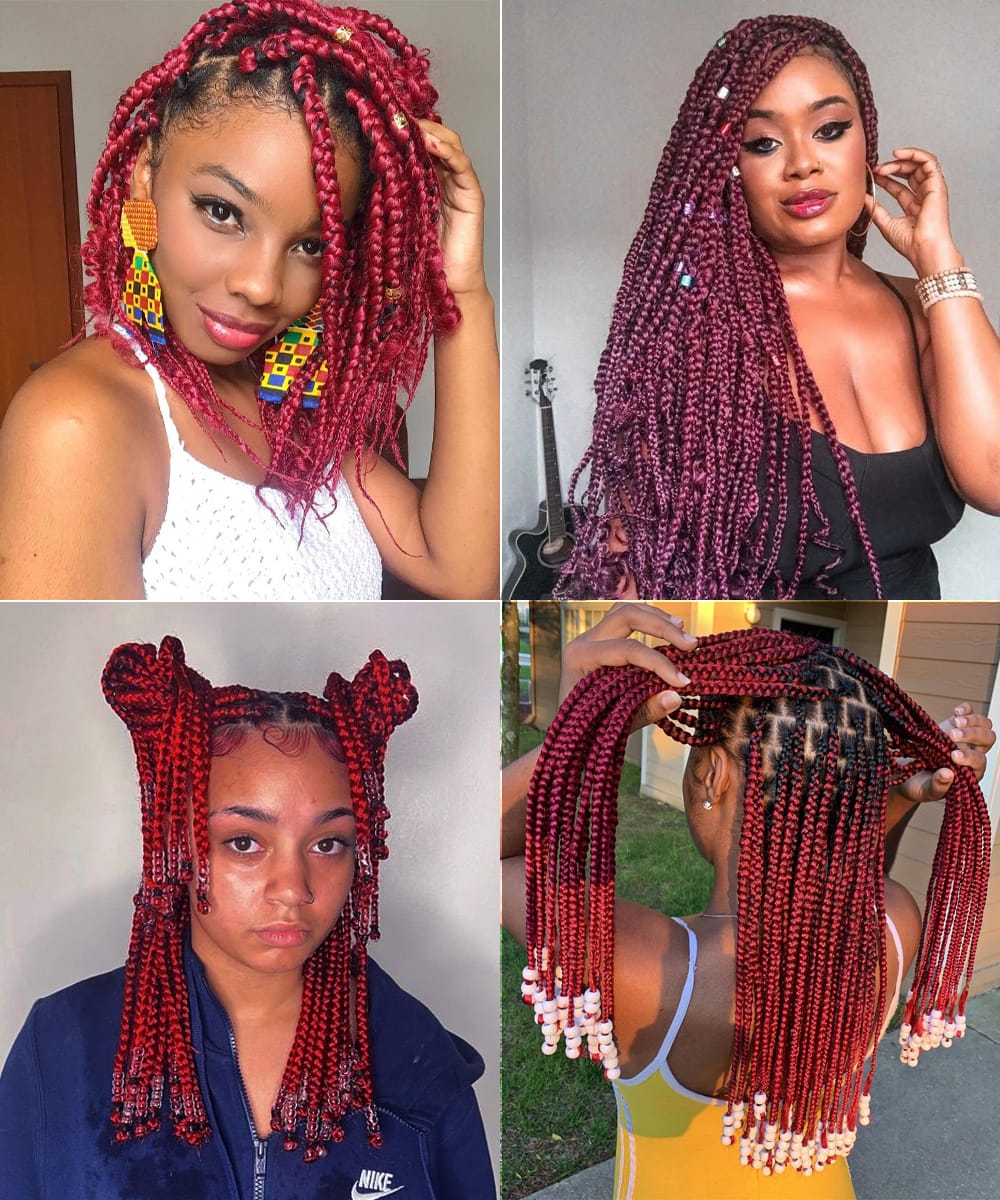 Dark Red Braided Bob
Look at another bob hairstyle with box braids.  It is cute and smart enough to be useful for every woman. And do not ignore the beads, they have an important role to play in this hairstyle.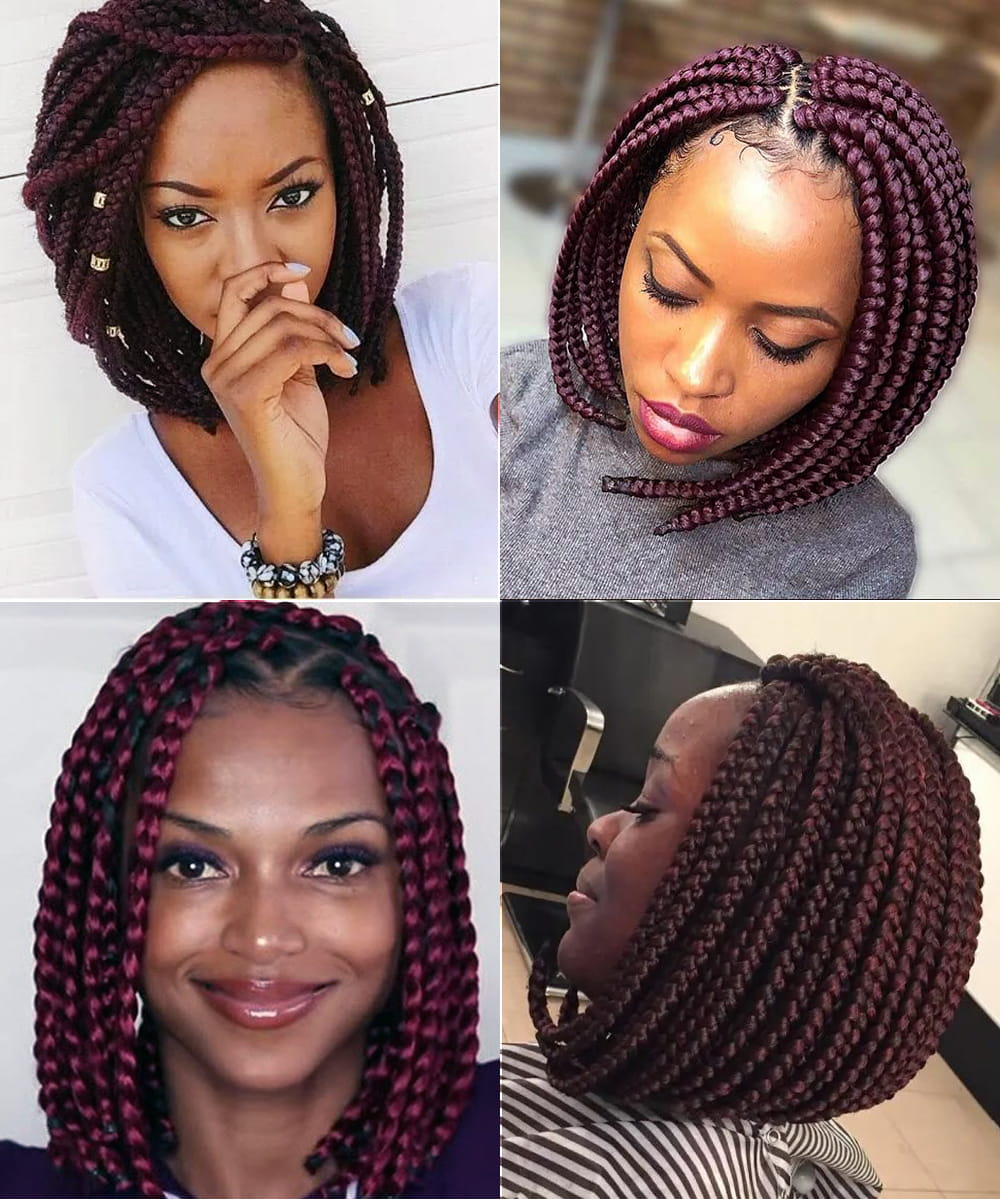 Shoulder-Length Short Box Braids
Shortness is cuteness and smartness. The demand and use of shot hairstyles are increasing day after day and becoming the trend. There are many reasons why the shortness in hairstyles is being welcomed by the African American community. So why don't you try a short box braids hairstyle with lovely reddish color?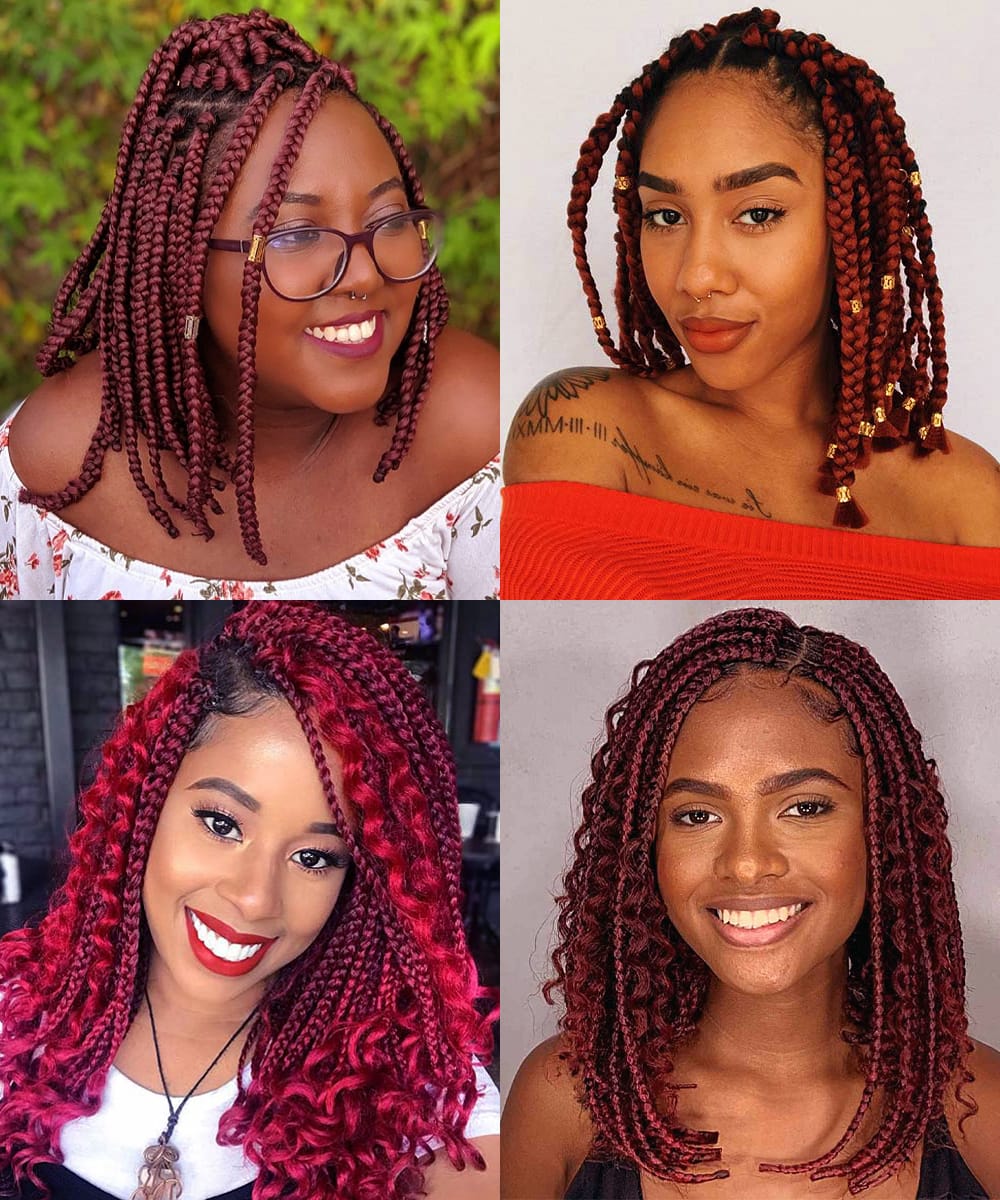 Create a Snow Flake Shape With Box Braids
Like unique designs and decorations with hairstyles? Take a look at this one. Beside The lovely box braids, beautiful snowflakes are drawn on the scalp of the head. So, you can now enjoy the greatness of box braids and lovely designs on your head at the same time.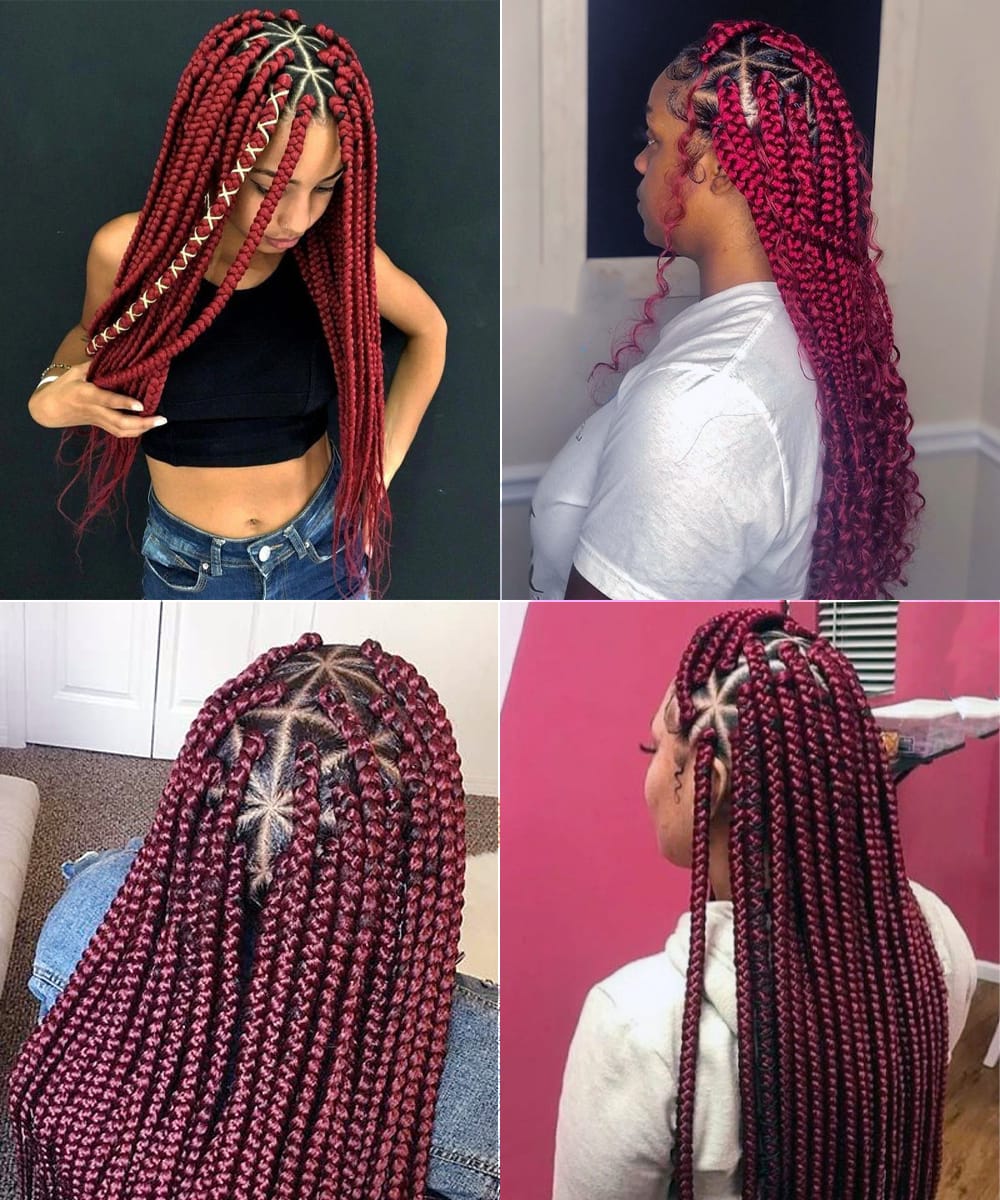 Creative Red Box Braids Ideas
Besides the traditional box braids styles, you can consider some of the unique and creative braids styles like these. Most of the time this creativity combines two or more legendary hairstyles to make a new and unique one. In this regard, you can consider Fulani braids (the box braids and cornrows combo), the goddess braids or bohemian braids, or jumbo braids, and play around with the mixture of romantic colors. We strongly suggest these experiments be red-colored or at least red-highlighted. And the result is in front of your eyes.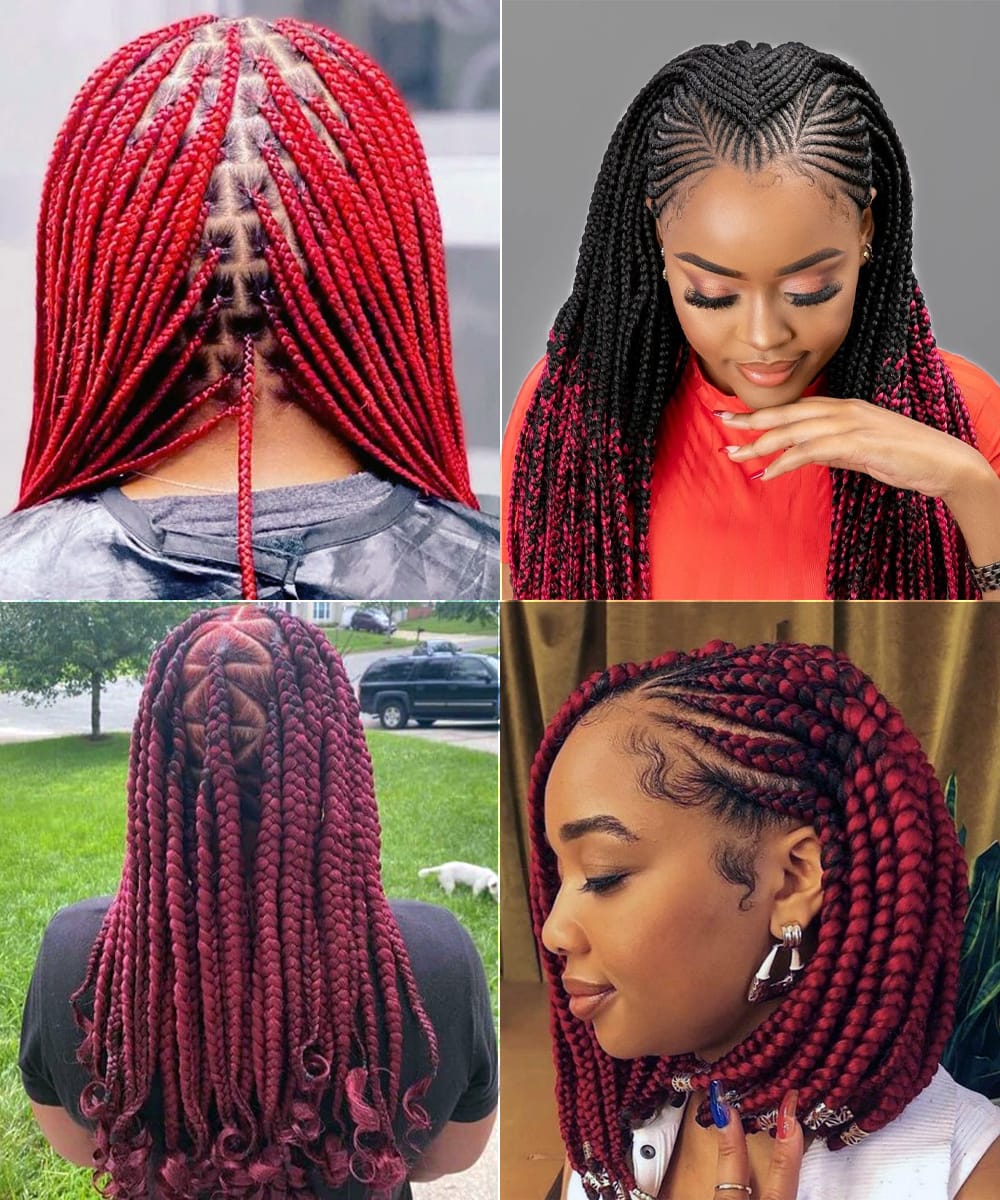 Diamond Box Braids
Like triangular box braids, you can make diamond shapes with lovely box braids. The snowflakes, the triangles, and the diamond shapes are examples of different varieties of box braids. And all of them are tremendously popular among African American black women.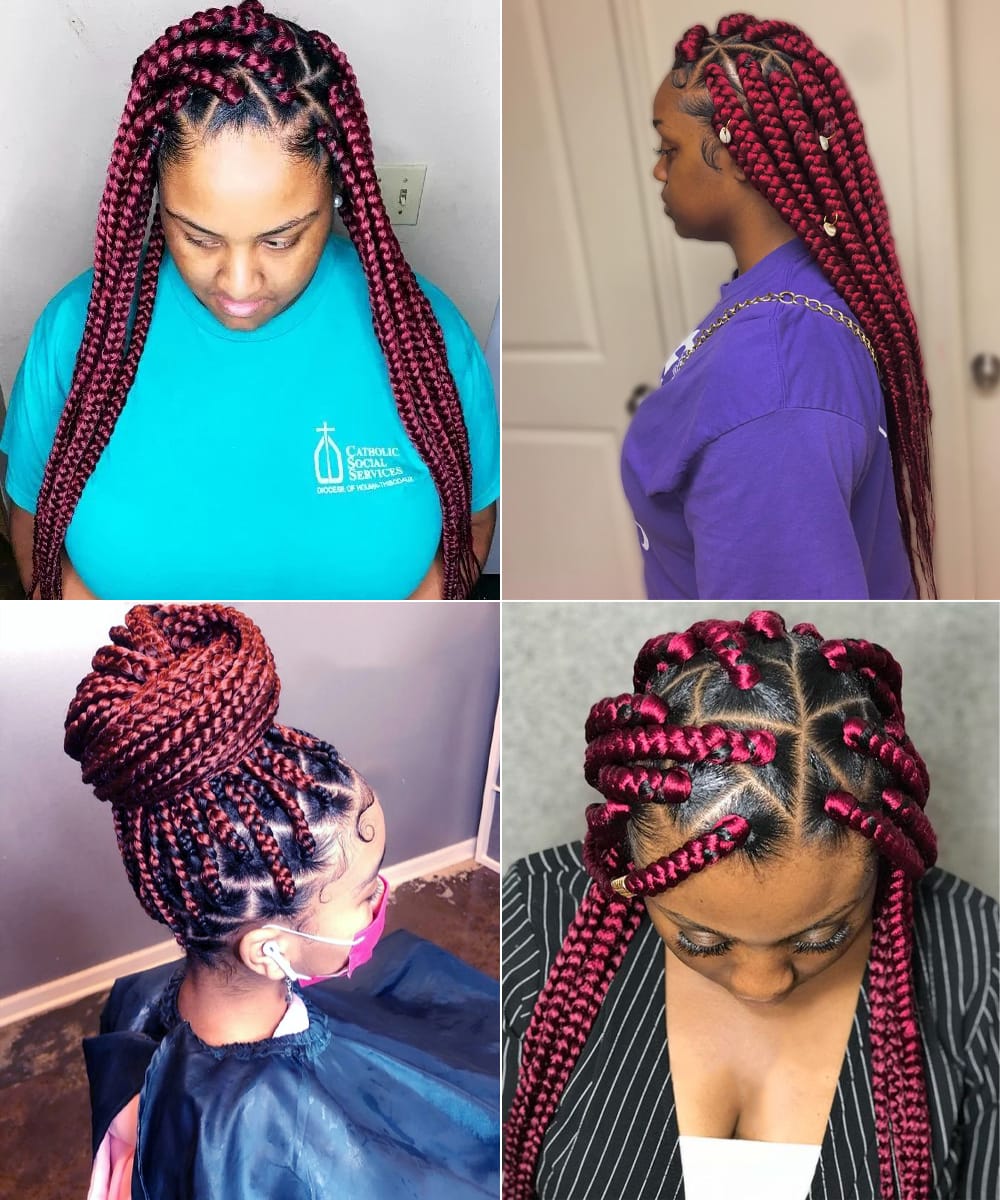 Highlighted Braids
 Red box braids do not mean pure red colored box braids only. It can be a highlighted color too. The image below contains a hairstyle with highlighted box braids. And it is amazing as always.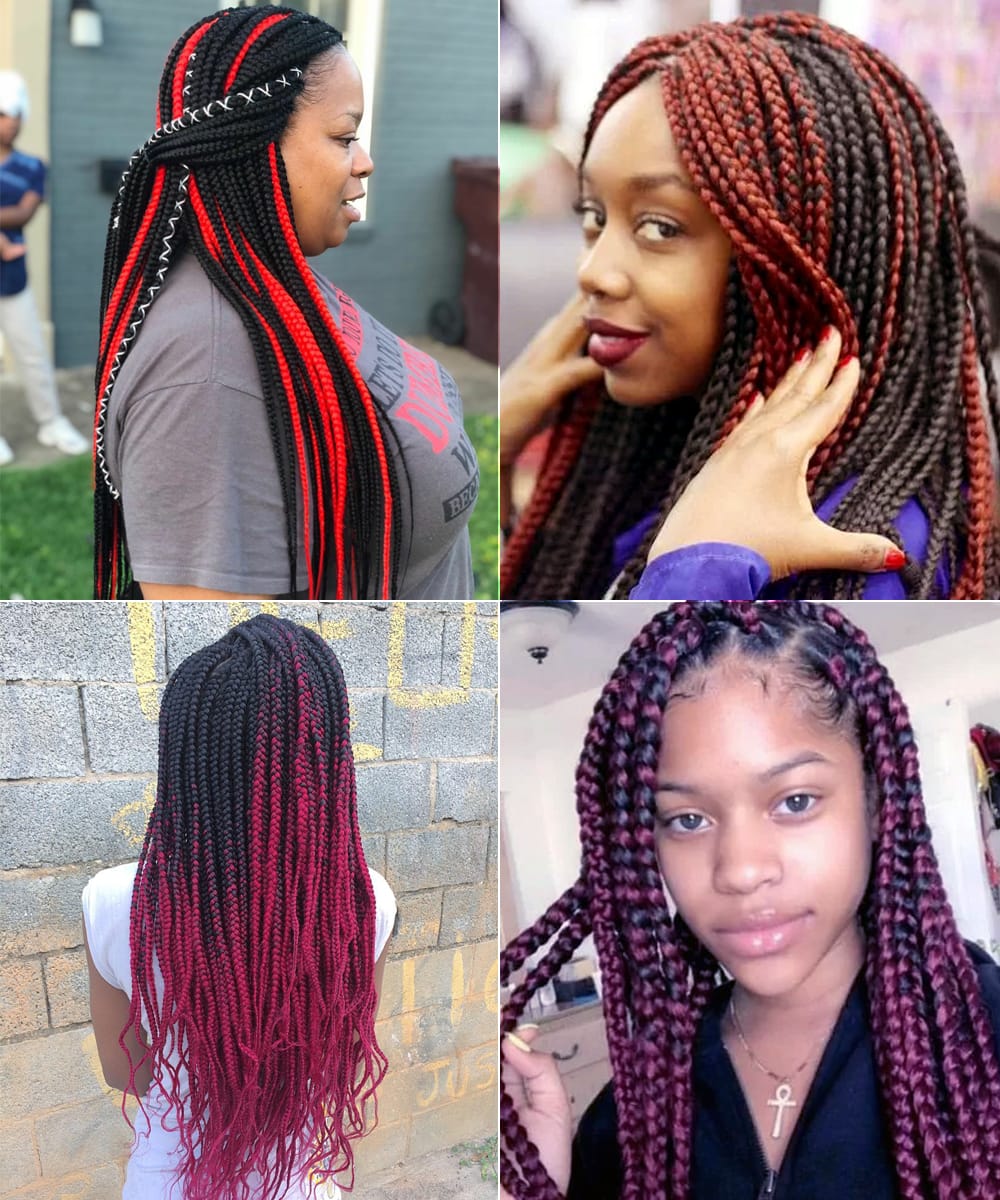 Half Updo with Box Braids
Do a half updo with your box braids to create a heavenly effect on your hairstyle and appearance of you. All you have to do is to divide our braids into two parts, use one section to make an updo, and let the other section hang free. That's it.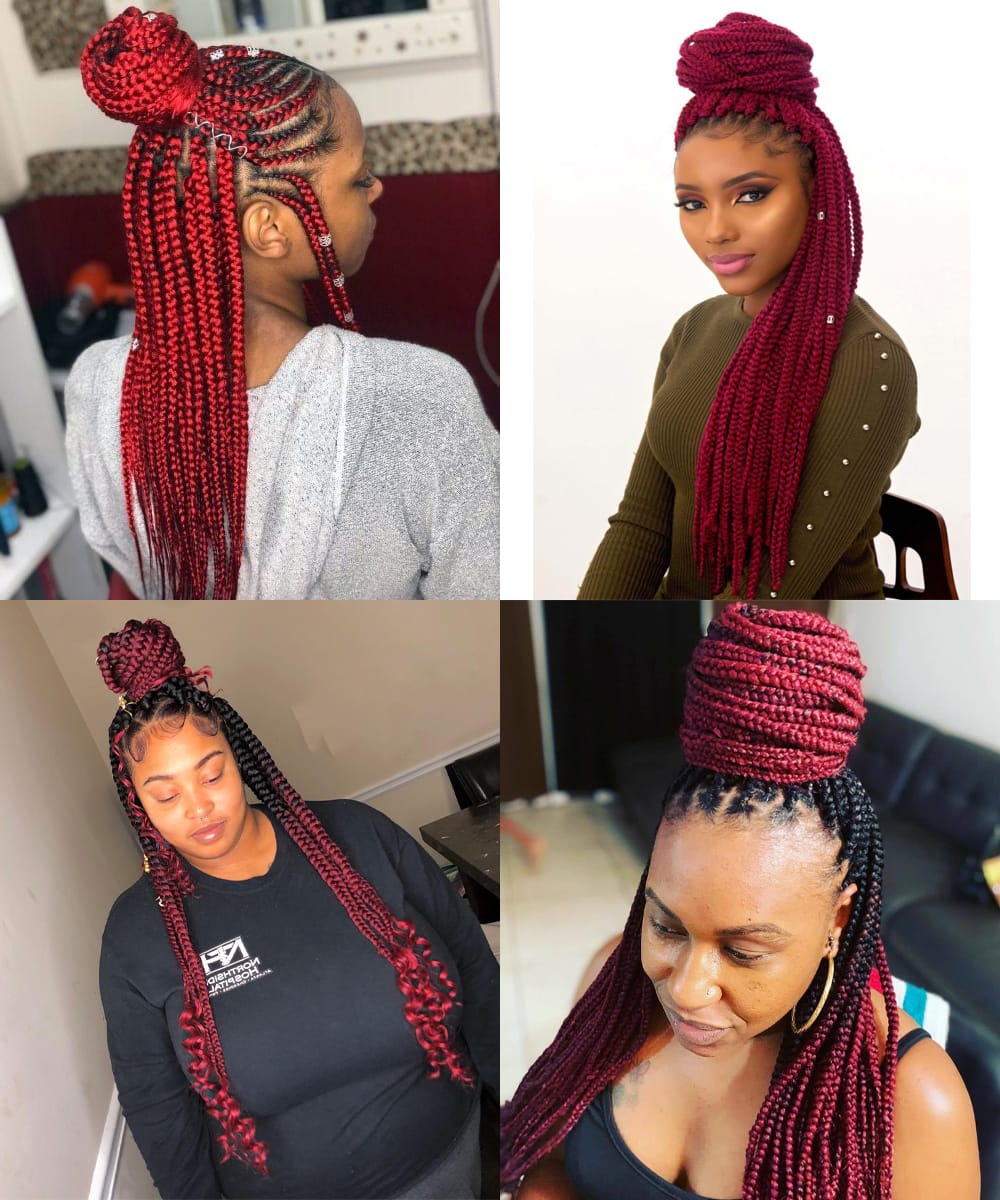 Hip-Length Long Box Braids
It's about length. The longer your hairstyle is, the more cute and glorious you are., Here is just another example of a braided hairstyle with lovely long braids with red color. And you judge its significance and effect as a braided hairstyle.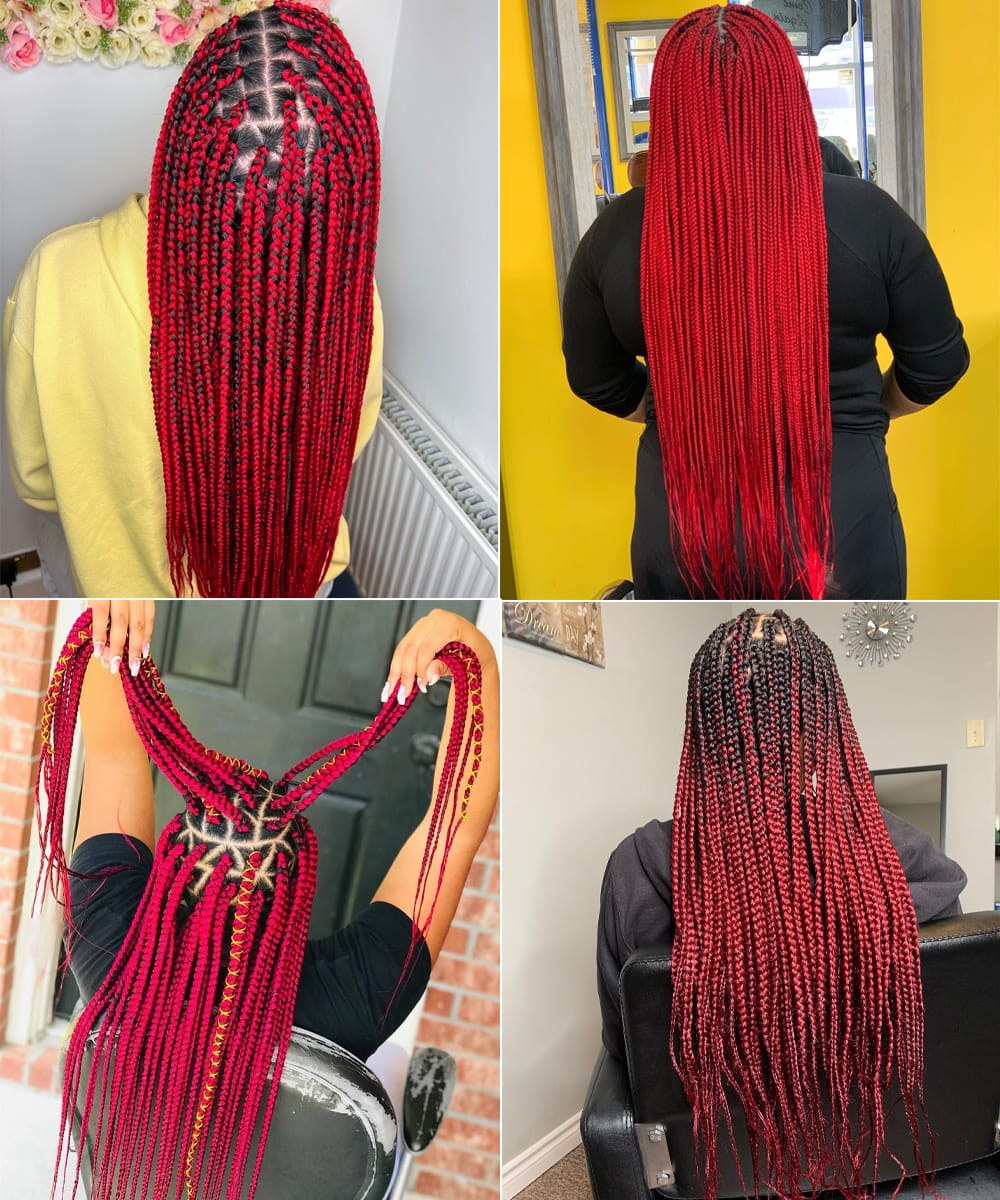 Braids, Beads, and Updo
Updo hairstyles are great for any occasion, party, or tour. On the other hand, during the summer, the updos give you great serenity reducing the huge and bulky load of hair on your head. Updo made with box braids and some beads can give you more charm and comfort just like the image below.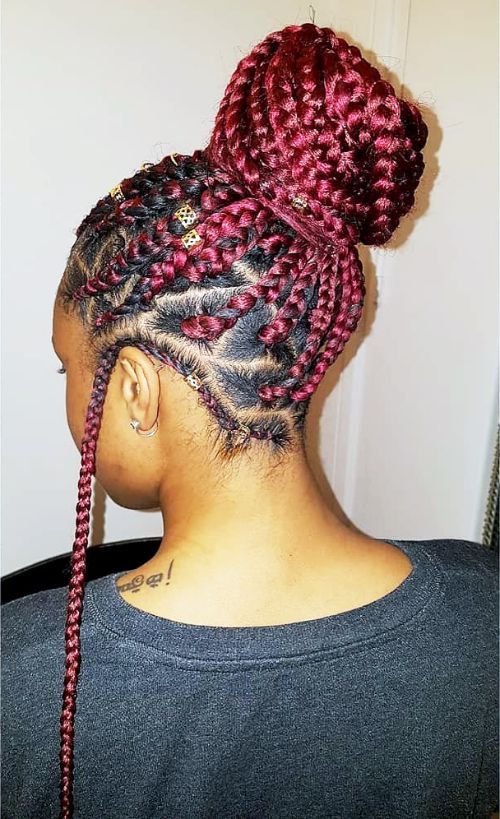 Meet Some More Gorgeous Box Braids Styles
Is there any definition of gorgeousness? Well, this hairstyle may be taken as one of the finest definitions of gorgeousness. It's much more than the regular long box braids ideas. And only the reddish color has made his happen.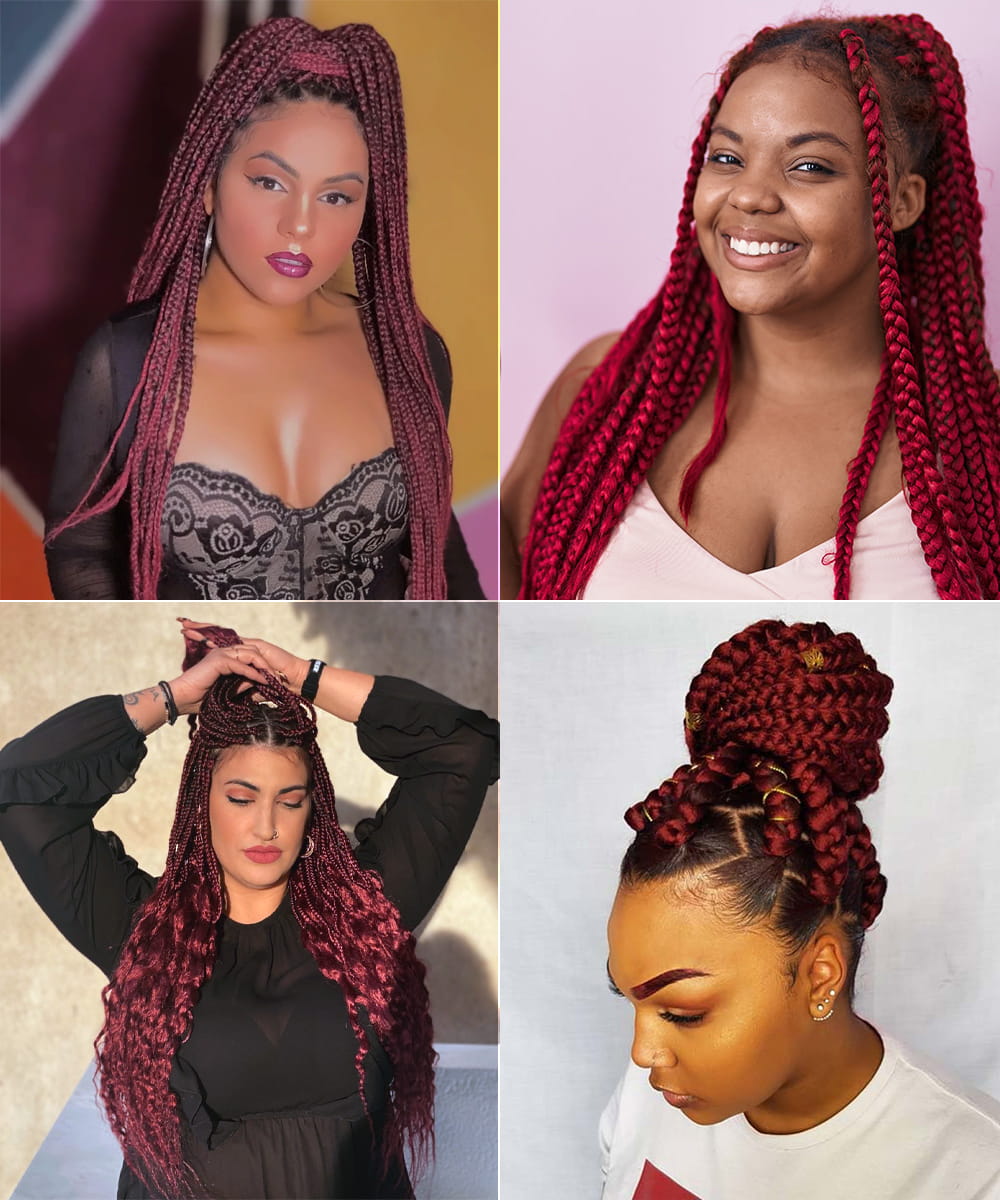 FAQs
How to redo box braids?
Redoing box braids is removing existing braids and installing new braids on your scalp. If your braids are a few weeks old, you can easily undo the braids and start re-braiding. Removing braids that are installed recently can be harmful to your natural hair and scalp. In the first step, you will need to cut the rubber bands or hair ties in the bottom of each braid. Make sure that your natural hair is not cut in this step. In the next step, you need to unravel the braids starting from the tips to the bases. By this time, you may need to detangle the tangles and knots on your box braids. And in the third step, you need to detangle, wash and moisturize your natural hair. Now your hair is ready for re-braiding.
What are the popular colors of red box braids?
There are more than 45 shades of red color. But we apply only a few of them. The popular colors of red box braids are burgundy, maroon, wine red, claret, rosewood, oxblood, old red, mahogany, etc.
How often should you redo box braids?
Box braids are fine till 6 to 8 weeks. But after that, your protective braids start harming your natural hair. This results in hair breakage and weaker roots. And if you go further longer you may have to cut your hair for redoing braids. So, redoing early will be safer.
How will I look with red box braids?
Anyone can wear any variant of box braids without hesitation. These protective styles are perfect for almost all types of skin tones and face shapes. Moreover, your hair texture will hardly affect the beauty and effect of these braided hairstyles. So, you will definitely look charming with red box braids.
How long do red box braids last?
Almost every variant of box braids (including red box braids) last up to 6 to 8 weeks. But experts often suggest wearing them up to 1 month. And at least not more than 6 weeks. If you wear these braids for a longer period your natural hair can be harmed.
Can I wear red box braids professionally or formally?
Well, it depends. Generally, the braids styles are okay with your professionalism. But in some cases, the color of your braids can be objected to. But as long as the color of your braids is natural or close to natural color, there should be no problem with it. But remember, every organization has its own set of rules regarding formality. So, it completely depends on the rules of the organization you work for.
Now Hurry up, you have to pick the right one according to your personality, face shape, and desired designs. And let us know about the discussed examples of red box braids in the comments section.