Among short, medium and long versions of box braids, medium box braids hairstyles have been popularized over the last few decades to a great extent. These box-shaped protective hairstyles are widely used for gaining glamorous hairstyle as well as for protecting the natural hair. So far we know, Around 5000 years ago the Himba people (especially the women) of Namibia of southwest Africa started using braids for styling their hair. From that ancient age to today's Instagram, YouTube era, the braided hairstyles, although evolved a lot, haven't lost a bit of attraction. On the other hand, these braided hairstyles have been polished, modified and modernized in a wide range to keep pace with the 21st century trends.
So, its time we make it clear to you that what you are gonna get from today's article. We are here to let you everything you need to know about the medium box braids hairstyles. Here, we are goanna discuss and explain about the braids, braiding patterns, variations, accessories, applications, care of the medium box braids. Along with that, you will find 100+ box braids hairstyle ideas of the post-modern period to consider them for yourselves. Moreover, we have compacted some FAQs for you regarding the box braids hairstyles that will help you fill-up the deficiency of information about box braids hairstyles. Let's get started.
What are Medium Box Braids hairstyles?
Braids are worn from the ancient past till today. Still now millions of women and men around the world are doing their braiding hairstyles to have a greater look. The African American black women generally habituated with the fishtail braids, cornrows braids, tribal braids, Havana twisted braids, crochet braids, mohawk braids, box braids and so on. Among them, the use of box braids is always on the top. In addition, the use of medium box braids hairstyles has gained widespread popularity among women of different regions, countries, and ethnicities. As the medium box braids hairstyles are the part of box braids hairstyles as well as a protective hairstyle, we need to know about the protective hairstyle and the box braids hairstyles first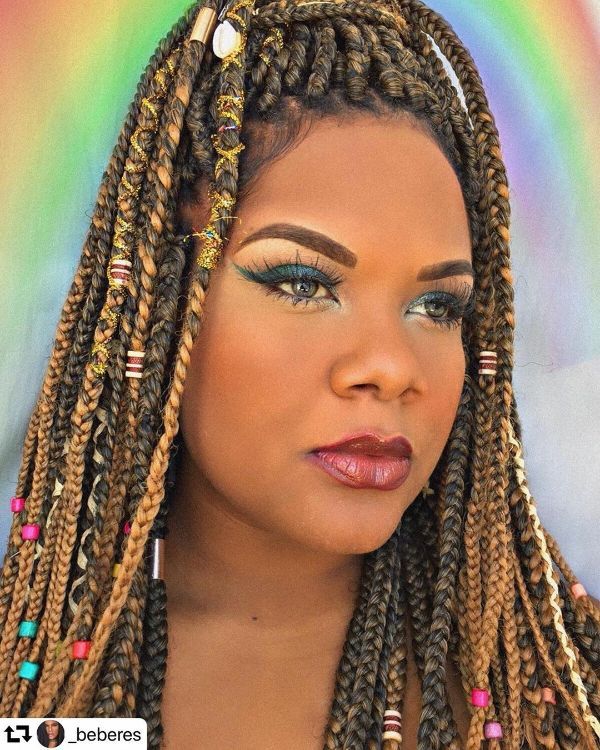 What are Protective Hairstyles?
All over the world women are always trying to protect their natural hair from getting damaged. As you know the damaging elements are everywhere in our environment. The sun, heat, pollution, water, gas, and constant manipulation are the agents that are constantly trying to damage your natural hair. That is why you need to protect your natural hair through a protective hairstyle. The protective hairstyles tuck the edges/ends of your hair away so that they can not get exposed to the damaging factors. Besides, the protective hairstyles help you grow your hair healthy, lengthy and bouncy. On the other hand, protective hairstyles reduce hair fall and help you gain ultimate stun in your hairstyles. The Buns, Braids, Sew-in Weaves, Wigs, Drawstring Ponytails are considered to be the best protective hairstyles for the African American Black Women
What are Box Braids/ Poetic Justice Braids?
You already have the idea about the braiding hairstyles as well as the box braids. If you are a beginner to braided hairstyles, we have a clear definition of box braids for you. The box braids are a kind of braiding hairstyles with different shapes and patterns. As the shape of the basement of these braids is square or box-shaped, these hairstyles are called the box braids hairstyles. These braids simply hide the edges of natural hair and build stunning braids on your scalp. Besides, these shapes can be triangular, snowflake-shaped or diamond-shaped. In addition, these braids can be of multiple lengths, colors, shapes, patterns, and thickness. As these ancient hairstyles have evolved a lot with the passage of time, you will find enormous designs and variation in these braids.
Medium Box Braids
Its all about length. A Box Braids hairstyle with medium length is a medium box braids hairstyle. Simple enough huh? Now, when is the actual length of medium box braids hairstyles? Actually, no one knows. In other words, there is no universal measurement of the length of a medium box braids hairstyle. But we do have some idea about the lengths. The short box braids are mainly the bob shaped box braids, the long braids outrun the waist and the medium box braids are the one that touches your upper back. When we say "box braids", it means the mid-length box braids generally. So, to define these braiding hairstyles, we can say that the medium box braids are the box braids hairstyles that are medium in length. And we hope you already know this simple fact.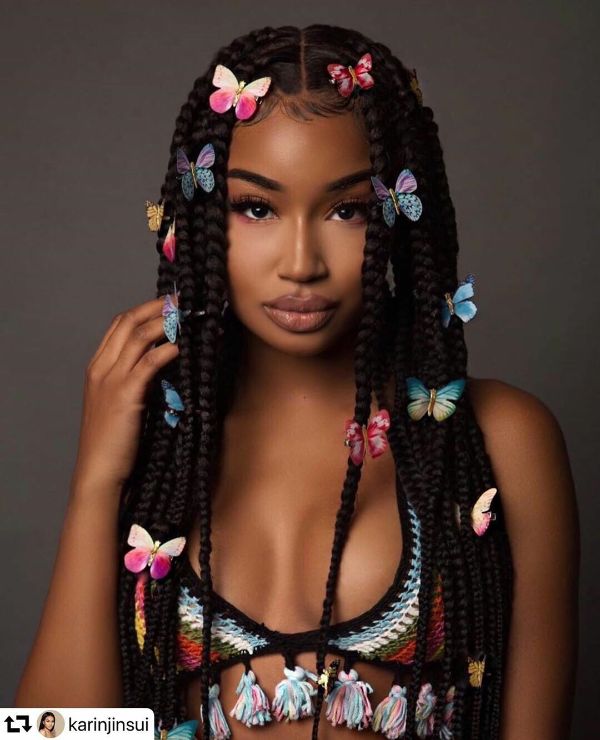 How to Install Medium Box Braids?
If you are an adult woman, we are sure that you are well known to the facts and techniques of the box braids. But if you are a beginner, we preserve the responsibility to make you understand about the process of making box braids hairstyles. So, here are some steps described below to give you a clear idea.
Part One- Prepping Your Hair for Braiding
Shampoo and condition your hair.
Detangle your hair with a comb.
Blow-dry your hair straight if it is very curly.
Trim the ends of your hair if they are dry or split.
Divide your hair into 4 box-shaped sections with a wide-tooth comb.
Apply hydrating gel or cream to the ends of your hair to prevent frizz.
Part your hair into a 1 inch (2.5 cm) section with the pointed end of a rat tail comb.
Part Two- Sectioning the Synthetic Hair
Get 6-8 packs of synthetic hair for long, thick braids.
Take 1 to 2 inches (2.5 to 5.1 cm) of synthetic hair.
Remove ⅓ of the hair.
Form a loop with the remaining hair.
Part Four- Attaching the Synthetic Hair
Place the synthetic hair over your natural hair at the roots.
Allow your natural hair to fall in the middle section of the synthetic hair.
Braid your natural hair in with the synthetic hair.
Secure the end of the braid with a hair elastic, if needed.
Braid each section one at a time, taking breaks as needed.
Trim off any flyaways with scissors.
Dip the ends of the braids in hot water to seal them. And you are done with your box braids.
Moreover, you can watch these processes online. Its an era of YouTube. You will find thousands of box braids tutorial there from where you learn it yourselves.
How Much Medium Box Braids Cost?
Well, it depends. It depends on the region you leave, the length you desire for, the color you want, the pattern, shape and hair type you use. Basically, there is no universal cost measurement of the box braids hairstyles. But we can give you some idea about the pricing. In the united states, the typical charges for installing box braids is $150-$200. But this pricing may not match with the pricing in the African And European countries. But what we want to let you know is the pricing is affordable in every corner of the world. So, you do not have to be worried about the costing for sure.
How to Care for Medium Box braids?
The life, color, and freshness or your box braids depend on the care you take for it. Exact care can make your box braids more stunning, bouncier and more enchanting. Most of us do not take proper care of these lovely braids. As a result, the freshness and original glamour of these braided hairstyles collapse. Besides, without proper care, you can lose hair, break your hair and even have an infection on your scalp. So, we do recommend you to know the caring method properly and apply these steps as suggested. Now let's see what you can do to take care your box braids
Cover your braids with a silk or satin scarf at night to prevent frizziness.
Wipe your braids with witch hazel 2-3 times a week to keep them clean.
Wash your scalp with shampoo and water to prevent itchiness.
Massage natural oils into your scalp once a week to keep it hydrated.
Take the braids out within 2 months to prevent hair damage.
Medium Box Braids with Color
One of the most amazing factors of every hairstyle is the color. Color puts life in hairstyles and hairdos. When you are planning to have a medium box braids hairstyle you can focus on the color you are goanna get with the hairstyle. Generally, the colorful hairstyles are worn for different occasions and get together. And some of us might like the colorful hairstyles for their casual hairdo. Whatever your necessity be, a colorful hairstyle is always by your side to make you look more glorious and glamorous. Now get your braids colored with the following coloring concepts. I hope you will find one of them useful for your next hairdo.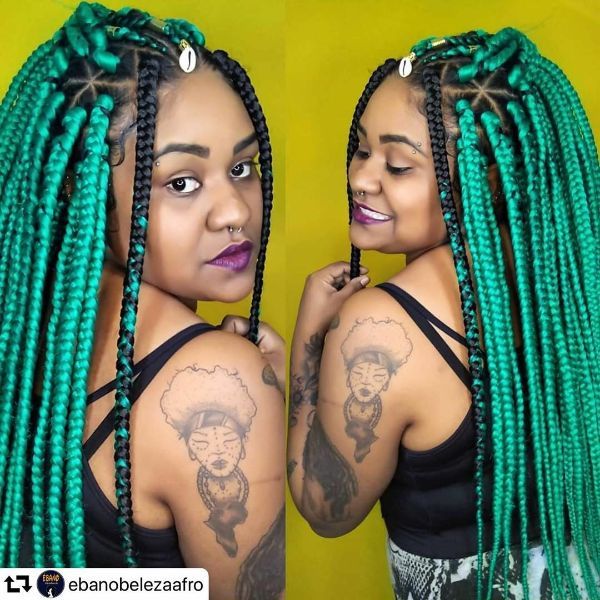 Natural Colored Box Braids
These are the box braids generally preferred for casual wear. Study says the natural colored or the black colored box braids are most used braiding hairstyles of all. Apart from this, all other hairstyles are also usually worn with black color. A natural colored hairstyle brings out the natural beauty and gorgeousness through your hairstyle. For you, we have collected a couple of black medium box braids hairstyle which you can consider for yourselves.
Blonde Box Braids
After the black hairstyles, the blonde color is mostly used by women all over the world in any kind of hairstyles. Besides, the blonde color is also used for making highlights mostly in many hairstyles. In case of the box braids hairstyles, the blonde and honey blonde hairstyles are regarded as the royal braiding. This keen color makes you presentable anywhere you go. You will never find any color more gorgeous than the blond in any hairstyles.
Red Box Braids
Some say that red is a color of love and passion, some disagrees. But when the red color is applied on the box braids, no doubt everyone will be considered is as a romantic and gorgeous hairstyle. The young women of the African American black ethnicity are mostly seen with the red box braids for parties, tours, vacations, etc. A lovely red box braids hairstyle adds more joy and pleasure for them while enjoying the togetherness.
Purple Box Braids
The color purple is often associated with royalty, nobility, luxury, power, and ambition. Purple also represents meanings of wealth, extravagance, creativity, wisdom, dignity, grandeur, devotion, peace, pride, mystery, independence, and magic. So, when you apply the purple color to your braids, your braids gain the same representation as to the color purple itself. Besides, the purple box braids have become the biggest trend among black women. Its time, you try it too.
Pink Box Braids
Pink is related to love. Girl, if you are in love you might like the hairstyles with the pink color. Besides, pink box braids represent you like a sexy, sweet and cute girl. All over the world, the color pink is the favorite color of most of the women. That's why they want this color in their hairstyles. And when you apply the color in your braids, you will certainly look like an angel descended from heaven.
Highlighted Box Braids
Of paragraphs before, I have mentioned about the highlights in hairstyles. Likewise, the box braids hairstyles are great for applying highlights. In most of the cases, the blonde color is considered to be the best option to be a highlight. But you can try other colors to be the highlighting color too. Below there we have arranged two highlighted medium box braids hairstyles where the honey blond and the blonde colors are picked to be the highlighting color.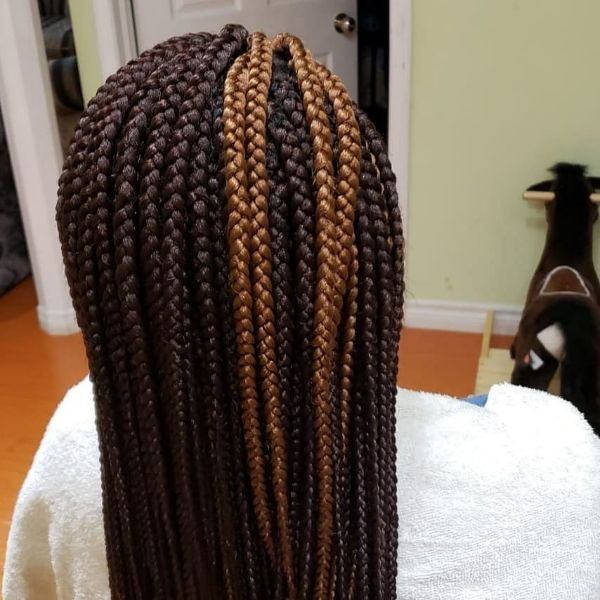 Multicolored Box Braids
After the highlights come multicolored box braiding hairstyle concepts. Highlights are mainly of a single color that colorizes a small portion of braids. On the other hand, multicolor braids are colored with different types of colors. Although some of us consider the multicolored box braids as messy and informal hairstyle, maximum of us love these braiding styles. Multiple colors in your braids do define you as evergreen, jolly and colorful personality.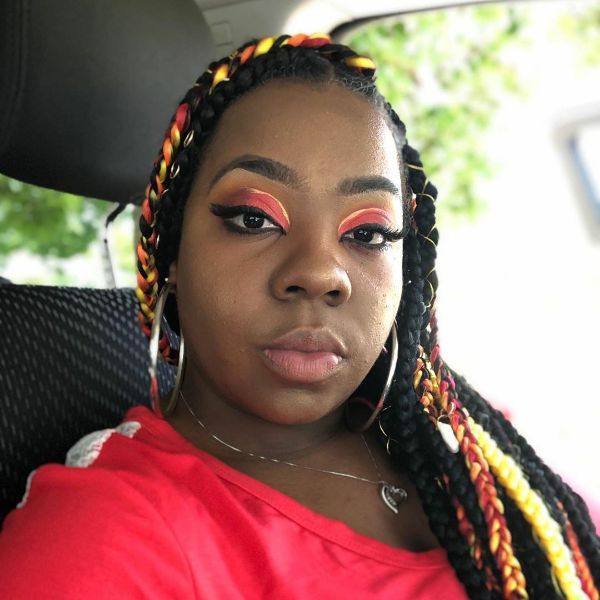 Medium Box Braids for Different Age Range
Hairstyles differ for different age ranges. This is very true in every culture, country, and region. Likewise, the box braids hairstyle also differs for different women of different age group. Many of the online blogs or vlogs just forget this perspective. But we do think that women of different ages need different types of styling for their hair. For that, we have some suggestions and recommendation regarding the medium box braids hairstyles for women of different ages. Follow the below points to know more.
Box Braids Hairstyles for Black Toddler
In African American society a baby within 1-3 years is considered to be a toddler. Many of us think that they do not need any hairstyles while a major portion wants to present them a nice and divine hairstyle. Hereby we suggest the medium box braids for your little angels. With proper caution, you can install lovely box braids on their scalp. Besides if you use some accessories like beads and ribbons, they will just look like angels.
Kids Box Braids
Wearing box braids is a common matter among the black kids. Irrespective of sex the kids can wear medium box braids hairstyles. But most of the time you will find the female kids or the girls with lovely box braids. These hairstyles will increase their glow and make them smarter confident as well as beautiful. Below there, we have got a couple of hairstyles for them. Check those out.
Young Women Prefers Medium Box Braids Most
The African American black young women are the main patrons of the medium box braids hairstyles. These hairstyles create a marvelous effect on them. The young women use these braids with different color, designs, styles, and thickness to make themselves presentable and attractive. Men think the medium length box braids are the best fit for the black young women among all braiding hairstyles. Find out how these women look with medium box braids hairstyles.
Box Braids for Adult Women
Apart from the toddlers, kids and young women, the adult and aged women are also greatly suggested to make hairdos with box braids. In the case of other hairstyles, there may be a huge difference between the hairstyles of women of different ages. But in the case of box braids for the aged women, the differences are really insignificant. You can see the braided hairstyles below and the women wearing them.
Accessorize your Medium Box Braids
Adding accessories is the best part of wearing a braided hairstyle. Accessories add life and stun to any hairstyles. The African American black women normally use the beads, ribbons and crisscross patterns with their hairstyles to make them accessorized. And all of these accessories are greatly supportive to the hairstyles (especially the braided hairstyles). In this section, we are gonna show you some of the medium box braids hairstyles with different types of accessories. So, let's dive in.
Braids with Beads
While talking about the accessories, the first thing comes in your mind is the beads. Beads the most ancient accessories the black women ever used in hairstyles. Beads add glitter and attractiveness in braids. Moreover, you have enormous options of choosing beads. The most popular beads are glass beads, wooden beads, etc. And the success of a beaded hairstyle depends on the proper selection of beads according to the design, pattern, and color of your box braids.
Get the Ancient Tribal Braids
Tribal braids are one of the most ancient and widely congratulated braided hairstyles all over Africa. These types of braids are constructed with a complex pattern like cornrows.  You can choose the box braiding techniques to make these tribal braids. Besides almost every tribal braid hairstyle contains wild beads that can take your breath away. Below there, we have these two great tribal braid hairstyle examples for your consideration.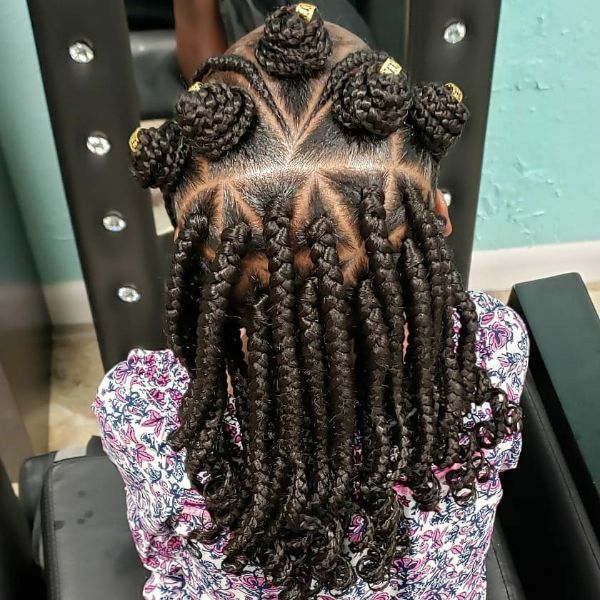 Braids with Criss-Cross Design
Wrapping the crisscross threads around your box braids is the most modern way to accessorize your box braids. The straight box braids with medium length with a crisscross is a hairstyle that most black women crave for. These accessories increase the beauty and effect of the braids and make you and your hairstyle more stunning and blissful. Besides, you can use multiple accessories with the medium box braids. For example, the crisscross threads and the beads both can be used with a single hairstyle.
Medium Box Braids for Social Occasions
Hairstyles are often categorized on different occasions. Different occasions demand different types of hairstyles and hairdo. Moreover, the same hairstyle has different versions for different types of social occasions. In this section, we are gonna discuss the applicability of box braids hairstyles in different types of occasions and get together. Over the whole discussion, you will get to know about the different designs and style patterns of medium box braids hairstyles. From now you will never be confused about choosing hairstyles while attending or observing any occasions.
Wedding Box Braids Hairstyles
One of the major parts of life is the wedding. Everything is important for a bride before she appears before others. As the bride is the central part of a wedding, she will be looked at each and every parts of her decorations. So, you should take the hairstyles seriously for a wedding. In the African American wedding, the updo or bun hairstyles are commonly noticed with different types of hair and locks. But you can try something too. I mean, why don't you use the box braids to make your wedding hairstyles? Look at the hairstyles below, they are made with box braids. These braided wedding hairstyles have more beauty and effects than any other wedding hairstyles. At the same time, they have the beauty of exception too.
Braids for Parties
When you are in a party, you are in the mode of cheer and craze. Besides parties are the place where you can reveal the true beauty of you by your dressing, hairstyle, and personality. That is why the hairstyles for parties have separate appeal. You may notice that the party hairstyles are of different hair type, color, length, design, and glamour. So, you must make a wise choice about your hairstyle before attending a party. For you, we have got these hairstyles of medium box braids. These braided hairstyles will certainly increase your image along with your beauty and glamour.
Tours, Travel, Vacation, and Outing
Rejuvenation is necessary to restore our freshness. That's why we need to go on vacation, tour or outing. As we have stated earlier, different hairstyles serve different purposes, going on vacation requires a fresh look and a jolly appearance. From this perspective, we strongly suggest your certain hairstyles make your journey more comfortable and enjoyable. You have enormous options of picking hairstyles for these types of events, but have you ever tried the box braids for it? If not, we do recommend the medium box braids hairstyles for your journey. More specifically, the updo or half updo hairstyles will keep you fresh during your tour.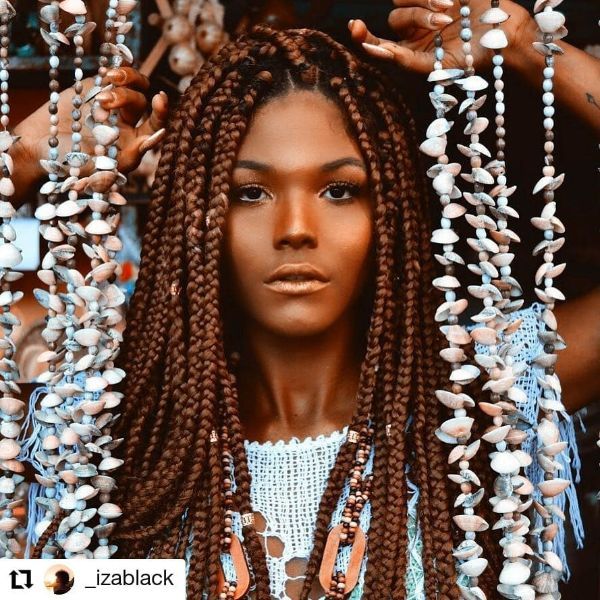 Get Braided on the Eve of Your Upcoming Birthday
Like other parties and occasions, your birthday requires a new appearance and hairstyle of you. As the party is a birthday girl-centered, you can not avoid the sharp vision of the presence. For birthdays the African American women usually try latest hairstyles with different types of braids, locks, and hair. Here we suggest the medium box braids hairstyles make your birthday more glamorous and memorable. It is imperative that you pick the color and accessorized box braids hairstyles to get the glow. And do not forget to consider the following birthday box braids hairstyles below.
What Do You like to Wear at College Prom Night?
Young women are choosier than adult women and men in selecting their fashion and hairstyles. In different occasions or get together they need different fashion elements. For the college prom night, the young women like to choose the hairstyles that are best for dancing and revealing their intrinsic glamour. Hereby we suggest you these lovely exotic braided hairstyles made with medium box braids. You will definitely rock the party.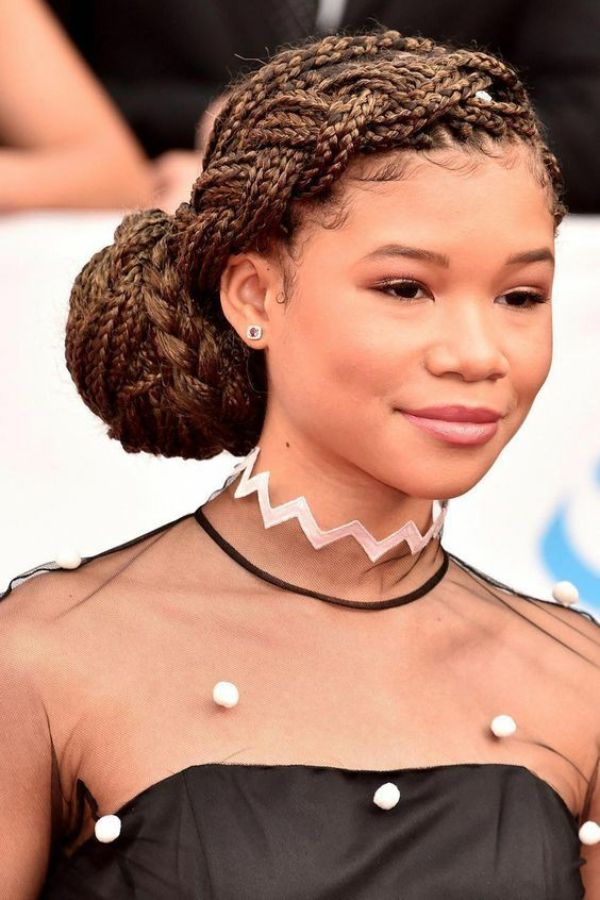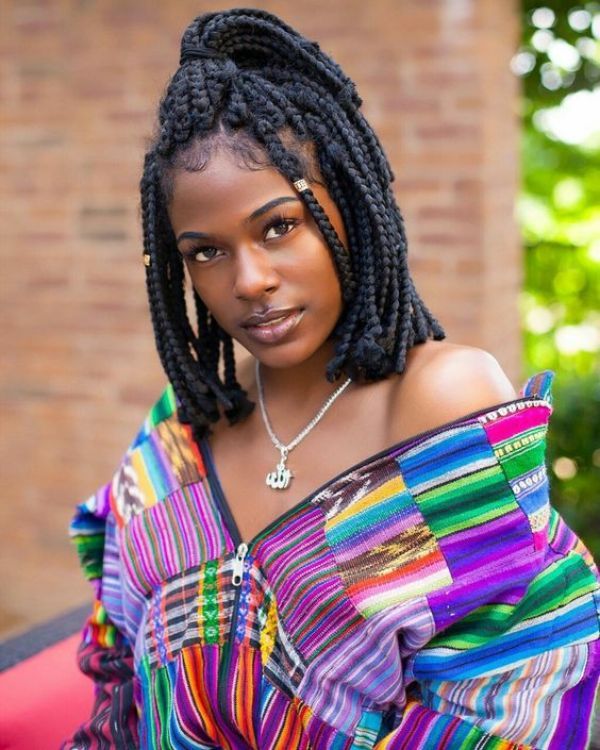 Christmas Hairstyles for African American Black Women
When nature is in festive look, you yourself can join the trend. During this occasion, you will find a wide range of hairstyles is being used by black women. Basically, you will be confused while selecting the hairstyle for you for Christmas. But no worries, we are here to help. Bellow, there you can see a couple of braided hairstyles that can be your hairstyle in this Christmas. Trust me, you will be looking like a goddess in the sacred eve of holy Christmas.
Box Braids by Thickness
While choosing a hairstyle, we do consider the factors affecting the hairstyles. Different hairstyles are influenced by different influential factors like design, thickness, accessories and so on. Here we are gonna discuss the thickness and its effect on the box braids hairstyles. At the end of this section, you will be able to understand the effects of the thickness on box braids and especially the medium box braids hairstyles. So let's see what thickness can do for you.
Jumbo Braids
Medium Pixie Braids
Styles and Designs of Medium Box Braids
Medium Box Braids offer you a variety of designs and styles. From the dawn of styling hair to this ultra-modern world, many of the styles are innovated and designed for African American black women. These hairstyles are bun, updo, ponytails and so on. And you know, all these designs and styles also can be done with the medium box braids hairstyles. In this section, we are gonna show you some glamorous styles and designs of medium box braids in different categories.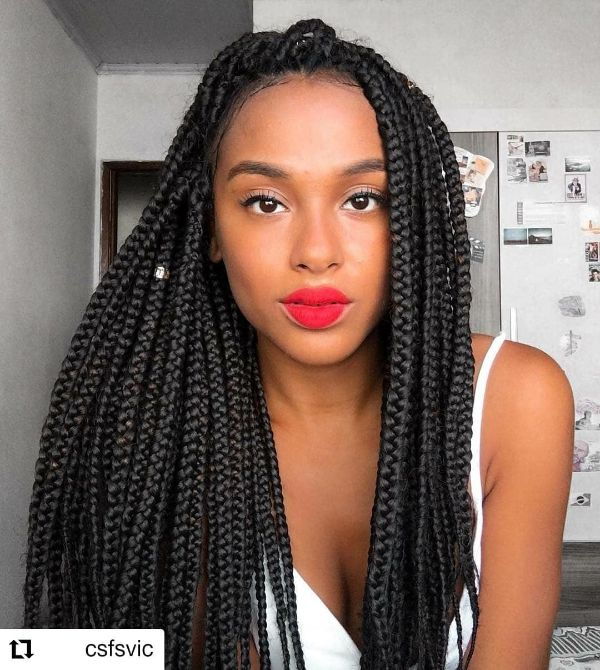 Triangular Box Braids
Box Braids are called after the box shapes of the basement. But as the braided hairstyles have evolved a lot over the years, a new braiding pattern has been introduced with box braids. The main difference here is, the box shapes are replaced with the triangular box braids. Triangular box braids of medium lengths are widely used and tremendously popular hairstyle among the African American black women. Below there we have demonstrated two of the marvelous triangular box braids hairstyles in case you want to consider.
Bob Box Braids
The women all over the world have always been wondered the new, trending, effective and easy hairstyles to wear. While selecting the hairstyles, they focus on the beauty and comfort. Moreover, millions of women are working outside the home today. As a result, they need hairstyles that go with their profession as well as the beauty trends. In this respect, the bob hairstyles and haircuts are mostly preferred by them. As we are talking about the medium box braids hairstyles, we do suggest you make lovely bob hairstyles with the box braids like the images below.
Medium Box Braids Ponytail
If you talk about the easy and simple hairstyles, ponytail comes in our mind first. Ponytails are super easy to do and excellent in beauty and effect. Moreover, ponytails add perfection, briefness and stun to your hairstyles and appearance. In this section, we are presenting you a couple of braided ponytail hairstyles. These medium box braids ponytail hairstyles are super sexy in view and greatly comfortable for the women especially in the summer season. Apart from that, you can wear these ponytails on different occasions, seasons, workplaces and educational institutions. One great benefit of this hairstyles is that you can make yourself ready to rock within moments by doing a ponytail with your medium box braids.
Box Braids Mohawk
The young black women love to bring wilderness and craziness in their hairstyles. Even in braids, you can do that. And one of the wildest and crazy hairstyles is the mohawk itself. Mohawks are built with shaved or faded sides and longer braids or hair on the vertical center of your head. Mohawks are simple and flexible. You can make these hairstyles with different types of locks, braids, twists and natural hair. Here we are going to present you the mohawk hairstyles with medium size box braids. If you look at the images below, you will easily understand the beauty and glamour of these master styles.
Braided Updo Hairstyles for Black Women
Updo is a legendary hairstyle of the whole world. For both formal and informal purposes, women are using these hairstyles for decades. These updos are great for the summer seasons. On the other hand, you can not avoid these updos in wedding hairstyles. So updos give you comfort in the summer and glazing appearance at the wedding. These multipurpose hairstyles can be made with braids, locks, hair, and twits. So, you can have the flexibility features in it. Below there we have managed to collect two of these updo hairstyles made with medium size box braids. And its time you try these too.
Braids and Knots
Knots are an excellent version of updo hairstyles. You can add single or multiple knots on your head to have a knots hairstyle. Moreover, you can use braids, locks, or natural hair to make beautiful knots. Thy are actually make a shape look and a clean image of your hairstyle and appearance. These knots are too flexible to allow you to use different colors, braids, hair, and locks. In the images below, you will find topknots hairstyles with medium box braids. In today's fashion world the knots hairstyles are just compared to milestones. They are crazy, smart and sharp. If you are planning a new hairstyle, you can consider this great option.
Braided Half Updo
Here comes another popular hairstyle with medium box braids. Previously we defined the updo hairstyles as both formal and informal hairstyle. The half updo is a modified version of updo hairstyles where some of your locks, braids, and hair are left free along with the updo designs. Although the difference of structure is insignificant, the beauty and effect of these hairstyles outrun the updo hairstyle itself. On the contrary, when you will use lovely box braids to make these half updos your beauty and glamour will know no bound. Check out the images below as the latest designs of half updos.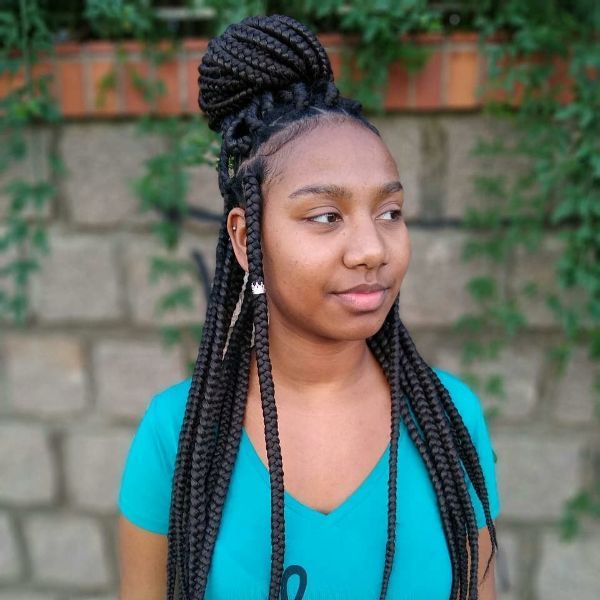 Diamond-Shaped Box Braids
You have experienced the triangular box braids previously. In the triangular box braids hairstyles, you will find triangle shapes on the basement of the braids. The diamond box braids sis inspired to form the triangle box braids. It's a little tricky hairstyle where you can get the diamond and triangle shapes at the same time with medium box braids. When the legs of the tangles are faced together, the shapes take the form of a diamond. In terms of popularity, the diamond box braids are far more popular than the triangular box braids. We have got the following couple of images containing the diamond-shaped box braids hairstyles to consider.
Half Ponytail
Here we have got another version of ponytail hairstyle, the half ponytail. The ponytail hairstyles are made with all of the hair, braids, and locks wherein the half ponytails, you can leave some of the braids free and make a ponytail with the leftover. Below there, find the glazing half ponytail hairstyles with medium box braids. Hope you will like them.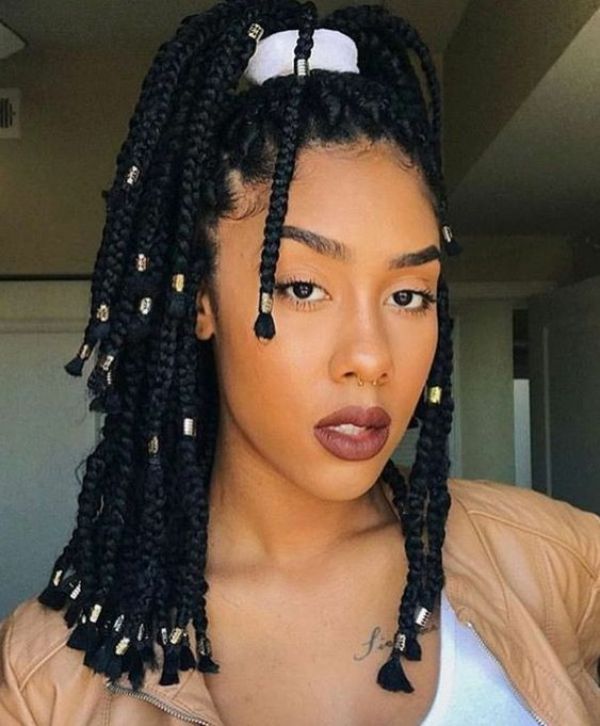 Bun
As the last part of styling with medium box braids, we suggest the bun hairstyles with box braids. Buns are always awesome and breathtaking. No matter what type of hair or braid you use to make them, they are just lovely naturally. Here got two of the stunning and glamorous bun hairstyles with the mid-length box braids to give you an idea. After wearing these buns you will be definitely able to enchant whomever you like. Check it out.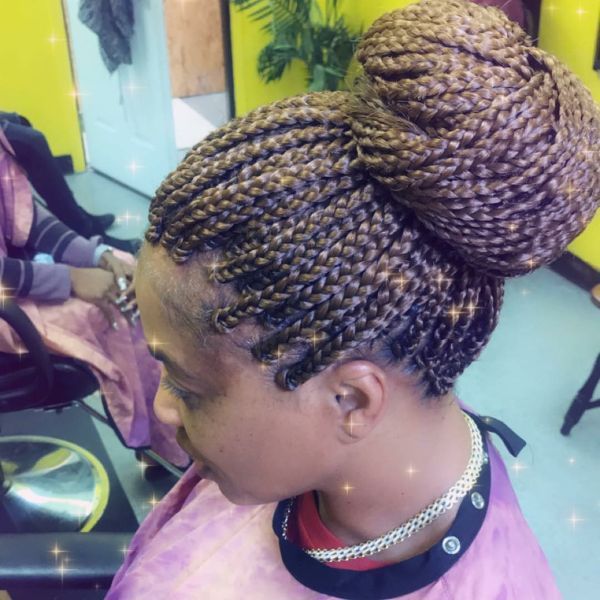 Frequently Asked Questions [FAQs] about Medium Box Braids Hairstyles
How Many Pack of Hair do you need for Medium Box Braids?
For medium length box braids that are medium-width, purchase 9-11 packs of Kanekalon hair, or 7-9 packs of X-pression hair. For medium-width or jumbo short box braids, purchase 7-8 packs of Kankelon braiding hair or 5-6 packs of X-pression hair.
How long Does it Take to Make Box Braids?
Size and length of braids dramatically change how long it takes you. Anywhere from 4-8 hrs to do single braids (box braids) is normal. 2nd Answer: If you are a beginner, it can take you anywhere from 8-10 hours to do your own box braids.
Can I get my Braids wet?
Washing box braids can feel like an all-day activity. They absorb a ton of water, are insanely heavy when wet, and take several hours to dry. While washing every two weeks is ideal, sometimes you just don't have the time–or it's way too cold out to walk around with wet hair.
Does Box Braids Damage Hair?
The downside of having micro braids is that it puts a lot of stress on the hair and can cause hair loss along the hairline. As the hair begins to grow out, the new growth will pull on the braids, causing breakage. … So getting micro braids could cause too much damage. Tree braids could be a better option.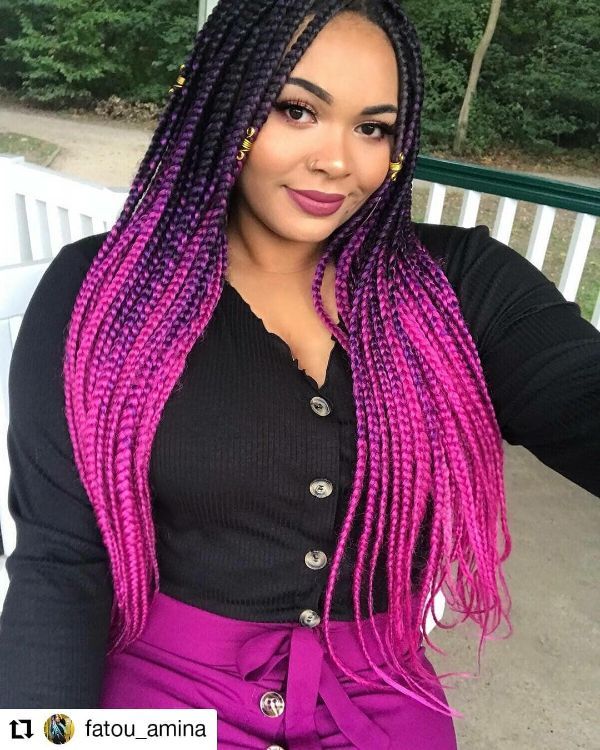 Does it Hurt while making box Braids?
But your braids shouldn't EVER hurt when they are being put in, sure it can feel tender, but if they feel too tight tell your braider, this is important as it can damage your hair and scalp health.
Conclusion
We are finishing up the discussion regarding the medium box braids. We have discussed these braided hairstyles form different angels like length, style, color, etc. On the contrary, we have put some general instructions on installing the box braids and caring for them. Over the whole journey, we have tried to provide you with the best, trending and most relevant hairstyles in the form of images. Now, you are to decide the style you are gonna use. And in the end, we would like to request you to share this article on social media if you really like it and want to thank us.