Do you remember the genie with a high ponytail from the Movie "Aladin"? That's the reason we call it a genie ponytail. Ponytails are always a smart choice for women of all professions, ages, and regions. Because these hairstyles save time and money. On the other hand, ponytails create a smart attitude and confident appearance. That's why we can not unsee the versatility and importance of ponytail hairstyles. And when you explore the ponytail styles, the genie ponytail will definitely draw your attention.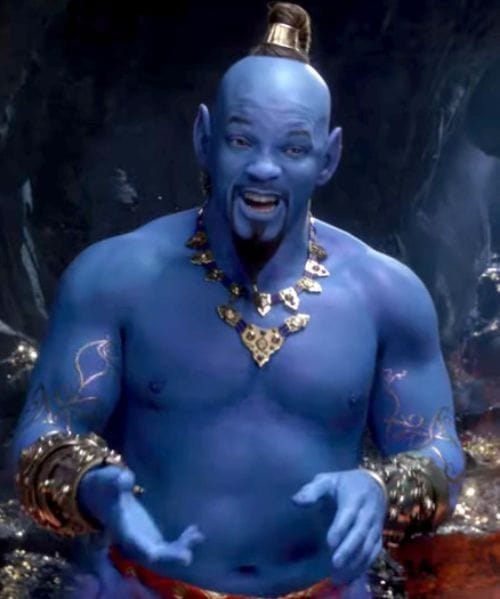 Today we are going to talk about genie ponytails. And the total package includes, how to do these ponytails, What is the stuff needed for making gorgeous ponytails, where to buy the materials necessary for it, and about 60 pictures of relevant styles of this hairstyle. So, if you are here to discover some new ideas and 'how to' of these ponytail hairstyles, you are at the right place. Now stay tuned with us till the end and we are going to guide you on a wonderful journey to the world of ponytails with the answers to every possible question you can ask.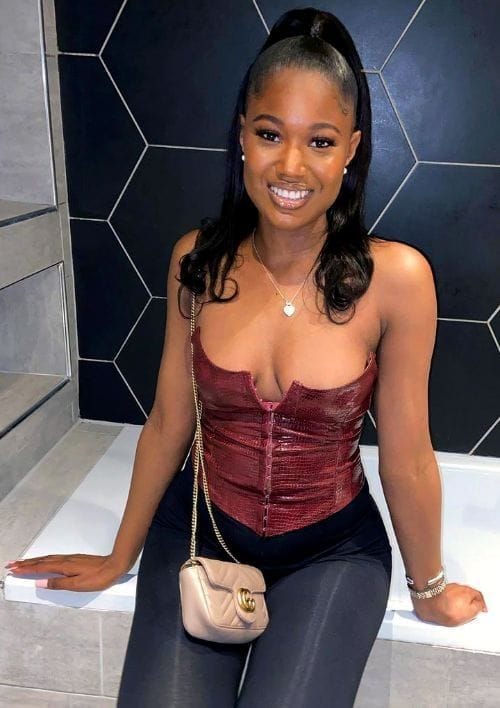 What is Genie Ponytail?
Well, we all wear ponytails and know very well about it. The genie ponytail is hardly different from conventional ponytails except for the positioning. The position of these ponytails is the center of the head with an extension upwards. The bottom of this ponytail is wrapped around by the hair, rubber bands, or other accessories and that's why many of us call it an extended ponytail also. You can use a number of colors, hair types, accessories, and styles with these types of ponytails.  In a word, this ponytail is such a hairstyle that is both formal and casual style for women inside or outside the home.
How to Do a Genie Ponytail?
Doing a genie ponytail is just as simple as doing a conventional ponytail. African American women use artificial or human hair as an extension of the ponytail. But the basic rule is the same. Here we will guide you through the whole process of doing this wonderful style. So Let's start with the stuff you will need to do your ponytail.
Ponytail Extension.
Bonding Glue.
Rubber Bands.
Serum Spray.
Hair Straightener.
Hair Brush.
Rat Tail Comb.
Wax Stick.
---
When you have this stuff ready, you are ready to go for an awesome ponytail hairstyle. Now, let's have a look at the steps necessary for doing a ponytail.
You have options to create a straight, wavy, or curly ponytail. so, you need to decide the option you want to implement.
For creating a full-straight extended ponytail, you will need to use a straightener to beautifully straighten your hair. Remember, you need to use a heat protectant spray if you do not want hair damage.
Now, it's time to groom your hair with the help of a wax stick which will place your hair strands thoroughly. And remember that, there should be no flyaway.
In the Next step, you need to create a ponytail with your natural hair. And use a rubber band to braid and secure the natural hair ponytail.
To protect your natural hair from the adverse effect of glue, wrap your natural hair ponytail braid. It's ideal to use a piece of clothing for wrapping.
Now, attach your ponytail extension hair with the braided natural hair ponytail with the help of bonding glue.
Use some of the hair extensions to wrap around the bottom of the ponytail.
Gently comb your baby's hair toward the forehead by using a rat-tail comb.
Your ponytail is ready unless you want your ponytail to look sleek and shiny. For getting sleek and shiny ponytail hairstyles you need to use the serum spray all over the hair.
Additionally, you can accessorize your ponytails to have a gorgeous look.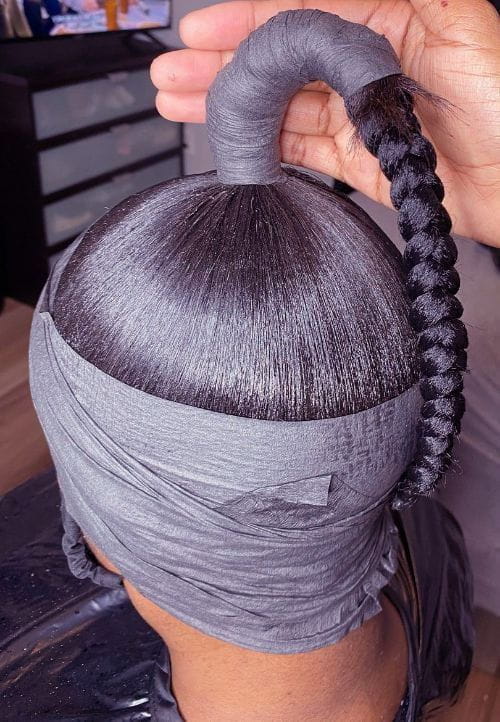 Now, take a look at this video tutorial to have a more clear idea about the preparation of a genie ponytail.
Long Sleek Extended Ponytail
The most popular use of a genie ponytail is a long sleek extended ponytail. Generally, there are no accessories, hair patterns, or anything else. The main attraction of this hairstyle is the sleekness of the long ponytail. In addition, there may be swoop bangs on the forehead sometimes. And as a whole, this is the basic and classic package of extended ponytail hairstyles. For example, if you check out the four designs below, you will easily understand their beauty and effect of them.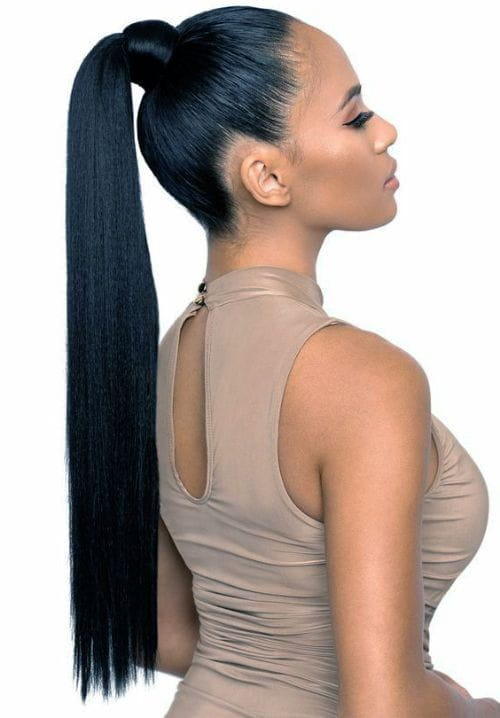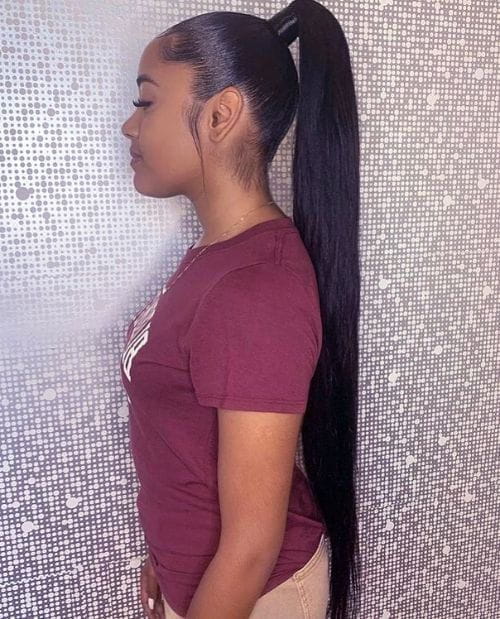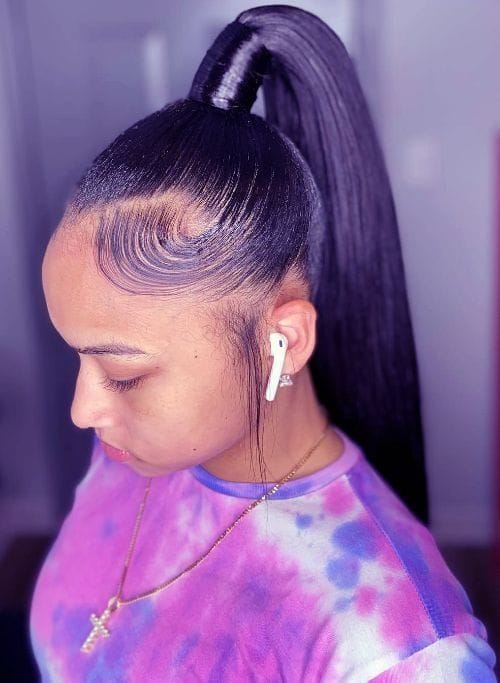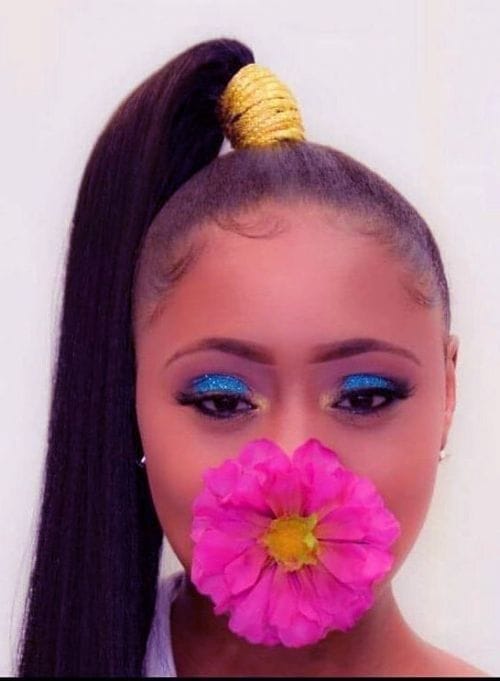 Bubble Braids Ponytails
Ponytail lovers always have a weakness towards the lovely bubble braids. This hairstyle is much more versatile and contemporary. You can wear bangs, rubber bands, fringes or bangs, and other accessories with these styles. The main characteristic of this style is the bubble-shaped braid. After making a ponytail you need to use rubber bands at certain intervals to make some bubble shapes in your ponytail. The bangs, on the other hand, can be free hair or braided. And finally, you need to wear it as a genie ponytail. For that, you just have to place the bottom of the ponytail in the center of your head. This is how you can wear the loveliest bubble braids of modern times.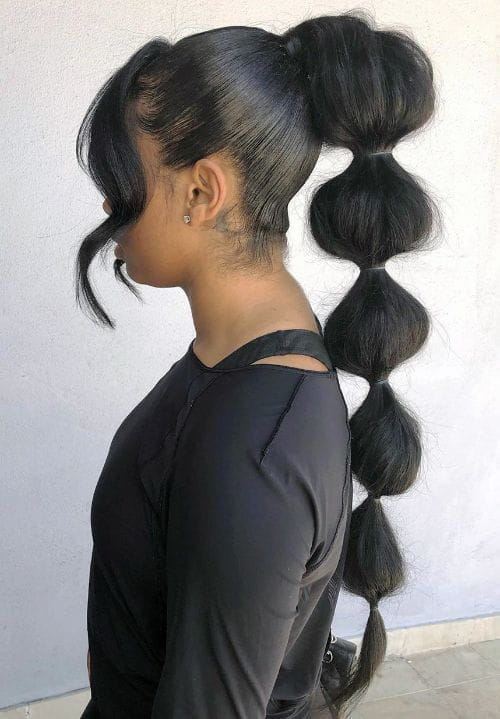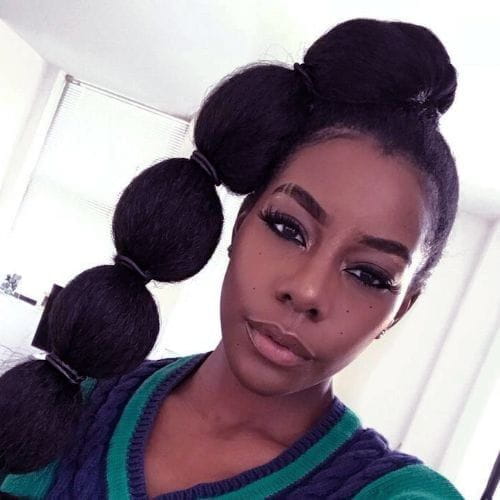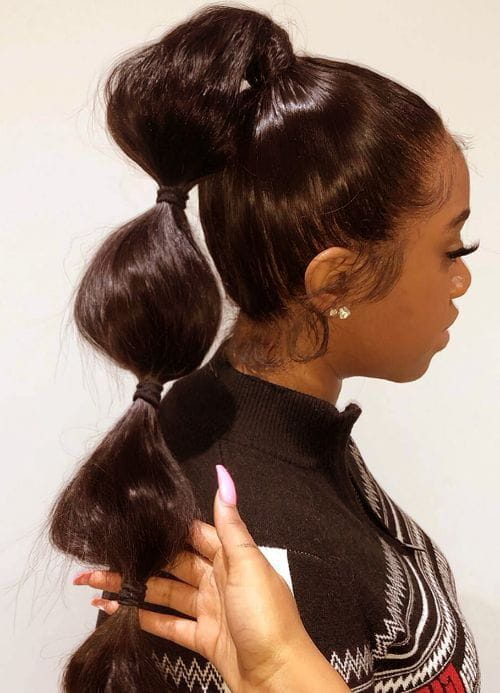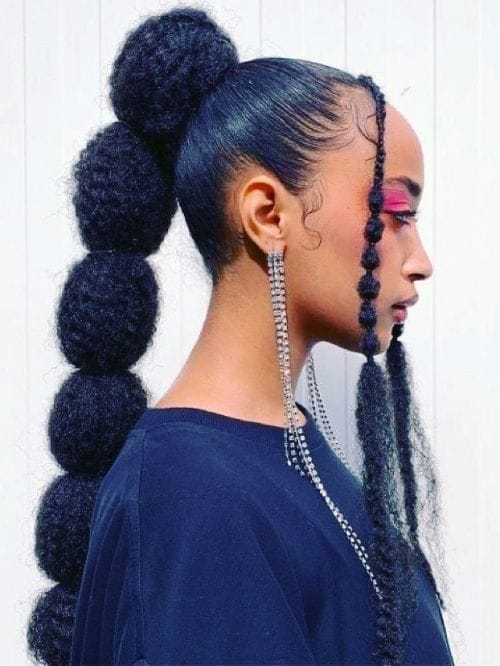 Let's Try It with Cornrows Braids
Cornrows braids are always great hairstyles for ladies. And as usual, these braids are too much flexible to play around with them. For that, we recommend these braids for making lovely ponytails just like the images below. But the steps described above are not applicable for the cornrows braided ponytail. Here, you have to abide by the rules of cornrows and use the products suitable for cornrows braids. However, braided extended ponytails are greatly popular among the women of African American society. So, if you are thinking of making a lovely ponytail hairstyle, cornrows braids may be a great option for you. And here are some of the examples with banana cornrows and jumbo cornrows braids which will be a perfect choice for making a ponytail.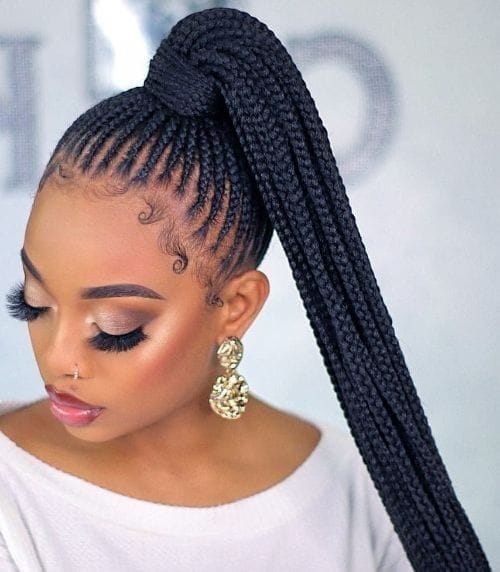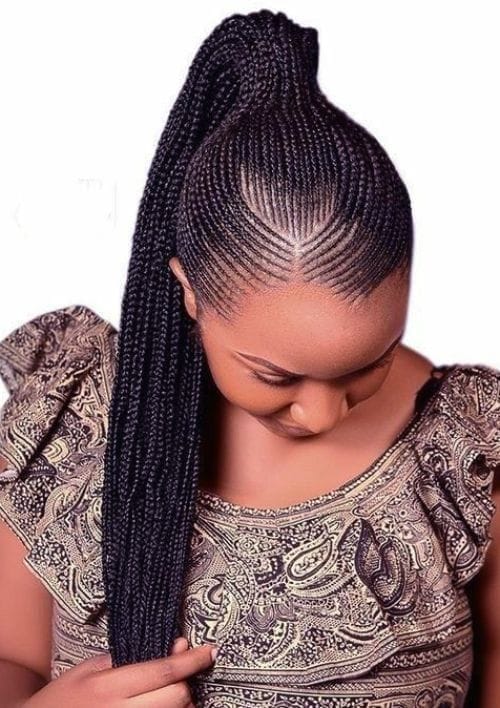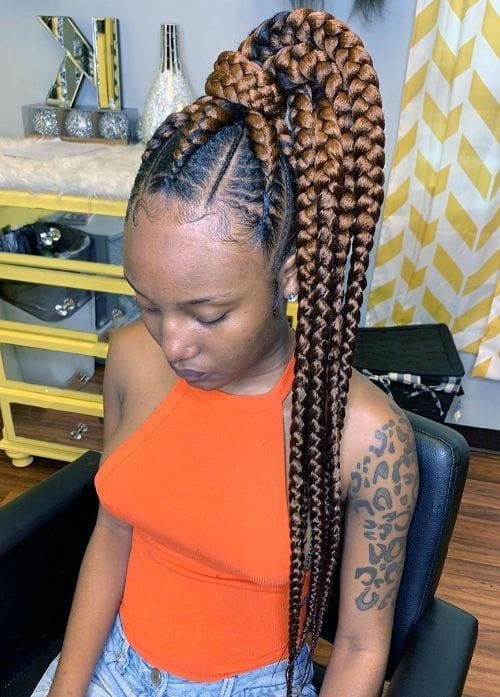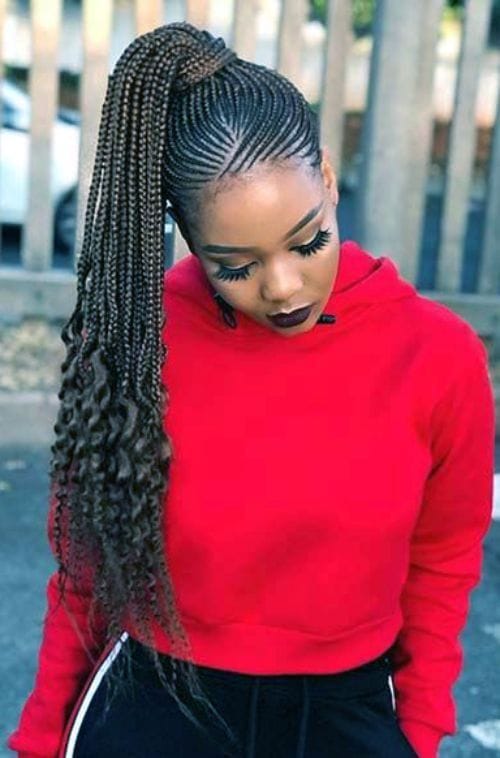 Ponytail with Bangs
Bangs are always defined as a cute way to decorate your hair. You know the most popular bangs styles come with the bob hairstyle. But you can wear bangs with other hairstyles like genie ponytails too just like the images below. And you can not unsee the effects of these bangs on the ponytails. And to be more specific, the bangs and ponytail are one of the most popular combinations of hairstyles not only in African Americans but also tremendously adored in all regions of the world. For example, Asian women always love to wear bangs with all sorts of hairstyles including braids, straight hair, ponytails, and so on. So, a genie / extended ponytail with lovely bangs or fringes on the front is really worth wearing to enchant the world.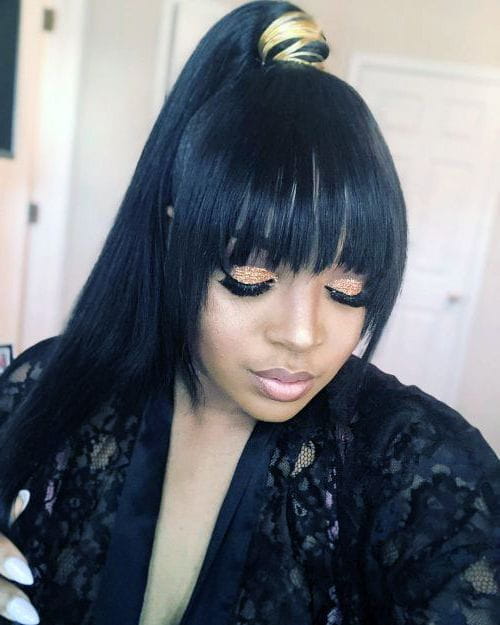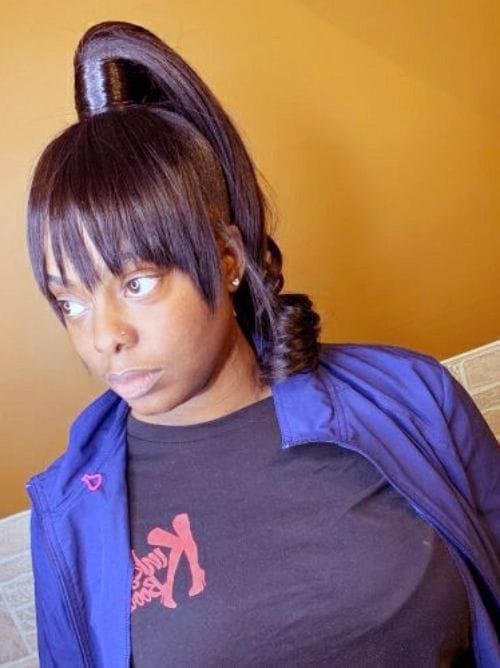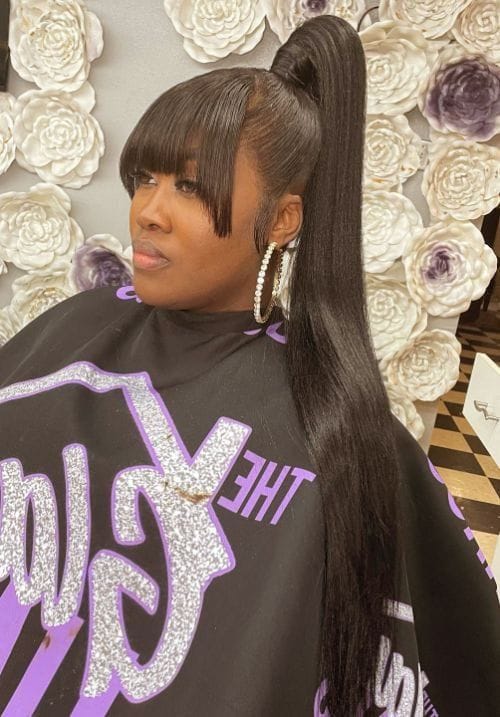 What about a Ponytail with Two Bangs?
Yes, two bangs with any hairstyle are a great option to choose from at the present time. They are smarter, cuter, and more up-to-date in the arena of hairstyles. Among the styles where you can wear two bangs, the ponytail is the best one. And as we are talking about the genie ponytails, we recommend wearing these bangs along with them. Trust me, you will look prettier, smarter, and cuter with this combined bangs and ponytail hairstyle. For you, we have presented four loveliest examples of two bangs to consider. These designs will show you two bangs hairstyles with genie ponytails, chopsticks, half ponytails, long sleek extended ponytails, and colorful ponytails. And definitely, these will compel you to choose one of them if you are interested in these types of hairstyles.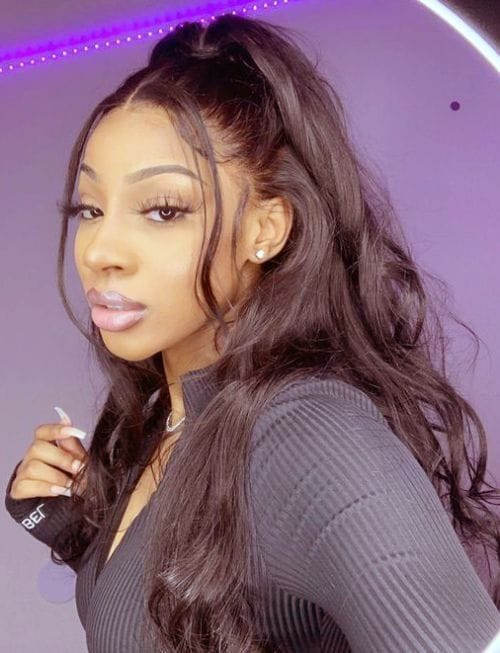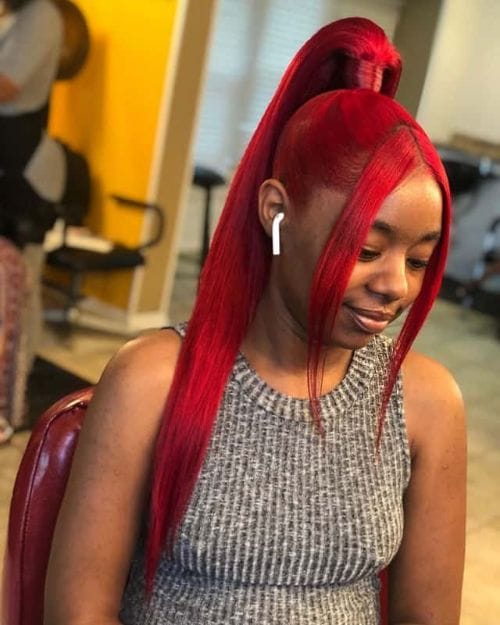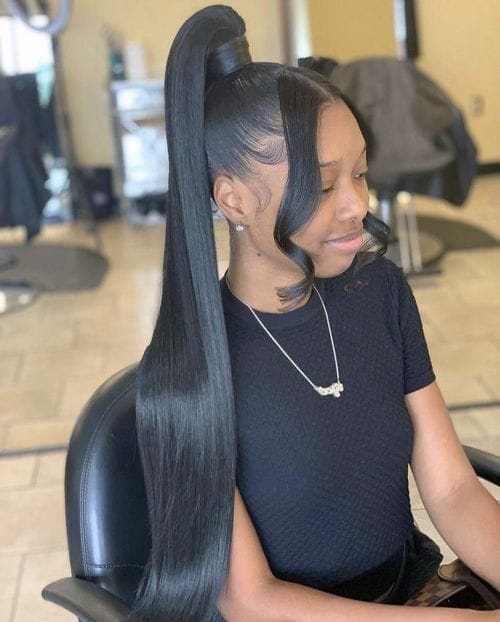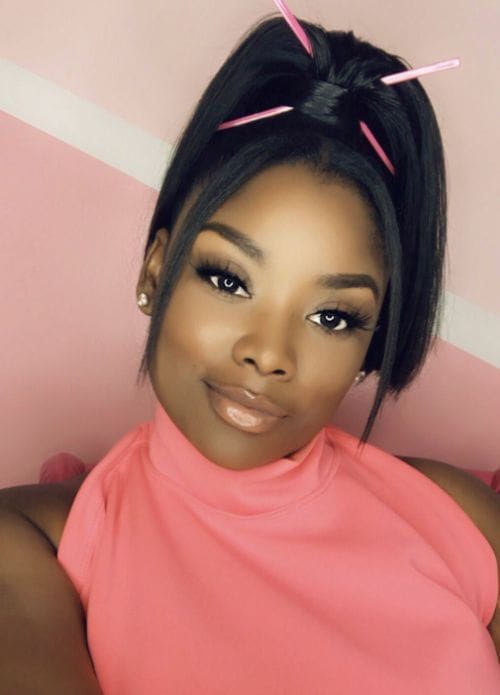 Two / Double Genie Ponytails
After two bang ponytail hairstyles, here come two genie ponytail hairstyles. These styles position the two thick high ponytails slightly beside the center of the head. But the residual styling is just the same as the classic one.  Besides, you have the option to decorate and wear them with different types of hair, accessories, and hair products. For example, you can wear them with curls, beads, colors,  rubber bands, etc. According to many, the Double Genie Ponytails are cuter, smarter, and more updated than the classic ones. Although these types of hairstyles are generally worn in Asia, a significant number of dark women are wearing these styles with great adoration nowadays.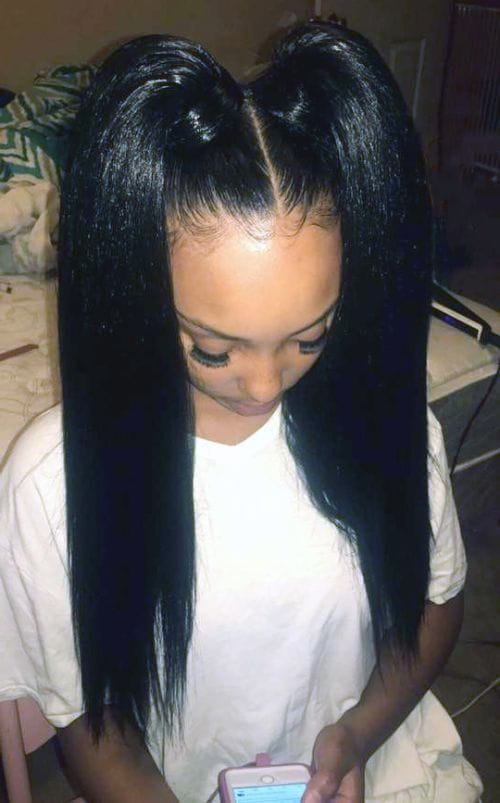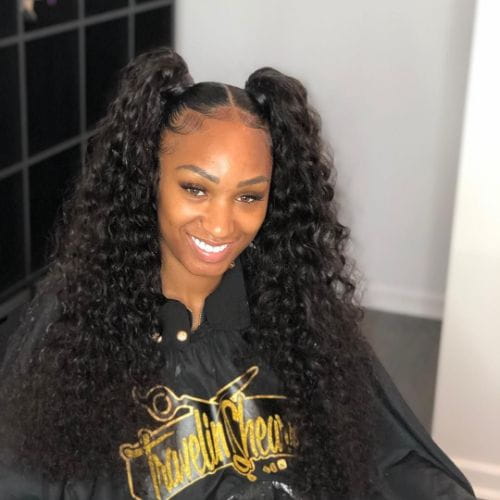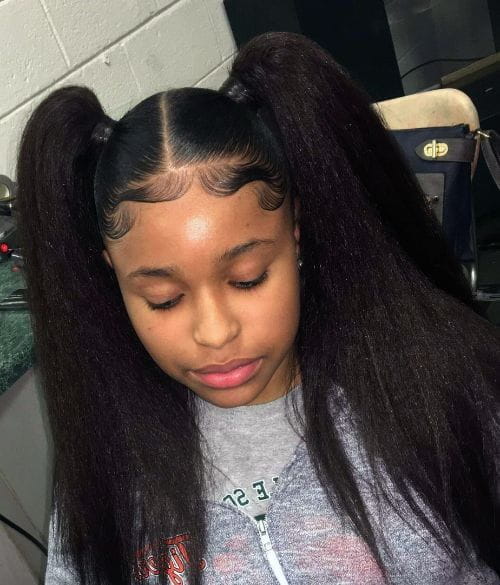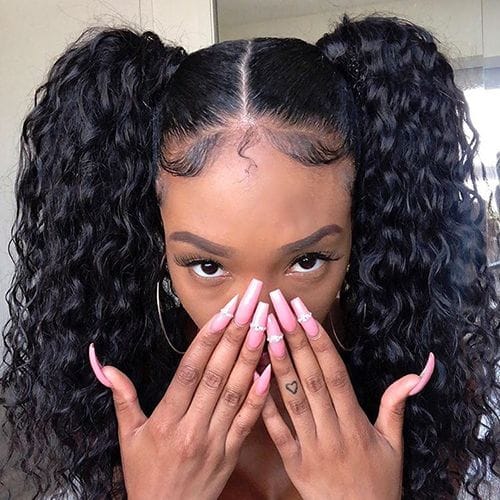 Wear Curly Ponytail to Look like a Genie
Did the Genie wear curly ponytails? The answer will be "No". But we don't have any objection to wearing it with curls. In African American styling world, there is hardly any style without curls. From the very dawn of hairstyles, we are wearing curls and this trend will go on for the next thousands of years. Some of us have a general preference for wearing curls with every hairstyle. And it's time to wear it with extended ponytails. For example, you can consider the pictures of ponytail hairstyles with curls below. These will give you a clear idea about the combination of curls and ponytails. Moreover, you have the option of using color, rubber bands, and other accessories with them. So, if you are a curls lover, you will definitely love these awesome styles.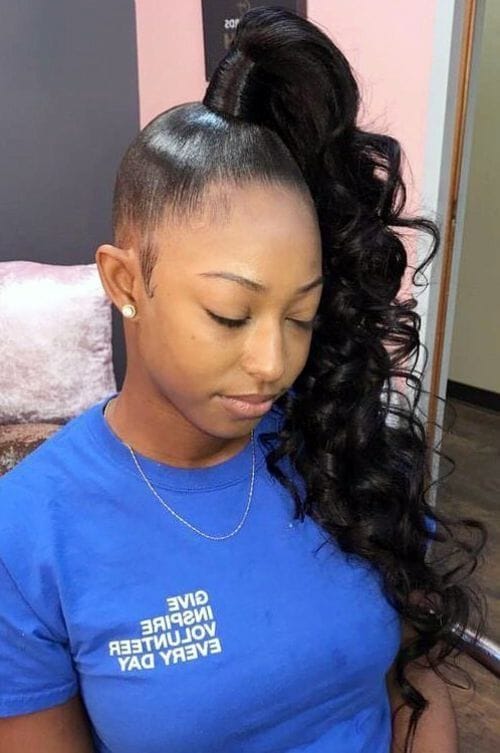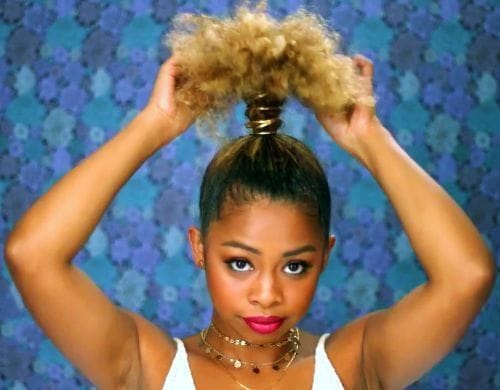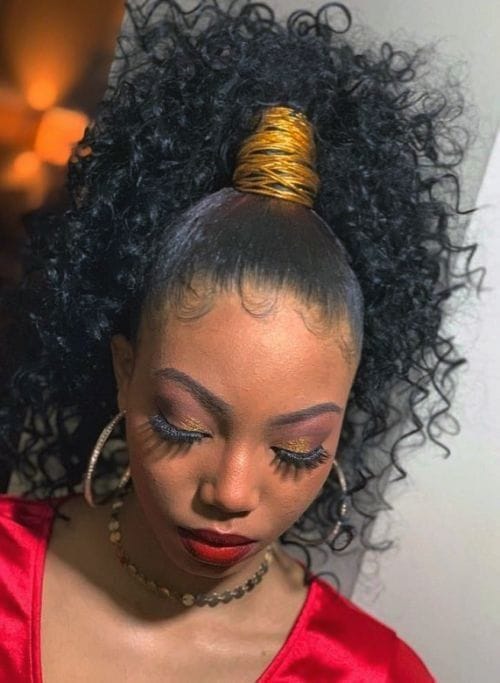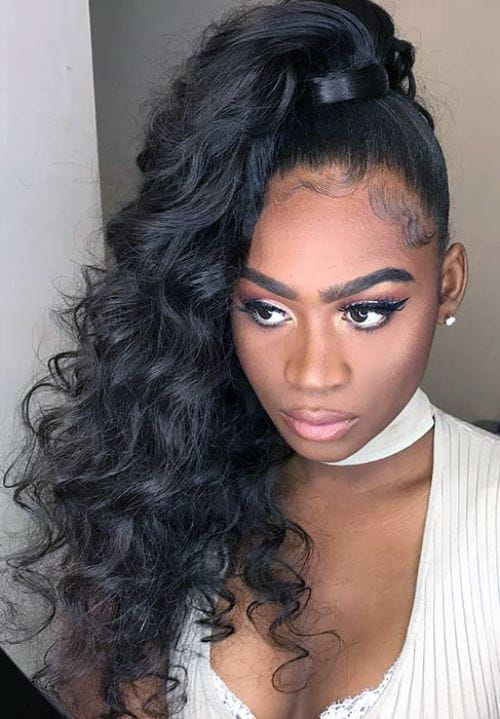 Blonde Ponytails are Always Mind-Blowing
Do you like blonde hairstyles like Beyoncé? She is famous all over the world for her beautiful blonde and blond-highlighted hairstyles. So, when she wears a ponytail, she wears it blonde.  Besides she chooses aristocratic braids, straight hair, weaves, and many more as her hairstyle. And Needless to say, each of her hairstyles is a brand. Now let's see which type of genie ponytail she wears the most. And you can see them in the images below. A blonde ponytail is more than perfect for a women woman. In addition, you can wear the blonde highlights too with your extended ponytail to have a heavenly charm to it. So, if you are a blonde lover, we highly recommend these blonde braided and non-braided ponytail hairstyles for you.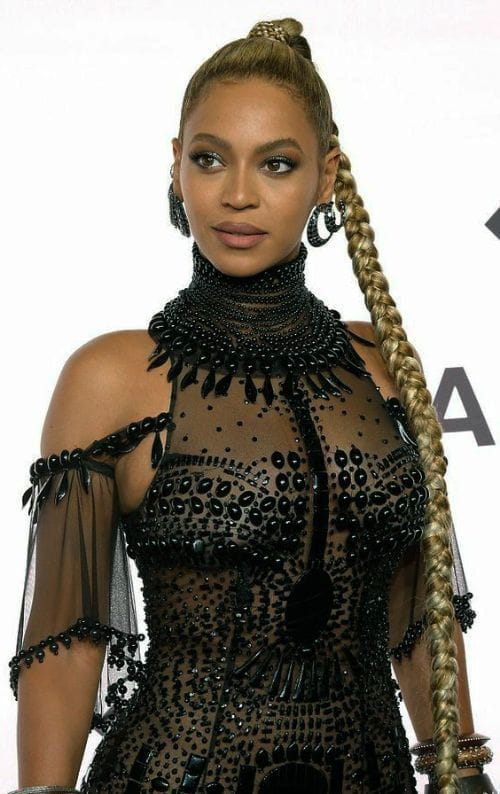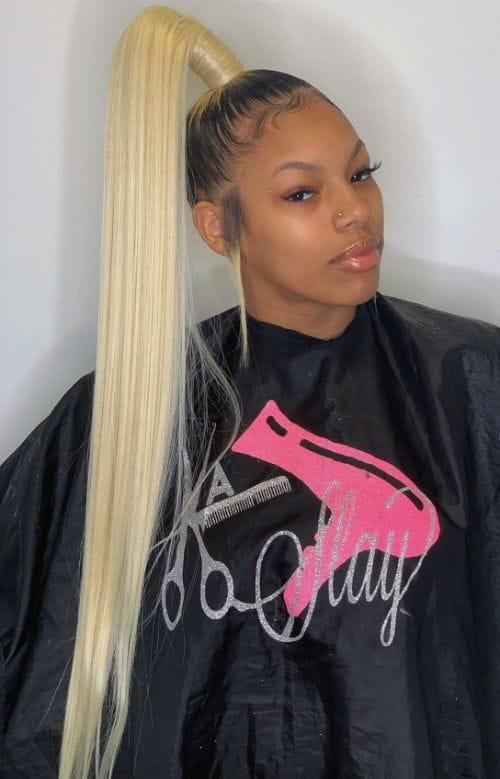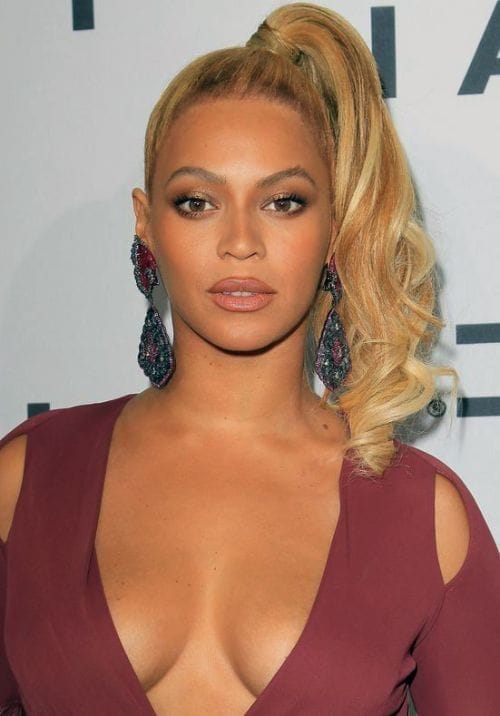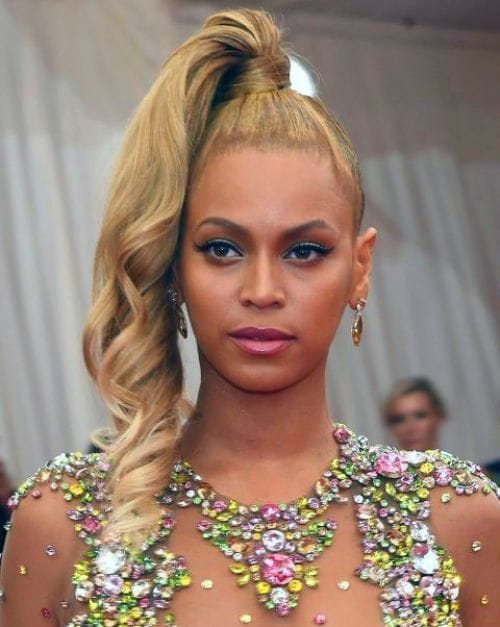 How Genie would Look Like with Long Indian Braids?
We actually don't know. Because we have never seen him with long Indian braids. But we can try wearing them. And here we will show you how you will look like with a high ponytail with a long braid. For that, we have managed to collect these designs for you. These thick braids will definitely make you look like a heavenly goddess with a huge charming effect on your hairstyle and appearance. Moreover, these ponytails can also be worn with Dutch braids, fishtail braids, and other braiding patterns like the first design. we know it's tough to choose one of these but you have to decide the right one for you considering your preference, face shape, hair color, and environment.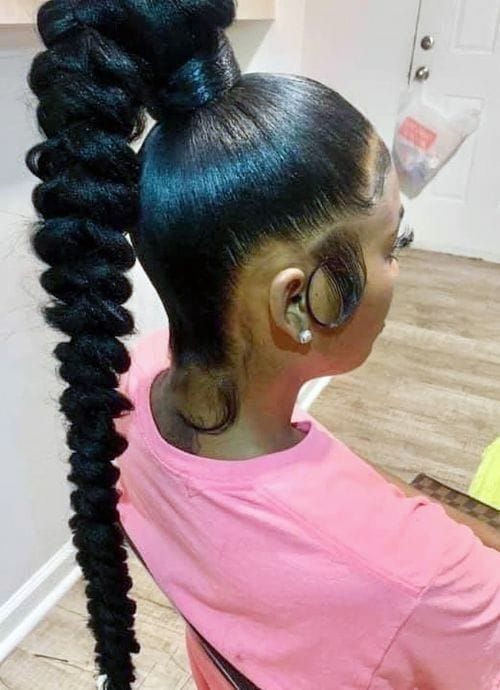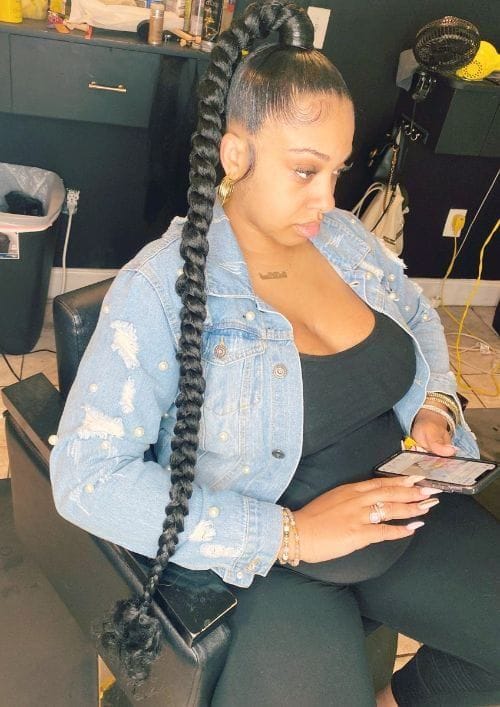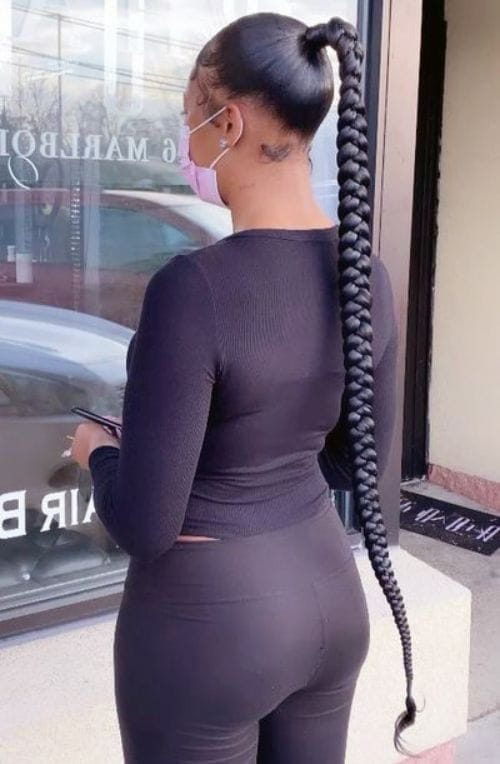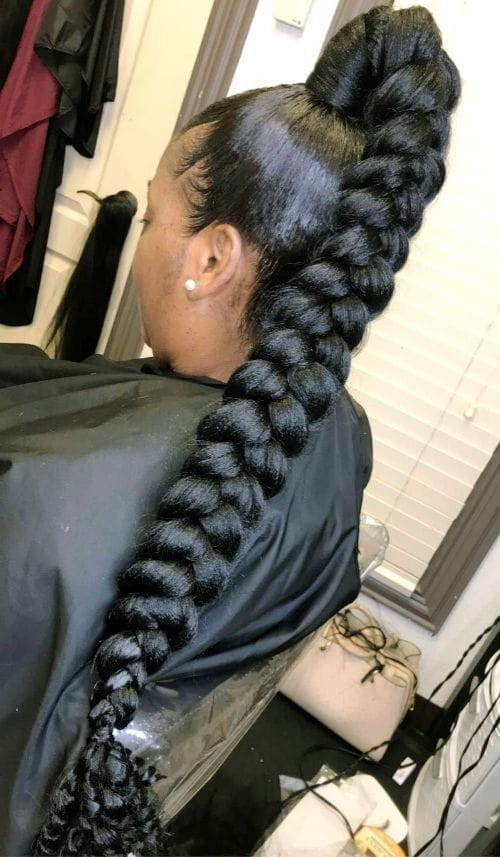 Ponytail Deserves to be Worn with Waves
Waves are always attractive and exquisite for hairstyles in all cultures, societies, and regions. If you look at the women of Asia, Africa, and America, you will. find a lot of women are much more fond of wave hairstyles. But we, the African American women have some advantages of using waves. Because we have the option to choose the color, style, length, and many more factors of any hairstyle. Besides, in our society, wave hairstyles are regarded as one of the most aristocratic hairstyles. But what will you look like when you wear a wave hairstyle with genie ponytails? We will answer you through the designs we have collected for you. Yes, the hairstyles below will give you an exact idea of these styles.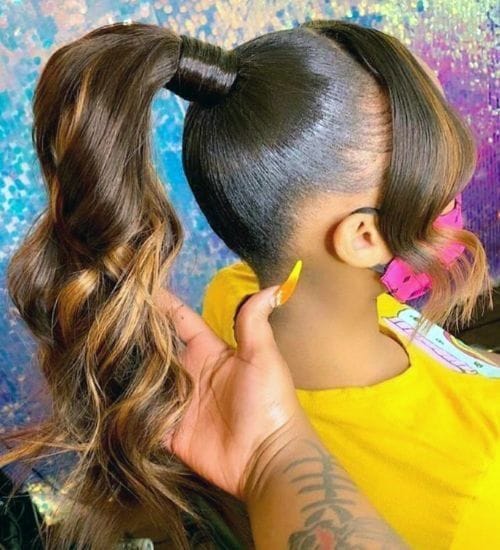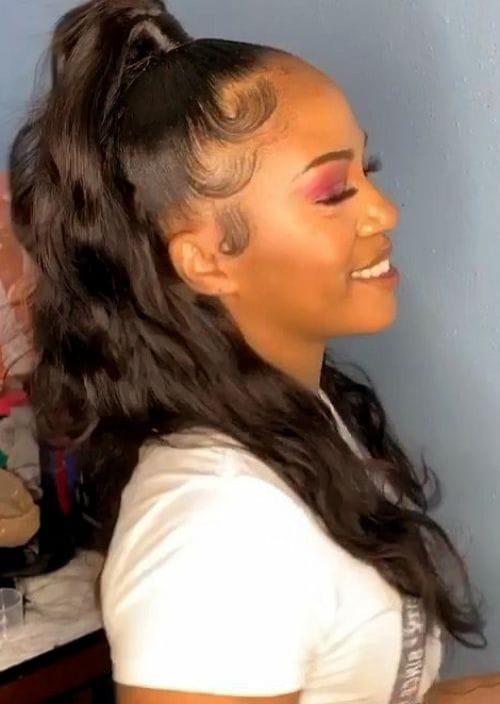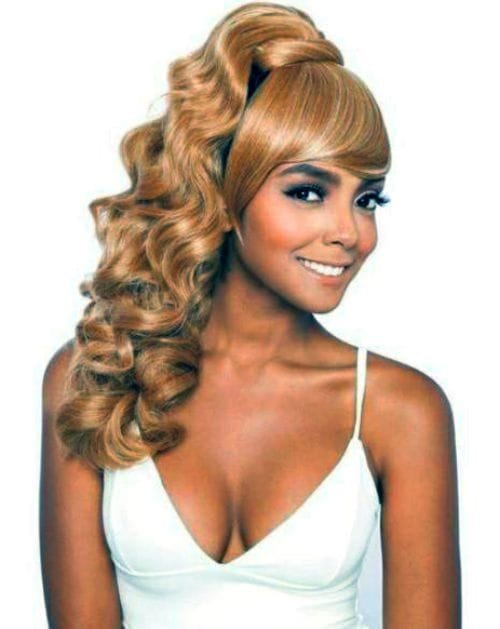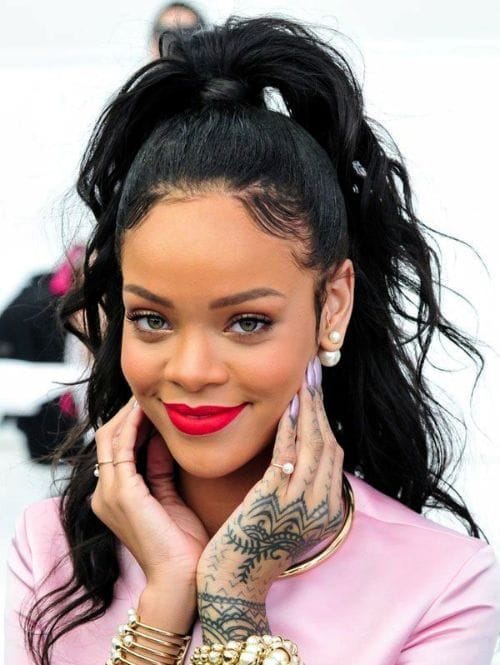 Genie Ponytail with Swoop Bangs
A beautiful hairstyle is the first impression of women. For that, our women always try to find the best, new, and trending styles. Presently, Ponytail with Swoop bangs is such a hairstyle. This style is trendy, classy, and Shiny enough to make the people around you enchanted. Moreover, there are some extra advantages of wearing colorful bobby pins with this style. The additional part of this hairstyle is the swoop bang. And this is the only this that has made this hairstyle cuter, smarter, and worth wearing. Now we have these four lovely designs of ponytails with swoop bangs for you. We want you to choose the best and perfect one for yourself.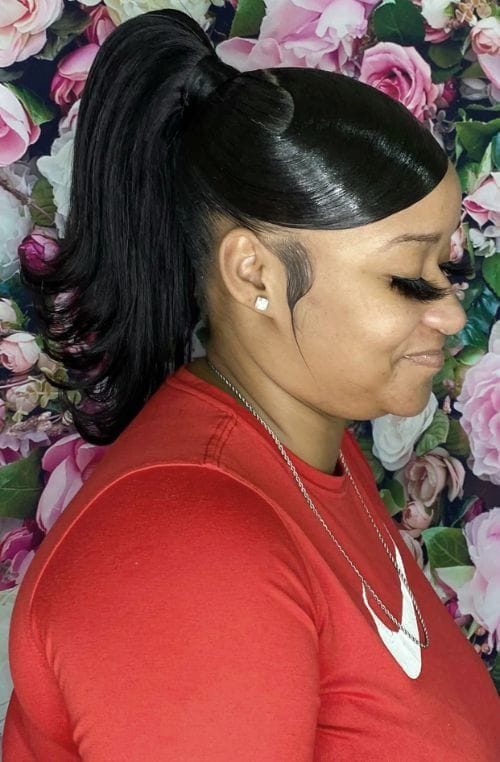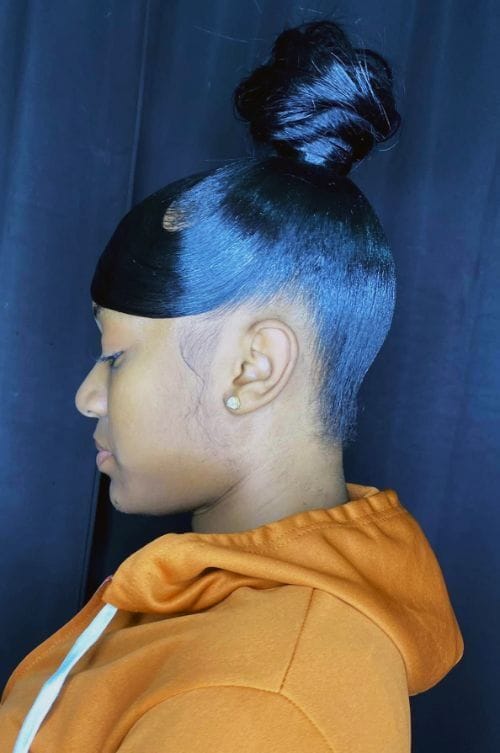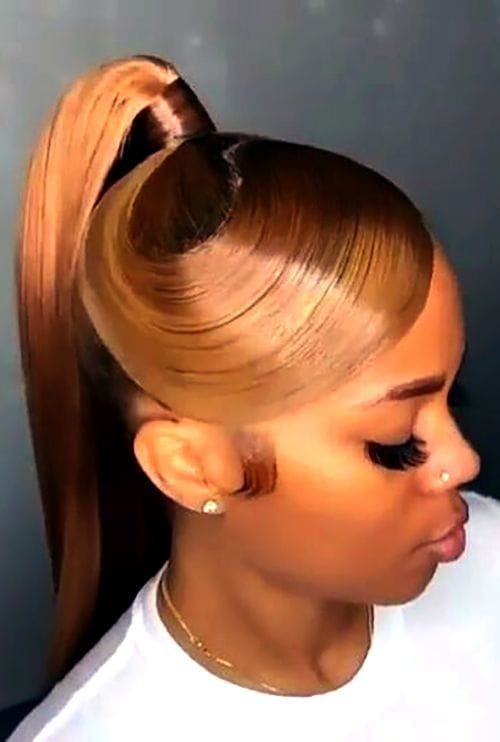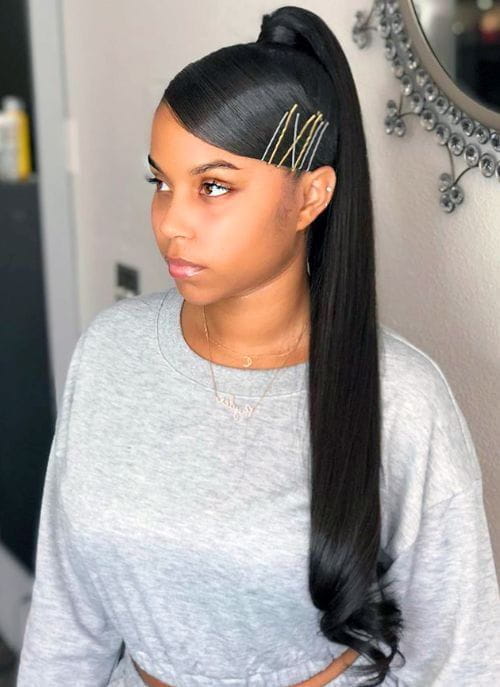 Genie Ponytail with Rubber Bands
When you think of using accessories in your hair, you can not just avoid the rubber bands. They are one of the most vital parts of hairstyling. This section is presented in front of you to give you some idea about wearing rubber bands with ponytail hairstyles. The multiple color variations of these bands really add some heavenly charm to any hairstyle you wear. Additionally, you can see how you can wear the criss-cross braids along with the genie ponytails. Navigate down to the images below and try to feel the majestic charm of ponytail hairstyles with colorful rubber bands.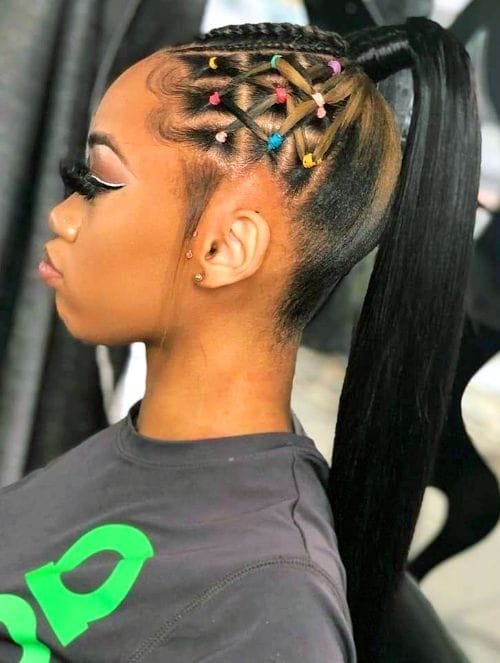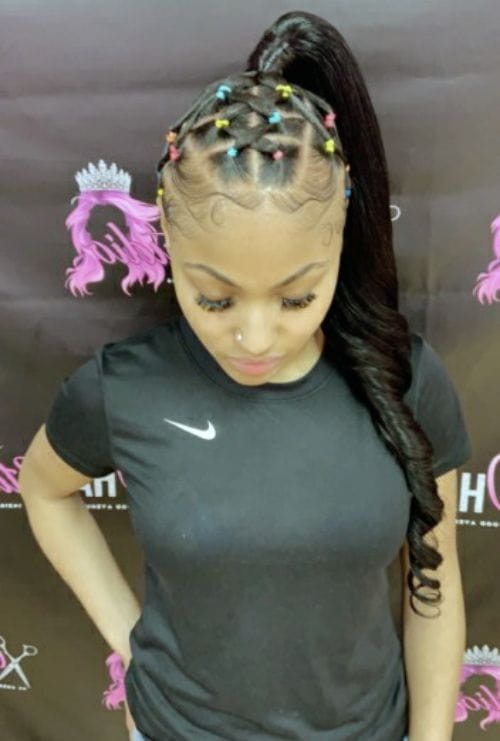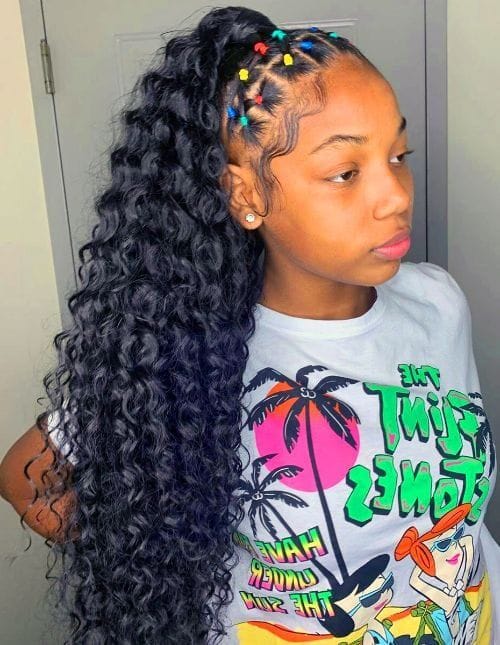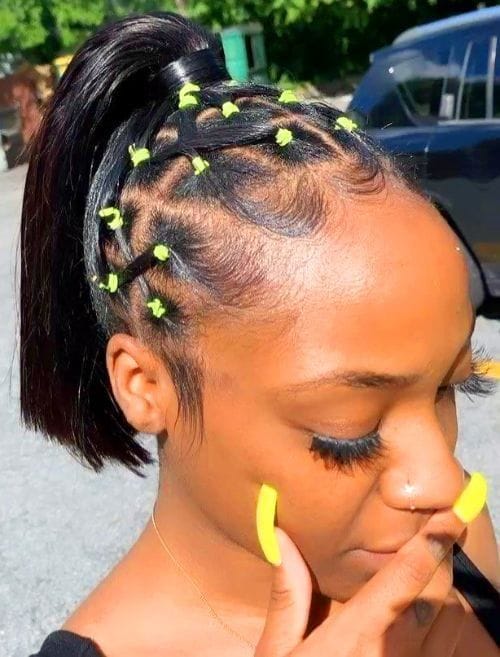 To Whom It May Concern
Red, burgundy or other reddish colors are used in hairstyles by an enormous number of women all over the world. Moreover, these colors are applied to a wide range of hairstyles like braids, buns, curls, afros, and many more. So, why don't we try these colors with ponytail hairstyles? And trust me, you will be really surprised to see the reddish effect of these hairstyles. Below there we have presented you with four styles where you will find bob, waves, sleek, and ponytail hairstyles with reddish colors. And we think you will definitely like these mind-blowing styles and pick the best one for you.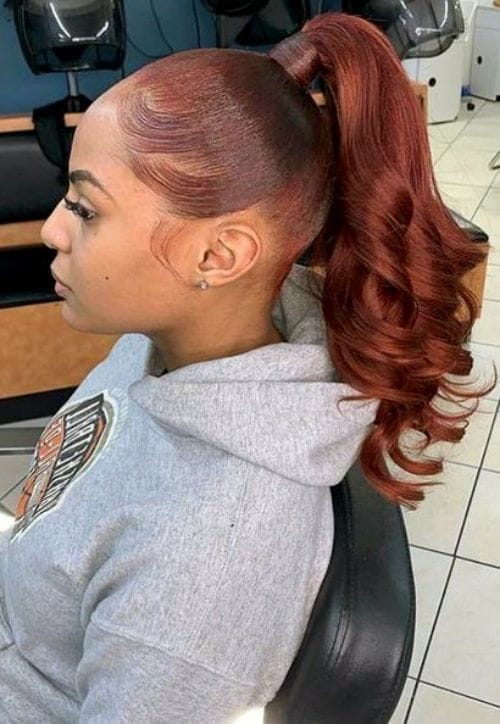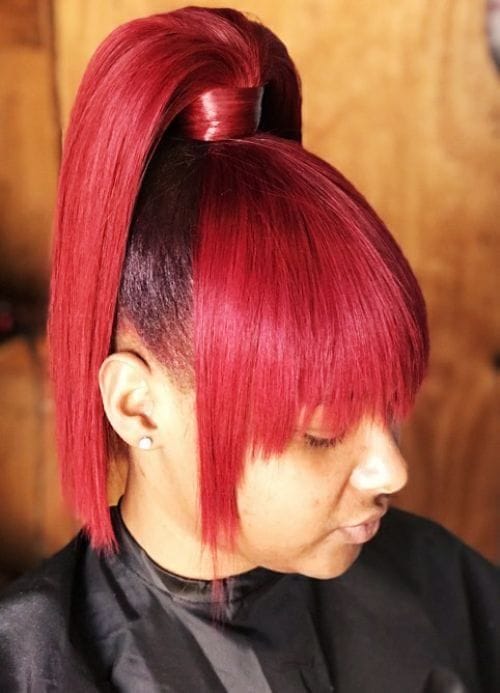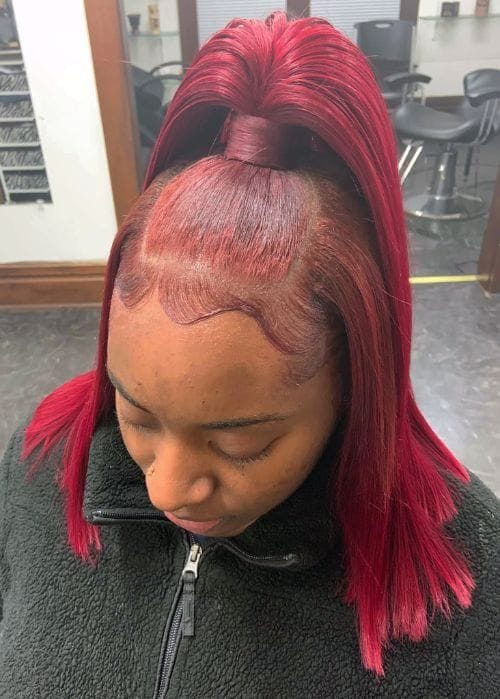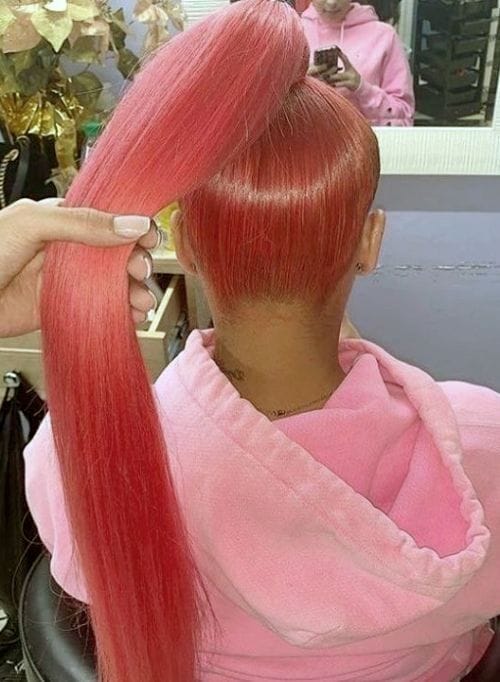 Would Genie Wear Bob and Ponytail at the Same Time?
Surely not. But we do. We love to wear bobs and ponytails at the same time. And most probably this combination is only possible in the genie ponytails. Additionally, you can wear rubber bands, bangs or fringes, color variations, and swoop bangs along with this style. But remember, you must consider your face shape before wearing a bob and ponytail at the same time. Because the Oval face shapes are the best fit for the bobs. And if you have a lovely oval face shape, these styles will certainly add value to your hairstyle and appearance. Now, check out the styles we have collected for you below and get amazed.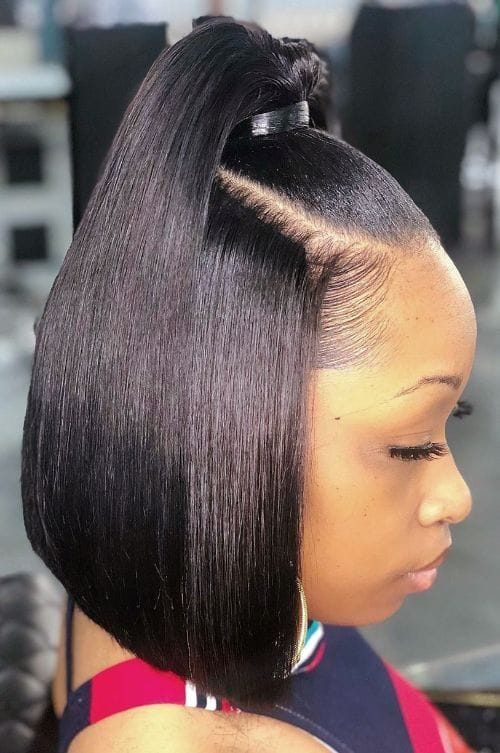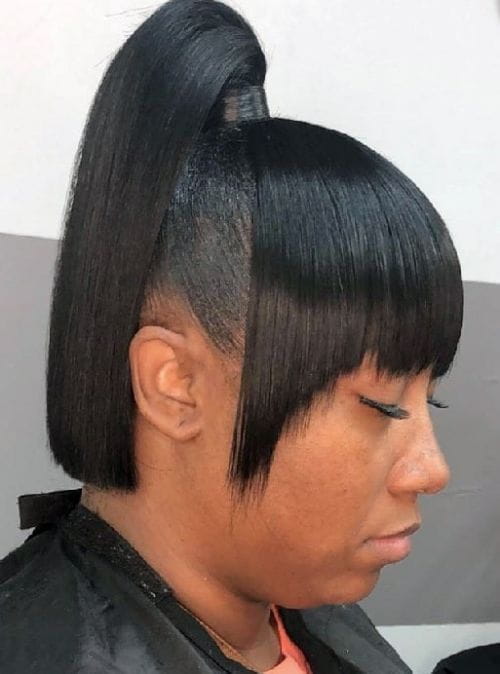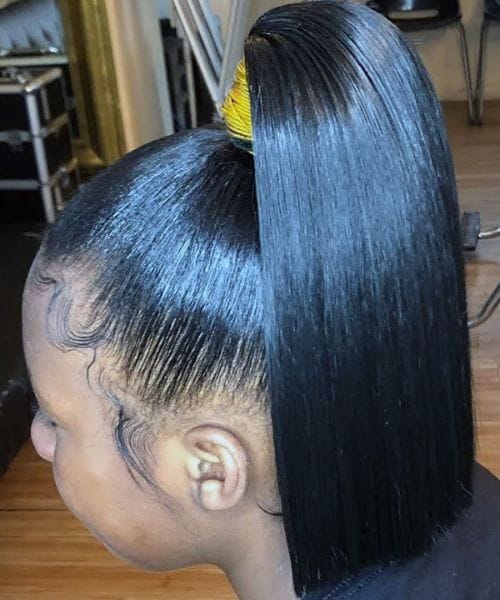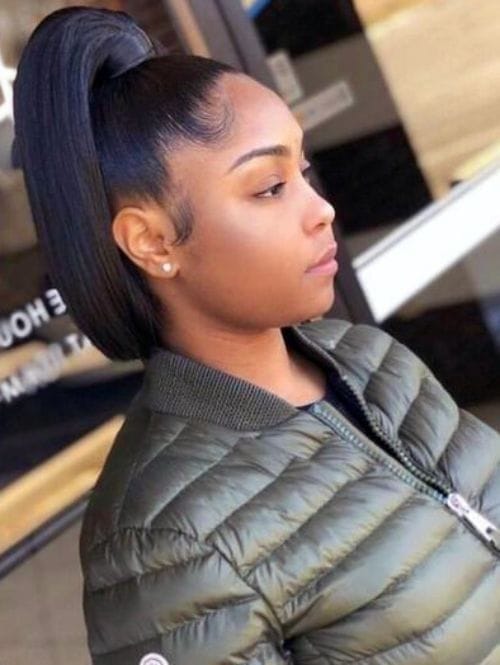 The world of beauty and fashion changes constantly to keep pace with the rest of the world. And we do need to have a sense of the changes. The genie ponytail hairstyle is such a hairstyle that has influenced the style world a lot recently. As these styles are trendy, smart, cute, and sexy, you must try these styles to discover a more beautiful, more trendy, and more beautiful you. So, if you have any questions regarding today's topic, leave a comment in the comment section. And do not forget to get connected with us through Social Media.