Welcome to our cozy corner of the web, where we celebrate the love for all things hair, especially the lush, dynamic look of deep wave hairstyles. Whether you're a seasoned pro at rocking curls or considering your first foray into this voluminous style, this guide is your new best friend. We're going to talk about everything from the basics of deep-wave hair to how you can flaunt it in various lengths, colors, and updos. So, grab a comfy seat, and let's unravel the beauty of deep-wave hairstyles together!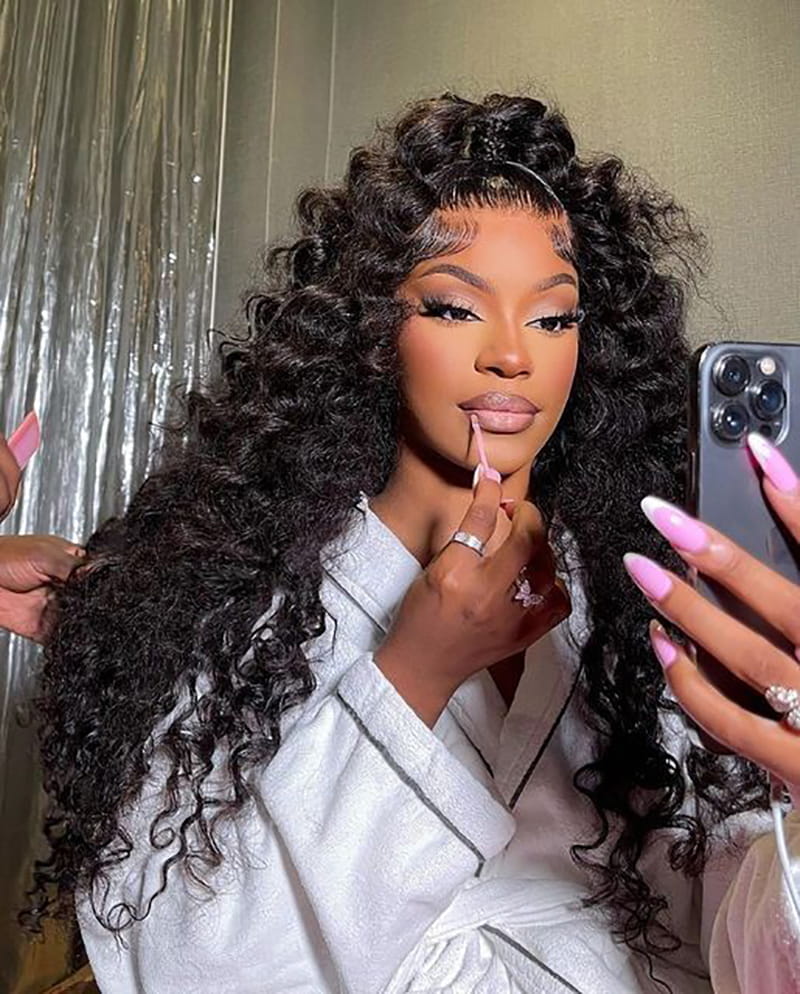 What are Deep Wave Hairstyles?
Imagine the rhythmic waves of the sea – that's the kind of vibe deep wave hairstyles bring to the table. These aren't your run-of-the-mill curls; they're deep, luscious, and have a bounce that can only be described as 'joyous.' What makes deep waves a crowd-favorite is their ability to add oodles of texture and body to your hair, making any day a good hair day. Plus, they're super versatile. Whether you're rocking your natural locks, weaves, or extensions, deep waves can be your new go-to for looking fabulous.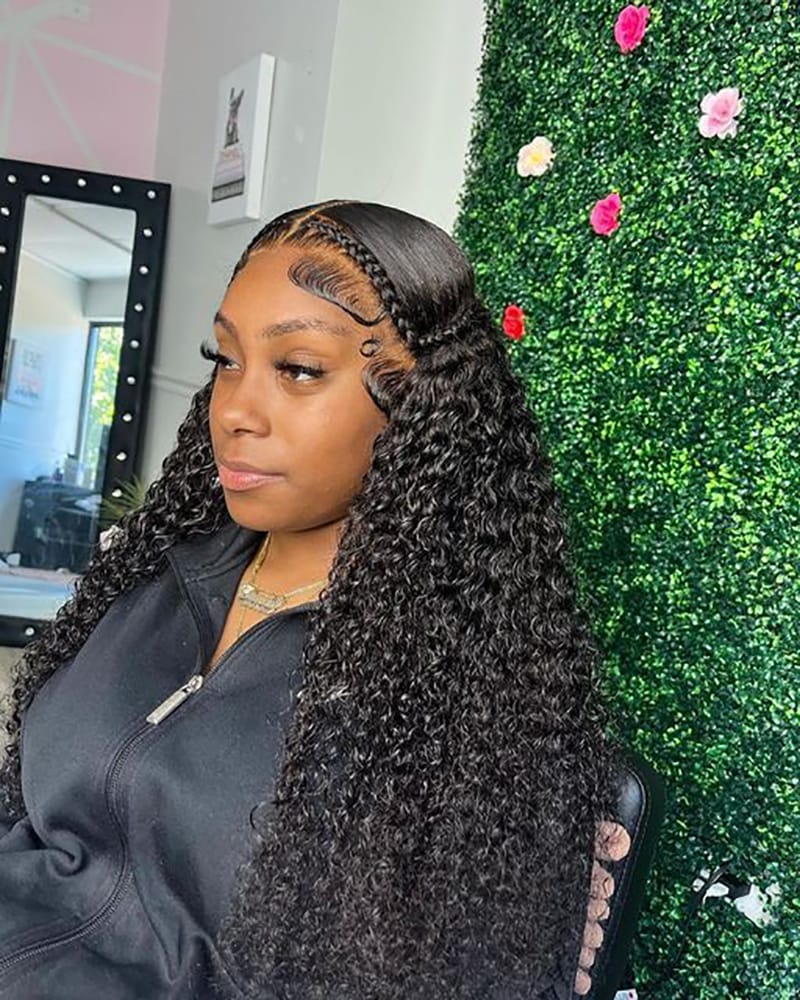 Deep Wave Hairstyles of Different Lengths
Well, we have categorized the wave styles per length, color, ponytails, buns, and other styles. In every category, we will be discussing some subcategories. So, let's start with the length category.
Short Wave Hairstyles
Got short hair and think you can't rock deep waves? Think again! Short deep wave styles are not just possible; they're absolutely adorable. Imagine waking up, shaking out your hair, and those waves just fall perfectly into place—low maintenance, high impact. Plus, short waves are incredibly versatile. Whether you're heading to the office or hitting the town, those curls add a dash of fun to your look. If you're looking to jazz things up, why not add some highlights? They'll accentuate each twist and turn of your waves, making the texture pop even more. And the best part? Short hair dries faster, so you spend less time prepping and more time slaying!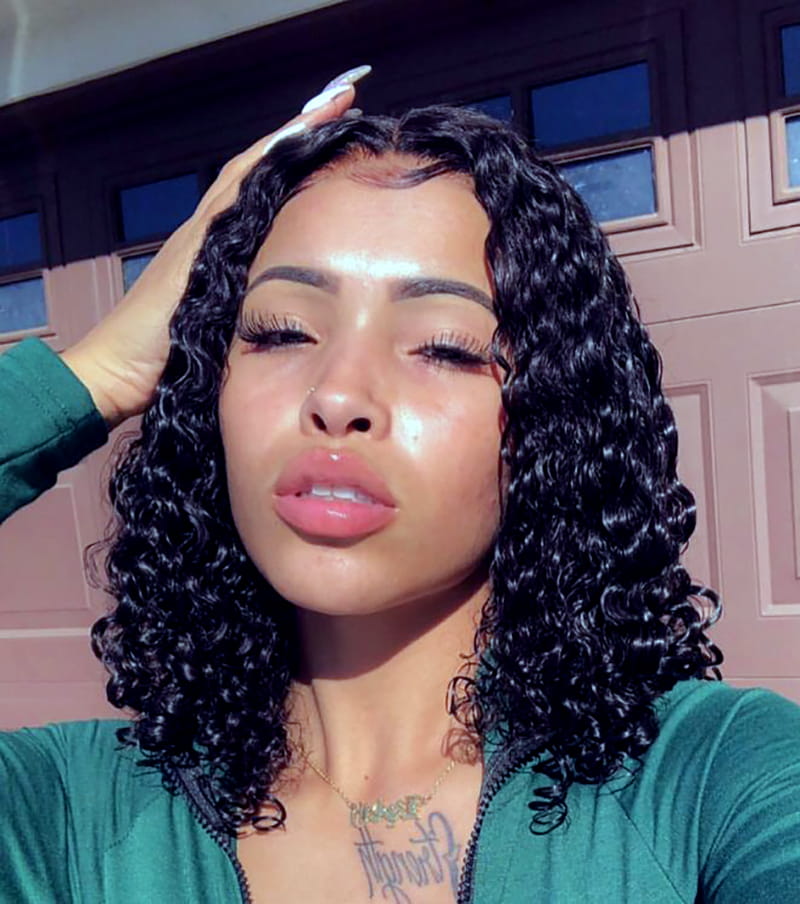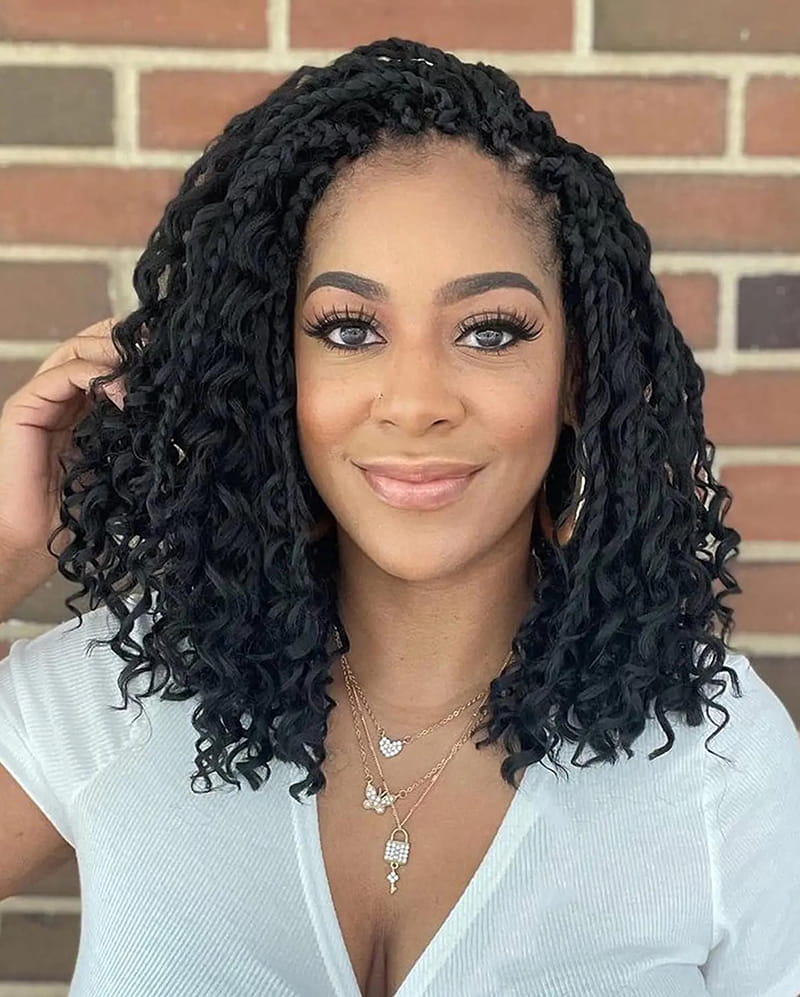 Shoulder-Length Wave Hairstyles
Now, if you're in the sweet spot with shoulder-length hair, deep waves can work wonders for you. This length offers enough room for the waves to really develop their personality. It's the perfect canvas for those luscious curls to dance on. The movement, the bounce, and the way it frames your face—it's a recipe for hair envy. Plus, it's long enough to put up in a quick updo but short enough not to be a hassle. Whether you use heating tools or prefer to braid your hair overnight, the waves you wake up to will have a life of their own. And when it comes to versatility, shoulder-length waves have you covered for every scenario. Up for a bun or down for drama, it's your call!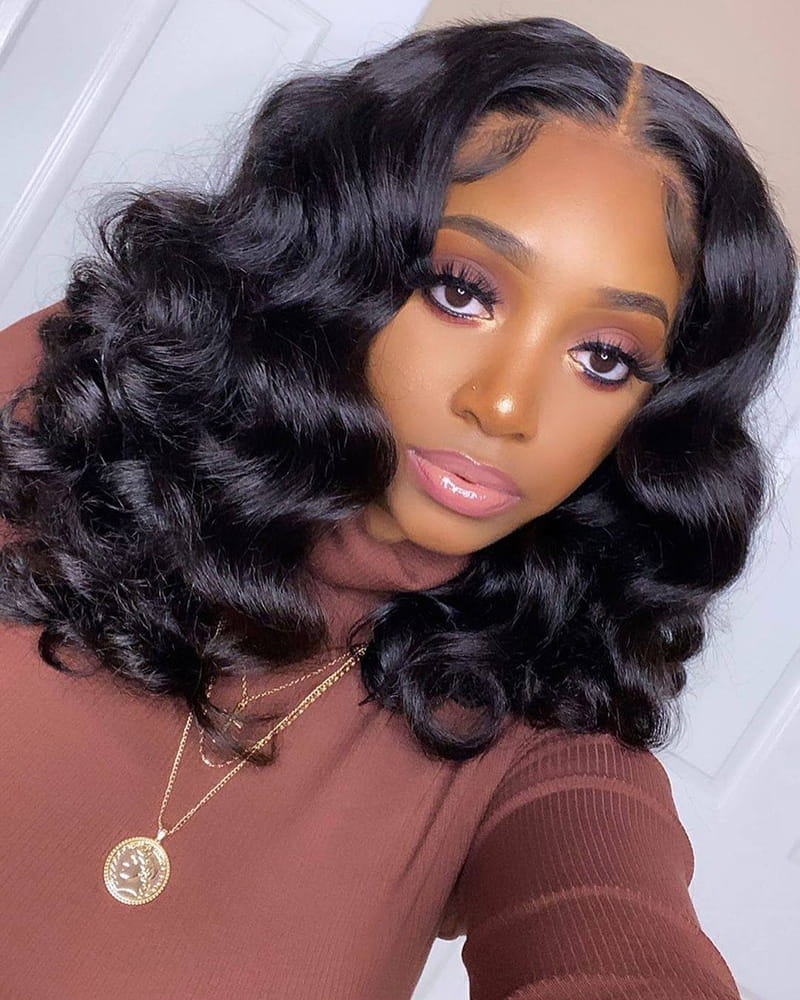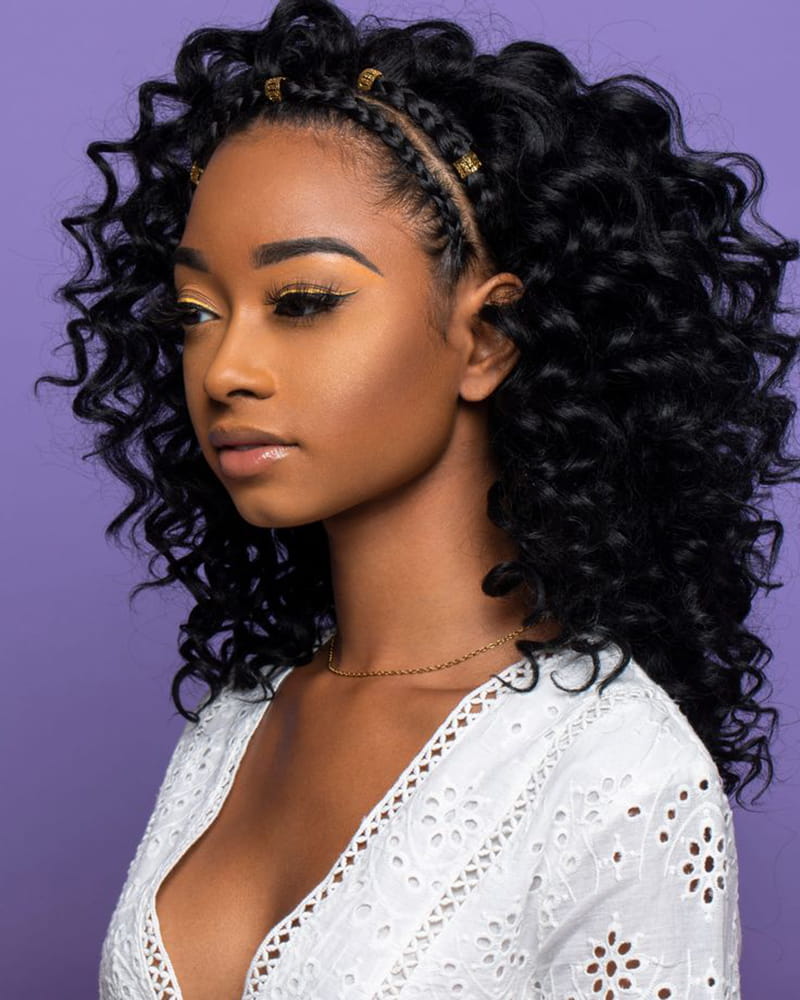 Medium Deep Wave
Medium-length hair strikes that perfect balance, right? And with deep waves, you elevate this versatile length to something straight out of a hair commercial. The depth of the waves adds volume and body, so your hair looks thicker and fuller than ever. And the styling possibilities? Endless! Pull it back into a ponytail, and those waves will give it a flirty flair. Or leave it down, and let the waves cascade around your shoulders for that effortless chic vibe. Medium deep wave hairstyles are the secret weapon for anyone looking to add a touch of glamour to their everyday style without too much fuss.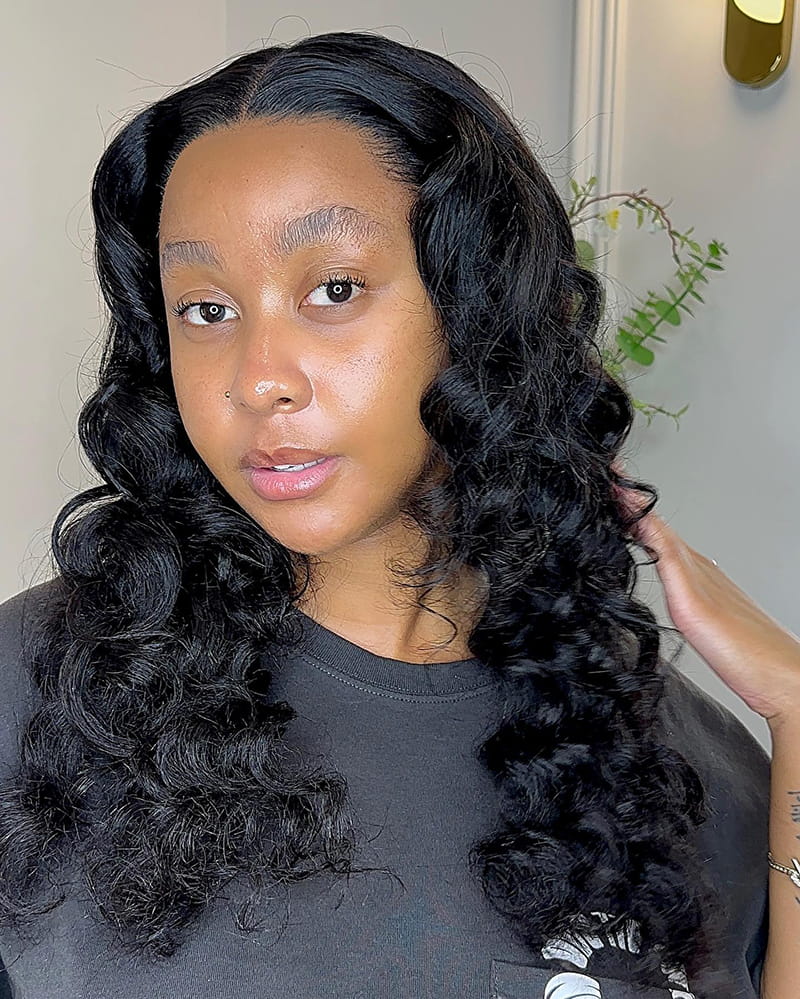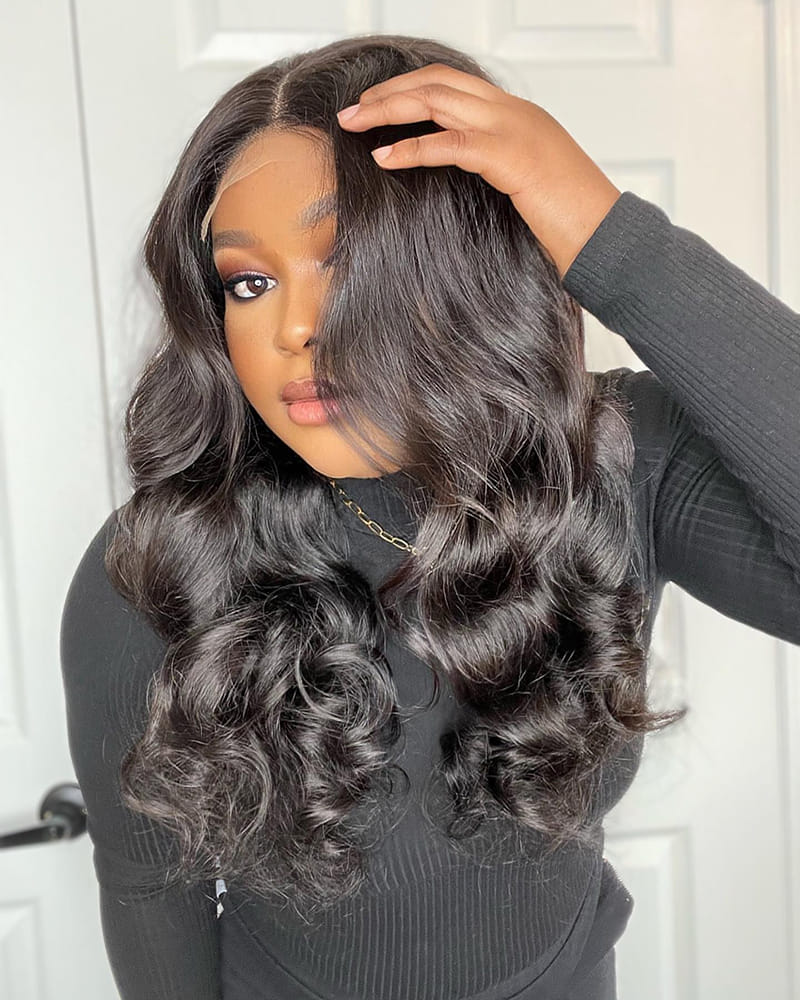 Here's where things start to get really interesting. Back-length hair is like a canvas for deep waves, allowing each twist and turn to shine. Picture this: waves flowing down your back like a waterfall, turning heads as you walk by. It's the kind of hairstyle that's both striking and feminine, making it perfect for those who love to express their style. And don't worry about heaviness; the right layering will ensure your waves are bouncy and light. If you're feeling playful, why not add some braids or twists? They'll interweave with your deep waves and create an intricate pattern that's sure to impress.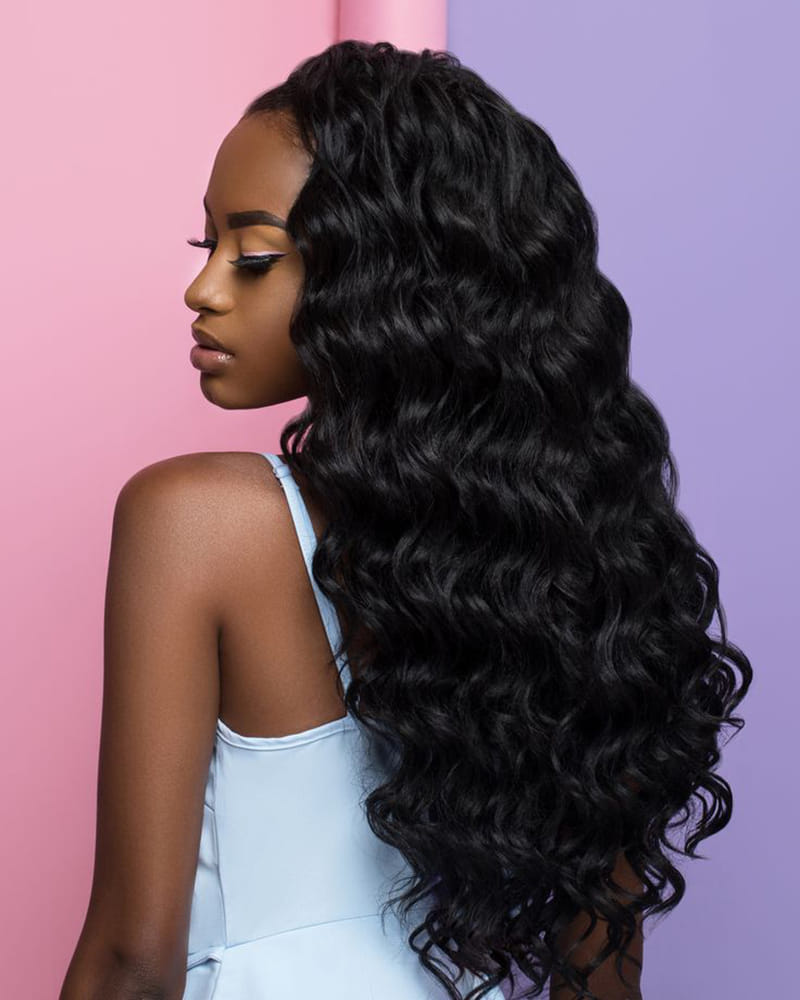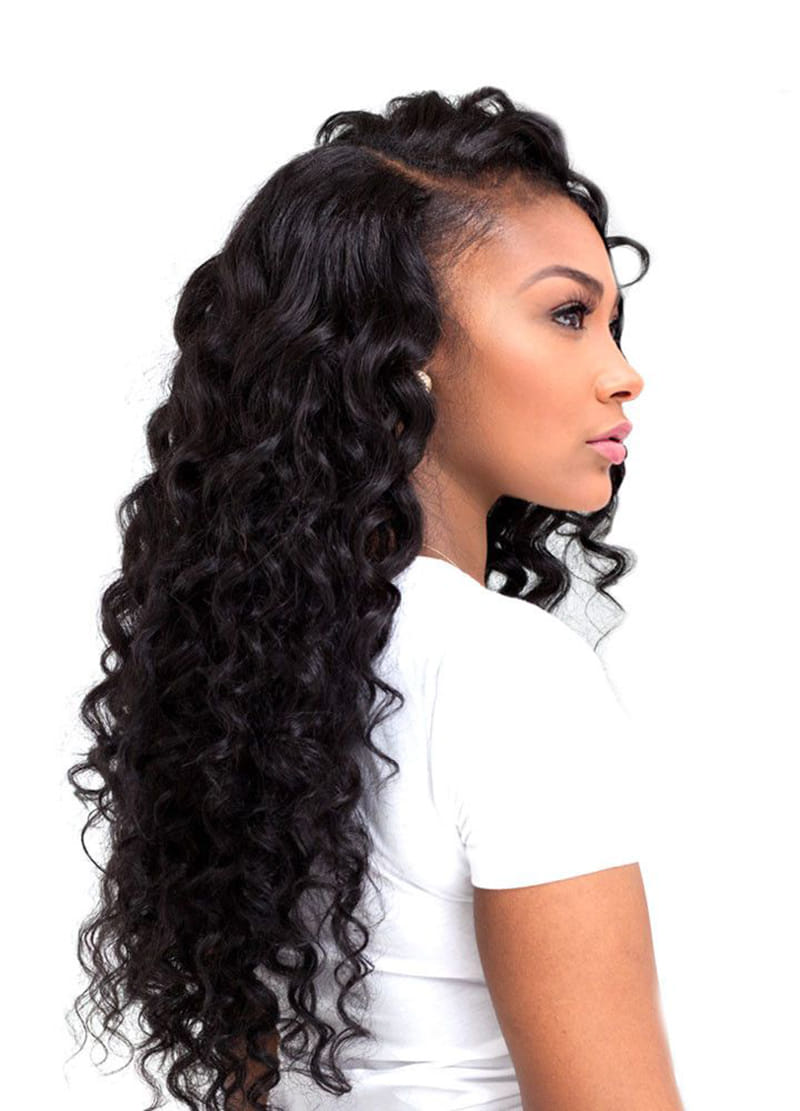 Waist-Length Wave Hairstyles
Waist-length hair is a statement in itself, but add deep waves, and you've got a masterpiece. This length can handle waves like no other, allowing them to flow freely, full of life and energy. With waist-length deep wave hairstyles, you get a touch of the dramatic, a dash of elegance, and a whole lot of style. It's the kind of look that doesn't just say you've arrived; it announces it with flair. You can throw it over one shoulder for a classic, sultry look or let it hang loose for that wild, free-spirited vibe. Plus, those long waves are perfect for experimenting with colors and highlights. They catch the light in such a mesmerizing way, that you'll wonder why you didn't go for waist-length waves sooner.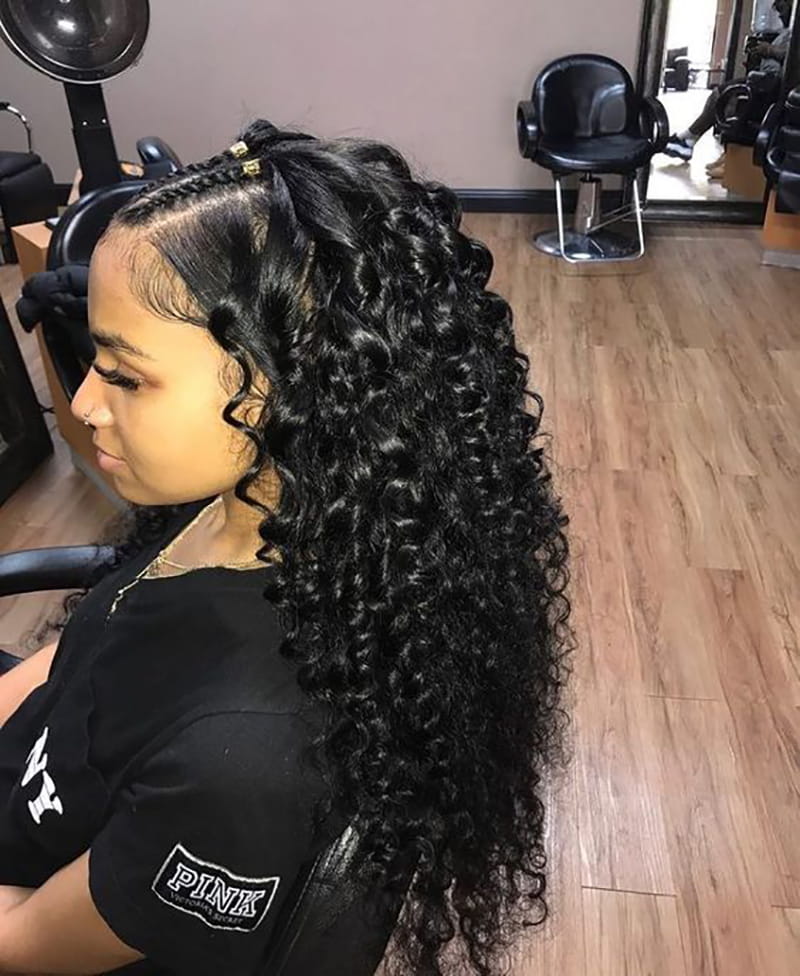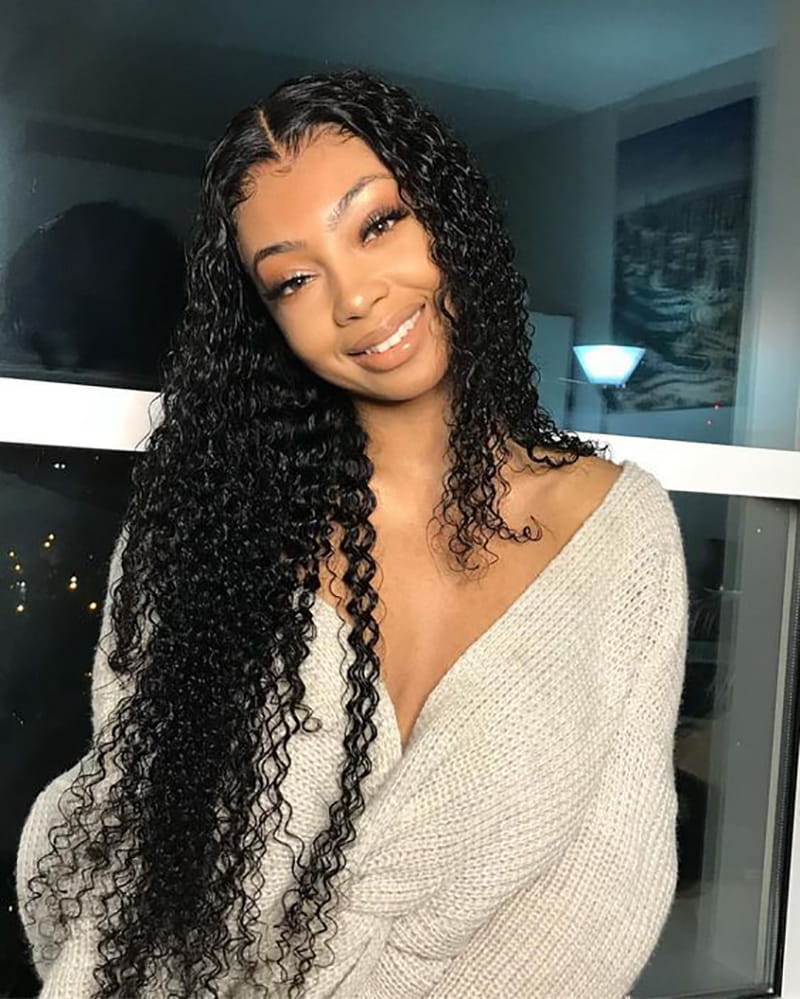 Hip-Length Deep Wave
Hip-length and deep wave? Now we're talking about the ultimate hair goals. This combination is for those who don't just walk into a room; they own it. Hip-length deep waves are luxurious, they're regal, and they scream confidence. Imagine each curl, from root to tip, defined and bouncing with your every step. The key here is maintenance—keeping those waves hydrated and healthy is crucial, but the payoff is a hairdo that's nothing short of stunning. Plus, with hair this long, you can style it in a million ways. Braids, updos, half-up styles—you name it, your waves will make it look good.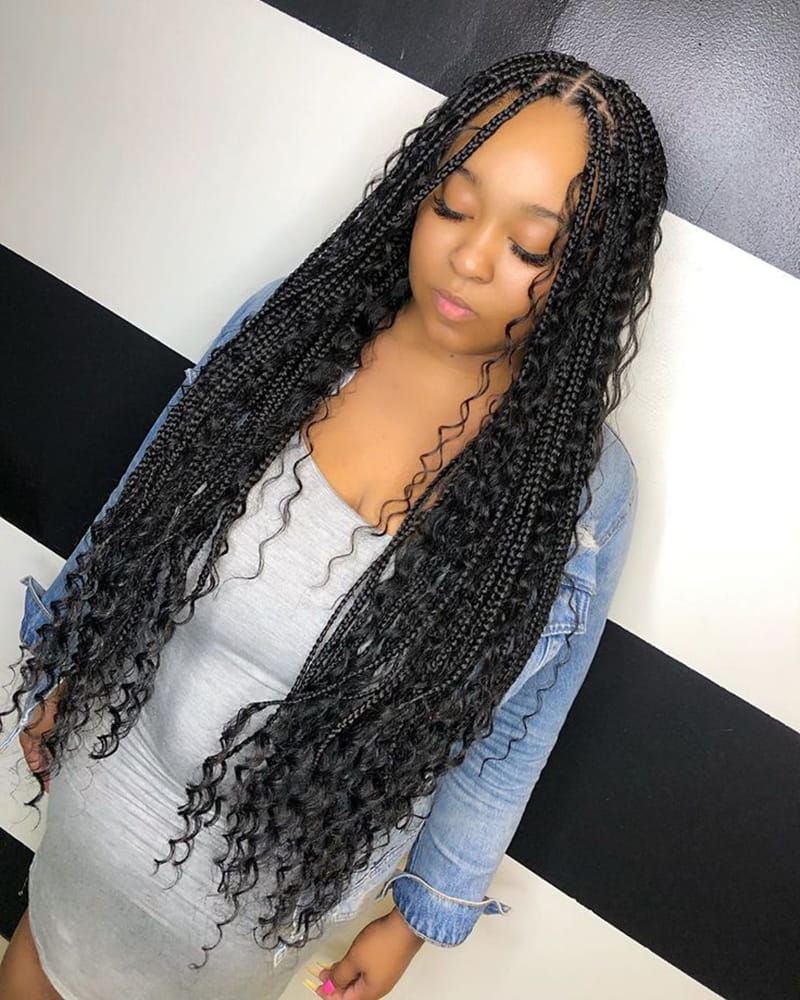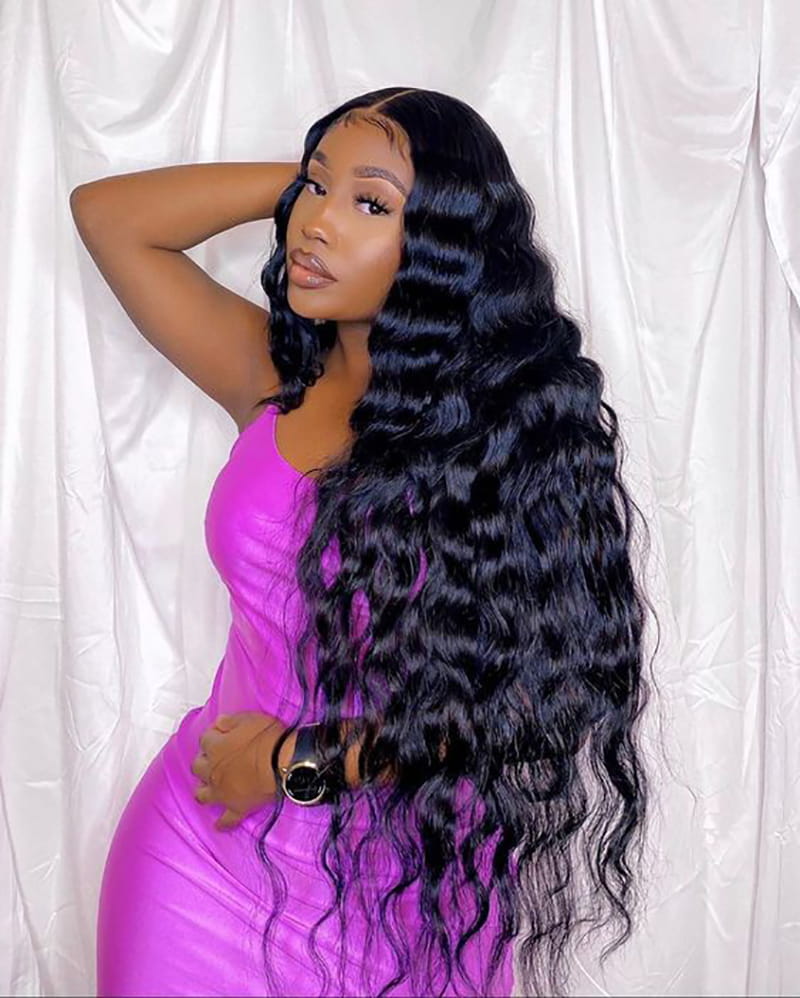 Long Hairstyles
Long deep wave hairstyles are the crown jewel of curly looks. They're not just hair; they're a vibe, an attitude, a way of life. When you've got waves tumbling down past your hips, you're not just wearing a style; you're making a statement. It's feminine, it's powerful, and it's absolutely beautiful. Sure, it might take a little extra TLC to keep those curls looking their best, but the results? Pure magic. Whether they're blowing in the wind or styled for a special occasion, long deep waves have a mesmerizing quality that's impossible to ignore.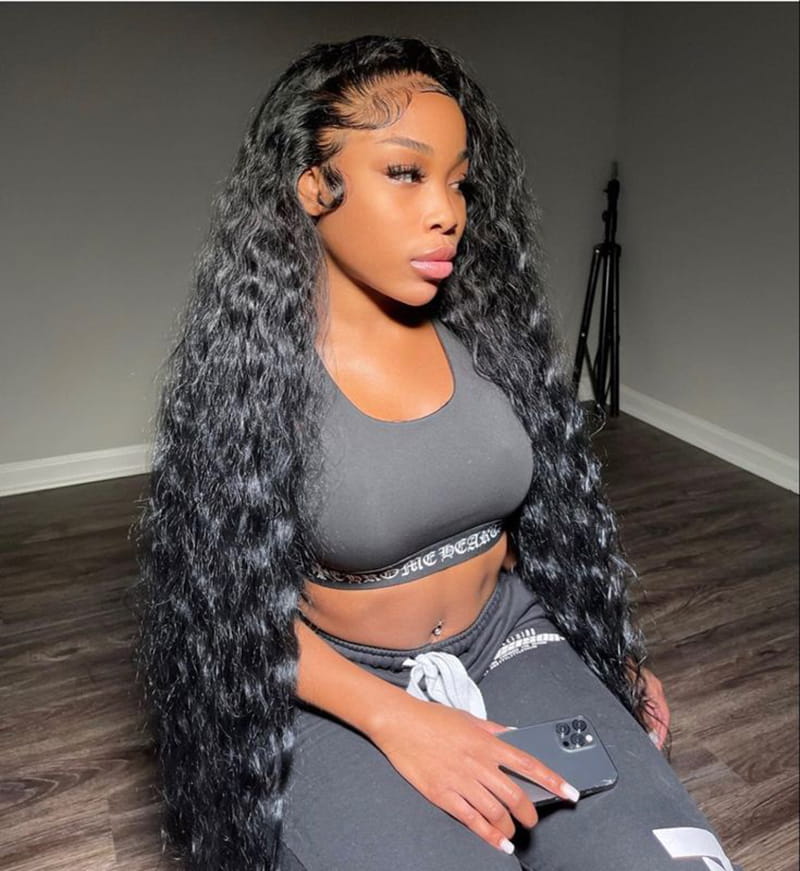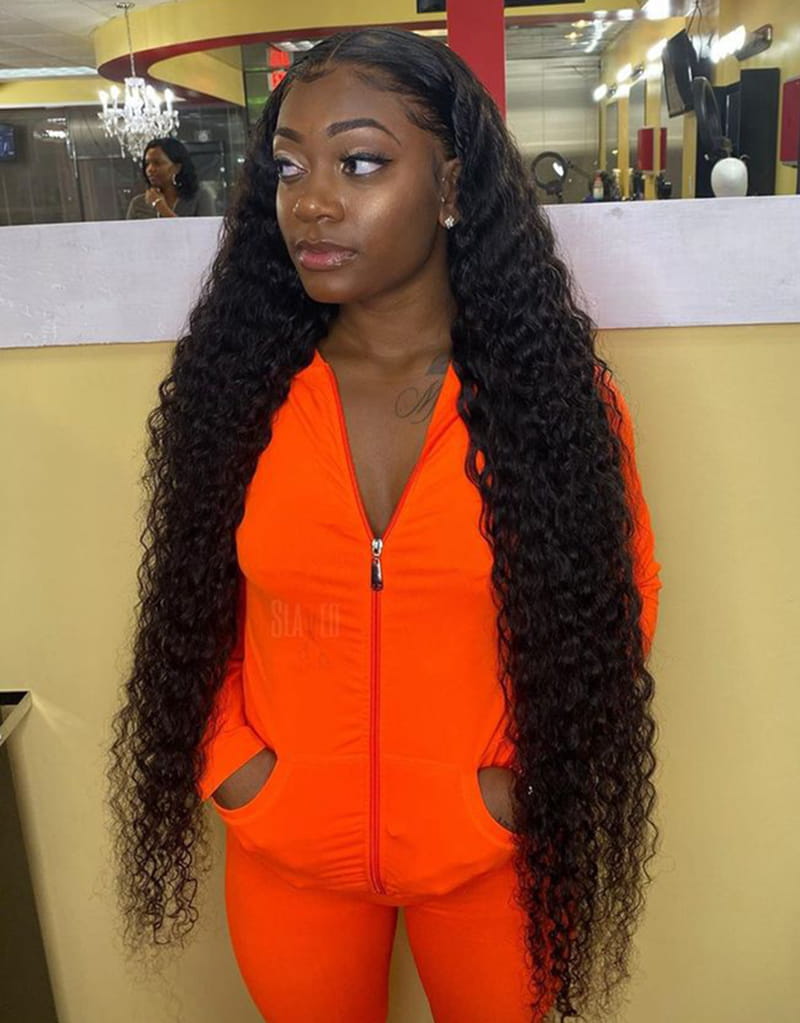 Deep Wave Hairstyles of Different Colors
In the second section, we will be discussing some awesome colorful ideas for wave hairstyles. In addition, we will present some of the greatest colorful hairstyles in this section.
Natural Colored Deep Wave Hairstyles
There's something to be said for the natural look. Deep waves in your hair's natural color have an authenticity that's truly captivating. Whether you're a brunette, a blonde, or a raven-haired beauty, embracing your natural shade means those waves will complement you perfectly. They add texture and dimension without the need for a dramatic color change, making them perfect for any setting. And if you decide to sprinkle in some subtle highlights or lowlights, you'll enhance the waves without overshadowing their natural charm.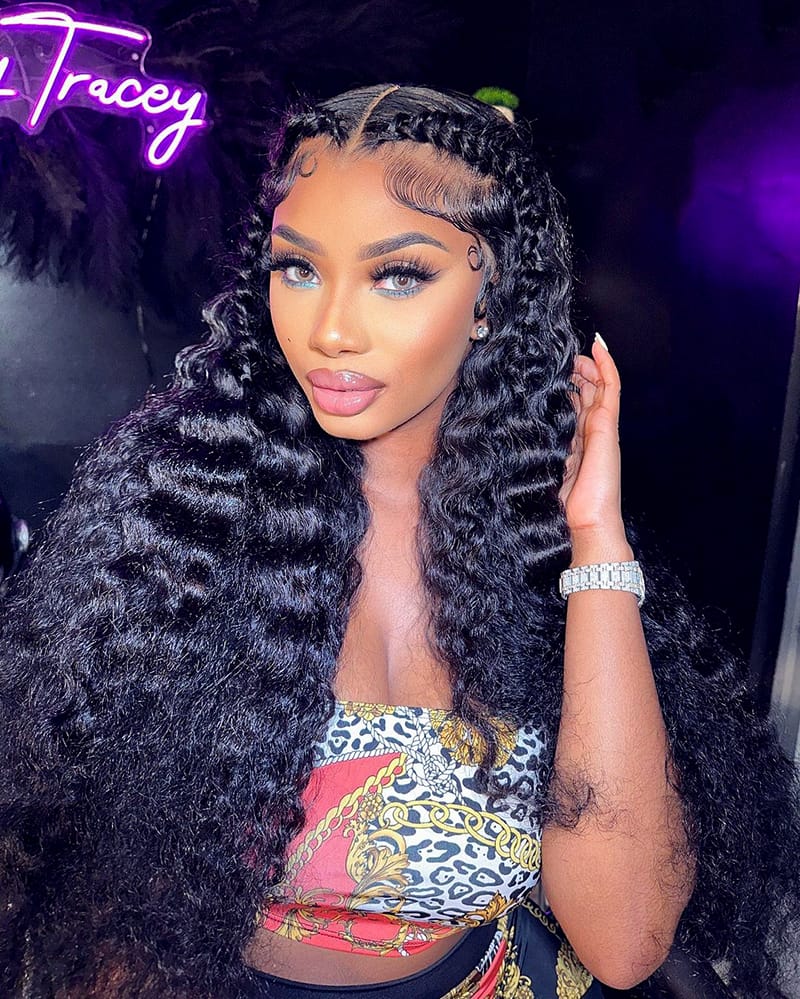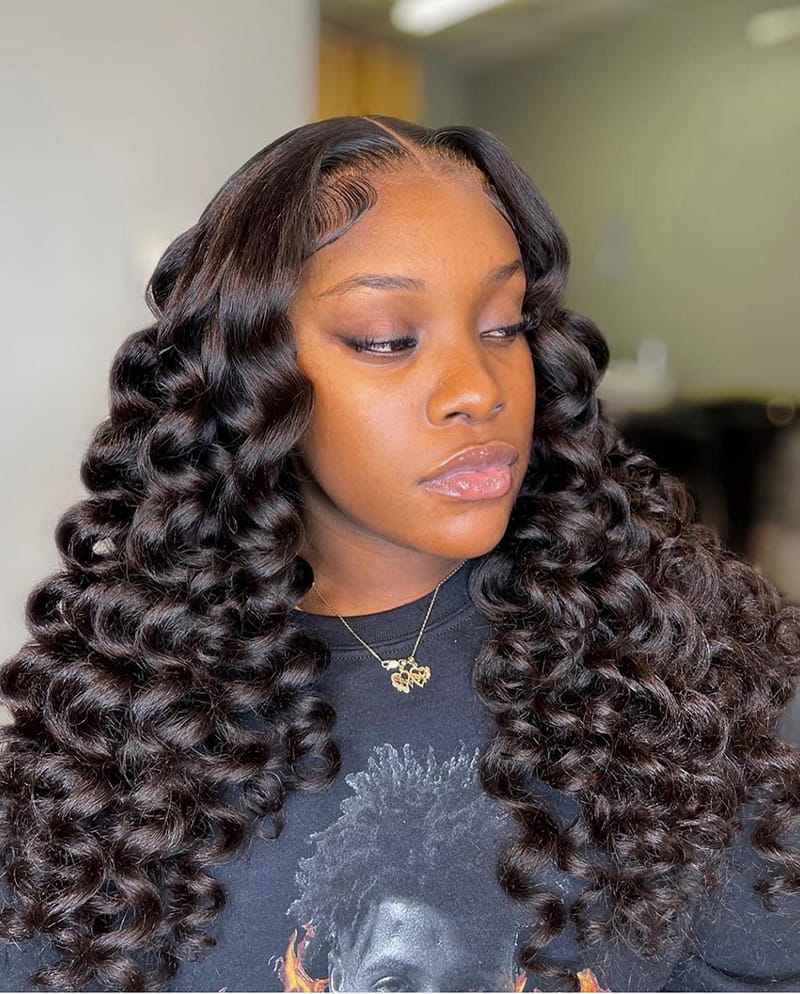 Purple Deep Wave Hairstyles
Ready to dive into the deep end? Purple deep-wave hairstyles are for the bold and the brave. From lavender to violet, purple makes those waves pop with a burst of color that's both edgy and enchanting. It's a hue that says you're not afraid to stand out and make a statement. With the deep wave texture, the color gets a multi-dimensional look that can range from mystical mermaid to punk rock princess.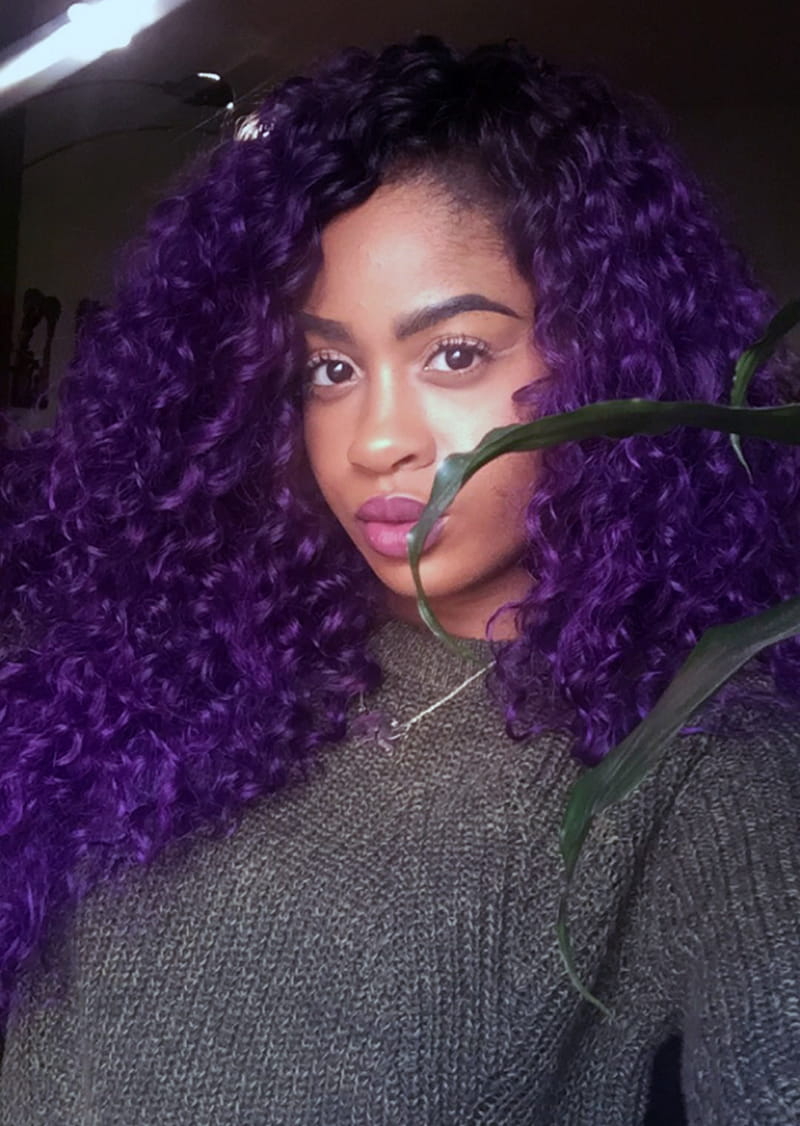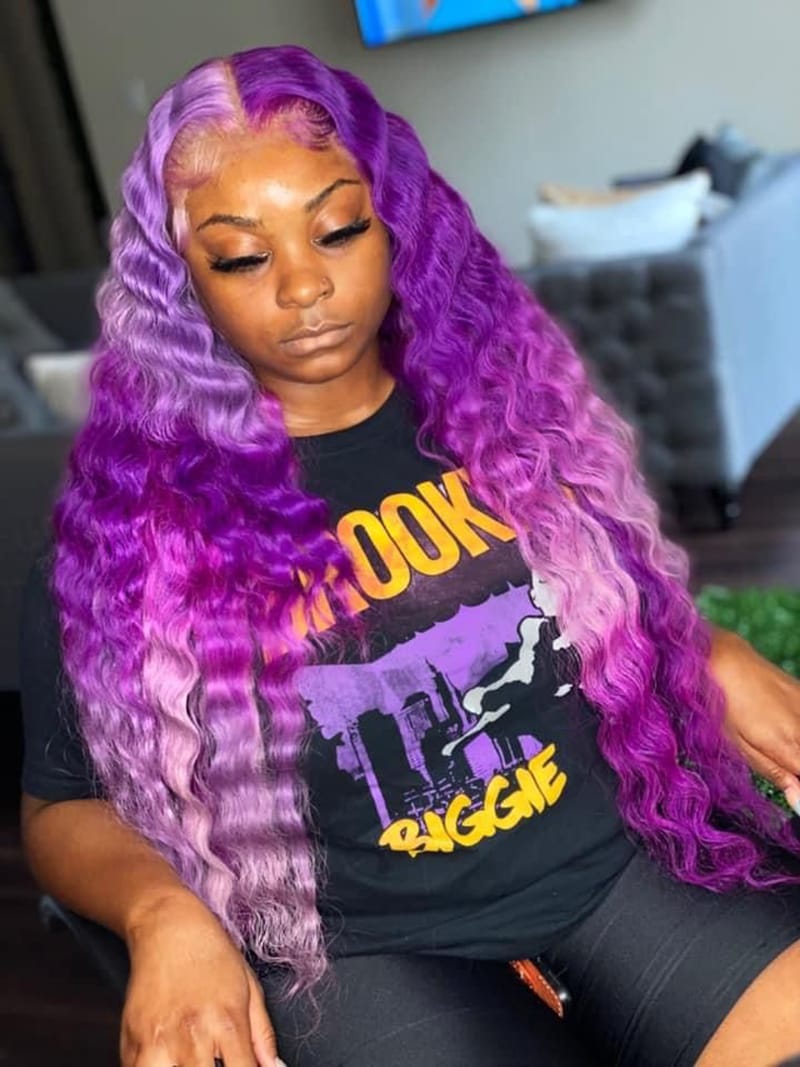 Red Wavy Hairstyles
Red deep wave hairstyles are fiery, passionate, and head-turning. There's a shade of red for everyone, from deep burgundy to bright cherry. Red amplifies the drama of deep waves, giving your hair a glow that's hard to miss. It's the color of confidence, and when you pair it with deep waves, you get a look that's as powerful as it is beautiful.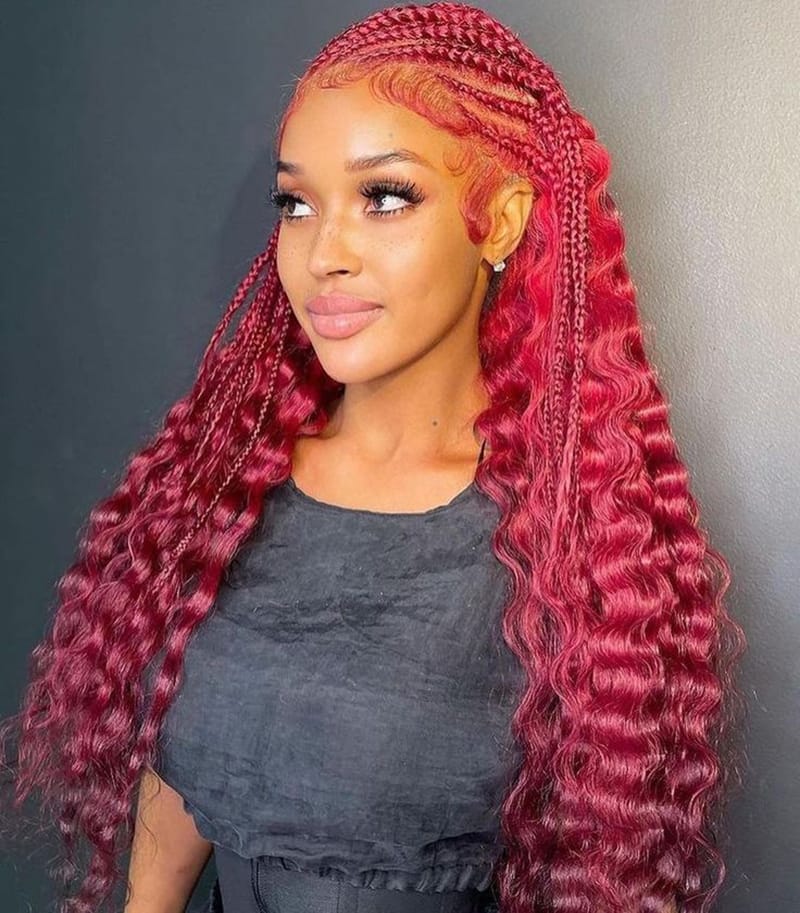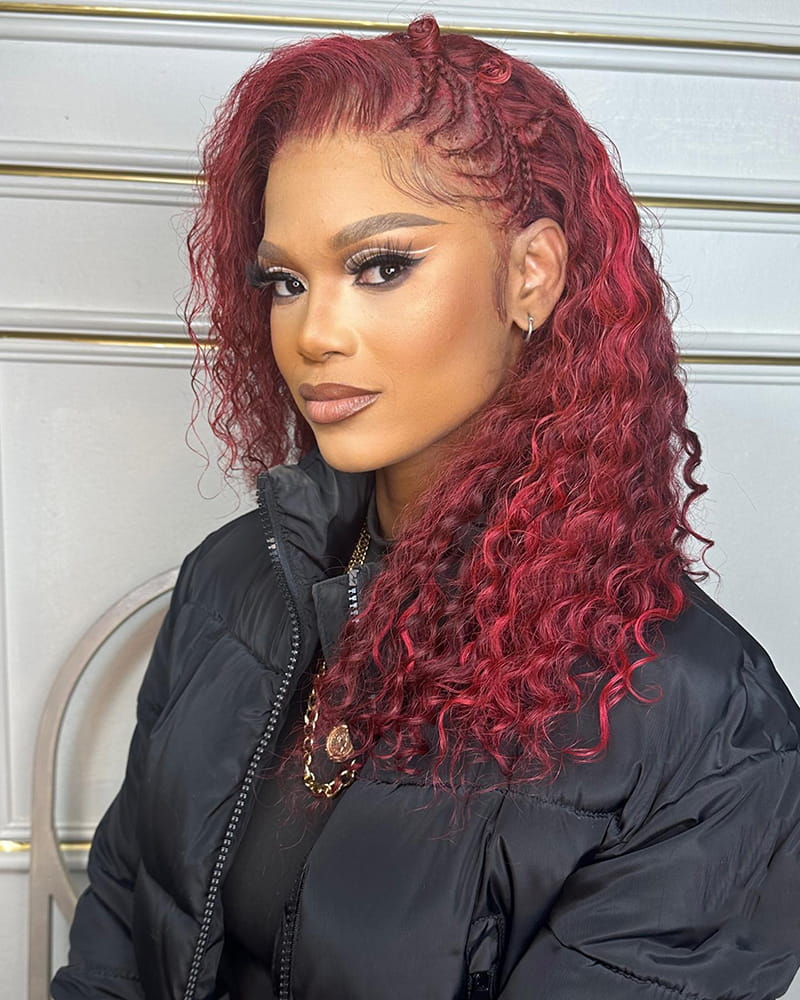 Blonde Deep Wave Hairstyles
Blonde deep wave hairstyles? Hello, sunshine! Whether it's golden honey or cool platinum, blonde waves have a way of brightening up your entire look. They're light, they're fun, and they're irresistibly chic. Blonde deep waves catch the light in a way that gives your hair a luminous quality like each curl is kissed by the sun. It's a head-turning style that radiates good vibes wherever you go.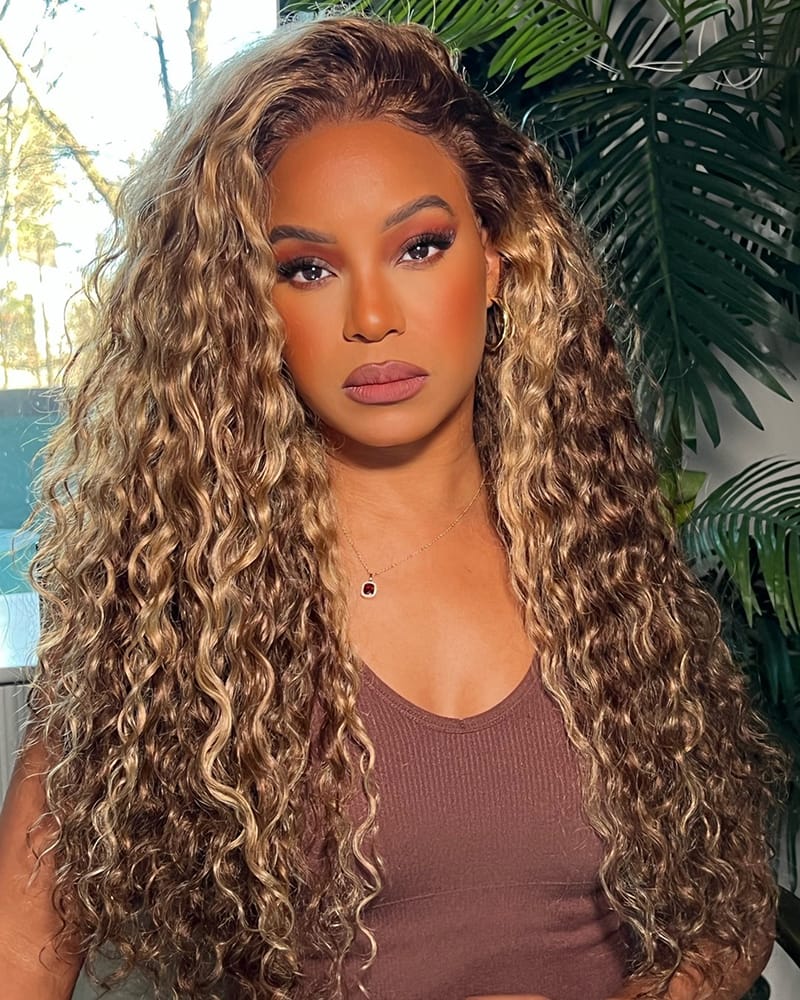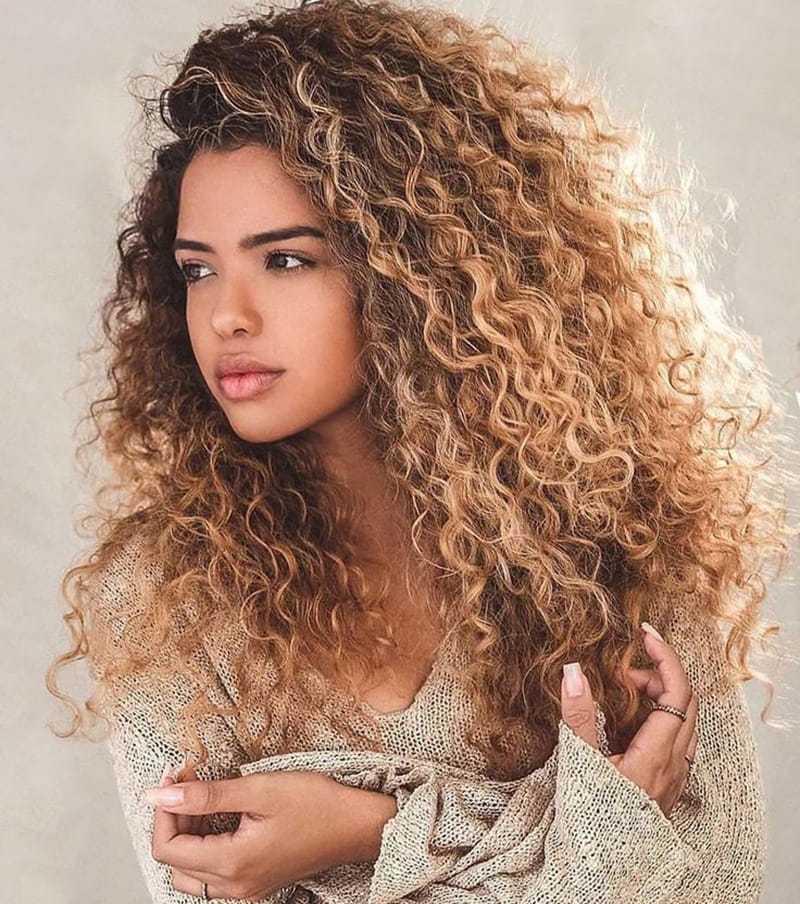 Burgundy Wavy Hairstyles
Burgundy deep wave hairstyles are for those who love a touch of mystery. It's a color that's deep, rich, and full of dimension. It's not quite red, not quite purple, but somewhere magical in between. When you add this sultry shade to your deep waves, you get a look that's sophisticated and bold. Burgundy is a hue that works with almost every skin tone, and it makes your waves look like they're made of velvet—absolutely lush.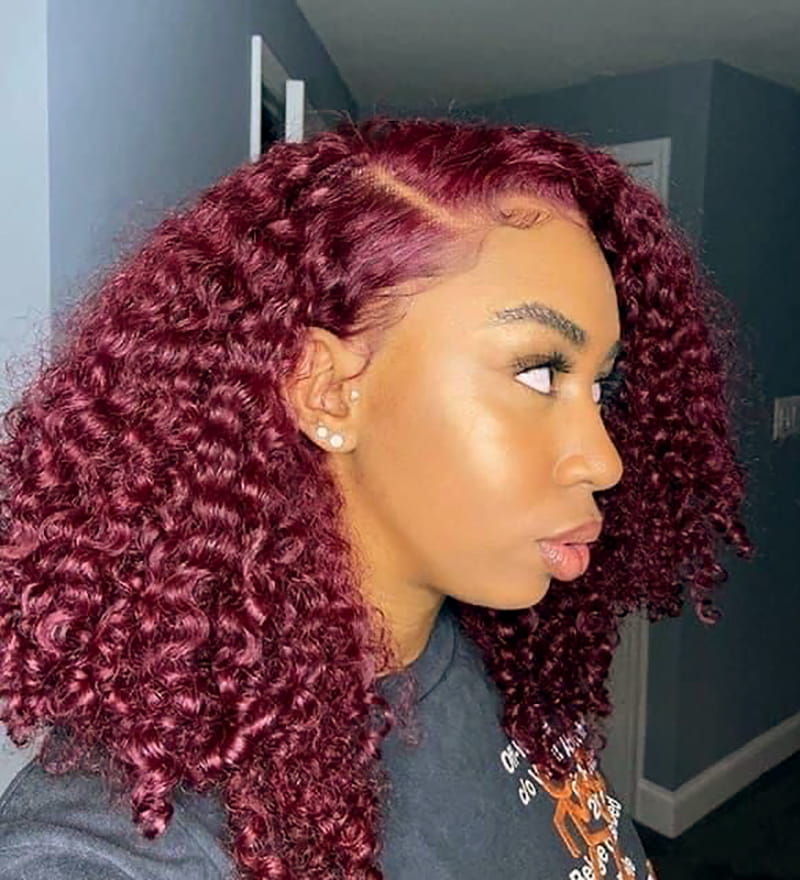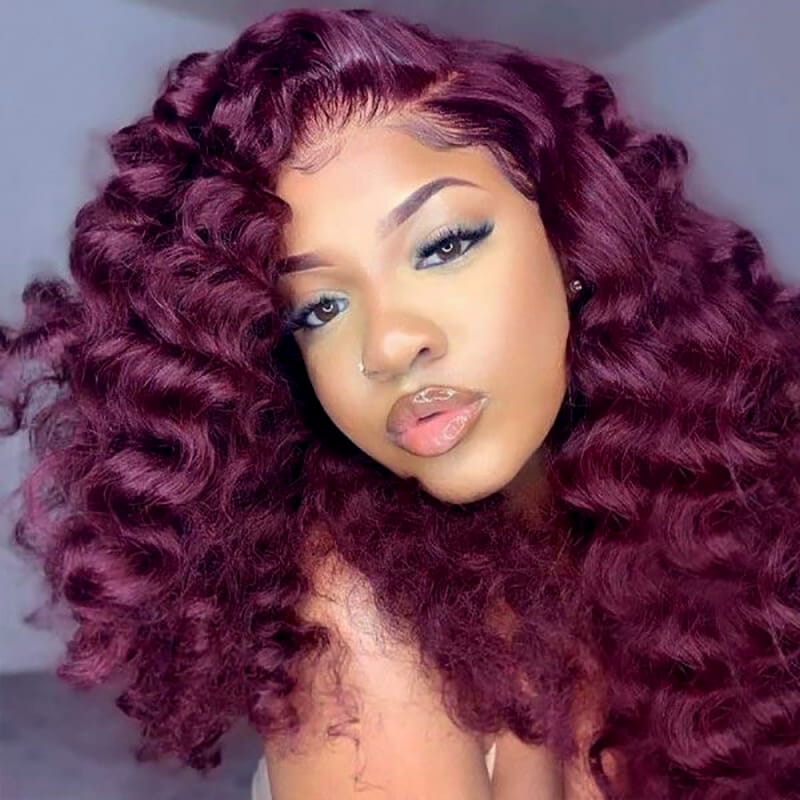 Honey Blonde Wavy Hairstyles
Honey blonde is like the sweet spot of hair colors—warm, inviting, and endlessly flattering. The honey blonde deep wave hairstyles are like a permanent golden hour for your hair. They give you a glow that's both soft and striking, making your deep waves look like flowing strands of silk. It's a color that brings a touch of summer with you all year round.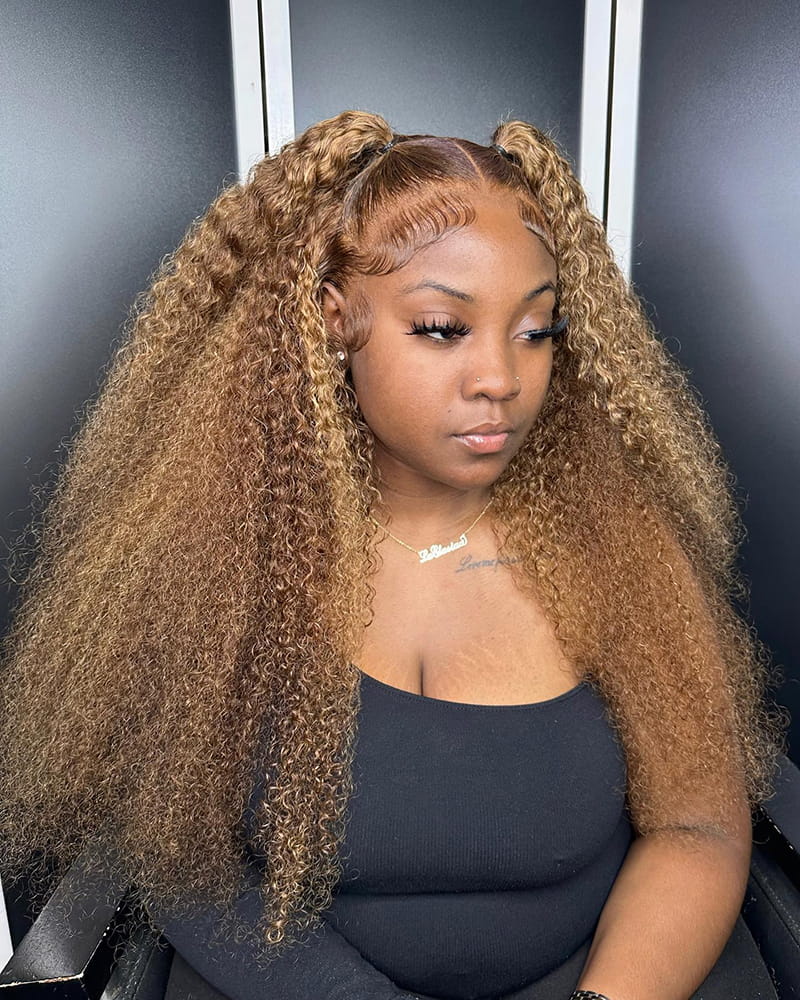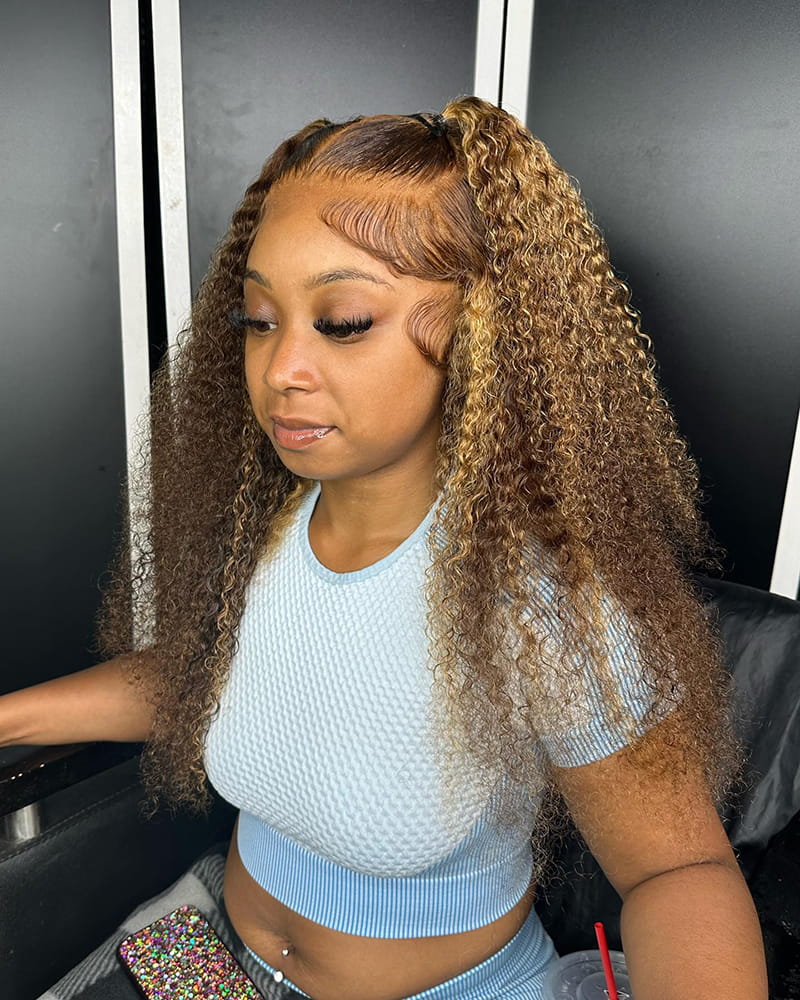 Ombre Hairstyles
The ombre effect on deep-wave hairstyles is like a beautiful horizon where two colors meet. It's a gradient that adds depth and intrigue to your look. The transition from dark to light not only gives your waves a modern twist but also adds layers of color that seem to dance with each curl. Ombre deep waves are the epitome of hair artistry, blending shades for a result that's as unique as you are.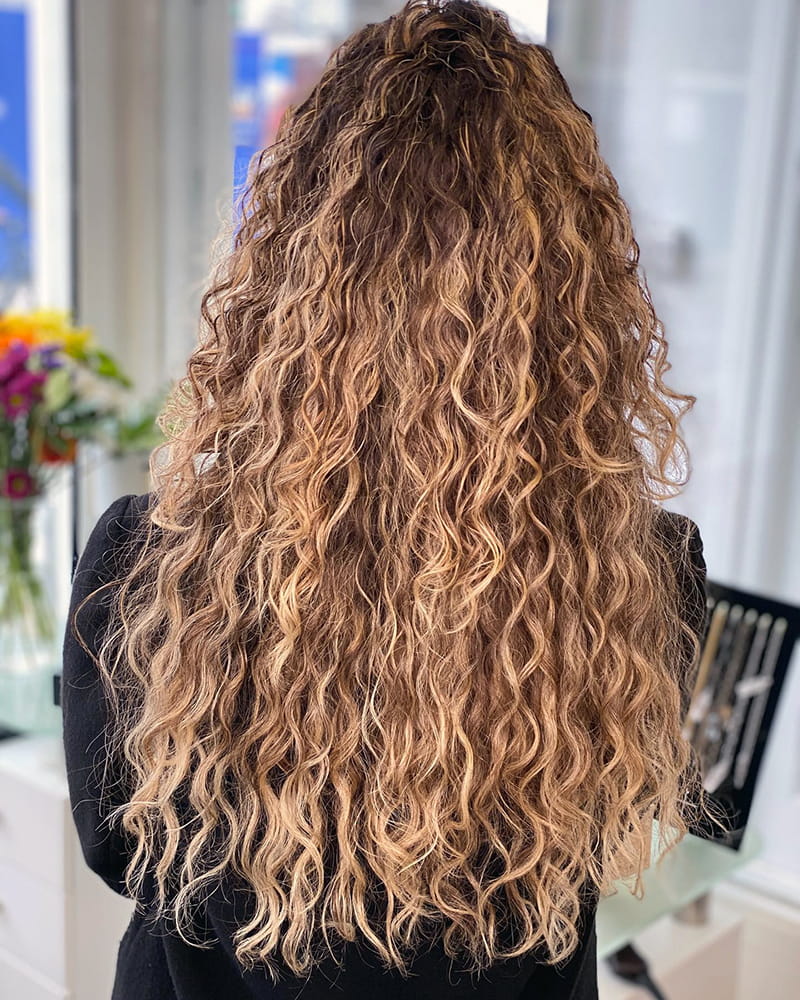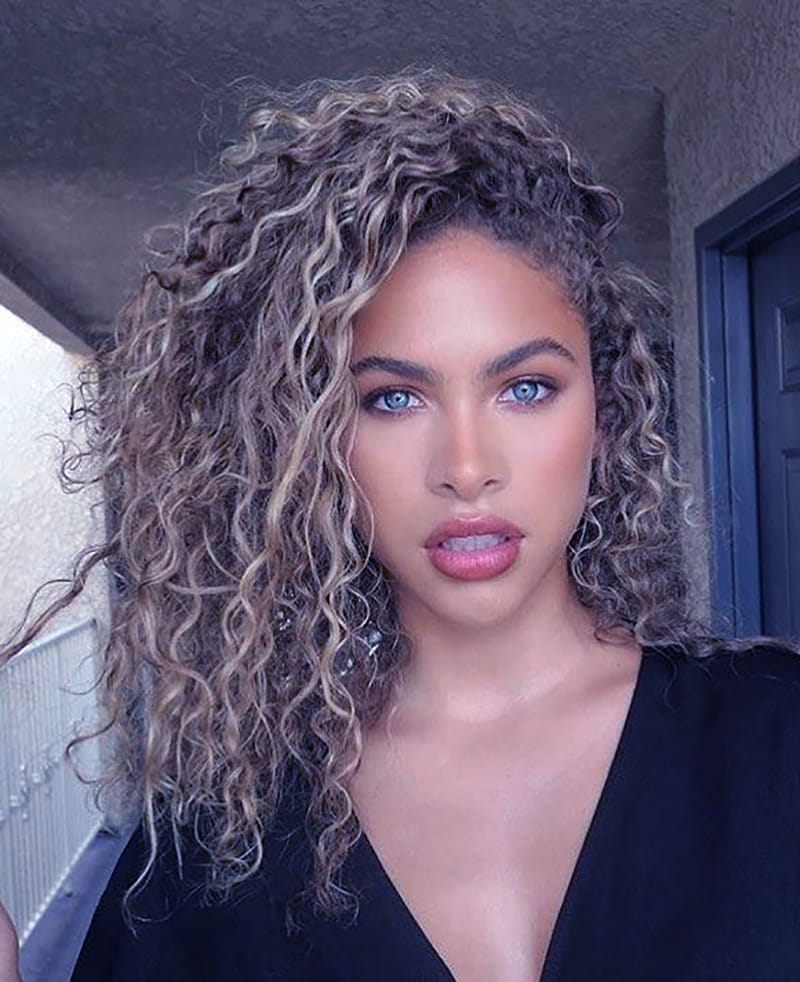 Pink Deep Wave Hairstyles
For the whimsical at heart, pink deep wave hairstyles are a dream come true. Pink is playful, it's feminine, and it's undeniably fun. From pastel to hot pink, this color can transform your deep waves into a fantastical mane that's straight out of a fairy tale. It's a look that doesn't whisper for attention—it sings.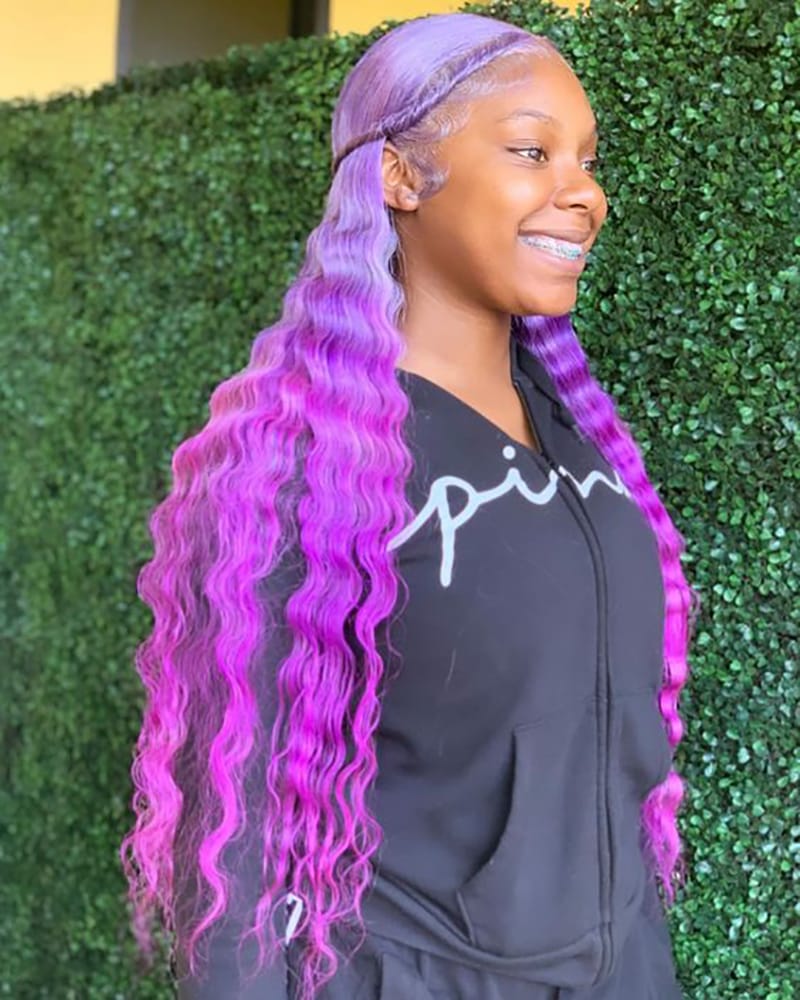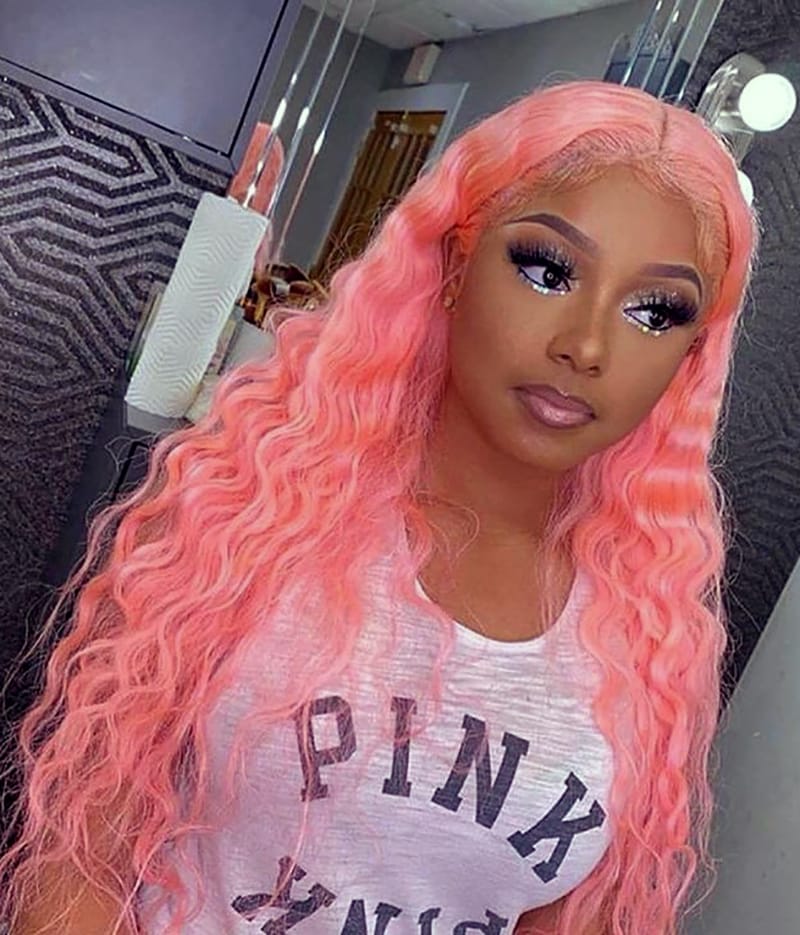 Deep Wave Hairstyles with Different Ponytails
Hello lovely! Let's chat about turning your deep-wave dreams into the cutest ponies prancing around town! Whether you're off to a business meeting or planning a brunch with friends, there's a deep wave ponytail with your name on it. Now, imagine your hair swept back into a ponytail, but not just any ponytail – we're talking waves so deep and defined, that they add an extra bounce to your step. Let's dive into the fun world of ponytails with a deep wave twist!
Deep Wave Ponytail Hairstyles
Starting with the classic ponytail – this isn't just a throw-your-hair-up-and-go kind of deal. Picture this: Your luscious waves pulled back to reveal your beautiful face, but still leaving enough movement and volume to turn heads. Whether it's a low ponytail for that understated chic or a high one for some drama, your deep waves will keep things interesting. Tie it up with a silky scarf for an added pop or let a few strands frame your face for that soft, feminine look.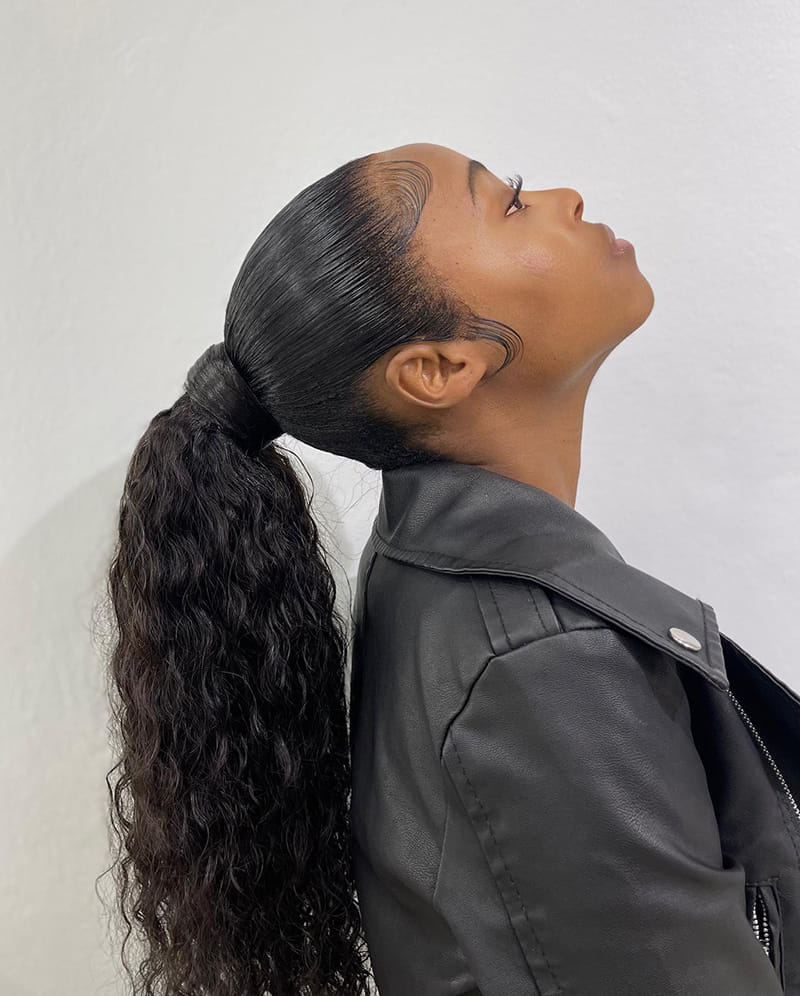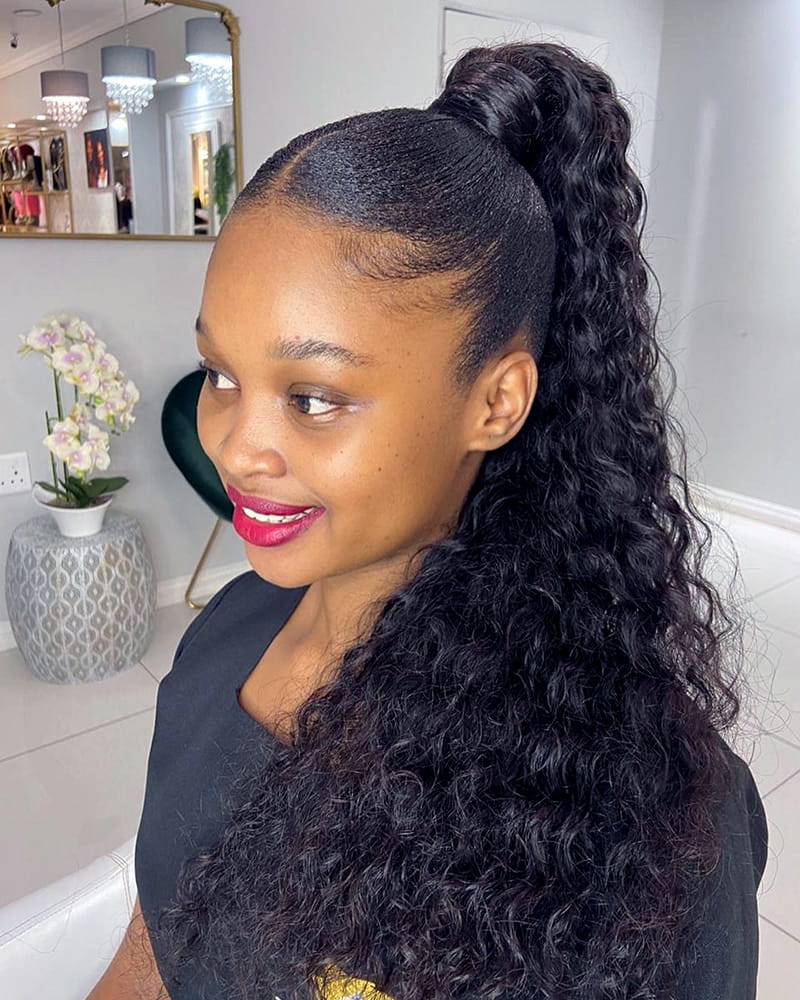 Wavy Half Ponytail Hairstyles
Now, let's ease into that flirty half-ponytail style. It's like your hair is getting the best of both worlds – showing off the volume and depth of your waves while keeping things neat and tidy. Gather the top section of your waves and secure them at the crown of your head, letting the rest cascade down your back. It's playful, it's carefree, and it lets your waves really shine.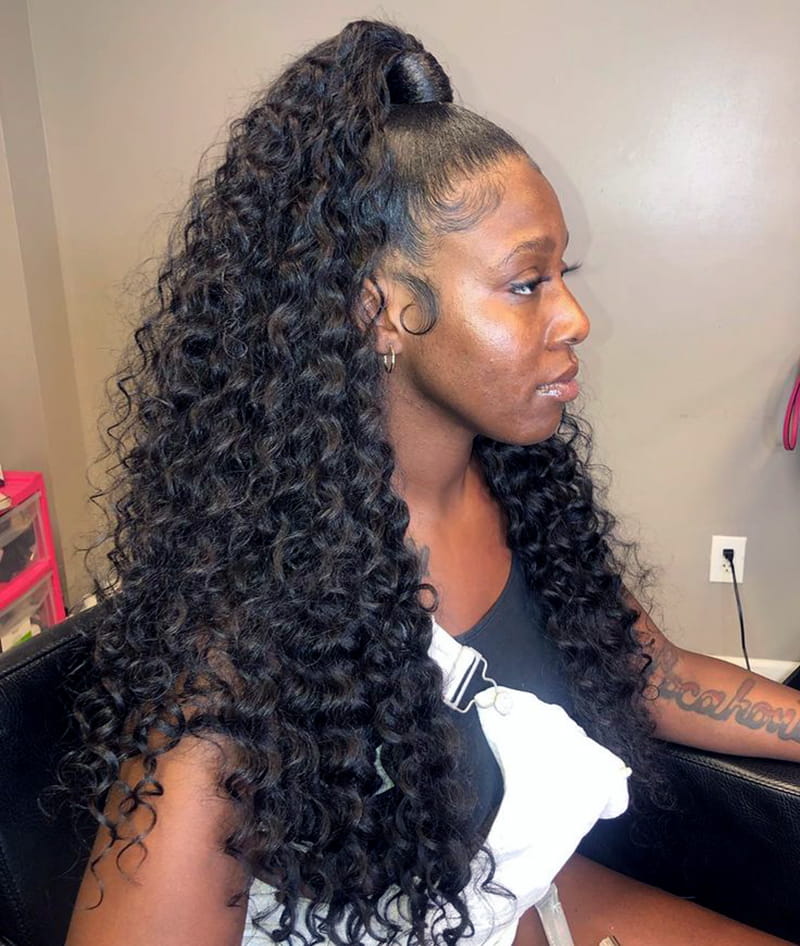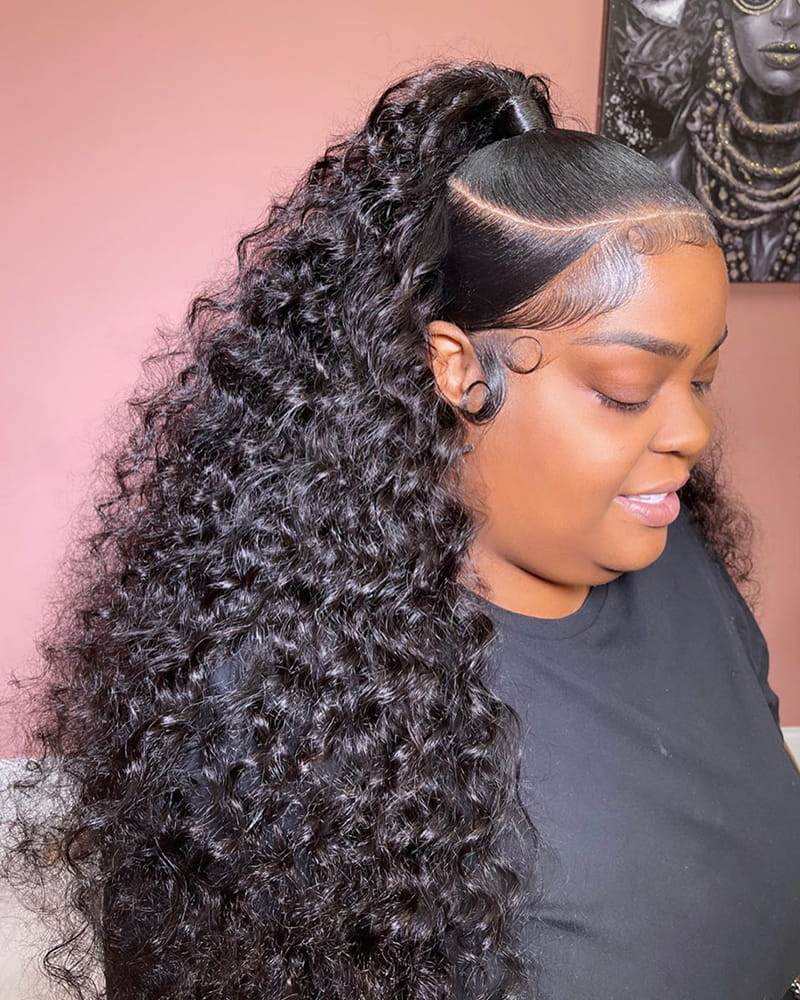 Deep Wave Double Ponytail Hairstyles
Feeling a bit more adventurous? Double ponytails are calling your name! Part your hair down the middle, swing those waves into two ponies, and watch the magic happen. It's a look that's brimming with youthful charm and it's a delightful twist on the classic ponytail style. Adorn each pony with some cute hair ties or let them be; either way, you're in for a double dose of fabulous.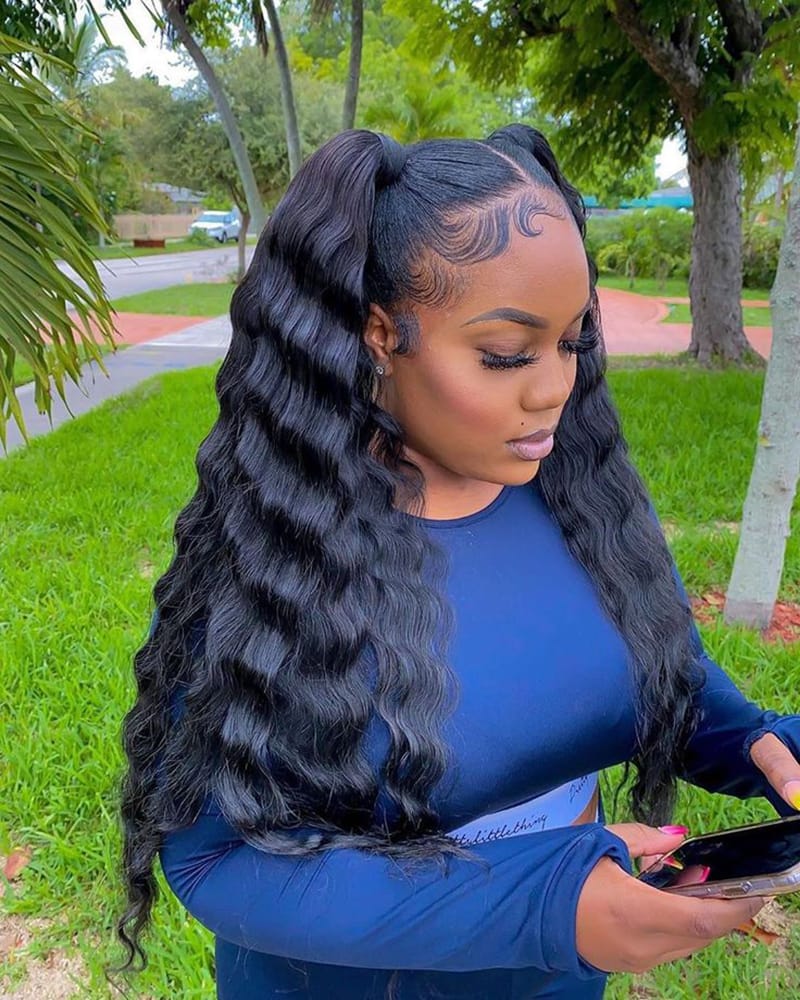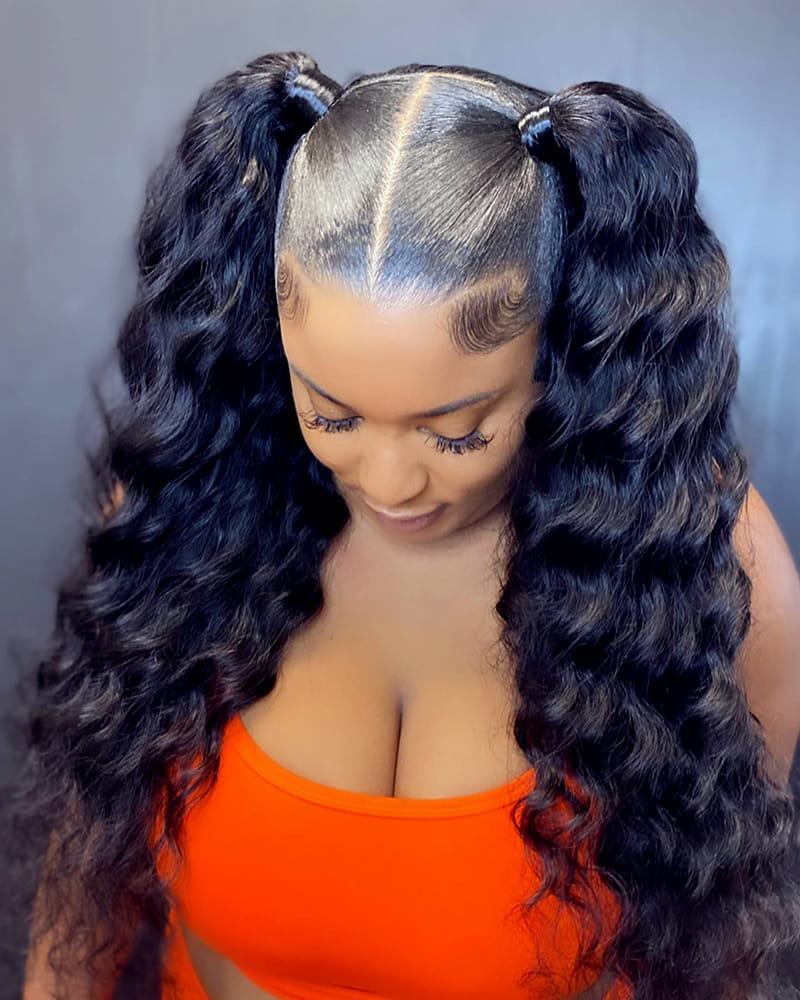 Deep Wave High Ponytail Hairstyles
For those days when you're feeling a bit extra, the high ponytail with deep waves will be your crowning glory. It's like the cherry on top of a delicious sundae. It's bold, it lifts your entire look, and it's a statement that says, 'Yes, I look this good, and my hair is having the time of its life!' Perfect for both casual and formal wear, this style keeps your waves in check and gives you that sleek, all-eyes-on-me vibe.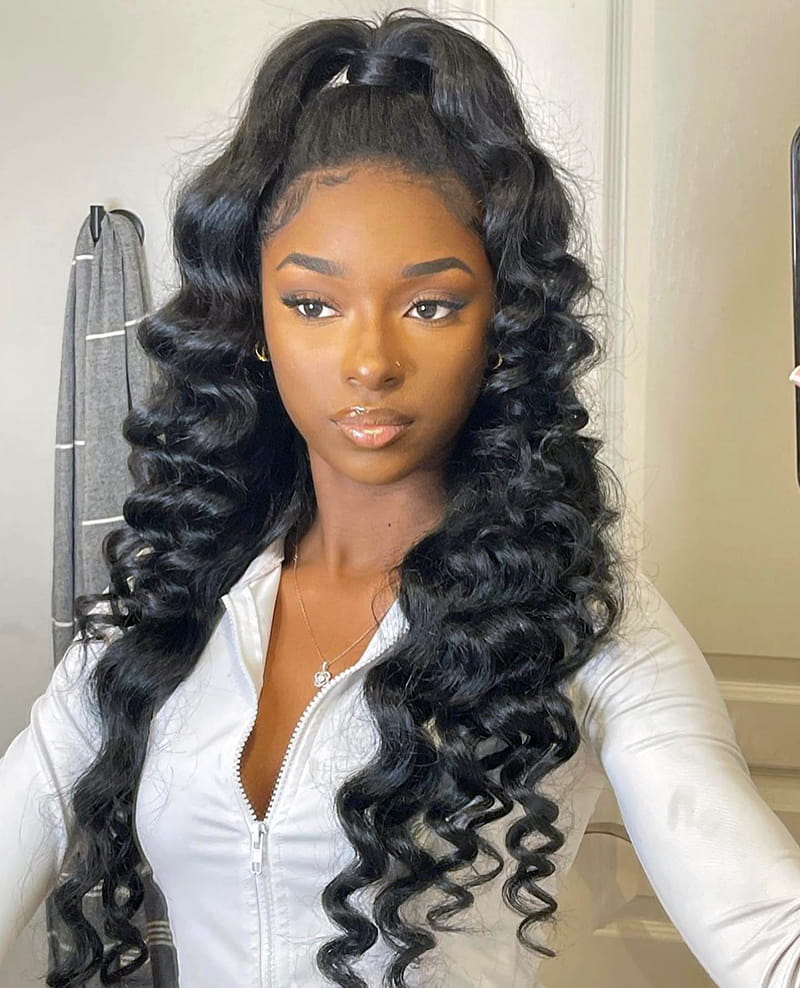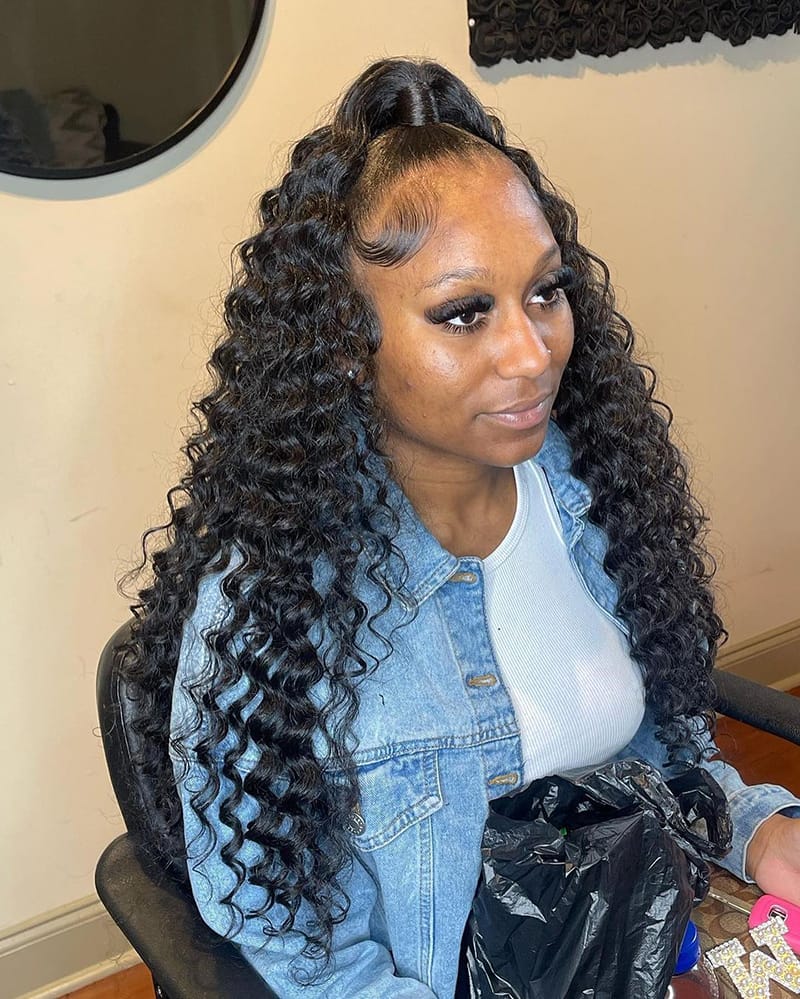 Deep Wave Low Ponytail Ponytails
Ah, the low ponytail – the understated hero of ponytails. With deep waves, this style exudes elegance without trying too hard. It's the go-to for those no-fuss hair days when you still want to look like a million bucks. Wear it to the side for a demure look, or keep it centered for that poised and polished feel. It's simple, it's quick, and it's oh-so-stylish.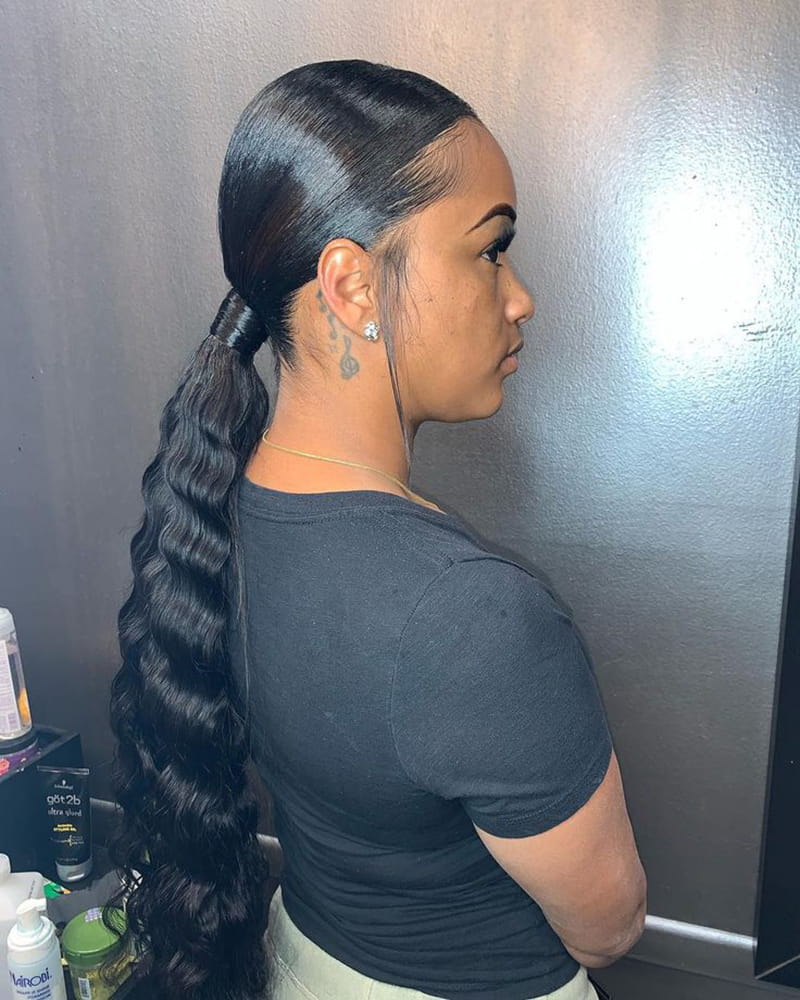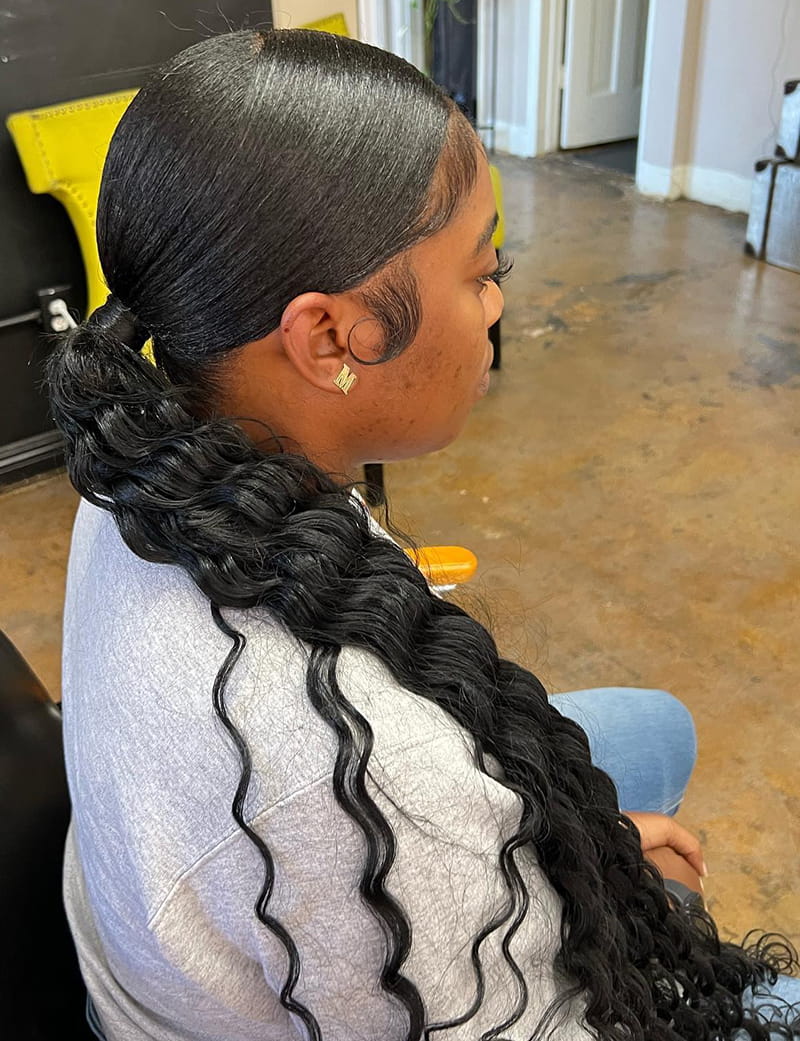 So, what are you waiting for? It's time to pony up and let those deep waves take center stage!
Deep Wave Hairstyles with Different Buns
Buns are not just a hairstyle; they're a lifestyle. And when you pair them with deep waves, you've got a recipe for fabulousness. Whether you're all about that neat and tidy look or prefer a more laid-back vibe, deep wave buns are here to save the day (and your hair).
Deep Wave High Bun Hairstyles
Let's start with the high bun. This isn't just a way to get your hair off your neck; it's a style statement that screams 'chic'. The deep waves give the bun texture and volume, making it a playful yet polished look. Picture yourself on a hot day with all your hair swept up into a cool, comfortable, yet absolutely adorable bun – pure bliss!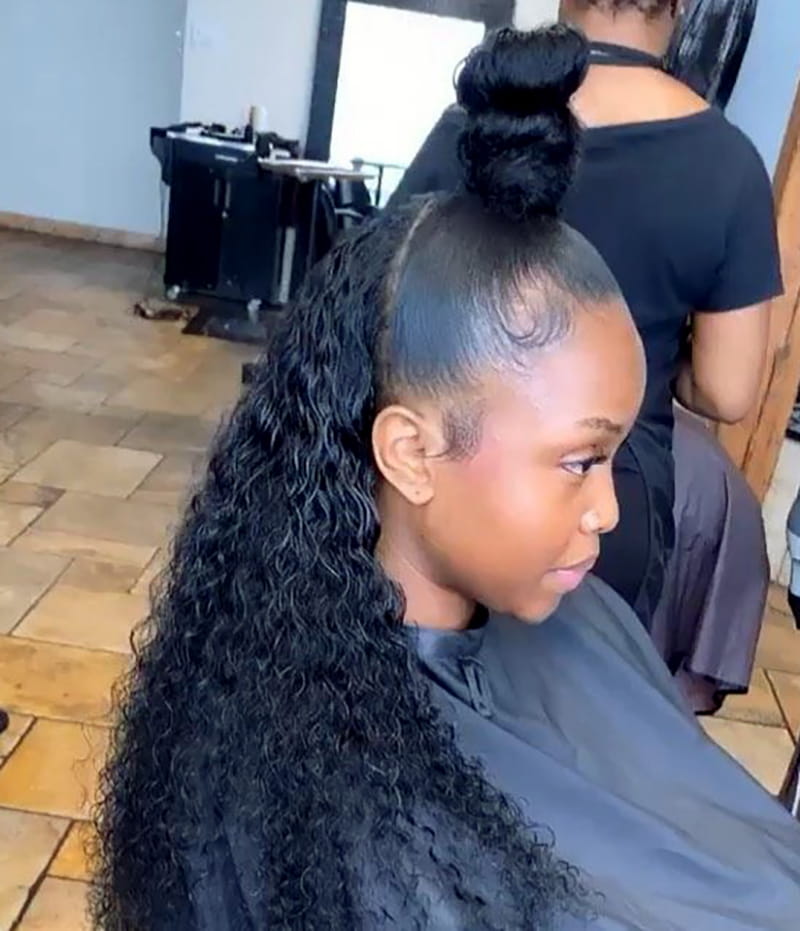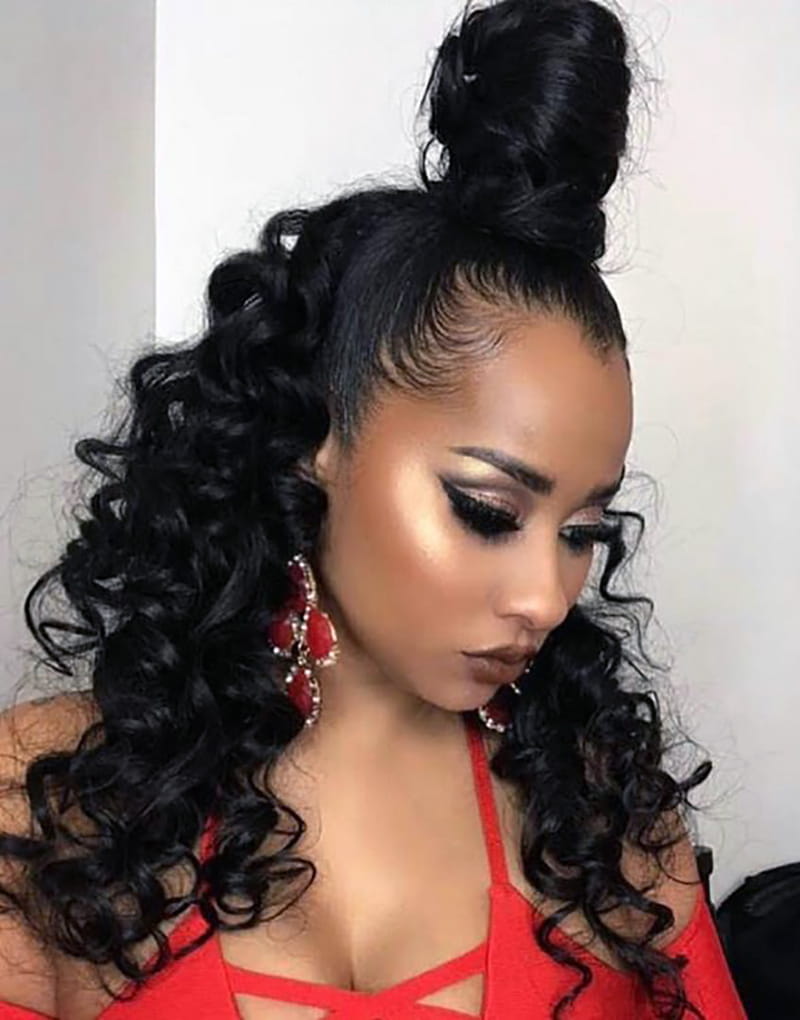 Deep Wave Low Bun Hairstyles
If you're leaning towards something more classic and low-key, the low bun has got your back. This style whispers sophistication and is a staple for any formal event – or just those days when you're feeling extra classy. The waves add a romantic twist to the bun, ensuring you look put together without much effort. It's the hairstyle equivalent of a little black dress – timeless and essential.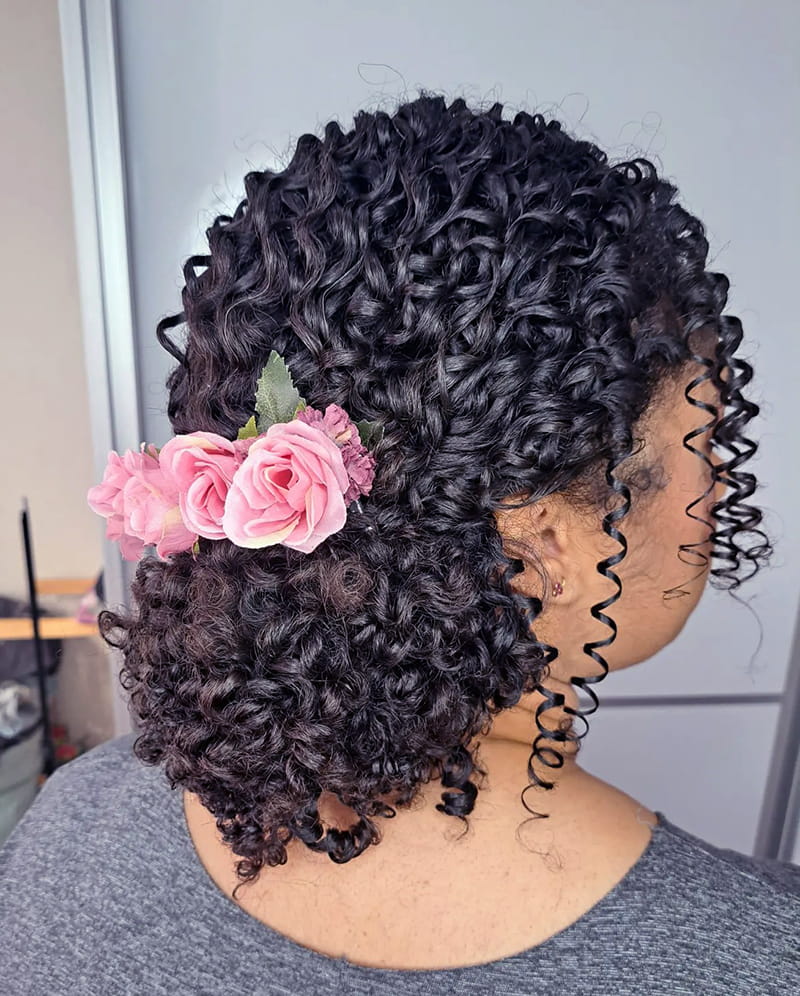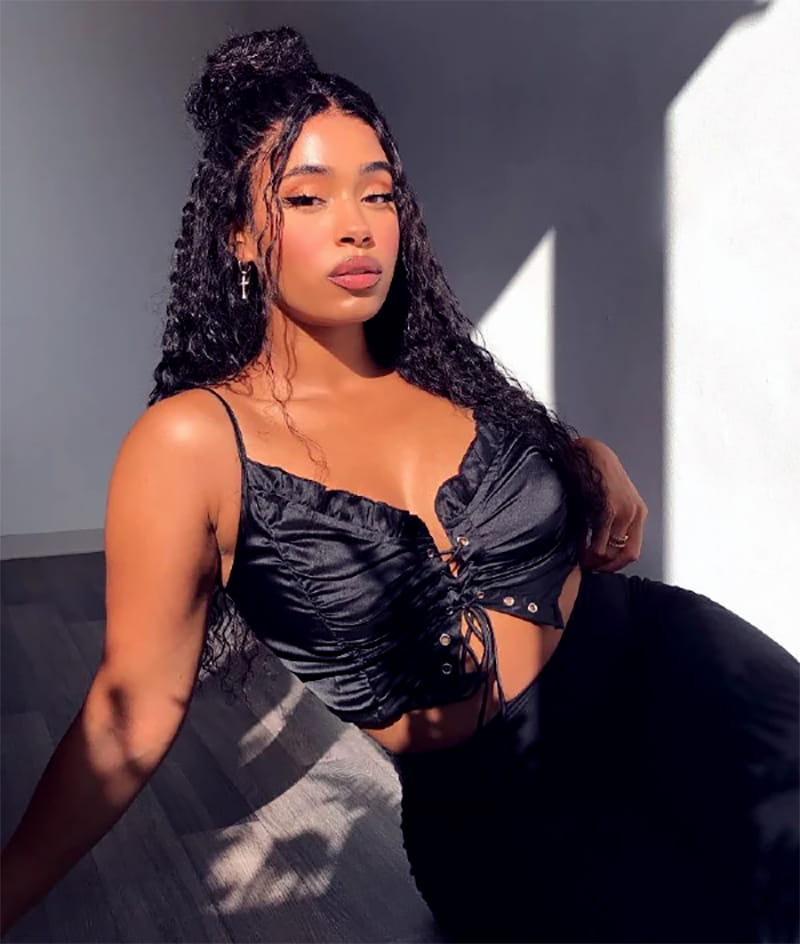 Deep Wave Space Bun Hairstyles
Feeling funky? Space buns with deep waves are your ticket to fun-town! This hairstyle lets you channel your inner child while still looking like the cool adult you are. It's quirky, it's trendy, and it's so comfortable you'll forget you're wearing it. Whether you're heading to a concert or just lounging around, space buns with deep waves keep things lively.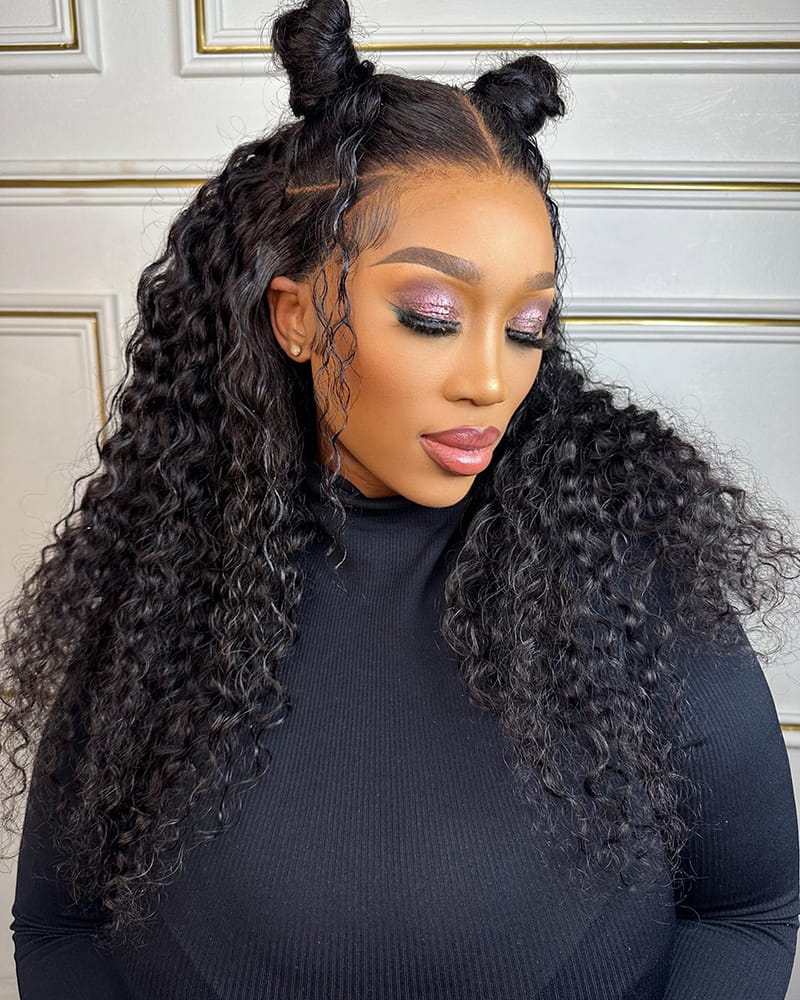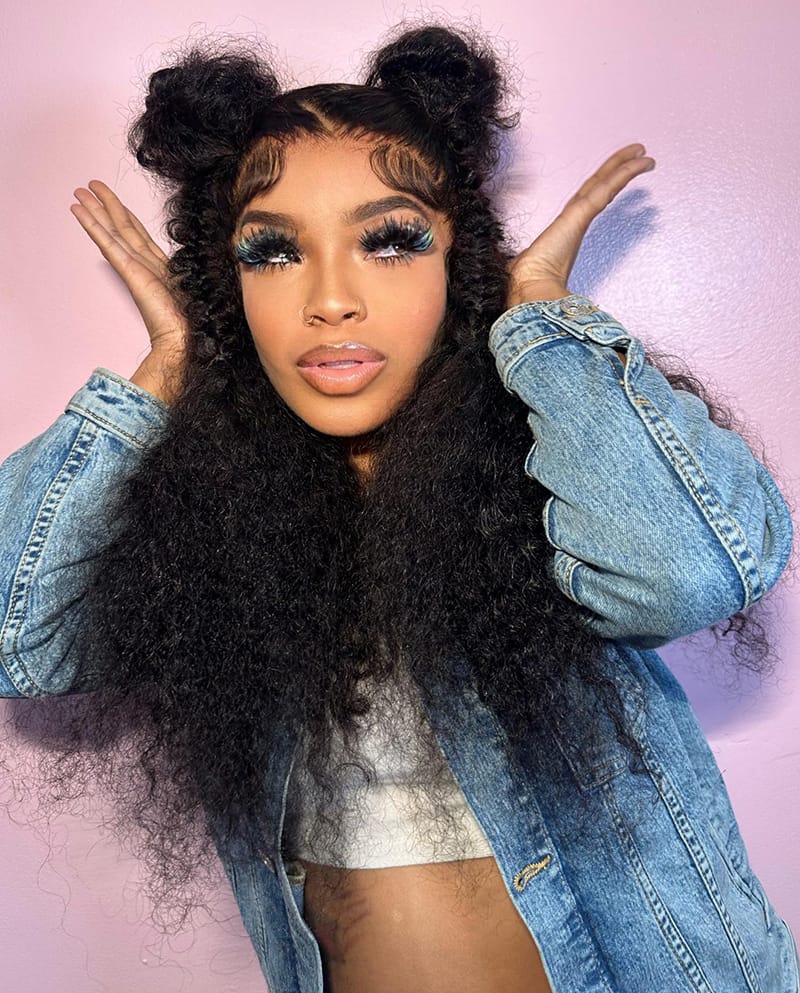 Deep Wave Topknot Hairstyles
The topknot is your ultimate quick fix. It's the hairstyle you turn to when you're running late but still need to look put-together. With deep waves, the topknot becomes less of an afterthought and more of a style choice. It's easy, breezy, and effortlessly chic. Plus, it's perfect for those days when you want to highlight your facial features.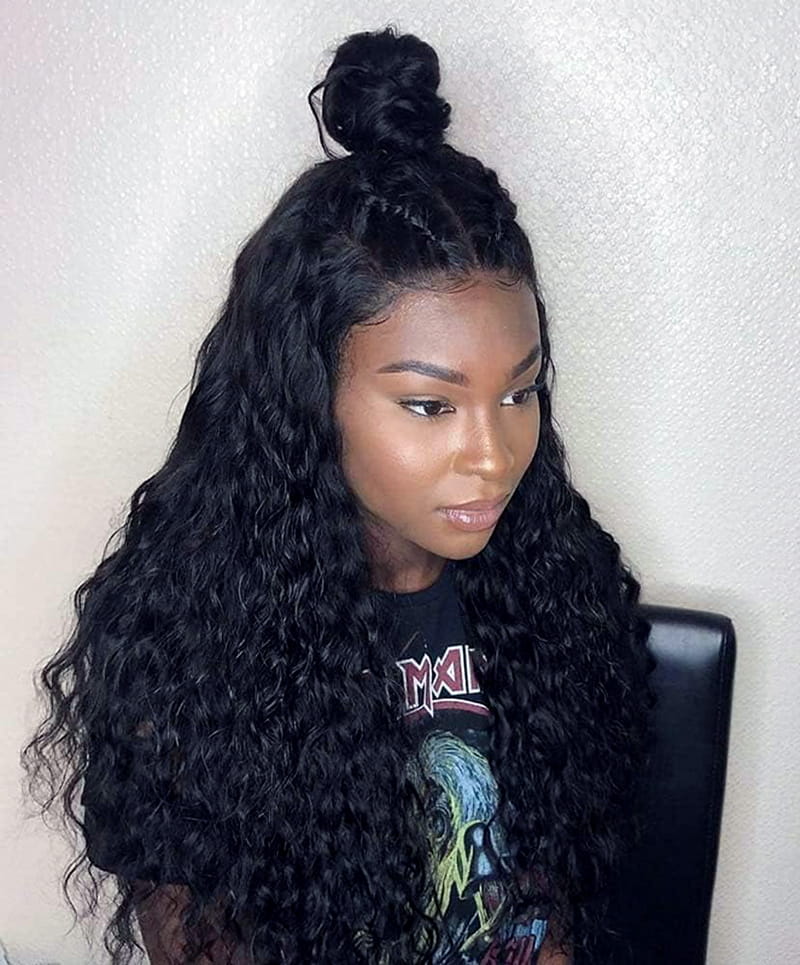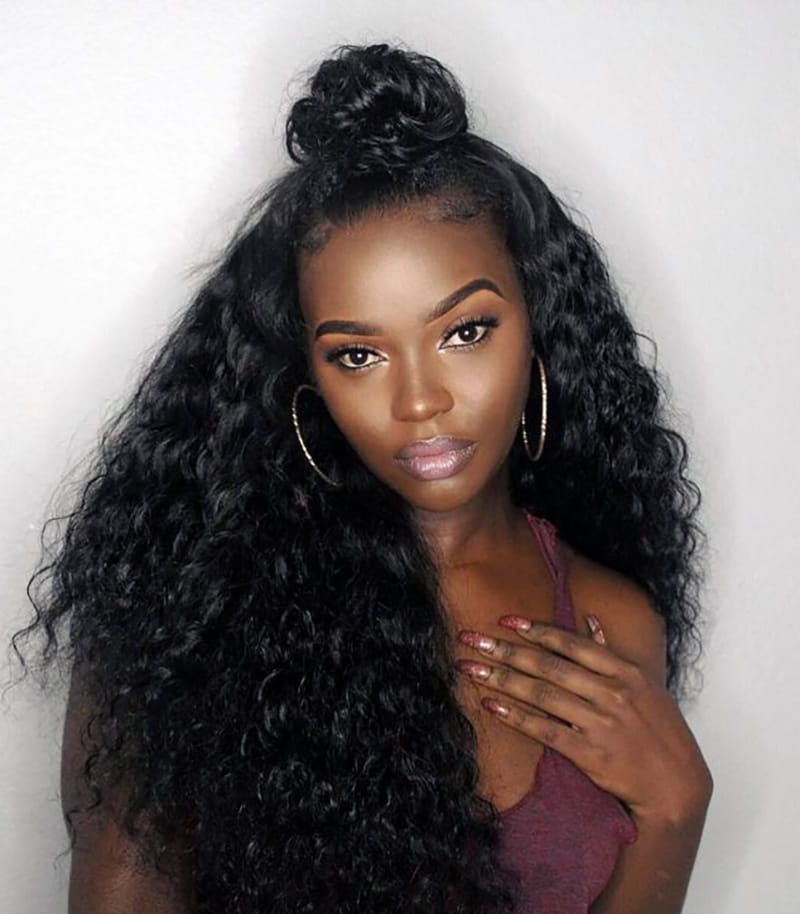 Hairstyles with Deep Wave
Ready to talk about shaking up your look with some fabulous deep wave hairstyles? Let's get into the nitty-gritty of styling those gorgeous waves to suit your mood, the occasion, or just because you want to switch things up a bit. Each of these styles brings out the best in your deep waves, letting your hair do the talking in the most stylish language there is!
Classic Deep Wave
The Classic Deep Wave hairstyle is a testament to the enduring allure of vintage glamour. Known for its distinctive S-shaped waves, it represents the height of sophistication and meticulous styling from a bygone era. Originally crafted with precision using fine-toothed comb and hair clips, the style has evolved to become more accessible through the use of modern hairstyling tools like deep wavers. This has allowed the deep wave to maintain its classic appeal while fitting into the modern lifestyle. Suitable for a variety of hair types and lengths, it can be worn in a full head of tight waves, reminiscent of its flapper origins, or with a looser, more casual interpretation for an updated look. The Classic Deep Wave is more than just a hairstyle; it's a tribute to the art of hairdressing and a timeless choice for anyone seeking to infuse a touch of vintage elegance into their look.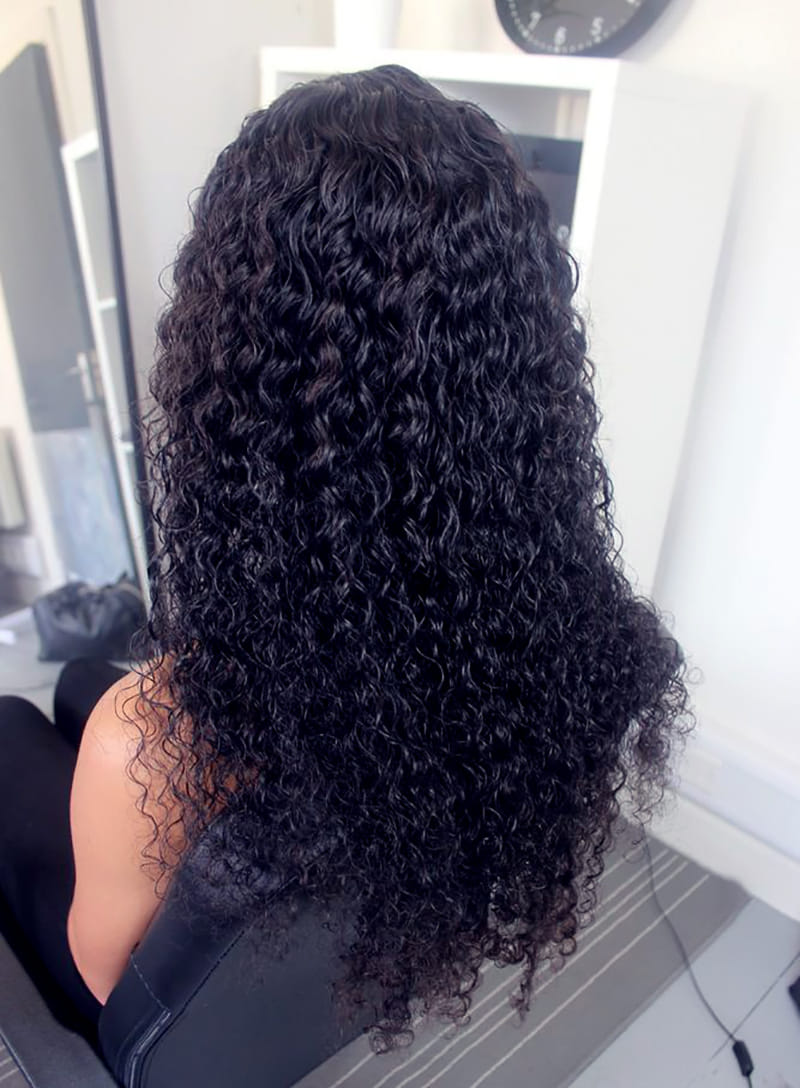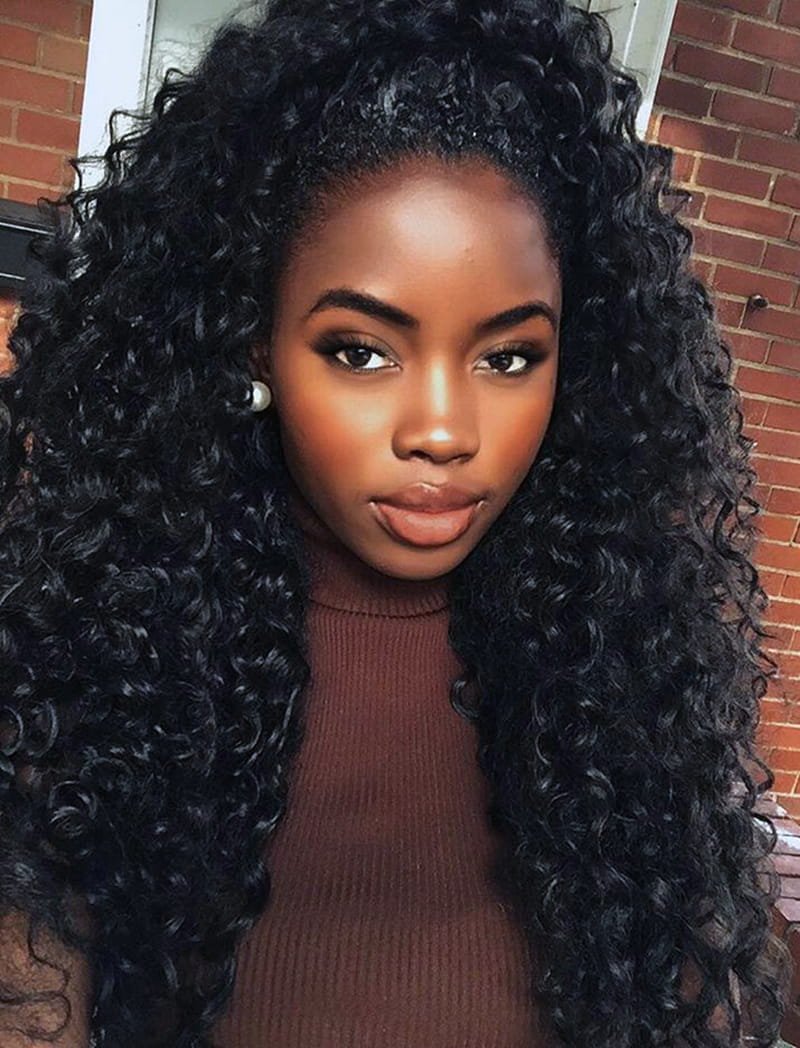 Side-Swept Hairstyles
Imagine your lush waves draped elegantly to one side, giving off a Hollywood vibe that's both timeless and enchanting. Side-swept deep wave hairstyles are the secret weapon in your beauty arsenal for a night out or any moment you want to feel extra special. This style not only showcases the depth of your waves but also gives you a glamorous edge that's hard to beat. Secure your waves with a pretty clip or let them flow freely – either way, you're sure to capture the spotlight.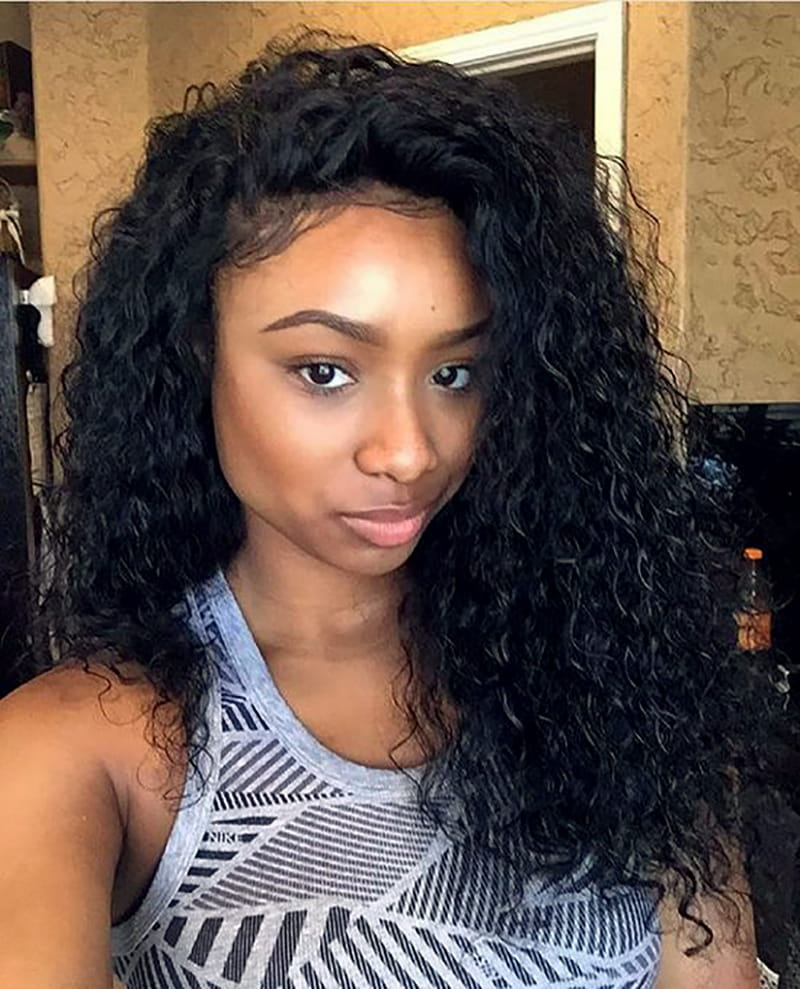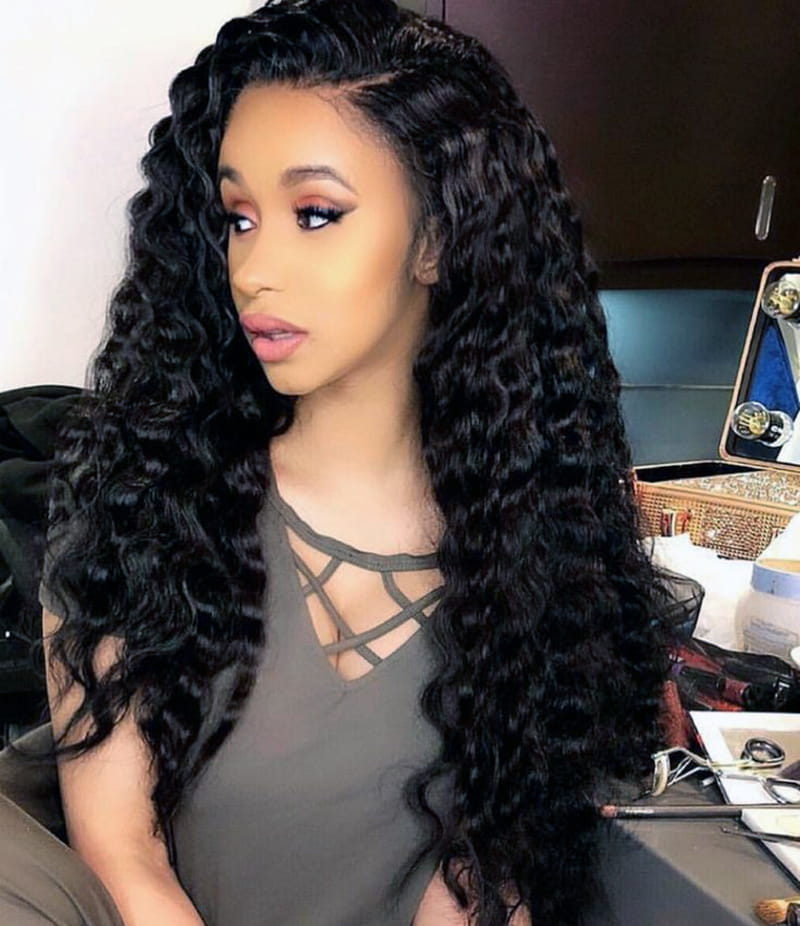 Deep Wave Bob
Who says bobs are just for straight hair? A deep-wave bob is chic, trendy, and oh-so-cute! This hairstyle works wonders by framing your face and enhancing your features, all while keeping things bouncy and light. Whether you opt for a classic chin-length cut or something a bit longer, the deep waves add a playful twist to the bob that's hard to resist. It's a look that's easy to maintain and perfect for any occasion, making it a top pick for wave lovers.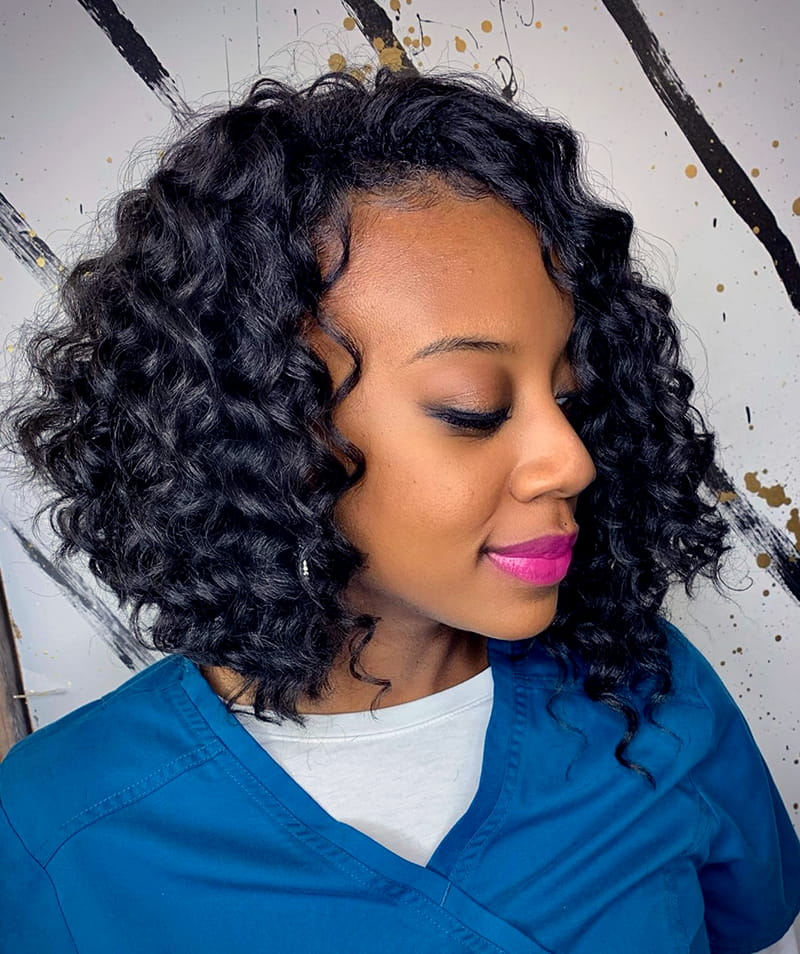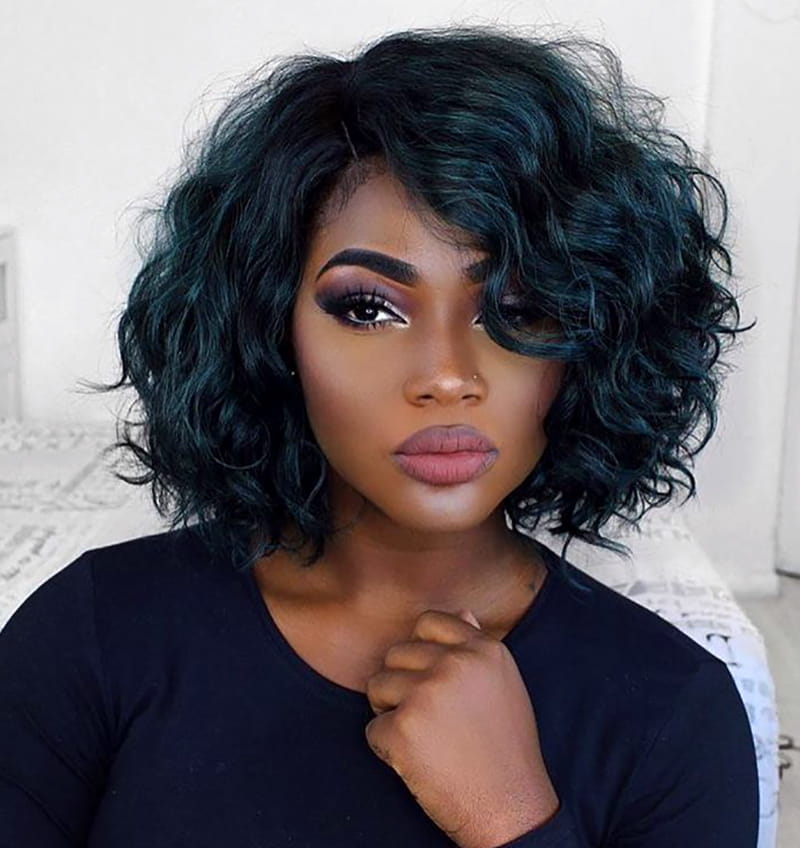 Messy Hairstyles
There's something irresistibly charming about a messy hairstyle, and when it's paired with deep waves, you've got yourself a look that's both relaxed and stylish. This is the hairstyle you go for when you want to embrace a carefree vibe without sacrificing style. Tousle your deep waves, give them a little scrunch, and let them do their thing. It's perfect for a casual day out or when you just want to give your hair a break from all the styling.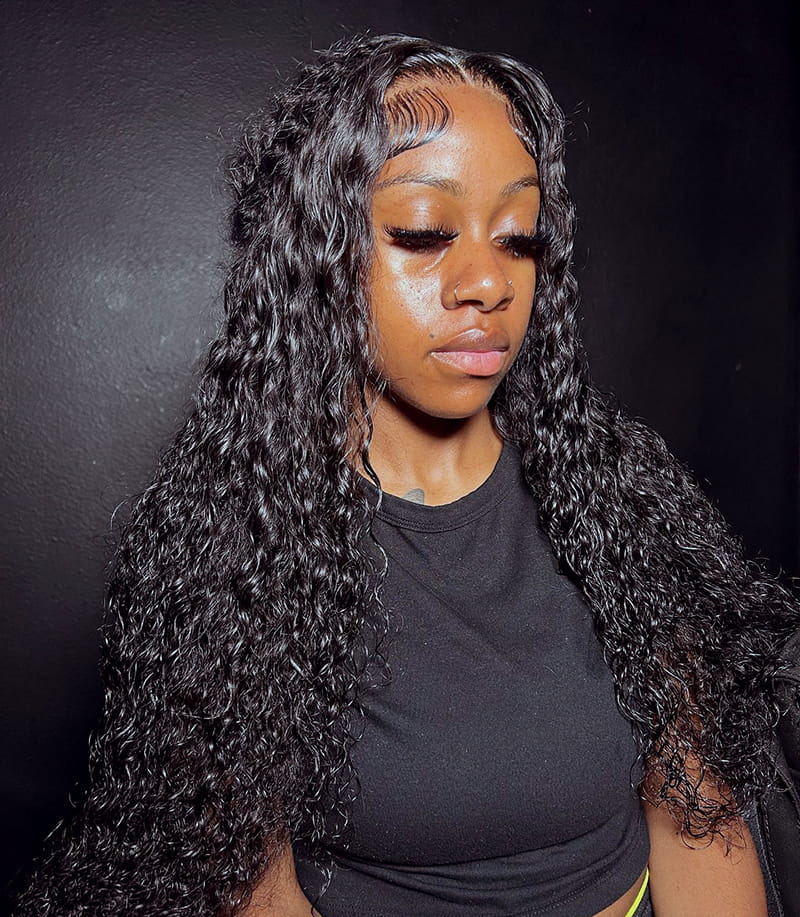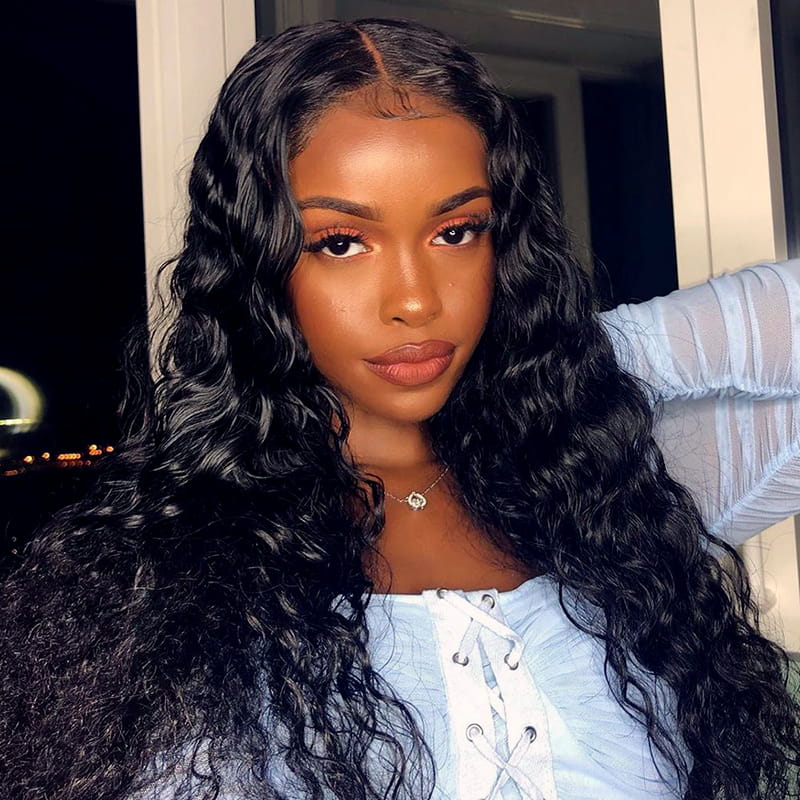 Braided Hairstyles
Braids and deep waves are a match made in heaven! Integrating braids into your deep wave hairstyle adds texture, interest, and an extra layer of sophistication. You could go for a crown braid, a side braid, or even tiny braids peppered throughout your hair – the waves make each braid look fuller and more intricate. It's a fantastic option for when you want your hair styled yet protected, especially on days when the weather just won't cooperate.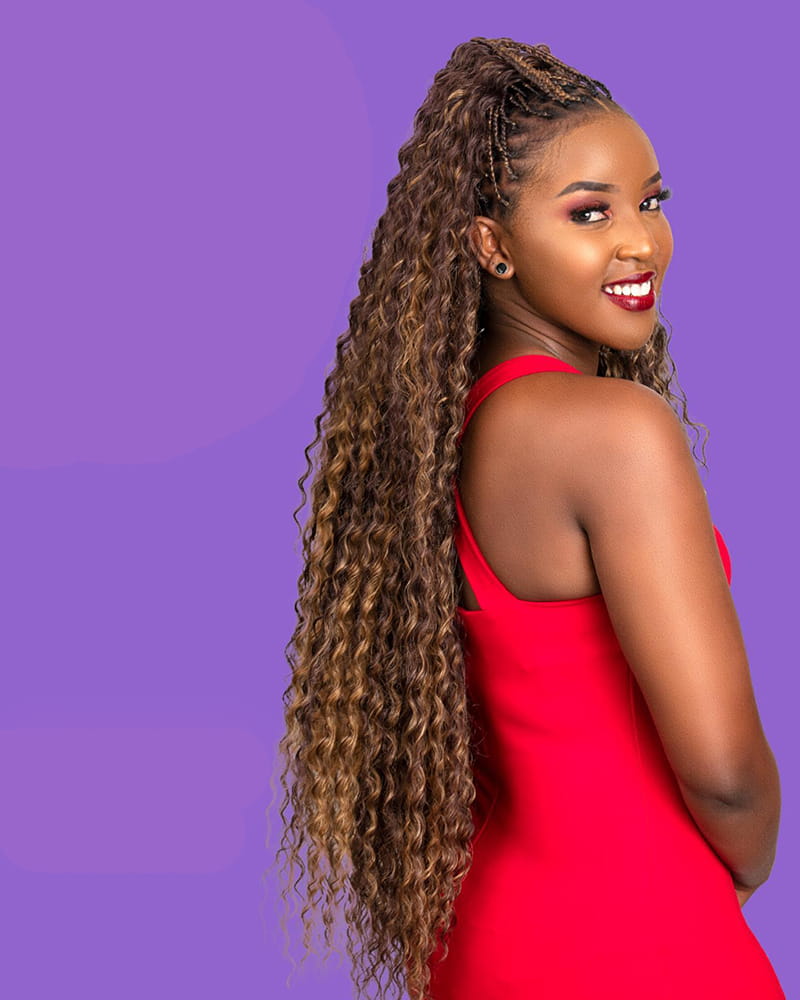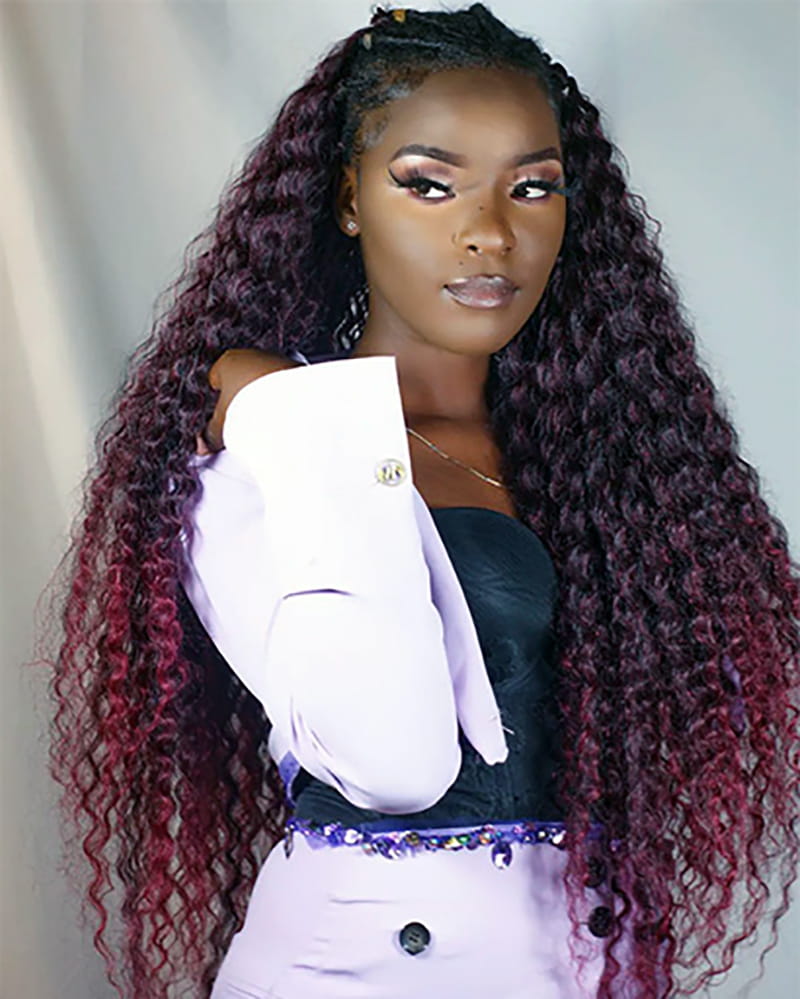 Knotless Braids
Speaking of braids, knotless braids with deep waves? Absolutely divine! This technique allows for a seamless transition from your natural hair into the braid, giving you a look that's both sleek and gentle on the scalp. The deep waves add a beautiful texture to the braids, making them stand out in the best possible way. They're ideal for those seeking a low-maintenance yet stylish look that lasts.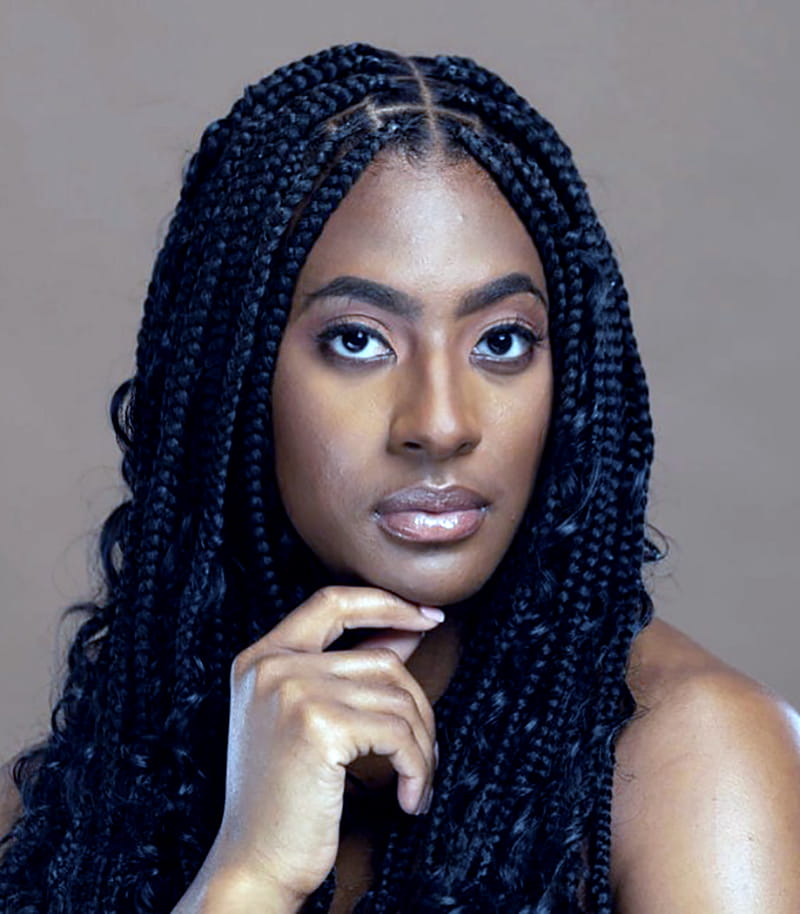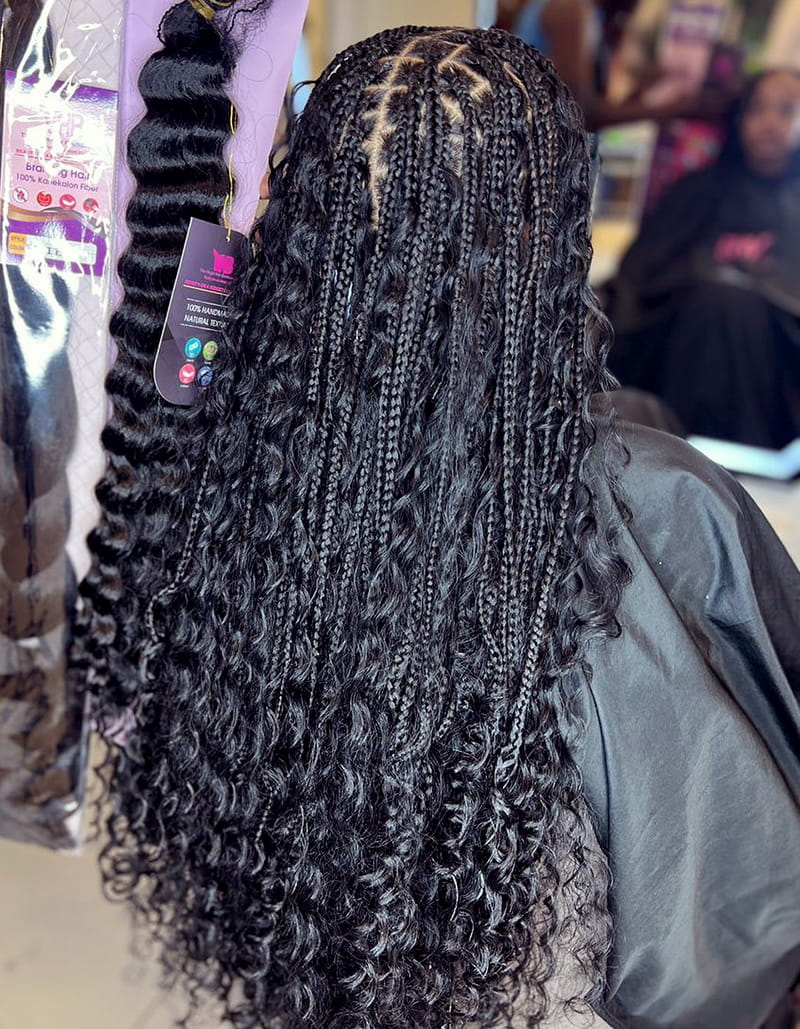 Bohemian Braids
Unleash your inner free spirit with bohemian braids combined with your deep waves. This look screams festival-ready and is all about embracing a relaxed, artistic vibe. Add in some flowers or boho-inspired hair accessories to take this look to the next level. It's a style that's as fun to wear as it is beautiful, giving you a laid-back yet put-together appearance.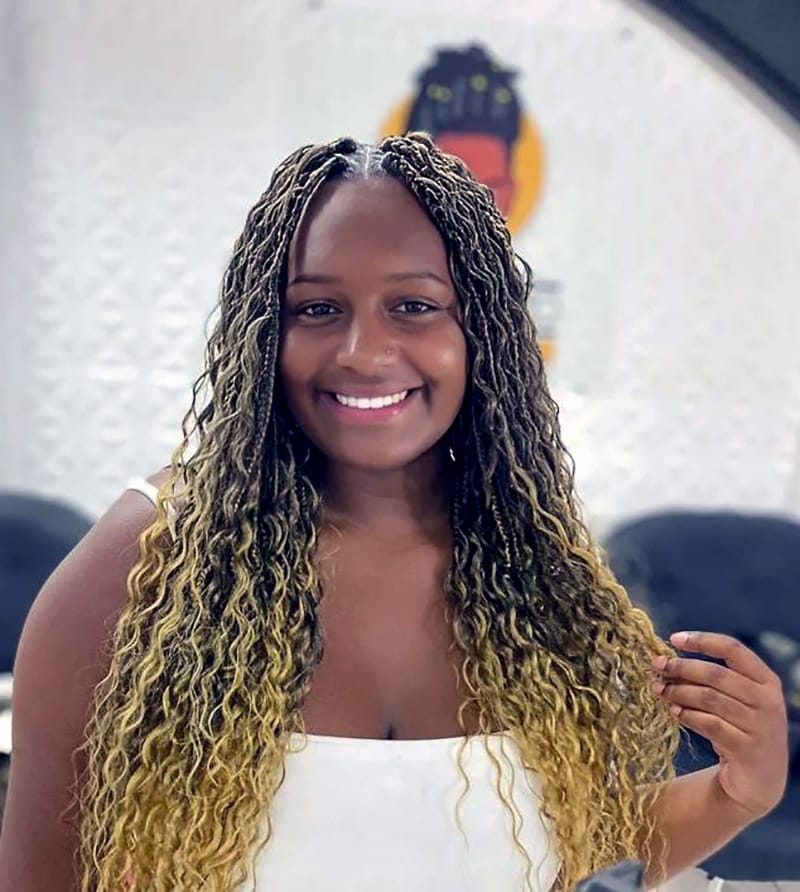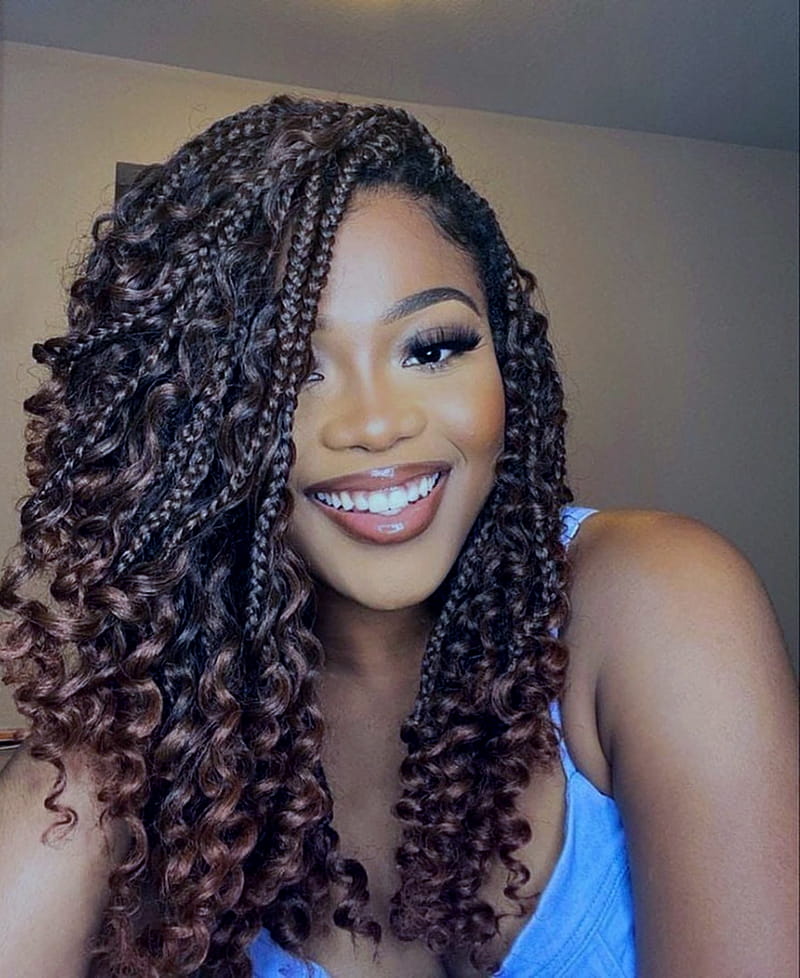 Deep Wave Side Parted Hairstyles
Switch things up with a side part that works wonders for deep-wave hair. It adds instant volume and frames your face in a new light. It's amazing how just flipping your part to the side can give your whole look a fresh feel. This style is versatile, perfect for both a day at the office and a night out on the town.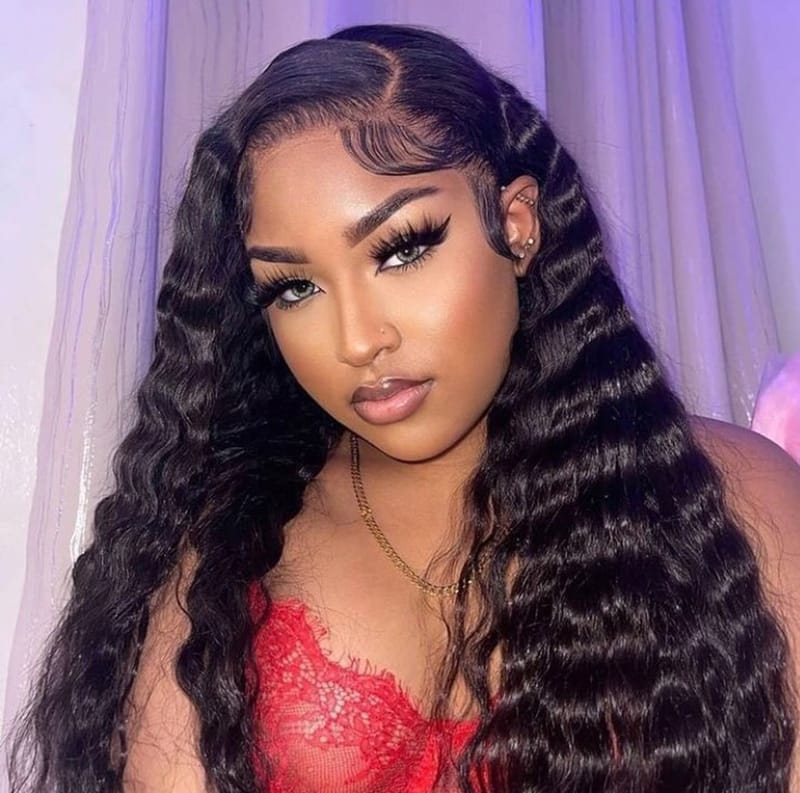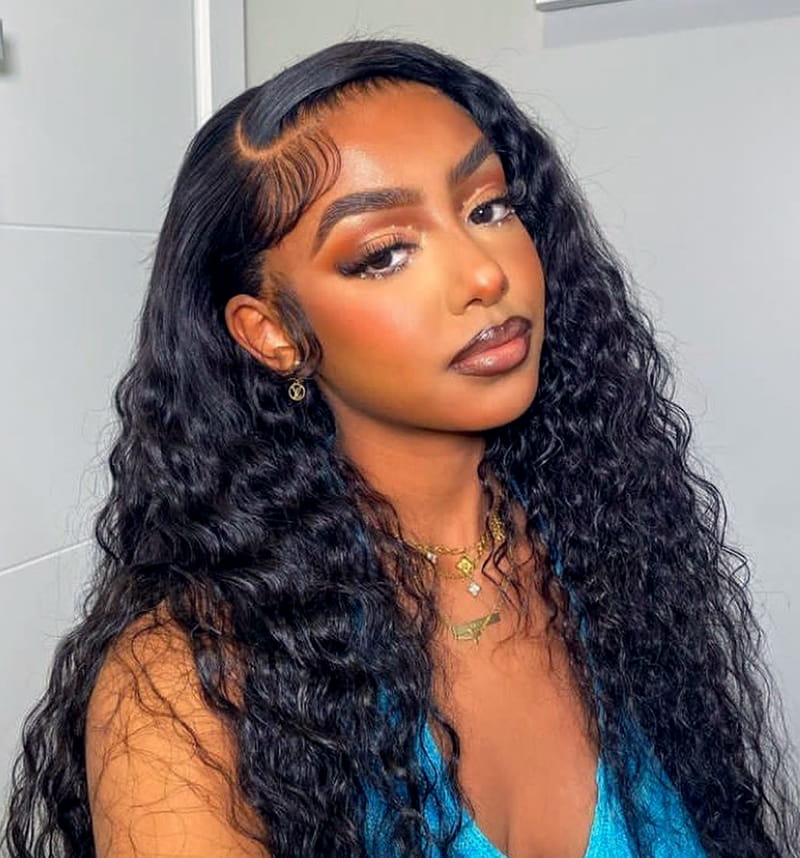 Center Parted Hairstyles
Or maybe you're more of a center-part gal, loving the symmetry it brings to your face. When paired with deep waves, a center part can give a look of understated elegance that's both modern and classic. It's an excellent base for hairstyles that balance your features and let your deep waves fall evenly around your shoulders.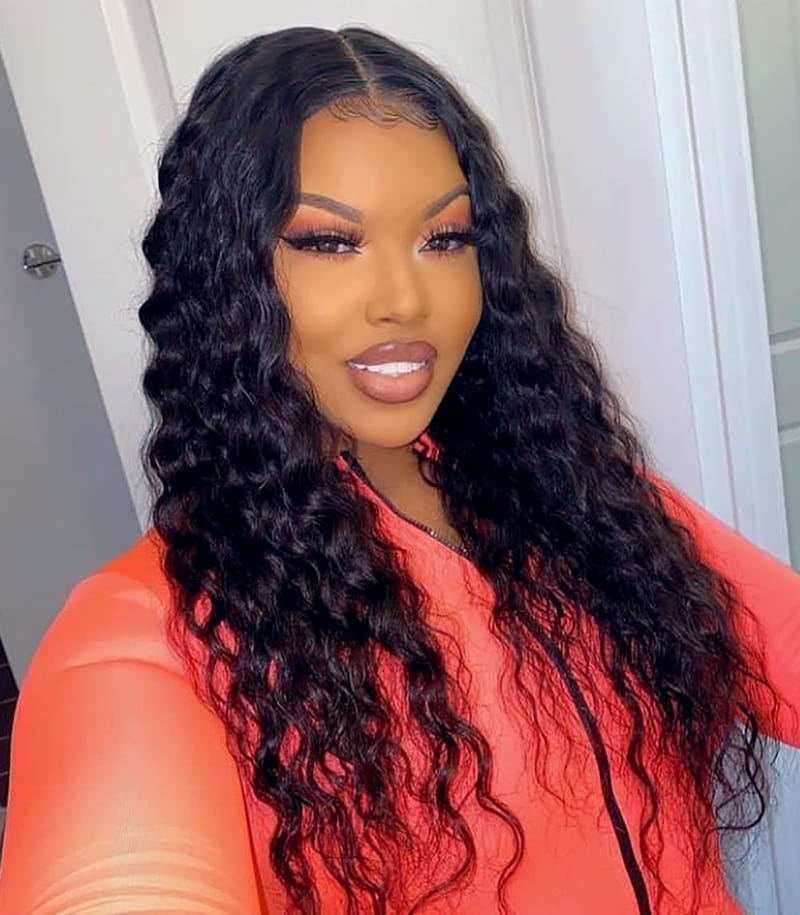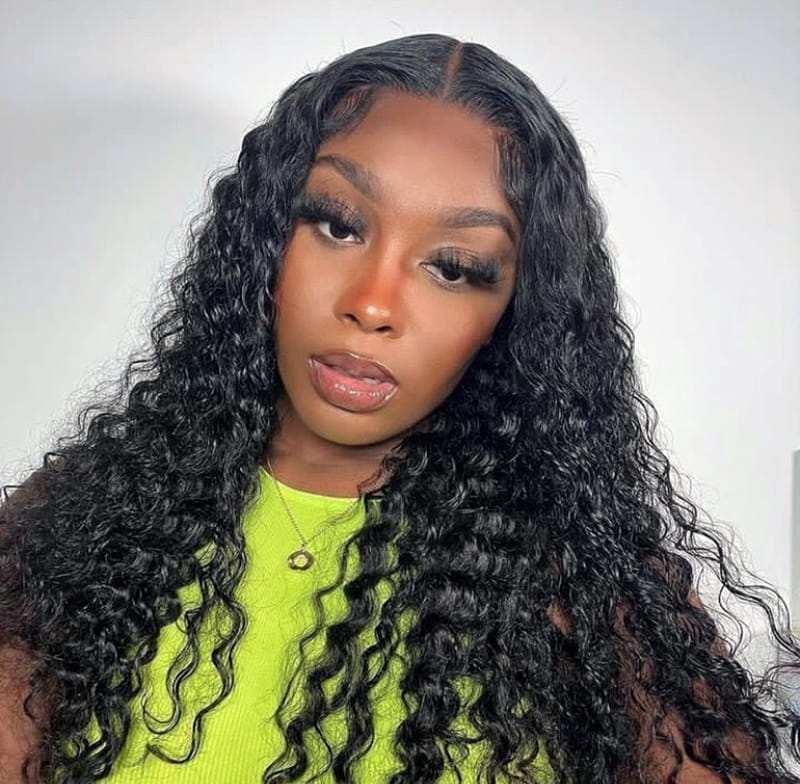 Accessorized Deep Wave Hairstyles
Accessories are the fairy godmothers of the hairstyle world. Clips, bands, scarves, or even a simple flower can elevate your deep wave hairstyle to new heights. Accessorizing your deep waves can bring a playful or elegant touch to your look, depending on what you're in the mood for. It's the perfect way to express your personal style and add a unique touch to your waves.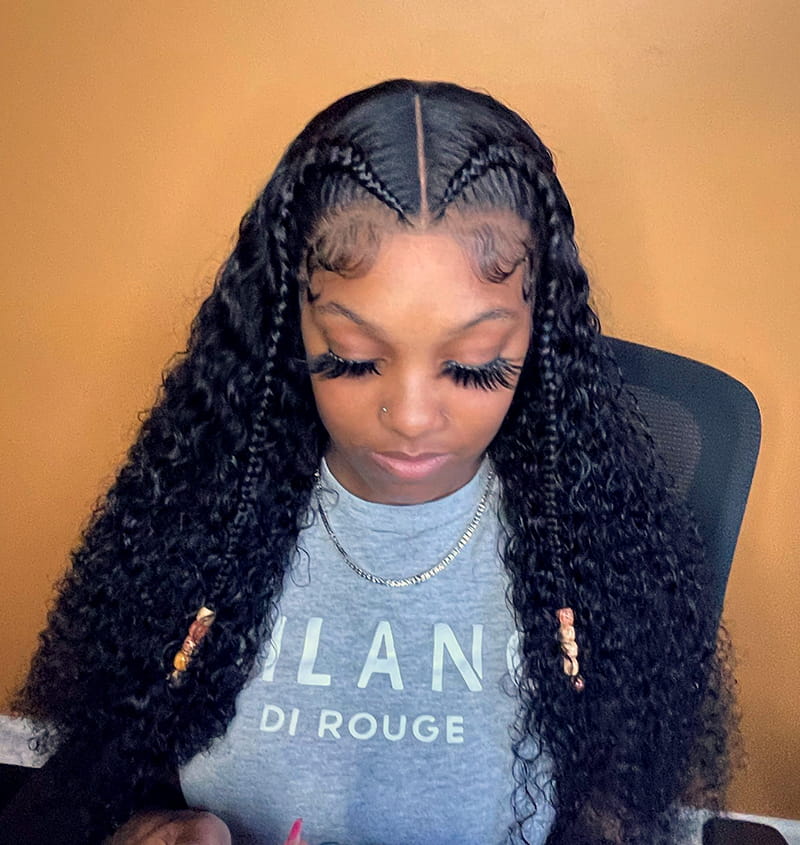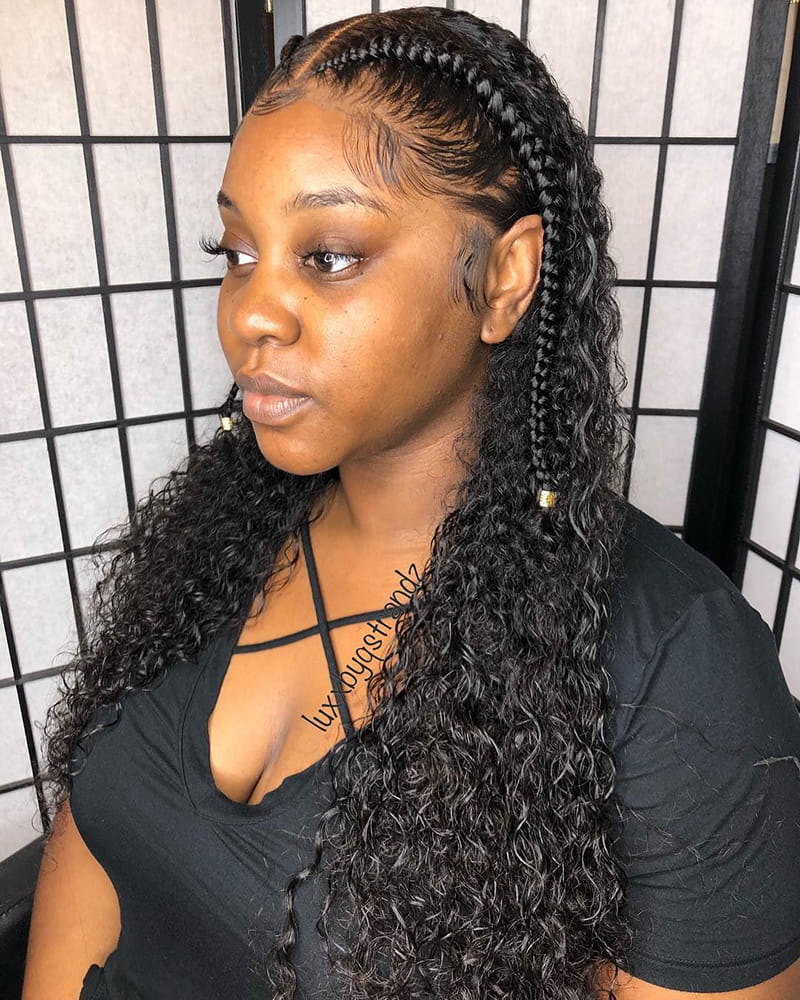 Hairstyles with Bangs
Bangs plus deep waves equal a look that's both trendy and timeless. They soften your features and add a touch of mystery to your look. Whether you go for curtain bangs, a blunt fringe, or something wispy, they'll pair beautifully with your deep waves, creating a hairstyle that's as captivating as it is stylish.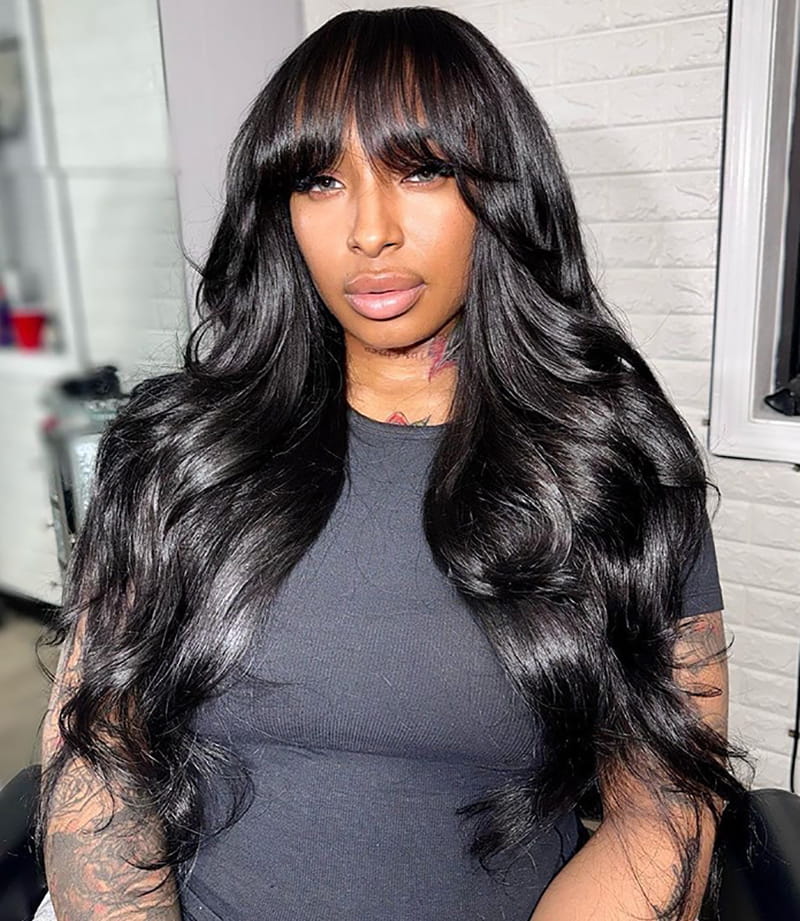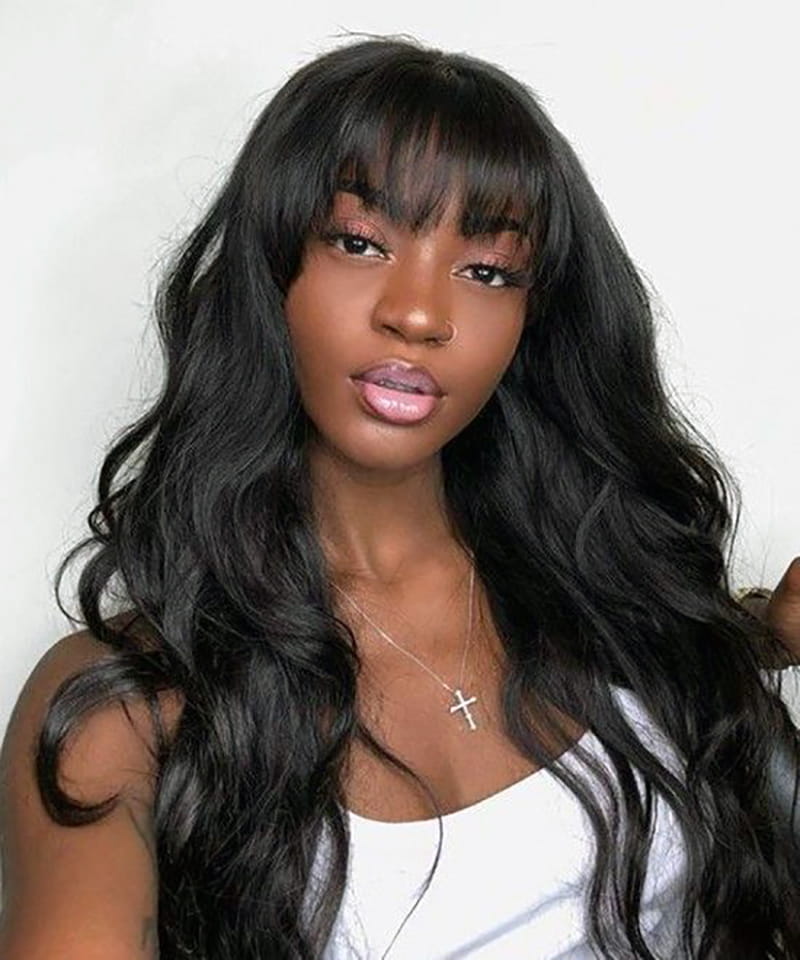 High Volume Hairstyles
For those times when bigger really is better, high volume deep wave hairstyles are your go-to. This is all about turning up the volume and letting your deep waves make a bold statement. It's a style that exudes confidence and glamour, perfect for when you want all eyes on you.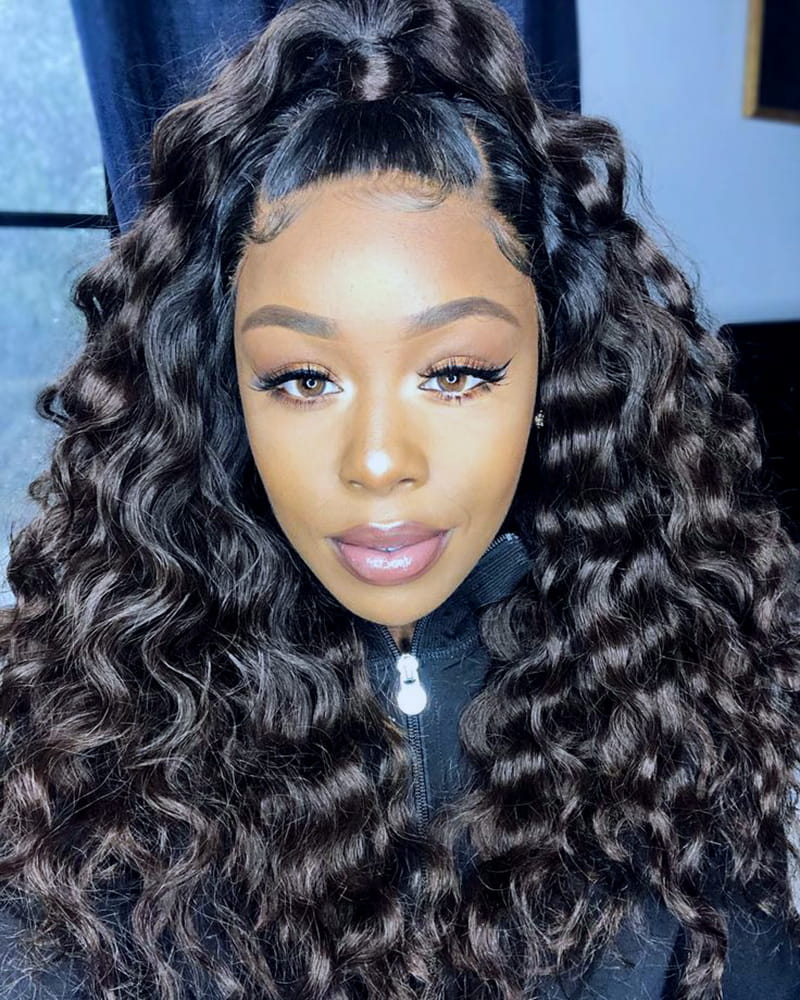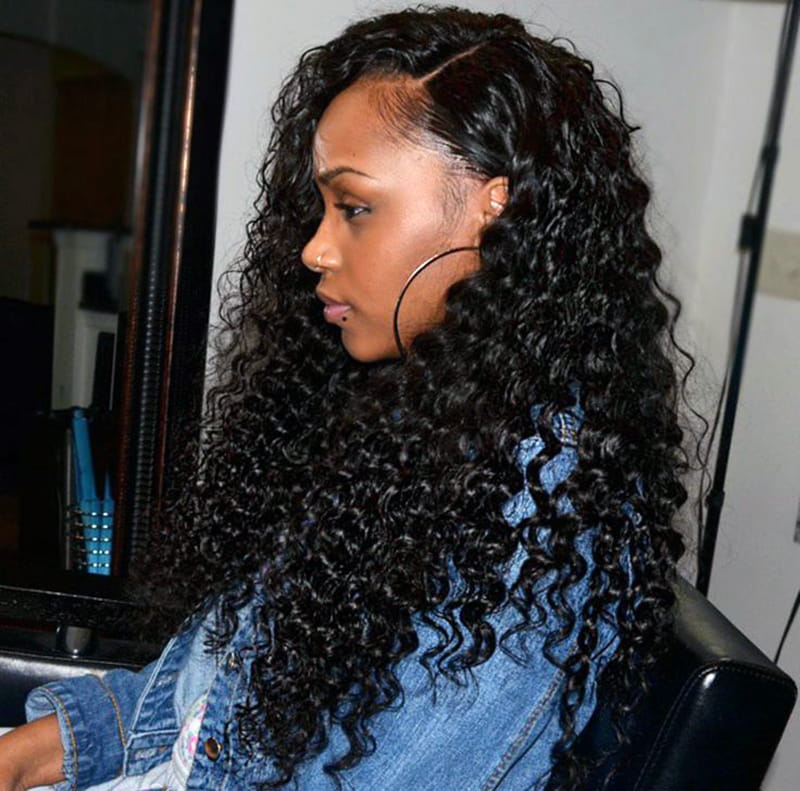 Spanish Curls
Last but not least, let's talk about deep wave hairstyles adorned with Spanish curls. This look adds an exotic flair to your waves, creating a texture that's both intricate and stunning. It's a gorgeous way to showcase the versatility of deep waves, giving you a hairstyle that's both intricate and full of life.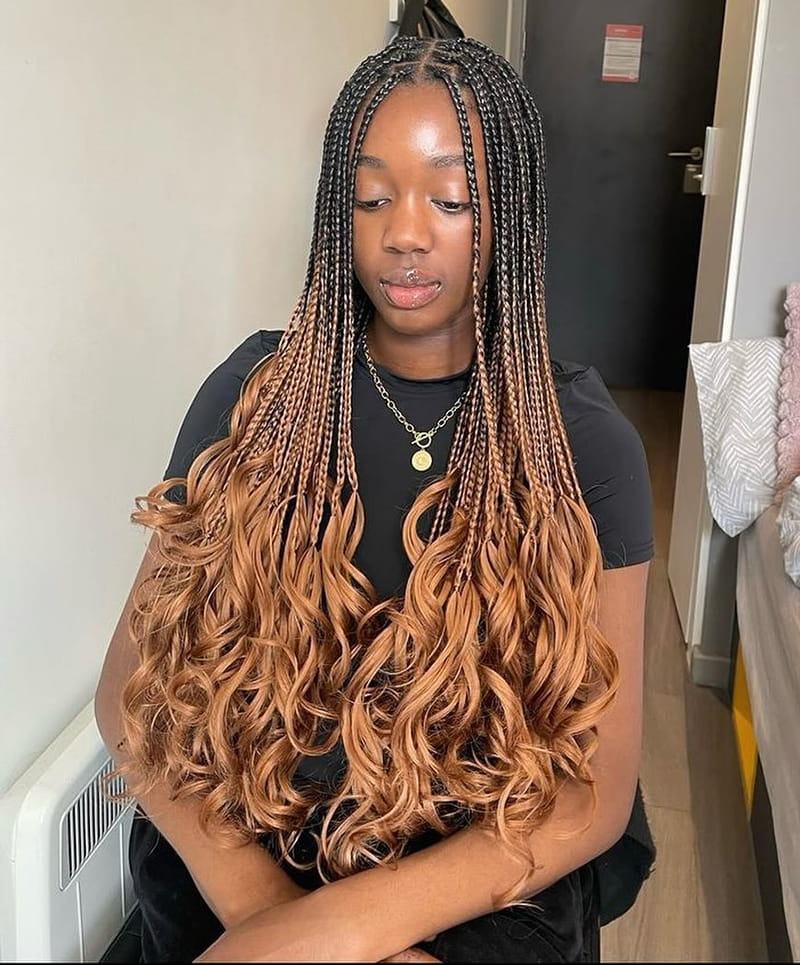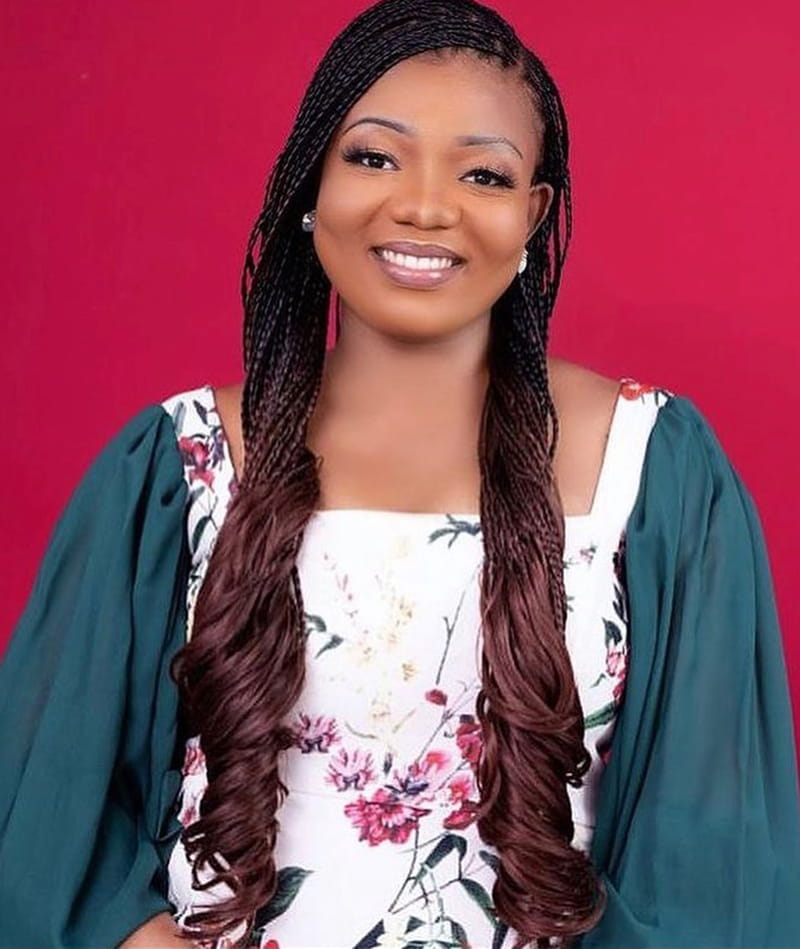 Now, isn't that a delightful range of styles to choose from? Each of these deep wave hairstyles offers a different way to express yourself while taking advantage of the natural beauty of your hair. Give them a try, mix them up, and have fun with your waves!
FAQs
What is a deep wave hairstyle?
A deep wave hairstyle features tight waves that are more pronounced and deeper than typical body waves, giving a full and voluminous look. This style is often achieved through the use of weaves, extensions, or by styling natural hair with specific techniques to enhance the wave pattern.
How do you maintain a deep wave hairstyle?
To maintain a deep wave hairstyle, it is important to keep the hair moisturized and detangled. Use a wide-tooth comb or fingers to gently detangle the hair. Avoid heavy products that can weigh down the waves. It's also recommended to use a silk or satin scarf or pillowcase to reduce frizz and maintain the definition of the waves while sleeping.
Can deep wave hairstyles be worn by people with naturally straight hair?
Yes, individuals with naturally straight hair can achieve a deep wave hairstyle through the use of curling methods such as flexi-rods, deep wave irons, or by installing deep wave textured hair extensions. It's important to use heat protectant products if heat styling tools are used to prevent damage to the natural hair.
Can deep wave hairstyles be worn on all hair types?
Yes, deep wave hairstyles can be worn on various hair types. However, the ease of achieving and maintaining the deep wave look can vary depending on the hair's natural texture and elasticity. For those with naturally straight hair, more styling and maintenance may be required, while those with naturally curly or wavy hair may find it easier to adopt and maintain this style.
How often should you wash deep wave hairstyles?
Deep wave hairstyles do not need to be washed as frequently as straight hair. It's typically recommended to wash them every 7 to 14 days to maintain their pattern and prevent the hair from drying out. Over-washing can lead to frizz and can disrupt the wave pattern.
Conclusion
In conclusion, deep wave hairstyles offer a luxurious and voluminous look that embodies a natural aesthetic. This hairstyle, characterized by its tight and defined spiral waves, brings about a dynamic texture that works with various hair lengths and types. It has gained popularity due to its versatility and the low-maintenance glamour it provides. Whether achieved through styling natural hair or using extensions, deep-wave hairstyles can enhance one's appearance with a full-bodied and bouncy silhouette that resonates with both everyday fashion and special occasions. With the right care and maintenance, such as using proper moisturizing products and protective styling techniques, deep wave hairstyles can be a long-lasting and stylish option for those seeking to add a touch of elegance and flair to their look.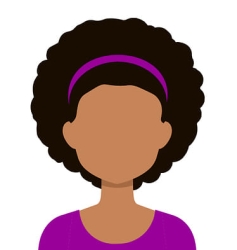 Latest posts by Laverne Rhimes
(see all)