When it comes to hairstyles that blend elegance, tradition, and modern flair, 2 Cornrow Braids stand out. These braids are not just a style statement; they're a celebration of cultural heritage mixed with contemporary fashion. In this detailed guide, we'll explore everything about 2 Cornrows Braids – from their rich history to the varied ways you can wear them today. Get ready to dive into a world where style meets simplicity, and tradition meets trend.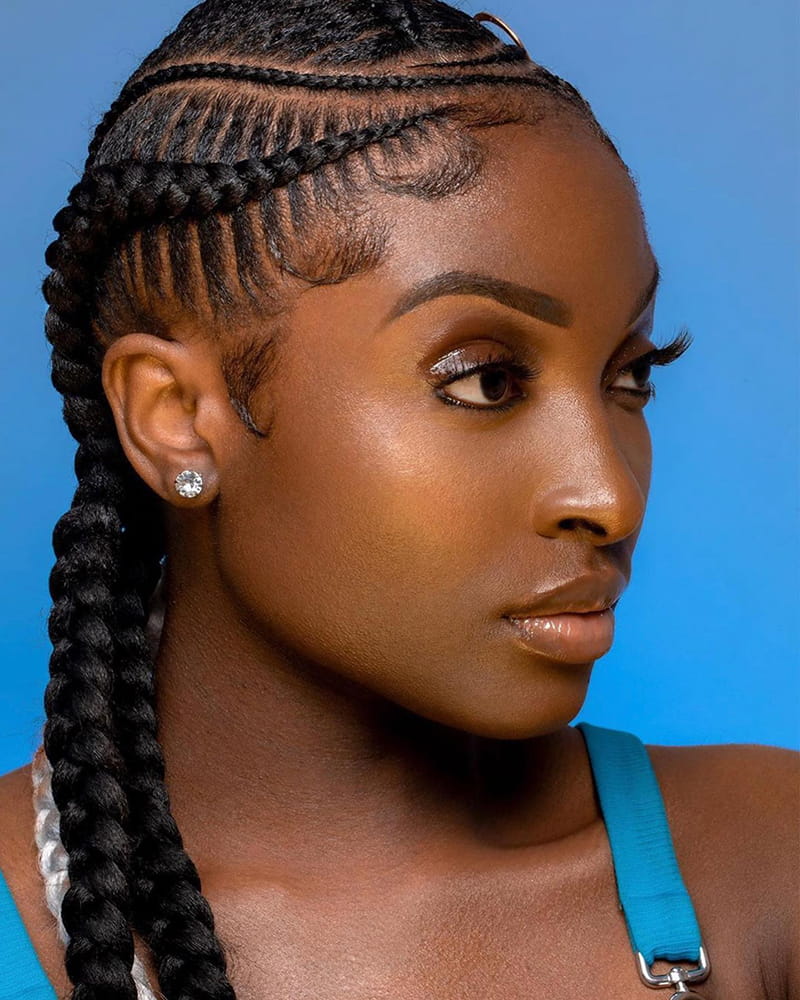 What is Cornrow style?
Cornrows, a classic braiding technique, have deep roots in African culture. Traditionally, they symbolize social status, ethnicity, and even religion. Today, they've crossed cultural boundaries, becoming a universal symbol of style and individuality. Imagine your hair as a canvas, and cornrows as the brushstrokes, creating a masterpiece on your scalp. These braids are more than just hair; they're an art form, showcasing intricate patterns and designs.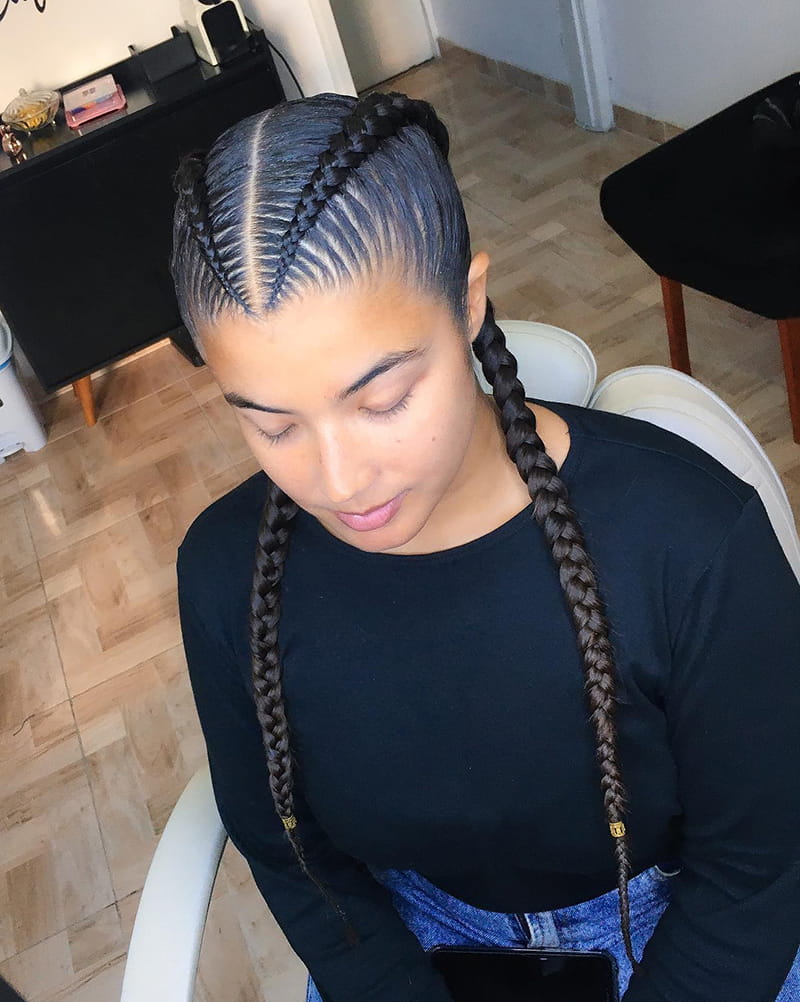 But cornrows are not just about looks. They're a practical choice too, especially for those with textured hair. They keep your hair neat, prevent tangling, and protect it from environmental elements. This aspect makes them a preferred style for athletes and people with active lifestyles. Moreover, they're a low-maintenance option for those who want to look stylish without daily hassle.
What are 2 Cornrow Braids?
Now, let's focus on the star of the show: 2 Cornrow Braids. This hairstyle is simplicity at its finest. It involves parting your hair down the middle and creating two sleek, symmetrical braids on each side of the head. The beauty of this style lies in its versatility. It's perfect for all occasions, be it a formal event, a casual day out, or even a workout session.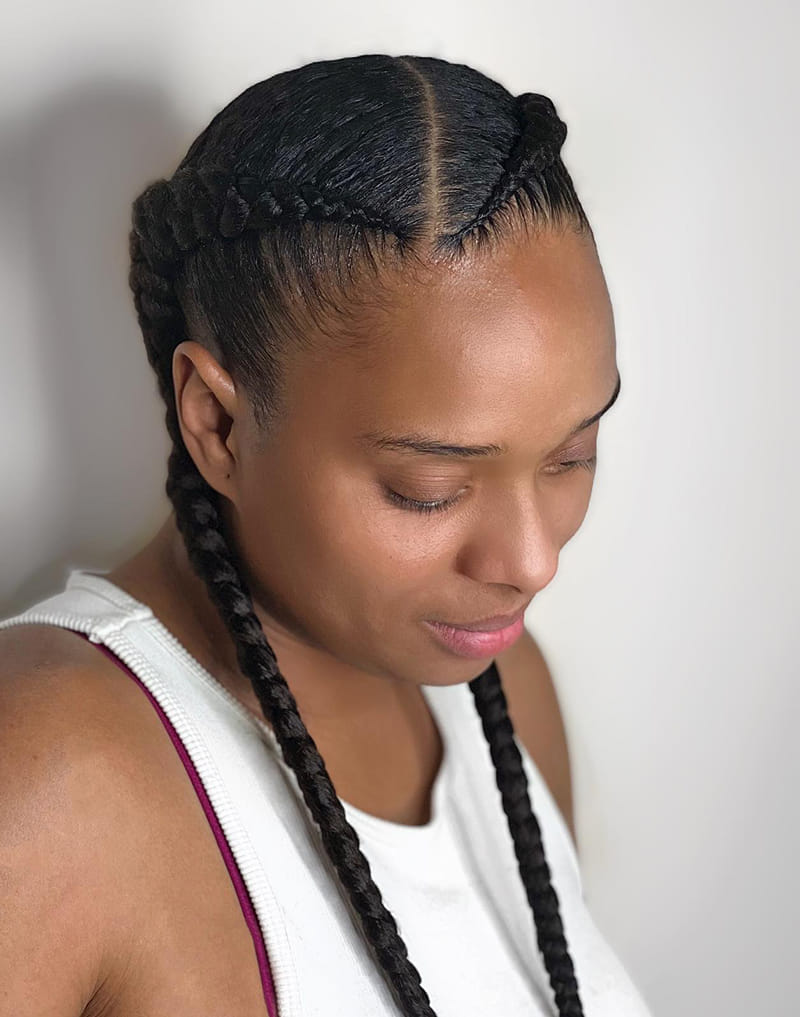 You might wonder, what's so special about 2 cornrows? Well, they're not just a hairstyle; they're a statement. They can be a nod to your heritage, a reflection of your personality, or simply a practical hair solution. The best part? They suit everyone, regardless of age, gender, or hair type. Whether you have long, flowing locks or a shorter mane, 2 Cornrows Braids can be tailored to suit your look.
How to Do 2 Cornrow Braids?
Creating 2 cornrow braids may seem daunting, but it's quite achievable with some practice. Start by parting your hair down the middle. Then, select a side and divide a small section of hair at the front. Begin braiding this section, gradually adding more hair as you move along the scalp. The key is to keep the tension consistent for a neat, polished look.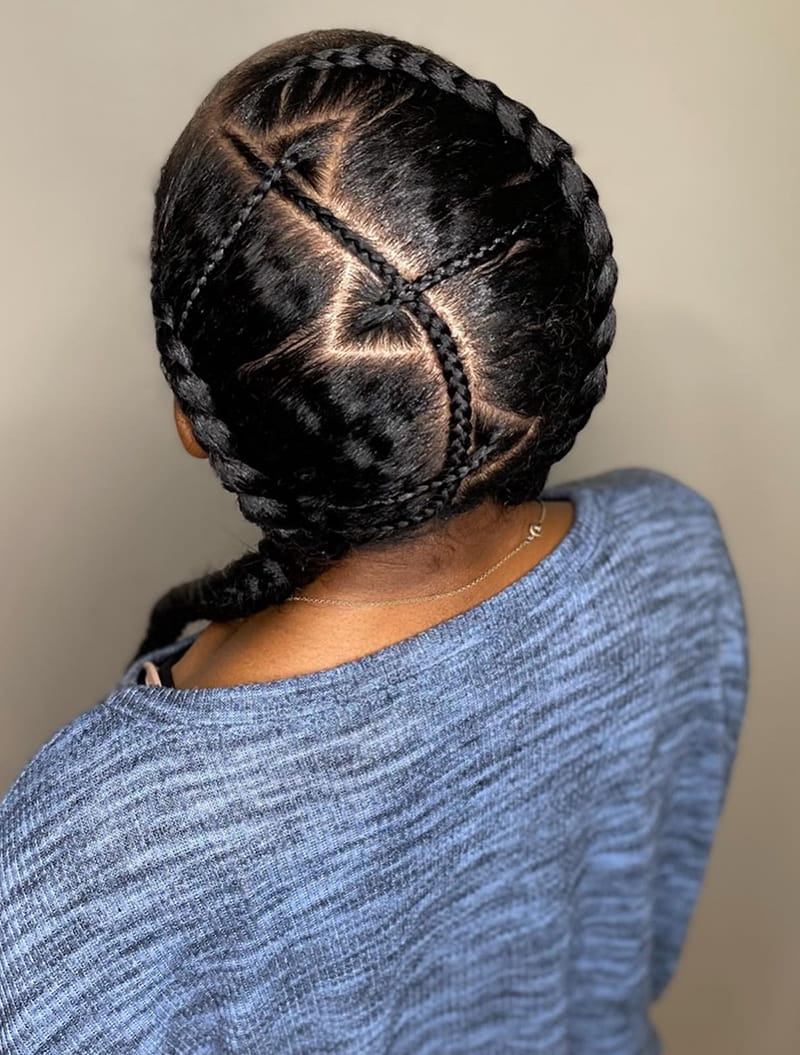 Remember, braiding is an art, and like any art, it takes patience and practice. If you're new to braiding, don't get discouraged. Take your time, and soon you'll find your rhythm. And if you're not ready to do it yourself, there's always the option to visit a professional stylist. They can not only braid your hair but also offer tips and tricks to maintain it.
How to Style 2 Cornrow Braids?
Styling 2 Cornrow Braids is like playing with your very own canvas of creativity, where each braid can tell a different story. Let's dive into some fantastic styles, each bringing its unique charm and personality: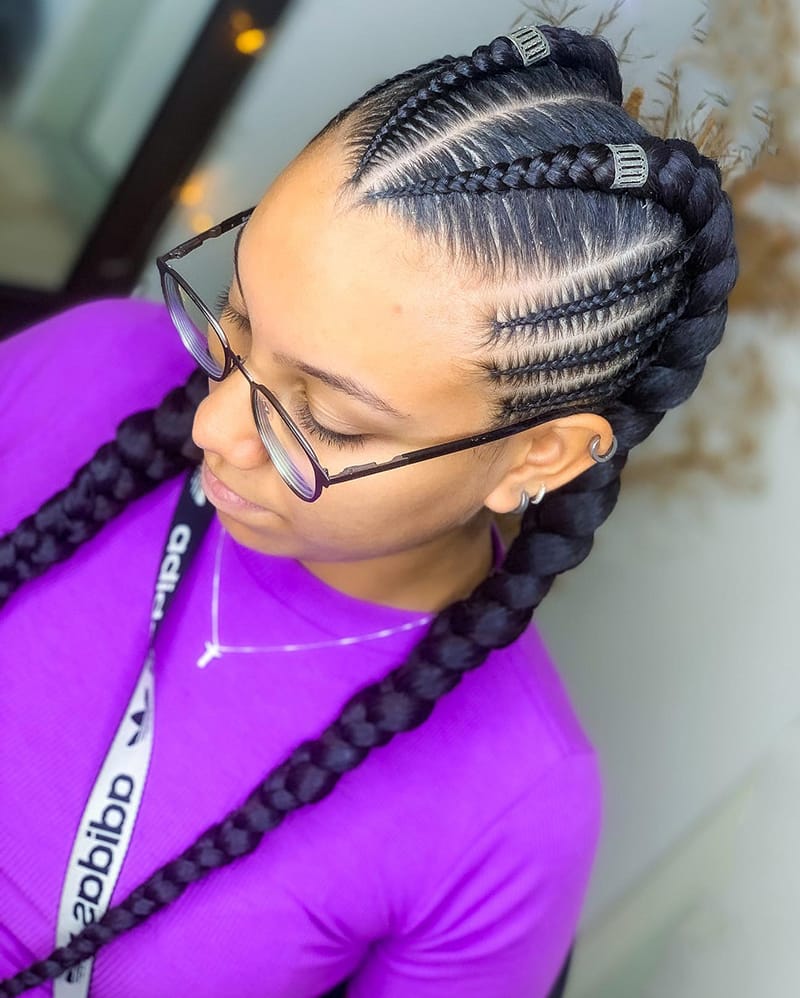 Classic 2 Cornrows Braids:
This is the go-to style for anyone trying out 2 Cornrows for the first time. It's simple, sleek, and absolutely stylish. Think of it as the little black dress of hairstyles – it never goes out of fashion! Whether you're heading to work, a party, or just lounging around, these braids fit every occasion like a dream. They are neat and professional, yet full of character. Plus, they work wonderfully on all hair lengths and types, making them a universal favorite.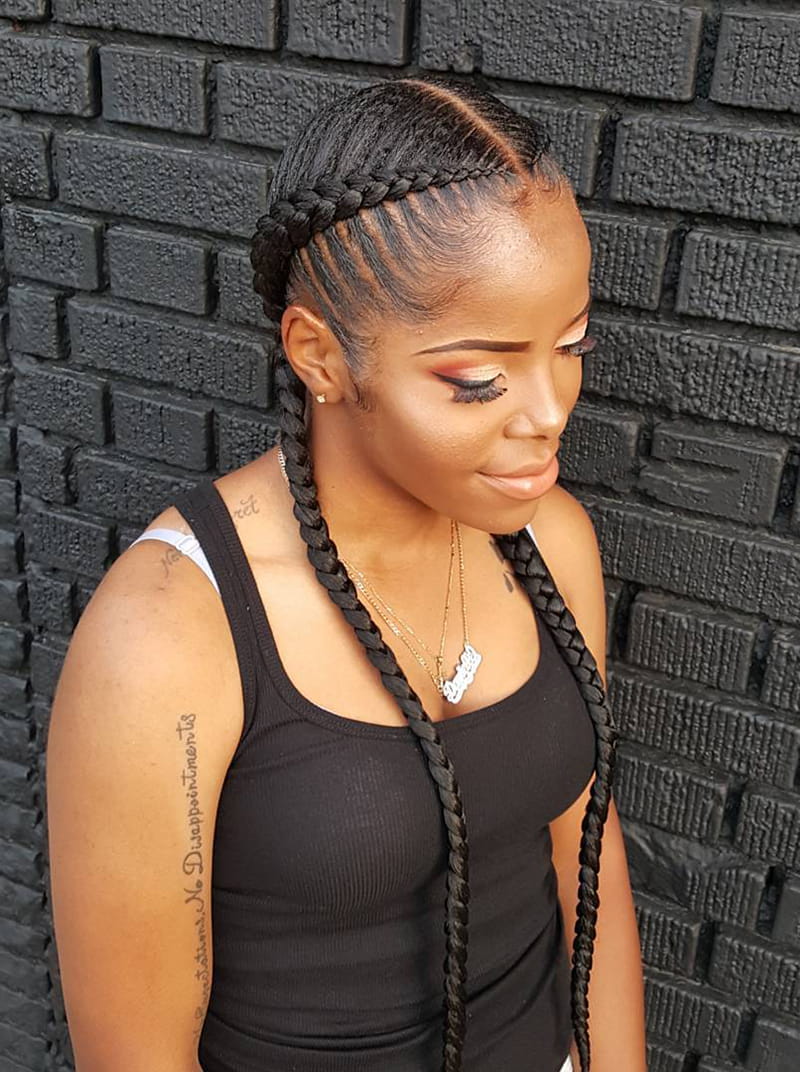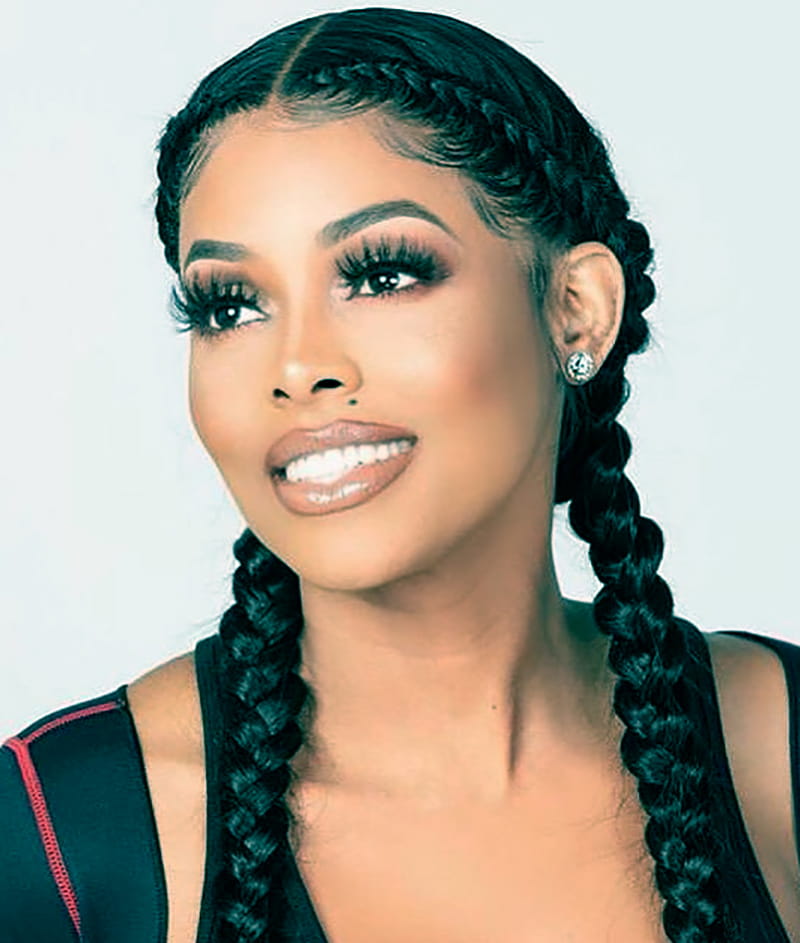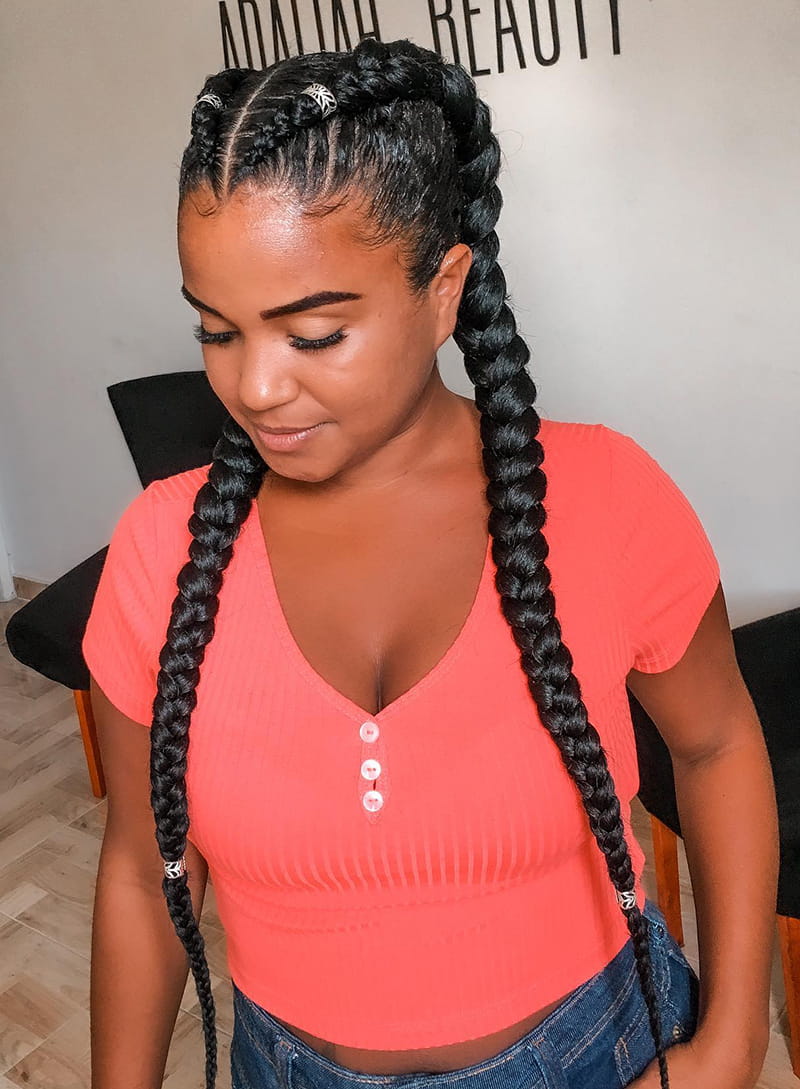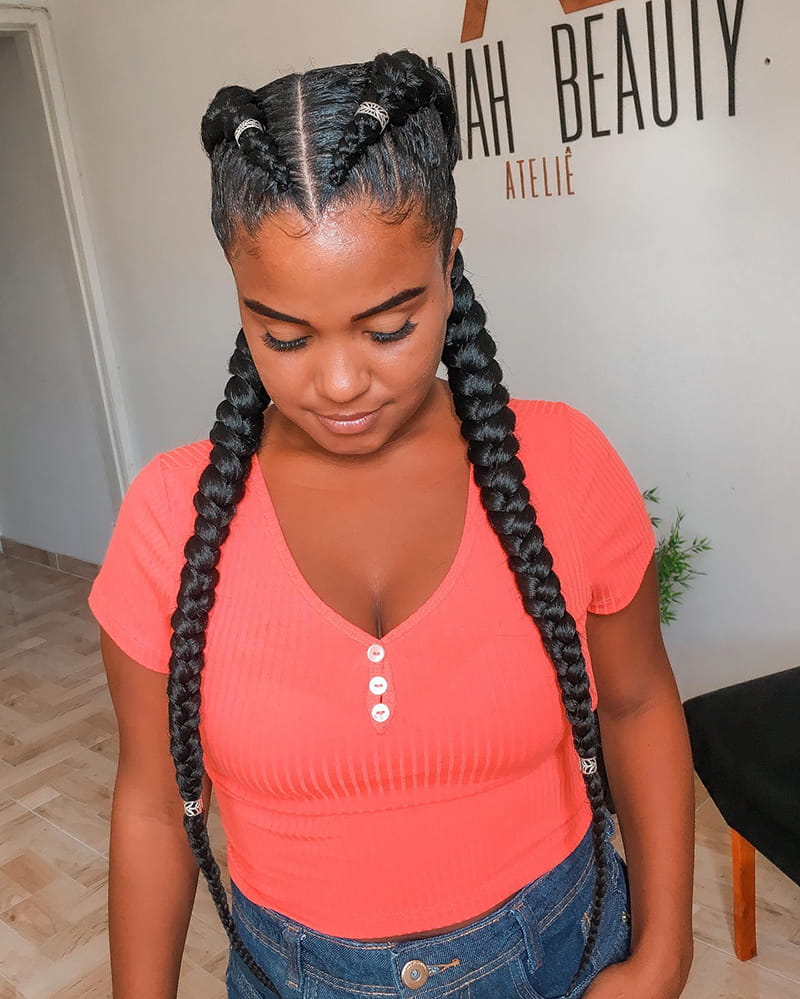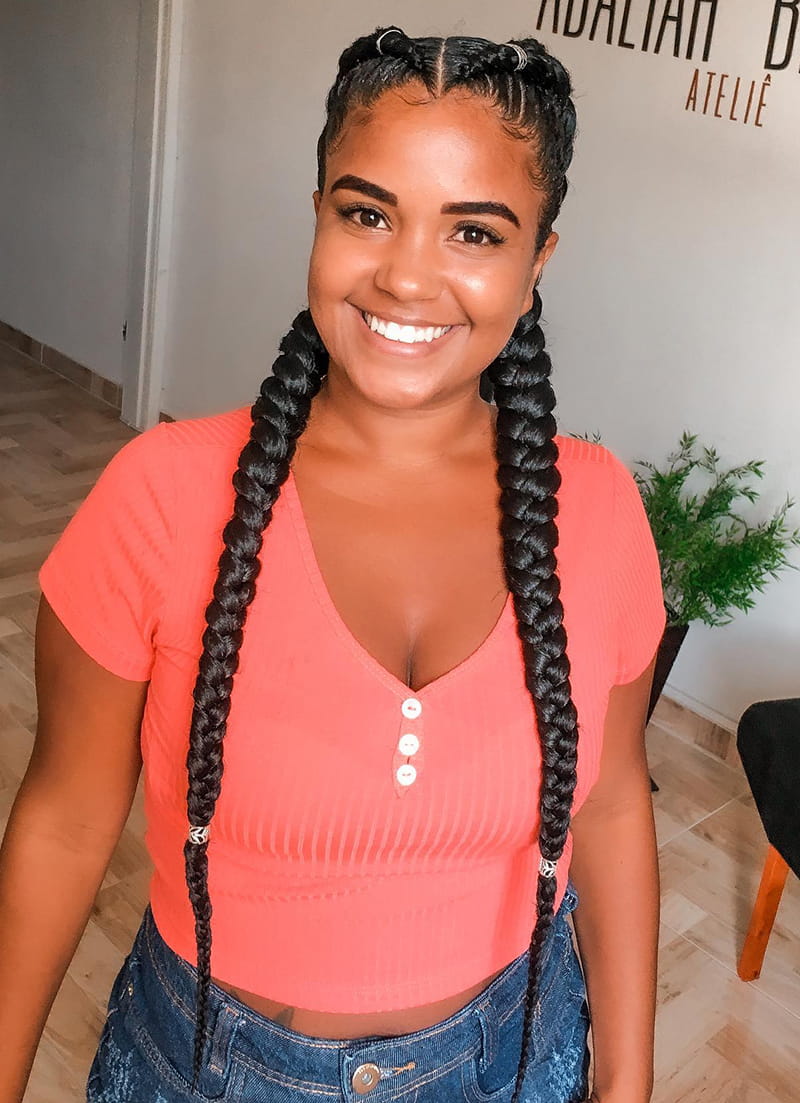 2 Cornrows Braid with Criss-Cross Rubber Bands:
Ready to add a playful twist? Introducing criss-cross rubber bands into your braids can be a game-changer. It's like sprinkling a little bit of fun into your hairstyle. This style is perfect for when you want to make a statement without going overboard. It's especially great for younger folks or anyone young at heart! Plus, you can match the rubber bands to your outfit, making it a customizable style.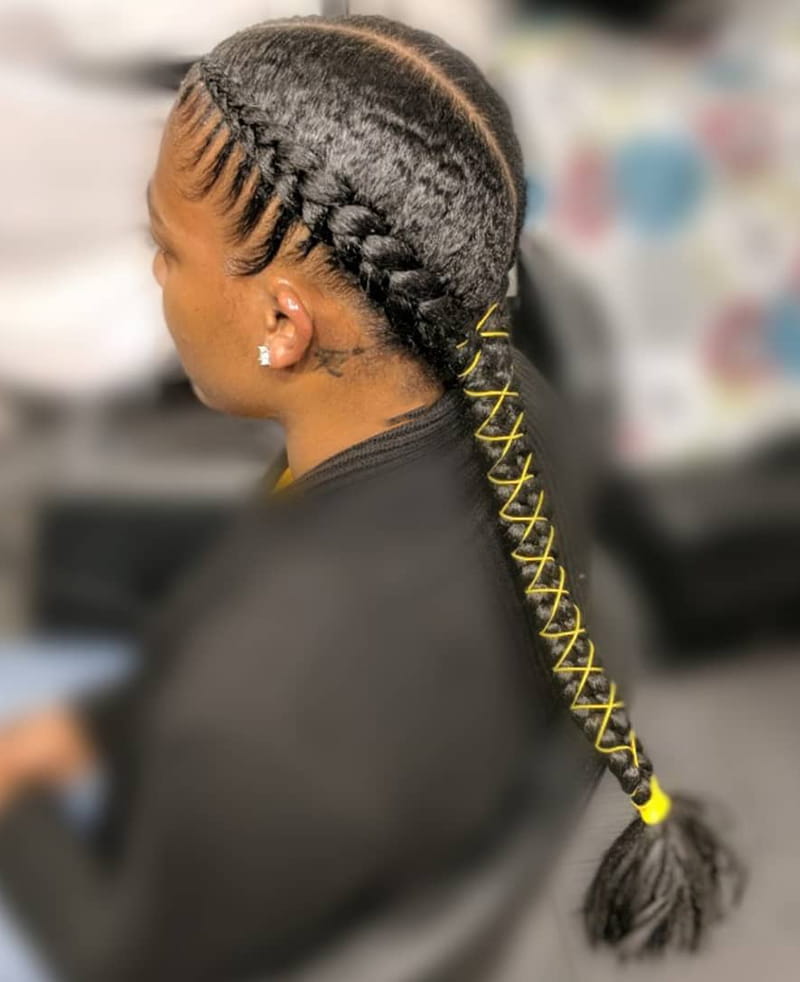 2 Cornrow Braids with Curls:
Imagine the elegance of cornrows meeting the free-spirited vibe of curls. Leaving the ends of your braids curly adds a touch of whimsy and femininity. It's a beautiful blend of structured and carefree, perfect for those days when you can't decide between a sophisticated or playful look. This style works wonders on longer hair, letting those curls cascade beautifully, and adding movement and life to your braids.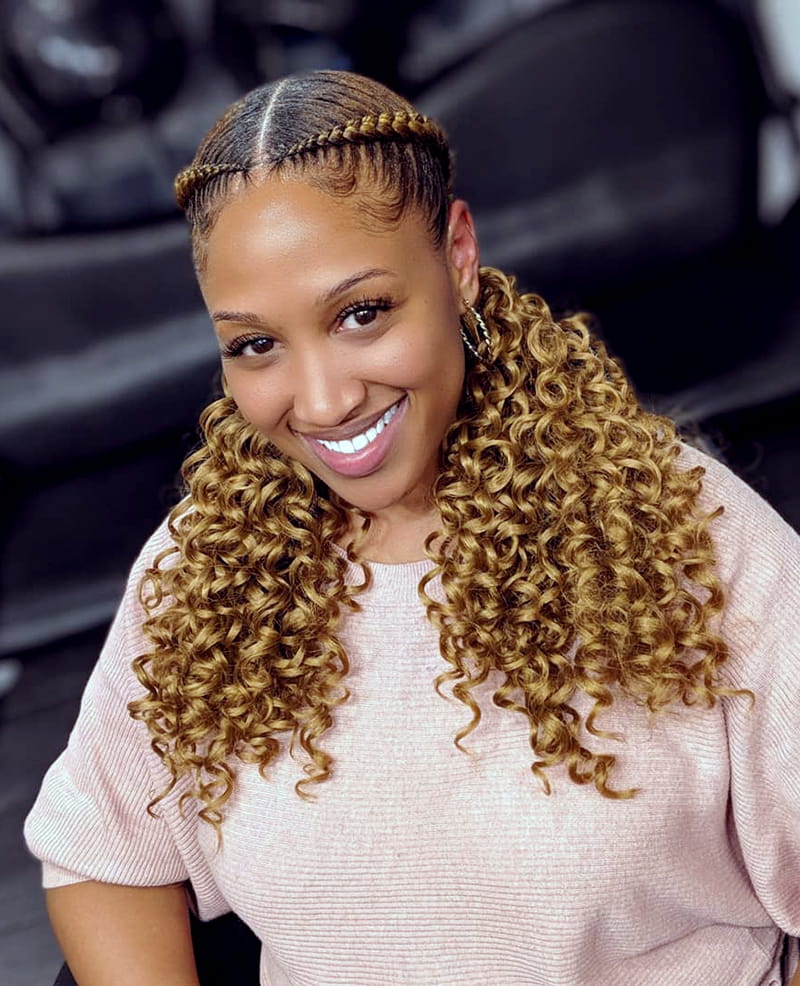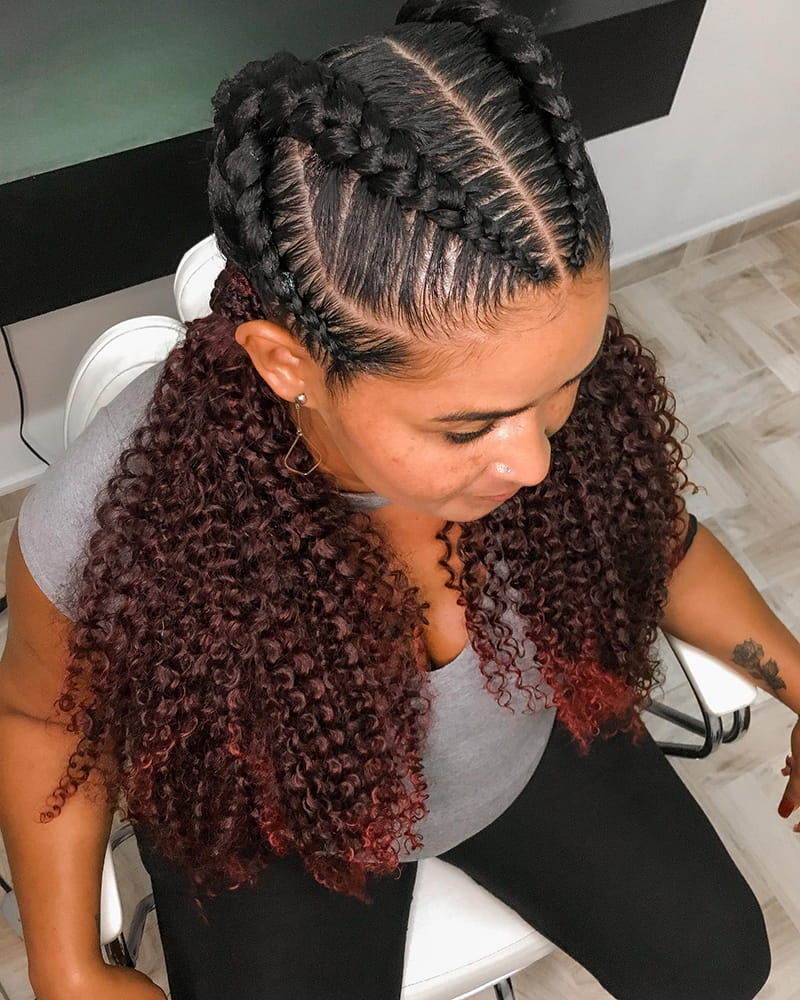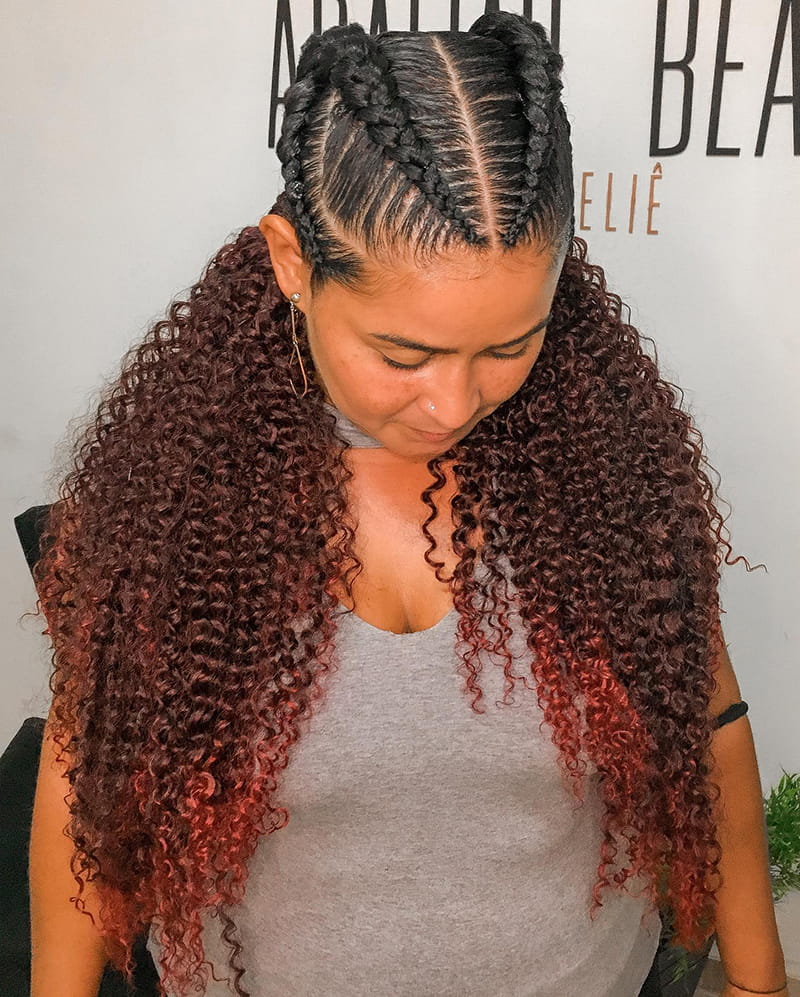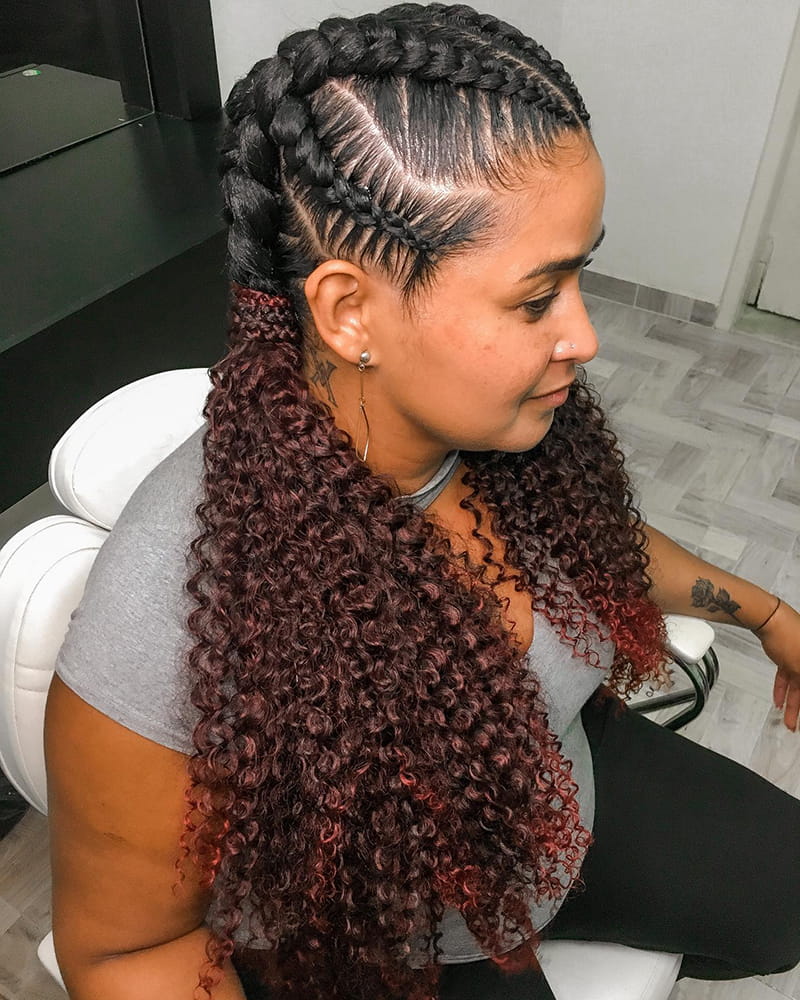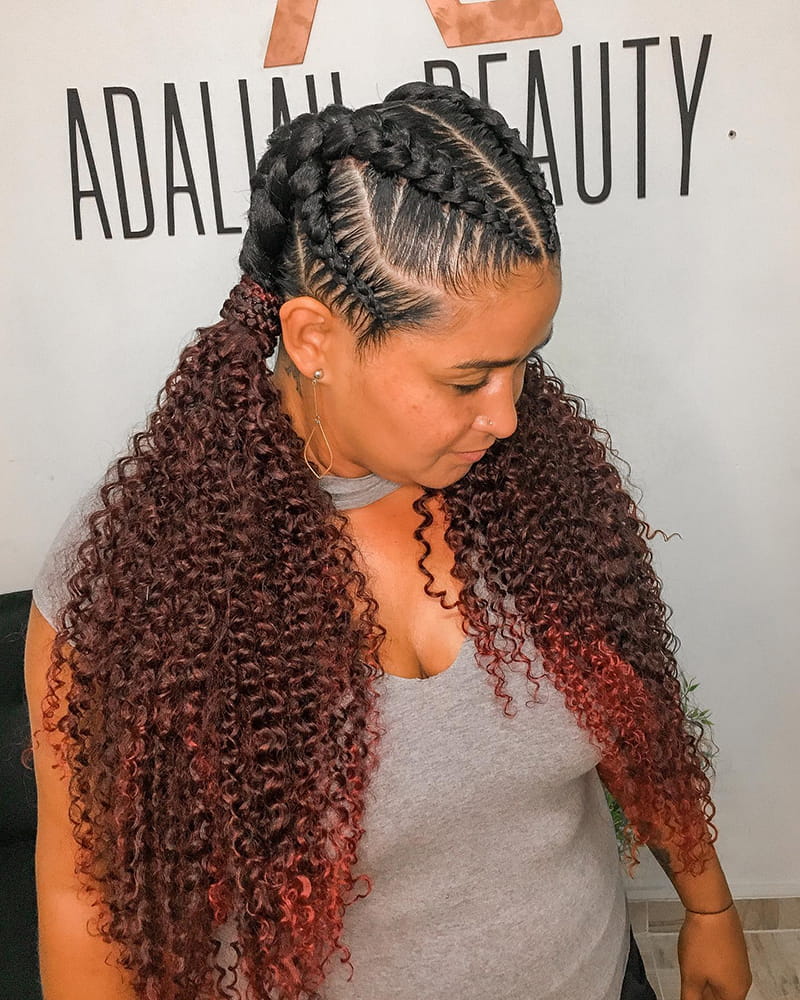 2 Cornrows Braids Combined into One:
This style is for those who love a little twist in their tale. By combining the two braids at the nape, you get a unique look that stands out. It's like having the best of both worlds – the sleekness of cornrows and the intricacy of a single braid. This look is particularly striking for an evening event or a special occasion where you want your hairstyle to be the center of attention.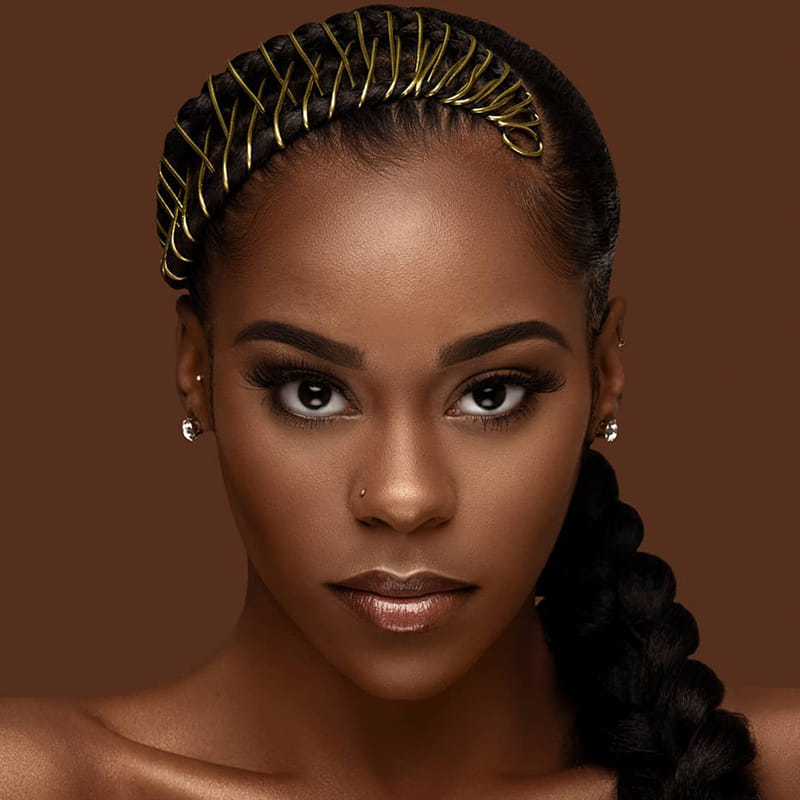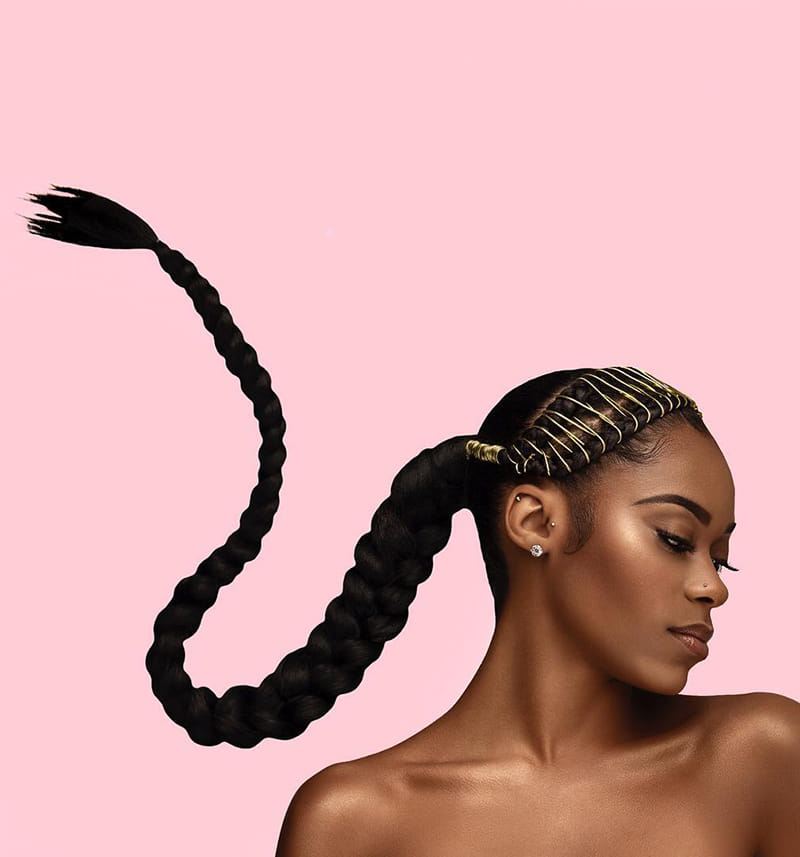 2 Cornrow Braids with Central Braid:
Add a dash of intricacy to your 2 Cornrows by weaving a small braid down the center. This subtle addition can take your hairstyle from simple to stunning. It's like adding a delicate piece of jewelry to a beautiful dress – not too loud, but enough to make a statement. This style is perfect for those who appreciate the finer details and enjoy a touch of elegance in their look.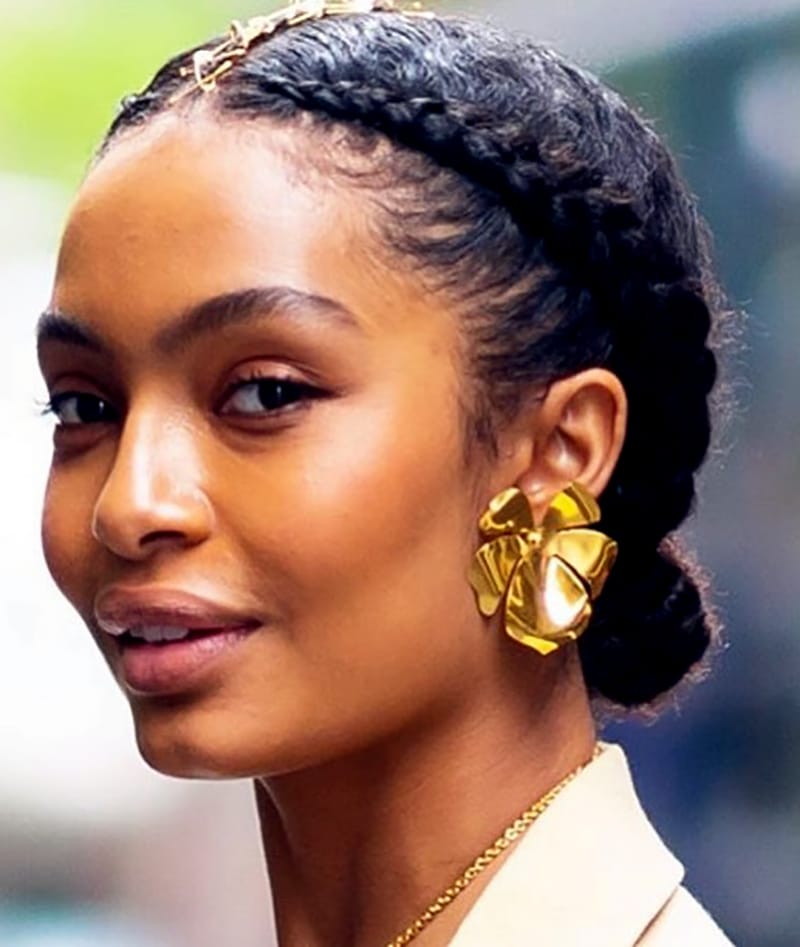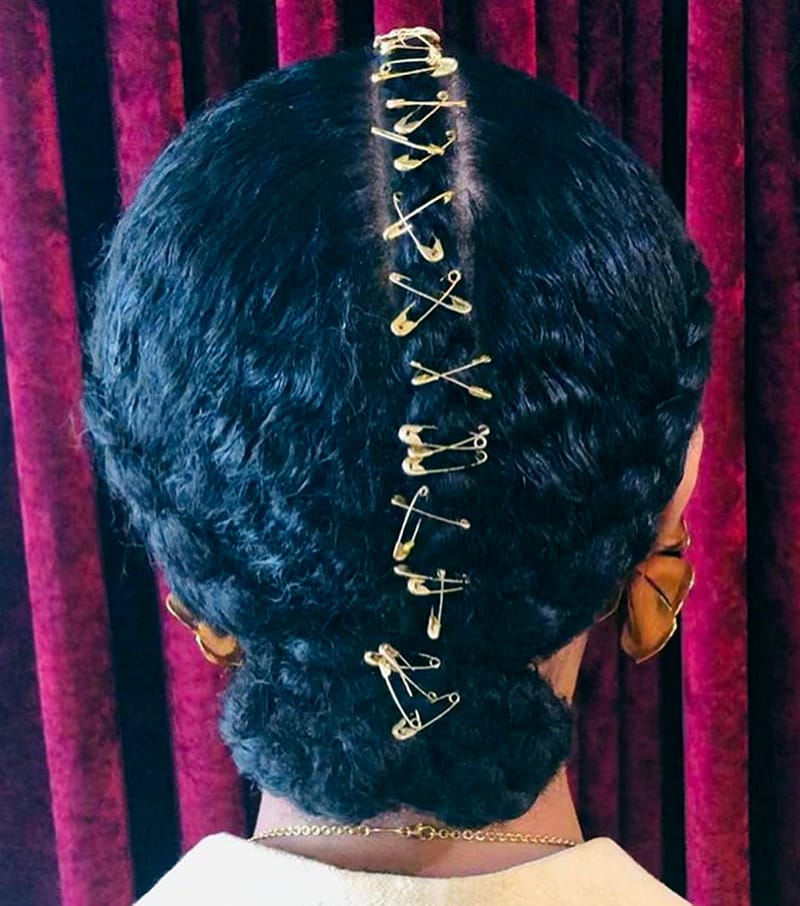 Double Braided Two Cornrow Braids:
Why settle for one when you can double the fun? Adding another set of smaller braids alongside the main ones gives a multi-dimensional look. It's a fantastic way to add texture and depth to your hairstyle. Plus, it's a great conversation starter! This style is perfect for those who love to stand out and aren't afraid to show off their creative side.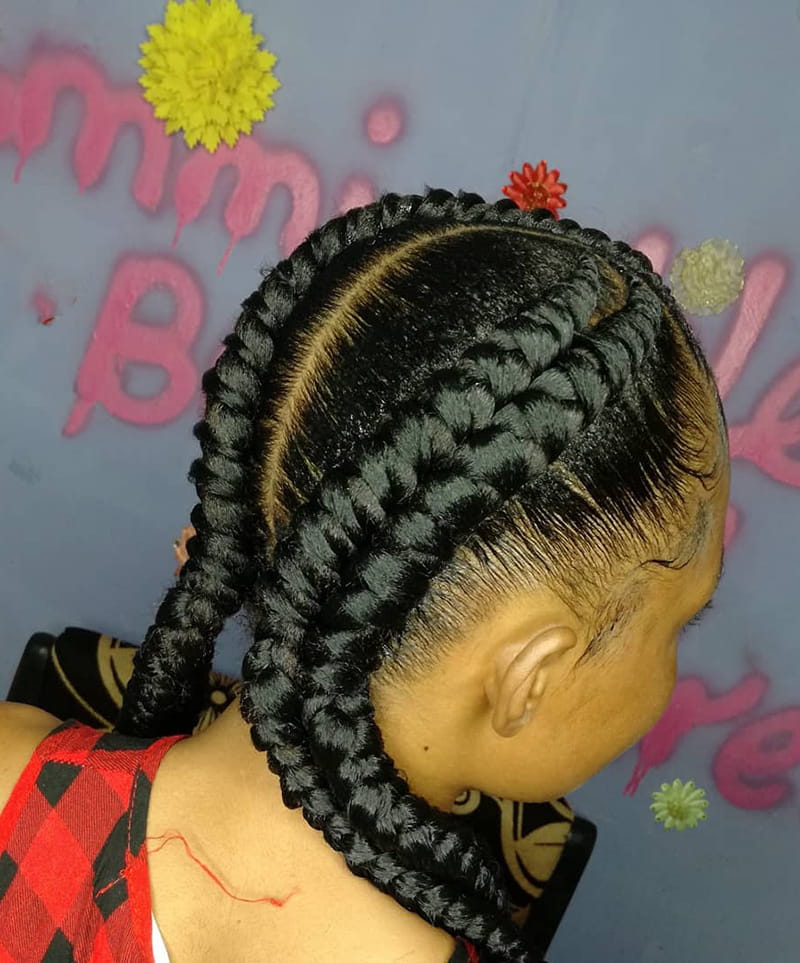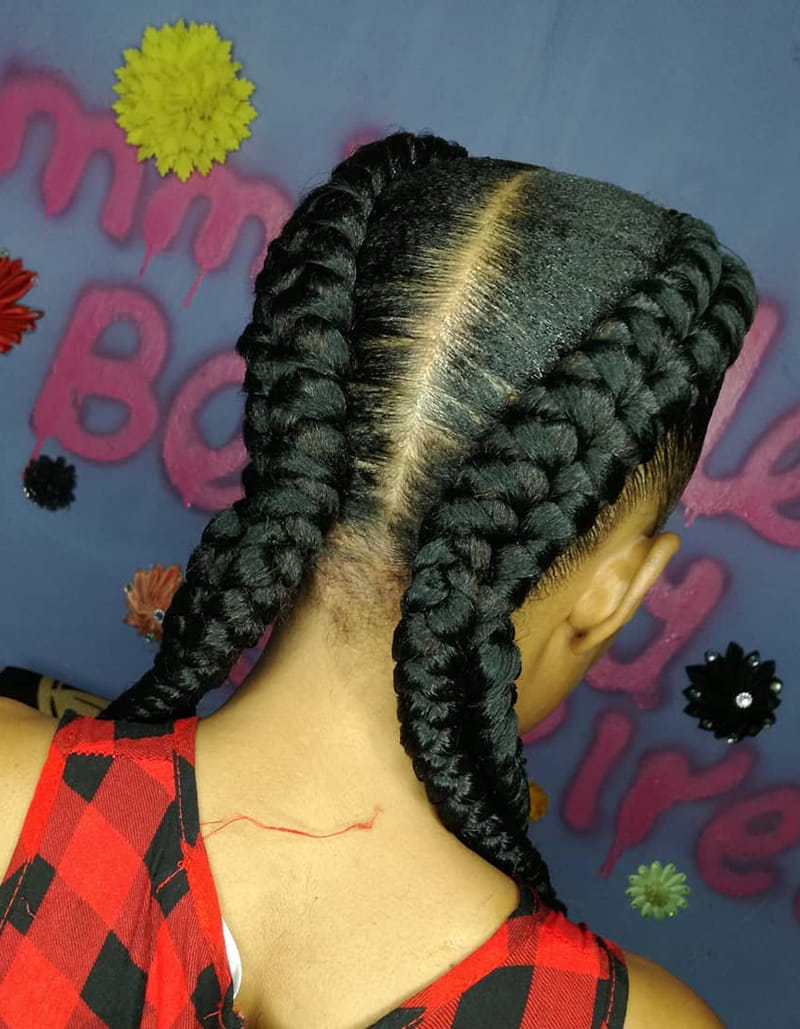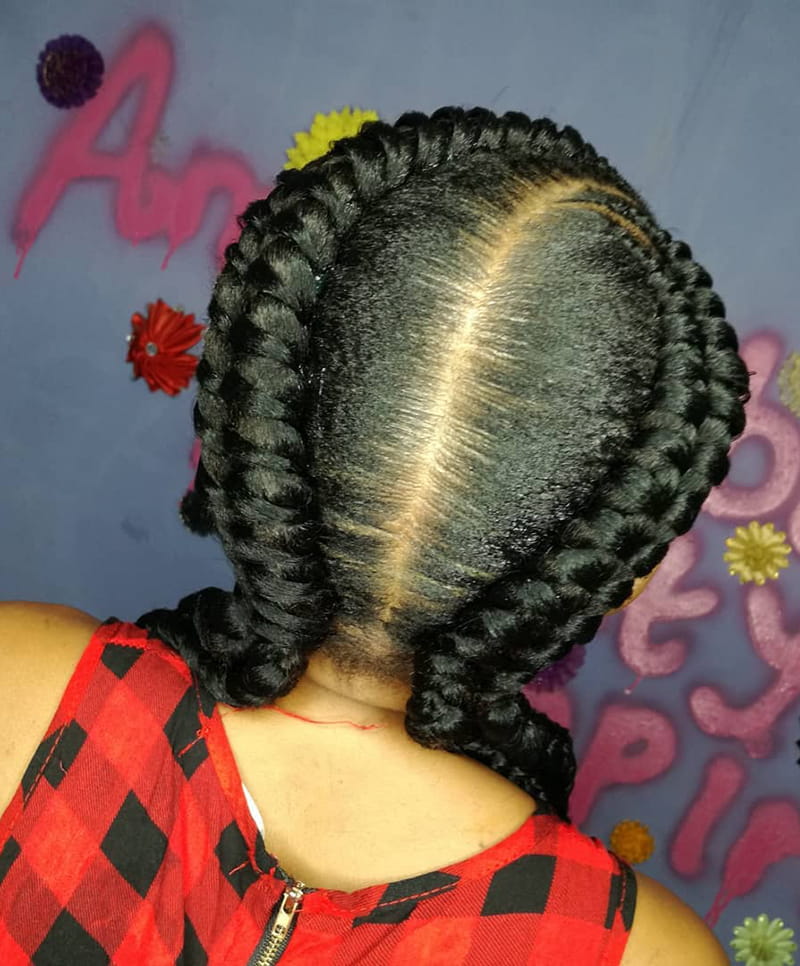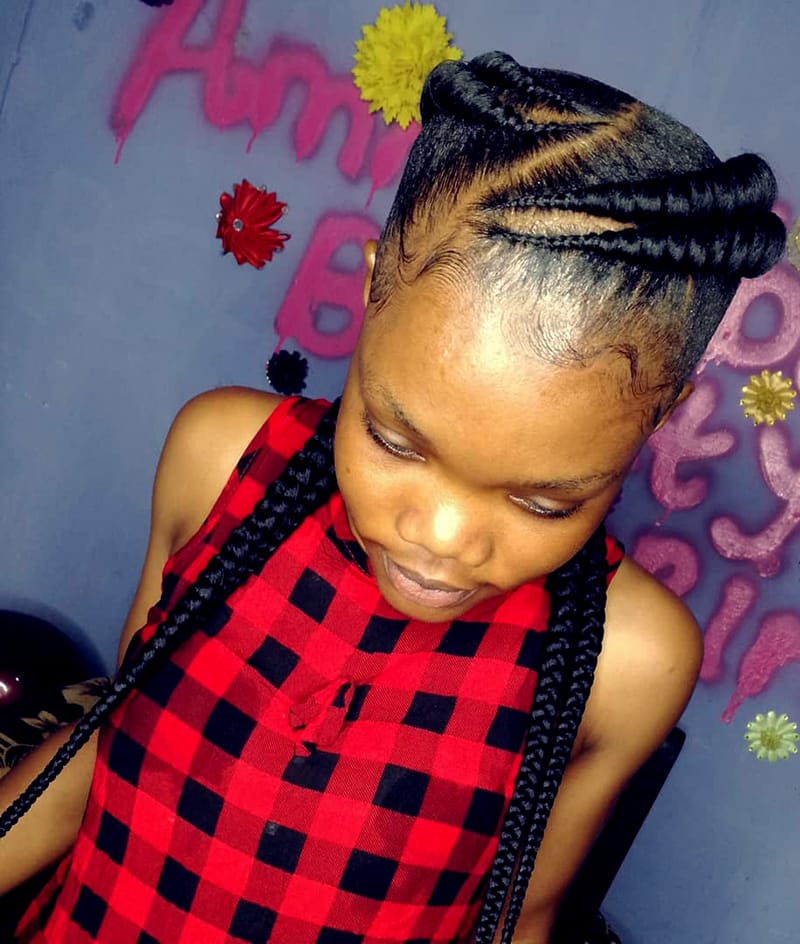 Highlighted 2 Cornrow Braids:
Highlights aren't just for loose hair. Introducing colored hair extensions into your cornrows can create a vibrant, eye-catching look. Whether you choose bold colors or subtle shades, highlights can completely transform your braids. It's like adding a splash of paint to a monochrome canvas, making your hair a masterpiece.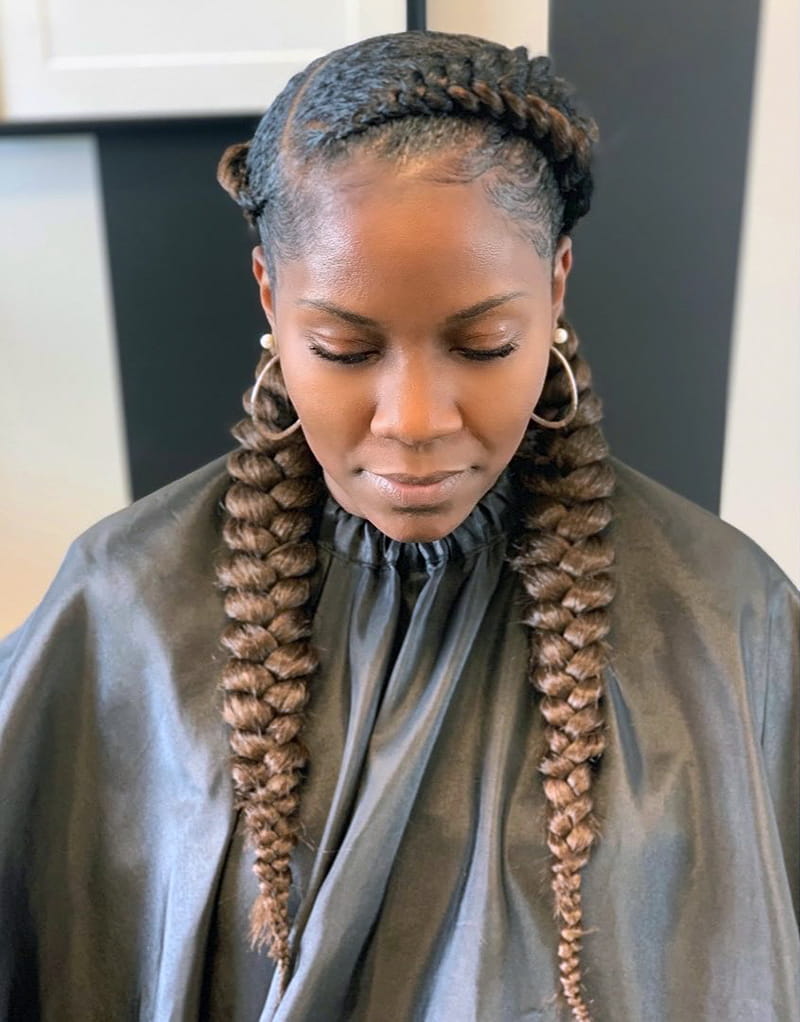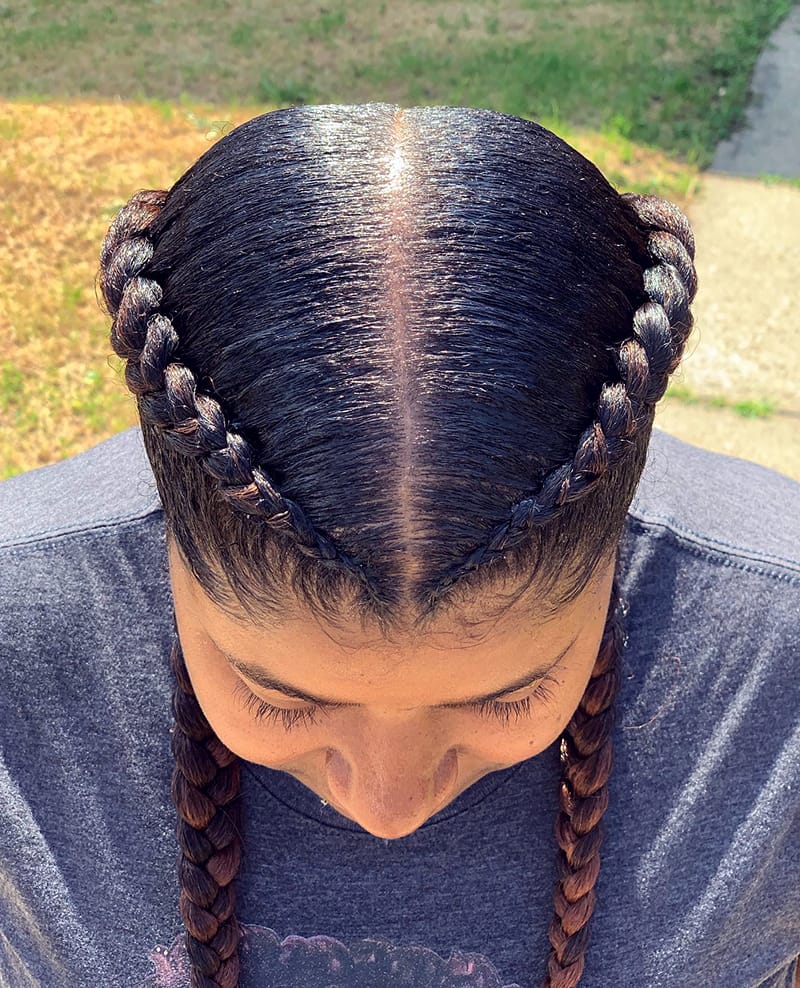 2 Cornrow Braids with Central Designs:
For those who love a bit of art, incorporating intricate designs at the center parting of your cornrows can be incredibly striking. This style allows for immense creativity – from simple geometric patterns to elaborate shapes. It's perfect for special events or when you want your hair to be the focal point of your look.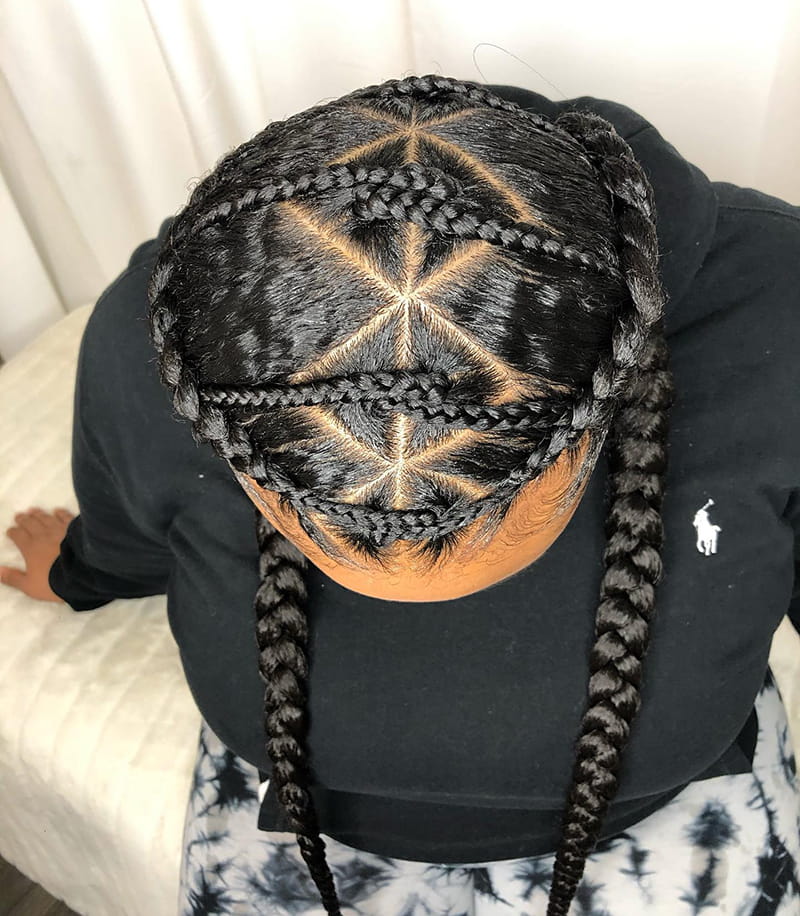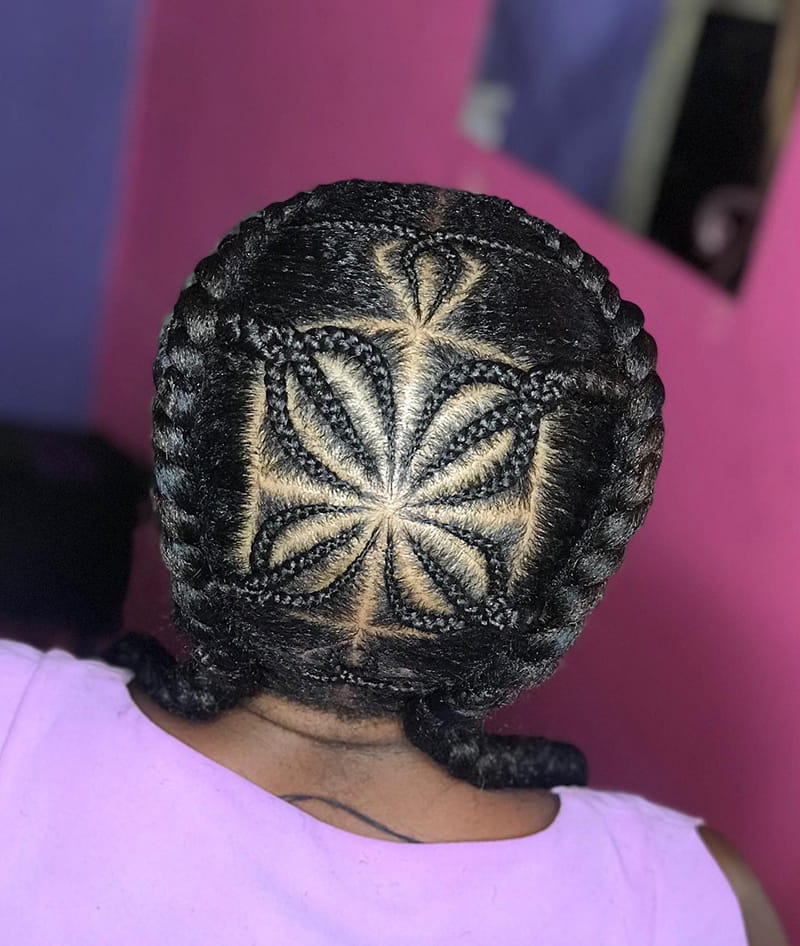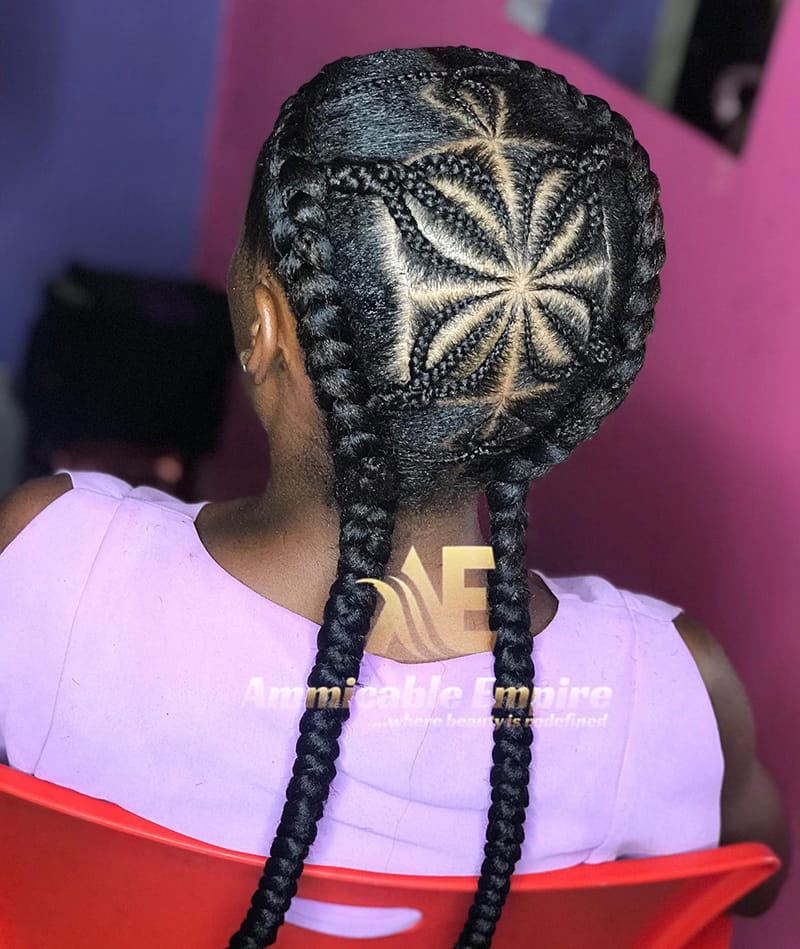 2 Cornrows Braids with Hair Cuffs:
Adding hair cuffs to your 2 Cornrow Braids is like putting the perfect accessory on your favorite outfit. It's not just a hairstyle anymore; it's a fashion statement. These little metallic or colorful cuffs clipped around your braids can transform your look from every day to runway-ready in seconds. They're perfect for jazzing up your look for a night out, a festival, or any time you feel like adding a bit of sparkle to your day. The best part? You can match these cuffs with your jewelry or outfit, making your hairstyle an integral part of your overall look.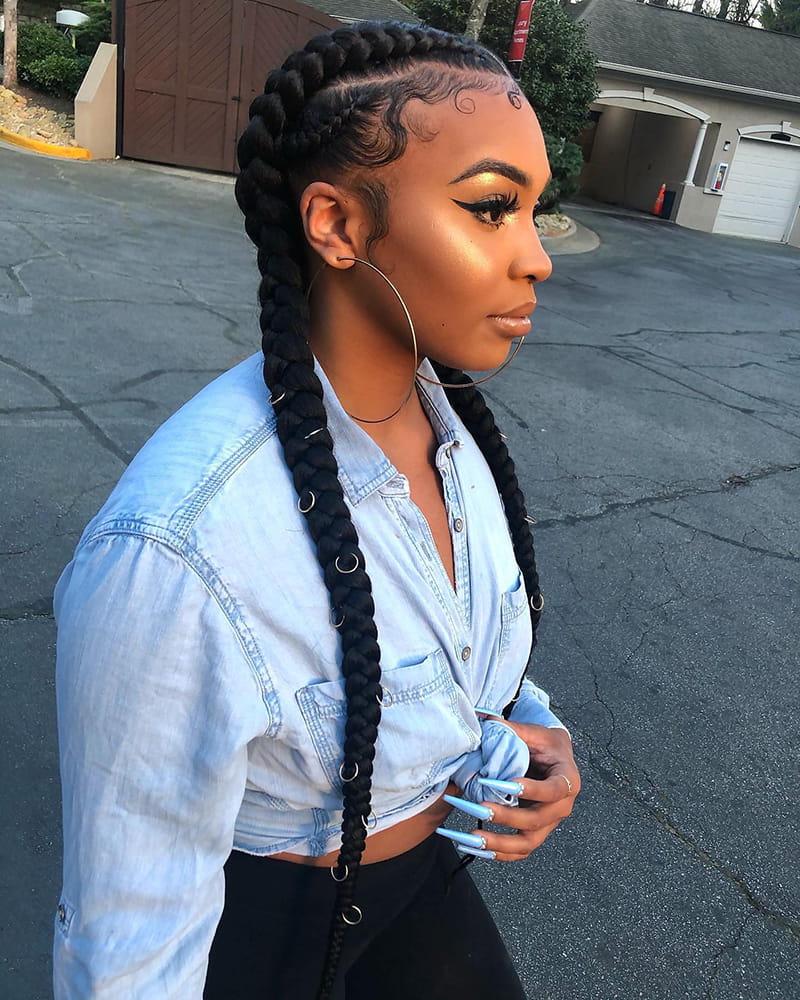 2 Cornrow Braids with Blonde Highlights:
Imagine giving your classic 2 Cornrows an edgy twist with some blonde highlights. It's a fantastic way to add depth and dimension to your braids. These highlights can be subtle or bold, depending on your preference, and they beautifully showcase the intricacy of the braids. It's perfect for those who want to experiment with color without fully committing to it. This style is especially appealing in the summer months when the sun naturally lightens our hair, giving you a beach-ready look.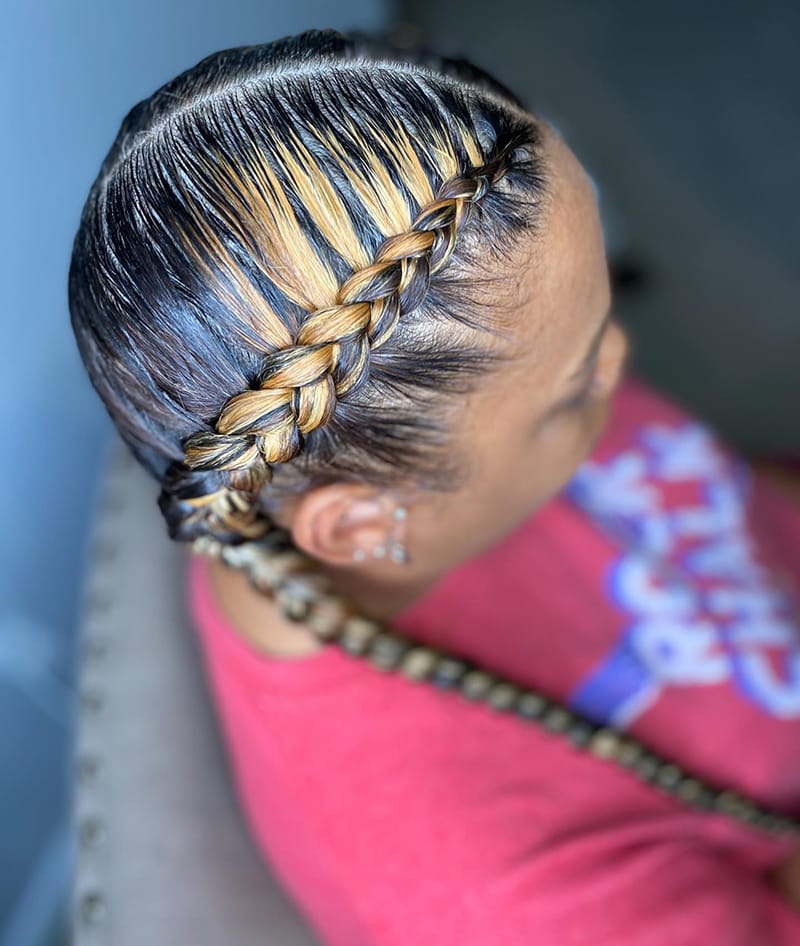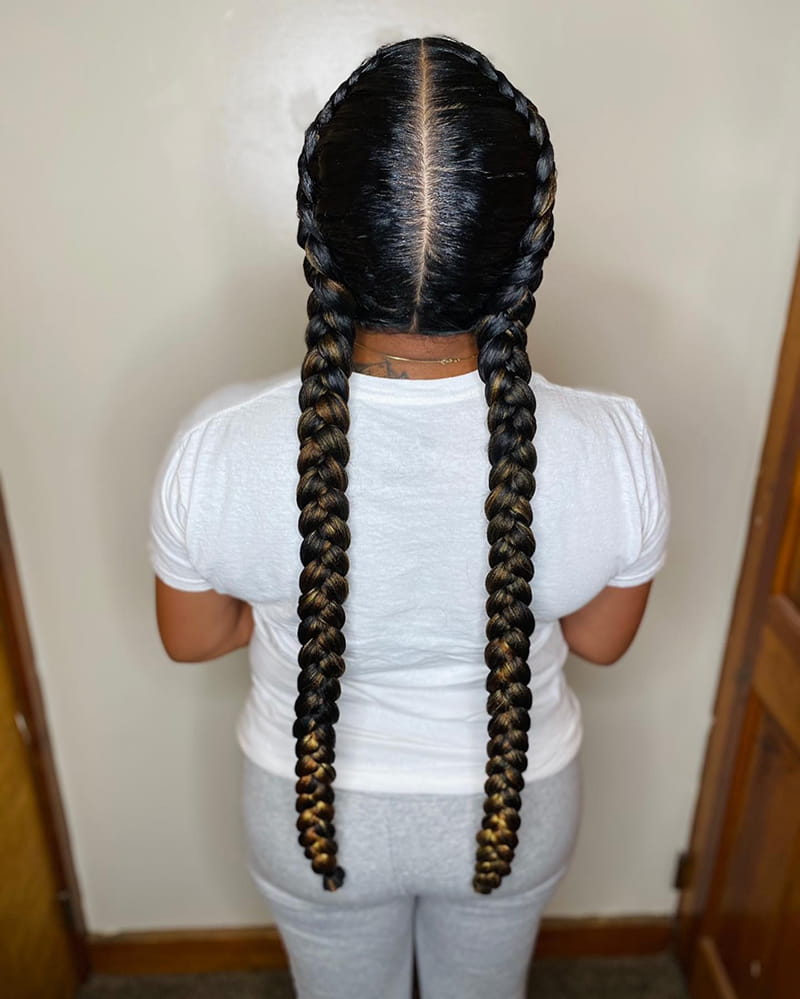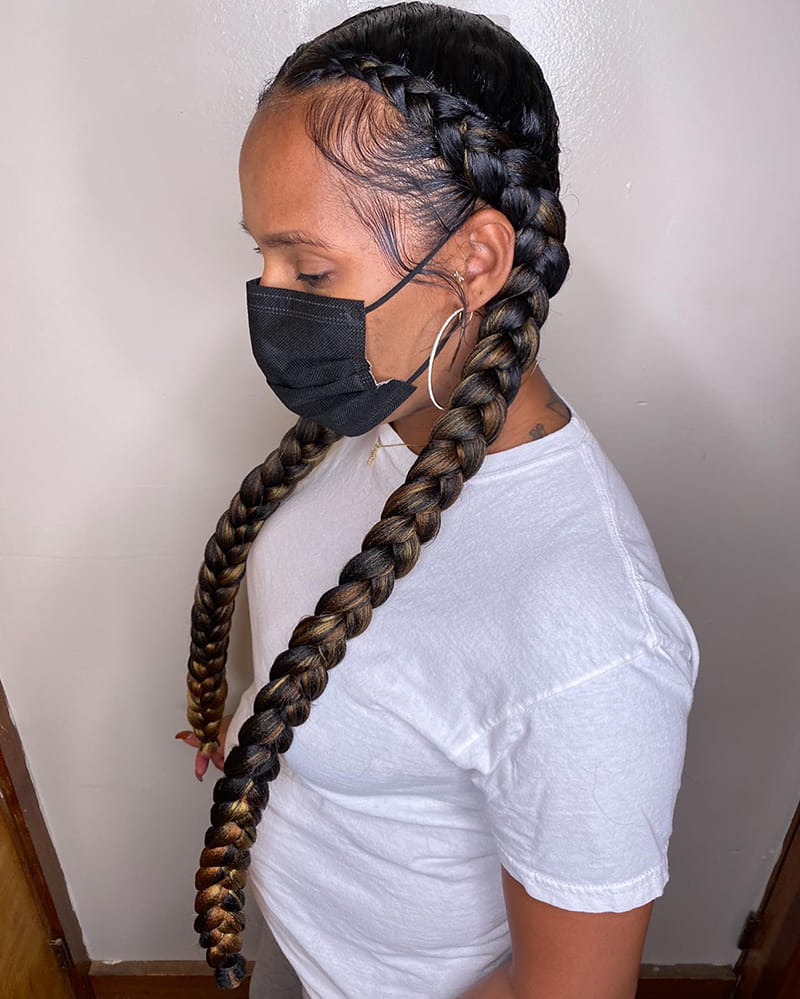 2 Cornrows Braids with Blue Highlights:
For those who love a pop of color, blue highlights in your 2 Cornrows can be a game-changer. It's daring, it's bold, and it's incredibly stylish. The blue streaks woven into the braids create a striking contrast, making your hairstyle the center of attention. This style is perfect for anyone who wants to express their individuality and isn't afraid to stand out in a crowd.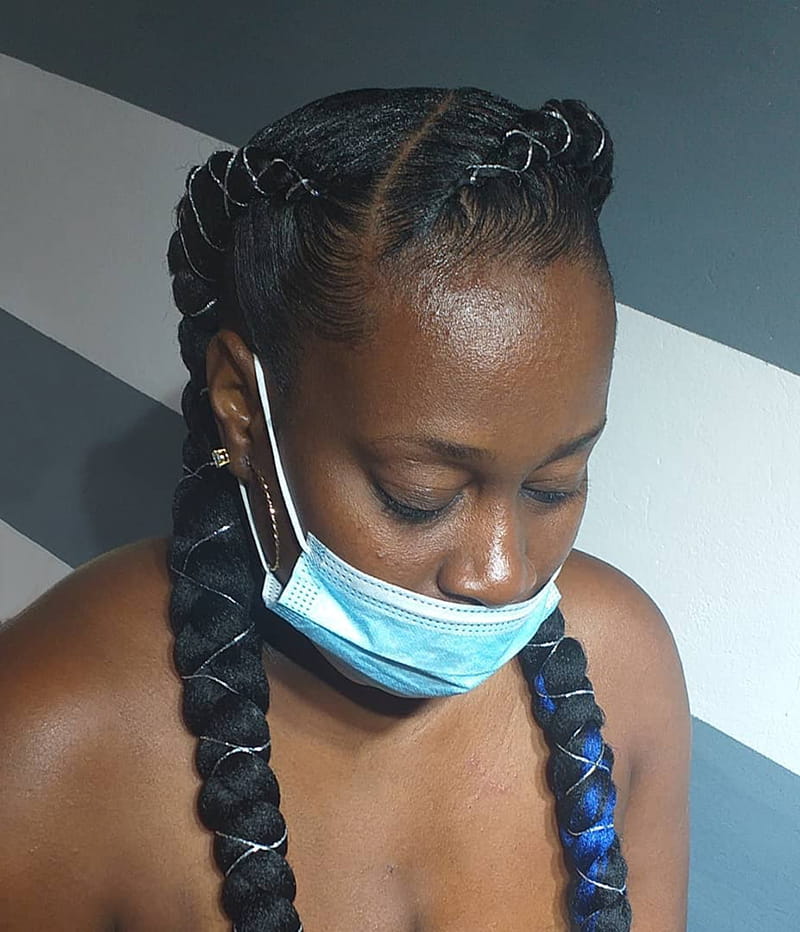 Jumbo Braids:
Jumbo braids are all about making a statement. They're bigger, bolder, and definitely eye-catching. This style is not just about the size but also about the impact. Jumbo braids are perfect for those who want to showcase their braids in all their glory. They're also a great option if you're looking for a style that's quicker to install and remove.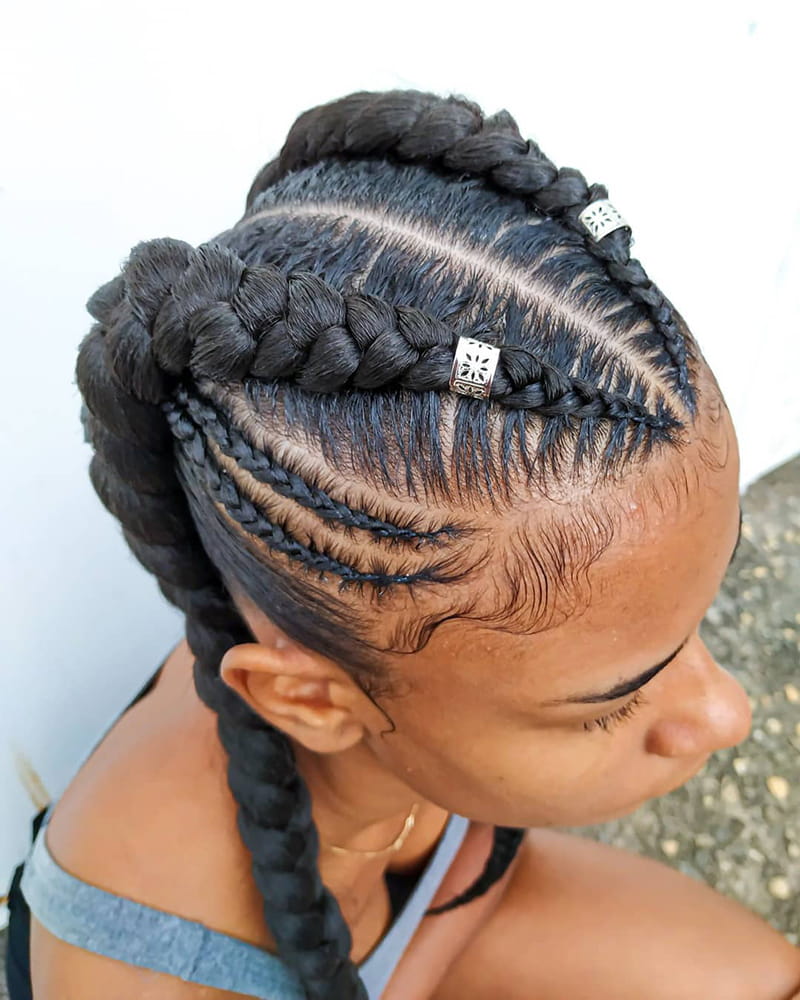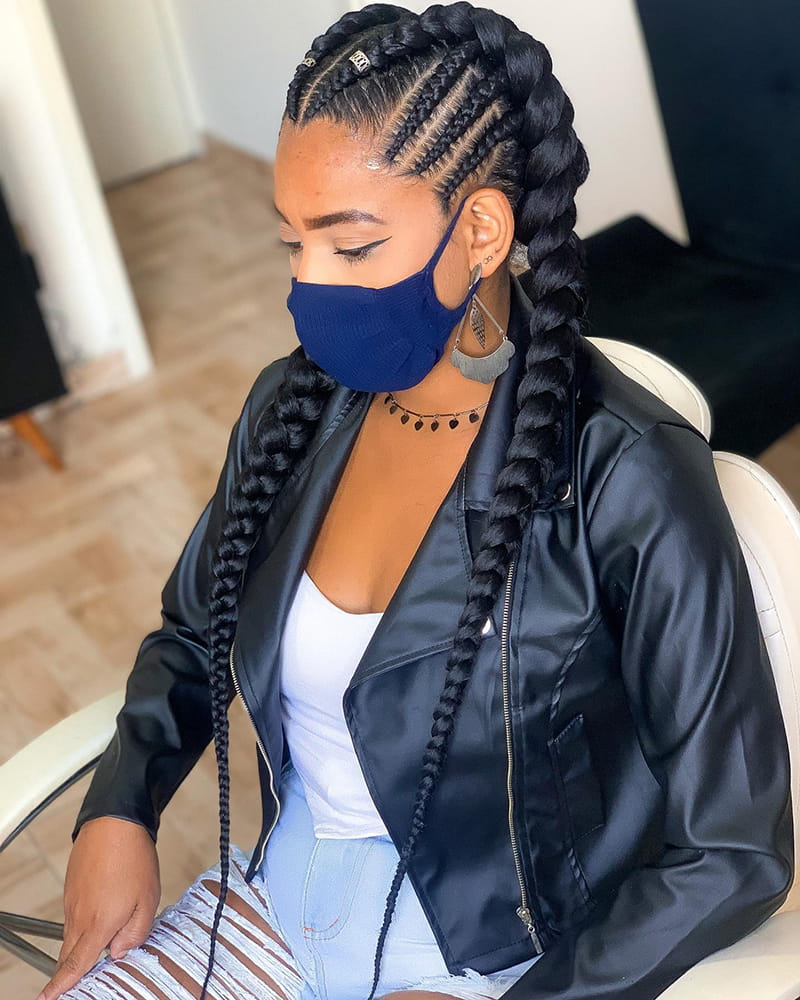 Blonde 2 Cornrow Braids:
Going all blonde with your double Cornrows Braids can give you a completely new look. It's a bold move but one that can pay off beautifully. This style is perfect for those looking to make a dramatic change or simply wanting to experiment with a different hair color without dyeing their natural hair.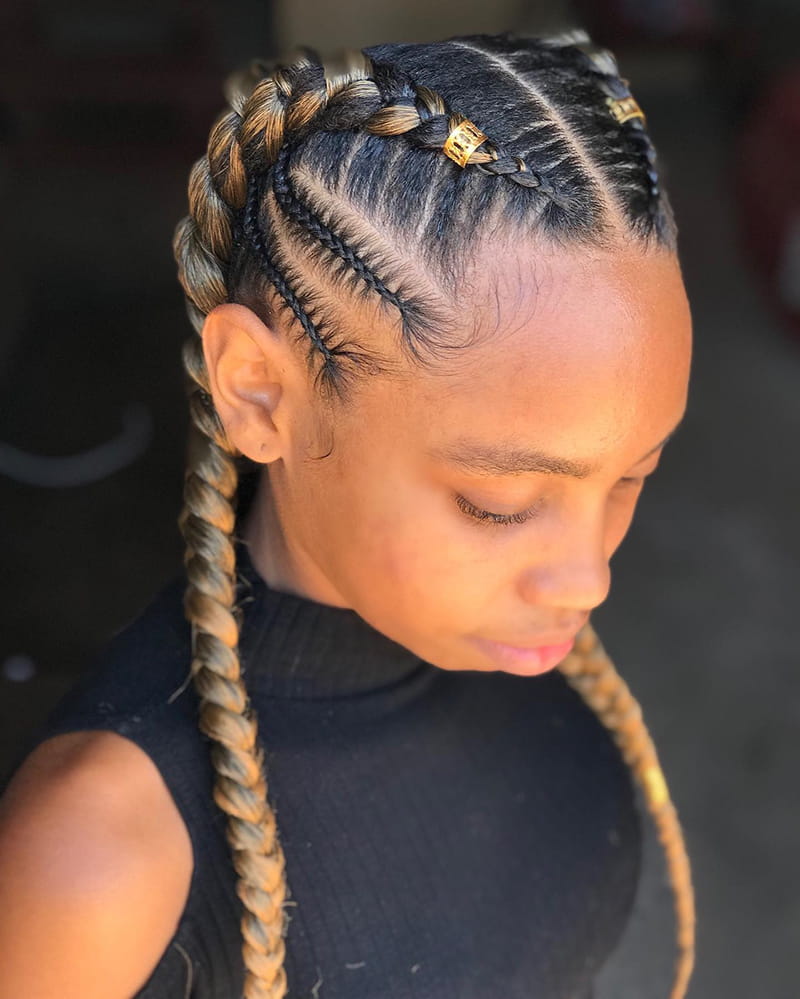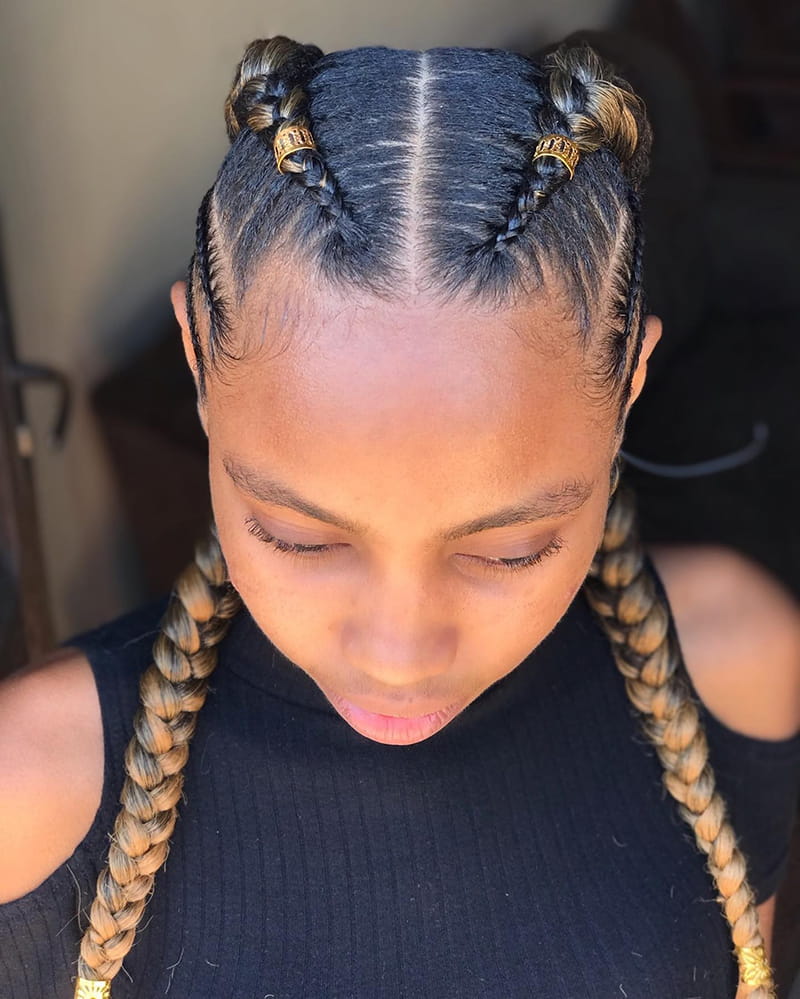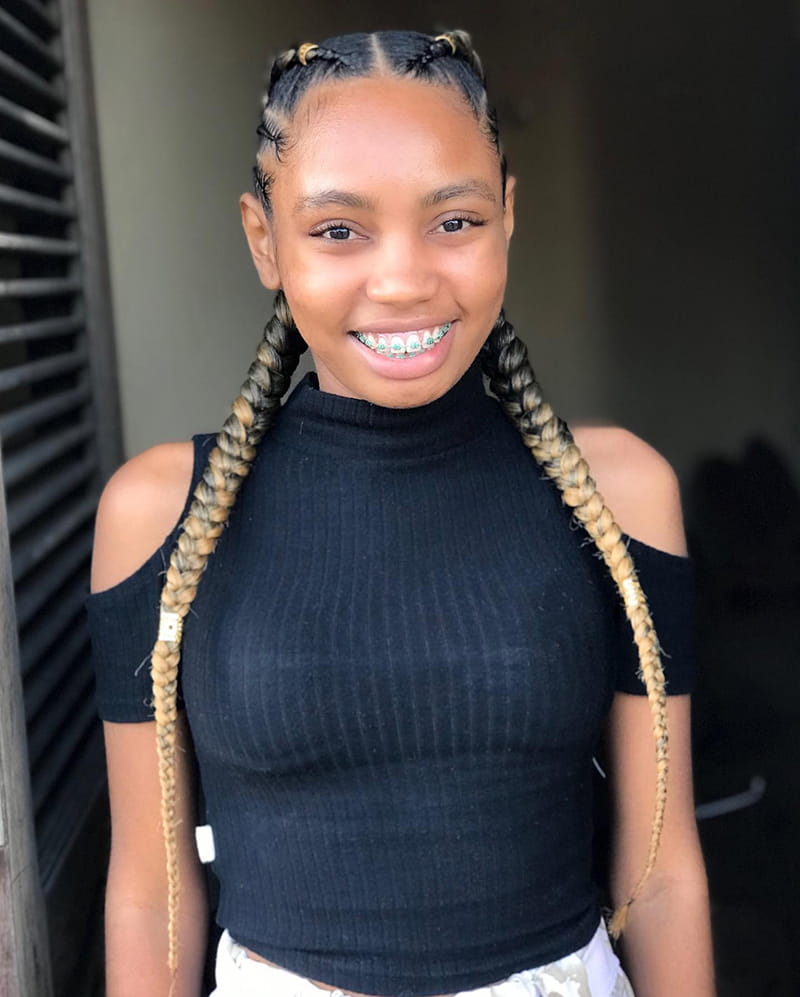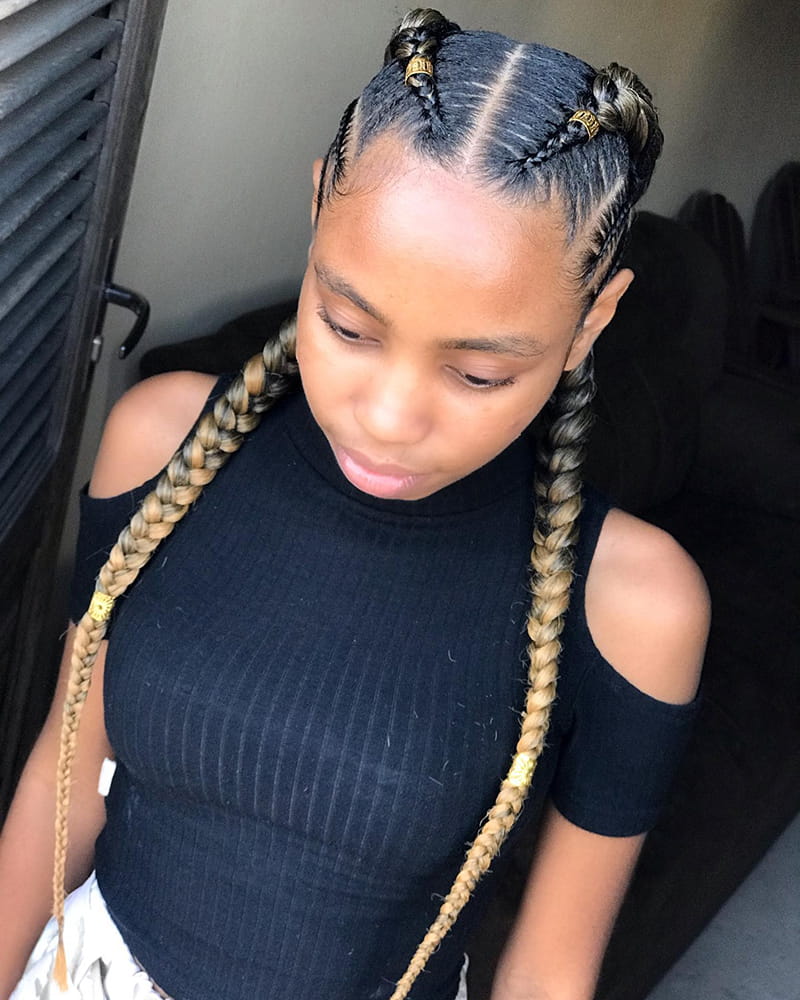 2 Cornrow Braids with Curly Ends:
Embracing the beauty of contrasts, 2 Cornrows Braids with curly ends offer a delightful blend of structured braiding and playful curls. This style adds a dash of whimsy to the classic cornrow look. Imagine the sleekness of the braids transitioning smoothly into loose, bouncy curls cascading down your shoulders. It's a perfect choice for those who love a bit of flair and fun in their hairstyle. This style not only adds a visual interest but also infuses a softer, more romantic vibe to the overall look. Whether you're heading to a brunch with friends or a night out, these braids with curly ends are sure to draw compliments.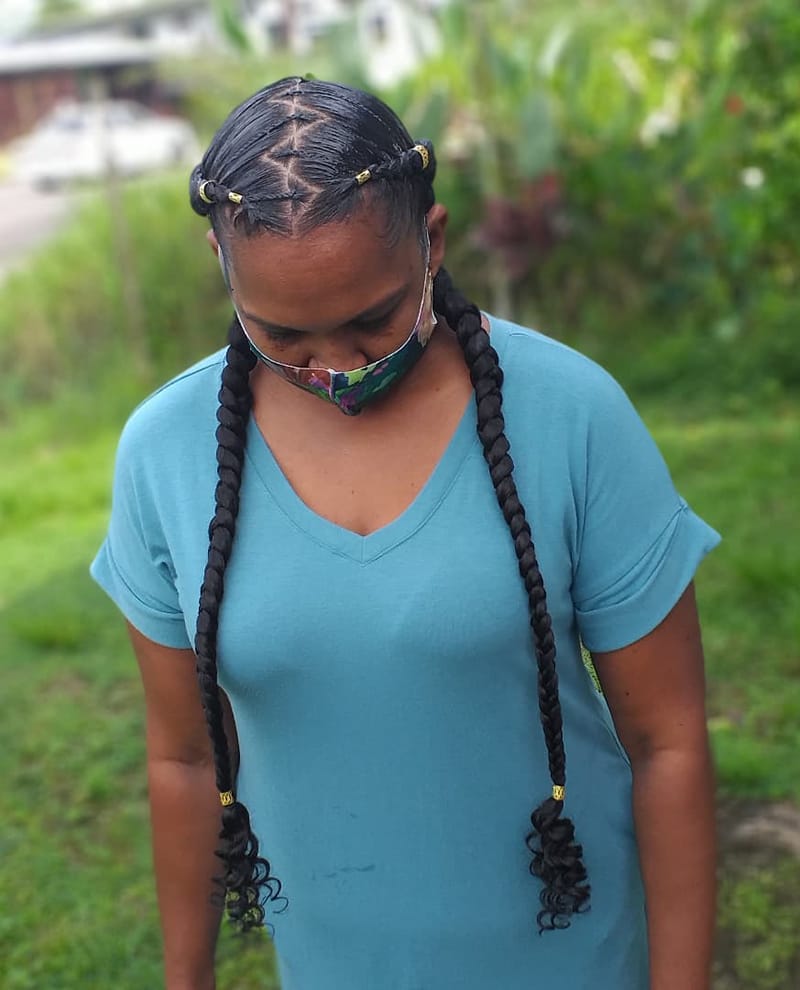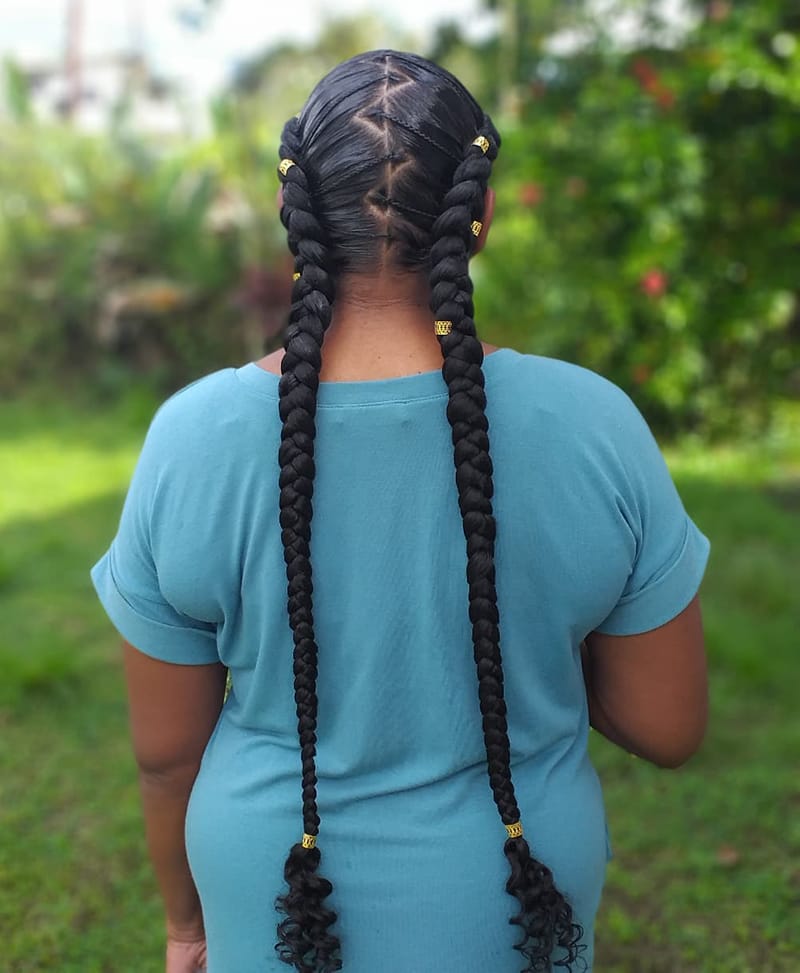 Long Double Cornrows Braids:
There's something truly enchanting about long, flowing braids. They speak of elegance and grace, and when it comes to 2 Cornrow Braids, going long can create an incredibly striking look. The length adds drama and a sense of luxury to the hairstyle. Whether you have naturally long hair or you're incorporating extensions, long cornrows can beautifully frame your face and offer a versatile canvas for different looks. Wear them down for a classic, sophisticated appearance, or style them in a bun or a ponytail for a more practical, yet chic look.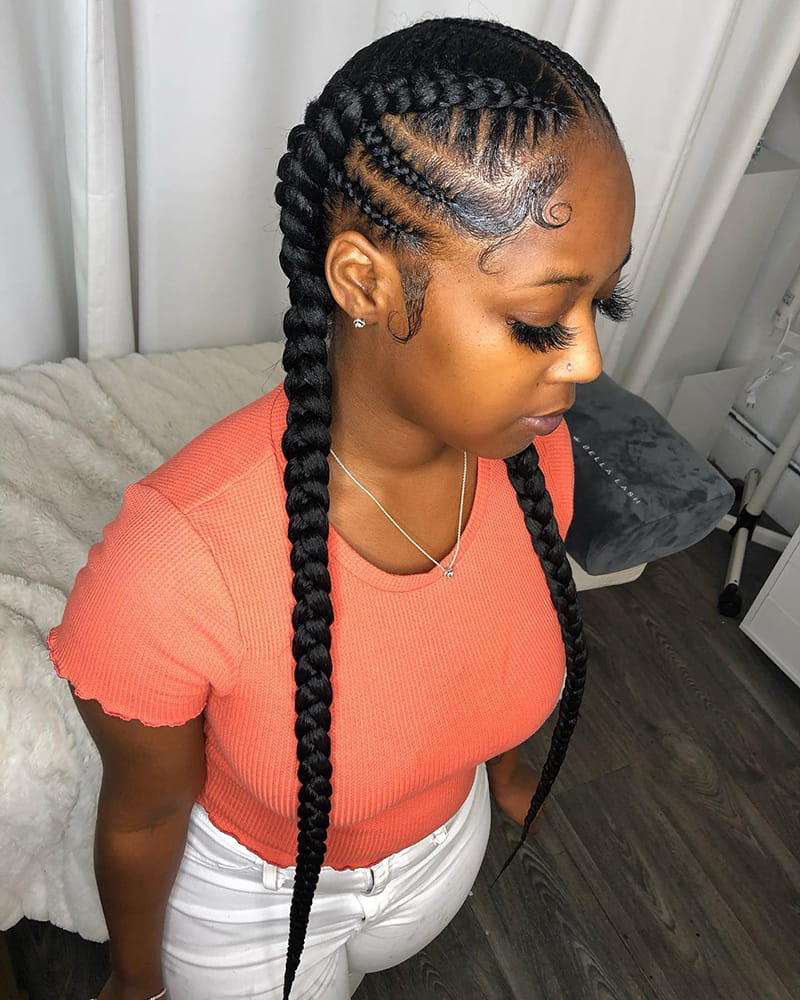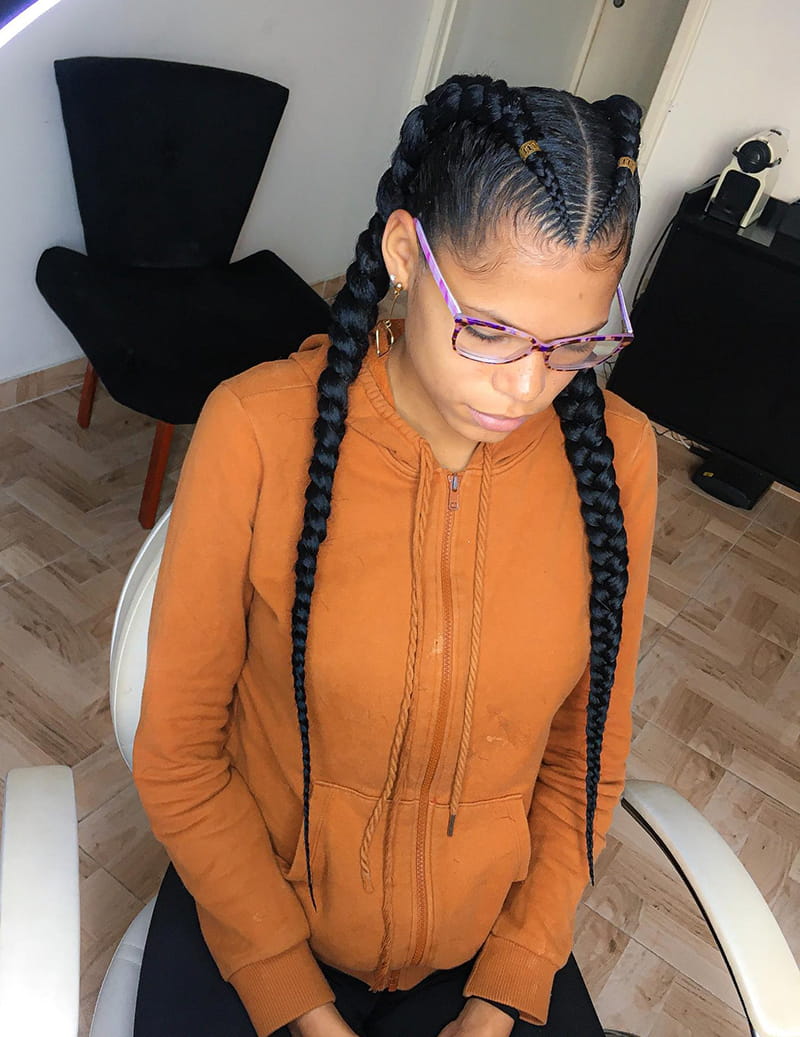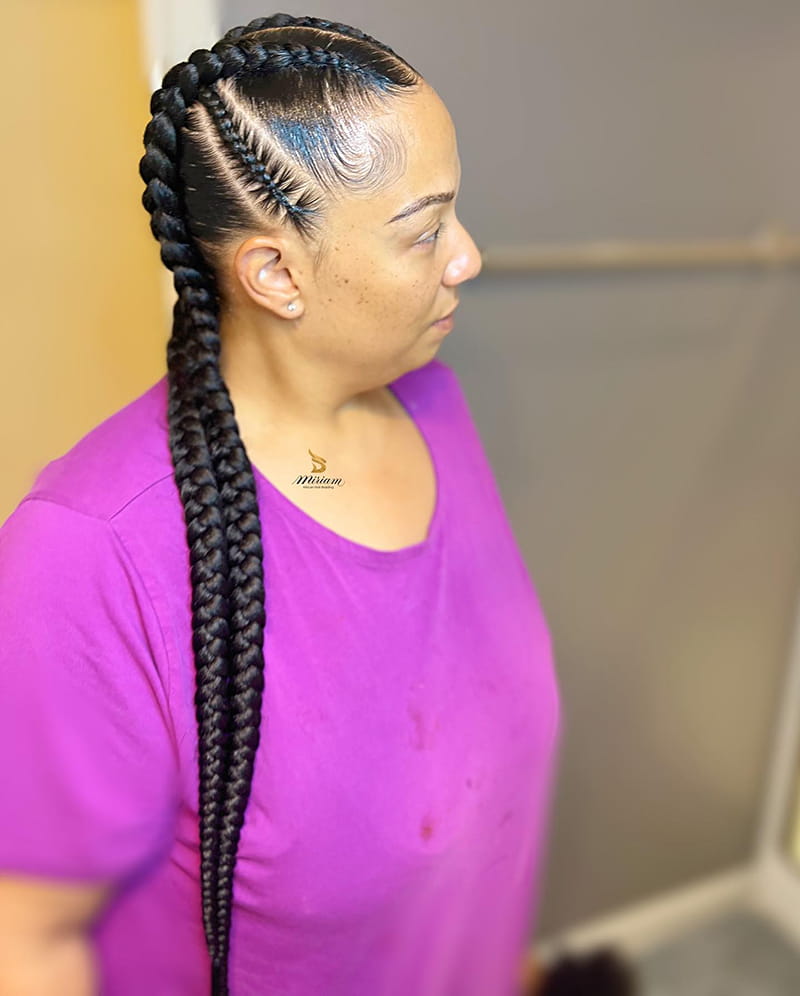 Blonde Two Cornrow Braids with Low Bun:
Combining blonde two Cornrows Braids into a low bun at the nape of the neck creates a look that's both elegant and trendy. This style is perfect for those who want to keep their hair neatly tied up but still make a style statement. The blonde braids add a striking contrast, especially if it's a departure from your natural hair color, and the low bun keeps the look sophisticated and polished. It's an excellent choice for formal events, workplaces, or even casual outings, offering a blend of style and functionality.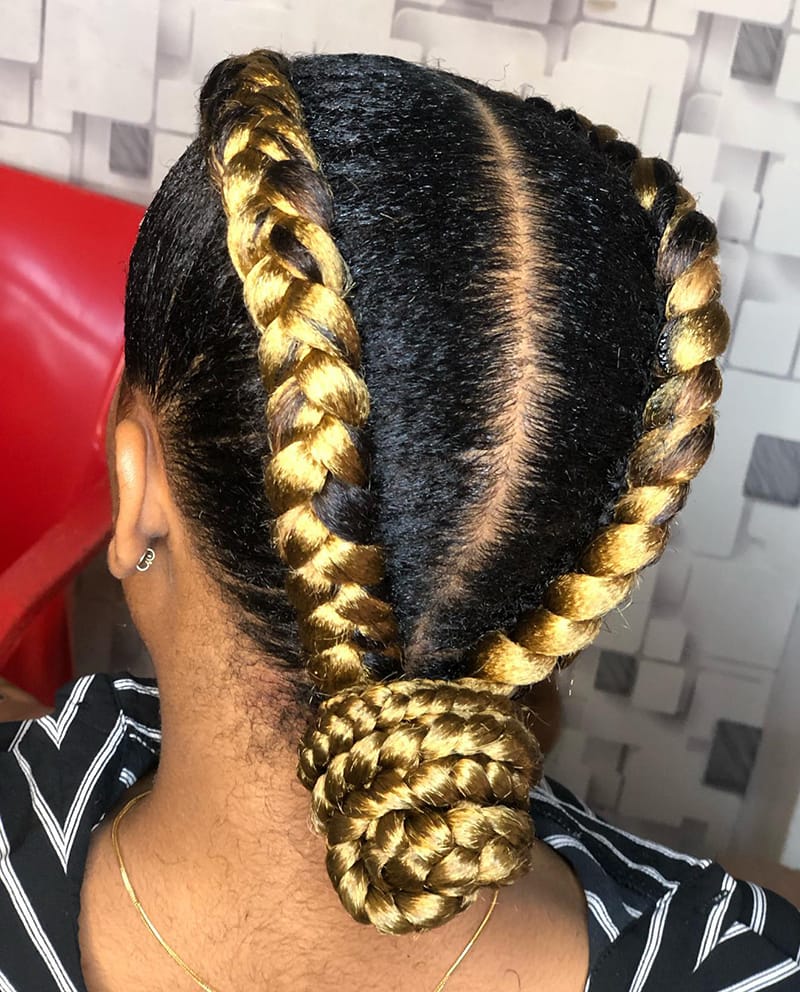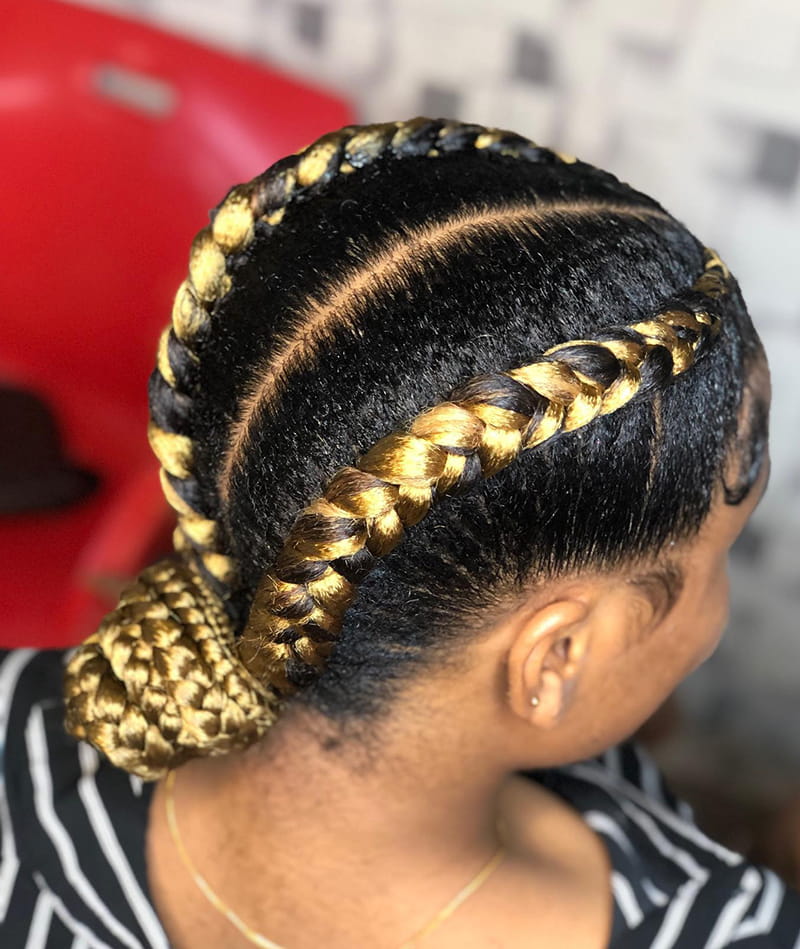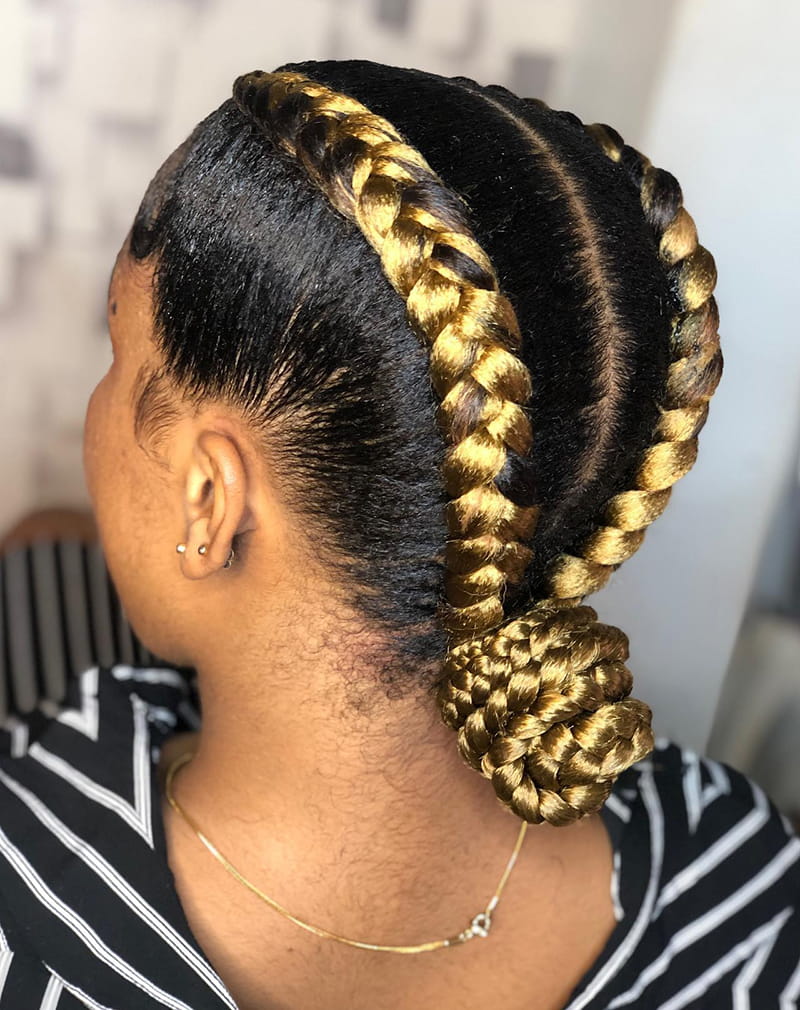 2 Cornrow Braids with Beads:
Adding beads to your 2 Cornrow Braids brings an element of cultural richness and personal flair. This styling option allows you to customize your look with different colors, sizes, and styles of beads. It's a fantastic way to celebrate heritage or simply add a playful and artistic touch to your braids. Whether you choose subtle, monochromatic beads or go for bold, colorful ones, this style is all about expressing your individuality.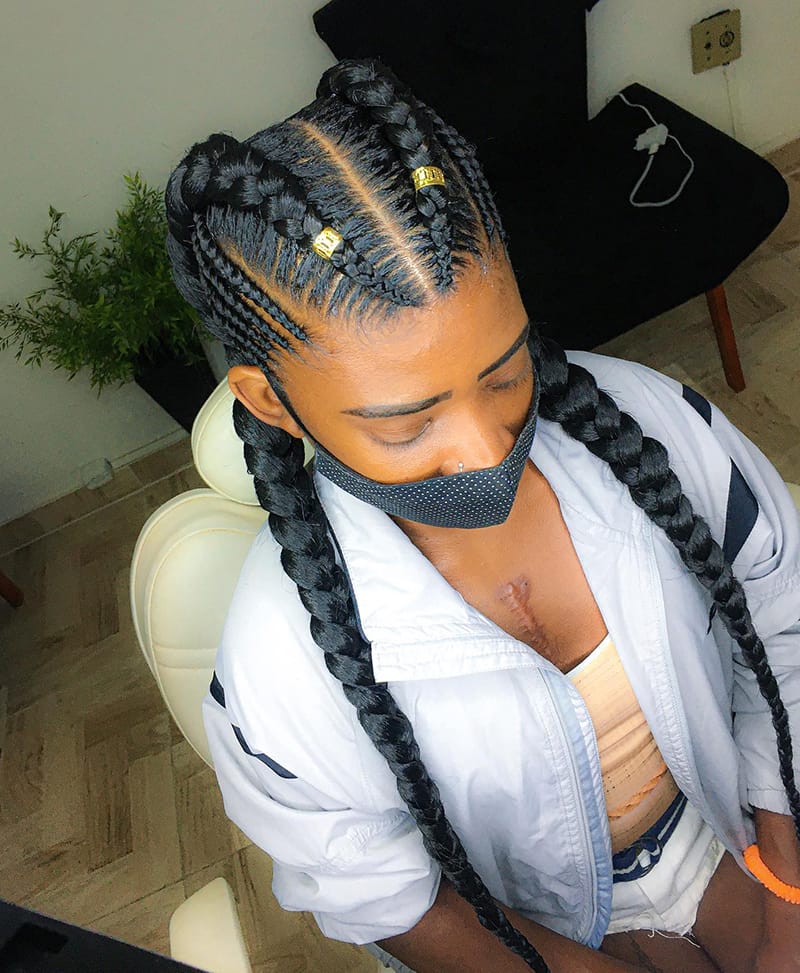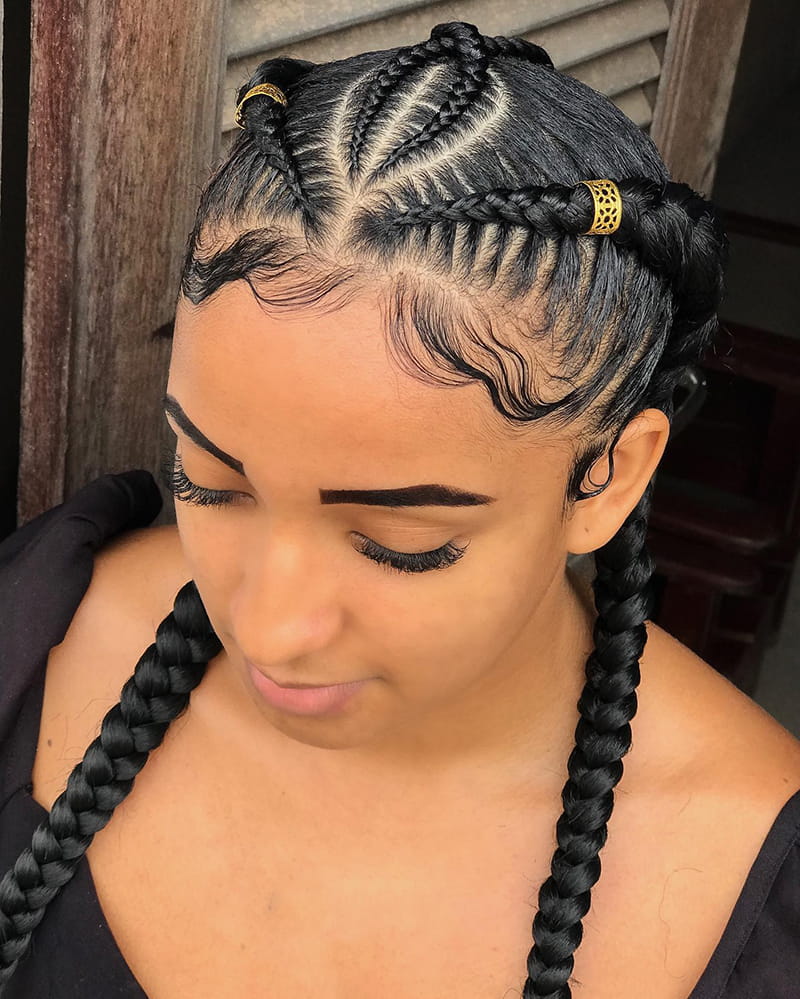 2 Cornrow Braids with Diagonal Braids in The Center:
For those who love intricate designs, incorporating diagonal braids in the center of your 2 Cornrows can create a captivating look. This style adds a unique twist to the classic cornrow, making your hairstyle a piece of art. The diagonal braids offer a dynamic contrast to the straight lines of the traditional cornrows, adding depth and interest to the overall appearance. This style is perfect for special occasions or when you want to showcase your creative side.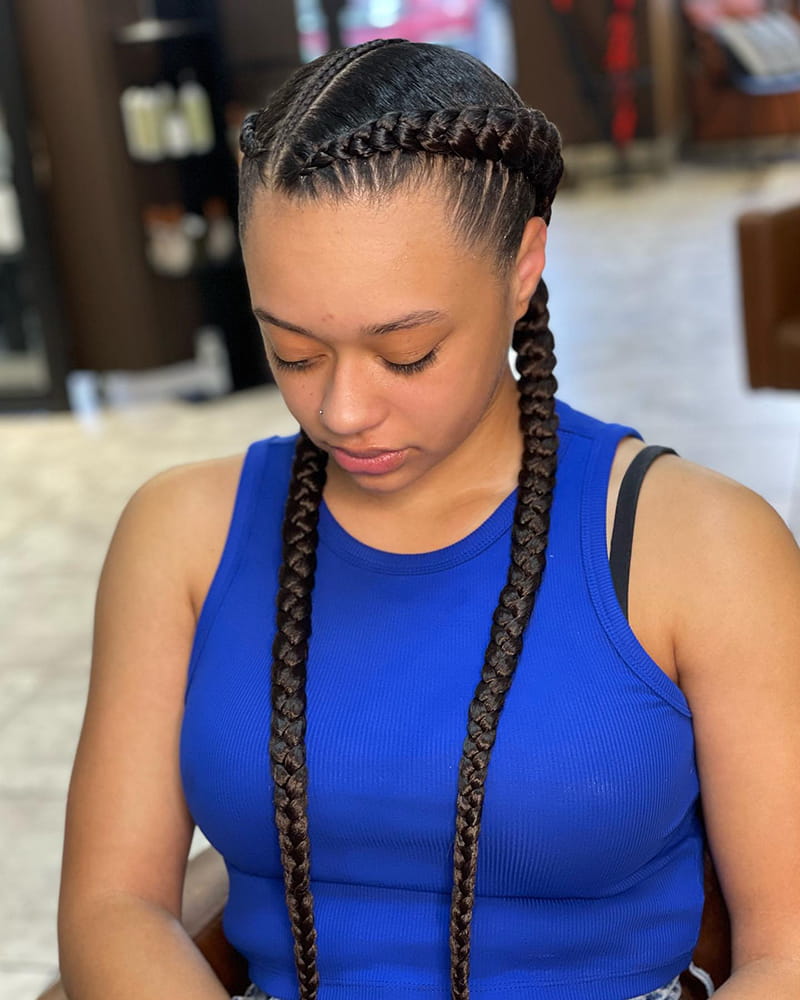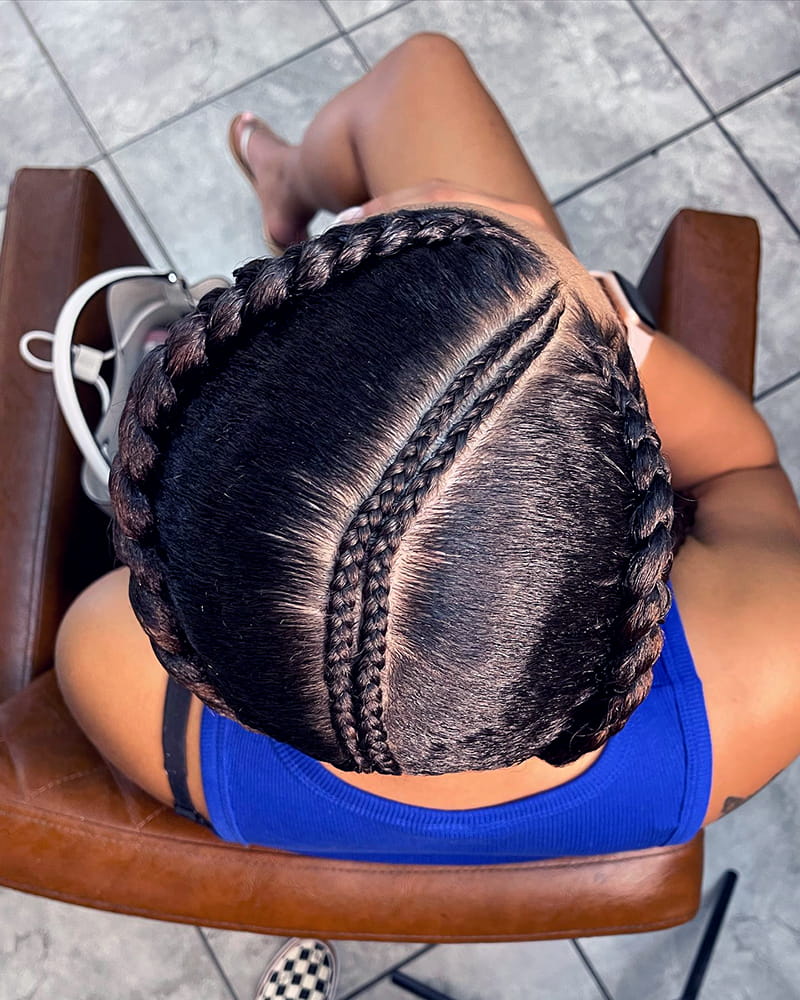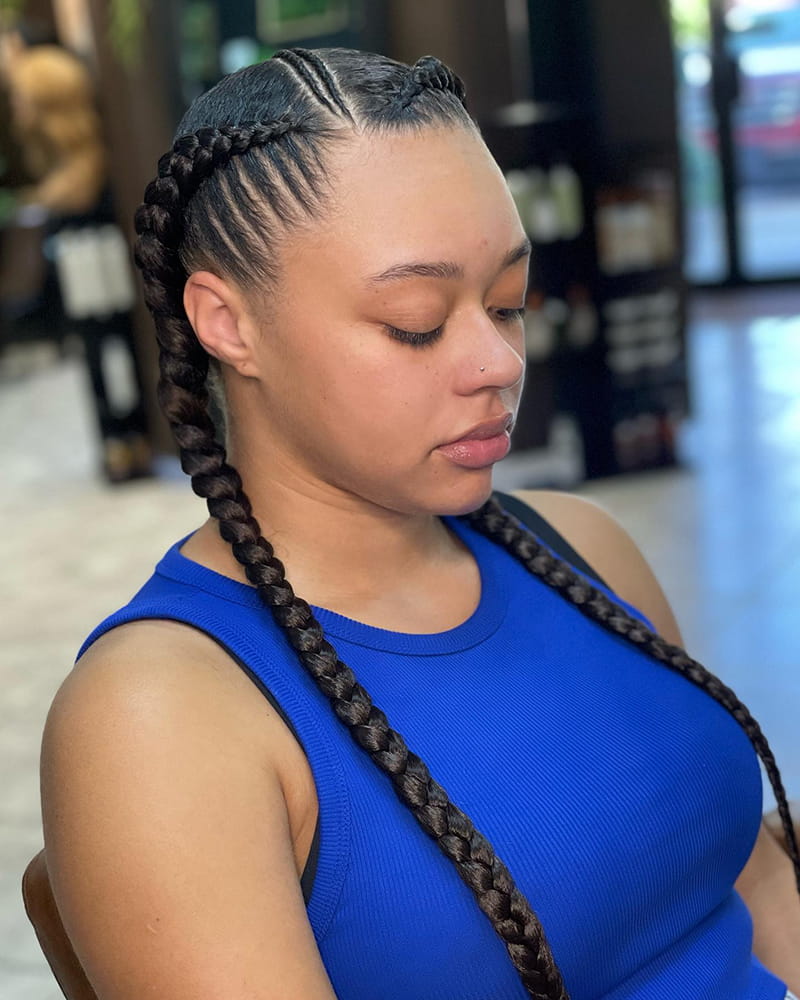 Central 2 Cornrows Braids:
Focusing the braids in the middle of the head, central two Cornrows Braids offer a unique take on the traditional style. This variation can be particularly striking, especially when combined with unique partings or added embellishments. It's a style that's bound to turn heads and is perfect for those who are not afraid to experiment with their look.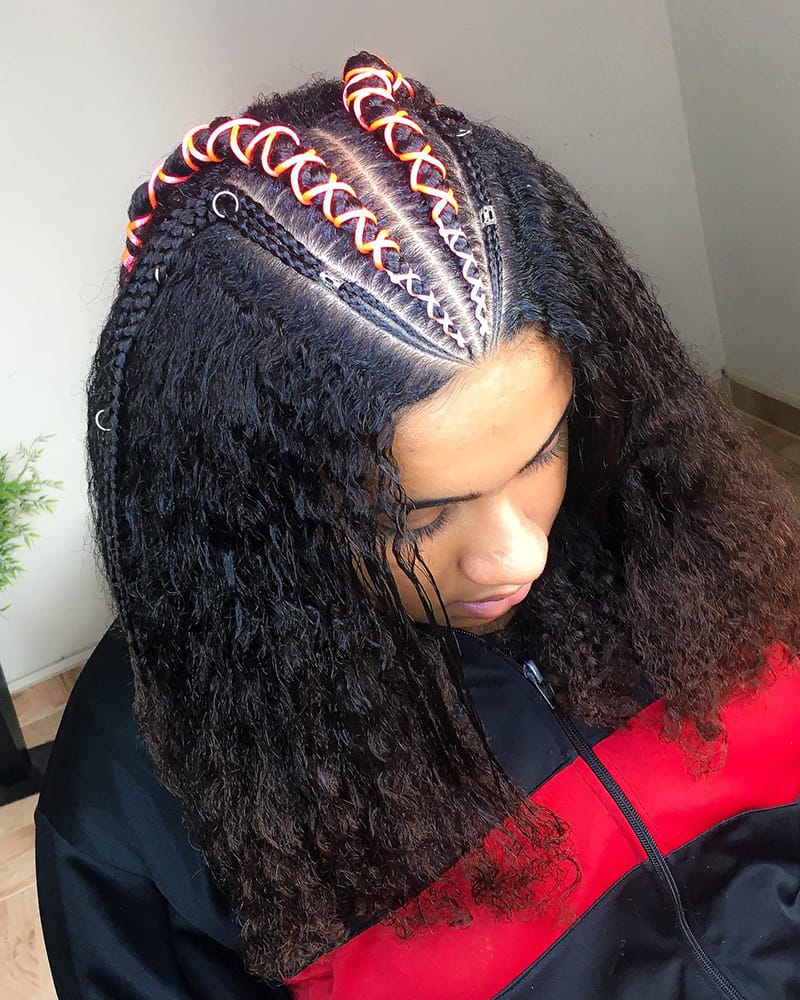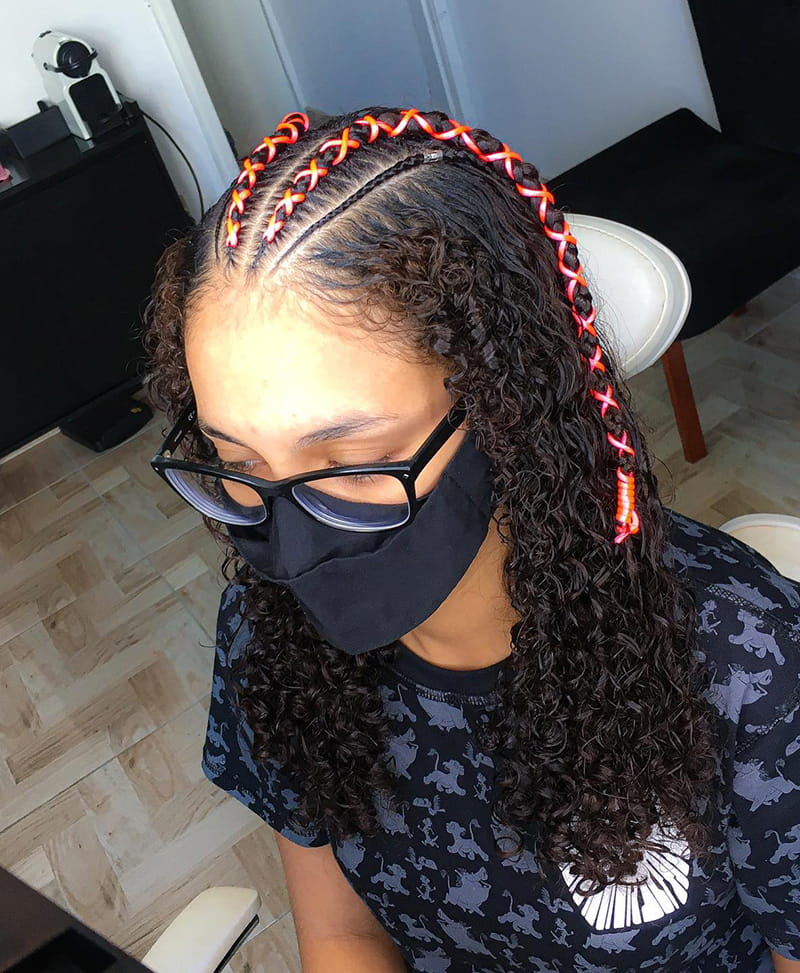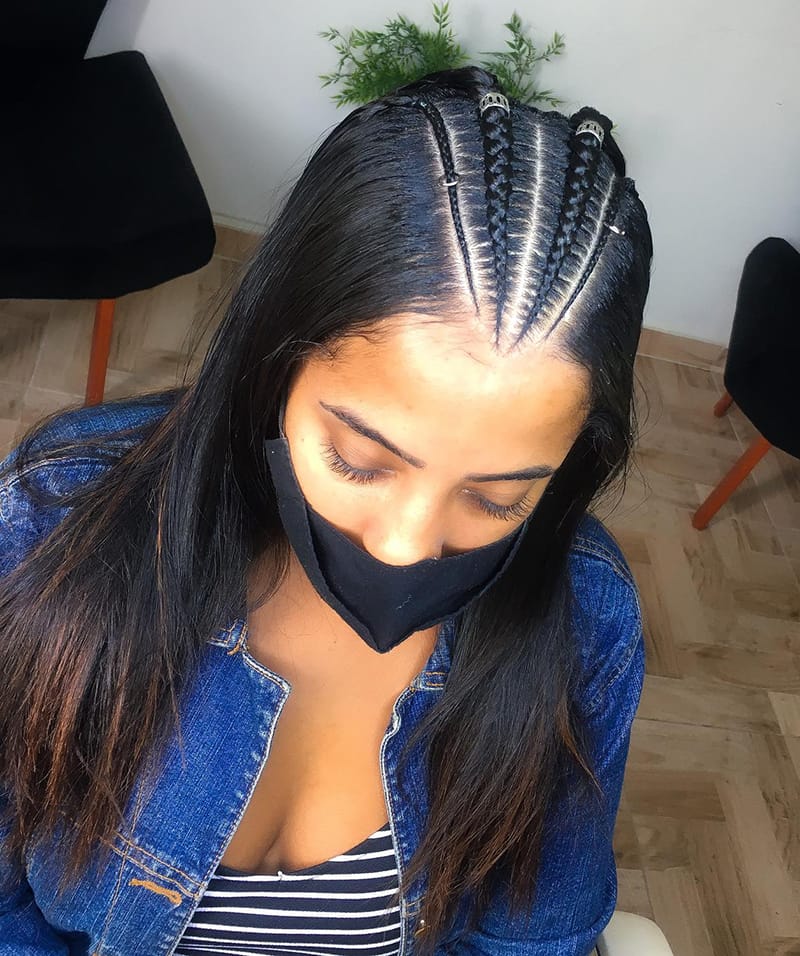 Feed-In Cornrows Braids:
Feed-in cornrows are an excellent choice for those looking to add volume and length to their braids in a natural-looking way. By gradually feeding in extensions, you achieve a seamless, blended look that is both elegant and striking. This technique is also less stressful on your natural hair, making it a healthier option for long-term wear.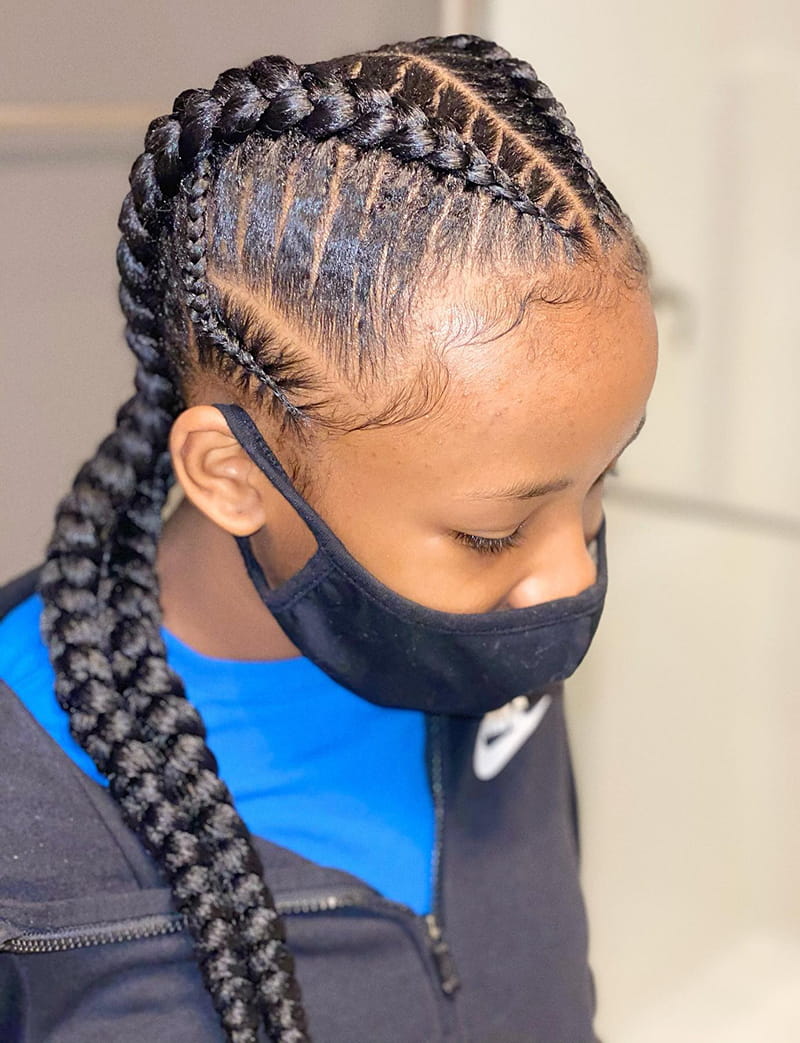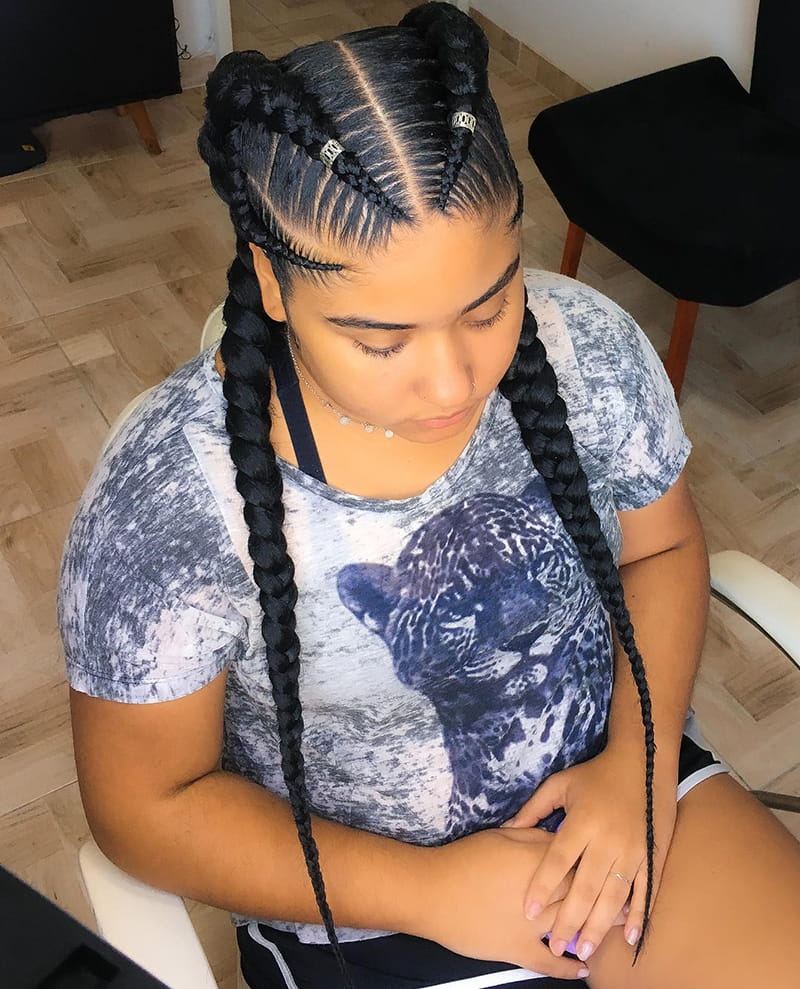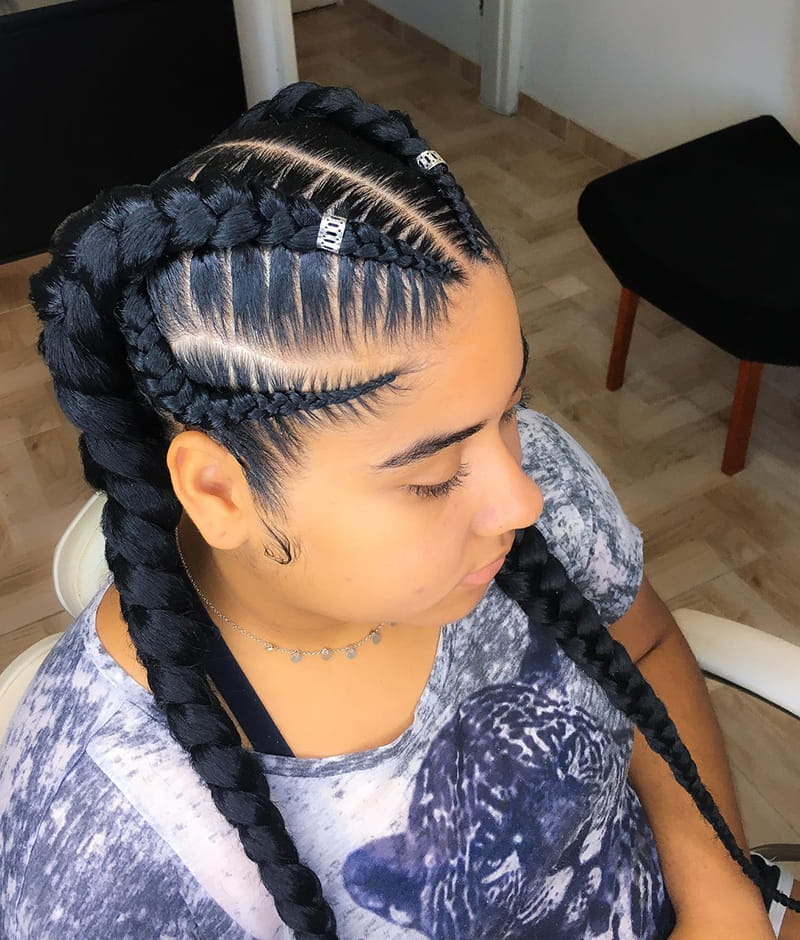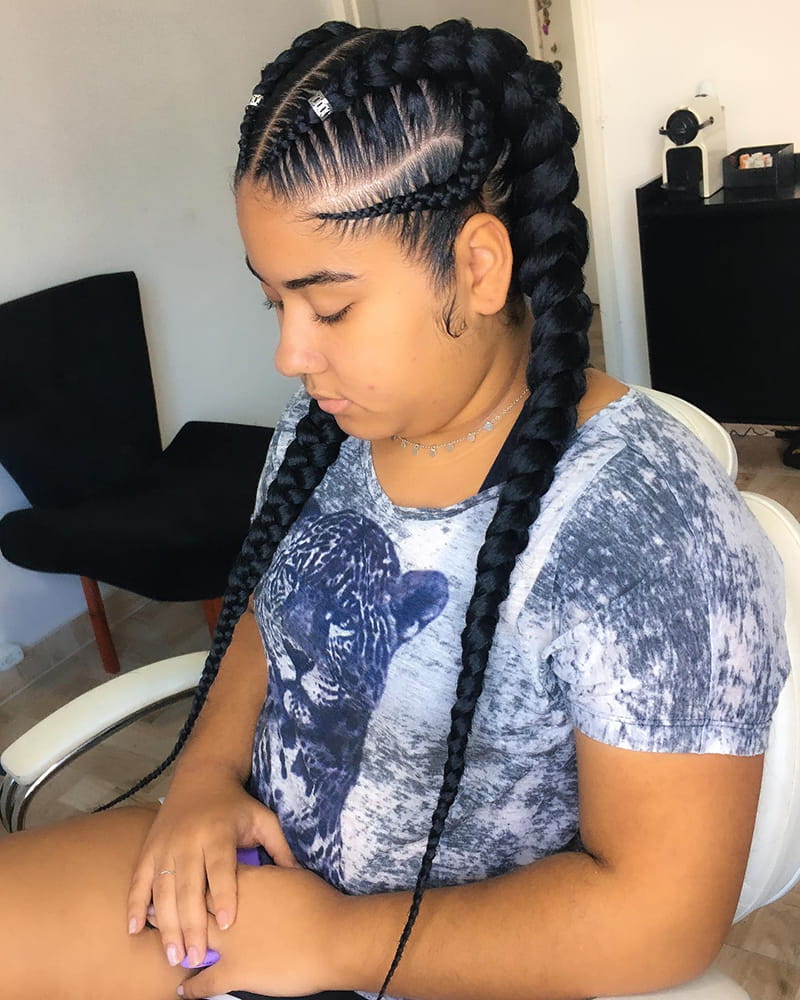 Ombre Double Cornrow Braids:
The ombre effect, where colors transition seamlessly from dark to light, can add a contemporary twist to your double Cornrows Braids. This style is perfect for those who love to play with color but prefer a more subtle, graduated effect. Whether you go for natural hues or bold, vibrant shades, ombre cornrows can make a chic and stylish statement.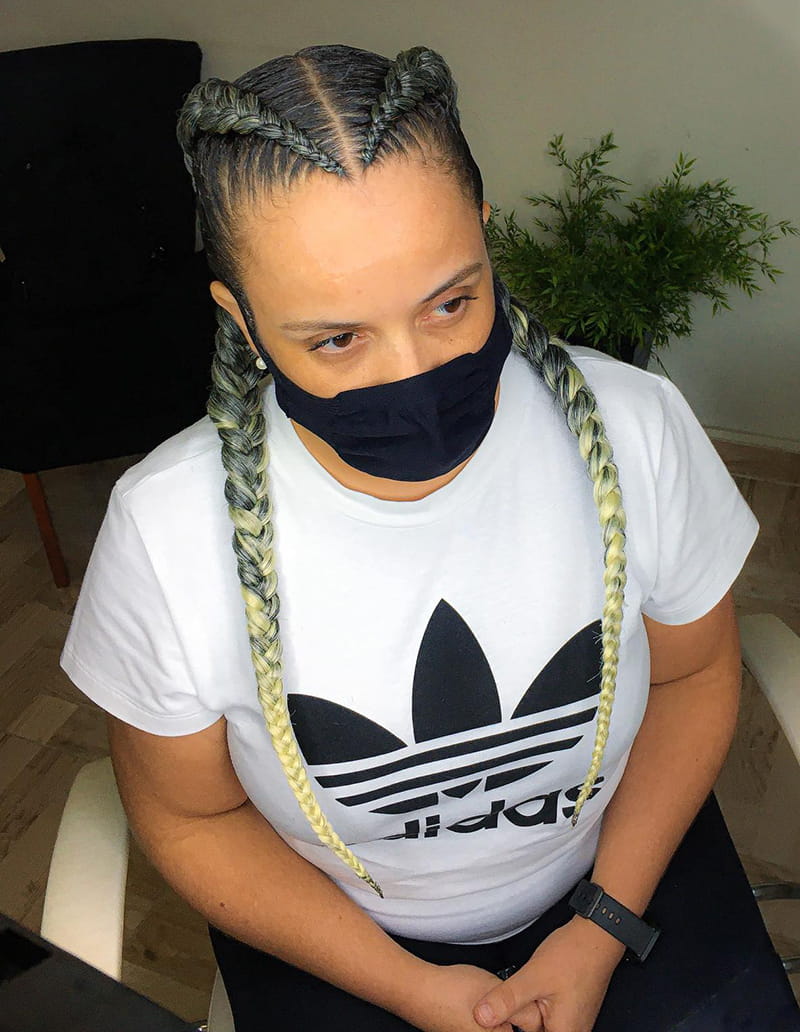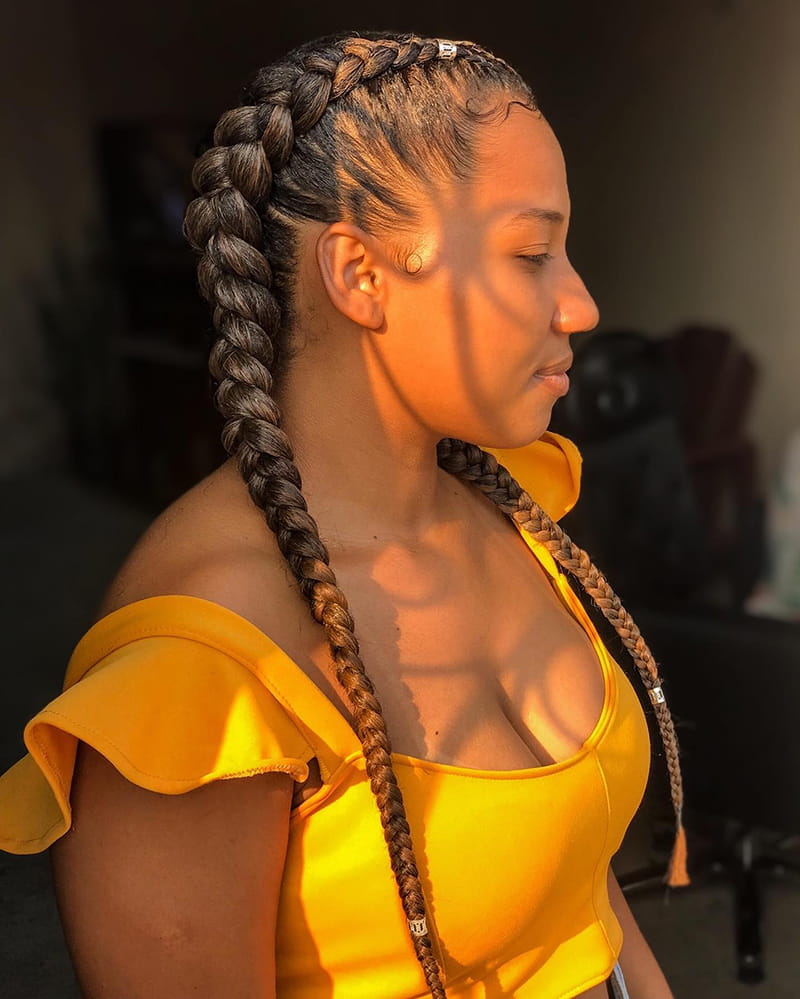 2 Cornrow Braids for Kids:
Cornrows are a fantastic hairstyle for kids, thanks to their ease of maintenance and neat appearance. 2 Cornrows Braids for kids can be both adorable and practical, keeping hair out of their faces during playtime and school activities. Plus, you can add fun elements like beads or colorful bands to make the style more appealing to your little ones.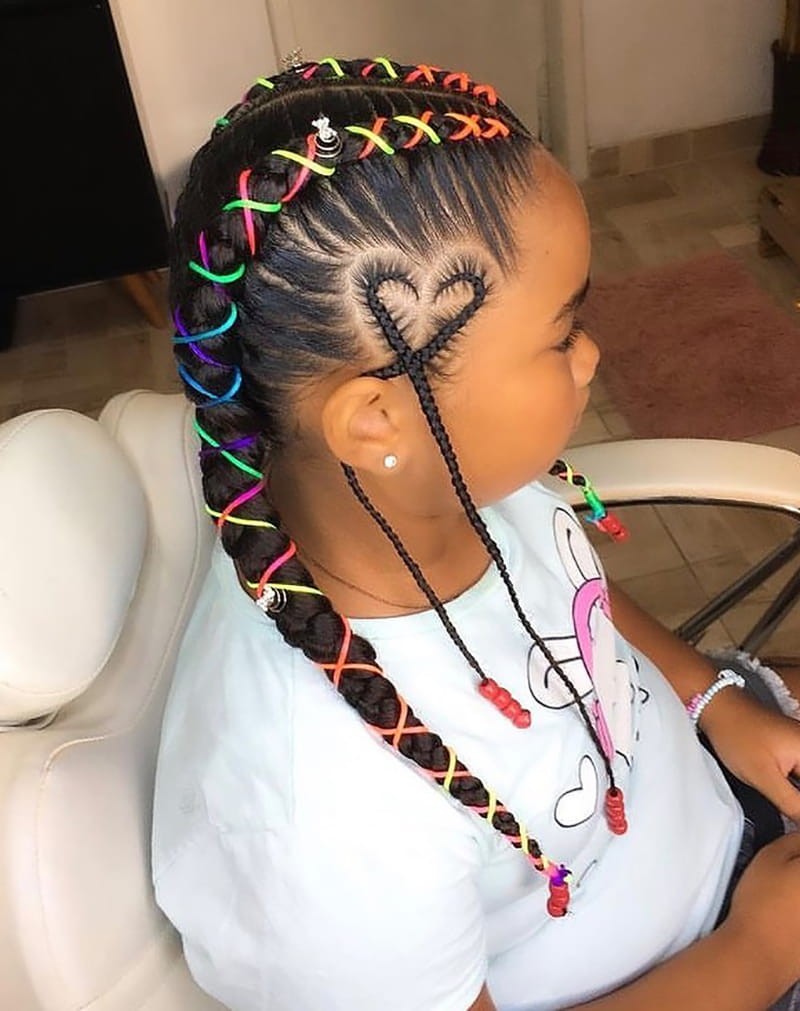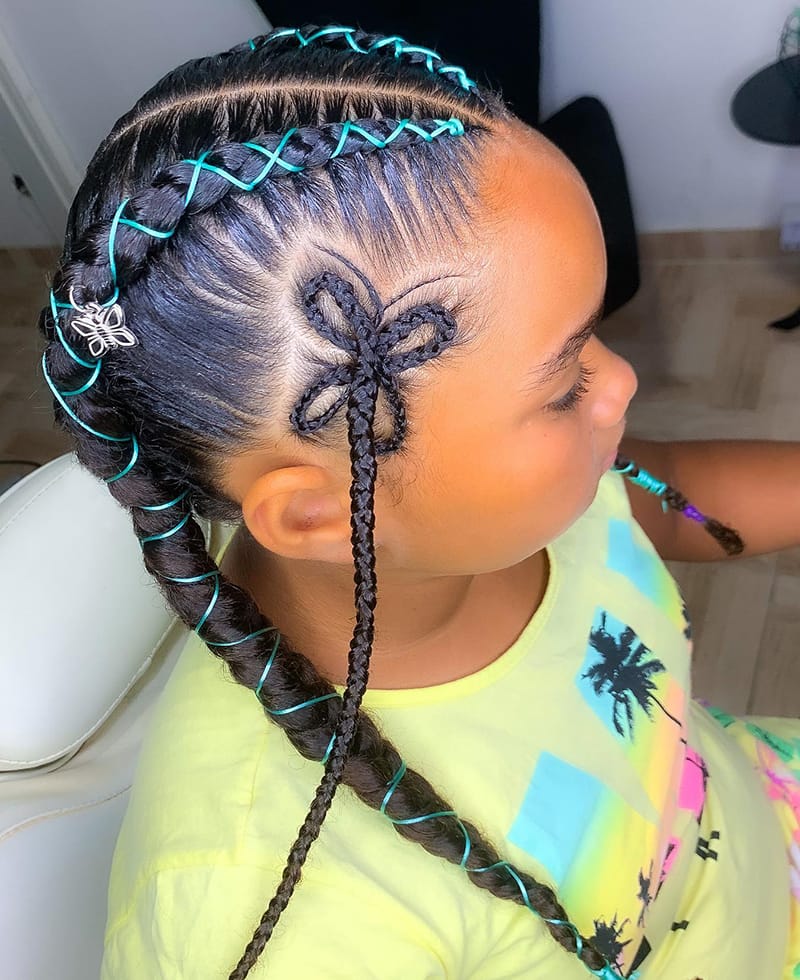 Cornrows Braids with Low Bun:
Finally, ending your 2 Cornrows in a low, elegant bun is a classic and sophisticated way to style your hair. This look is ideal for formal events or professional settings where you want to look put-together yet stylish. The low bun adds a touch of class to the braids, creating a harmonious balance between traditional and modern styling.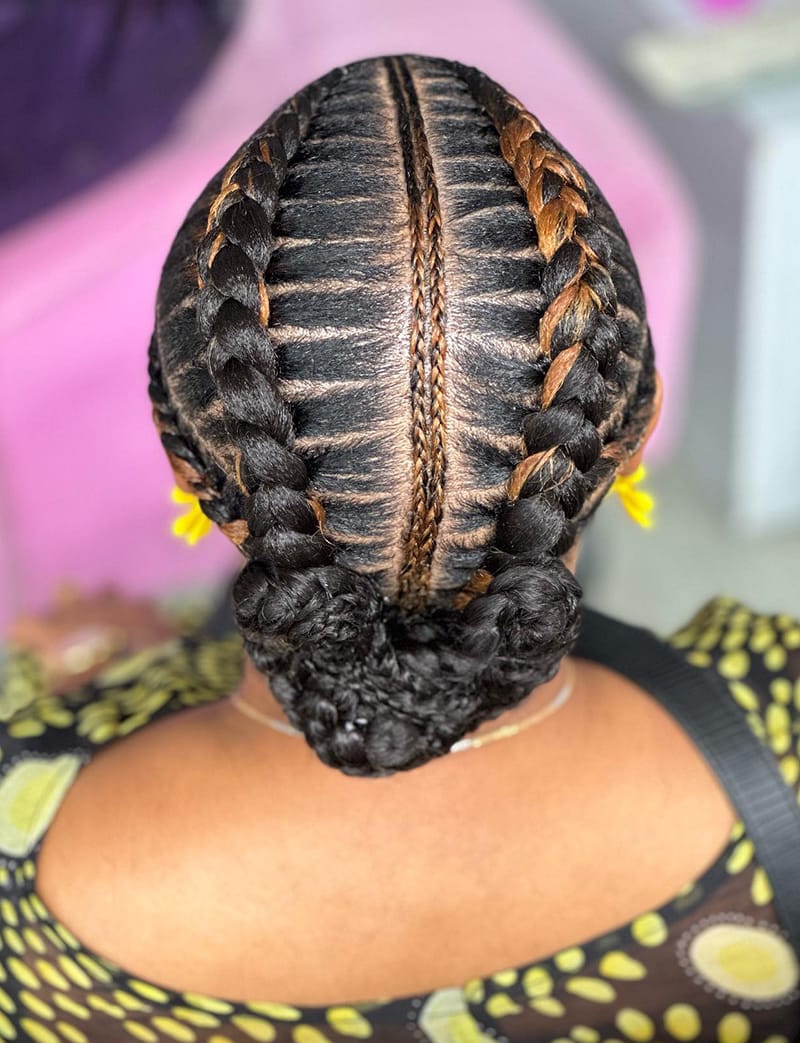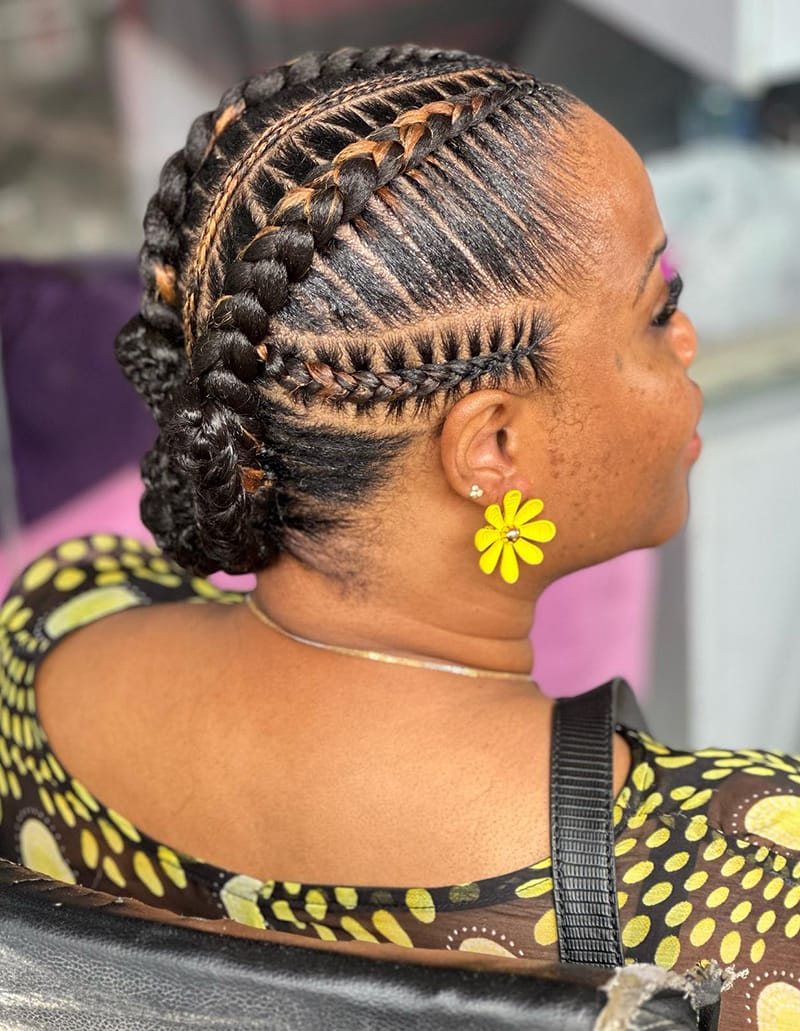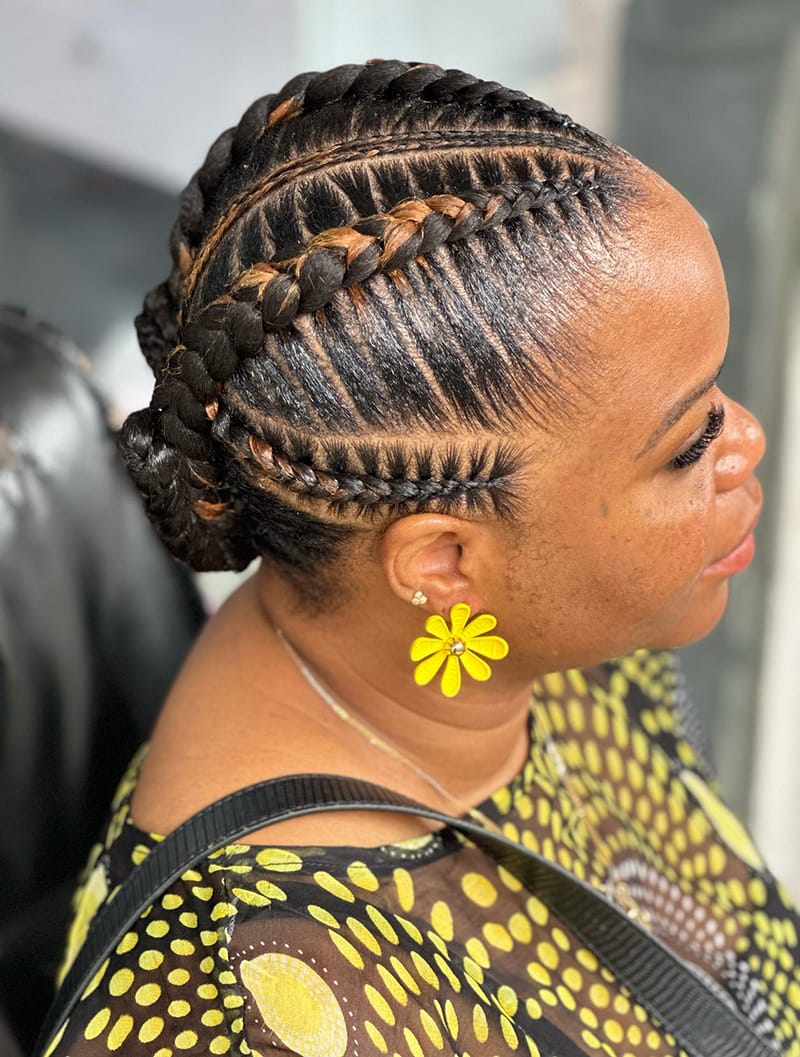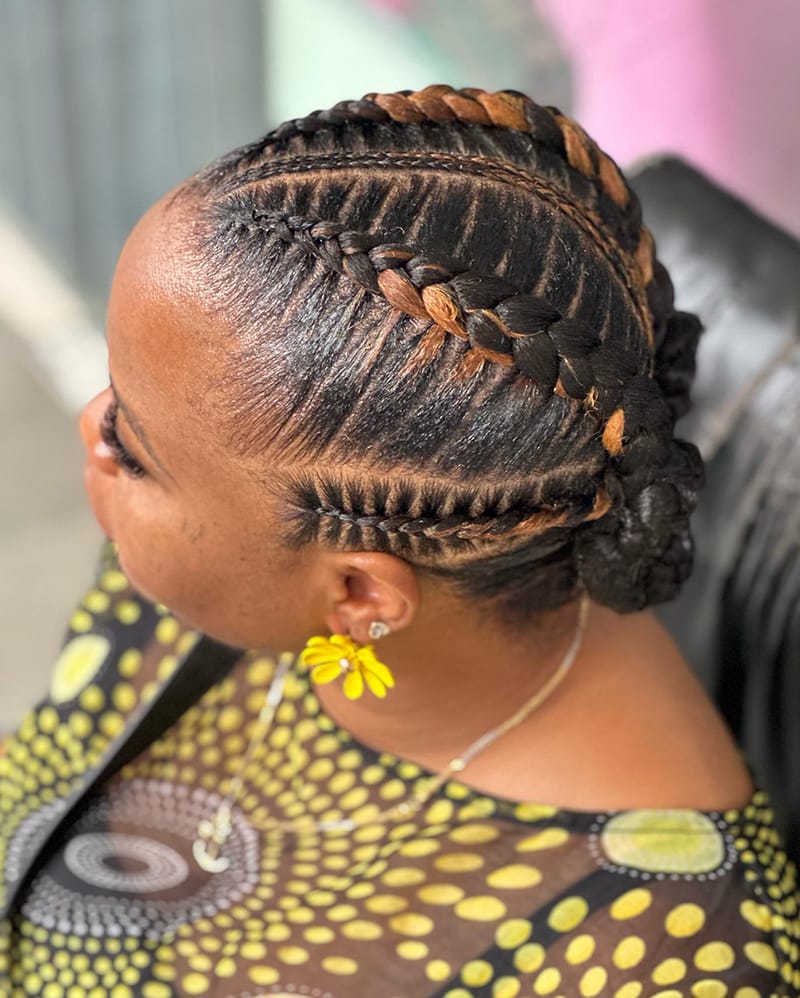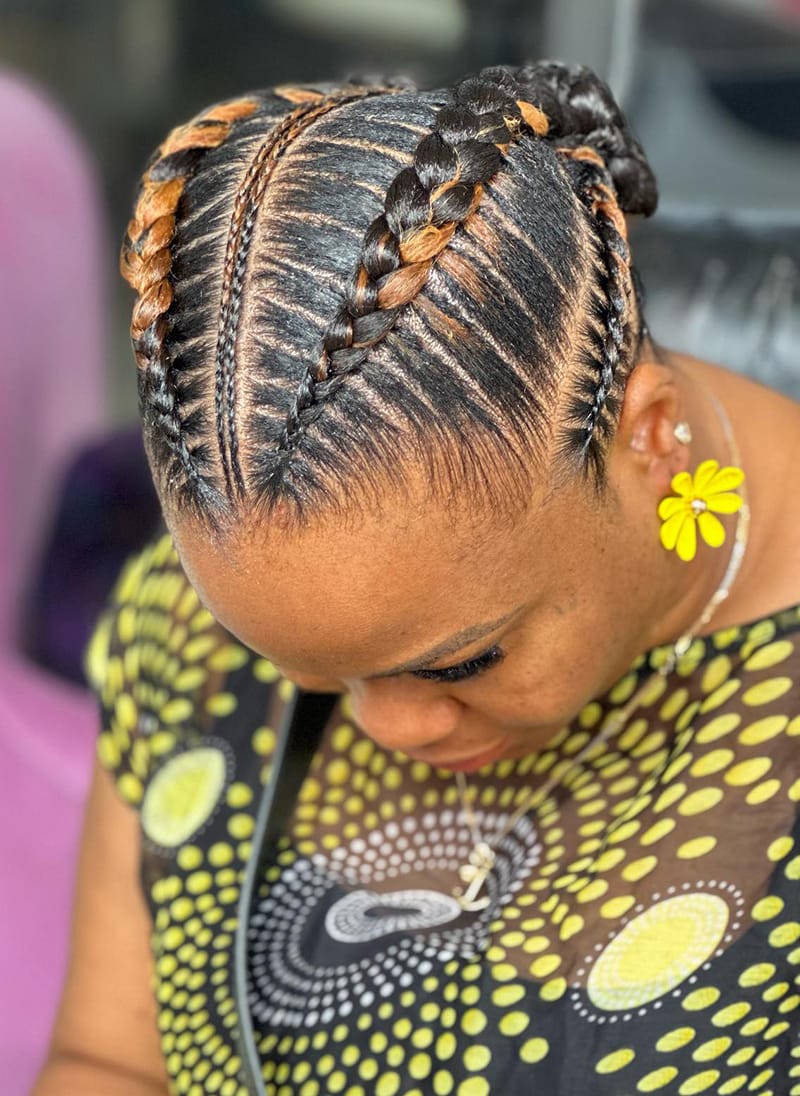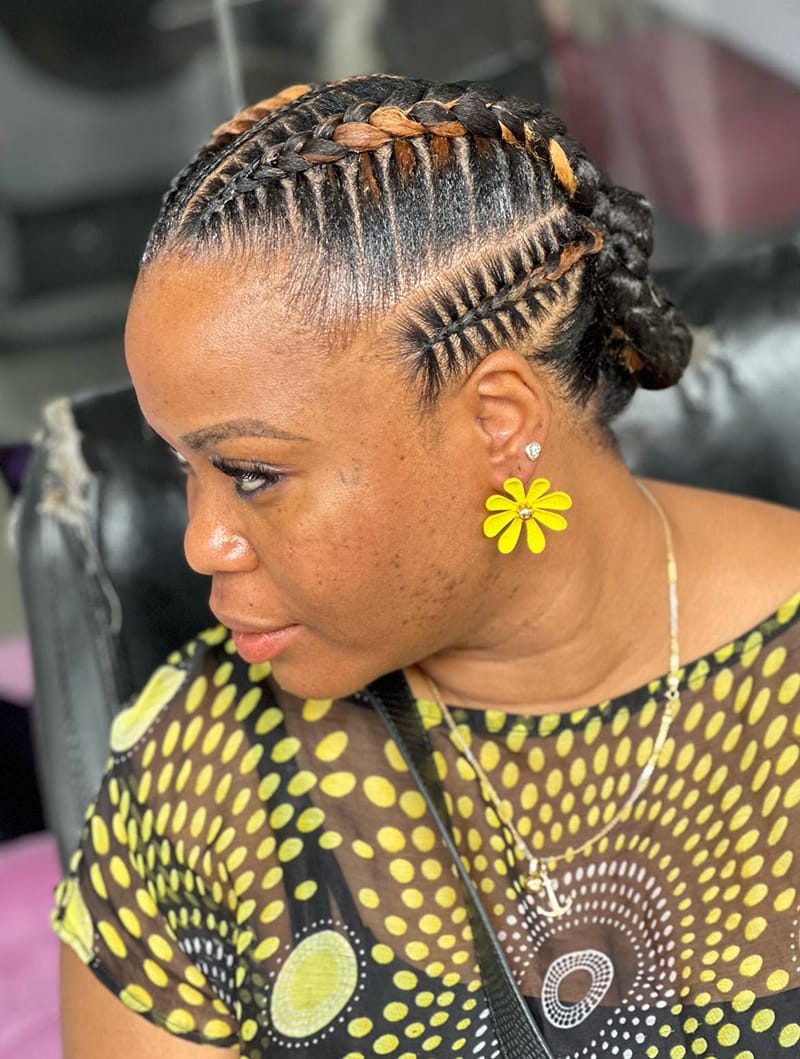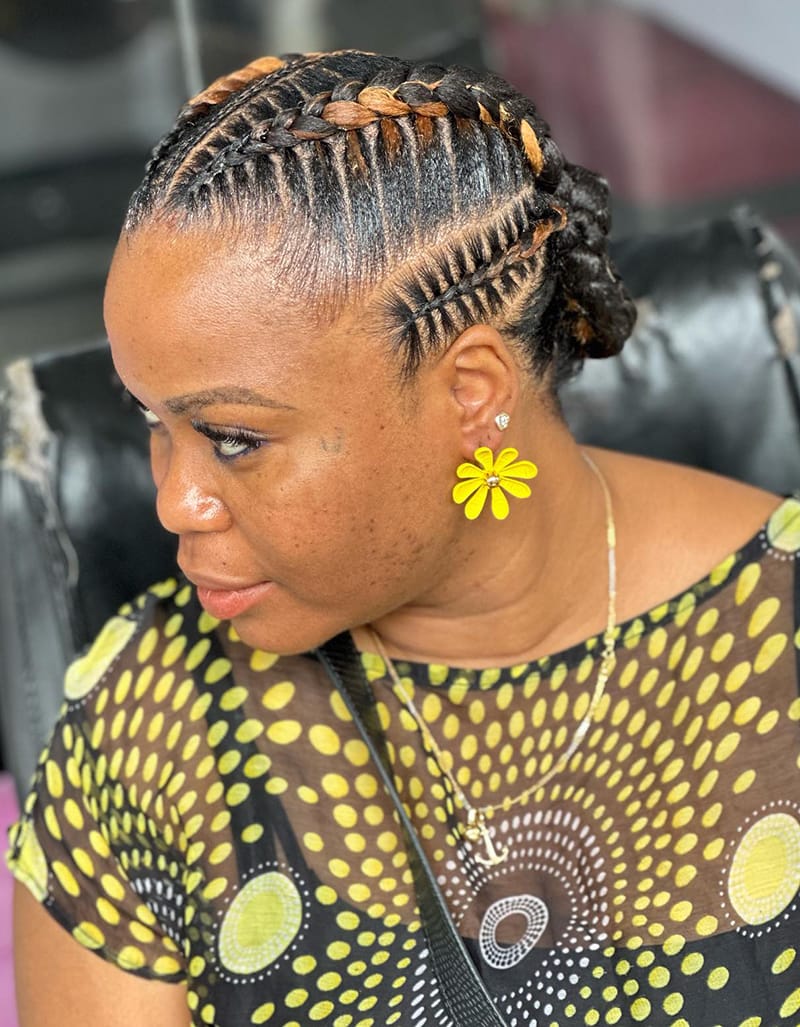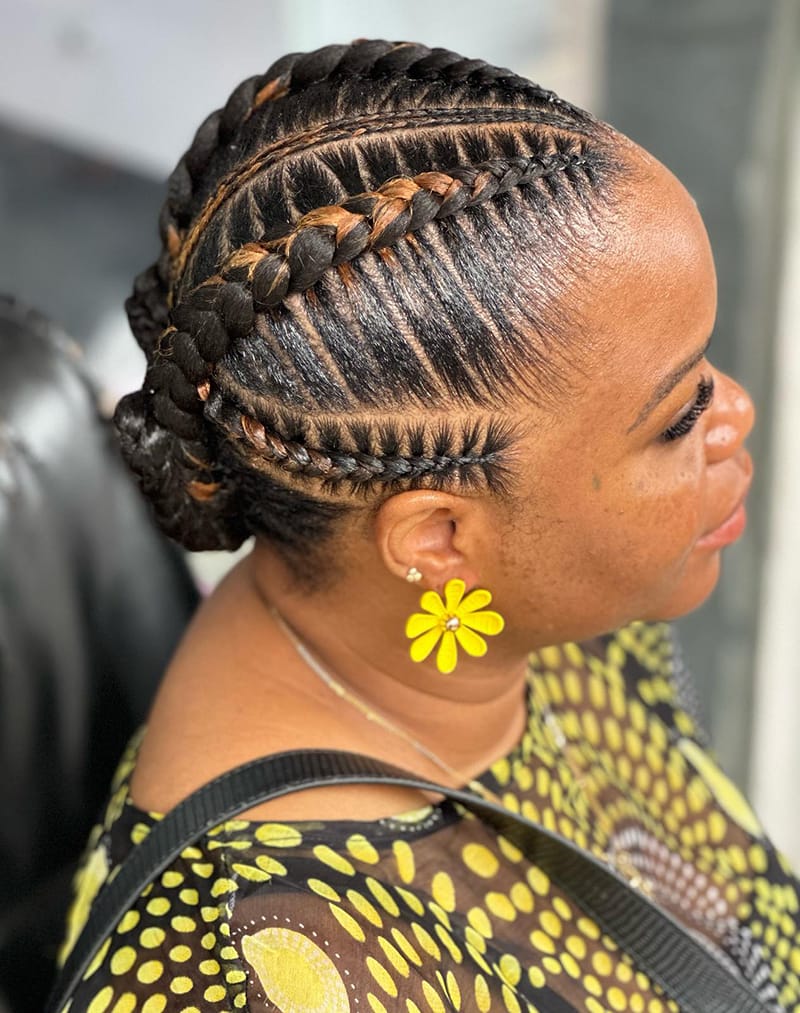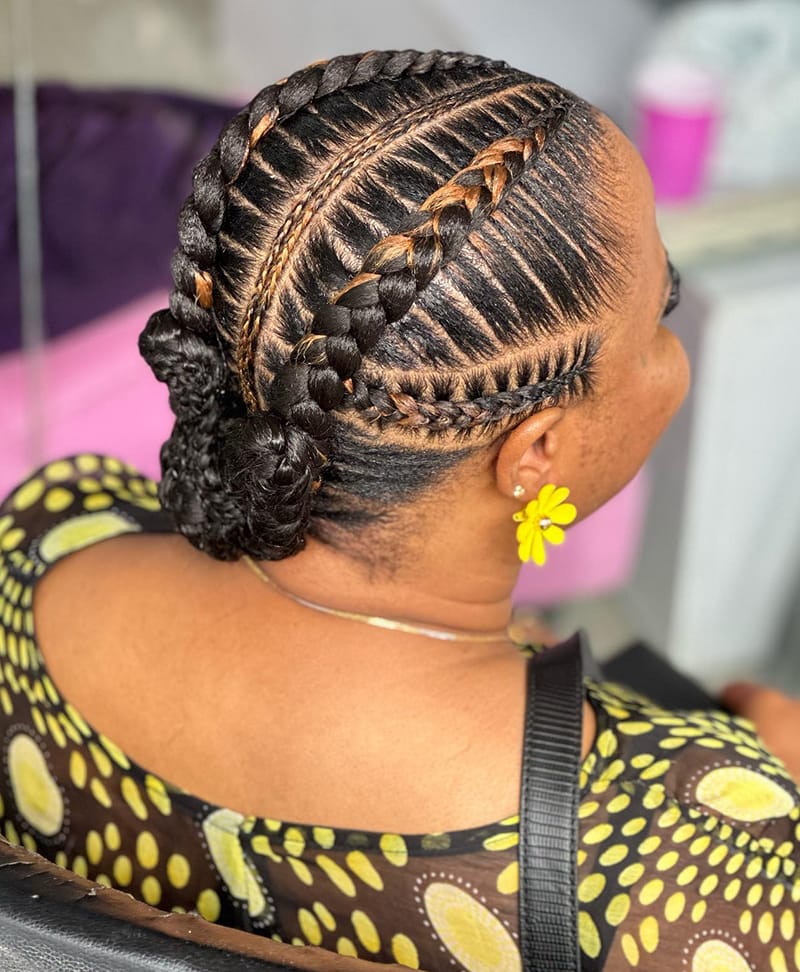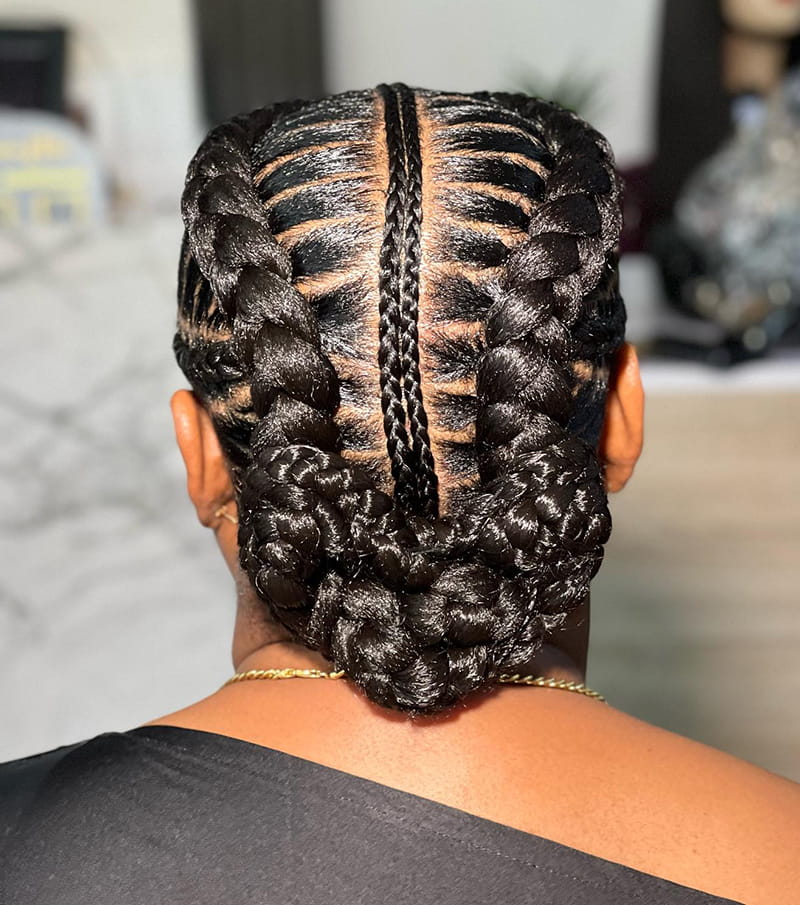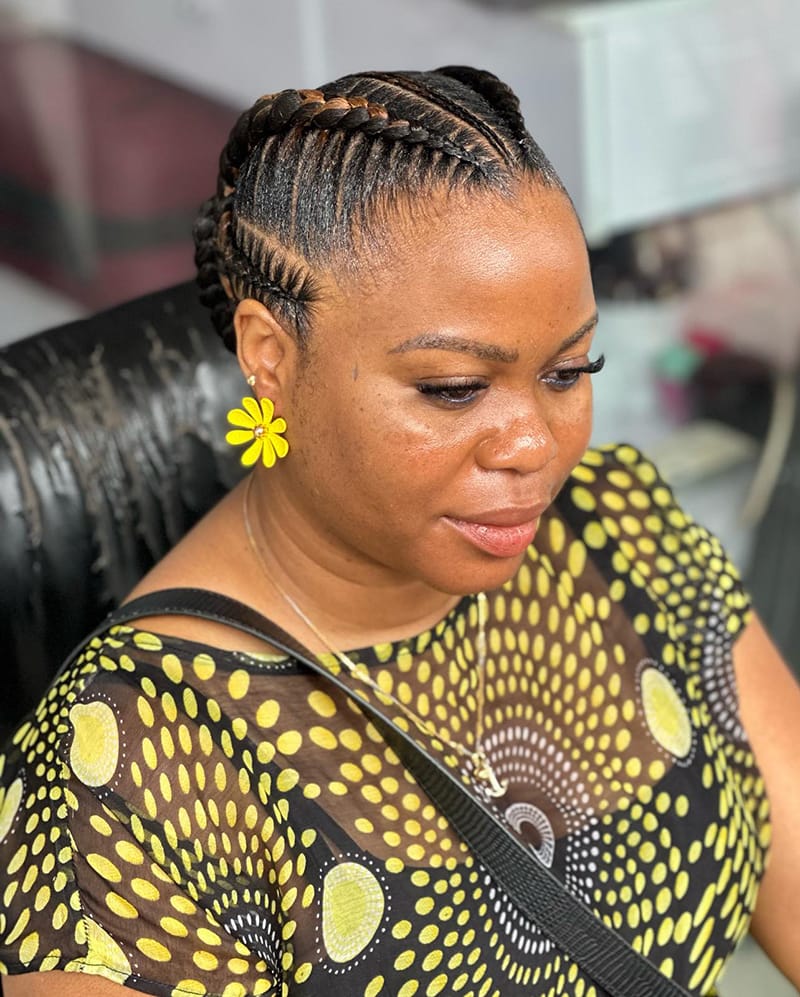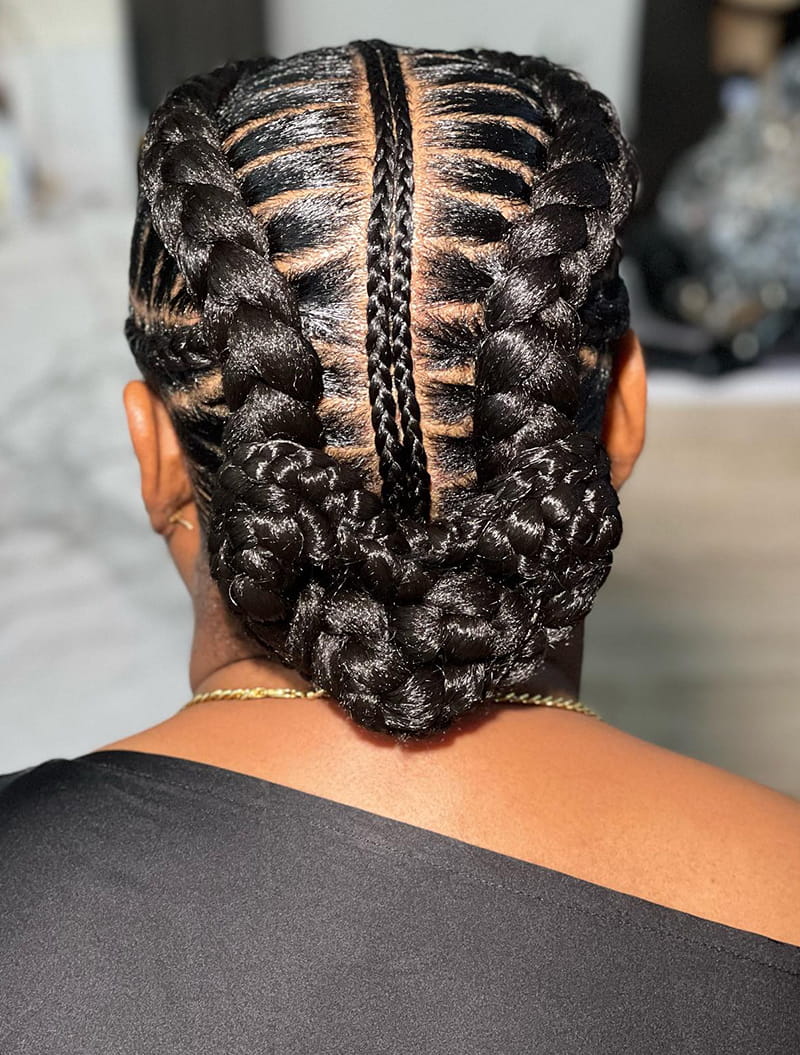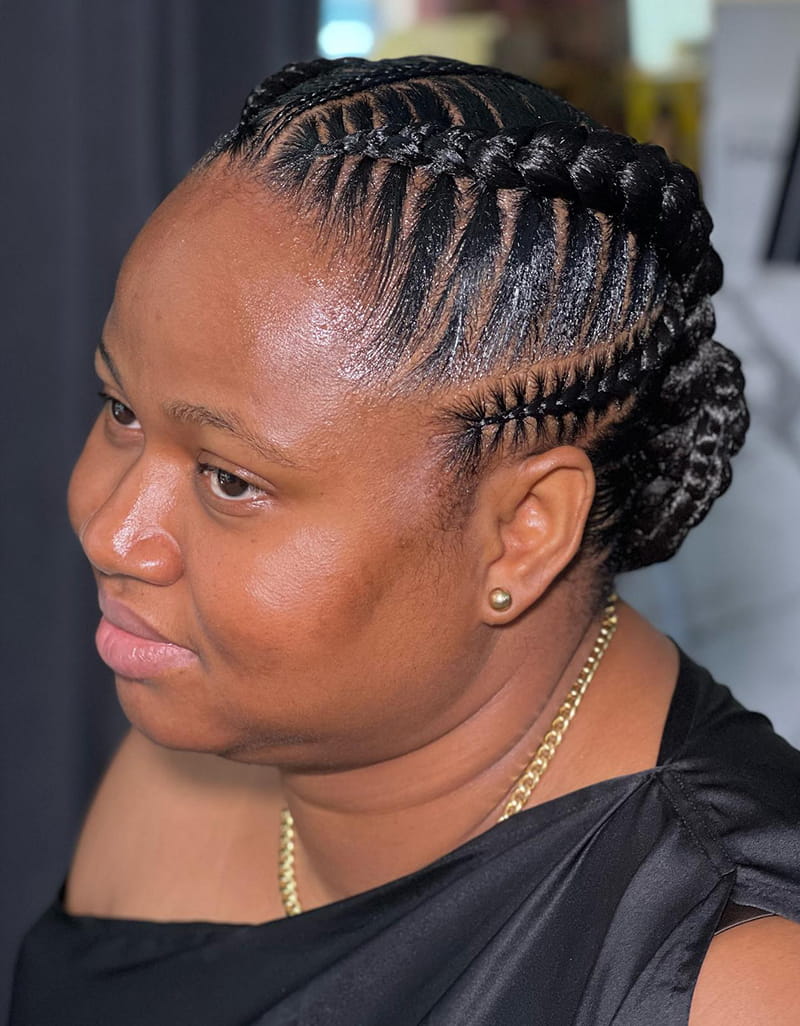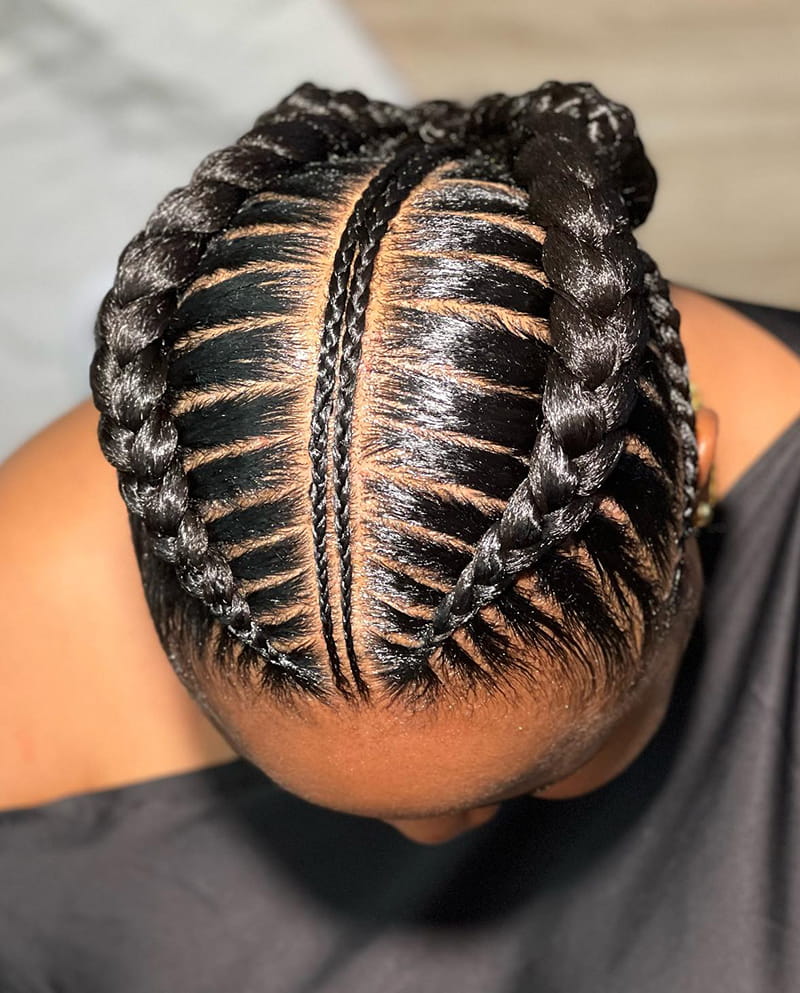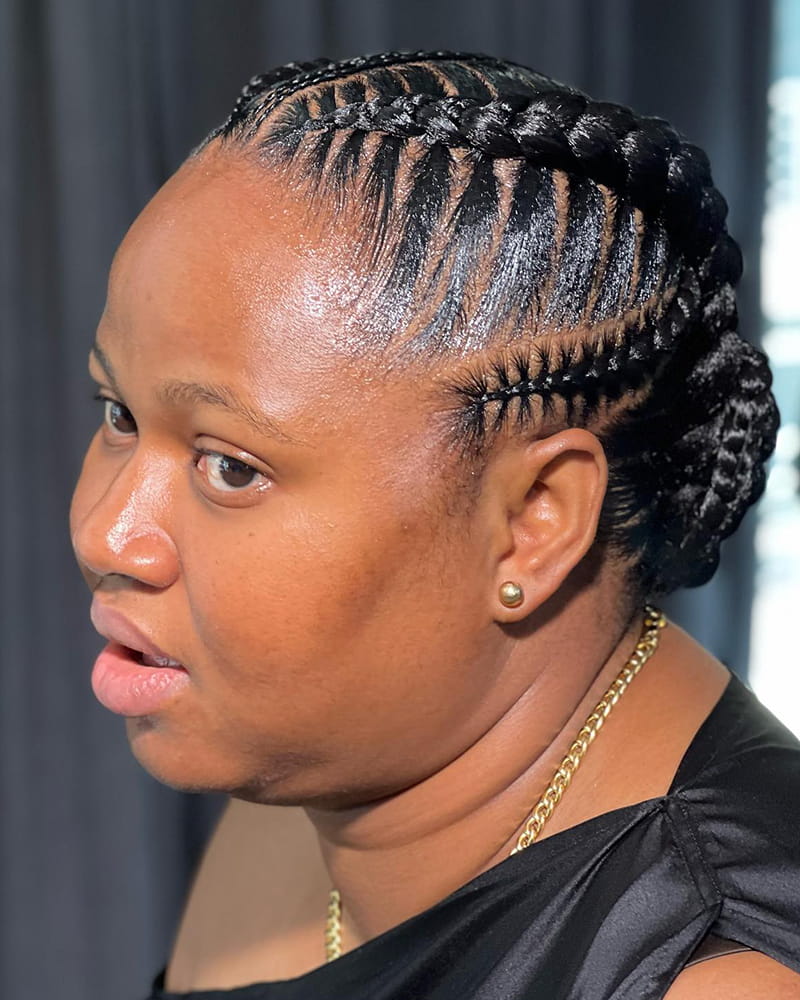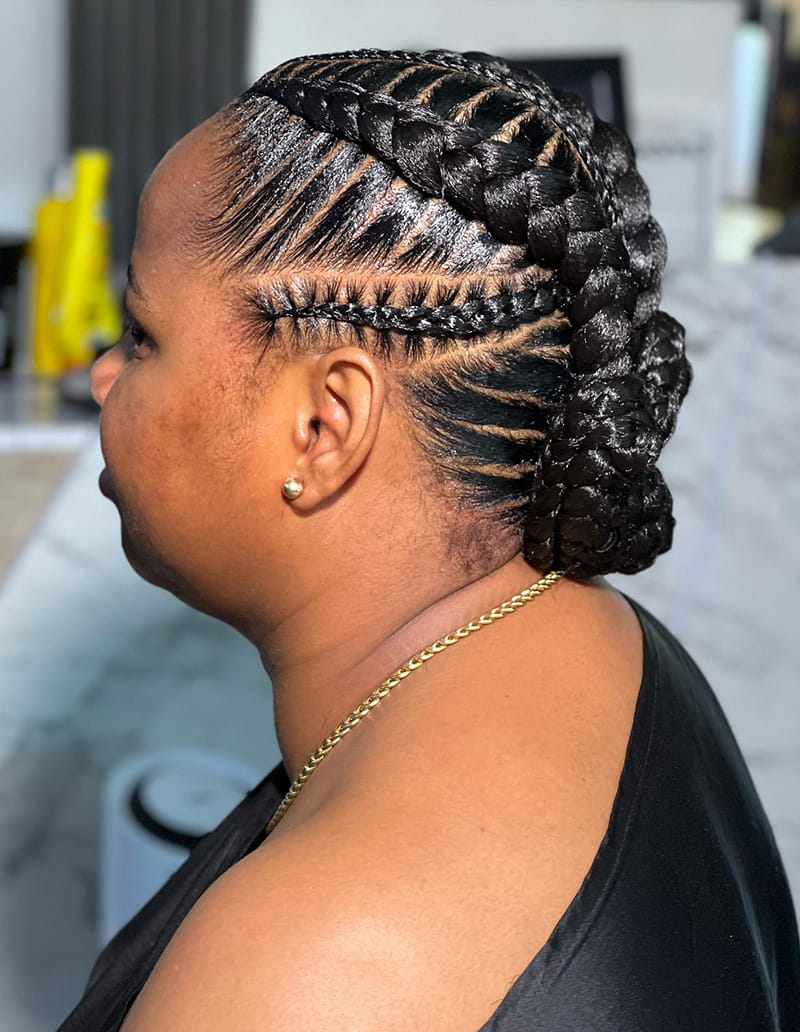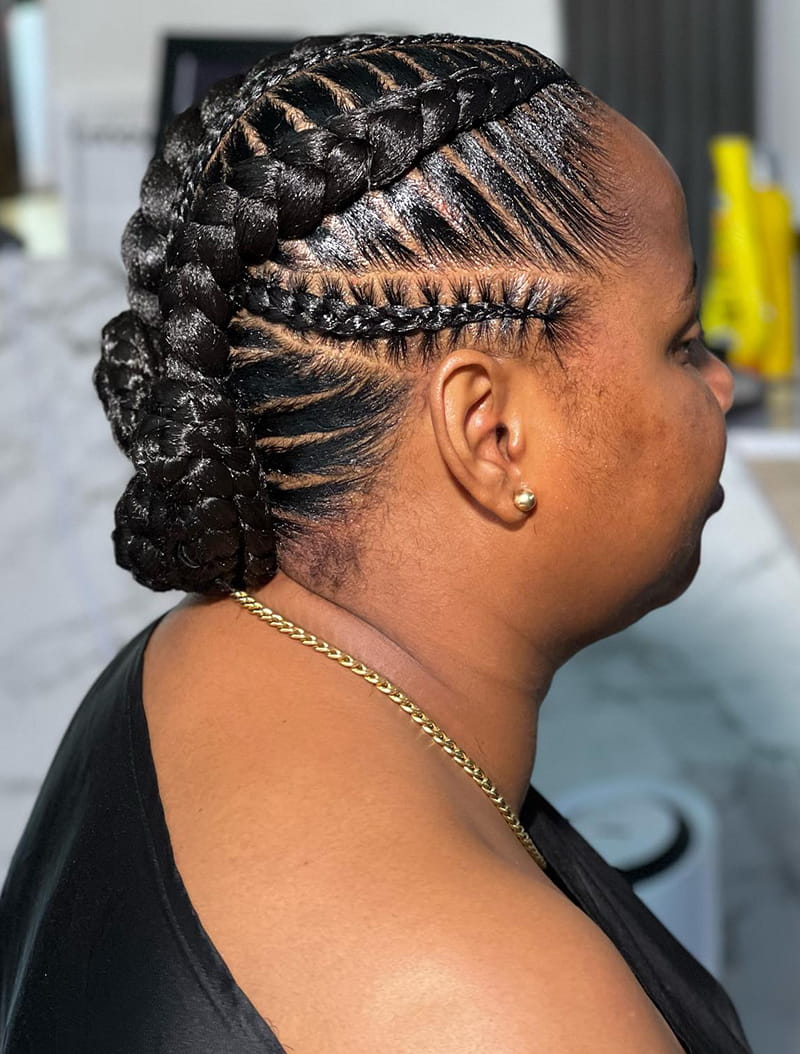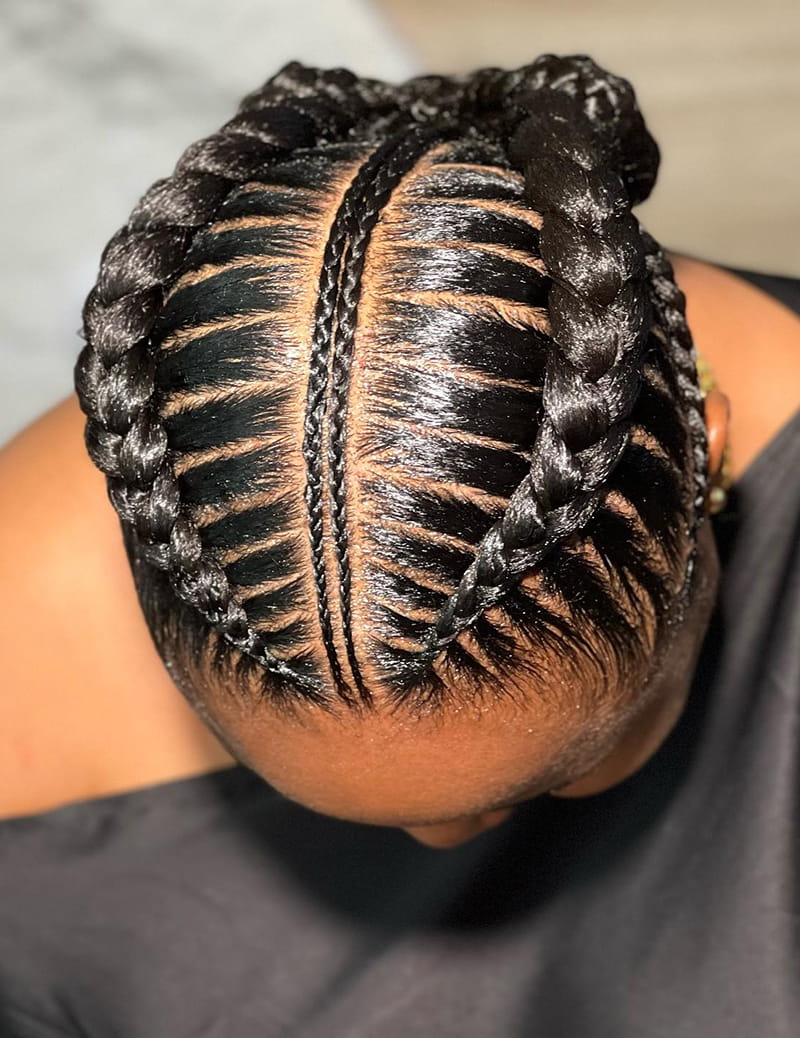 How to Take Care of 2 Cornrow Braids?
Taking care of your 2 Cornrow Braids is essential, not just to keep them looking fabulous, but also to maintain the health of your hair and scalp. Let's walk through some easy and effective care tips:
Moisturize Regularly:
Just like plants need water, your braids need regular moisturizing to stay healthy and shiny. Use a light spray or natural oil like coconut or jojoba to gently moisturize your scalp and braids. This keeps them looking fresh and also prevents your scalp from getting dry or itchy.
Protect Your Hair at Night:
Wrapping your hair in a silk or satin scarf before bed is like giving your braids a gentle hug. This reduces friction with your pillow and prevents frizz and breakage, ensuring your braids look neat and tidy in the morning.
Keep Your Scalp Clean:
A clean scalp is a happy scalp! Use a gentle cleanser or dry shampoo to keep your scalp fresh without disturbing your braids. This helps prevent build-up and keeps any itchiness at bay.
Be Gentle with Styling:
It's fun to experiment with different styles, but remember to be gentle. Avoid pulling your braids too tight to prevent stress on your scalp and hair follicles. This way, you keep both your hairstyle and hair health intact.
Touch-Ups for Freshness:
If you're rocking your cornrows for several weeks, consider getting touch-ups, especially around the hairline. This keeps your look fresh and extends the life of your braids.
Don't Overkeep Them:
As much as we love our braids, it's important not to wear them for too long. Keeping braids in for extended periods can put a strain on your hair and scalp. So, listen to your hair – when it's time to let go, let go.
How to Choose the Best Style For You?
Choosing the best 2 Cornrow Braids style is a personal journey and should be fun! Here are some tips to help you find the perfect style:
Face Shape Matters: Different styles flatter different face shapes. For instance, if you have a round face, you might consider styles that elongate your appearance.
Lifestyle Consideration: Your daily routine plays a big role in your hairstyle choice. If you're always on the go, opt for low-maintenance styles that don't require much fuss.
Hair Type and Length: Embrace your natural hair type and length. Some styles are perfect for long hair, while others are great for shorter lengths. There's something for everyone.
Express Yourself: Your hairstyle should reflect your personal style. Whether you're all about bold and edgy or simple and elegant, pick a style that you feel represents you the best.
FAQs:
How long does it take to get 2 cornrow braids?
The time it takes can vary, but generally, it's about 1-2 hours. This depends on the stylist's skill and the complexity of the style you're going for. Some intricate designs might take a bit longer, but it's usually a swift process. Think of it as your personal time to relax and transform!
How long do the 2 cornrow braids last?
Typically, they can last between 2 to 8 weeks. The longevity really depends on how well you take care of them. With the right maintenance, like regular moisturizing and gentle handling, your braids can stay fresh and neat for a good amount of time.
Can I sleep with 2 cornrow braids?
Absolutely! In fact, cornrows are a great protective style for night-time. Just remember to wrap them in a silk or satin scarf or bonnet. This helps to reduce friction and prevent any frizz or unraveling while you sleep.
How much do the 2 cornrow braids cost?
The cost varies based on your location and the stylist's expertise. It can range from a moderate to a higher price, depending on the salon and the intricacy of the design you choose. It's always a good idea to check with your stylist beforehand for an estimate.
Are cornrows braids a protective hairstyle?
Yes, they are! Cornrows are an excellent protective style. They help to protect your natural hair from the elements and minimize the need for daily manipulation, which can lead to breakage. Plus, they give your hair a break from heat styling and other harsh treatments.
Conclusion
2 Cornrow Braids are not just a hairstyle, but a blend of culture, fashion, and practicality. They offer a versatile, low-maintenance option for anyone looking to add a touch of elegance and uniqueness to their look. With various styles and care tips, this hairstyle continues to be a favorite for many. Whether you're trying them for the first time or looking to experiment with new styles, 2 Cornrows offers a world of possibilities. Embrace the journey and enjoy the beautiful world of braiding! Remember, the best hairstyle is one that makes you feel confident and beautiful, so choose a style that best suits your personality and lifestyle. Happy braiding!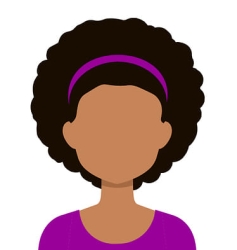 Latest posts by Laverne Rhimes
(see all)