Welcome to the vibrant and dynamic world of tribal braids, a hairstyle that beautifully marries tradition with modern flair. It's a look that has transcended time, carrying with it stories of heritage and culture, now reinvented on the streets of today's fashion capitals. In this blog post, we're going to explore everything about tribal braids, from their deep roots to the ways you can sport them with contemporary twists. So, let's get started on this braiding journey that promises to weave together style, culture, and artistry.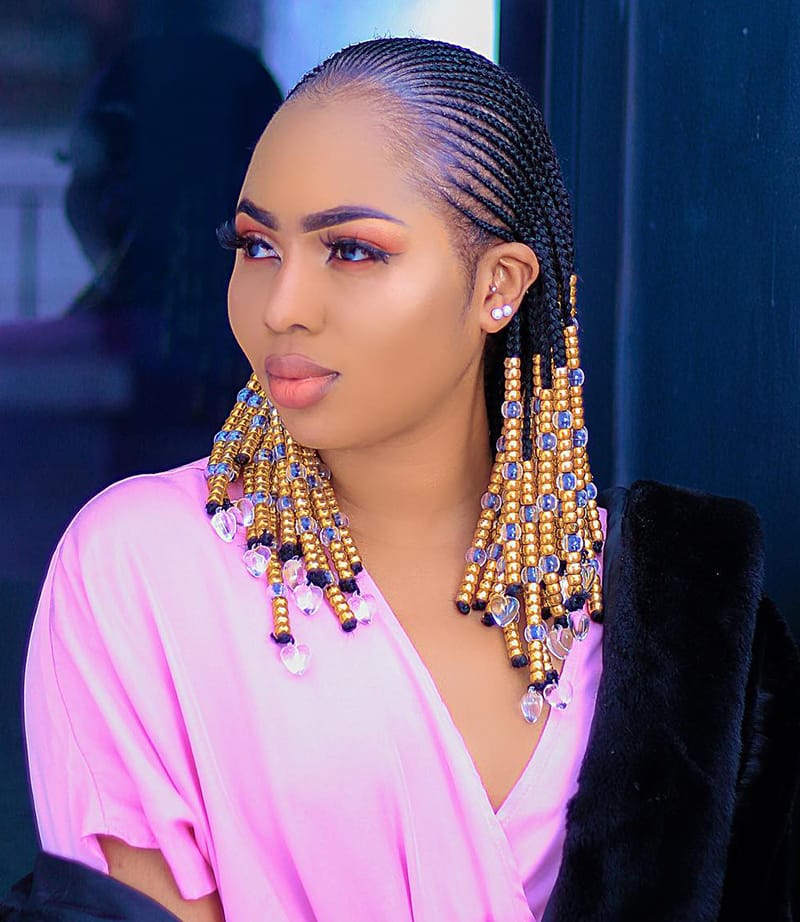 What are Tribal Braids?
Imagine a hairstyle that's not just about looking good but also about storytelling. That's what tribal braids are all about. With origins deeply rooted in African cultures, these braids were more than just a fashion statement; they signified one's tribe, status, and more. Fast forward to today, and tribal braids have taken the beauty world by storm, becoming a symbol of empowerment and fashion-forward thinking. They're a nod to the past with a decidedly modern twist, allowing wearers to showcase their individuality and flair. Moreover, with their intricate patterns and diverse styles, these braided hairstyles can truly be called a personal art form.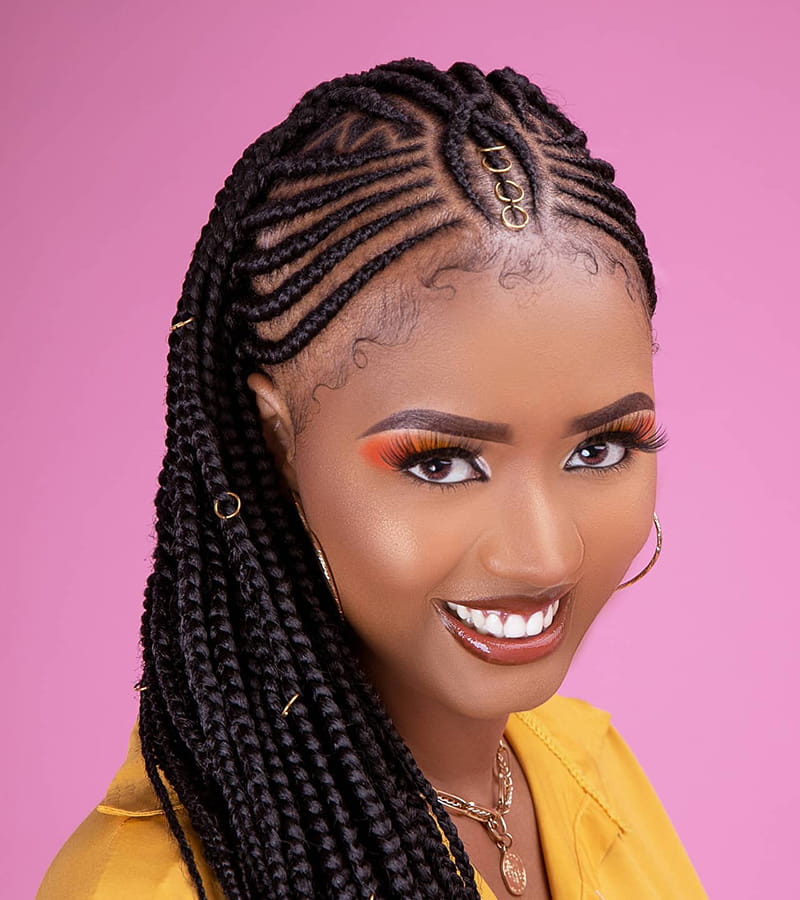 How to Do Tribal Braids?
Engaging in the adventure of creating tribal braids is like sculpting – it's meticulous, it's expressive, and it certainly is rewarding. Start by mapping out the design on your head, parting sections with purpose, and then braiding each section with precision and care. Whether you choose to visit a salon or take on the challenge at home, remember that creating tribal braids is a celebration of your hair's beauty. Furthermore, when you weave each braid, you're not just following a trend; you're embracing a practice steeped in history. And with each twist and turn, you're crafting a look that's as unique as you are.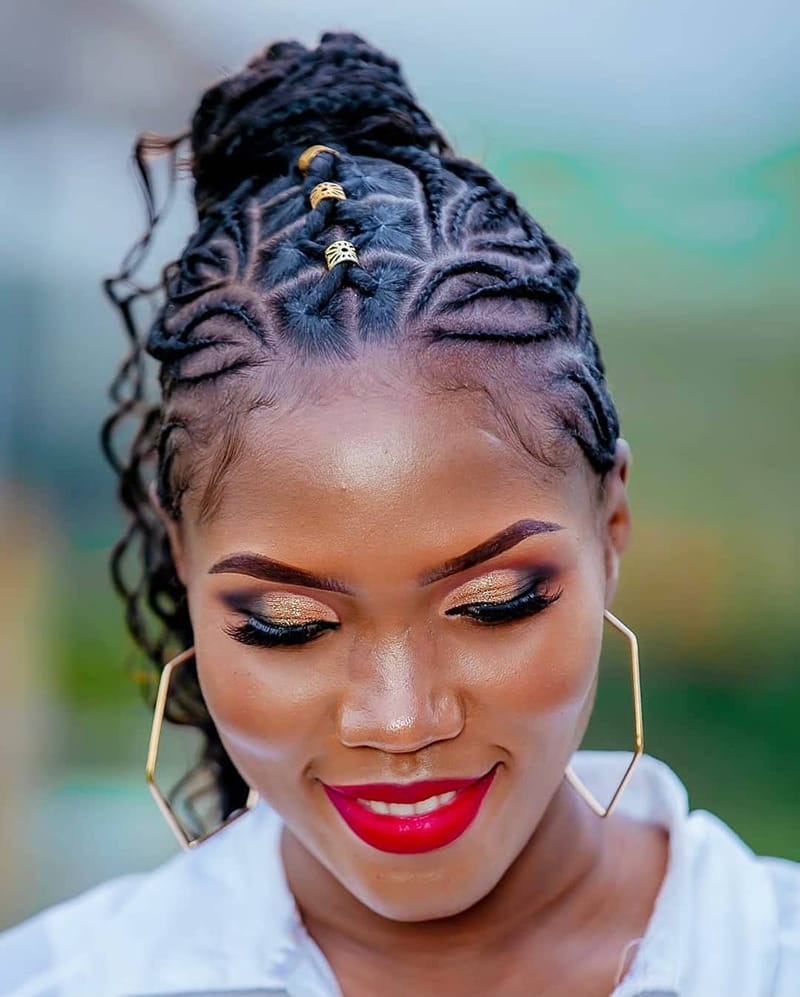 Tribal Braids Styles with Different Lengths
In the first section, we would like to start with the different lengths of tribal braids. In the next sections, we will discuss colors, versatility, and many more.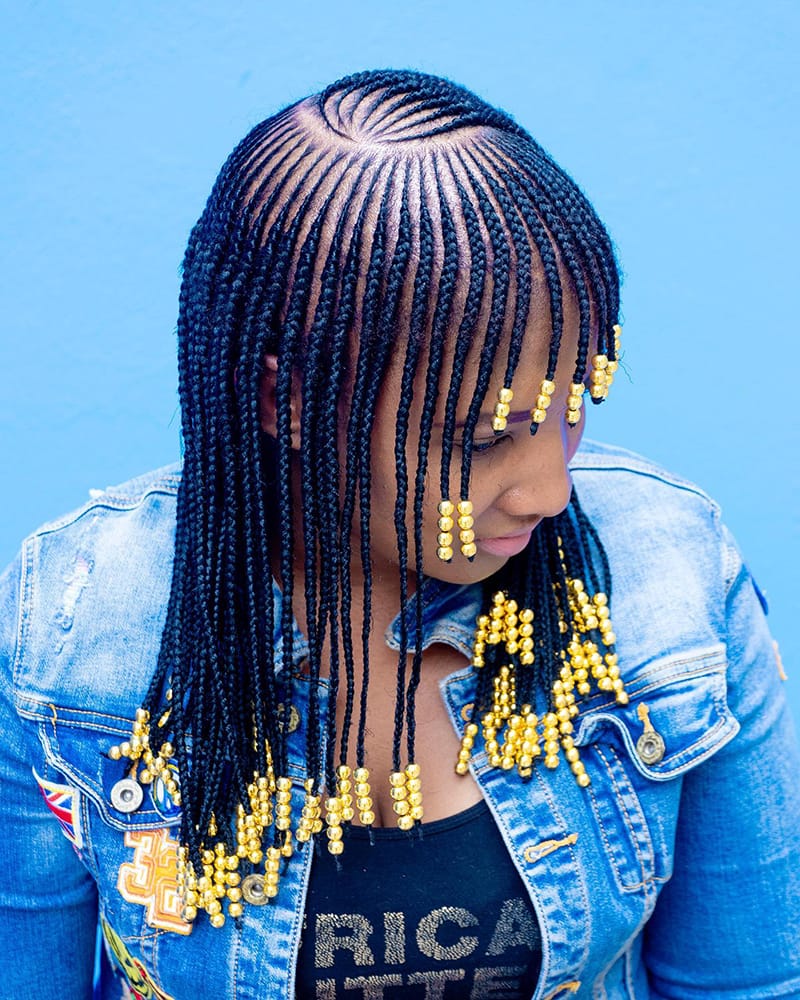 Short Braids
Who says you can't do magic with a shorter canvas? Short tribal braids are your quick ticket to a world of elegance and ease. They're a testament to the fact that beauty and grace can come in all lengths. And the best part? They're incredibly easy to maintain, giving you more time to enjoy their beauty and less time worrying about upkeep.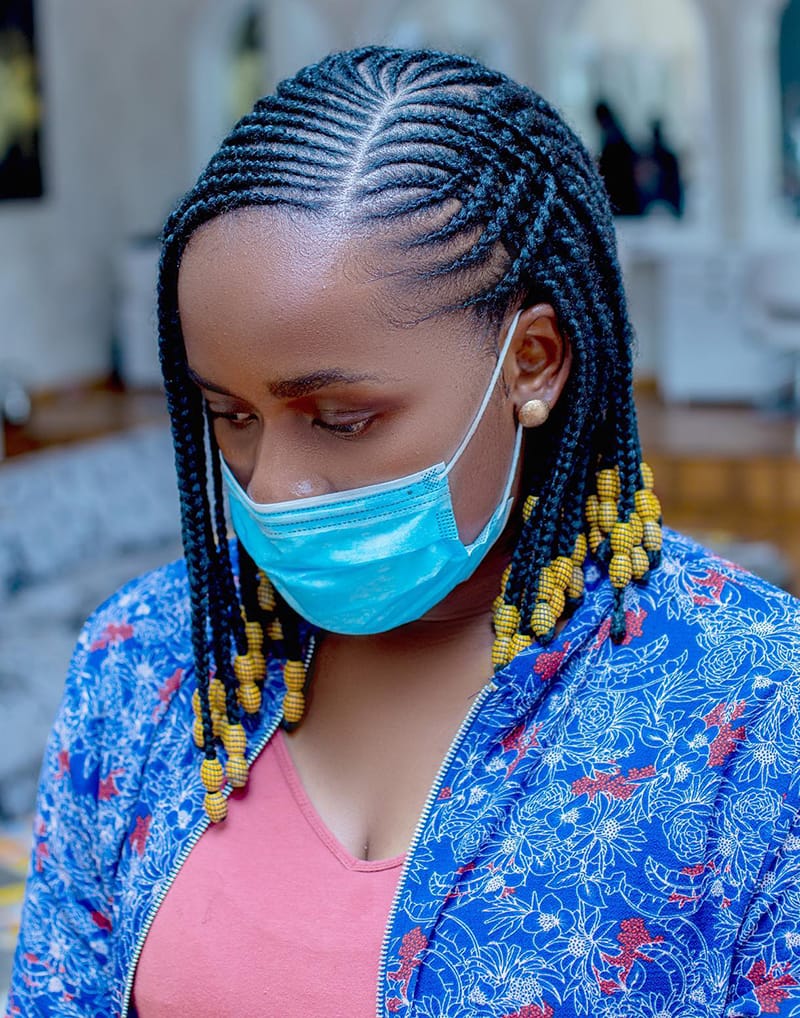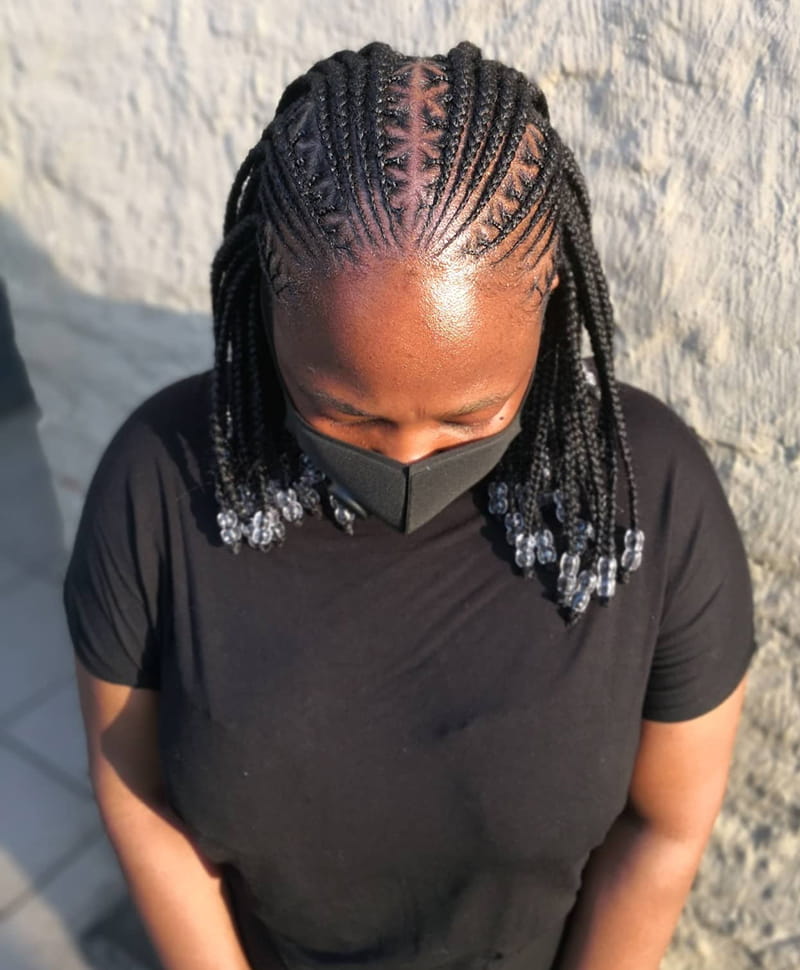 Shoulder-Length Braids
Shoulder-length tribal braids offer a delightful balance – they're long enough to be playful and versatile, yet short enough to not weigh you down. They're the perfect length for those who love a bit of flexibility with their style. Additionally, you can swing them, braid them, bun them up, or let them cascade down; the choice is yours, and the possibilities are endless.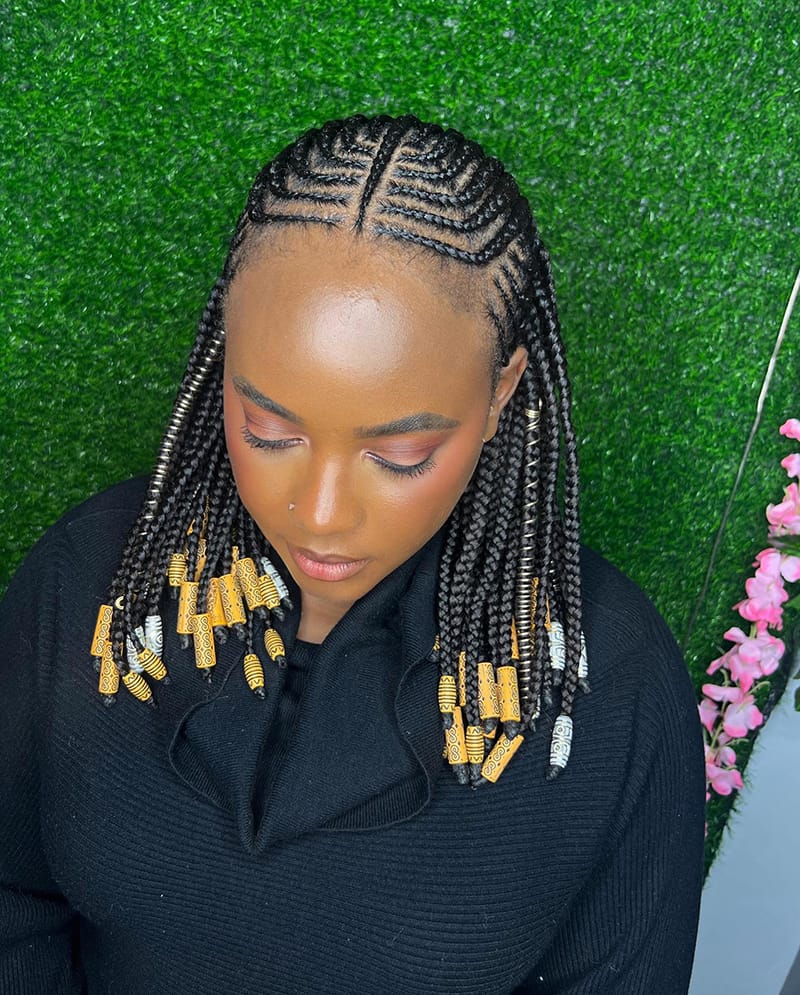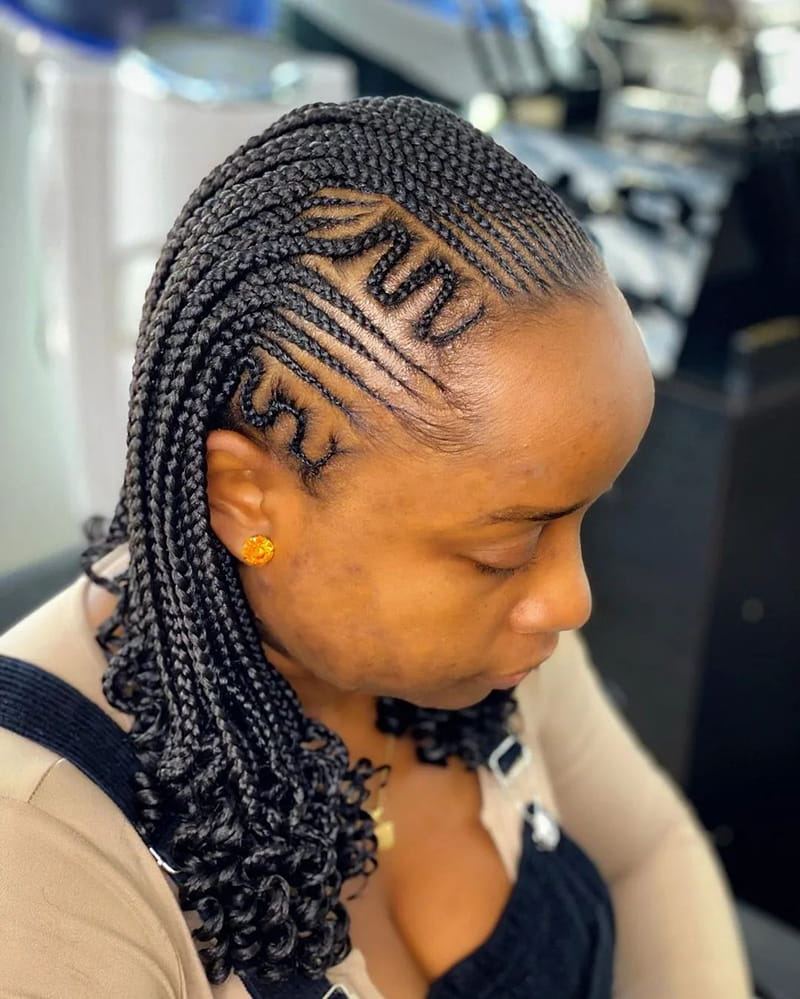 Medium Braids
Medium-length tribal braids are the happy medium that offers the best of both worlds. They provide ample length for an array of styles without the extra weight. They're perfect for those who enjoy a bit of length but appreciate the manageability of a medium style. Plus, they dance gracefully with each step you take, making them a lively companion to your daily adventures.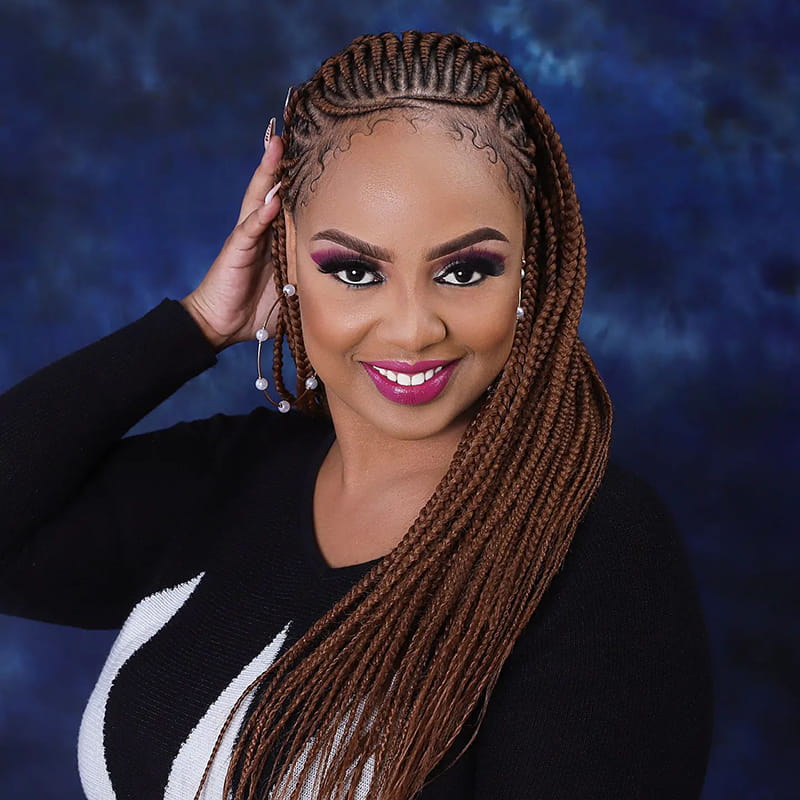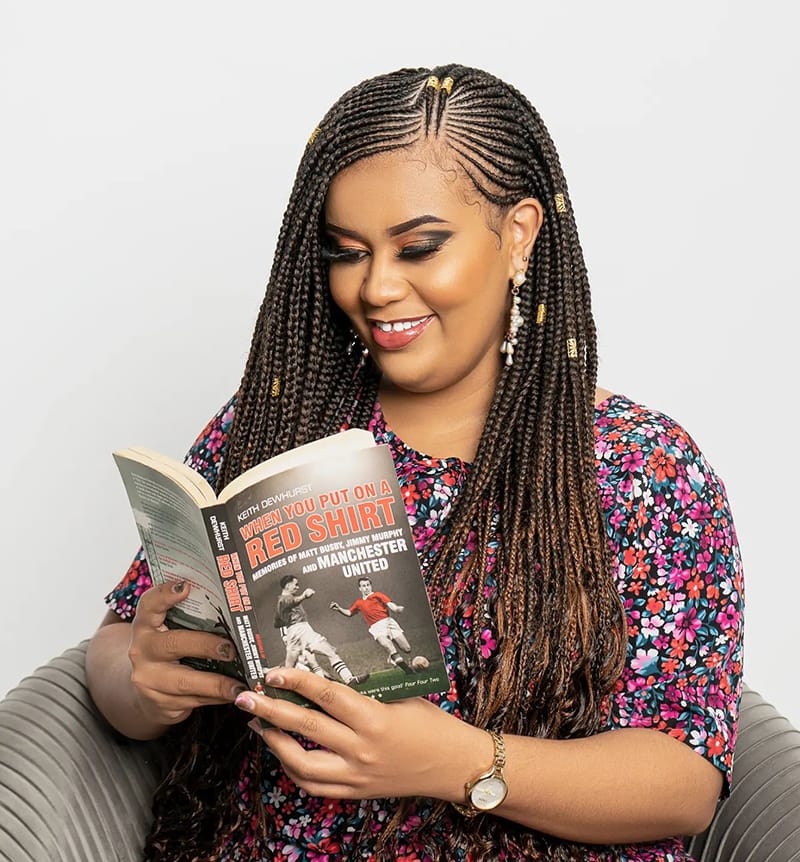 Back-Length Braids
Elegance that flows with you – back-length tribal braids make a statement of sophistication and style. They're like a river of braids that follow your every move, offering a striking visual that's hard to miss. Moreover, they're perfect for anyone looking to add a touch of drama to their look without compromising on tradition.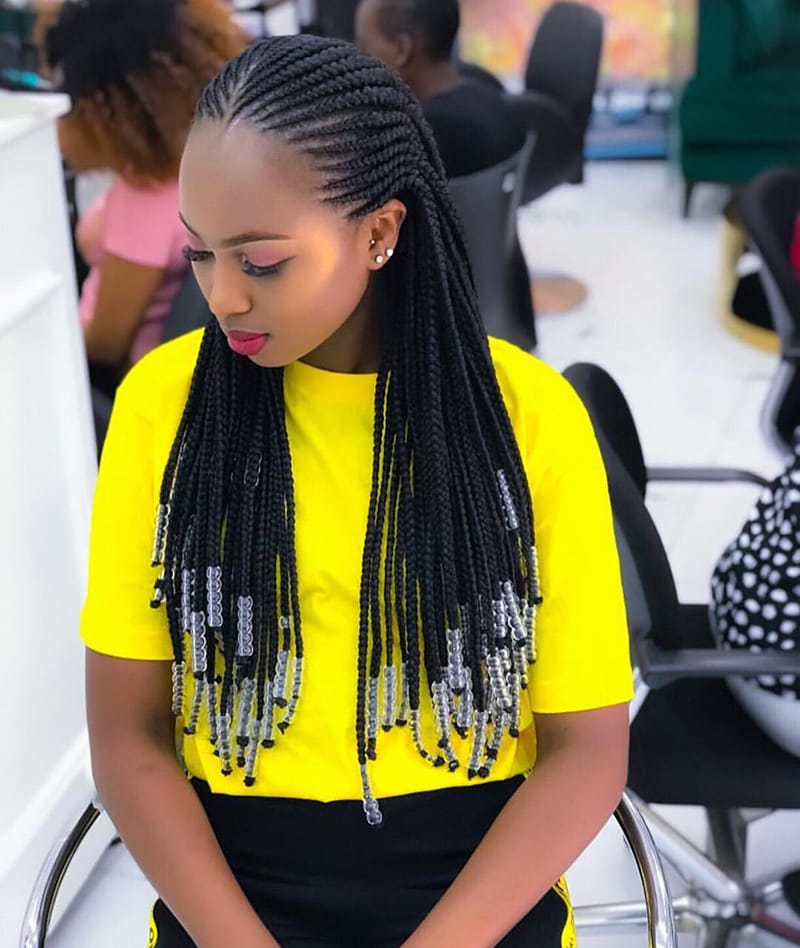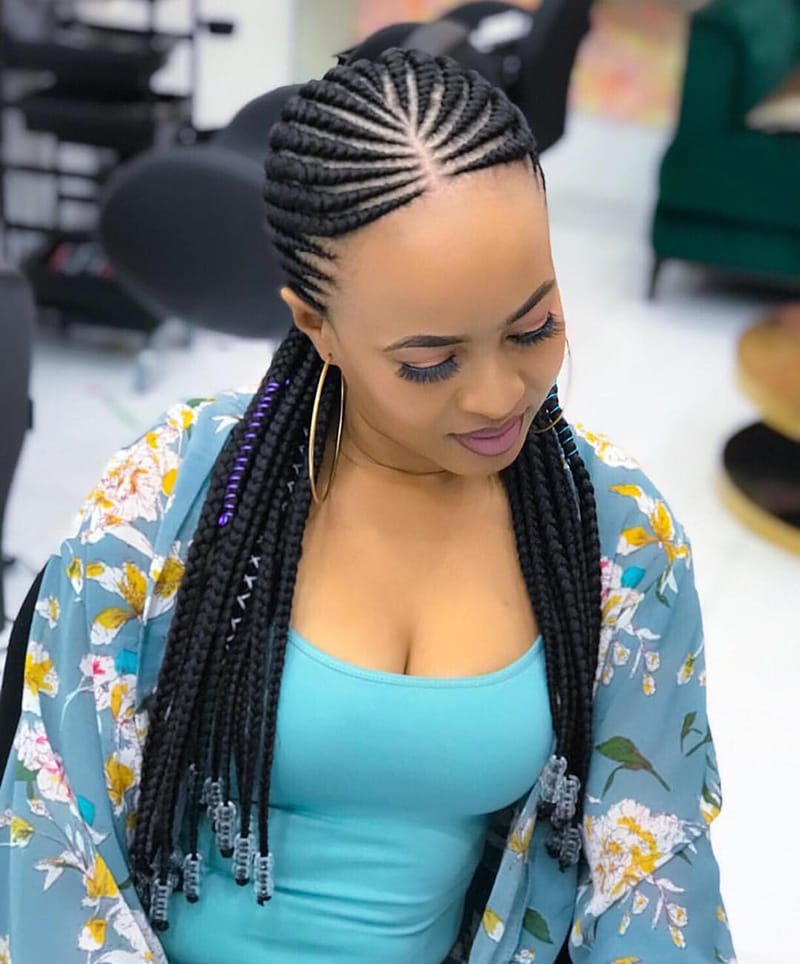 Waist-Length Braids
Waist-length tribal braids are the ultimate expression of braided beauty. They speak volumes of your confidence and are a bold fashion statement. These braids are not just about length; they're about a presence that commands attention. Furthermore, with the right care, they can be a crowning glory that makes you feel like royalty.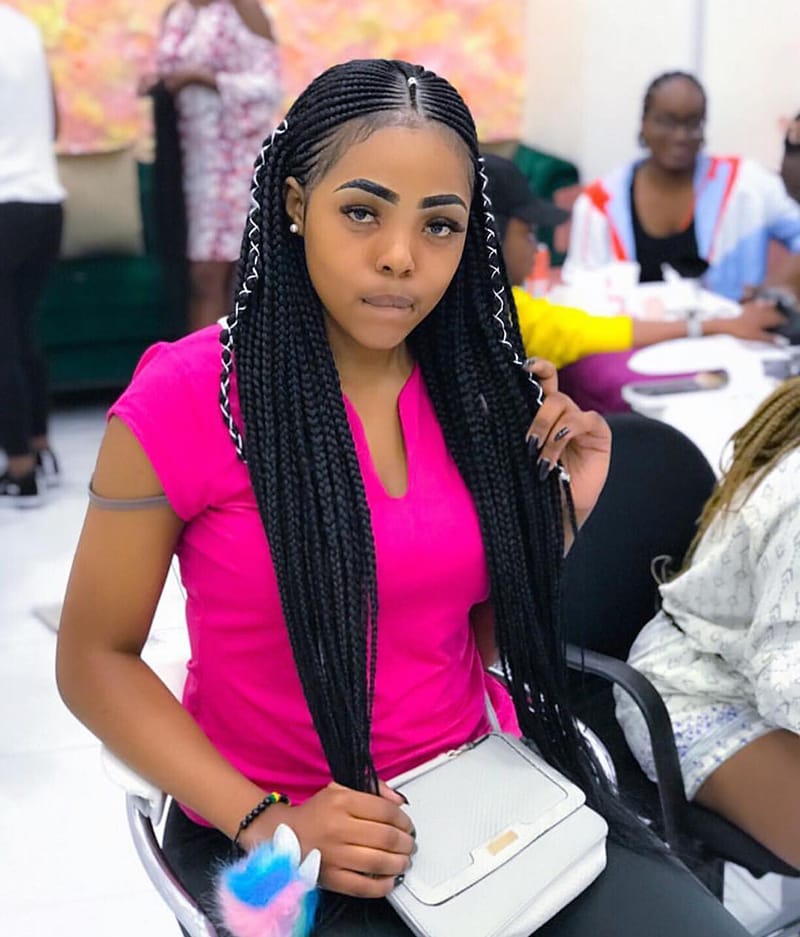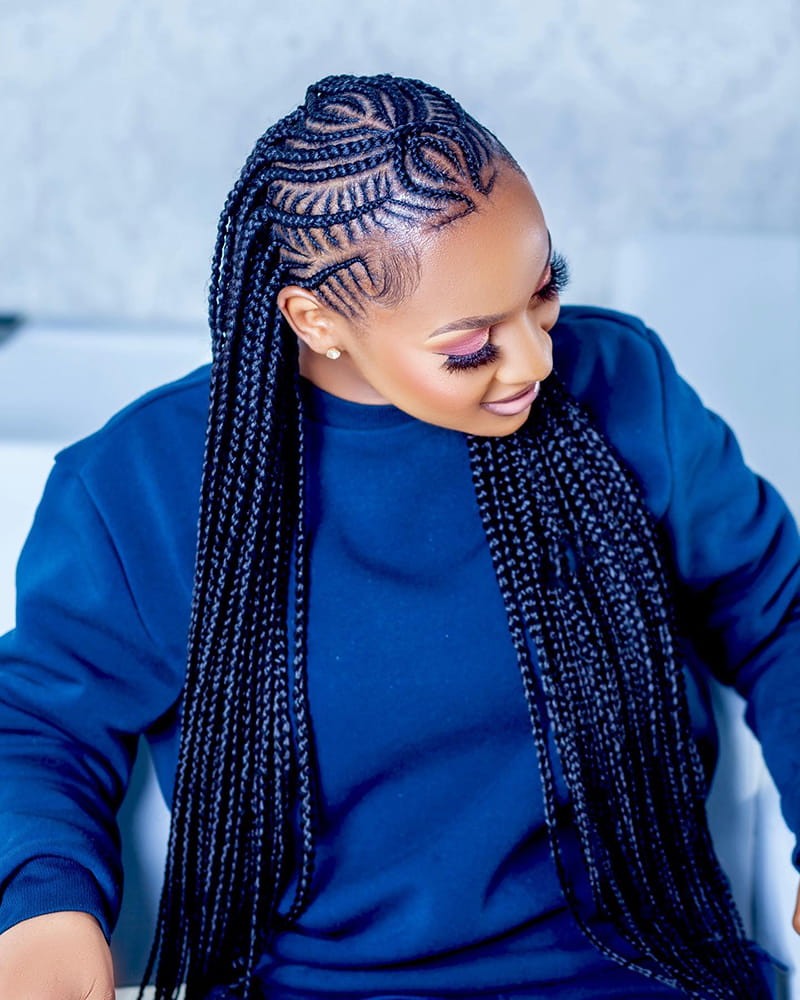 Hip-Length Braids
Hip-length tribal braids are like the final, daring leap into a world where hair isn't just a part of you—it's a statement. They flow with an effortless grace, swinging with the rhythms of your movement, bold and unapologetic. Rocking these braids is about embracing the full spectrum of beauty and not being afraid to show off the length and strength of your locks. Furthermore, when adorned with beads or cuffs, they become a moving tapestry, rich with culture and alive with history. They're for the brave, the bold, and the beautiful, who walk with their heritage trailing splendidly behind them.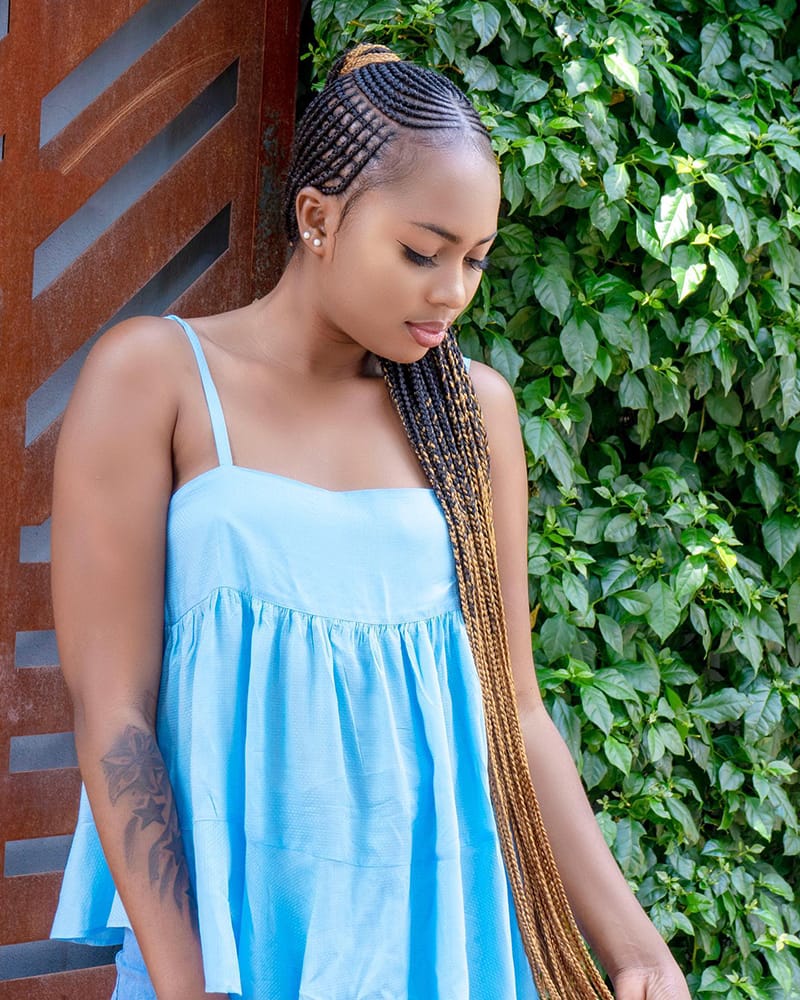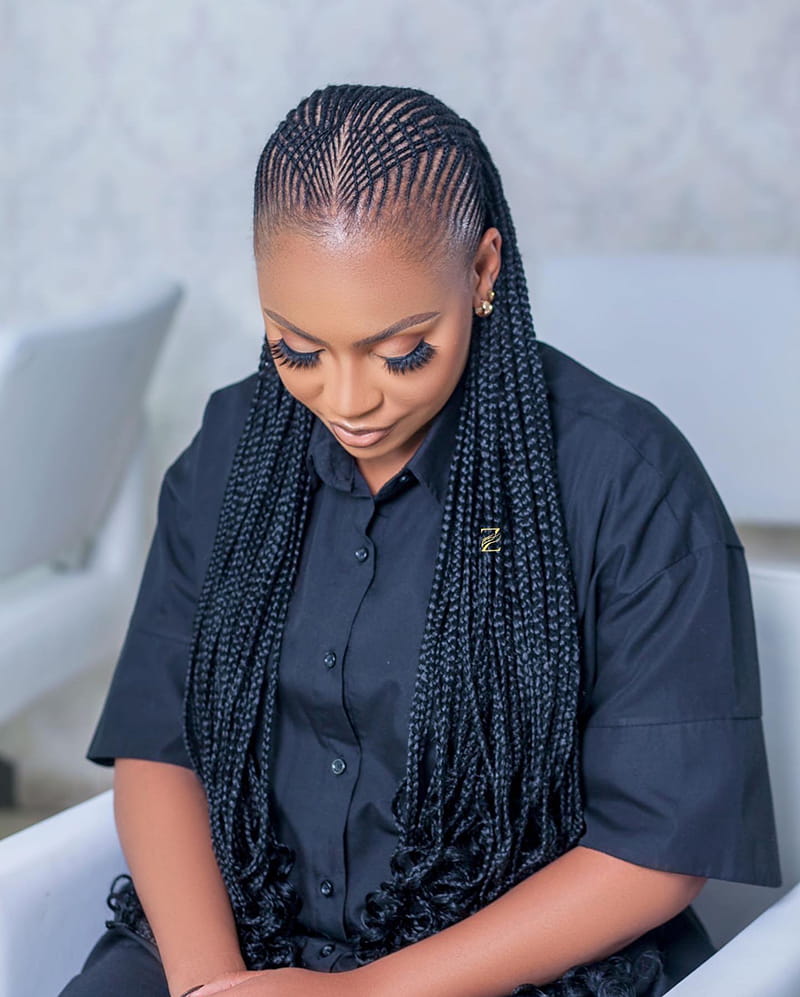 Long Tribal Braids
Long tribal braids are storytelling at its finest. Each braid weaves a narrative of its own, falling gracefully down your back like a waterfall of history and style. These braids aren't just about making a fashion statement; they're a full-on declaration of identity and pride. Moreover, they offer endless versatility; you can wrap them, twist them, and tie them in as many ways as there are stars in the sky. They're for those who carry their spirit of adventure and heritage on their shoulders, for all the world to see.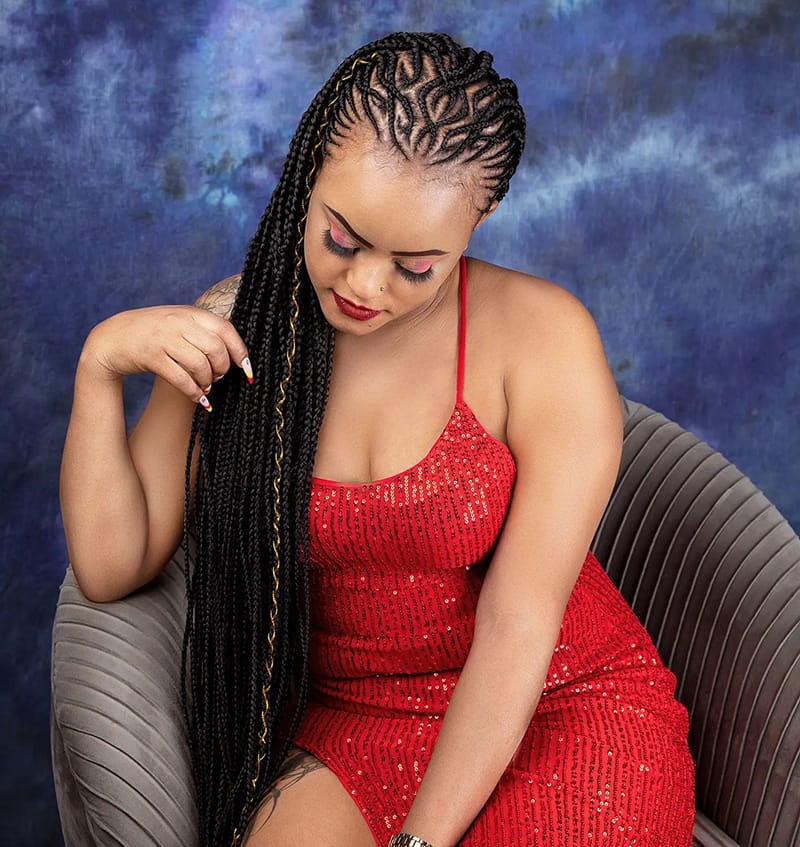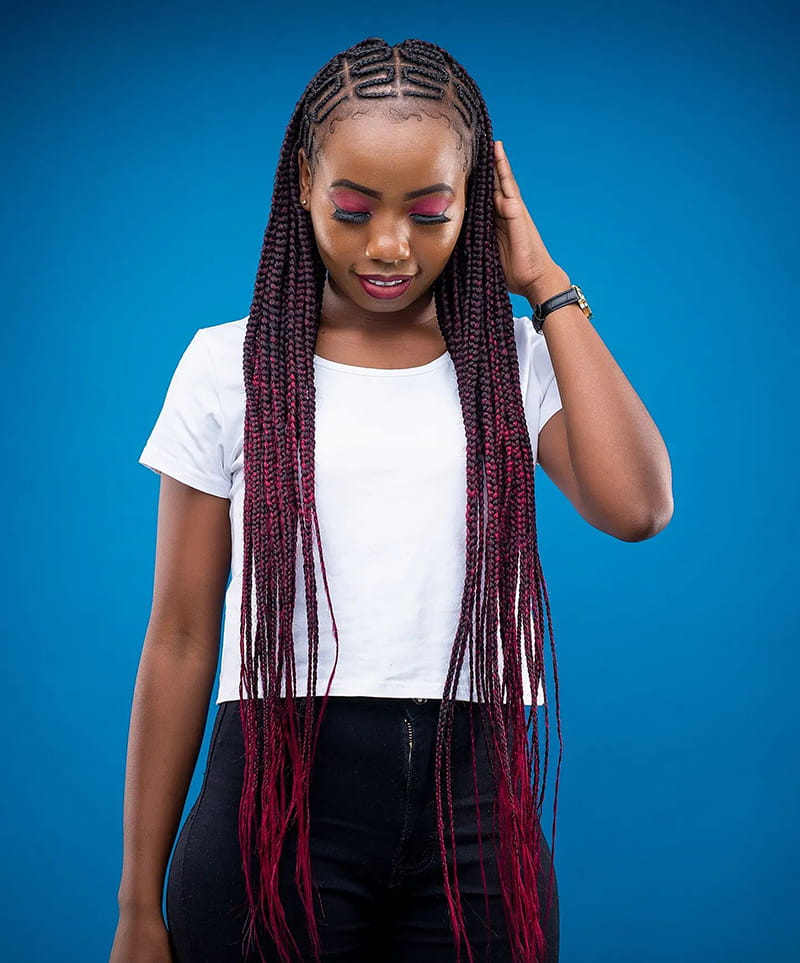 Tribal Braids Styles with Different Colors
When it comes to tribal braids, color is not just an accessory—it's a key player in the game of self-expression. From earthy naturals to the most electrifying hues, the color of your braids can reflect your personality, mood, or even the season. Let's dive into the kaleidoscope of colors and see how they can breathe life into your tribal braids.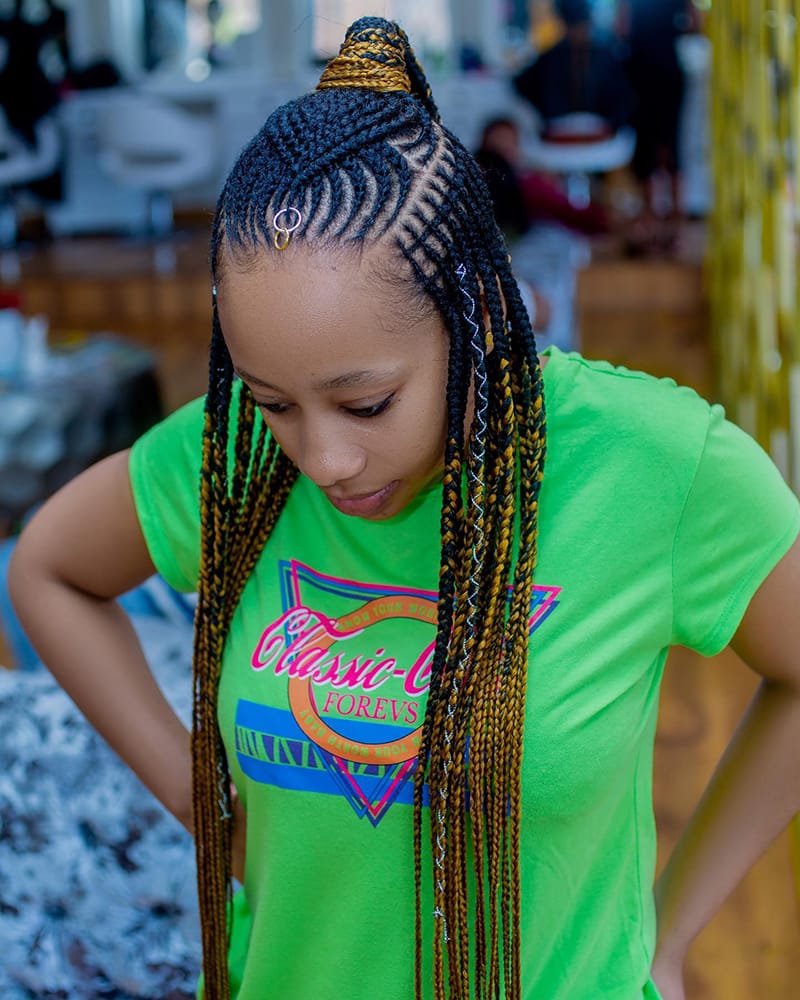 Natural Colored Braids
Natural-colored tribal braids speak volumes without saying a word. They're about embracing your originality and enhancing your natural beauty. These hues are all about authenticity, providing a look that's both timeless and chic. Whether you're rocking a jet-black, a warm brunette, or a sandy blonde, natural colors are incredibly versatile. They pair beautifully with any outfit, occasion, and skin tone, ensuring that your braids always look effortlessly stylish.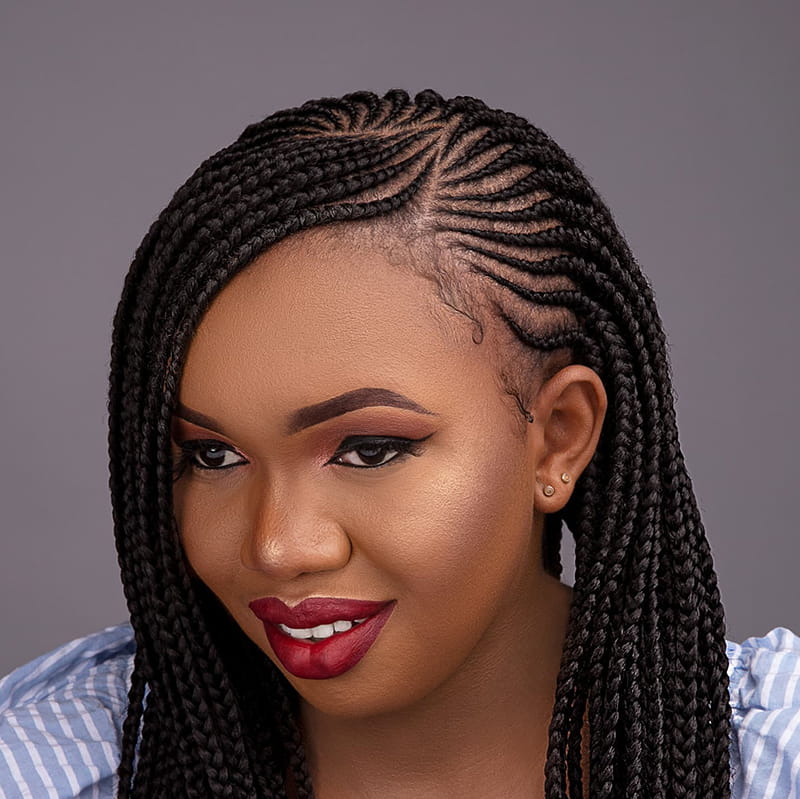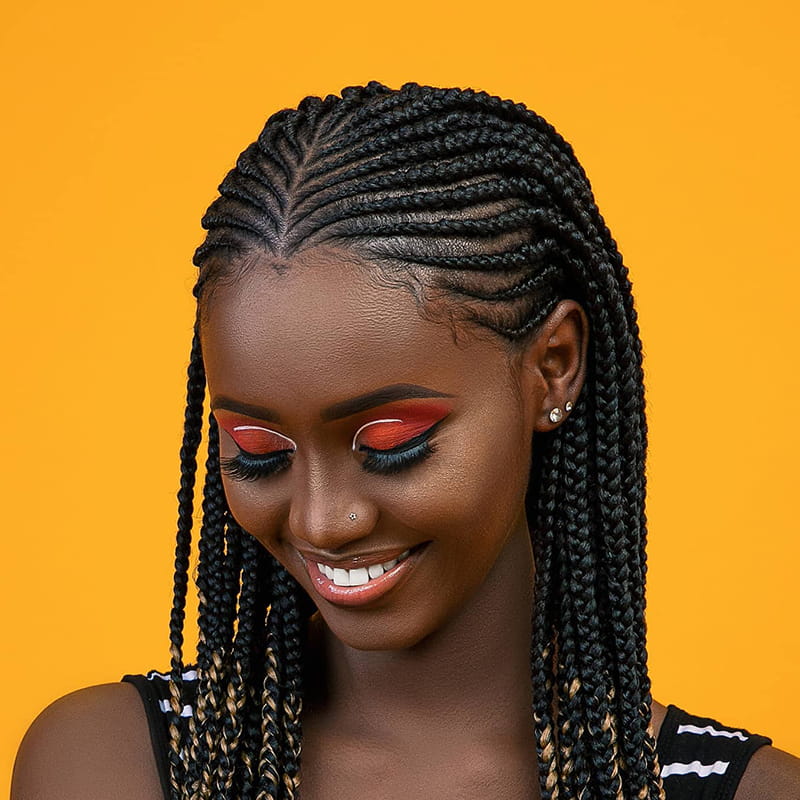 Red Braids
Red tribal braids are for the bold and the brave, the ones who want to add some heat to their style. A dash of ruby, a splash of scarlet, or a hint of burgundy can transform your braids into a fiery crown that demands attention. But red isn't just a color; it's a statement. It's for those days when you feel fierce, for nights out when you want to stand out, and for moments when you just want to feel powerful. Moreover, red braids can be tailored to suit your skin tone—from cool berry shades to warm coppers—making sure your braids look like they were made just for you.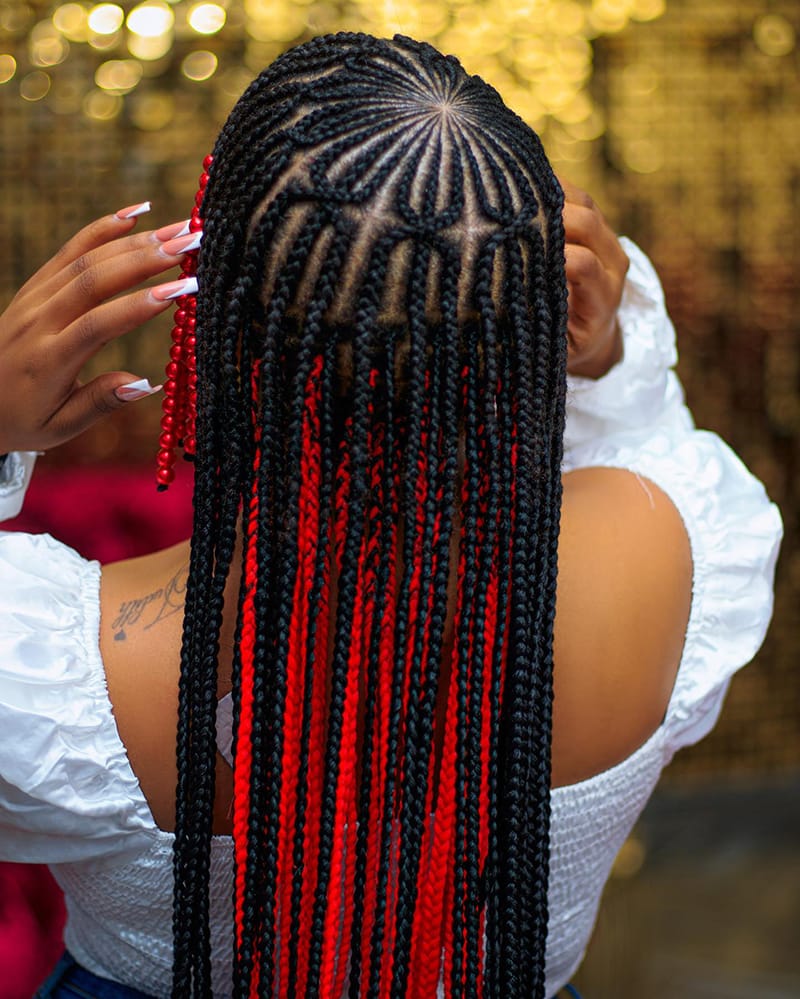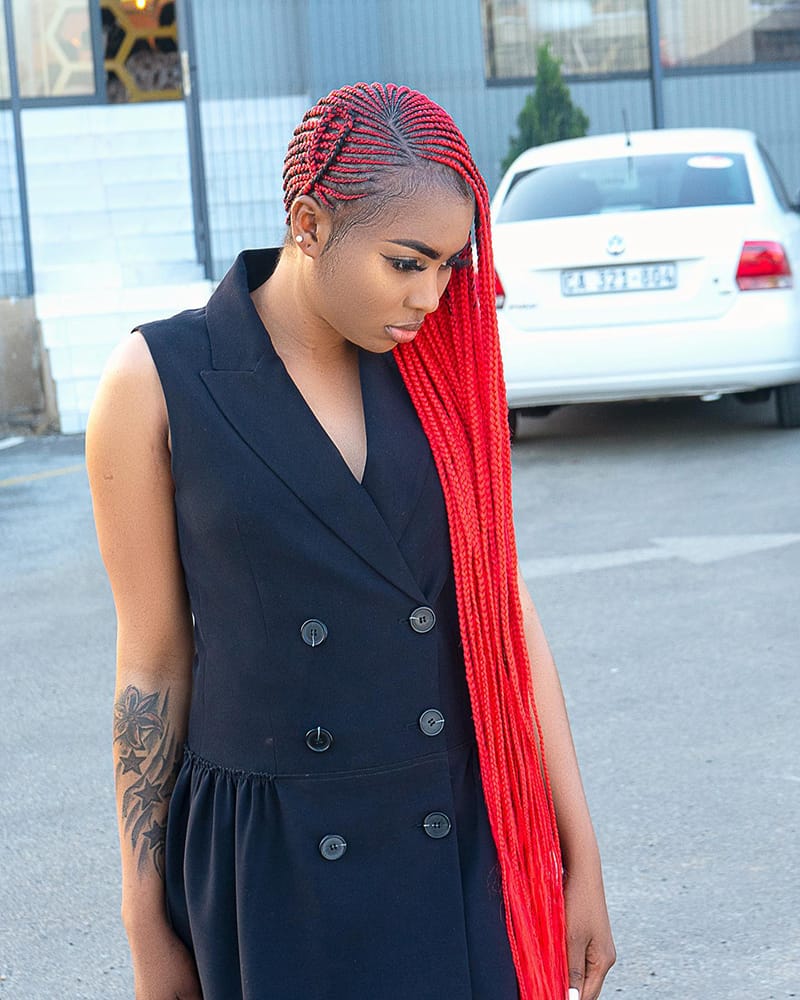 Blue Braids
Blue tribal braids are the epitome of cool. They're the whisper of the ocean and the echo of the sky woven into your hair. From the softest pastels to the deepest navy, blue can be serene or dramatic, but always beautiful. Blue braids can be a subtle hint of color peeking through natural tones or a full-on statement mane of oceanic hues. They're for those who love to play with color and aren't afraid to show off their creative side.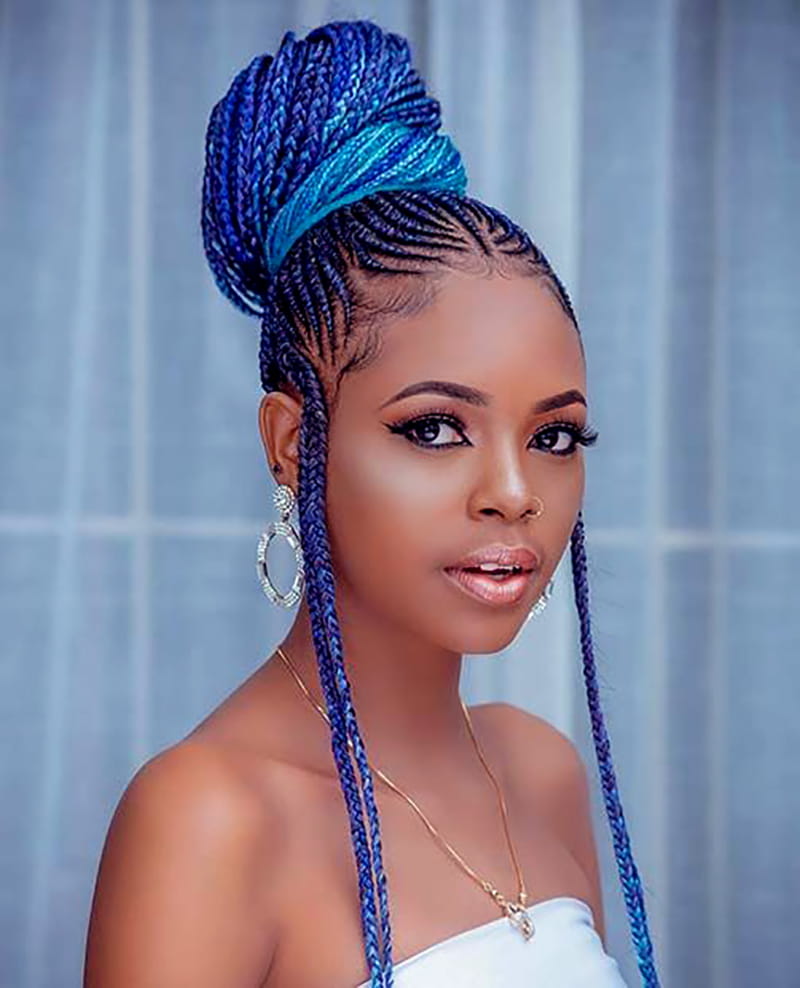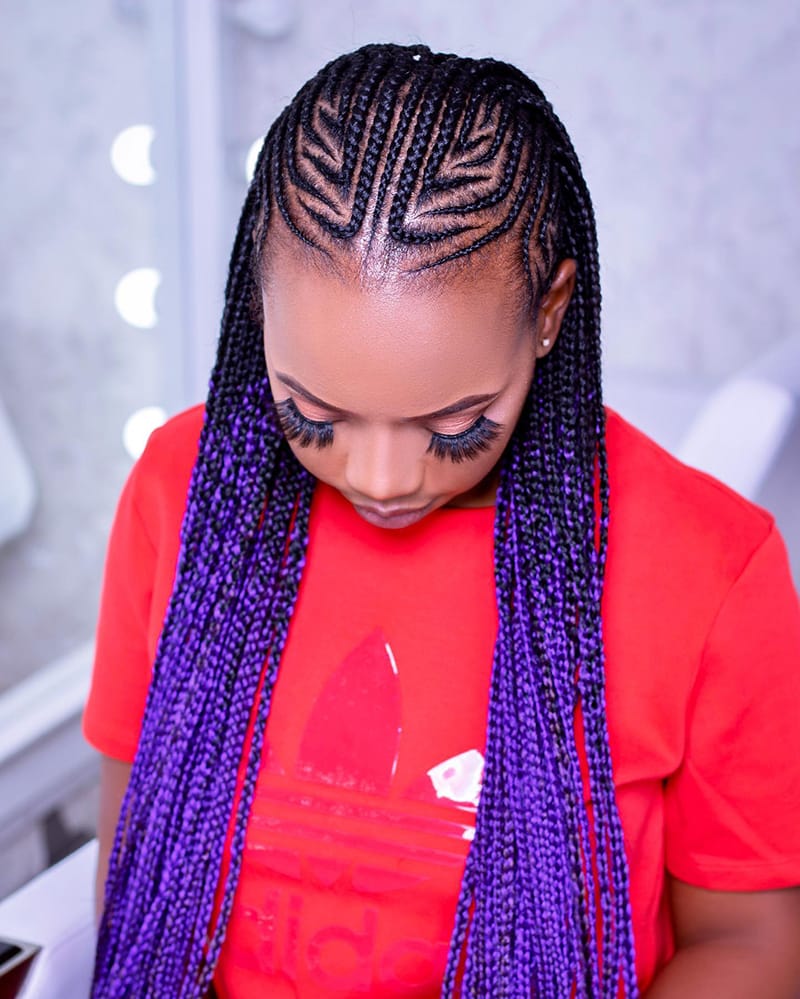 Ombre Tribal Braids
Ombre tribal braids are like the horizon at dusk—mysterious, inviting, and impossible to ignore. The seamless transition from dark to light not only adds depth and dimension to your braids but also provides a modern twist on a traditional style. Ombre is perfect for those who love a little drama in their look but prefer a gradual, subtle shift in color. It's a style that says you're up-to-date with the latest trends, yet you appreciate the timeless beauty of these braids.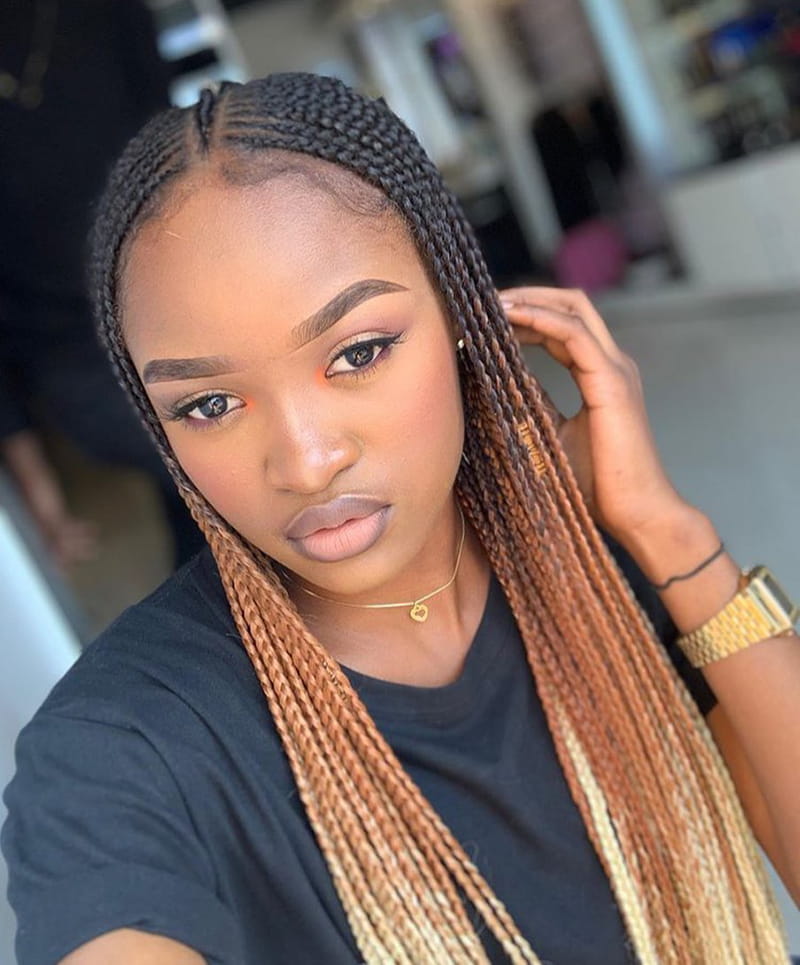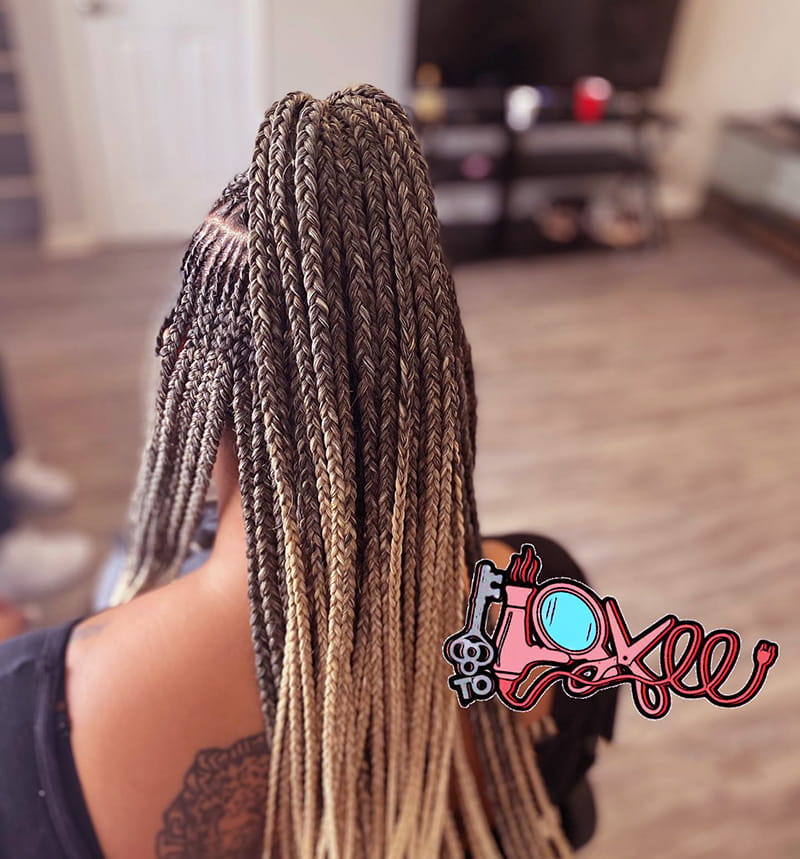 Blonde Tribal Braids
Blonde braids are a ray of sunshine in hair form. They can light up a room and your look, adding a playful and youthful vibe. Whether it's golden honey or platinum ice, blonde braids are all about having fun and embracing the lighter side of life. They're also perfect for summer, reflecting the sun's golden rays and complementing the warm weather.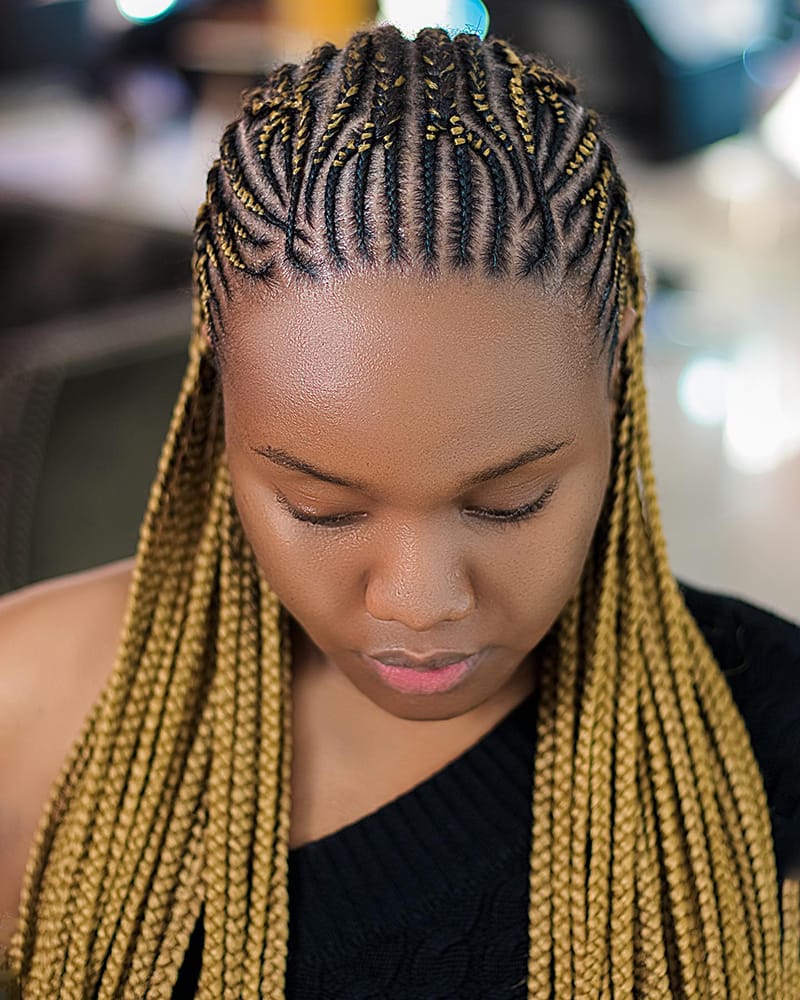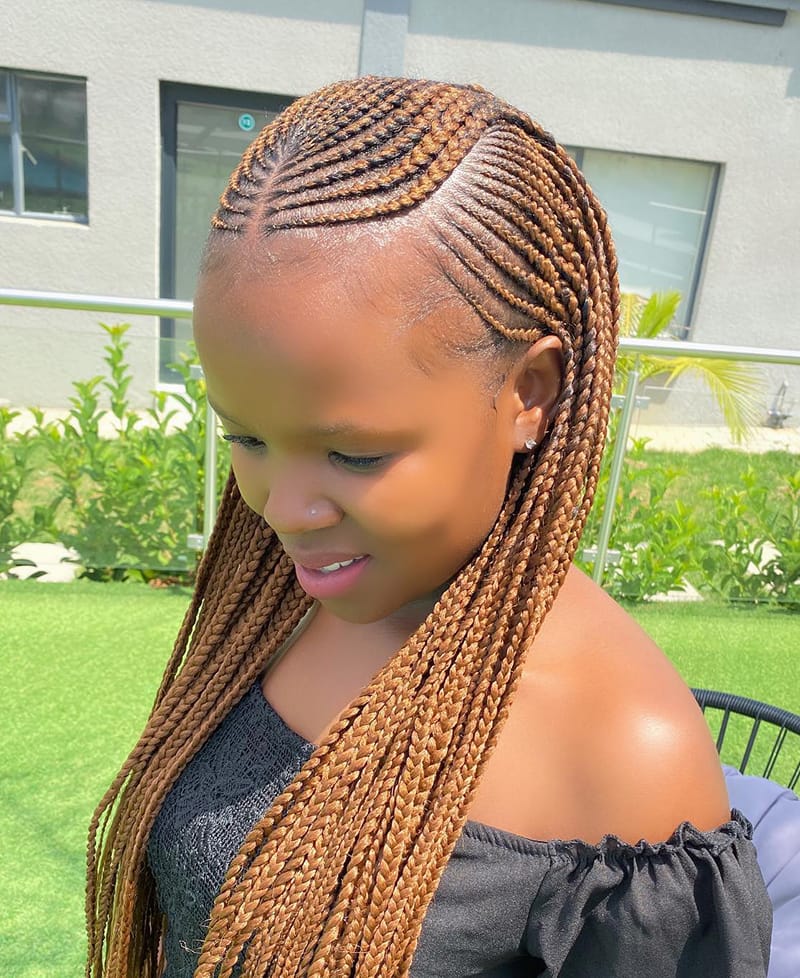 Pink Tribal Braids
Pink braids are a walk through a blooming garden on a spring day. They're a mix of sweet romance and edgy trendiness, offering a pop of color that's both girly and gutsy. Pink is versatile—it can be a soft whisper of pastel for a subtle look or a bright neon for a look that's loud and proud. It's for those days when you want your style to speak of softness and strength in the same breath.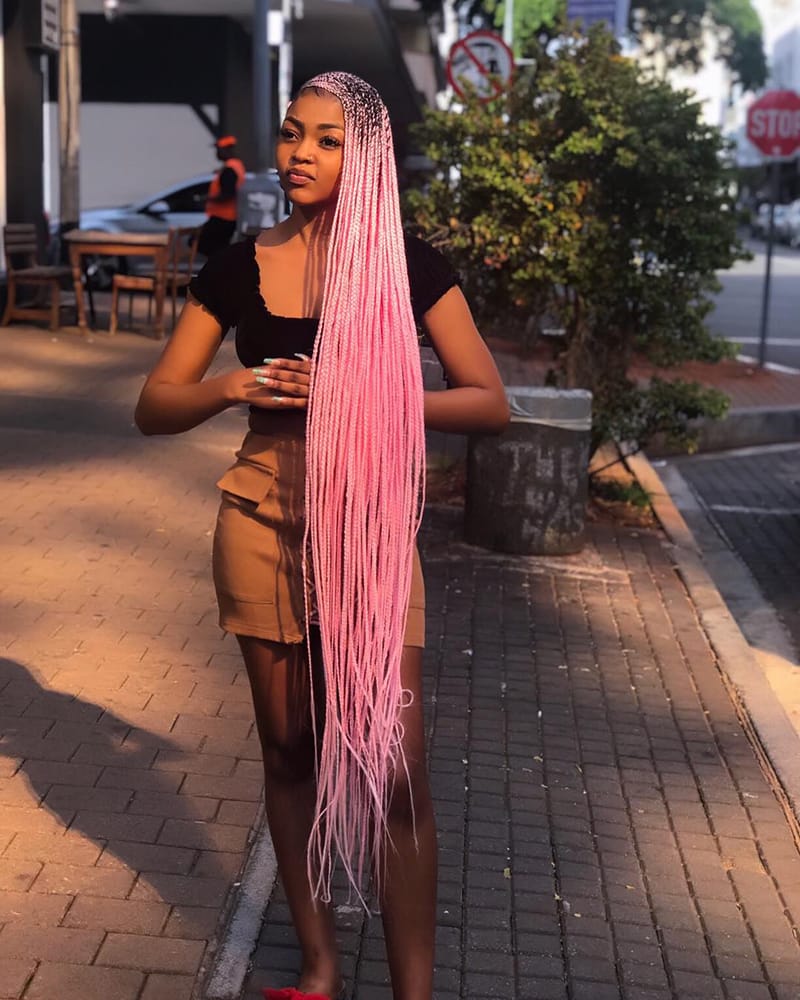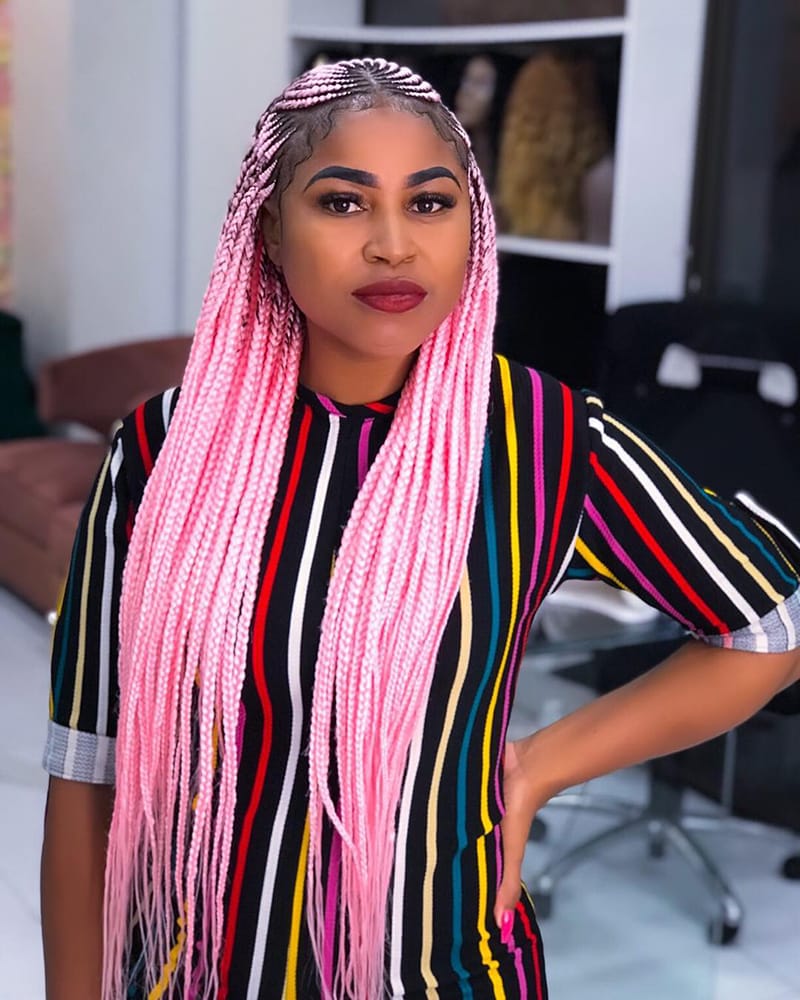 Burgundy Tribal Braids
Burgundy braids exude a sense of deep sophistication and bold confidence. This rich, wine-like shade is for those who want to blend the traditional with a touch of the dramatic. Burgundy is a versatile color, working beautifully with a variety of skin tones, and it can make your braids pop with an understated elegance. Whether you're attending a formal event or just spicing up your everyday look, burgundy braids are sure to add that extra depth and warmth to your appearance. Moreover, they're a perfect choice for the cooler months, complementing the earthy tones of fall and the rich textures of winter clothing.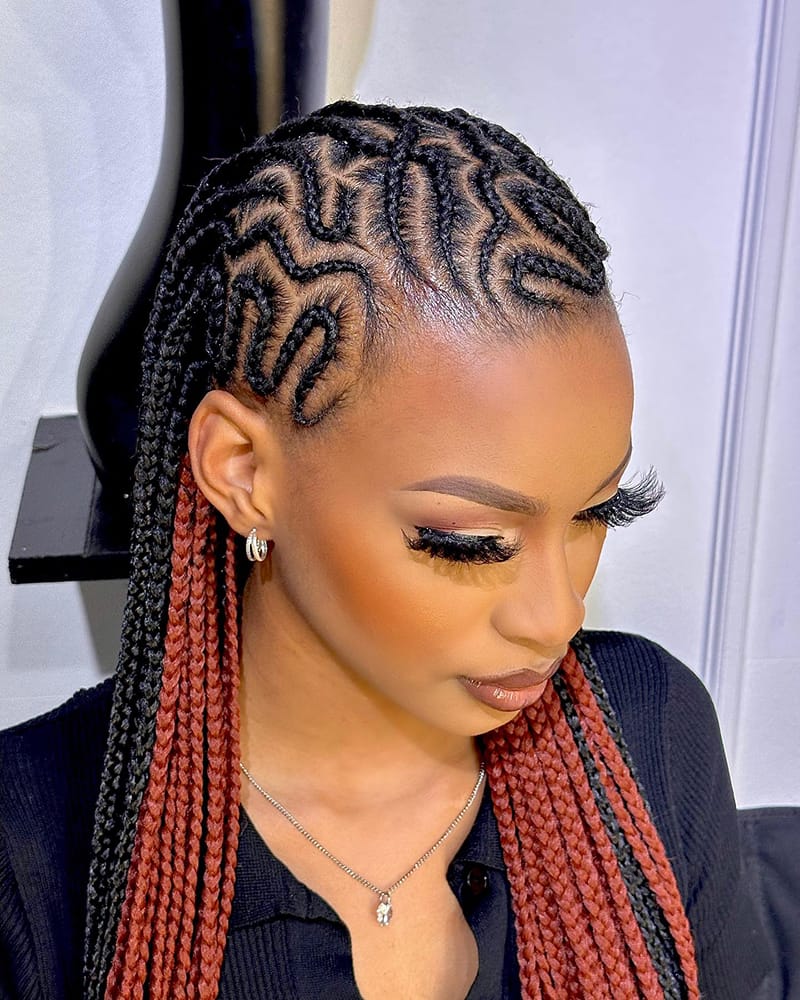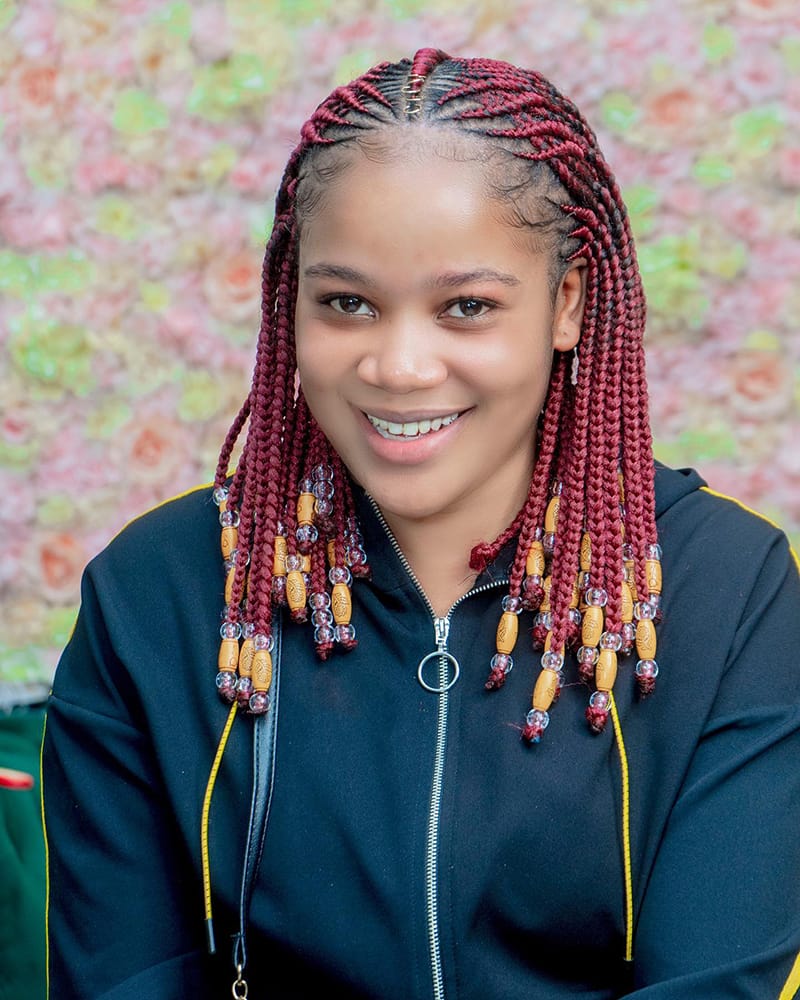 Purple Tribal Braids
Purple braids can be a statement of personal style that's as unique as a fingerprint. They're a celebration of individuality and creativity, perfect for those who like to walk on the wild side of style. Furthermore, purple is a color that can be matched with a variety of accessories, from golden beads to wooden cuffs, making your tribal braids a versatile choice for any occasion.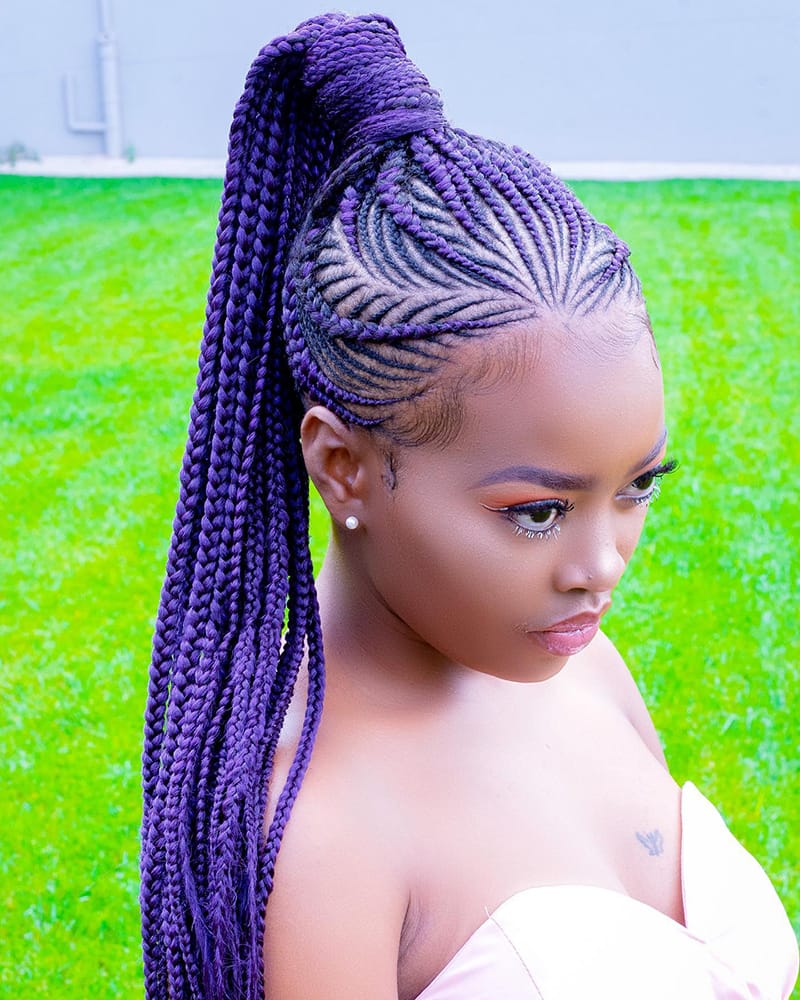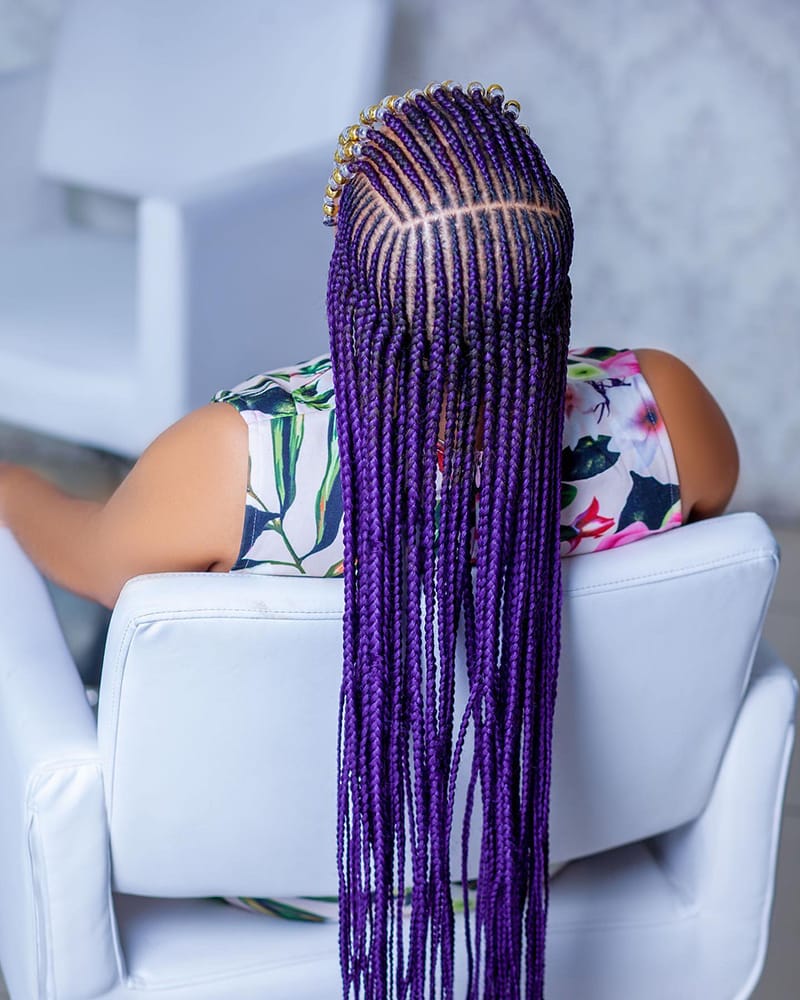 Honey Blonde Braids
Honey blonde tribal braids are like a sweet caress to your look, offering a warm and inviting hue that can brighten up any complexion. This sun-kissed color is perfect for those who want to keep their braids light and airy, with a touch of natural glam. Honey blonde is incredibly flattering and provides a soft, romantic vibe that's perfect for all seasons. Additionally, this shade pairs beautifully with a range of colors, allowing you to incorporate colorful threads or beads into your braids for an even more personalized touch.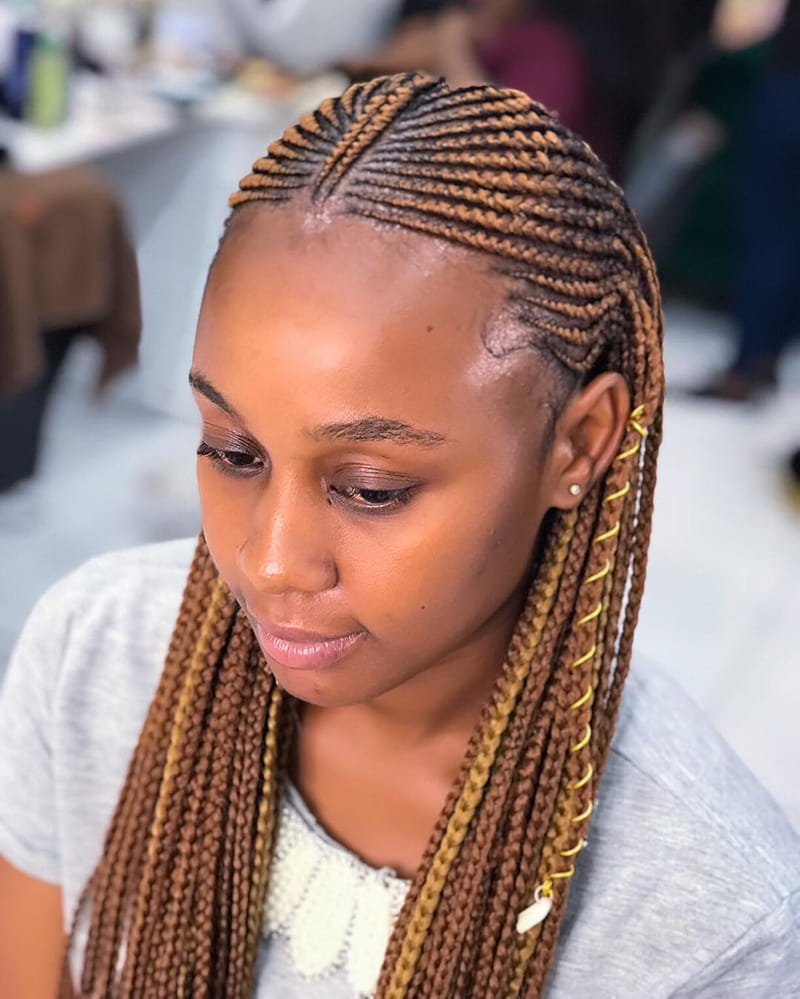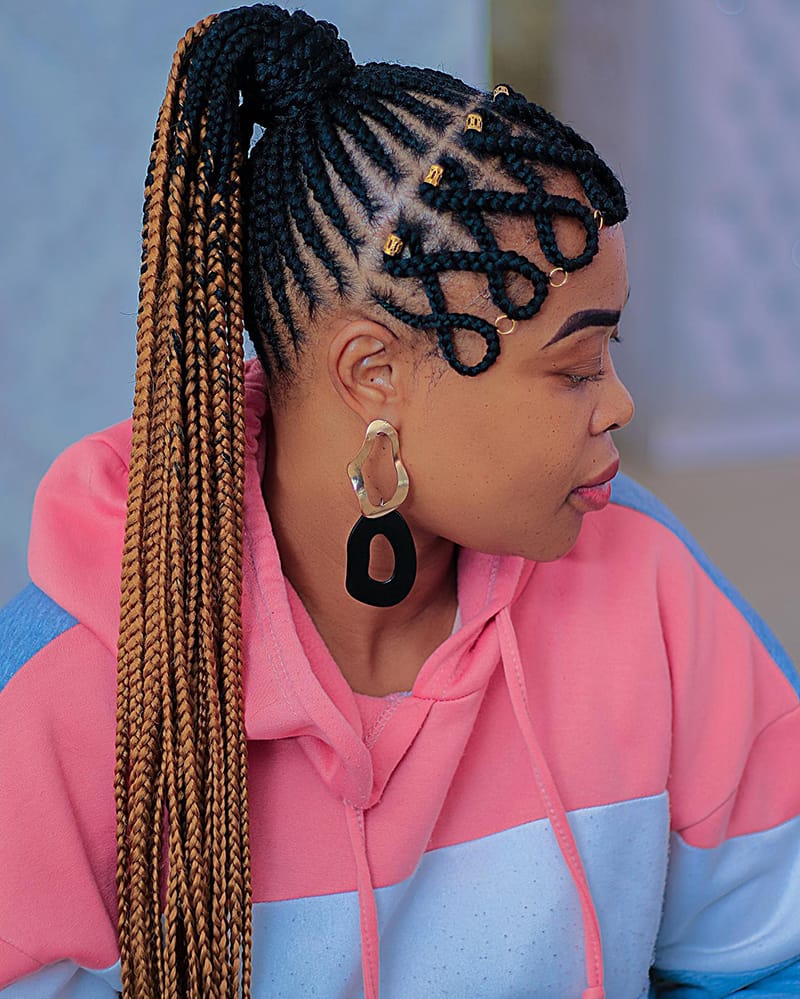 Highlighted Tribal Braids
Highlighted braids bring dimension and modern flair to traditional braiding styles. By interweaving strands of lighter shades, you can create a look that has depth, texture, and a professional touch of detail. Highlights can transform your braids from a single block of color to a dynamic, multifaceted hairstyle that catches the light and the eye. Moreover, they offer a way to play with color without fully committing to a bold all-over shade, making them a perfect choice for those who love to experiment with their look.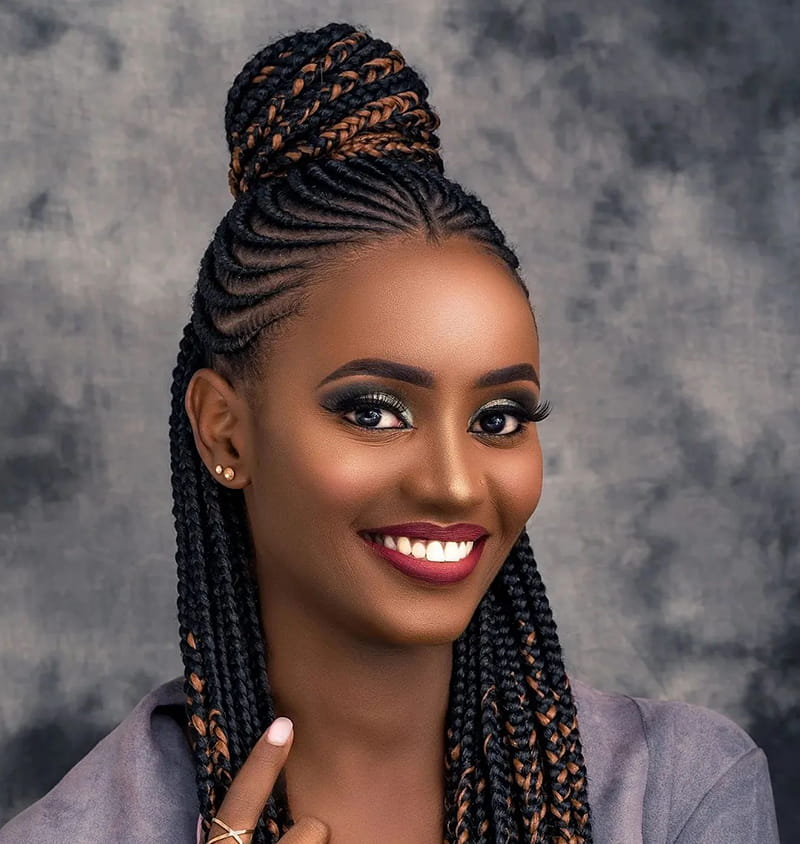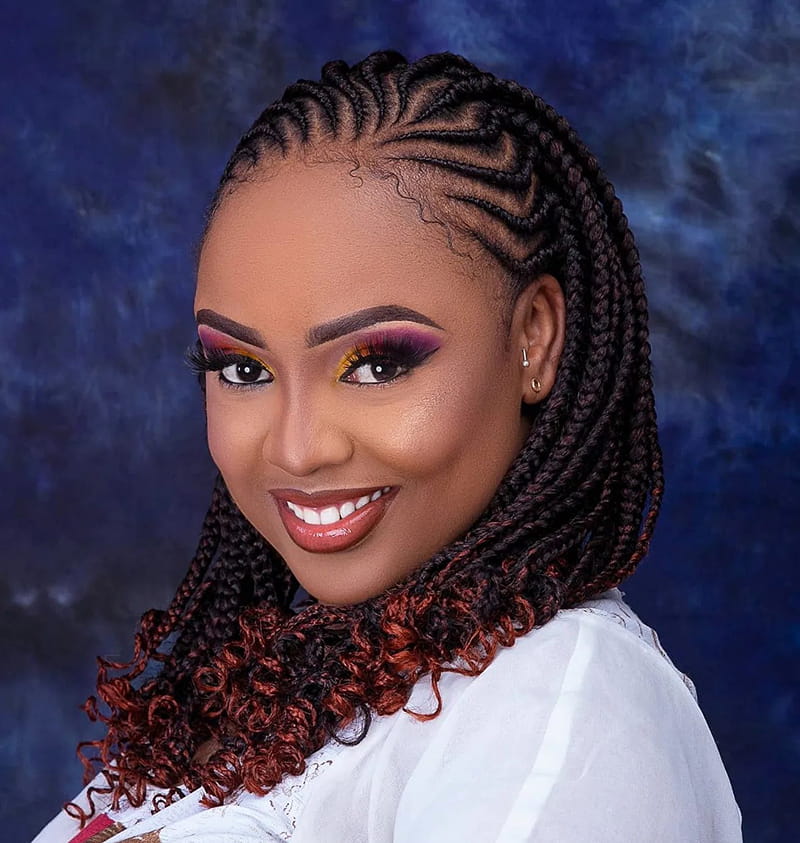 More Colorful Styles with Tribal Braids
When it comes to tribal braids, there's no need to stop at natural tones or conventional colors. The spectrum is as wide as your imagination. From electric blues to pastel purples, from fiery oranges to metallic silvers, every color adds a unique chapter to the story your braids tell. These more colorful styles are for those who view their hair as a canvas for self-expression, an extension of their vibrant personalities. Furthermore, they're a fun way to make a statement at music festivals, during holidays, or when you just want to shake things up and break away from the norm.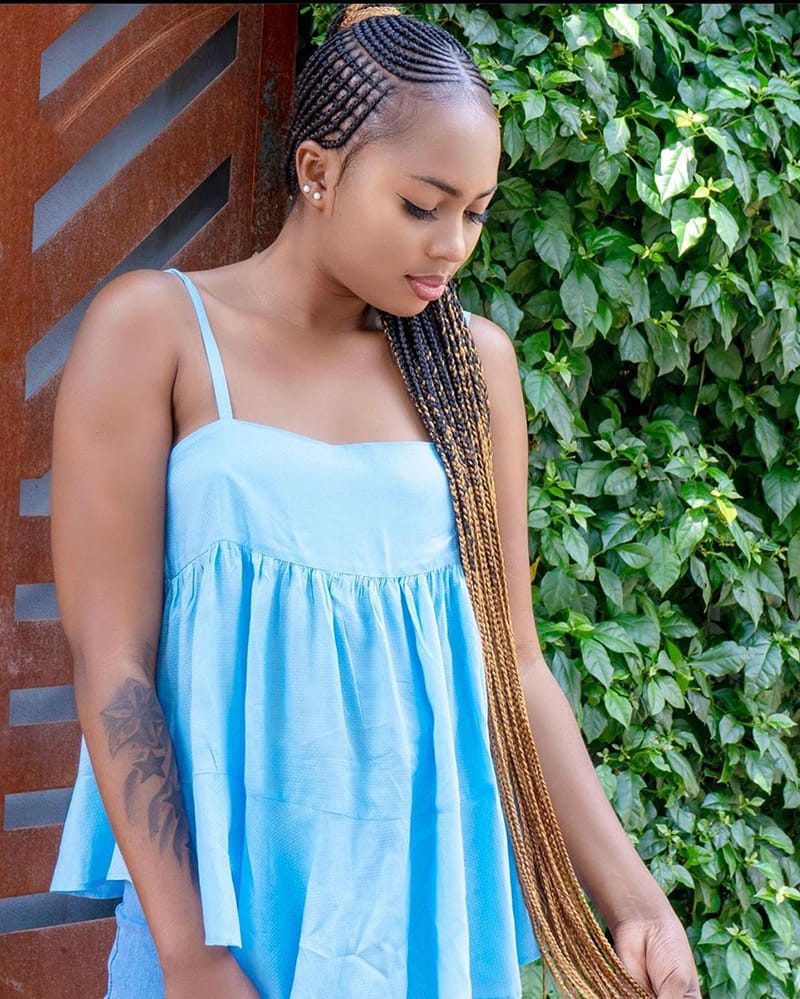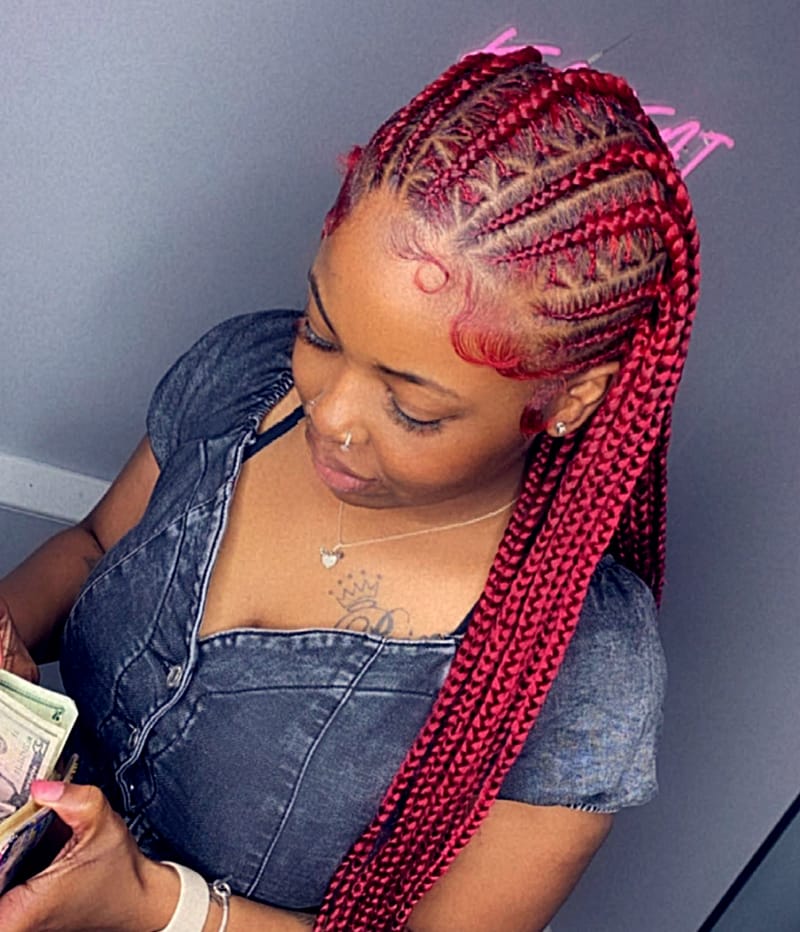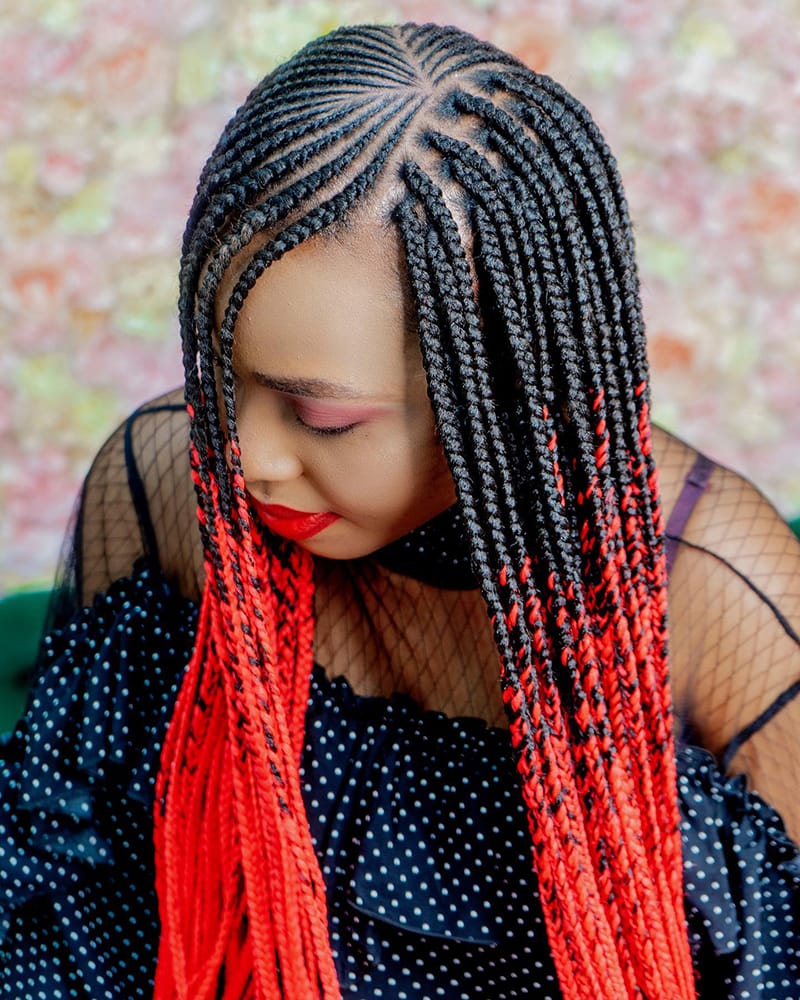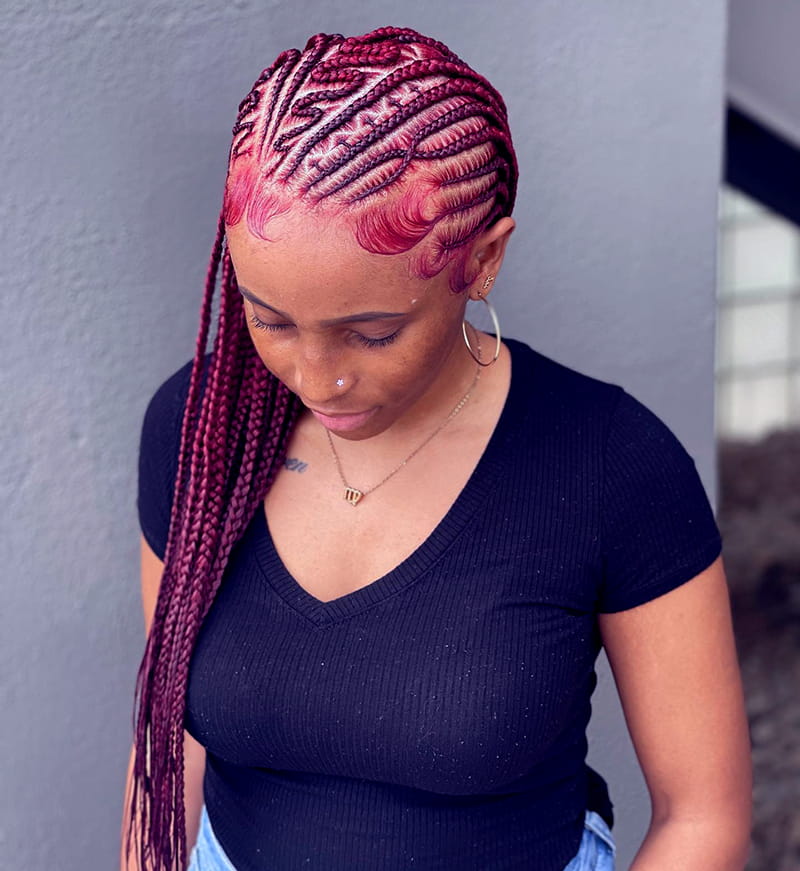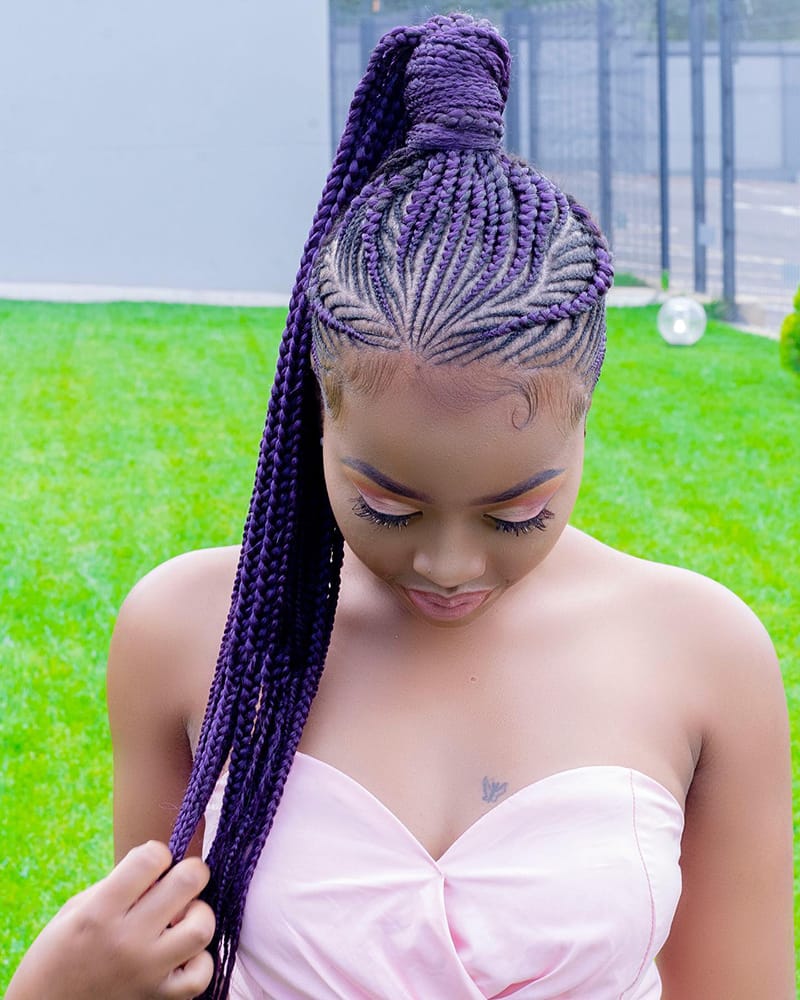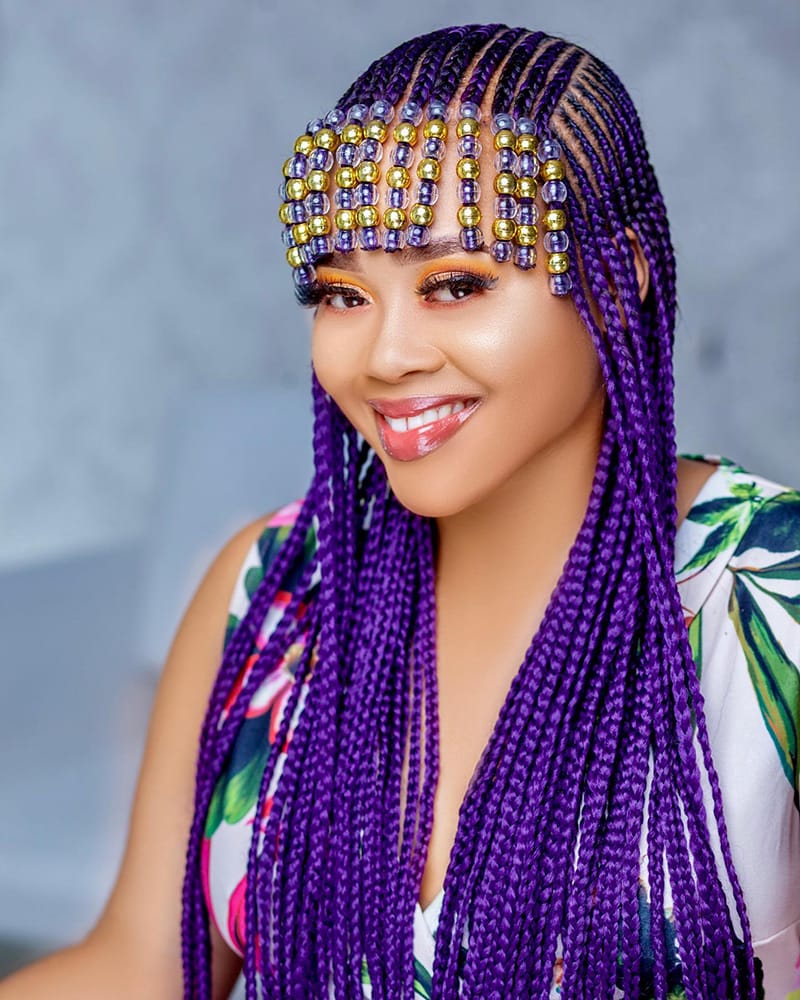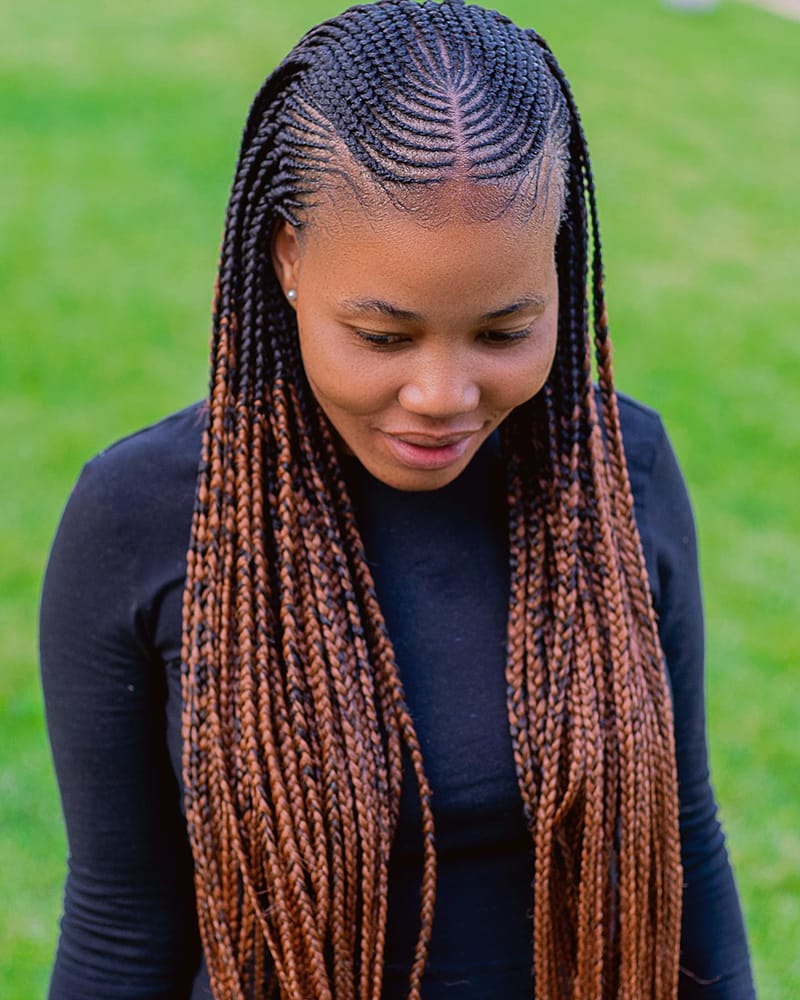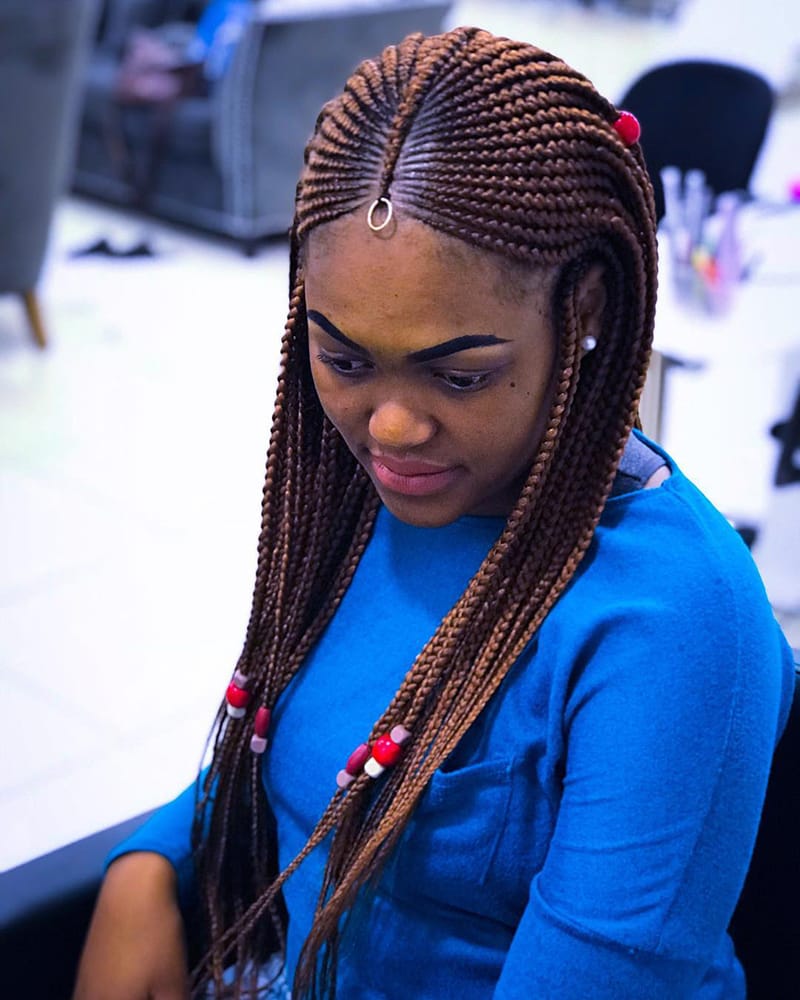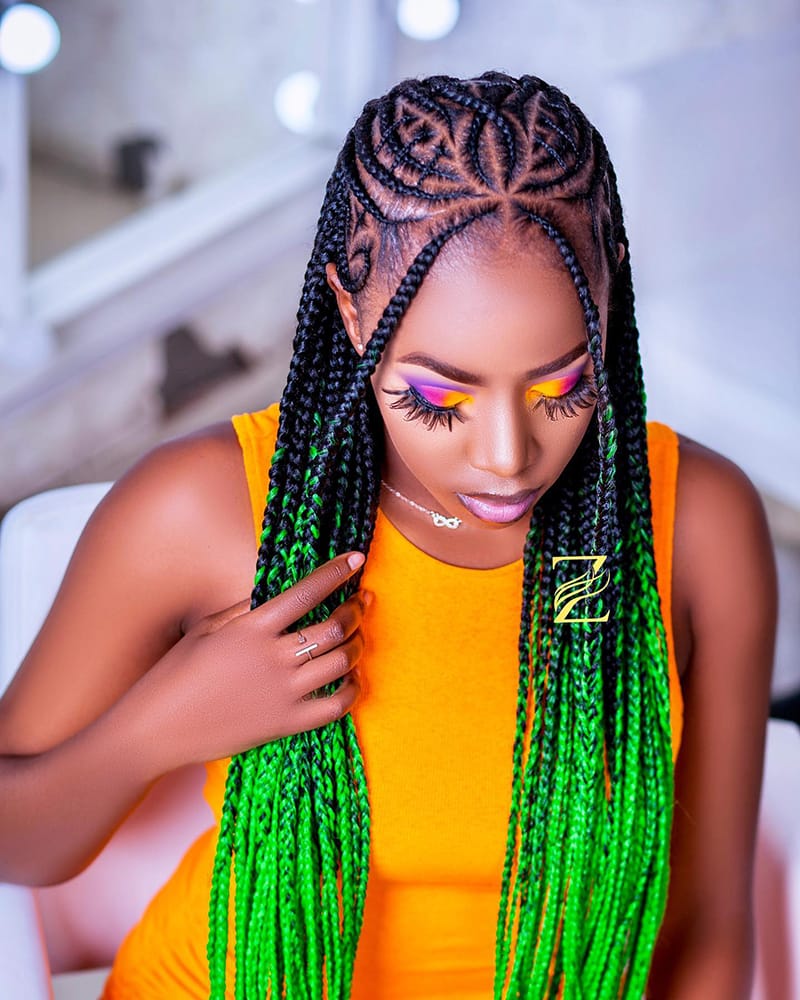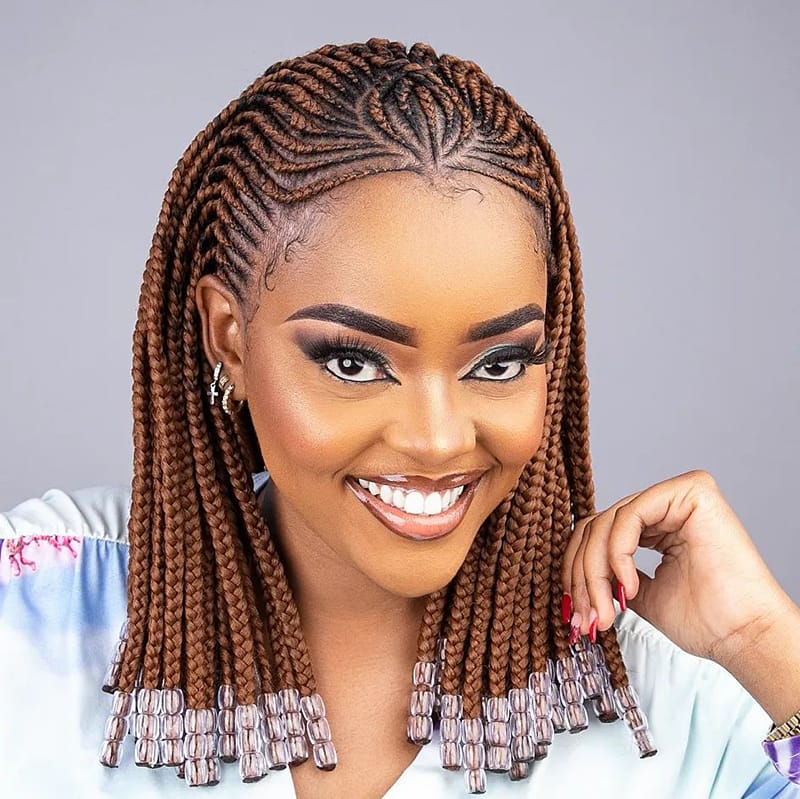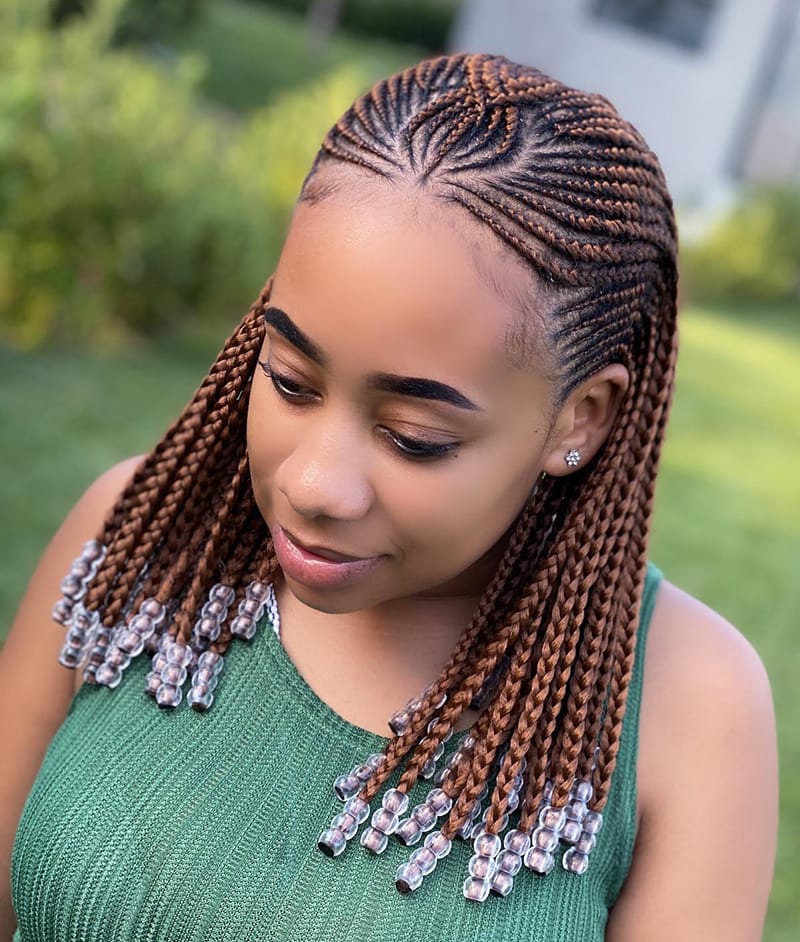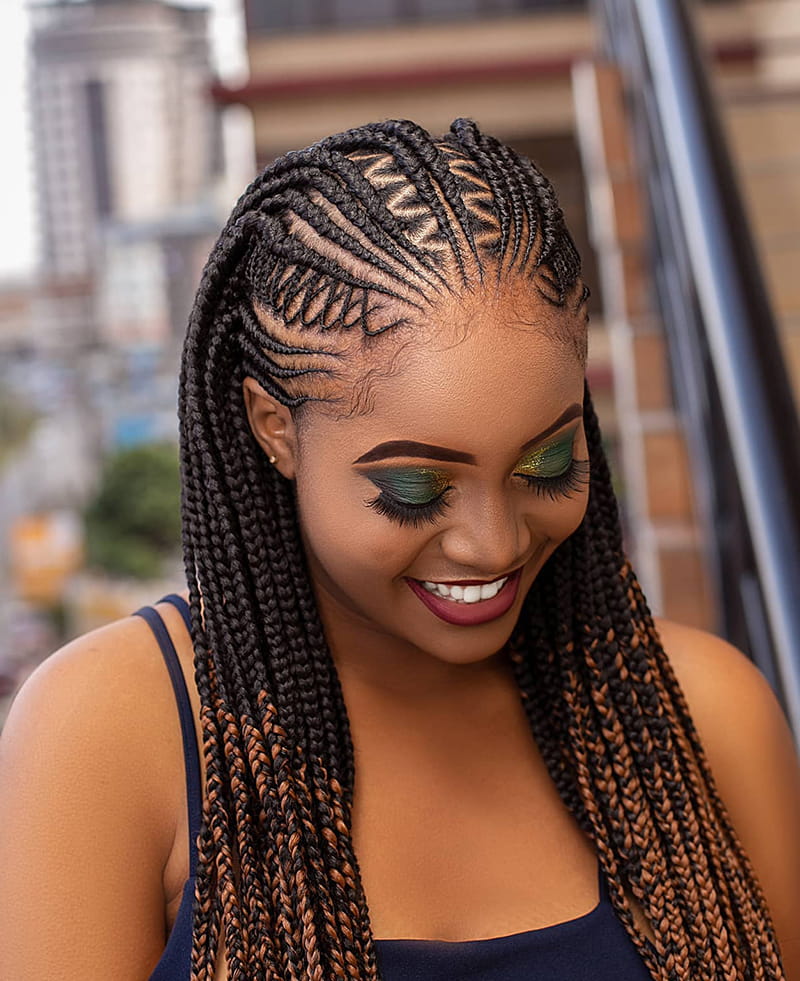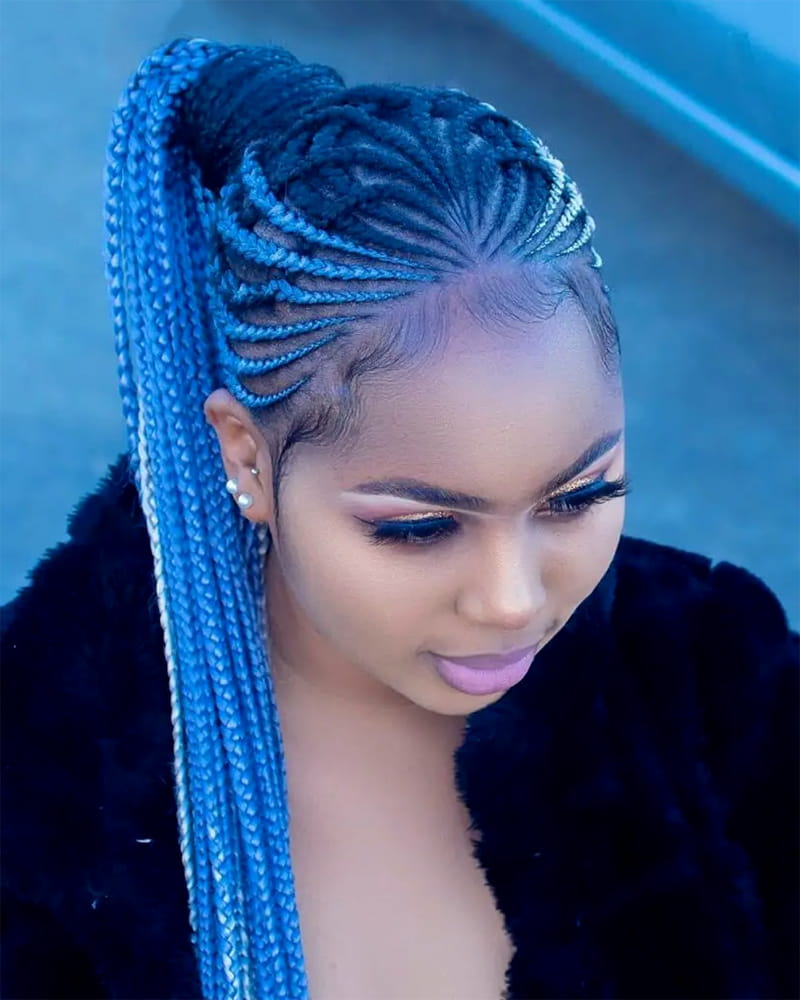 How to Style Tribal Braids?
The true beauty of tribal braids lies in their versatility. Whether you're going for an elegant, sophisticated look or something playful and casual, these braids offer endless possibilities. Let's explore some of the most popular and classic ways to style them.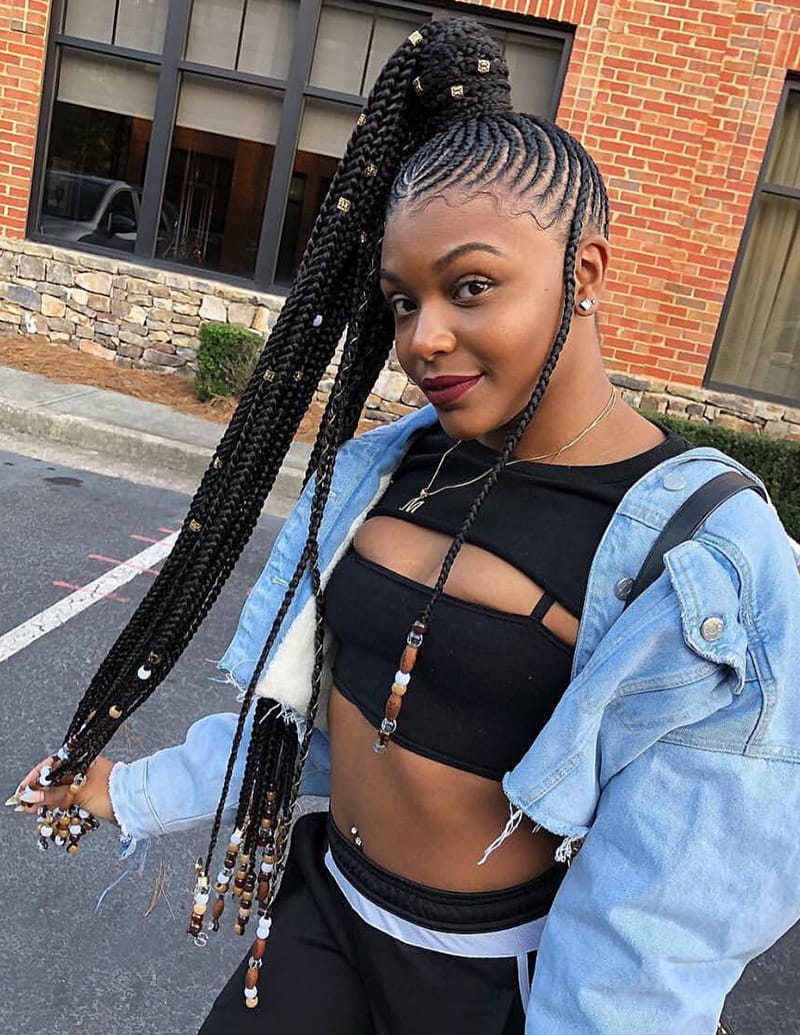 Classic Braids
There's something to be said for the timeless beauty of classic tribal braids worn long and free. This style showcases the intricate weaving and allows each braid its moment in the spotlight. It's a look that carries with it the weight of history and culture, telling a story with every twist and turn. The classic wear is not only a nod to tradition but also a statement piece that complements almost any outfit and occasion. It's a low-maintenance style that's as easy as it is beautiful, requiring nothing more than your own confidence to pull off.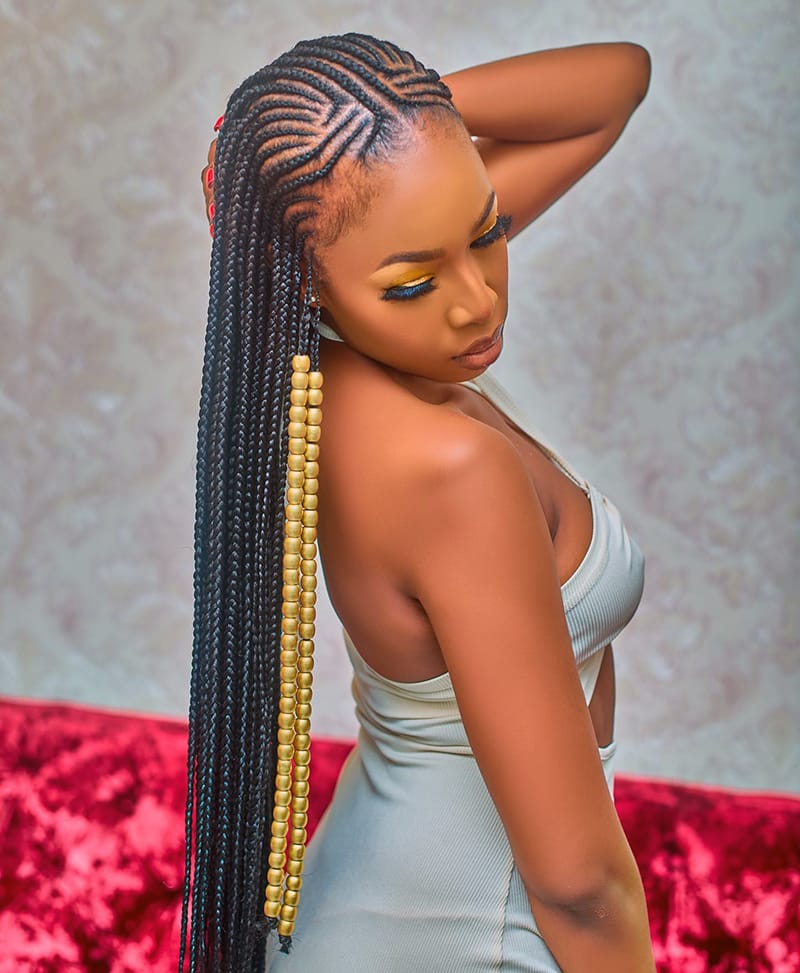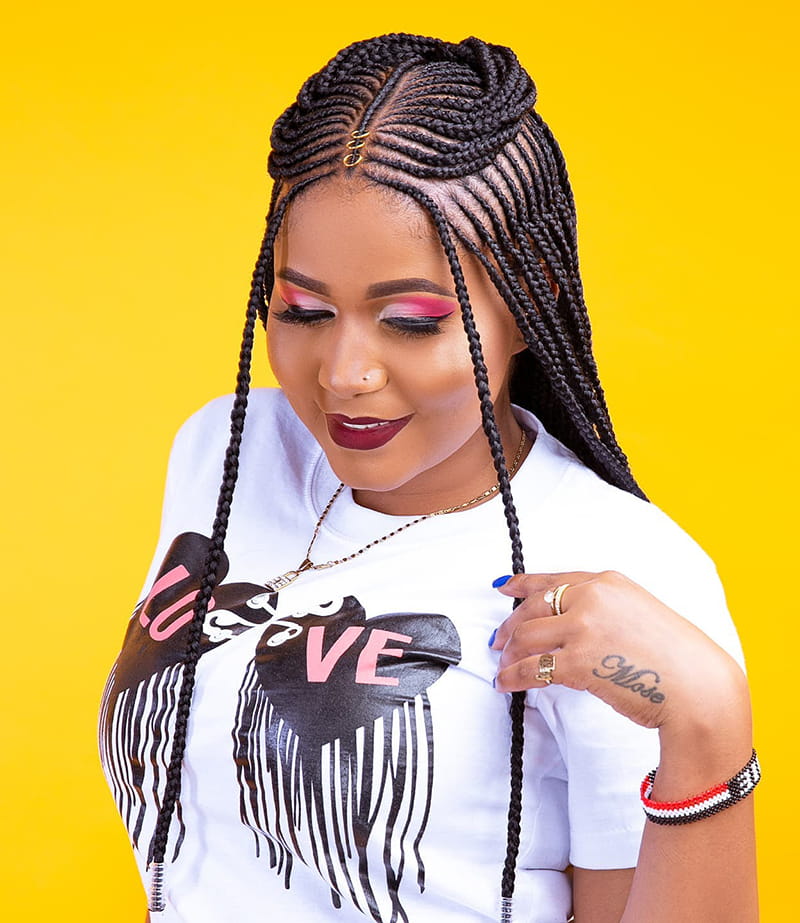 High Bun
For those times when you want to mix a bit of elegance with cultural flair, the high bun is an impeccable choice. Twisting your tribal braids into a bun at the crown of your head not only keeps them neatly out of the way but also offers a regal look that elongates the neck and highlights the face. This style works beautifully for formal events or when you simply want to add a touch of class to your everyday look. Moreover, it's a practical style that can protect your braids from the elements, ensuring they stay as pristine as when they were first braided.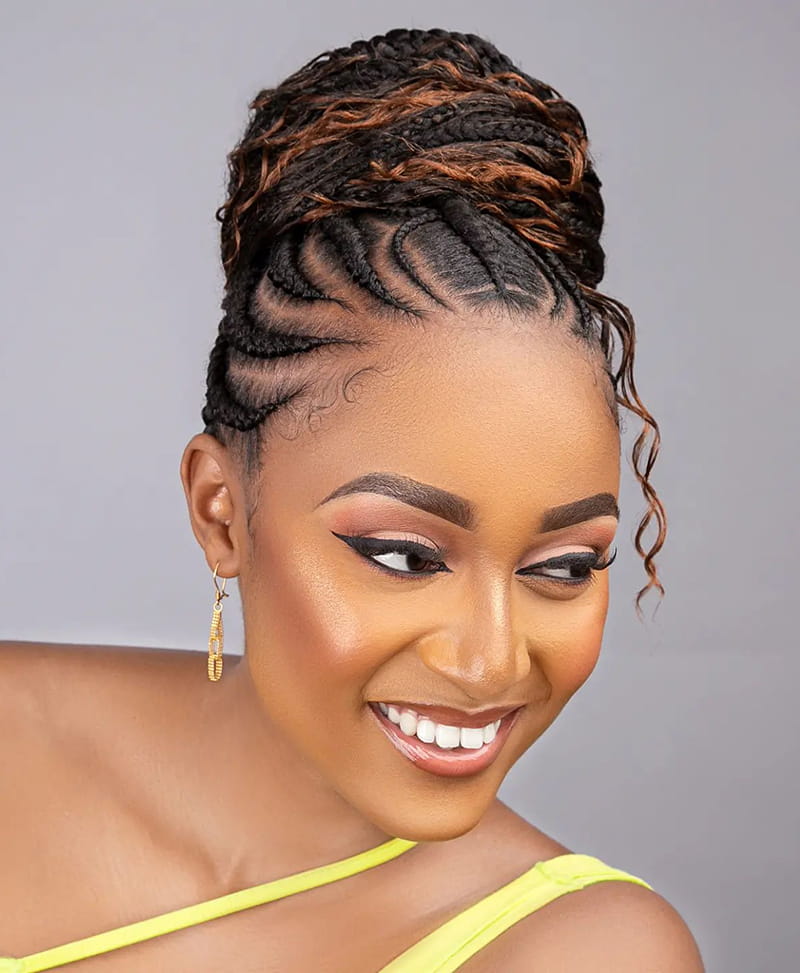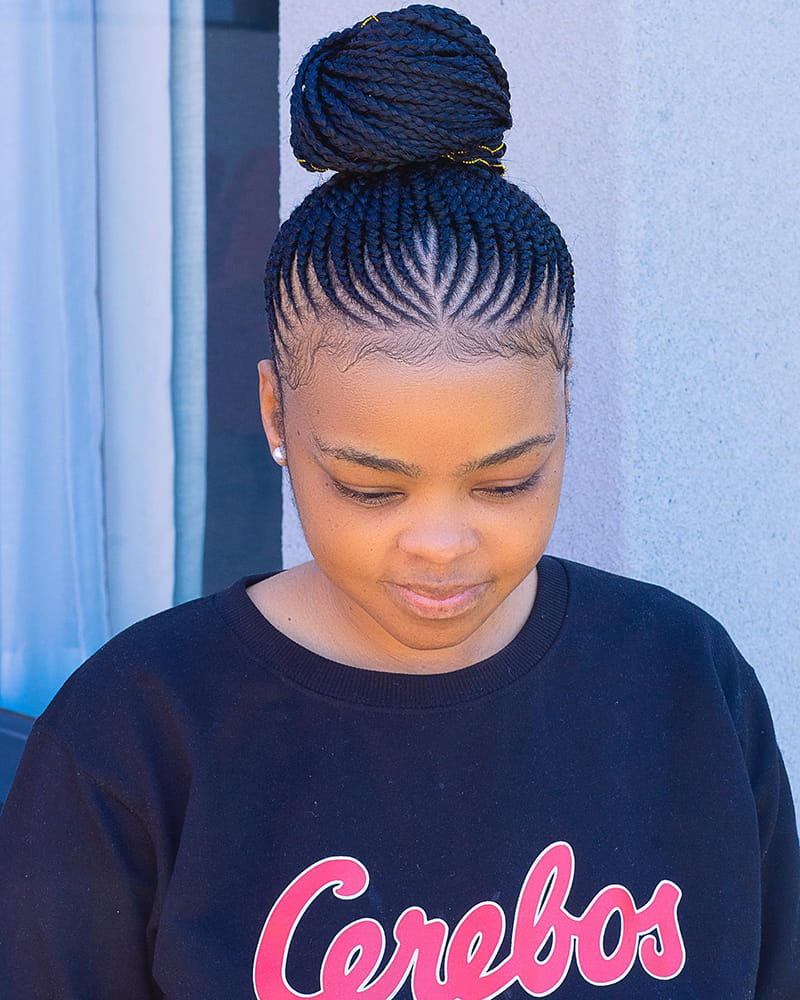 Low Bun
A low bun brings a different kind of sophistication. It's understated, elegant, and incredibly versatile. Gathering your braids at the nape of your neck into a bun presents a more subtle charm and can be a perfect look for professional settings or casual outings. It's a style that speaks of gentle strength and calm confidence. Additionally, decorating the bun with accessories such as beads or flowers can add a personal touch that truly makes the style your own.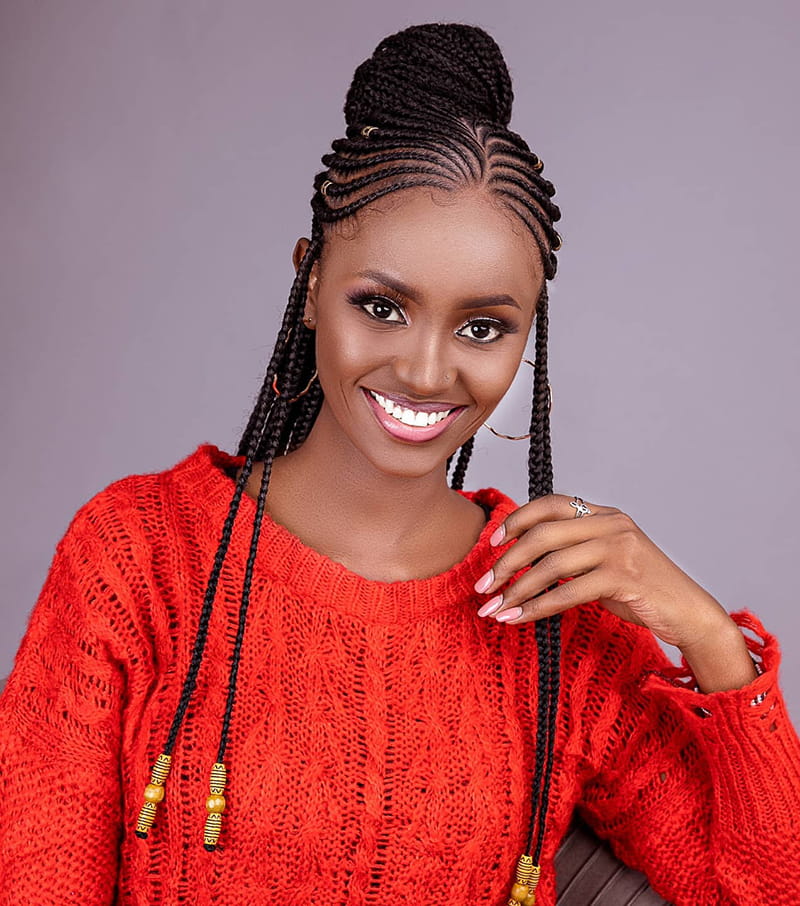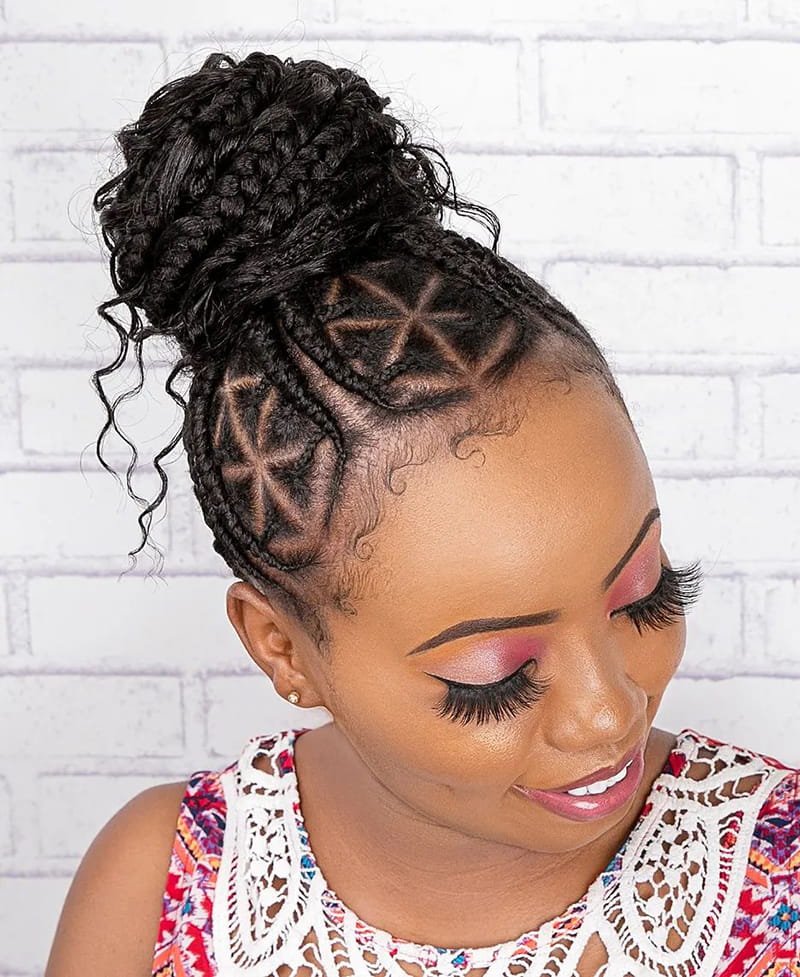 Space Buns
Space buns with tribal braids are a fun and quirky way to express your playful side. This style is youthful, vibrant, and full of personality. Splitting your braids into two and twirling them into buns on either side of your head is not just cute; it's a statement that you're here to have fun and you're not afraid to show it. Space buns are also a fantastic option for festivals, parties, or just days when you want to add a little extra joy to your look.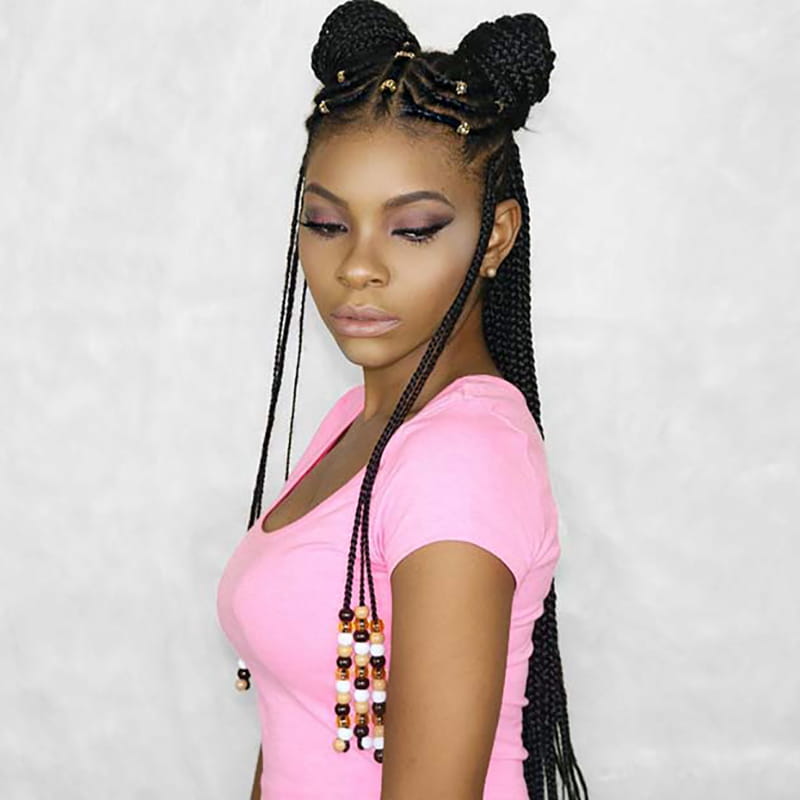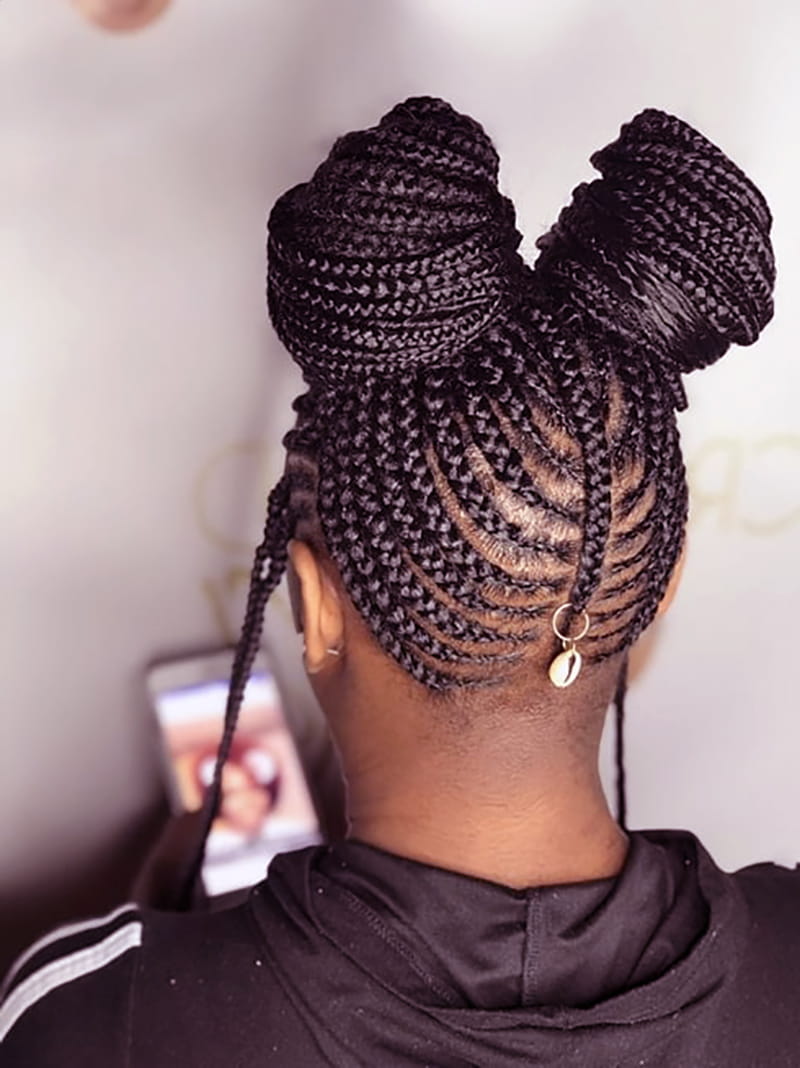 Topknot
The top knot is a classic updo that exudes a chic and modern vibe. With tribal braids, a topknot can be particularly striking as it displays the braids' length and texture in a way that's both stylish and convenient. It's a go-to for a night out with friends, a day at the office, or even a workout session. The topknot is not only versatile but also a fantastic way to keep cool on hot days while still looking incredibly fashionable.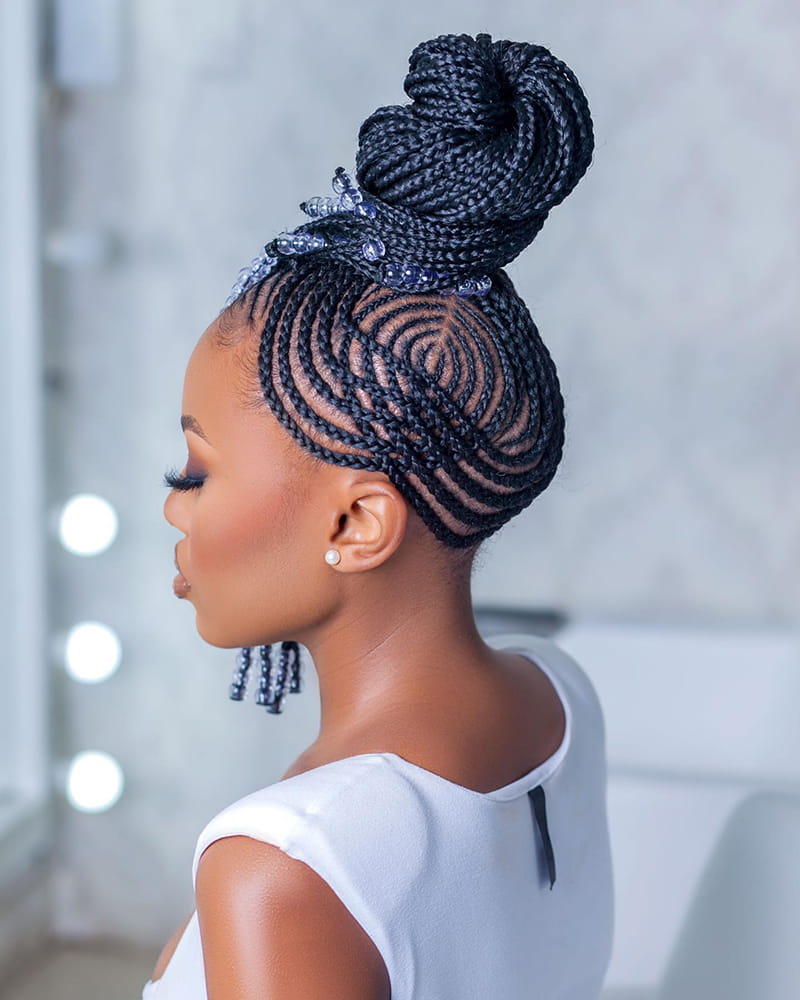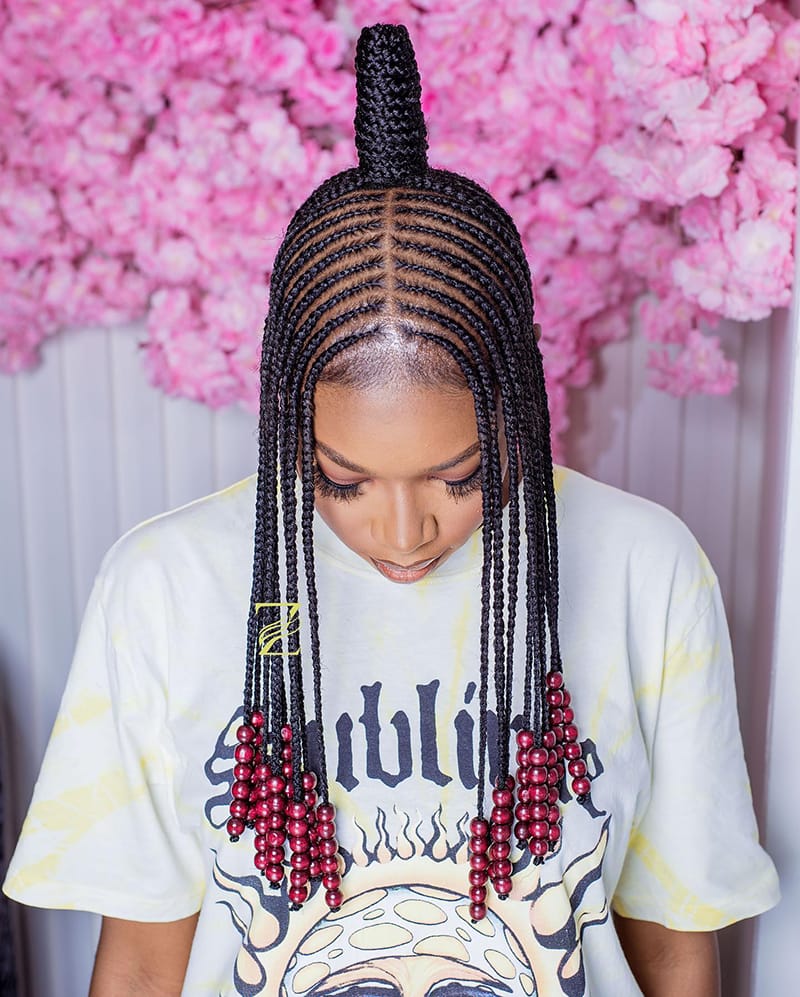 Updos
Updos with tribal braids are not just a hairstyle, they're a statement of elegance and sophistication. Think of a braided crown that sits atop your head like a tiara, or an intricate French twist that turns heads at any event. These styles elevate the traditional braiding technique to a level of haute couture, showcasing not just the braids but the artistry behind them. They can be adorned with accessories such as delicate flowers, sparkling gems, or even traditional African beads to honor their heritage. The updo is perfect for special occasions like weddings, galas, or any event where you want to make a grand entrance. Furthermore, this style is not only visually stunning but also practical, keeping your braids neatly tucked away and providing comfort for hours on end.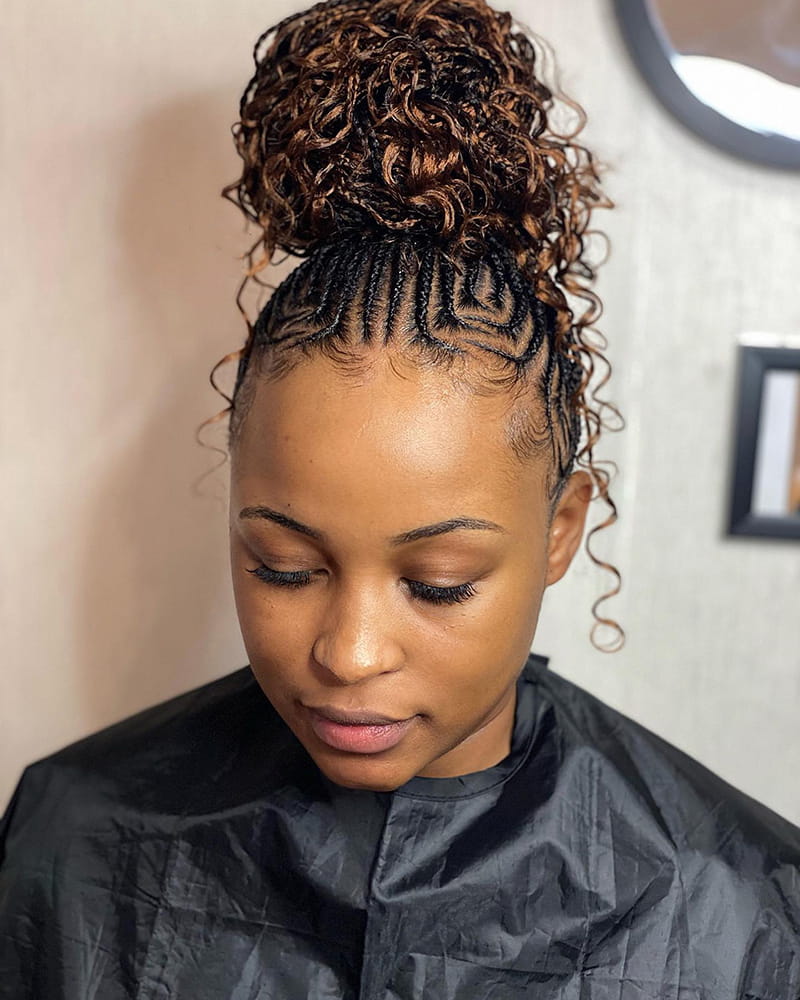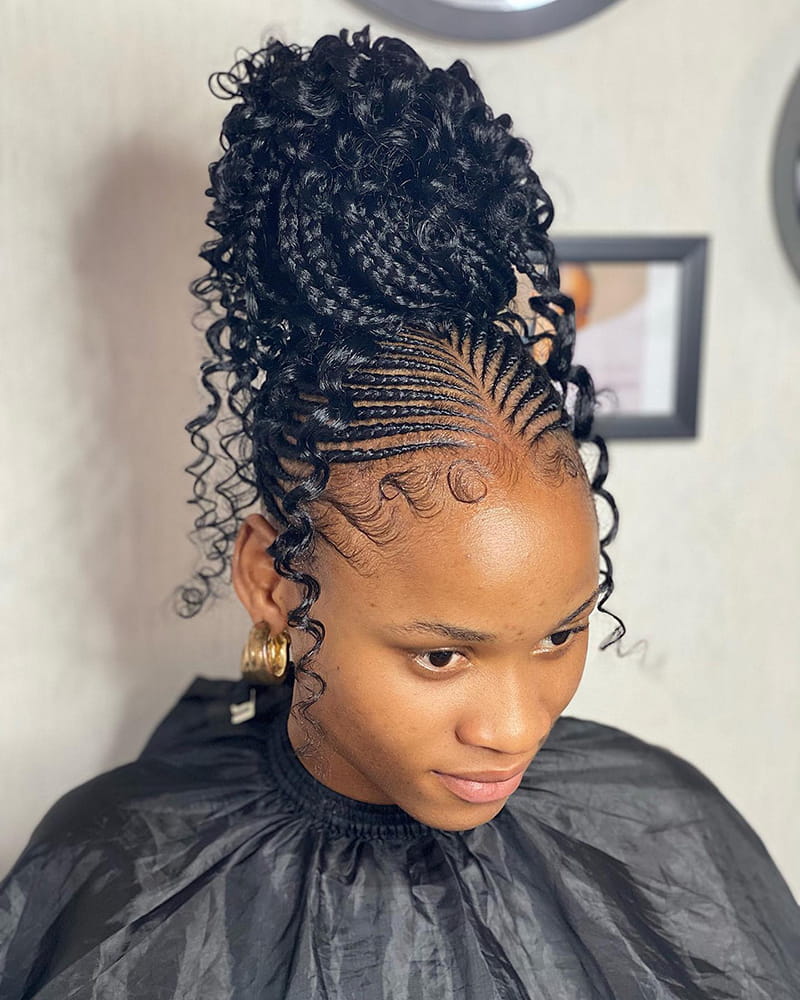 Half-Updos
The half-updo is a charming style that offers the best of both worlds. By pulling half of your braids back and securing them in place, you get to show off the length and body of your braids while adding a touch of sophistication to your look. This style works for almost any setting, be it a casual brunch with friends or a more formal evening affair. It's a fantastic way to enjoy the ease of having your hair off your face while still displaying the beauty of your braids. Additionally, the half-updo is incredibly versatile—wrap the top section into a bun, create a ponytail, or even craft a small braid for an extra touch of whimsy.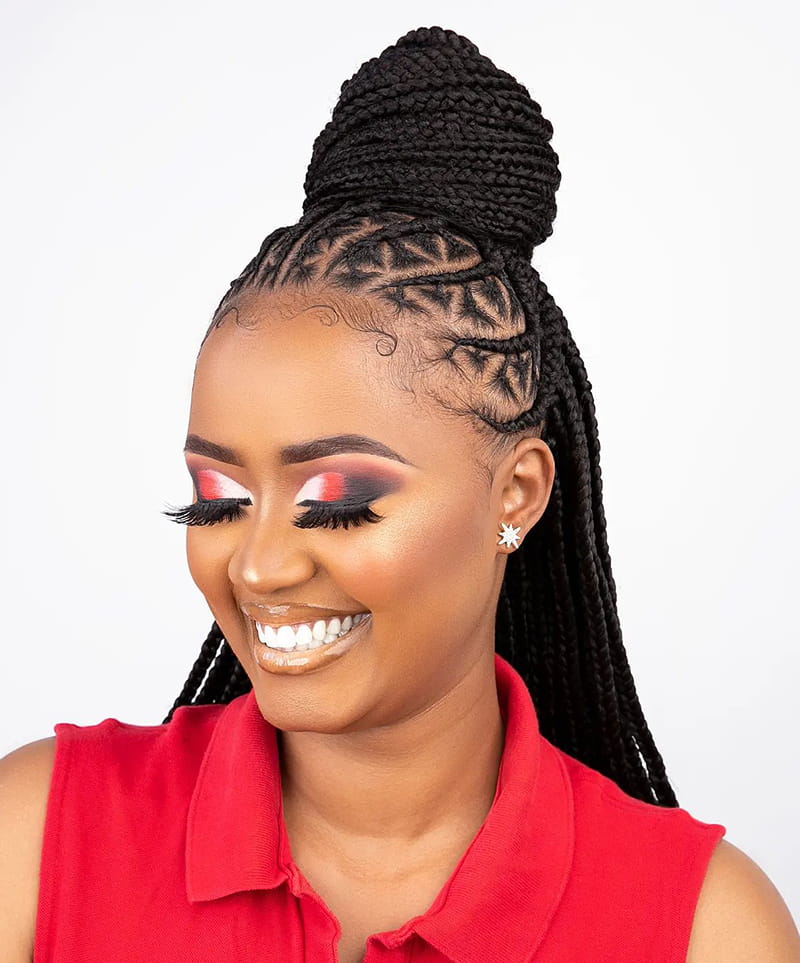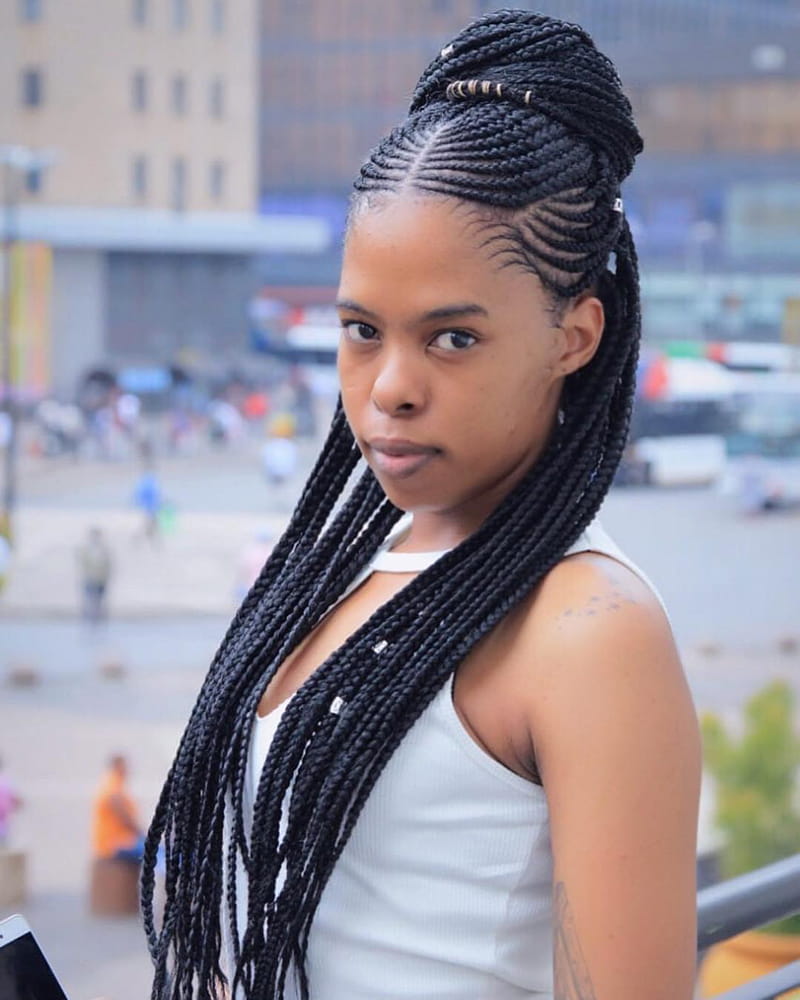 Ponytail Styles with Tribal Braids
Ponytails are a classic go-to for anyone with braids, and tribal braids are no exception. A high ponytail can make you feel sporty and chic, perfect for a day out in the city or an intense gym session. A low ponytail, on the other hand, exudes class and elegance, suitable for a day at the office or a night out on the town. Double ponytails offer a playful vibe, reminiscent of youthful innocence yet with a modern twist. Not only are ponytails with tribal braids stylish, but they're also practical. They keep your braids neat and prevent tangling, making them a great option for maintaining your look with ease. Moreover, ponytails provide a fantastic base for embellishments—wrap a few braids around the base for a polished finish or add beads and cuffs for a more decorative look.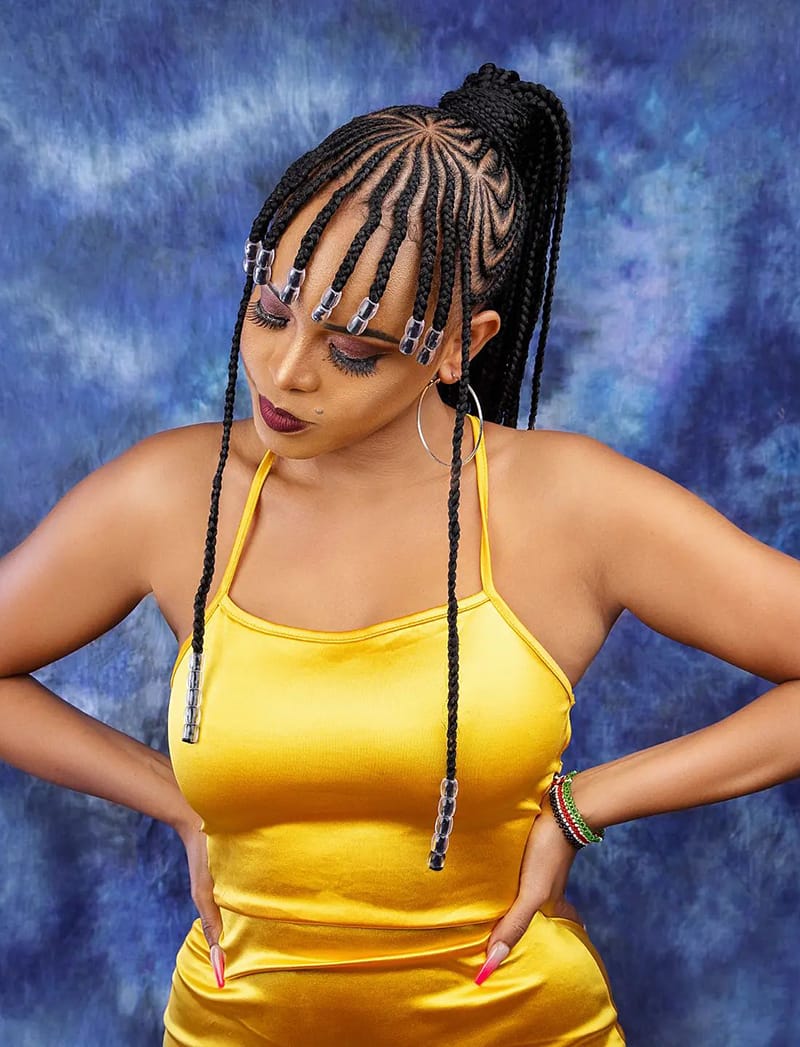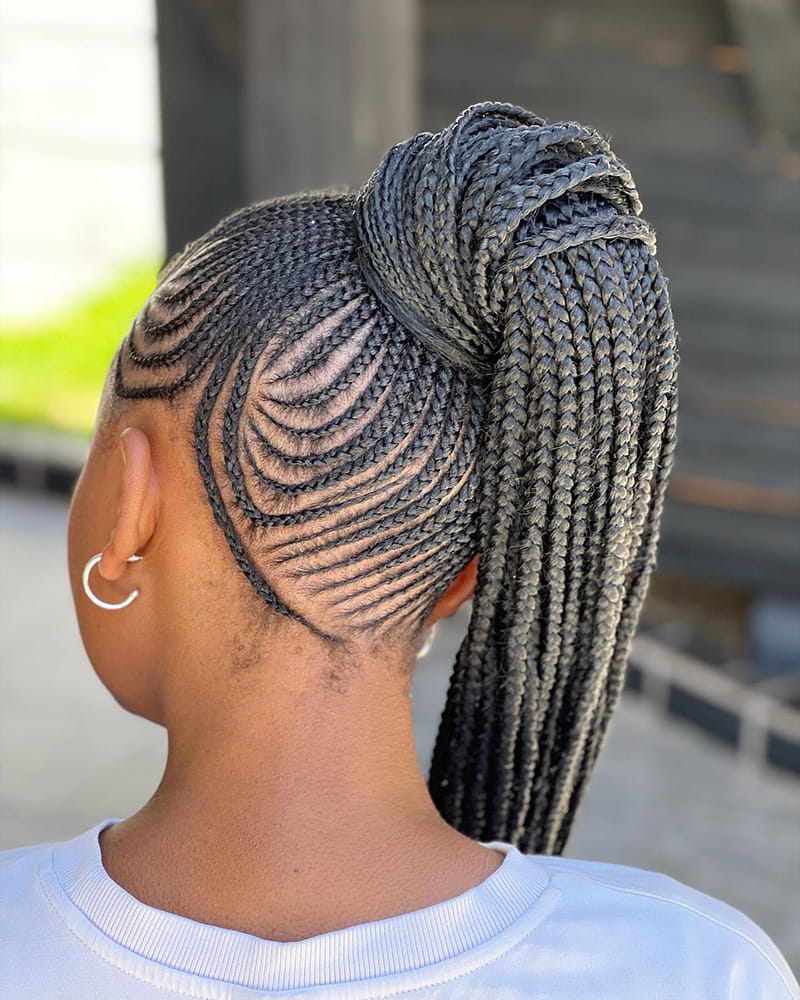 High Ponytail
The high ponytail is an iconic style that brings a sense of sleekness and sporty elegance to your tribal braids. It's a style that elevates your facial features and exudes a lively, energetic vibe. When you gather your tribal braids into a high ponytail, you make a statement of both power and playfulness. It's a look that can transition from a day at the office to an evening out with friends without missing a beat. Additionally, a high ponytail can be a base for further styling. You can wrap a braid around the base for a polished look or incorporate colorful threads for a more vibrant feel. It's also practical for workouts or windy days when you want your hair securely styled away from your face.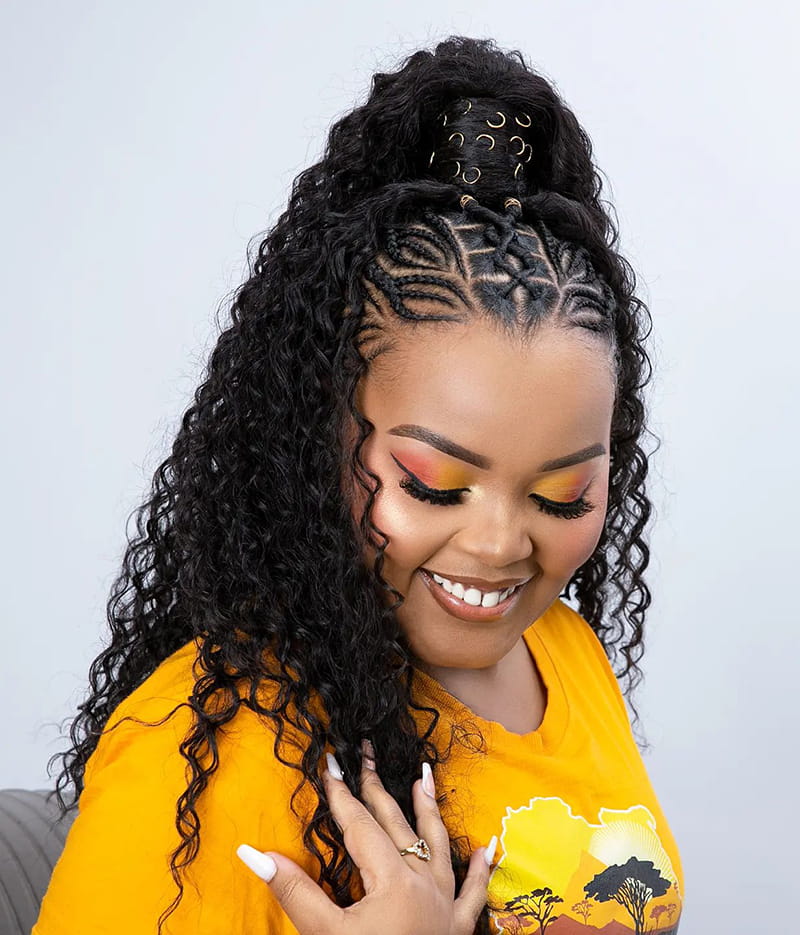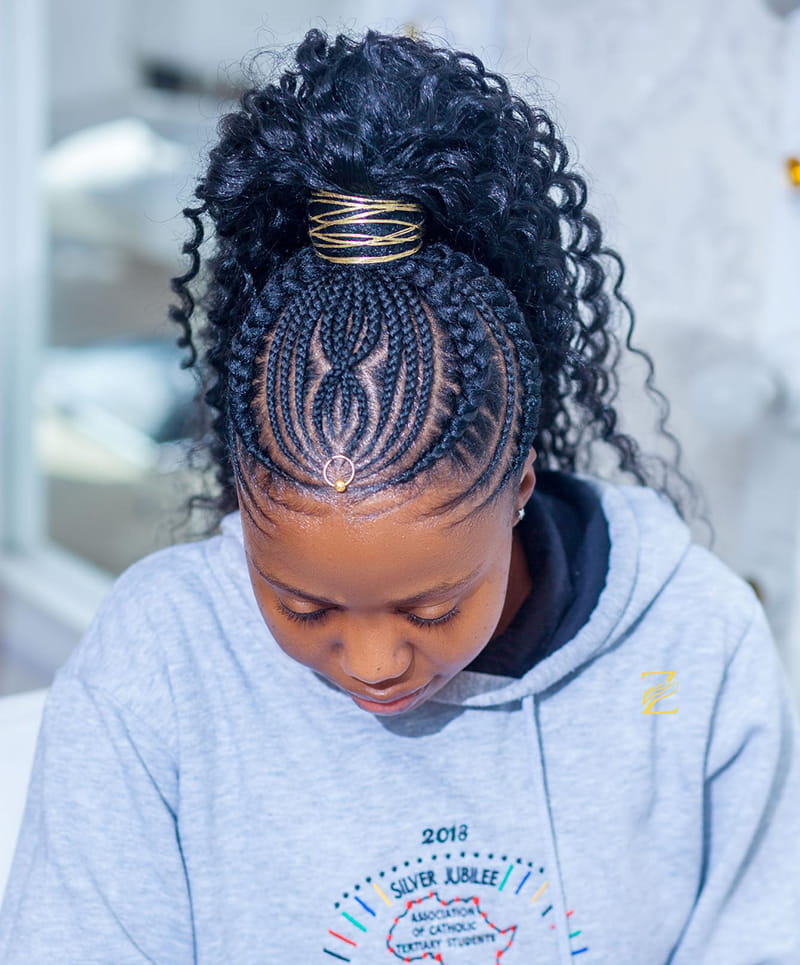 Low Ponytail
A low ponytail with tribal braids offers a more understated and versatile approach. It's the epitome of simplicity meeting elegance, providing a style that's suitable for professional settings or a relaxed weekend. The weight of the braids hanging down can beautifully showcase the length and detail of each braid. To add a twist to this classic style, consider braiding the ponytail itself or adding a few well-placed accessories for a touch of sophistication. Moreover, the low ponytail is gentle on the edges and can be a great option for those who are mindful of maintaining healthy hairlines.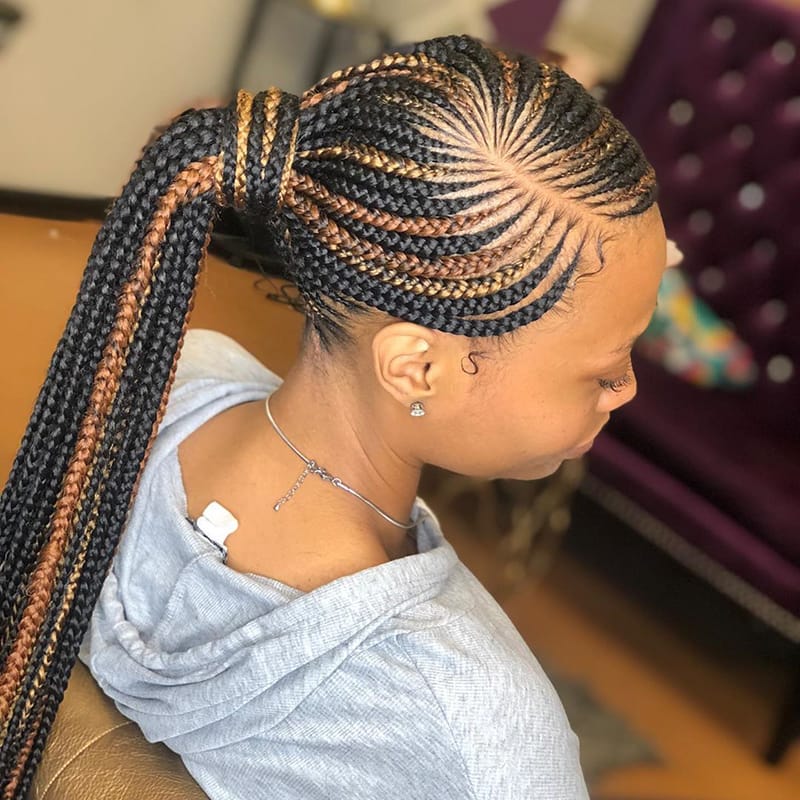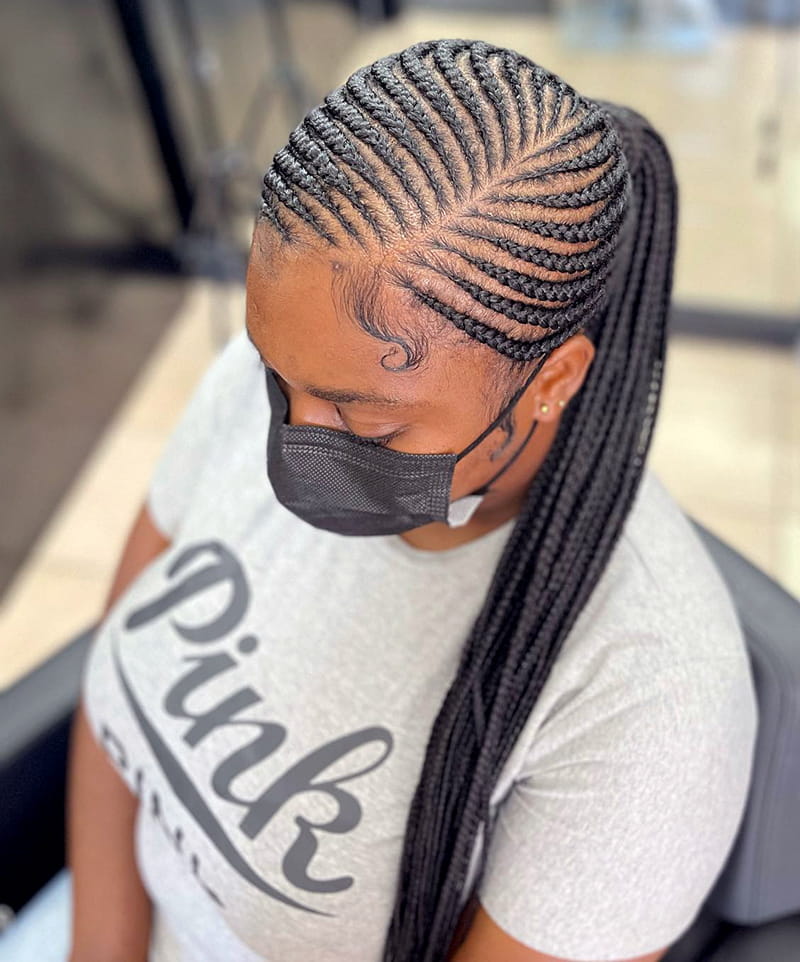 Double Ponytail
For a playful and youthful look, double ponytails are a charming choice. This style splits the braids into two sections, creating a lively symmetry that's fun and flirty. Double ponytails can be positioned at various heights to match your mood or the occasion, and they can be accessorized with beads or bows for an extra pop of personality. They're not just a throwback to childhood; they can be a fashion-forward statement that shows off your adventurous side.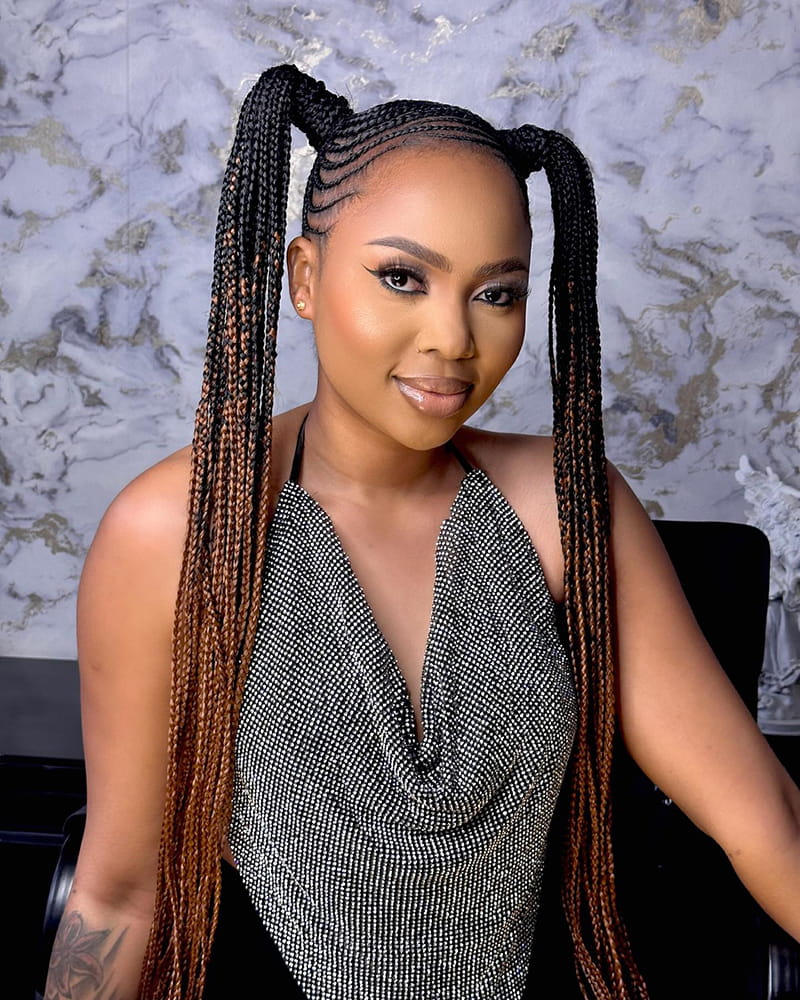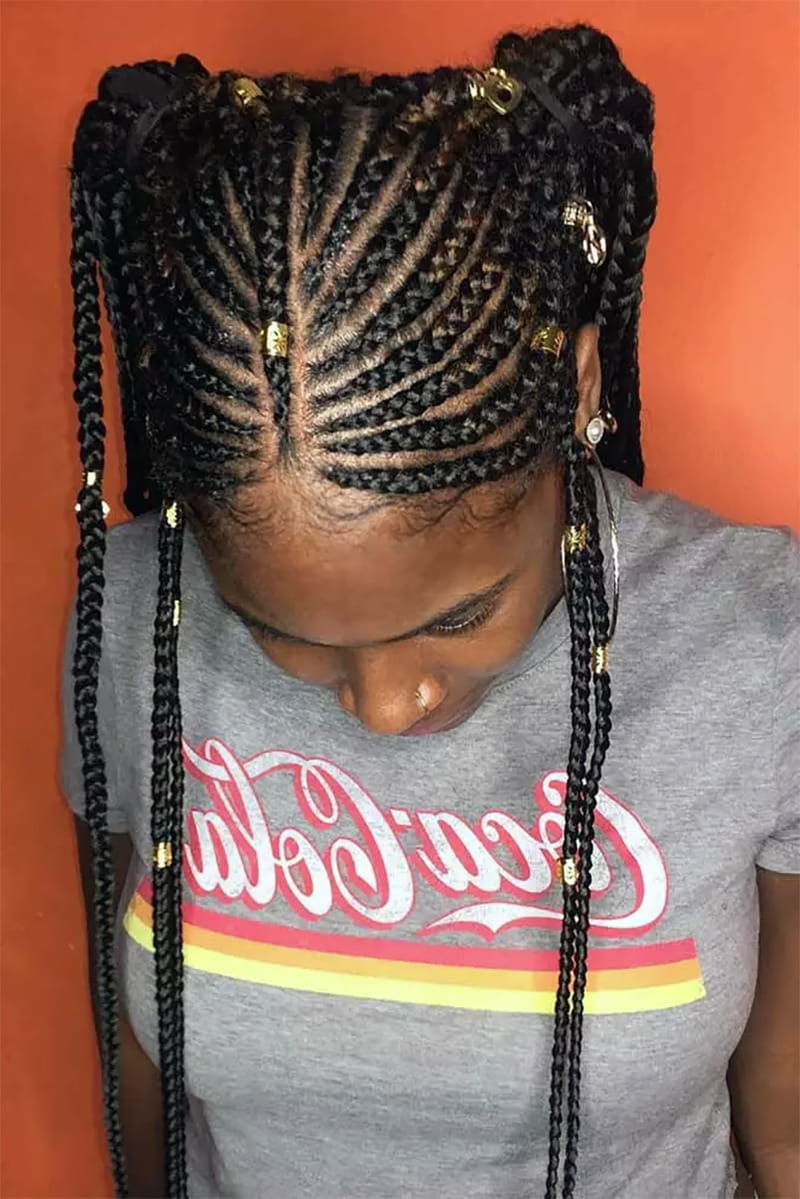 Crochet Tribal Braids
Crochet tribal braids introduce a different texture and style to the traditional braiding technique. They are added to your hair using a crochet hook, which means you can experiment with different lengths, colors, and styles without altering your natural hair. This method is less time-consuming and can be a great way to protect your hair while still rocking the tribal braid look. Crochet braids are also easy to maintain and can be a fantastic option for those who want to experiment with tribal braids without the commitment of a full head of braids.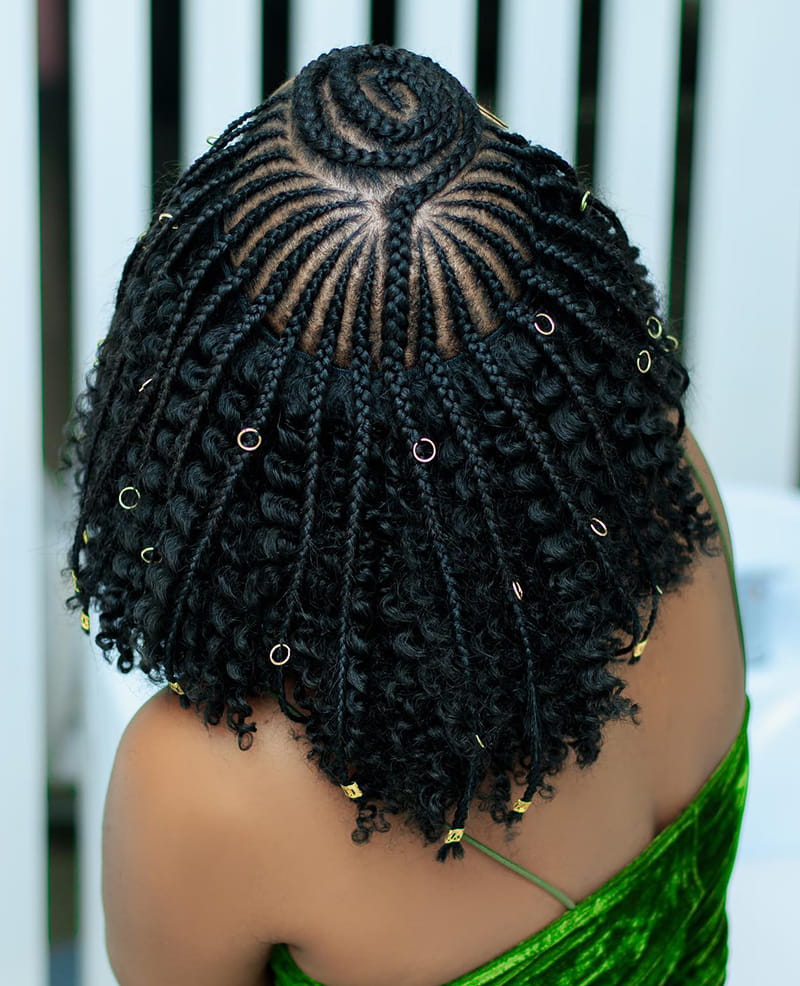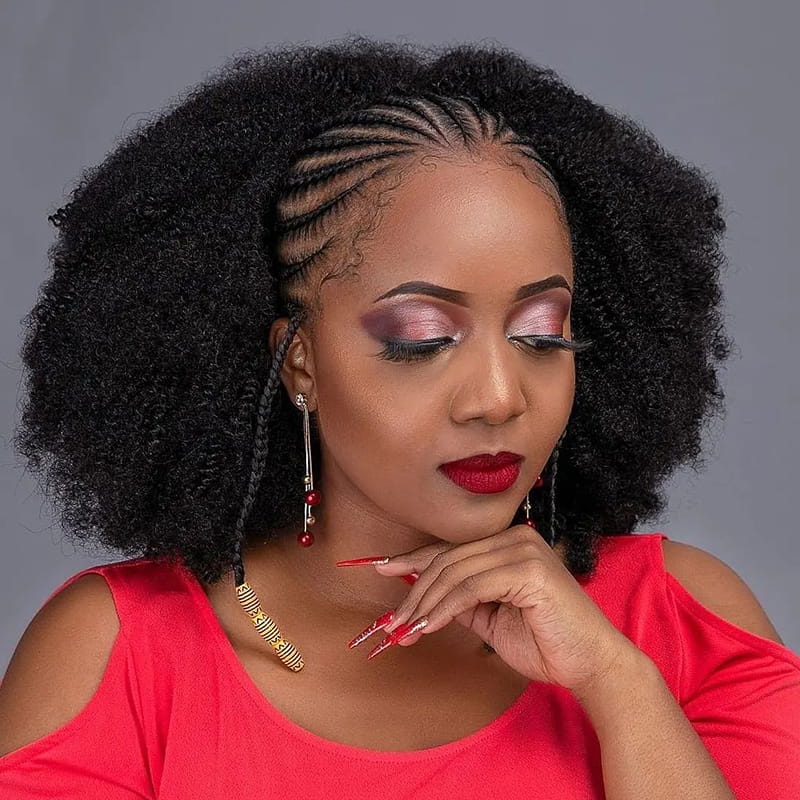 Fulani Braids
Fulani braids are a specific style of tribal braids that originate from the Fulani people in West Africa. They often include patterns of thin to thick braids, usually cornrowed on the scalp and combined with longer braids. These braids are known for their unique designs, often adorned with beads, rings, or shells. Fulani braids are not just a hairstyle; they're a piece of cultural art that can show off your love for traditional African styles.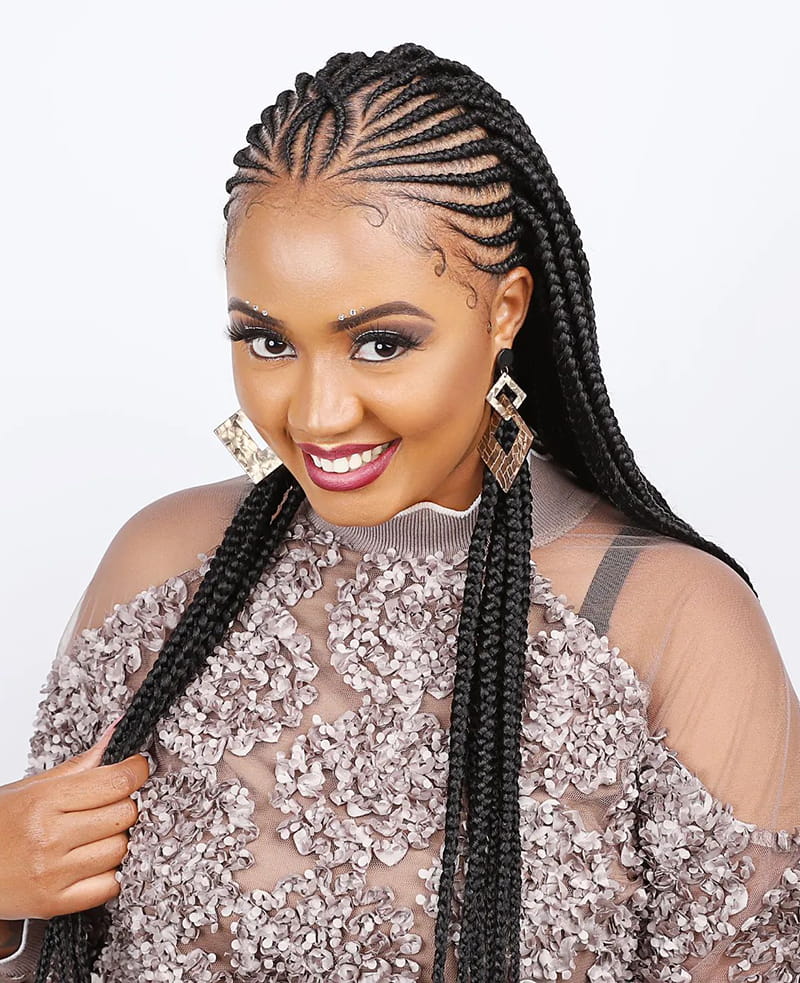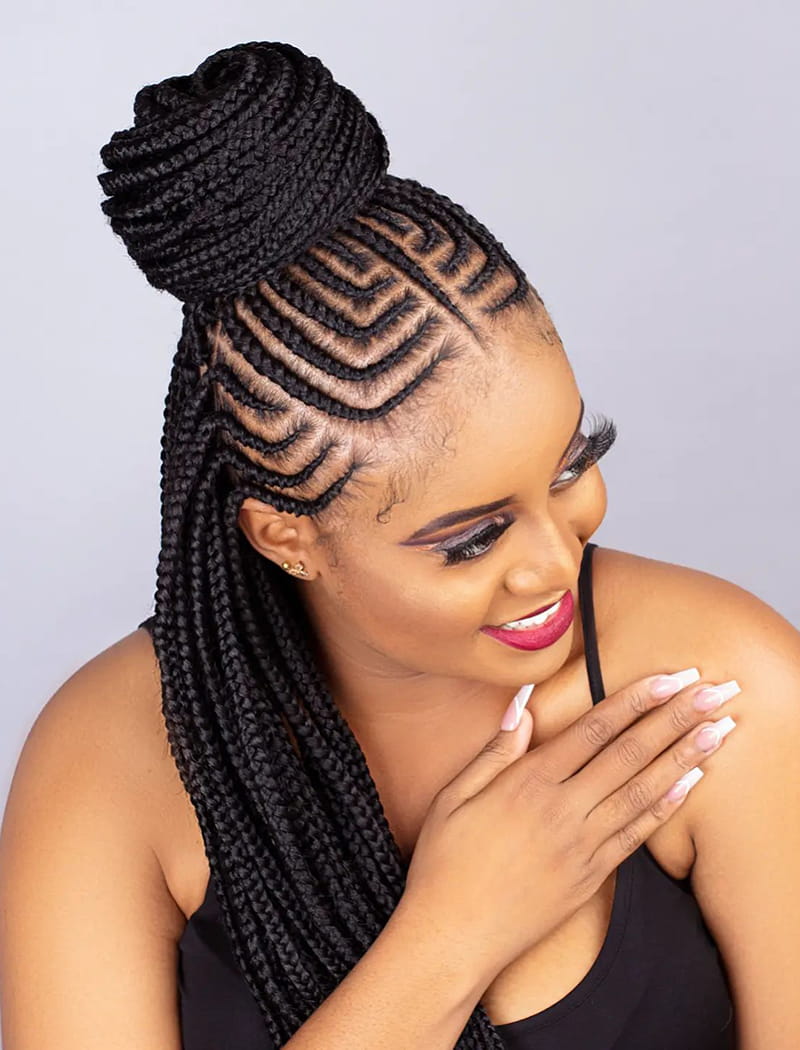 Tribal Braids with Deep Wave
Combining tribal braids with a deep wave brings a new dimension to the style. This technique often involves leaving sections of hair in waves, which adds texture and volume. It's a style that merges the sleekness of braids with the body and movement of waves, creating a stunning visual contrast. The deep wave aspect of the braids can bring a soft, romantic look to the style, perfect for those who want to balance the structured look of braids with something more free-flowing.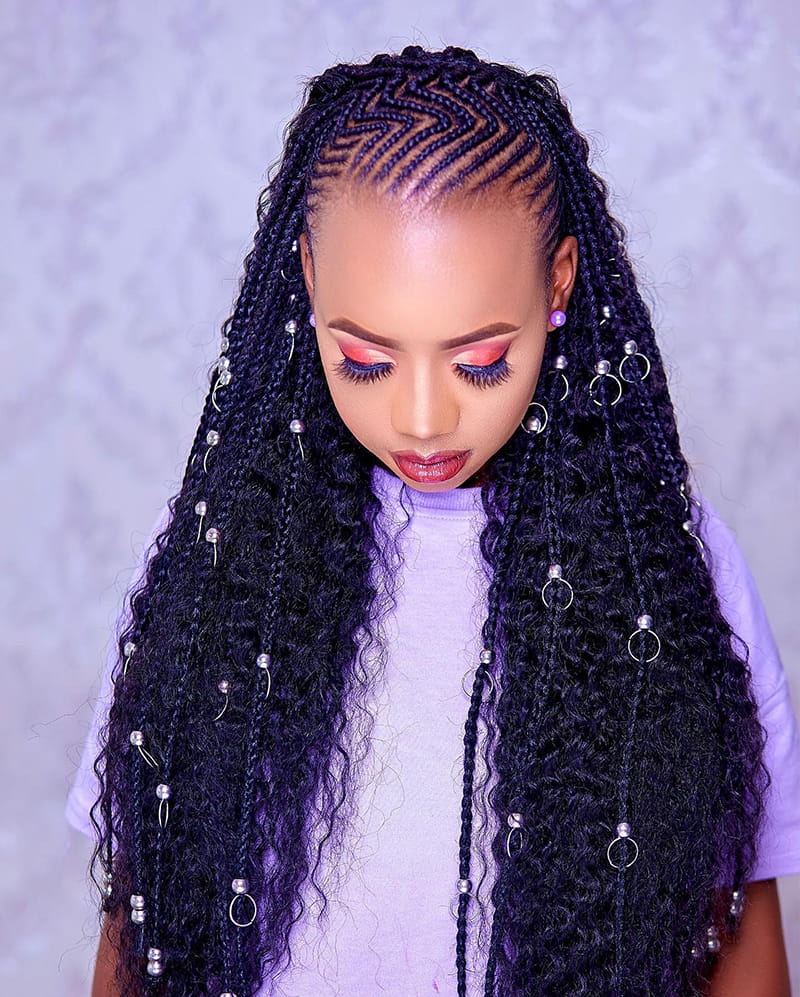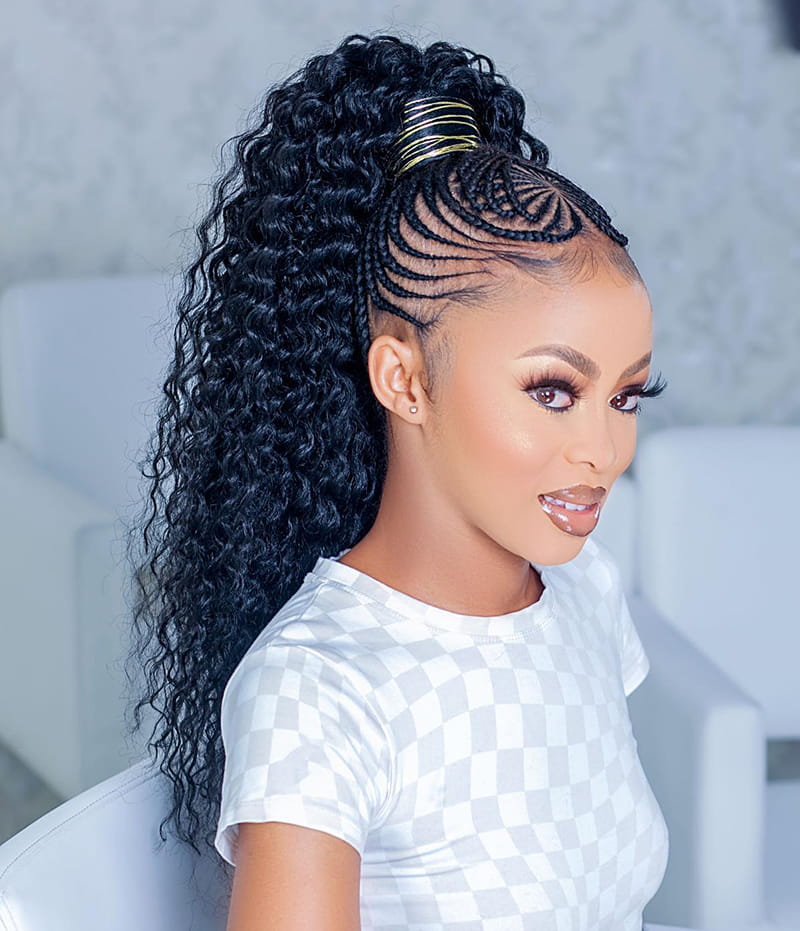 Side-Parted Braids
Side-parted tribal braids are a stylish twist on traditional braiding patterns. By simply parting your hair on the side, you add an element of asymmetry that frames the face beautifully. This subtle change can have a dramatic effect on your overall look, offering a touch of sophistication and a hint of glamour. Whether you opt for deep side parts or a more subtle shift, this style highlights the contours of your face and can be a perfect way to showcase your favorite earrings or makeup. Moreover, side-parted braids can be a strategic choice for those looking to switch up their look without altering their established braiding pattern.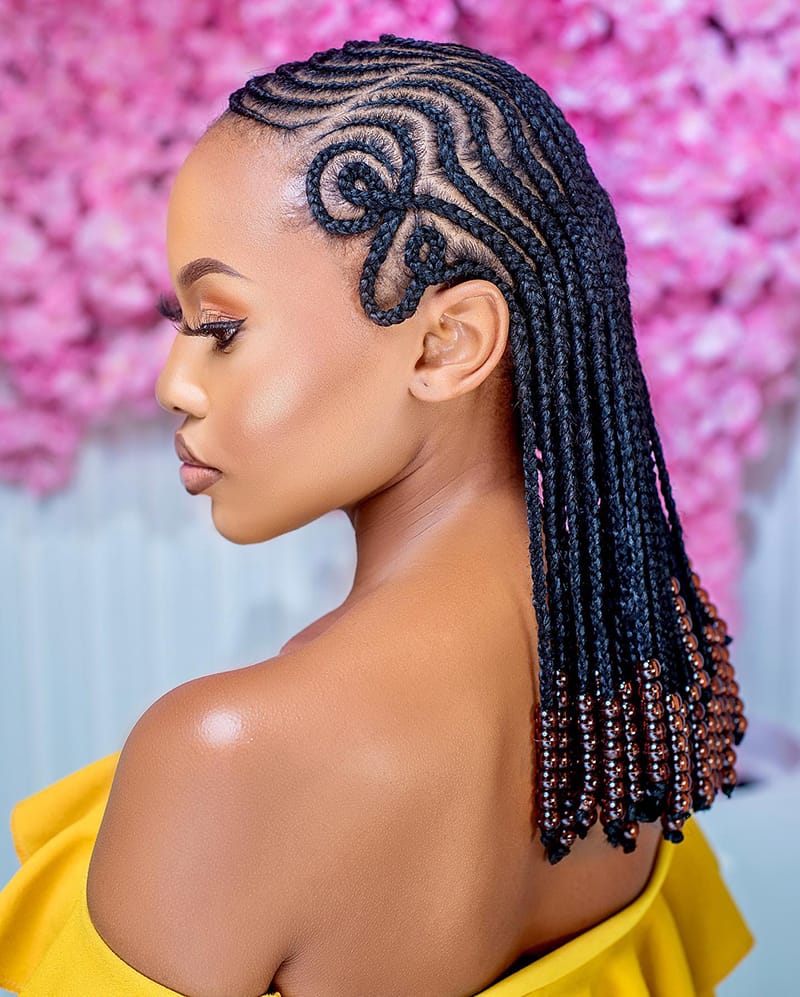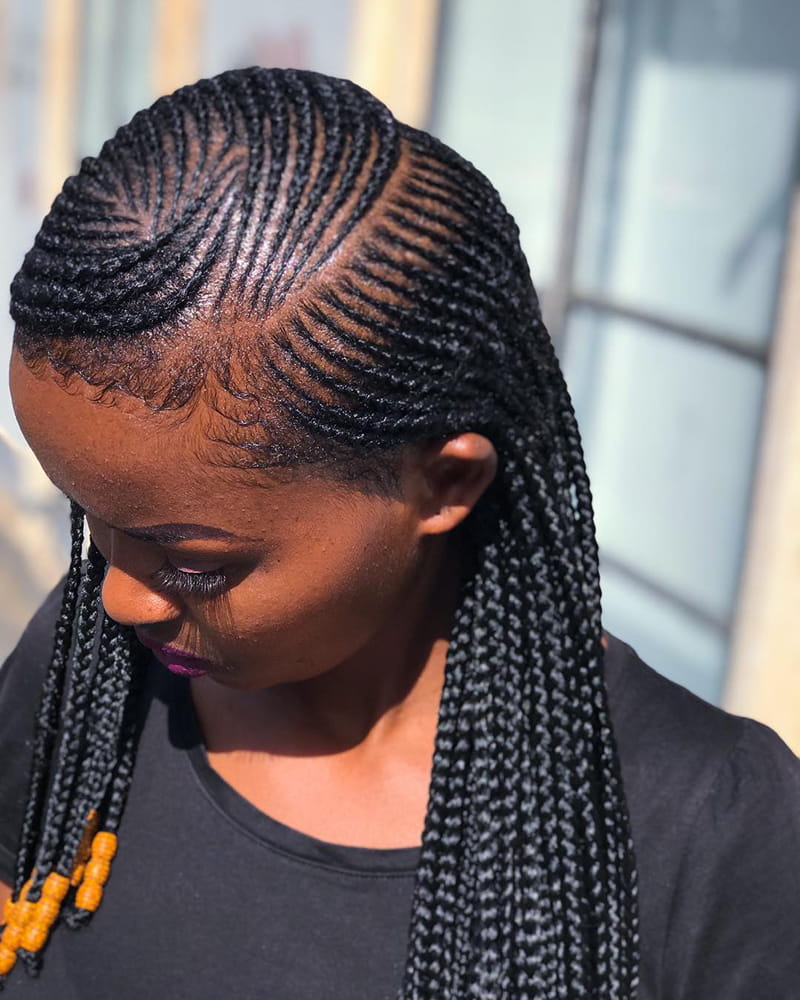 Tribal Braids with Zigzag Cornrows
Zigzag cornrows add an eye-catching twist to the classic tribal braid look. The zigzag pattern can be as bold or as subtle as you like, creating an interesting visual texture that stands out. It's a playful style that reflects creativity and individuality. Not only does it add an artistic flair, but it also showcases your braider's skill and attention to detail. These cornrows can be incorporated into the hairline or throughout the scalp for a full head of intricate designs that are bound to turn heads.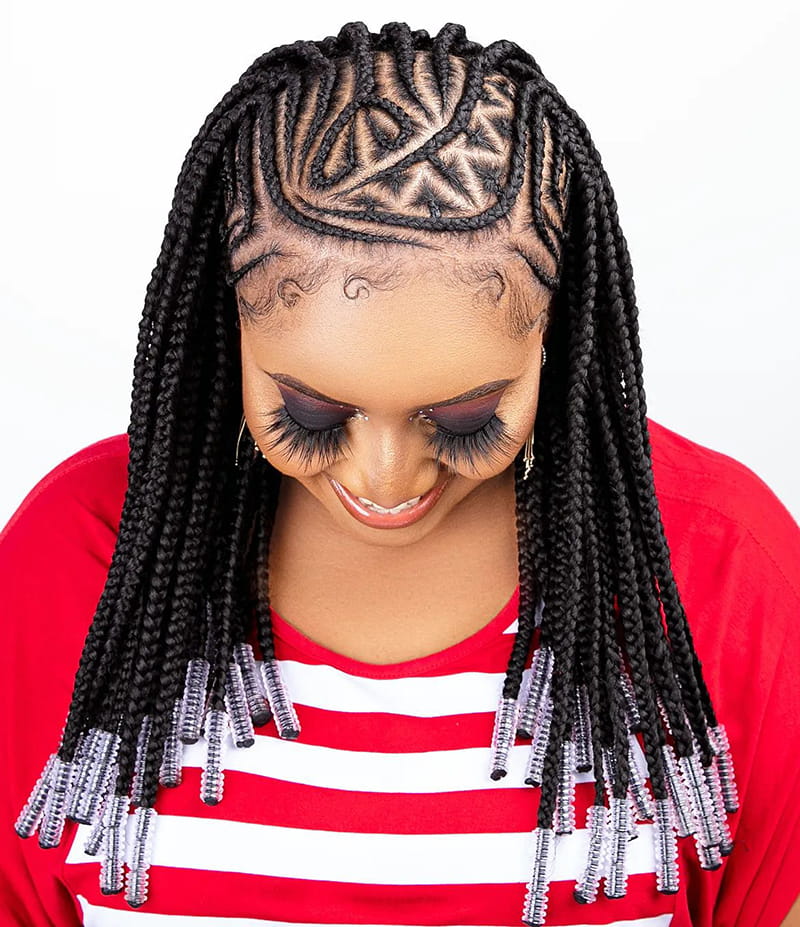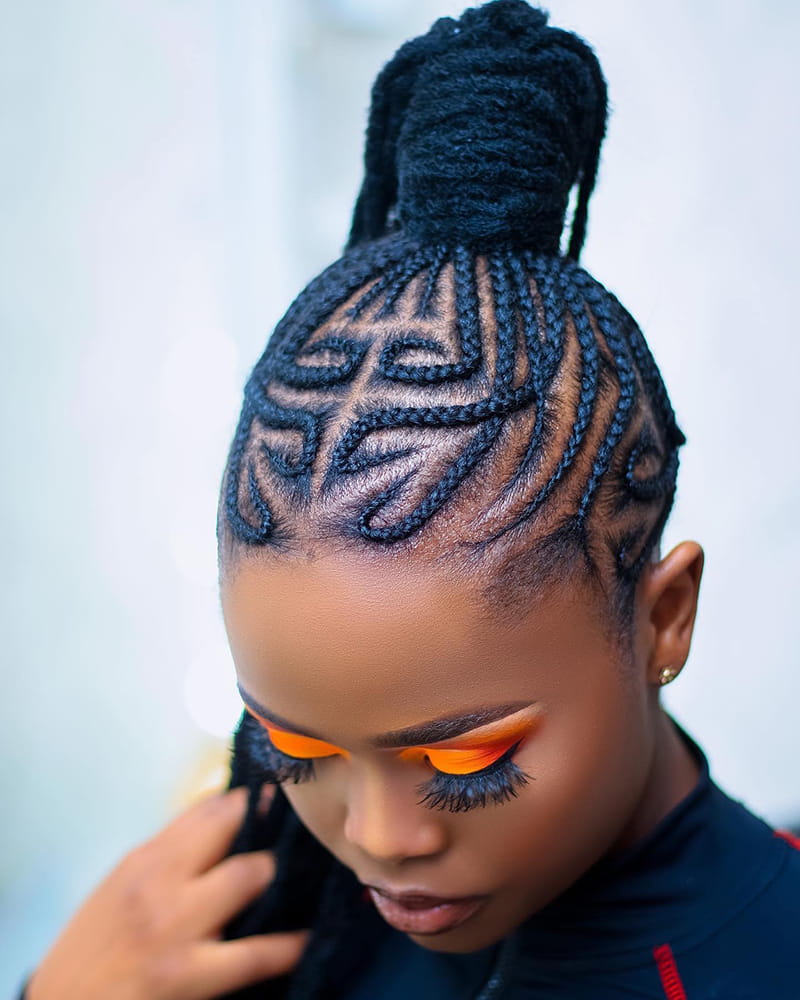 Braids with Heart Shape
For those looking to infuse a little romance or whimsy into their look, tribal braids with a heart shape are a lovely option. This style incorporates heart-shaped patterns into the cornrows, offering a unique and charming twist. It's a delightful way to personalize your hairstyle and make it truly yours. This design can be a focal point for special occasions like anniversaries, and Valentine's Day, or just to express love and affection through your hairstyle.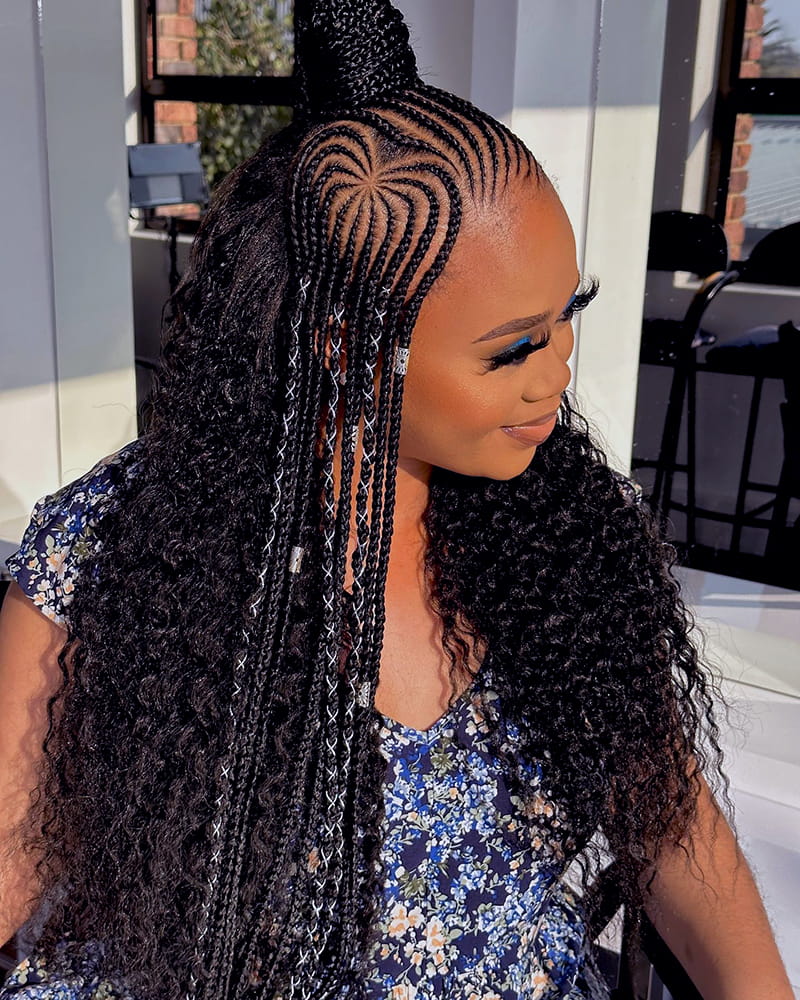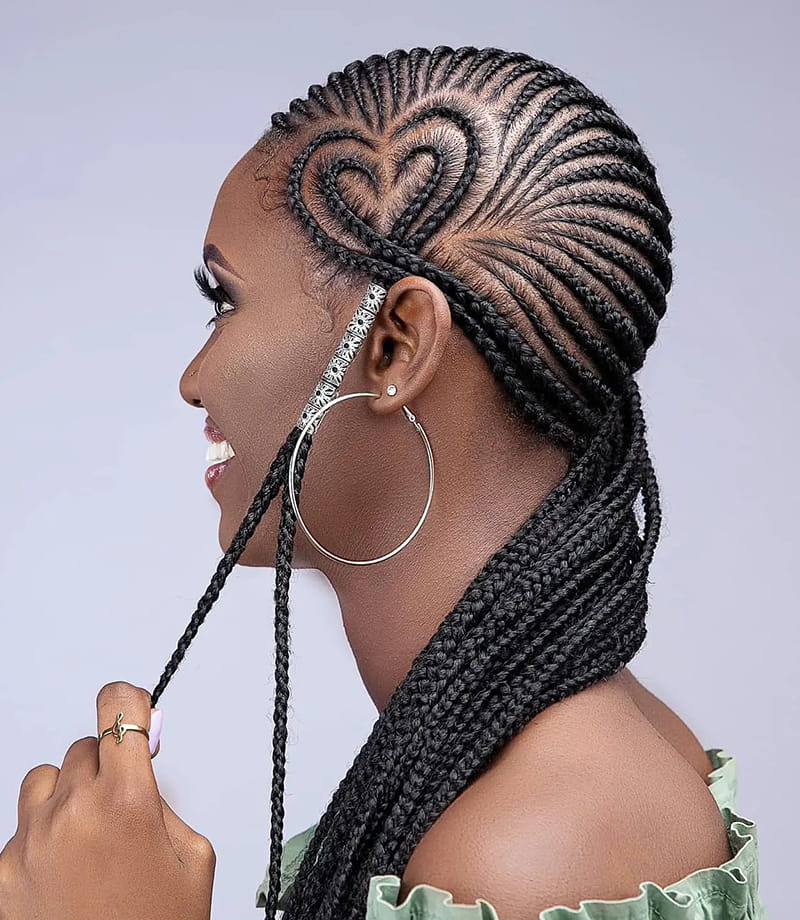 Feed In Braids
Feed-in braids are a fantastic way to achieve a full, voluminous look while maintaining a natural appearance. This technique involves adding extensions to your natural hair gradually, creating a seamless transition that enhances the braid's thickness. Feed-in braids are not only visually appealing but also a healthier option for your scalp and edges, as they minimize tension and stress on your natural hair. They can last for several weeks and are a great low-maintenance option for those with a busy lifestyle.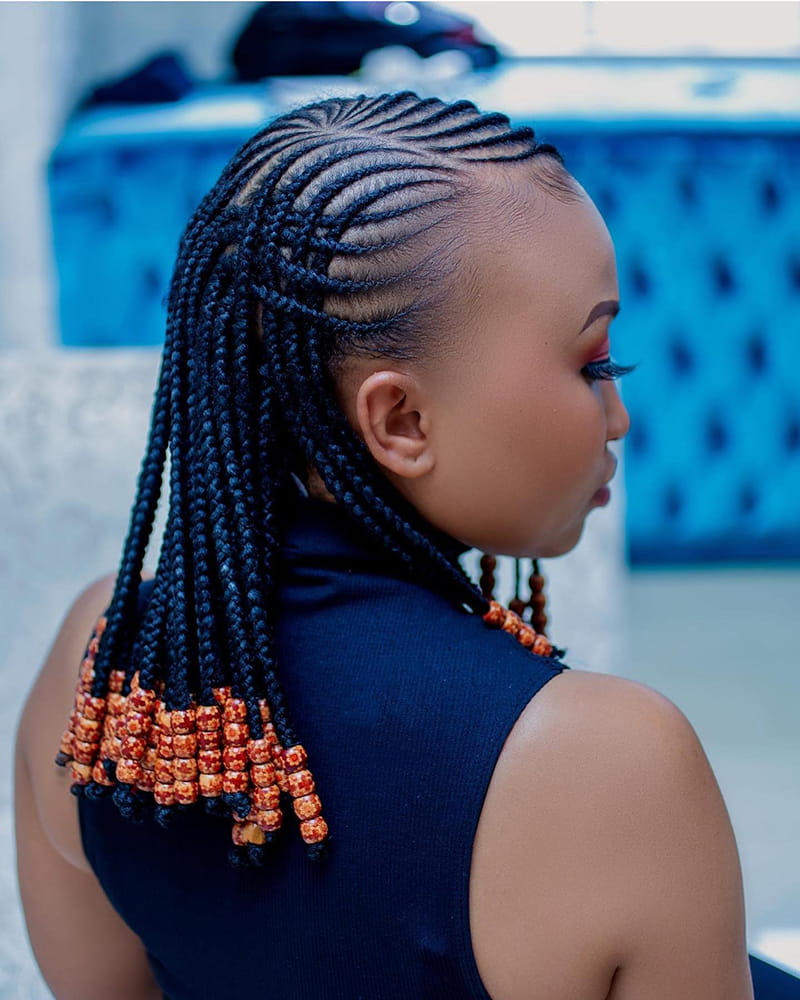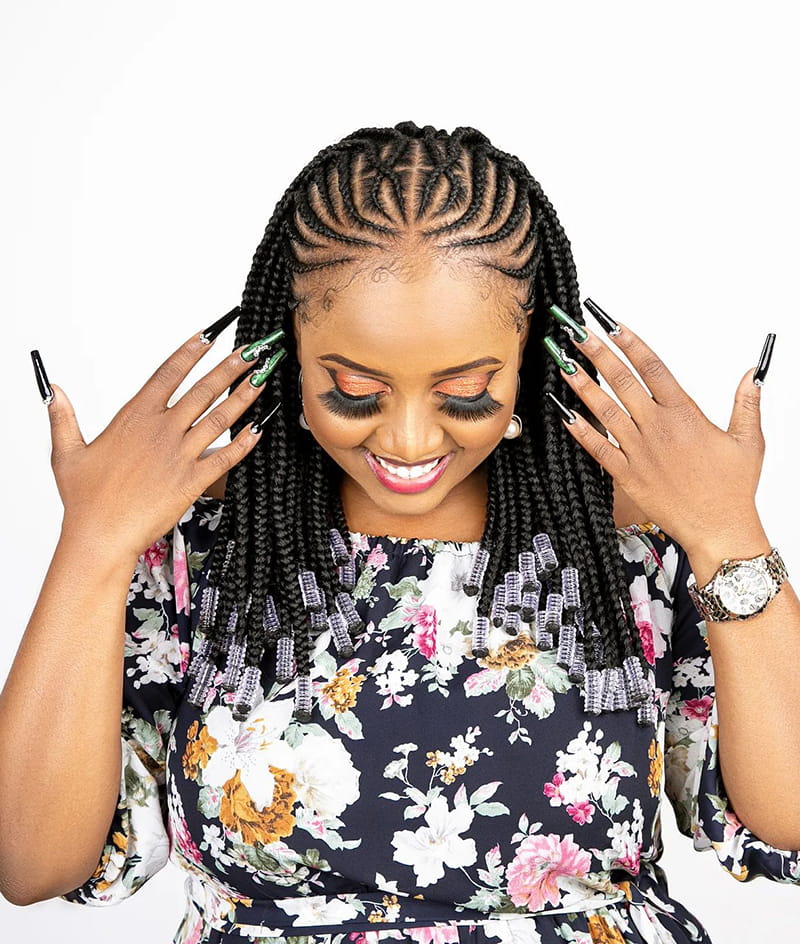 Braids with Beads
Accessorizing your tribal braids with beads isn't just a style choice; it's a nod to the rich cultural history of braiding. Beads add color, texture, and personality to your hairstyle and can be customized to match your mood or outfit. They can be threaded onto the ends of your braids or interspersed throughout for a more integrated look. Beads can also carry symbolic meaning, representing milestones, celebrations, or personal beliefs.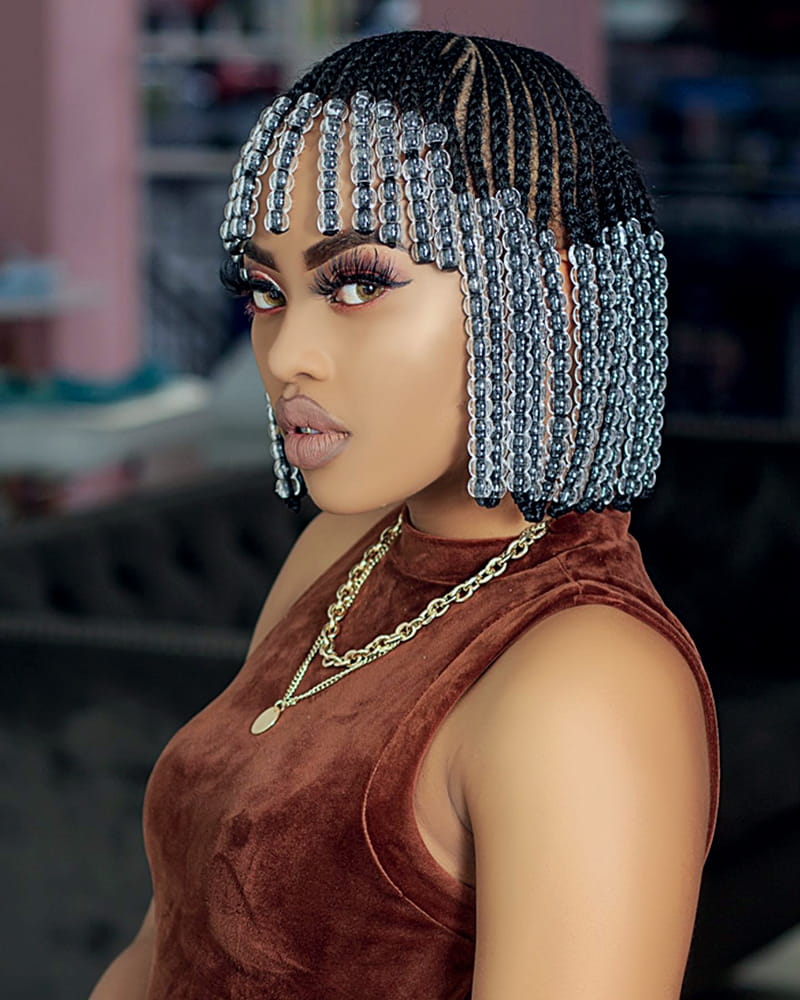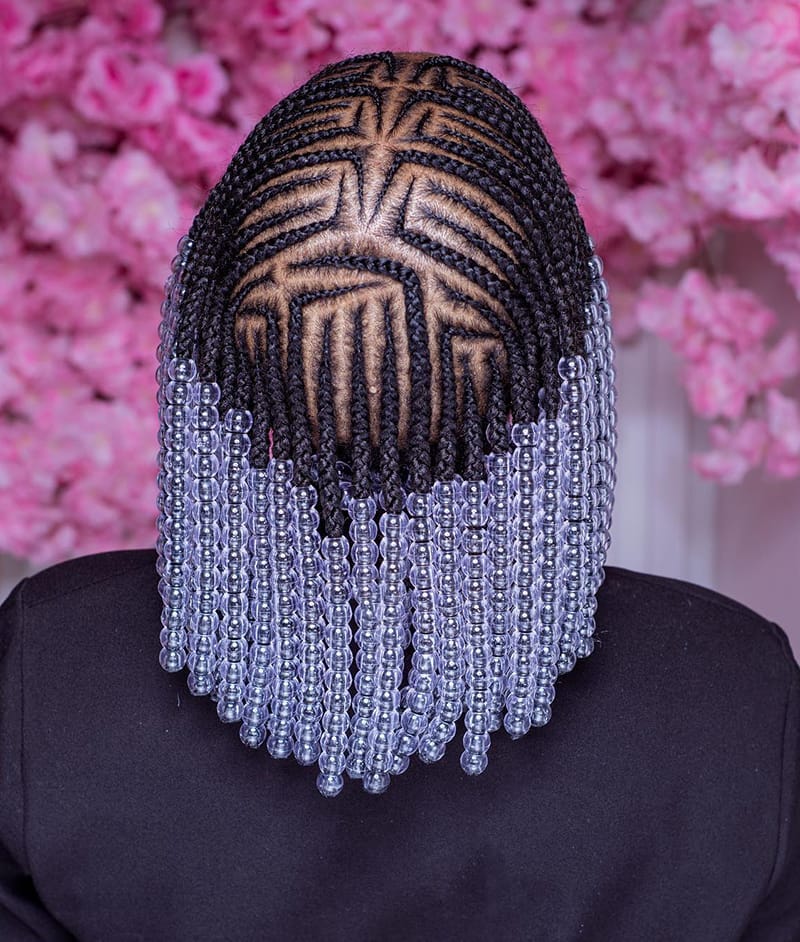 Center-Parted Braids
Center-parted tribal braids offer a symmetrical and polished look that is both modern and chic. This style is versatile and works well with various braid lengths and thicknesses. A center part can highlight the symmetry of your facial features and is particularly flattering for those with oval or round face shapes. It's a classic choice that exudes elegance and can easily transition from day to night.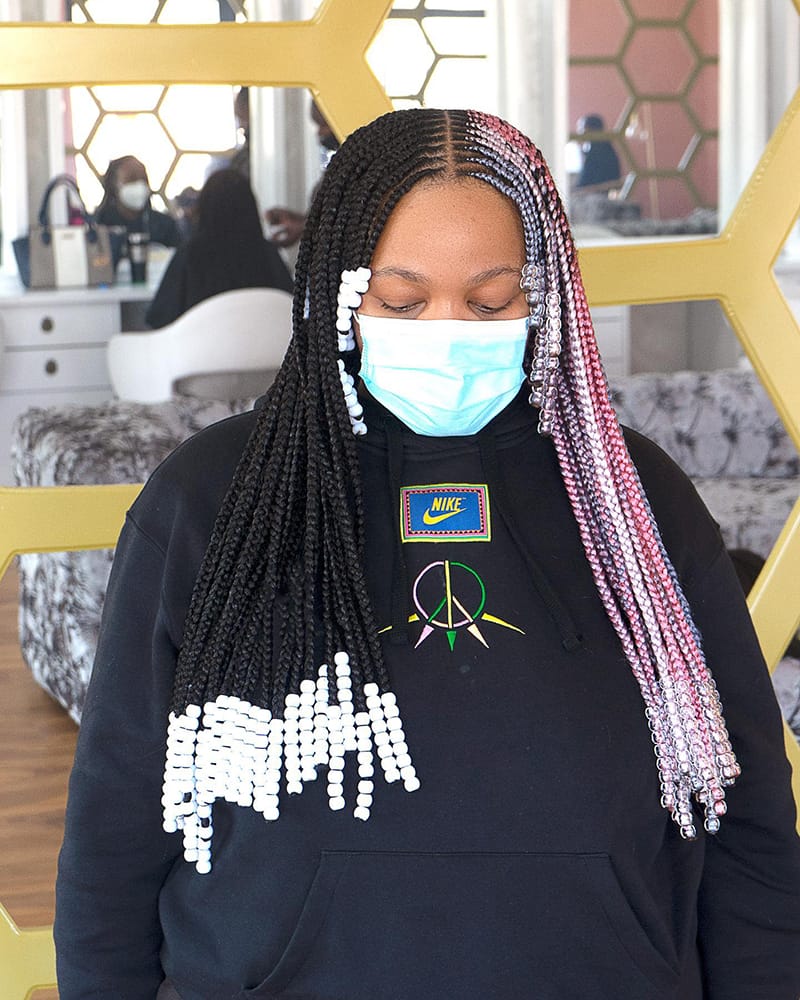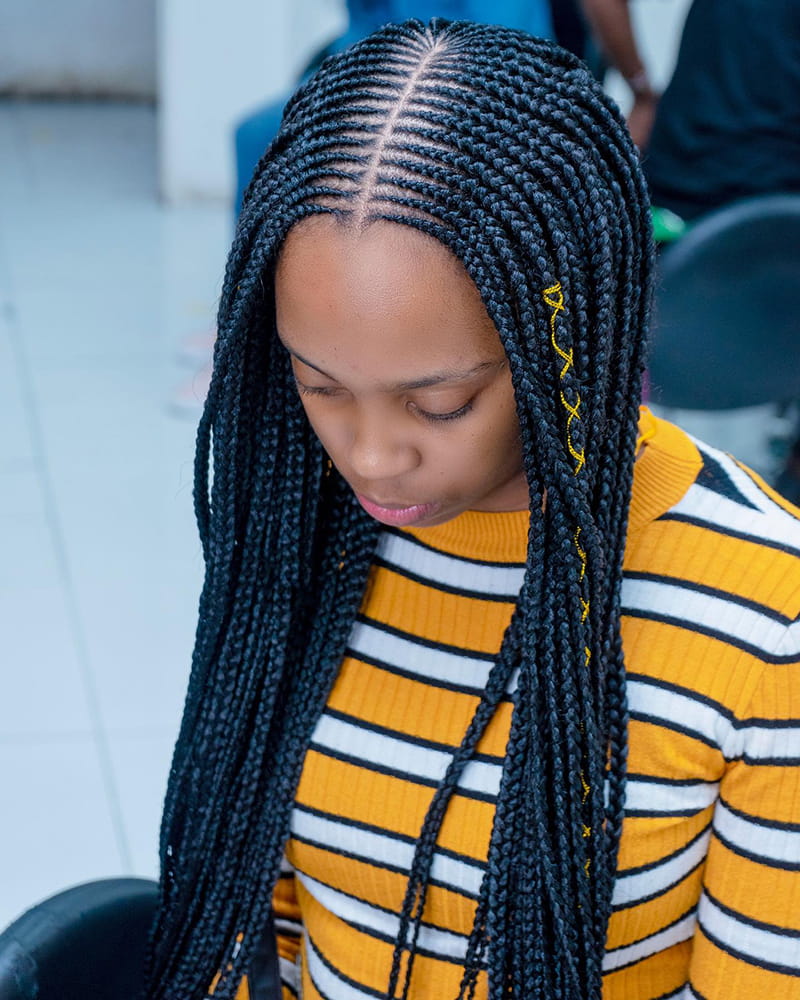 Diagonal Tribal Braids
Diagonal tribal braids are for those who love a dynamic and forward-moving look. By angling the braids, you create a sense of motion and edge. This style can be a great way to play with the direction and flow of your braids, adding a unique touch to the traditional straight-back look.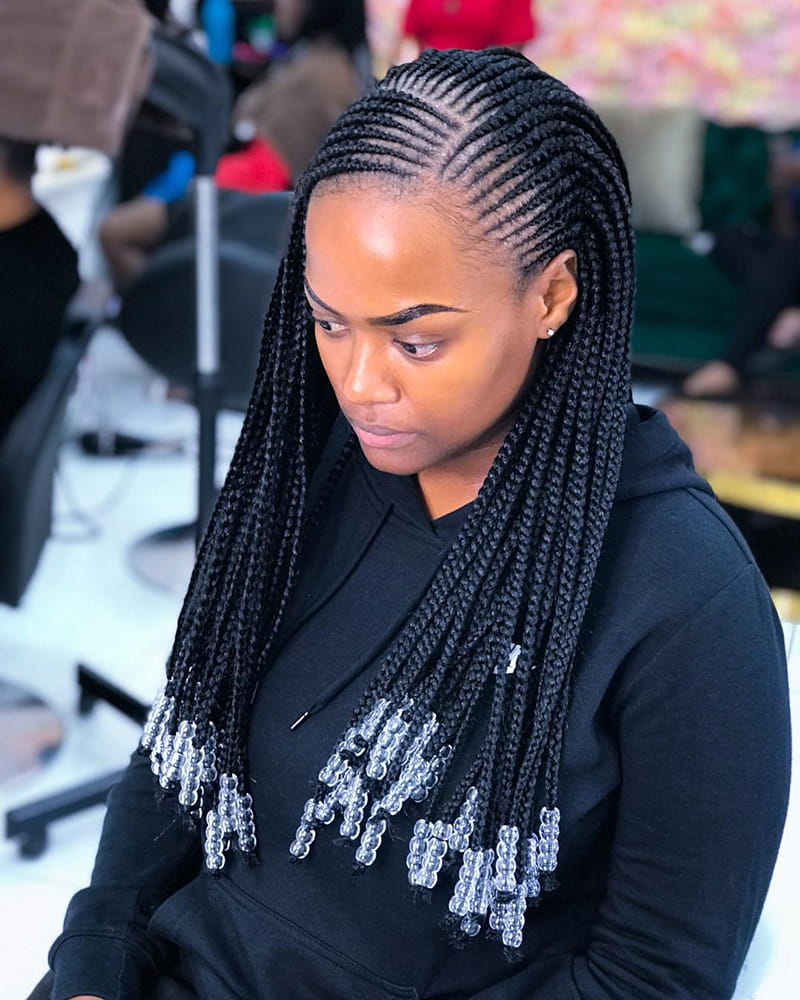 Goddess Braids
Goddess braids mix in soft, curly hair with the braids, offering a romantic and feminine style. They're a beautiful blend of textures that result in a full-bodied and sophisticated look. Goddess braids can be a perfect choice for those who want to soften the structured nature of braids with loose curls or waves, adding a touch of softness and grace to the overall appearance.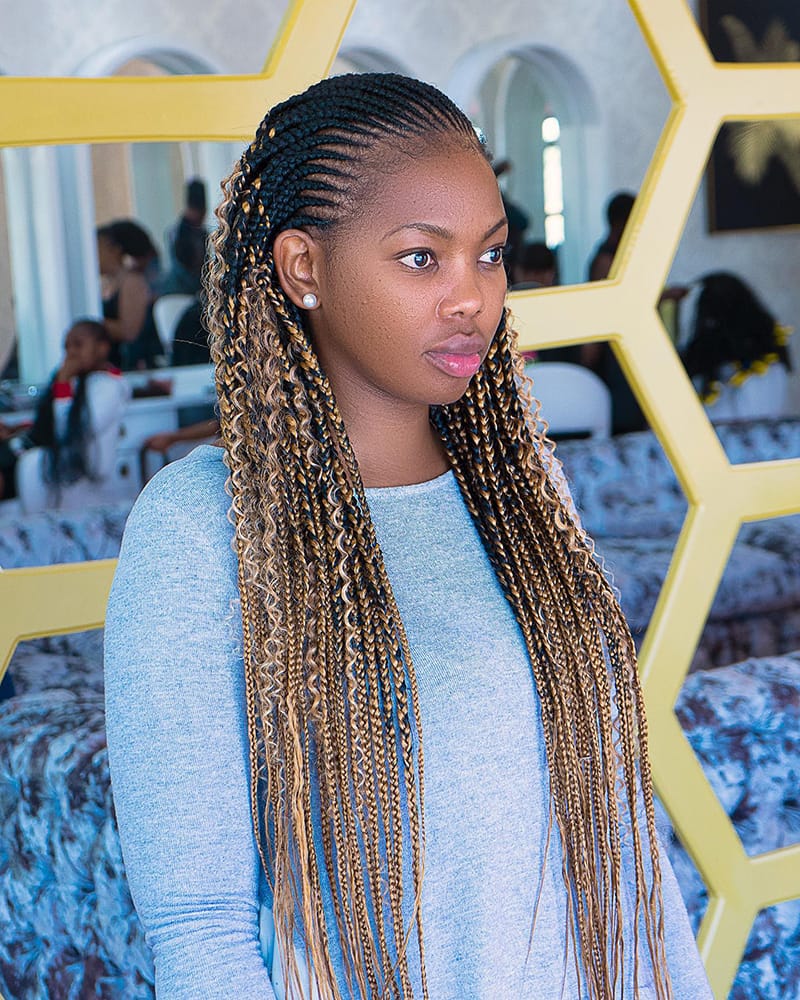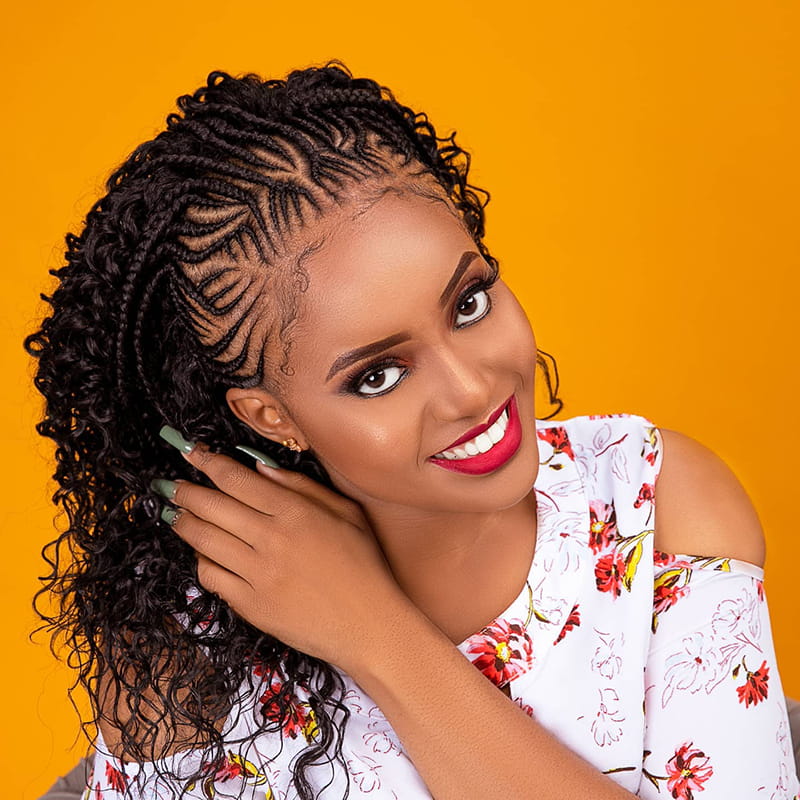 Jumbo Braids
Jumbo braids make a bold statement with their size and presence. They are larger, which means they usually take less time to install and can be a great option for someone looking for a striking look with less commitment to sitting time. Despite their size, they can be surprisingly lightweight and a dramatic alternative to finer braids.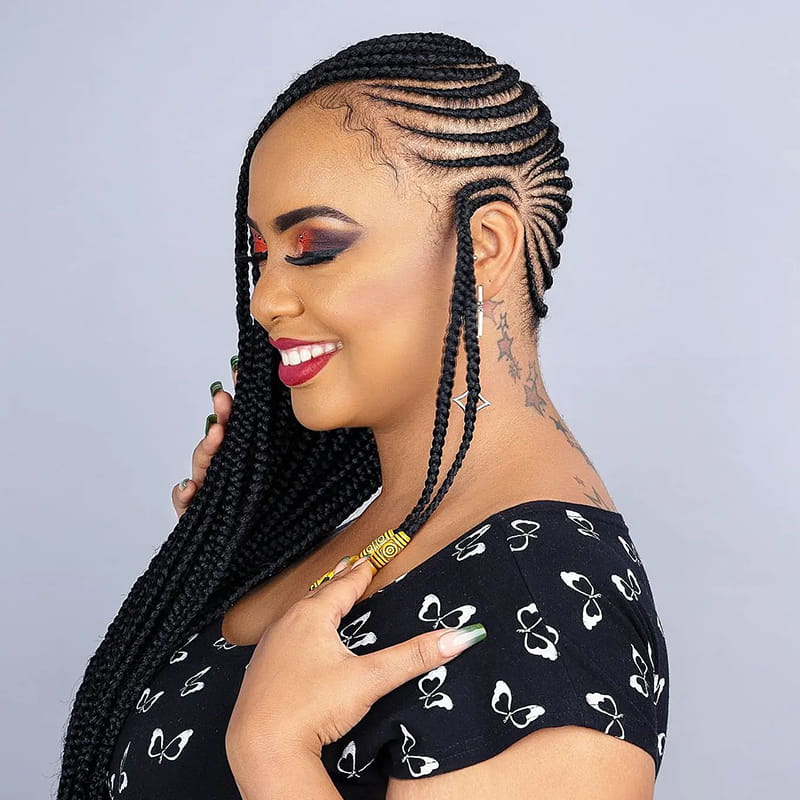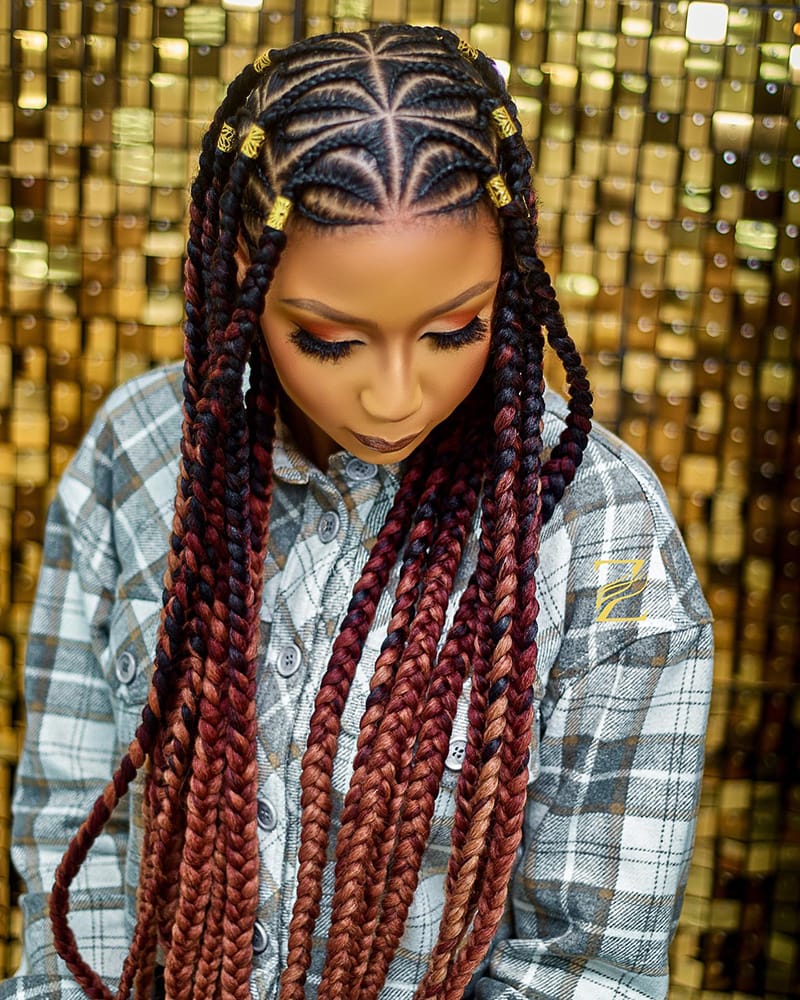 Bonus Styles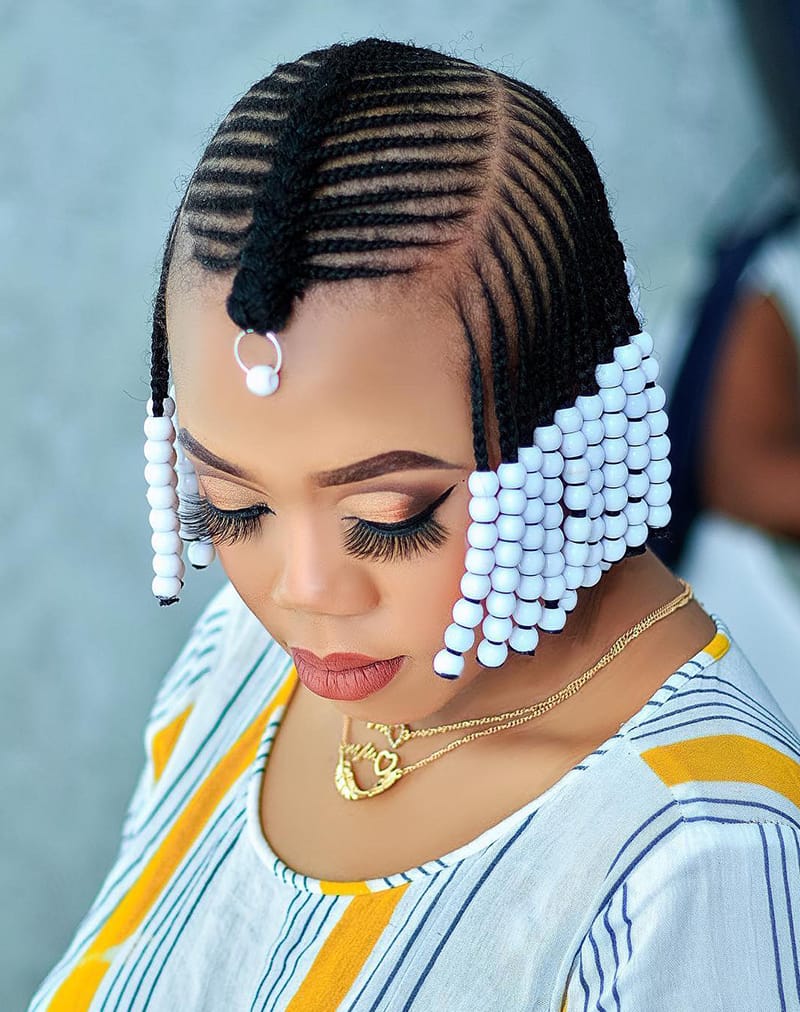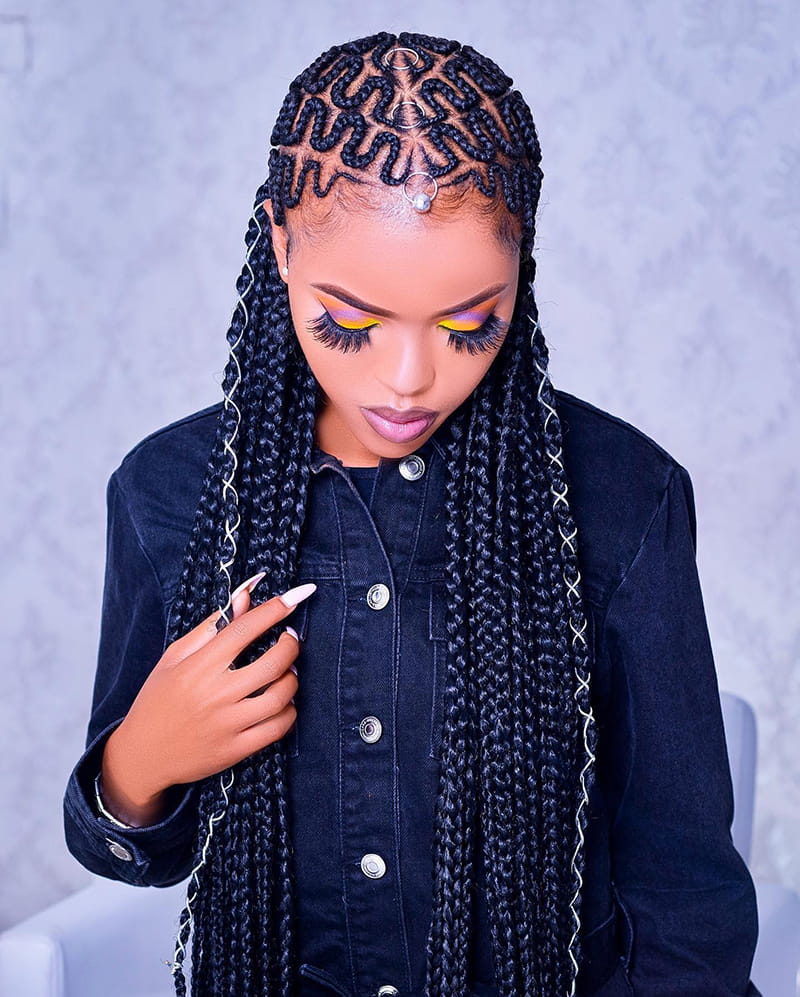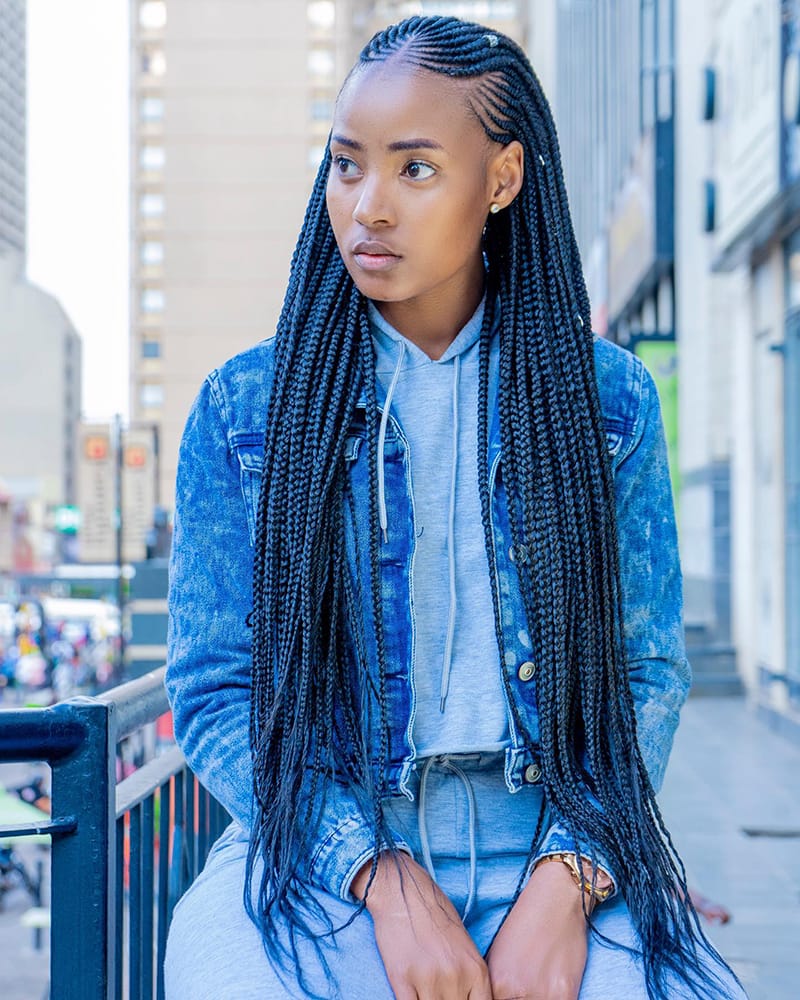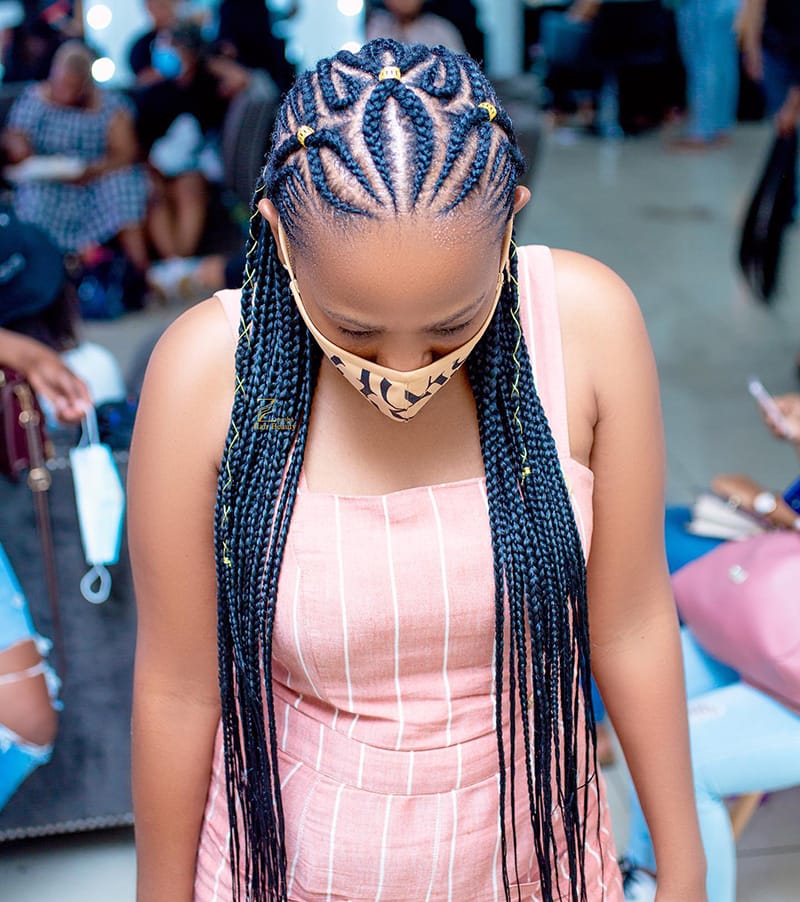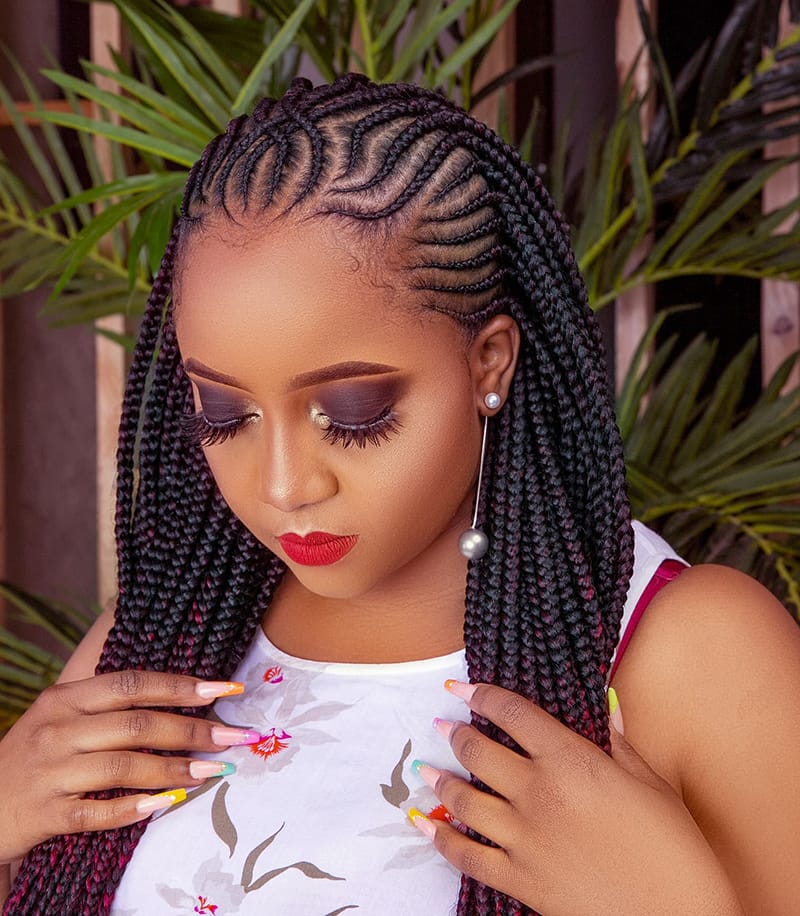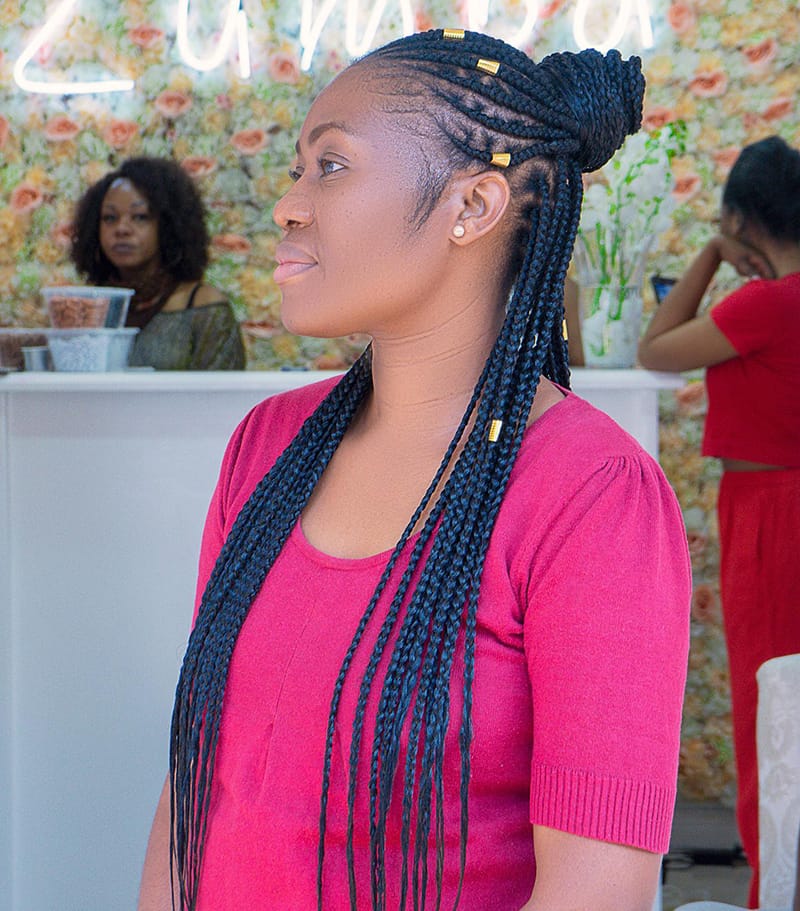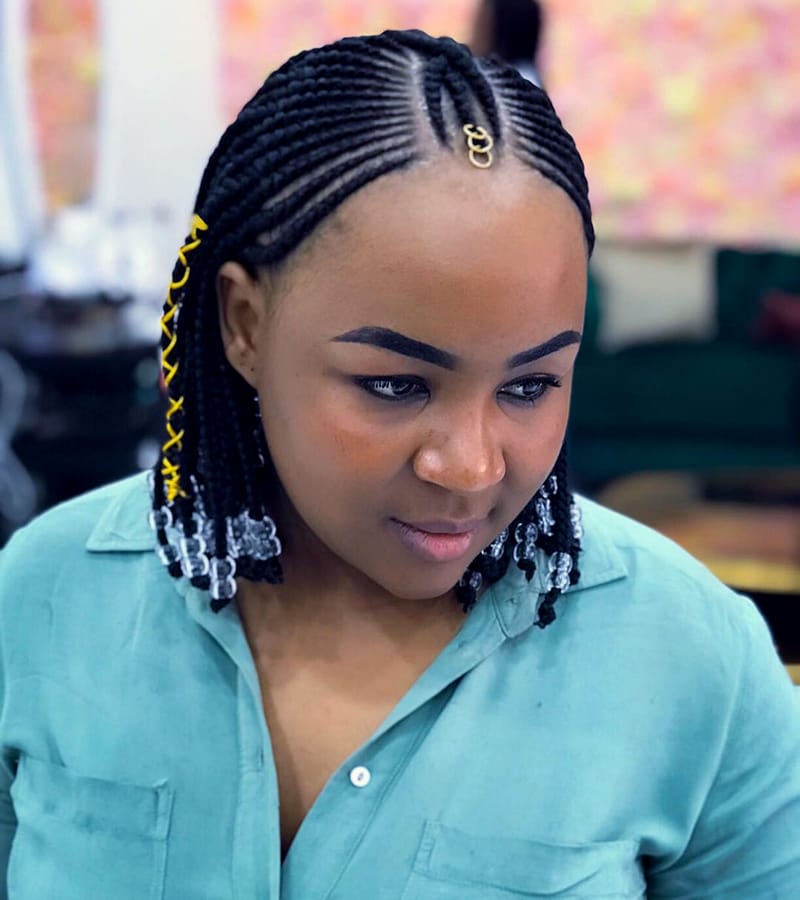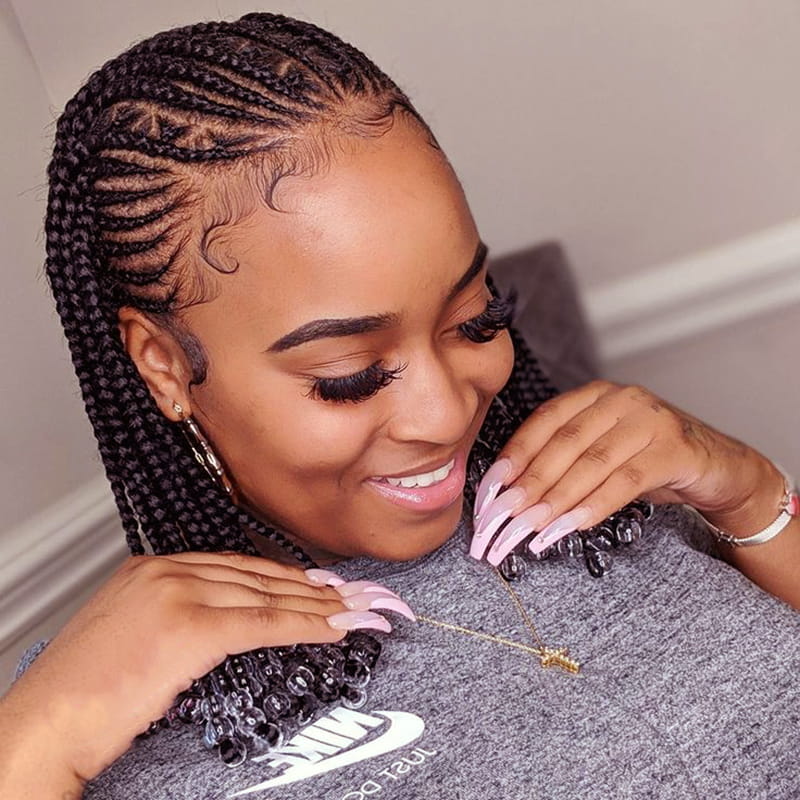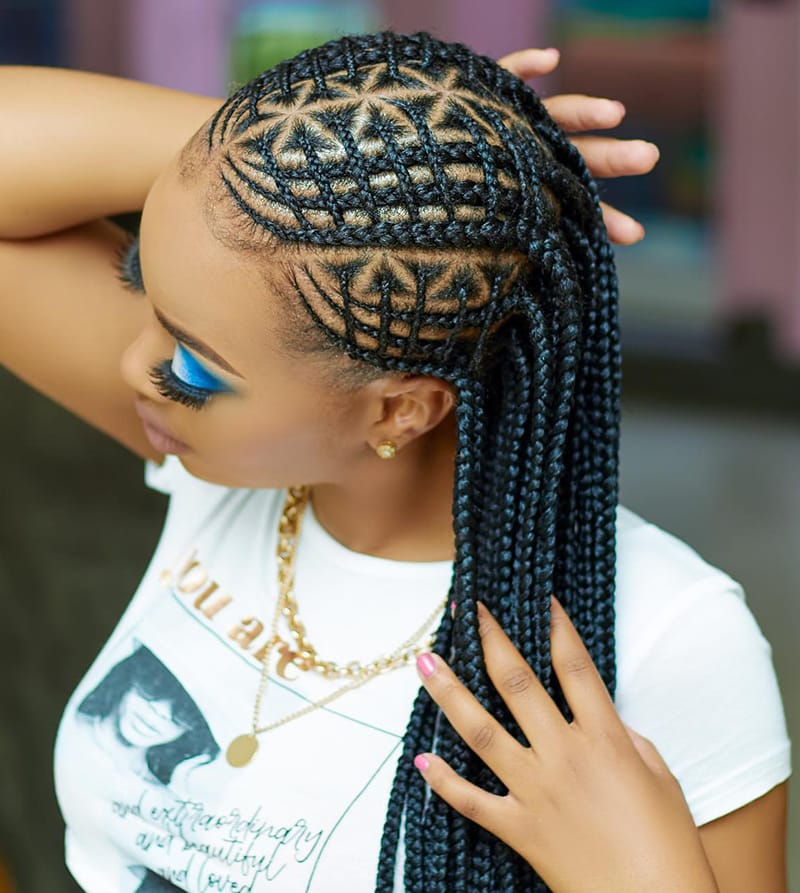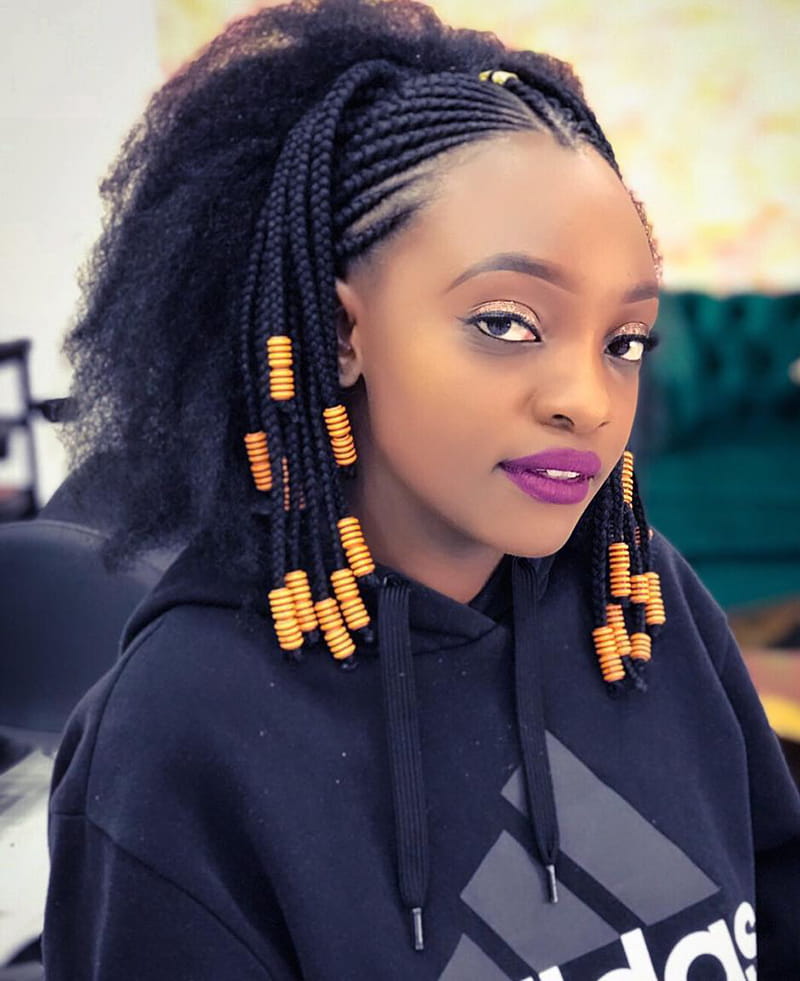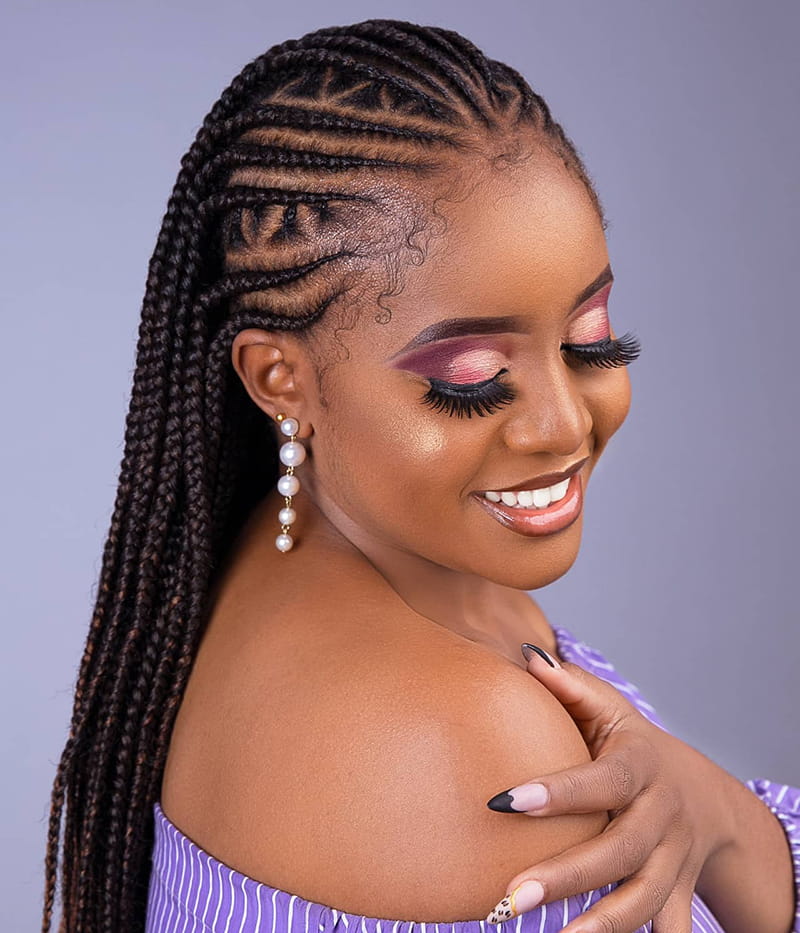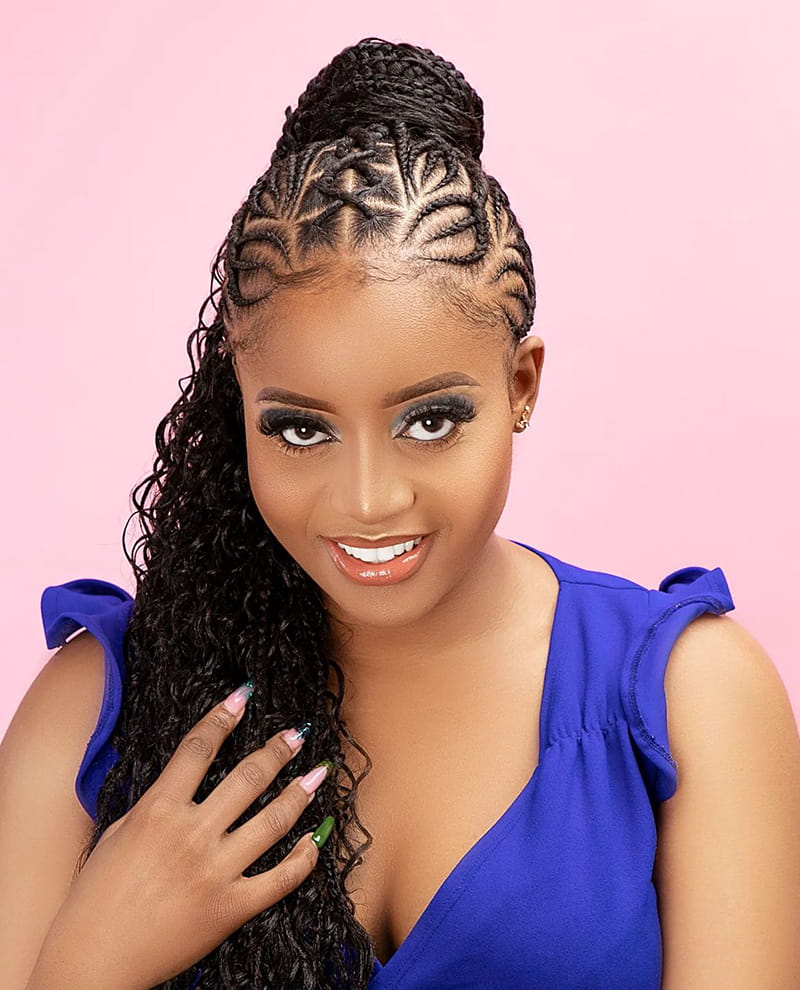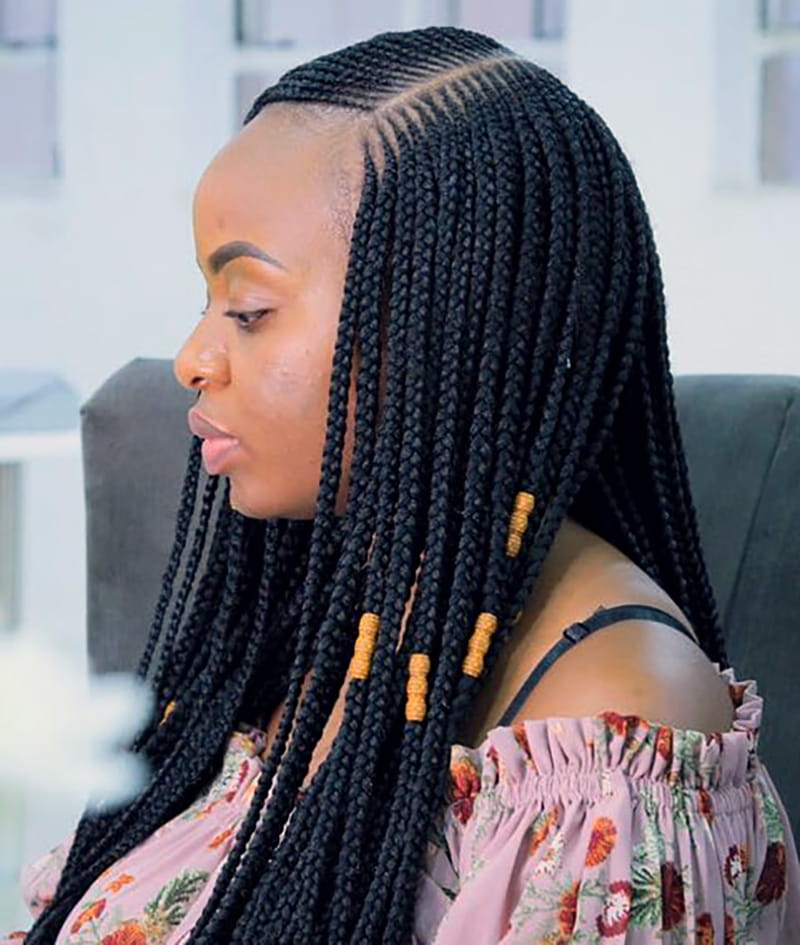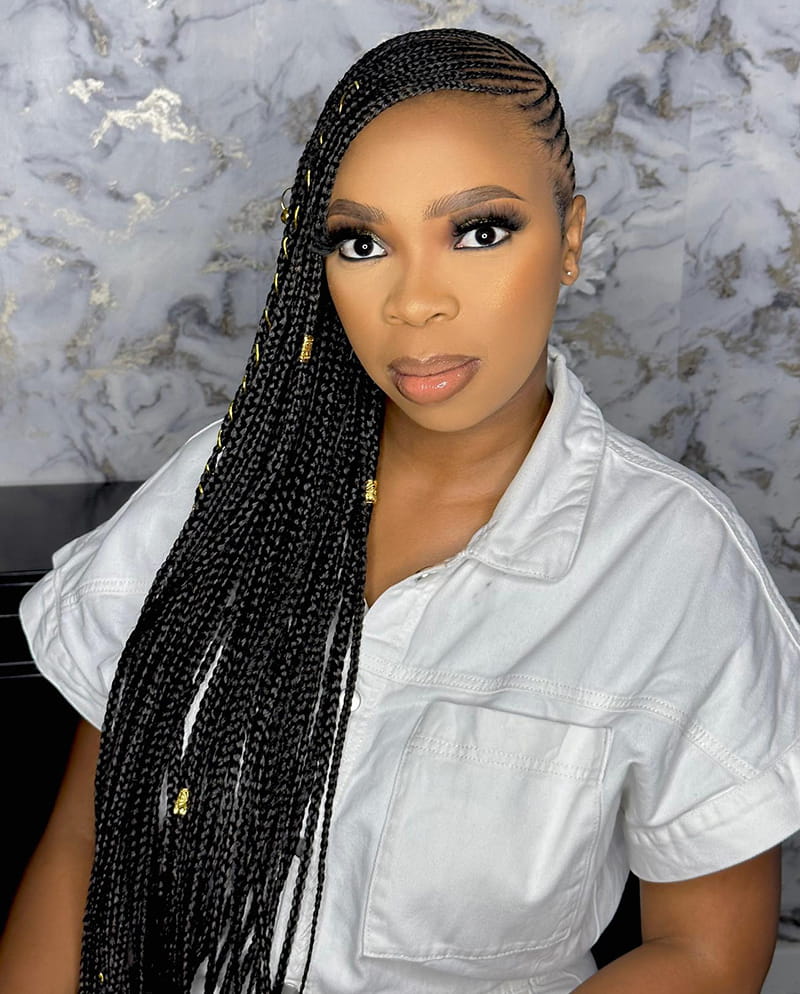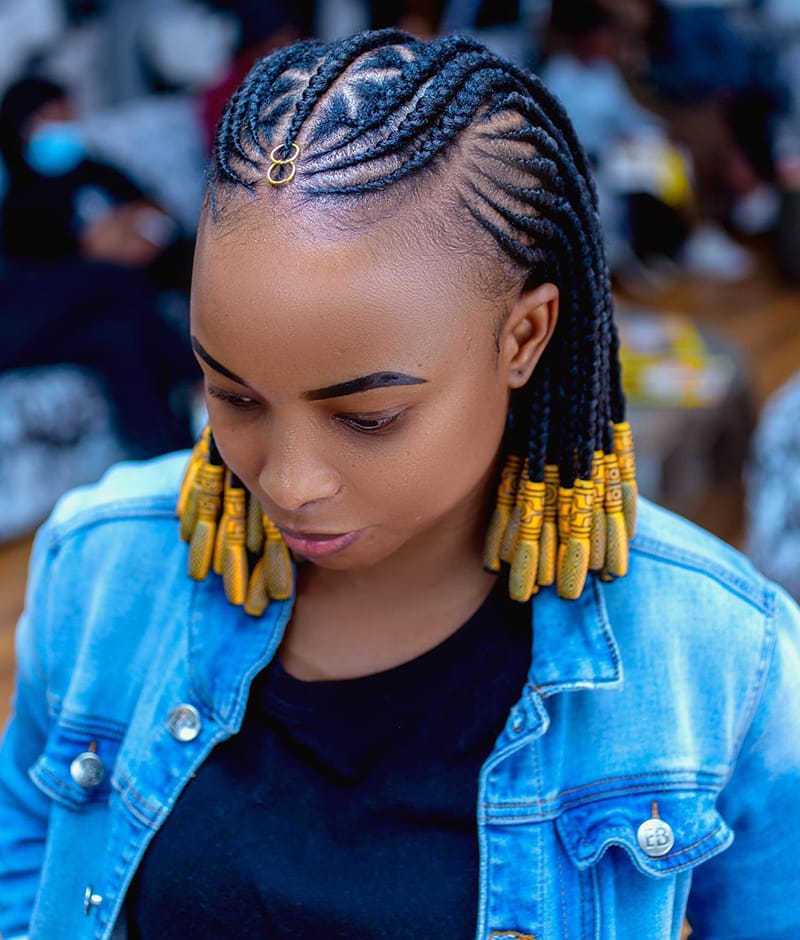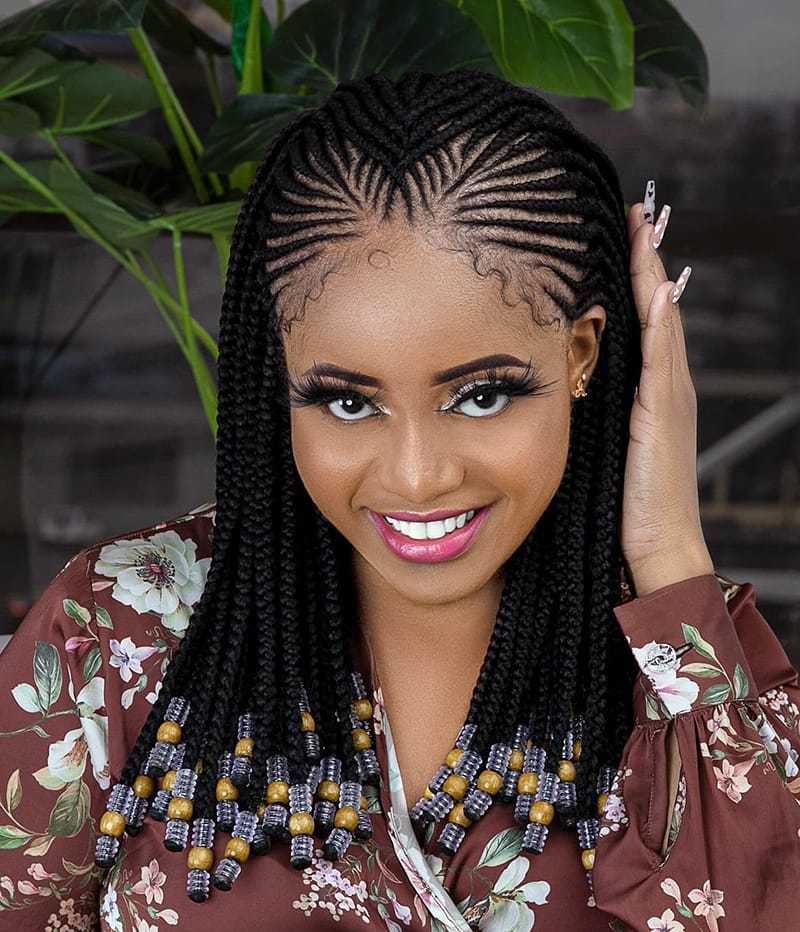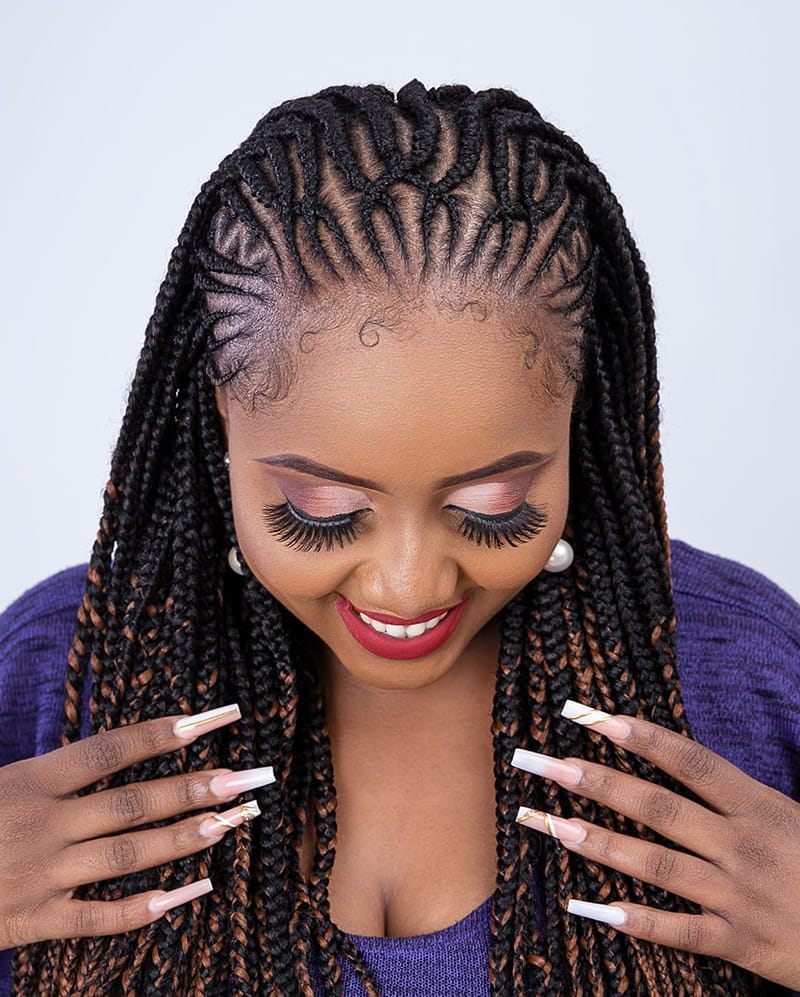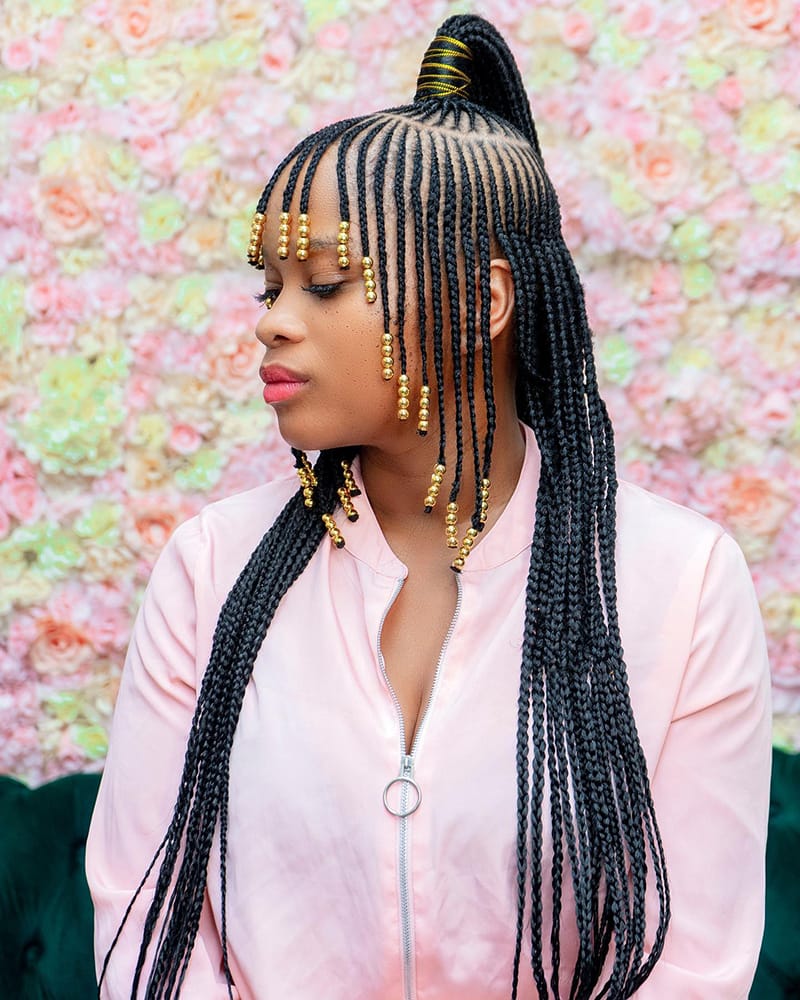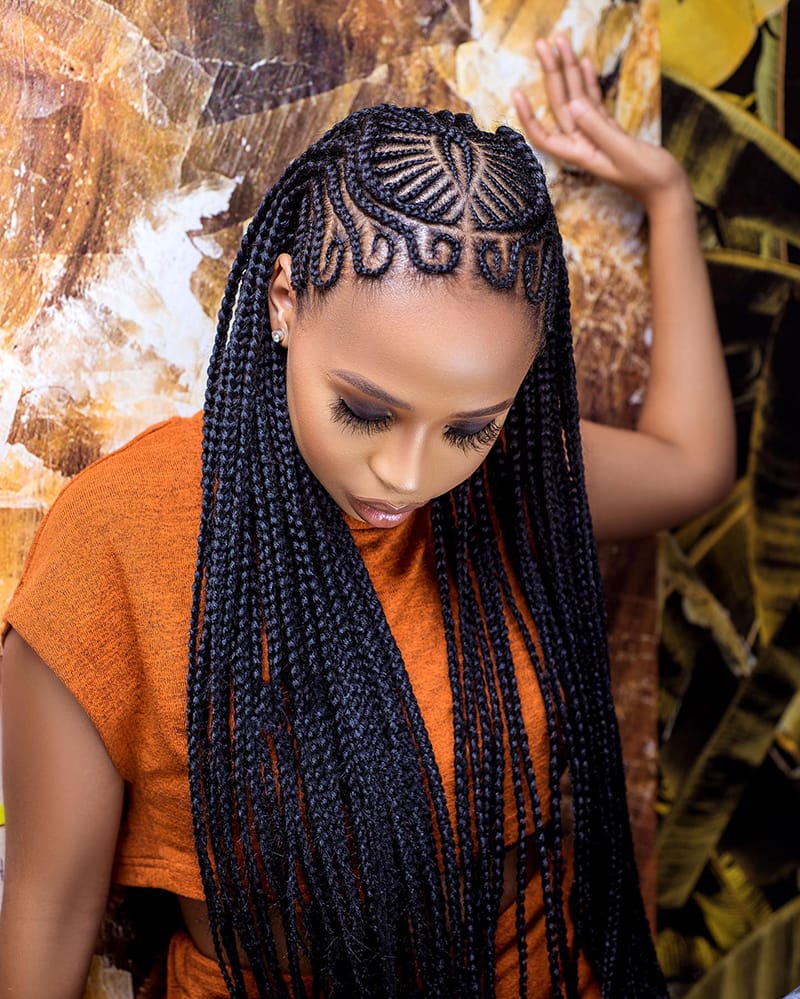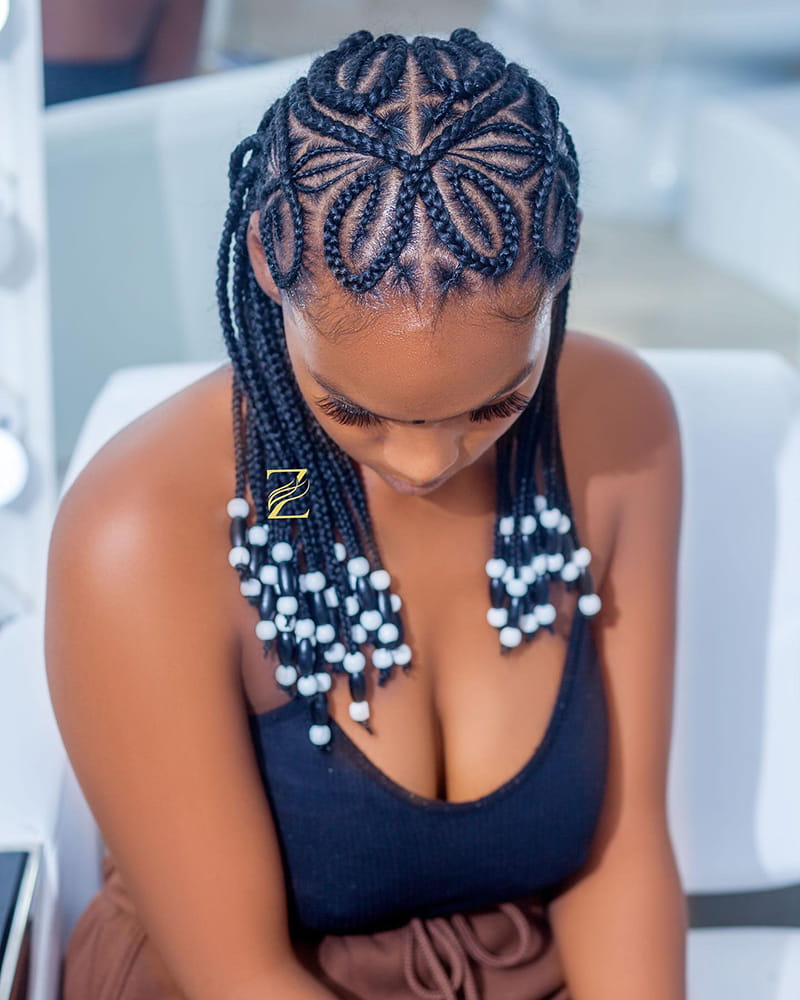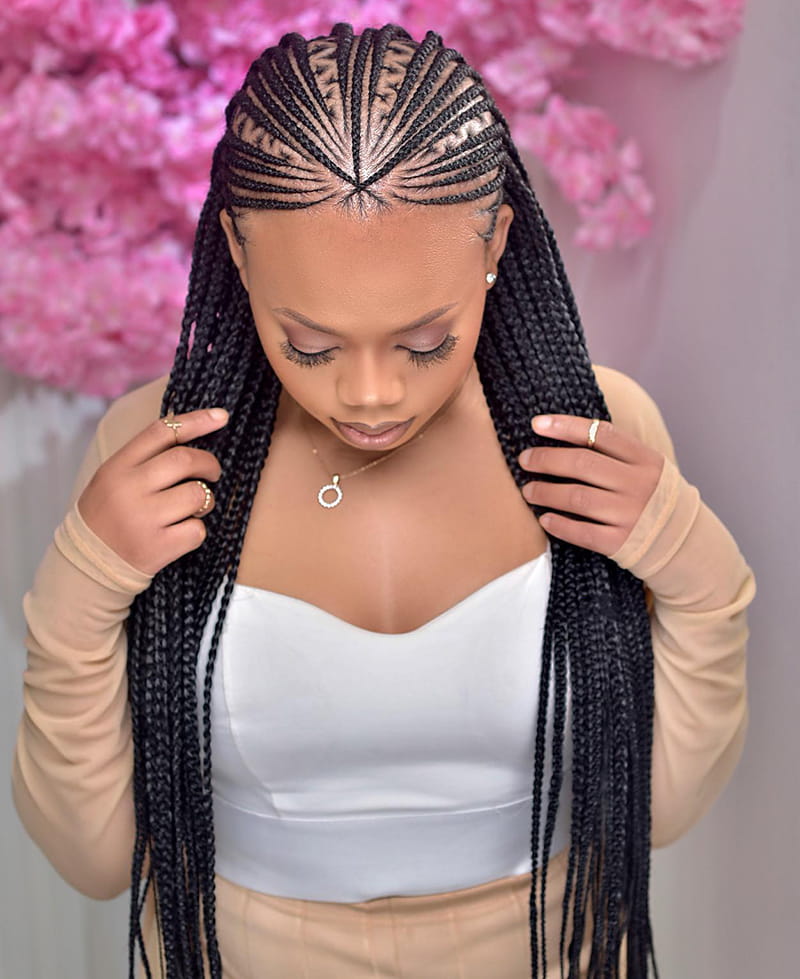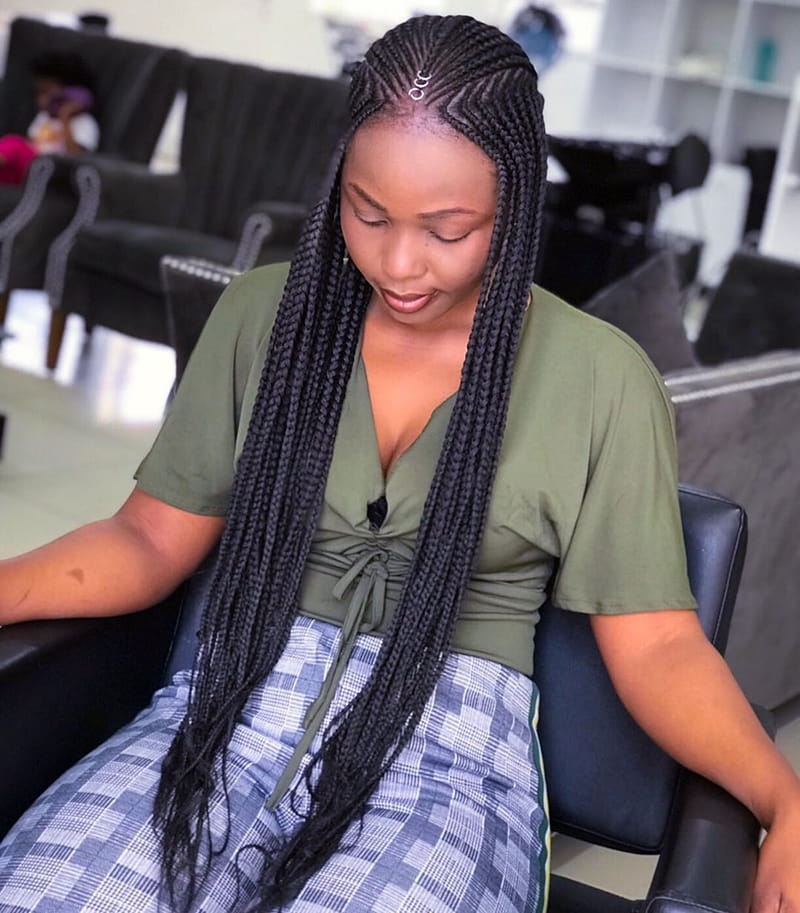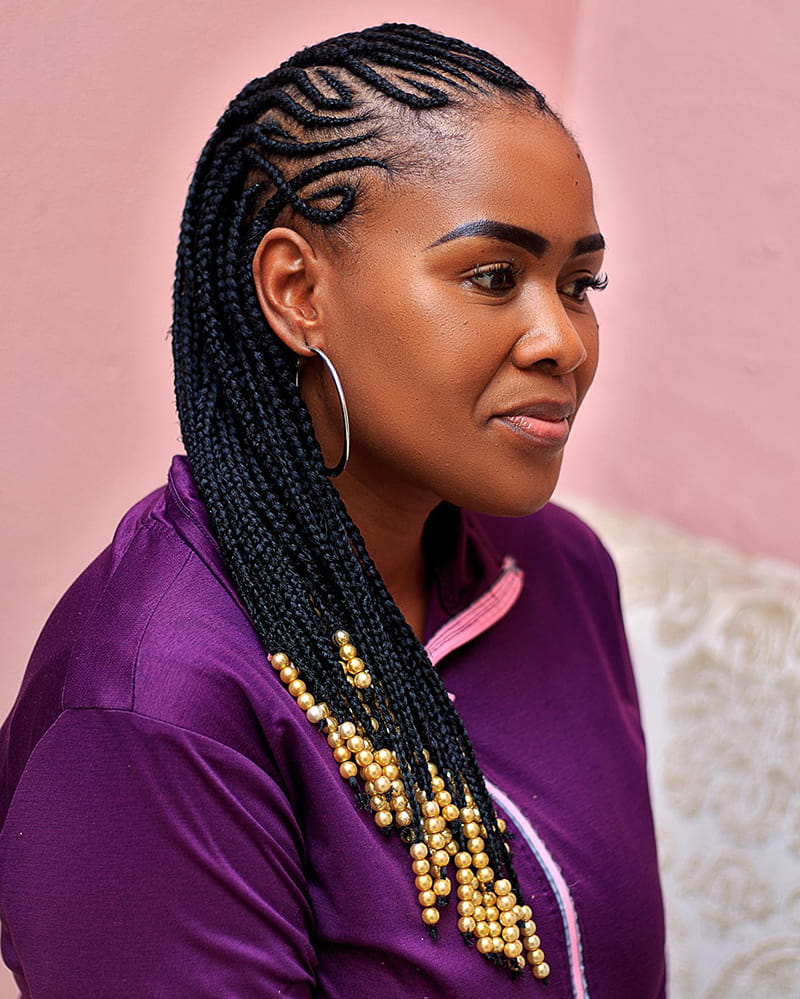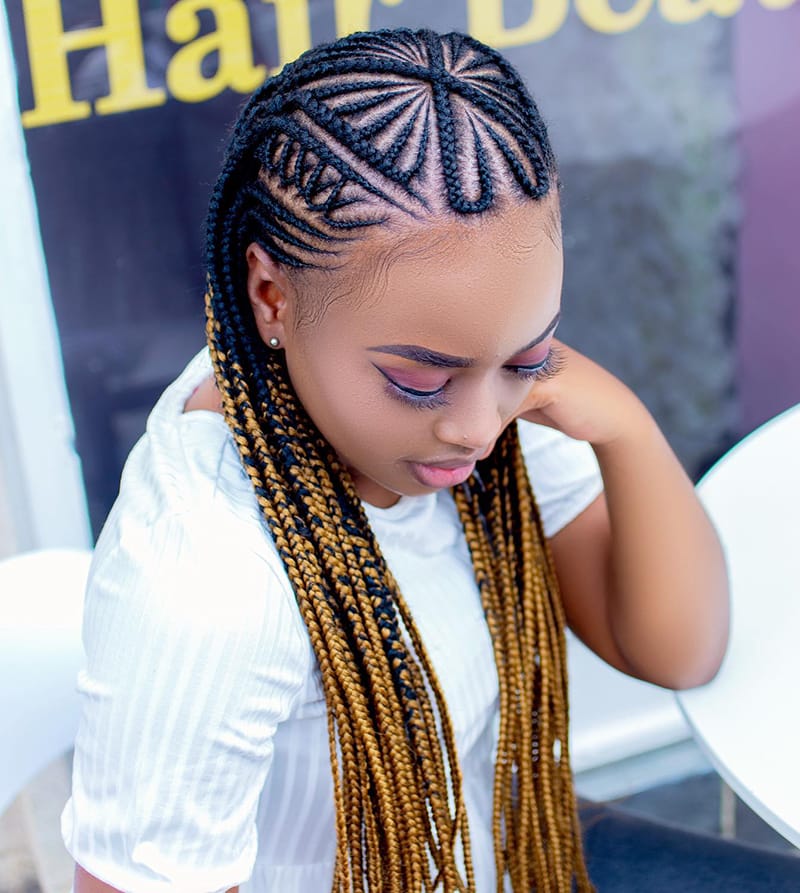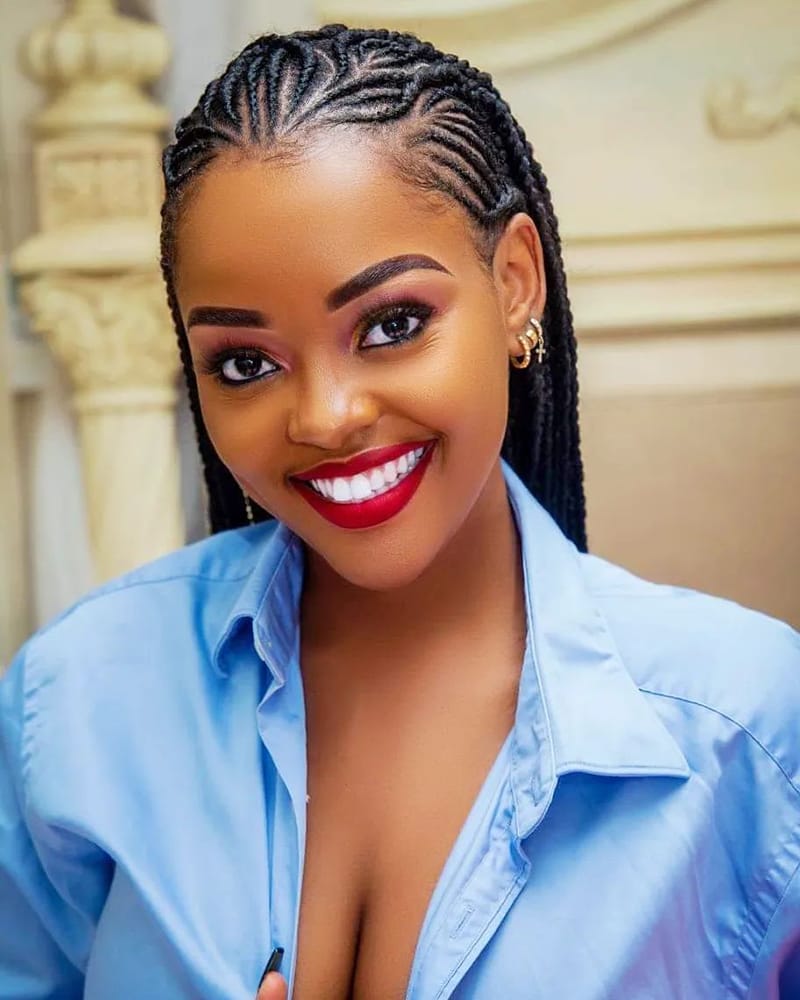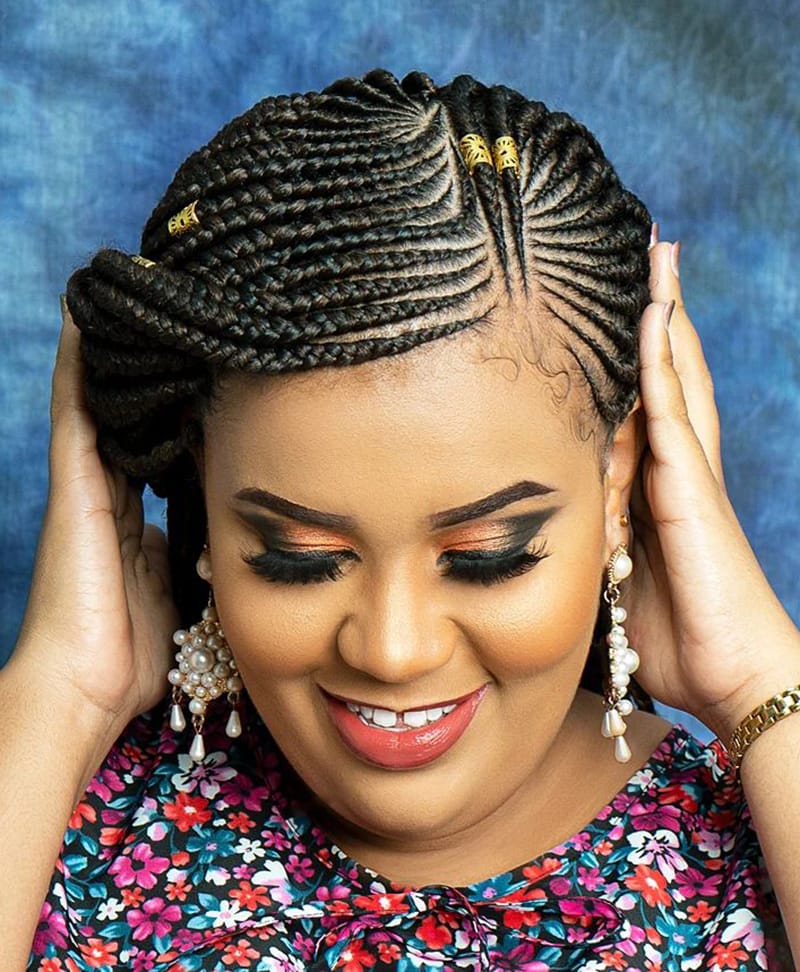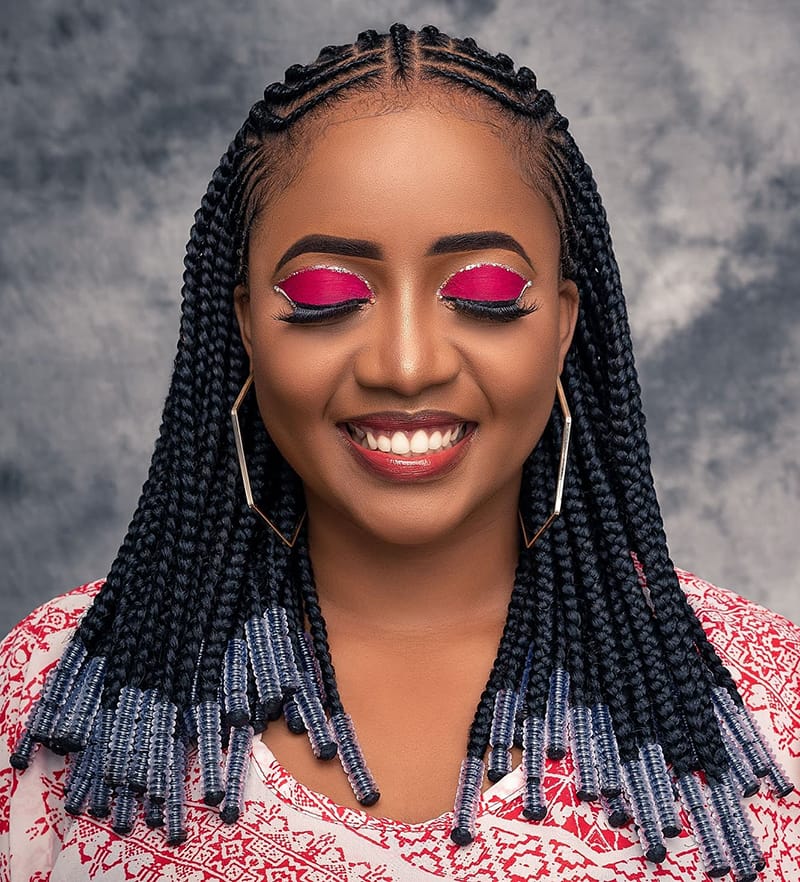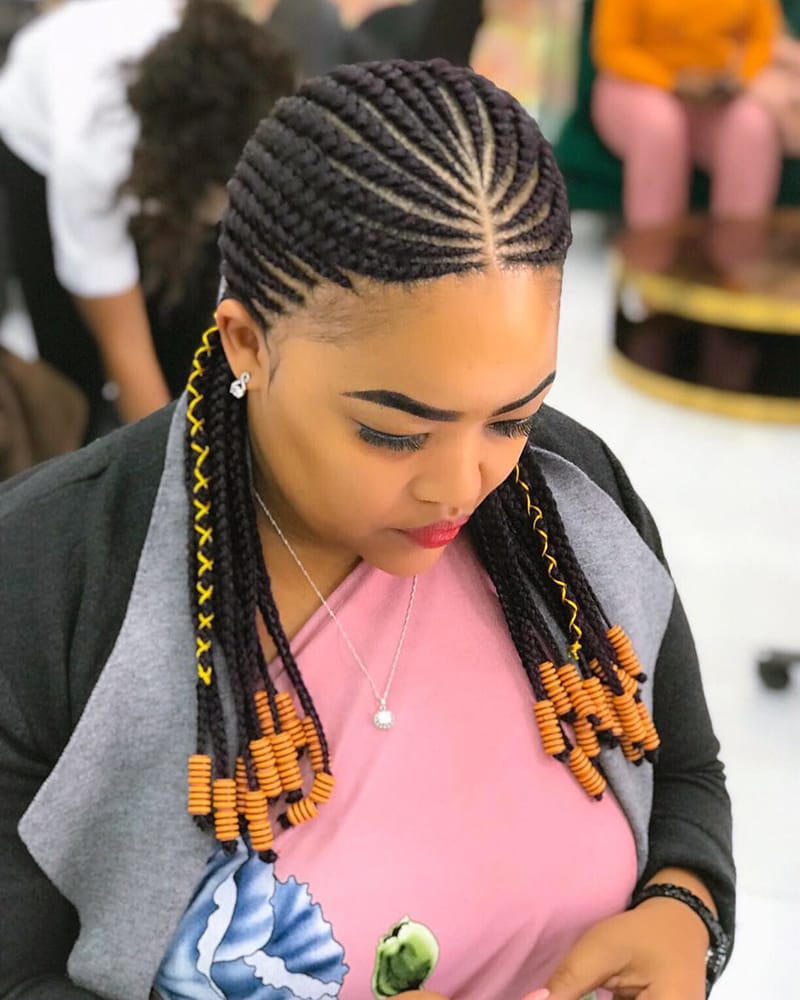 How to Take Care of Tribal Braids
Think of your tribal braids as a favorite houseplant—they need regular care to stay vibrant and healthy. Just like you wouldn't ignore a thirsty fern, you can't neglect your braids. Here's how to keep them as fresh as the day you walked out of the salon: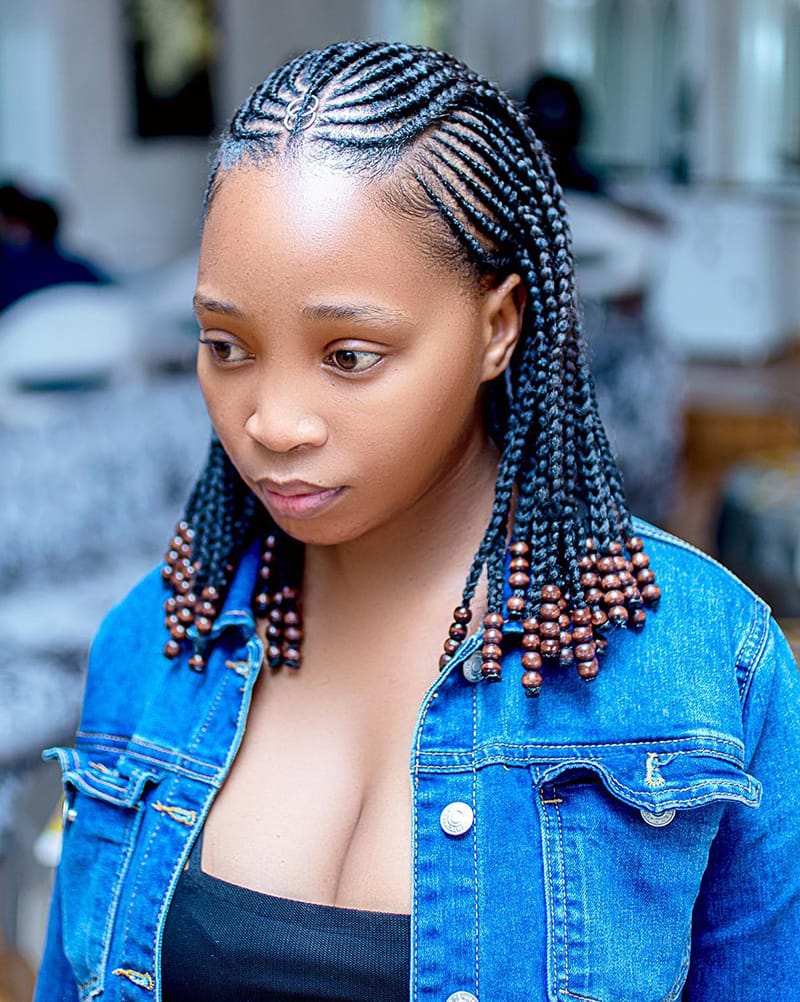 Scalp Care
Your scalp is the bedrock of your braids. Treating it right is non-negotiable. Imagine your scalp as a garden that needs to be watered. You wouldn't pour a whole bucket on a small pot, right? The same goes for oils and sprays. A gentle massage with some natural oils like jojoba or tea tree will keep it moisturized and dandruff at bay. And when your scalp is happy, your braids will be too, looking as lush as a well-kept greenhouse.
Cleansing Routine
Washing your braids is like giving your plant a good soak—it's all about balance. Too much water and you can drown it; too little, and it's parched. Aim for a cleansing routine every couple of weeks with a mild shampoo diluted with water. Apply it directly to the scalp and gently work it in with your fingertips—a little scalp massage never hurts anybody! Then, let the water run through your braids like a gentle stream, carrying away any buildup without disturbing your braids' intricate beauty.
Nighttime Routine
Nighttime is when the magic happens, both for you and your braids. Wrapping them up in a silk scarf is like giving them a cozy blanket to snuggle into. This prevents breakage and frizz, so you wake up looking as fresh as a daisy. And if scarves aren't your thing, a satin pillowcase is the perfect substitute. It'll reduce friction and help you avoid the dreaded braid fuzz.
Moisturizing Your Braids
Moisture is the essence of beauty for both your braids and your natural hair. But here's a tip: avoid heavy products that can weigh down your braids and attract dirt. Instead, opt for a light braid spray or a dab of leave-in conditioner every few days to keep them supple. It's like giving your plants just the right amount of sun and shade—balance is key.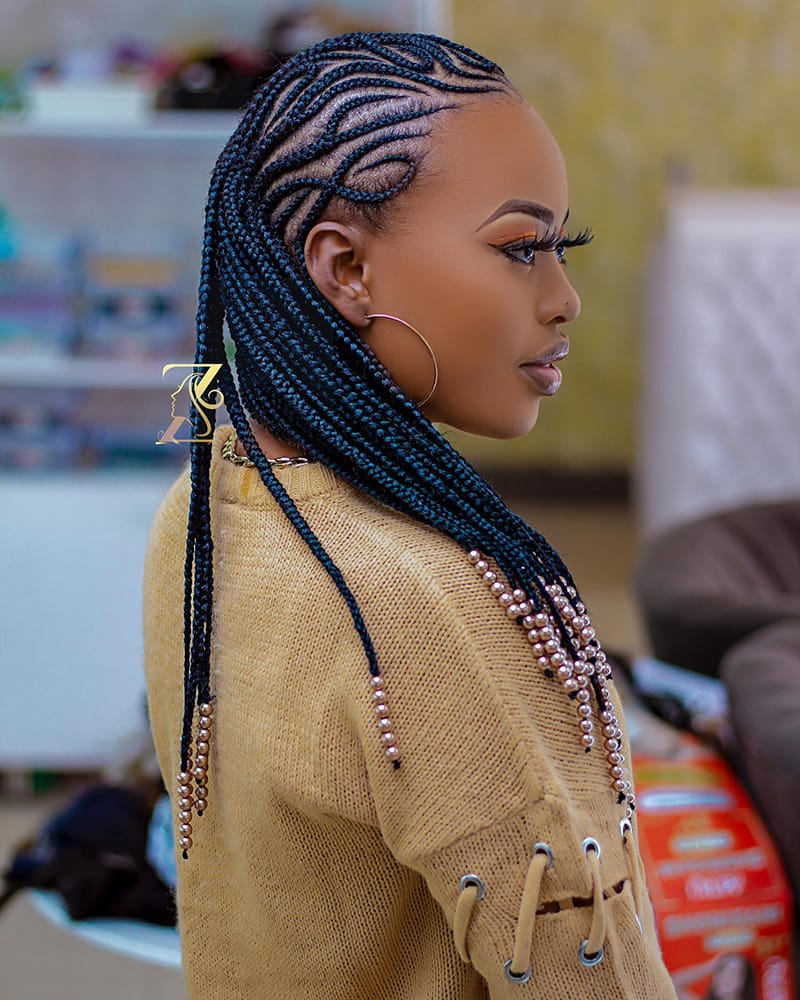 Dealing with Frizz
Frizz? It's the natural enemy of the sleek, polished braid look. But don't fret; a little mousse or anti-frizz serum can work wonders. Smooth it over your braids to tame any flyaways and keep everything looking neat and tidy. Consider pest control for your hair garden—necessary and effective.
Refreshing Your Edges
As time goes by, the edges of your braids may start to look a bit lived-in, which is totally normal. Think of it as pruning your plants; sometimes, you need to snip off the ends to promote new growth. A quick touch-up on the edges will have your braids looking brand new all over again.
Regular Maintenance
Regular check-ins with your braider are like visiting the garden center for the best care tips. They're the experts who can help you keep your braid game strong, addressing any frizz, loose braids, or general maintenance that comes with wear and time.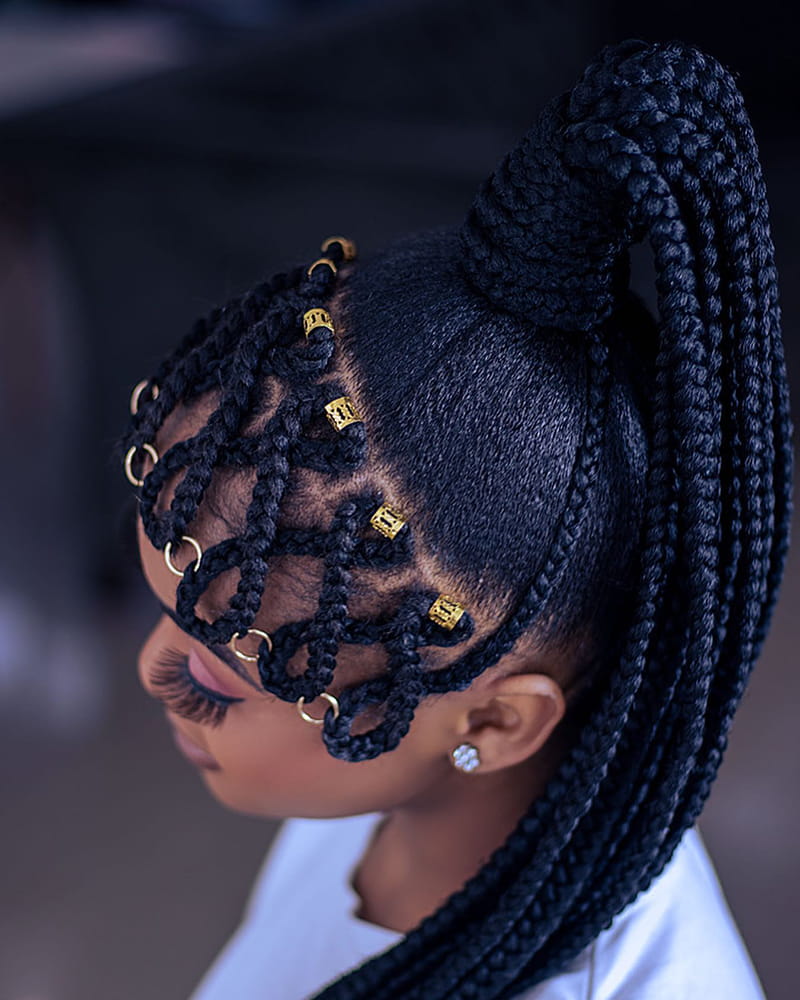 Knowing When to Let Go
All good things must come to an end, including your beautiful braids. Holding onto them for too long can be damaging, just like overwatering a plant. It's tough to say goodbye, but removing your braids after six to eight weeks is a healthy practice. It prevents matting, and breakage and gives your natural hair a chance to breathe. Then, after a little rest, you'll be ready to start the beautiful cycle all over again with a fresh new look.
FAQs
What are tribal braids?
Tribal braids are not just a hairstyle; they are a storied expression of culture and identity. Rooted in African heritage, they are characterized by unique patterns and designs that can signify one's tribe, social status, or ancestry. Today, they have been embraced globally and can be customized with various lengths, colors, and accessories for a modern twist.
How long do tribal braids last?
The lifespan of your tribal braids depends on how well you maintain them. On average, they can look fresh for about 4 to 6 weeks, but with excellent care and regular touch-ups, some can wear them up to 8 weeks. Beyond this, it's advisable to remove them to prevent any tension or damage to the natural hair and scalp.
How long does it take to get tribal braids?
The time investment for getting tribal braids can be significant. Depending on the complexity of the design, the thickness and length of the braids, and the speed of the braider, it can take anywhere from 4 hours for a simpler look to 8 hours or more for intricate and dense braiding patterns. It's a true labor of love.
How many packs of hair for tribal braids?
The amount of hair needed for tribal braids varies widely based on the desired look. For full head coverage with average thickness, typically 5 to 8 packs of braiding hair are recommended. If you're going for thicker or longer braids, you might need more. It's always best to consult with your stylist beforehand to determine the exact amount.
How much do tribal braids cost?
Pricing for tribal braids can vary greatly depending on your location, the salon's reputation, the intricacy of the braid patterns, and the length of your braids. Generally, the cost can range from $100 to $300 or more. Some stylists charge by the hour, while others have a set rate for specific braid styles.
How to sleep with tribal braids?
Preserving your tribal braids at night is crucial for maintaining their appearance. Before bed, loosely tie your braids up or wrap them in a silk or satin scarf or bonnet to minimize friction and frizz. This practice helps keep the braids neat and reduces tension on the roots.
How to wash tribal braids?
Washing tribal braids should be done carefully to avoid frizz and slippage. Dilute your shampoo with water and apply it to the scalp, gently massaging with your fingertips. Rinse thoroughly, allowing the soapy water to cleanse the length of the braids without agitating them too much. After washing, apply a light conditioner if necessary, focusing on the scalp and gently squeezing it through the braids. Rinse well and gently pat your braids with a towel to remove excess water. Air drying is the best method to preserve the braids' integrity.
Conclusion
In wrapping up our detailed exploration of tribal braids, let's circle back to where we started: Tribal braids are not merely a hairstyle, they're an embodiment of cultural expression and personal style. Whether you choose to wear them in homage to their rich heritage or as a bold fashion statement, they offer versatility and beauty unmatched by other styles.
To conclude, tribal braids are a powerful testament to the endurance and evolution of cultural hairstyles. They have transcended time and geography to become a modern staple in the beauty industry, celebrated for their adaptability and the statement they make. As you start your tribal braid journey, remember to cherish the process—from selecting the perfect pattern to maintaining the health of your hair and scalp. With the right care, your braids can be a source of joy and expression that celebrates both your individuality and the shared history from which these styles originated.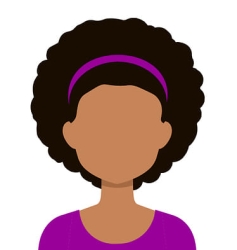 Latest posts by Laverne Rhimes
(see all)