Short hair is a trend nowadays. That's why we can see a wide number of Short Natural Hairstyles, are being used by women around the whole world. Many of our women are now fond of short hair due to several reasons. And Among African American Black women, this trend is high and still on the go. Women love short hair because of their profession, business, and choice. Another group of women thinks that short hair can make you look aged and ugly.  But in fact, short hair can make you smart, confident, and more beautiful than you with long hair. All you need is some stunning short hairstyles. Today we will talk about the most popular 18 short natural hairstyles for African American women. So let's get started.
Curly Tapered Short Natural Hairstyles
Whatever your age, you can try this curly tapered hair. Women around the world wear this unique hairstyle for a newer look. Look at the picture carefully.  Here the beautiful short curls are tapered effectively. This is so simple to prepare but so gorgeous when others see it.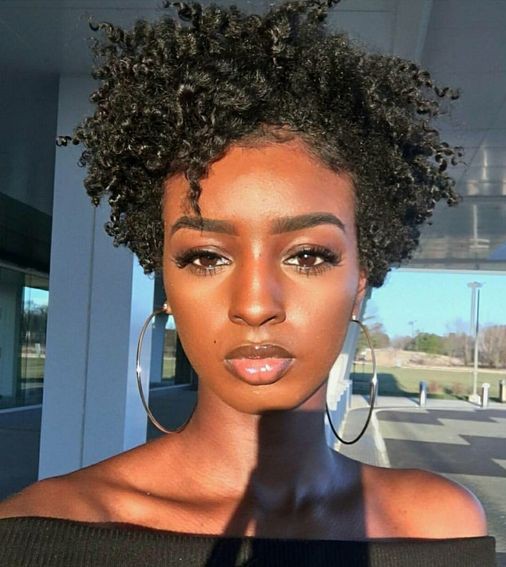 Polished Curls
This is also one of the topmost used hairstyles among African American Black women. The Hair here is made curly and a hairband is used at the front of the head. You do not need much time to make this hairstyle. You can get yourself ready for anything whenever you like with this natural short hairstyle. Besides, these hairstyles are great for attending social programs like parties.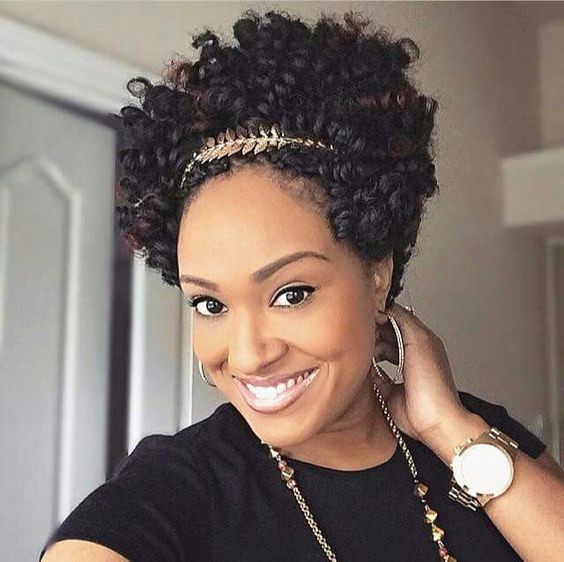 If are seeing this hairstyle for the first time, then you should know that this is a very simple and gorgeous short hairstyle called Crochet Braids. This hairstyle is made of some beautiful colored curls shaped like crochet. Home, work, or tour- this hairstyle can take you anywhere with confidence and smartness.
Divided Curls
The woman in the picture is actually a medium-short hairstyle. She is spreading a heavenly beauty with that type of natural short hairstyle. Her hair is colored partially and divided into two parts in the middle of the head. And the two sides are beautifully curled and allowed to go downward.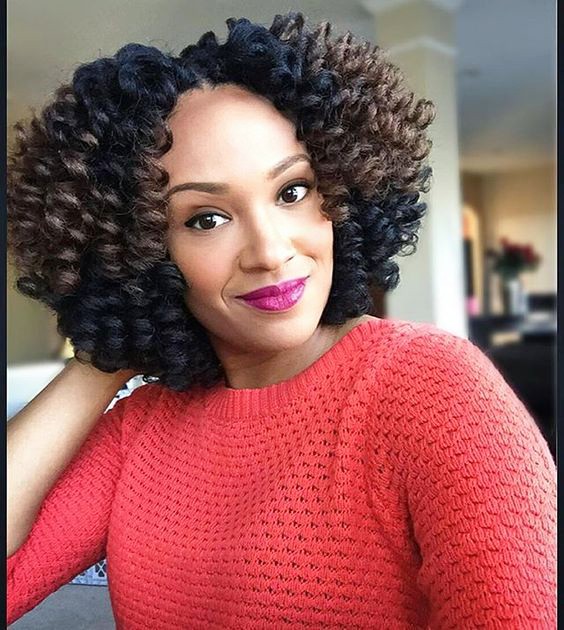 Beautiful Flat Twist Out
You can judge this hairstyle on your own. There is something in the world which do not need any explanation or description. This lovely natural short hairstyle is also beyond any comment and suggestion. Flat twist oust hairstyle has made her a center of cuteness.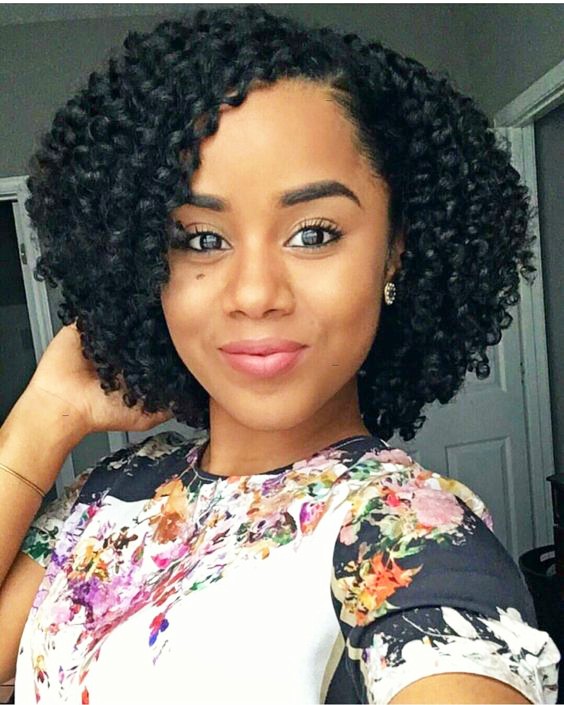 Yes, this is also a natural hairstyle. The color of her hair is dazzling, isn't it? This beautiful natural short hairstyle is called a pop of color where the woman who wears it emits a heavenly beauty around her.
Simple and Smart
She does not need anything to increase her beauty. She has lovely short hair which is placed as wavy on the round of the head. Simplicity is the best fashion. And she is the example of that statement.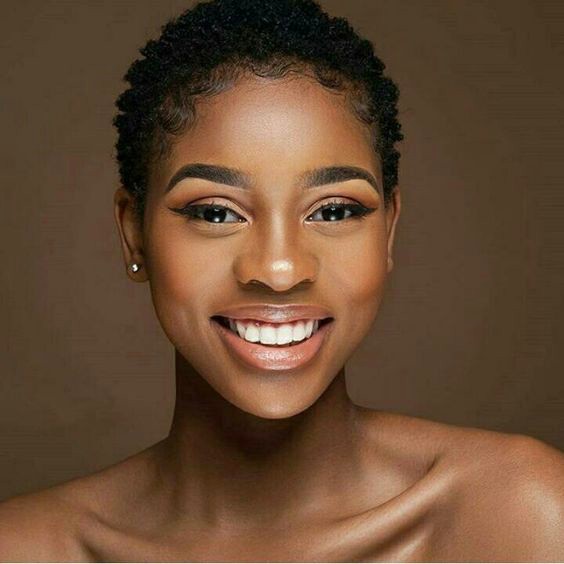 Unique and Dashing
This hairstyle is shaped like semi afro. There is a line on the right front corner which is adding extra cuteness to the women. Moreover, the color of their natural short hair has made her sexy, unique, and dashing.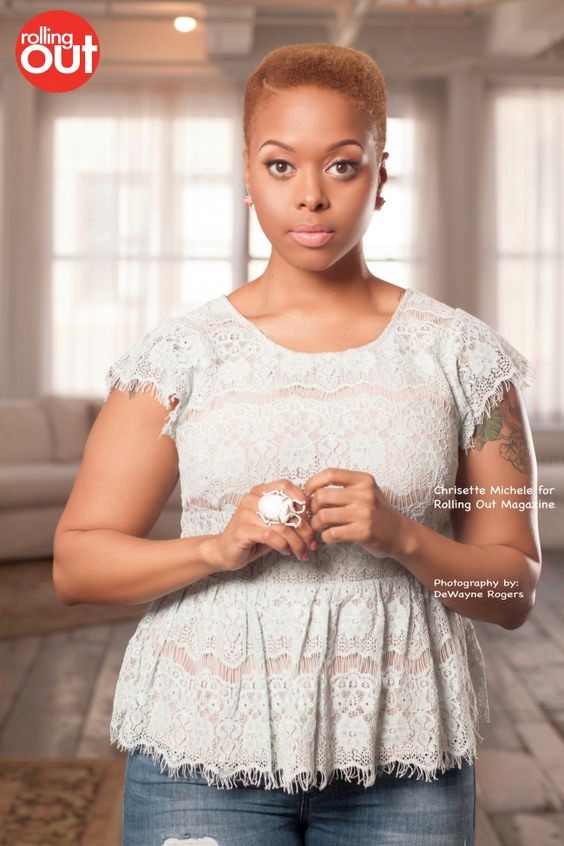 Undercut for Natural Hair
Her hair is undercut inspired by Mohawk hairstyle. And the colored hair is curled on the top round. The beautiful curls and the undercuts combinedly have presented a smarter look to this woman.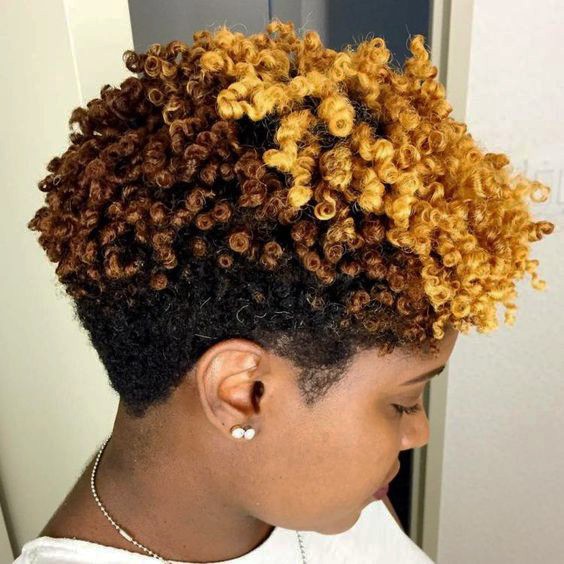 Rod set & Finger coils
Hello, these are rod sets and finger coils hairstyles applied on short hair. People can hardly imagine this type of amazing and stunning hairstyle available for short hair.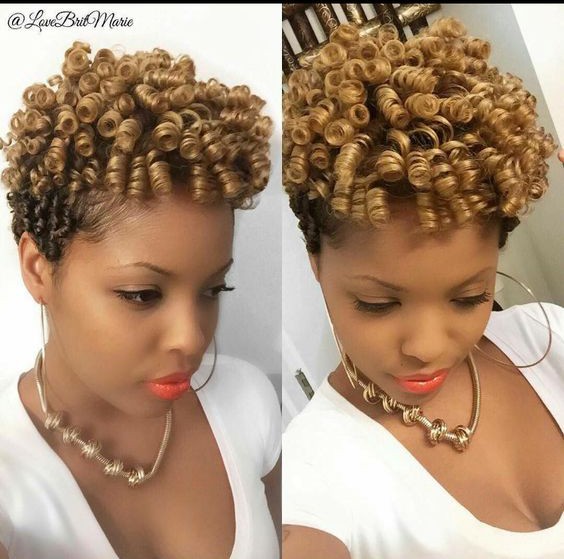 Kinky Curly
Kinky curly can be an attractive choice for the short-haired African American black woman. Here the kinky curls are only colored and the leftover of the hair is of natural color.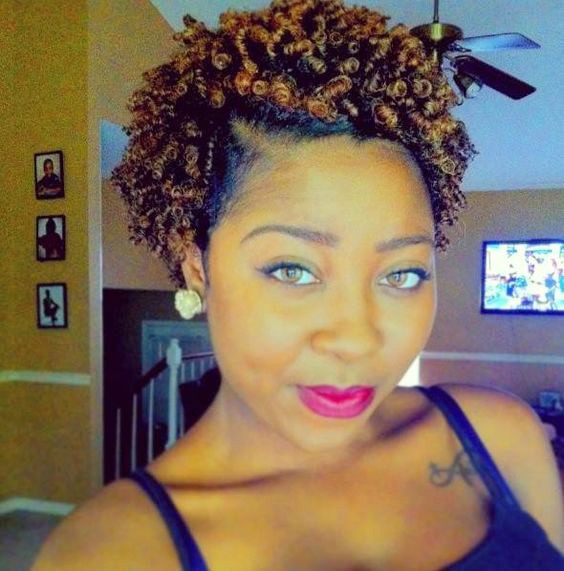 Afro inspired updo
You have short hair and it does not mean that you cannot have an updo. Look at the girl in the picture. She has shaped her hair like an Afro hairstyle and made up with that. All you need is a hairband which will be hidden in the curls and an afro cut.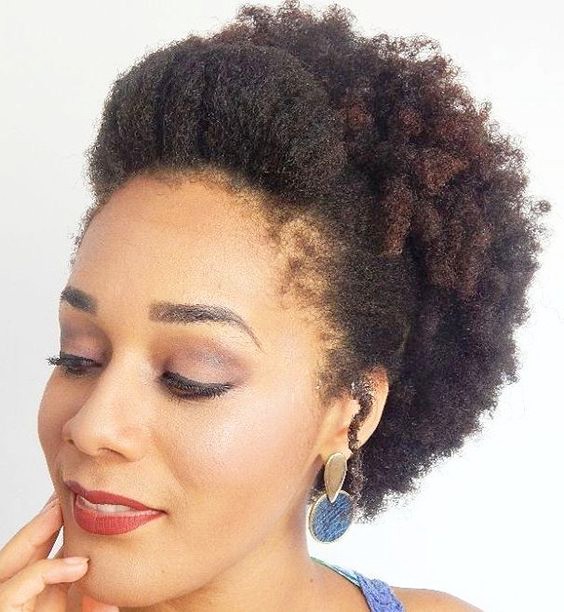 Undercut with Curls
Undercuts are much more popular this time. The bold woman often uses this smarter hairstyle to make them look advanced and stylish. This undercut hairstyle consists of the undercut and strong short curls on the top.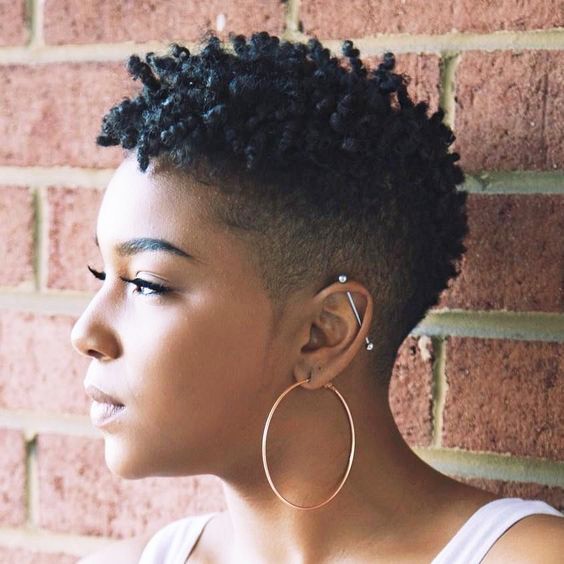 Purple for Short
Whenever you have hardly any time to look after your hair but you need the natural beauty of your curls just leave them wavy and apply the purple on the curls. Without wasting any time you are awesome.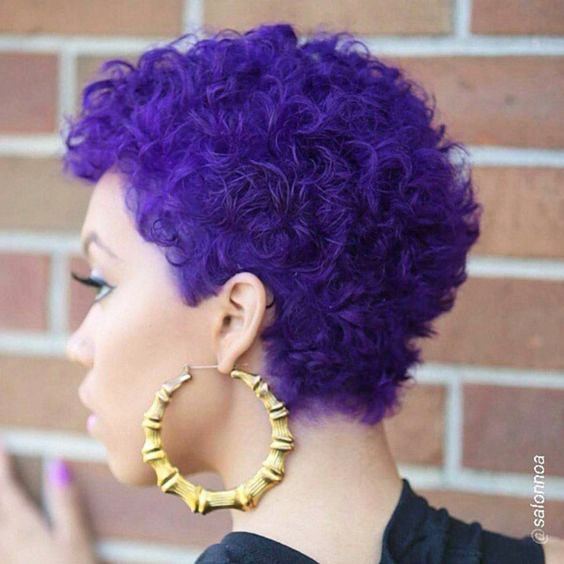 Black Shortness
Like this wow hairstyle? Or you like to be a wow? Then try this one. Simple black short wavy hair. Nothing else is necessary to look stunning and sexy.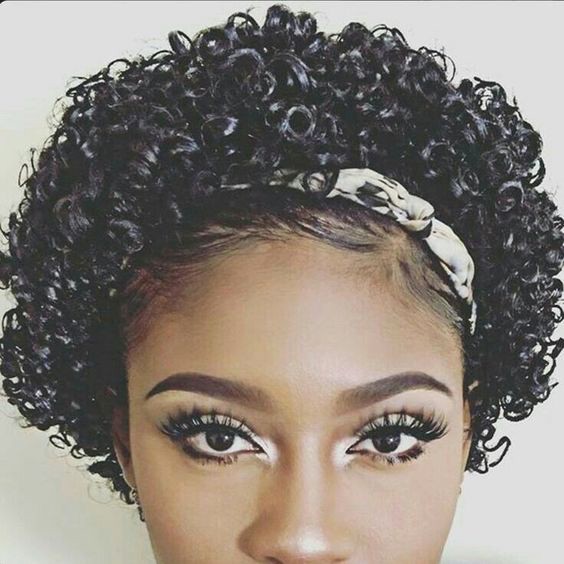 Pretty curls as Short Natural Hairstyles
This is a Mohawk-inspired curly short hairstyle. A hairband is used on the front and the curled short hair is pushed from the front to the center of the head. So simple and gorgeous at the same time huh?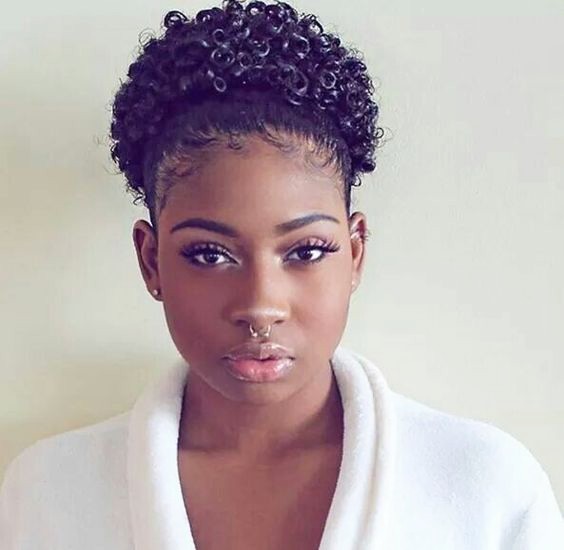 The Baldie Revolution
Now this one is a little bit different from the others. This a brand new and trendy hairstyle in the 21st century designed for short hair. This hairstyle consists of a bald side and blonde coils. With bald sides and Curly Blonde hair, you can gain this ultimate beauty and attraction.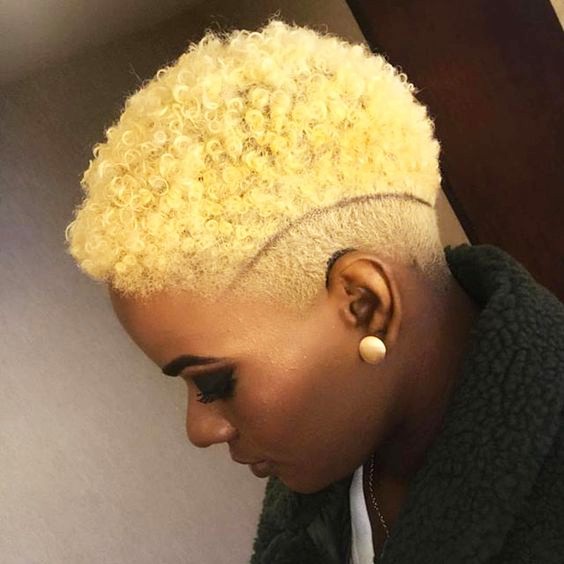 Fade Haircut
Fade is a very common and stylish method of decorating your natural short hair. If you are interested you have to make shades on the sides of your head and the backside of your head. This hairstyle is common among the bold and beautiful.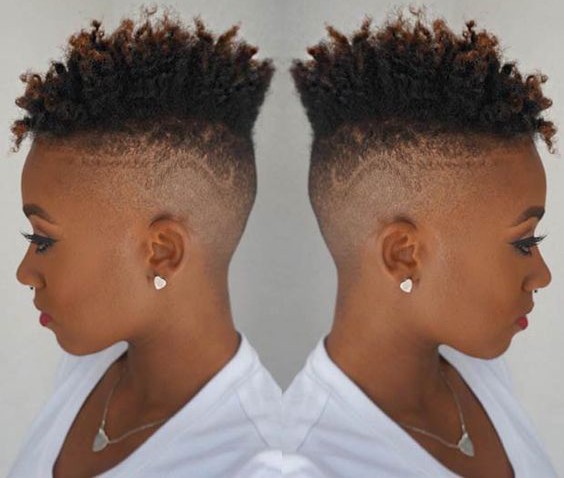 Short Natural Hairstyles may have a thousand variations, designs, and styles. Among them, you have to pick just one for you. maybe its a very confusing job to do that properly. So, we have arranged these hairstyles in front of you to let you pick from the best. If you like this article, please leave a comment. And do not forget to follow us on Pinterest, Twitter, and Tumblr.