Burst fade mohawk hairstyles are Slightly different from the traditional mohawk hairstyles and burst fade hairstyles. Actually, it adds some extra flair and modernity to these two traditional hairstyles. For that, African American men, especially younger people prefer it over many other popular hairstyles. Some of you might believe that the burst faded mohawks make the look more manly and we totally agree with that. You have already noticed that many of our stylish movie stars, sportsman, and celebrities are wearing these hairstyles and gaining extra modernity on their hairstyles. So, why shouldn't we wear some of the great styles too?  If you are here to know about burst faded mohawk hairstyles, their tutorial, maintenance, cost, and some unbelievable styles, you are at the right place. Today we are gonna introduce you to 10 mannish styles of bust fade mohawk in this article. All you have to do is scroll down and choose the one you like most.
How To Do a Burst Fade Mohawk (Tutorial)?
Learning a haircut may cost you some patience, experience, and time. And the same rule is also applicable for the burst faded mohawks too. As you know it's nearly impossible to make someone learn a haircut in a theoretical way, but here is a video tutorial for you to understand the basic rules of cutting a burst fade mohawk.
Burst Fade Mohawk Designs:
You already know that every hairstyle and haircut evolves over time and gets a new form in the hands of every professional hairstylist. That's why the bust fades mohawk hairstyles have a variety of designs and styles. Among these numerous styles and cuts, we have picked the top 10 styles that are always in high demand by black guys. So, let's check out the catchy styles.
1. Classic Burst Fade Mohawk Hairstyles
The classic burst fade mohawks are basically the first version of this hairstyle. In other words, the classic cuts are the basic combination of fade haircuts and mohawks. Here, the hair on the sides of the head gradually tapers from short to long in a circular or "burst" pattern. A long strip of longer hair remains from the forehead to the nape of the neck. These longer hairs can be 360 waves, kinky, straight hair, twists, and so on. But still, these classic styles are in high demand by black dudes.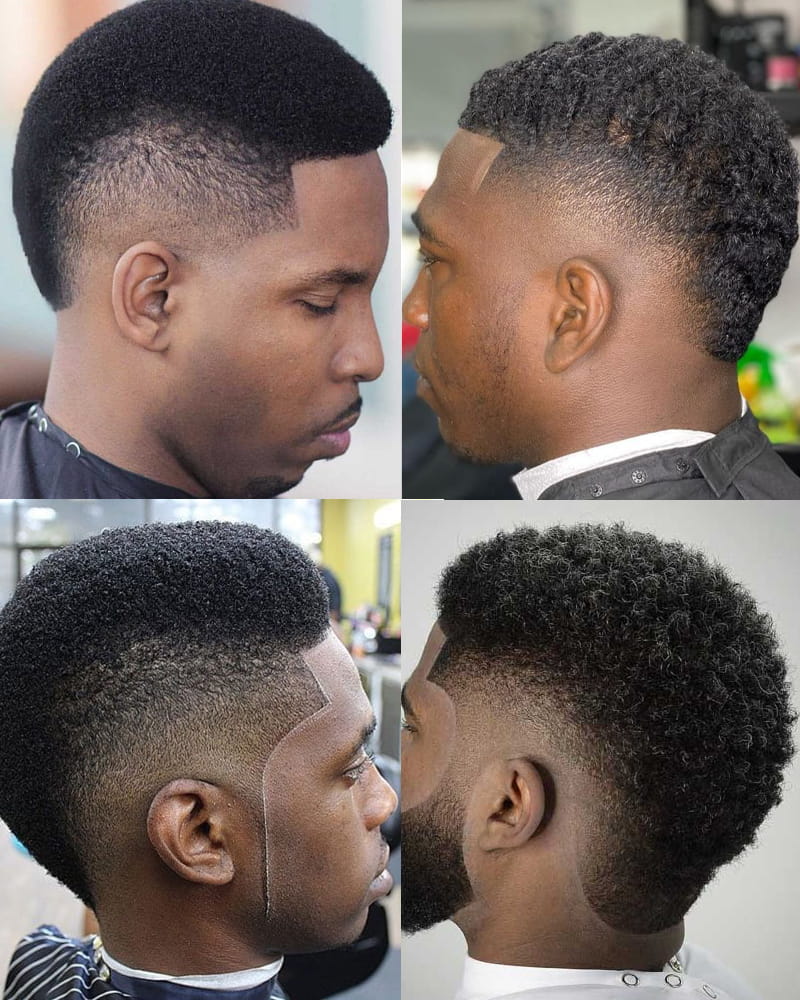 2. Colored Top
It's not only the women who have the right to colorize their hair. Yes, as a guy, you have immense opportunities to put some color on your hairstyles and haircuts. However, the burst-faded mohawks allow you to put your favorite color on it. Well, it may be a bit informal, but if you are not a very formal person there is nothing to worry about. But one should you must remember is that you do not have large-scale options while colorizing your mohawk hair. Basically, guys use the blonde hair color to adorn their hair.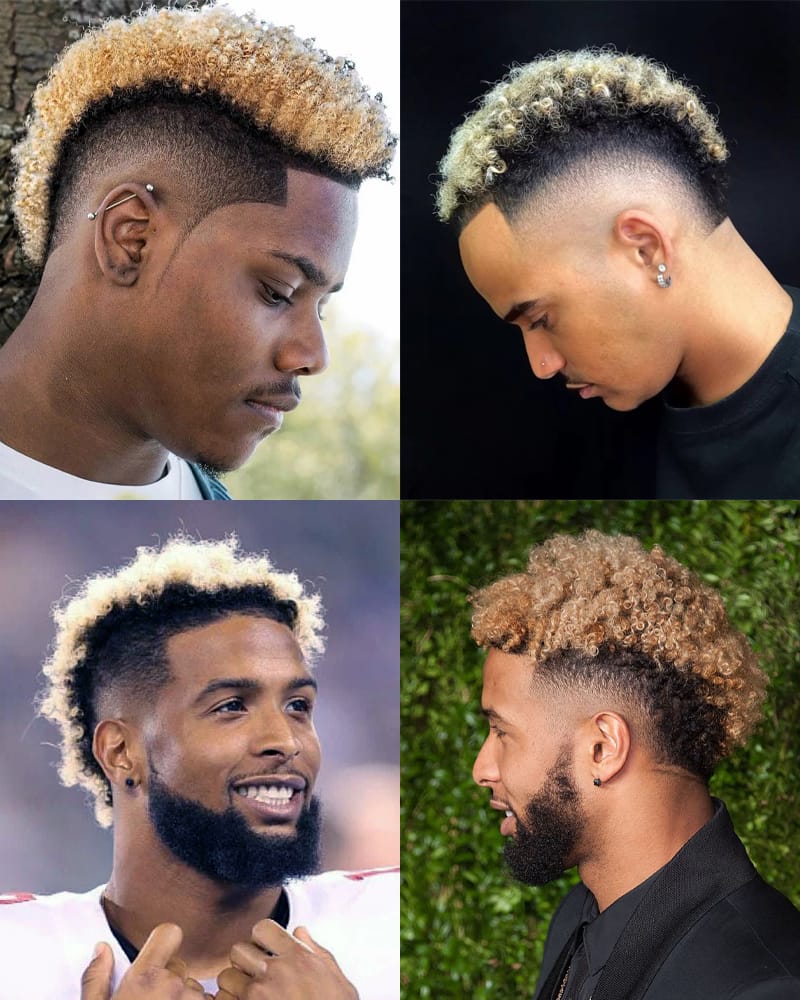 3. Burst Fade Mohawk with Razor Line
Drawing a razor line on the combination of burst fade and the mohawk is a trendy and modern haircut. Besides the white guys, the black guys do this style to have a more manly look. As you can see in the images, these razor lines can be a straight line, a tapered line, a cross, and so on. But in every case, these lines add some extra flair to your hairstyle and create a mannish effect on you and your hairstyle.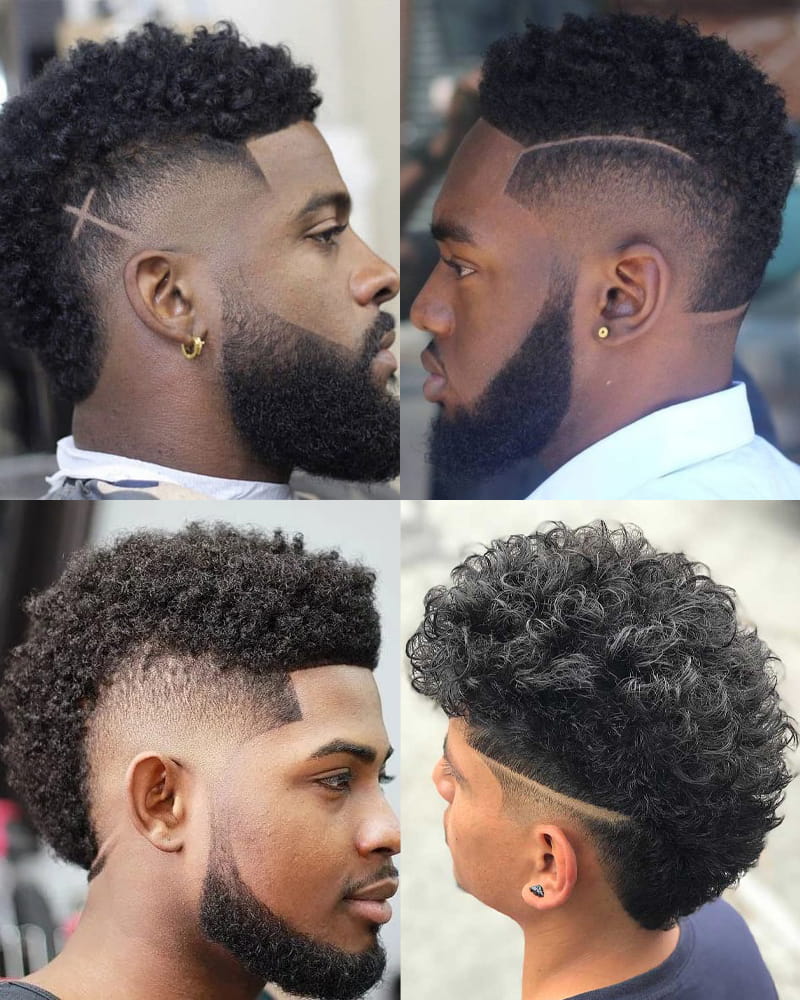 4. Short Dreads, Burst Fades, and Mohawks
As we have mentioned earlier these haircuts are flexible enough to combine with various haircuts, you can wear short dreads in the mohawk portion of this hairstyle. If you care to look at the images below you will find out that these guys also have some beads along with the burst fade mohawks. The beards here play an important look in completing the proper look. Besides the common guys, movie stars, celebrities, social media influencers, and many others wear the burst fade mohawk hairstyles with dreads (short dreads).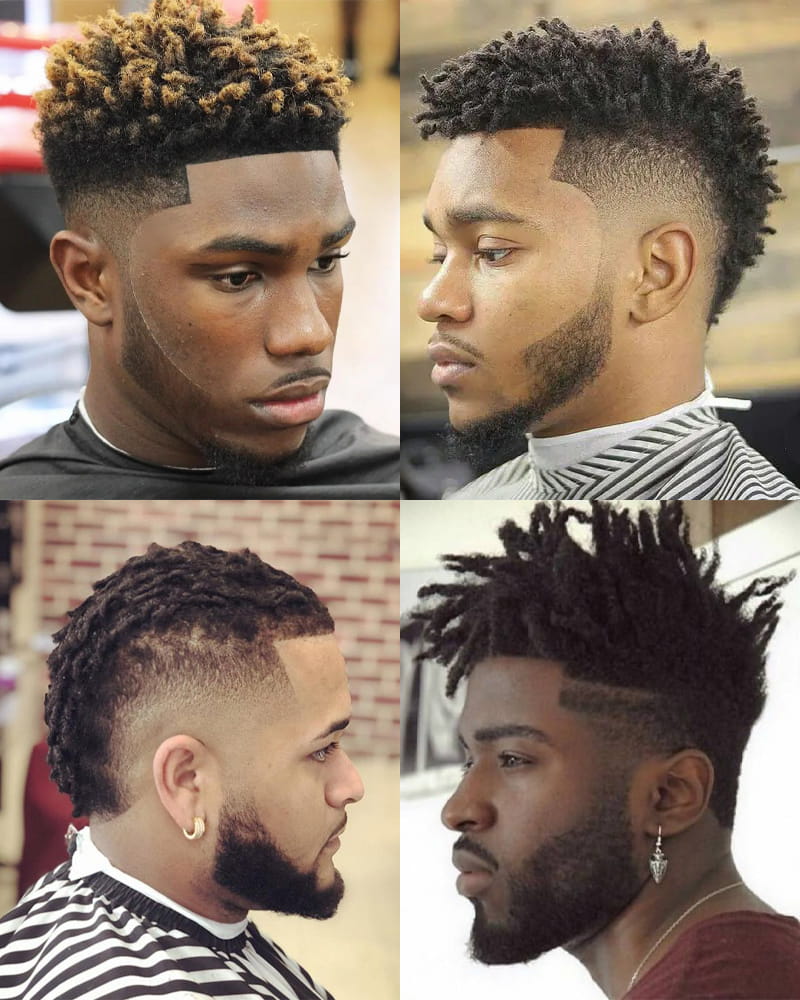 5. Burst fade Mohawk with Sponge Twists
If you are a sponge twists lover, you have some good news too from the side of burst-faded mohawks. And that is you can wear burst fade, mohawk, and sponge twists at the same time. Among the list of most popular hairstyles and haircuts of black people, you have to count this one in. Yes, you will need to spend some time in maintenance (caring, moisturizing, and protecting twists). But look at the styles, aren't they worth spending some time on them? If your answer is yes, you can go for this amazing masculine haircut.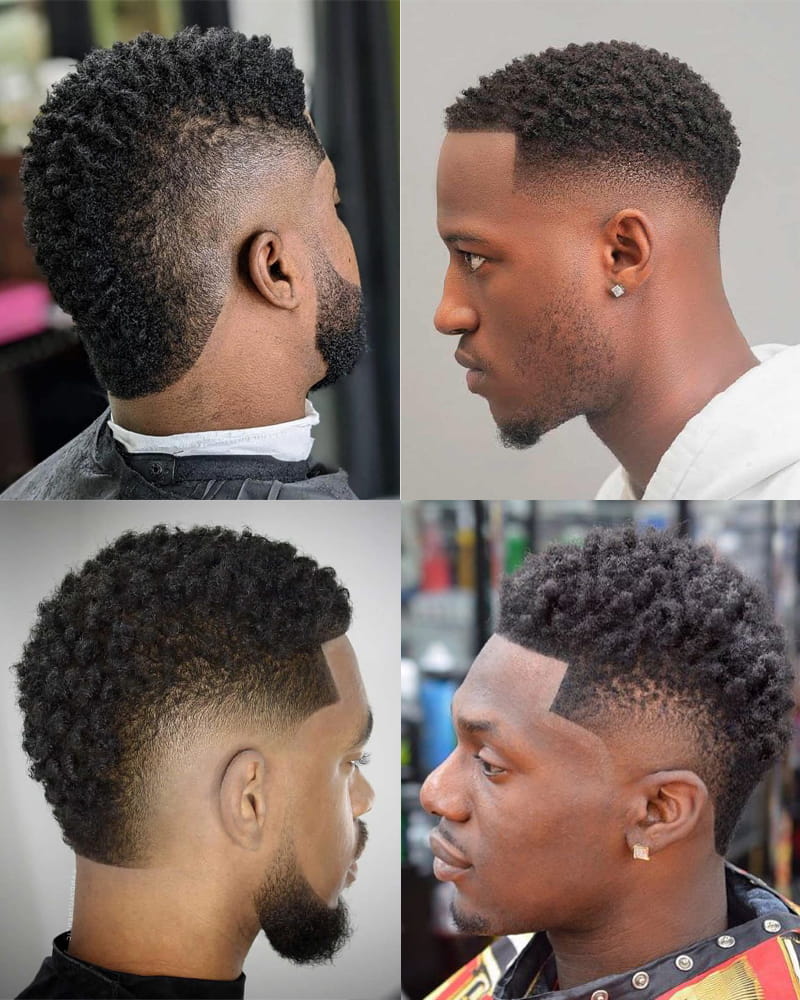 6. With Beards
While talking about any kind of men's hairstyles and haircuts, you can't just simply ignore the impression and effect of beards. Beards add an extra layer of smartness, seduction, and modernization to your look and hairstyles. You will find many other hairstyles where you can ignore beards. But with burst fade mohawks, you will find some extra effect of beards. But remember your beard style must conform to your haircut. And once you can find a perfect combination of your beard, burst fade, and mohawk you can win the heart of any woman around you with your look and hairstyle.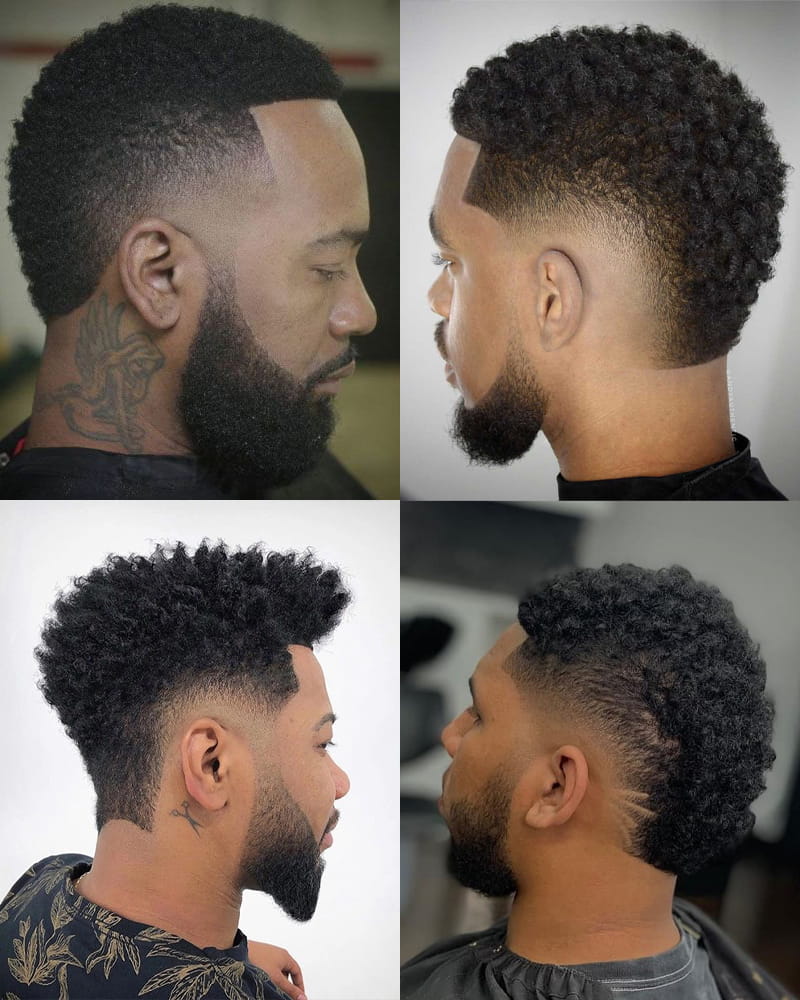 7. 360 Waves
One of the simple but smart hairstyles of the black dudes is the 360 waves. Now what could happen if you could combine the fades, 360waves, and mohawks? Yes, it's fairly possible and feasible. Here you do not need the long mohawk hair to make it traditional. Rather, short waves, and side fades can combinedly make this super sexy hairstyle. In the images below you can see that these guys have worn some beards with this haircut. But here beards are optional and you can wear them according to your wish.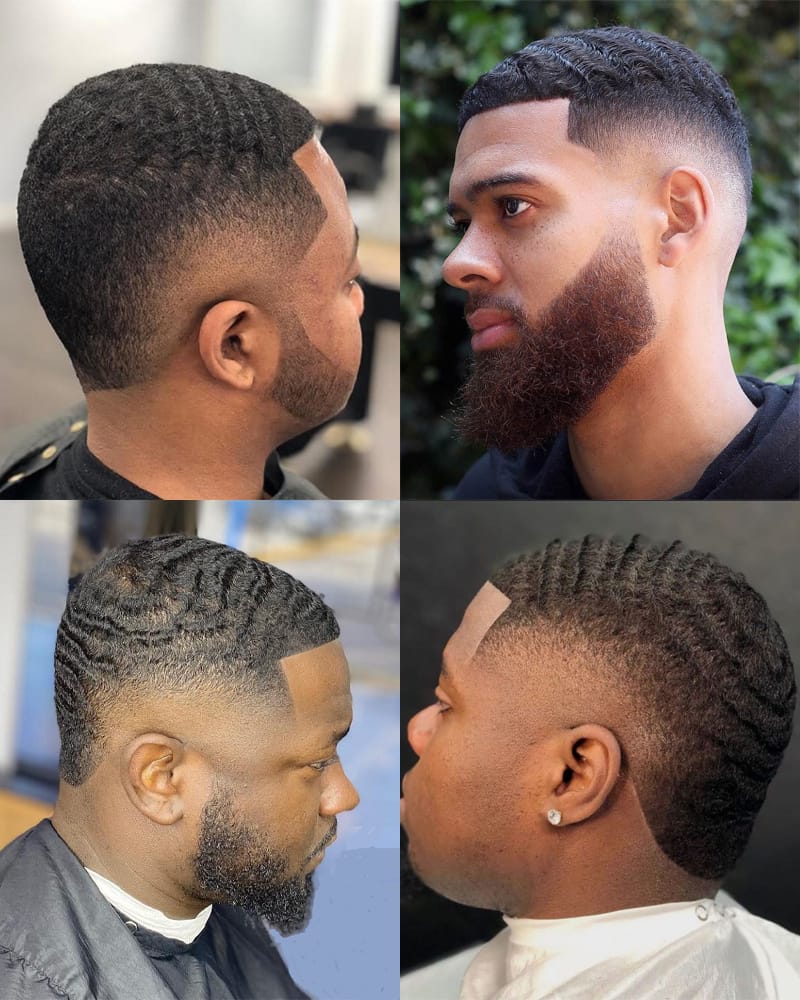 8. Burst Fade Mohawk With Blonde Highlights
Previously we have recommended some of the colorized hairstyles of burst fade mohawks. In this section, we have some slightly different styles. Besides colorizing the whole mohawk hair, you can create some highlights. And in the case of highlights, there is no more perfect color than blonde. Actually, these blonde highlights work on every type of mohawk hair like sponge twists, dreads, curls, spikes, razor lines, etc. And adding a long French-cut beard can add some more attractiveness to your hairstyle appearance.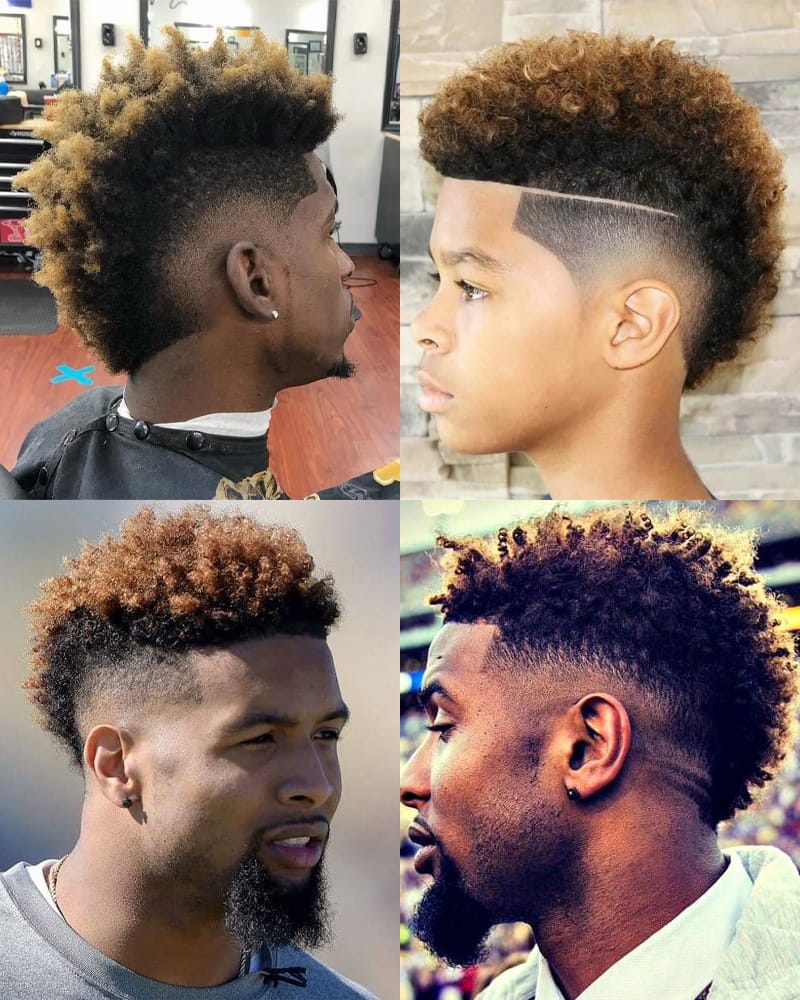 9. Kinky Burst Fade Mohawk Hairstyles
Burst Fade Mohawk Hairstyles with kinky hair are another classic hairstyle for black men. If you are confused about choosing the best mohawk and fade for you, you can go for this awesome and smart haircut. In terms of composition, there is nothing special but the effect and impression of this hairstyle are superb. That's why in spite of being a classic haircut millions of youngsters are wearing this masterpiece today. So, this classic and low-maintenance haircut is a strong recommendation from our side to you.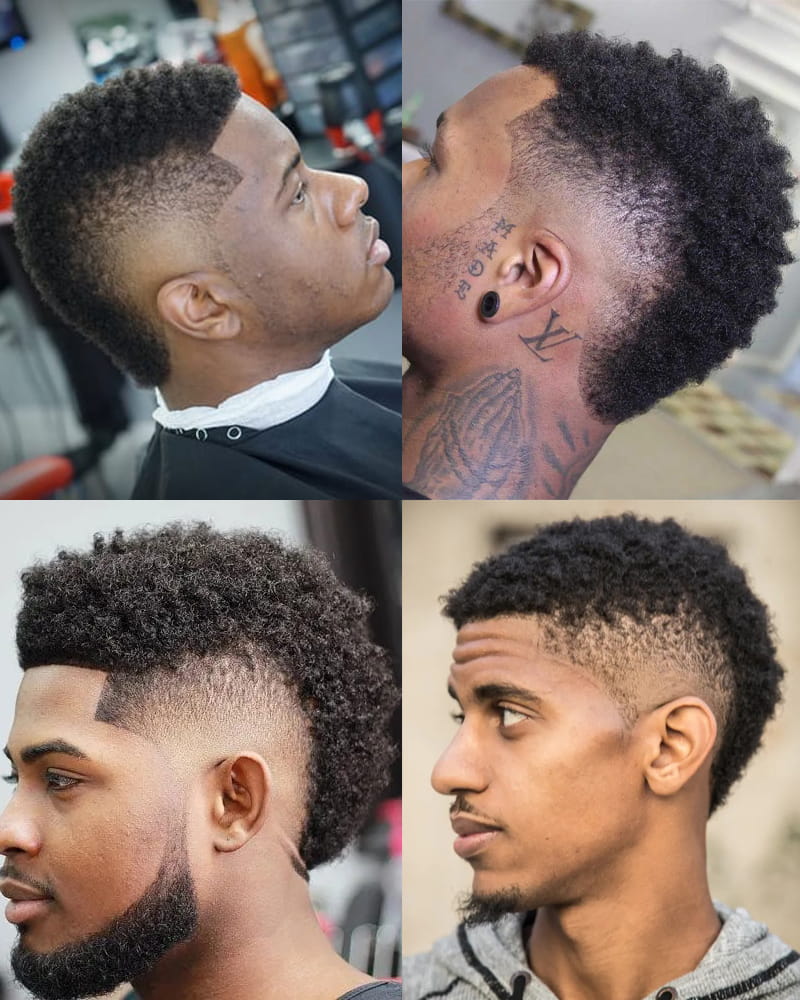 10. Make It Spiky
And last but not least, the spiky mohawk with a burst fade haircut. You may like sponge twists, highlights, colors, razor lines, dreads, beards, and many more hair types, but we just recommend making that hair type spiky. Spiky hairstyles are always a popular hairstyle among young people all over the world and if you can combine these spikes with your burst fade mohawks you will certainly find the difference. Below there we have managed to collect some of the spiky hairstyles with mohawks and fade haircuts. You can choose one and start looking smart and manly.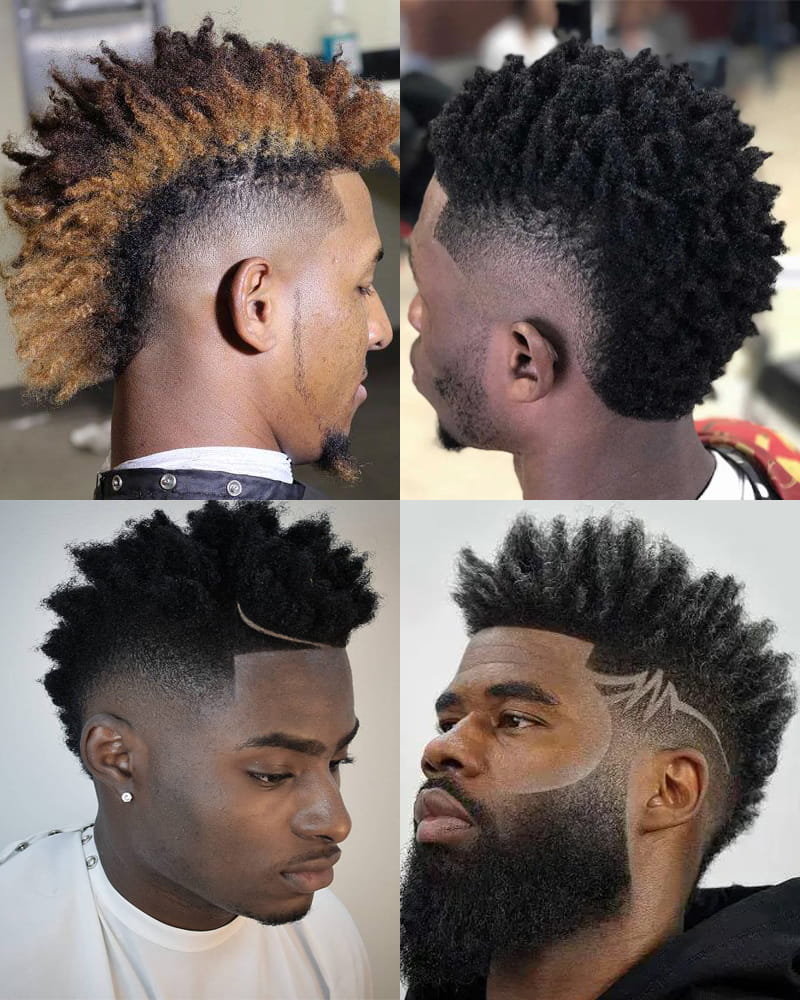 Burst Fade Mohawk Hairstyles are young people's passion nowadays. Because of its tremendous look and appeal, every man who wears it becomes the center of attraction around him. So, if you are here in search of the right hairstyle for you, it's time to choose the right one for you and get it done by your barber. Enjoy…
Read More: 84 Hairstyles That Will Change Your Idea about Black Men Haircuts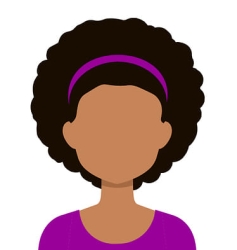 Latest posts by Laverne Rhimes
(see all)