Like you, millions of parents are too concerned about the right hairstyles for their cute little angels. But have you ever tried the box braids for kids? Yes, it's one of the coolest solutions to hairstyle-related problems for your kids. You already know that box braids are square-shaped braided hairstyles that are protective in nature. Most of the time adult women tend to wear these lovely braids. But they are more attractive and eye-catching with the kids. Moreover, there are hundreds of ways to modify these braids with different accessories and add-ons. Today we are goanna recommend you some of the super cool braided hairstyles for African American kids.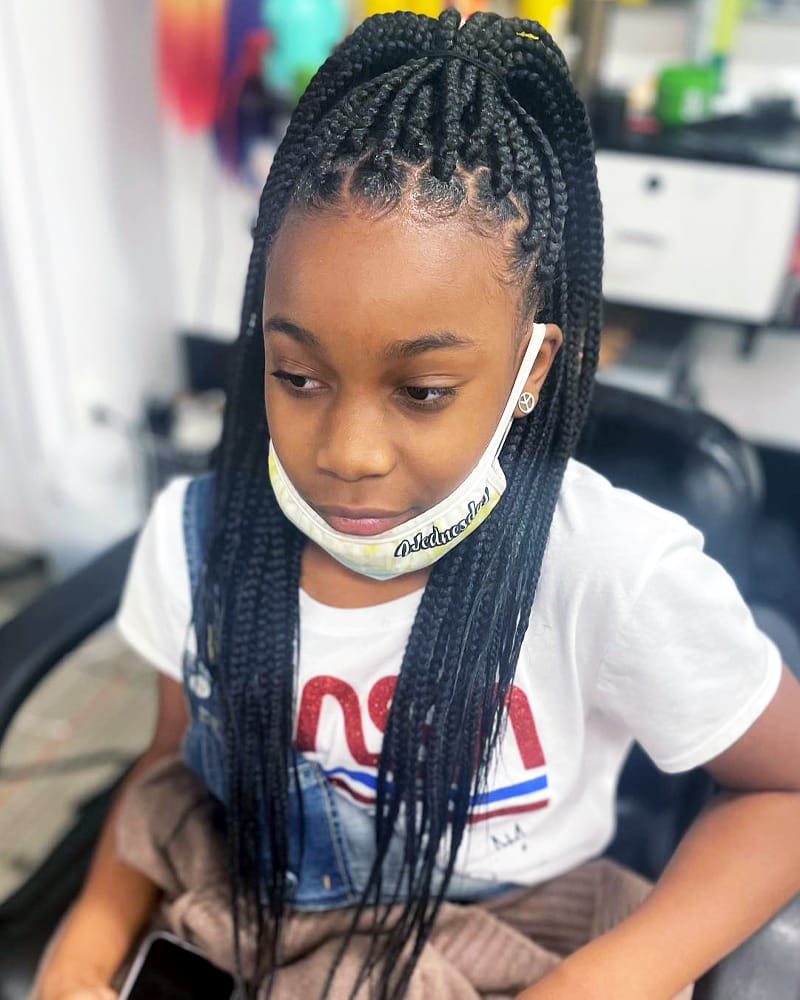 Necessary Preparation for Kids' Box Braids
Most of the time, parents take help from the stylist to make hairstyles for their kids. But if you are an expert in doing your kids' hairstyles, you are good to go. But before you start styling your kids' braided hairstyle, you need to complete some steps as preparation. Here are the steps we have sorted out for you.
First of all, take a detangling brush and carefully detangle the natural hair of the kid. But remember, do it very carefully otherwise you will damage the roots and scalp.
Use a kid-friendly shampoo and wash her hair with the help of water. It will clean up dead skin cells, sweat, and other products.
Now, apply a kid-friendly conditioner to your kid's hair. It will soften your kid's hair and will make it flexible to manage.
Stretch out your kid's hair with a blow dryer.
And finally, use an anti-itch spray on your kid's scalp.
Now, you might want to choose some braiding hair. If you are going to do these braids with the help of a stylist, he/she may provide you with that. Otherwise, you need to buy these braiding hair by yourself. Here are some braiding hair suggestions you can consider.
Box Braids with Glass Beads for Kids
Beads are the most beautiful hair accessories among many. But believe it or not, beads are more stunning and cute with the kids' braids. Generally, you will have a thousand options while choosing beads for kids' hairstyles. Many of them are really gorgeous too. But here, we recommend you these angelic glass beads for your cute little angel. They are shiny, they are glittering and they are colorful. Besides making the hairstyles exquisite, the beads create a strong reflection of the kids' personalities. And as you can see, these beads are greatly adjustable with braids, ribbons, hair bows, knots, etc. The most important part of the box braids with glass beads is the confident look of the kid as you see in the picture below. So, if you are planning to have a good braided hairstyle for your girl, you must consider this option.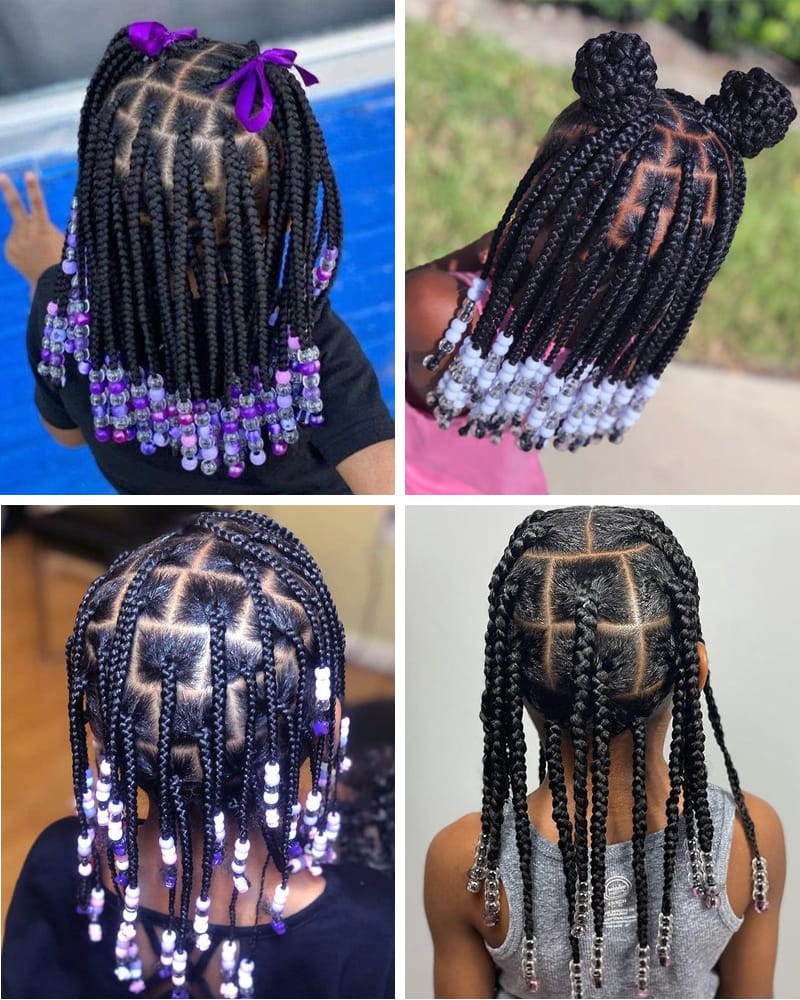 Goddess Box Braids for Kids
These braided hairstyles are a combination of braids and curls. For making this style, you need two types of hair. One is for creating the braiding texture and the other one is for the curly edges. Experts suggest kanekalon hair as the best hair for braids. On the other hand, you can use wavy human hair or synthetic hair for the curly ends of the box braids. But do remember that, human hair will cost you more than a wavy human hair. However, whatever hair you choose, you shouldn't miss the opportunities with these kids' braided hairstyles. You have the option to choose highlighted colors, half ponytails, golden beads, and much more with these hairstyles. The following images are some examples of the great Goddess box braids for kids. And like most parents, you will not dislike them.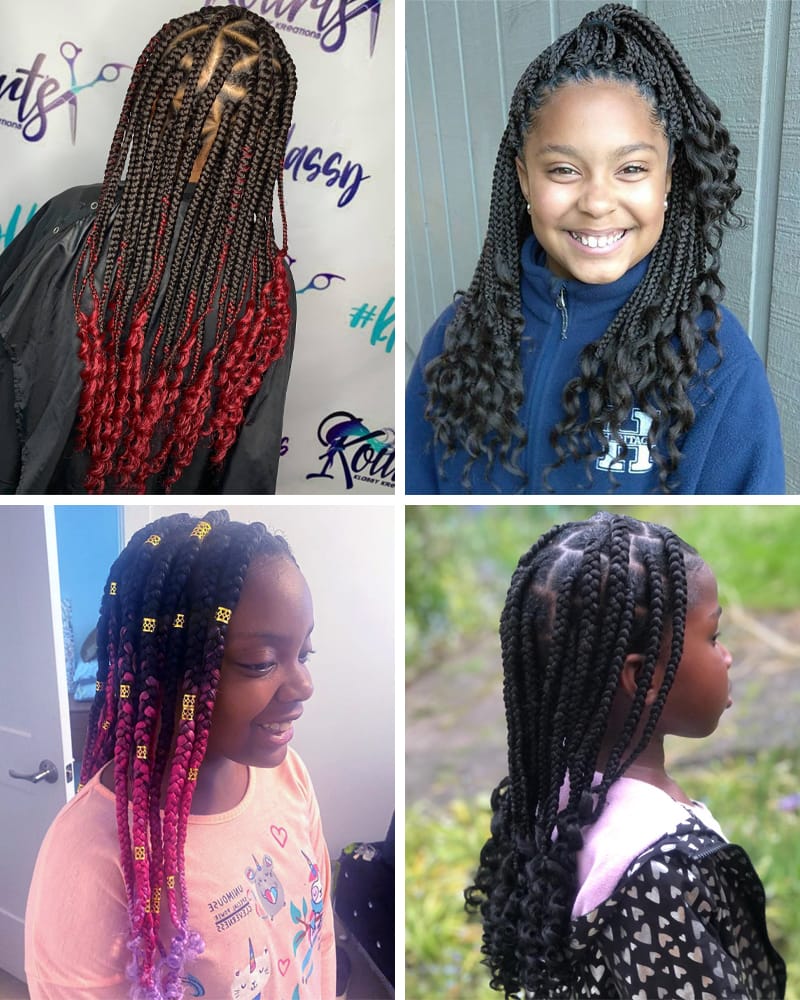 Box Braids Bun Hairstyles for African American Kids
For centuries, bun and updo hairstyles have been worn by adult women for special occasions like weddings, birthday parties, etc. But now, the bun hairstyles are neither occasional hairstyles nor for only adult women. Today, buns are being worn by women, men, and most importantly, kids. Besides, buns are being worn with braids, curls, locks, and many more accessories. So, the bun hairstyles with braids can be a great choice for your school-going kids too. The braided bun hairstyles are the perfect protective hairstyles that can prevent natural hair as well as make your kid look beautiful. Below there you will find some of the braided bun hairstyles for kids where the braiding pattern follows the rules of box braids. Moreover, you have the option to attach some beads, hair bows, ribbons, and other accessories.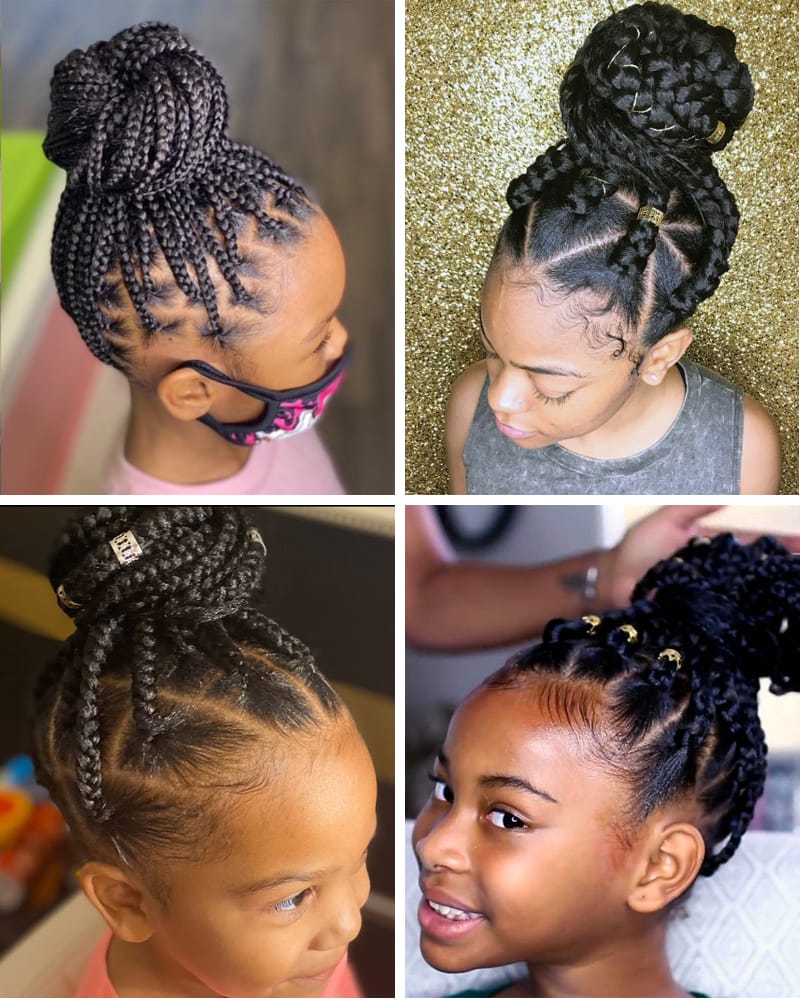 Jumbo Box Braids for Kids
Among the finest African-rooted protective hairstyles, the jumbo box braids are the most thicker and bigger variant. To be more specific, the jumbo box braids are the thicker version of the box braids. As you can the in the pictures below, these protective hairstyles are highly flexible for different styles and accessories. And one more thing, these braided hairstyles are great with both square box braids and triangular / diamond box braids. So, if your kids like the long and large plaits, do go for the jumbo box braids hairstyles. It will cost you around $140 – $220+ and will last for 4 to 8 weeks. But we do recommend not to make the kids wear box braids for more than 5 weeks. Because these protective braids can cause natural hair damage as well as cause infection to the scalp too.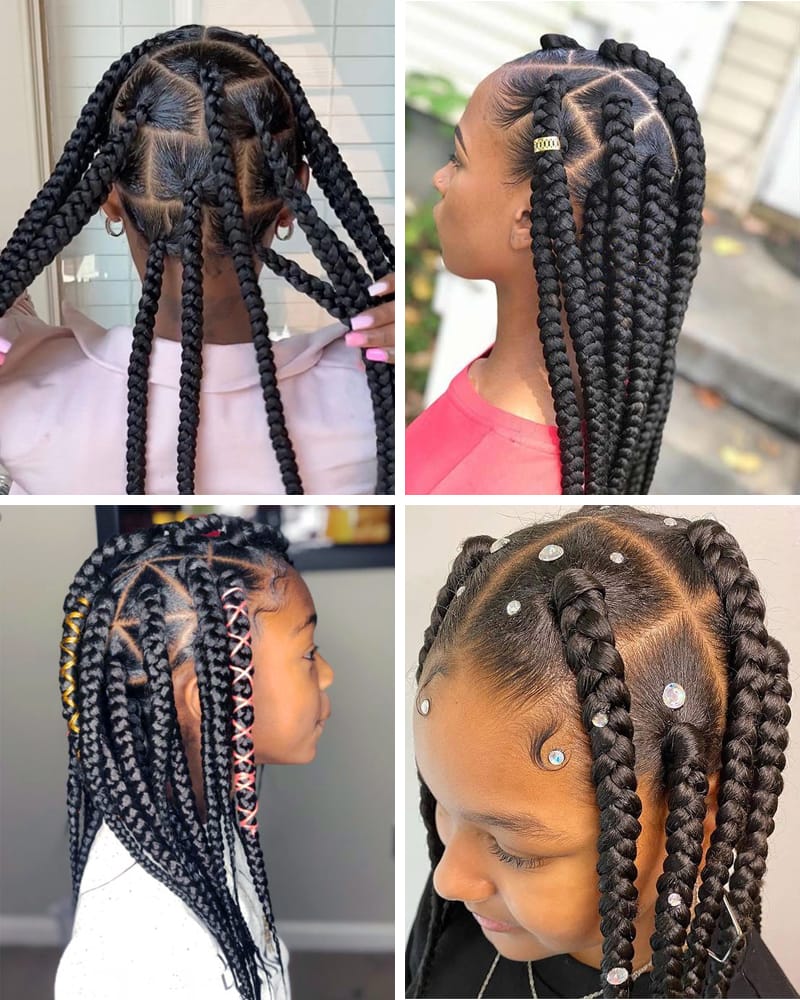 Double Knotted Braids for Kids
Knots are cute and easy. When your kids have lovely box braids you can shape them to any design and shape. And the knots are one of the most widely worn hairstyles with box braids. Kids' braided knots can be a great relief for parents concerned about the perfect hairstyles for their girls. As usual, these long plaits are open for any kind of accessories. But the fun part is the lovely side knots which can be colorized and accessorized. Believe me, your kid will just like a heavenly angel with these perfectly designed hairstyles. Moreover, they can be simply updos or half updos with two giant knots. Here, we have got these four recent designs of double knots with box braids for you. Hope this is enough convincing about these great kids' hairstyles.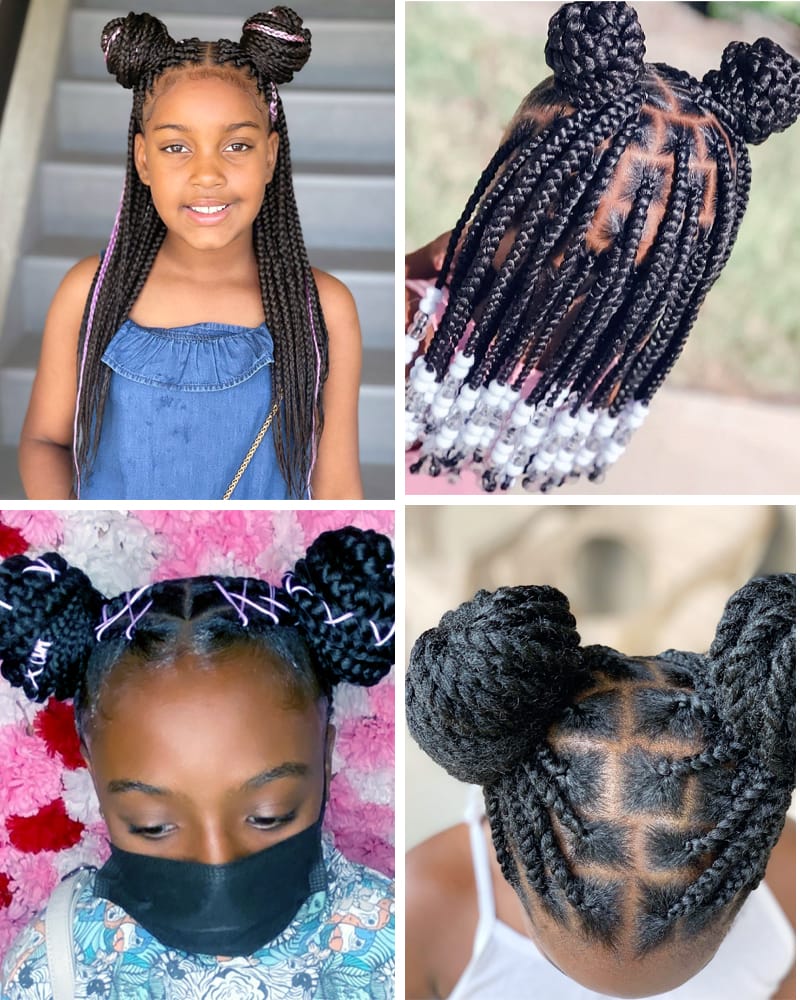 Ribbons and Hair Bows are Great with the Box braids
We have already told you that the ribbons and hair Bows create a super-cool effect on the hairstyles and appearance of the kids. In addition, this rule is equally applicable to kids around the whole world. These accessories create a floral effect on the hairstyle of the kids. As a result, the kids' angelic appearance gets great support from these accessories. These nostalgia-fueled hairstyles make the kids' appearance more innocent and adorable. And one thing is for sure: your kids can wear these accessories with highlighted braids, shorter plaits, updos, and buns. The images below will give you some idea about the ribbon and hair bow hairstyles with box braids.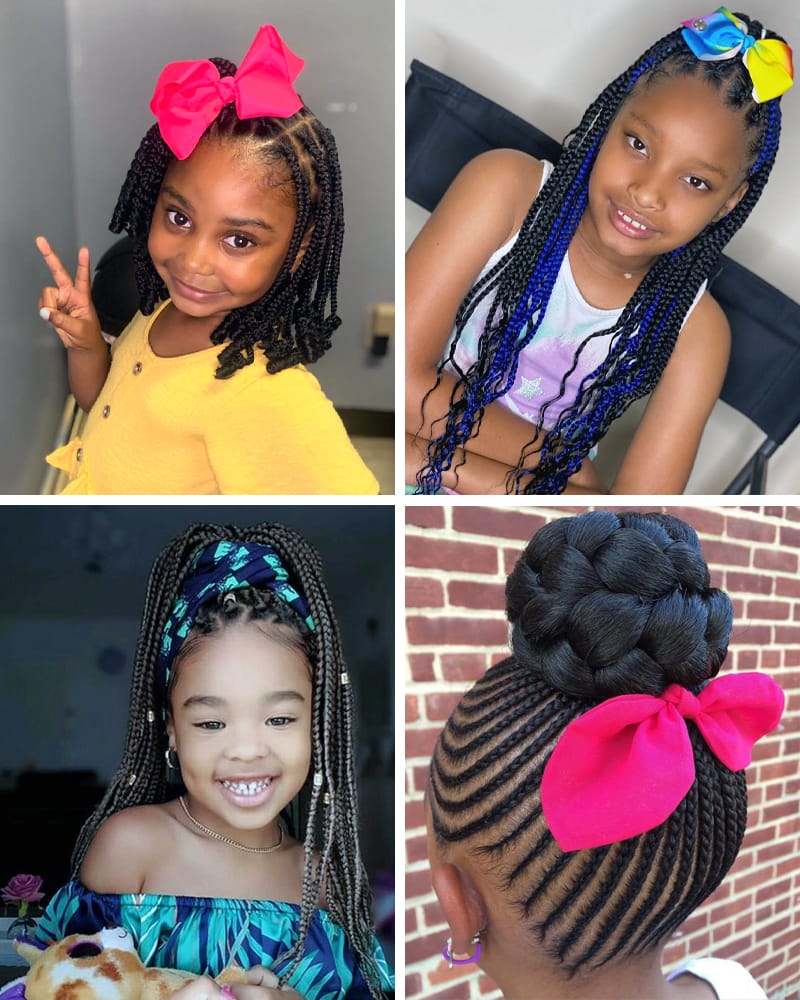 Put Some Color to Her Box Braids
Let's make the kids' life colorful. Yes, we are talking about the color in the braided hairstyles of the kids. Most of the time you will see some highlights with color in hairstyles for the kids. Because hairstyles with full color are great for adults but not for kids. That's why you can try some color highlights with your kid's braids. In the following image, you can see how the color effect creates a heavenly charm in the hairstyle and appearance of the kids. Most of the time the burgundy color is used for kids' colorful hairstyles. And here, we also recommend you use light-colored braids for your kid's box braids.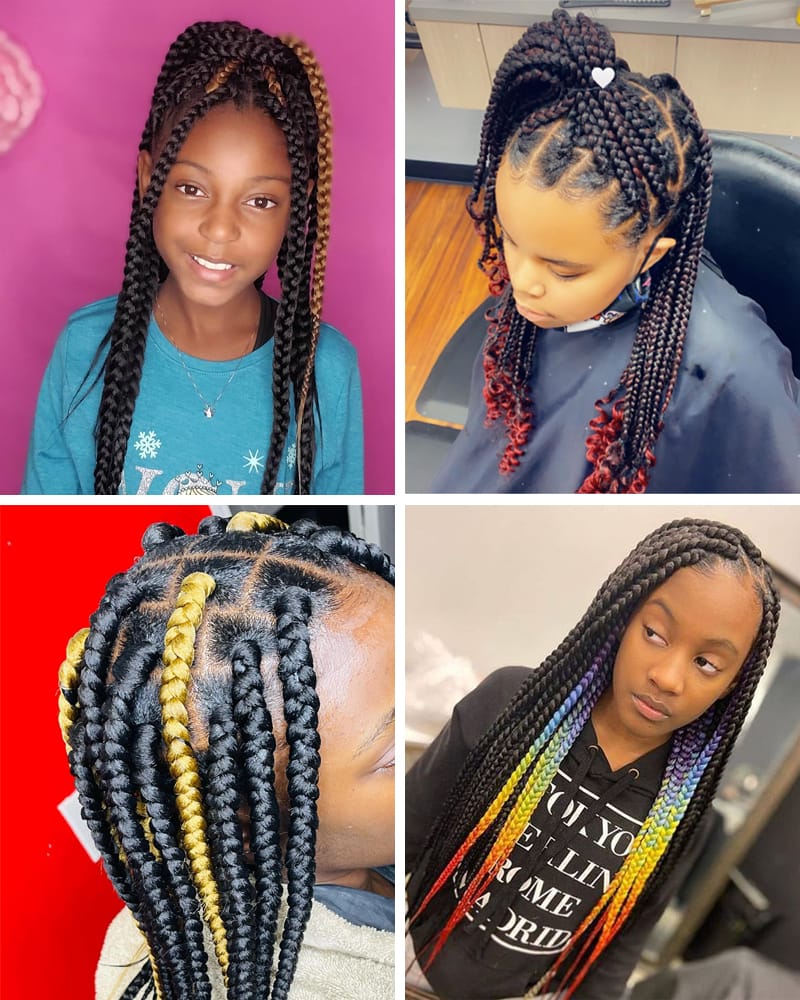 Braids and Topknots
Previously we have discussed the double knots with braids for the African American kids. In the same way, you can also make a single-knotted hairstyle with box braids. And to be frank, there is actually no significant difference in styles and designs between them. But you can be assured that both single and double knots with box braids are highly adorable and cute in appearance. Like the double-knotted braided hairstyles, the single knots are also wearable with beads, ribbons, hair bands, hair bows, etc. Below there, there are some of the finest designs of single-knotted box braids hairstyles for ebony kids. We are highly optimistic that, these styles will get adequate consideration from you.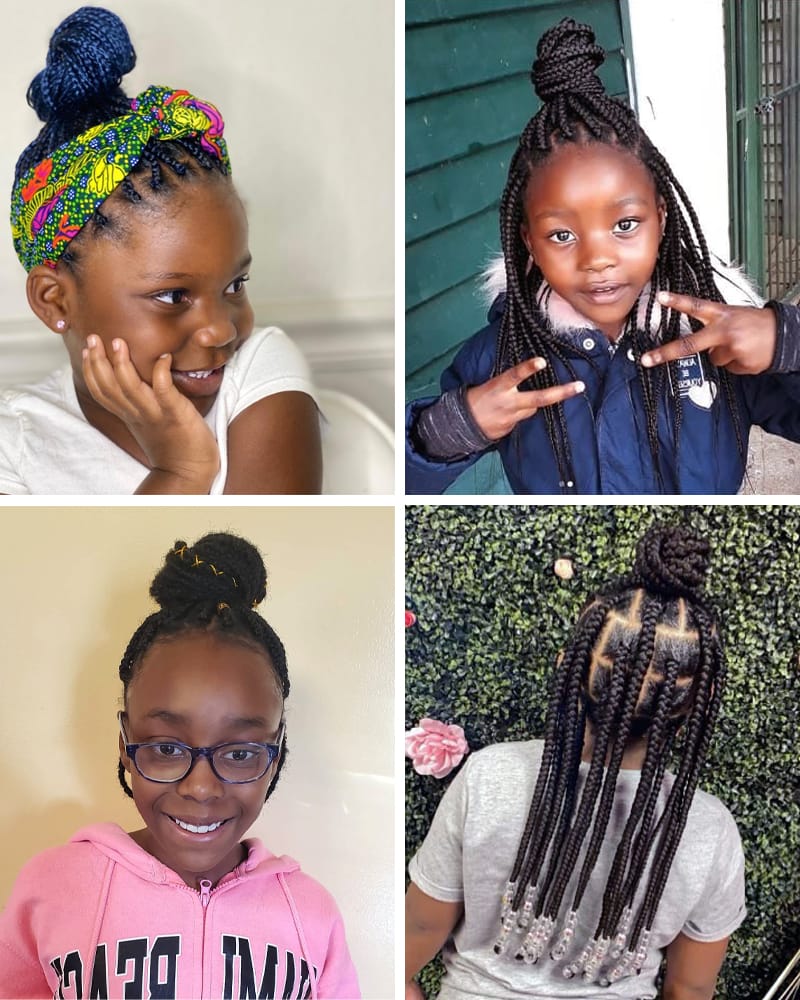 Ponytails are Always Awesome with Braids
Men, women, and kids all over the world wear ponytails with natural hair, locks, curls, and braids. They are the cutest and easiest hairstyle human beings have ever worn. Moreover, ponytails are flexible enough with different types of accessories. And now, we are here to talk about ponytail hairstyles with box braids for African American kids. If you are planning to have a box of braids for your kid, you have the option to turn the braids into braids. These easy-to-do hairstyles are perfect for outings, school, and parties. They will take less time than any other hairstyle but will create a heavenly impression on the hairstyle and appearance of your kids. Moreover, the beads, hair bows, hair bands, and hair guarder can add something special to her braided hairstyle.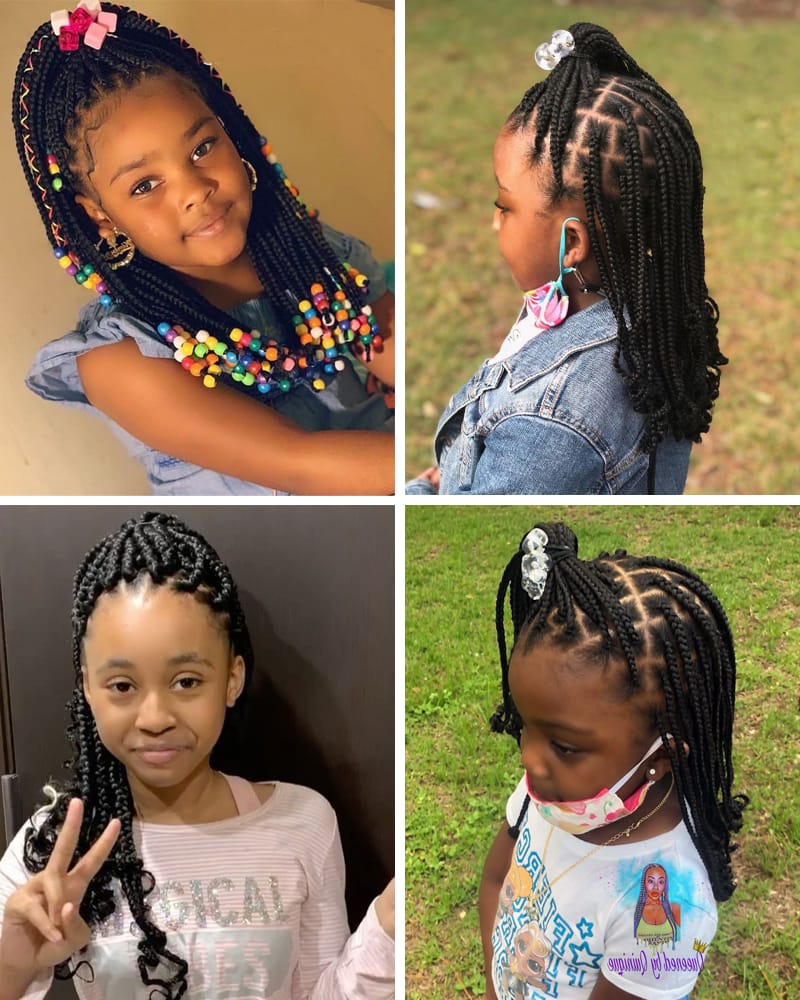 Crisscross rubber bands can add some stunning effects to the box braids of the kids. These accessories are great with any kind of braids including box braids. These box braids can be goddess braids, triangular box braids, square box braids, and many more. Moreover, your kid can wear rubber bands in different colors just like the images below. These images are presented before you to let you know that the rubber bands are suitable and compatible with any design and style of box braids.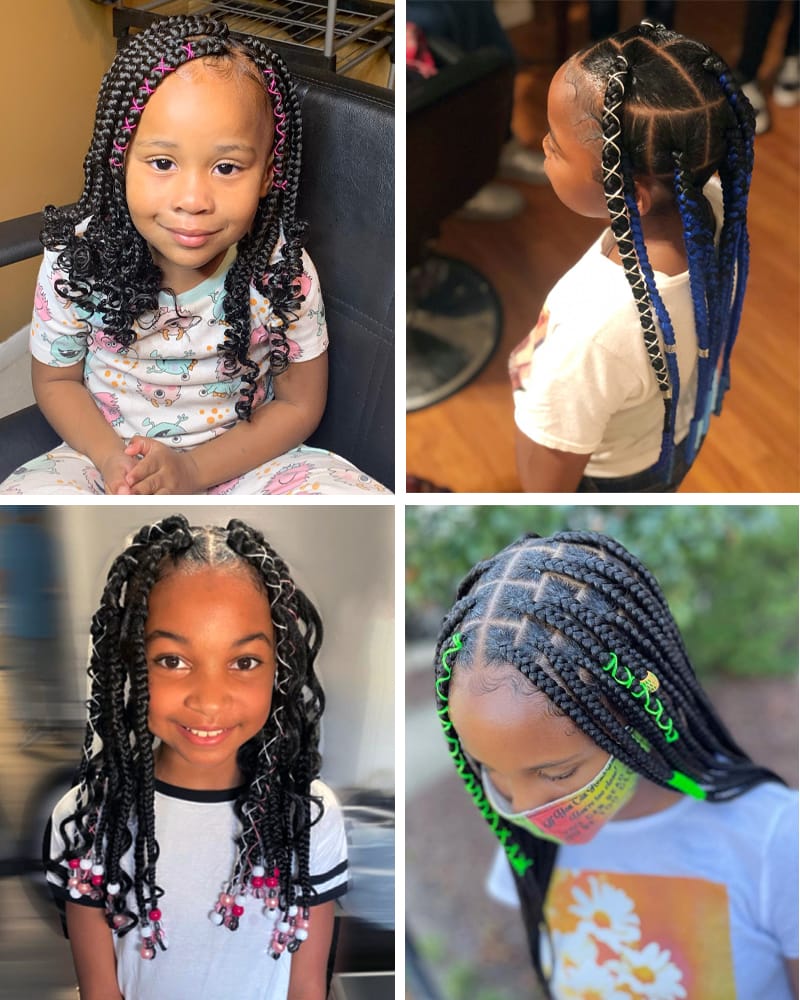 Long Braids, Cute Angels
like adult women, the kids can also wear long braids. Below there, we have managed to collect some examples of long box braids. The curly edges, colorful beads, and highlights combinedly can make your kid look like a heavenly angel.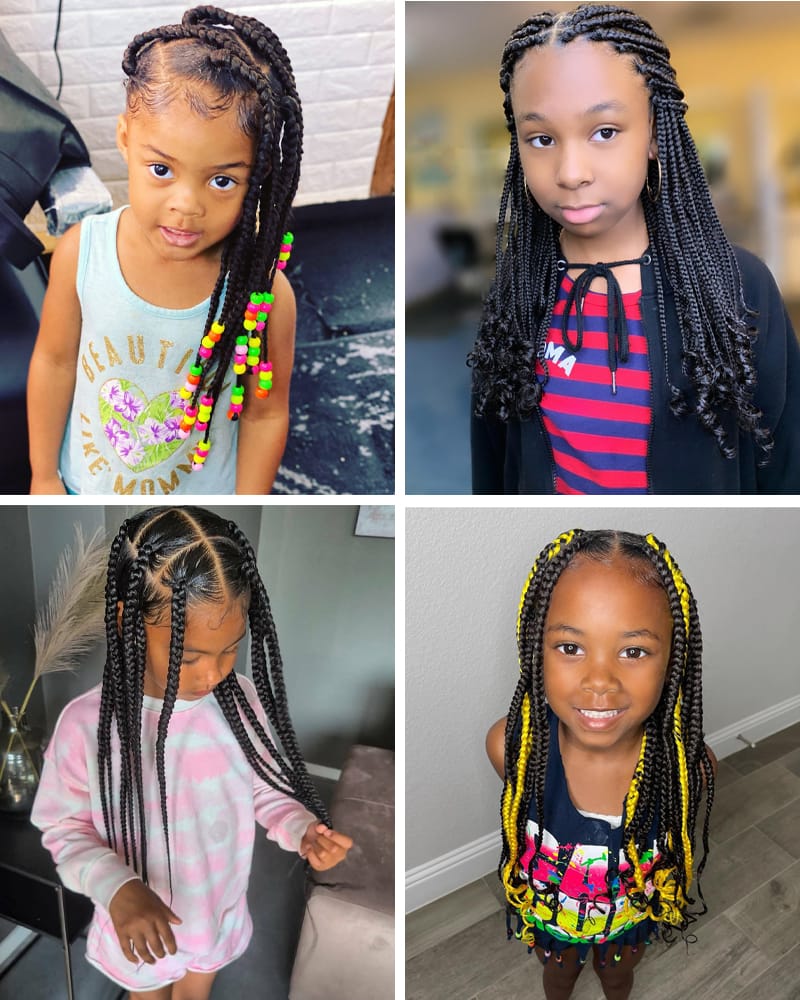 Shoulder Length Box Braids
Besides long braids, you can pick short box braids for your kids too. Here we suggest short, shoulder-length box braids for her. I think, there is no need to explain the beauty and effect of these braided hairstyles.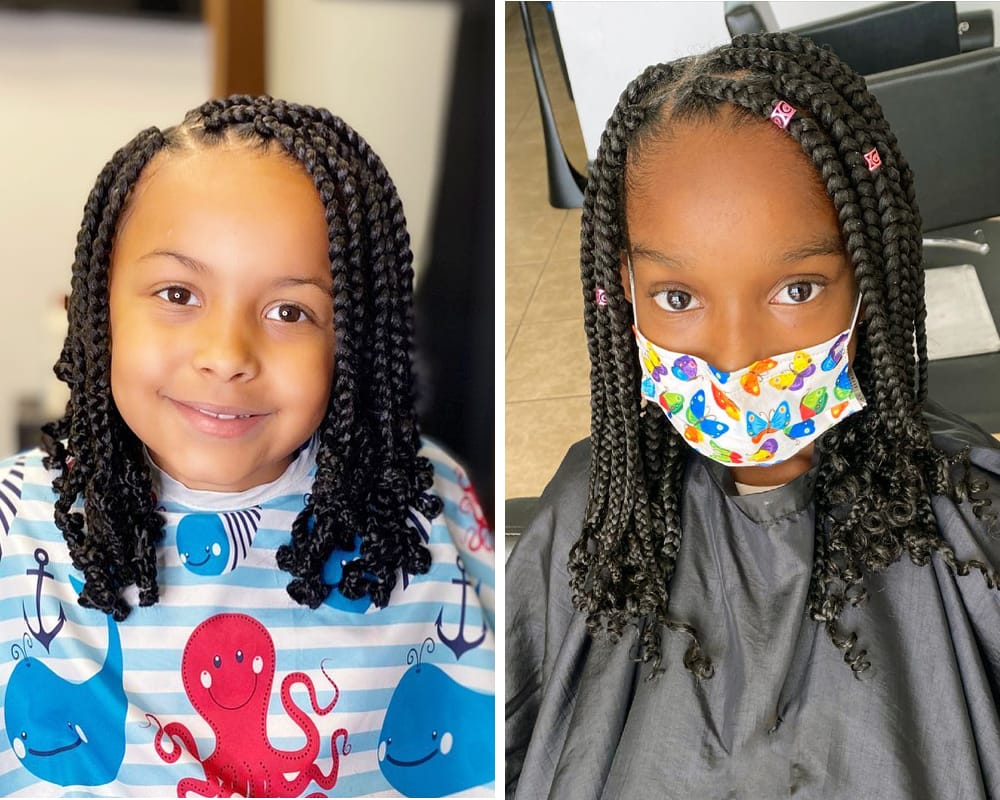 Random Designs and Closeup View
Here are some more random designs for your kids too.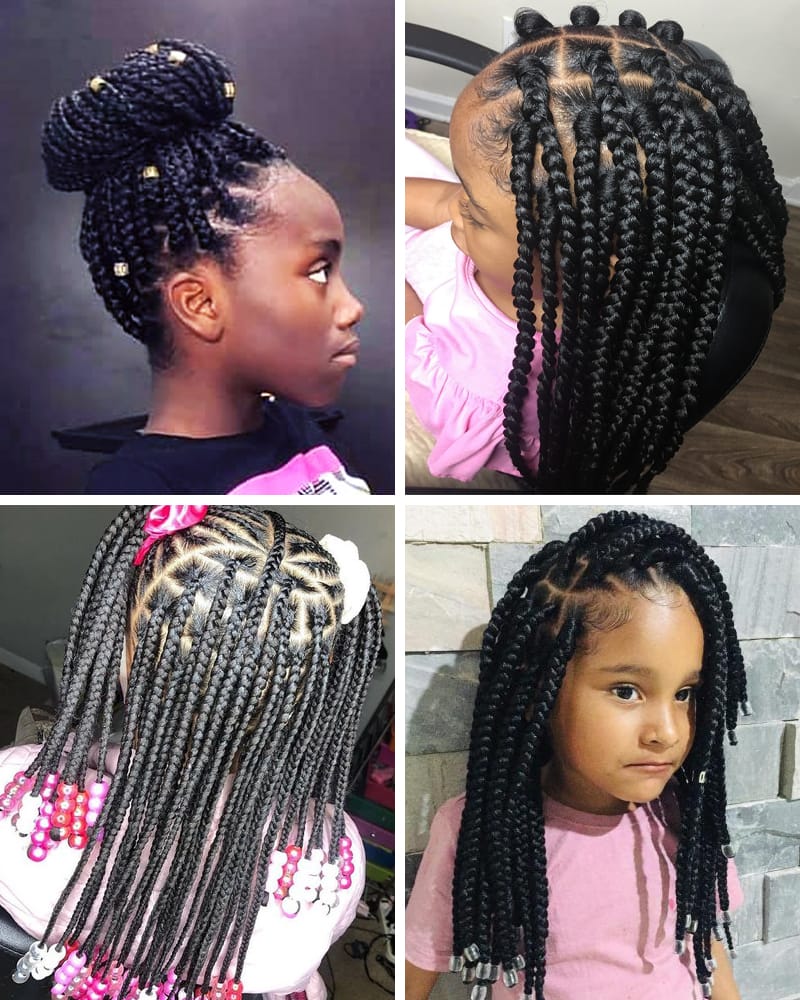 Well, we are at the edge of the end. But we are hopeful that, all this information, images: styles and designs will definitely help you choose the right hairstyle for your kid.