Like you, millions of parents are too concerned about the right hairstyles for their cute little angels. But have you ever tried the box braids for kids? Yes, it's one of the coolest solutions to hairstyle-related problems for your kids. You already know that box braids are square-shaped braided hairstyles that are protective in nature. Most of the time adult women tend to wear these lovely braids. But do you know that this protective style is more attractive and eye-catching with kids? Moreover, there are hundreds of ways to modify these braids with different accessories and add-ons. Today we are gonna recommend you some of the super cool braided hairstyles for African American kids.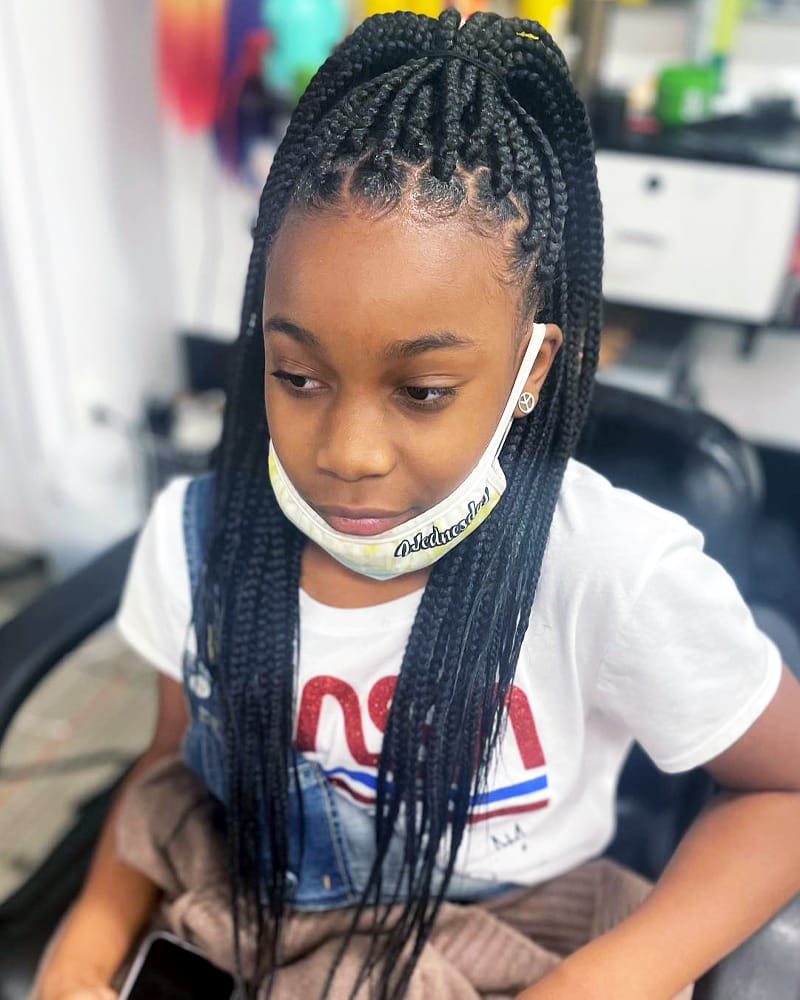 Necessary Preparation for Kids' Box Braids
Most of the time, parents take help from the stylist to make hairstyles for their kids. But if you are an expert in doing your kids' hairstyles, you are good to go. But before you start styling your kids' braided hairstyle, you need to complete some steps as preparation. Here are the steps we have sorted out for you.
First of all, take a detangling brush and carefully detangle the natural hair of the kid. But remember, do it very carefully otherwise you will damage the roots and scalp.
Use a kid-friendly shampoo and wash her hair with the help of water. It will clean up dead skin cells, sweat, and other products.
Now, apply a kid-friendly conditioner to your kid's hair. It will soften your kid's hair and will make it flexible to manage.
Stretch out your kid's hair with a blow dryer.
And finally, use an anti-itch spray on your kid's scalp.
Now, you might want to choose some braiding hair. If you are going to do these braids with the help of a stylist, they may provide you with that. Otherwise, you need to buy these braiding hair by yourself. If you are braiding yourself, section the natural hair, attach hair extensions and start braiding. When you are done with the braiding consider retouching, trimming flyaways, and dipping the edges into hot water. But if you are not expert enough to do braiding, we strongly suggest you get the box braids done by a professional stylist. And if you still want to do your kid's braids by yourself, you can watch this video tutorial to have a more clear idea about braiding.
How to Style Your Kids' Box Braids?
Being a protective and flexible braids style, the box braids have a wide number of variants and styles. Like the ladies, the kids are also allowed to wear these wonderful styles. In this styles section, we will be presenting the most popular box braids styles for kids. And the styles are Box Braids with Glass Beads, Goddess Box Braids, Braided Buns, Jumbo Braids, Braided Knots, Adorned with Ribbons and Hair Bows, Colorful Braids, Topknots, Ponytails, Accessorized with Rubber Bands, Hip-length Braids, Shoulder-Length (Bob) Braids, Crochet Braids, Red Box Braids, Purple Braids, Fulani Braids, and Knotless Braids etc. So, let's find the right box braids style for your kids.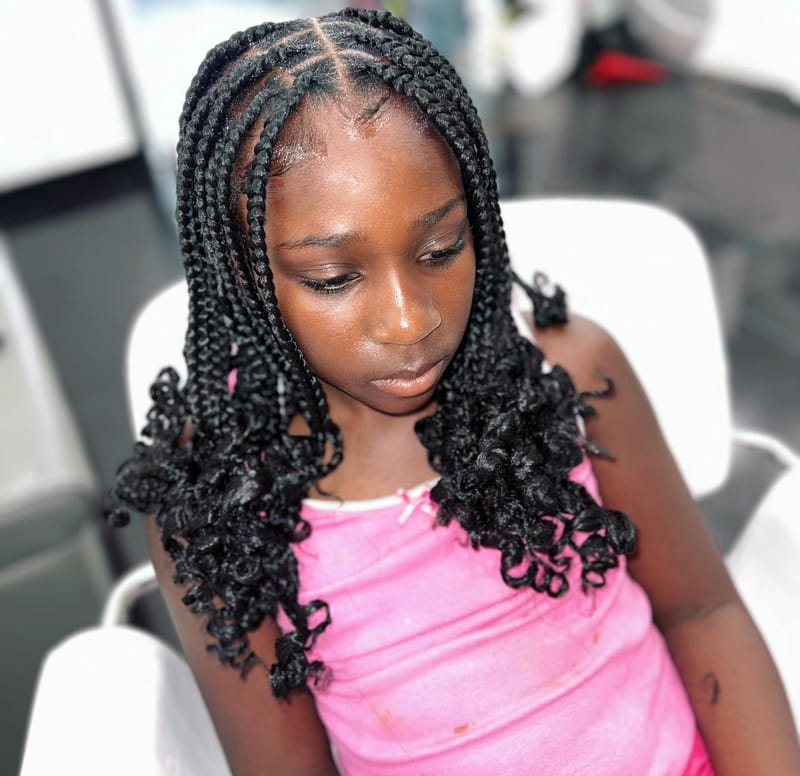 Box Braids with Glass Beads for Kids
Beads are the most beautiful hair accessories among many. But believe it or not, beads are more stunning and cute with the kids' braids. Generally, you will have a thousand options while choosing beads for kids' hairstyles. Many of them are really gorgeous too. But here, we recommend you these angelic glass beads for your cute little angel. They are shiny, they are glittering and they are colorful. Besides making the hairstyles exquisite, the beads create a strong reflection of the kids' personalities. And as you can see, these beads are greatly adjustable with braids, ribbons, hair bows, knots, etc. The most important part of the box braids with glass beads is the confident look of the kid as you see in the picture below. So, if you are planning to have a good braided hairstyle for your girl, you must consider this option.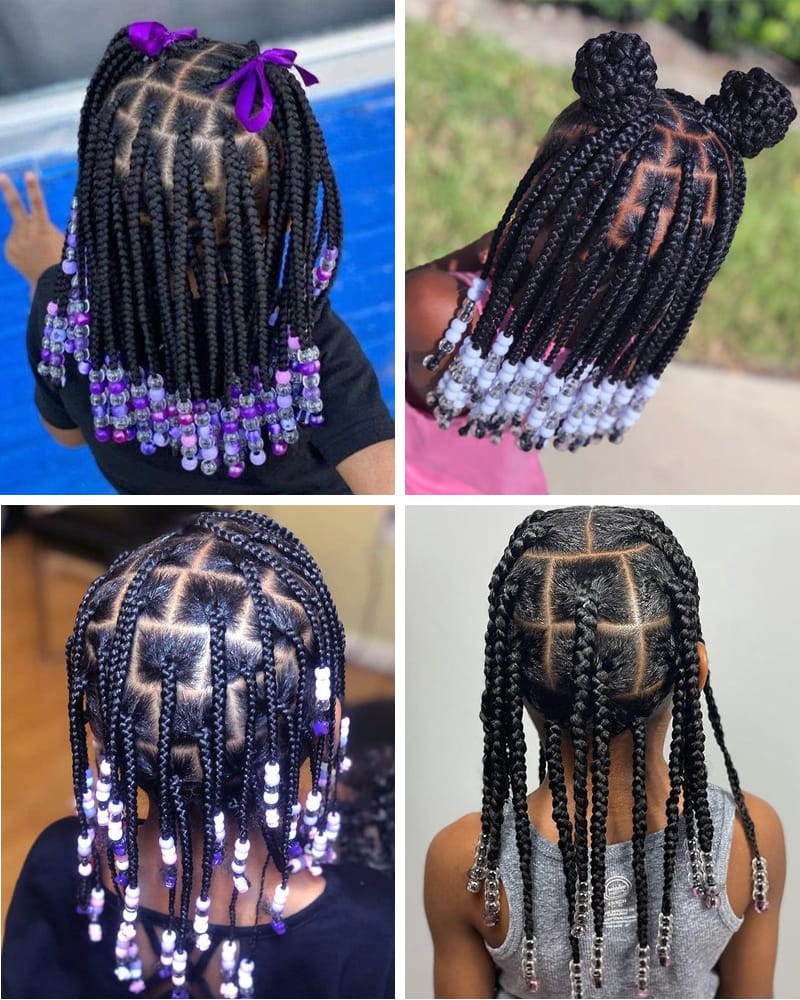 Goddess Box Braids for Kids
These braided hairstyles are a combination of box braids with curls. For making this style, you need two types of hair. One is for creating the braiding texture and the other one is for the curly edges. Experts suggest that the Kanekalon hair is the best hair for braids. On the other hand, you can use wavy human hair or synthetic hair for the curly ends of the box braids instead of tight curls. But do remember that, human hair will cost you more than wavy human hair. However, whatever hair you choose, you shouldn't miss the opportunities with these kids' braided hairstyles. You have the option to choose highlighted colors, half ponytails, golden beads, and much more with these hairstyles. The following images are some examples of the great Goddess box braids for kids. And like most parents, you will not dislike them.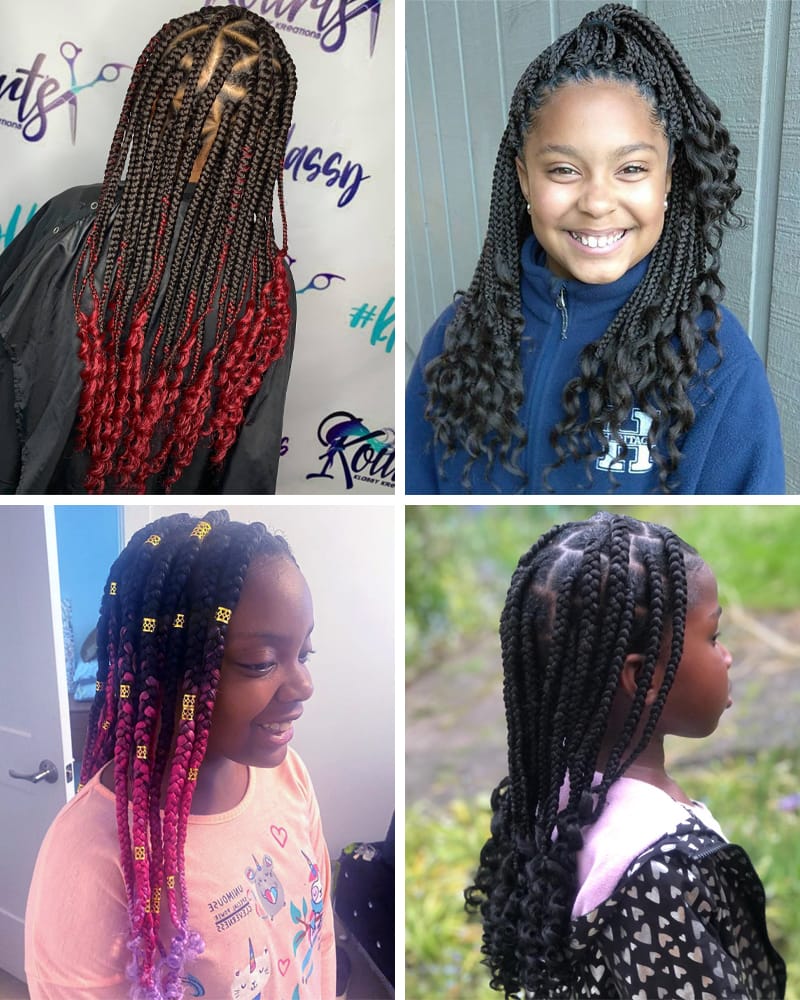 Box Braids Bun Hairstyles for African American Kids
For centuries, bun and updo hairstyles have been worn by adult women for special occasions like weddings, birthday parties, etc. But now, the bun hairstyles are neither occasional hairstyles nor for only adult women. Today, buns are being worn by women, men, and most importantly, kids. Besides, buns are being worn with braids, curls, locks, and many more accessories. So, the bun hairstyles with braids can be a great choice for your school-going kids too. The braided bun hairstyles are the perfect protective hairstyles that can prevent natural hair as well as make your kid look beautiful. Below there you will find some of the braided bun hairstyles for kids where the braiding pattern follows the rules of box braids. Moreover, you have the option to attach some beads, hair bows, ribbons, and other accessories.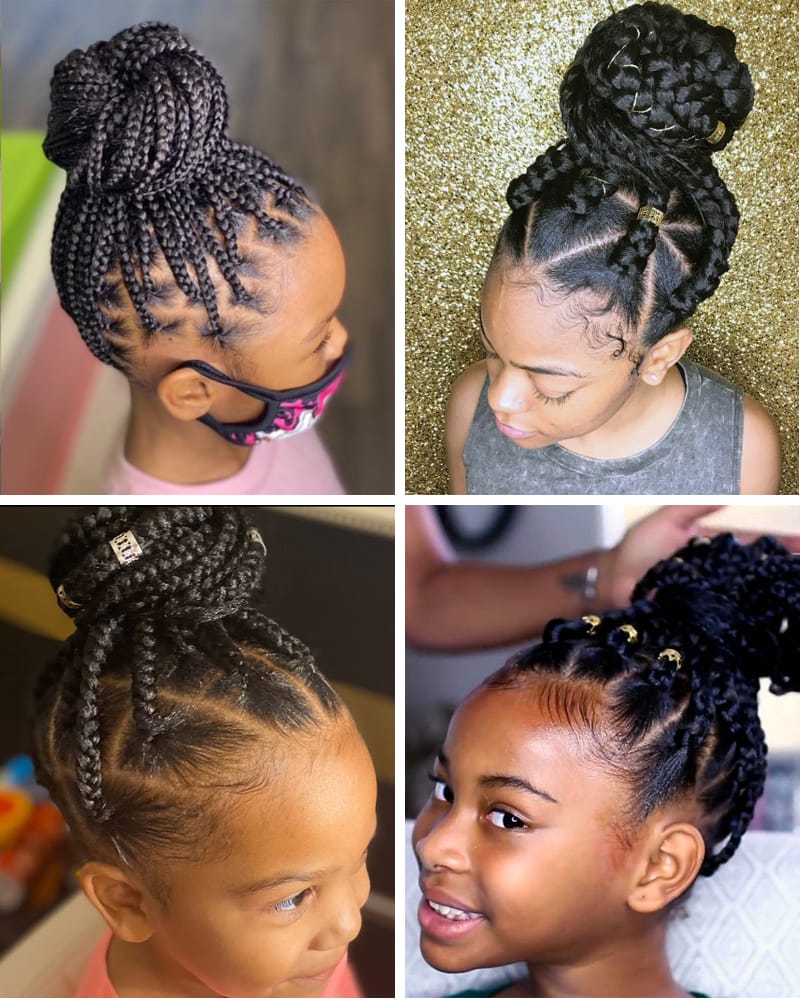 Jumbo Box Braids for Kids
Among the finest African-rooted protective hairstyles, the jumbo box braids are the thicker and bigger variant. To be more specific, the jumbo box braids are the thicker version of the box braids. As you can the in the pictures below, these protective hairstyles are highly flexible for different styles and accessories. And one more thing, these braided hairstyles are great with both square box braids and triangular / diamond box braids. So, if your kids like the long and large plaits, do go for the jumbo box braids hairstyles. It will cost you around $140 – $220+ and will last for 4 to 8 weeks. But we do recommend not to make the kids wear box braids for more than 5 weeks. Because these protective braids can cause natural hair damage as well as cause infection to the scalp too.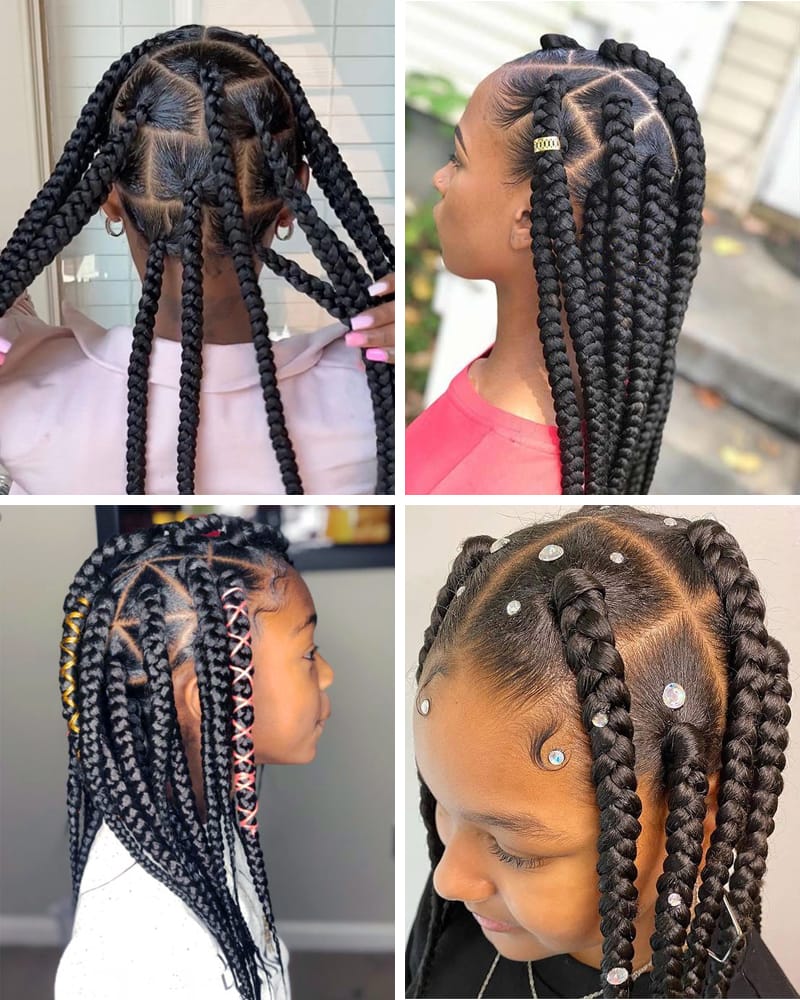 Double Knotted Braids for Kids
Knots are cute and easy. When your kids have lovely box braids you can shape them to any design and shape. And the knots are one of the most widely worn hairstyles with box braids. Kids' braided knots can be a great relief for parents concerned about the perfect hairstyles for their girls. As usual, these long plaits are open for any kind of accessories. But the fun part is the lovely side knots which can be colorized and accessorized. Believe me, your kid will just like a heavenly angel with these perfectly designed hairstyles. Moreover, they can be simply updos or half updos with two giant knots. Here, we have got these four recent designs of double knots with box braids for you. Hope this is enough convincing about these great kids' hairstyles.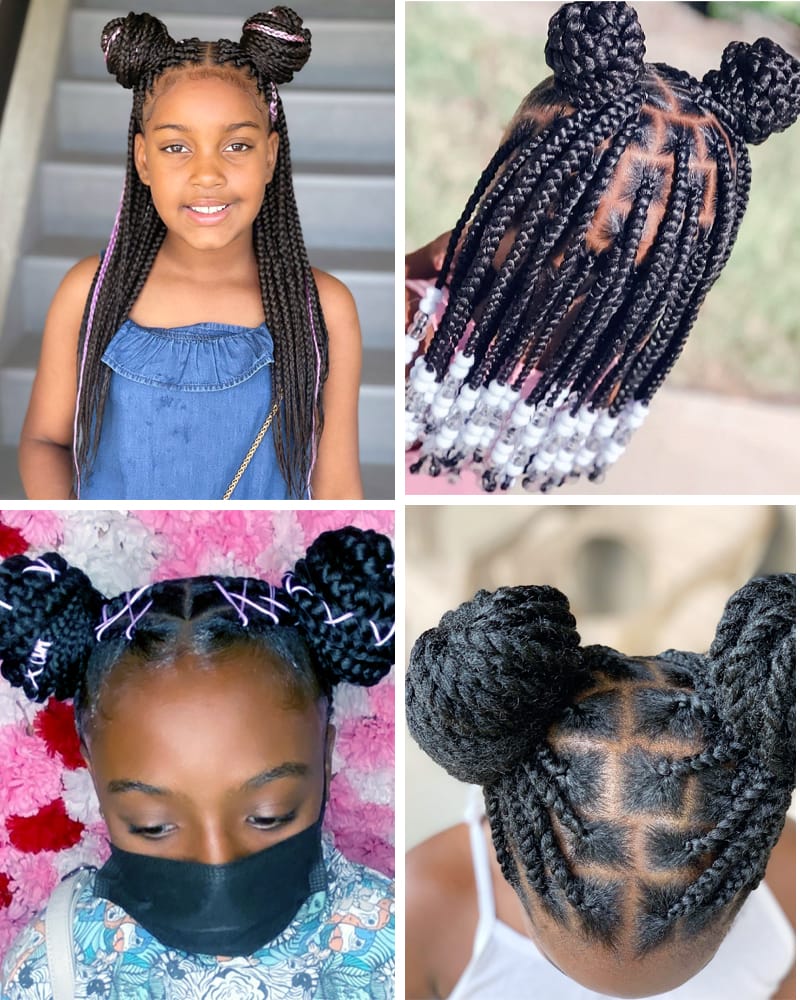 Ribbons and Hair Bows are Great with the Individual Braids
We have already told you that the ribbons and hair Bows create a super-cool effect on the hairstyles and appearance of the kids. In addition, this rule is equally applicable to kids around the whole world. These accessories create a floral effect on the hairstyle of the kids. As a result, the kids' angelic appearance gets great support from these accessories. These nostalgia-fueled hairstyles make the kids' appearance more innocent and adorable. And one thing is for sure: your kids can wear these accessories with highlighted braids, shorter plaits, updos, and buns. The images below will give you some idea about the ribbon and hair bow hairstyles with box braids.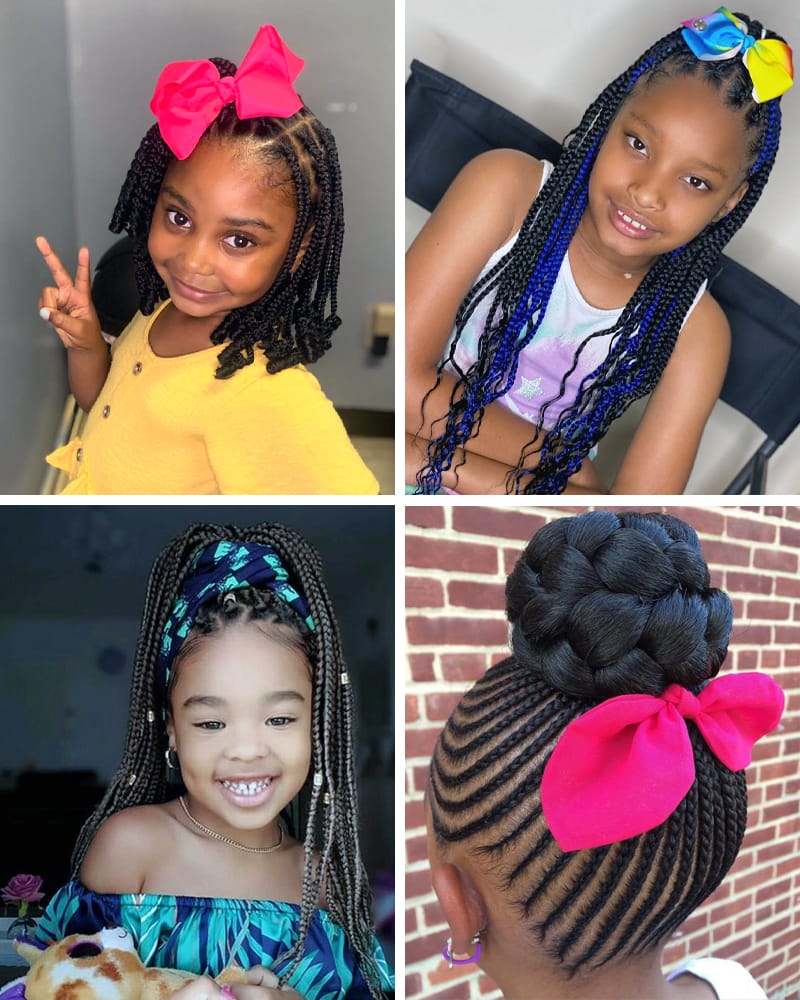 Put Some Color to Her Box Braids
Let's make the kids' life colorful. Yes, we are talking about the color in the braided hairstyles of the kids. Most of the time you will see some highlights with color in hairstyles for the kids. Because hairstyles with full color are great for adults but not for kids. That's why you can try some color highlights with your kid's braids. In the following image, you can see how the color effect creates a heavenly charm in the hairstyle and appearance of the kids. Most of the time the burgundy color is used for kids' colorful hairstyles. And here, we also recommend you use light-colored braids for your kid's box braids.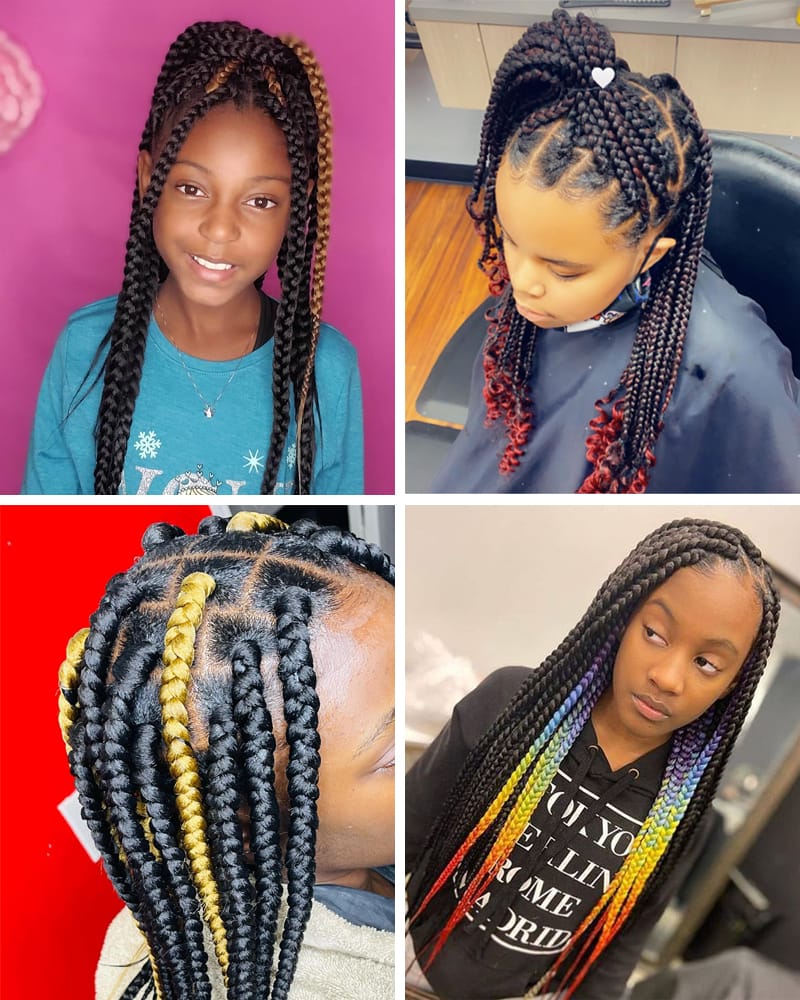 Braids and Topknots
Previously we have discussed the double knots with braids for the African American kids. In the same way, you can also make a single-knotted hairstyle with box braids. And to be frank, there is actually no significant difference in styles and designs between them. But you can be assured that both single and double knots with box braids are highly adorable and cute in appearance. Like the double-knotted braided hairstyles, the single knots are also wearable with beads, ribbons, hair bands, hair bows, etc. Below there, there are some of the finest designs of single-knotted box braids hairstyles for ebony kids. We are highly optimistic that, these styles will get adequate consideration from you.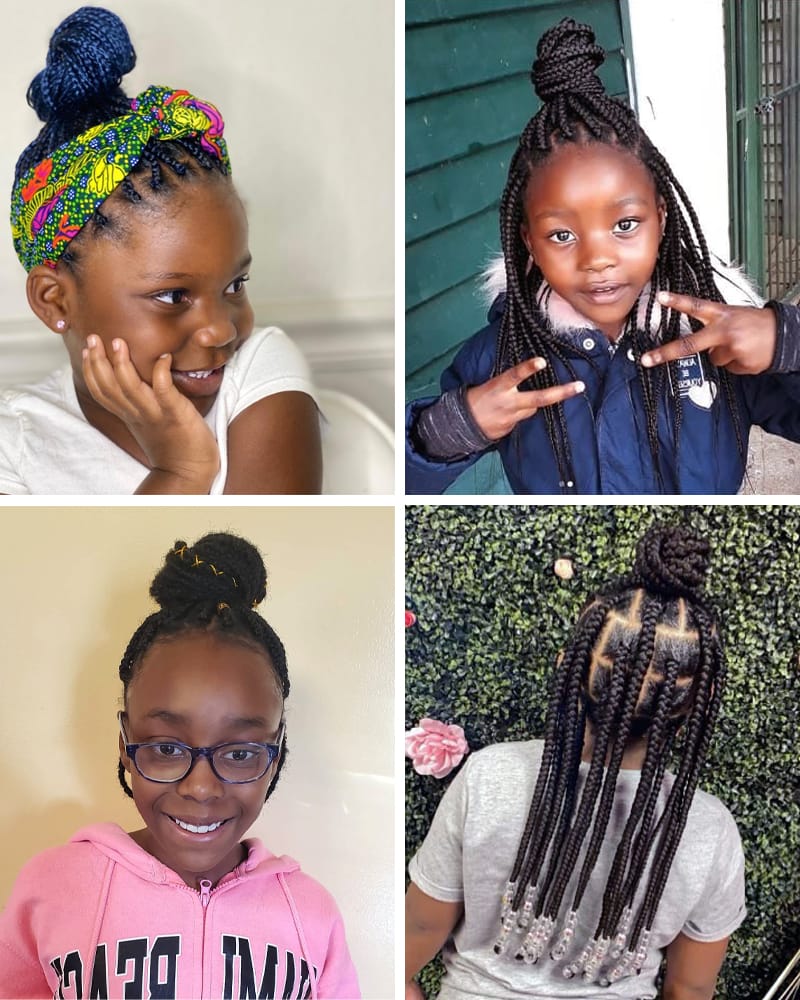 Ponytails are Always Awesome with Braids
Men, women, and kids all over the world wear ponytails with natural hair, locks, curls, and braids. They are the cutest and easiest hairstyle human beings have ever worn. Moreover, ponytails are flexible enough with different types of accessories. And now, we are here to talk about ponytail hairstyles with box braids for African American kids. If you are planning to have a box of braids for your kid, you have the option to turn the braids into braids. These easy-to-do hairstyles are perfect for outings, school, and parties. They will take less time than any other hairstyle but will create a heavenly impression on the hairstyle and appearance of your kids. Moreover, the beads, hair bows, hair bands, and hair guarder can add something special to her braided hairstyle.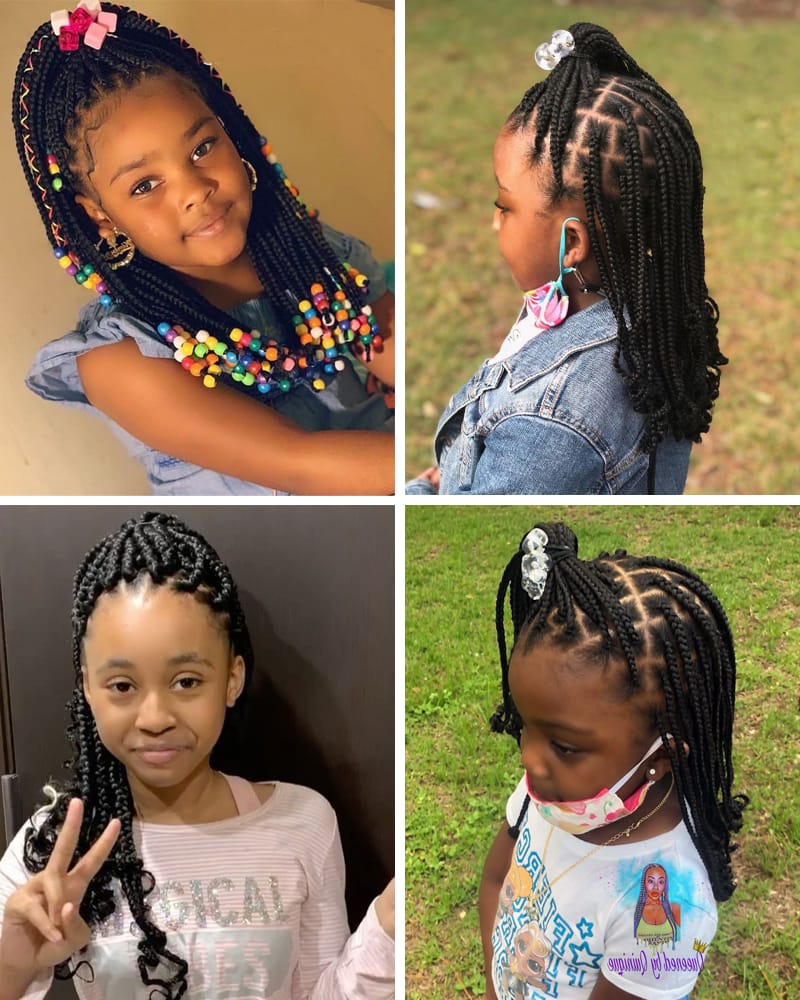 Crisscross rubber bands can add some stunning effects to the box braids of the kids. These accessories are great with any kind of braids including box braids. These box braids can be goddess braids, triangular box braids, square box braids, and many more. Moreover, your kid can wear rubber bands in different colors just like the images below. These images are presented before you to let you know that the rubber bands are suitable and compatible with any design and style of box braids.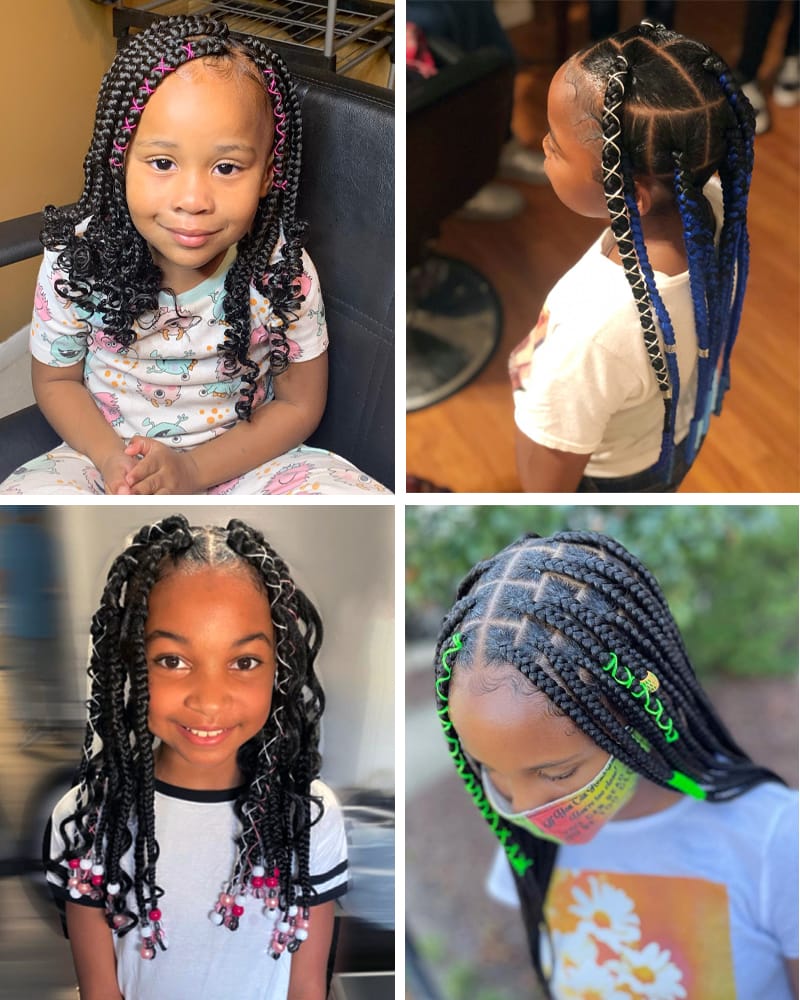 Long Braids, Cute Angels
like adult women, the kids can also wear long braids. Sometimes the hip-length braids are more gorgeous than the other braided styles. And there are a large number of variants of longer box braids. With curly edges, her braids can be goddess braids, or you can add some colorful beads on the tips of the braids to get an angelic look. Moreover, highlights with some bright colors like yellow can be more attractive. Below there, we have managed to collect some examples of long box braids. The curly edges, colorful beads, and highlights combinedly can make your kid look like a heavenly angel.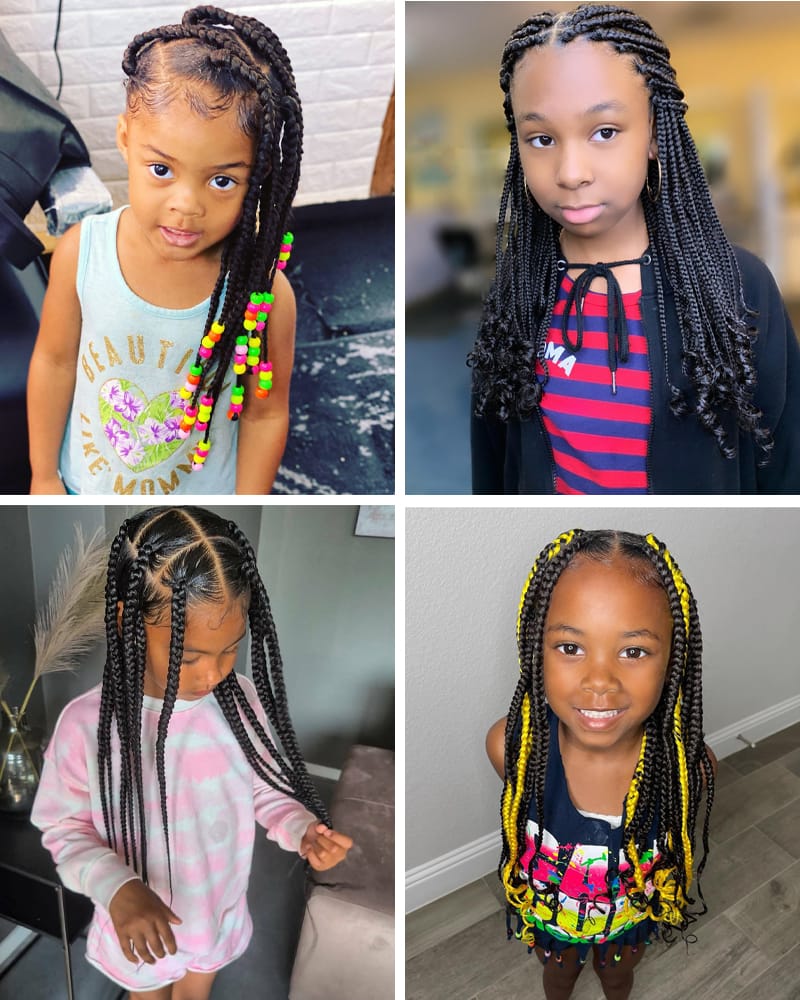 Shoulder Length Box Braids (Braided Bob)
Besides wearing long single braids, Your kiddies can wear shoulder-length box braids or braided bob hairstyles to look more charming. The innocence in their face and the adulthood in their hairstyle combinedly will make them more confident, cute, and adorable. And as you already know that individual braids can be accessorized with a large number of accessories, you can simply add some beads to extend her adorable look. Moreover, we suggest her braids be curled at the edges. And the kinky edges, bob style, and shoulder-length braids can create a heavenly angel like the images below.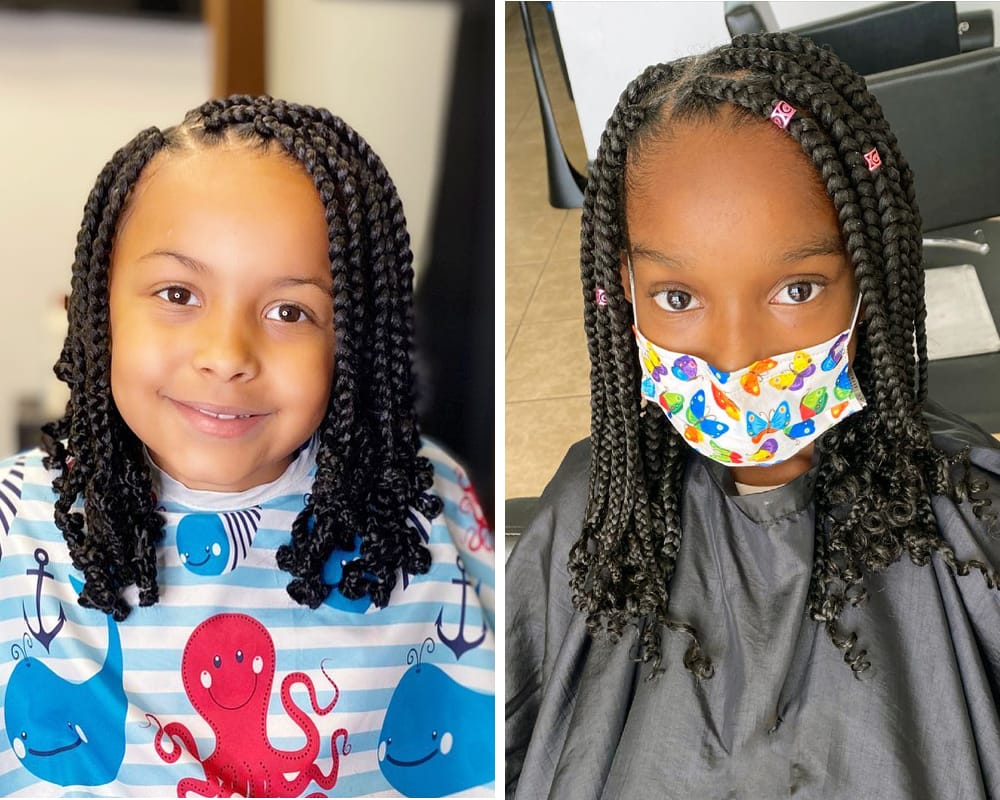 Crochet Box Braids
Unlike traditional box braids styles, crochet box braids are super easy to do and easy to maintain. Moreover, these braids reduce the tension of the scalp and accelerate healthy hair growth. That's why the crochet braids are beautifully suitable for kids. Crochet braids can be both box braids and twisted braids. But we recommend the traditional box braids for your kids. Just cornrow braid the natural hair of your kid and attach the pre-braided or pre-twisted braids with the help of a crochet needle. And the result will look something like the images below.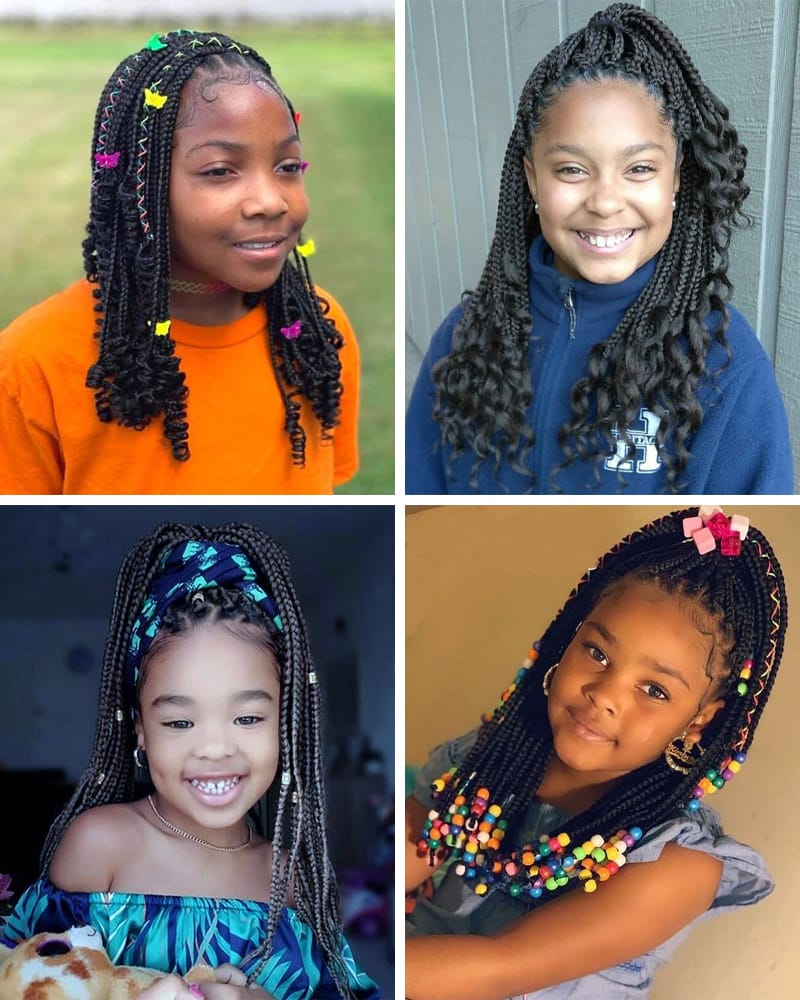 Fulani Braids
When you want your kid to wear both cornrows and box braids at the same time, the Fulani braids styles are the perfect choice for you. You already know that the Fulani braids consist of cornrows at the front and box braids at the back side of the scalp. Moreover, you can use lovely beads, hair bows, ribbons, and rubber bands with these braids to extend the effect of her hairstyle. On the other hand, a ponytail or a half ponytail looks great with the Fulani braids. Below there you will find 4 of the finest styles which your kids can try too.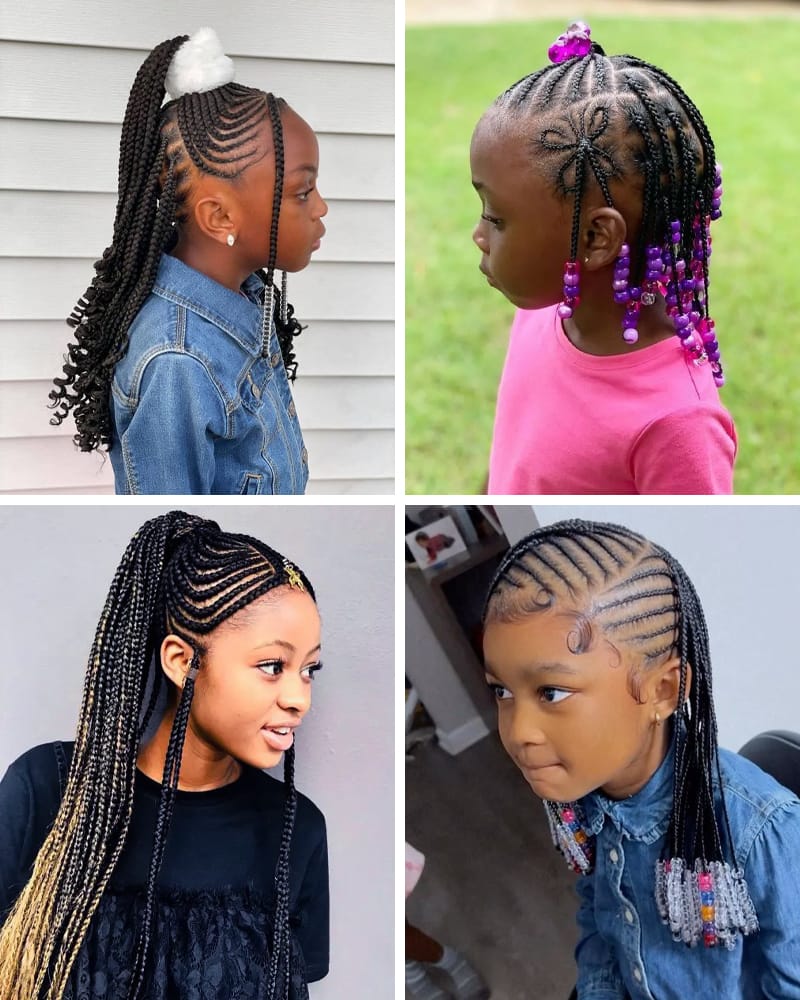 Kids Red Box Braids
Spicy red, burgundy, or fiery red colors can create a heavenly charm to your angelic kid's hairstyle. Or you can use the red highlights style to give her a charming look. But not these colors can make this impossible happen. You must have to combine the box braids and these cute colors to do so. Well, the red box braids styles are not so common among kids, but that does not mean that these styles should be ignored. Trust me, your kids will look far cuter with this red hair than with the traditional box braids styles.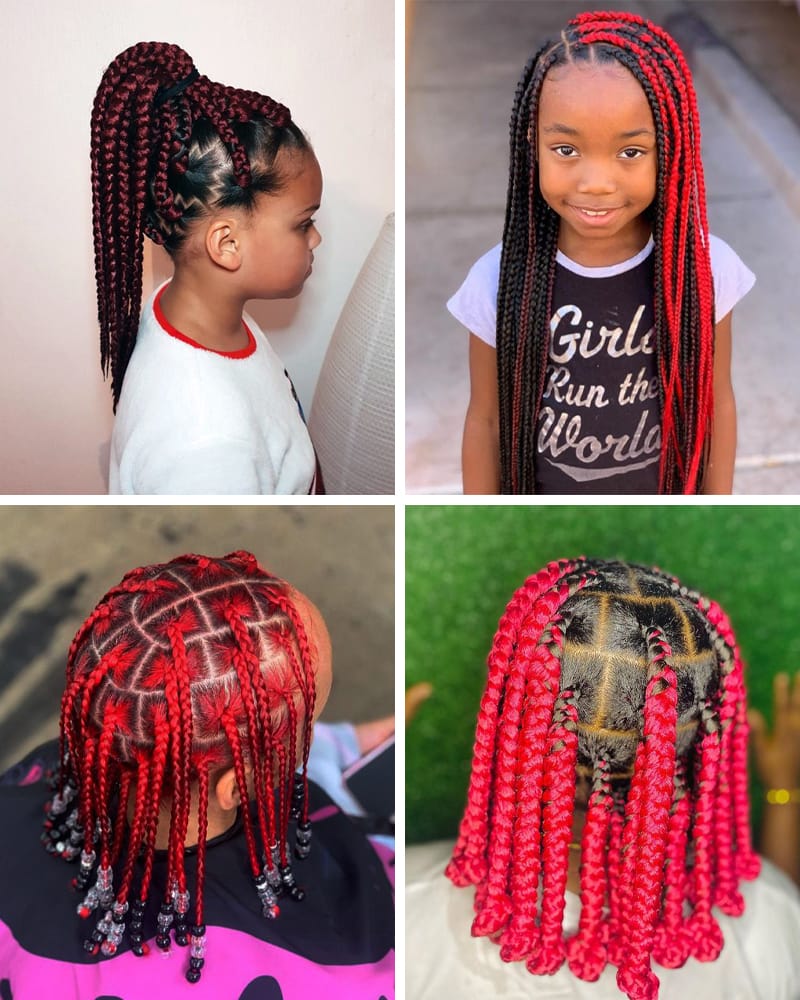 Knotless Box Braids
Knotless braids are a bit exception to the conventional poetic justice braids styles. Where the traditional braids are made with a knot at the root of natural hair, the knotless braids lack the knots in the braids. As a result, these braids create a low tension to the scalp and prevent hair damage and breakage. On the other hand, you can adorn and accessorize these braids just like the braids of traditional box braids styles. So, if you want your kid to wear knotless braids, consider the following creative and accessorized styles.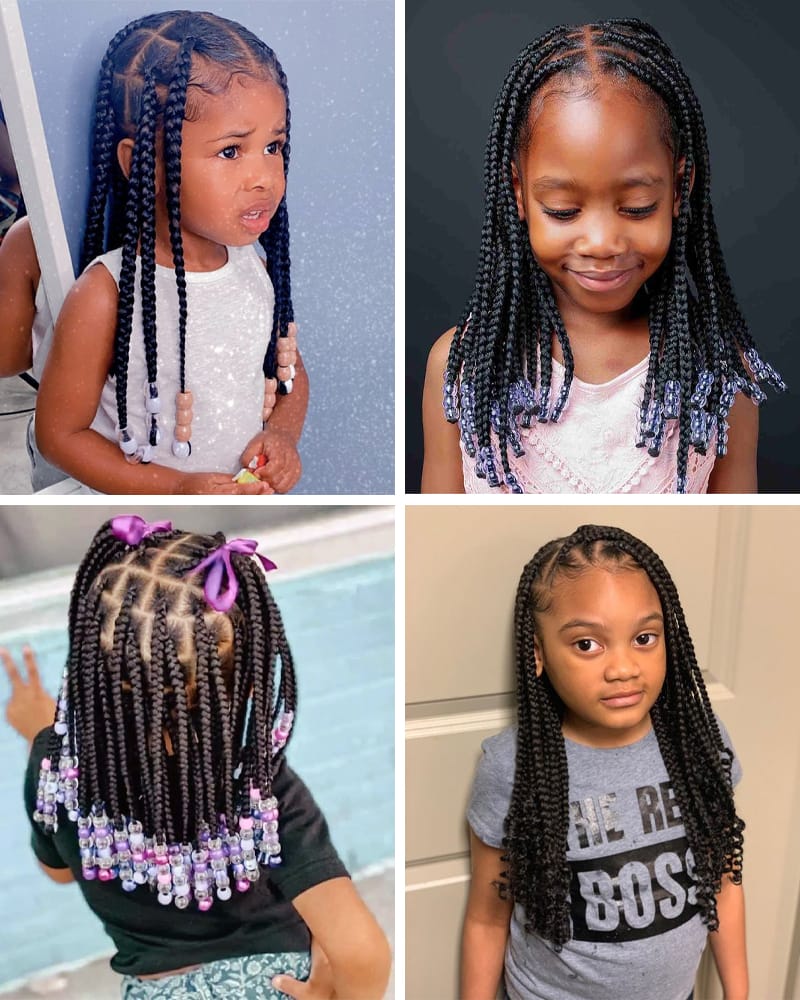 Purple Braids
Here is another way you can colorize her braids. Like the red box braids the purple braids are also uncommon among the kids. But the availability does not necessarily determine the popularity of a hairstyle. For that, we have collected these 4 box braids styles with purple color. And we are confident that you can not just simply ignore them. On the other hand, you have the opportunity to use traditional accessories like criss-cross rubber bands and glass beads with these styles.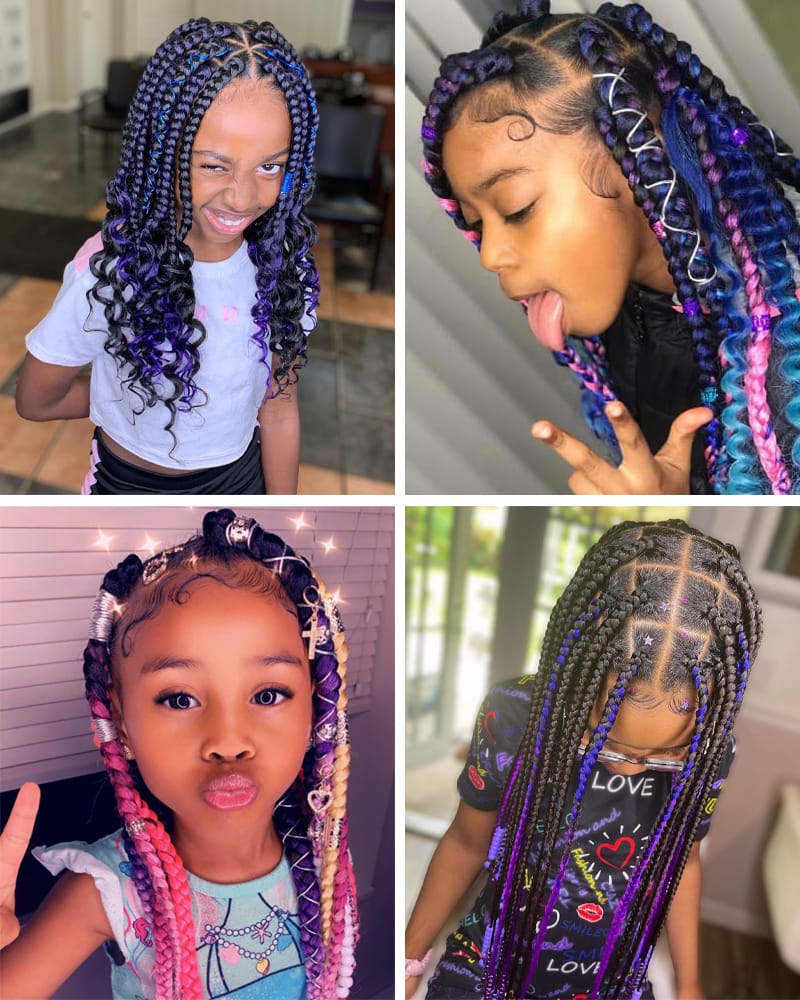 Kiddies Braid Hairstyles
Just like the hairdos of adult women kids' hairstyles are enormous in number. And many of these styles are not possible to be categorized. So, here are some randomly designed box-braided hairstyles for your cute angels. And you can see these braids are adorned with beads, hair bows, etc. On the other hand, jumbo braids, side-swept braids, updos, and half ponytails are really creating a charming effect on their hairstyle.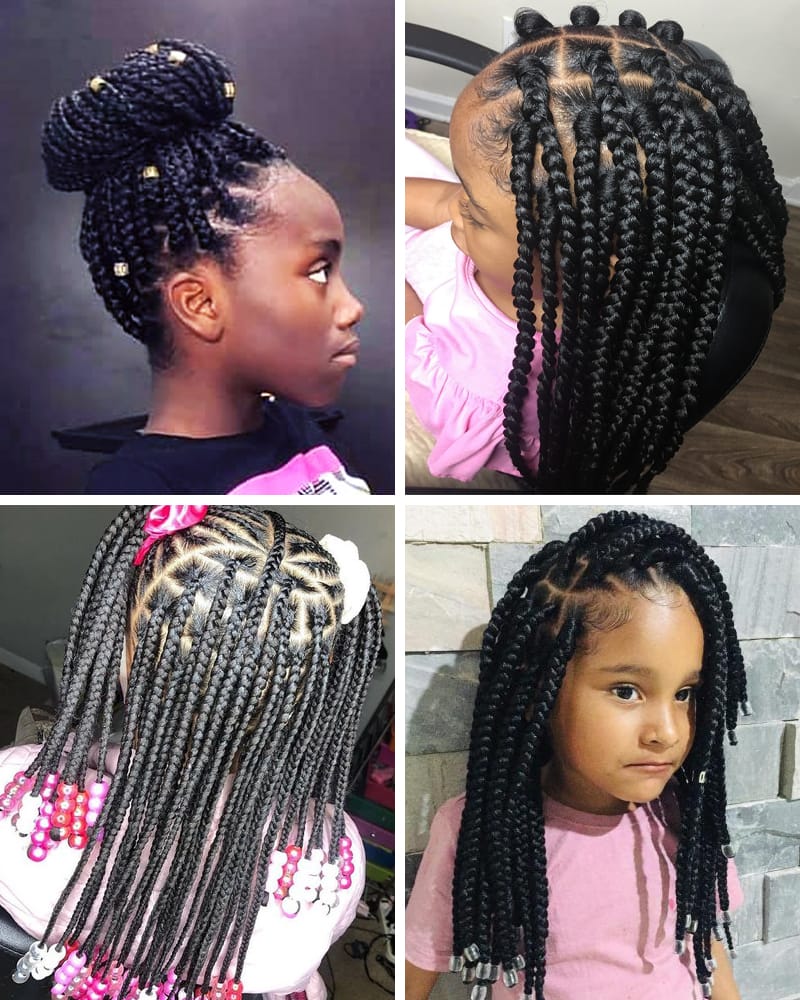 FAQs
Are Box Braids good For Kids?
Of course. Box braids are protective hairstyles. And the benefits of these braids are equal for all ages. These protective braids help the natural hair of your kid get moisturized, reduce hair breakage, and ensure healthy growth of her natural hair.
How Long Can Kids Keep Box Braids In?
Well, the adult can wear box braids 6 to 8 weeks and not more than 2 months. But in the case of kids, this duration is shorter. Make sure that your kids wear box braids from 2 to 6 weeks and not more than 45 days. If your kids wear these braids for a longer period, their tender natural hair can be severely damaged and the scalp may also be harmed.
Is There an Age Limit for Braids?
Yes. Experts suggest this age should be at least 7-10 years. Some of them also opine that 10-12 years old kids are perfectly suitable for wearing box braids. But with low-tension to the scalp, the younger kids can also wear box braids.
how much hair does it take for kids box braids?
The amount of hair depends on the bands you are using for box braids. For example, if you use Kanekalon hair, you will need 3-5 packs. And if you are using the X-pressions hair, 2-3 bags will be enough.
how to style box braids for kids?
There are a huge number of styles you can do with box braids. Among them the Box Braids with Glass Beads, Goddess Box Braids, Braided Buns, Jumbo Braids, Braided Knots, Adorned with Ribbons and Hair Bows, Colorful Braids, Topknots, Ponytails, Accessorized with Rubber Bands, Hip-length Braids, Shoulder-Length (Bob) Braids, Crochet Braids, Red Box Braids, Purple Braids, Fulani Braids, and Knotless Braids are most popular styles.
How old should be a child to get box braids?
Experts advise to install box braids at least at the age of 7-10 years. But many of the younger kids are seen to wear box braids.
Can a 3 Year Old Get Box Braids?
As long as your kid's scalp is strong enough to carry the braids you can do it. In that case, 3 years can be a little risky. But if you still want to do so, make sure that the braids are attached with a very low tension to the scalp.
Are Box Braids Safe?
Box Braids are absolutely safe and millions of women around the world are wearing these braids regularly. Moreover, these styles are called protective hairstyles which protect your scalp, reduce hair breakage, and stimulate healthy hair growth. But box braids can be damaging if you wear them for more than 6 to 8 weeks.
At What Age kids can get Box Braids?
According to experts, kids can start wearing box braids at the age of 7-10. But many of the younger kids are wearing these braids with hair extensions nowadays. And wearing box braids at an early age decidedly damages the kid's hair. If you keep the scalp enough tension-free, the younger kids can wear box braids.
Conclusion
Box braids for kids have a wide range of styles and designs. And it's really a herculean task to find the right and perfect one for your kid. All we wanted to do is to shortlist the popular styles for you and help you choose the right one. We are hopeful that, all this information, images, styles, and designs will definitely help you choose the suitable hairstyle for your kid.