For years, aesthetic women have chosen glamorous and elegant looks with bohemian braids over recent trends. But why? In the world of fashion and hairstyles, there are newer updates and innovations every day. But some timeless and classic hairstyles have captured our hearts and kept their appeal alive for decades. This is the reason the boho braids are called evergreen braiding hairstyles. If you are reading this article, you must be a beauty and style seeker and landed on this blog in search of some magical hairstyles.  And trust us, we are not going to disappoint you.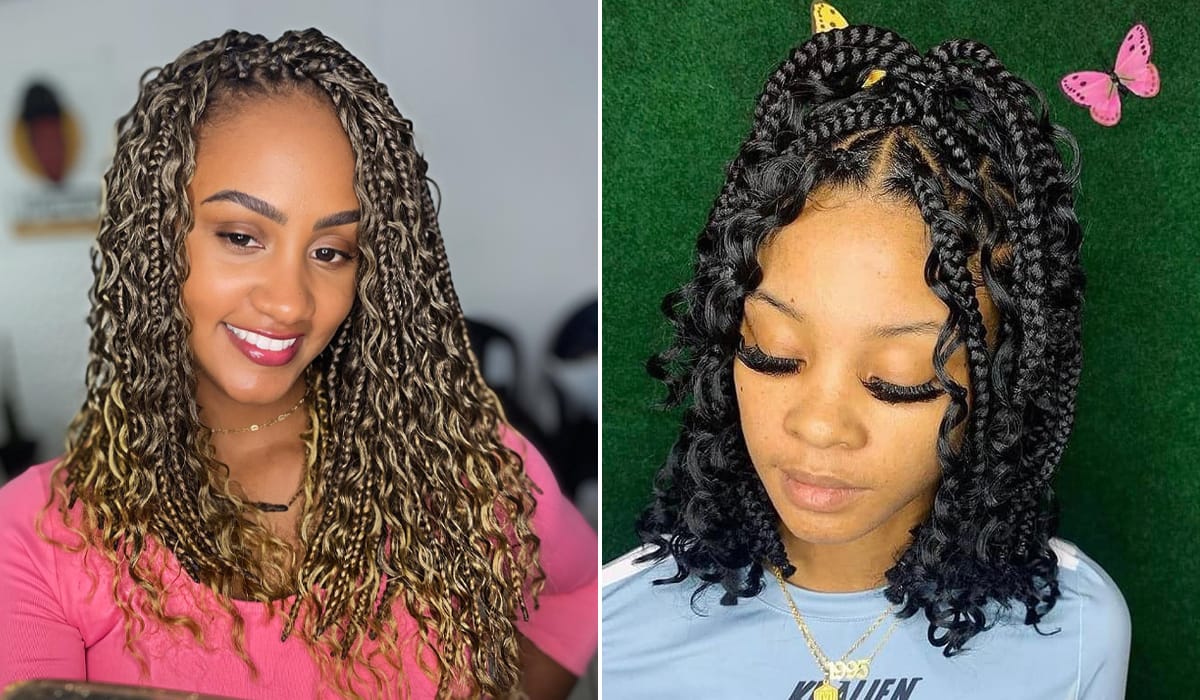 In this article, we are going to share some of the sexiest ways to style and wear bohemian braids. In addition, you will get some extra information about the preparation, maintenance, durability, pricing, washing, and variations of the boho braids. Moreover, we are going to walk you through the steps of these awesome braiding hairstyles. So, let's get started.
What Are Bohemian Braids?
"Bohemian braids" which are known as "boho braids" otherwise are protective hairstyles worn by women of all ethnicities. But the root of these hairstyles is implanted in the bohemian culture of the 19th century. Their sense of wild touch and artistic elegance in hairstyles have made this happen. These hairstyles are basically a hybrid version of braids and curls. Where two completely different hairstyles have become an inevitable part of a single hairstyle. And after all, these are the protective hairstyles where knotless braids and curls are combined together to get a wild as well as elegant look.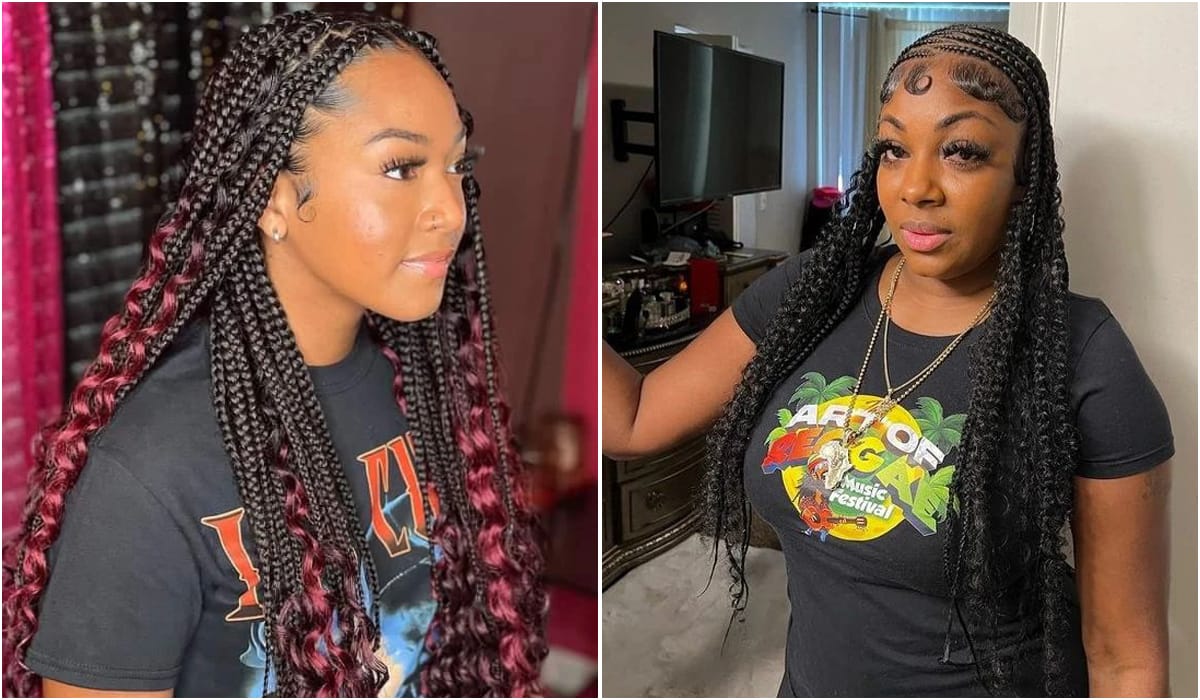 How to Do Bohemian Braids?
You already know that bohemian braids or boho braids are basically a box braided hairstyle. And the process of doing these braids is almost the same as the box braids. But before we dive into more details, we just want to apprise some basic rules of hair braiding.
Step 1: Preparation
Before starting a new hairstyle you need to clean your hair and scalp first. Grab your suitable shampoo and conditioner and apply them to your natural hair and scalp. After a moderate massage, wash your fresh natural hair. In this step, dry your hair and detangle them gently. And you are almost ready for your new braid hairstyle. But you may consider adding some texturizing spray. These products add more texture, and volume, and lift to your natural hair. And they are also very much useful to create grip and texture of your natural hair. Or you can use dry shampoos to absorb the dirt, oil, and grease on your scalp.
Step 2: Tools and Accessories
When you are going to braid your hair on your own, you will need some tools and accessories as well. This list includes a hairbrush, a comb, a rat tail comb, hair elastics or rubber bands, edge control gel, some bobby pins, scissors, a leave-in conditioner, nail glue,  and some texturizing spray or dry shampoo. In addition, if you want to accessorize your braids and hairstyle, you may need some accessories like beads, ribbons, rubber bands, or artificial flowers. When these two steps are complete, you can go for braiding your natural hair.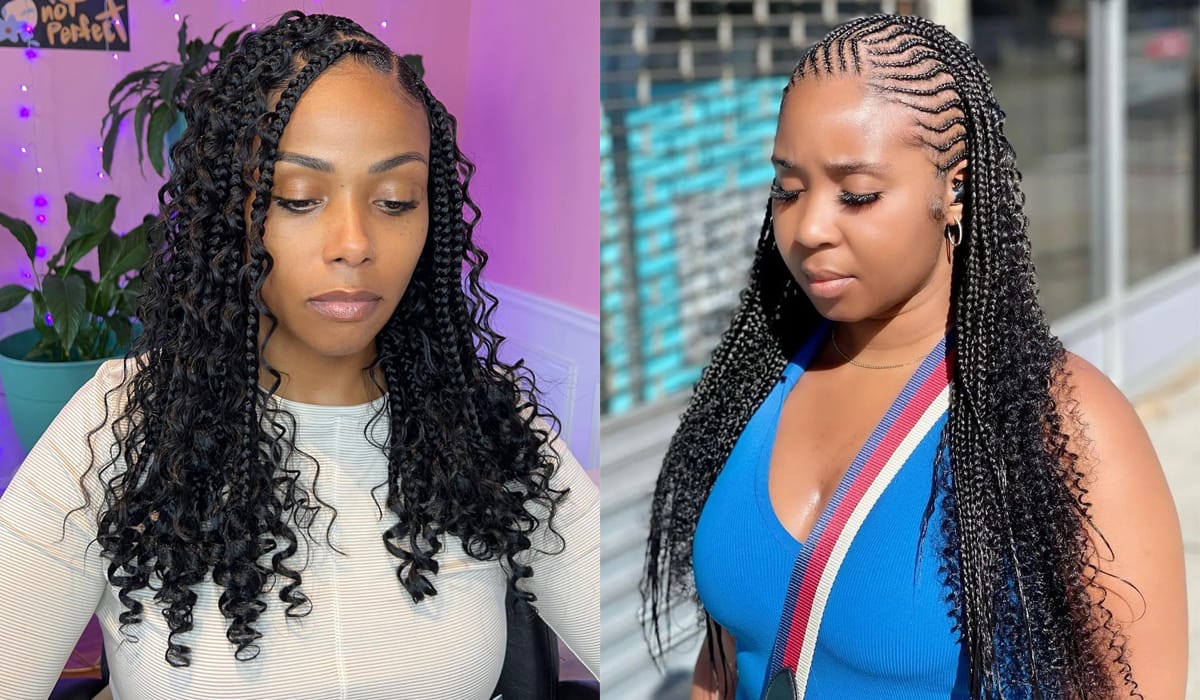 Step 3: Step-by-Step Instruction
Section your hair in square or diamond shapes.
Part your hair from the middle of your scalp
Attach human hair or synthetic hair (Kanekalon braiding hair) with your natural hair and make three equal strands.
Add your braid-length curly human hair or wavy hair to braid an inch away from the roots. Some like to add the curls with a hook after braiding.
Dip the edges of your braids in hot water
Remove the flyaway with scissors.
Accessorize and style your Braids.
If you are willing to make your bohemian braids on your own, we recommend the following DIY tutorial for better understanding.
Boho Braids Styles
Now let's dive into the styling part. Among many of the styling options, we have picked 20 magical styles for you. And whatever you call them, the bohemian braids, the boho braids, the goddess braids, or the gypsy knotless braids, these styles will make you look like a heavenly angel. So let's dive in.
Asymmetrical Long Bob Braids
Bob hairstyles and haircuts are truly popular among women of all ages and regions. In the beginning, bob haircuts were basically made with natural or straight hair. But today bob hairstyles can be worn with braids too. With braids, you can wear short shoulder-length braids to have a bob shape. You can wear both a traditional shape or a modern asymmetrical bob shape with the braids too. With boho braids, the bob hairstyles are more glamorous than ever. The curly edges, beads, multiple colors, and boho braids are just an awesome braid hairstyle to wear nowadays.
Blonde Bohemian Braids
Color is an important element of every hairstyle. Besides black hair and braids, modern women are so much fond of colorful hairstyles. And when the context of color comes in front, there is no better option than the blonde color. About 70% of the colorful hairstyles women wear are blonde hairstyles. And you can adorn yourself and your hair with lovely blonde boho braids just like the images below. Moreover, you can make it look messy, shoulder-length, waist-length, or accessorized.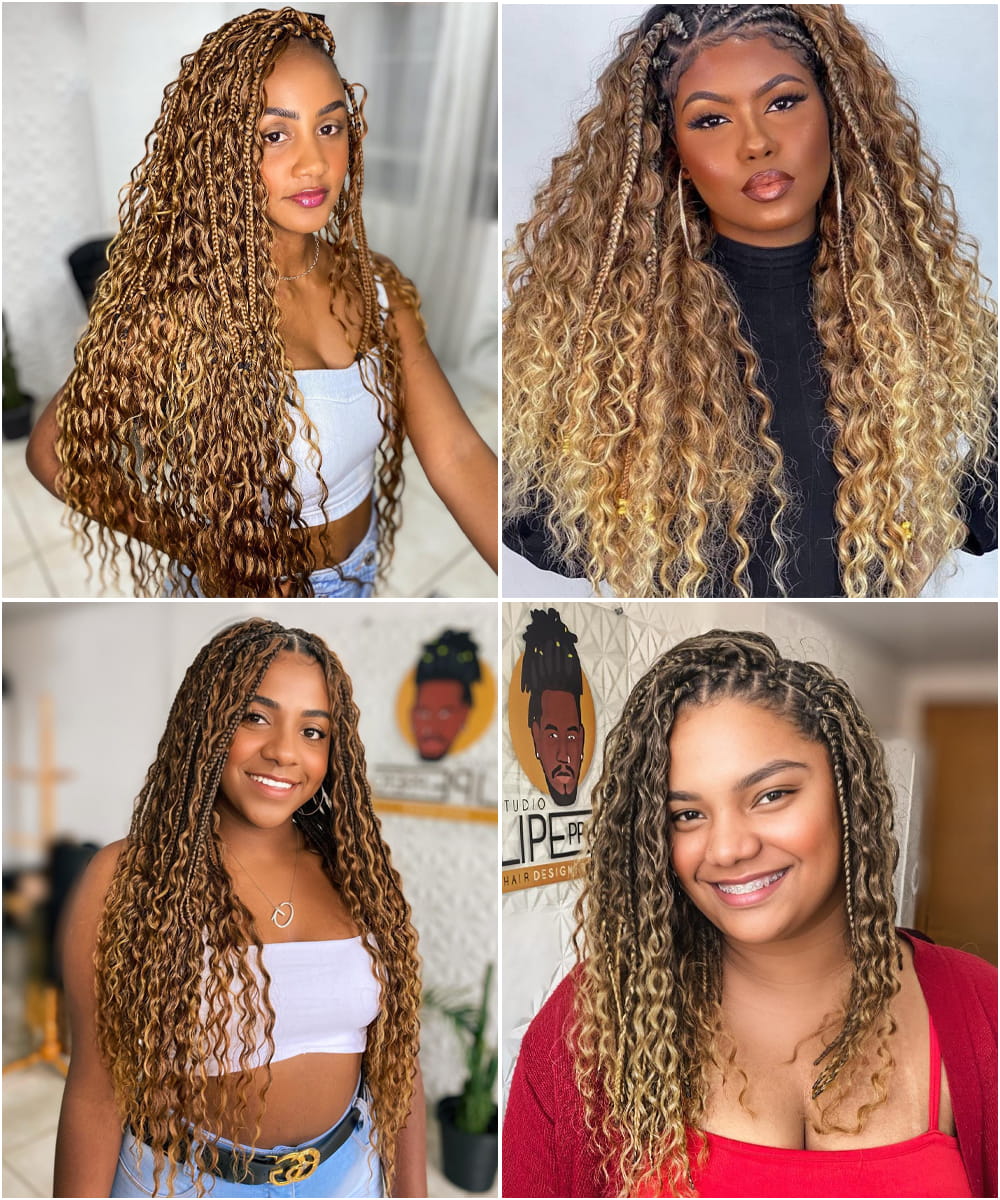 Blue Highlighted Boho Braids
Highlights add great charm to any kind of hairstyle. And different people have different color choices for making highlights. Some like blonde highlights, some like red or burgundy highlights, and some of you might like the blue highlighted hairstyles. Here are four different blue-highlighted braided hairstyles which are basically bohemian box braids. You can see the beauty and effect of these highlights with hip-length braids, shoulder-length bob braids, and updos. In addition, you can accessorize them with lovely beads just to look more stunning and sexy.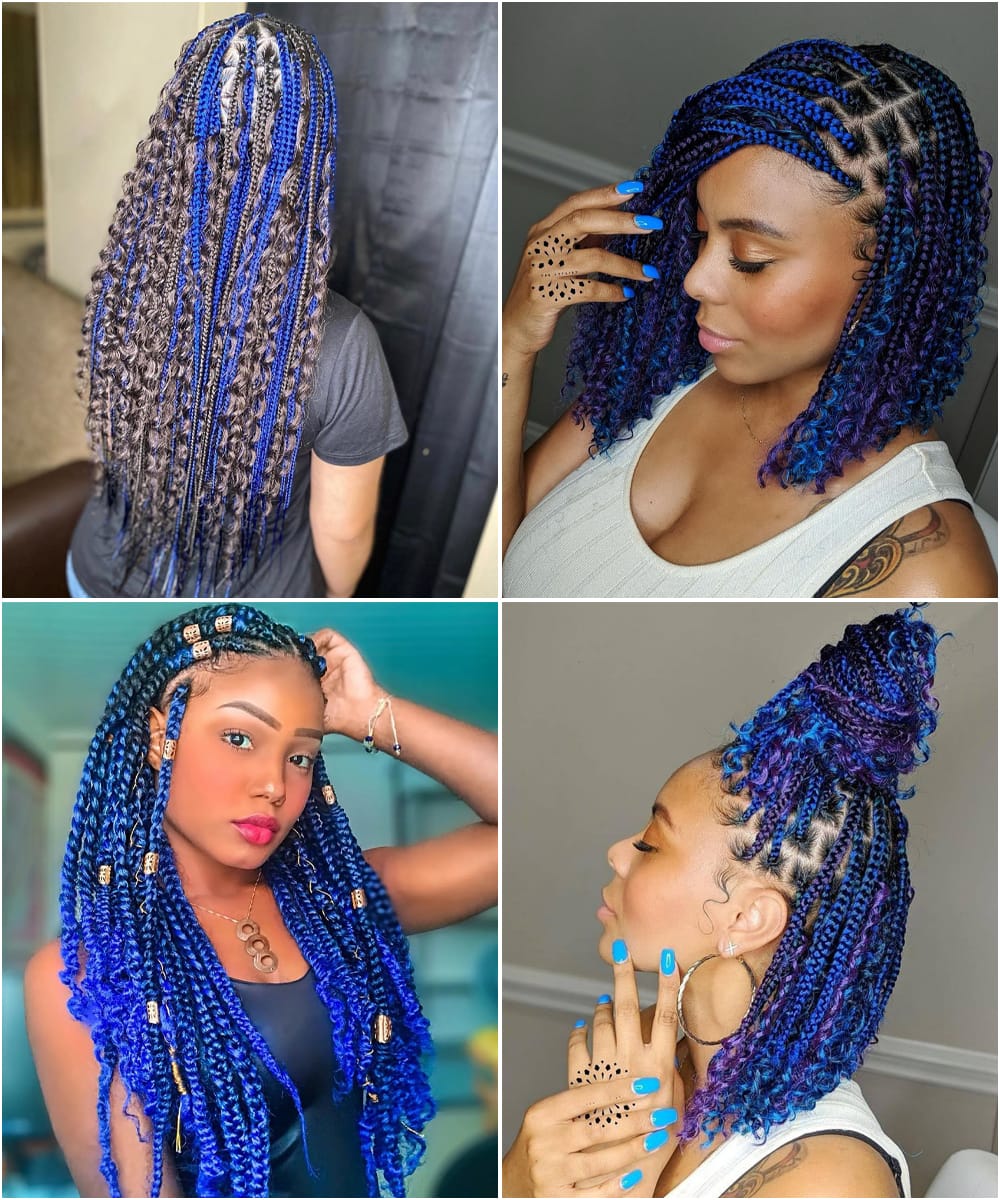 Bohemian Bob Braids
Previously we have talked about asymmetrical braided bob hairstyles. But with boho braids, you can also wear typical and traditional bobs too. Moreover, you are free to apply colors, highlights, and accessories to it. As these bohemian braids are mainly worn in the form of box braids, you can wear them both with traditional square braids or triangular/diamond box braids. In the pictures below, we have shown the shortest bob braids with 4 variations. These are really some carefree and easy-to-maintain hairstyles for women who seek less time-consuming but charming braided hairstyles.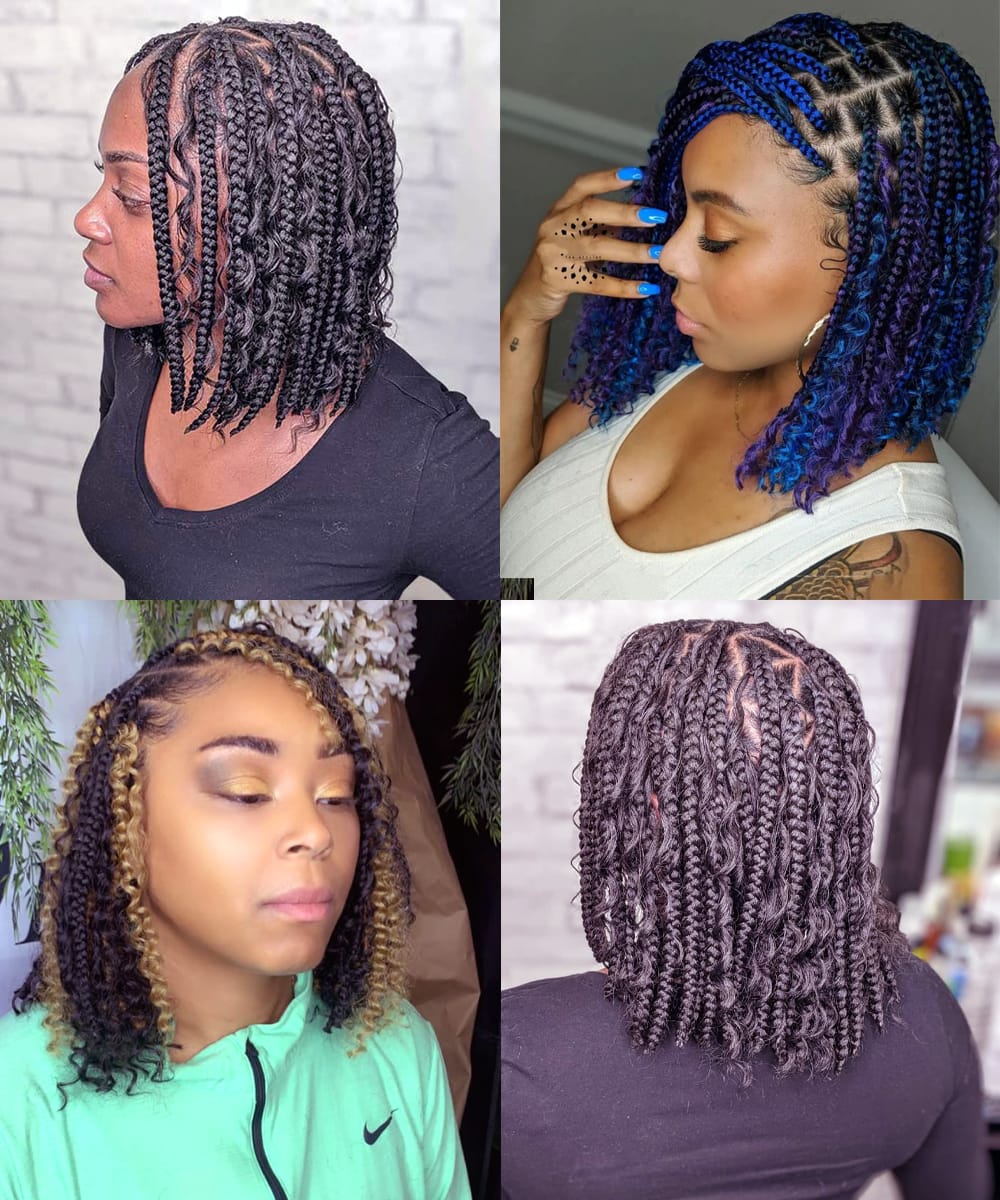 Boho Box Braids
And finally, we are going to tell you about the basic practices with boho braids. You already know that boho braids are mainly worn in the form of box braids. So, here are some marvelous examples of box braids with wild curls. As you can see that you can choose the length of your hair braids, the color of the curls and make partitions on your scalp according to your preferences. Here we have produced black, brown, honey gold, and blonde braided hairstyles with curly wild braids. And its really a dilemma to choose one form these hairstyles.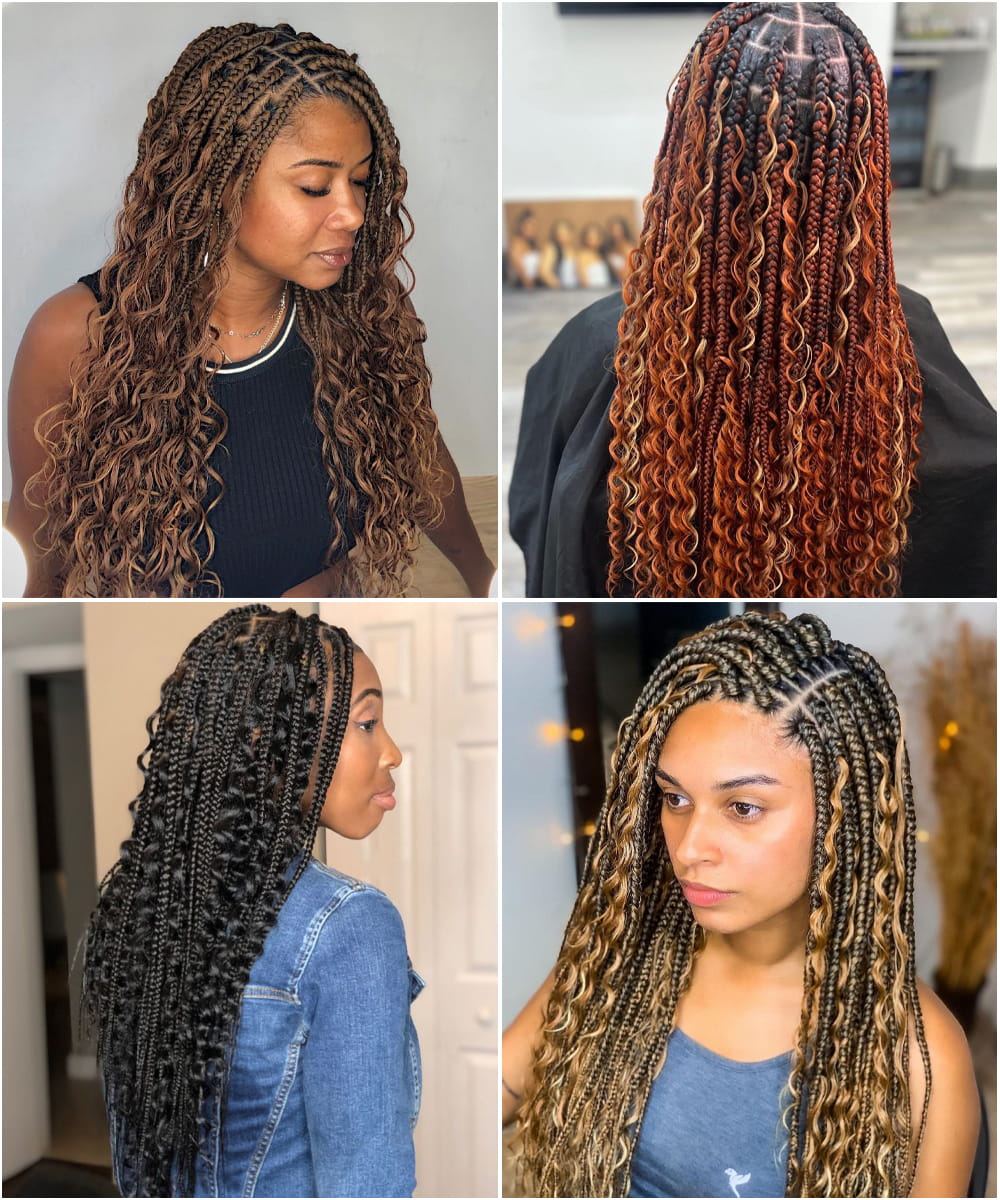 Boho Braids Topknot
Once you have created some boho braids on your head, you are free to practice a wide number of styles with them. And yes, you can make some beautiful topknots with them too. In this section, we are going to show you how you can wear topknot hairstyles with curled braids. Well, you can wear single or double knots on the top of your head, use beads on the braids, and let the curly bangs hang in front with these braids styles. If you are a stylish and beauty-seeker woman, we highly recommend this braiding for you.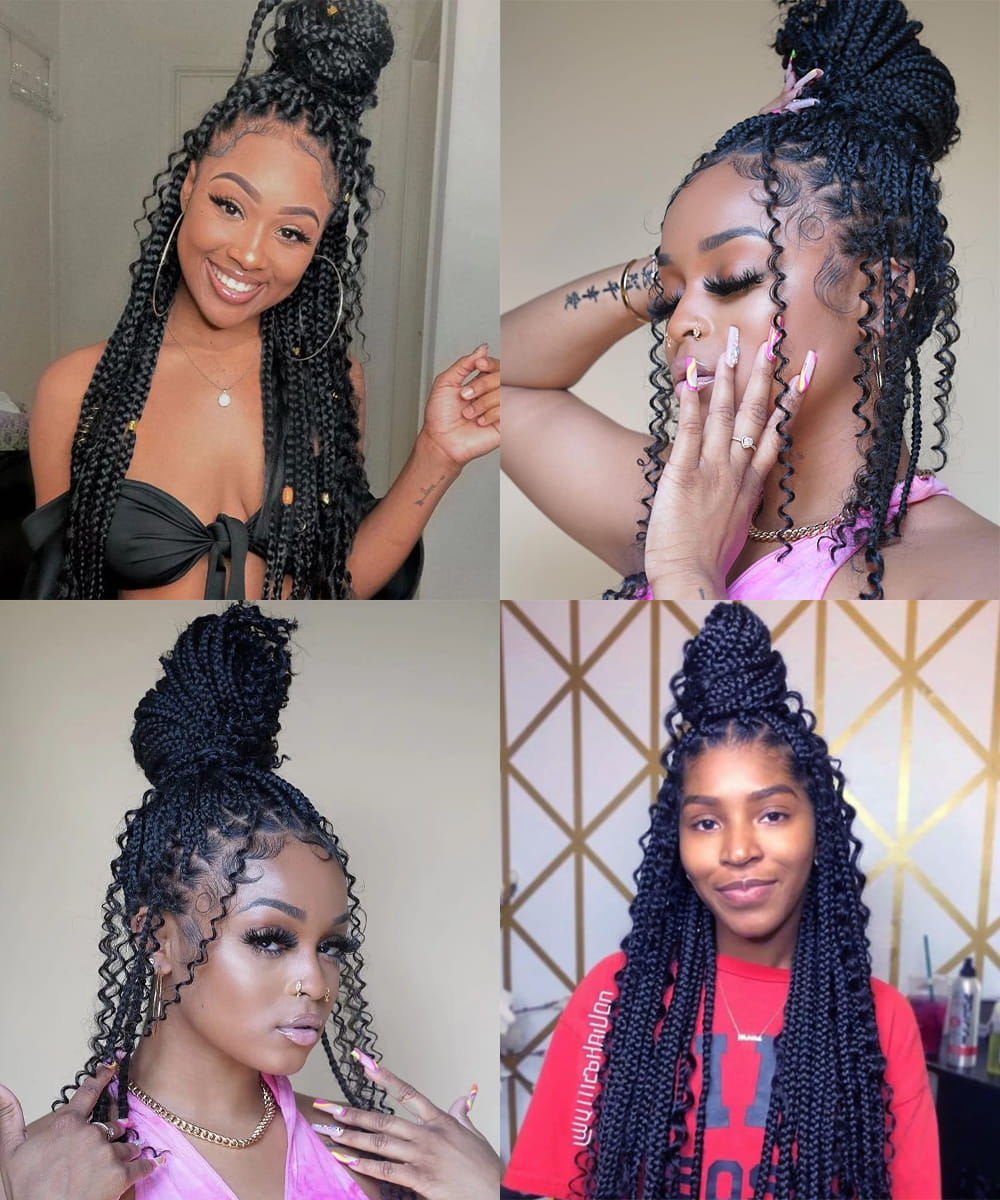 Boho Cornrows Braids
Even you can wear bohemian braids with a cornrows pattern. Although these braids are worn as box braids most of the time, the cornrows braids are also worth wearing. Moreover, you can wear them as side-swept style, buns, updos, or as braids extensions at the back of your head. But whatever style you choose, you will get a free-spirited and lovely messy look. So, if you are fade-up with the traditional cornrows and box braids the hobo cornrows braids can be a great hairstyle to wear in this big season.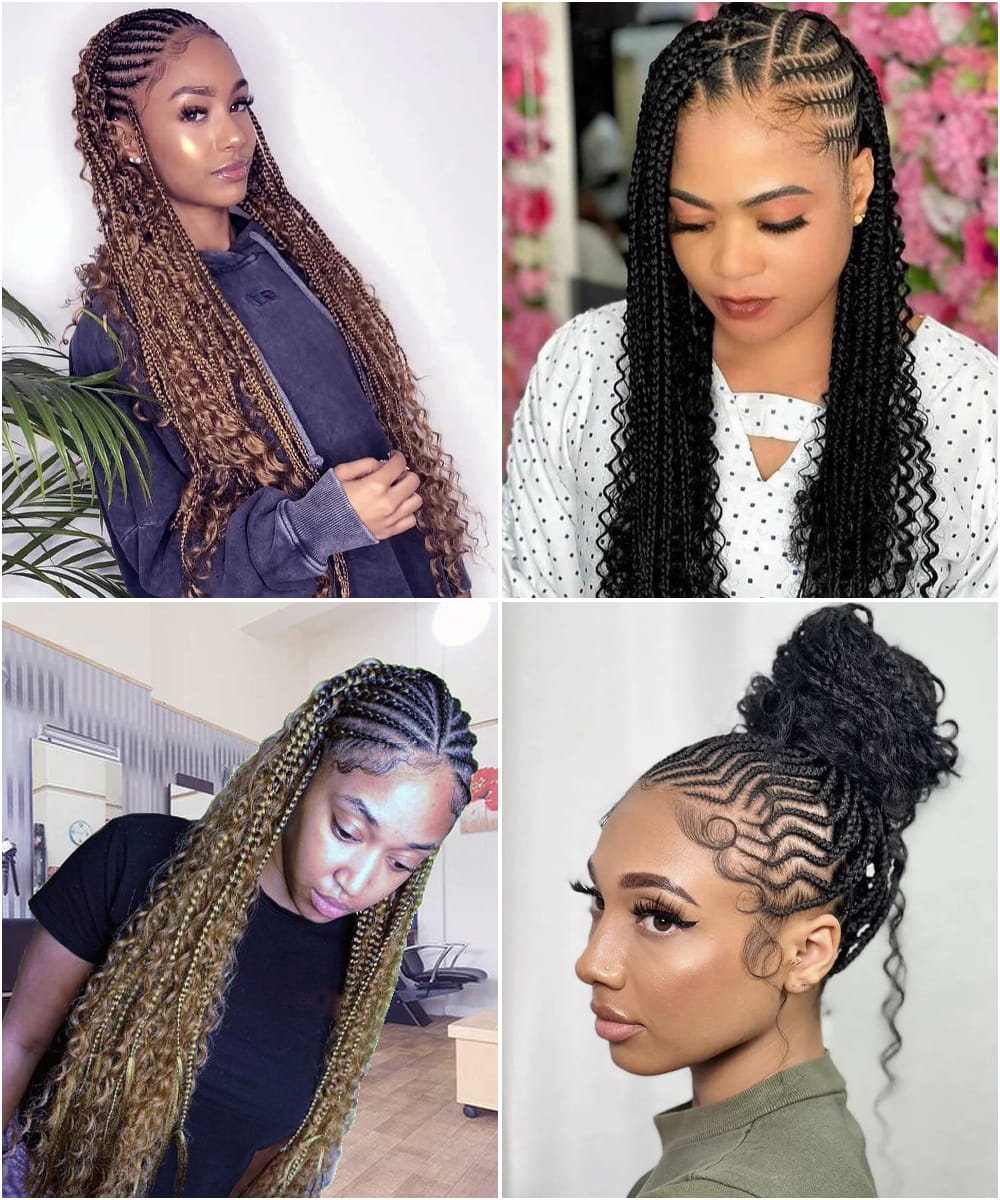 Braided High Ponytail / Half Ponytails
Ponytails are always smart and confident hairstyles for women all over the world. And these styles are so flexible that you can do them with natural hair, curls, straight hair, braids, locs, cornrows, or even with extensions. But if want a more glamorous look, and smarter appearance you might choose the high ponytails and half ponytails. Basically, they are the updated and modern versions of classic ponytail hairstyles. With boho braids, you have the option to wear these high ponytails with highlights, accessories, cornrows, box braids, and so on. And trust me, the combination of curls and braids in your half ponytails will just put you on fire.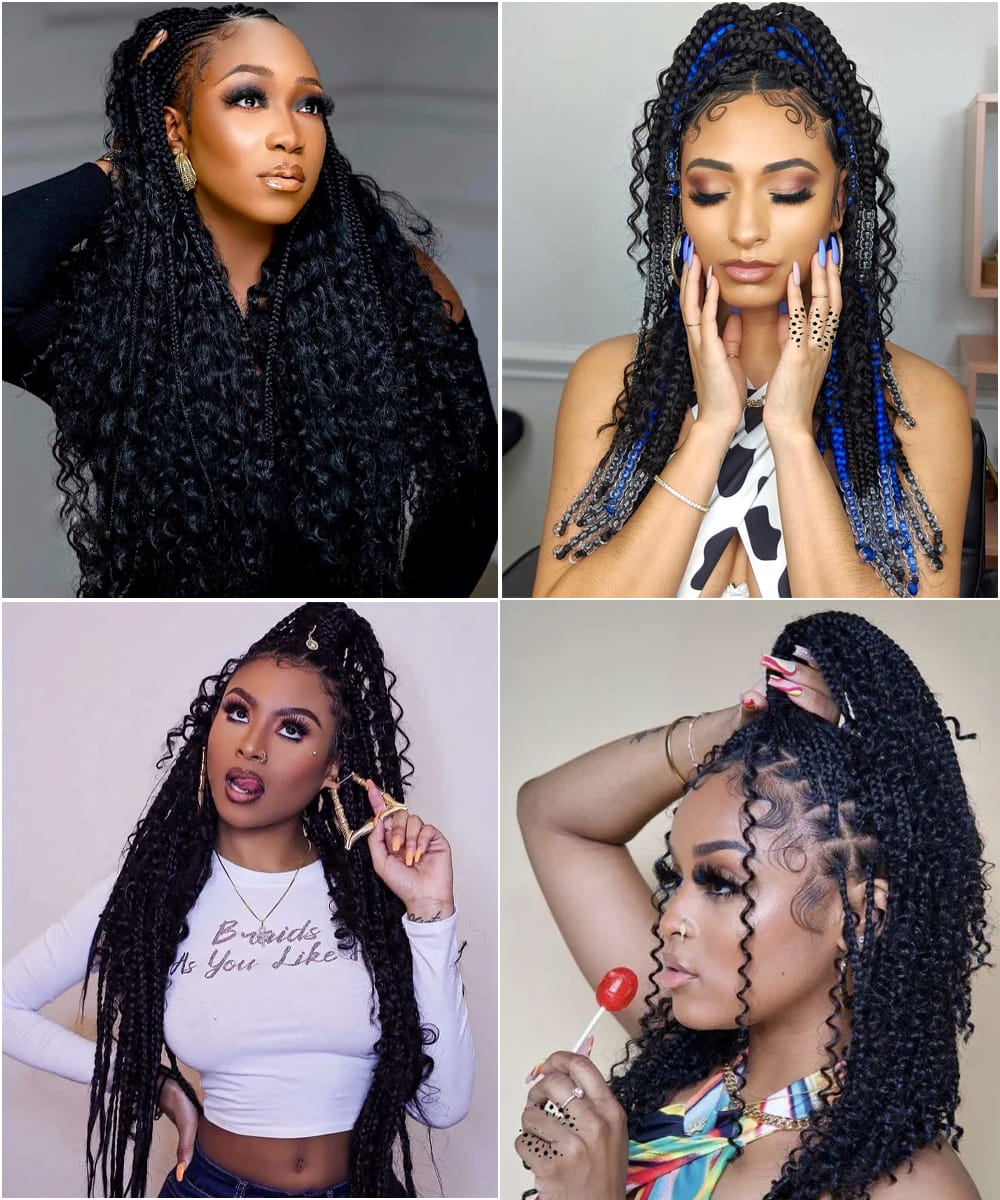 Burgundy Boho Braids
In the world of hair color, you can not just ignore the burgundy color. You already know that blonde color is the most popular hair color among women on this planet. But burgundy colors are also tremendously popular and widely used by beautiful women around the world. For that, we have picked some of the burgundy bohemian box braids styles for you to try. On the other hand, the burgundy color can also be the highlighted color of your black braids. In both way you will get a charishmatic look along with a charming impresion.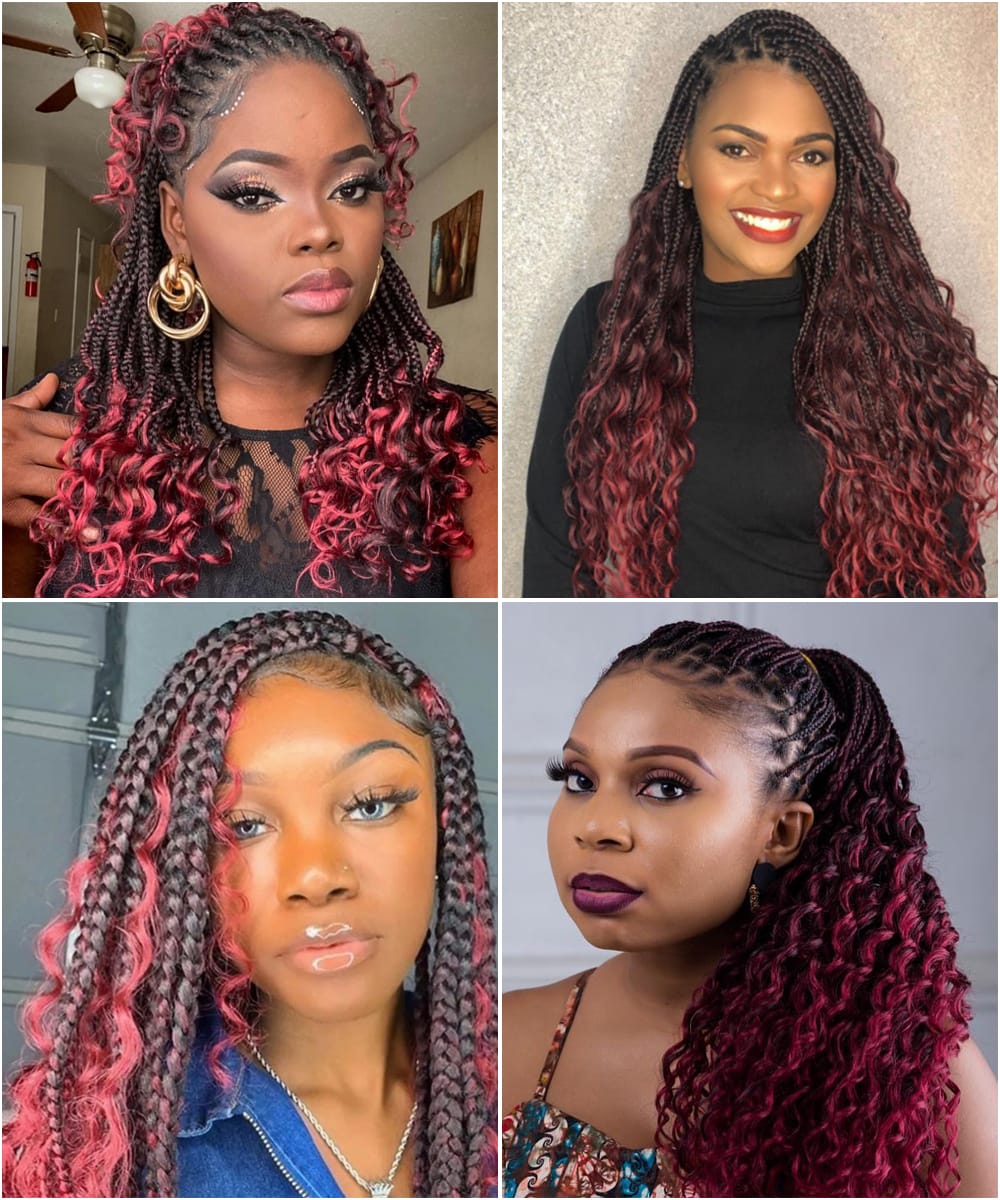 Diamond Box Braids with Bohemian Braids
Besides regular square-shaped box braids styles, triangular or diamond-shaped box braids are immensely popular among youngsters and beauty-seekers. In this braiding style, the natural hair on your scalp is sectioned in a triangular / diamond shape first, and then the synthetic hair is added to that. And after completing the briding, there are some beautiful triangular shapes that produce a single lovely braid from it. In the same way, when you want to have these diamond braids to be boho braids, you just need to add curls with each braids. And the images below tell us how exquisite the style really is.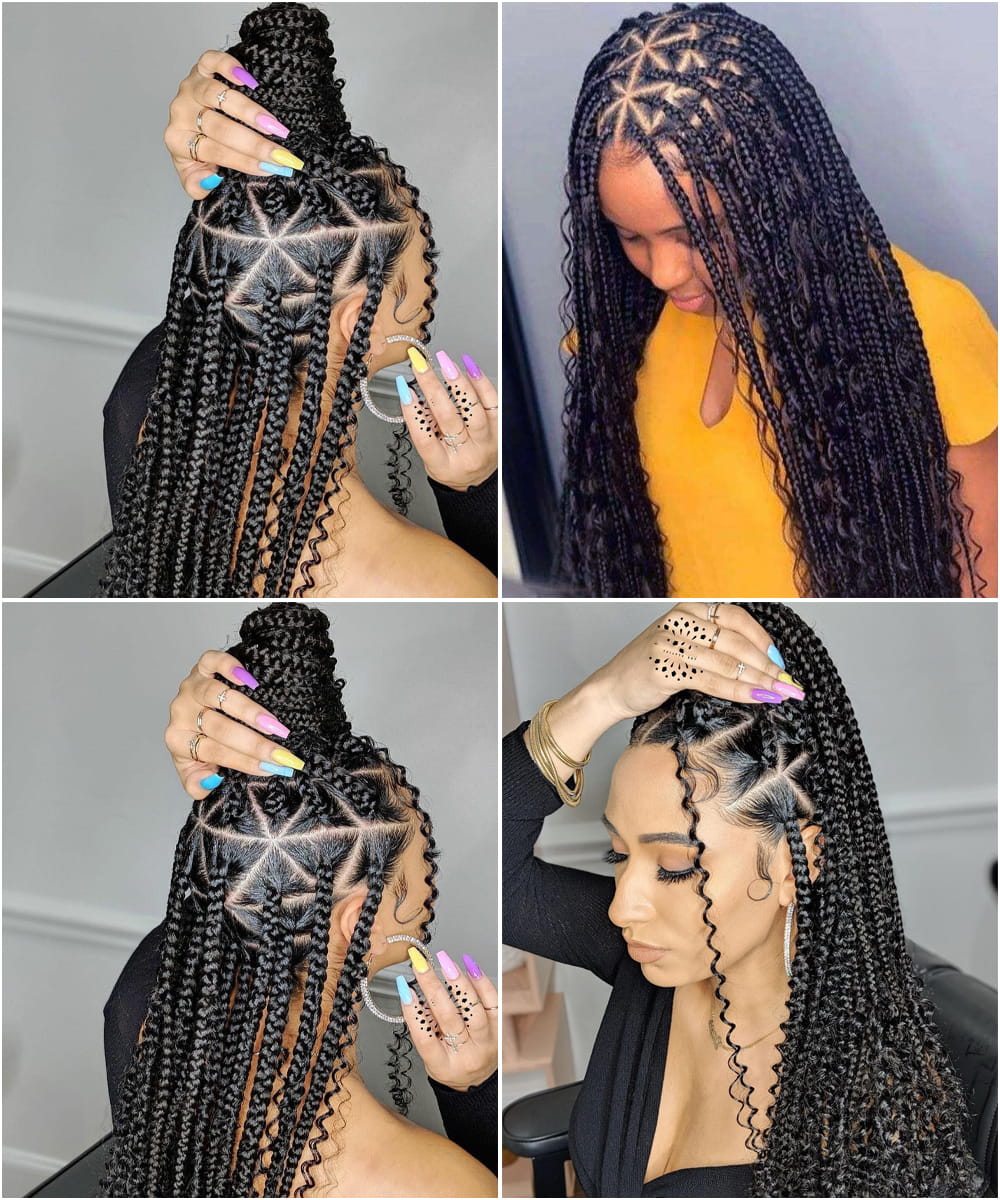 Half-up, Half -down Bohemian Braids
Half-up, half-down hairstyles with boho braids are super trendy at this time.  These braided hairstyles basically combine the elegance of traditional braids with the smooth vibe of bohemian fashion. You can wear them for social occasions, festivals, outings, dating, and even on wedding ceremonies. If you look at the hairstyles below, you will find both box braids and cornrows along with boho half-up, half-down hairstyles. And you have the option to wear them colorfully too. So, if you want a perfect blend of style and comfort, you can choose this bohemian-inspired half-up, half-down look.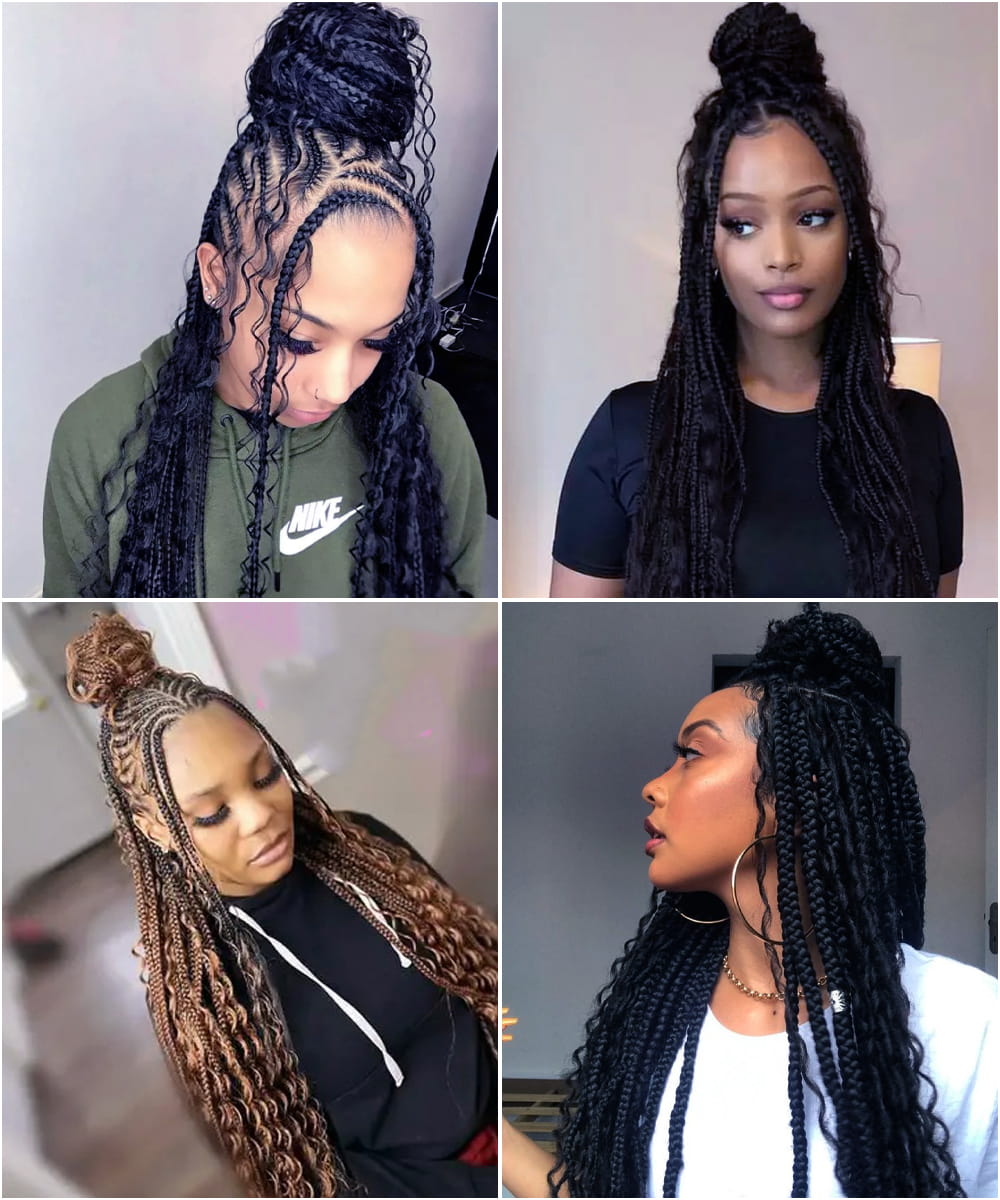 Hip-Length Boho Braids
Some of you might like long hairstyles like hip-length styles. Generally, these long hairstyles are worn with braids, straight hair, natural hair, synthetic hair, and extensions. And they are greatly eye-catching, attention-grabbing, and stunning hairstyles in today's world. In this section, you are going see some marvelous hip-length braids styles with bohemian vibes. You can wear them with colorful braids and accessories. But be aware that wearing these styles for a long time can put a heavy strain on your hair and scalp.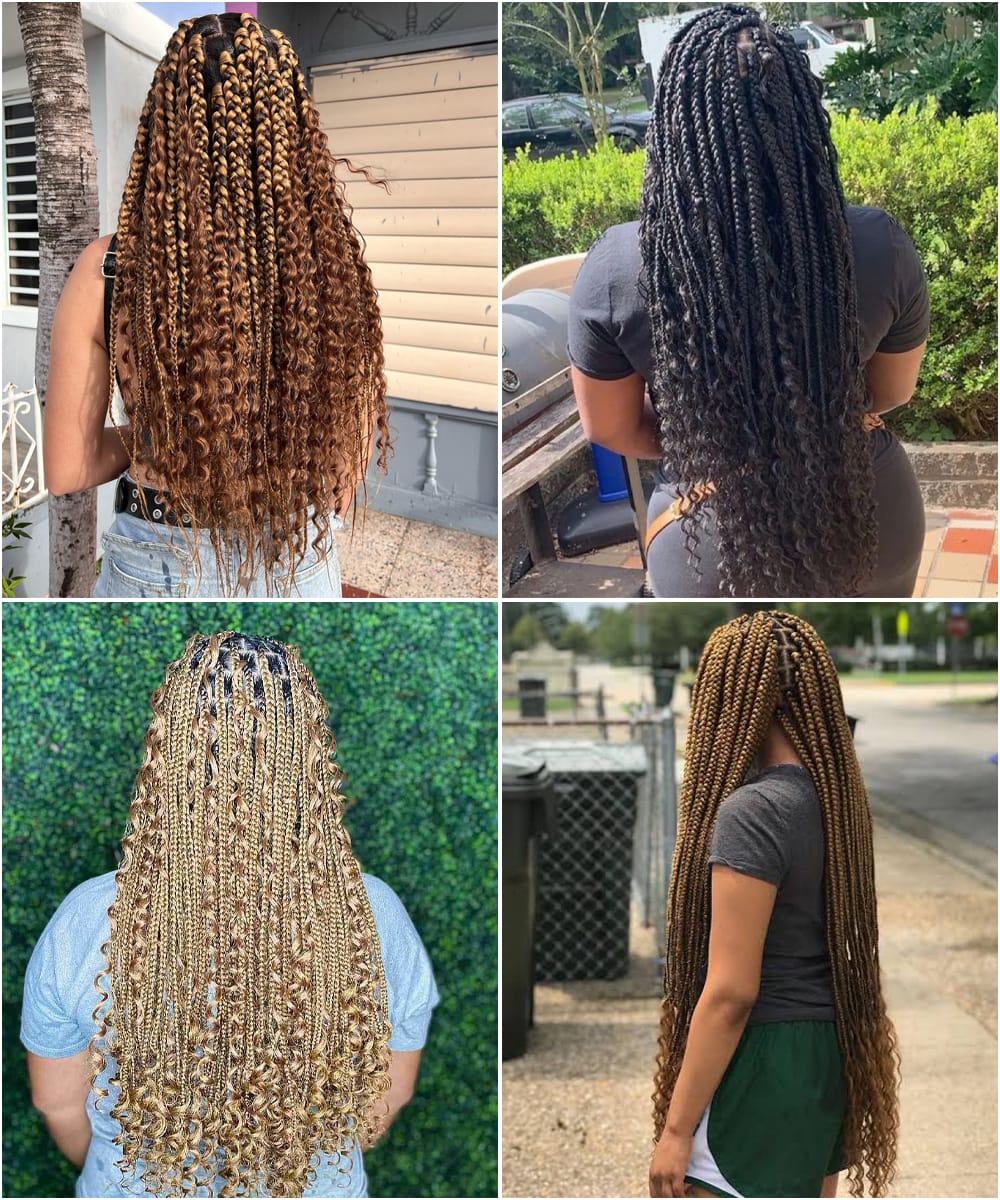 Honey Blonde Braids
Your honey-blonde braids are one of the weaknesses of men. Well, it's funny but true. To give your braids a killer look you can apply honey blonde color on it. Or simply you can wear these braids to create a magnetic attraction to your crush. With boho braids, the honey-blonde braids are more attractive, sexy, and appealing. With the mixer of braids and curls along with the killer color, you are definitely going to win the heart of many. Moreover, you can make the edges of your bohemian braids curly too to get more passionate look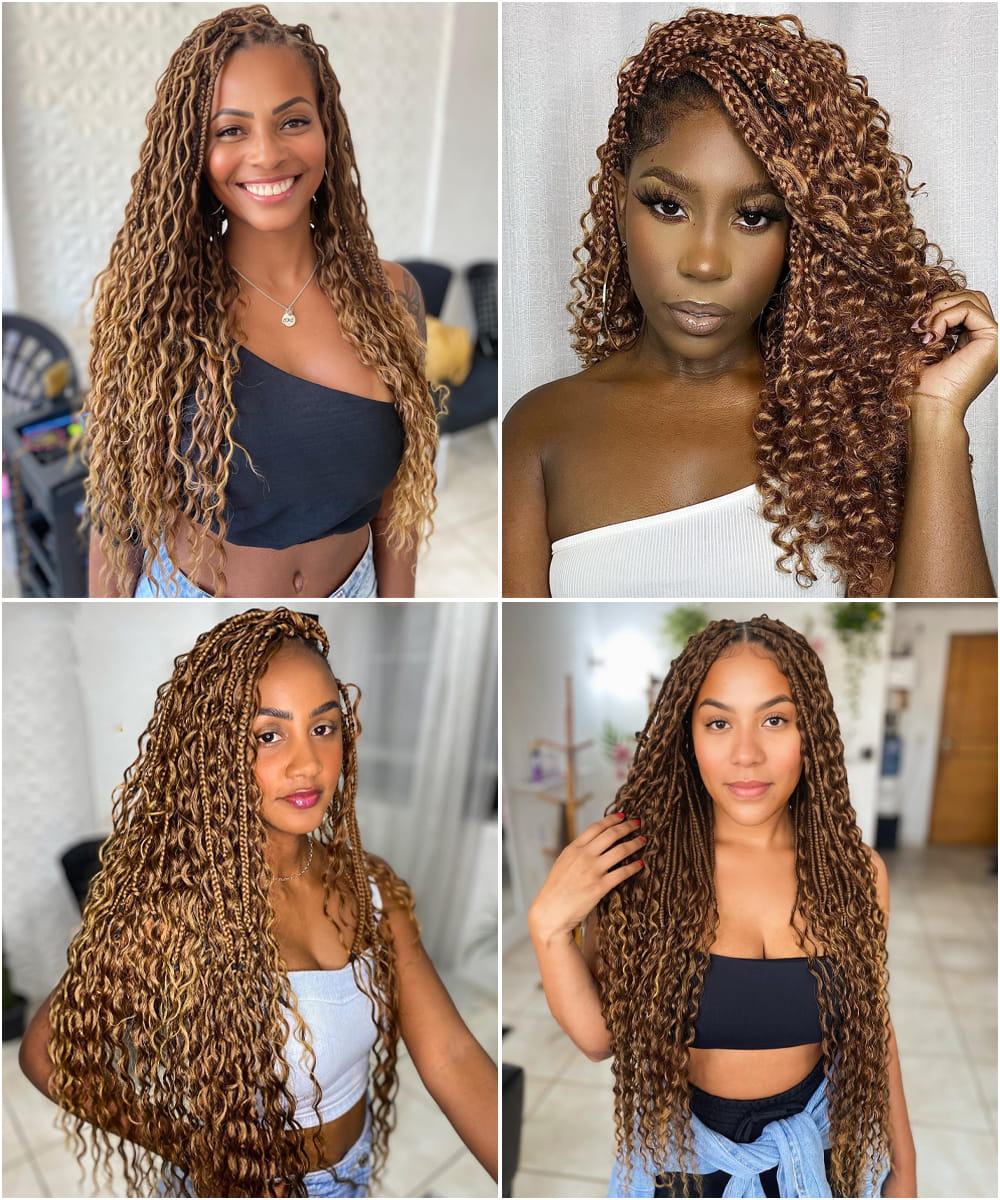 This version of braids is usually thicker than the normal braids. So, it is basically a box braids style with thicker (high volume of hair) braids. In addition, these braids have bohemian curls installed with them. As a result, this combo creates a fun hairstyle for you. However, here we have four examples of jumbo boho braids where the braids are of regular black color. But you can choose your own braids color (blonde, golden, honey-blonde, red, burgundy, blue), apply accessories like criss-cross rubber bands and beads, choose the length of the braids ( shoulder-length, back-length, waist-length, or hip-length) and so on.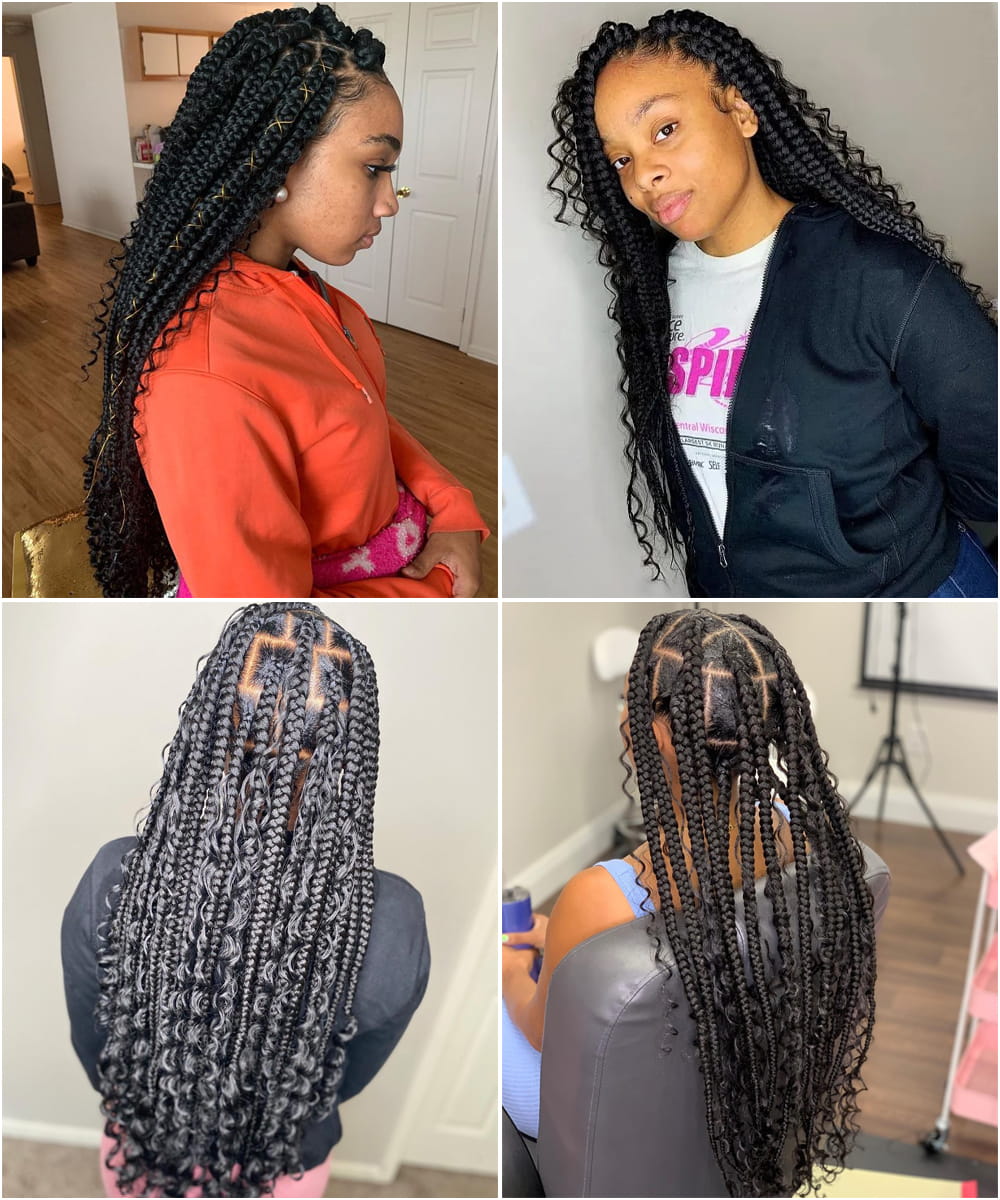 Love-Triangle Bohemian Box Braids
Imagine that you have high volumed bohemian braids, boho curls, triangular diamond box braids, and a funky heart sign on your head. Is it possible to have all of these at a time? Yes, actually many of the stylish African American youngsters are already wearing this sublime braided hairstyle. And as this hairstyle contains a love sign along with triangular box braids, you can call the theme a "love triangle". Moreover, you can have these styles with updos and free braids, ponytails, and buns. I bet you like these braids more than the other braids shown earlier.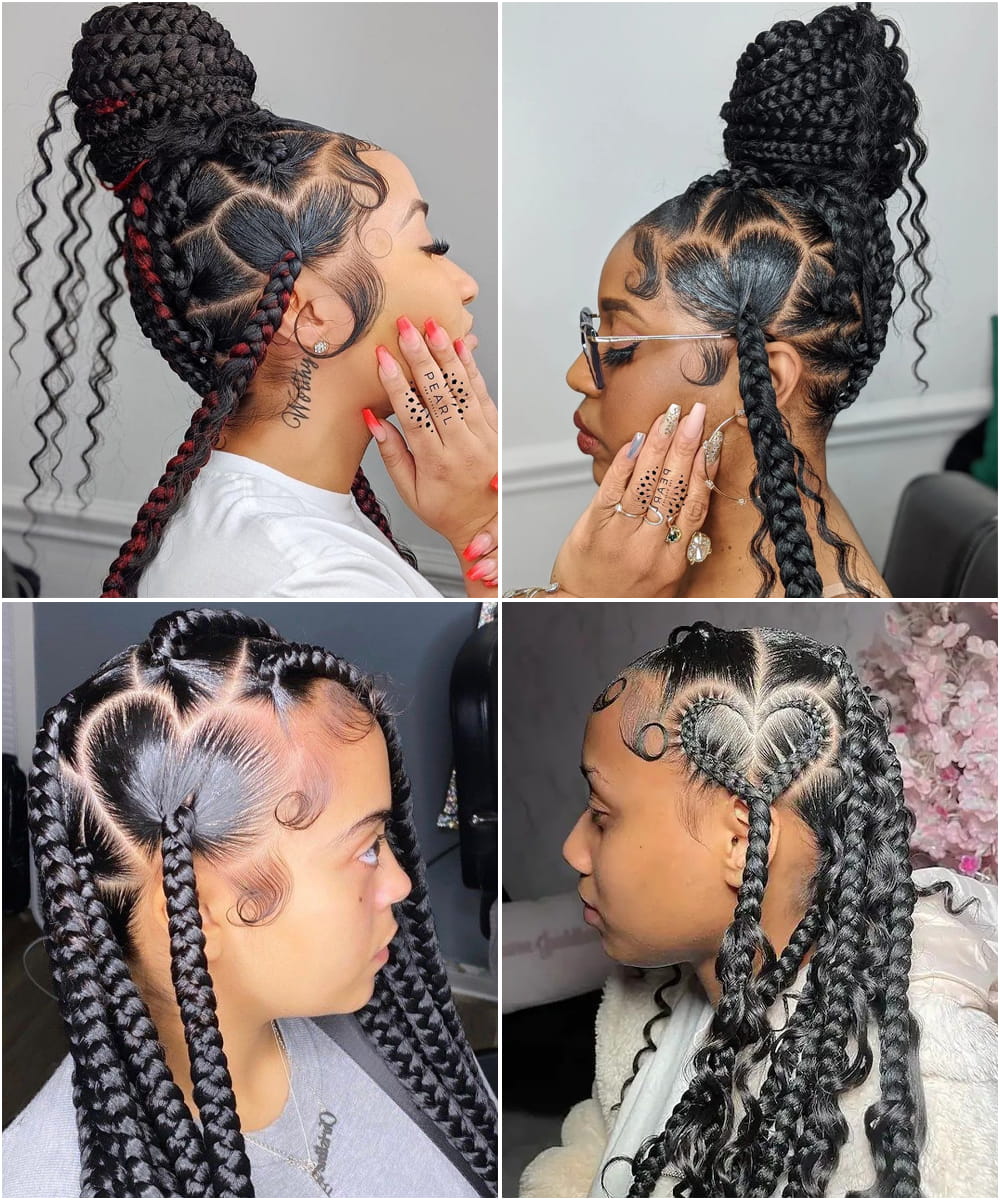 Messy Bohemian Braids
The messy looks are the prime and basic look of the bohemian braids styles. These braids create an undone effect on your appearance and give you an effortless, natural, and relaxed look. Additionally, these messy braids give you a loose and blithesome look on different occasions, beach days and parties, and festivals. And you can also avail a variety of variations and play around with these braids. You can wear it with regular color, highlights, mid-back length style, shoulder-length or waist-length style, etc. And with every style, you will look perfectly charming.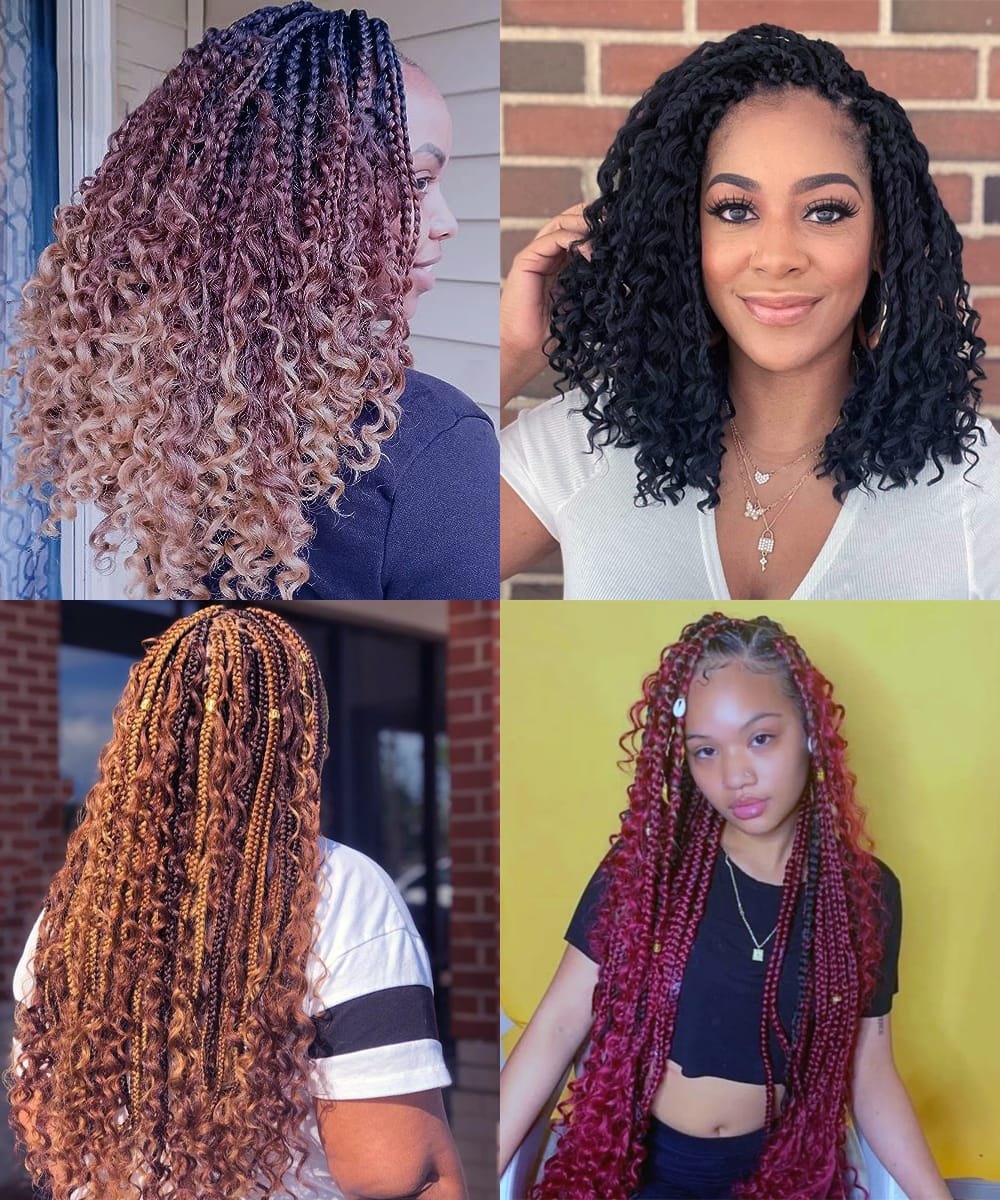 Mini Boho Braids
Till now we have discussed and shown the thicker braids of boho culture. But if you are a mini braids lover, don't worry. The bohemian braids can be worn with mini braids too. Mini Braids are available with the same style, length, color, and shape. For example, you can have both box braids and cornrows braids, have multiple colors and highlights like blonde, burgundy, etc, and have the length of shoulder-length, mid-back-length, or hip-length. Now check out the styles below and go for the suitable one.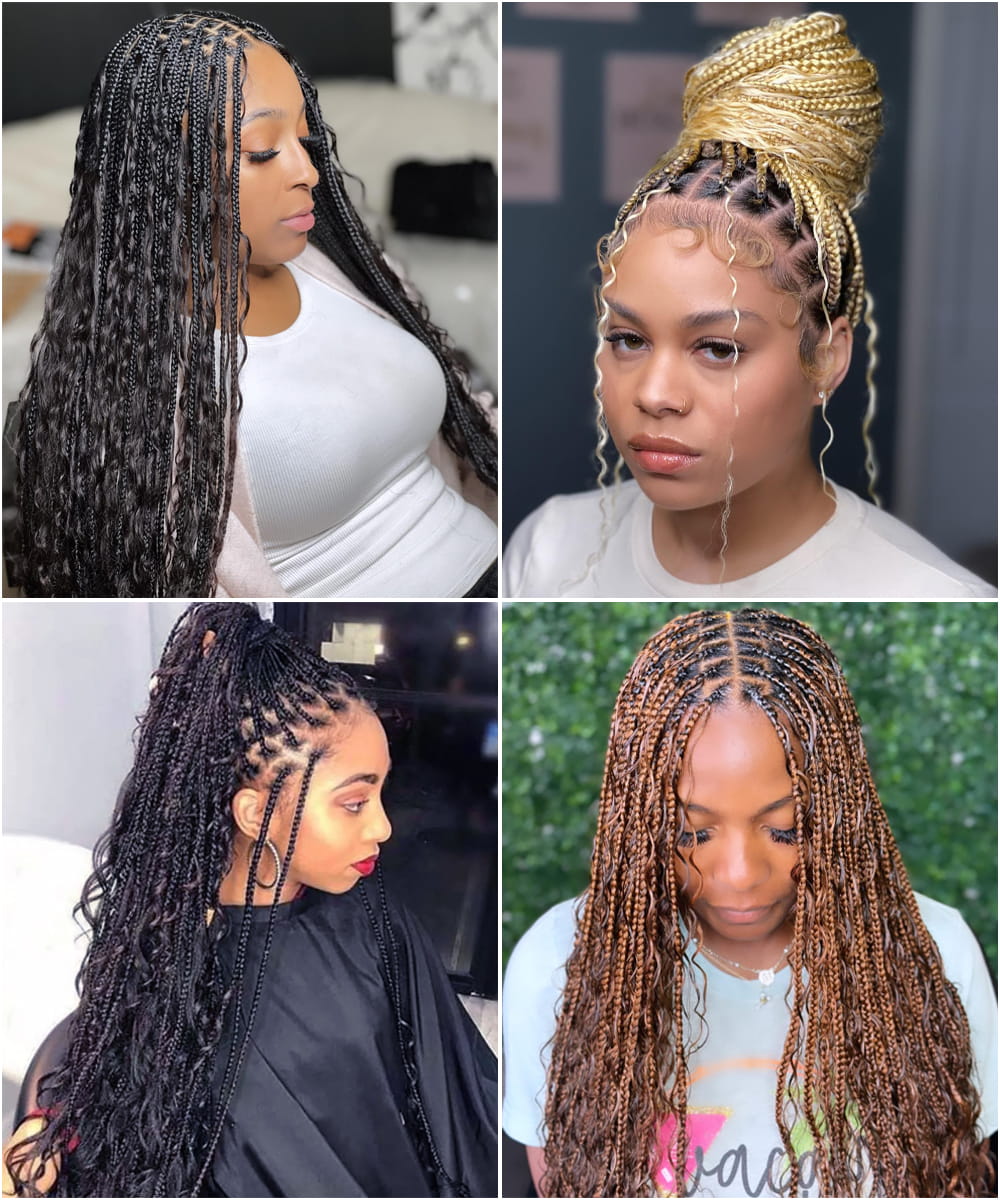 Short Bohemian Box Braids
Every braids styles have a shorter version. And the busy working women in our society prefer short hairstyles to longer ones. That's why the shorter boho braids styles are tremendously popular among today's women. And like the longer braids, you can use beads and accessories with them, make a side-swept hairstyle and make updos. On the other hand, multiple color options and highlights are also available with Short Bohemian Box Braids. If you are a short hairstyle lover check out the images below and choose the perfect option for you.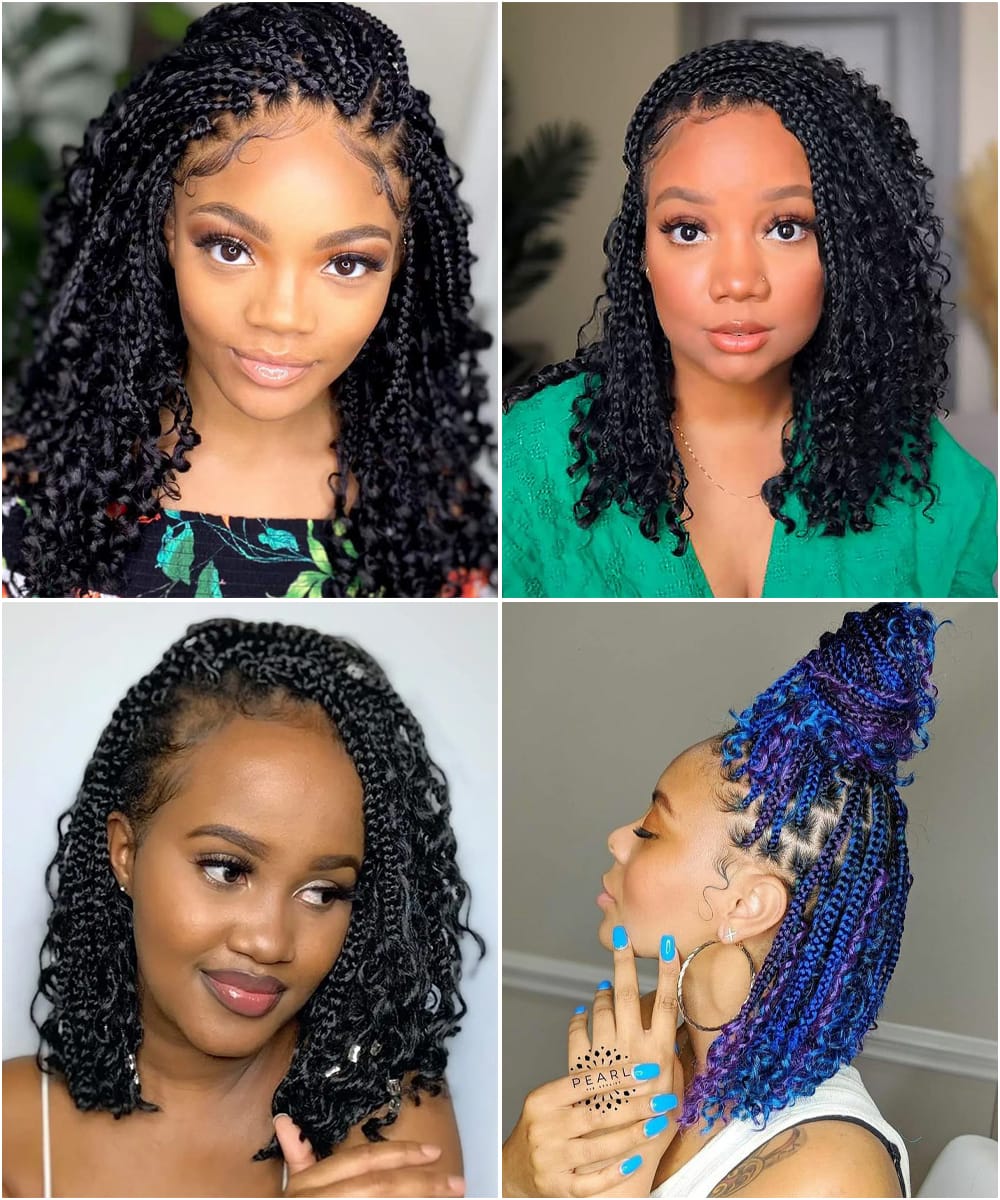 Side-Swept Boho Braids
Side-swept braids are romantic and appealing in nature. You can wear these braids when you are on a date or during a long drive with your boyfriend. You already know that boho braids are a combination of braids and curls. And when you add the side-swept effect on it your appearance will be more feminine and soft. As we have mentioned earlier that these braids contain the magical touch of romance and elegance, and these braids are best with colors. For that, you can wear blonde, golden, honey-blonde, or purple braids to have a look more seductive.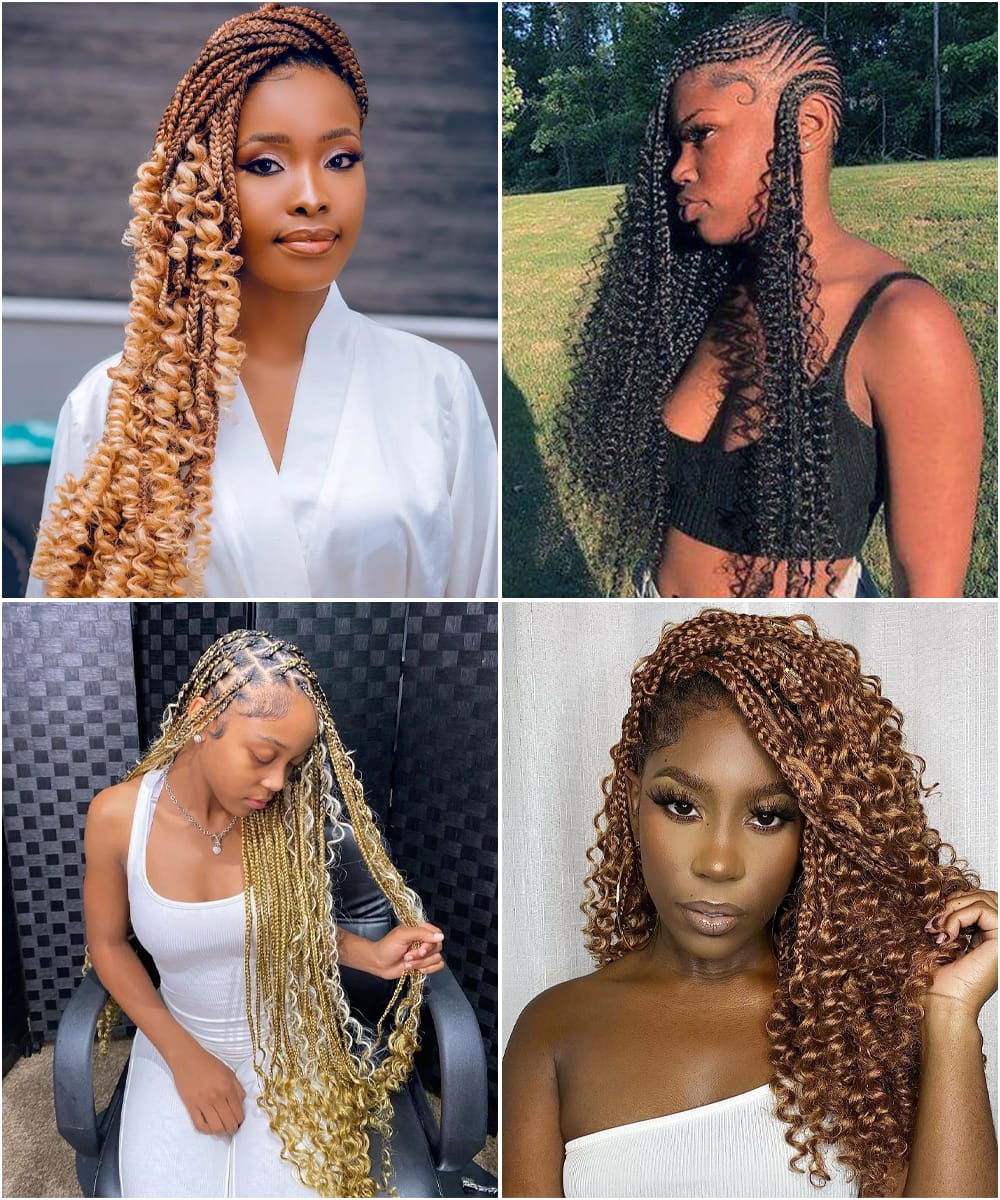 Updos with Bohemian Braids
Last but not least hairstyle we are gonna discuss today is the updo hairstyle with the lovely bohemian braids. And as always boho braids allow you to wear updos with a wide number of variations. For example, you can try crown updos, braided buns, braided topknots, half updos, half-up half-down updos, messy buns, etc. Although these braided updos are perfect for parties, occasions, wedding ceremonies, birthday parties, and other social gatherings, you can wear them whenever you feel the need for a bohemian vibe in your life. Bellow there we have presented four of the beautiful updo hairstyles with bohemian braids. If you like updos, pick a style and ask your stylist to get it done.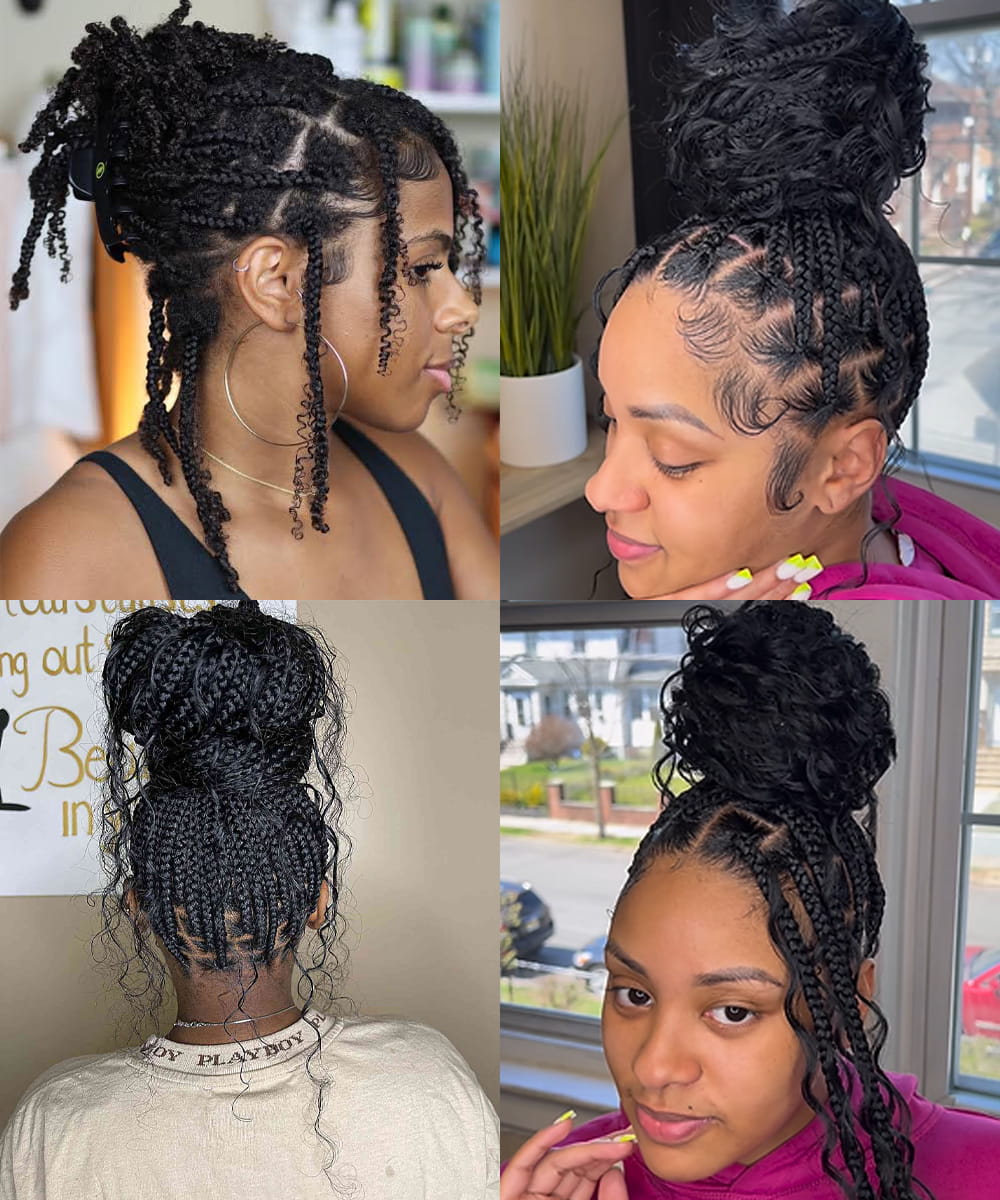 How to Maintain Bohemian Braids?
Whatever braids you wear you need to spend some time for the maintenance of your braids. Because regular maintenance increases the life of your braids, protects your natural hair, and keeps your braided hairstyle fresh and attractive. That's why you should maintain the following tips regularly to keep your bohemian braids youthful.
Every night before going to bed undo your braided styles, make a loose ponytail, or wrap your braids with a silk scarf. This is a significant way to avoid friction and reduce the frizz of your braids.
Practice moisturizing your scalp with lightweight oil like coconut oil to prevent your scalp from drying out and itchiness.
Do not try to manipulate your braids excessively with frequent styling, touching, and pulling.
Just like your scalp, moisturize your braids regularly. You can use a leave-in-conditioner to do so.
After wearing the braids for a certain time you may experience some flyaway or loose ends of the braids. Use your scissors and trim those gently.
FAQs
How long do the boho braids last?
Your boho braids can last 3 to 6 weeks depending on your maintenance.
Which hair should I use to make bohemian braids?
You can use human hair along with synthetic hair to make your boho braids.
Can I wash my boho braids?
Yes, and need basic maintenance afterward.
What is the cost of wearing boho braids styles?
The average cost of wearing boho braids is $300 to $600. It also depends on the hair type, hair length, and other accessories you are using. On the other hand, your location is an important factor for the pricing.
How much time is required to make boho braids?
Depending on the skills of your stylist, it can take 5 to 7 hours to complete boho braids.
The Last Line
Bohemian braids or boho braids are basically box-braid hairstyles that are mainly worn by young women. But as there is hardly any detailed discussion on the internet, we decided to share the pros and cons of these hairstyles with you. Hope you have enjoyed the writing and are happy with the styles and information we have provided to you. If you have more questions about it feel free to leave a comment in the comment section or connect us through Facebook and Pinterest.
Read Also: