In African American society, the updo hairstyles for black women possess a greater interest from the day human being started styling natural hair. You know, these hairdos were introduced long ago, especially for weddings, birthdays, and quinceanera celebrations. And as a whole, the updos are worn and maintained by a huge lot of women all over the world irrespective of cast creed and color. However, over the decades, like other greatest hairstyles, the updo hairstyles have been evolved and modified to turn them into modern, charming, and exquisite hairstyle designs. Today we want to cross the limit of your wonderment by presenting the masterpieces of updo hairstyles. We hope you have reached here in search of that kind of mesmerizing style and design.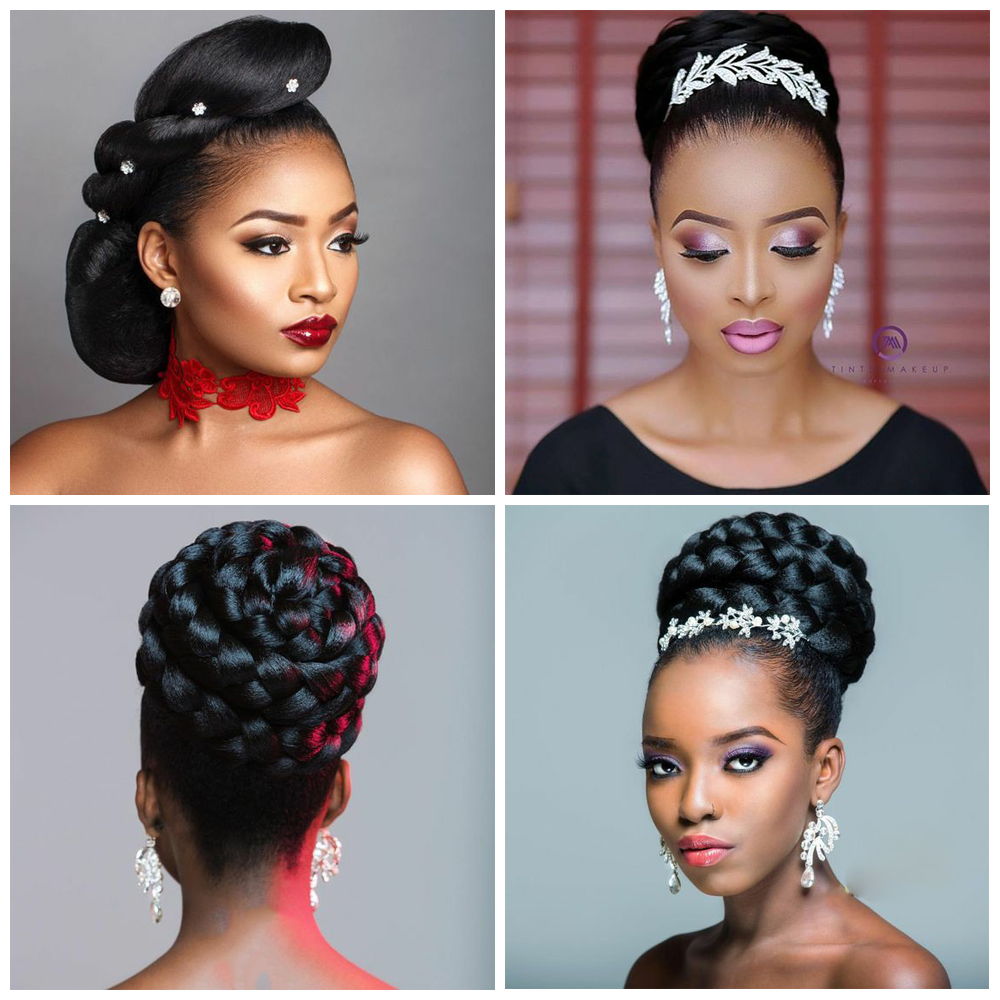 However, updo hairstyles can be made with different types of locks, hair, extensions, and braids. After the evolution of these hairstyles, we have got these elements of updos in the 21st century. Moreover, you have the option to wear them with natural hair or synthetic braids, curls, and locks. So, we have tried to combine all of the possible components of updo hairstyles and presented some samples among them. In this article, you will find some grid images consisting of the hairstyles of different braids, curls, coils, and straight hair. So, if you are ready to be amazed, start scrolling till the end of this writing.
Synthetic Locs Updo | Faux Locks Hairstyles for Black Women
Locks have brought a revolutionary impact on hairstyles for dark women. It is that synthetic braid that can give you a gorgeous outlook and glamorous charm at the same time. Well, all you have to is install these on your scalp. Faux locs are smooth, thick, and have both formal and informal hairstyles. Moreover, they are of various colors, sizes,s, and lengths. So, if are interested in making an updo with these locks you have a thousand options to choose from. The great thing about faux locks is you can wear beads and curls at the same time with locks. So, I think the faux lock is a hairstyle that deserves your consideration when choosing an updo hairstyle.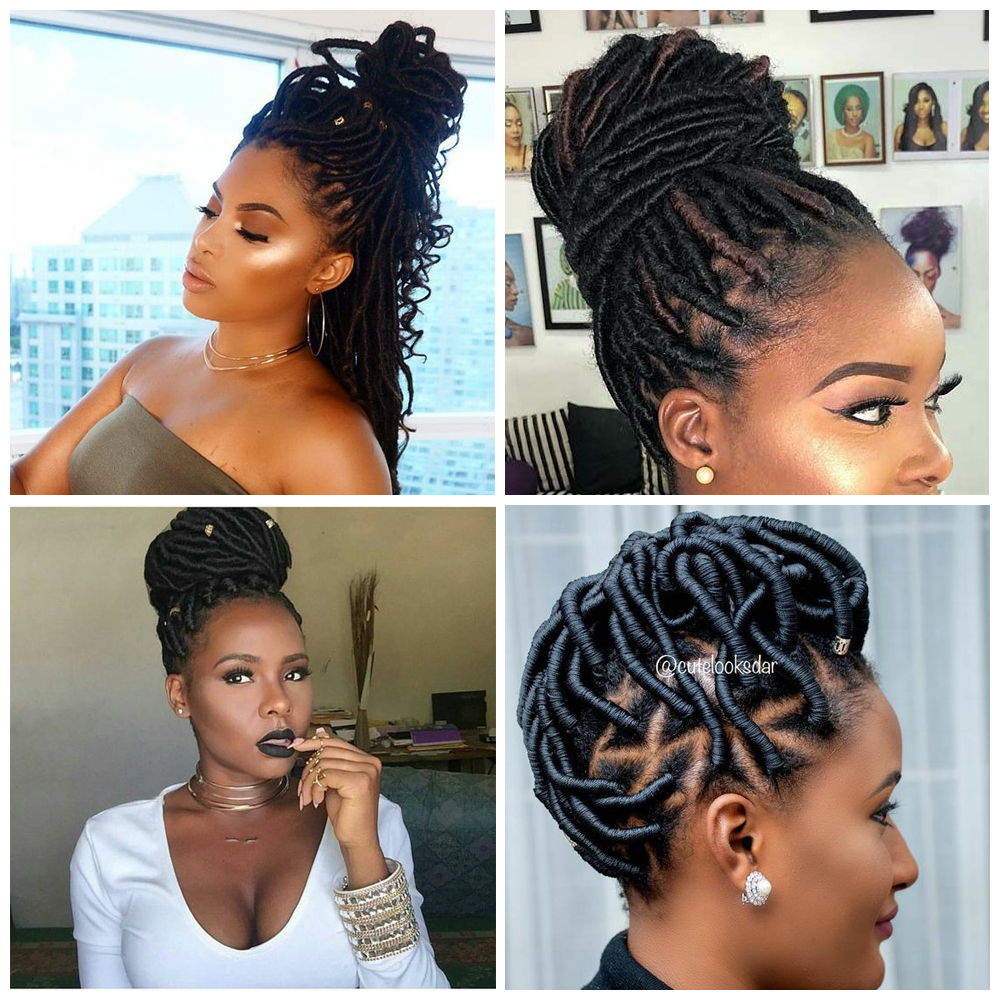 Box Braids | The Braided Excellence
Braiding is another great way to flourish yourself. The dark women along with the women of the rest of the world wear braids in millions of ways. But black women wear them in different ways. For example, the box braids or the poetic justice braids are the braided hairstyles worn especially by dark women. These braids are neat and clean, smart and cute enough to turn anyone into a lovely angel. Well, we are talking about the updo hairstyles with the box braids for black women. The images below show how you will look with an updo with box braids. I think there are no other braids that can impart to you such as beauty, stun, and glamour.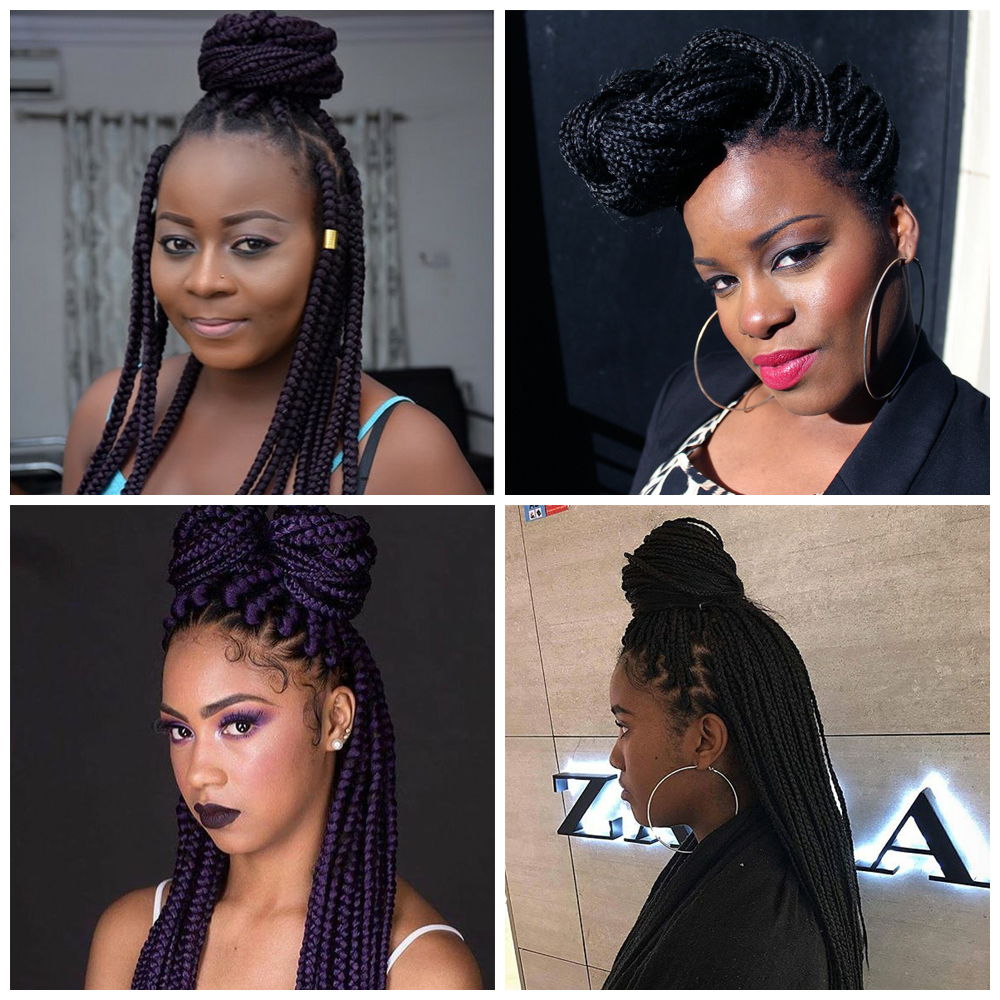 Woolen / Yarn Locks- The Comfortable Styles
Like the Faux Locks Hairstyles, the yarn locks are another example of synthetic locks and braids hairstyles with less effort and maintenance. On the other hand, these artificial locks are affordable and economical in nature. The Yarn locks are simply made of yarn or wool. Mostly these locks are colorful and thick just like the images below. Women these days, wear these locks with multiple colors and highlights to get extra effects and craze on the hairstyle and appearance. Moreover, you can beautifully accessorize them to get additional glamour. If you are trying to find an updo hairstyle with thick locks, the yarn can be your best option.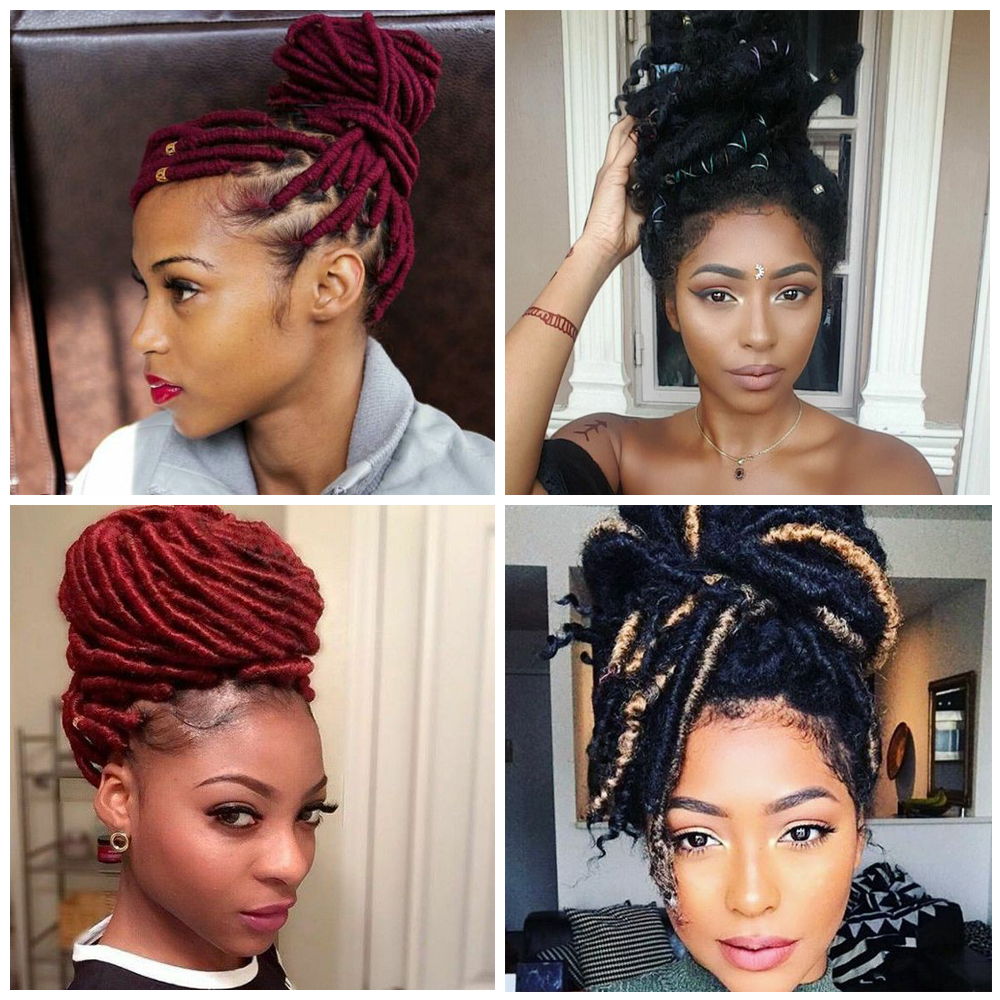 Updo with Cornrows Braids
Cornrows are a formal and semi-formal hairstyle that originated in Africa and are worn in almost every country in Europe, Africa, and America. These are basically textured hairstyles, where the rows look like the rows of a cornfield. However, the cornrows are one of the most ancient hairdos which can be furnished with accessories, different textures and patterns, braids, curls, and so on. Here we have managed to collect some of the best examples of cornrows hairstyles with updo designs. You can see that these updos can be of beaded braids, curls and afro-textured. Besides, you can use colors and highlights to make them more enjoyable and gorgeous.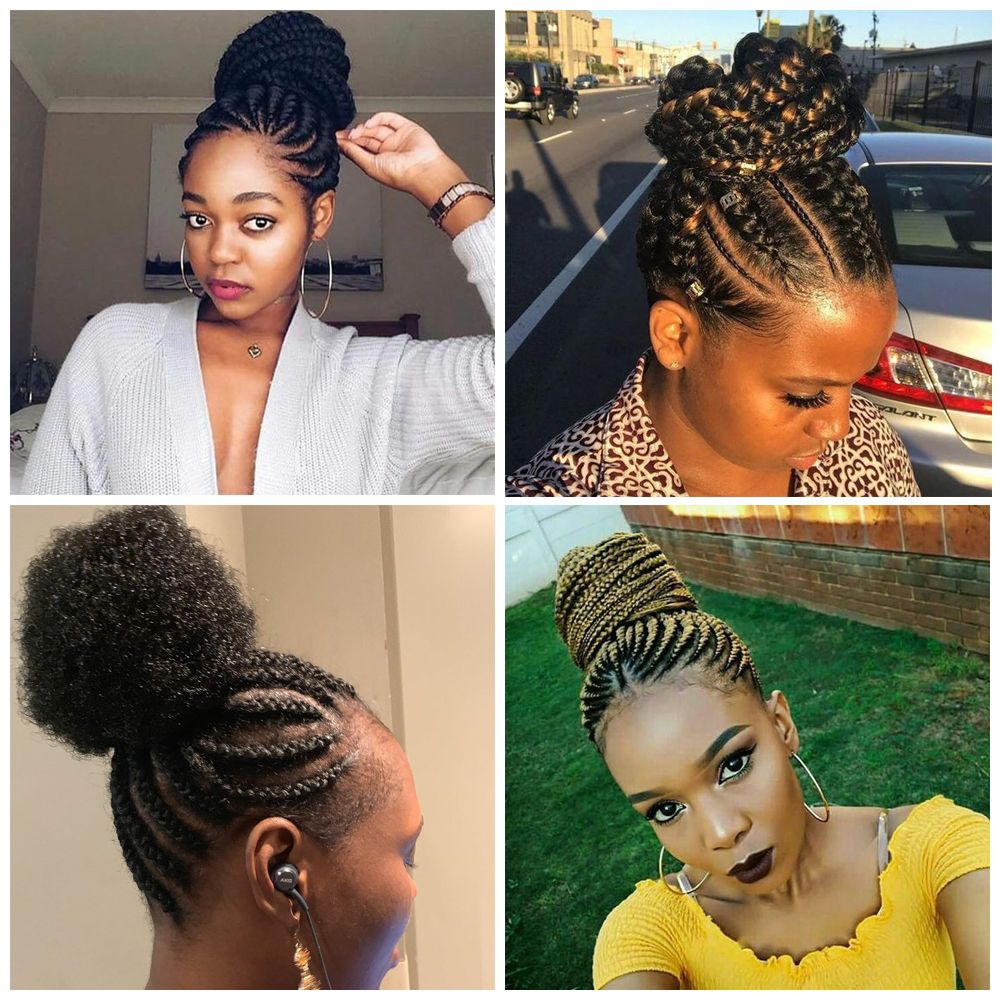 Afro | Feel the Charm of Classic Hairstyles
And here comes the Afro hairstyles. Afro updos are greatly enjoyed by black women all over the world. To be honest, the afro is the first and most widely popular hairstyle the black people have ever worn. Centuries have passed since the innovation of afro hairstyles and still, these styles are greatly popular and widely used among black people. One more benefit of these styles is it both men and women can wear these curly hairstyles in a thousand ways. Afro updos are generally worn with braids, colors, and headbands as you can see in the images below. And you are one here to judge the beauty and effect of these hairstyles.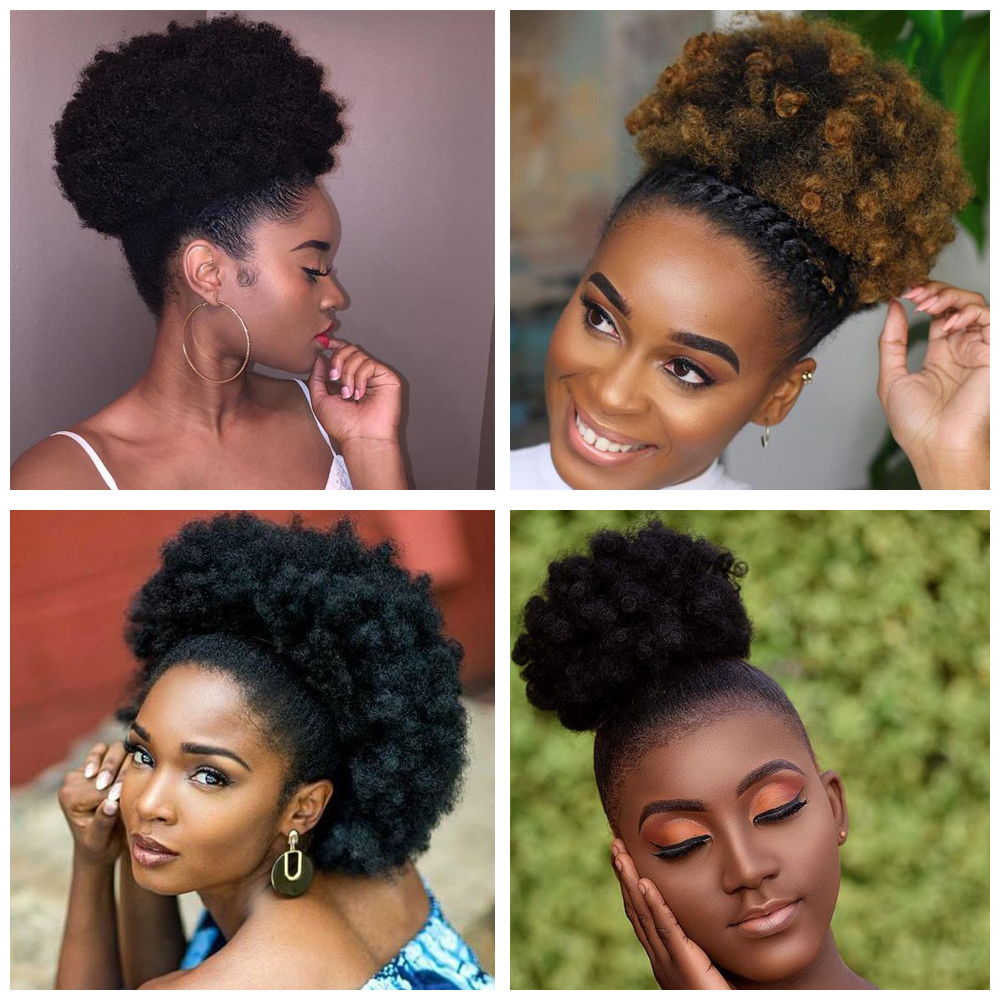 Comfortable Curls | Manipulate Them
We, the dark women own the curls better than the women of any other ethnic background. Since the dawn of styling hair, curls have been a great way to decorate and flourish women. Over time women have used curls with beads, braids, and different designs for getting an angelic appearance. Curly updos are basically worn with short hair. But you can wear curls with mohawks and braids too. By the way, I know you are trying to find an updo hairstyle and for that, we have arranged the following styles of updo with curls. As you can see, these models have worn the curly updo with short curls, braids, beads, and, a mohawk. So, which one you like to pick?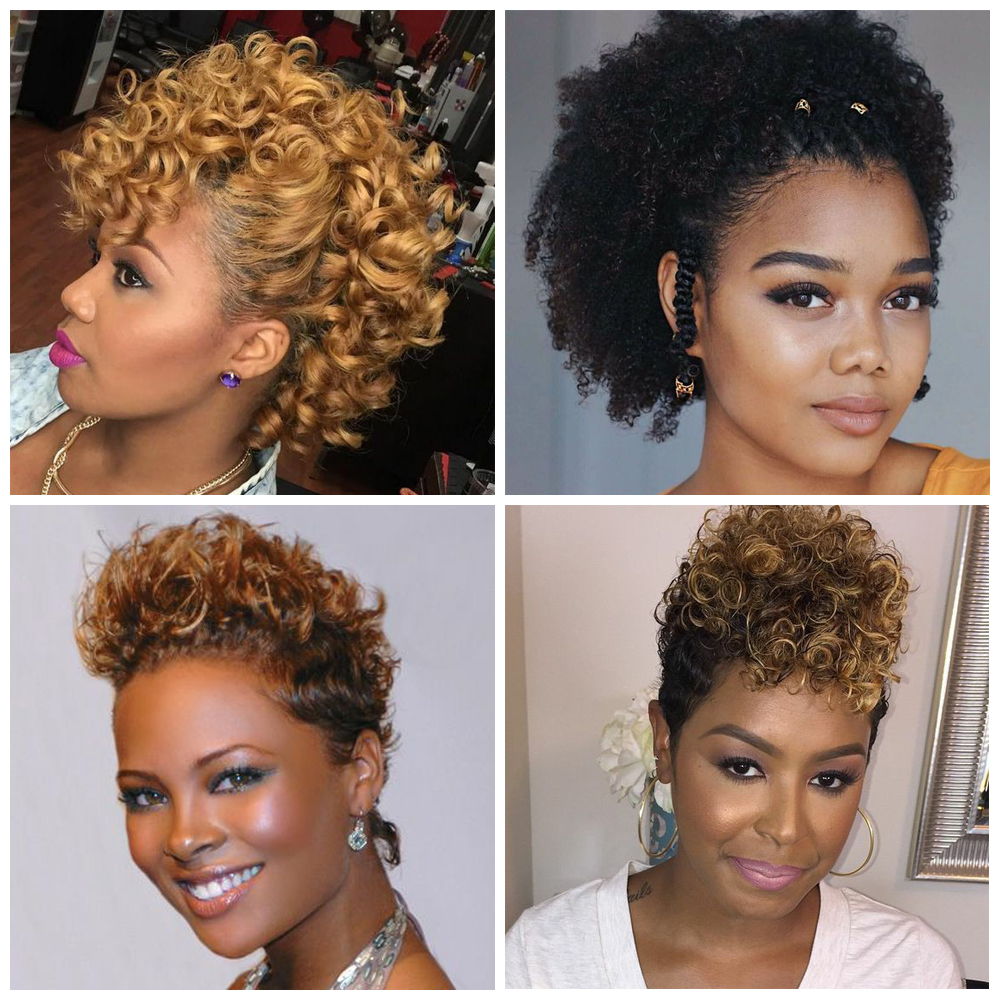 Natural Locks / Dreadlocks
Besides natural locks, dreadlocks or natural locks are a great fit for updo hairstyles. Normally the starter locks are tremendously boring and maintain the locks in the summer. That's why you can wear updo styles to get greater comfort and relaxation. If you have grown your natural locks you shouldn't miss the opportunity of wearing the updos. Moreover, you have a lot of designs and styles of dreadlocks with colors and patterns which are completely suitable for updo hairstyles. The examples below will make you understand better. Just pick one and get it done to have a great charm like them.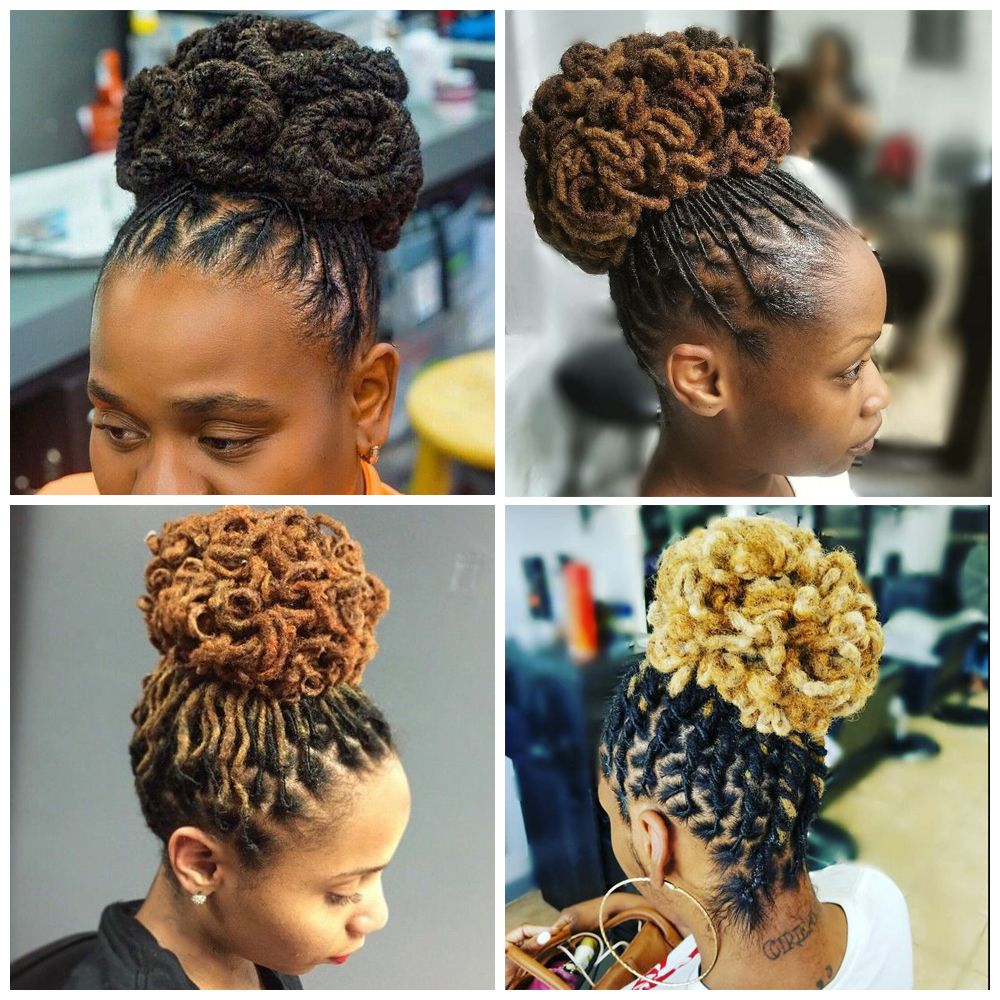 Updo with Twisted Braids | Flat Twist Updo
Flat twist updo or updo with twisted braids is another popular hairdo for African American black women. These are comfortable and gorgeous at the same time. And by default these are updos. These hairdos are made with short twisted braids and pulled up using a cornrows pattern normally. However, these hairstyles can be colorful and highlighted. On the other hand, you can add curly extensions at the edges of these braids. And as a whole, the flat twist updo is a perfect hairstyle for women who demand glamour and comfort at the same time. Below there you will find four different types of updos to help you understand its beauty and effect as well as choose the perfect style for you.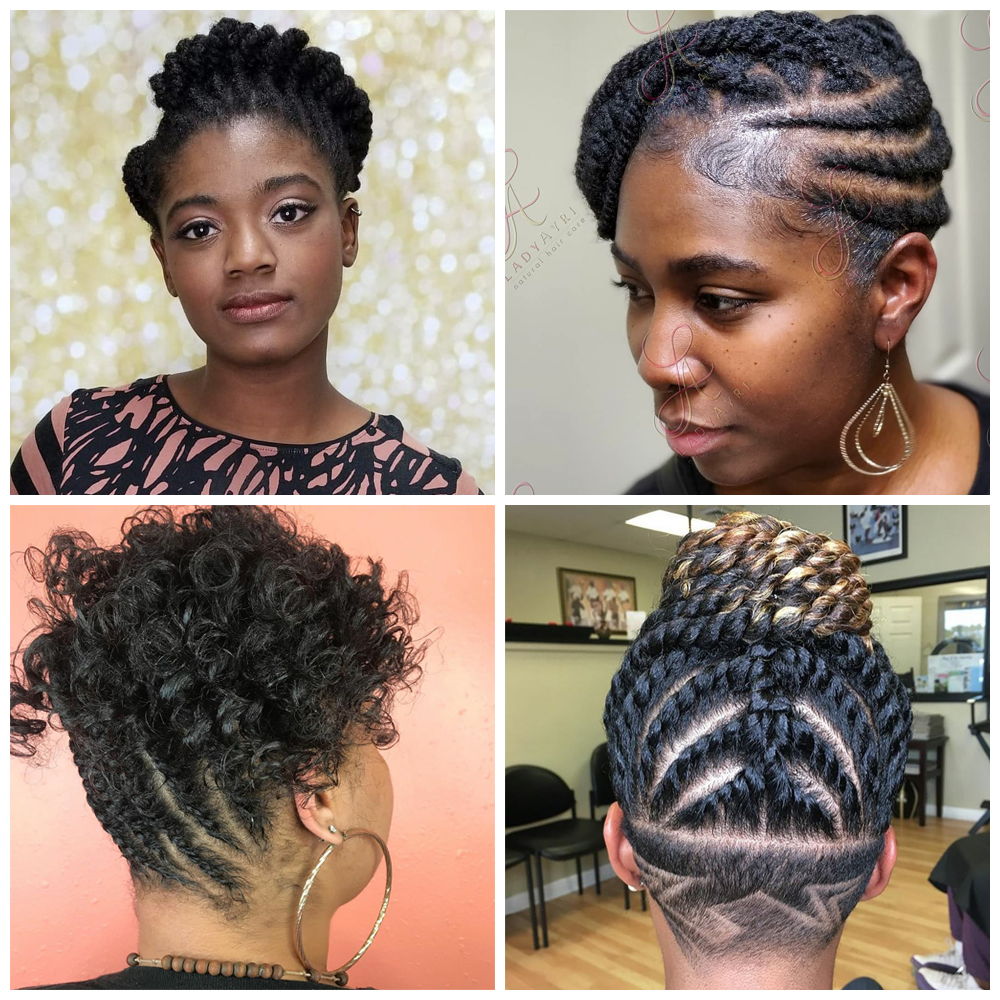 Enchanting Goddess Braids
Braids are a popular way to flourish yourself and enchant others. But can every type of braid do so? I think the goddess braids are one among those braided hairstyles which create eternal charm and enchantment to your hairstyle and appearance. Well, they are not only thick braids but a lot more than that. Goddess Braids bring out the natural depth of your beauty and effect. Moreover, these braids are so flexible that you can play around with them. Here we have picked some of the masterpieces of the goddess braids hairstyles with updo styles. And now you can understand how they can be blended with straight hair, cornrows, and feed-in braids. Besides, in each way, you will get the ultimate power of enchantment to impress your surroundings.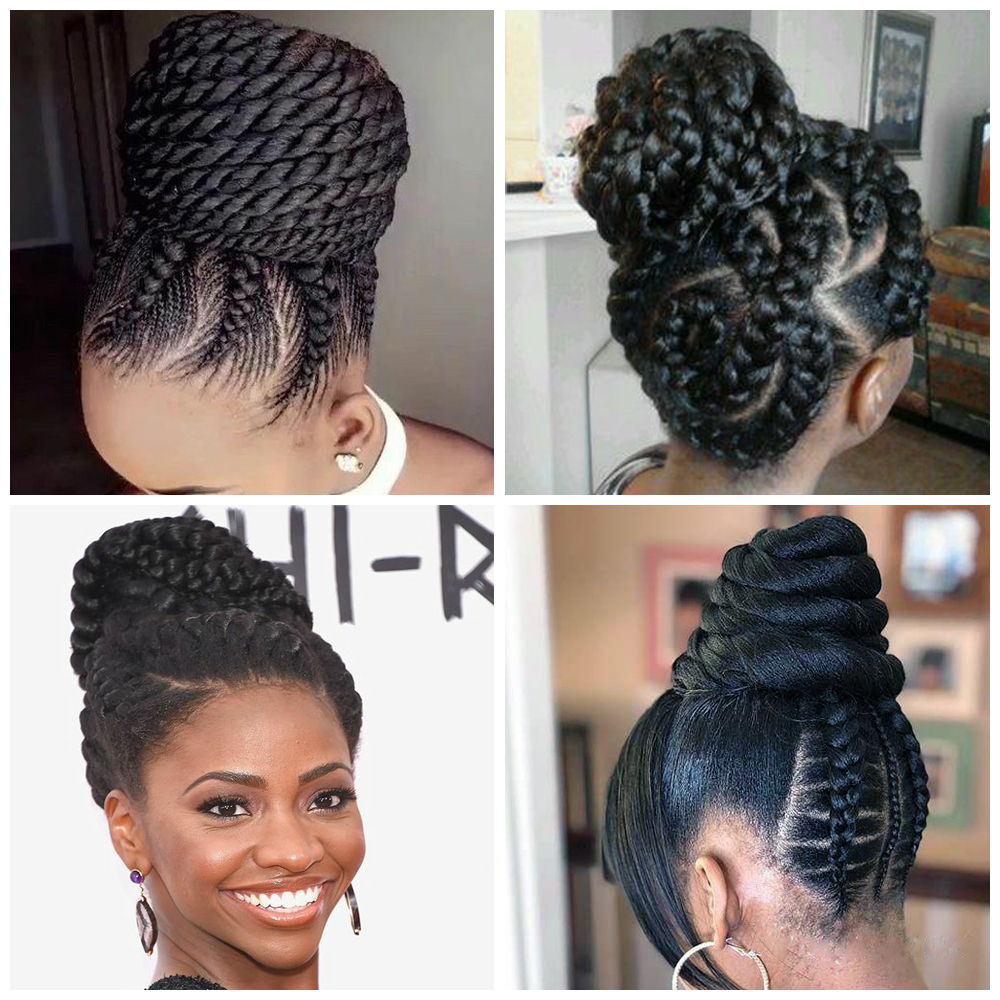 Havana Twists | Buns with Twisted Braids
In the universe of braids, twisted Havana braids or simply twisted braids have claimed their own specialty. Like box braids, these braids are also flexible, multipurpose, and heart-winning.  You can do everything with these braids that you can do with other braids. For example, they are great for beads, updos, weddings, and so on. In this section, we suggest Havana twists for a royal updo hairstyle. Moreover, these braids are thick enough to allow you to make high buns just like in the image below. You can wear them on vacations, social occasions, and outings to have a great charm on your hairstyle and appearance.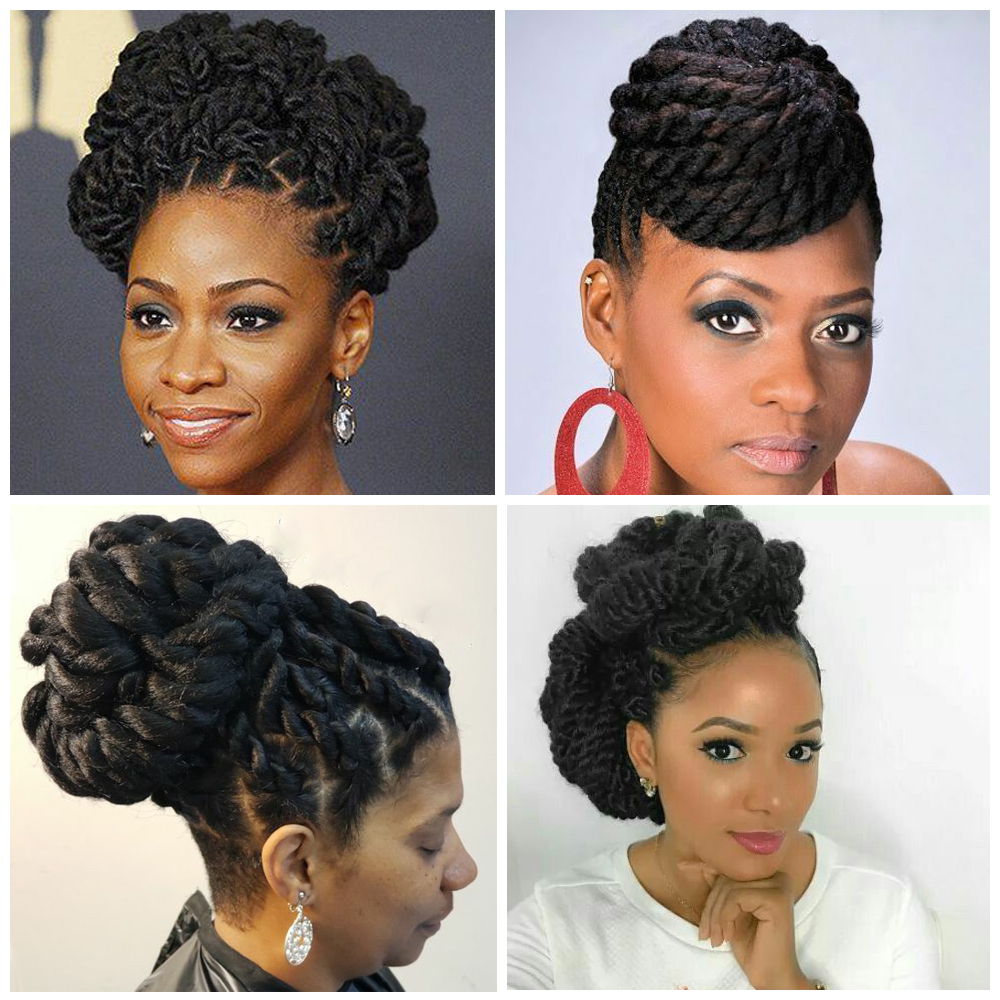 Pixie Braids / Micro Braids Updo Hairstyles for Black Women
In the last few years, tiny braids have become a gorgeous trend among dark ladies. These tiny braids are mainly popular in name of pixie braids or microbraids. In a word, these braids are the thinner and smaller versions of the mighty box braids. But In terms of beauty and effect, they are no less than the other braided hairstyles of African American society. Over the year, the dark women are wearing these braids with beads, ribbons, and curls for getting an exotic look. However, as you want the updo hairstyles, we have managed to collect a rare collection of updo hairstyles with the pixie braids in the image below. I hope you will find your cherished style in them.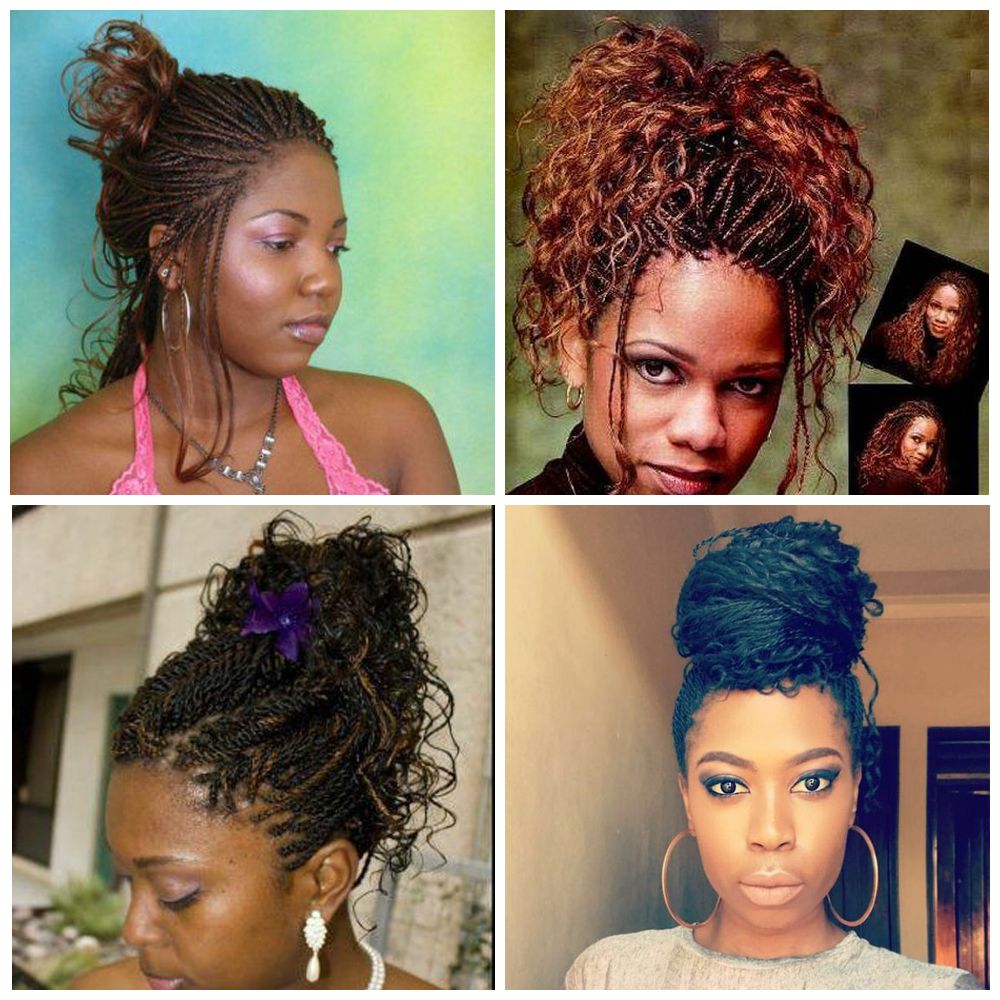 Tribal Braids Updos| Braids with Beads| Black Women
Besides the new ways of making updos, you have the option to wear updos in classic ways. The tribal braids styles are the finest example of that. These braided hairstyles are basically the braids and beads hairstyles worn by the women of ancient Africa. And until today, these styles are tremendously popular and greatly worn by them. The updos with these braids are also as magnificent as the braids themselves. These updos are made with braids and different types of beads. But instead of using modern beads, you can wear the natural wooden braids with them to get the classic taste. Moreover, you can do color or highlights to add some modern flavor to them just like the styles presented here.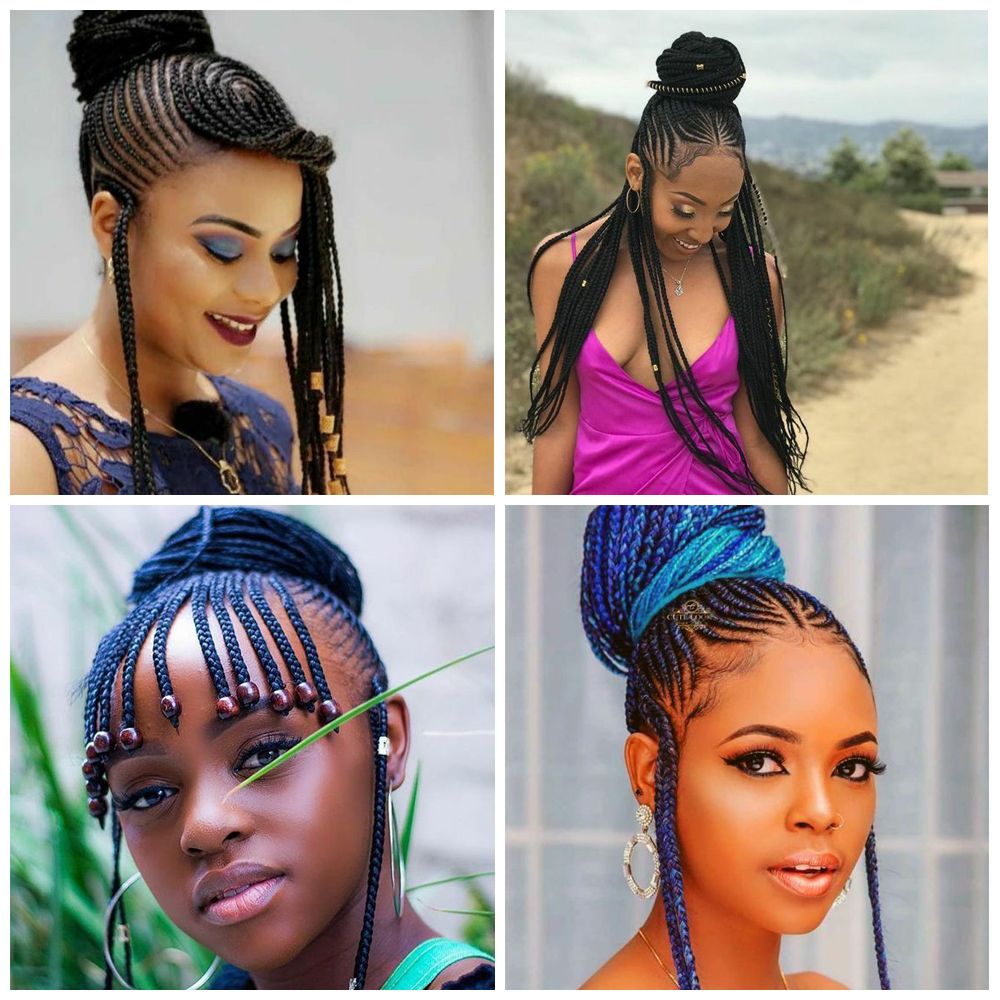 Floral Bangs / Fringe with Buns
The beauty-conscious women around the world wear Bangs or fringes to add tenderness and freshness to any hairstyle. Naturally, the bangs are worn with the bob hairstyle. But the bangs are greatly enjoyable with the updos too. Here you can see that the bangs are suitable for a braided updo, straight hair, curls, and so on. So, if you are interested in bangs hairstyles you have so many options available in your hand to manipulate. Here we have presented 4 different designs for you to inspire you to have a  hairstyle with bangs and an updo. And we firmly believe that you will find yours among them.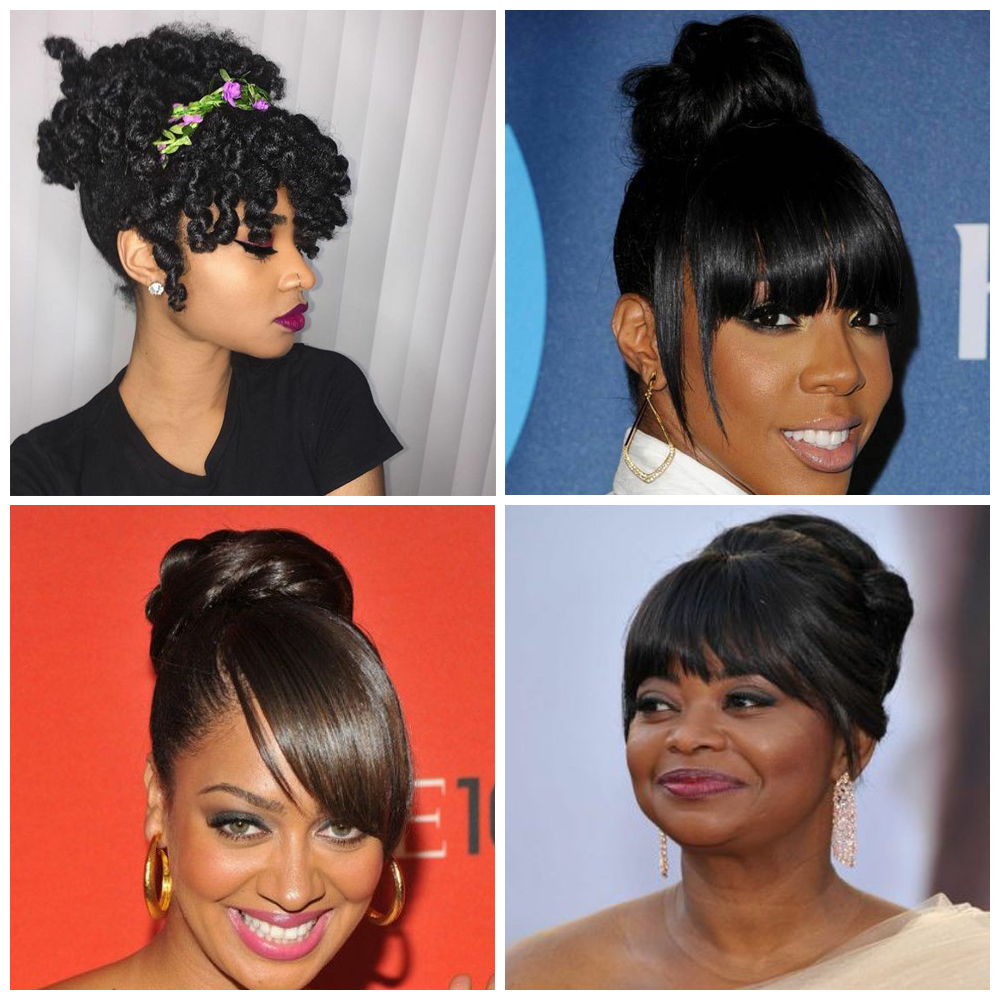 Finger Coils, Blonde and Beautiful
Here comes the last but not the least. And it is the finger coils. Coils hairstyle is still one of the most popular and widely used hairdos among women of black ethnicity. These coils are normally with the updos. And most of the time they are colorized with blonde highlights. So, at the end of the discussion, we are gonna present to you some of the finger coils updos that can blow up your mind. So the choice is now yours. Pick one and start looking beautiful right now.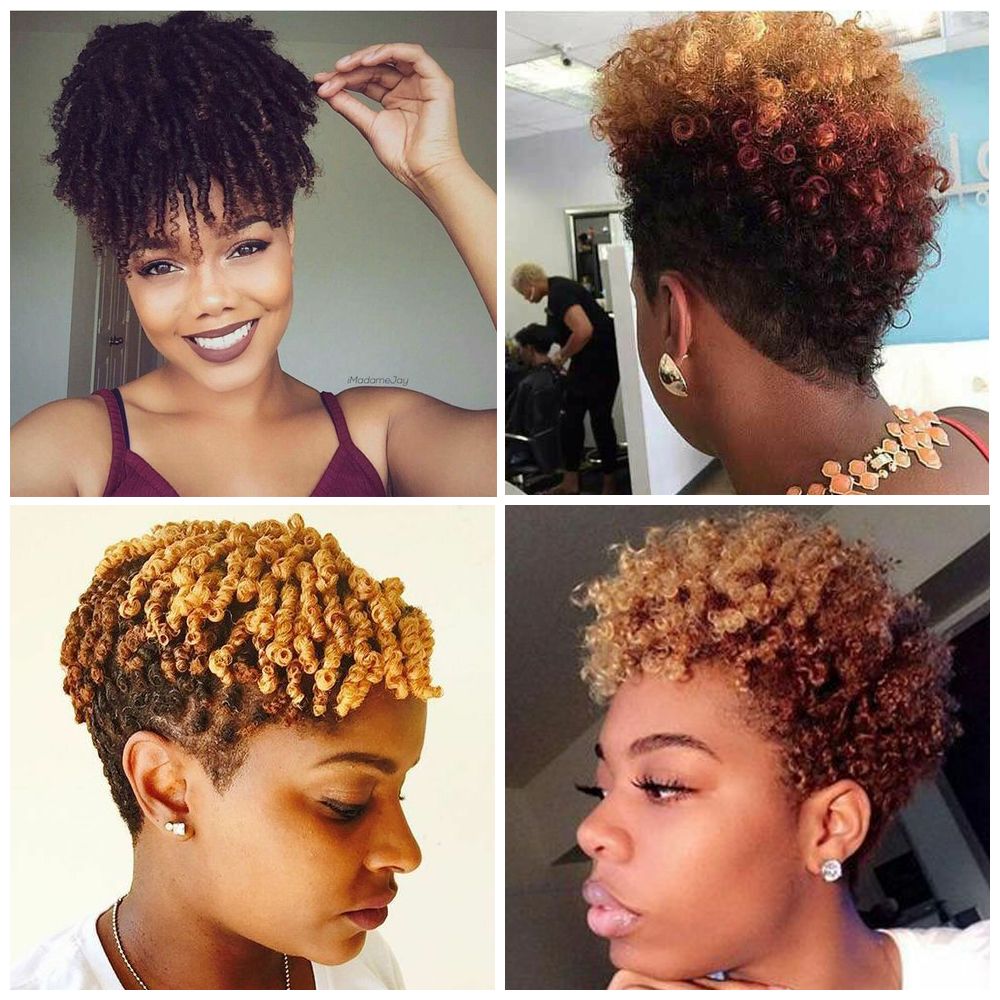 How was our discussion today? Throughout the whole article, we have categorized the hairstyles into different categories and presented the best ones for you. Our goal is to provide you with the trending and gorgeous hairstyles that women have ever worn. Now you have to choose among the updo hairstyles for black women. Please, do consider your personal taste, age, face shape, and personality while picking the hairstyle for you. And a great combination of all of these can make you look like a heavenly angel. And follow us on Pinterest to get regular updates about our posts.