Undoubtedly this is an era of natural hairstyles. Mostly we African American women want to go Natural with Hairstyles for Short Hair. But we can't do that so easily. First, growing natural hair is like a herculean task for busy women like us. And secondly, we do need some proper styling ideas to get the idea implemented. Our so-called stylists always try to pose a style on us without considering our preferences, face shape, personality, and other factors. As a result, our long-cherished hairstyles become a mess at last. But we have some different ideas about selecting the best natural hairstyle ideas for short hair. We do understand your need and that's why we have managed to mobilize some of the greatest hairstyles with natural hair for short hair. Additionally, we have 4 different styles of the same style to let you choose in a more narrow way. So, if you are here to find some grand African American natural hairstyles for short hair, you are definitely in the right place. Now start scrolling and get the charming styles you are craving for.
1. Partitioned Short Hair Updo
The first styles we want to present our short updos with natural hair. And as an additional effect, you have the partitions by the side of your scalp. Women who have started growing their natural hair very recently can easily avail of this beautiful style for themselves. You can customize these styles with colors and accessories and play around with these lovely short hair. Moreover, you do not need to invest a huge time span to take care of your hairdo. As a result, you can get some evergreen effect on your hairstyles with little or no effort at all.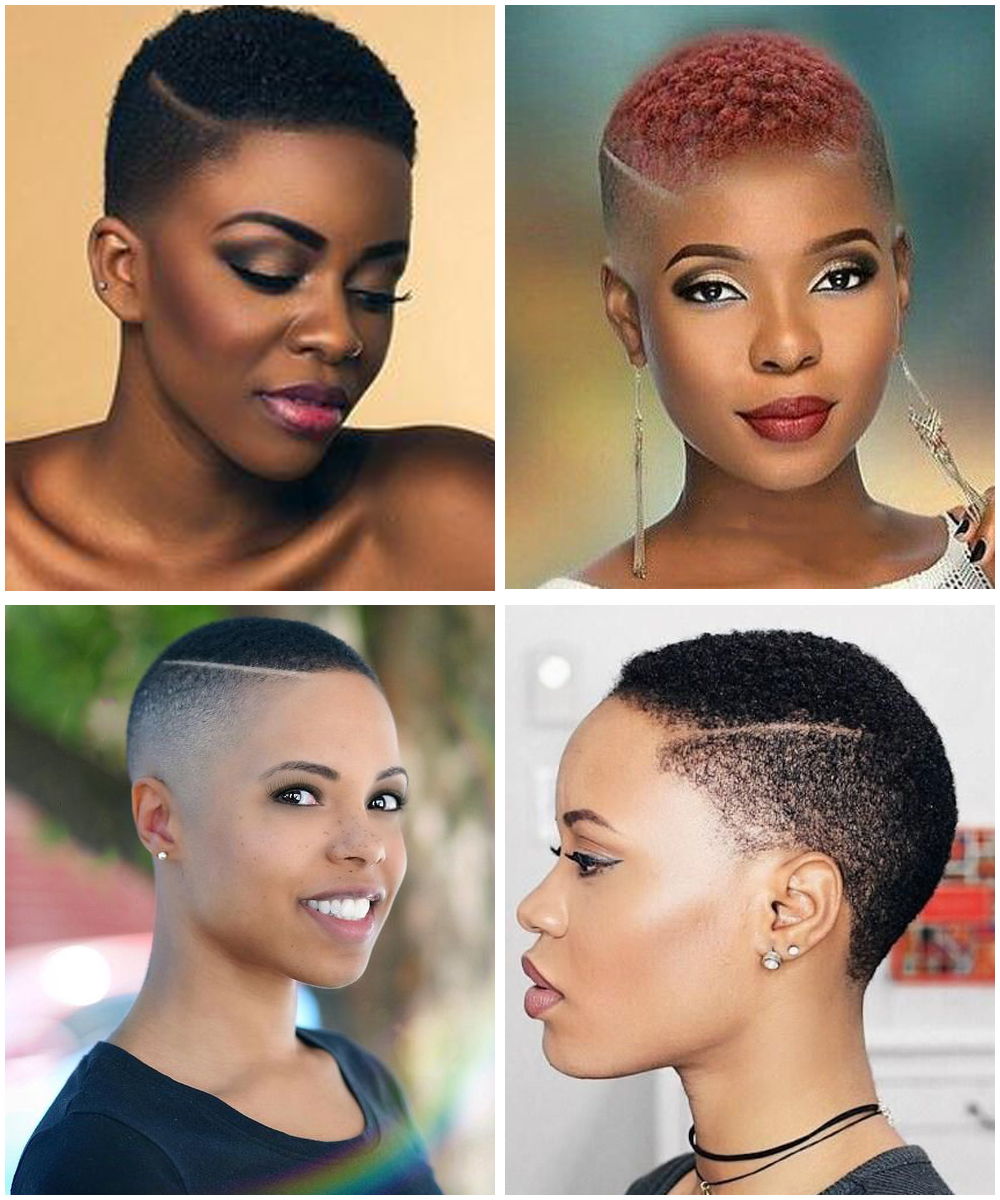 2. Extra Short White Hair
From young women to women over 50 are wearing hairstyles with extra short natural hair as a trend in 2020s. Even you will find women with bald hairstyles too as an ultra-modern version of these hairstyles. Additionally, the white color of these short hairstyles is really enjoyable and eye-catching at the same time. So, when you are planning to grow your natural hair or you already have shot lovely hair on your scalp, you really need to consider these modern hairstyles. With these styles, you have no fuss of regular take care but still, you will be gorgeous enough to draw the beauty-seeking eyes towards you.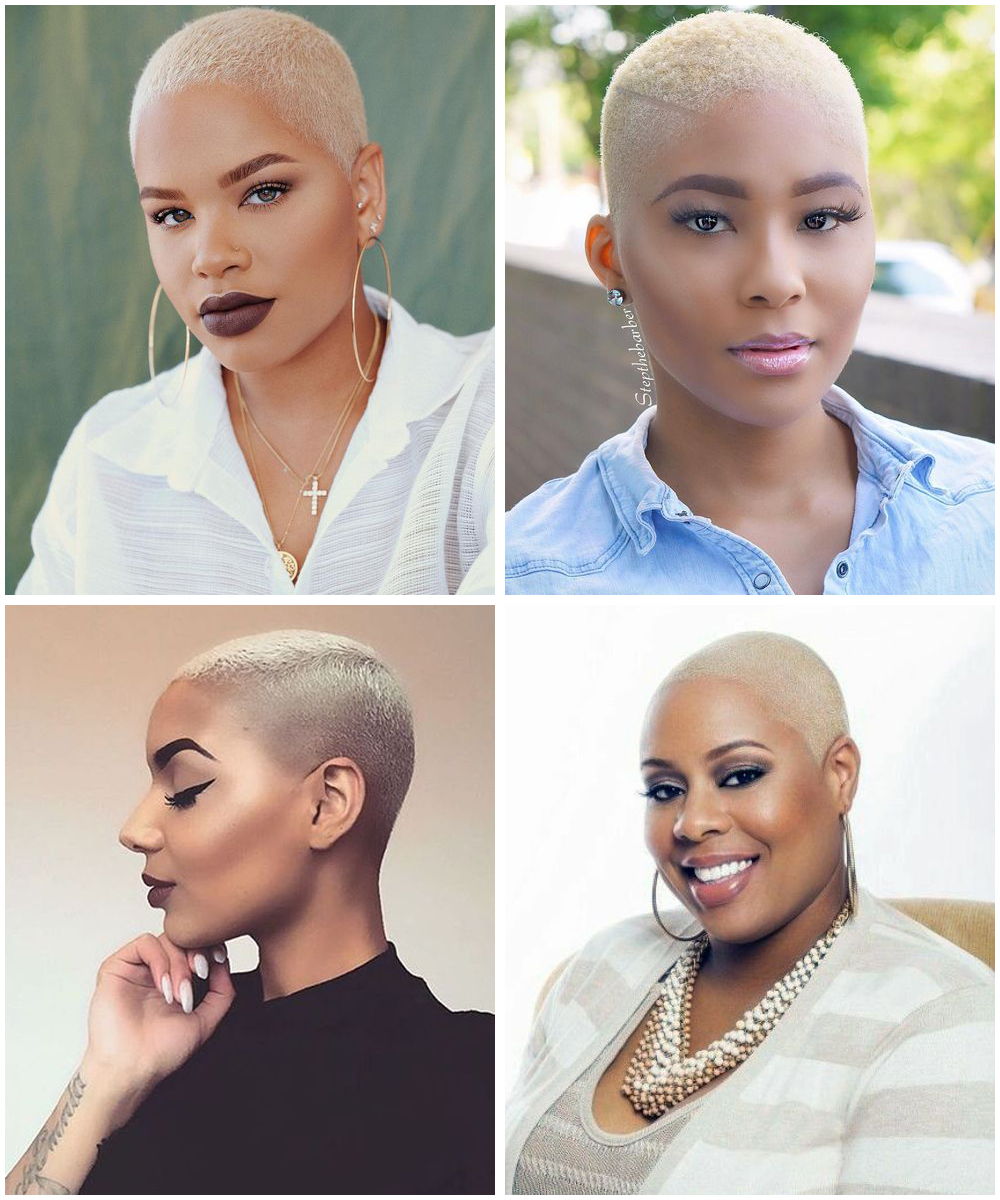 3. Short Finger Coils
As a proud woman of African American ethnicity, we all know about the charismatic charm of the finger coils as natural hairstyles. These are some of the popular and classic ways of styling hair among the dark women around us. The lovely coils, that come with these hairstyles are enough juicy and bouncy to take all of the attention away. These short coils are flexible for applying color and customizing with accessories. In the images, you can see the blonde, updo, short, and textured. So, if you are a coil lover, we do recommend these lovely hairstyles for you.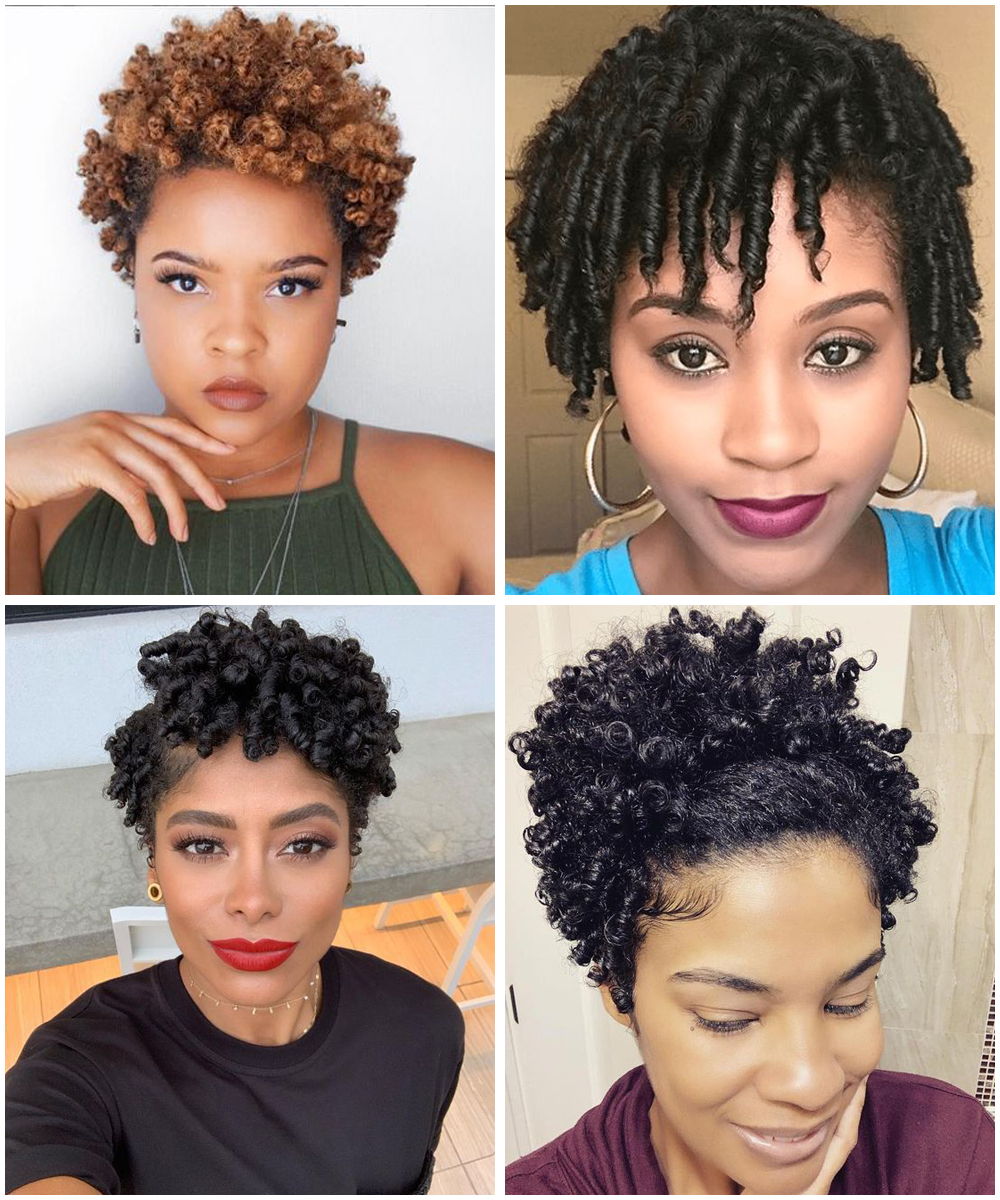 4. Tiny Wenny Afro (TWA)
Having an afro hairdo on our scalp is like a passion for almost every black woman in this world. We are not the exception to that. But caring and wearing a heavy and bulky hairstyle may sometime bother you much especially when you are a working woman. In that case, the minified version of the afro hairstyle may be a great way to fill our desire. This minified version is simply called the TWA (Tiny Weeny Afro). With amazing polishment, greater designs, and lovely accessories, these hairstyles can beat any other glamorous hairstyle. So, if you are wearing this, consider the crowd around you is looking toward you twice to enjoy the heavenly charm of your hairstyle.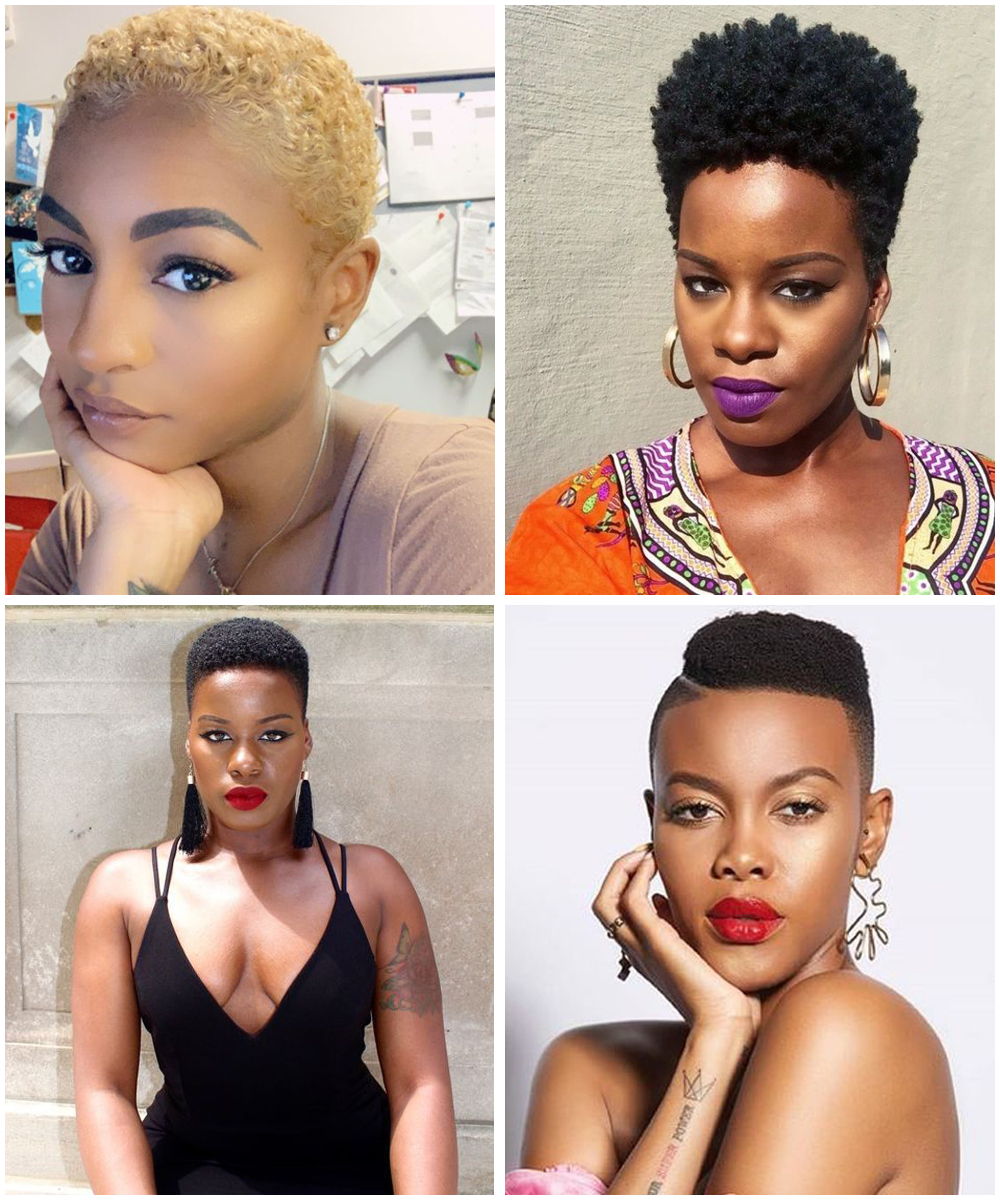 Read More: Short Hairstyles for Black Women over 50 [Master Collection]
5. 360 Waves for Dark Women
In the world of short hairstyles and natural hairstyles, the 360 waves are magnificent addition for both men and women. In the 2020s, stylish women are often seen with these marvelous styles. And as style-conscious women, we really need to try these styles out. The natural waves on your scalp will create a heavenly charm to your hairstyle and appearance at the same time. Additionally, you can get some really interesting shapes with these styles around your head and neck. And as a whole, you will look tremendously attractive and gorgeous in the eye of the whole world.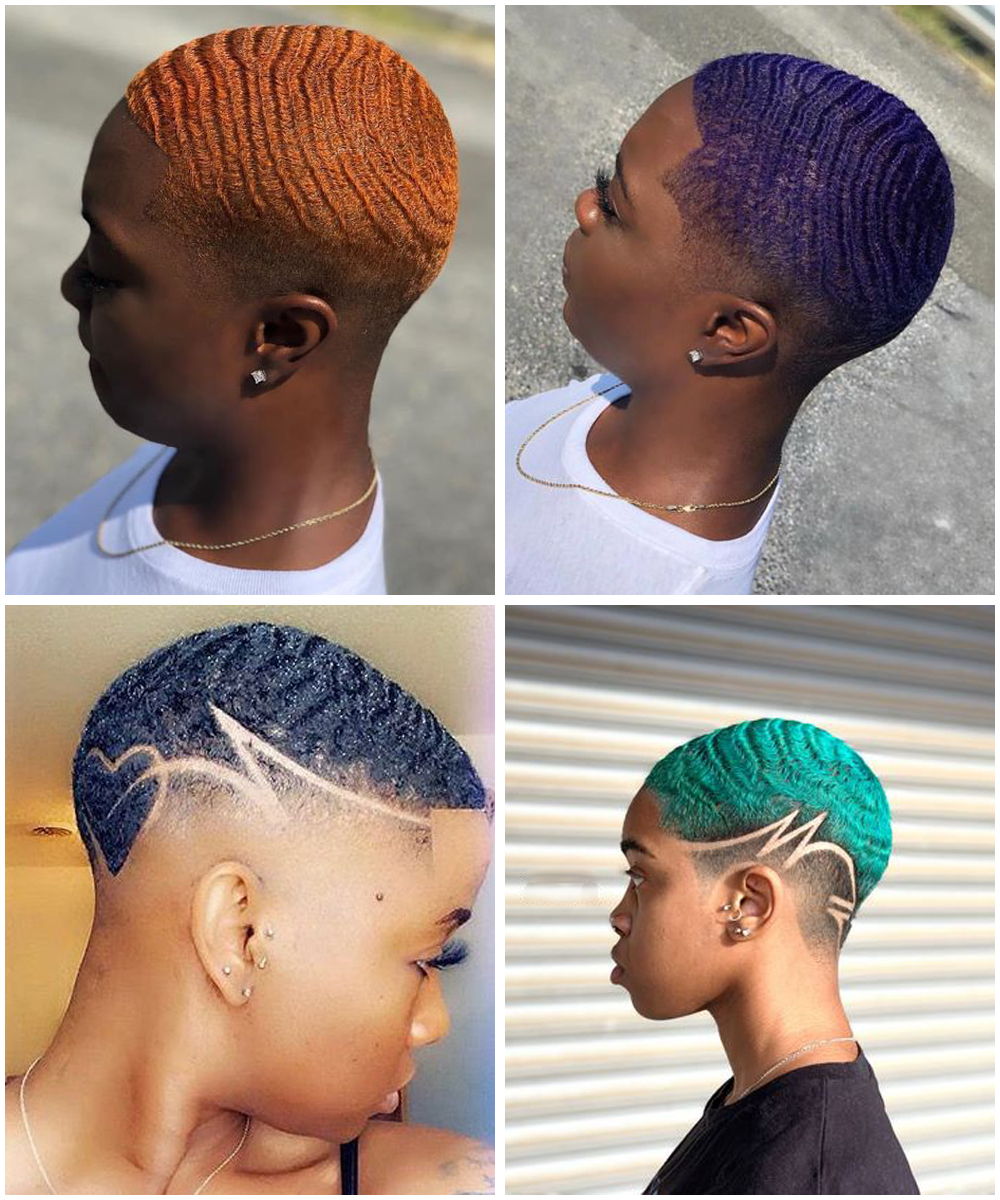 6. Short Crochet Braids
Crochet braids are one of the finest options for women searching for short hairstyles. These bob-shaped hairstyles are greatly enjoyed by African American black women. Crochet braids can be of multiple colors, shapes, and designs. Moreover, you can wear these braids from the corporate office to a very informal place. In a word, wherever you go with these hairstyles, you will be the center of attraction to all. In the images below, we have mobilized four masterpieces of short crochet braids for you to choose for your next hairdo.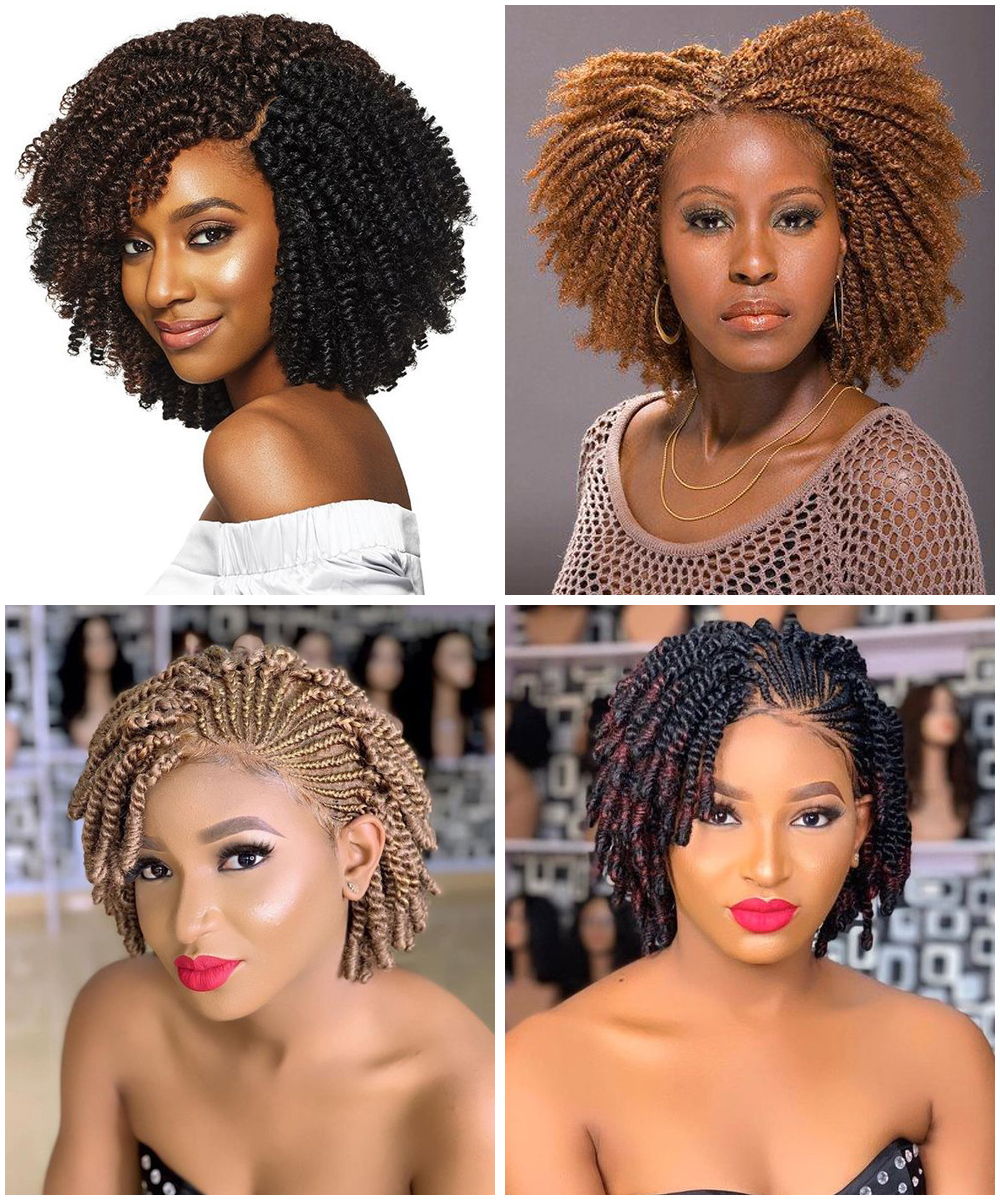 7. Bantu Knots
Some of us might like multiple smaller knots over the conventional top knots hairstyles. Well, we call them Bantu knots. These hairstyles have evolved a lot since being discovered by the African Bantu People. But the most interesting fact about these styles are
 You can make these styles with short and tiny natural hair.
 There are opportunities to colorize them or apply highlights.
 Anyone can make these knots with tiny braids.
 And as a whole, you can use lovely beads along with other beautiful accessories.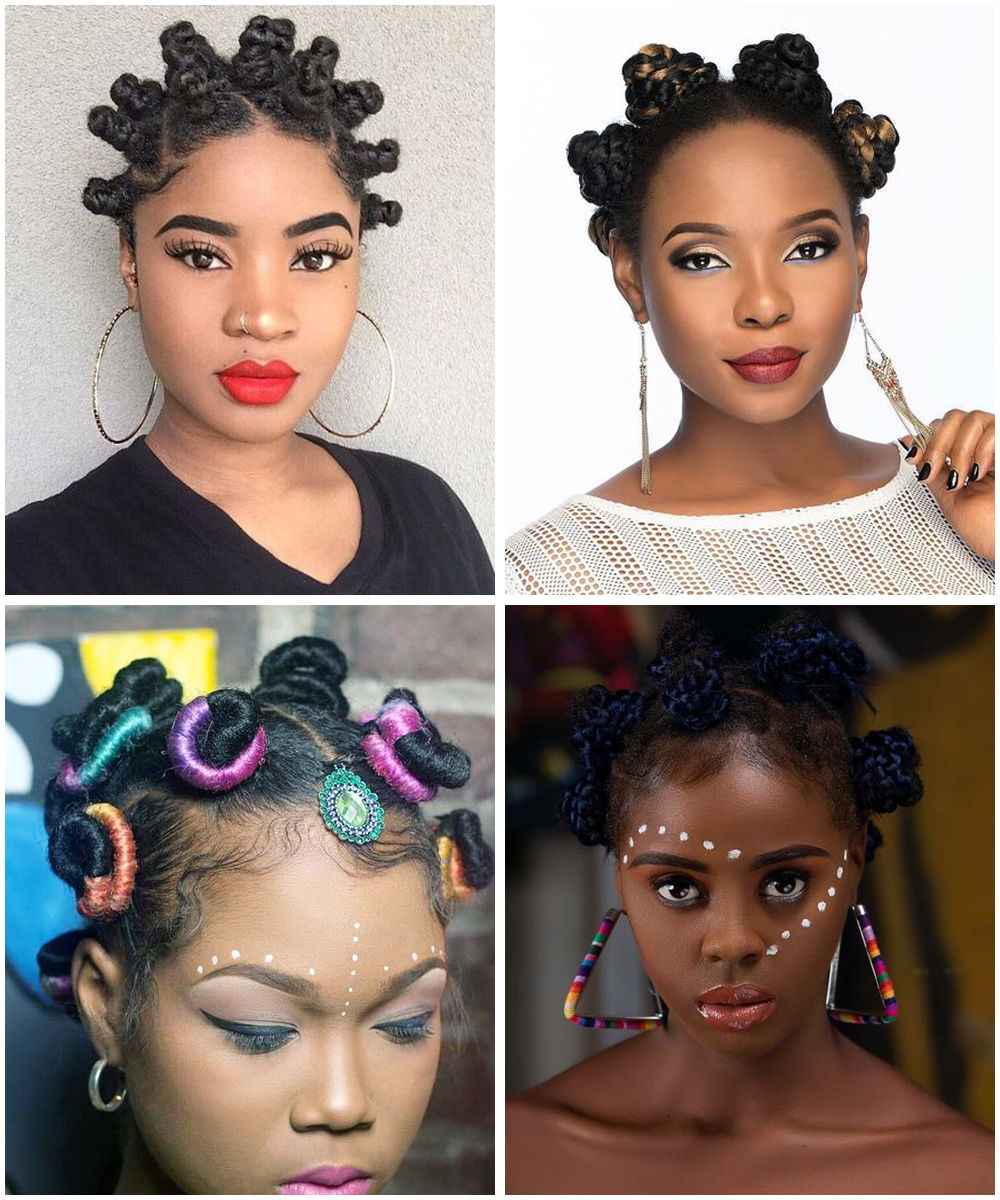 8. Short Pixie Hairstyles
One of the most popular short natural hairstyles is the pixie cut. Women who are wearing or growing natural hair newly can try these awesome hairstyles to have a textured hairstyle. You can make a beautiful partition within this style and also apply your preferred color to them for enhancing beauty and glamour. According to modern black women, these textured hairstyles are considered to be one of the sexiest and craziest hairstyles you can wear in this big season. And for you, we have this unique collection of pixie hairstyles to help you pick the right one as per your preference.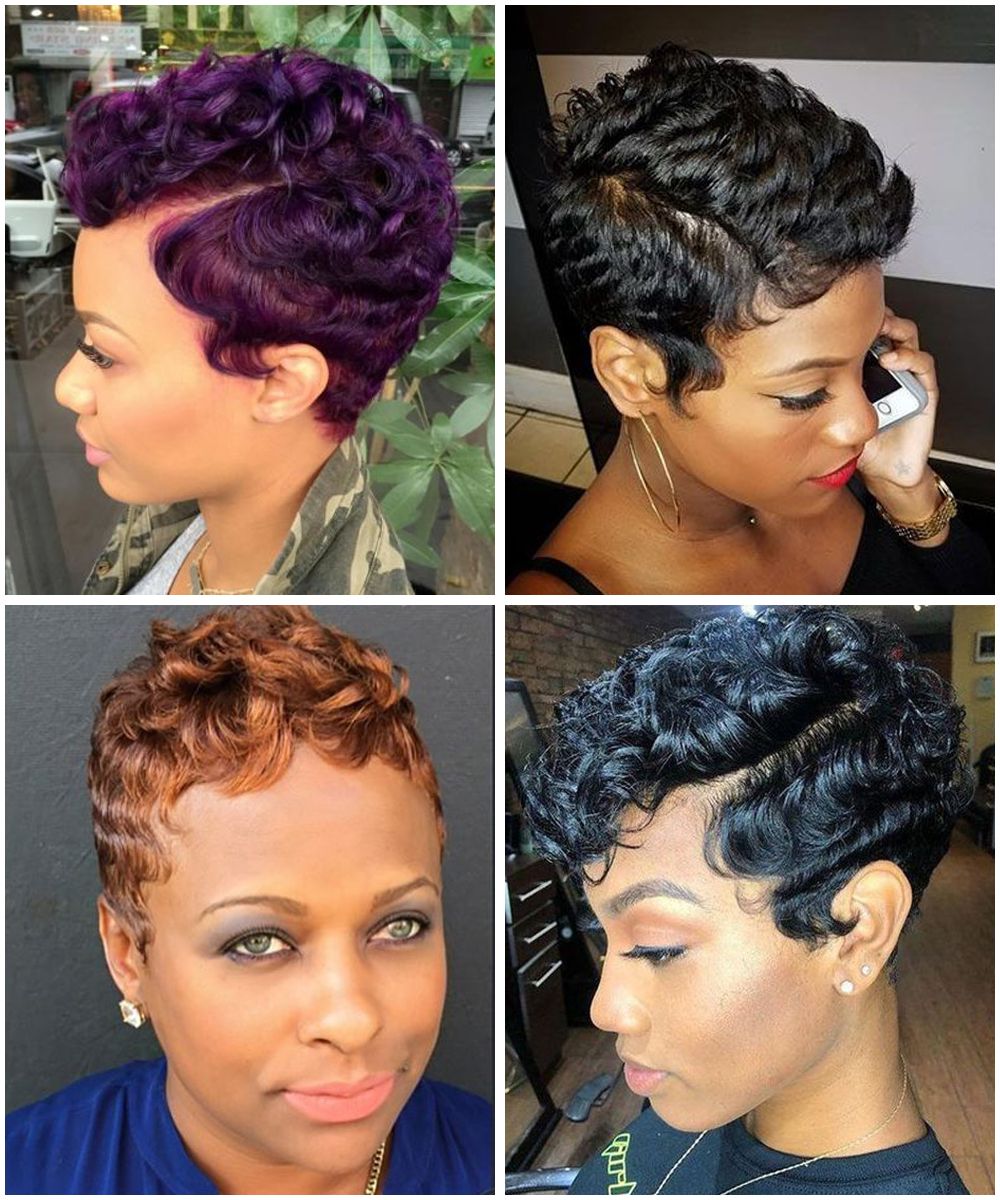 9. Short Curls
When we are talking about short natural hairstyles, we can not simply ignore short curls as an example. For most women, these styles are the best fit who are reluctant to take regular care of their hair and hairstyle. Short curls are versatile in style and design. You can wear them like updos, topknots, and with beads as well as accessories. But remember, short curls are one of the most popular hairstyles among women all over the world. That's why we have managed to collect these 4 superb examples of curly hairstyles with natural hair for you.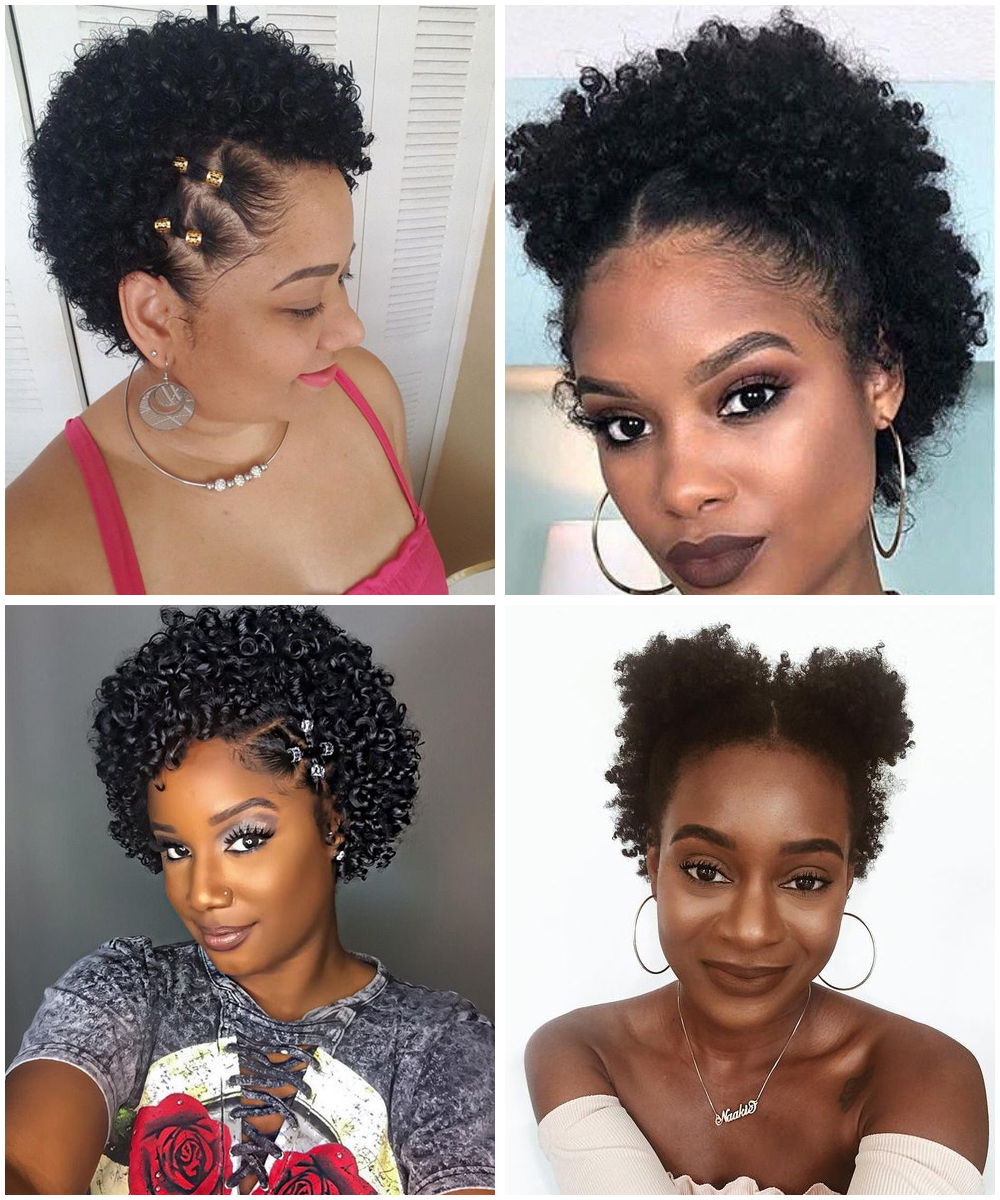 10. African American Natural Hairstyles for Short Hair for Women Over 50
The previous hairstyles are mostly about young women of African American ethnicity. But the last one is specifically for the women who already have passed 50 years of their colorful lives. Women of these ages are more perfect in choosing hairstyles than the younger ones. And a perfect hairstyle can bring them satisfaction and social respect. With this respect, we highly recommend these 4 short natural hairstyles for you to wear. Trust me, after wearing any of these styles, you will be more beautiful and sharp than ever in your life.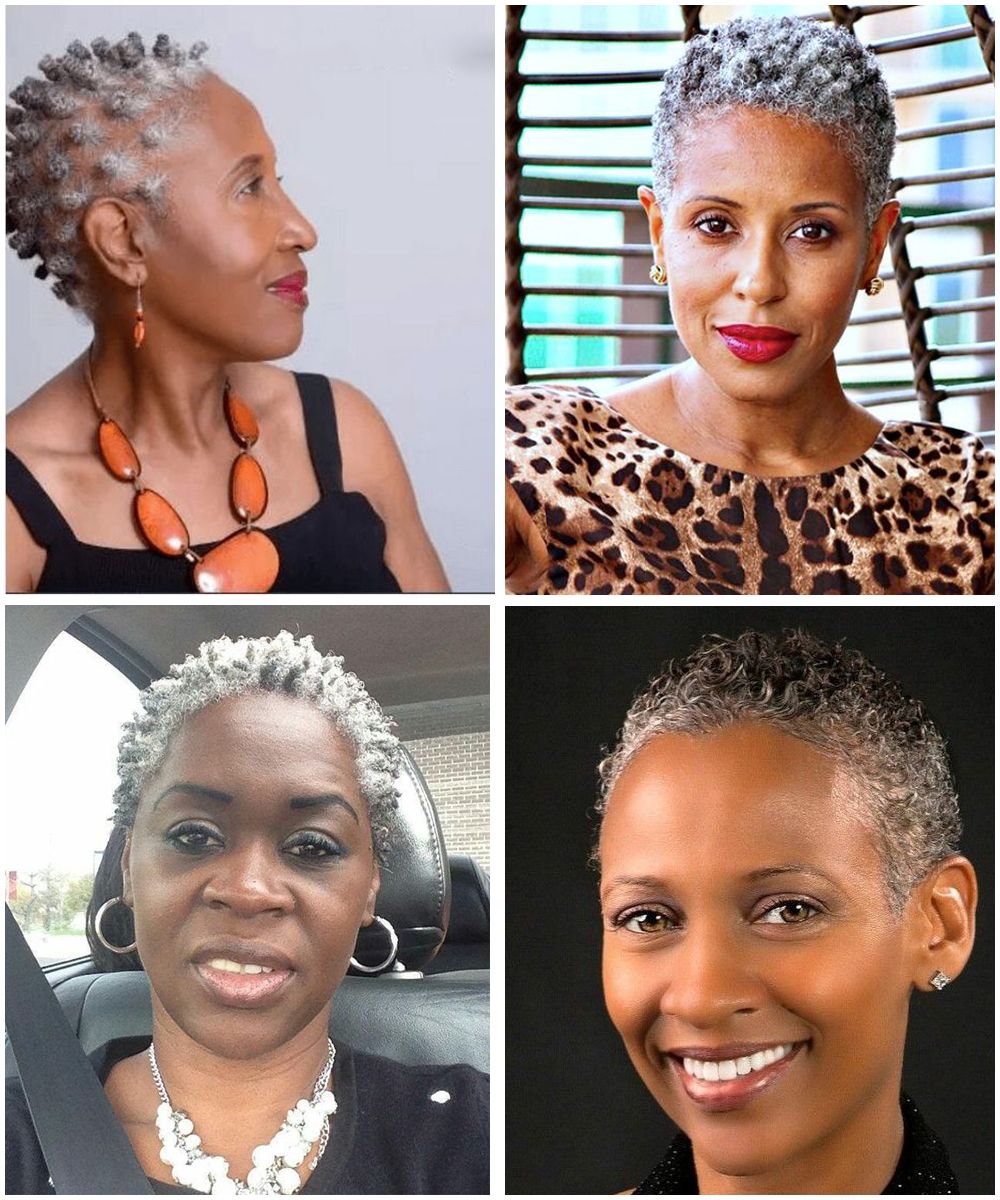 So, these are the arrangement for you regarding African American natural hairstyles for short hair. I Hope, we have become able to satisfy your quest for perfect short natural hairstyles. If you like this article, share it on social media and get yourself connected through social media with us.