Yes, it is possible to have some Short Hairstyles For Naturally Curly Hair Over 50. At the age of 50 women think that they are older women and there are no styling methods for their hair. But you know what? They are completely wrong. As an older woman, you can still have some youthful hairstyles too. Many of us think that there are only a few hairstyles that women over 50 can wear. But this concept is also wrong. You can have short hairstyles, long hairstyles, medium hairstyles, braids, buns, updos, locks, and so on. And trust me, all of these hairstyles will not make you look odd. Rather a youthful hairstyle after 50 builds a great personality for the wearer. In this article, we will prove that after 50 you can still style your hair and look beautiful.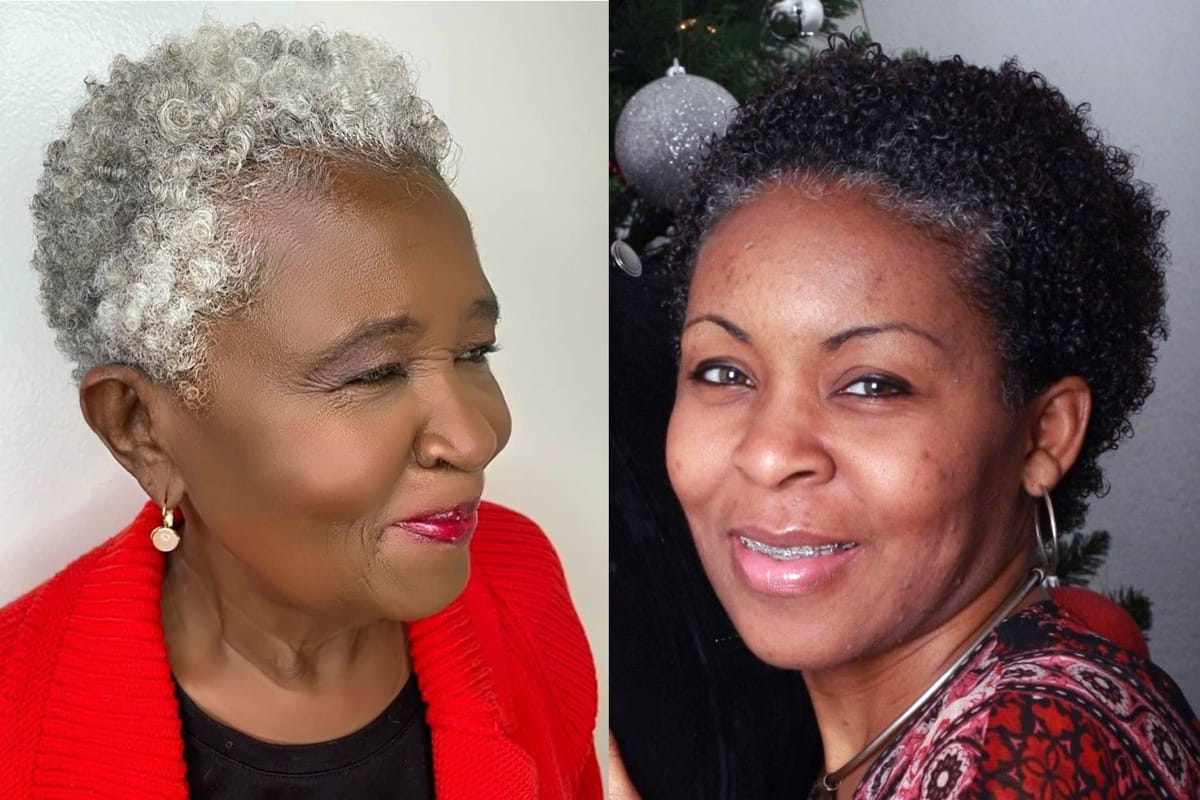 Short Hairstyles For Naturally Curly Hair Over 50
The gray color of your hair is not as bad as you think. Rather it symbolizes your age, experience, wisdom, and personality. And the gray hair can also be stylized in numerous ways. Today we will present about 50 styles with gray hair that will blow your mind. These styles include TWA, Braids, Short Pixie Cuts, Braided Buns, Buzz Cuts, Classic Afro, Coils, Mid-Length Natural Hair, Braided Updos, Pineapple Updos, Short Box Braids, Short Natural Curls, Sisterlocks, and so on. So, if you are frustrated with your age and hair color, this article is a must-read for you.
African American Short Hairstyles For Naturally Curly Hair for Older Women or Black Women Over 50
I think you have already understood what topic we are going to discuss today and which type of hairstyles and haircuts we are going to display. So let's jump into the styles without wasting time.
1. TWA for Older Women
Tiny Weeny Afro (TWA) is a natural short hairstyle that is usually worn by older black women. These low-maintenance and smart haircuts create a magical glow with your short gray hair. Moreover, TWA embraces the natural texture and raises your confidence level. If you are worried about your gray hair and a perfect haircut, the Tiny Weeny Afro can be a wise choice for you. After wearing these hairstyles your gray hair will turn into a boon for you. If you care to take a look at the haircuts below you will easily understand the beauty and effects of TWA.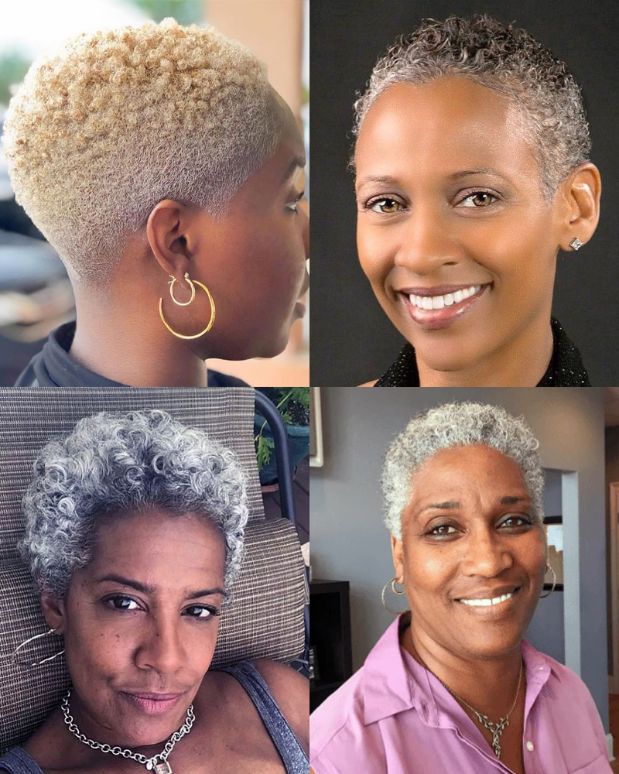 Tips for Wearing TWA
Consult a Stylist: When you have decided to wear TWA, your first job is to consult with a professional hairstylist. An expert stylist will consider the type and texture of your hair, and assess your face shape to determine the shape and length of your TWA hair. After all this, he/she can suggest the best styles for you and share some maintenance tips with you.
Choosing the Right Style of Experimenting with Different Hairstyles: In this stage, you need to choose the right pattern, texture, or shape of your TWA. Or you can experiment with different hairstyles and haircuts to choose the best one for you. You already know that TWA comes with a wide range of options or styles. The coils, curls, twists outs, or bantu knots can be a wise choice while wearing the TWA.
Accessorize Your TWA: Every hairstyle or haircut can be Enhanced with stylish accessories. In the case of TWA, you can wear headbands,  hairpins, and scarves as accessories. These accessories can add a pop of color, sparkle, and pattern to your overall look.
Taking Care: One of the major benefits of wearing TWA is it can embrace your natural curls, coils, or waves. So, when you have completed a TWA haircut, make sure that your hair is moisturized, healthy, and regularly taken care of. For this, you can use shampoos, conditioners, or deep conditioners which are specifically formulated for your hair type.
Trimming: Trimming is an important factor for maintaining TWA hair. After doing TWA you will always want to retain the hair shape and trimness of hair. For this, you will need to trim your Tiny Wenny Hair once every 4-6 weeks.  To prevent split ends and accelerate the healthy growth of hair, you must consider trimming your hair periodically.
2. Short Pixie Cut: A Perfect Short Hairstyles For Naturally Curly Hair Over 50
If you have an oval, round, or heart-shaped face, you can try a short pixie cut. This haircut is one of the blusterous Natural Hairstyles For Black Women Over 50. A short pixie haircut is definitely a bold, contemporary haircut that is characterized by half-an-inch to 3-inch long hair that is cropped close to the head. In a short pixie haircut hair on the sides and back are cut very short. On the other hand, the length of hair on the top is comparatively high. The combination of this short and long hair creates a contrast in length and produces a clean and sleek look.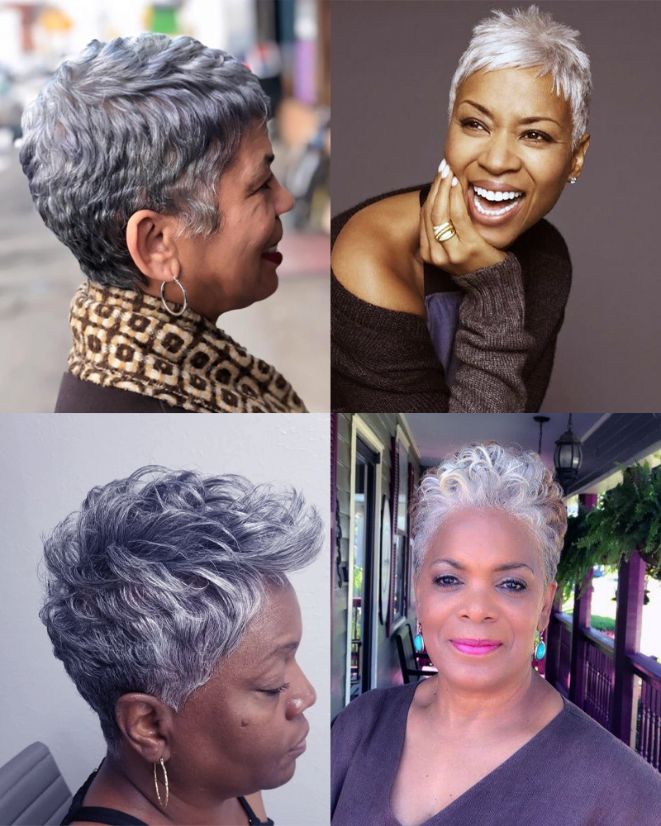 Short Pixie cuts are also popular for their modern look and edgy appearance. If you are in search of a low-maintenance and statement-making hairstyle, the pixie haircuts are absolutely for you. Moreover, these styles are flexible enough according to your face shapes, hair textures, and personal preferences. If you can choose the right styling techniques and use the formulated products for your pixie hair, these haircuts can definitely be smart, elegant, and eye-catching.
3. Braided Buns
When you are over 50 and your hair color is gray you might consider braids are not for you. But is that really true? Previously we have said that the gray hair is a boon in another way. And the proof is just in front of your eyes. Some of you might think that braided hairstyles are for women of young age. And that is not true also. With your gray natural hair, you can wear fantastic braided bun hairstyles just like the pictures below. In addition, you have the option to accessorize your braids and bun too. Beads, hairpins, and ribbons can be a great way to accessorize your natural braided bun hairstyles at the age of 50.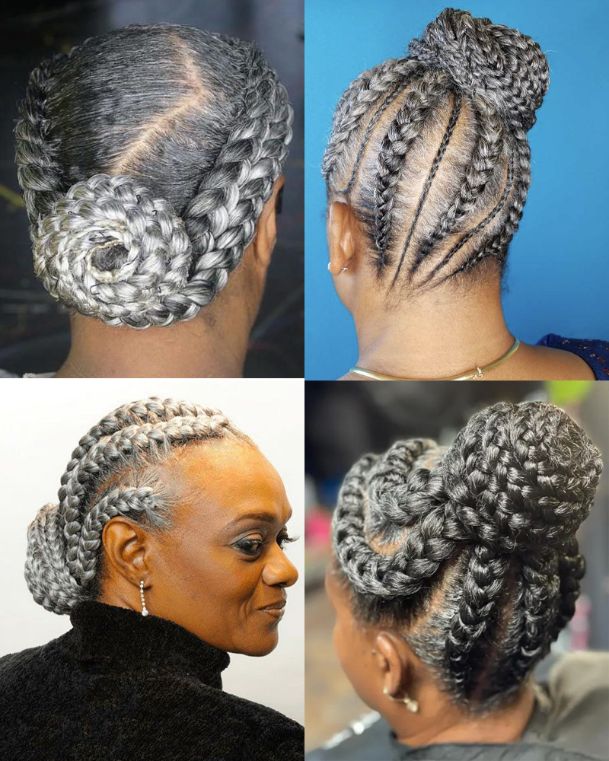 Tips for Wearing Braided Bun Hairstyles
Take help from a stylist and figure out which braided buns are suitable for you. Your stylist will suggest styles according to your face shape, hair color, hair volume, and other factors.
Braided Bun hairstyles are not low-maintenance hairstyles. So you should know the maintenance process of your braids and buns.
Undo and redo braids periodically.
Keep your hair moisturized and healthy.
Unbraid your hair after 4-5 weeks.
4. Natural Buzz Cut for Older Women
Buzz cuts are the shortest possible haircuts of all. Moreover, these haircuts are the ultimate proof of low-maintenance haircuts. For that, we call them no-maintenance haircuts. In this haircut, the hair is cut short close to the scalp and the length of the hair remains the same for the sides, back, and top. Basically, these simple haircuts are done with electric clippers and made the hair short as much as possible. The fun fact here is that the electric clippers create a buzzing sound while doing this haircut. And that's why the name of these haircuts is buzz haircuts.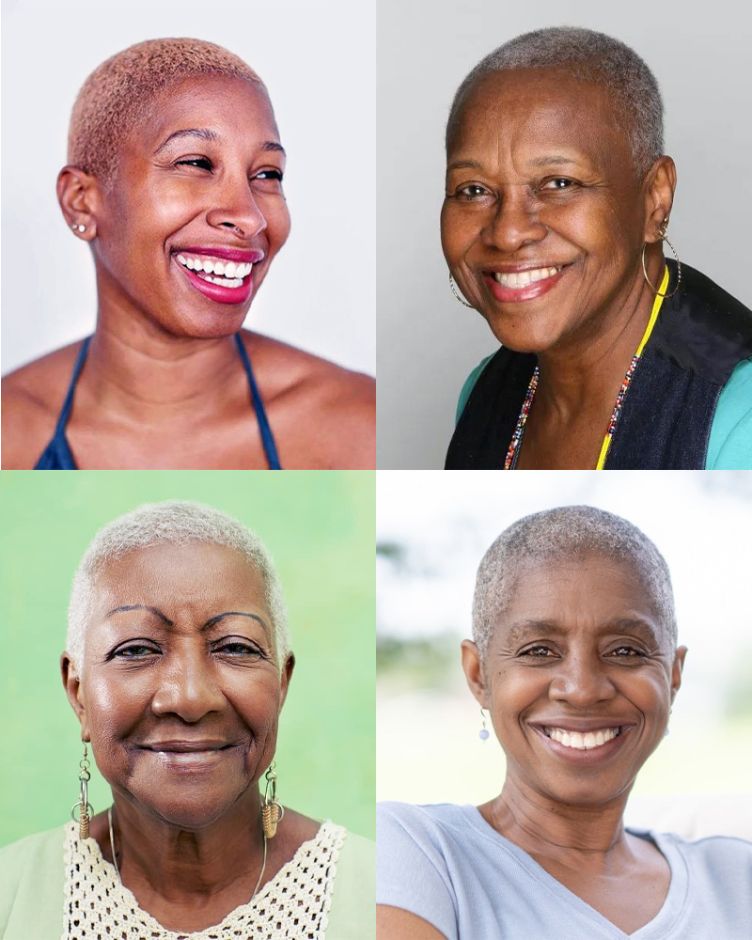 Buzz cuts are worn by both men and women for their convenience, and minimal styling and maintenance. Moreover, these haircuts are greatly beneficial for women with thinning hair. And if you prefer a nest and minimalist look the buzz cuts can be a wise choice for you. But before considering a buzz cut we highly recommend consulting a stylist. Only an expert can study the characteristics of your head shape, face shape, hair color, thickness or thinness of hair, and other factors to determine the best way to do it.
5. Classic Afro: A Suitable Short Hairstyles For Naturally Curly Hair Over 50
If you want to celebrate your natural hair, classic afro hairstyles are the best way to do that. You already know that the afro hairstyle represents your self-expression, your cultural pride, and your ethnic uniqueness. That's why we cannot just ignore the classic afro hairstyles while talking about the Short Hairstyles For Naturally Curly Hair Over 50. When you are confused about choosing the right hairstyle or haircut for you you can simply rely on the Afro styles, From celebrities to normal working women, Afro is everywhere. To be more specific, your hair color, face shape, head shape, or eye color do not really matter while wearing a classic afro hairstyle.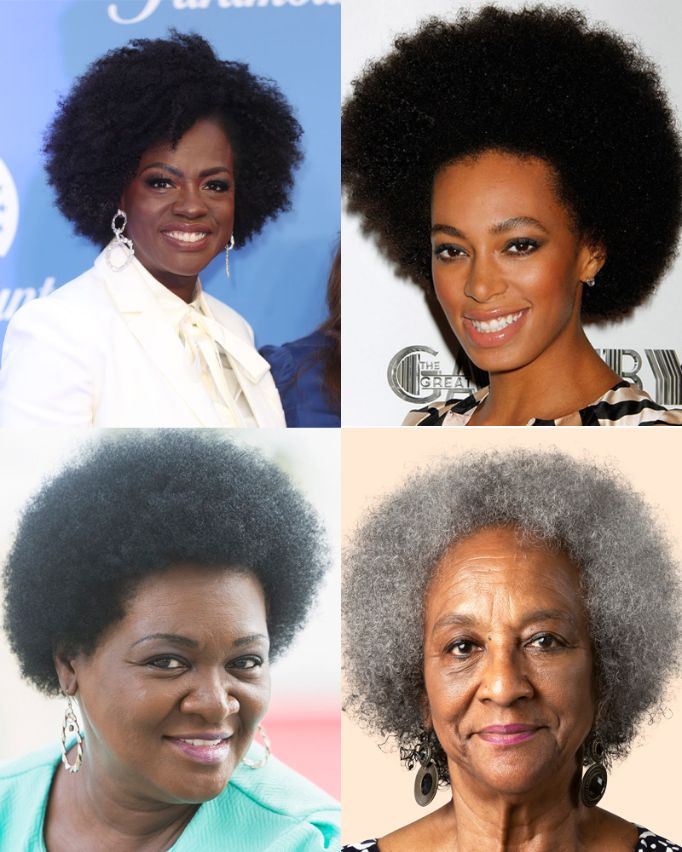 So, if you are over 50 and trying to find the best hairstyle for you you can choose classic afro styles blindly. Your gray-colored afro hairstyle will make you look smarter, more experienced, more elegant, and more confident. The four images of classic afro hairstyles above are proof of that.
6. Short Natural Coils Hairstyles for Naturally Curly Hair Over 50
When your natural hair is tightly coiled or maintains a curly texture, we call it natural coils. These hairstyles represent our cultural pride and ethnic uniqueness. With its characteristic hair pattern natural coils hairstyles can range from compactly coiled "s" shapes to springy corkscrew curls. The hairstylists usually use type 4 hair for these natural coils hairstyles. And the subcategories of type 4 hair are 4A, 4B, and 4C. These hair extensions are used according to your preference, style type, and face shape.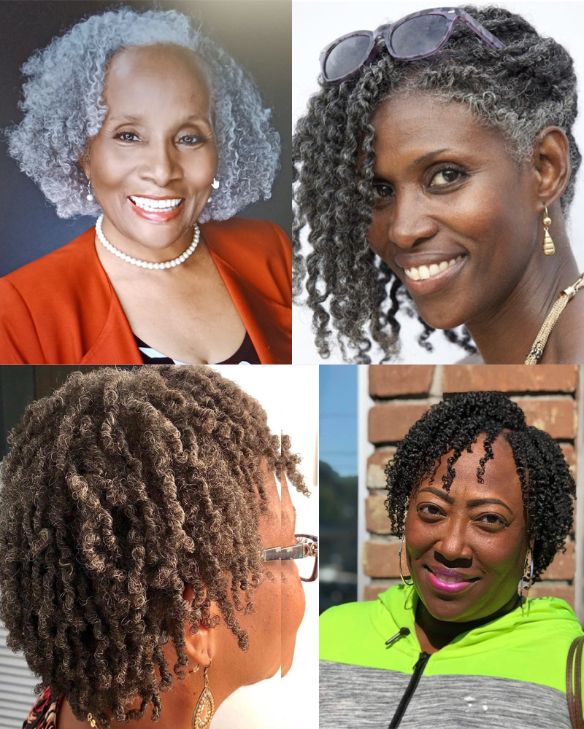 It's never too late to wear natural coils. Maybe you have crossed your 50 but you still can wear these lovely natural hairstyles. And with your gray hair, the coils will look more orderly and saucy. Here we are basically recommending the finger coils for your gray hair. Below you can see a set of hairstyles with gray, white, blonde, and black colors. And all these colors are perfectly beautiful for natural coils.
7. Medium Length Short Hairstyles For Naturally Curly Hair Over 50
Well, these are hairstyles with medium-length natural hair. And the length of your hair in this style will be shoulder-length. When your hair has turned out gray and you are frustrated in choosing a perfect style you can choose the mid-length hairstyle. This length of hair will allow you to have Twist-Out, Braid-Out, Pineapple Updo, Bantu Knots, Puff or Afro Puff, Flat Twist Updo, and so on. But here we will recommend you simple Wash and Go style.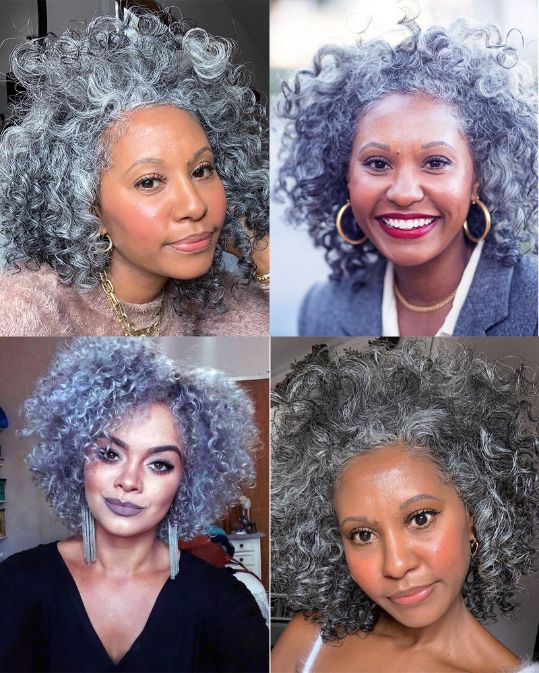 This style will allow you to wash your hair regularly, leave it free, apply a leave-in conditioner, or apply other styling products. At the same time, you will be able to allow your curls to air dry. Moreover, these hairstyles will cost you very little time for maintenance. And that is how you will be able to reveal the natural texture of your hair.
8. Braided Updo
Like the braided bun hairstyles, the braided updos are versatile, flexible, and elegant hairstyles for women of all ages.  These styles are basically a combination of braids and bun. Your gray hair will be braided at first and the braids will be gathered together to create a beautiful bun. If you are an aged woman with gray hair, the braided bun hairstyle can be a great choice for you when you are going to attend a special occasion.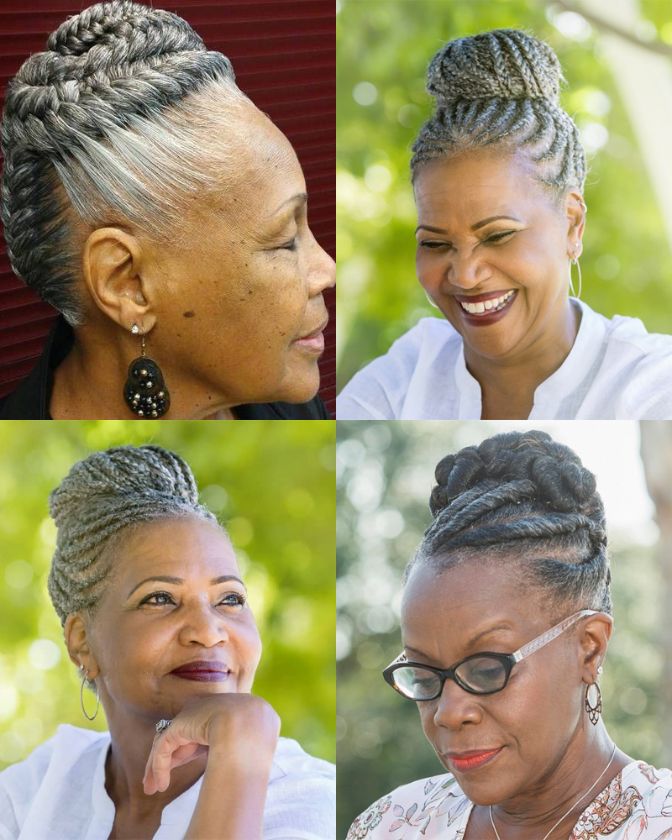 From the images above you can see some examples of braided bun hairstyles with gray hair. With these styles, they have obtained a polished and sophisticated look. So if you are thinking of attending a party, occasion, or something the gray braids and bun hairstyle will be a smart choice for you.
9. Pineapple Updos
Besides young women, the pineapple updo hairstyle is similarly popular among black women over 50. When you have medium and long natural hair, you can try these awesome styles. In this style, all of your hair is pulled and gathered on the top of your head and tied with headbands, rubber bands, or scarves. As the shape of this style resembles the shape and appearance of a pineapple, this style is called pineapple updo.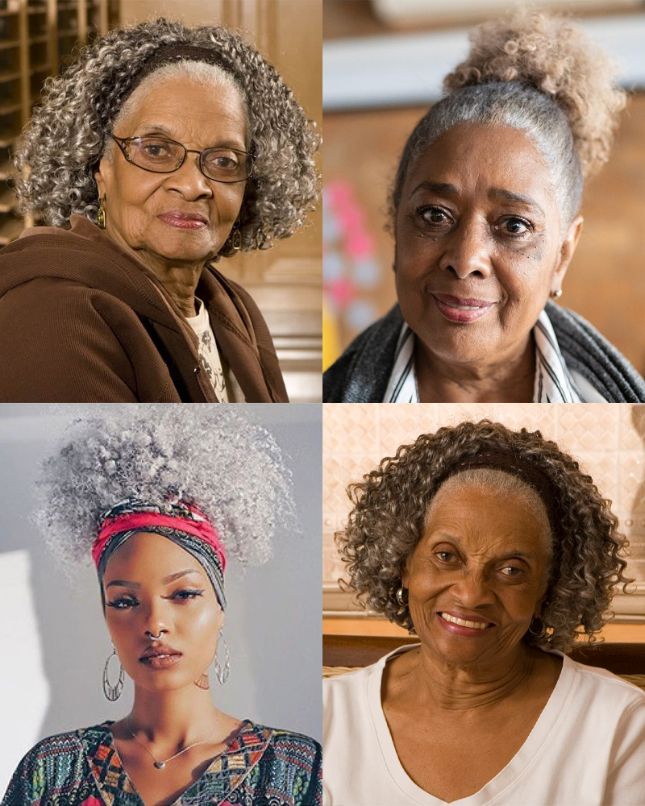 Besides making you look smart and beautiful the pineapple updos do a great favor for you both day and night. At night these hairstyles help you to maintain the curl pattern, prevent frizz, and save your hair from flattening. And at the daytime, these hairstyles can be an effective solution for keeping your hair out of your face.
10. Short Box Braids
After your 50 you still love to have some protective hairstyles. In that case, a short box braids hairstyle can be both a convenient and stylish option for you. You already know that these braids can be worn in a versatile way. But we suggest some shoulder-length shorter braids for you. And you can wear them as bob braids. These customizable braidings are low-maintenance and beneficial for women who want to taste the flavor of box braids after 50.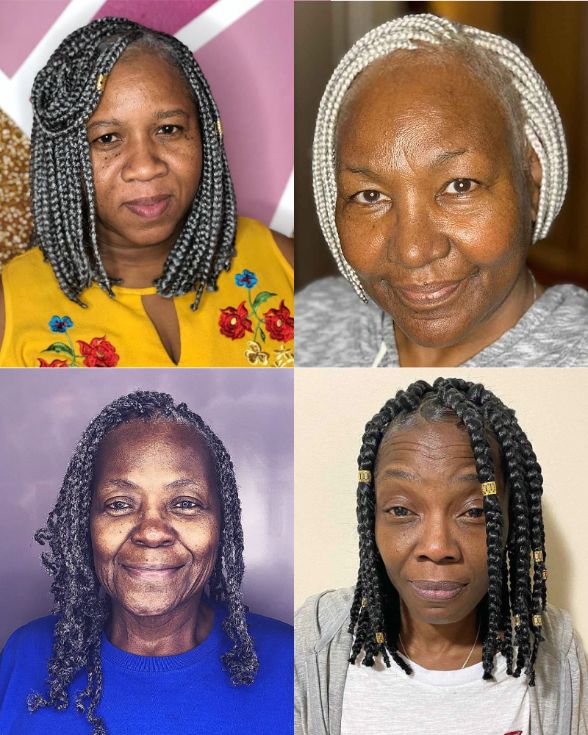 What You Need To Know About Short Box Braids
The length range of short box braids can be shoulder-length to chin-length or even shorter. On the other hand, you can choose a sleek braiding style or slightly thicker braids. Your stylist can suggest the right length and size of your box braids after assessing your face shape and other preferences.
Among all other hairstyles, the braids can be easily accessorized. You have multiple options like beads, hairpins, scarves, headbands, and other accessories to adorn your lovely short braids.
In spite of having the shorter version of box braids, you can still take the opportunity to make some beautiful updos, high buns, ponytails, low buns, or half-up-half-down styles. Moreover, you can free the braids with a side part to frame your face.
The colors and highlights of hair are not only for young women. To multiply your visual appeal you can apply colors and highlights to your short braids too. But we suggest consulting a professional stylist to avail the color options.
In the end, you need to care for your hair and scalp besides wearing the box braids. Ensure the cleanness and moisturization of your scalp with lightweight oil or moisturizers periodically At the same time you need to prevent hair damage by proper care of your braids.
11. Short Natural Curls Hairstyles for Black Women Over 50
Like TWA short natural curls hairstyle is a hassle-free, low-maintenance, and easy-to-do hairstyle for black women over 50. Basically, this hairstyle showcases the natural curly pattern of your hair in a shorter way. And most importantly, you do not need to use chemical relaxers or heat styling tools to embrace your natural texture. But to take care of these styles you may need some moisturizing, conditioning, and protective styling. And in the end, this style is one of the most popular hairstyles among African-American older women.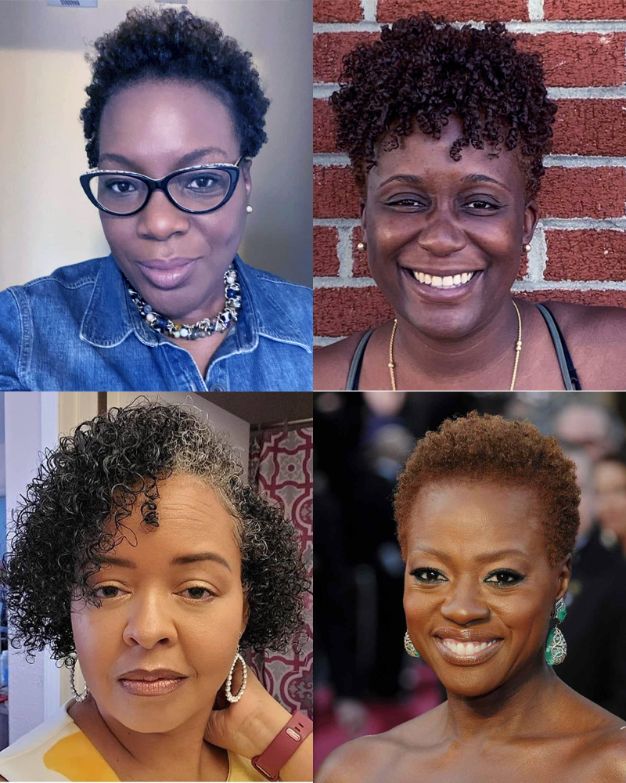 In terms of styling, the Short Natural Curls can be worn in a versatile way. Among these styles, the Curly Pixie Cut, Finger Coils, Wash and Go, Twist-Out or Braid-Out, etc may be the right one for women over 50. So if you are thinking of a short natural hairstyle, you can definitely go for these natural curls.
12. Sisterlocks
If you are looking for a more permanent hairstyle, you can go for the sister locks. Although it will take some time and patience for you to have beautiful sister locks on your scalp, the ultimate result will certainly surprise you. It is basically the thinner and shorter version of traditional locs hairstyles like dreadlocks. This style was designed in 1990 as a lightweight, low-maintenance, and versatile hairstyle. Your natural gray hair will get the perfect shape, versatile styling options,  colorfulness, and a smart look only with the sister locks.
The process of sister locks may be lengthy and boring. In this method, the natural hair is sectioned with diamond-shaped sections which are typically 1/8 inch in size. After that, each of the sections is interlocked with the sister locks tool. And gradually the interlocked hair grows naturally and creates a uniform loc. But this is not a DIY hairstyle and you must need to get help from a stylist to get it done for you.
In The End
There are numerous ideas for Short Hairstyles For Naturally Curly Hair Over 50. After thorough research, we have found the most popular, smartest, and most beautiful styles for you. All we want is to help you choose the right style for you and help you compare the styles. Hope we have served our purpose and you are satisfied with that.
You May Like Also:
Short Hairstyles for Black Women- 21 Short Black Hairstyles
Make No More Mistakes Choosing Afro Hairstyles
Infallible Home Remedies for Natural Hair Growth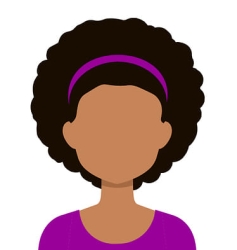 Latest posts by Laverne Rhimes
(see all)