A jumbo Box Braids lover is just landed on our blog probably in search of some attractive braided hairstyles as well as some valuable information. And guess what? You have reached the right place. Today we are gonna produce some newest and cutest designs of jumbo box braids in front of you. Additionally, we will cover the most relevant information regarding the following topics:
What are Jumbo Box Braids?
How to do Jumbo Box Braids?
How to Maintain Jumbo Box Braids?
How long do Jumbo Box Braids Last?
How long Do Jumbo Box Braids Take to Prepare?
How Much Money do Jumbo Box Braids Cost?
Besides, we will present you with some newest and sexiest styles of Jumbo box braids. So, Let's get started.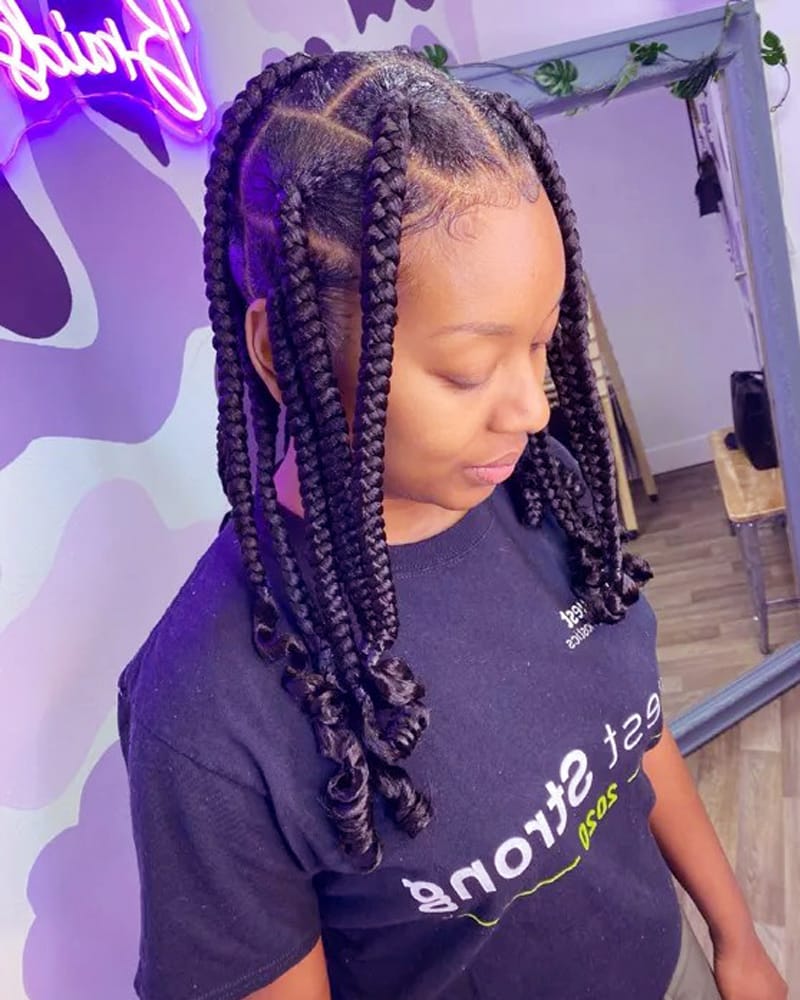 What are Jumbo Box Braids?
Well, Frankly speaking, the jumbo box braids are the thicker and bigger versions of box braids. In other words, the basic difference between conventional box braids and jumbo box braids is how chunky your braids are. You already know that box braids are African protective hairstyles. These styles divide the natural hair into box shapes and add braided extensions with the shapes. These braids require low maintenance, fit a variety of outfits, and are suitable to wear all year round. Besides, box braids help your natural hair grow quickly and keep it protected from damaging weather. Additionally, these braids give you the freedom to style your hair in numerous ways. For example, you are allowed to do buns, updos, ponytails, pigtails, faux hawks, and whatever style you want every day. So, now let's focus on the procedures of doing jumbo box braids.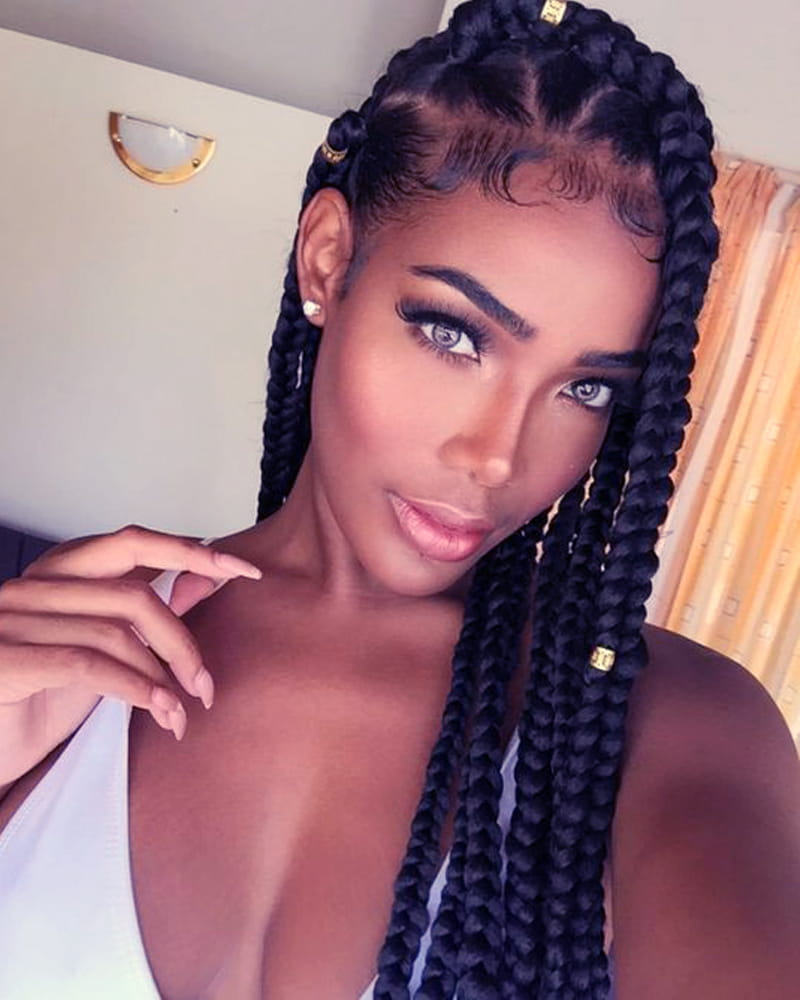 How to Do Jumbo Box Braids?
Well, there are several steps involved with the braiding process. And we would like to take you all the way on the journey. But before we start the tutorial, make sure you have these tools and accessories right beside your hand.
Wide-toothed comb.
Rattail comb.
Hair elastic bands/rubber bands.
Scissors.
Lighter.
A mug with boiled water.
 Sectioning Clips.
Step 1: Wash, Shampoo, and Condition your Natural Hair
Before making any kind of hairstyle, you need some preparations. So, a day before you start braiding, you have something important to do. And that is washing, shampooing, and conditioning your natural hair. In this stage, many people are stuck choosing the right products. Don't worry, we have some recommendations for you.
Shampoo: Shea Moisture Shampoo Deep Moisturizing For Dry, Damaged, Or Transitioning Hair Raw Shea Butter Sulfate.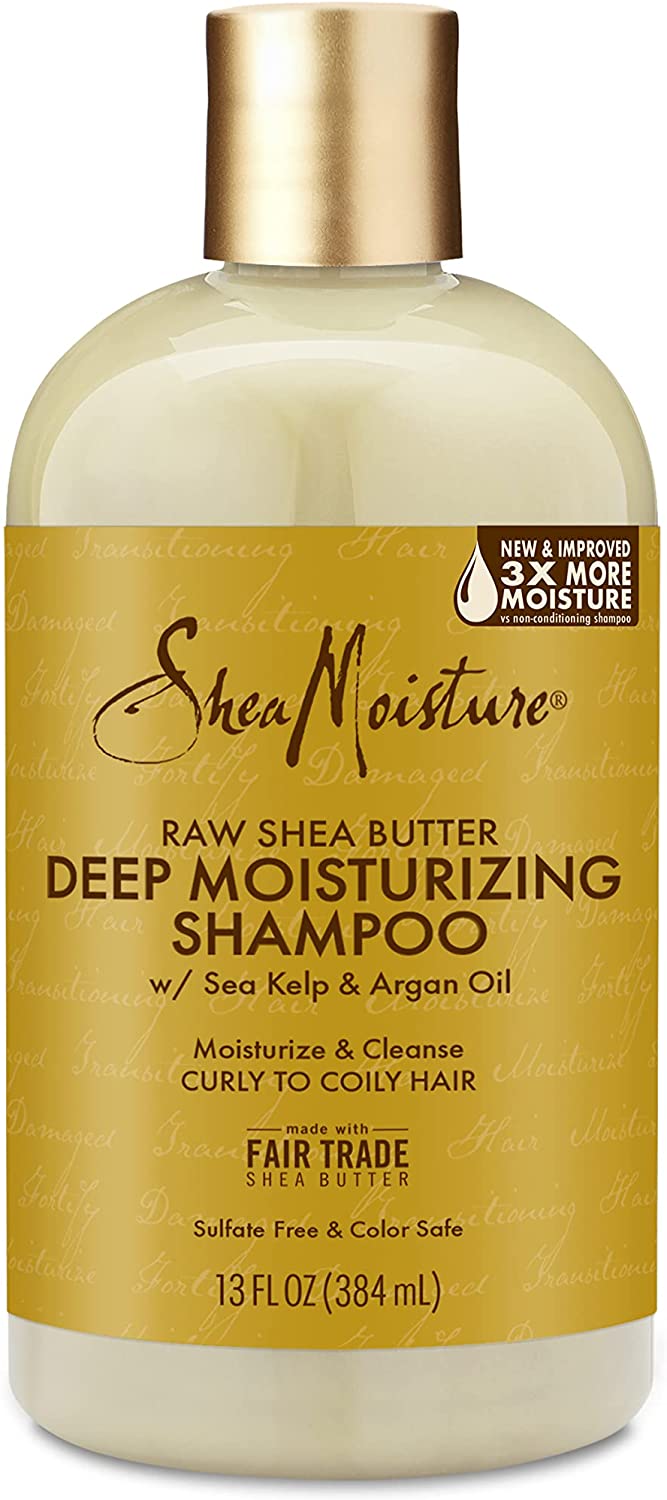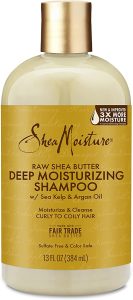 Conditioner: SheaMoisture Raw Shea Butter Restorative Conditioner.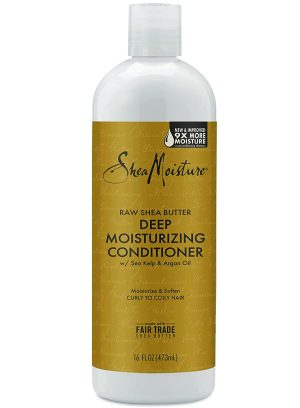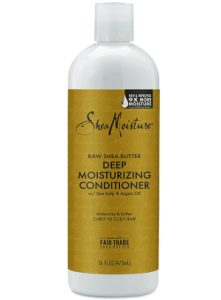 Leave-In Conditioner: Dove Amplified Textures Leave-in Conditioner for Coils, Curls, and Waves with Jojoba Moisture Amplifying Hair Conditioner Blend.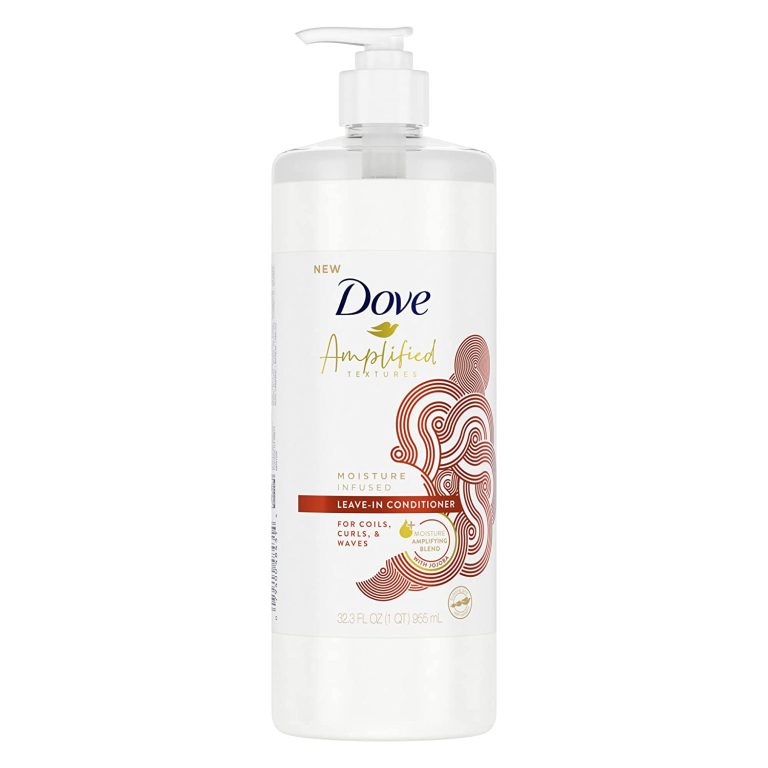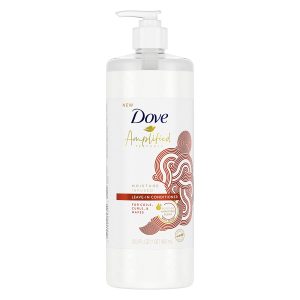 Step 2: Detangle Your Natural Hair and Stretch the Edges.
After applying shampoo, conditioner, and leave-in Conditioner, your hair gains power and becomes ready for styling. But before styling, you must detangle your natural hair. And don't forget to stretch out the edges more carefully. This is how your natural hair becomes ready for a new journey. You can also use pre-stretched braids to reduce your time preparing the extensions. In this regard, we would like to recommend these braids extensions for better braiding.
Step 4: Create Sections.
Now grab your rattail comb and start making square sections by parting your hair all around your scalp. Try to make the parting neat and clean so that your braids look more lovely and independent.
Read more about braided hairstyles here.
Step 5: Grease your Parts
Greasing the parts is another important thing you need to carry out. You can do this step after completing the squares or immediately after completing a single square. You will find a number of greasing products available in the beauty shop. But if can't decide about it, go for this awesome coconut oil hair.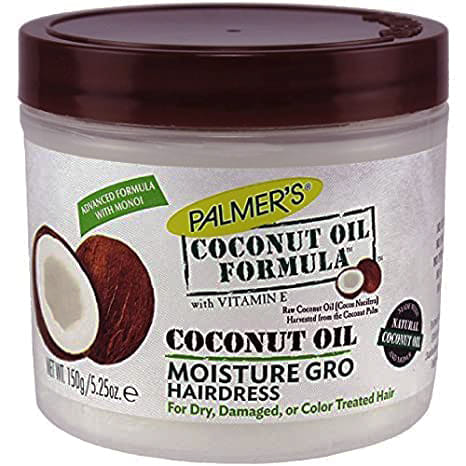 Step 6: Apply Conditioning Jam
In the next step, you need to apply some conditioning jam all around the roots of the squares. Now brush out all around the square and it will smoothen and gather all of the hair of the square together. From our side, we recommend Shine 'n Jam Conditioning Gel for the best result. This gel will make your hair super sleek and flat. And ultimately you will have a neatly braided hairstyle.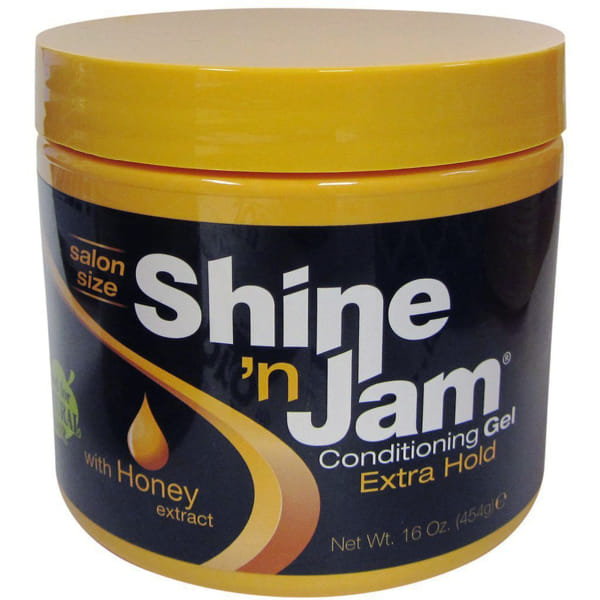 Step 8: Use a Thin Elastic Band or Rubber Band to Make a Ponytail with the Sectioned Hair.
After applying pro-line coconut oil hair food formula and Shine 'n Jam Conditioning Gel to your natural hair your hair is almost ready to get braided. In this step, you just need to tie up your hair with a thin elastic band or rubber band to make a ponytail with the sectioned hair.  Remember you can use both rubber bands and elastic bands to make ponytails out of natural hair. But we suggest using elastic bands as they are easier and more durable in comparison to rubber bands.
Step 9: Moisturise
When you complete all of the squares, you need to moisturize your ponytailed natural hair with moisturizers. Apply a good amount of black vanilla (moister and shine) cream to all of your natural hair to keep your hair moisturized. Additionally, you should use the grease oil (pro-line coconut oil hair food formula) again to seal the moisture. This is because your natural hair must remain hydrated and healthy.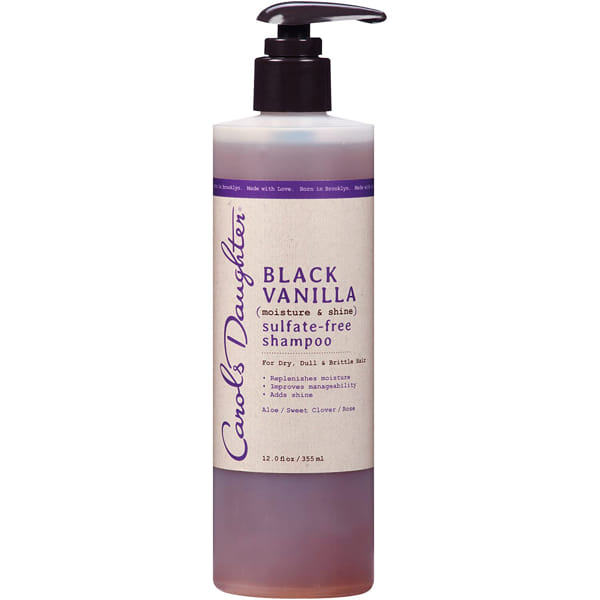 Step 10: Extensions
And now it's braiding time. To have lovely jumbo box braids we have chosen 26-inch pre-stretched braids and we are gonna start the main process now. Remember it will take you about three hours to complete the whole braiding process.
Divide each pack into half.
Divide one of those halves into two.
One braid for each 1/4th of a pack.
Take some hair from the 1/4th and make three ends.
Twist the middle piece a few times.
Wrap up with natural hair.
Start braiding.
Trim the flyway.
Brush and shape your edges.
Seal the edges of the braids by dipping them into a glass of hot water.
Spray a conditioner oil and water mix twice a day on the braids.
Well, we have briefly explained the procedures of a jumbo box braids style (elastic band method). And now it's time to check out some fabulous styles of these thick box braids hairstyles. Here we present you 20+ gigantic box braids styles that will make you super stylish. So, let's take the tour.
1. Traditional Jumbo Box Braids Styles
Among all other protective hairstyles always rock. A simple, square, or triangular box braid style will make you feel smarter, more beautiful,l and super trendy.  Most importantly, these hairstyles are never too old and obsolete to wear. So, besides the smart and updated styles, the classic and traditional hairstyles are attractive, sexy, and smart.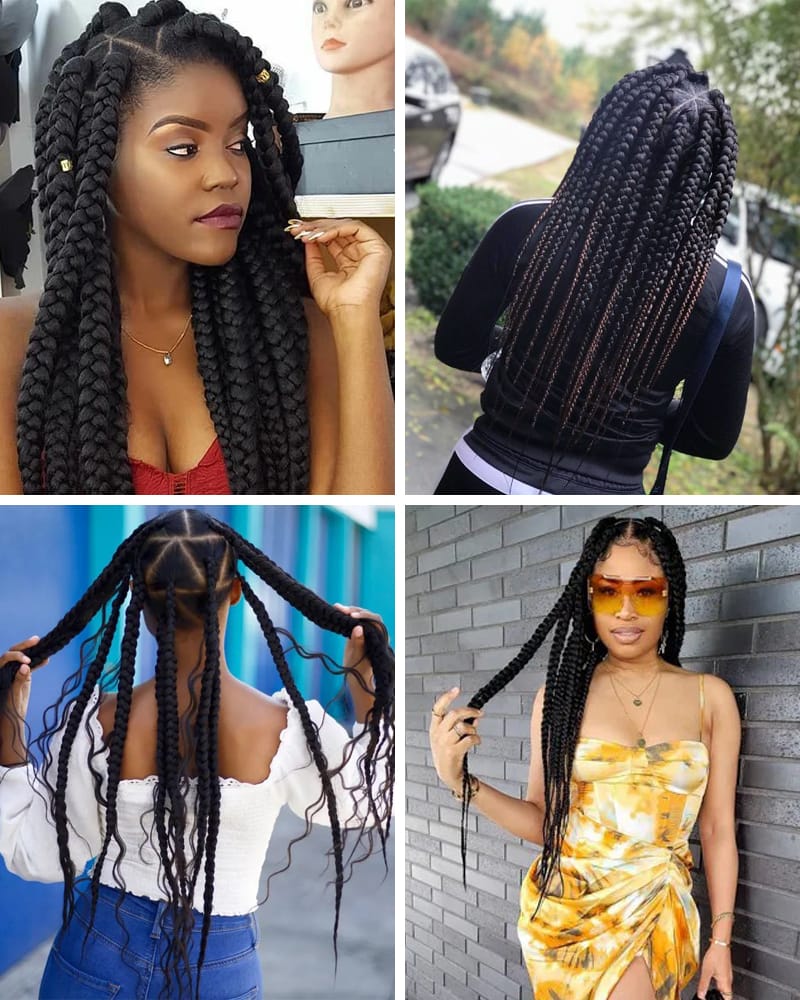 2. Bantu Knots with Jumbo Box Braids
When two legendary hairstyles mix up, the following happens. Yes, we are talking about the Bantu knots and the box braids. You know that the Bantu knots hairstyles are the symbol of power and pride of African hairstyles. And people of Africa are wearing these knots for years to show their rich taste in terms of hairstyles. On the other hand, the box braids are also Africa-originated super braids styles that are regarded as the most effective protective hairstyles and also a super cute and neat hairstyle. But when these two masterpieces mix up themselves with one another, magic happens simply.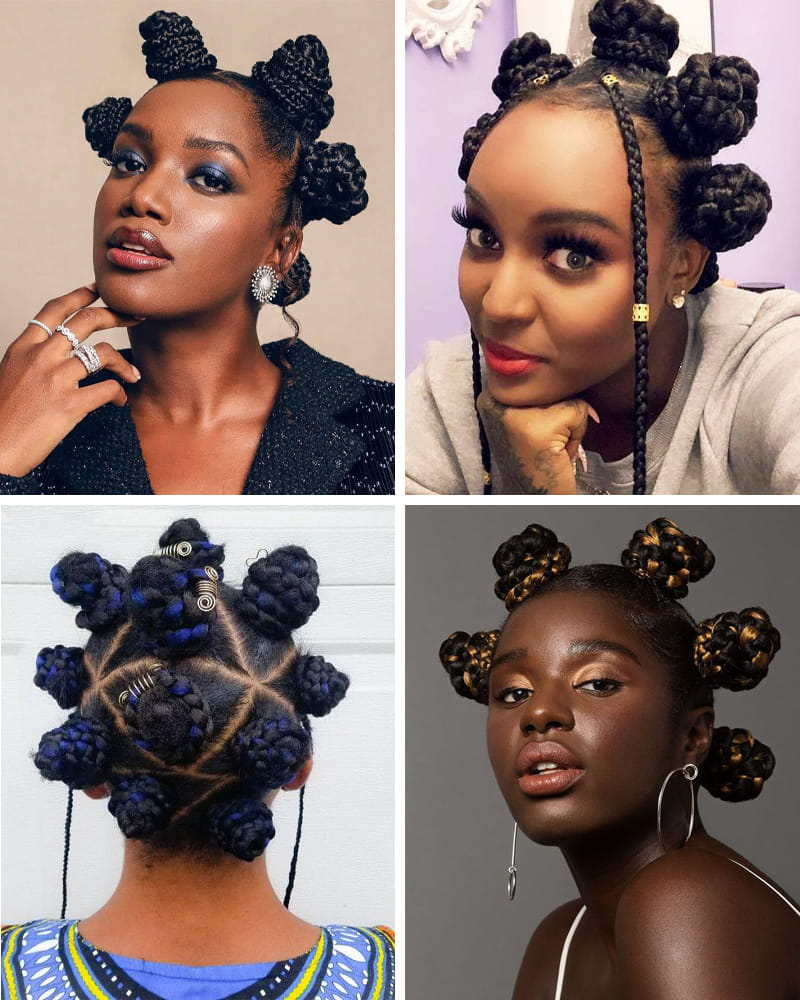 3. Braided High Bun
Not only you, but women all around this whole planet love to wear a high bun when it is a festival or ceremony. One great advantage of the high bun hairstyle is that different types of hair, crowns, hairclips, and braids are easily adjustable with them. That's why women of this ear have found a number of accessories that can make the bun hairstyle more beautiful and eye catchy. So, braids, particularly colorful braids, beads, accessories, and a high bun can surely give your hairstyle a killer look.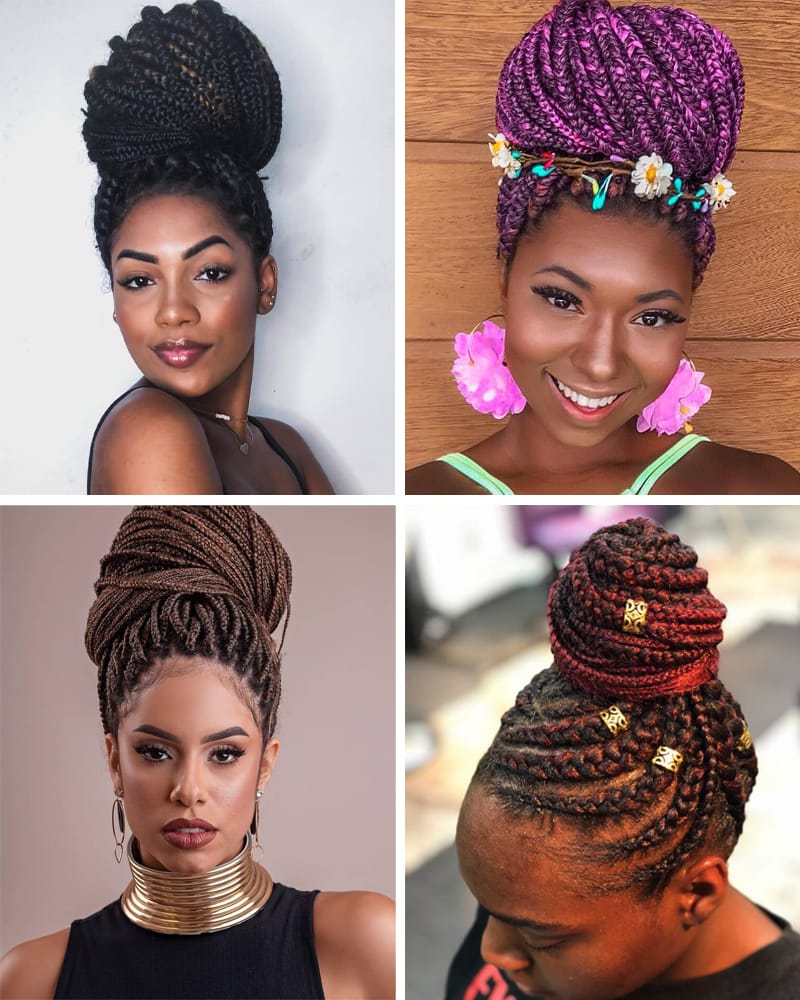 4. Asymmetrical Bob Braids
Once the bob haircuts or the bob hairstyles were the #1 choice of working women. Because they had to bear a huge workload besides maintaining their beauty and glamour. But the situations have changed a lot in today's world. Nowadays, bob hairstyles are not only formal hairstyles but a wide variety of women including Asian, Indian, American, African, and African-American women wear them with a major change in pattern and beautification. And one of the latest addition to the bob hairstyle is the braids. Braided bobs especially with asymmetrical braids have created a huge appeal among women of all ethnicity.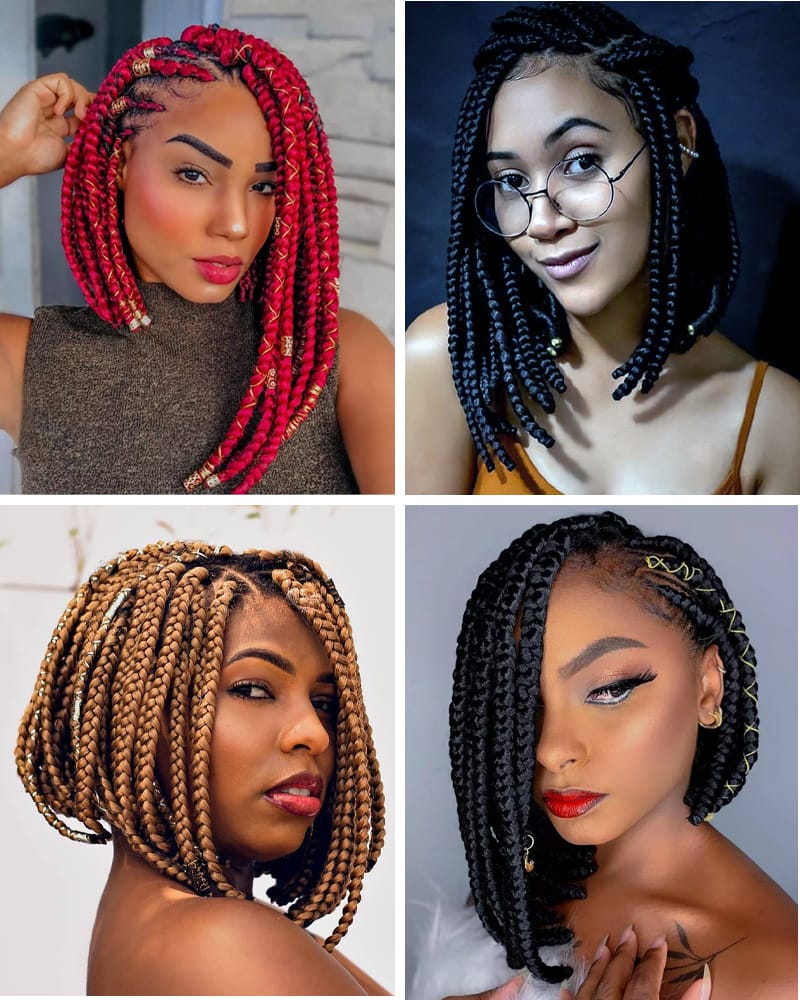 5. Jumbo Box Braids High Ponytail
Well, the jumbo box braids are super flexible braided hairstyles that allow you to experiment with different styles, patterns, accessories, colors, and so on. For example, a ponytail hairstyle with gigantic box braids. And guess what you can make high ponytails, side ponytails, bangs, and many more with these super-sexy braids. There are some examples of the high ponytail styles which are powered by colorful, curly-edged, and highlighted jumbo box braids.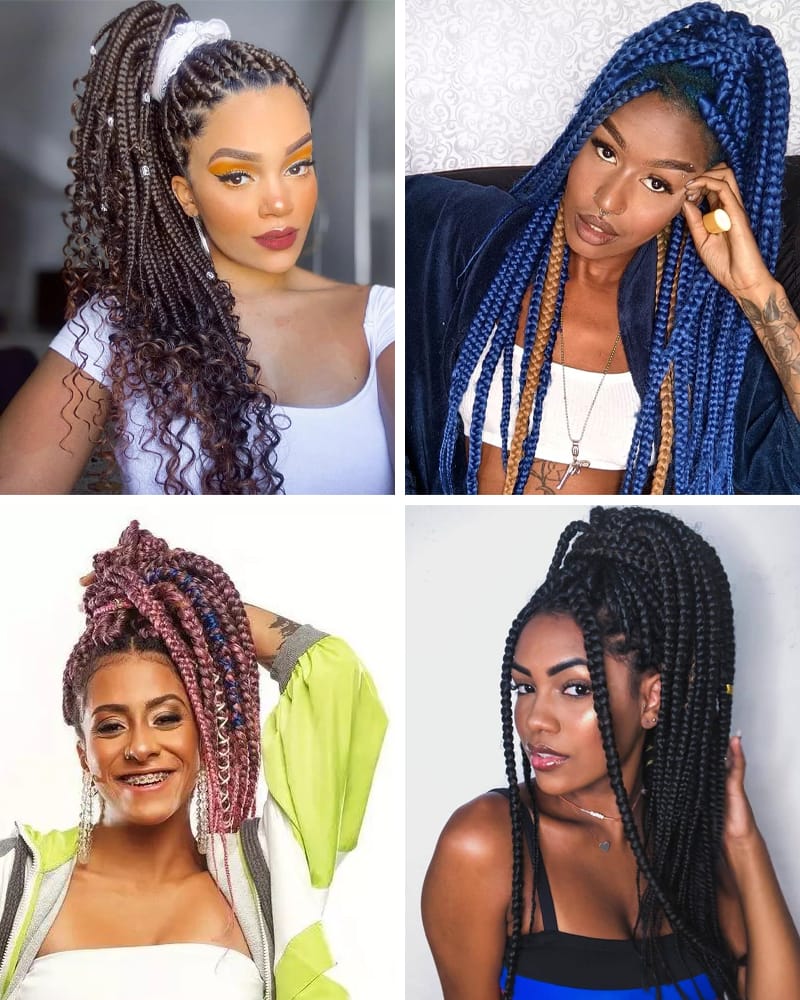 6. Double Knotted Jumbo Box Braids
When you have some cute jumbo box braids you can turn them into a variety of styles. Besides, when you are in short of time, just make two knots by the sides of the head and left some of the braids unused. And nothing more is needed actually for getting a great hairstyle. But you can also invest some time and money for beads, bangs, or other accessories for making them look perfect.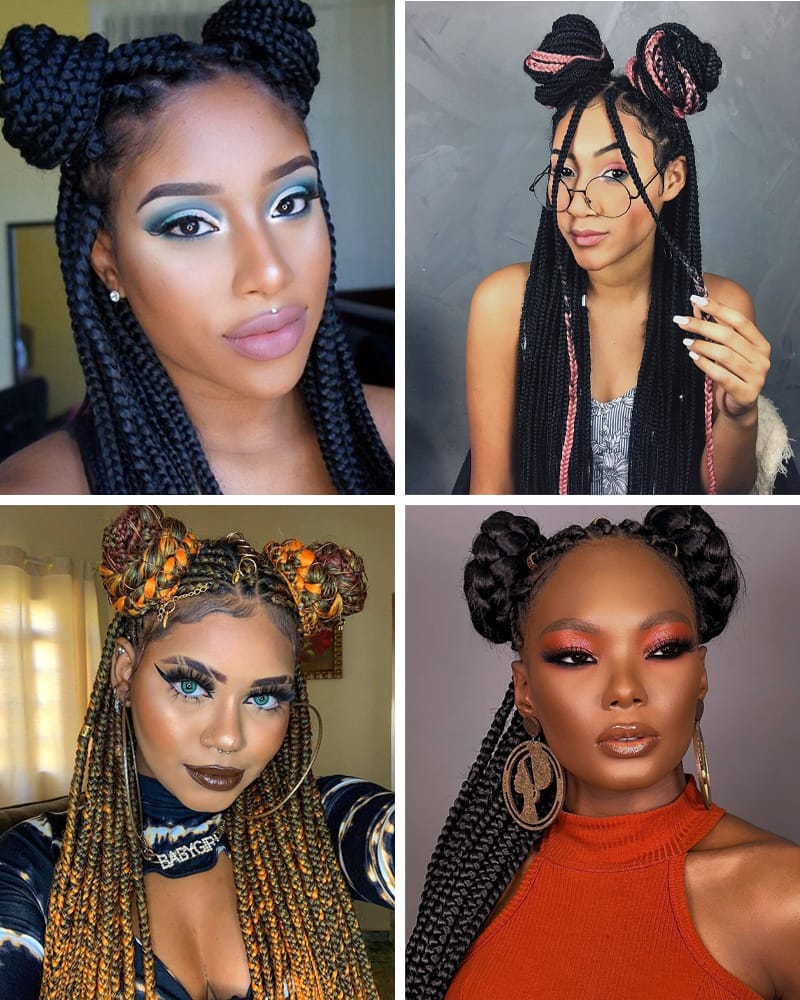 7. Triangular Jumbo Box Braids
One of the most popular forms of box braids is the triangular box braids hairstyles. Normally the shape of the partitions in box braids is square. But in the case of triangular box braids, the partitions of the hair are made in the shape of a triangle. And that is the basic and only difference between the normal and triangular box braids. However, the application of jumbo braids with these triangular box braids makes the triangular box braids hairstyles. Now look below and feel the warmth of these hairstyles.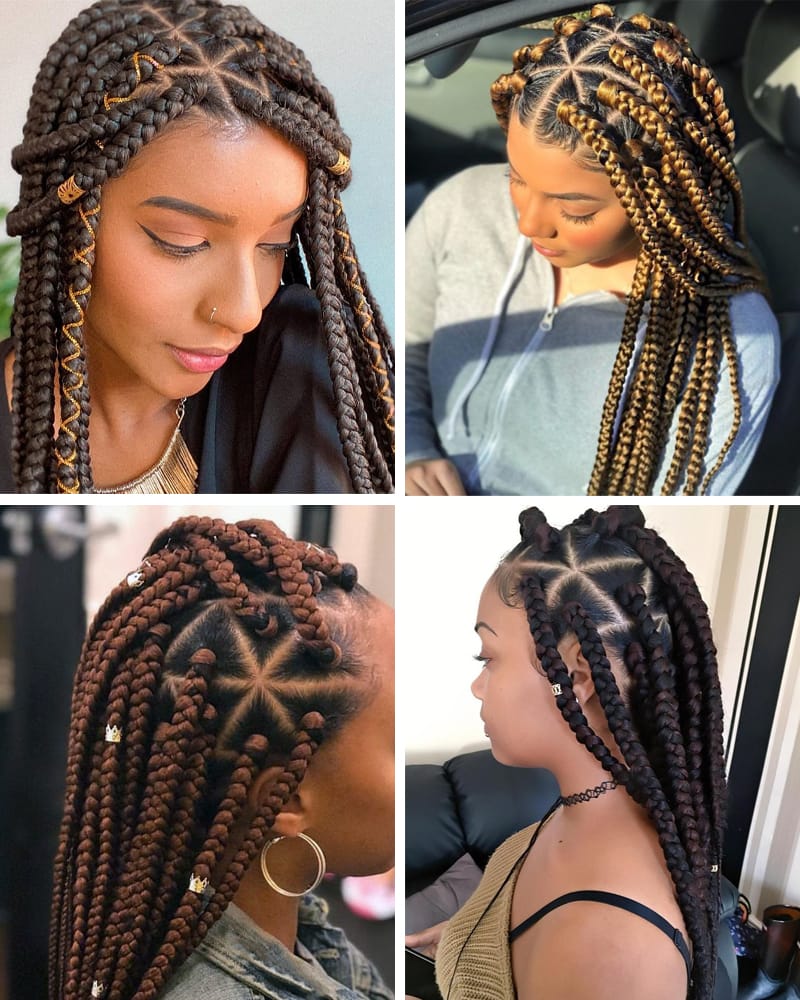 8. Topknot with Box Braids
Braided top knots can be another great hairstyle to be made with jumbo box braids. This lovely hairstyle requires a lovely knot on the top of the head and some leftovers around the head. You can wrap the knot with braids, rubber bands, or elastic bands to hold the whole thing. Additionally, you can wear beads and other accessories with these super-cute braids. The styles presented below are four of the greatest styles of box braids with top knots.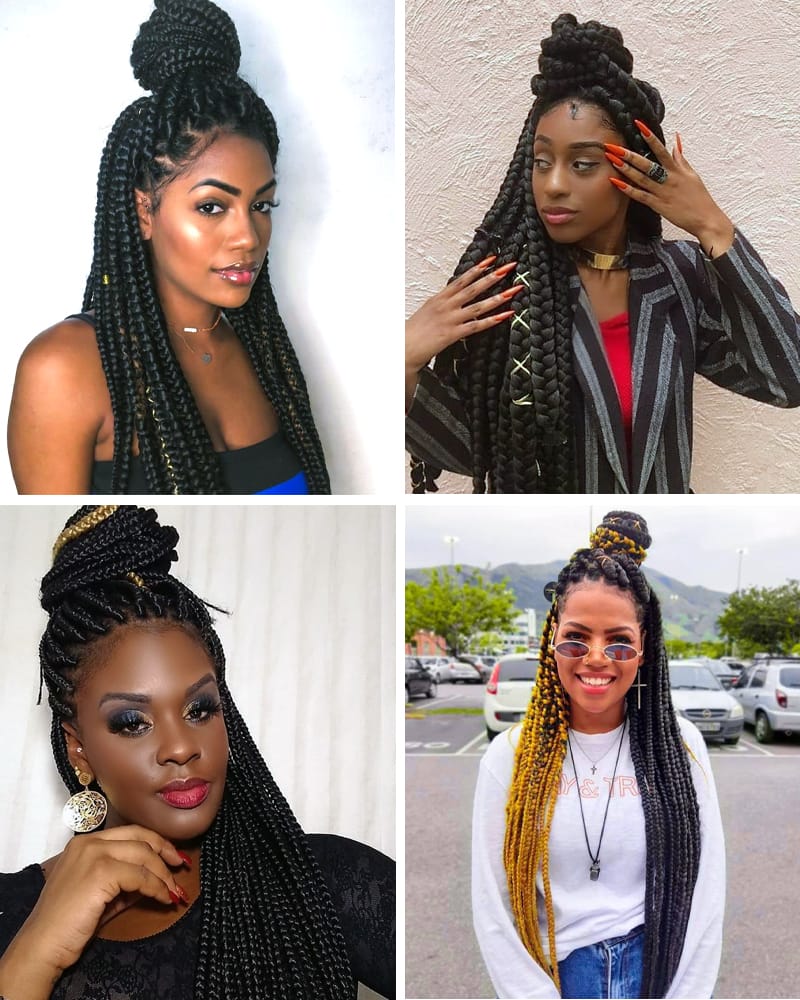 9. Braided Bob Hairstyles
Previously we have experienced the beauty of the asymmetrical bob braids hairstyle. But the regular bob hairstyles with lovely box braids can also be your next braided hairstyle. One interesting fact about the braided bob hairstyle is that these hairstyles look best with color. The more colorful your braids are the more lovely your bob style is. On the other hand, these styles are so flexible that you can add some criss-cross rubberbands, scarves, beads, and so on.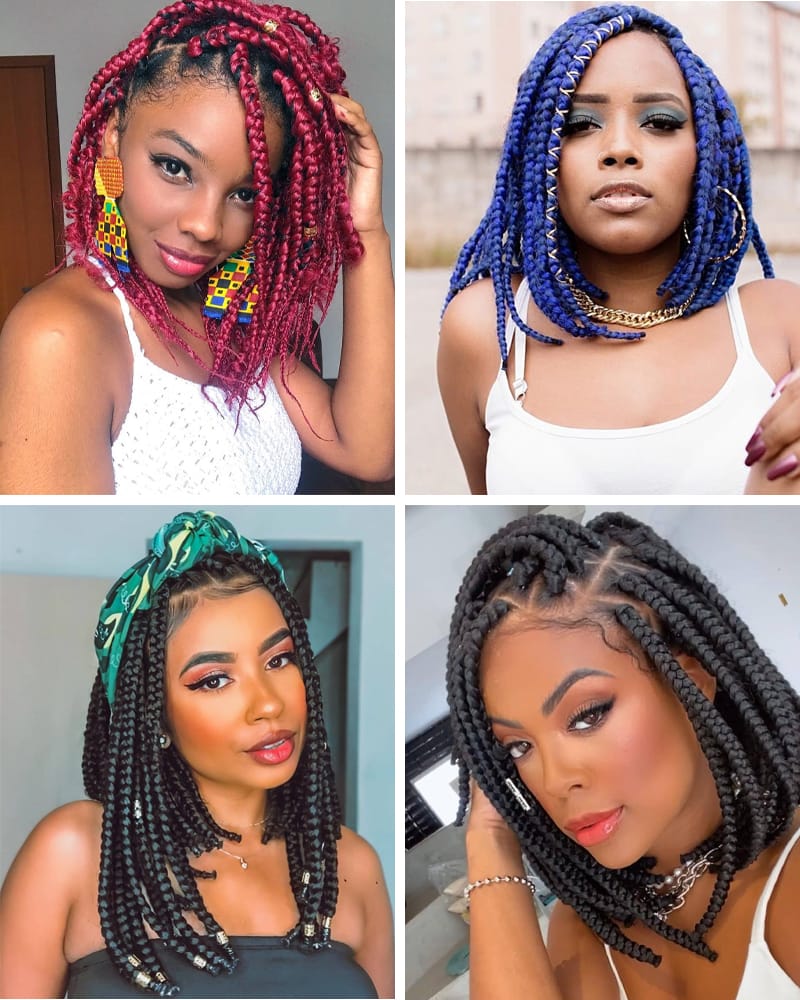 10. Put Some Color to Your Box Braids
As we have said earlier, color puts life into every hairstyle. And the same statement is applicable to the jumbo box braids hairstyles. When you are fond of color in your lovely gigantic braids you can choose a wide variety of colors in your hairstyle. Besides regular accessories, the colorful hairstyles also make you look smart, modern, and attractive.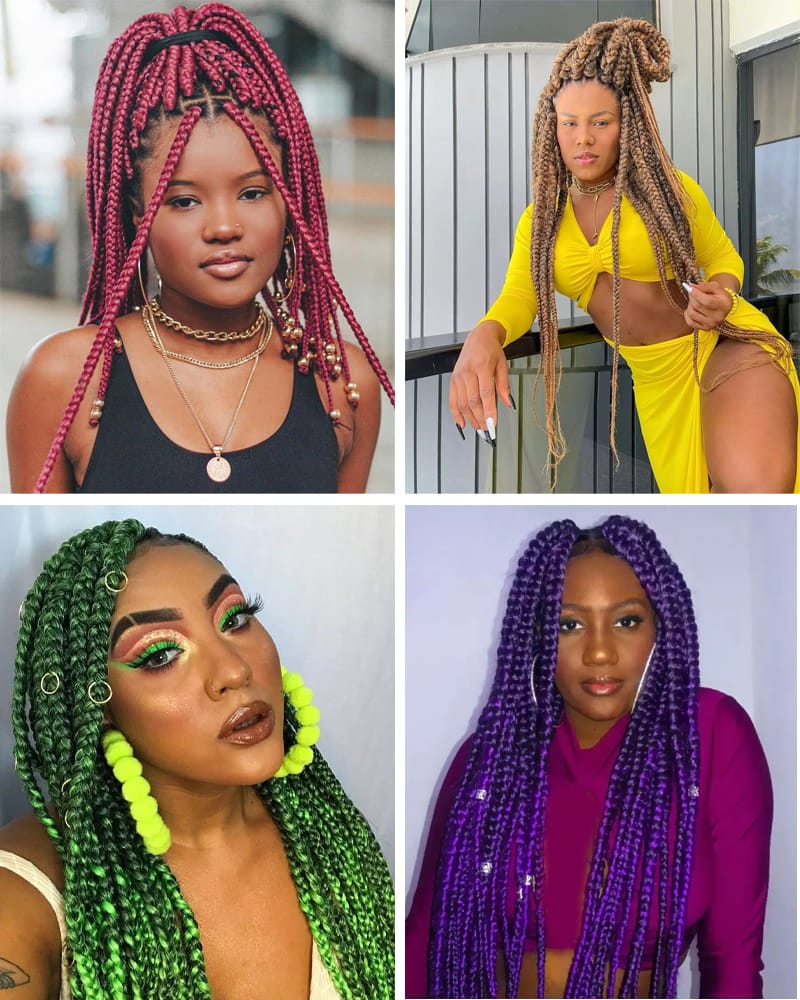 11. Braided Braids
Yes, you can make these braided braids too. And this is possible with gigantic box braids. Besides all other popular box braids hairstyles, these braids are widely popular among youngsters. These thick and shiny braids can make anyone look gorgeous and stunning.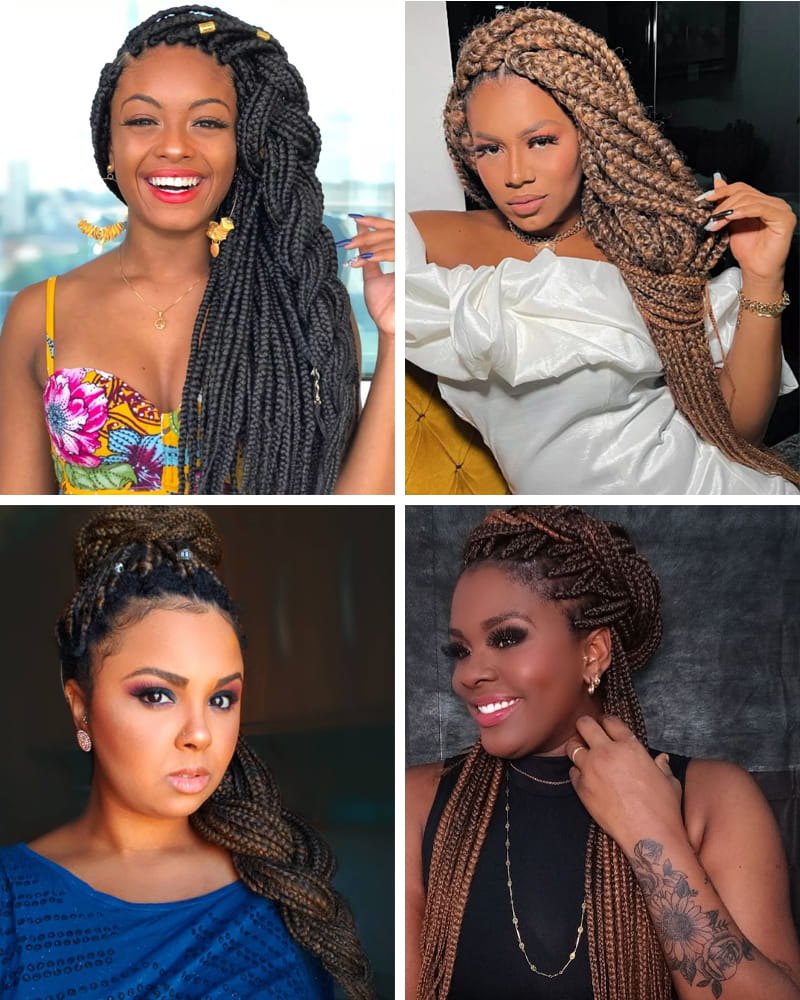 12. Long Bob Braids
Generally, bob hairstyles are short and cute. But with braids, you have the ability to wear them long. Long bob braids create a significant difference from normal bob hairstyles. These lovely are also great with beads, criss-cross rubber bands, and other accessories. The images below will demonstrate better the long bob hairstyle with jumbo box braids.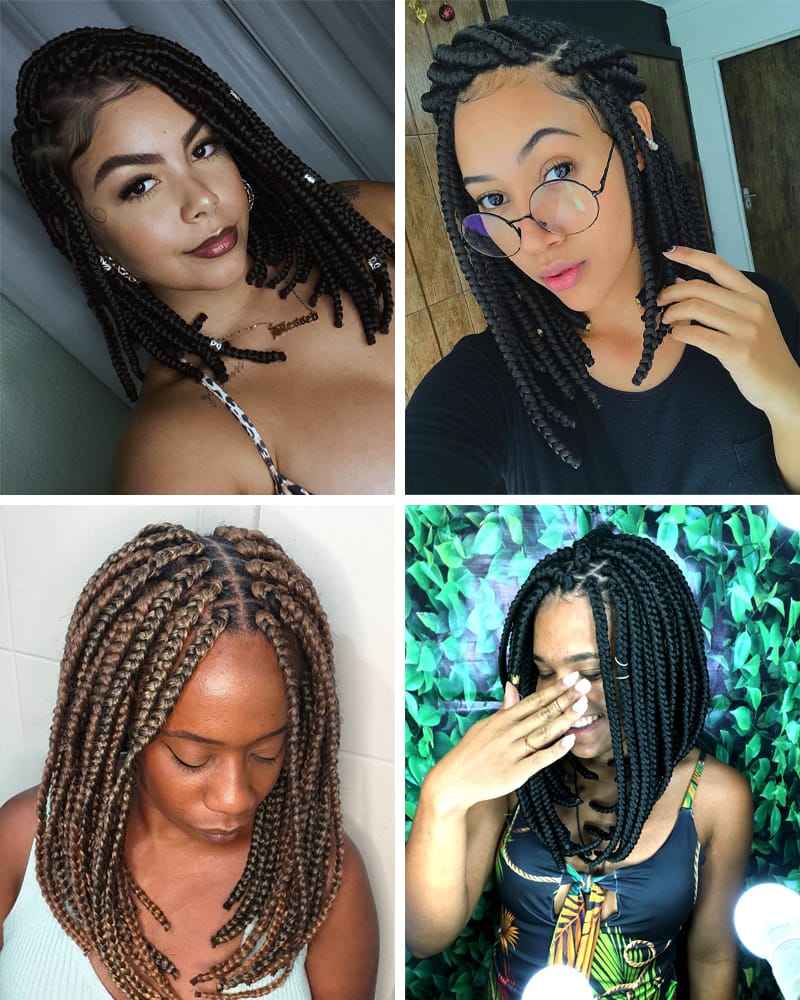 13. Braids with Beads
From the very beginning of braiding hairstyles, beads are a great accessory to wear with braids. In the case of box braids, no other accessories are as adjustable as the beads. You can find a huge number of styles and designs of beads in y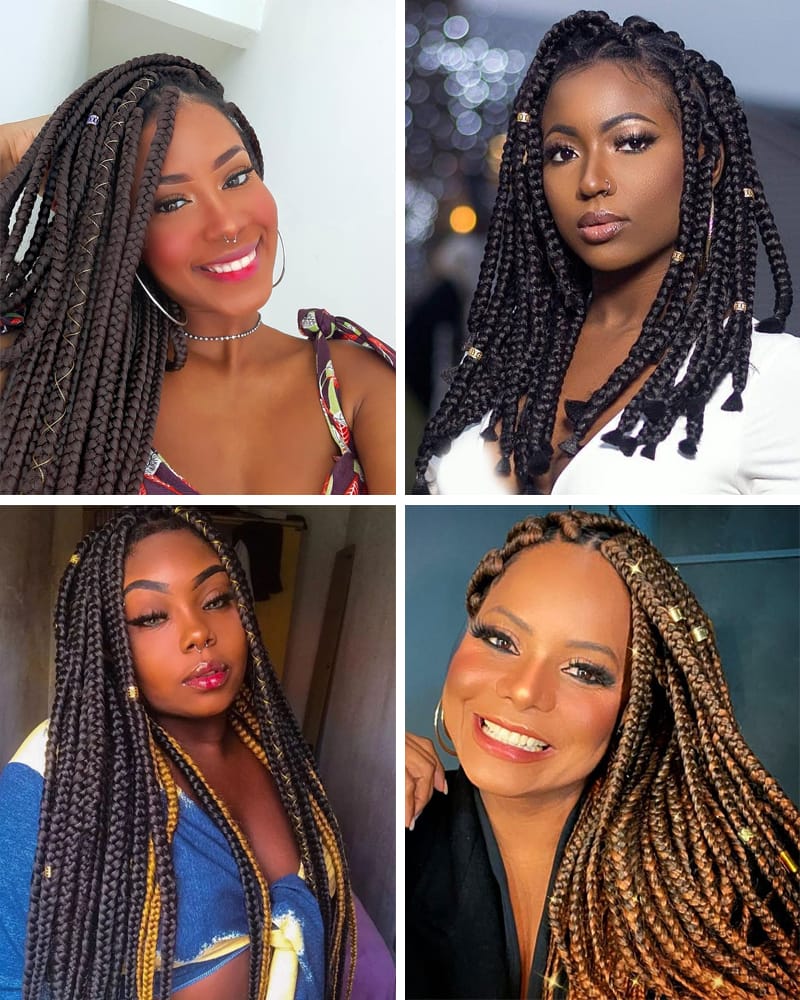 14. Long and Straight
Long and straight braids are one of the most used and classic braided hairstyles using jumbo box braids. Hereby, we want to present to you some of the lovely long braids hairstyles. Curly edges, colorful highlights, criss-cross rubber bands, and other accessories can make this hairstyle look more cute and adorable.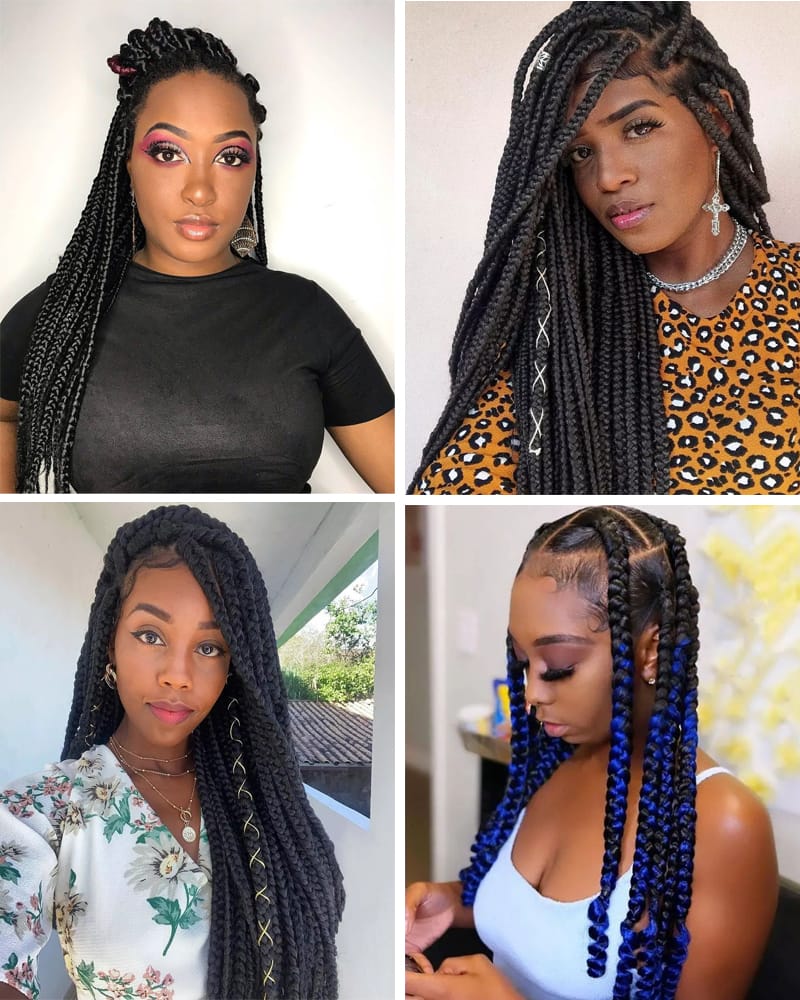 15. Highlights
In terms of hairstyles, colorful highlights are one of the greatest ideas to decorate your hair. So, besides the other hairstyles, highlights can make your long braids look gorgeous. One more thing, while wearing highlighted hairstyles we must concentrate on the color of the highlights. Below there are some jumbo box braids with colorful highlights. You can understand how wisely these colors are picked for highlights.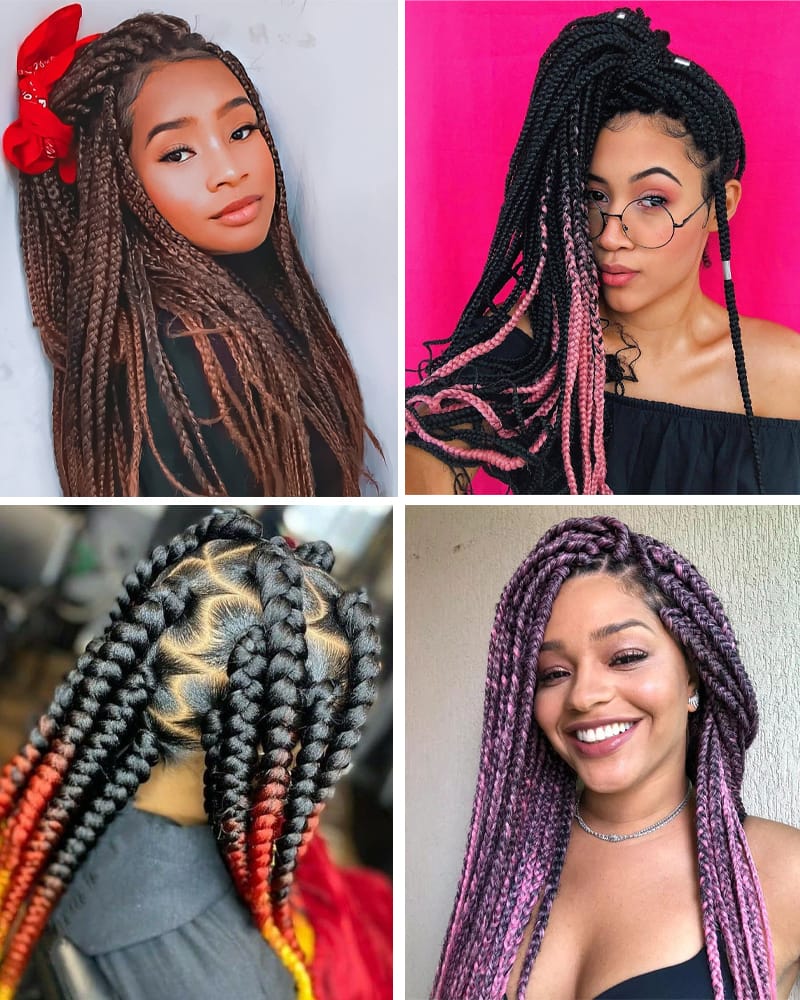 16. Jumbo Box Braids Updo
Updos are always lovely hairstyles to wear on different occasions, festivals, and ceremonies. These are hassle-free hairstyles with great attraction. It requires low time and maintenance too. All you need is to pick some awesome styles and turn your braids into them. And when you are in a hurry and want to pick a lovely hairstyle, this one is definitely suitable for you.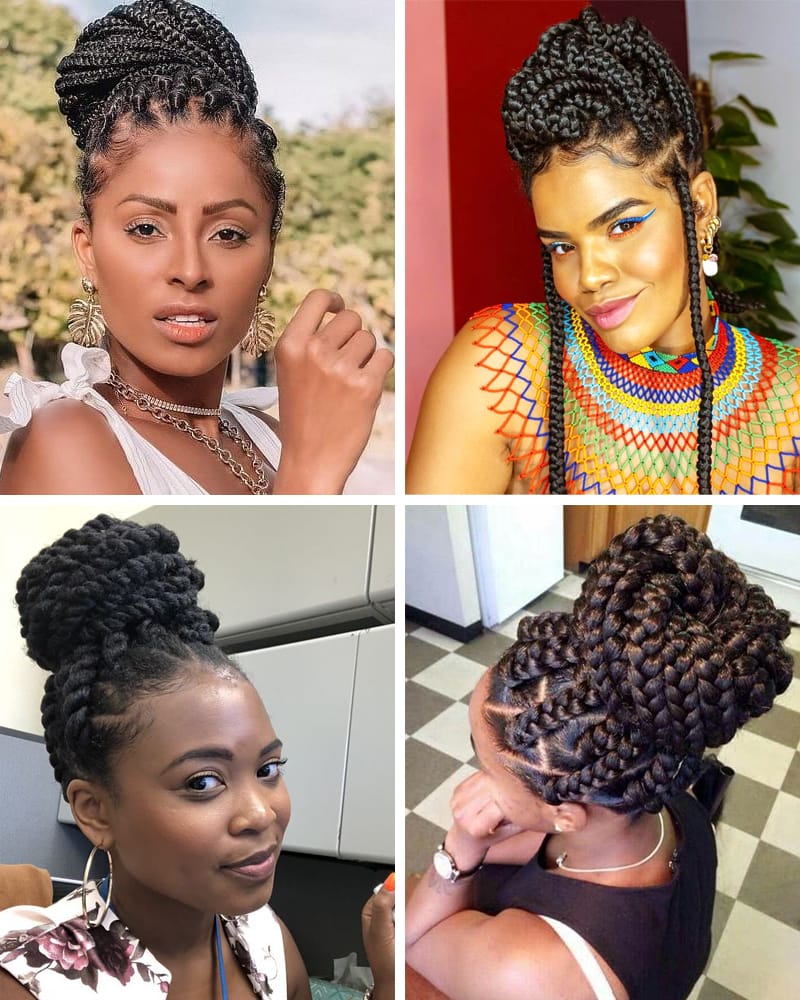 17. Honey Blonde Box Braids
Honey blonde is a popular color in the world of hairstyles. Besides braids, you will see other hairstyles are also colored with honey blonde color. This glittering color is actually a symbol of beauty and glamour. And that's why many beauticians recommend this color in your hairstyle whether it is a braided or other hairstyle.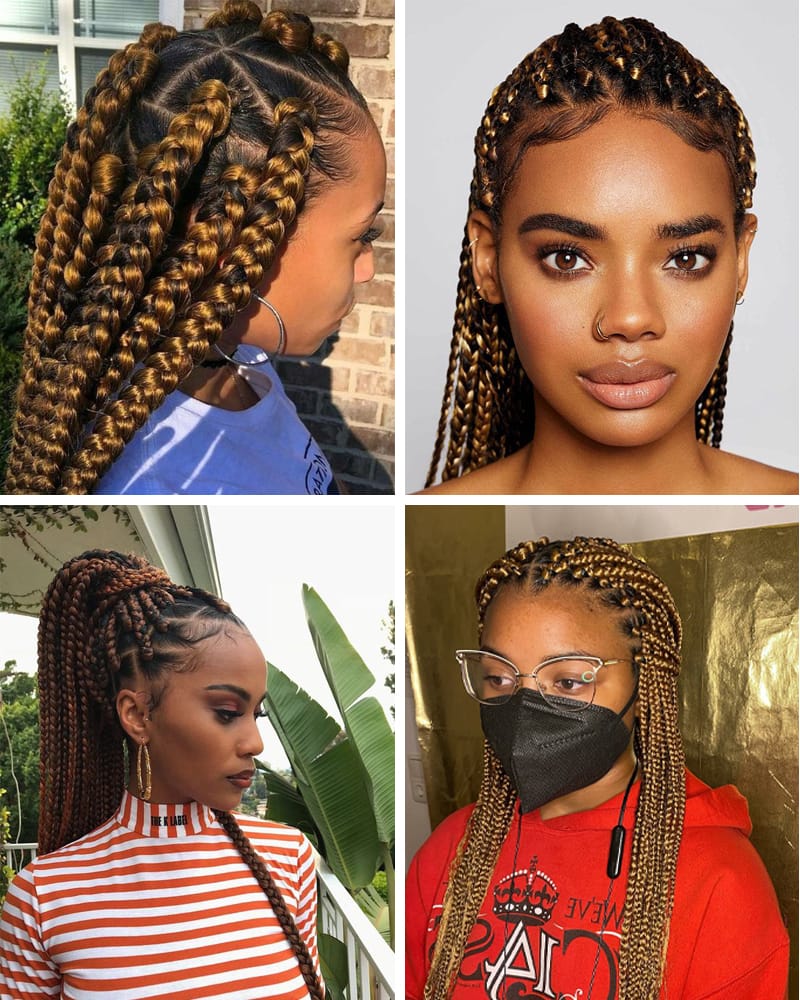 18. Curled Jumbo Box Braids
In recent times, the braids are decorated with curly edges to bring some variation and smartness to the hairstyle. And these curls perfectly go with straight hair, cornrows, twists, and braids. So, if you are wearing jumbo box braids you have this great opportunity to curl your braids. And believe me, you will not regret wearing it.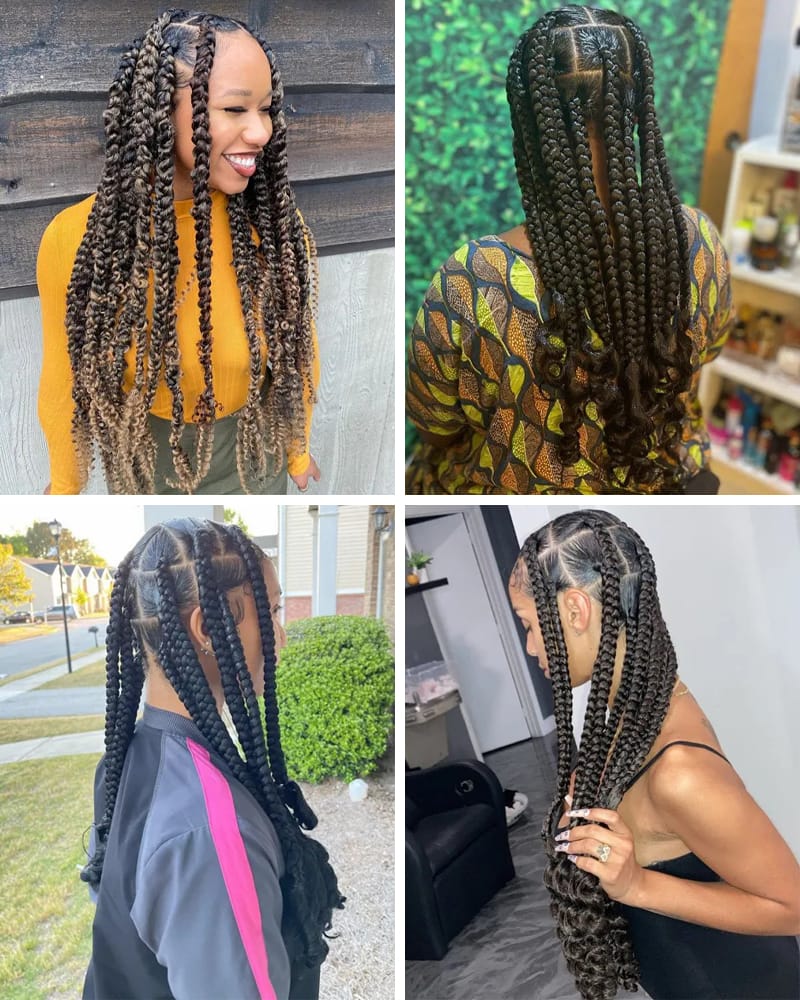 19. Blonde Jumbo Box Braids
Jumbo box braids always look great with colors. But if the color is blonde, it will be just a bombshell. Study shows that more than 75% of women around planet Earth prefers blonde hairstyles to any other colored hairstyles. So, if you are thinking of wearing some gigantic braids with blonde color, you are on the right track, lady.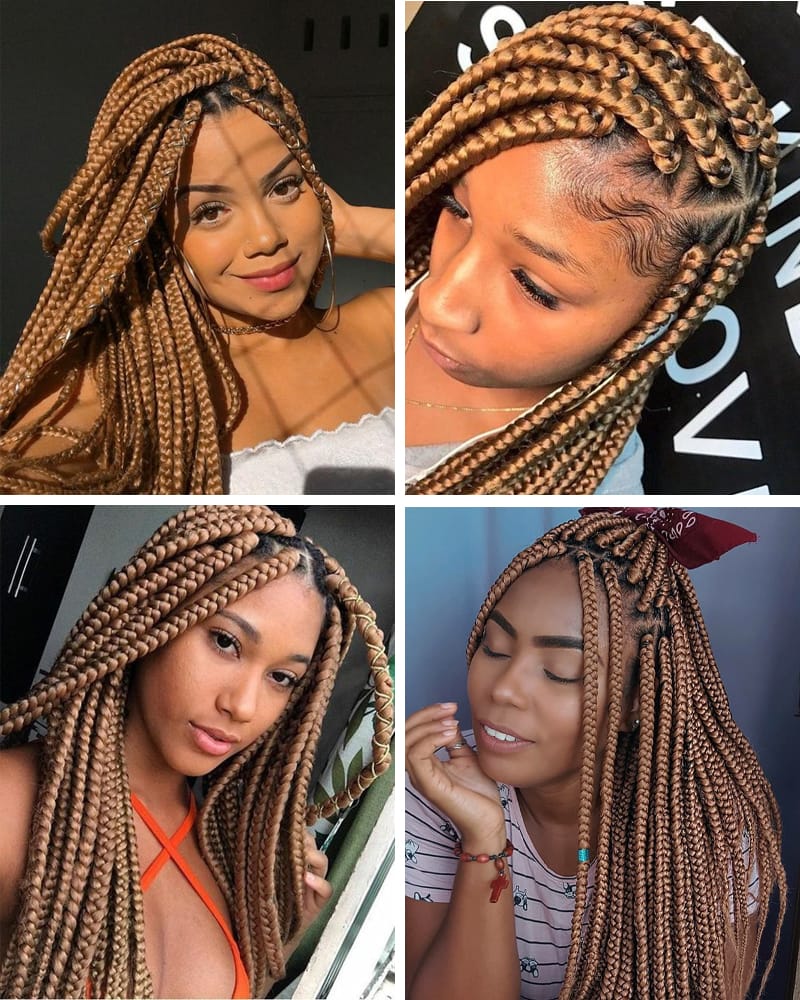 20. Touch of Red
Yes, red is the color of love and affection. And many of us want to spread the love through a hairstyle. Some of us love reddish colors but not the exact red color. In fact, whatever color you prefer you can apply that to your hairstyle. But remember the presentation of these colors does matter while making hairdos. For example, you can use pure red, reddish, or red highlights on your hairstyles. But you have to understand whether it goes with your personality, hairstyle, face shape, and taste or not.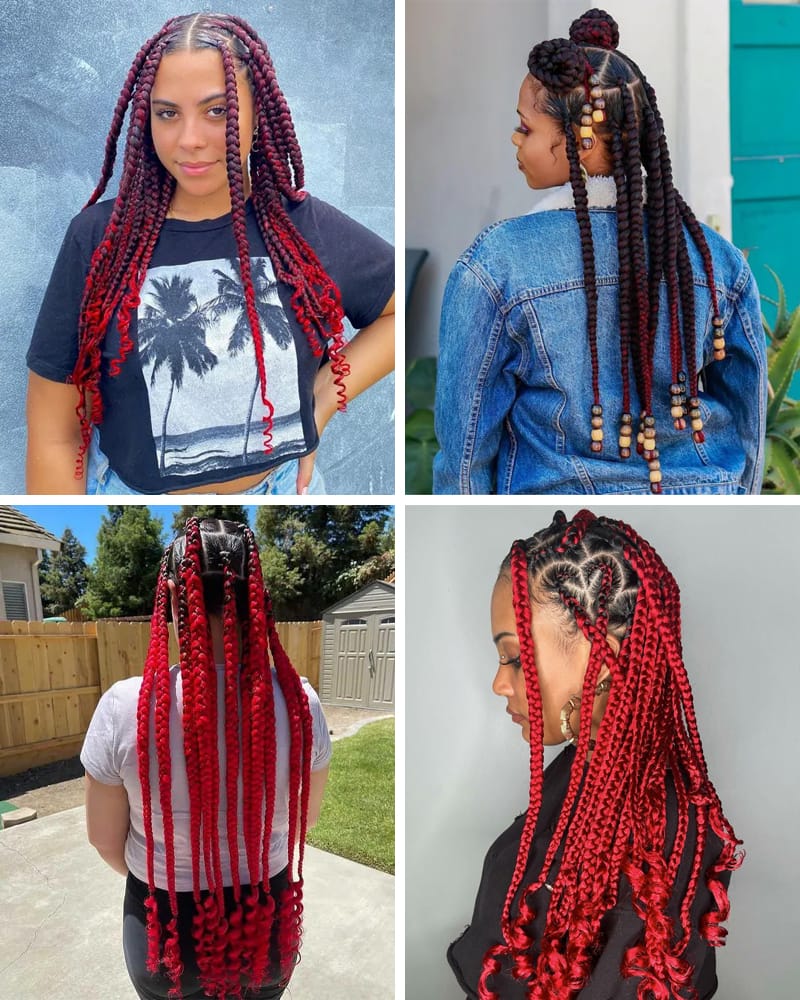 21. Short Jumbo Box Braids
You can wear these Africa-originated huge braids style in short form too. As many of us are comfortable with the short hairstyle, we just need a shorter version of the style of the legendary braid too. That's why the short jumbo braids styles are introduced. And now these short braids are one of the most popular styles in the whole world.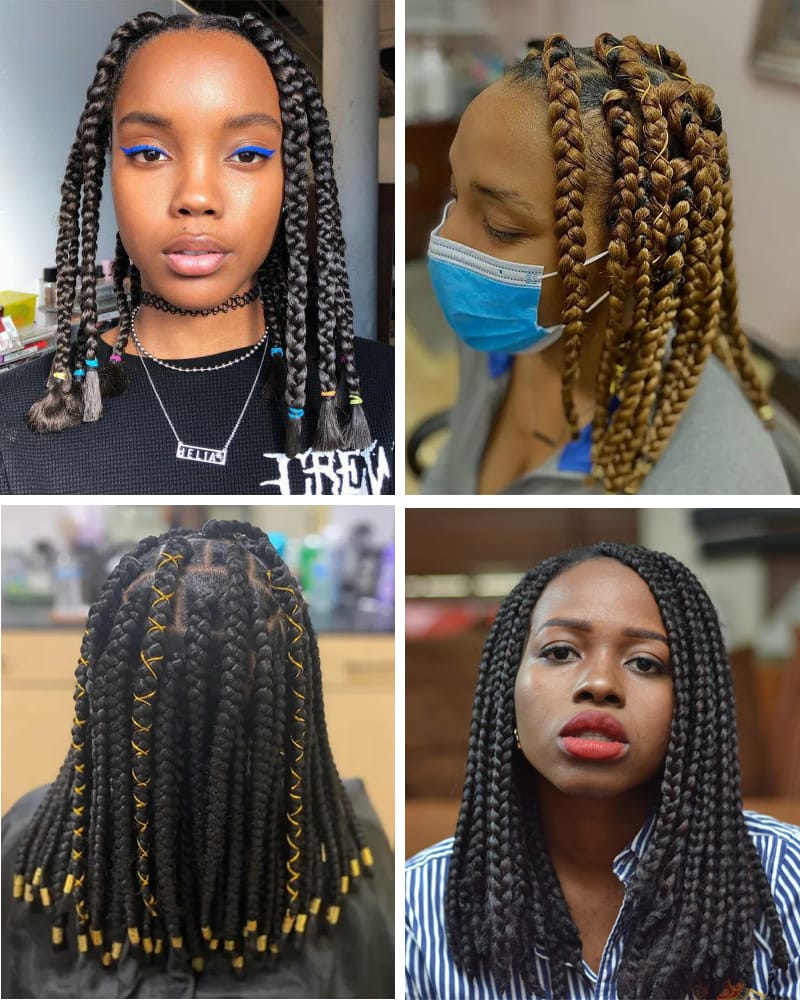 22. Twisted Jumbo Box Braids
Have you ever tried twisted thick braids? Believe me, they are just awesome to wear and lovely to watch. Moreover, they are flexible enough to allow you to make different styles like Bantu knots, and use different types of accessories. In a word, these twists can make the impossible happen.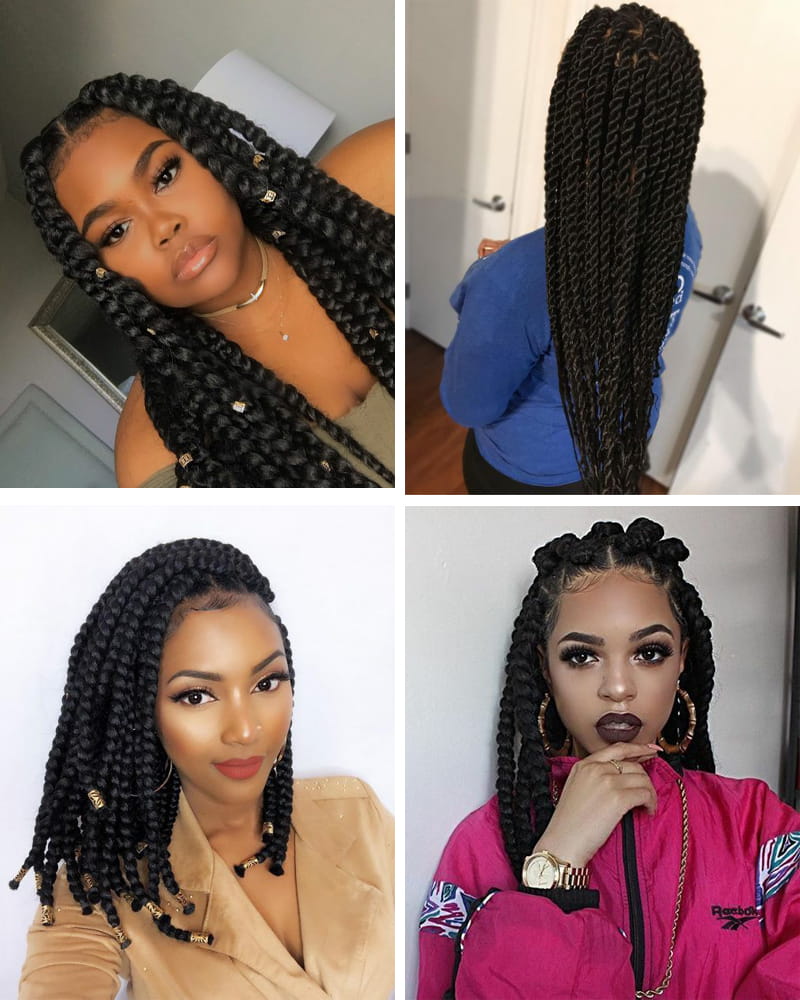 23. Trending Jumbo Box Braids
And here goes some of the trending versions of jumbo box braids. Previously we have shown some categorized information based on these giant braids. But these braided hairstyles are beyond all categorization and definition. They are simple, modern, trendy, and glamorous. So if you are a trendy hairstyle lover, you can grab one of the shown hairstyles.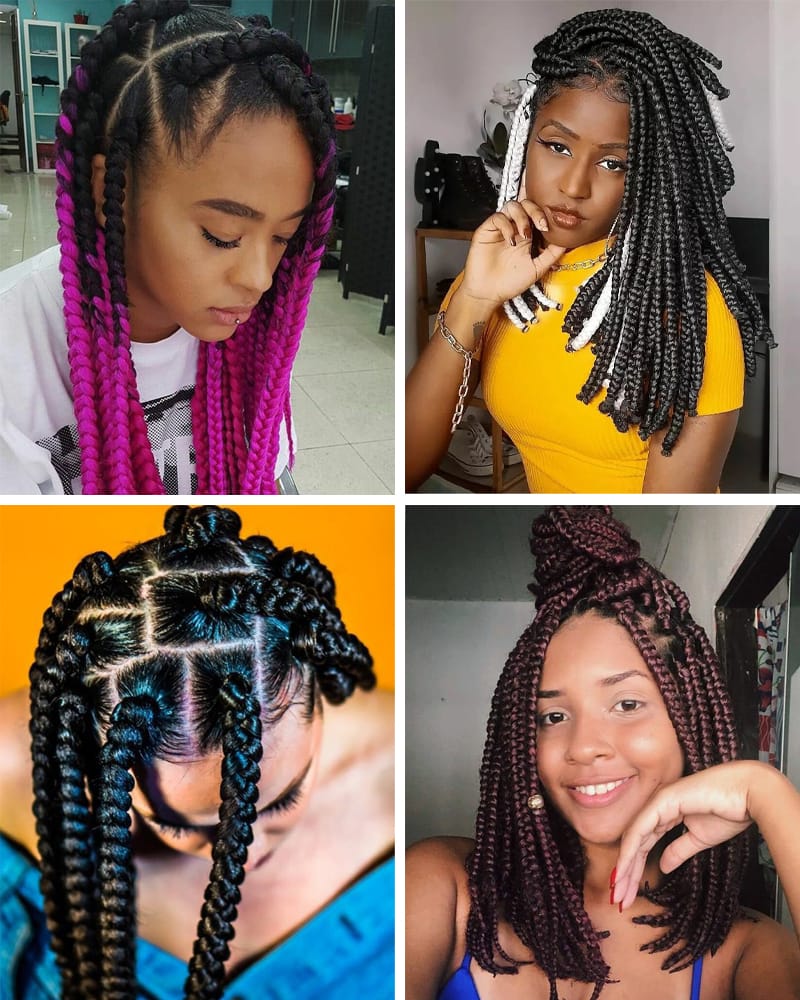 The trendy hairstyles are colorful, long, short, highlighted, bob, and so on. In a word, you can find a trendy from every branch of this hairstyle.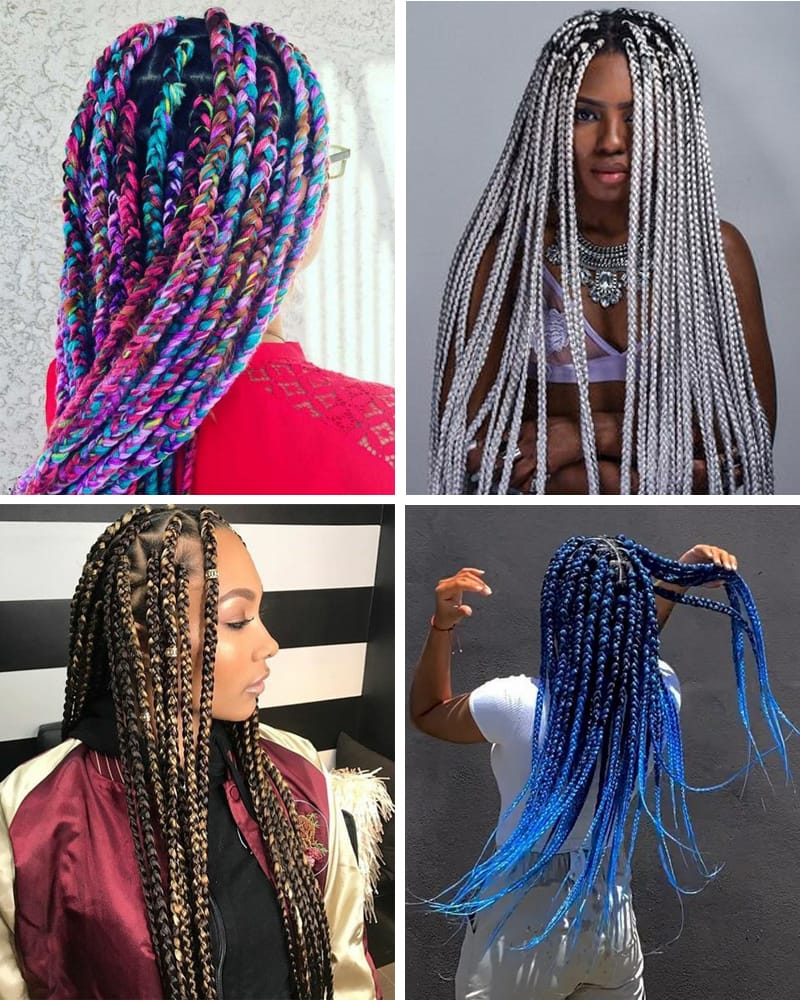 Jumbo Box Braids styles are fashionable, modern, trendy, and less time-consuming hairstyles. So, if you are a braids lover, you can grab a style and make it done by yourself or your beautician.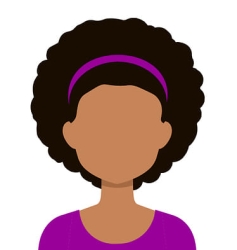 Latest posts by Laverne Rhimes
(see all)