Welcome, the wonderful parents and guardians searching for the cutest kids cornrows! Or are you on a quest to discover a hairstyle for your kiddos that's not just super cute but also keeps those tangles at bay? Well, you've stumbled upon a treasure trove of information because we're about to unravel the vibrant and versatile world of kids' cornrows. So, whether you're a styling pro or a beginner looking to step up your braid game, grab a comfy seat as we journey through the ins and outs of this timeless hair art.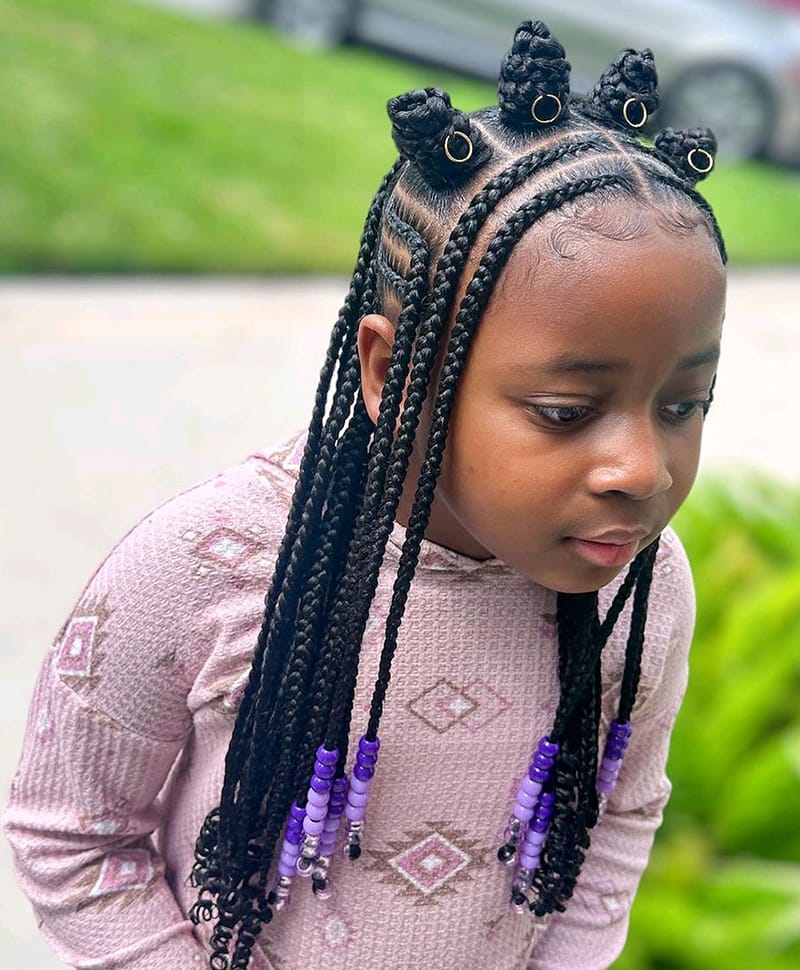 What are Kids Cornrows?
Cornrows have a rich history and a vibrant cultural tapestry that spans across continents. When we talk about kids' cornrows, we're referring to a style of hair braiding where hair is plaited very close to the scalp, using an underhand, upward motion to make a continuous, raised row. They are not only stylish but also a great protective hairstyle that can keep your child's hair neat and organized while promoting growth. Plus, they're incredibly versatile! Whether your little one is running around the playground or dressing up for a special occasion, cornrows can be both playful and elegant.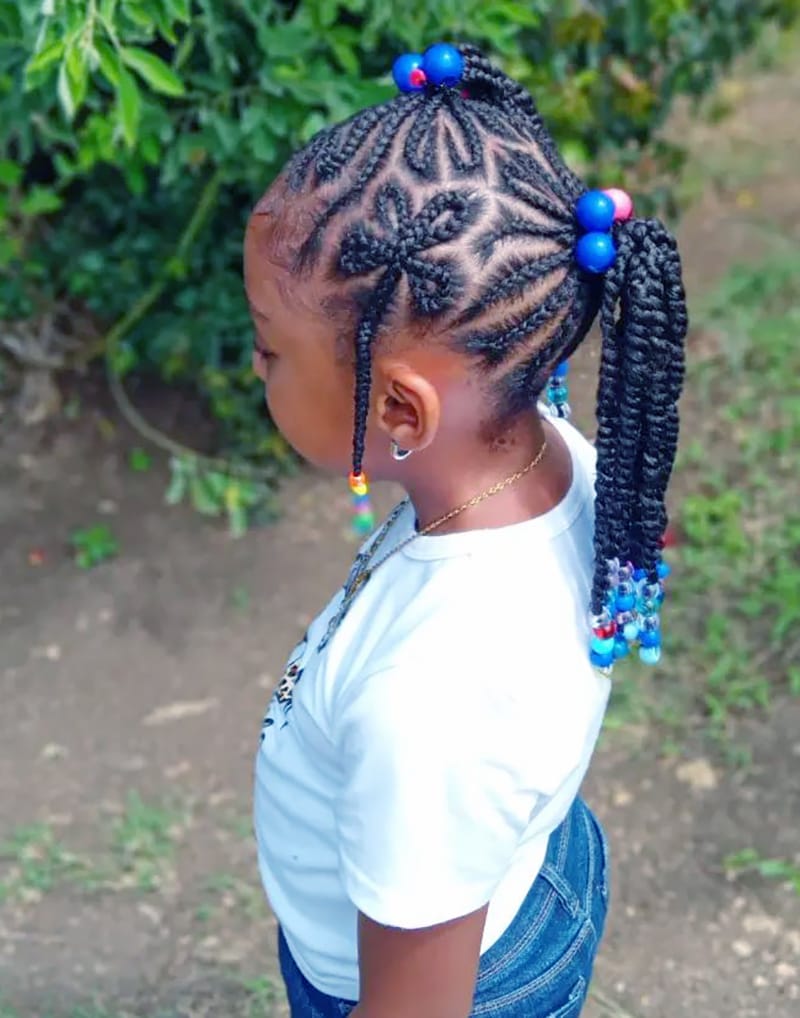 How to Do Kids Cornrows?
Ready to get started? Doing cornrows might seem a bit daunting at first, but with patience and practice, you'll be weaving like a pro! Here's the lowdown: you'll want to begin with clean, detangled hair. Section the hair using a rat-tail comb to create the desired pattern. Start from the front and make small, even sections, braiding tightly to the scalp and adding hair as you move along. The key here is consistency in tension to ensure that the cornrows look neat and last longer. Remember, comfort is key, so while you want the braids to be snug, be mindful of your child's scalp sensitivity.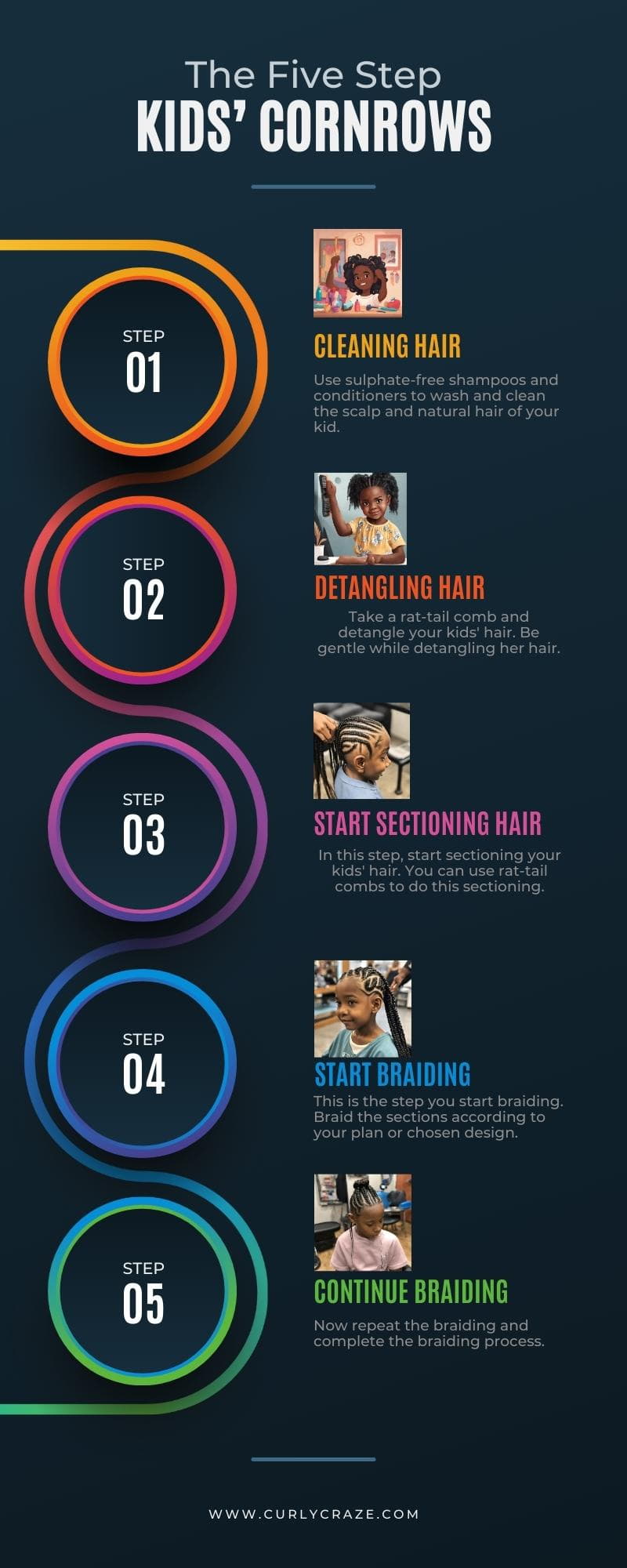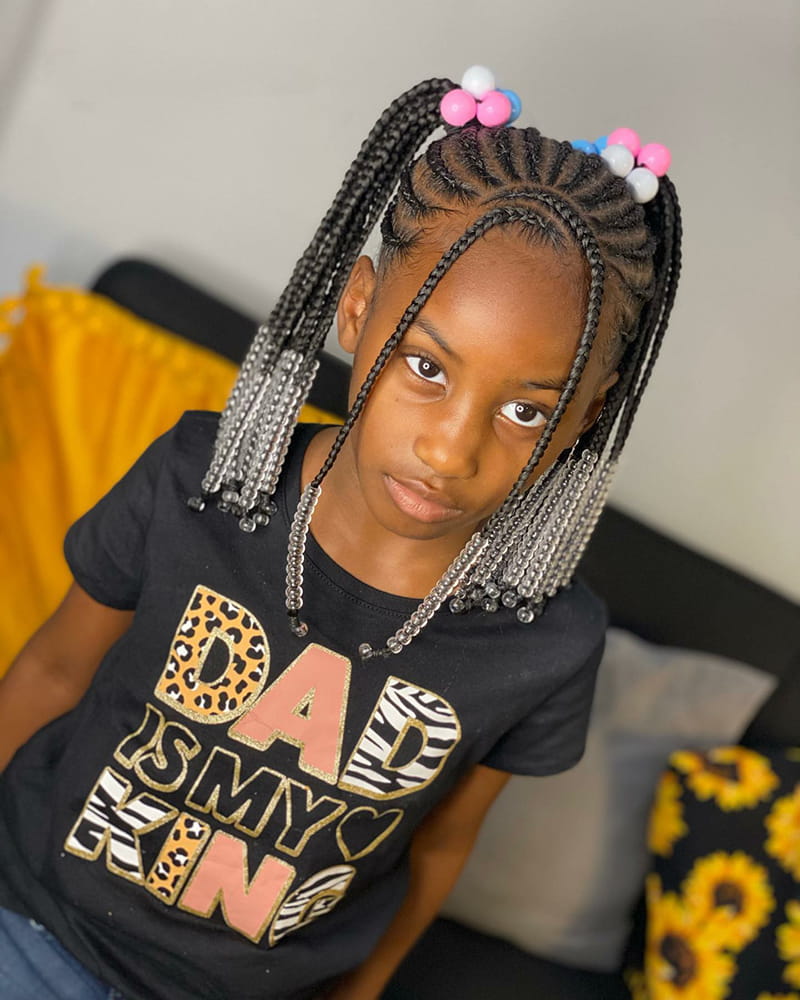 Updos and Buns Styles with Cornrows
Nothing says "put-together" like a neat updo or bun, especially when it comes to styling your child's cornrows. These styles are not just adorable; they're also incredibly practical. Whether your little one is running on the playground or sitting in a classroom, their hair will stay neatly out of their face, letting them focus on being their amazing selves. Let's dive into some of the cutest, most practical updos and buns for kids with cornrows!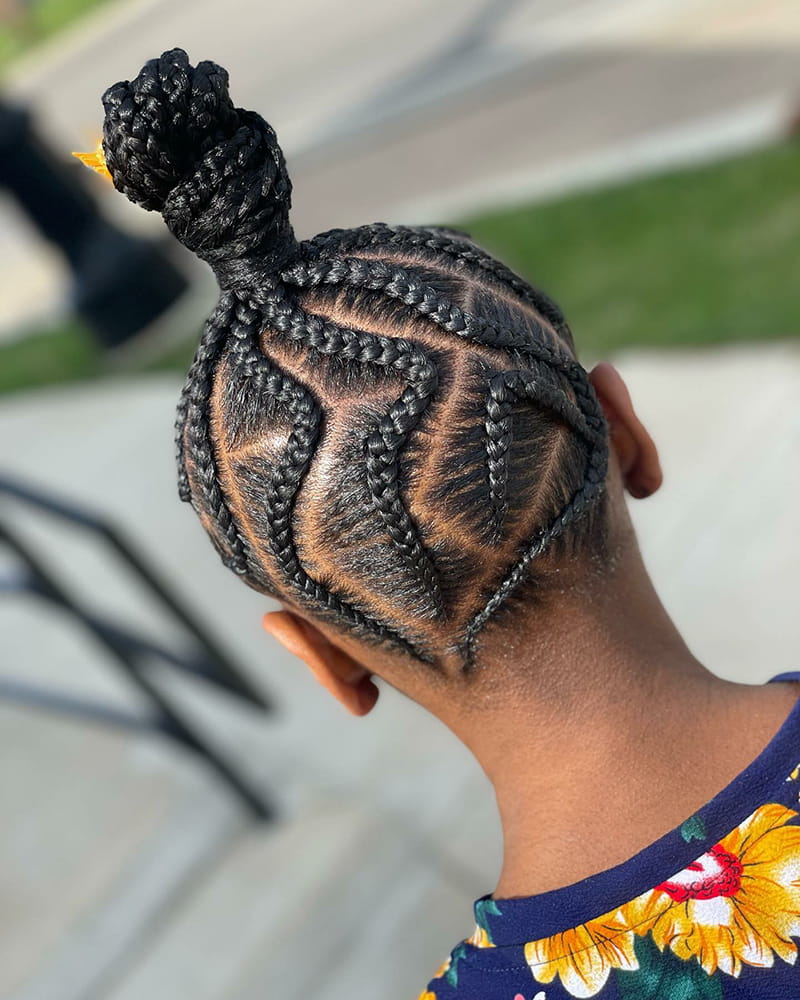 Pineapple Updo for Kids
The pineapple updo is a playful yet practical style that's perfect for your little one's active lifestyle. Think of a pineapple's crown – that's the look you're aiming for. It's a top-notch style, quite literally! To achieve this, gather the cornrows up to the highest point of the head, allowing the ends to fan out beautifully. It's the ideal hairstyle for hot days, physical activities, or when you want to add a touch of whimsy to your child's look.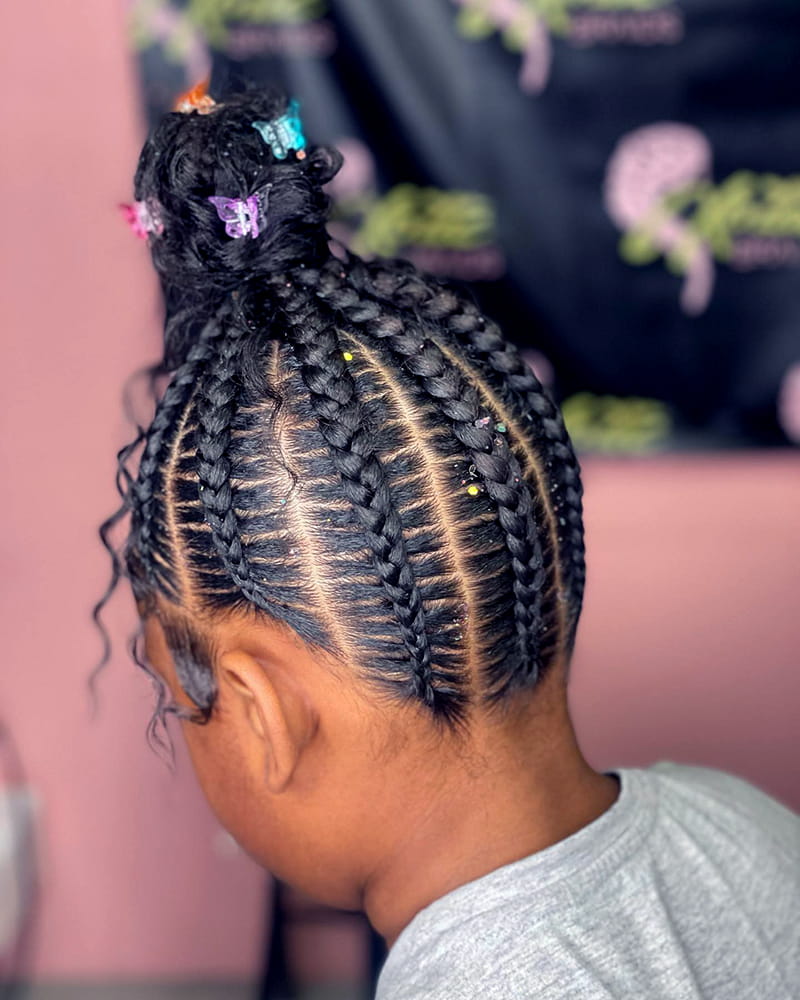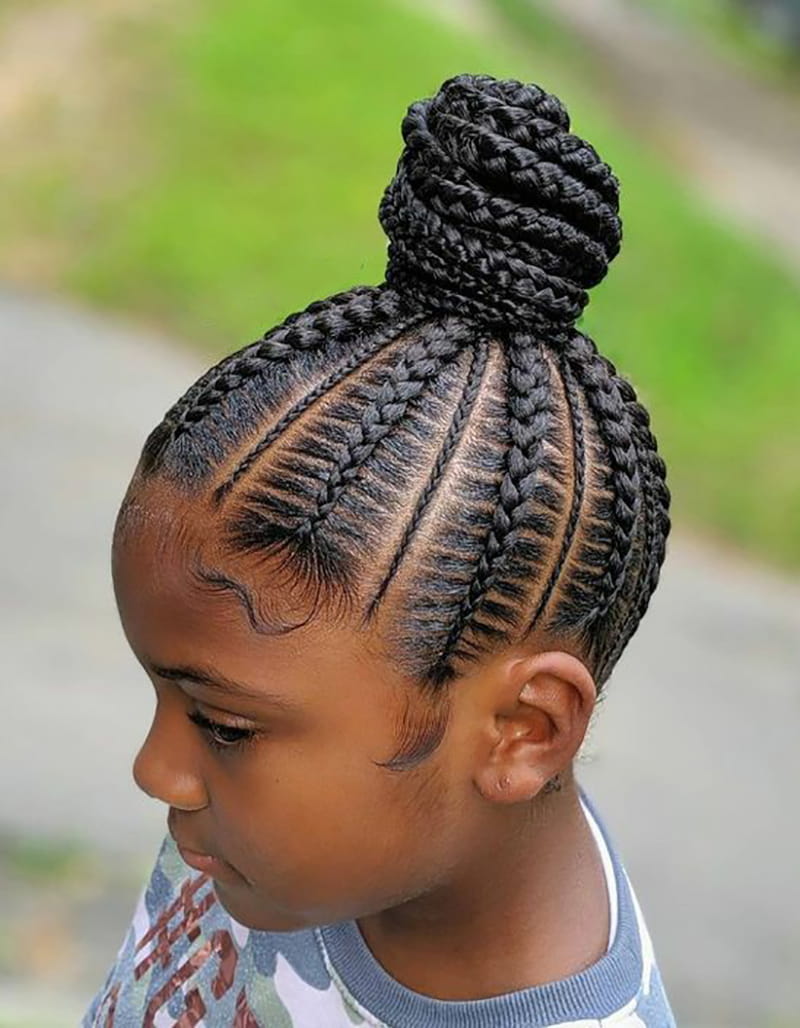 The beauty of the pineapple updo lies in its simplicity and the ease with which it can be dressed up or down. You can add colorful hair ties, ribbons, or even flowers to match an outfit or a special occasion. It's a go-to for days at the beach, picnics in the park, and everything in between. And the best part? It's a breeze to maintain, keeping those cornrows fresh and frizz-free!
Cornrows Updo for Kids
An updo with cornrows gives off an air of sophistication while keeping your child's hair secure and out of their face. It's a fantastic choice for formal events or when your little one wants to feel extra special. Start by weaving the cornrows back from the forehead, and then twist or pin them up into a neat bun at the back of the head. You can get creative here, forming patterns with the braids or creating a design that circles the crown of the head like a halo.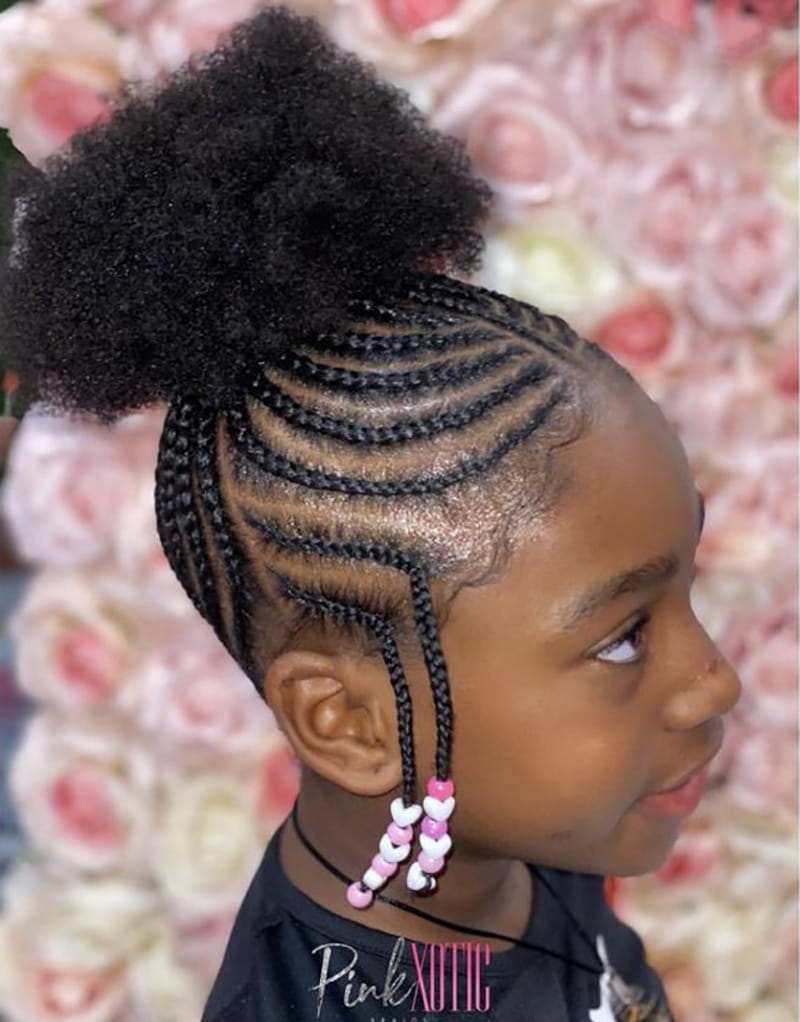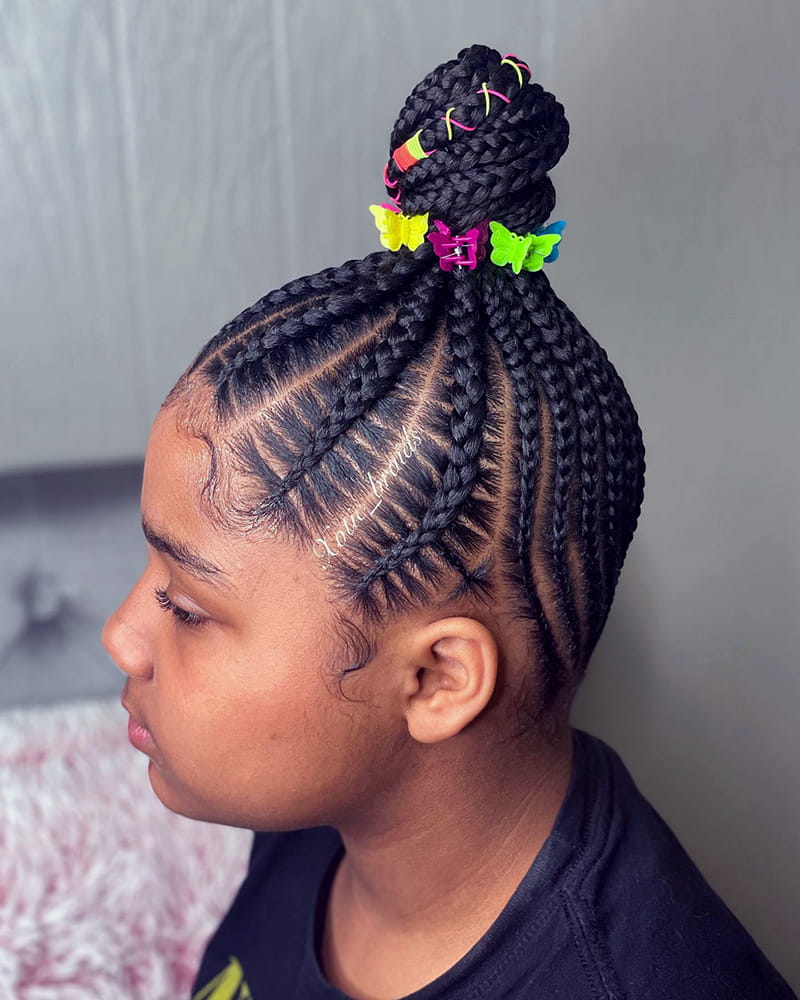 This versatile style can adapt to any event – from a regular school day to a family wedding. It's comfortable, which means your kiddo won't be fidgeting or fussing with their hair, and it's durable enough to last through long, eventful days. The updo is also a wonderful canvas for accessories – think sparkly hairpins for a bit of glitz or a pretty bow to tie the look together.
Cornrows Half Updo for Kids
The half updo is the epitome of sweet and stylish. It allows your child to flaunt their cornrows while keeping their hair neatly tucked away. This look involves pulling the top half of the cornrows back and securing them at the crown, while the rest cascade freely down the back. It's an attractive style that provides a wonderful balance between having hair up and leaving it down.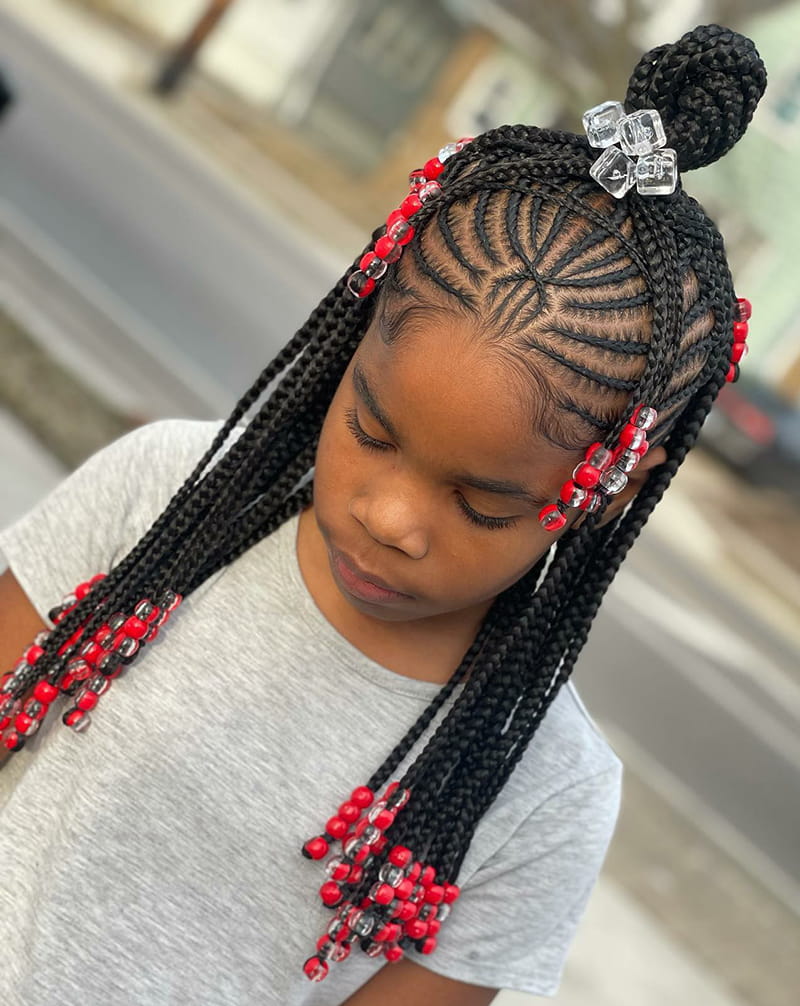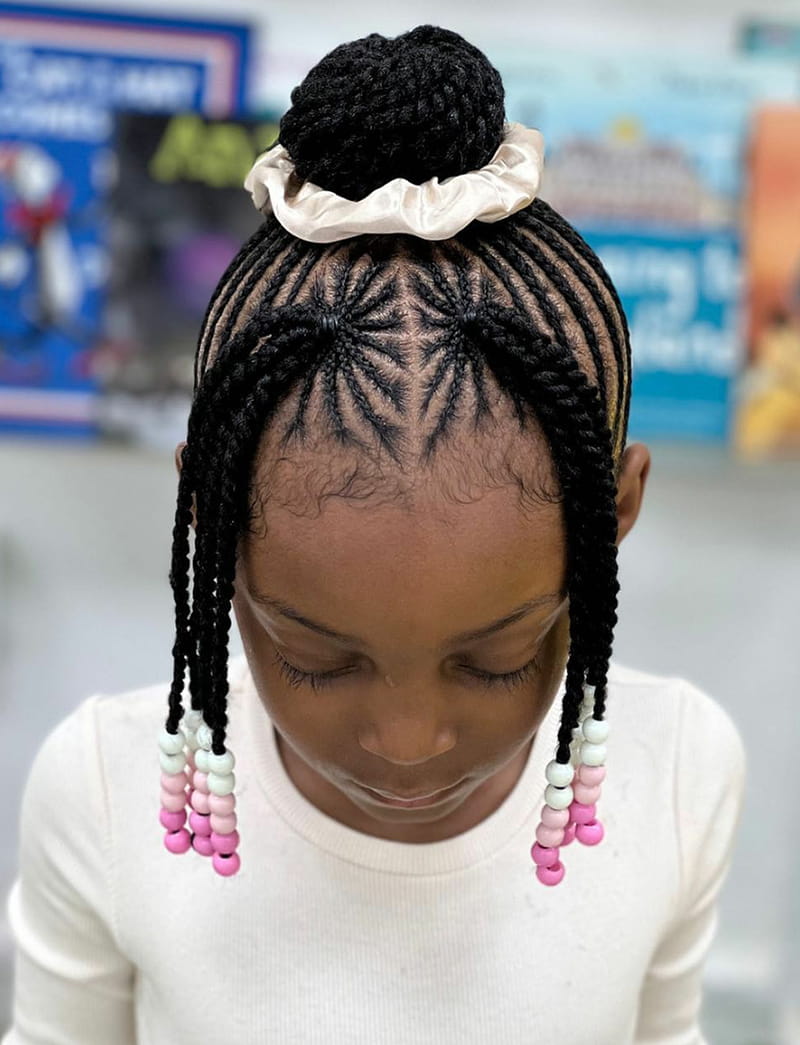 This look is as suitable for school pictures as it is for a family outing. Plus, it gives your child's scalp a break by not pulling all the hair up, which is great for their hair health. You can add barrettes or bows where the cornrows meet, creating a seamless transition from braids to loose hair. It's a style that says, "I'm ready for fun, but I've got this hair thing under control!"
Cornrows Topknot for Kids
The cornrows topknot is both a classic and a trendsetter. It keeps every strand neatly in place, which is ideal for hot days or sports. This style gathers all the braids at the very top of the head, wrapping them into a secure knot. It's a look that's both tidy and chic, and it works for any occasion, be it a playdate or a formal event.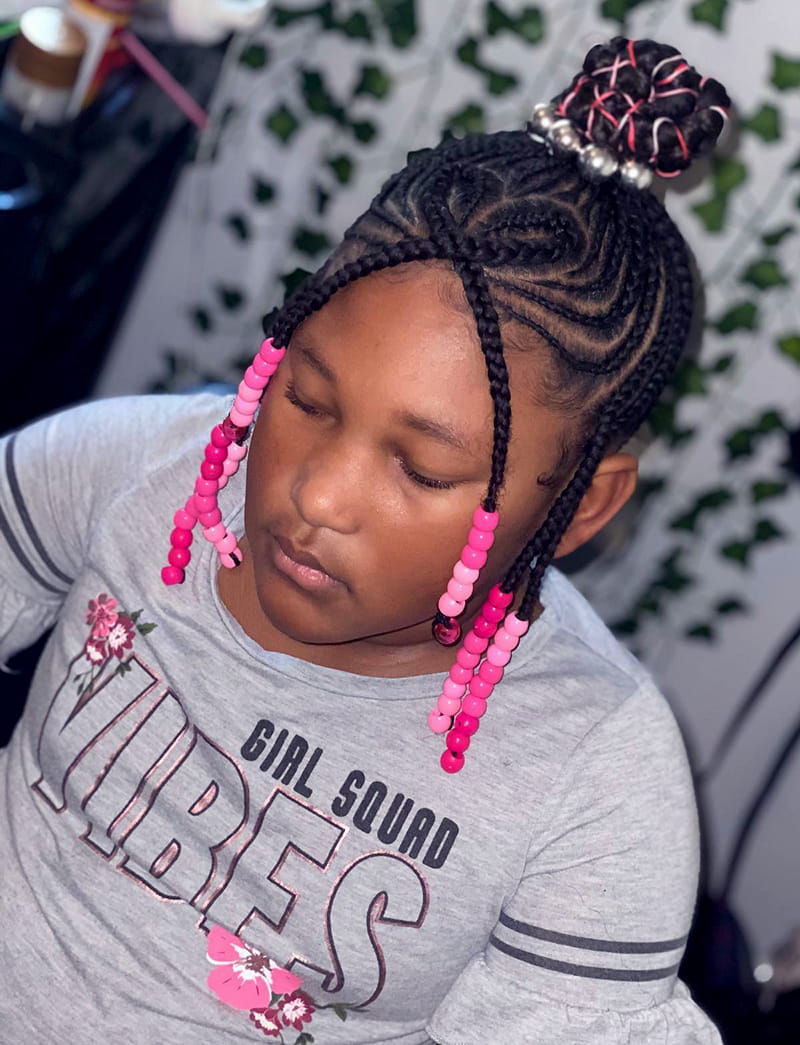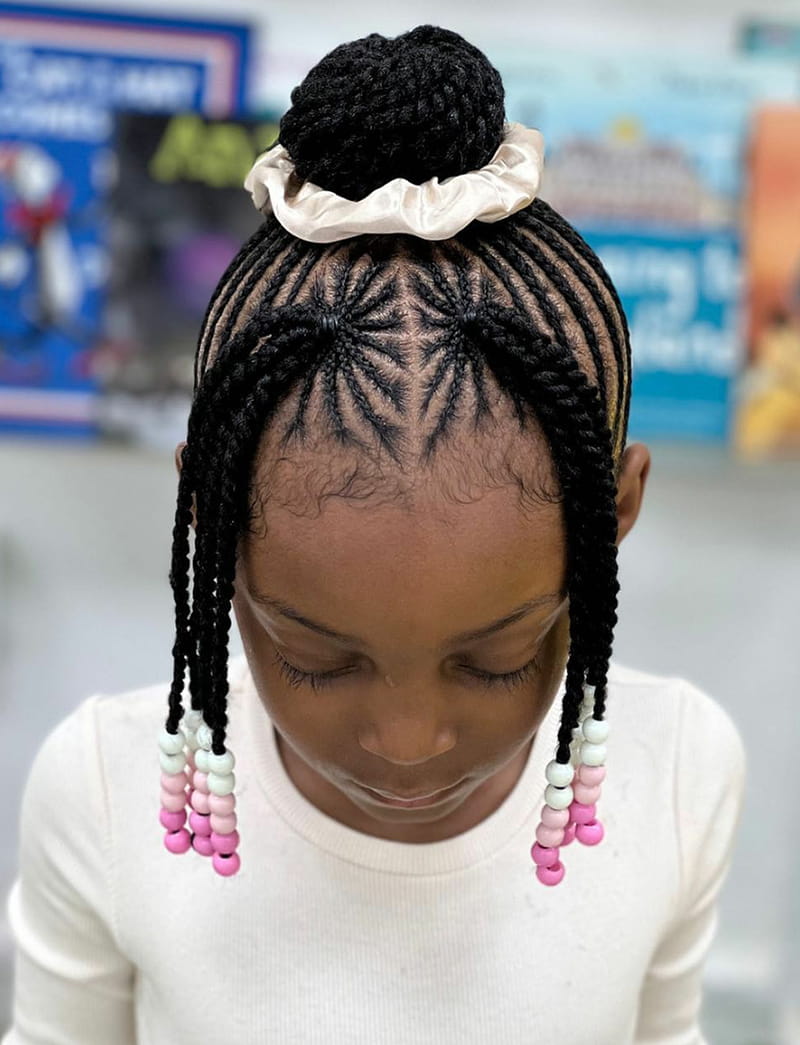 The topknot is also a canvas for your child's personality to shine through. Decorate it with their favorite hair accessories, or keep it simple and let the braids speak for themselves. This updo has the added advantage of being easy to manage. It won't unravel during play, and it's comfortable enough for your little one to wear all day long.
Cornrows with Double Knots for Kids
Double knots add an element of symmetrical satisfaction to any hairstyle, and when combined with cornrows, they're just too cute! This look involves creating two buns placed on either side of the head. They're fun, they're fashionable, and they give off a certain sense of balance that's pleasing to the eye.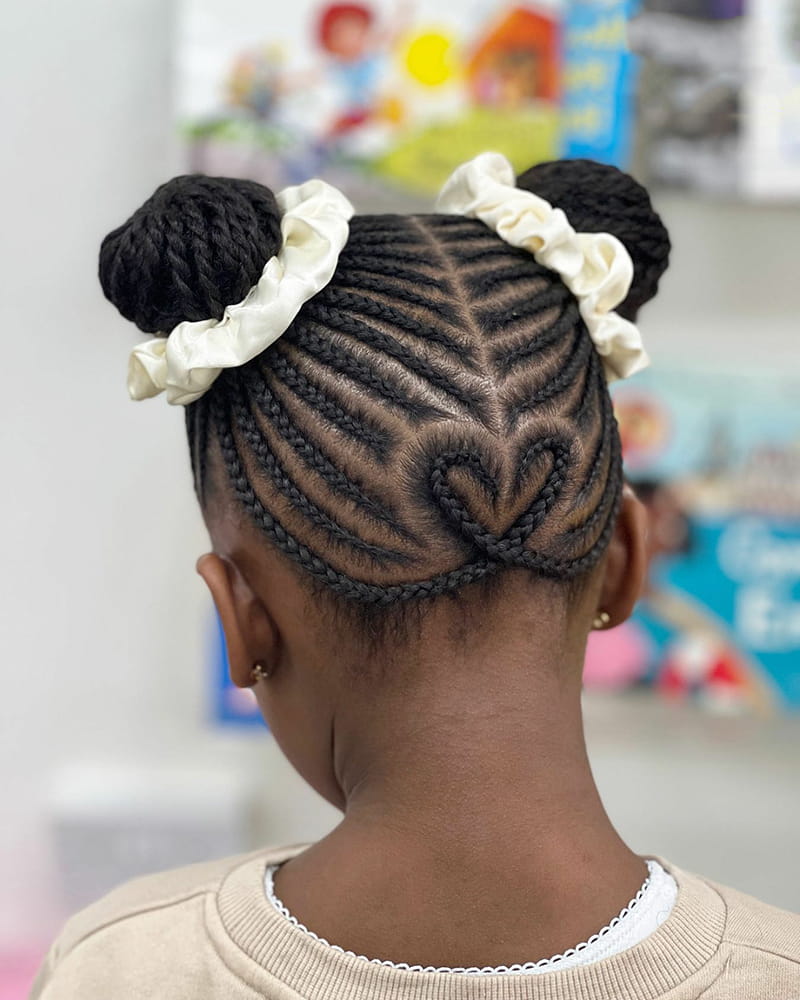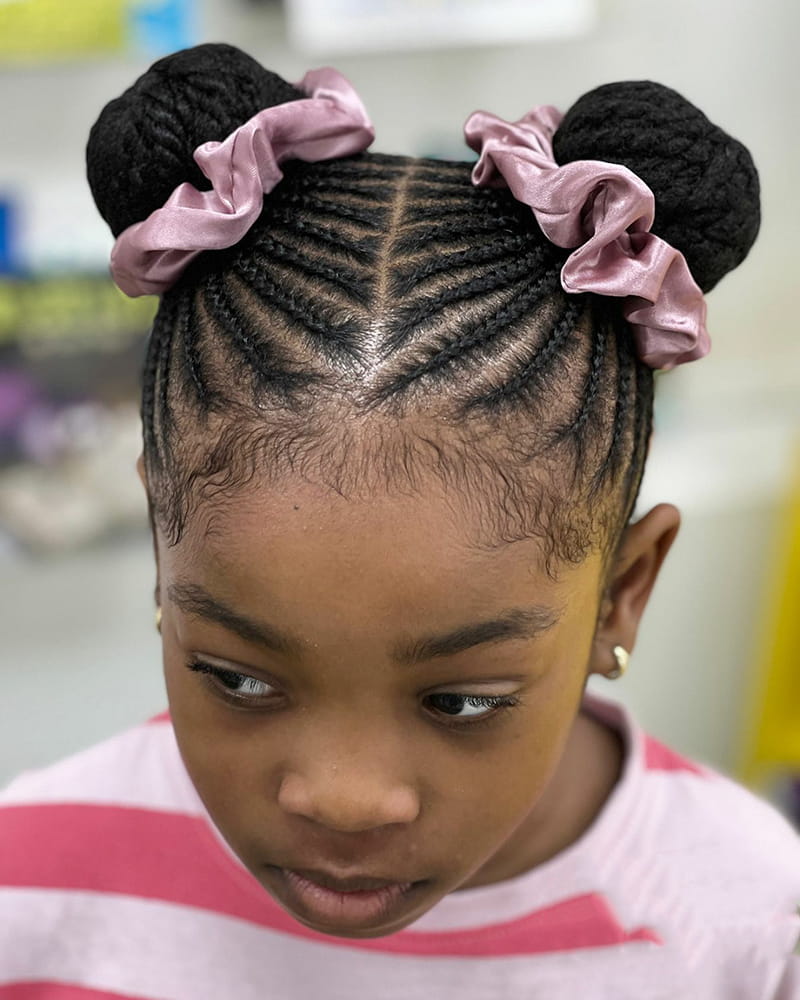 Perfect for any social gathering or a day when your child wants to stand out, double knots are also a clever way to keep hair in place. Whether it's a windy day at the park or an active afternoon at a friend's house, this style will stay put. And let's not forget, they can be as big or as small as you like, adding versatility to this charming look.
Cornrows with Buns for Kids
There's something irresistibly cute about a child with their hair done up in buns, especially when cornrows add a touch of intricate detail. This style involves wrapping the braided hair into one or more buns, which can be situated at various points on the head depending on preference and flair. For a playful twist, you might choose side buns, reminiscent of a beloved storybook character. Alternatively, a single bun at the back can exude understated elegance suitable for formal occasions.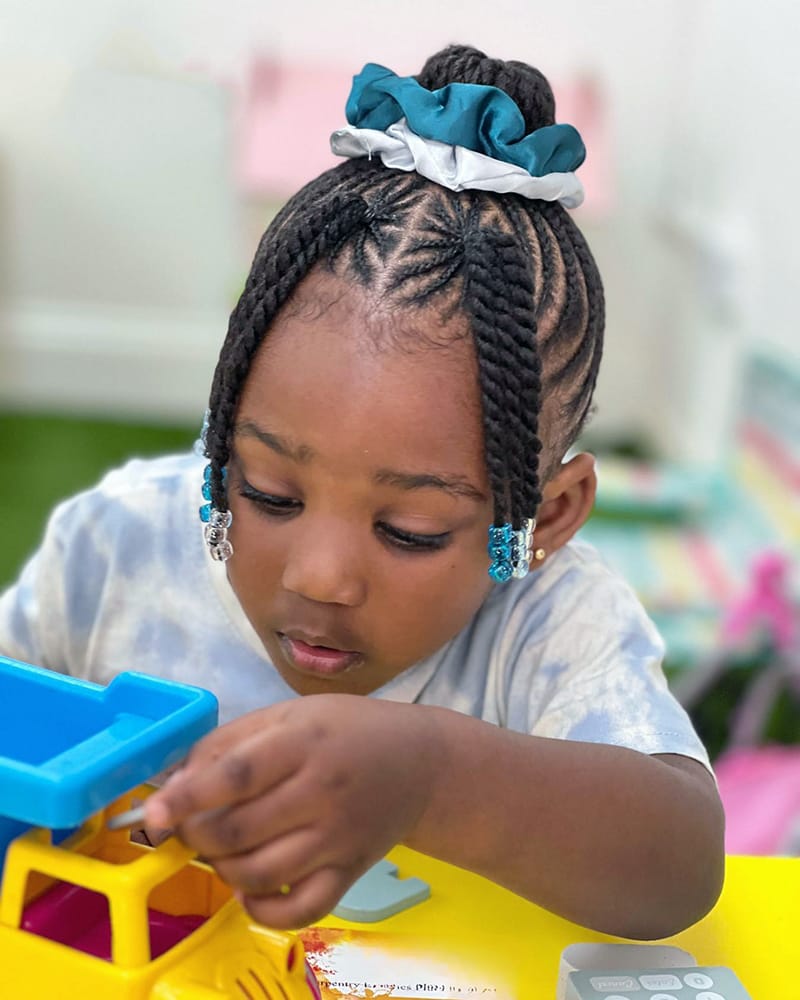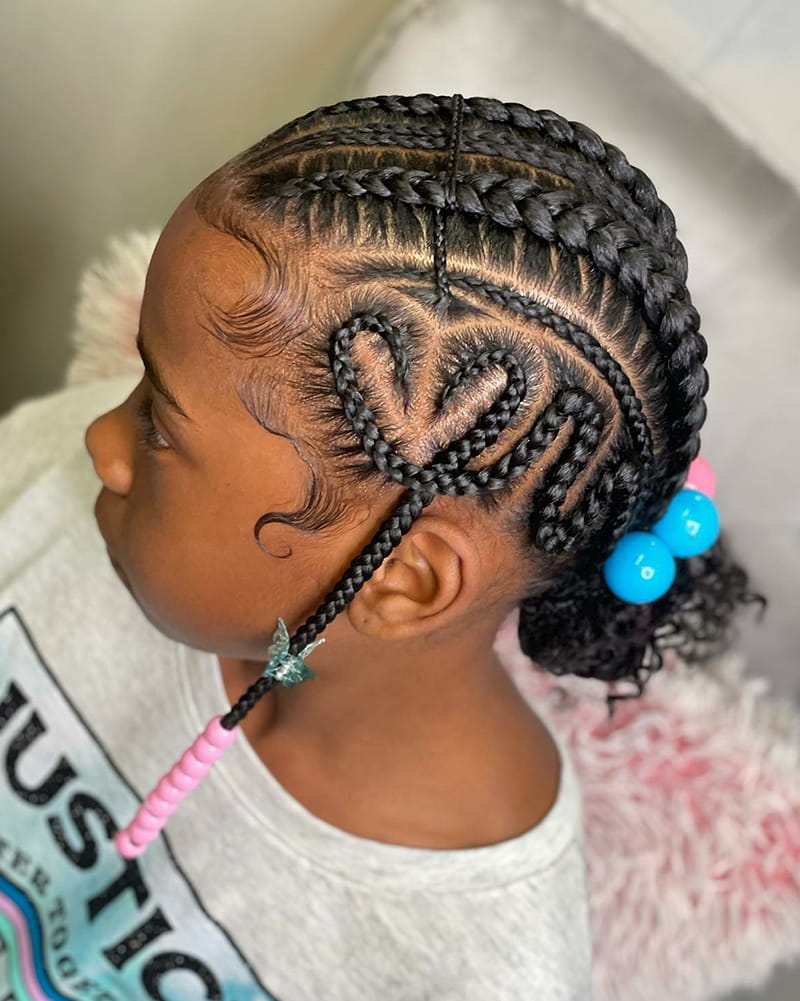 Not only do buns look absolutely adorable, but they also serve a practical purpose. They keep hair off the neck—ideal for keeping cool during those warmer months. Moreover, buns are incredibly versatile. Embellish them with hair accessories like clips, bows, or even fresh flowers to match the vibe of any event or simply to delight your little one.
Cornrows with High Bun for Kids
Elevate your child's cornrows—quite literally—with a high bun. This chic style takes all the braids up to the crown of the head, winding them into a neat bun that sits proudly on top. It's a statement hairstyle that's sure to turn heads and make your child feel like the star of the show. Whether it's for a dance recital or simply to add some pizzazz to their daily look, a high bun is both functional and fashionable.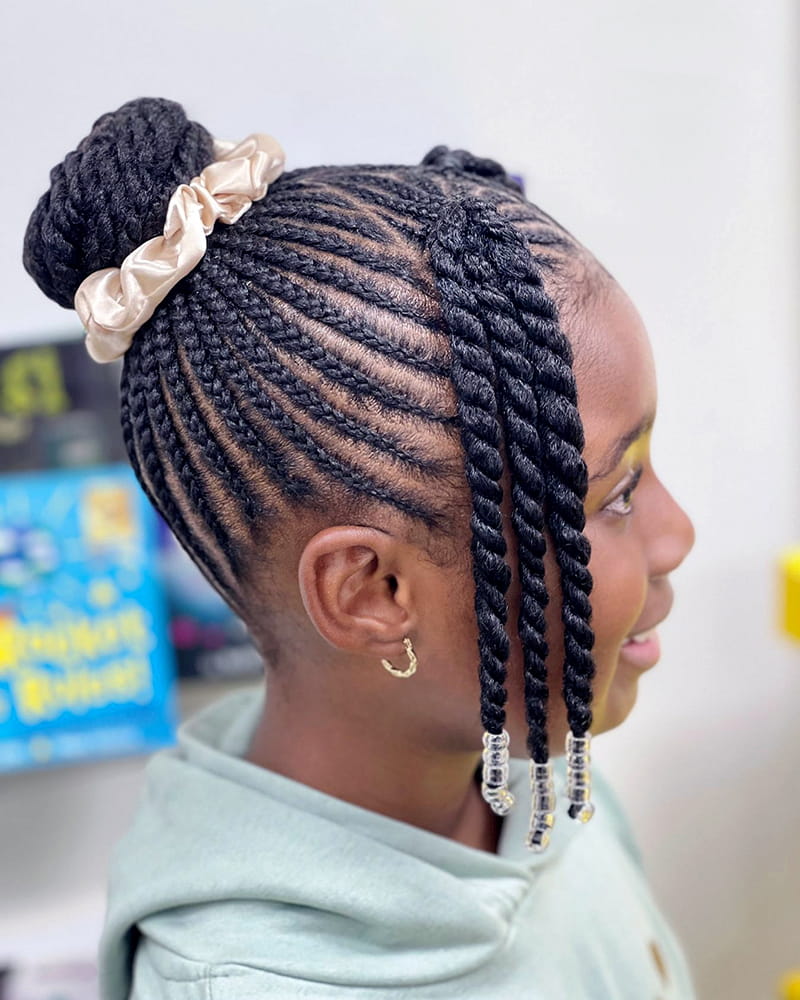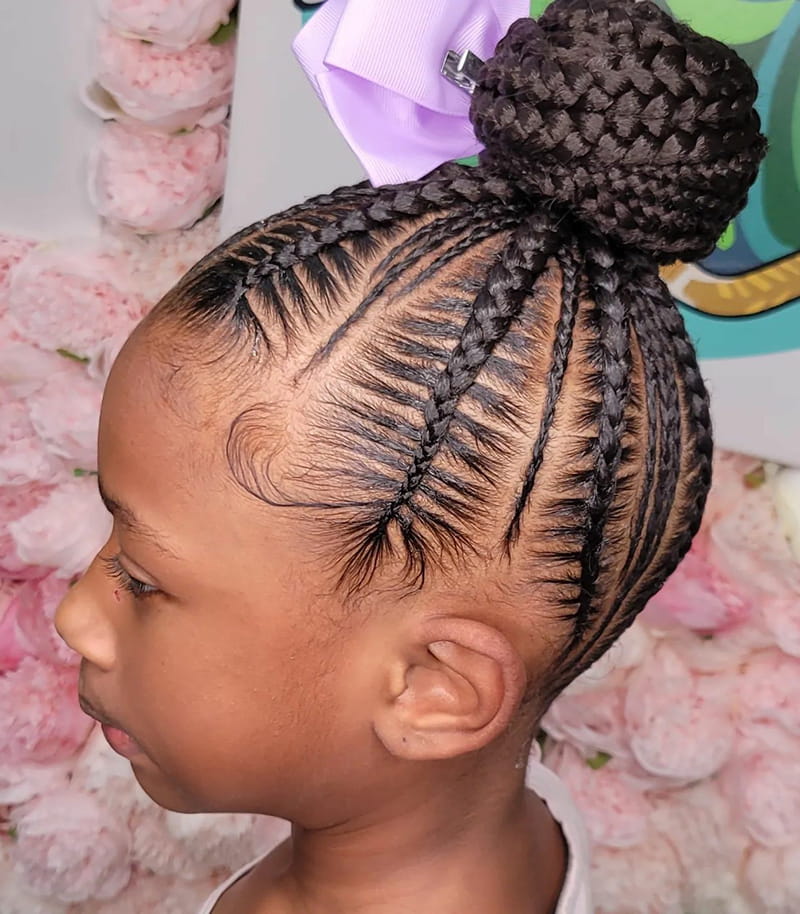 High buns have the added benefit of being a 'cool' hairstyle, in every sense of the word. They lift the hair away from the neck and face, allowing for better airflow and keeping your child comfortable throughout the day. Plus, they're incredibly secure, which means you won't have to redo the style halfway through the day.
Cornrows with Low Bun for Kids
For those occasions when you want to dial down the drama and go for something a bit more subdued, the low bun is your best friend. It gathers the cornrows at the nape of the neck, creating a sleek look that's both sophisticated and simple. This style can support a busy school day or a relaxed weekend outing with equal aplomb.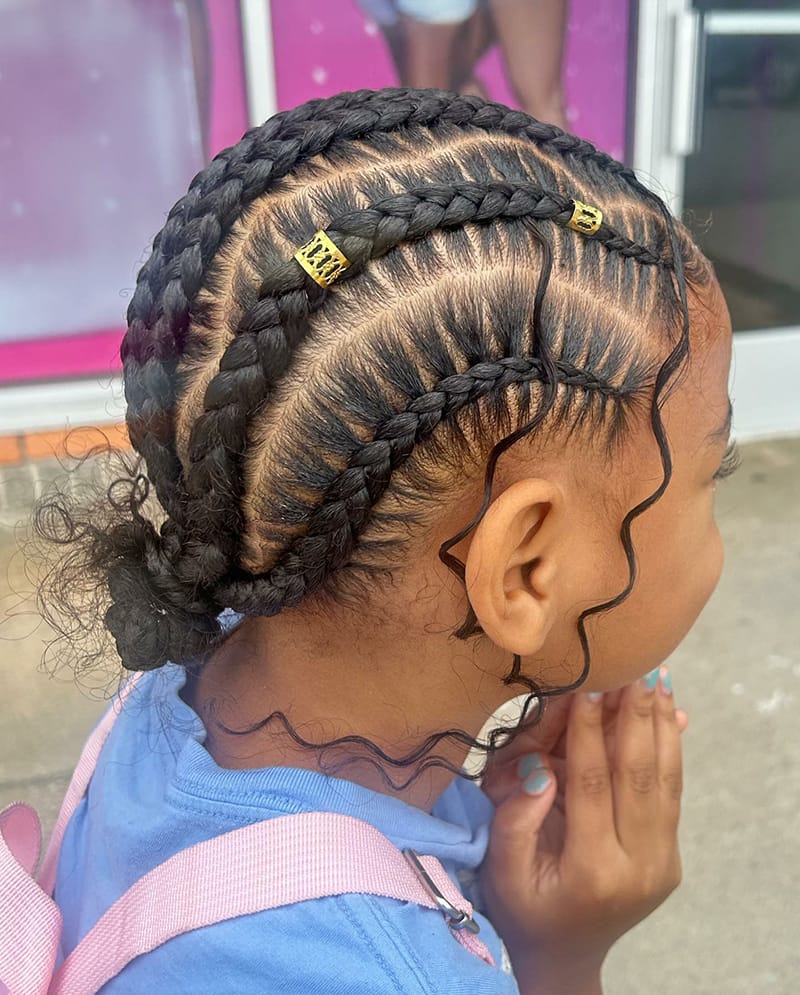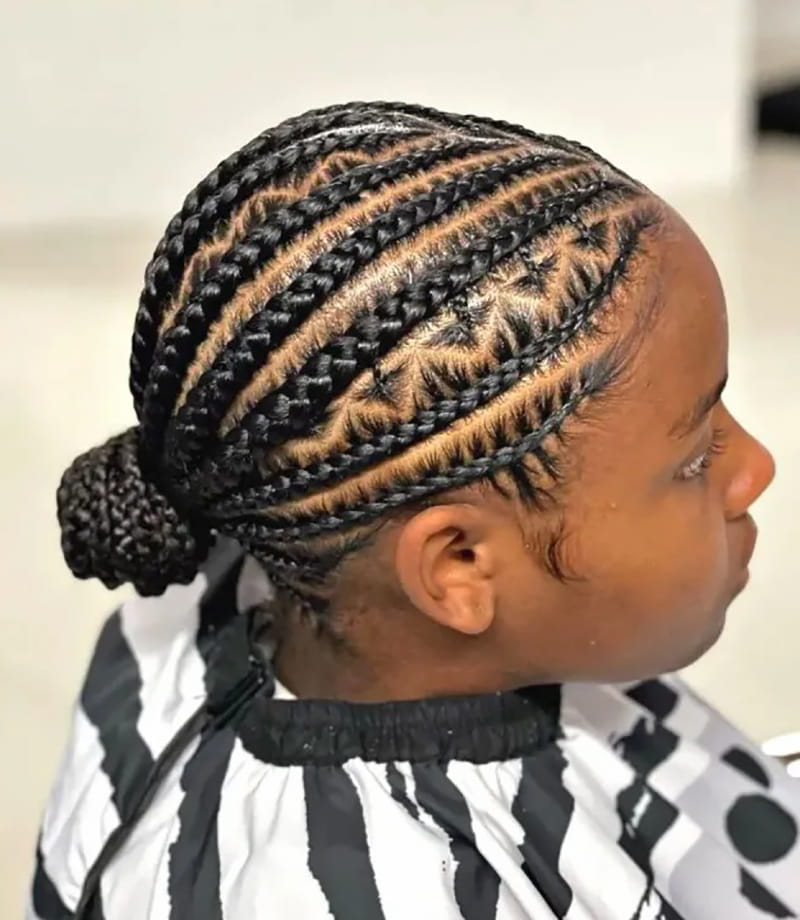 Low buns are also less likely to get in the way during playtime or while resting back in a car seat or against a highchair. They offer a comfortable alternative for children who might not enjoy the sensation of hair piled on top of their heads. With the low bun, elegance meets comfort in a beautiful blend that works for just about any setting.
Cornrows with Space Buns for Kids
Space buns are a whimsical, futuristic hairstyle that's all about fun and flair. Imagine two adorable buns placed on either side of the head, resembling cute little satellites ready for orbit. This style, infused with personality, is sure to make your child the center of attention and the talk of the playground.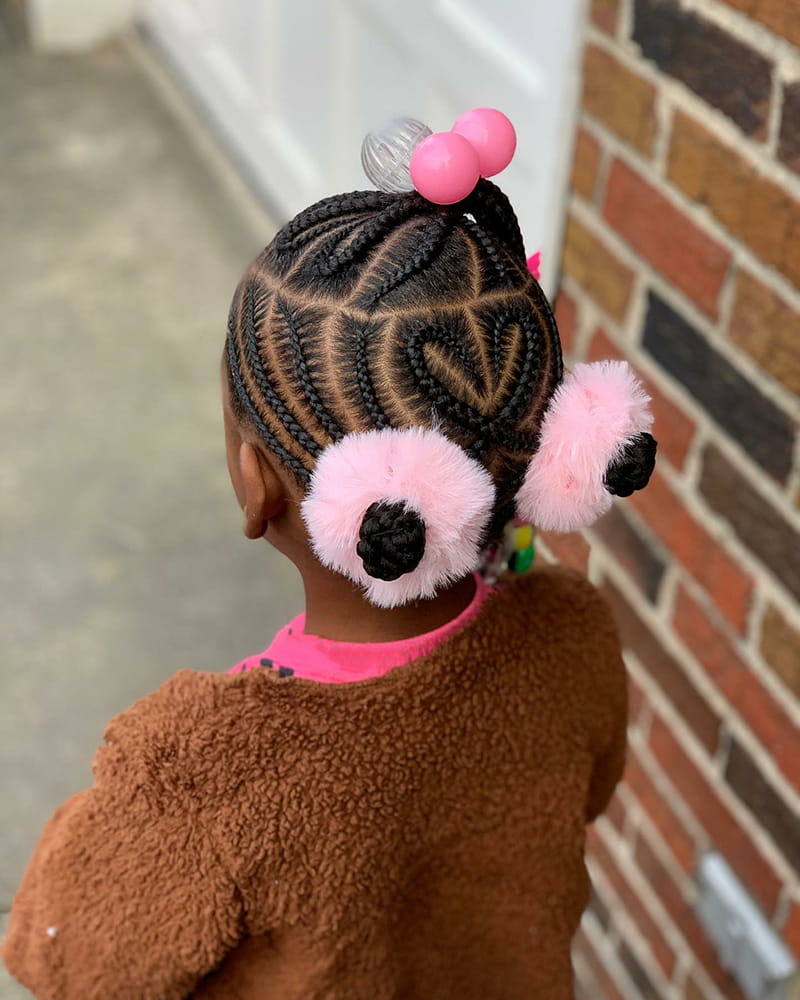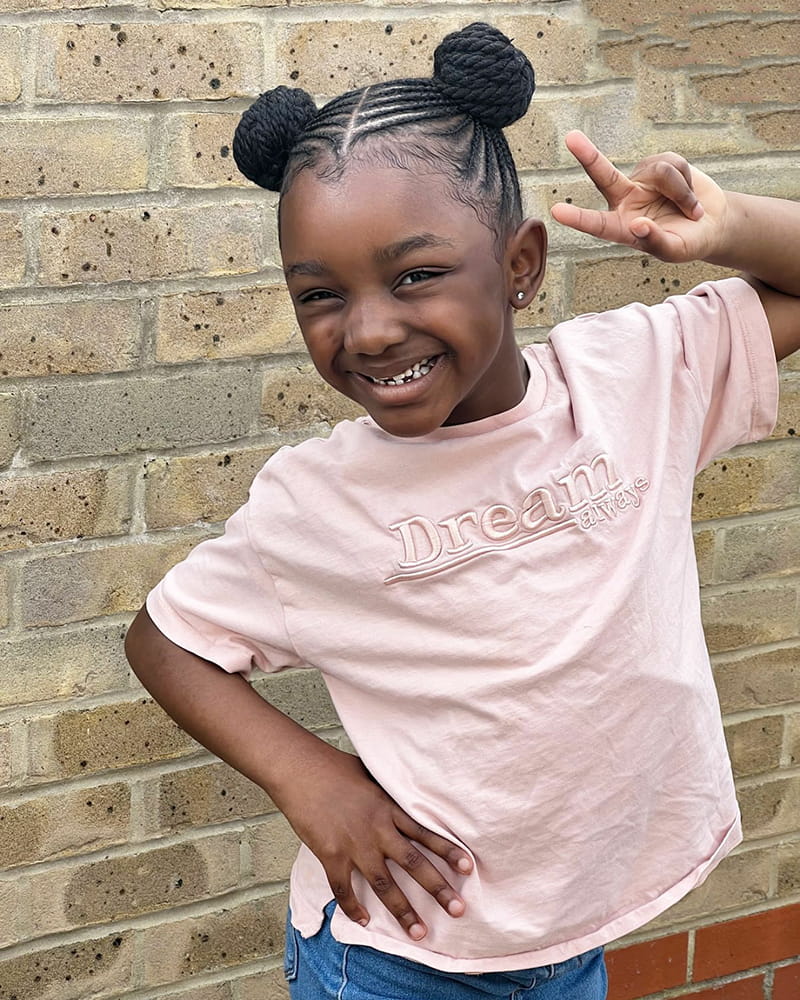 The joy of space buns is their creative potential. You can position the buns high or low, depending on what your child prefers, and each bun can be as tight or as loose as they'd like. It's also a playful way to experiment with different cornrow patterns, as the buns can showcase the braids in a new and exciting way.
Cornrows Fishtail Buns for Kids
Fishtail buns add an element of intricate design to the classic bun. By incorporating fishtail braids into the cornrows before coiling them into buns, you create a textured, detailed look that's full of dimension. It's a style that might take a little extra time to put together, but the end result is absolutely worth it.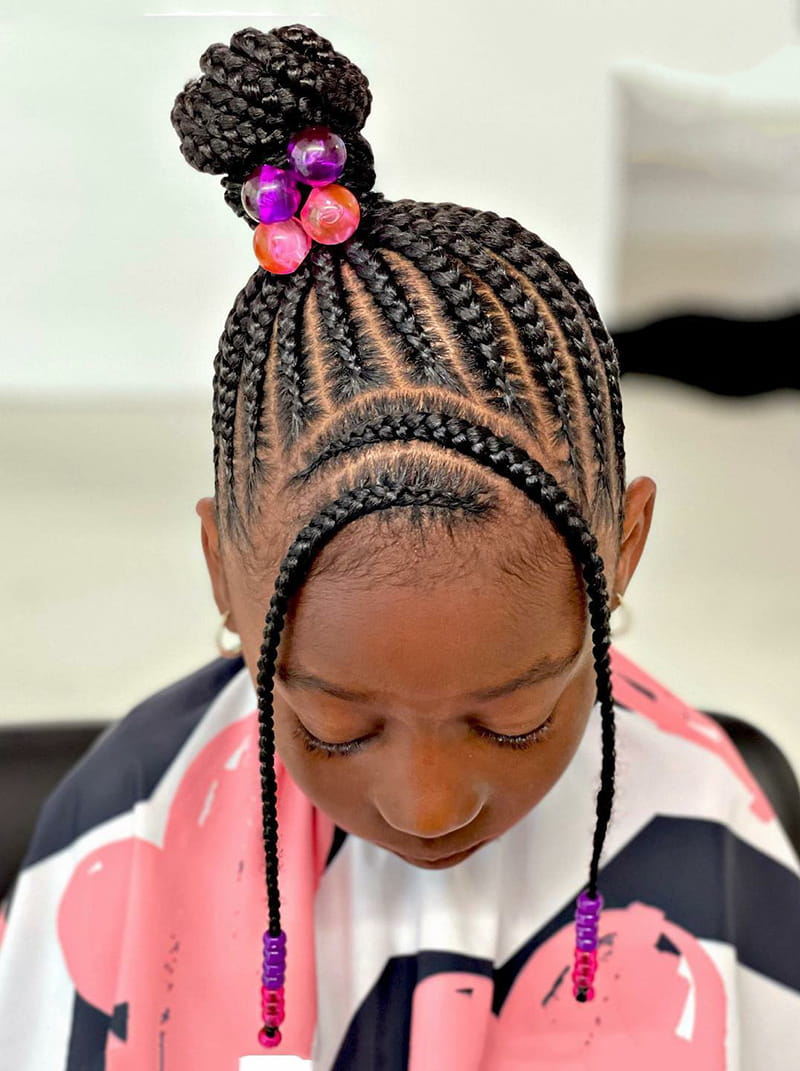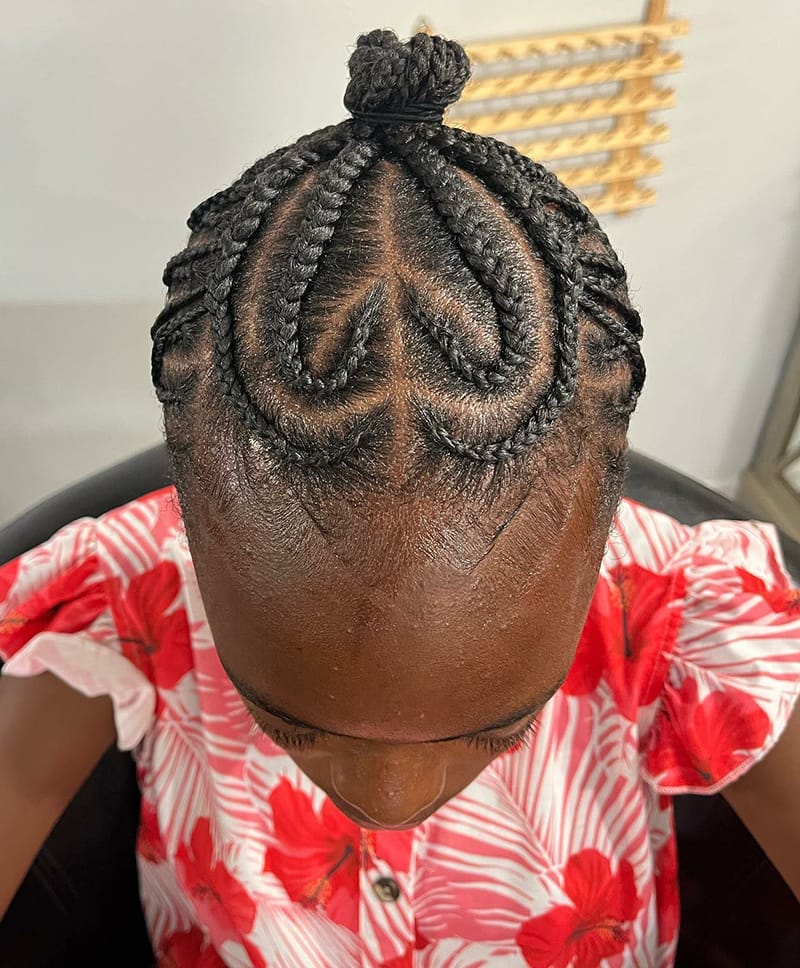 These buns are perfect for special occasions like weddings, holiday parties, or picture day at school. They show off your child's unique style and the effort put into their look. With fishtail buns, you elevate the ordinary into something extraordinary.
Cornrows Double Buns for Kids
Double buns are the hairstyle equivalent of double the fun. This cute configuration features two buns placed on either side of the head. It's a playful and energetic style that reflects the vibrant spirit of childhood. Perfect for weekend outings, birthday parties, or just because, double buns are a delightful way to style cornrows for kids.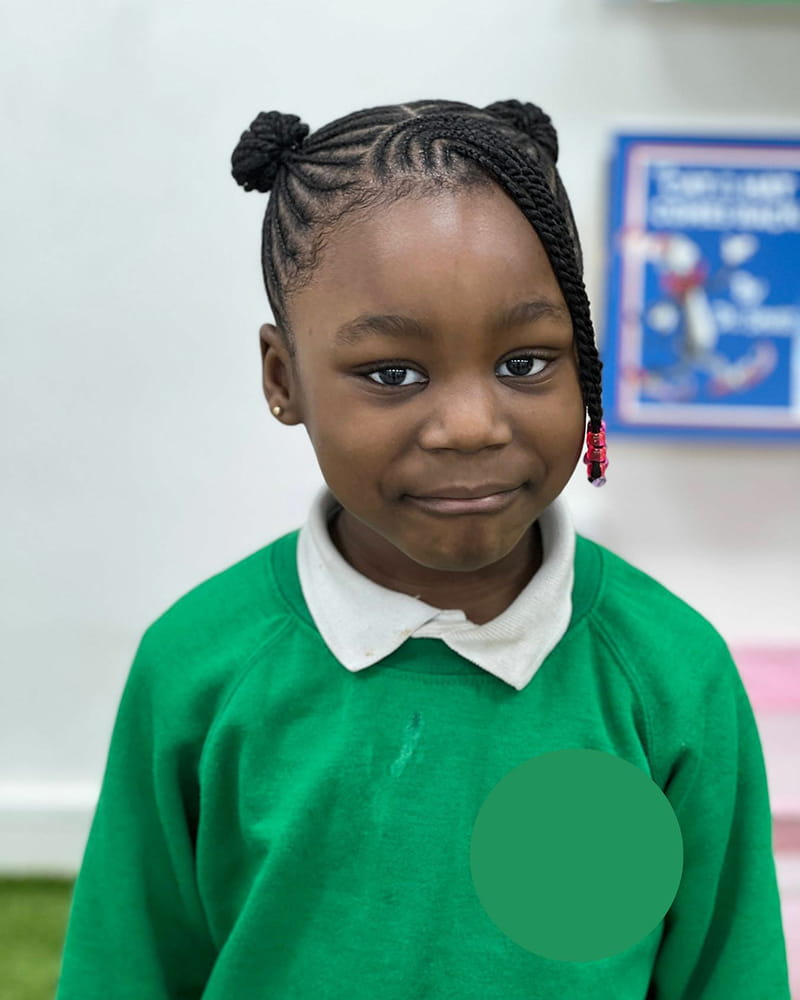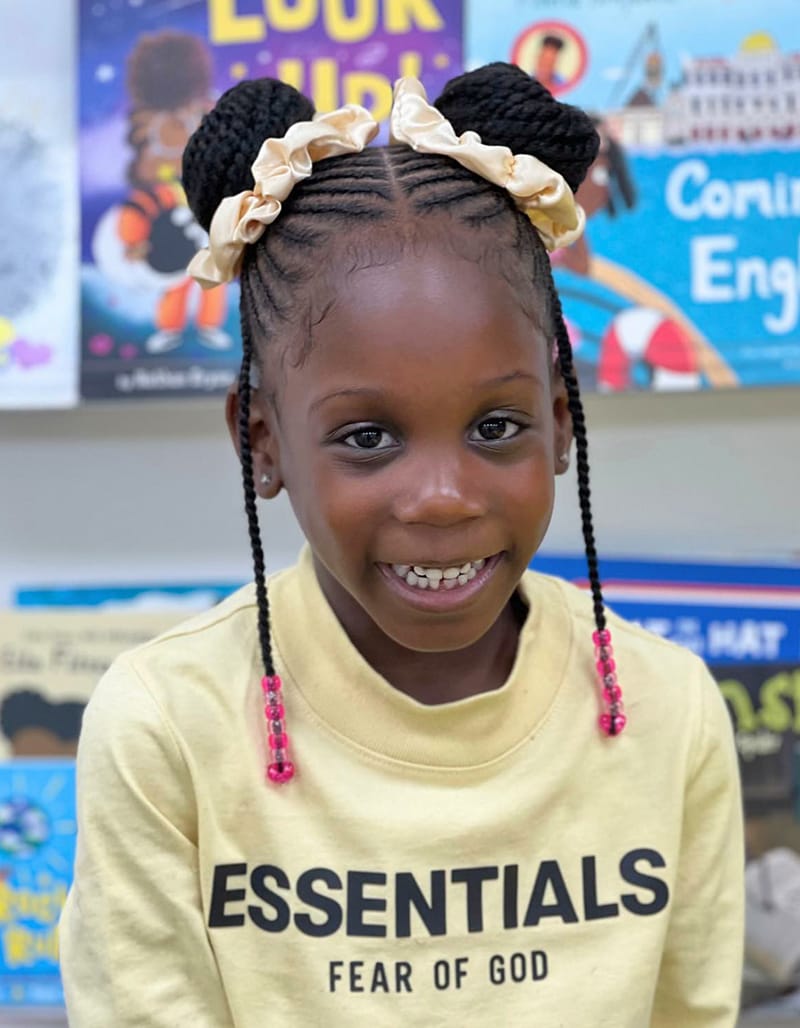 Besides their adorable appearance, double buns are practical. They distribute the weight of the hair evenly across the head, which can be more comfortable for your child throughout the day. They're also a creative way to mix up the everyday cornrow look, adding a new twist that's sure to get compliments.
Cornrows Mickey Mouse Buns for Kids
Let's not forget the ultimate in cute hairstyles—the Mickey Mouse buns. Inspired by the iconic Disney character, this style involves creating two round buns on the top of the head, much like the famous mouse's ears. It's a magical hairstyle that's bound to inspire smiles and spark the imagination.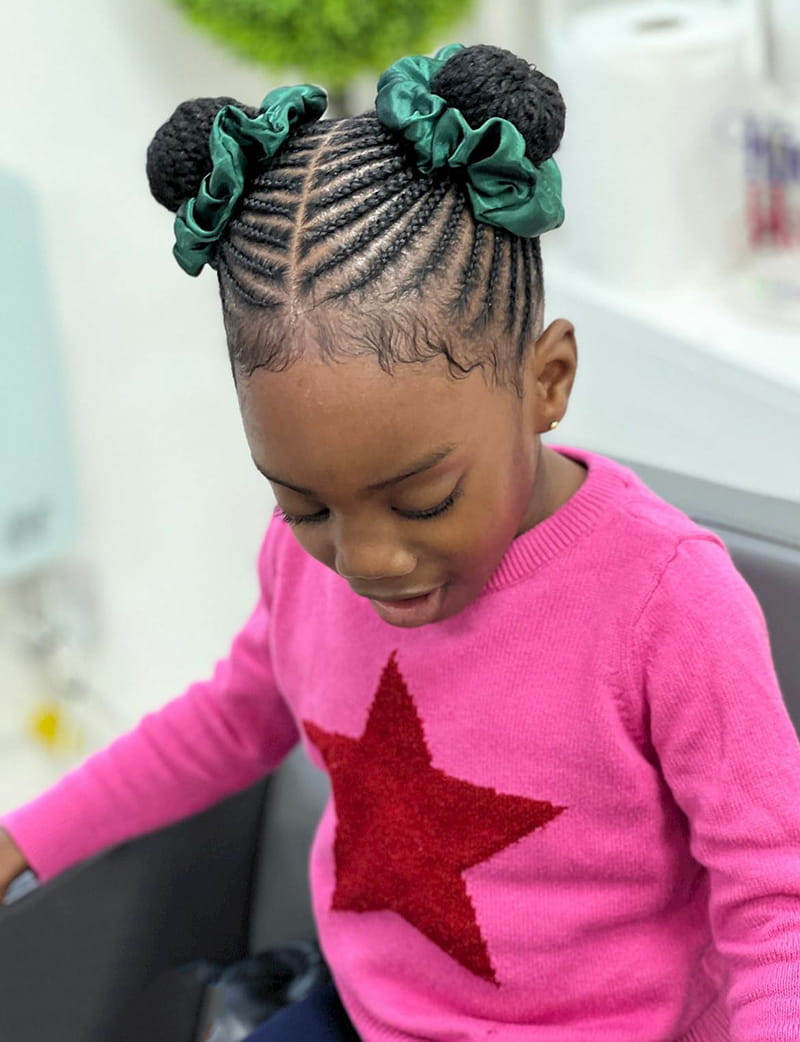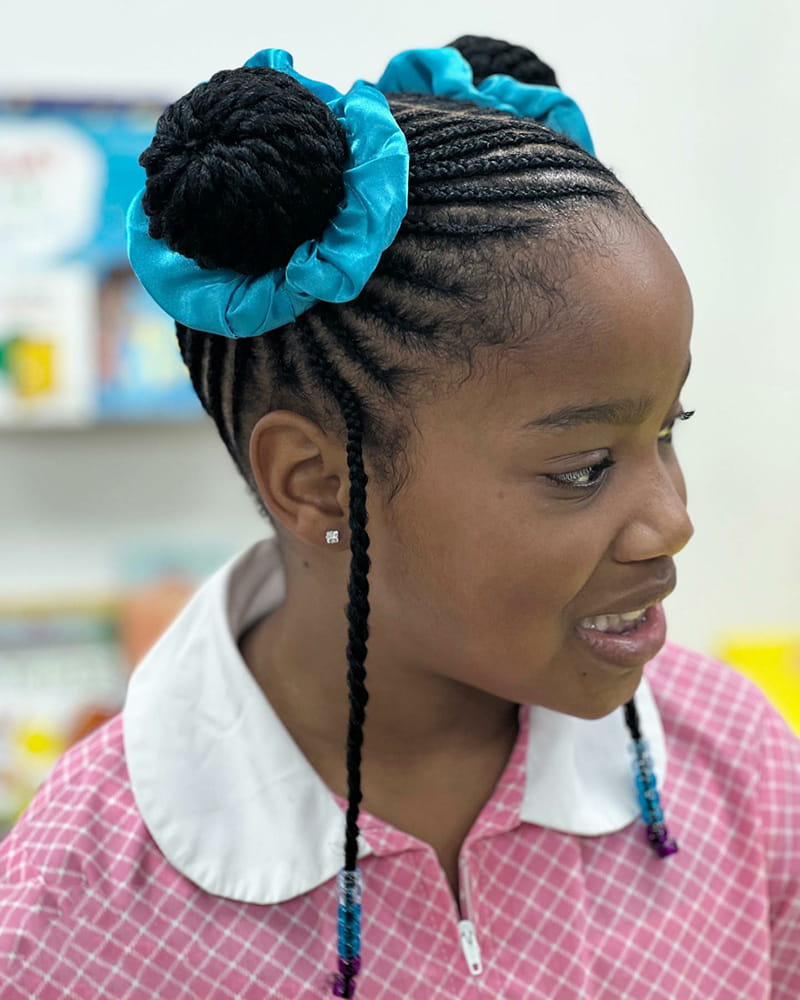 Ideal for theme parks, costume parties, or any day that could use a dash of magic, Mickey Mouse buns are as fun to wear as they are to behold. And what's more, they're surprisingly secure, meaning your child can jump, play, and embark on their adventures without a single hair falling out of place.
Ponytails with Cornrows
Ponytails paired with cornrows are not just an ordinary hairstyle; they're a playful fusion of tradition and modern chic. This combo allows kids to flaunt their length while keeping their hair neat and away from the face. It's practical for school, sports, and playtime, but can be jazzed up for special occasions too.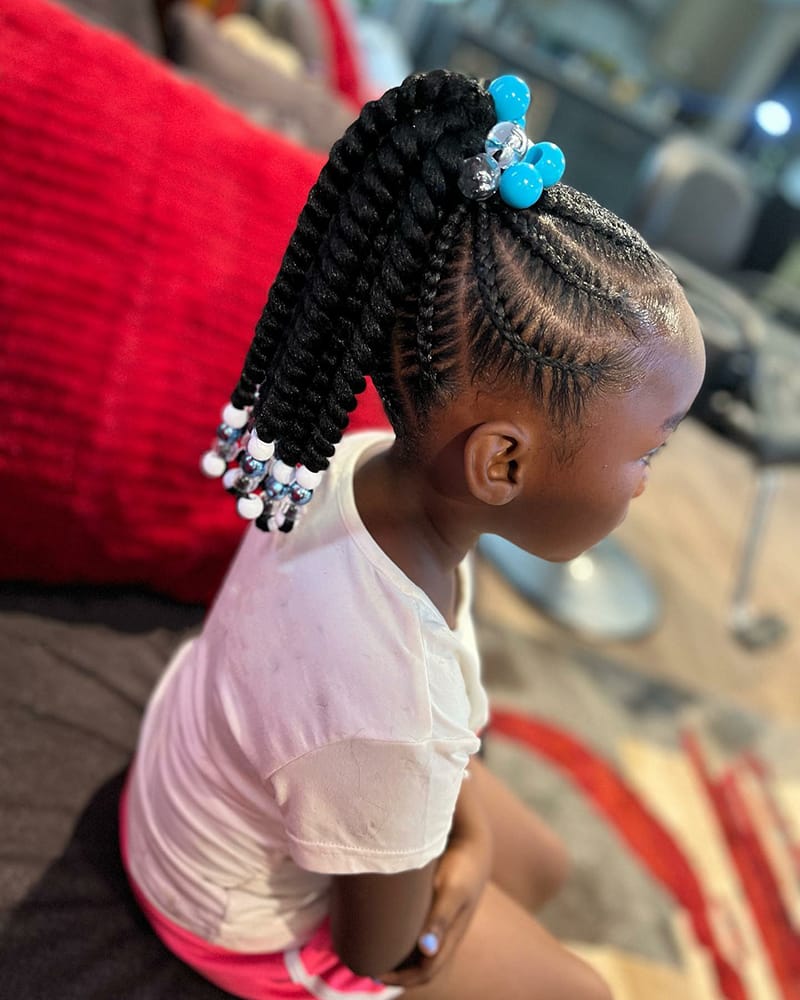 Cornrows Ponytail for Kids
The cornrows ponytail is a classic, sleek way to gather braided hair at the back of the head. It's perfect for kids who are on the go, providing a hassle-free style that stays intact through all sorts of activities. Furthermore, it's a style that works with all textures and lengths of hair, making it an inclusive option for every child.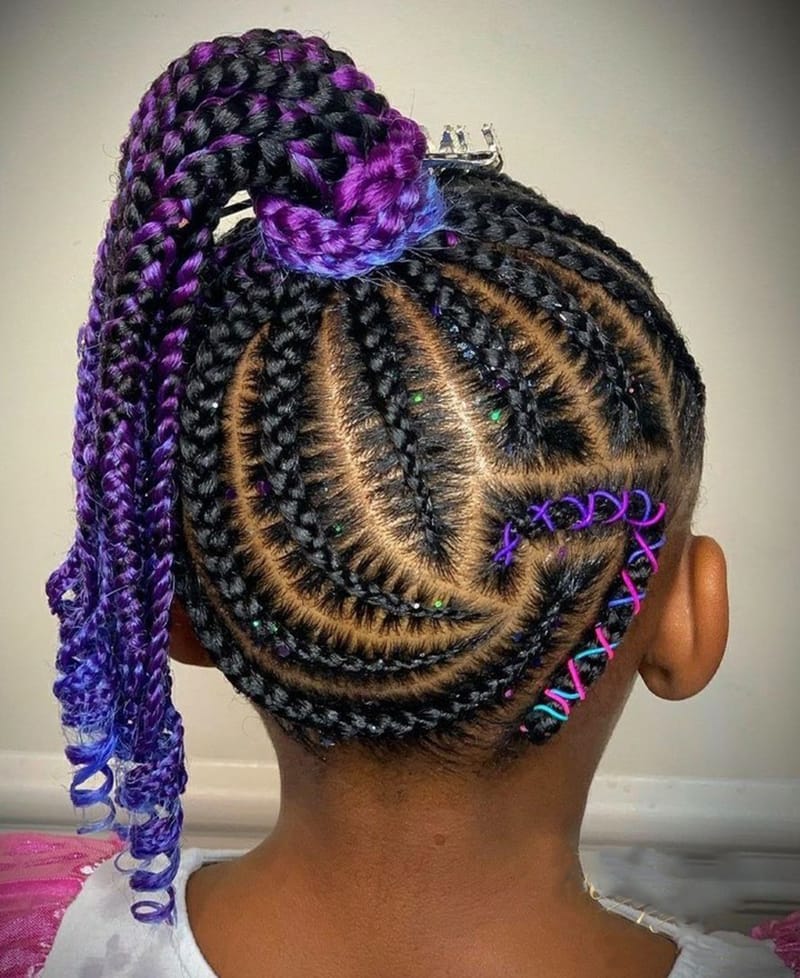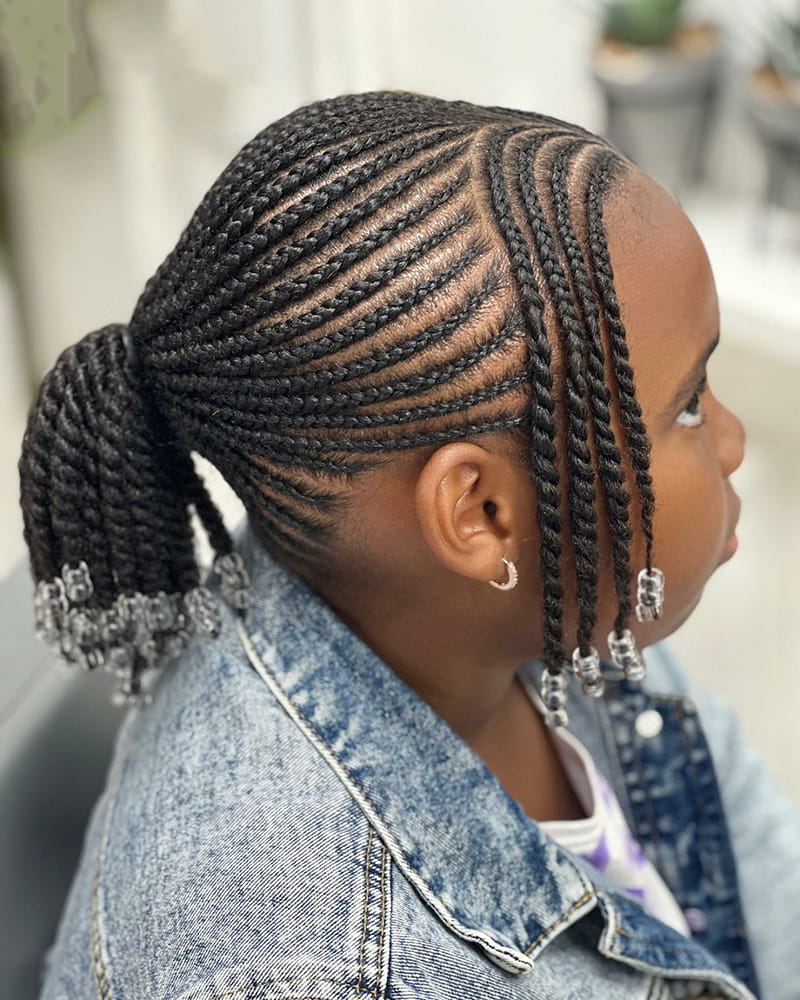 What's lovely about the cornrow ponytail is its simplicity paired with the elegance of the braids leading up to the ponytail. It's a combination that never goes out of style and is always in high demand. Additionally, this style offers a great base for accessories like bows, hair rings, or colorful scrunchies to match any outfit or occasion.
Cornrows Half Ponytail for Kids
For those days when full ponytails seem too much, the cornrows half ponytail steps in as the perfect compromise. It gathers part of the hair up, keeping it out of the face while letting the rest flow freely down the back or over the shoulders. It's a wonderful way to show off the length and beauty of the cornrows while still enjoying the feel of loose hair.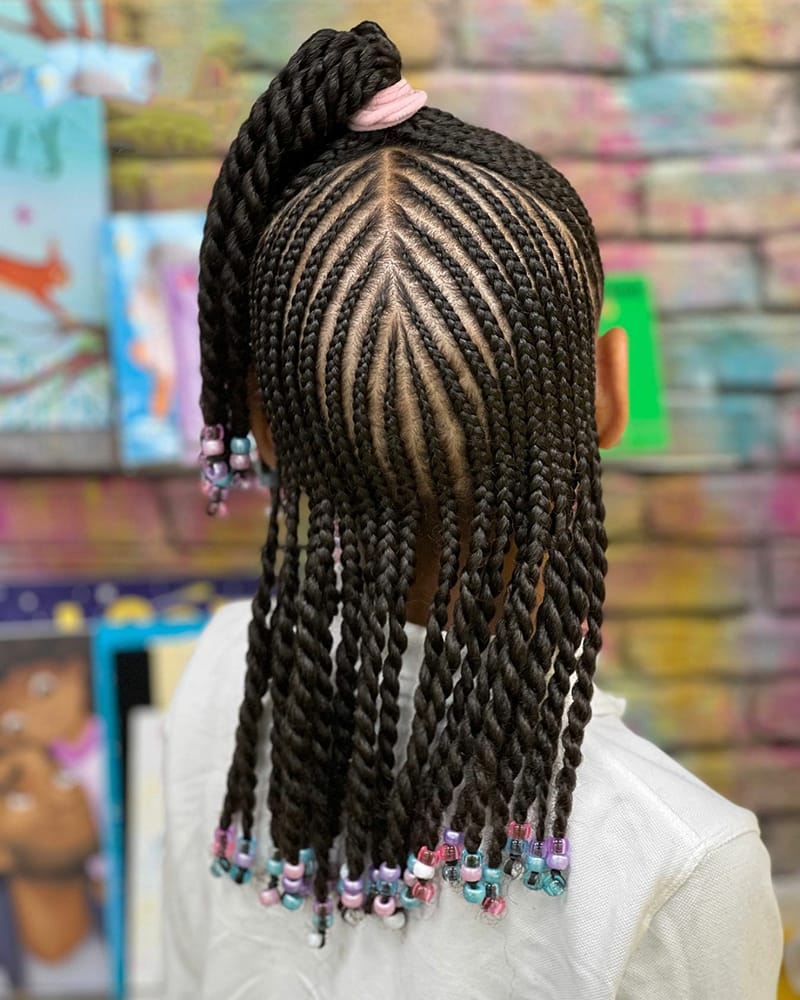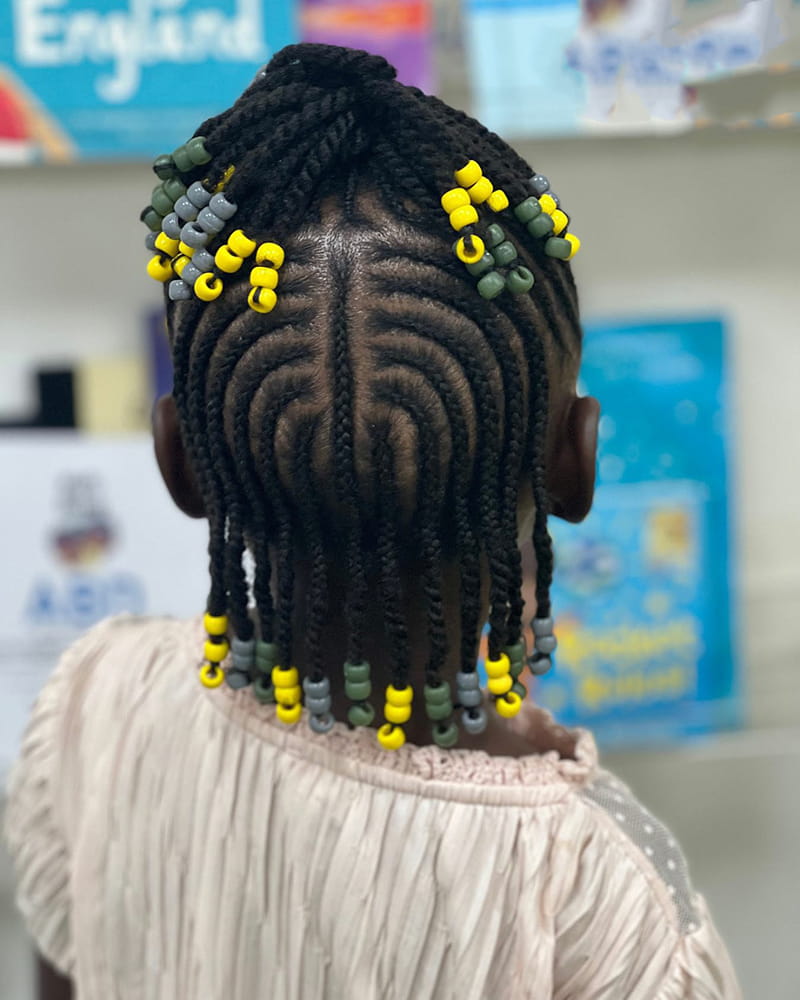 This style is particularly appealing because it provides versatility and ease. It's easier to manage and can be a more comfortable option for kids who don't like having all their hair pulled back. Moreover, it adds a touch of softness to the overall look, which can be quite charming.
Cornrows High Ponytail for Kids
Energetic and trendy, the cornrow high ponytail is for kids who love to make a statement. Positioned high on the crown of the head, this ponytail is not only stylish but also practical, keeping hair tightly in place. It's a popular choice for young athletes or performers, as it keeps hair secure even during the most vigorous activities.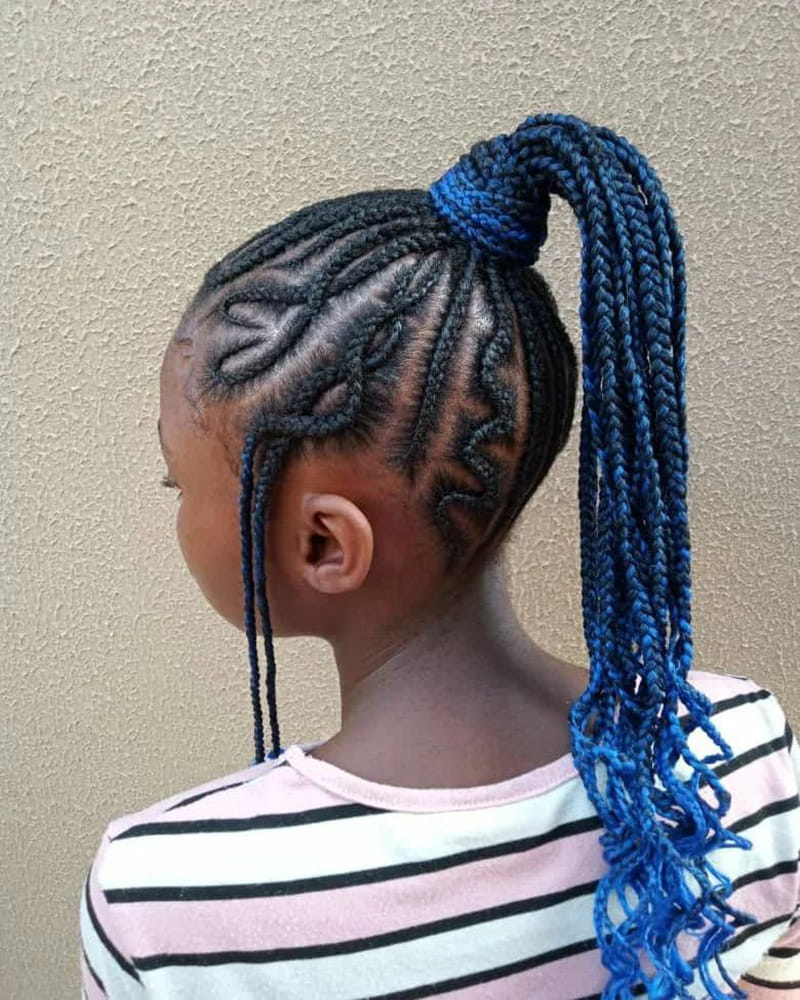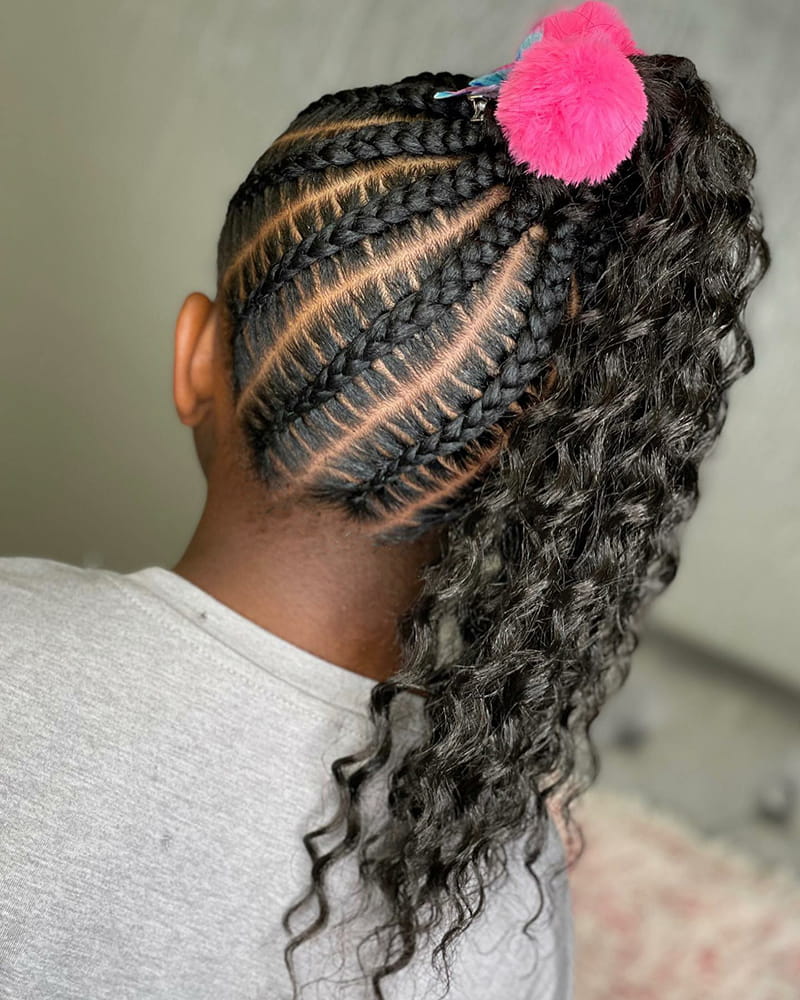 What's more, the high ponytail adds an element of fun to the traditional cornrow style. Kids can enjoy swinging their ponytails around, and the height of the ponytail can make them feel just a little bit taller. It's a simple joy, but one that can make a child's day that much brighter.
Cornrows Double Ponytail for Kids
Twice the fun and twice as cute, cornrows with a double ponytail are an absolute hit with the young crowd. This style divides the hair into two sections, each pulled back into its own ponytail. It can be a playful, symmetrical look or varied with one ponytail higher than the other for a funky asymmetry.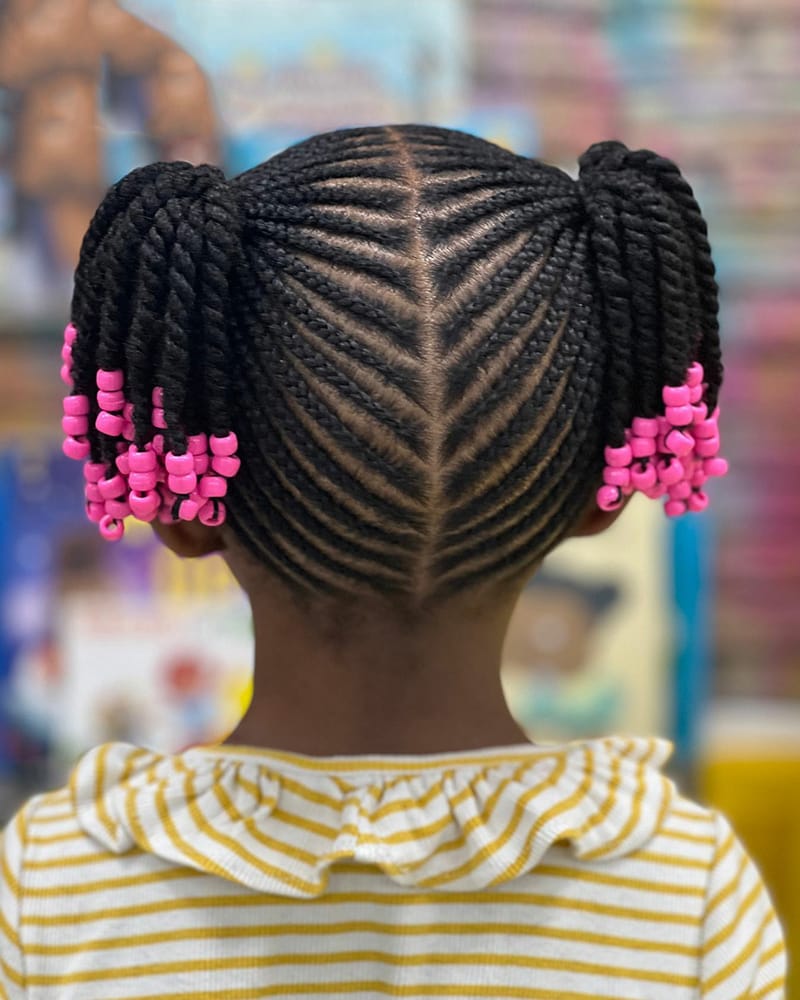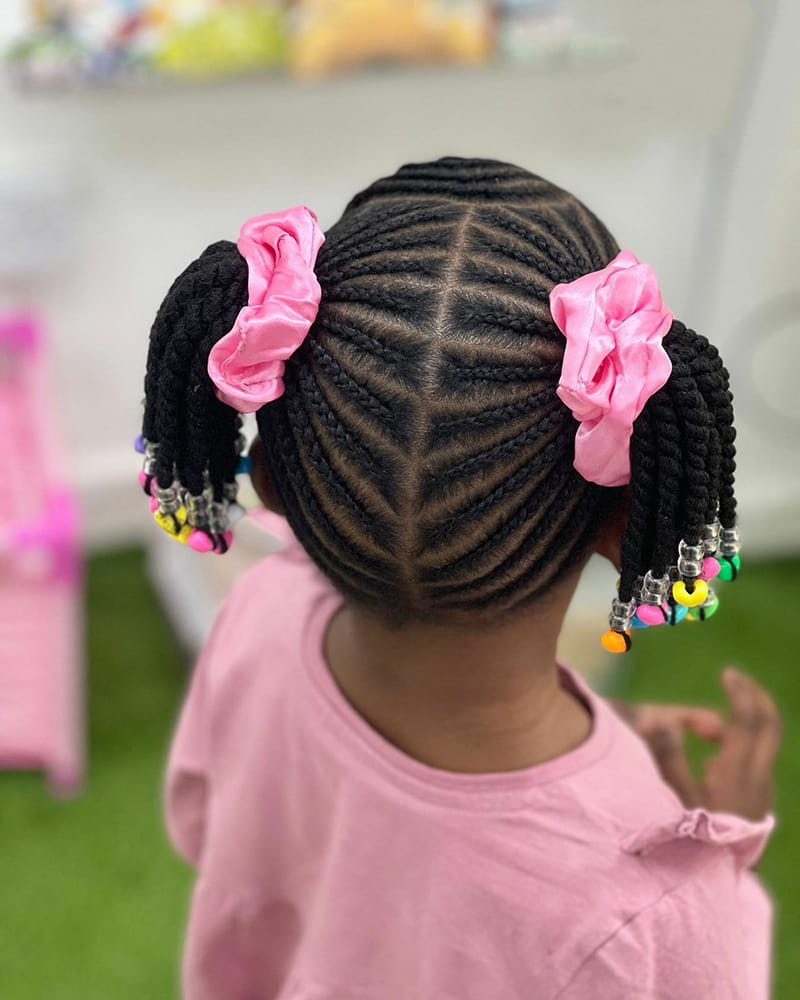 The double ponytail is perfect for days packed with activities. It distributes the weight of the hair evenly and can reduce the pull on the scalp that a single ponytail might cause. Also, this style is just begging to be paired with vibrant, matching accessories. Imagine the possibilities with colorful hairbands, glittering clips, or even themed hair ties. It's a delightful way for kids to express their personalities and preferences.
Ponytails and cornrows are a match made in heaven when it comes to kids' hairstyles. They blend practicality with style, ensuring that your child looks as neat and put-together as they feel free and unencumbered. Whether it's the elegance of a single ponytail or the playful vibe of a double, there's a cornrow ponytail style to suit every child's taste.
Cornrows Braids Styles for Kids
Cornrows are a versatile and protective style that can be worn in various braided forms. Each of these styles is a fantastic canvas for showcasing creativity and tradition, as well as being a practical option for kids who need a style that will hold up to their active lives.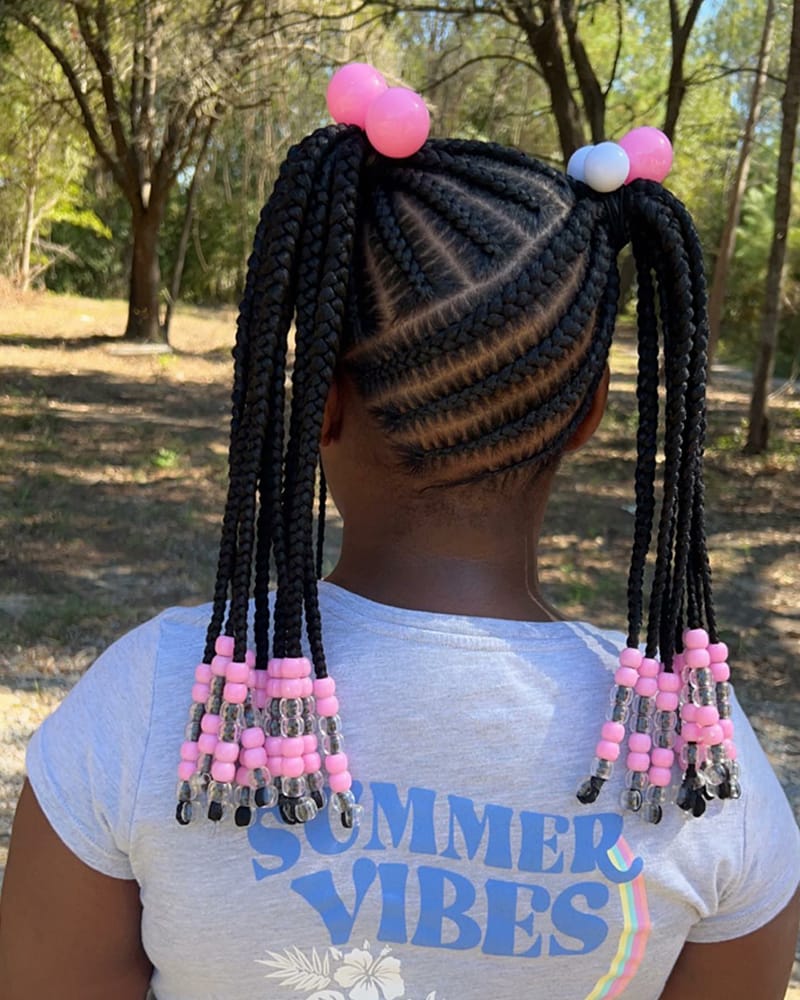 2 Cornrows Braids for Kids
The classic two cornrows braid, often referred to as "double Dutch braids," is a simple yet striking style that never goes out of fashion. This look features two parallel braids that run down each side of the head, providing a neat, symmetrical appearance. It's not only a style that's perfect for school days, but it also works well for weekend outings or sports activities.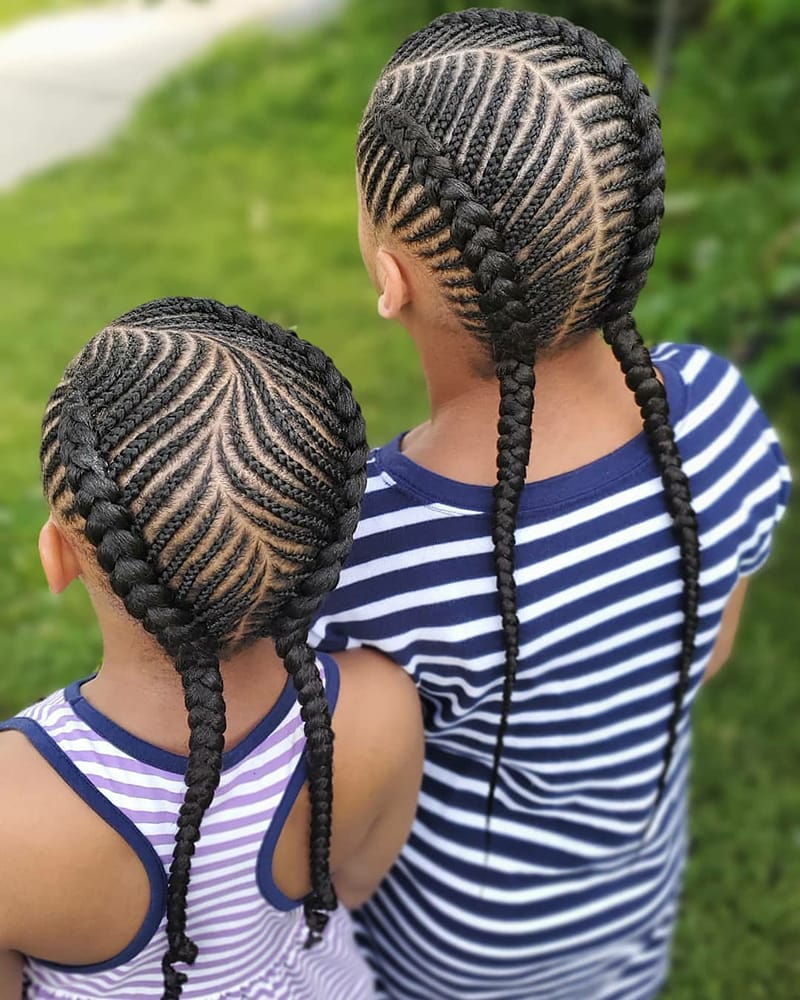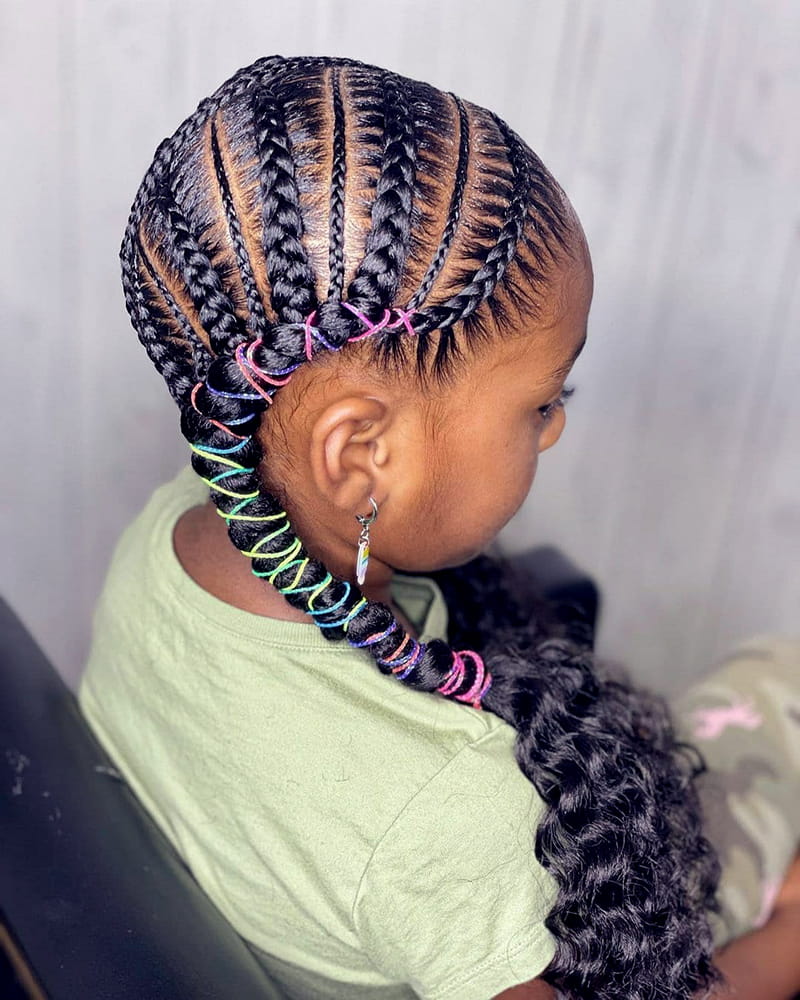 What's especially great about this style is its low-maintenance nature. With just two braids to take care of, the morning routine becomes quicker, giving your child more time to eat breakfast or pack their school bag. Furthermore, this style can last a while with proper care, meaning fewer salon visits or at-home hair sessions.
Fulani Braids for Kids
Fulani braids, originating from the Fulani people of West Africa, are a distinctive style that combines cornrows and individual braids. Often these braids are adorned with beads, shells, or rings, adding cultural significance and beauty to the style. For kids, Fulani braids can be a means of connecting with heritage while sporting a look that is both traditional and trendy.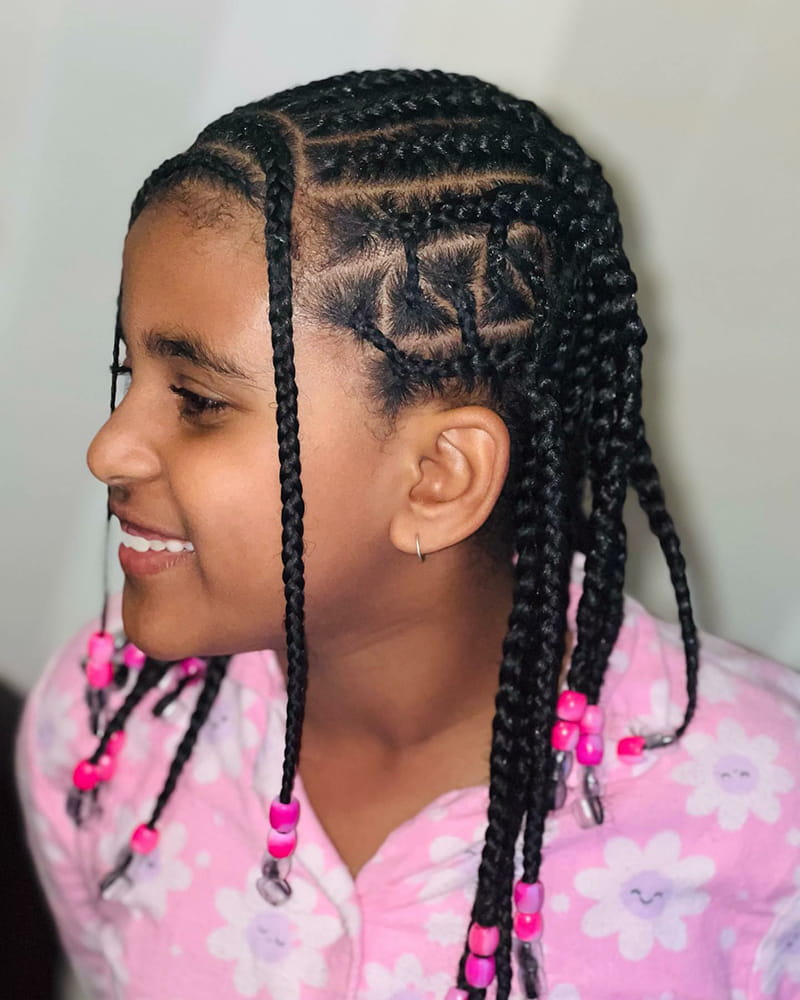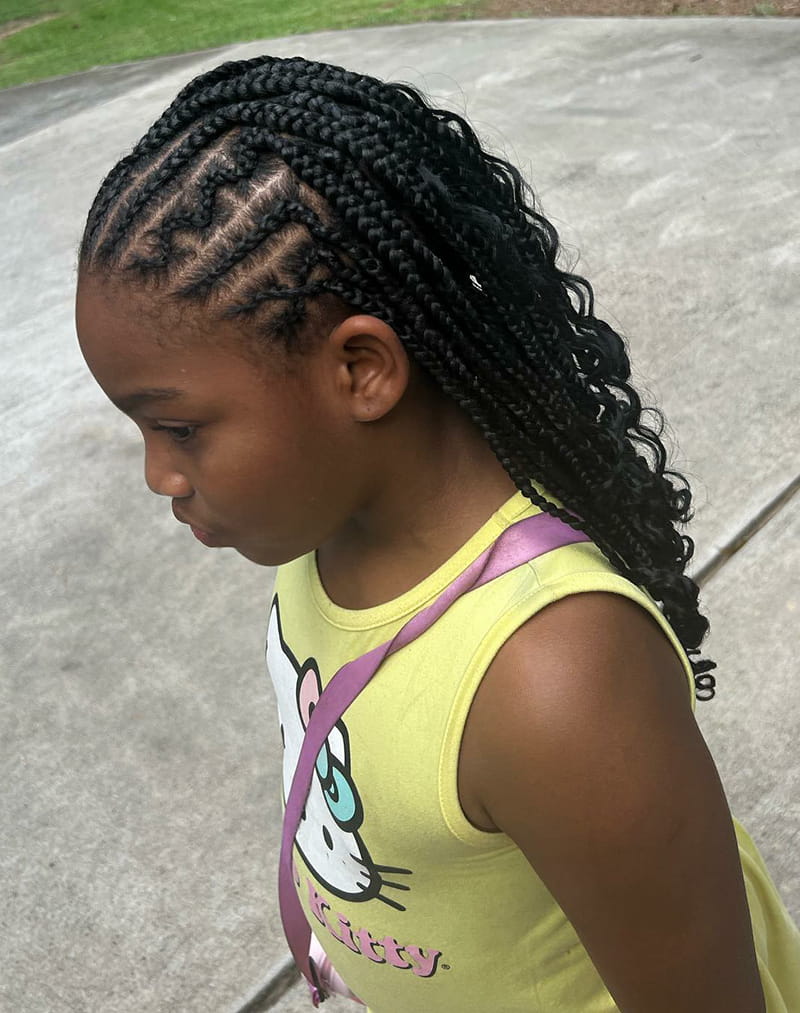 The versatility in designs—from straight-back cornrows to intricate patterns—means that each Fulani braid style can tell a different story. It's a great conversation starter and can instill a sense of pride in one's cultural background.
Tribal Braids for Kids
Tribal braids are another homage to African cultural traditions, with each region having its own distinctive patterns and styles. These braids often incorporate intricate designs and can be a canvas for artistic expression. They're not just hairstyles; they're wearable art that celebrates the diversity and history of African cultures.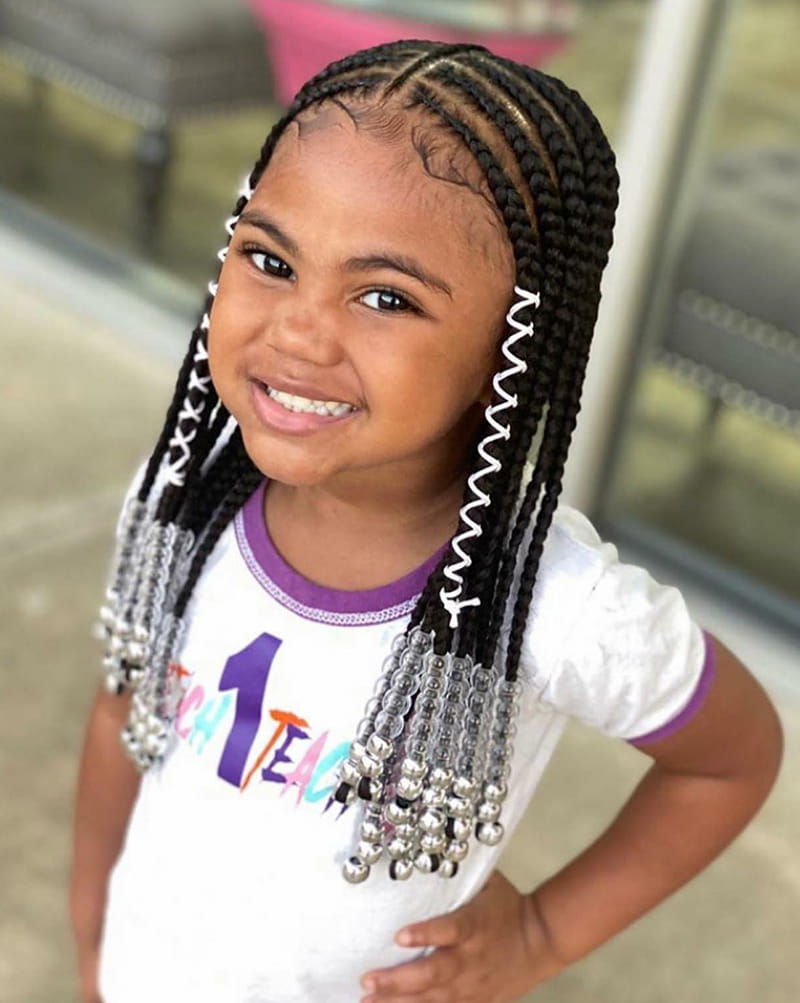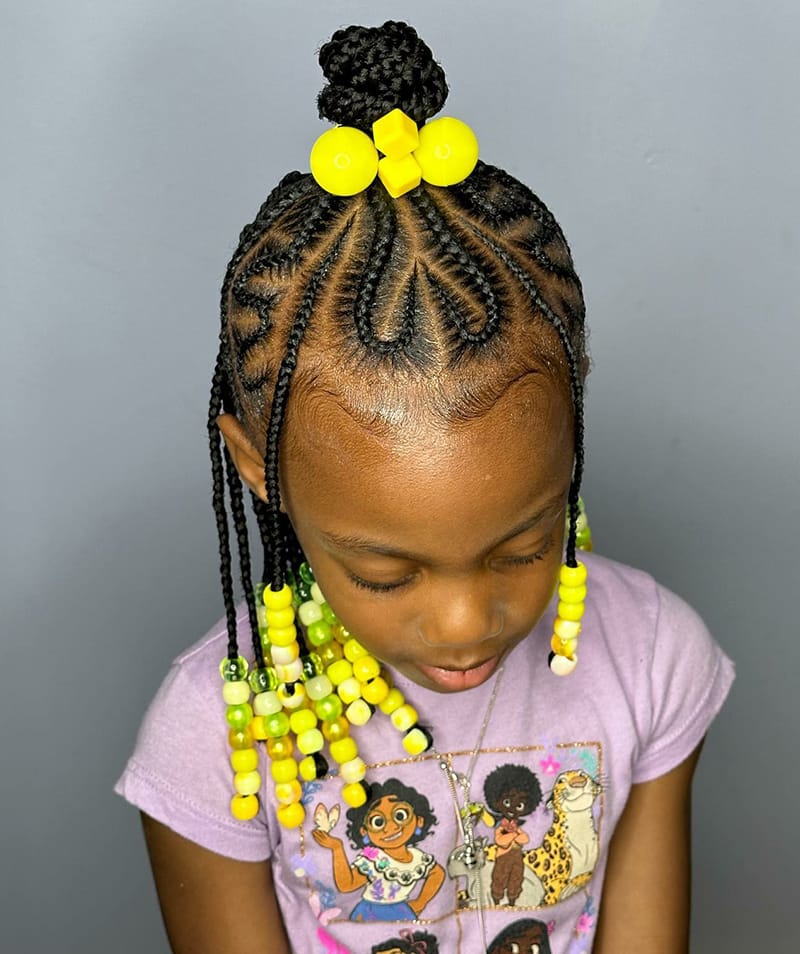 In addition to their beauty, tribal braids for kids are practical. They keep hair well-organized and can incorporate growth-friendly practices, ensuring that style doesn't come at the expense of hair health.
Crown Cornrows Braids for Kids
Crown cornrows create a regal look by circling the head, mimicking the shape of a crown or halo. This style is wonderful for events where your child is the center of attention, like birthdays or performances. It's a style that speaks of elegance and class, making any kid feel extra special.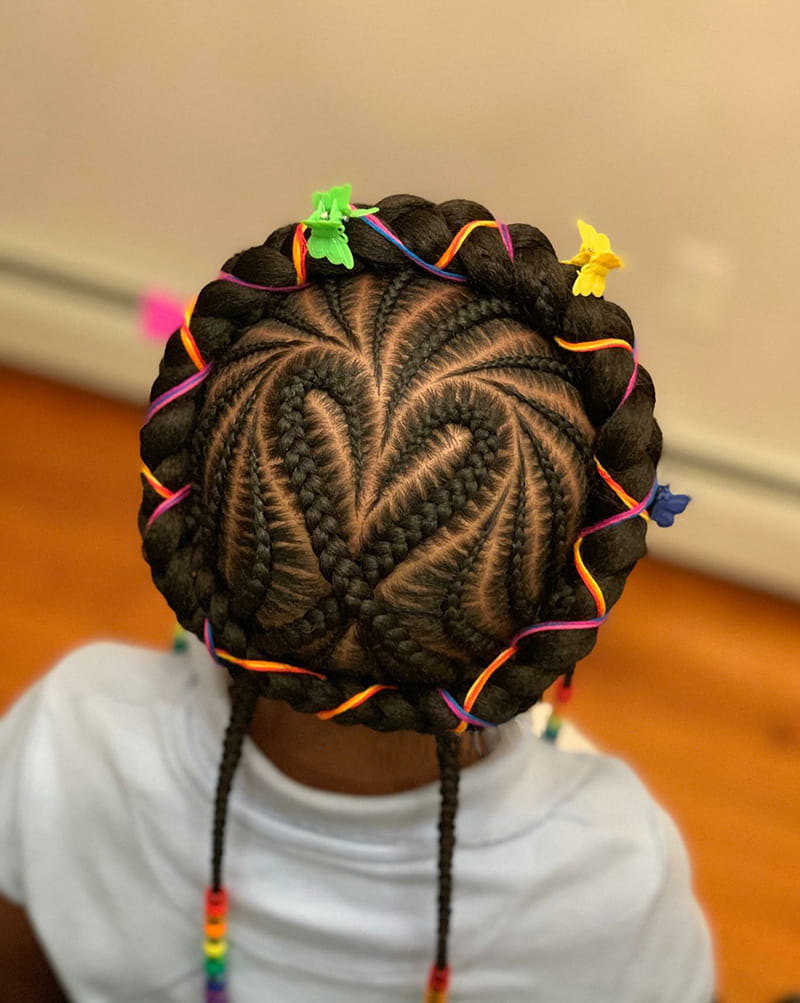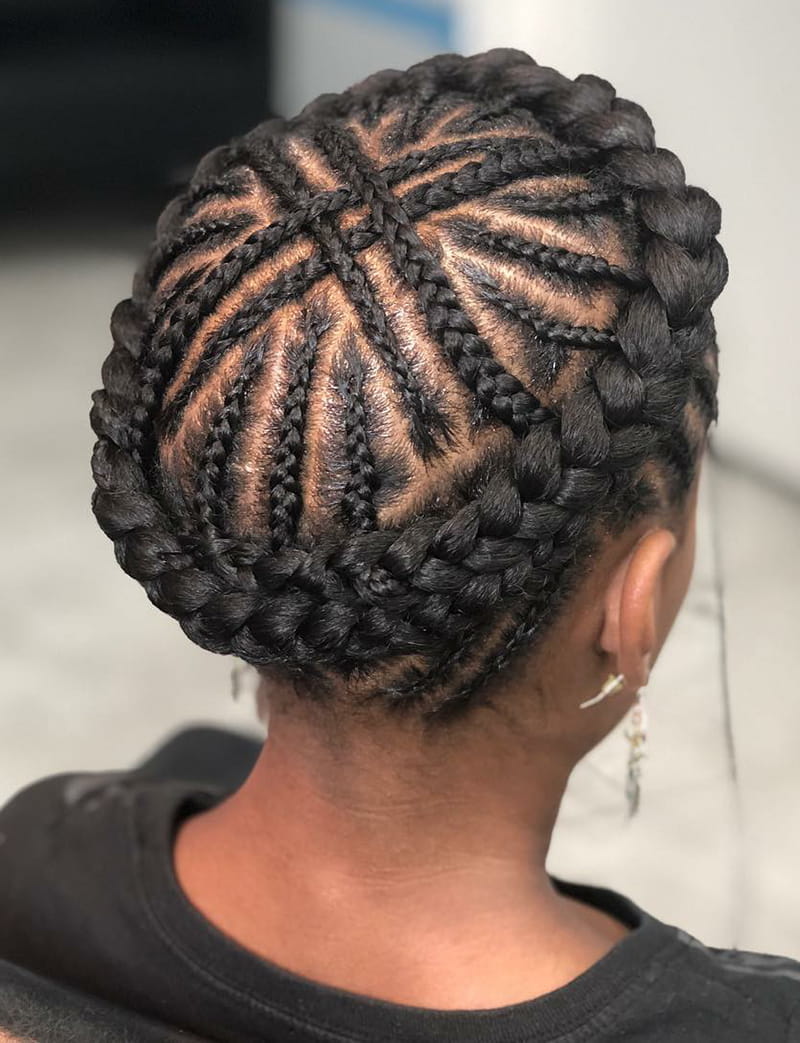 Additionally, crown cornrows are a great way to keep hair out of the face and untangled. With the braids securely wrapped around the head, there's little need for constant hair fixing, which can be a relief for both parents and kids alike.
Waterfall Cornrows for Kids
Waterfall cornrows are a poetic and fluid style that adds an illusion of cascading hair. The cornrows typically start at the front of the head and flow backward, sometimes with loose ends that mimic the fall of water. This style can be a beautiful way to dress up cornrows for a special occasion.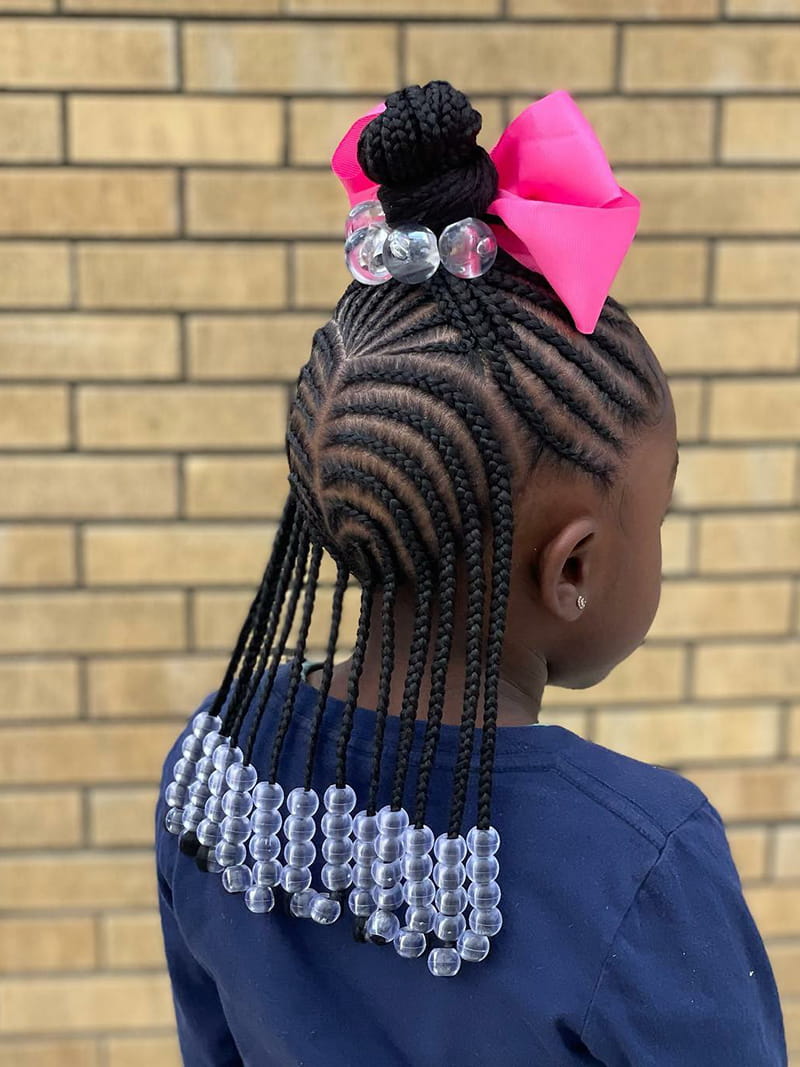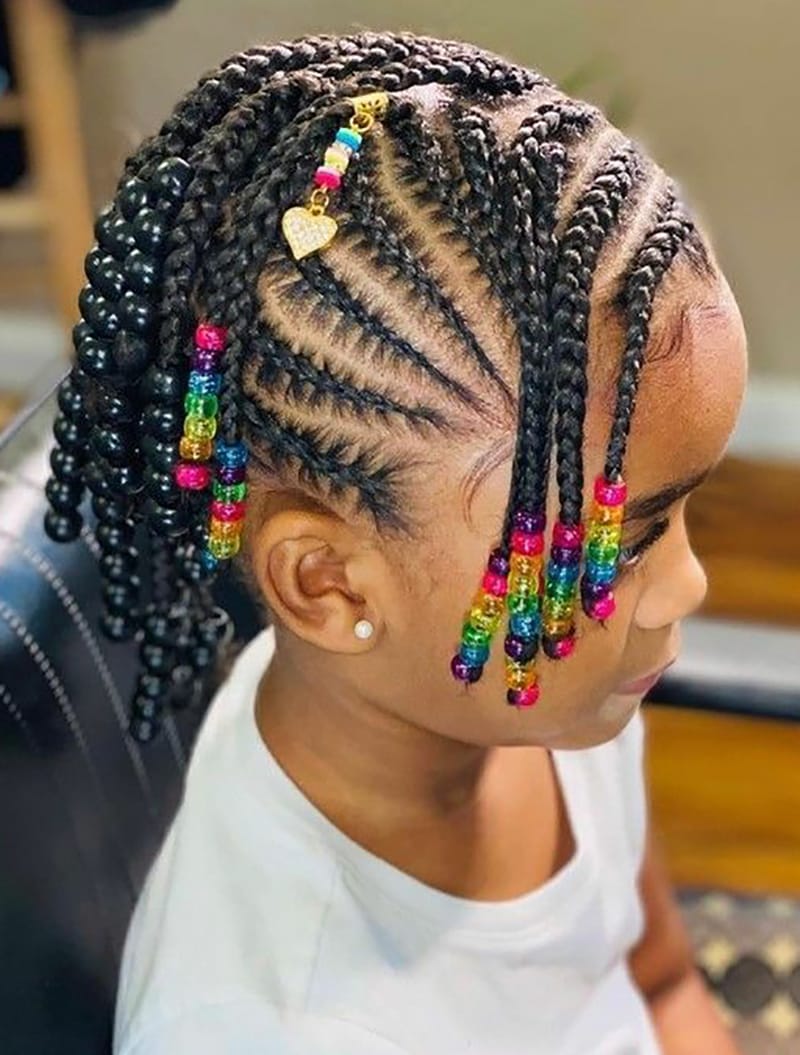 These braids are captivating to look at, and kids will love the way they feel—like a storybook character comes to life. Waterfall cornrows can be a fantastic way to encourage kids to enjoy and take pride in their hairstyles.
Cornrows Lemonade Braids for Kids
Popularized by Beyoncé, Lemonade braids are side-swept cornrows that have a cool, edgy vibe. They're named after the singer's iconic album and are a trendy choice for kids who want to add a bit of star quality to their look. Lemonade braids can be thin or thick, long or short, and often incorporate braided patterns for added depth.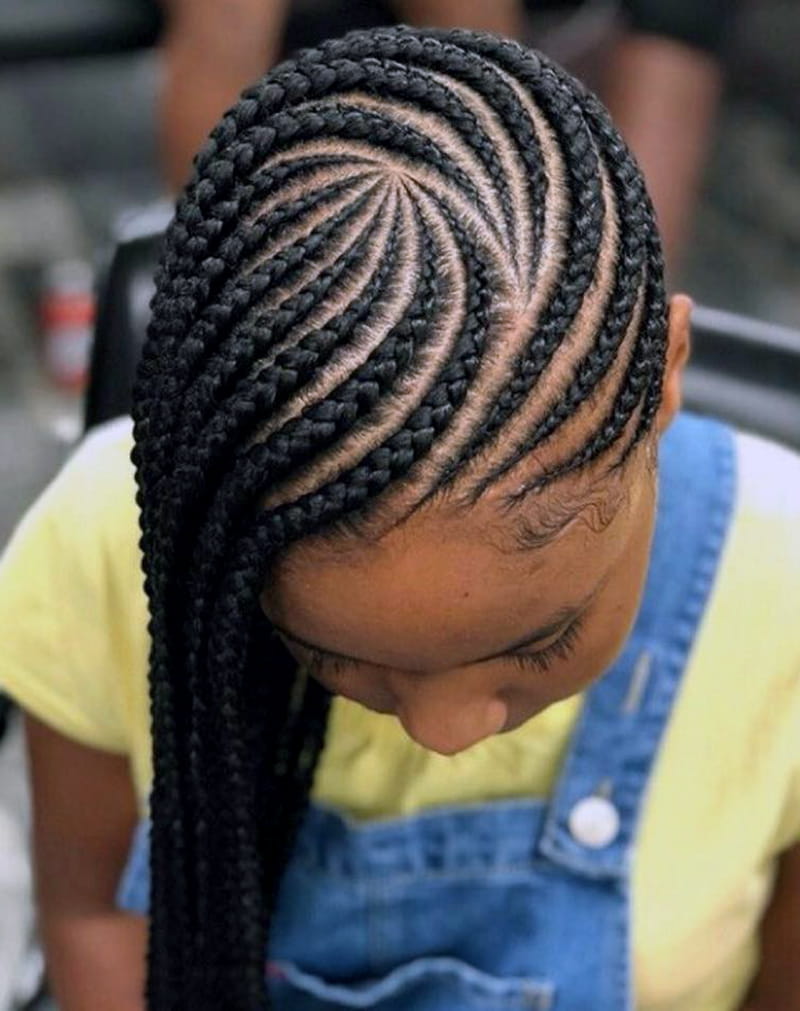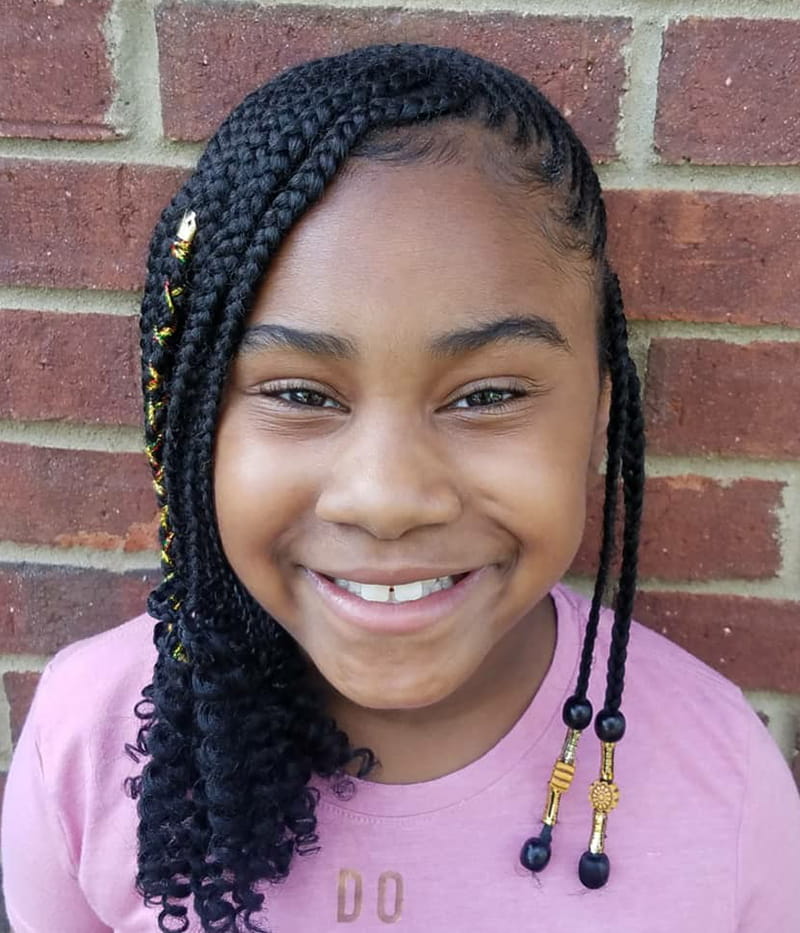 Not only do these braids look chic, but they also serve as a great protective style, keeping hair neat and reducing the need for daily styling. Plus, they can be a way for kids to express their admiration for a modern-day icon while embracing a style that is functional and fashionable.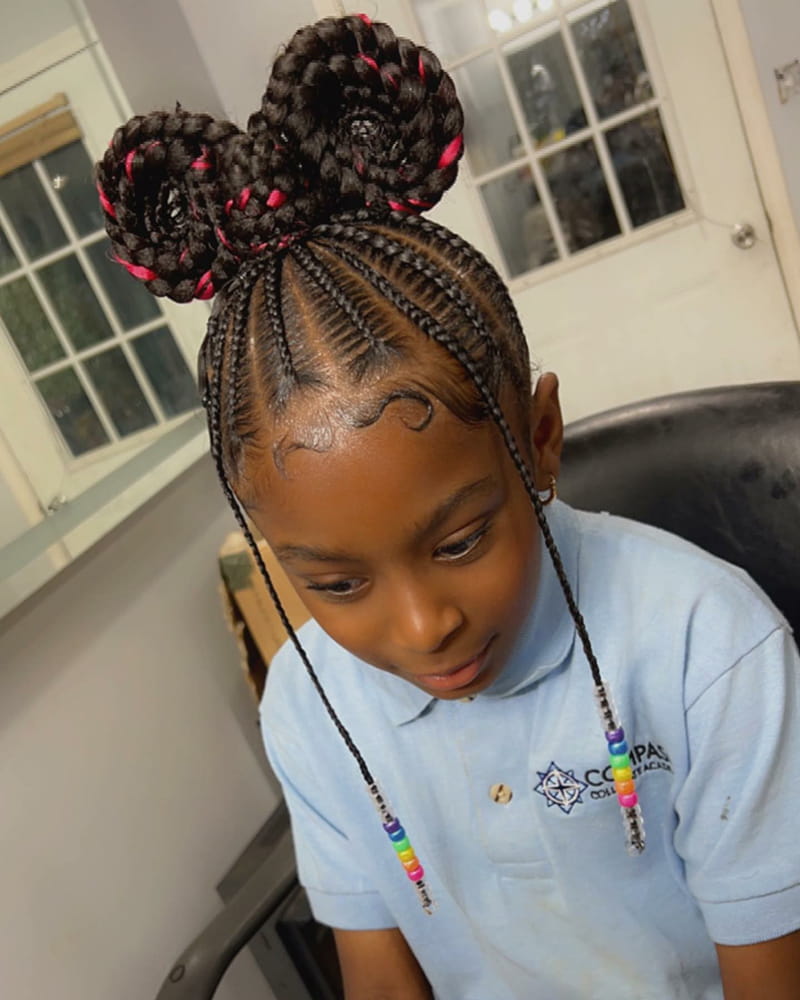 Each of these cornrows braid styles for kids is a blend of beauty, tradition, and practicality. They're perfect for young ones who are full of energy and personality, providing a way to express themselves while maintaining their hair's health. Whether your child is stepping into a classroom, playing in the park, or attending a special event, there's a cornrow braid style to match every occasion and every mood.
Accessorized Cornrows Hairstyles for Kids
Accessorizing cornrows can transform a simple hairstyle into a standout statement. By incorporating various embellishments, kids can showcase their personality and creativity. Let's dive into how accessories can take cornrows to the next level of cuteness and style.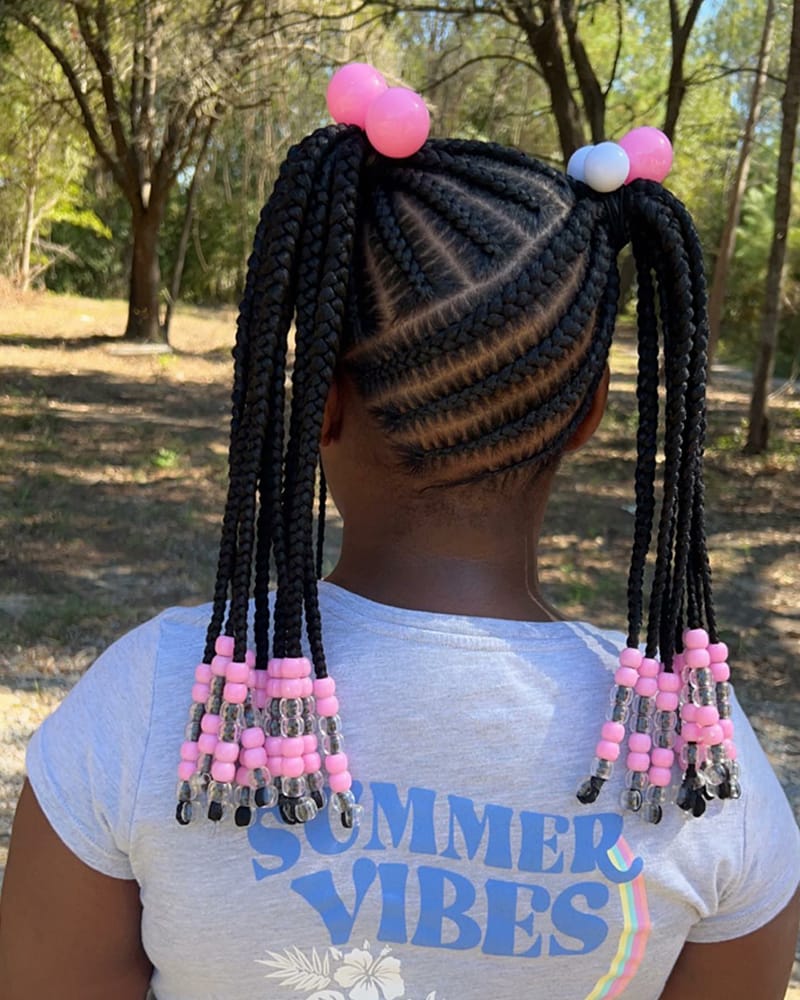 Cornrows Braids with Beads for Kids
Beads have been used to decorate hair for centuries, adding color and flair to any style. When it comes to kids' cornrows, adding beads can be the perfect finishing touch. You can choose beads that match your child's favorite color, or perhaps pick something that sparkles to make their hairstyle even more exciting.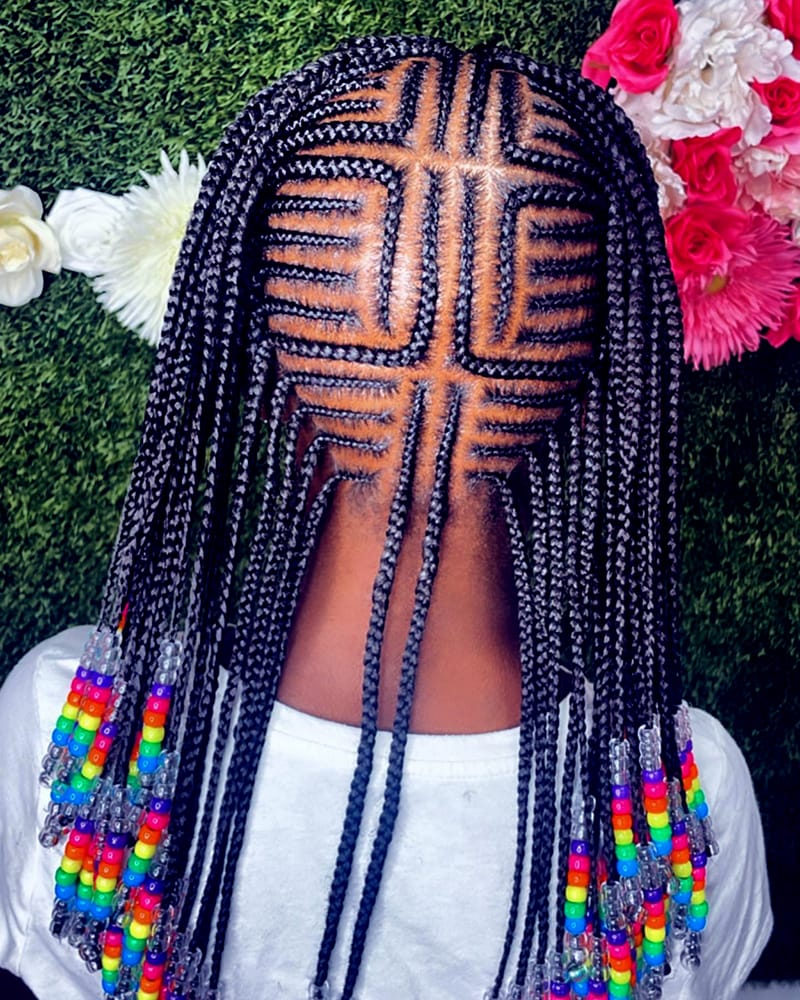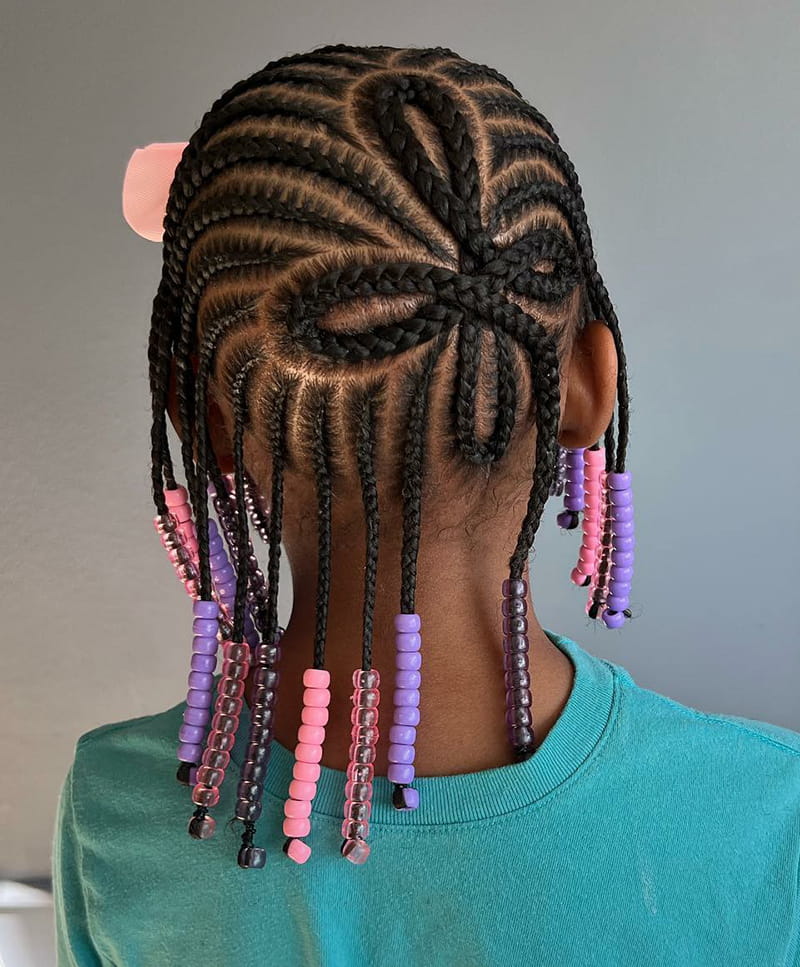 Beads aren't just pretty; they also serve a practical purpose. They can weigh down the ends of braids, helping to keep them stretched and preventing them from unraveling. Moreover, the act of choosing and adding beads to their hair can be a fun activity that allows kids to get involved in their grooming routine. They'll love hearing the gentle rattle of the beads as they move, making them feel like they're carrying their own personal symphony wherever they go.
Cornrows Braids with Rubber Bands for Kids
Rubber bands are a simple way to add a pop of color to cornrows and to help keep them in place. They're especially handy when dealing with fine or silky hair that might not hold braids as well. You can use them to secure the ends of the braids or even incorporate them throughout the braid for a fun pattern.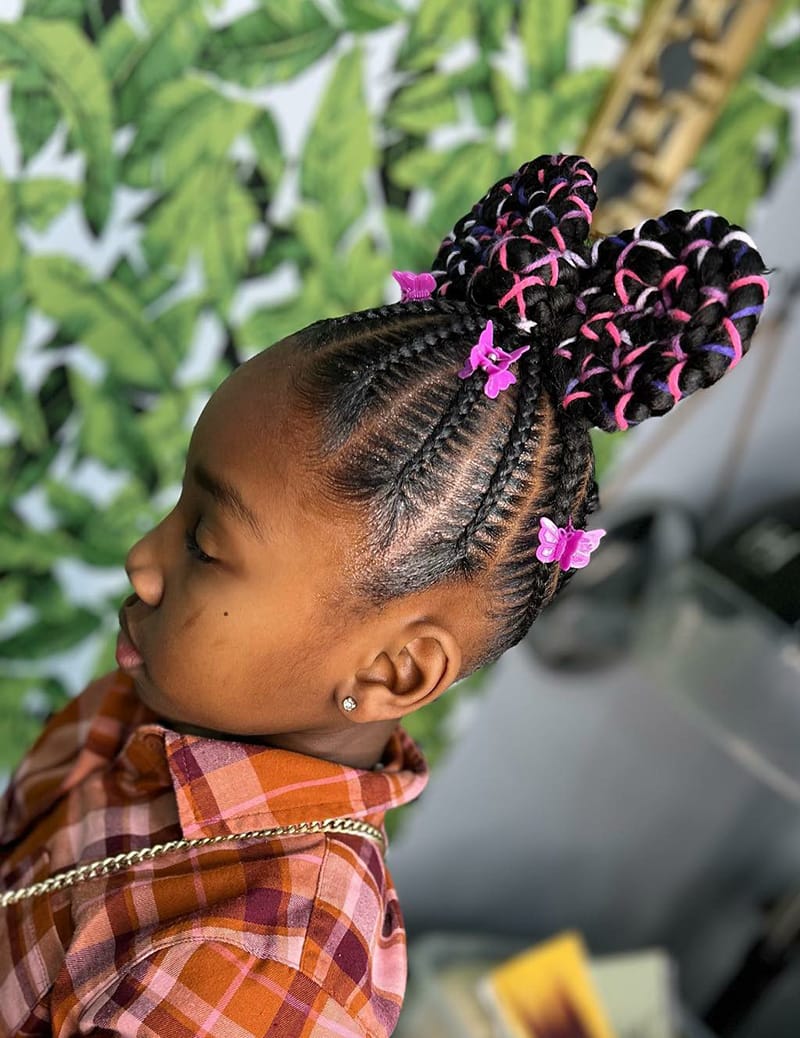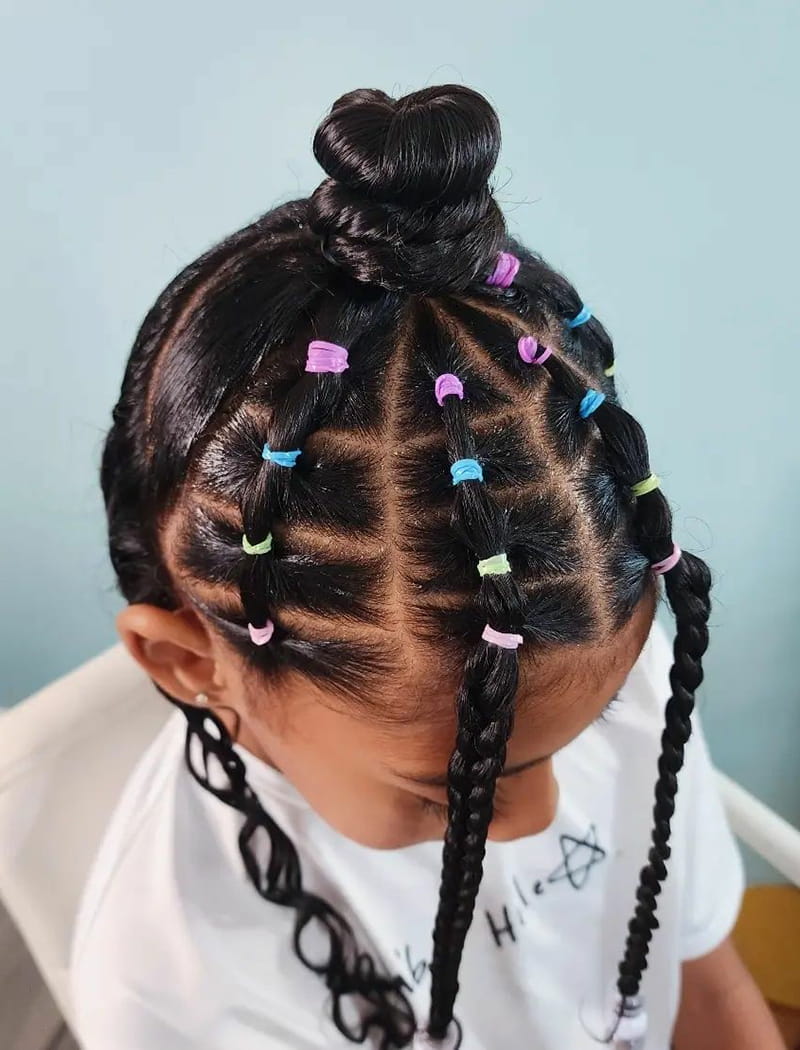 Using rubber bands is also a great way to add visual interest to a hairstyle without much additional time or expense. They're readily available and come in a myriad of colors, making them an easy accessory to keep on hand for any styling day.
Cornrows with Hairbows for Kids
Hairbows can give cornrows a sweet and girly touch. Whether it's a single large bow at the end of a braid or smaller bows scattered throughout, they're a charming addition to any hairstyle. For special occasions, you might opt for bows with a bit of lace or metallic accents.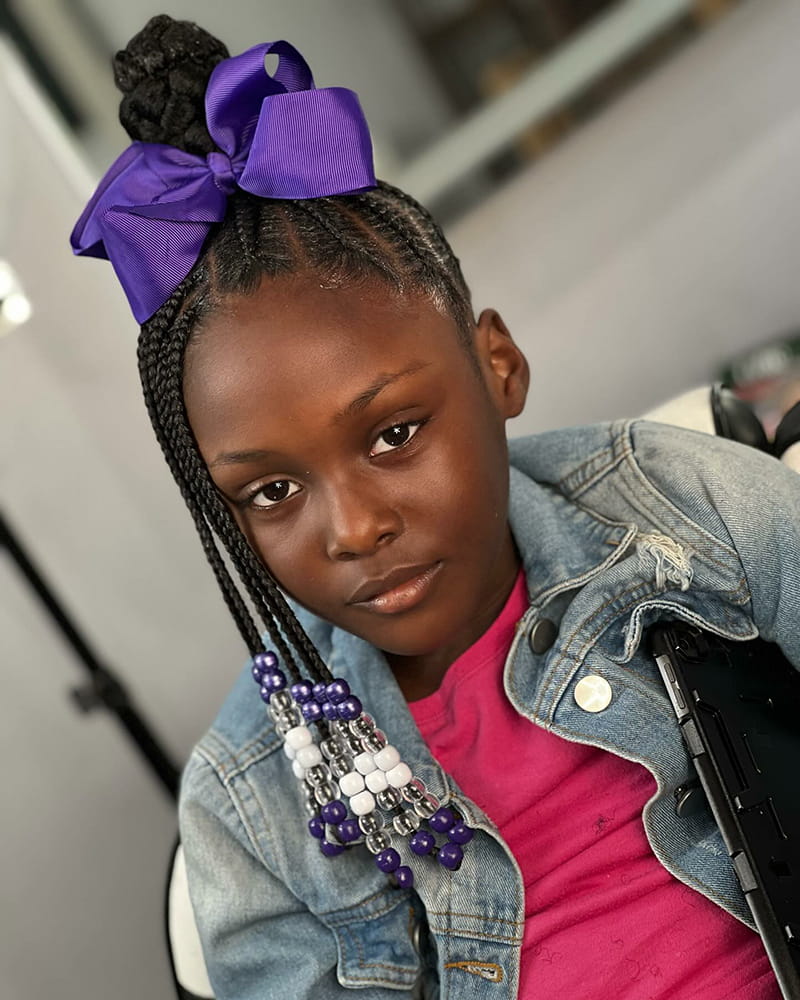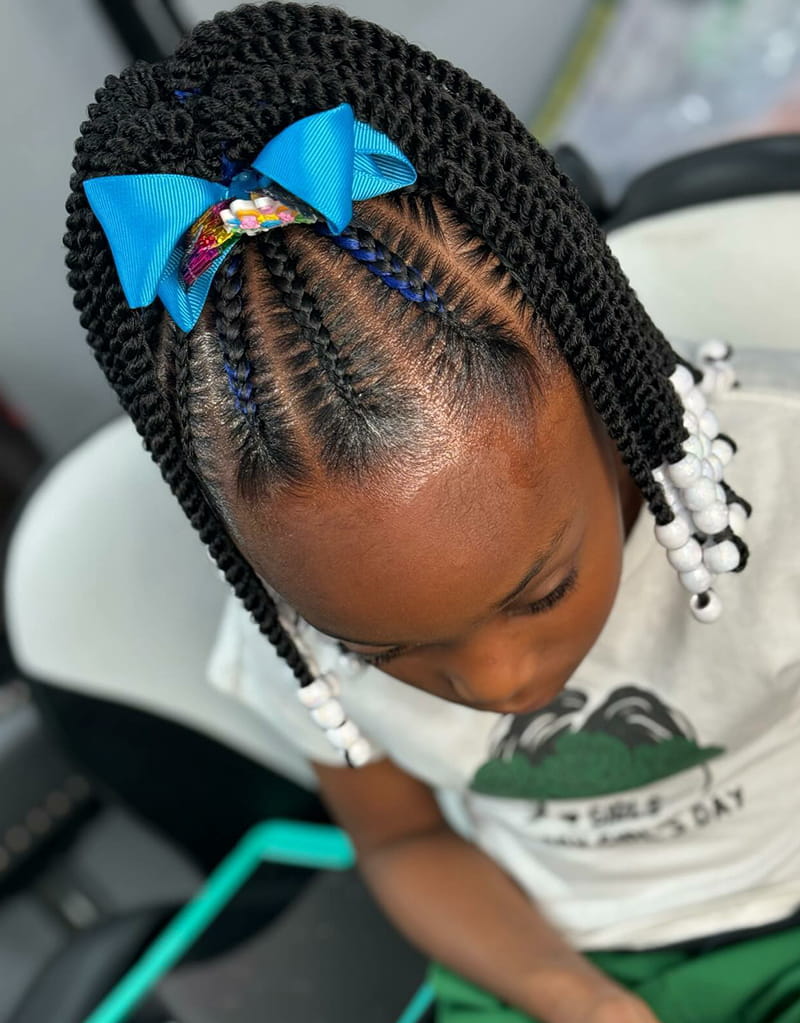 What's delightful about hairbows is that they can match a child's outfit or mood. A bright red bow can be just the thing for a festive holiday look, while a soft pink bow might be perfect for a family photo session. They're also easy to change out, so your child can have a new look every day if they wish.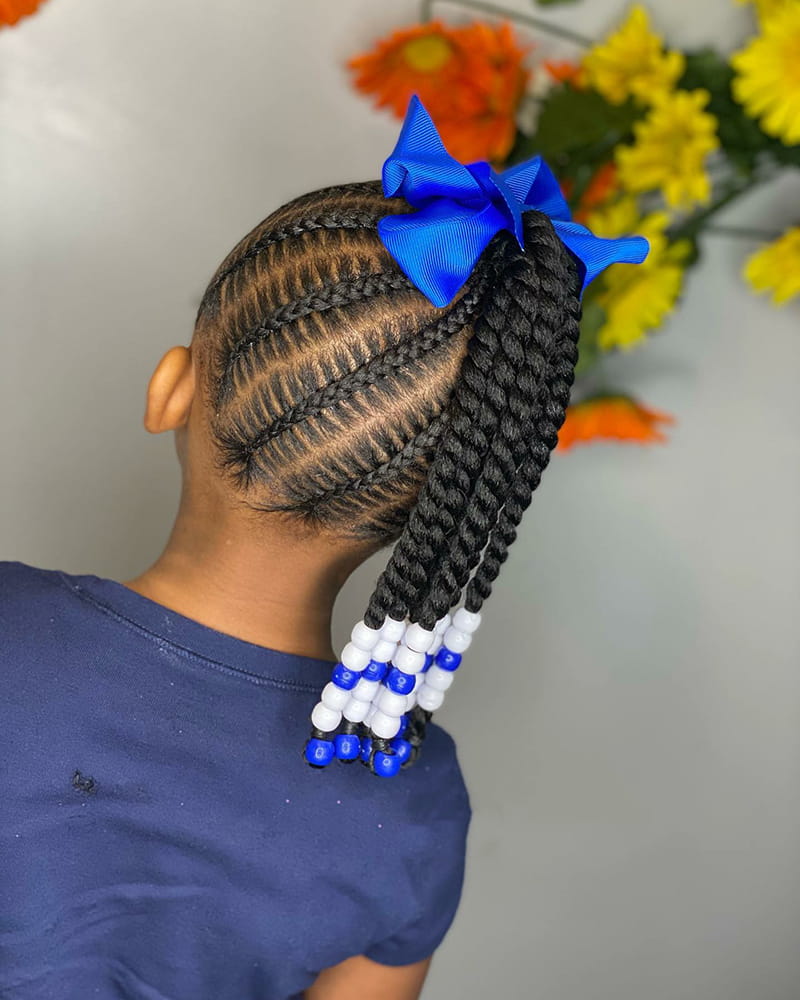 Accessorizing cornrows is not just about aesthetics; it's also an opportunity for kids to engage with their hairstyles and make them truly their own. With accessories like beads, rubber bands, hairbows, and jumbo braids, the possibilities are endless. Each accessory can add a new layer of fun and expression to the hairstyle, ensuring that kids not only look great but also feel great about their unique, personalized look.
Creative Cornrows Ideas for Kids
Creating a hairstyle for your little one should be just as fun as dressing them up for a day out! Cornrows offer an exceptional way to let their personalities shine through, with each braid telling a story of creativity and style. Whether it's their first day of school or a family gathering, these creative cornrow ideas will have your kids feeling like the coolest on the block.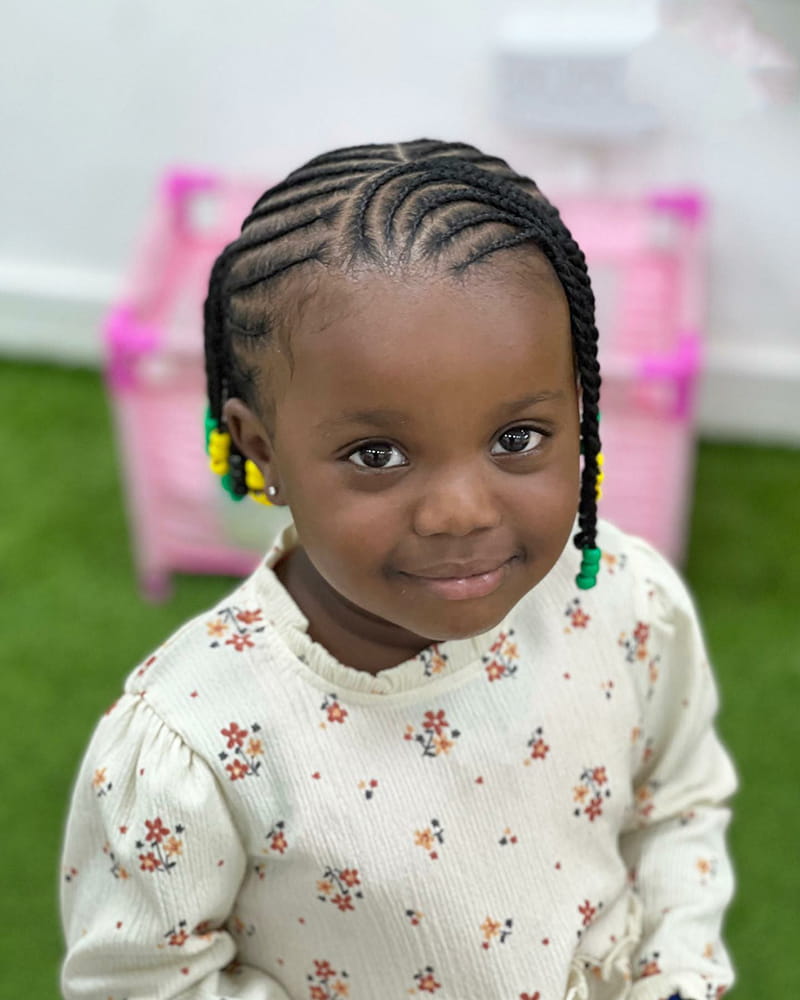 Classic Cornrows Hairstyles for Kids
Classic cornrows are the epitome of sleek and manageable hair for active kids. But even the classics can take on a new life with a bit of imagination! Why not mix things up with varied braid sizes? Imagine starting with micro-cornrows at the nape, gradually flowing into thicker braids as you reach the crown. It's a design that not only looks intricate but also creates a delightful texture that will have everyone admiring your child's hairstyle.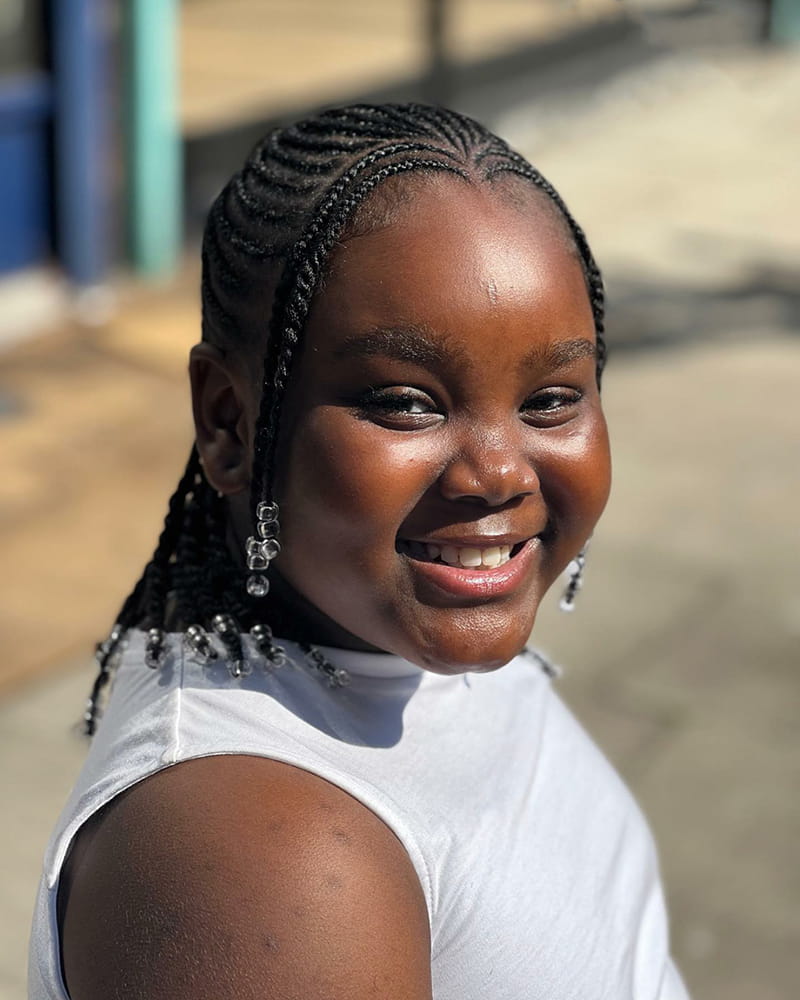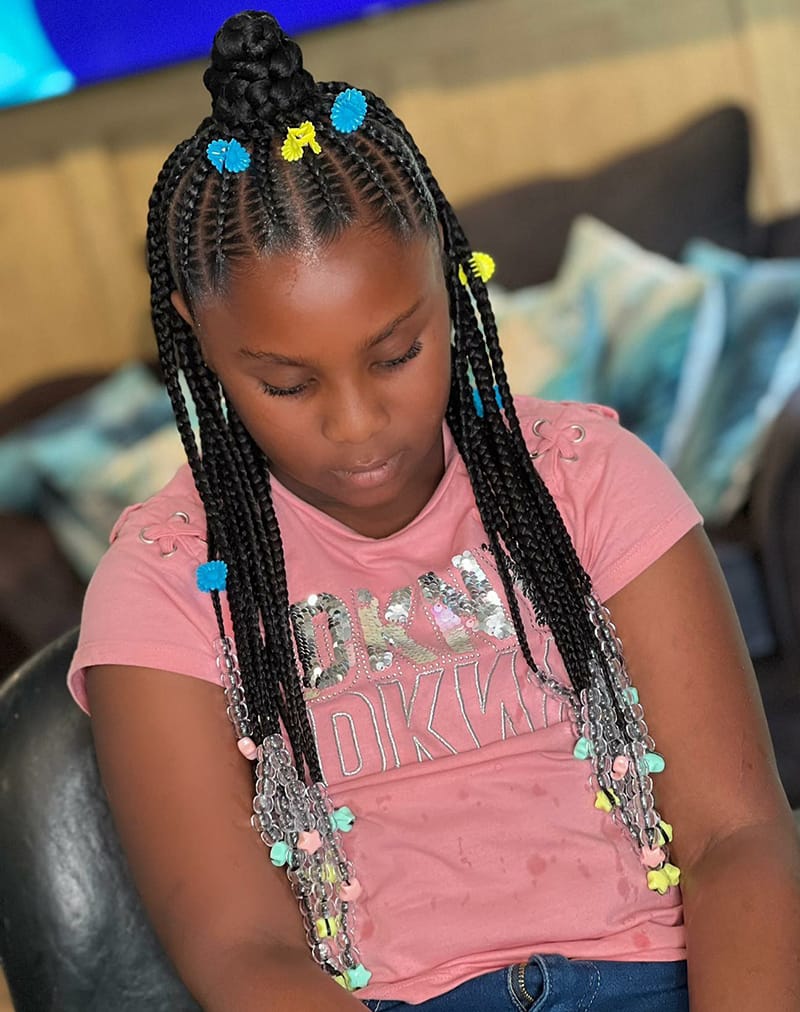 Consider adding unexpected parts – like zigzags or curves – within the cornrows for that extra pop. The beauty of classic cornrows is their versatility. Whether your child is heading to a playdate or performing in a school recital, this style keeps their hair neat while adding an understated elegance to their overall look.
Banana Cornrows for Kids
Now, banana cornrows are a sweet treat in the world of hairstyles! Curvy and playful, these braids wind around the head like the bends of a banana. They're perfect for kids who love a fun twist to their look and can be customized to suit any personality. You could even incorporate colorful threads or beads along the curves for a more festive appearance.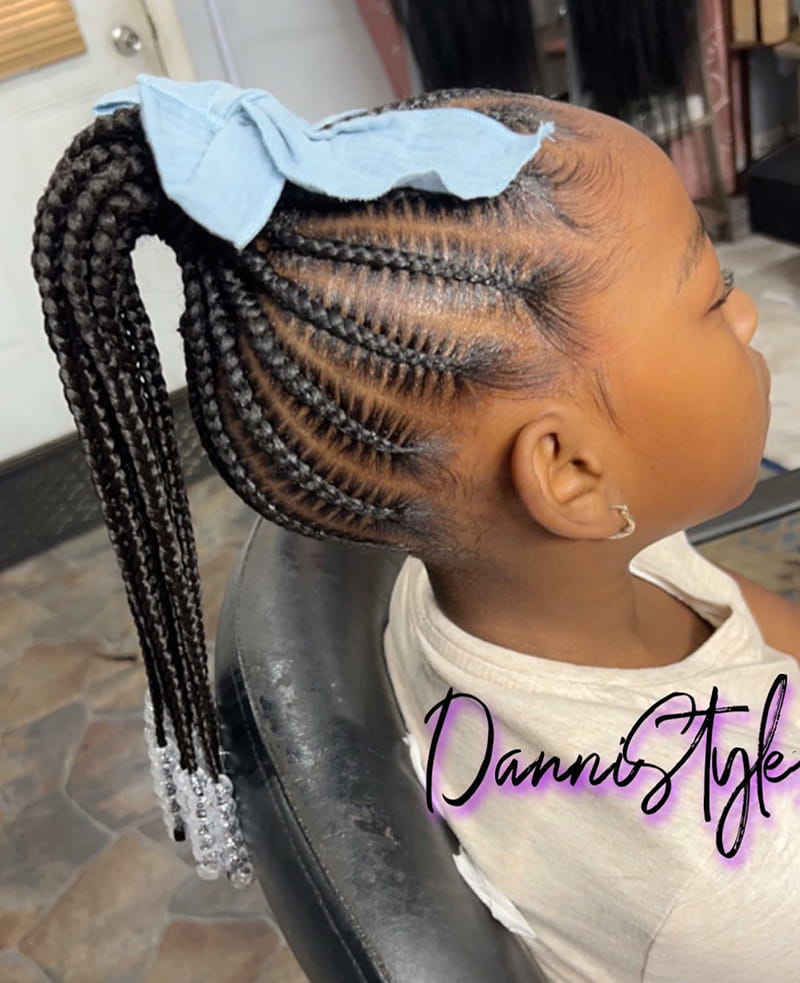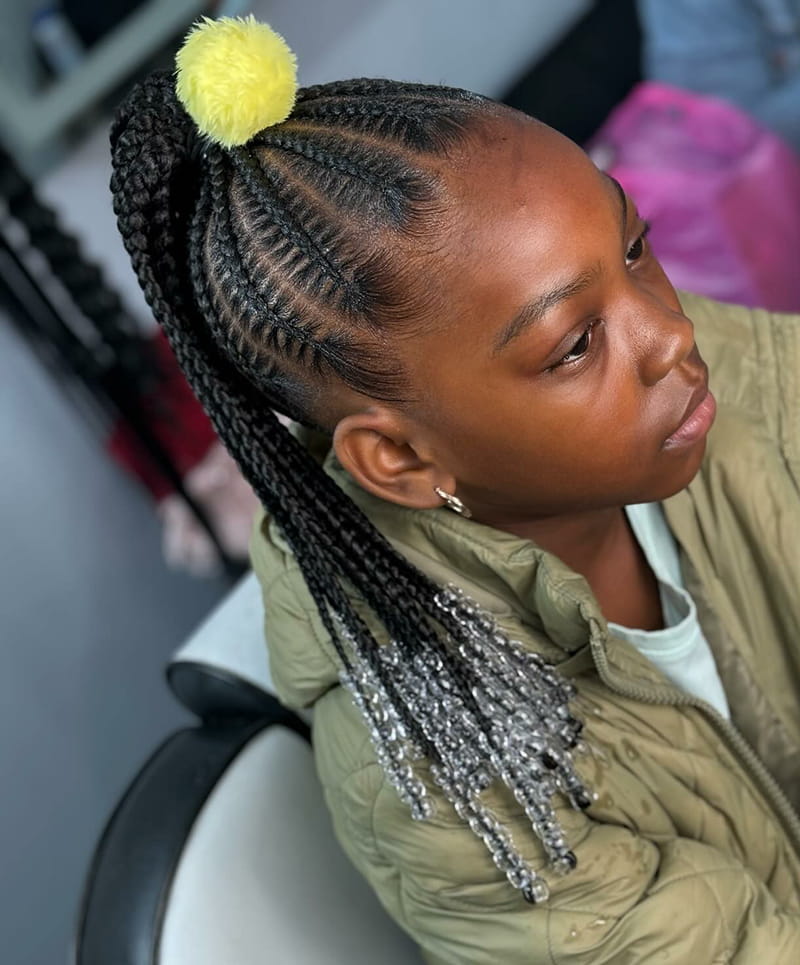 Picture your child with these charming braids, each one arching gracefully from the forehead to the nape, framing their smiling face. It's not just a hairstyle; it's a crown of confidence that they'll wear proudly.
Turtle Cornrows for Kids
Adventure awaits with turtle cornrows! Inspired by the intricate patterns of a turtle's shell, these braids are for kids who carry a spirit of discovery and love of nature. Braiders can create raised cornrows alongside flatter ones to mimic that unique turtle shell design, offering a tactile experience that's as fun to touch as it is to look at.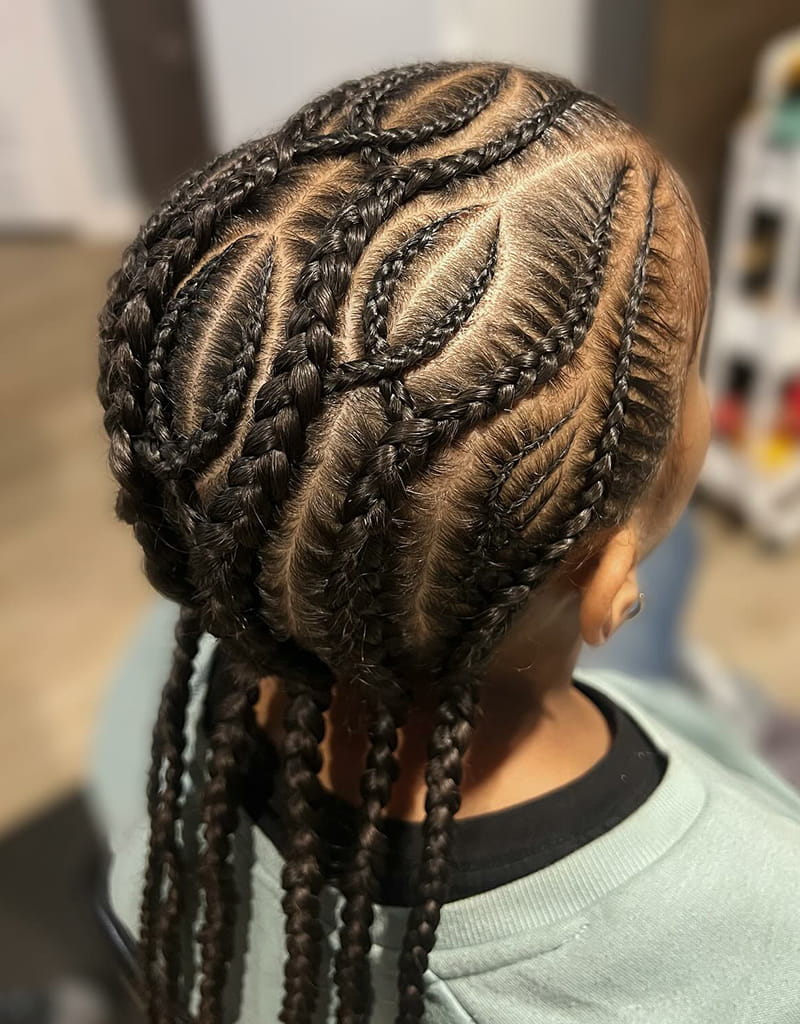 It's more than a hairstyle – it's a masterpiece showcasing the wonder of the natural world right on your child's head. Every ridge and dip tells a story of a journey, much like the travels of a turtle.
Cornrows with Bangs for Kids
Who says you can't enjoy the best of both worlds? Cornrows with bangs bring together the neatness of braids and the playful bounce of free-hanging hair. These can be straight across the forehead or swept to the side for a softer look. It's a combo that offers the practicality of cornrows while keeping a bit of whimsy with the bangs.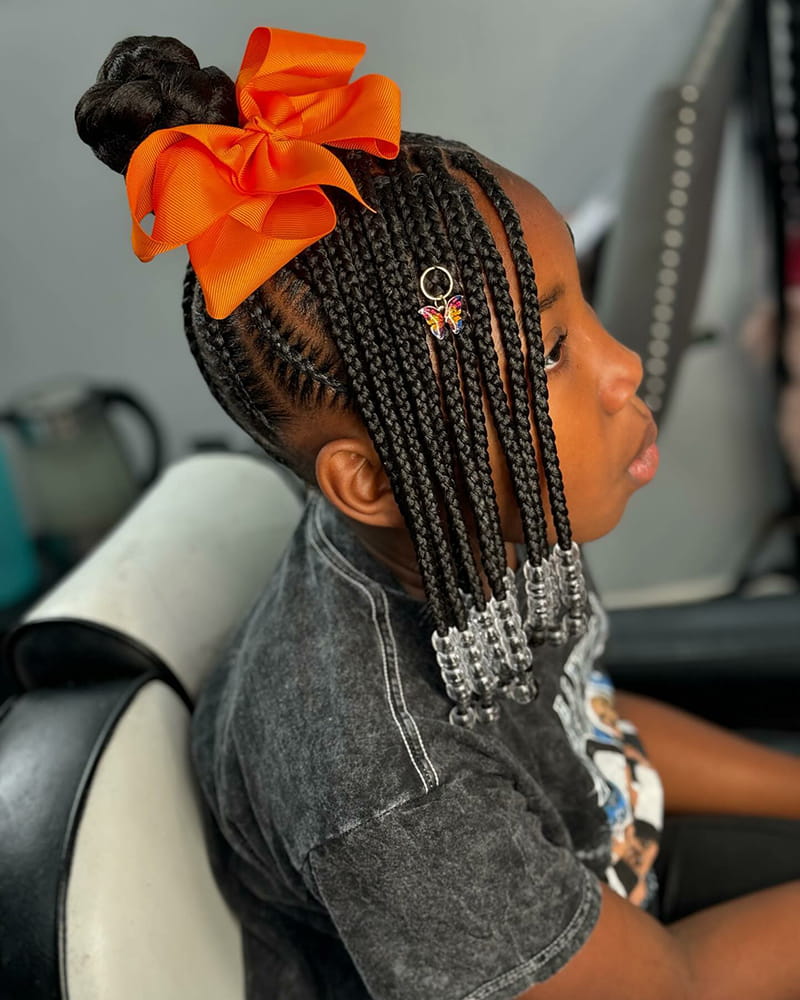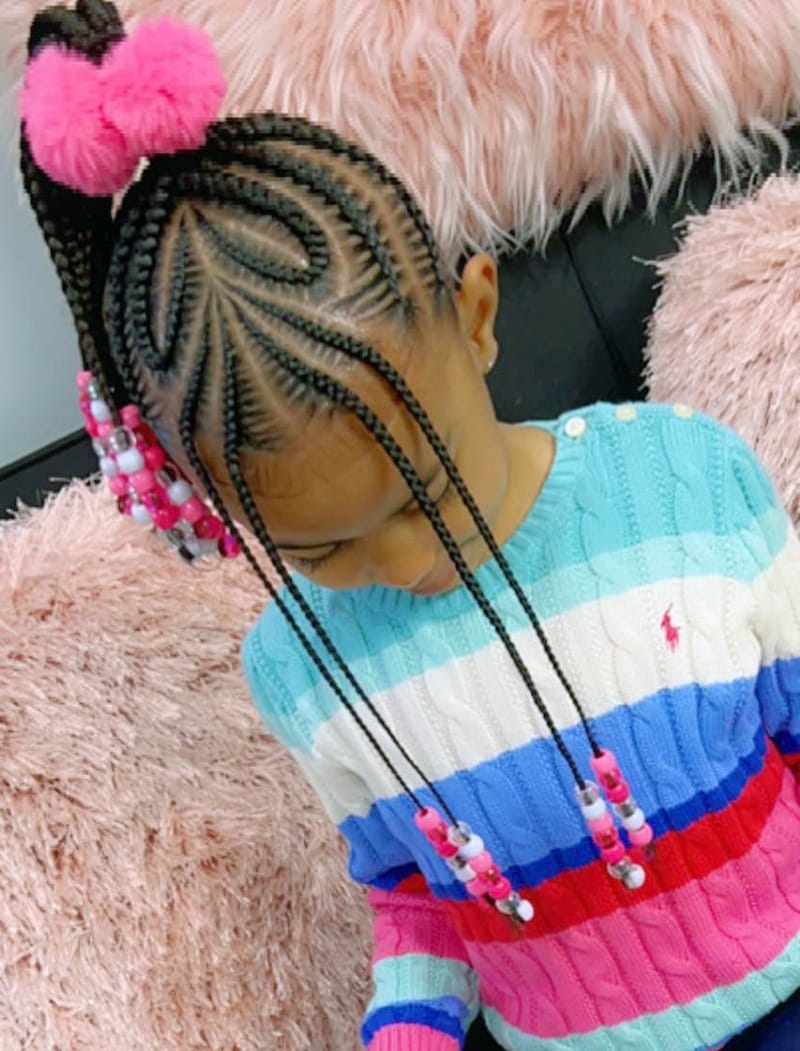 This style is incredibly versatile, looking just as darling with a casual outfit as it does with a dressy one. Plus, those bangs can be pinned up or let down, depending on the occasion or your child's mood.
Center-Parted Cornrows for Kids
Symmetry can be stunning, and center-parted cornrows prove just that. The part can be as simple or intricate as you wish – straight down the middle for a polished look or in a zigzag for a dash of fun. Braids then flow away from this central line like rays of the sun, offering a balanced and harmonious look that's both modern and stylish.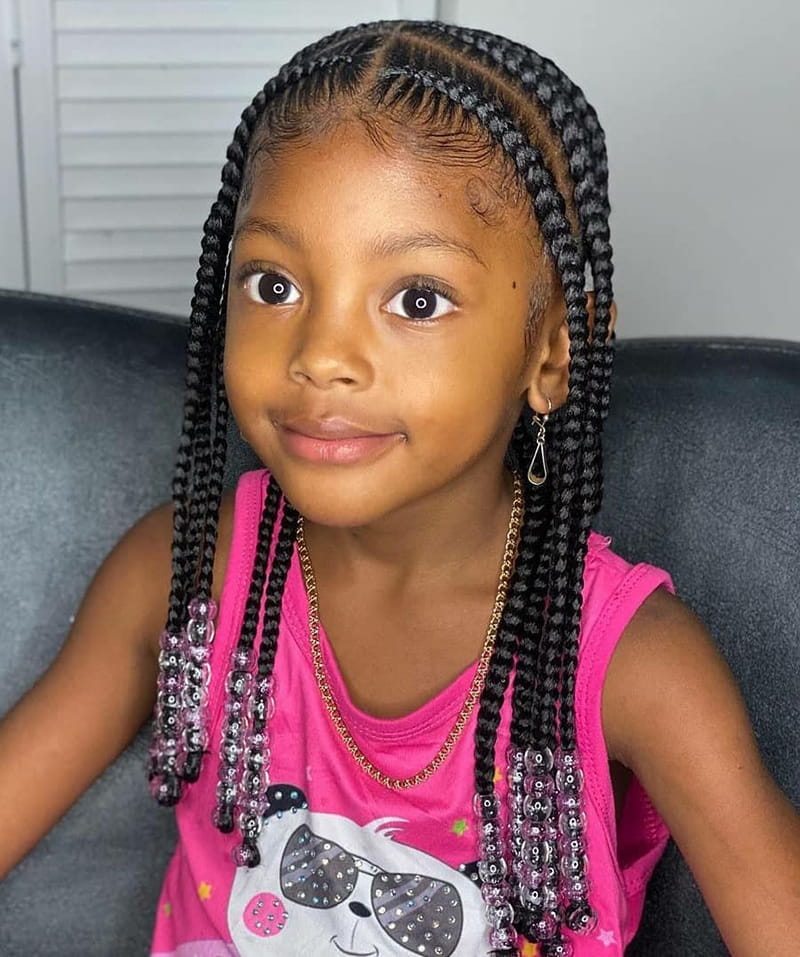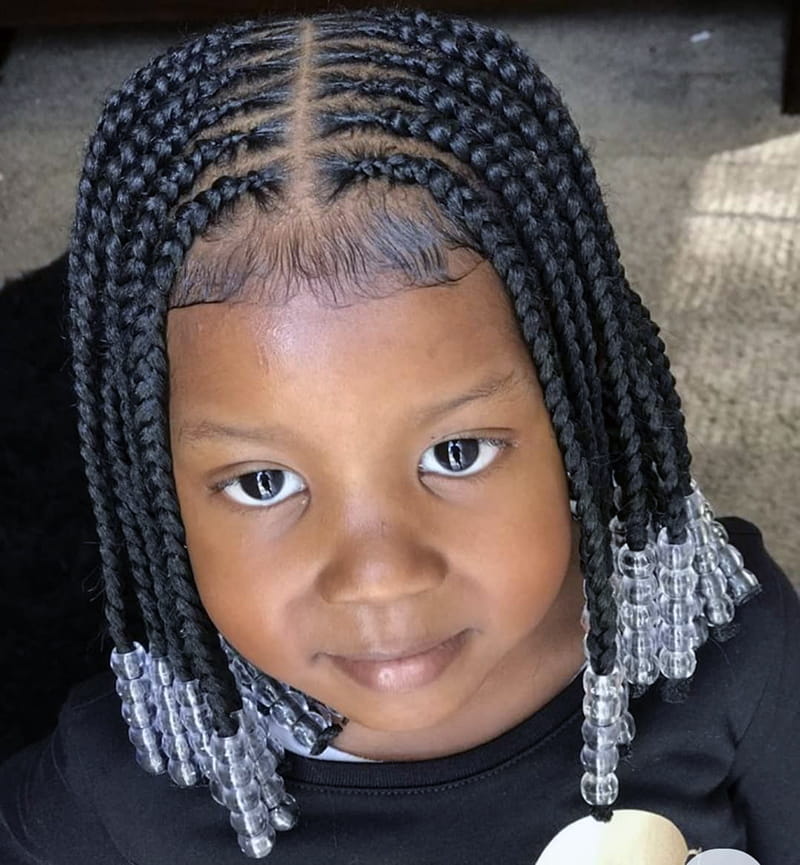 A center-parted cornrow style is a look that celebrates order and beauty in equal measure, making it a fitting choice for any event where your little one should shine.
Side-Parted Cornrows for Kids
For a style that plays with asymmetry, side-parted cornrows are the answer. They're edgy, they're in, and they give a dynamic twist to traditional braiding patterns. You could even have the cornrows on the fuller side interweave or layer for an added dimension of complexity.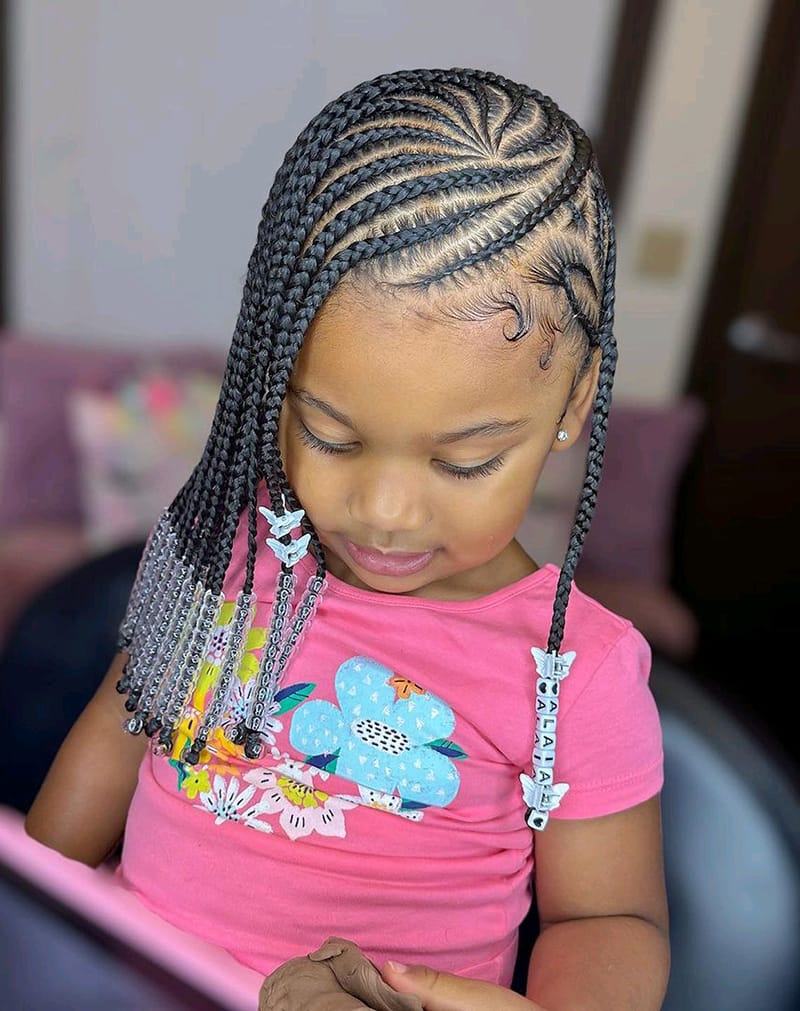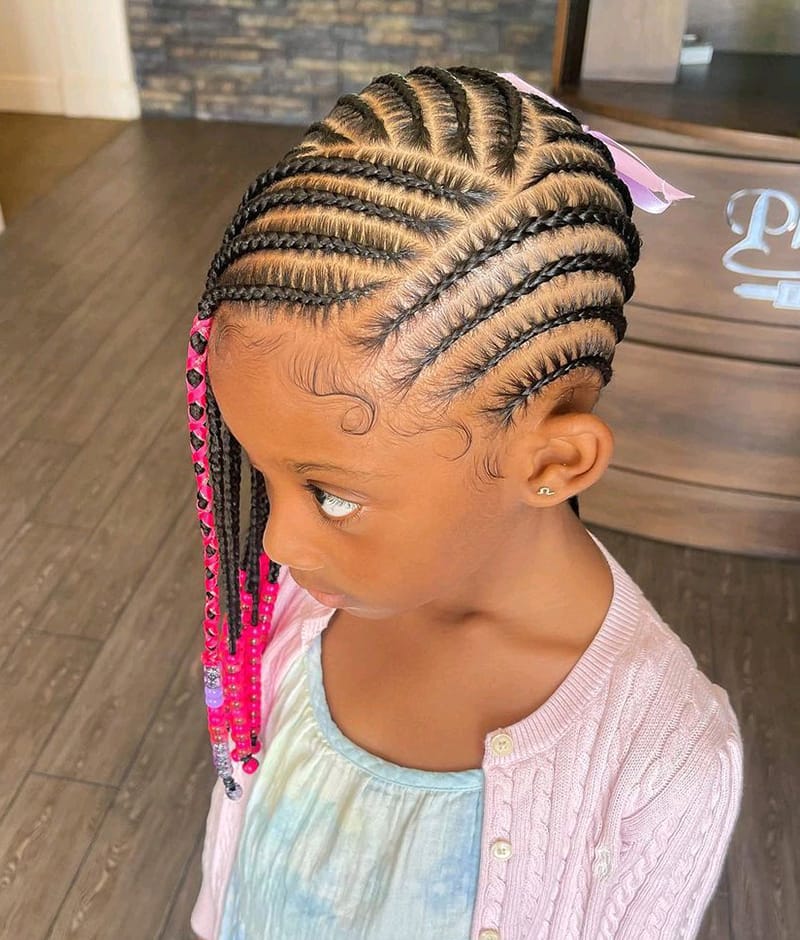 This style is perfect for kids who like to stand out and express their unique selves. It's bold, it's different, and it lets their individuality take the spotlight in the most stylish way possible.
Side-Swept Cornrows for Kids
Bring a sense of movement and elegance to your child's hairstyle with side-swept cornrows. Like waves of grain swaying in a gentle breeze, these braids cascade to one side, creating a look that's both dramatic and utterly beautiful. It's a perfect style for those moments when your little one wants to feel a bit more grown-up, a bit more glamorous.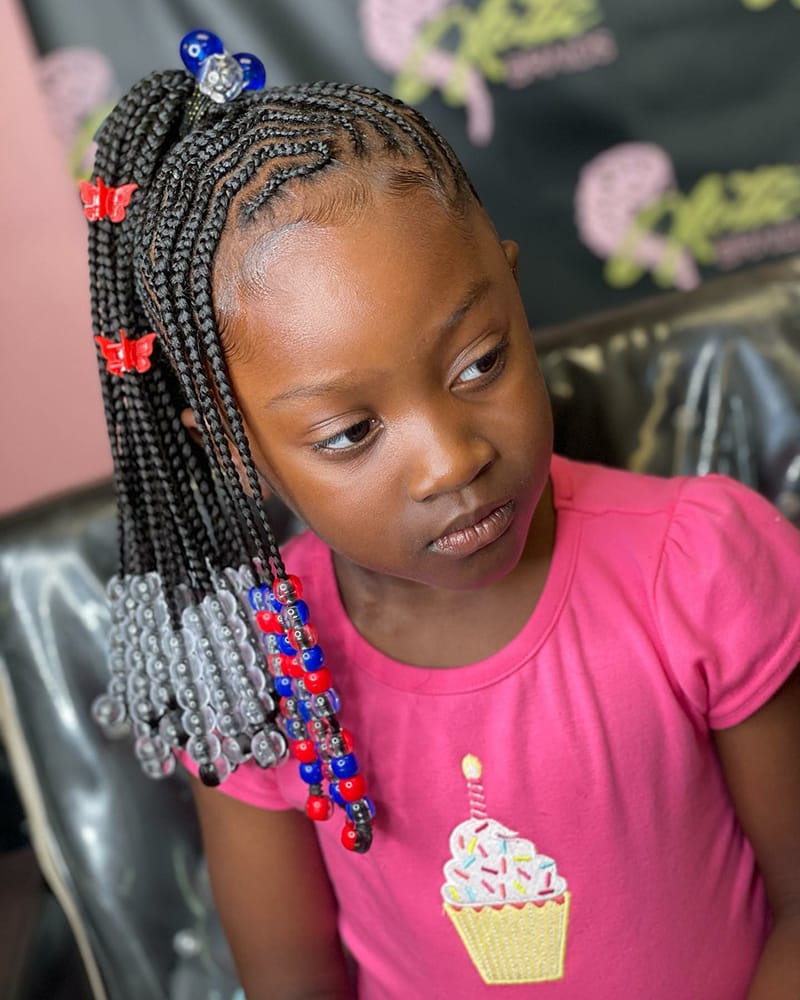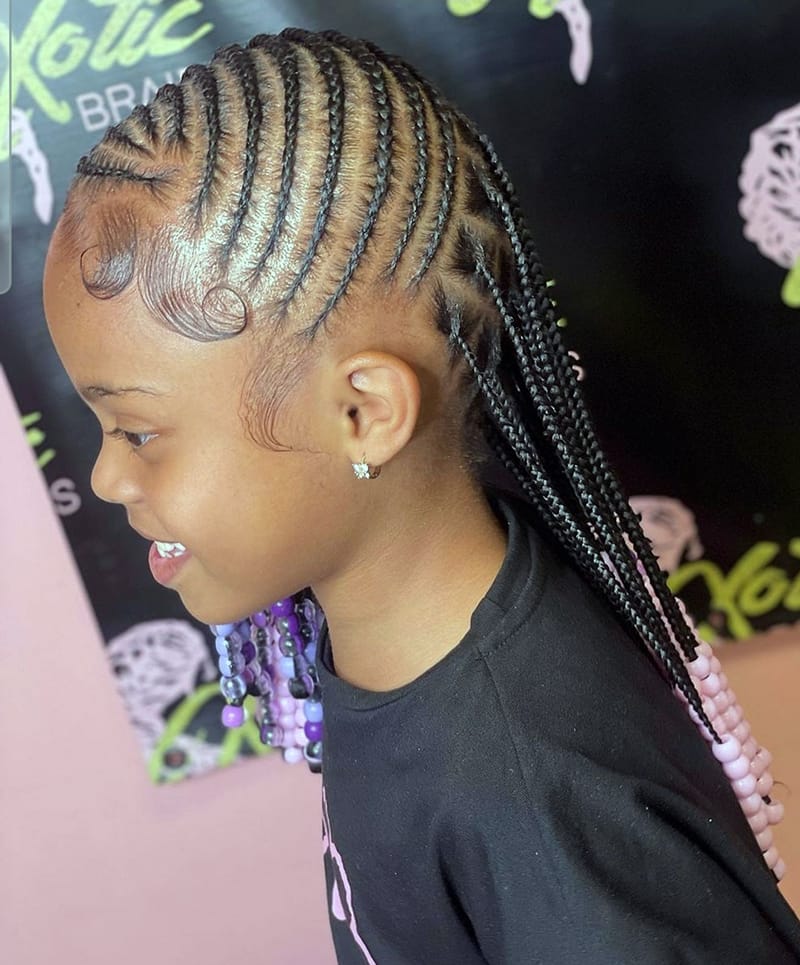 Not only do they look fabulous, but side-swept cornrows also keep hair out of the face, which is great for kids who are always on the move. Whether it's a family wedding or a school picture day, this style will make them feel special and loved.
Zigzag Cornrows for Kids
Let's zigzag our way into fun with this dynamic hairstyle! Perfect for kids with a playful heart, zigzag cornrows turn heads with their unexpected turns and twists. You can opt for subtle zigs and zags or go all out with bold, pronounced patterns. This style is a wonderful way to showcase your child's energetic and vibrant personality.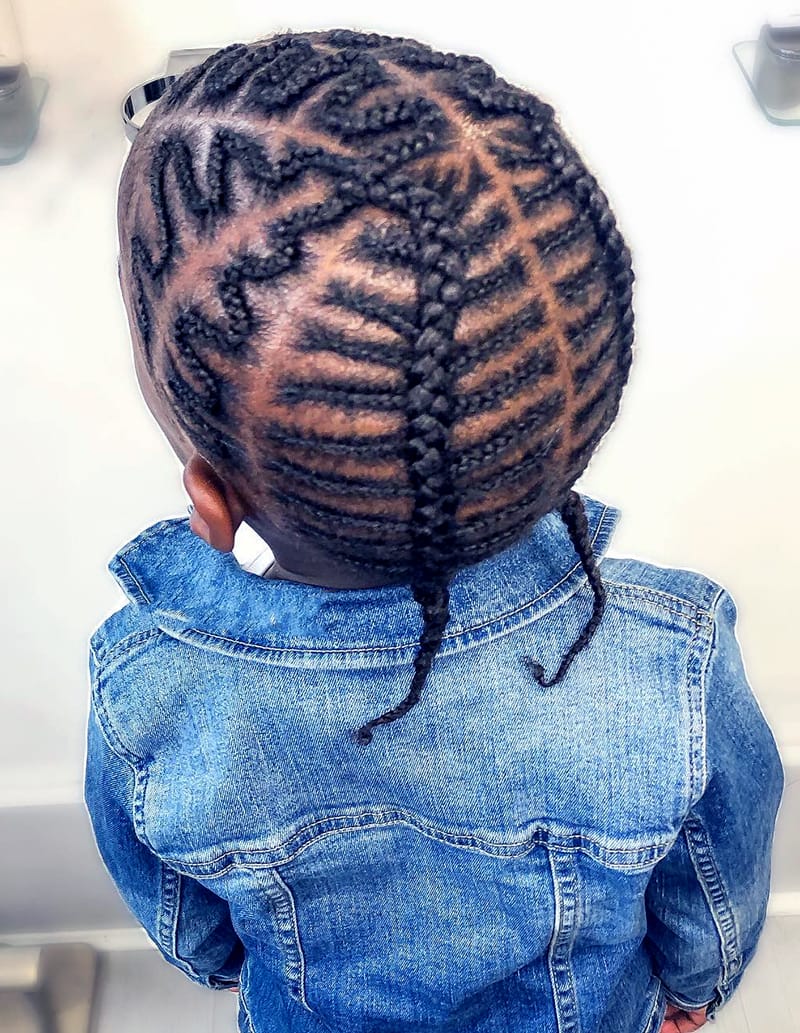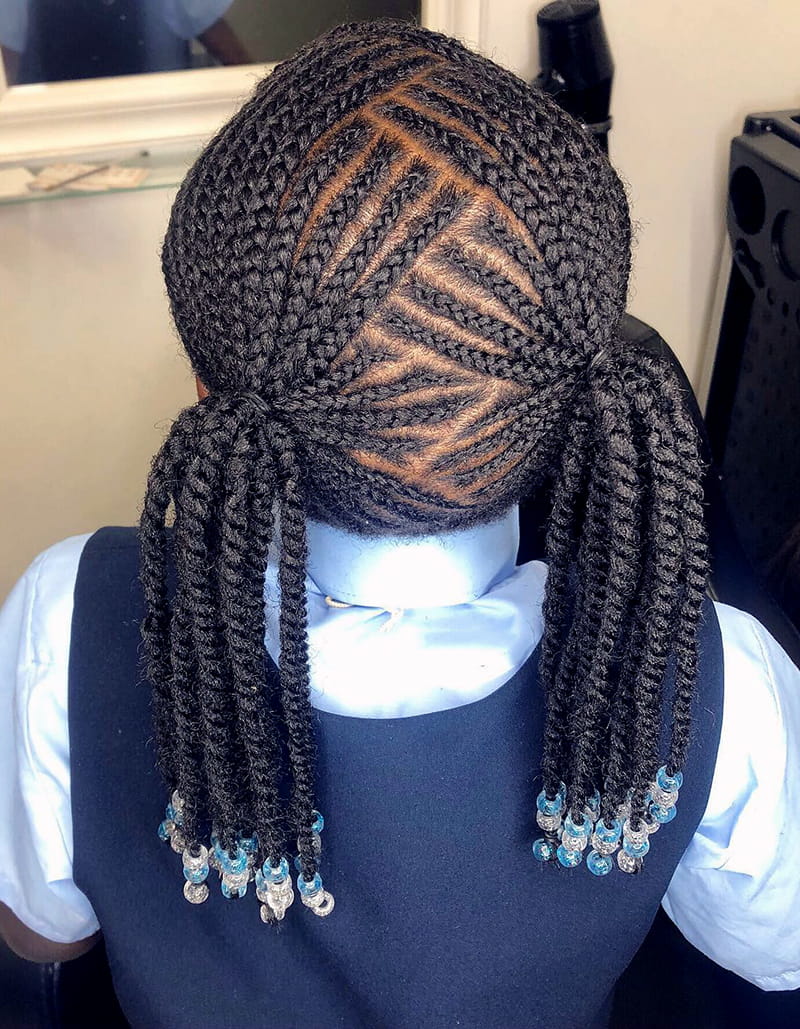 Not only do zigzag cornrows look fantastic, but they can also be a form of self-expression for your child, reflecting their love for the unique and the extraordinary.
Feed in Cornrows for Kids
Gentle, graceful, and gradually getting grander, feed-in cornrows are a sensation. They start off thin and discreet at the hairline, only to bloom into fuller, more robust braids as they progress. It's a natural-looking style that's as protective as it is pretty, putting less tension on those delicate edges.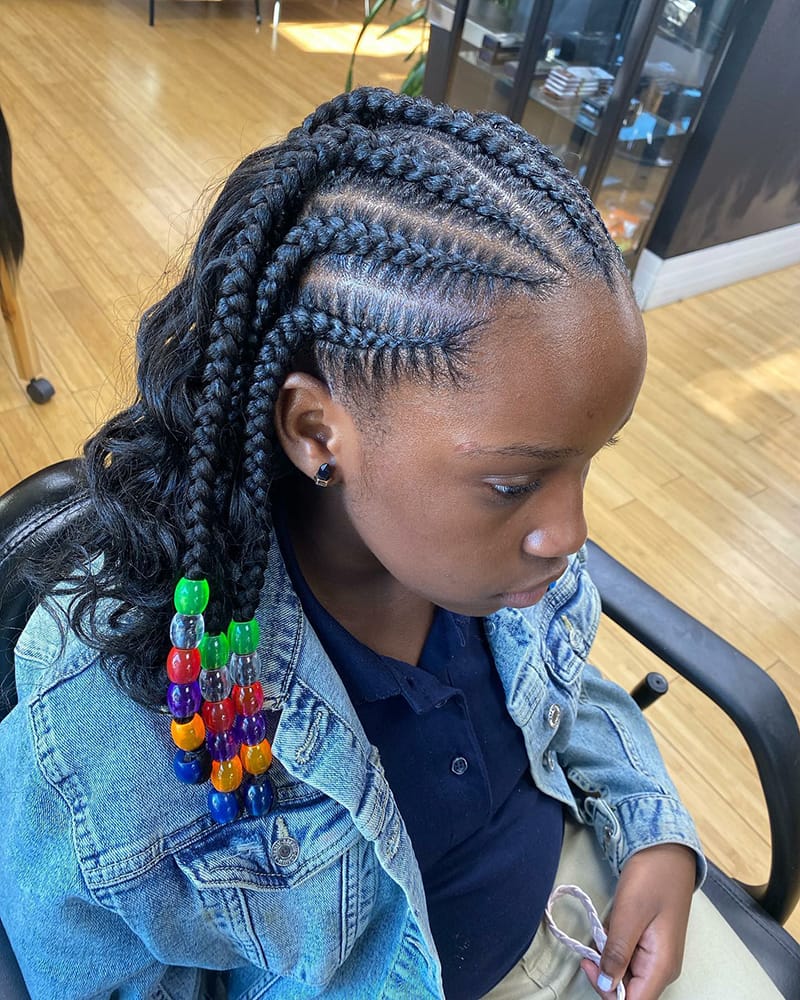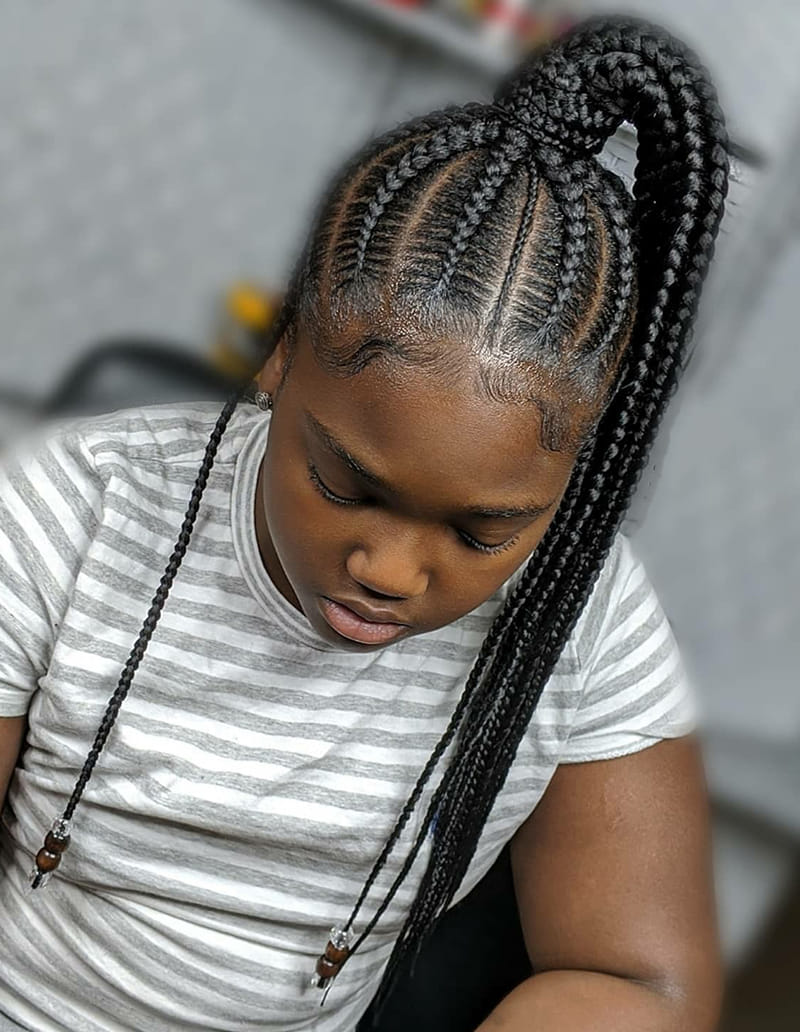 Feed-in cornrows are also a superb foundation for adding fun accessories like beads or flowers, turning your child's hair into a work of art. They're the kind of braids that make your little one's eyes light up when they see themselves in the mirror.
Cornrows Mohawk for Kids
Ready for a walk on the wild side? The cornrows mohawk is where edgy meets adorable. This bold style combines the precision of cornrows with the rebellious spirit of a mohawk. It's for the kids who march to the beat of their own drum and aren't afraid to show it.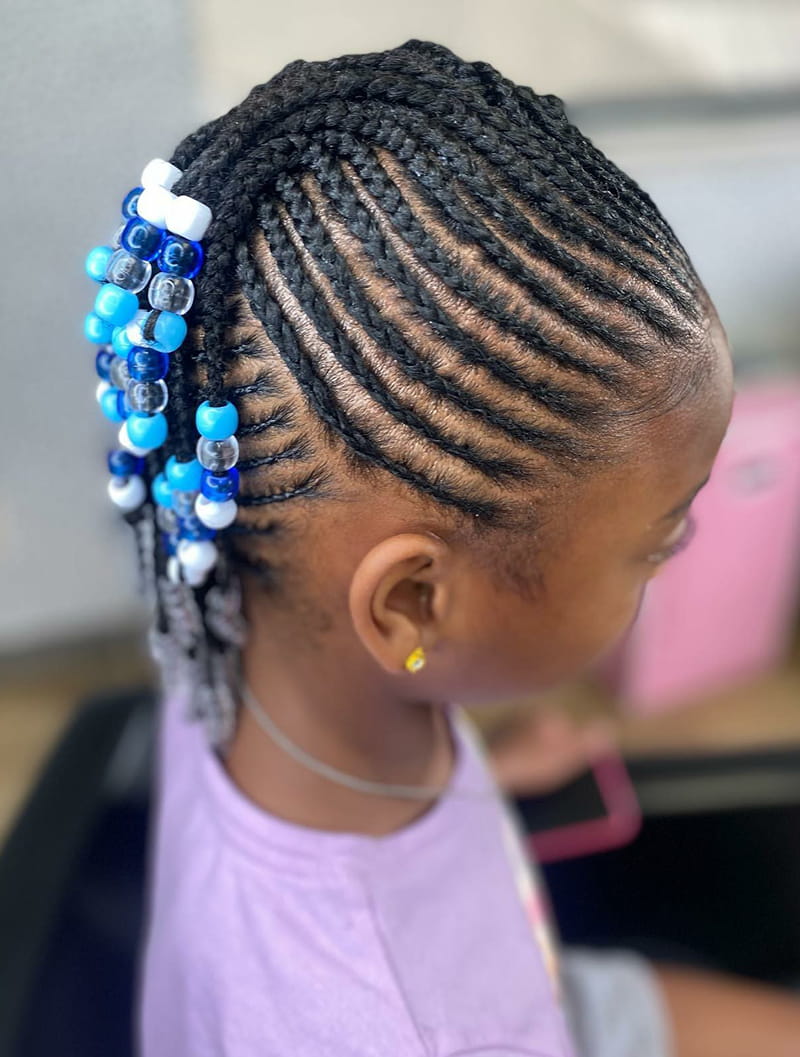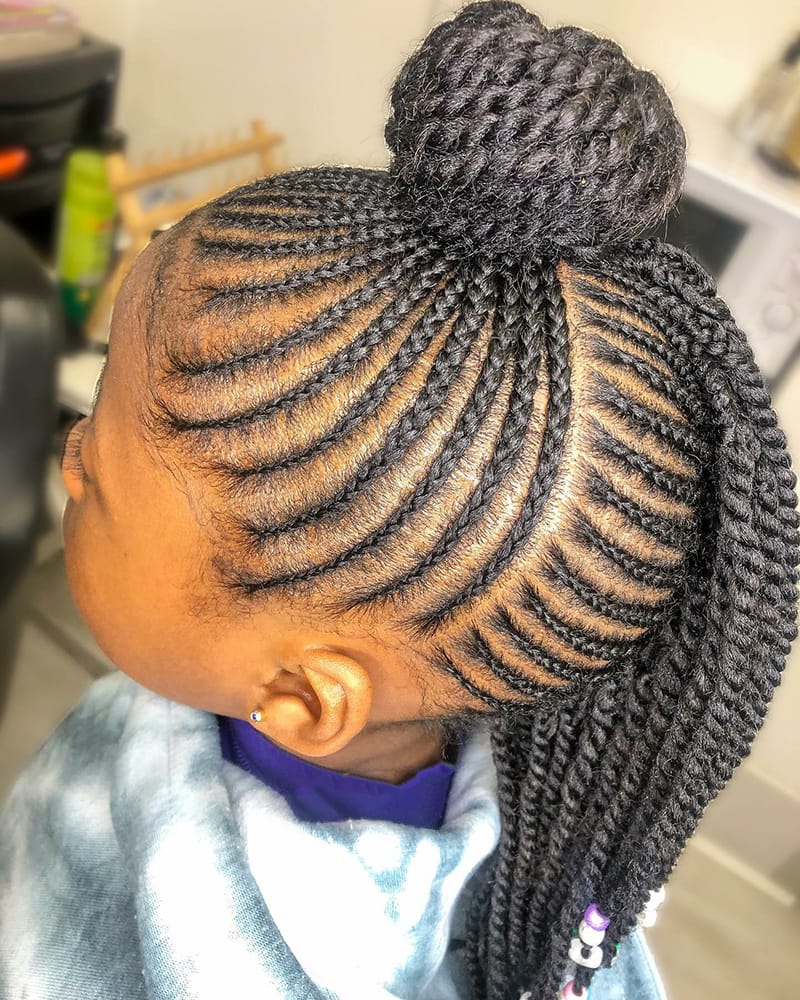 The sides can be braided tightly or even shaved for sharper contrast, while the center strip of cornrows proudly stands out. It's a look that says 'I am who I am' with confidence and a touch of rock-star coolness.
Cornrows with Heart Shape for Kids
Nothing says 'crafted with love' quite like cornrows shaped into a heart. This sweet and charming style allows for a touch of playful romance, making it perfect for special days like birthdays or school dances. A heart-shaped design set amidst neatly braided cornrows is not just a hairstyle, but a symbol of the love and care put into every plait.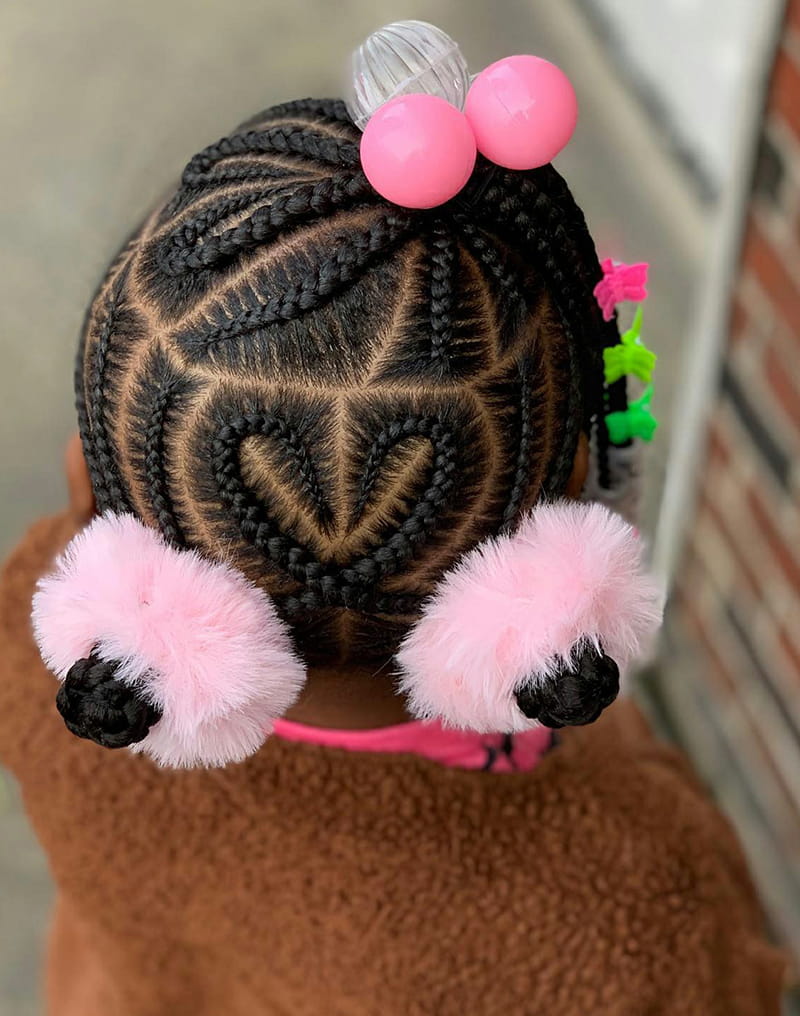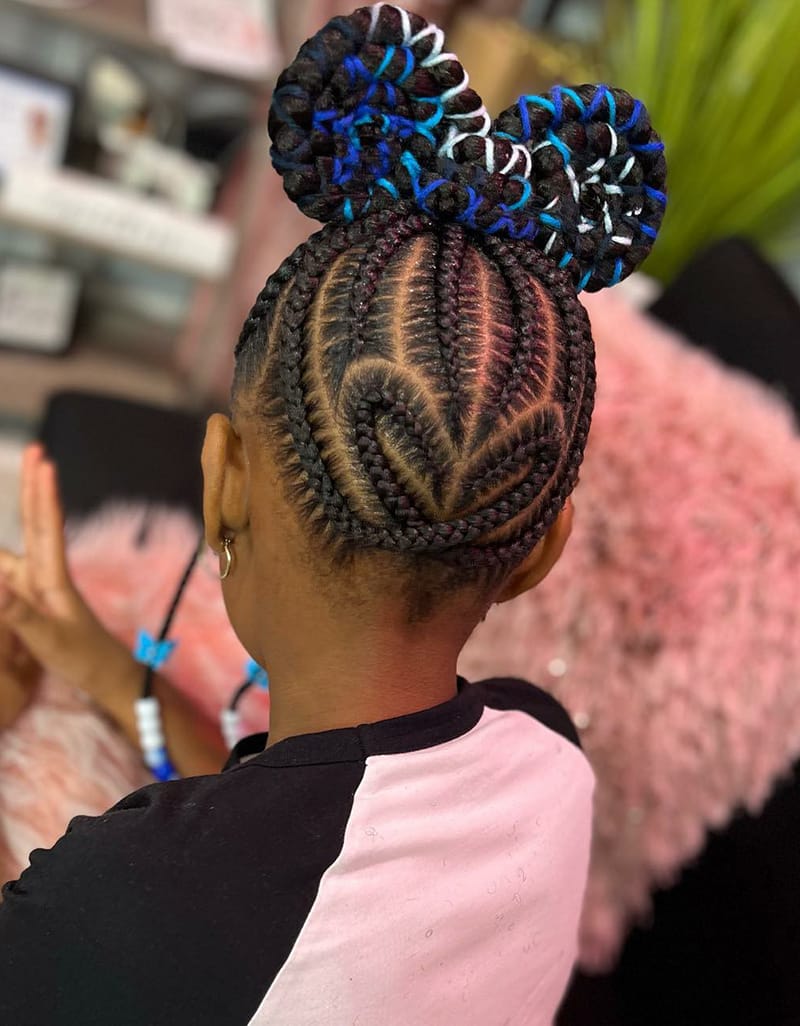 Your child will feel cherished and special, wearing a hairstyle that's as lovely and unique as they are.
Basket Waves Cornrows for Kids
Basket wave cornrows are a true testament to the artistry of braiding. The interlaced patterns are reminiscent of a woven basket, displaying a complexity that's simply mesmerizing. This style is not just about looking good; it's about showcasing craftsmanship and the beauty of intricately styled hair.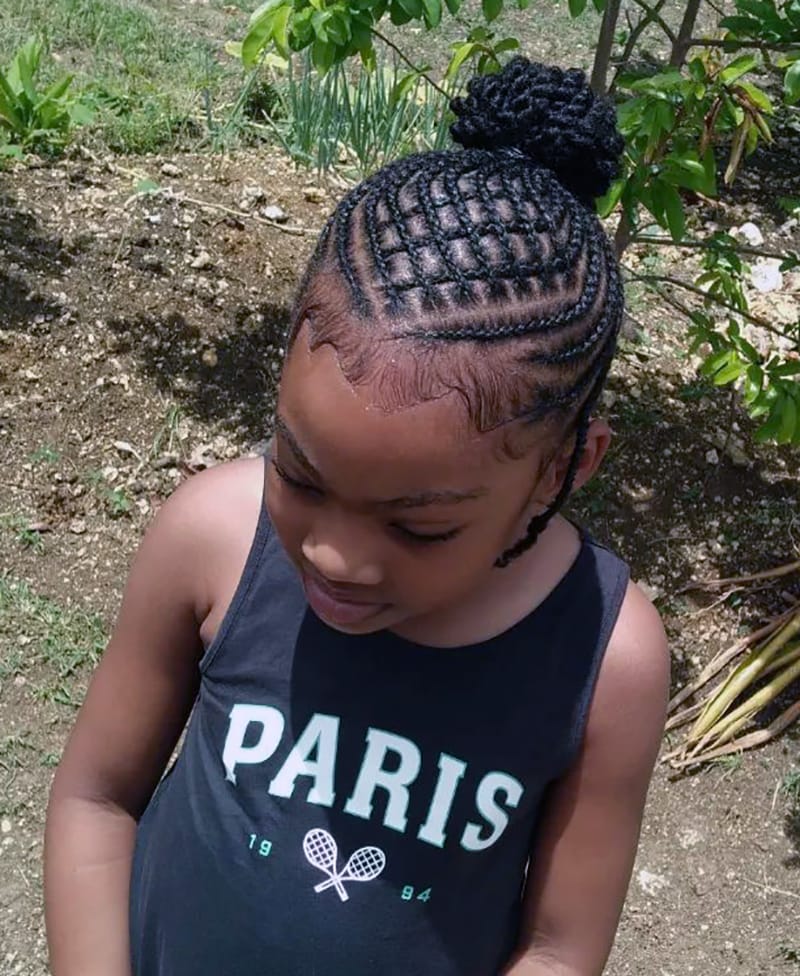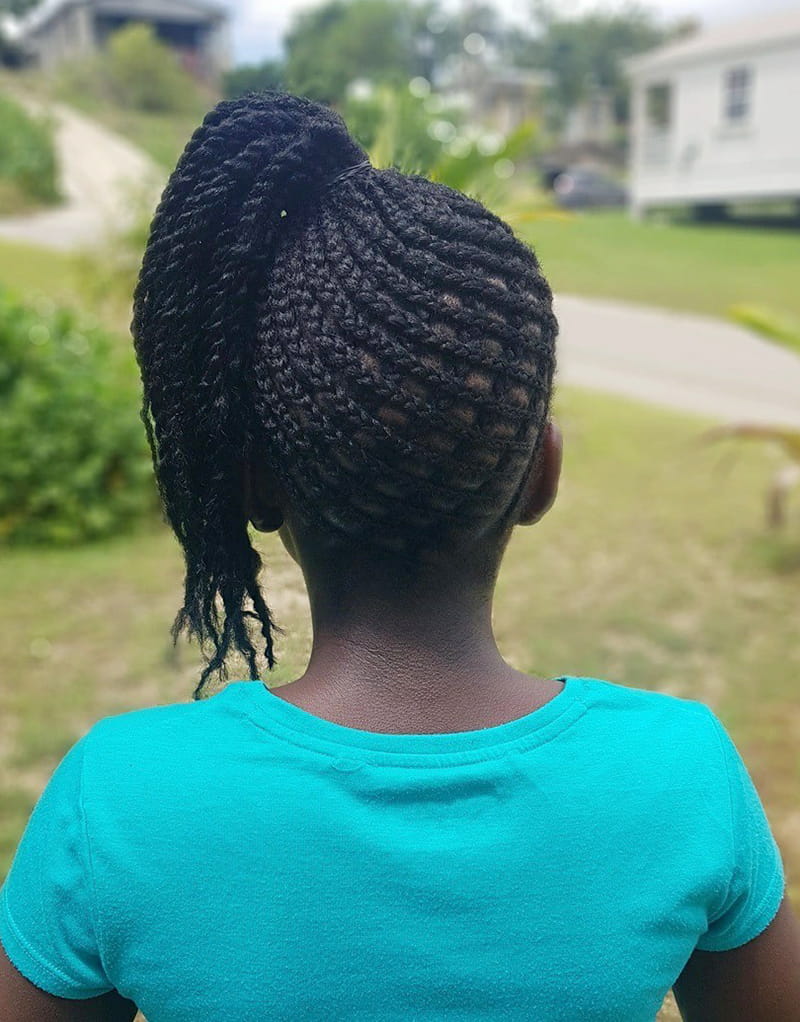 For kids who love to have a distinctive look, basket-wave cornrows offer a wonderful way to stand out and feel great about their appearance.
Combover Cornrows for Kids
The combover cornrows style is a contemporary twist that exudes coolness. By directing all the braids in one direction, it gives a sense of flow and sleekness that's hard to miss. It's a great way to add an edge to your kid's everyday look while keeping things tidy and in place.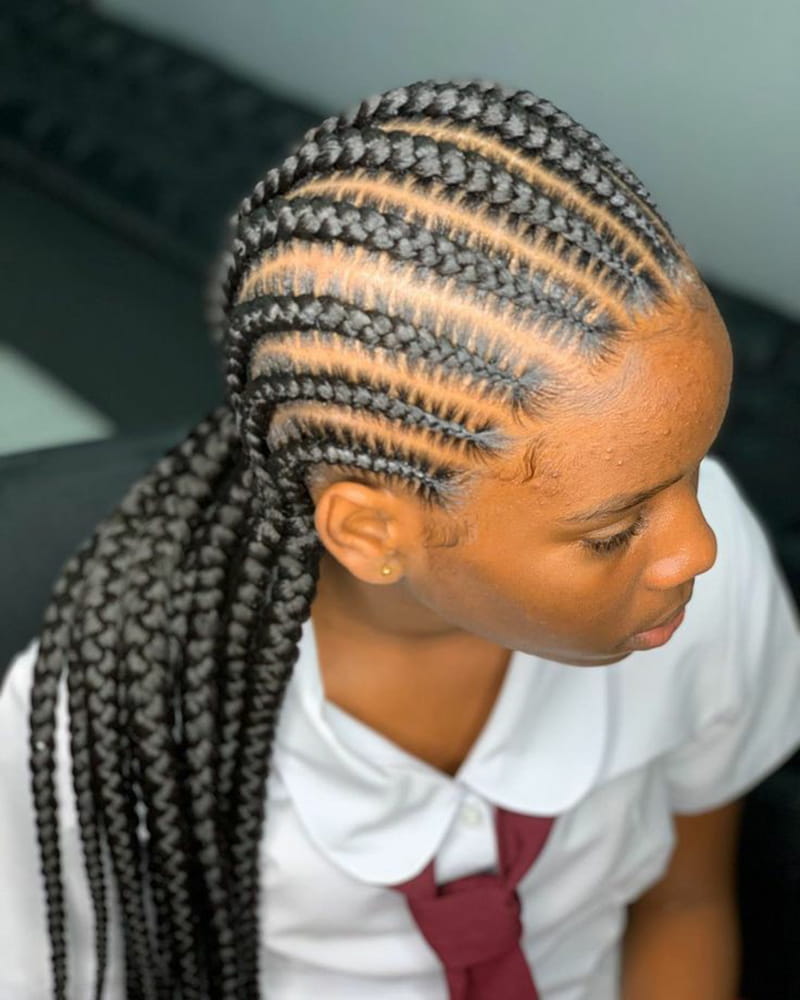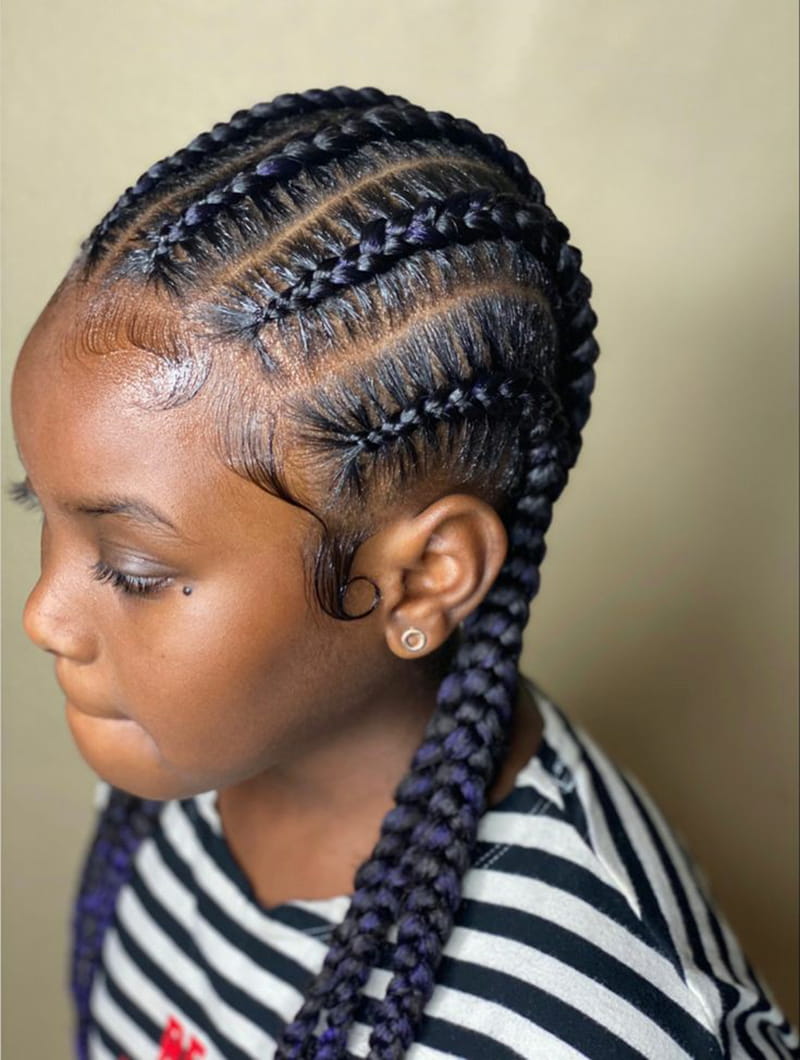 This style works wonders for a range of occasions, ensuring that your child looks their best while feeling comfortable and trendy.
Cornrows with Puffs for Kids
Ending cornrows in puffy ponytails is an exciting way to mix classic styling with playful charm. The smooth braids transition into soft, fluffy puffs, creating a delightful contrast that's both eye-catching and cute. This style is perfect for kids who love a little bounce and movement to their hair, giving them a look that's as fun as their bubbly personality.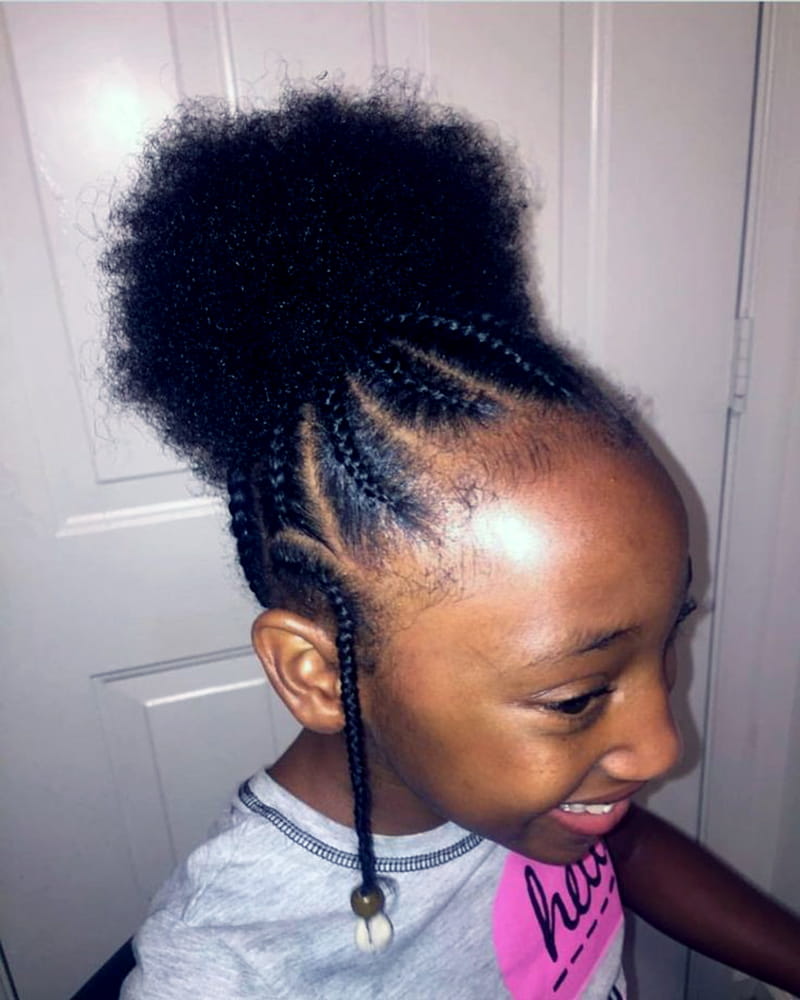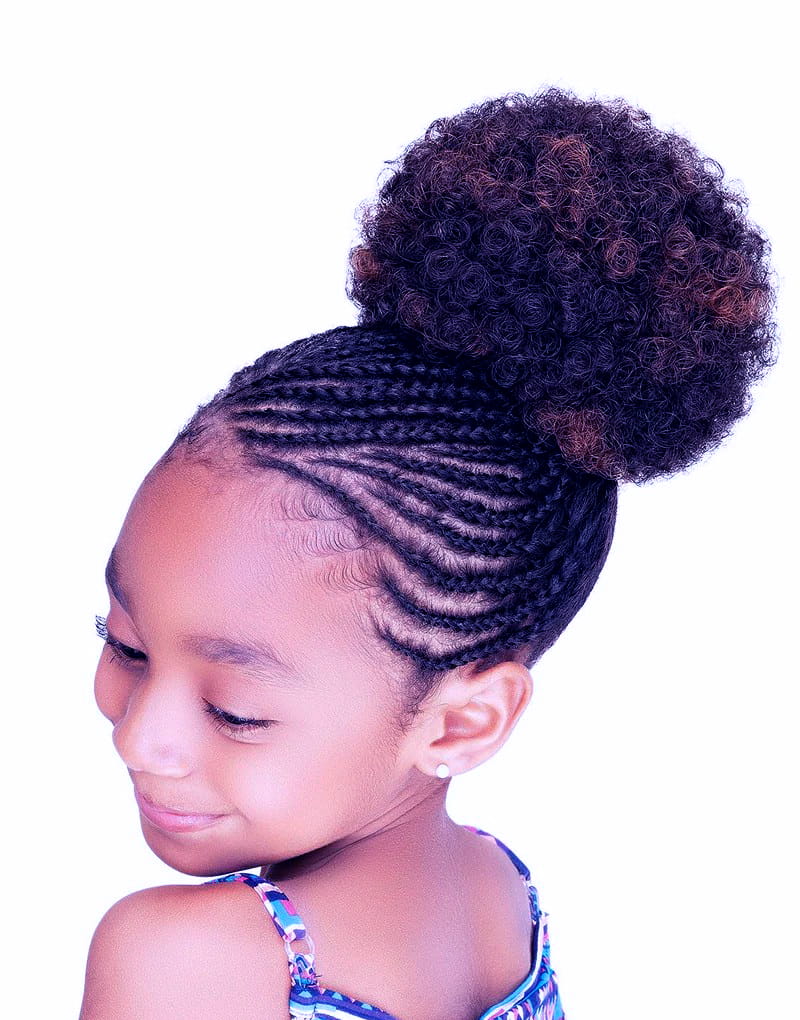 It's a style that carries a sense of joy and carefreeness, perfect for the young and the young at heart.
Cornrows with Jumbo Braids
Jumbo braids can make an impactful statement and are often used in combination with cornrows for a contrast in textures and sizes. When cornrows lead into jumbo braids, it creates a beautiful transition that adds both volume and style.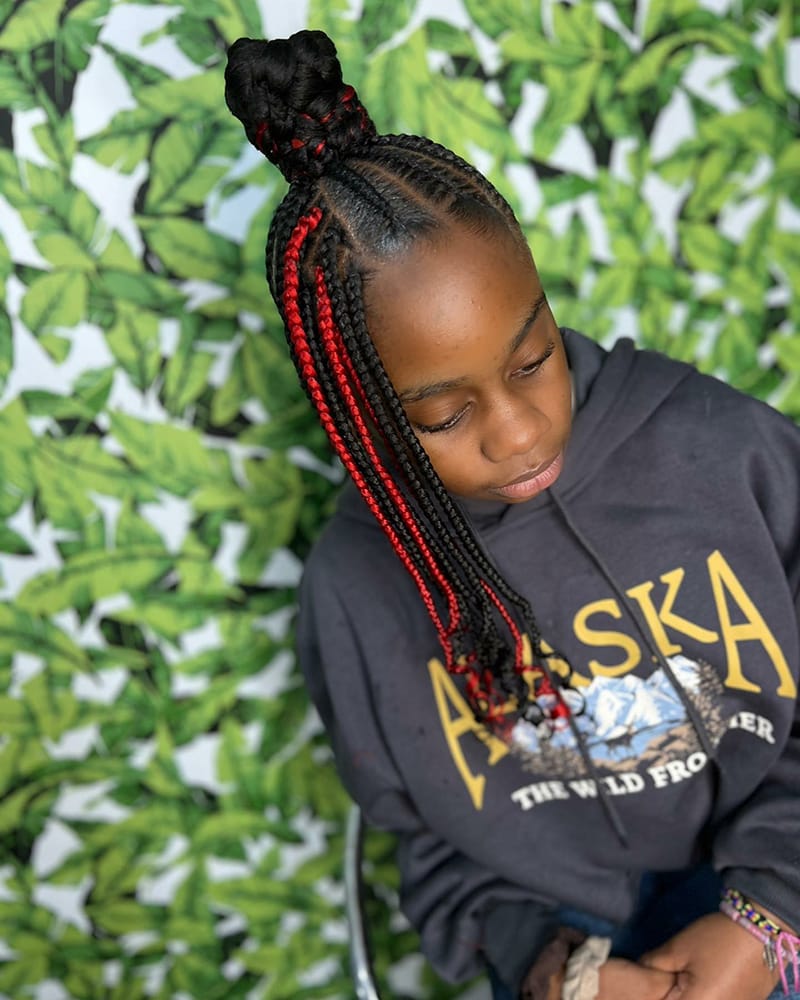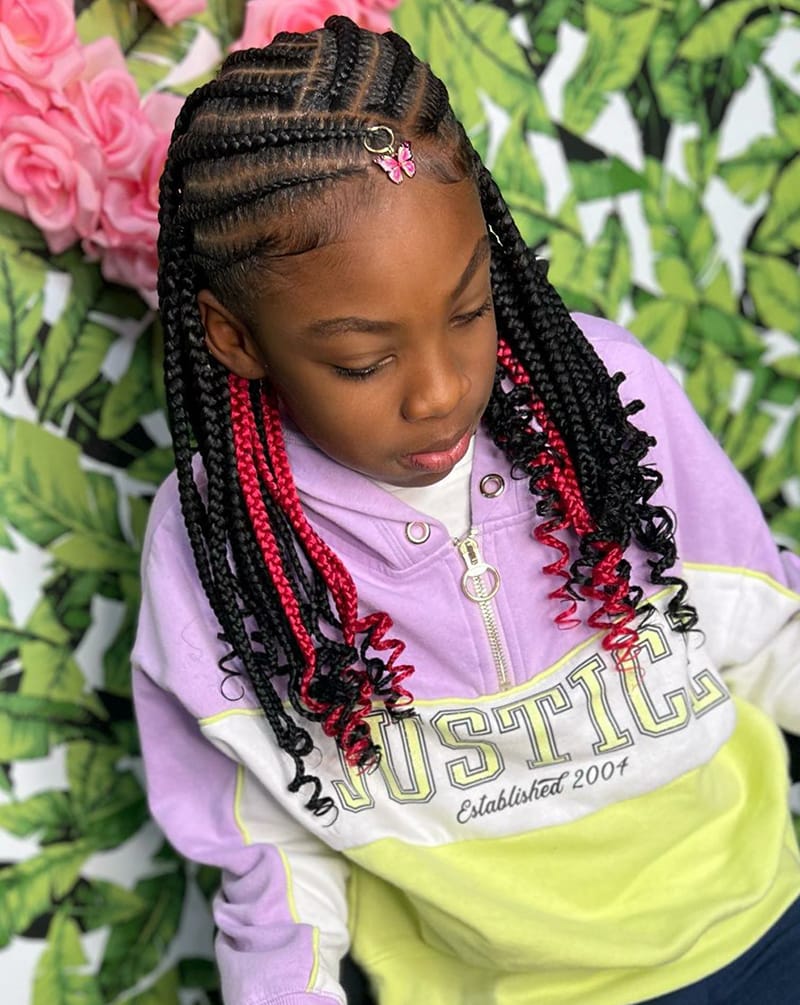 While jumbo braids might be more of a style than an accessory, they often incorporate materials like yarn or synthetic hair that come in various colors and textures. This means they can double as an accessory by adding a visual element that wouldn't be present with natural hair alone. Kids will love the bold look of jumbo braids, and they can be a fantastic choice for making a statement at a special event.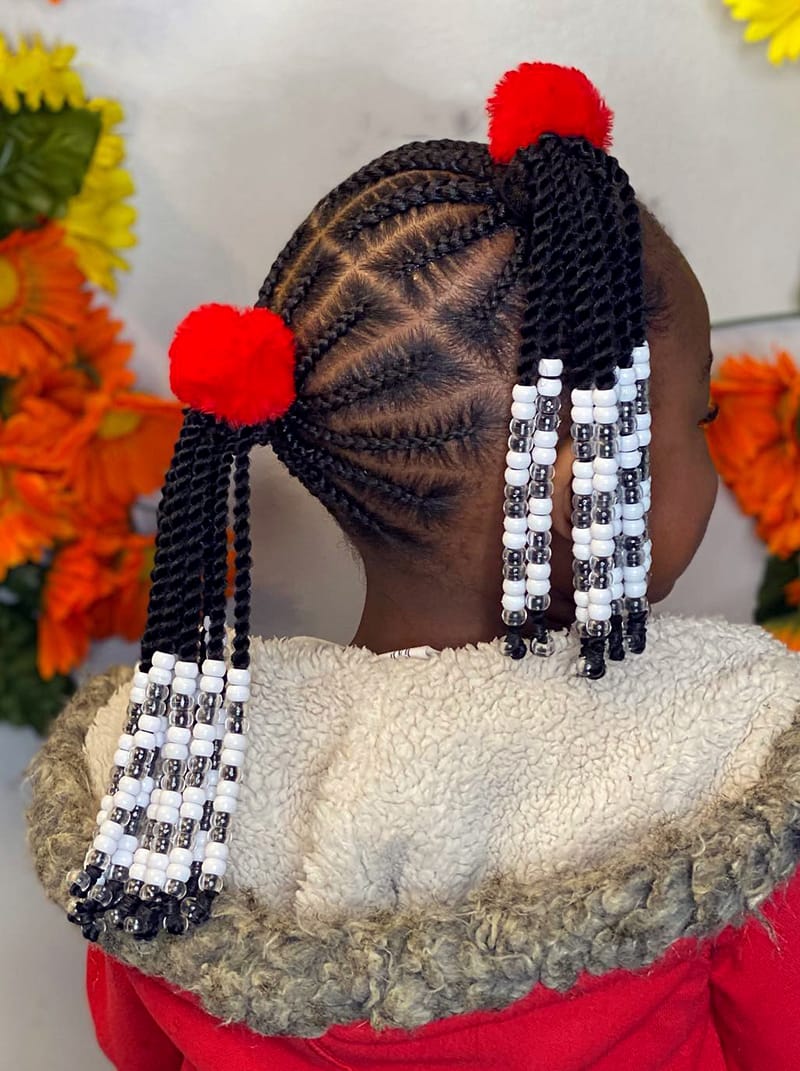 Each of these cornrow styles offers a unique way for kids to express themselves while keeping their hair neat and manageable. Remember, the best hairstyle for your child is one that they feel great wearing – one that reflects their inner sparkle and zest for life. With these creative cornrow ideas, the possibilities are truly endless!
The Pros and Cons of Kids Cornrows
Cornrows for kids are more than just a hairstyle. They're a cultural staple, a practical approach to hair management, and an artistic expression. But, like any choice we make for our little ones, it's worth weighing the good with the not-so-good to ensure we're making informed decisions that suit our children's needs and lifestyles. So let's dive in and untangle the pros and cons of cornrows for kids.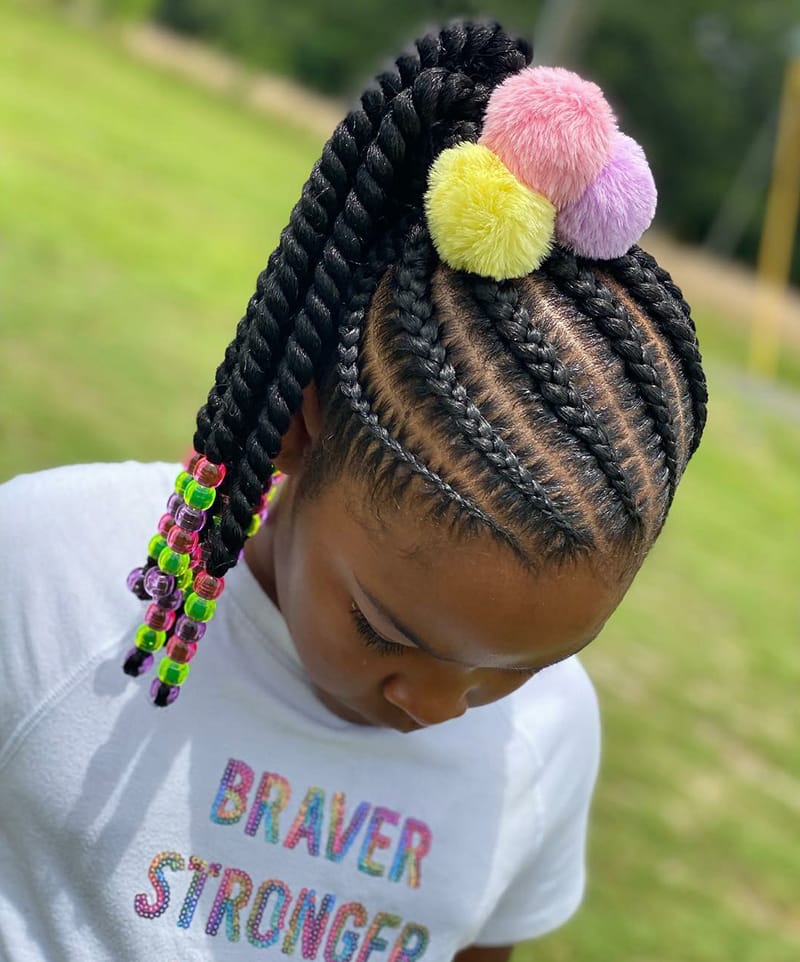 Pros of Kids Cornrows
Cultural and Historical Significance
Cornrows carry a rich cultural heritage that hails from Africa, dating back thousands of years. When you choose this hairstyle for your child, you're not just giving them a beautiful look; you're connecting them to a deep history and helping them embrace a part of their identity that is both powerful and profound.
Ease of Maintenance
One of the biggest draws to cornrows is their low maintenance. For busy parents and active kids, cornrows are a godsend. They stay neat, don't require daily combing, and can keep hair detangled for weeks at a time. This means more time for play and less time dealing with hair-related dramas.
Protection of Hair
Cornrows are considered a protective style, meaning they shield the hair from environmental factors that can lead to damage. By keeping the hair close to the scalp and minimizing exposure to the elements, cornrows help maintain the hair's moisture and prevent breakage.
Versatility and Creativity
The versatility of cornrows is unmatched. From simple, straight lines to complex designs incorporating beads and other accessories, there's no limit to how creative you can get. This allows your child's personality to shine through their hairstyle, which can be a significant confidence booster.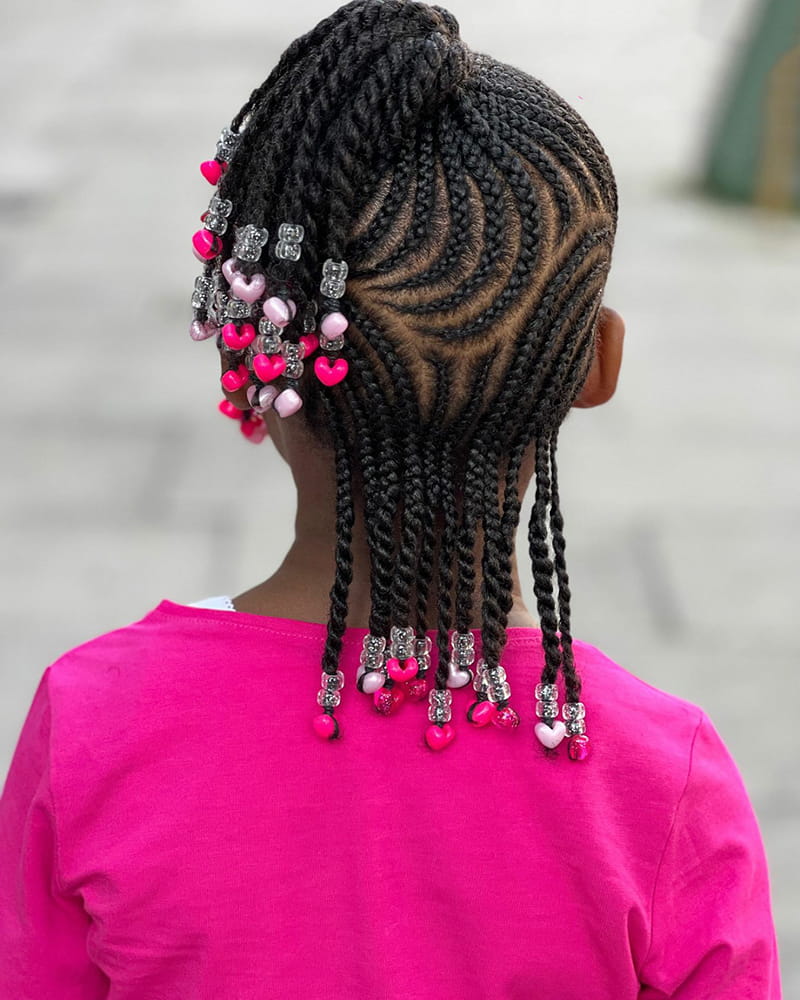 Sports and Activities Friendly
For kids who are constantly on the move or engaged in sports, cornrows are incredibly practical. They keep hair out of the face, reduce the risk of it getting caught in equipment, and can withstand the rigors of an active lifestyle without unraveling.
Cons of Kids Cornrows
Potential for Scalp and Hair Damage
If cornrows are braided too tightly, they can cause tension alopecia, which is hair loss due to pulling on the roots. This can lead to permanent damage if repeated regularly. It's vital to ensure that whoever is braiding your child's hair is skilled and understands the importance of not pulling too tightly.
Time-Consuming to Create
Getting cornrows done can be a time-consuming process, often requiring several hours depending on the complexity of the style. For younger children, especially, sitting still for such long periods can be a challenge and sometimes uncomfortable.
Limited Duration
Although cornrows can last for weeks, they don't last forever. Depending on your child's hair texture and how quickly their hair grows, you may find yourself revisiting the braider more often than you'd like, which can be both time-consuming and costly.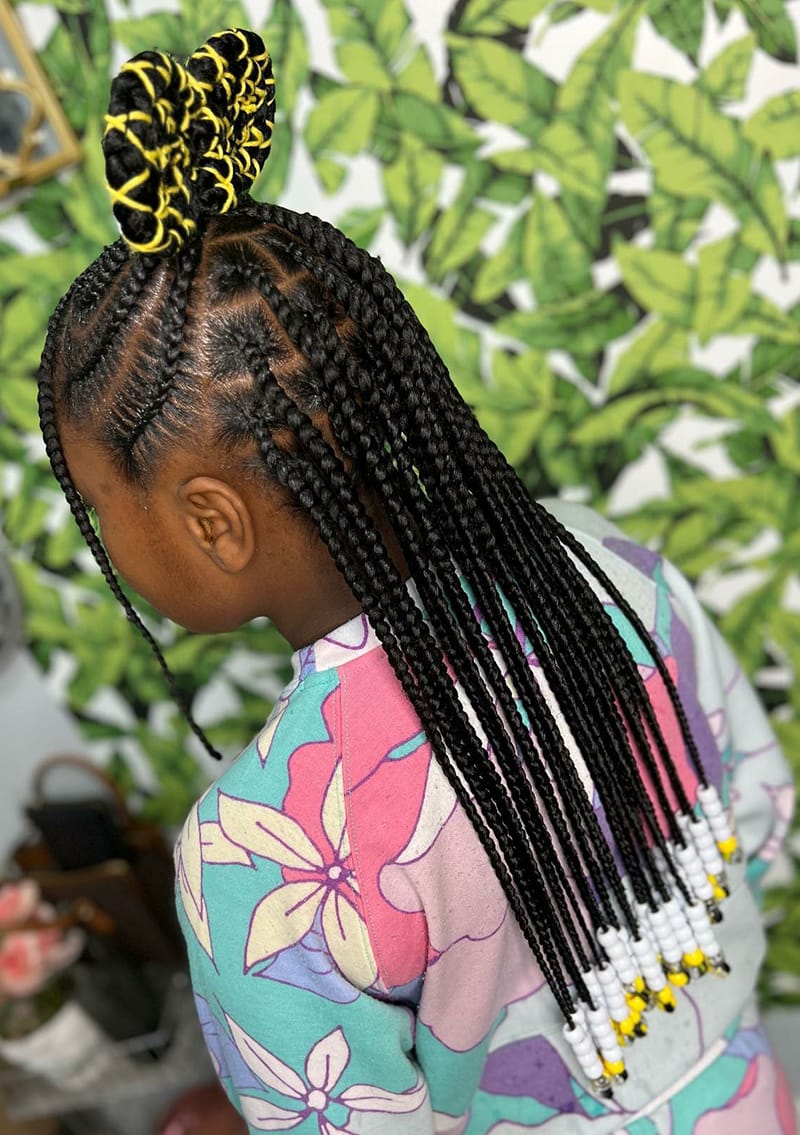 Hygiene and Itching
Cornrows require a certain level of upkeep to maintain hygiene. The scalp can build up sweat, dirt, and oil, leading to itching and discomfort. Regular washing and oiling of the scalp are necessary to keep cornrows clean and the scalp healthy.
Potential for Stigmatization
Unfortunately, there can be a negative stigma attached to cornrows due to ignorance or misconceptions about the style and its cultural origins. Some kids may face unwarranted attention or comments, which can impact their comfort with the hairstyle.
Choosing cornrows for your child involves considering these factors and balancing them against your child's needs and preferences. Always go for a skilled stylist, listen to your child's comfort during the braiding process, and perform regular scalp care to keep their hair and skin healthy. When done right, cornrows can be a fantastic hairstyle choice for kids, offering them a blend of beauty, tradition, and practicality.
How to Prepare Kids' Hair Before Wearing Cornrows
Preparing your child's hair for cornrows is a crucial step in ensuring that their experience is comfortable and that the style lasts while keeping their hair healthy. Here's how you can set the stage for some fabulous braiding.
Start with Clean Hair
Always begin with a clean slate. Wash your child's hair with a gentle shampoo to remove any build-up of oils, dirt, or products. This will ensure that the cornrows have a neat appearance and reduce the chances of itching and discomfort that can come from a dirty scalp.
Condition for Strength and Elasticity
After shampooing, apply a generous amount of conditioner. This step is vital for keeping the hair strong and elastic, which helps prevent breakage when the hair is being braided. Detangle the hair with a wide-tooth comb or a detangling brush to make sure it's free of knots.
Moisturize to Protect
Moisture is your friend when it comes to cornrows. Use a hydrating leave-in conditioner or a natural oil like coconut or shea butter to add an extra layer of moisture to your child's hair. This will protect their hair from becoming brittle and breaking once it's braided.
Stretch the Hair
For the best results, the hair should be stretched or blown out. This doesn't mean you need to use a straightener or excessive heat. A gentle blowout on low heat will suffice. This makes the hair easier to manage and braid, plus it can help the cornrows look smoother and last longer.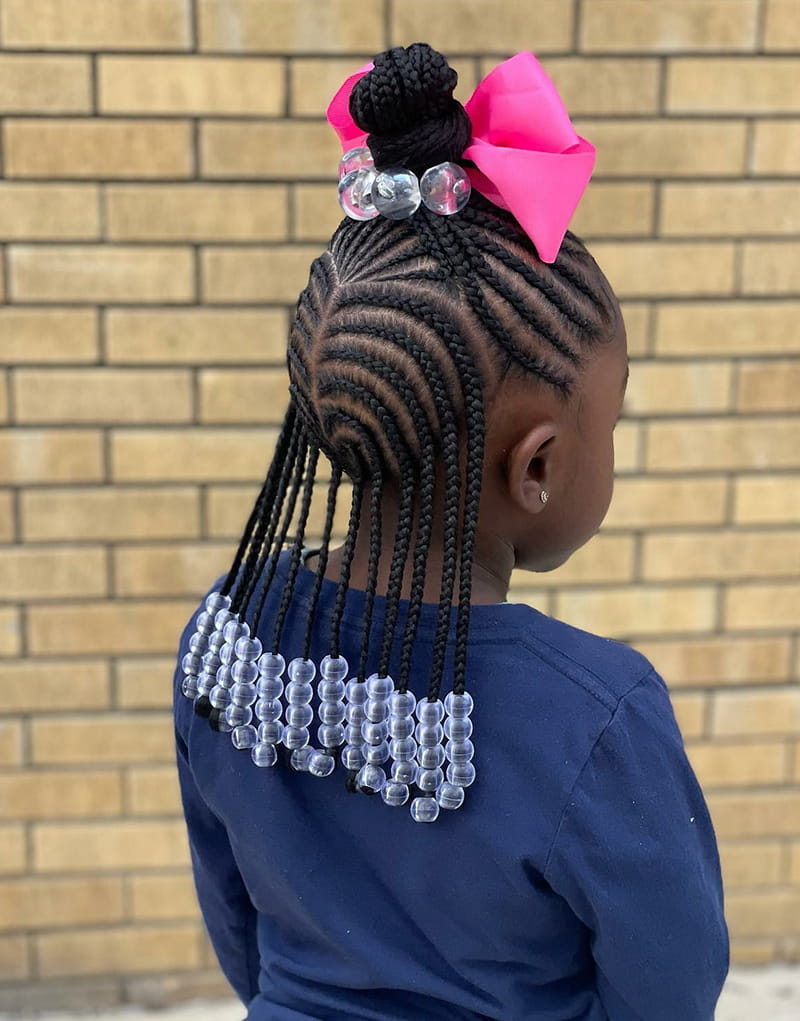 Trim if Necessary
If your child has split ends or uneven hair, it's a good idea to get a trim before starting the braiding process. Split ends can travel up the hair shaft over time, and cornrows can accelerate this process if the ends are already damaged.
Gather Appropriate Hair Products and Tools
Ensure you have all the necessary tools and products on hand before you begin. You'll need a rat-tail comb for parting, hair clips for sectioning, a brush for smoothing, and any products you intend to use to add hold and shine to the cornrows.
Prepare Your Child
Let's not forget the most critical part of preparation: your child's comfort. Talk them through the process, make sure they understand how long it might take, and ensure they are as comfortable as possible. Having distractions ready, like their favorite movie or snacks, can also help make the time pass more pleasantly.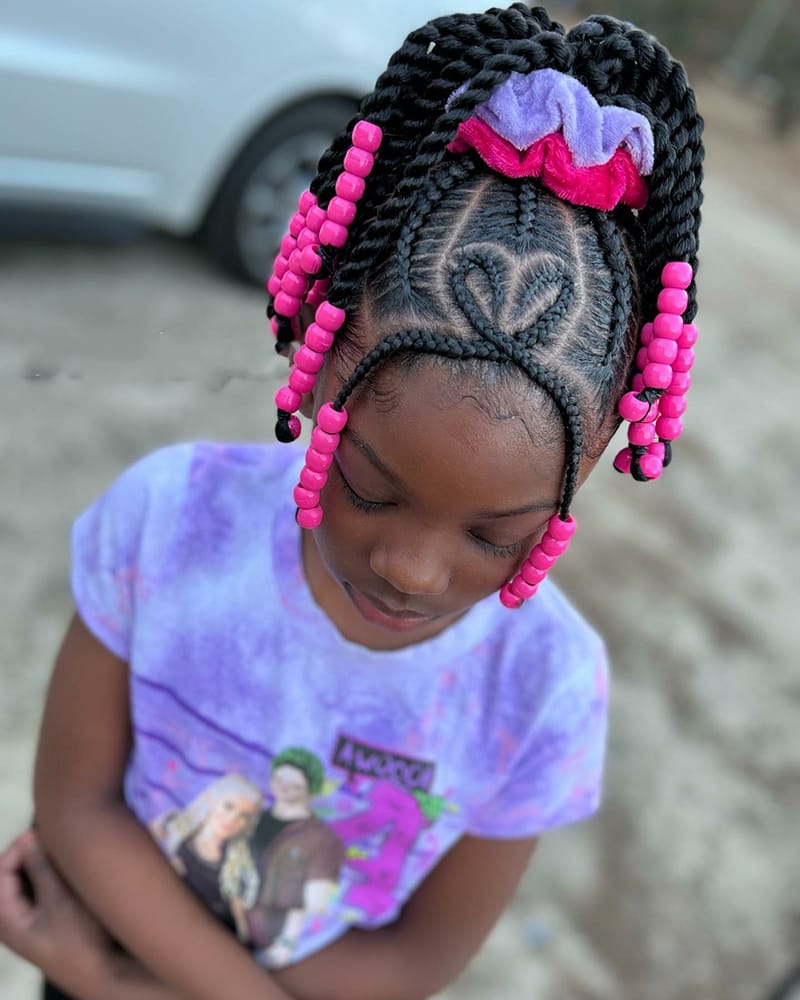 By following these steps, you're not only prepping your child's hair for a beautiful hairstyle, but you're also protecting it from potential damage. Taking the time to prepare properly can make the difference between a style that's a hit and one that's a hassle. Remember, the goal is to have a hairstyle that your child will be proud to wear and one that won't lead to problems down the line. With careful preparation, cornrows can be a fun and worry-free hairstyle for kids!
Cautions You Should Take Before Installing Cornrows for Kids
When considering cornrows for your little one, it's crucial to proceed with caution to ensure their comfort and hair health. Taking these precautions can make the difference between a hairstyle that's cherished and one that's endured. So, what are the key cautions to keep in mind? Let's explore.
Check for Scalp Sensitivities
Before anything else, you'll want to make sure that your child's scalp is healthy. Look out for any signs of irritation, dryness, or eczema. If you notice any issues, it might be best to address these first with a healthcare professional before proceeding with cornrows.
Choose a Skilled Braider
The hands that craft the cornrows make all the difference. Choose a braider who is not only skilled but also understands the importance of not braiding too tightly. A good braider will know how to achieve a secure braid without putting unnecessary tension on the hair and scalp.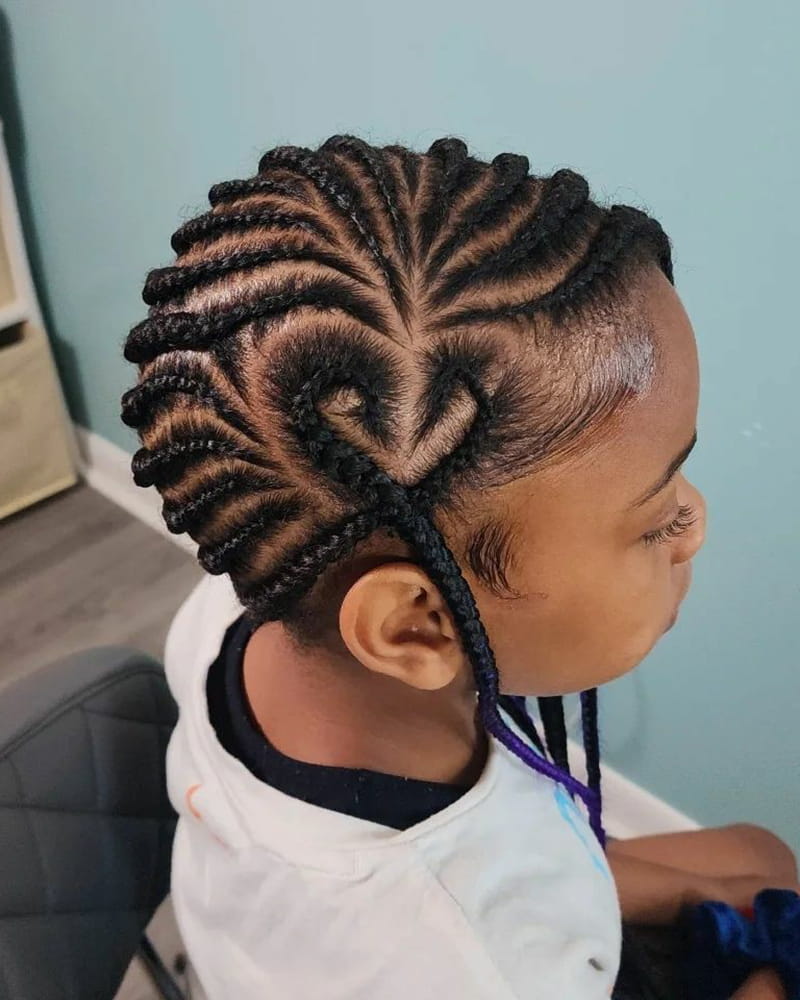 Talk About Tension
Educate your child about the sensations they should expect and encourage them to speak up if the braids feel too tight. Excessive tension can lead to headaches, hair loss, and even damage to the hair follicle, so it's vital that the braids are comfortable from the start.
Consider the Hair's Length and Texture
The length and texture of your child's hair may affect how well cornrows hold. Very short or fine hair might not anchor the braids well, leading to them slipping out of place. In such cases, waiting until the hair grows a bit longer or opting for a different style might be advisable.
Mind the Products
Be mindful of the products you use before and during the braiding process. Heavy oils and thick creams can build up and attract dirt, while alcohol-based products can dry out the hair. Opt for lightweight, nourishing products that won't weigh the hair down or cause buildup.
Ensure Hair and Scalp Health
Your child's hair should be at its healthiest before braiding. This means regular conditioning treatments and trimming off any split ends. The stronger and healthier the hair, the better it will withstand being braided.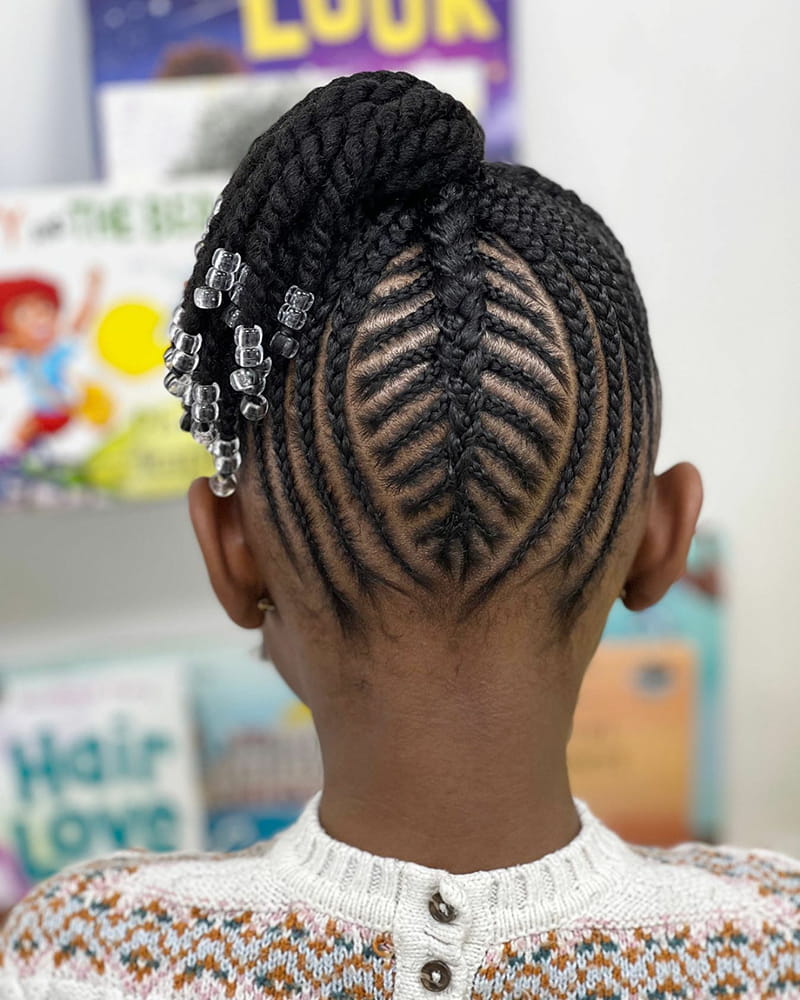 Plan for Aftercare
Discuss the aftercare routine with your braider and ensure you know how to maintain the cornrows once they're in place. This will involve moisturizing the scalp, possibly applying oils, and covering the hair at night to prevent frizz.
Respect Your Child's Wishes
Lastly, it's imperative to listen to your child's wishes and comfort level. If they express any doubts or decide they don't want cornrows after all, it's essential to respect their decision. The process should be positive and affirming, not forced or fraught with distress.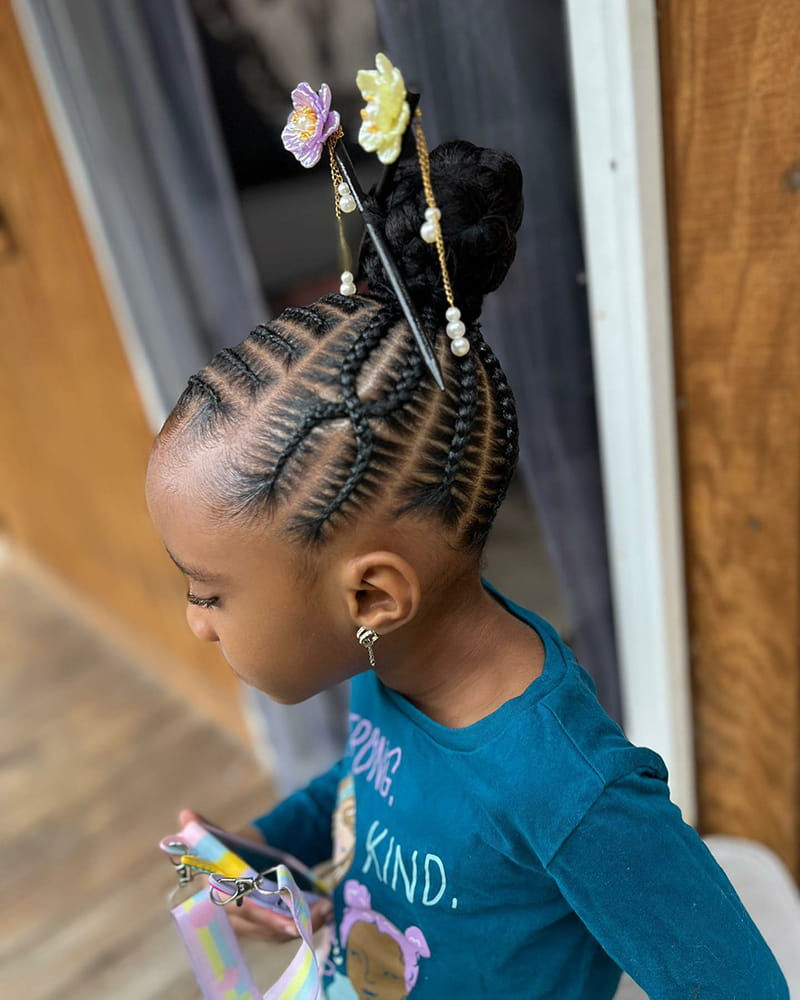 By taking these precautions, you're prioritizing your child's hair health and overall well-being, which is the most important part of this process. Good preparation and the right approach can ensure that cornrows are a hairstyle your child will enjoy and want to revisit time and time again. Remember, cornrows are not just a style statement; they're an experience – and with the right care, it can be a fantastic one for kids!
How to Take Care of Kids' Cornrows
Once you've lovingly selected and installed the perfect cornrows for your child, the journey doesn't end there. Proper maintenance is key to keeping those braids looking fresh and your child's hair healthy. Let's walk through the essentials of taking care of kids' cornrows.
Moisturize Regularly
Cornrows can cause your child's scalp to become dry, which can lead to itching and flaking. To prevent this, apply a light oil or a spray leave-in conditioner to their scalp and braids. Do this every few days to keep their scalp nourished and the hair moisturized.
Keep It Clean
While washing hair in cornrows isn't as straightforward as loose hair, it's still necessary. You can use a damp cloth with a bit of shampoo to gently cleanse the scalp, or opt for a dry shampoo. If you prefer to fully wash the hair, use diluted shampoo and gently work it into the scalp and braids, then rinse thoroughly without too much agitation to avoid frizz.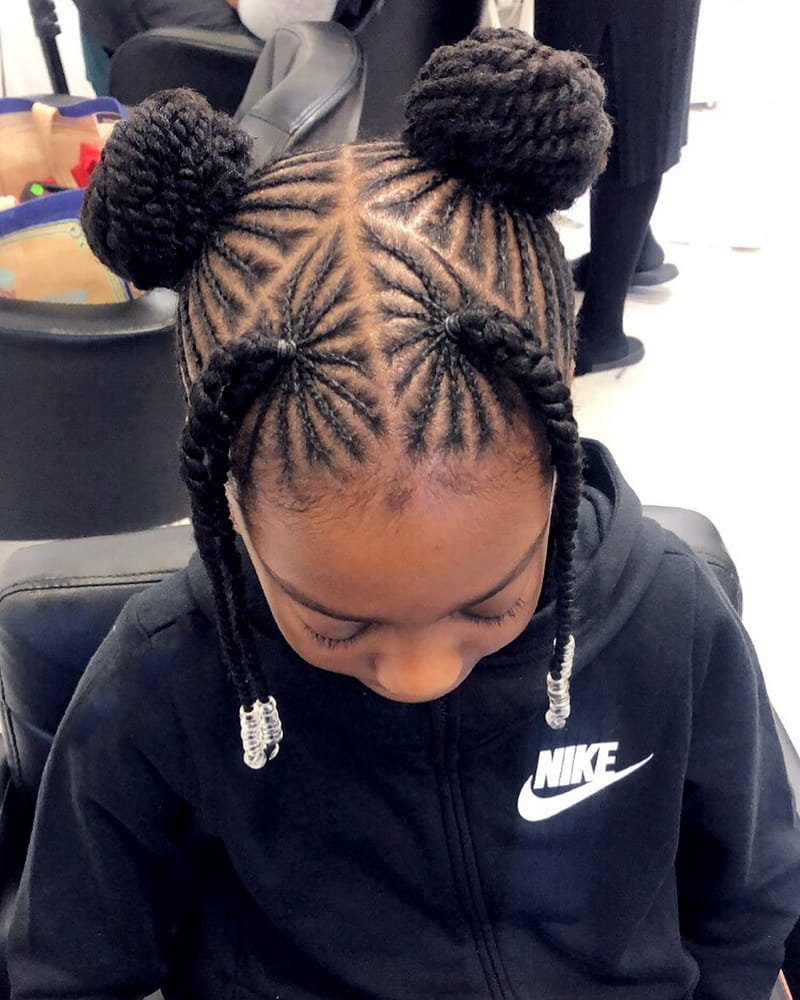 Sleep on Silk or Satin
To prevent frizz and keep the cornrows neat, have your child sleep on a silk or satin pillowcase, or wrap their hair in a silk or satin scarf. These materials are gentle on the hair and help maintain the hair's moisture levels, unlike cotton which can be drying and cause friction.
Avoid Pulling Hairstyles
Even with cornrows, kids might want to switch up their styles. However, it's important to avoid pulling the cornrows into tight ponytails or buns, as this can add stress to the hair and scalp. If they want to gather their hair, ensure it's in a loose ponytail or bun.
Stay Gentle
Whether it's during playtime or getting dressed, remind your child to be mindful of their braids. Rough handling can loosen them and lead to premature unraveling or, worse, damage to their hair.
Keep Up with Maintenance Appointments
If your child's cornrows are meant to be a long-term style, keep up with maintenance appointments. The braider can touch up the edges, redo any loose braids, and refresh the style so it remains tidy.
Listen to Their Scalp
If your child complains of itchiness or discomfort, don't ignore it. Check their scalp for signs of tension or irritation. If necessary, remove the braids to prevent any further discomfort.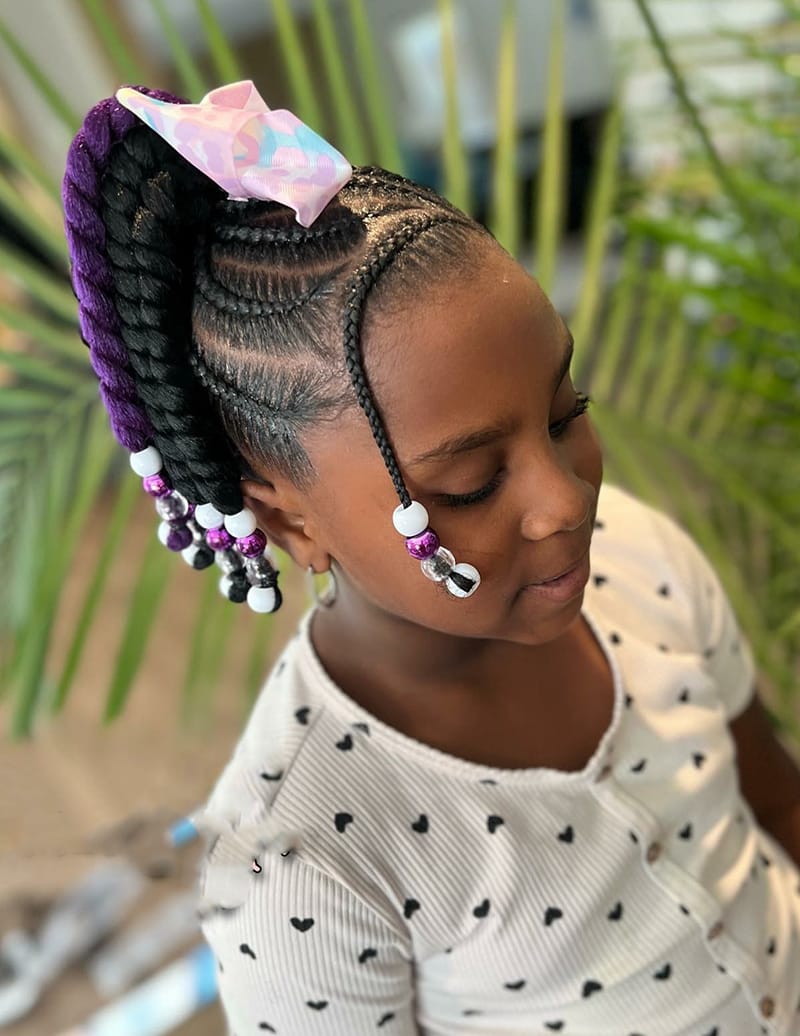 Hydration Is a Must
Ensure your child is drinking plenty of water. Good hydration is beneficial for the scalp and hair health, just as it is for the entire body.
Time to Take Them Out
Cornrows should not be left in for too long. Generally, four to six weeks is the maximum recommended time. Leaving them in longer can lead to matting, knotting, and even hair loss.
Removing the Cornrows
When it's time to take out the cornrows, do so gently. Use a detangler or conditioner to help loosen the braids and minimize breakage. Once all the cornrows are out, give your child's hair a good wash, condition it, and let it rest before moving on to another protective style.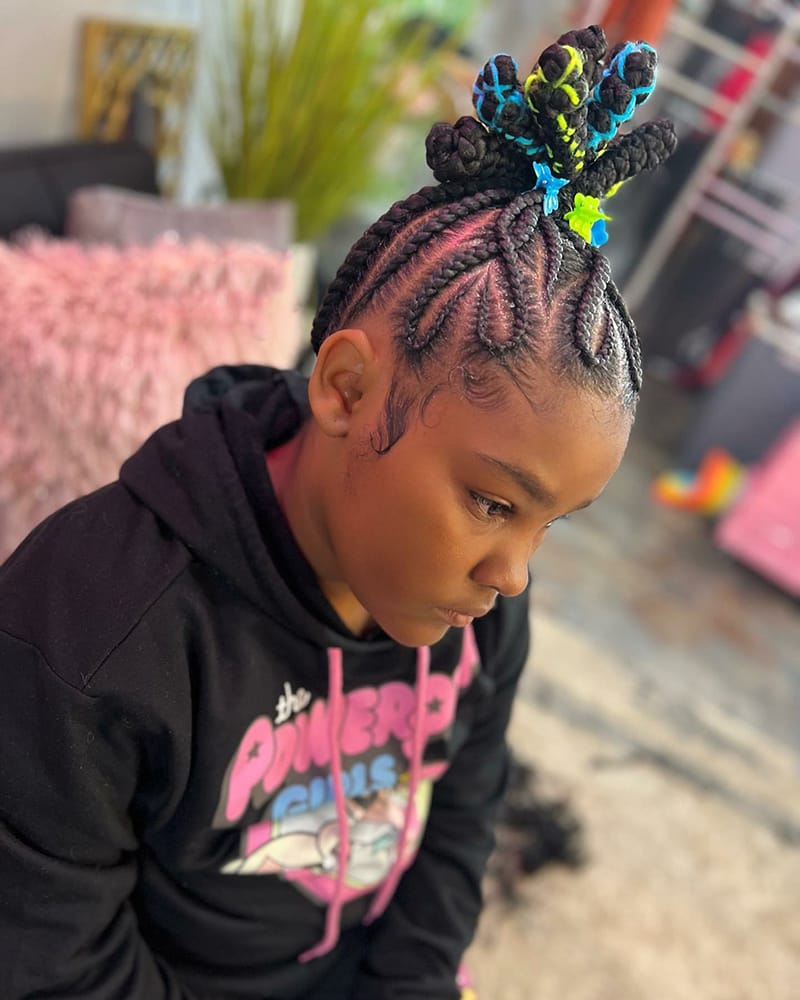 Taking care of kids' cornrows requires consistent care, but it doesn't have to be complicated. By following these steps, you can ensure that your child's hair stays as fabulous as the day the cornrows were installed and that their hair remains in top-notch condition. Plus, this can be a wonderful bonding time, a way to teach your child about hair care, and an opportunity to instill in them a sense of pride for their hairstyle and natural beauty.
FAQs
Do Kids Really Need Hair Extensions?
Absolutely not. Hair extensions can add length and fullness to cornrows, but they aren't a must. Kids can rock cornrows with their natural hair, which is lighter on the scalp and can be more comfortable for them. If you opt for extensions, make sure they are not too heavy for your child's natural hair to support.
Is Kids Cornrows Safe?
Yes, cornrows are a safe hairstyle for kids as long as they are done correctly. This means not too tight, not left in for too long, and taken care of properly. If done improperly, they can lead to hair damage or scalp issues. Always go to a trusted stylist who has experience with children's hair.
How Much Do Kids Cornrows Cost?
The cost of cornrows for kids can vary greatly depending on where you live, the style's complexity, and whether you're adding extensions. Prices can range anywhere from $30 to over $100. It's best to call around and get quotes from local salons or braiders.
Can the Kids Sleep with Cornrows?
Yes, kids can sleep with cornrows. To prevent frizz and keep the style neat, they should sleep on a silk or satin pillowcase or with their hair wrapped in a silk or satin scarf.
Can the Kids Swim with Cornrows?
Kids can swim with cornrows, but it's a good idea to protect the hair with a swim cap. Chlorine and salt water can be drying and may cause the hair to become brittle, leading to damage. After swimming, rinse the hair thoroughly with clean water.
How Long Does it Take to Install Kids Cornrows?
The time it takes to install cornrows can vary. Simple straight-back styles might take an hour, while more intricate designs can take several hours. Make sure your child is prepared for the time commitment and plan breaks if needed.
Can Kids Cornrows Damage Natural Hair?
When done properly, cornrows do not damage natural hair. It's when they're too tight, left in too long, or not taken care of that problems can occur. Proper installation and maintenance are key to avoiding damage.
How Long Can Kids Keep Their Cornrows In?
Typically, cornrows can last anywhere from 2 to 8 weeks. However, it's recommended not to go beyond 6 weeks to maintain scalp health and prevent matting or tangling.
Conclusion
Embarking on the cornrow journey with your child opens up a vibrant world of style, comfort, and cultural expression. Kids' cornrows are not merely a hairstyle; they're a fusion of artistry and practicality that suits the dynamic lives of our little ones.
From the spirited updos to the intricate braided styles, each cornrow pattern we choose tells a story, adds flair, and celebrates individuality. While embracing colors like red, burgundy, or playful ombre shades, we can customize these braids to reflect our children's personalities and preferences, allowing them to shine in their unique way.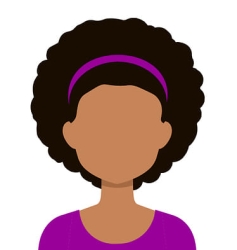 Latest posts by Laverne Rhimes
(see all)