Dark men tend to be handsome with unique and modern haircuts. In most of the barbershops of the African American people, the burst fade mohawk has become a buzzword. And to be honest it has gained this popularity for famous R&B singer, Usher Raymond. This popular American singer has given a strong push to these faded mohawk hairstyles styles. And for that, this hairstyle has created a craze among people especially the young African American fellows.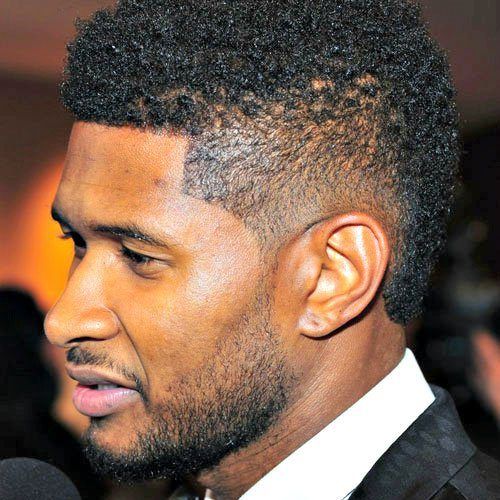 Burst fade Hairstyle is a haircut usually worn by the African American black men (although a lot of white people are showing their craze for it). In this hairstyle, two major haircuts have been combined together to create a great one. It has just brought us out from the slavery of trends with respect to the hairstyles. From the conventional mohawks, the low, mid, high fades, etc. it has strong cleanliness and acute addiction in designs and fades.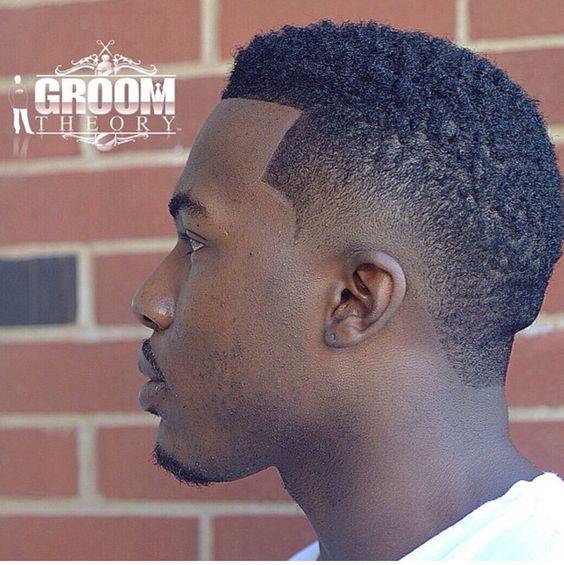 In these hairstyles, the upper top portion of the head is designed with the crazy faux hawk haircut and the ear line or the sides of the head is of burst fades.  So, you definitely can call it a new innovation to the hairstyle industry for the African American people. In this article, we are gonna show you some of the magic models of burst fade mohawk haircuts that will certainly blow up your mind. So, let's start.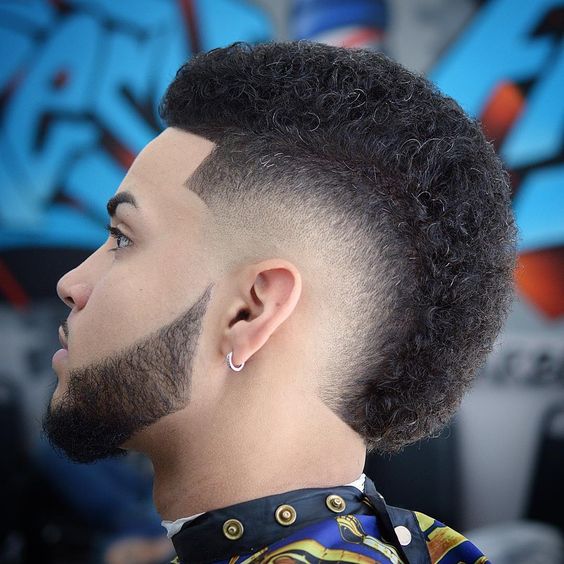 Sponge Twists with Burst Fade Mohawk
You already know about the sponge twists and fades of men's hairstyles. Every smart hairstyle of the black men contains the fades. And the sponge twist is really a breakthrough to the conventional men's haircuts since 2010. Sponge Twist hairstyle is naturally used with natural hair and faded sides. For that, the burst fade, which is considered to be the smartest fade has been combined with the twists. And you yourself can see the result in the images. To describe this hairstyle in word, we can only use the word 'extraordinary'.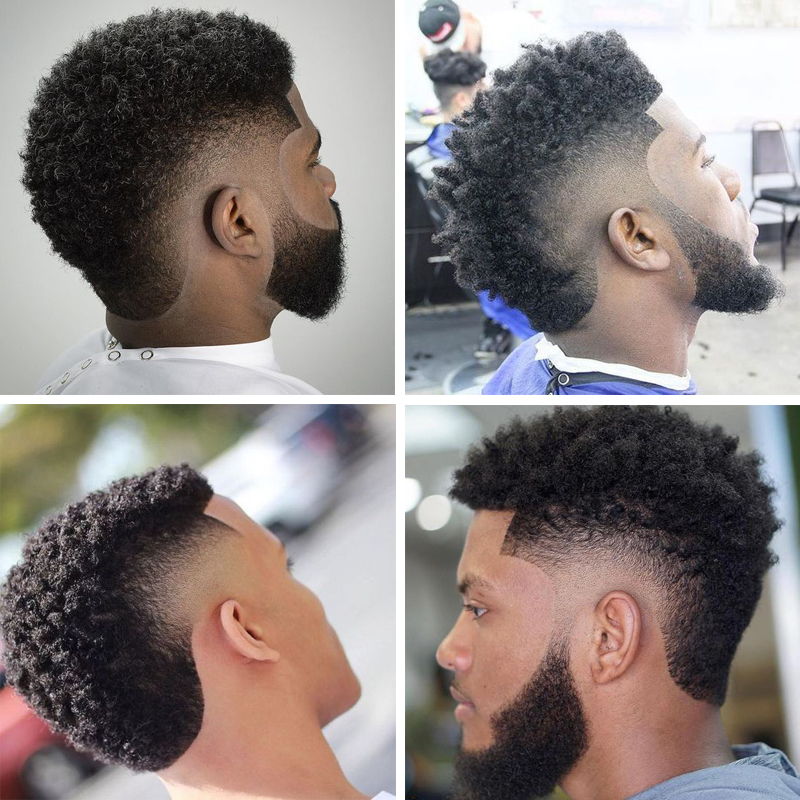 Dreads + Burst Fade + Mohawk
Short and cute dreads can be a great companion of burst fade mohawks on your hairstyle. Like the previous, its another popular hairstyle among the black guys. You can make the short dreads spiky, colored or backcombed while the burst fade will take care of the sides of your head. At the end of the day, you will get a hot haircut with a mixture of faux hawk and fades. On the other hand, the beards can play a vital and supportive role with this badass hairstyle. So, you can consider having a nice beard over your face while wearing the burst fade mohawk.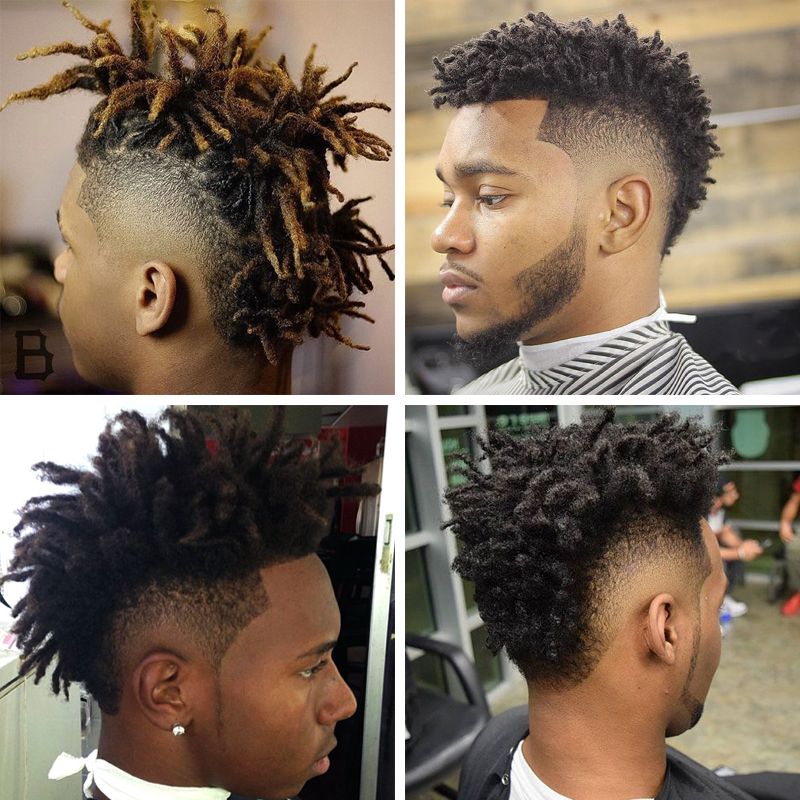 Curls-Fade-Mohawk
One great feature of the faded hairstyles is that they are flexible with any type of hair type including locks and braids. On the contrary, they are perfectly suitable for straight hair as well as curly hair. In this section, we are gonna recommend the curls and burst to fade together to get a stunning hairstyle. About 90% of the black people want to have curls in their haircuts and hairstyles for the traditional reason. Because curls make them look incredibly flawless, traditional and contemporary. For you people, the burst fade, Mohawk, and lovely short curls have combinedly made this awesome hairstyle.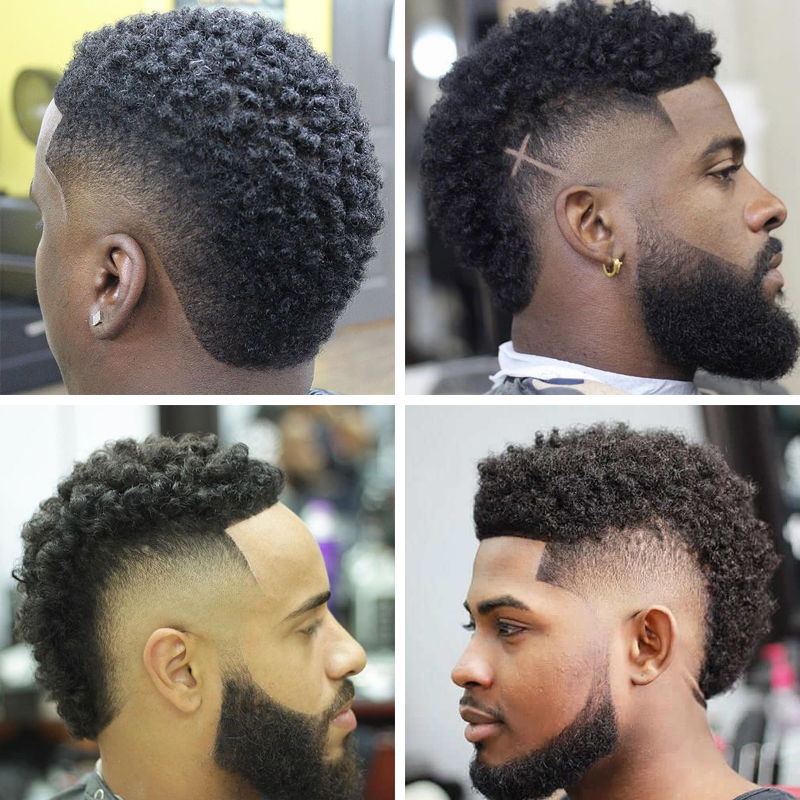 Accompany Your Fade with Blonde Coils
Something different is something smart. When everyone is trying the twists, curls, and locks with the burst fade mohawks, you have the opportunity to view from a different perspective. Yes, I am talking about something colorful and wild. And for that, you have the lovely blonde coils to be positioned just on the central top of your head. These hairstyles will give you the taste of both fade haircuts and colorful hairstyles at the same time. Consequently, you will get one of the progressive, updated and cute hairstyles the African American ever used.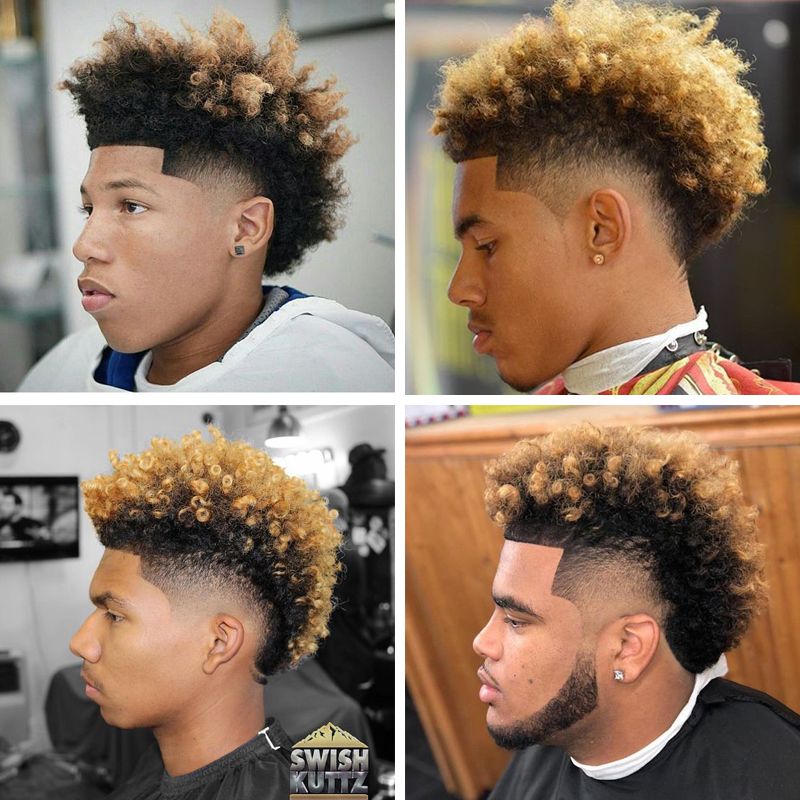 Afro Inspired Burst Faded Mohawk
Where there are curls, locks, straight hair, and twist, you can certainly have the afro shaped hairstyle with the burst fade. To be more specific, you can use afro or afro inspired short hair to be the upper part of the head. And as always, the side parts will be of burst fade which will ultimately give you a shape like modern Mohawks. On the other hand, you are free to have some designs and decorations by the side of the fades. Additionally, a lovely beard style with this haircut will really give you a push.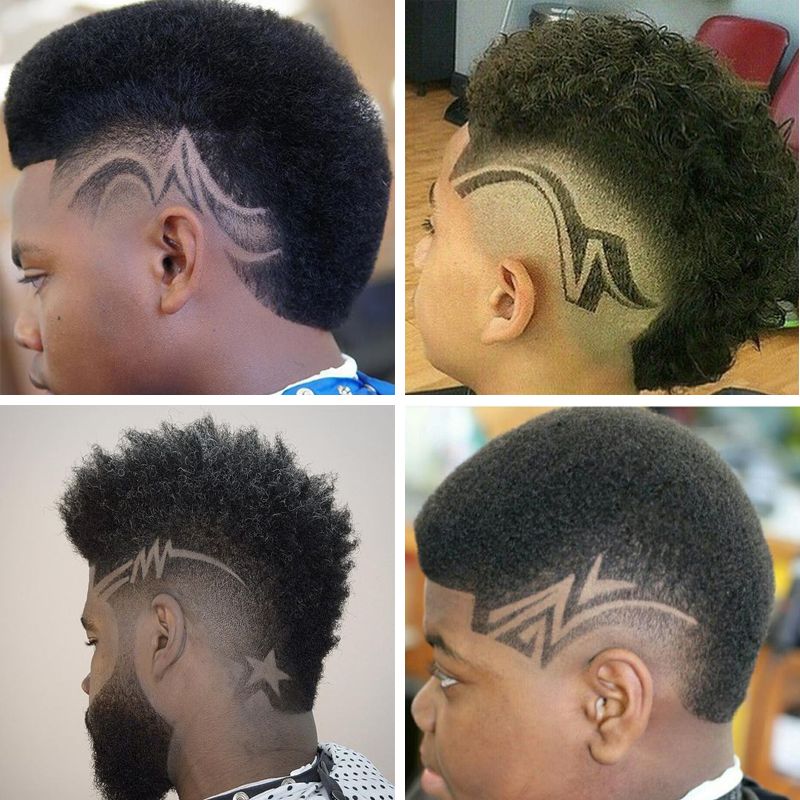 What About the Kids?
Kids are future men and they have the right to get used to the trends. On the contrary, they look cuter and smarter with the mohawk fades. If his school doesn't have a specific hair dress code, he can wear this haircut in school too. In the case of kids, the same haircuts of burst fade mohawk of adult men are available like straight hair, curls, twists, etc. Moreover, you can get him the designs, parts and other features of these hairstyles to make him more competent and confident.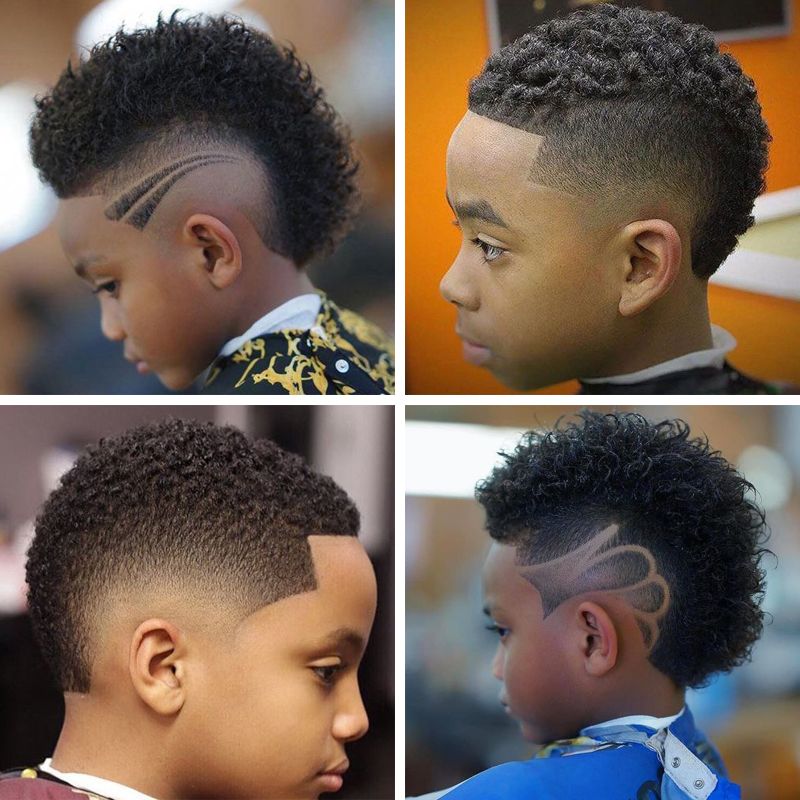 Mohawk with Straight or Wavy Natural Hair
Mohawk haircuts are traditionally great with straight or wavy hair. Just like the images below, you can get your haircut dazzling and impressing in front of the girls. With straight and wavy hair, you have a lot of features to manipulate like designs, shapes, and spikes. Moreover, you can have a v shape by the backside of the head with these haircuts. It's low maintenance and easy haircut that can give you maximum effect. On the contrary, this haircut will present you nicely in any kind of social get together and parties.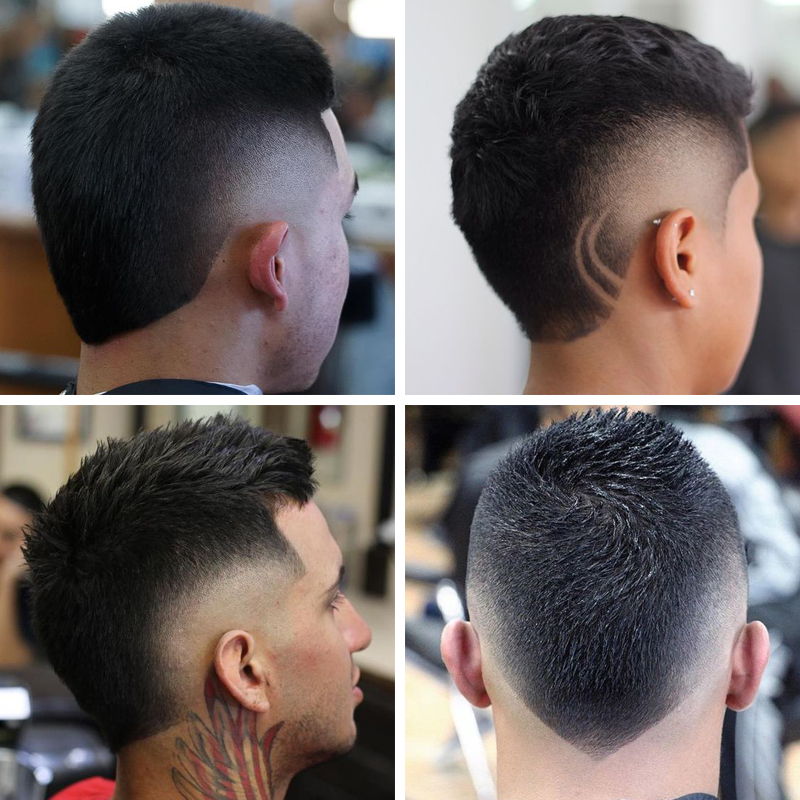 Mini Locks with Mohawk Fade
Burst fade haircuts provide a classy and neat hairstyle different from the typical mohawk. It tapers your hair following the curvature of your ear and burst out the fades to the neckline.  In this process, you can put a variety of hair, locks, and curls on the residual part of the head to make it look like a faux hawk. Here, the tiny faux locks have been positioned to create a new and smart view. In the case of this hairstyle, though it's an informal haircut, you will certainly rock with it.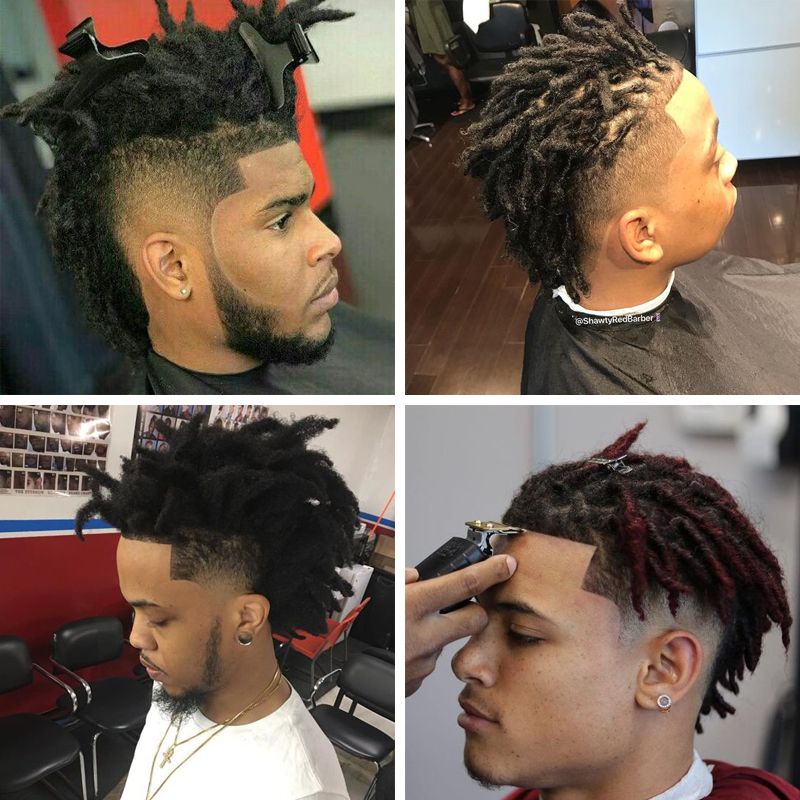 Spiky Burst Fade Mohawk Haircut for Black Men
These fades are basically a taper fade which offers a trim by the sides of the ear line and modern structures on the top in the shape of a mohawk. Consequently, you can have nice spikes with your naturally straight hair like the images below. You can use short and mid-length spikes to create a great effect on it. Trust me, if you are going to date someone, you will be tremendously gorgeous and classy with this wild look. This haircut is actually a revolution in the world of haircuts for the African American people.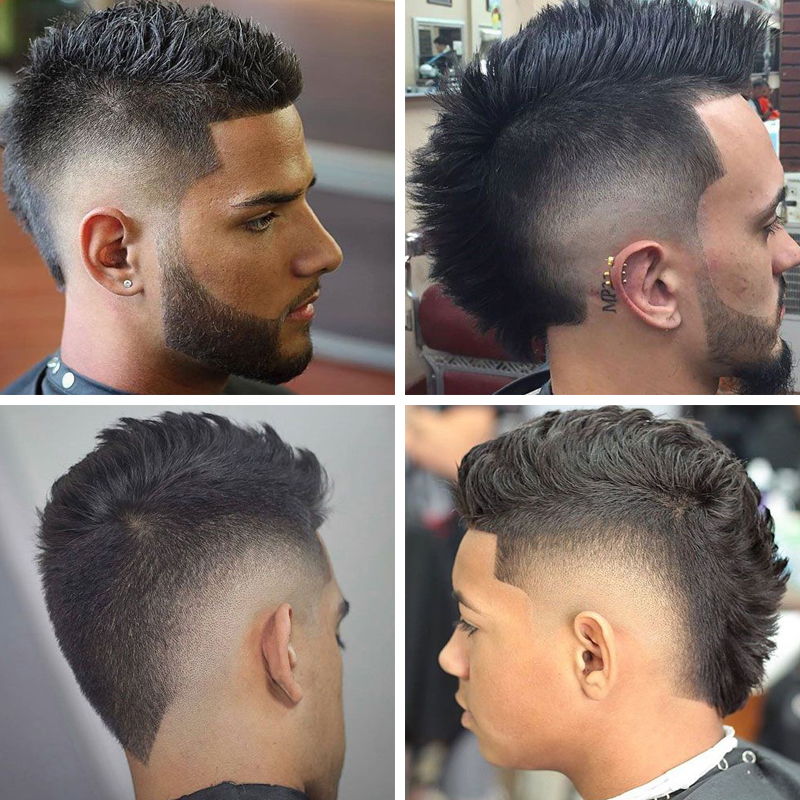 Go with the Trends
Trends live in our world with us. And we just cannot ignore the latest trends and styles. Society really doesn't care if you are a slave of trend or not, but you have to be one if you are going to be smart and up to date. In the case of hairstyles and haircuts, we all should follow the footprints of trends to make ourselves to date. And here we have got some trendy burst fade mohawks for you for your consideration.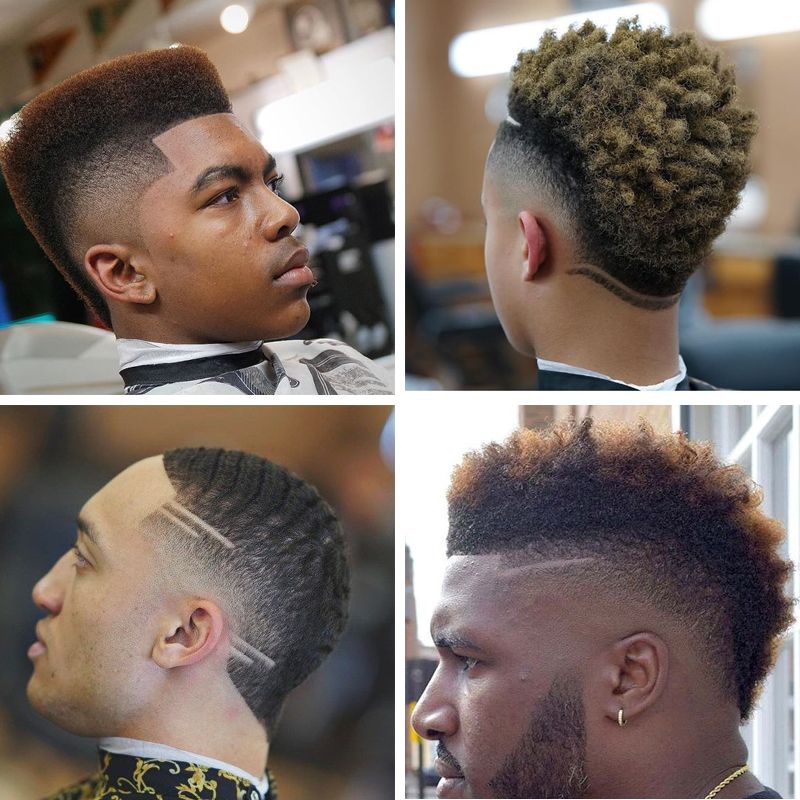 Yes, we have reached the end of the discussion of today's article. I hope you have got more than enough haircut ideas of burst fade mohawk to consider for yourself. Now, choose the one that really goes with you, your personality, your face shape, and your physical appearance. Don't get confused you will be getting used to it. One more thing, if you like this article, please leave us a comment and share this content on social media. It will be a great support and inspiration for us. Thank you.